Anza-Borrego Desert State Park is one of the most beautiful state parks in California, with many things to do, from hiking to scenic drives.
Located in the Colorado Desert in Southern California, Anza-Borrego State Park features spectacular desert landscapes, outstanding outdoor recreation opportunities, and a variety of flora and fauna.
At around 600,000 acres, Anza-Borrego is the largest of California's state parks.
The park's name is a combination of the last name of Juan Bautista de Anza, a Spanish explorer from the eighteenth century, and the Spanish word for sheep, borrego.
The park is part of the UNESCO designated Mojave and Colorado Deserts Biosphere Reserve.
With twelve designated wilderness areas, miles and miles of dirt roads and hiking trails through the desert, and a variety of landscapes and elevations, Anza-Borrego Desert State Park is a delight to explore.
While Anza-Borrego Desert State Park makes for one of the best cool weather weekend getaways from San Diego or the LA area, or one of the most popular day trips from Palm Springs, it is also a must-include on a California deserts road trip.
In this article, we describe the best things to do in Anza-Borrego Desert State Park, plus all the information you need in order to visit the park.
Things to Do in Anza-Borrego Desert State Park
Hike the Borrego Palm Canyon Trail
At about three miles, the Borrego Palm Canyon Trail in Anza-Borrego Desert State Park is one of the most popular hiking trails in the park.
Protecting the oasis deep in the heart of the canyon was the original reason why the state park came into being.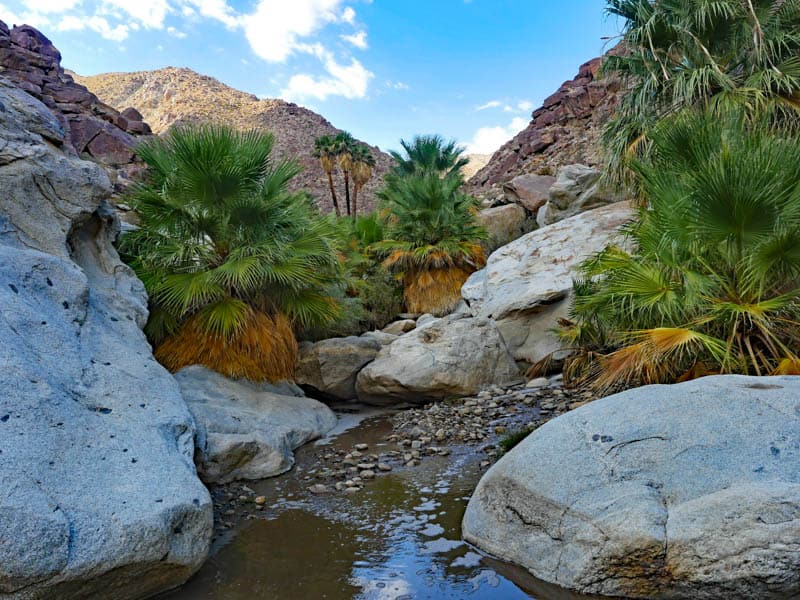 The trailhead for the Borrego Palm Canyon hike is located right by the Visitor Center, making it a good introductory activity. Pick up a trail pamphlet for a wealth of information.
Along the route, you will see ocotillo, beavertail and cholla cacti, and desert lavender. It's very pretty when the cacti bloom in the spring. Look (and listen!) for birds.
The trail leads to a lush palm-filled oasis, one of the largest in California (you'll find others in nearby Joshua Tree National Park).
California fan palms are the only palm native to California. They wear their old leaves as a protective skirt.
You can relax in the shade, and enjoy the flowing water. If you are lucky, you may see bighorn sheep.
Explore the Wind Caves in Anza-Borrego
Another popular Anza-Borrego hike, the Wind Caves Trail is located on the eastern side of the park.
It is a short trail, just 1.25 miles round trip, with beautiful views over the badlands along the climb. It culminates at the eroded sandstone formation with the caves.
The Wind Caves sandstone formation offers lots of pockets, with caves, crawl spaces, and tunnels to explore.
Spur trails lead further up for expansive views of the badlands and the surrounding desert. The caves are popular photo spots in the park.
The trailhead is located in Fish Creek Wash, near Ocotillo Wells. Note that the last section of road to get to the trailhead is a dirt road that may not be passable to regular sedans. You will see a sign for the Wind Caves at the trailhead.
Hike the Slot in Anza-Borrego State Park
One of the coolest hikes in Anza-Borrego Desert State Park is The Slot. We would expect to see exciting terrain like this in Utah or Arizona, so it was fun for us to find a cool slot right here in the Golden State!
The Slot hike is short, about one mile out and back. And it can be shady, which is a relief in the desert when it's warm out! It's a fairly steep climb down into the canyon, but flat the rest of the way.
The canyon does get quite narrow in parts: you may have to remove your daypack to squeeze through: but it is exciting to have the canyon walls close in on you as you forge ahead.
The slot ends at a dirt road, where you can turn around and return to the start point.
The trailhead for The Slot is located on Buttes Pass Road, a dirt road that is reported to be passable in a sedan.
Catch Sunrise at Font's Point
Font's Point is one of the most gorgeous viewpoints in Anza-Borrego Desert State Park.
From the viewpoint, you get expansive views of the badlands of the region: somewhat reminiscent of Zabriskie Point in Death Valley National Park.
The ridges of the badlands make for stunning photos, and you can see all the way out to the Salton Sea.
If you get here at dawn, prepare to have your jaw drop as the sun rises before you. Colorful sunsets and full moon nights are also spectacular, and the stargazing is splendid as well.
Although the 4-mile dirt road to Font's Point is reportedly passable in a sedan, there are deep patches of soft sand, and we recommend erring on the safe side and only attempting the drive in a high clearance 4WD, and going slow even then.
Admire the Views at Vista del Malpais
Another viewpoint from which to admire the views of the badlands at Anza-Borrego, Vista del Malpais is located quite close to Font's Point, but is not as popular, so you may even have the views to yourself.
The colors of the ridges, from brown to pink, are gorgeous, and you can see other landmarks such as Coyote Mountain. You get 360 degree views, and on a good weather day, you can expect to get fabulous photos.
The viewpoint is accessed via dirt roads, and you will need a 4WD. If you visit in the cooler months, you can explore the badlands and washes here on hikes as well.
Do the Self-Guided Erosion Road Driving Tour
The self-guided Erosion Road driving tour is a great way to get an overview of the park's geology.
Plus you will pass several points of interest along the route, such as Font's Point, Coyote Mountain, and the Calcite Mine Scenic Overlook.
The drive through the ever-changing landscapes of Anza-Borrego is 18 miles one way along S-22.
Start at the park visitor center and head east. Pick up the informative pamphlet at the visitor center or download it before you head out, so you can learn as you go.
While Erosion Road is paved, side roads that lead off it may be dirt, with soft sand and other driving hazards. Check with park rangers about road conditions and the suitability of your vehicle if you plan to drive any dirt roads in the park.
Do Some Scenic Dirt Road Drives
There are many scenic dirt road drives in Anza-Borrego State Park. The park is vast, and has hundreds of miles of dirt roads to explore, with beautiful views of the desert landscape and opportunities to get out and hike.
While some dirt roads can be traversed in a regular sedan when road conditions are good, a 4WD high-clearance vehicle expands your options. Note that Anza-Borrego is not an OHV recreation area: head to nearby Ocotillo Wells SVRA for OHV driving routes.
Blair Valley, Coyote Canyon, and Grapevine Canyon are good areas to explore, with trailheads for hikes and opportunities for wildlife viewing and birdwatching. Roads may have soft sand and boulders.
If you prefer to let someone else drive while you enjoy the experience, book a guided tour. California Overland, for example, offers highly rated day and overnight desert excursions into areas such as Coyote Canyon.
Stroll the Pumpkin Patch
The Pumpkin Patch is actually located just outside the boundary of Anza-Borrego Desert State Park, in the Ocotillo Wells SVRA.
The field of round boulders is a unique sight worth the drive. Interpretive boards explain the fascinating process of formation of the "pumpkin" boulders.
The one-acre area is fenced, with a small opening through which you can enter the patch to view the concretions and photograph them.
Once above the ground, the round boulders are subject to the forces of erosion, so you will see chips and cracks, making for interesting photos.
To get to the Pumpkin Patch, you have to drive a series of sand washes, so a high clearance 4WD is a must. Your GPS will likely not to be able to help with the route, so bring a downloaded or printed trail map to follow.
GPS coordinates for the patch are: 33.222820, -116.068599.
Admire the Sculptures at Galleta Meadows
The Galleta Meadows Estate consists of several privately-owned plots of land in Borrego Springs. Here you will find several dozen gigantic metal sculptures, created by artist Ricardo Breceda for the owner, Dennis Avery.
Many of Breceda's sculptures at Anza-Borrego are beasts. Some sculptures are reportedly based on a book that documents creatures that once inhabited Anza-Borrego. Others are mythological creatures.
Don't miss the giant serpent that sinuously creeps in and out of the sandy desert floor, or the mighty Tyrannosaurus rex.
Breceda's sculptures are a draw for photographers, who like to capture them against a colorful sunset sky, or against a starry night sky.
Go Hiking in Blair Valley
The Blair Valley area, between Granite Mountain and Whale Peak, offers several hiking trails that are worth doing if you are spending a few days in Borrego Springs.
The Marshal South Home Trail is about 1.3 miles round trip, and leads to the remnants of South's adobe cabin. The hike is somewhat steep, but you get panoramic views from the top, where you can also explore the ruins.
The Pictograph Trail is about 1.6 miles round trip. The payoff here is a boulder that is covered with art created by Kumeyaay artists thousands of years ago. The trail is easy, and features different desert flora.
The Morteros Trail is short, at about 0.6 mile round trip, and leads to an area inhabited by the Kumeyaay. On the route, you will find morteros, or grinding bowls, in boulders. They were used by the Kumeyaay to make flour. The trail offers a great view of Little Blair Valley.
The California Riding and Hiking Trail is a longer trail, a section of which runs through Anza-Borrego State Park. This trail is the longest trail in the park, and covers varying elevations.
Observe the Night Skies in Anza-Borrego!
Borrego Springs is the first (and only, at the time of writing) International Dark Sky Community in California and one of the best stargazing destinations in the country.
If it's been a while since you've marveled at the beauty of the Milky Way, or you enjoy astronomy or night sky photography, make sure you overnight at the park!
On clear moonless nights, you will be treated to millions of twinkling stars after dark. Full moon nights are equally magical.
The Springs at Borrego, a local RV resort, has an 11-inch telescope in its astronomy park, and hosts "star parties," featuring dinner and drinks followed by expert presentations and guided stargazing. You can also bring your own telescope.
Borrego Night Sky Tours, led by astronomer Dennis Mammanna, are another way to have a guided stargazing experience at Anza-Borrego Desert State Park.
Admire the Flora in the Park
Anza-Borrego Desert State Park is home to numerous species of flora.
From the Desert Agave, which only blooms once in its lifetime, to the ocotillo, with its striking sculptural form, and the California fan palm, you will find lots of flora to admire in the park.
The Borrego Botanical Garden on Palm Canyon Drive, near the park visitor center, is a great place to get acquainted with local flora. The park features palo verde, mesquite, and palm trees, and a variety of desert shrubs and plants that draw birds and butterflies.
The Cactus Loop Trail, as the name suggests, is a wonderful hike if you enjoy succulents and cacti. The nature trail is just 0.75 mile long, and you can pick up a pamphlet at the trailhead on Yaqui Pass Road. You will see cholla, beavertail, barrel, agave, ocotillo, and more.
The Elephant Tree Trail is a flat and easy 1.5-mile loop trail that features the rare Sonoran Desert elephant tree, and a host of other desert plants. Remember to pick up a trail guide at the trailhead so you can identify the flora you see on the trail. There is only one elephant tree on this trail, but more can be found in the park.
Look for Wildlife
Anza-Borrego Desert State Park is also home to diverse fauna. The peninsular bighorn sheep (the "borrego" after which the park is named) is an endangered species that can be found in the park, and it's the creature you are most likely to see when you visit.
Especially during the summer months, you are most likely to see bighorn sheep by water sources: keep your eyes peeled as you hike the Palm Canyon Trail! Wildlife is generally more apt to be seen early or late in the day.
Other animals at Anza-Borrego include bobcats, mountain lions, coyotes, desert kit foxes, black-tailed jackrabbits and cottontail rabbits, and mule deer, which prefer the higher elevations of the park.
Go Birdwatching at Anza-Borrego Desert State Park
Anza-Borrego Desert State Park and Borrego Springs are exciting birding destinations. With the varying elevations in the park, there are dozens of migrant and resident bird species that can be spotted here. So do not forget your binoculars or scope!
From hummingbirds to owls and raptors to songbirds, you may spot a wide variety of birds in the park. A weekly bird walk is held between October and April, and a desert birding festival occurs annually in March.
Great birding locations in the park include the Palm Canyon Trail, Yaqui Well near the Tamarisk Campground, Lower Willow in Coyote Canyon (especially during spring migration), and Bow Willow Canyon.
Good to know: Nearby Salton Sea is one of the most important birding locations in North America, although the sea is noted to be drying up and becoming more saline, making it less inviting for birds and other creatures.
Enjoy the Wildflower Bloom (in Season)
In good bloom years, Anza-Borrego Desert State Park is one of the most popular wildflower viewing destinations in the Golden State. Carpets of wildflowers color the desert floor in yellow, magenta, white, and pink, making for a stunning display.
You will likely find some wildflowers even in not-so-good years, so if you happen to visit during wildflower season (around mid March to mid April, generally), ask the rangers at the visitor center about where to look for them. Cacti and other succulents also bloom in the spring.
Fiddlenecks, coreopsis, phacelia, desert globemallow, brittlebush, and monkeyflower are some of the species that bloom at Anza-Borrego. White desert lilies look gorgeous in bloom.
Things to Do Near Anza-Borrego Desert State Park
While there is a lot to see and do in Anza-Borrego Desert State Park, you will find other places to explore nearby if you are visiting for a few days.
To the northeast of the park is the Ocotillo Wells State Vehicular Recreation Area, where you can enjoy off-road exploration.
Motorcycles, four-wheel drives, all-terrain vehicles, and dune buggies can all be used at Ocotillo Wells SVRA. The desert park offers below sea level elevations, sand dunes, and bubbling springs.
Further to the east, you will find Salton Sea, a vast shallow inland body of water that seems to go on forever as you drive by.
It used to be a popular birdwatching destination, but lowered water levels and increased salinity have drastically reduced bird populations.
On the eastern shore of Salton Sea, you will find the off-the-grid community of Slab City and the art of Salvation Mountain.
To the north of the park is the Santa Rosa and San Jacinto Mountains National Monument, which has trail access from the Coachella Valley and Idyllwild.
If you aren't up for hiking, the Palms to Pines Scenic Byway makes for a beautiful drive in the region.
Also to the north are the desert communities of the Greater Palm Springs Area, with lots of resorts, golf courses, museums, shopping, and dining. Palm Springs is known for its mid-century modern architecture.
Joshua Tree National Park is about an hour away from Palm Springs, and offers hiking, rock climbing, bouldering, and night sky observation.
Getting to Anza-Borrego Desert State Park
Anza-Borrego Desert State Park is located in Southern California, northeast of San Diego (see map). It is easily accessed from the major cities in Southern California.
From other destinations, you can fly into Palm Springs or Ontario, both of which have international airports, and then drive to the park.
From San Diego, the Anza-Borrego Desert State Park Visitor Center in Borrego Springs is just under a two-hour drive without traffic, via California state highways.
From Palm Springs, the visitor center is a drive of about an hour and 40 minutes, via I-10 and CA-86 to S-22, the road that goes through the park. From Los Angeles, the visitor center is about 150 miles, via I-15 South.
Good to know: If you plan to use a GPS to navigate to Anza-Borrego Desert State Park, use the Visitor Center as the destination, rather than just the park name, to avoid ending up at a dirt road in the desert!
Looking to rent a car for your Anza-Borrego Desert State Park trip? Discover Cars offers you the ability to compare availability and prices across many major car-hire companies. Pick the car that best meets your needs! Book your car with Discover Cars now!
Park Hours and Entrance Fees
The park is open 24 hours year round.
At the time of writing, a day use fee of $10.00 per vehicle per day is collected at the Anza-Borrego Desert State Park Visitor Center, at developed campgrounds, and at The Slot, Hellhole Canyon, Mountain Palm Springs, Bow Willow, and Horse Camp.
Anza-Borrego Desert State Park Visitor Center
The Anza-Borrego Desert State Park Visitor Center is located at 200 Palm Canyon Drive in Borrego Springs. For hours of operation, visit the park website.
Especially if it is your first visit to the park, stop at the visitor center upon arrival, to get an overview of the park, view the park film, and browse the informative exhibits.
Rangers are available to answer your questions and to suggest activities tailored to your interests and abilities, and the type of vehicle you have.
How Much Time Should You Allow for Anza-Borrego State Park?
Outdoor enthusiasts and nature lovers can spend days at Anza-Borrego Desert State park, exploring the vast expanse at leisure. There are 500 miles of dirt roads, endless hiking trails, and numerous photo spots to discover.
Two days in the park would give you the opportunity to enjoy the desert early and late in the day, when it is at its most beautiful, as well as at night, when you can enjoy the dark night skies, stargaze, or photograph the moon against the desert landmarks.
You can also visit Anza-Borrego Desert State Park on a day trip, to enjoy a scenic drive or two in nature, do a couple of hikes, and have a picnic meal at an oasis or at a viewpoint.
Where to Stay When Visiting Anza-Borrego Desert State Park
Camping in Anza-Borrego Desert State Park
There are four developed campgrounds inside Anza-Borrego Desert State Park: Borrego Palm Canyon Campground, Tamarisk Grove Campground, Bow Willow Campground, and Vern Whitaker Horse Camp. Reserve sites in advance at ReserveCalifornia(dot)com.
You will also find eight primitive campgrounds at Anza-Borrego, all free. Roadside camping is also permitted, subject to park regulations.
Hotels near Anza-Borrego Desert State Park
La Casa del Zorro Resort & Spa is a historic luxury resort located just a 5-minute drive from Anza-Borrego State Park. The resort offers five swimming pools and tennis courts, as well as a full-service spa. The resort features rooms as well as standalone casitas with one to four bedrooms. There is an onsite restaurant. Book a stay here!
Borrego Springs Resort & Spa features two swimming pools, a whirlpool spa, and tennis courts. An onsite spa and onsite restaurant and lounge are offered. Rooms are spacious and well-appointed. Book a stay here!
Vacation Rentals near Anza-Borrego State Park, CA
This beautiful home is located just 3 miles from the park. The 3-bedroom, 3.5-bath home offers panoramic 360-degree views and a private pool. Inside, you will find a well-equipped kitchen, a fireplace, and well-appointed spacious living and sleeping spaces. Book a stay here!
This charming casita is perfect for a couples getaway! The one-bedroom, one-bath unit has a patio for stargazing. Inside, enjoy the Spanish decor, with tiled kitchen and well-appointed living and sleeping spaces. Book a stay here!
This lovely mid-century modern offers 2 bedrooms and 2 baths, and is located less than 2 miles from the park visitor center in Borrego Springs. Enjoy the sunrises and the night skies and the tranquility with all the comforts of home! Book a stay here!
The Best Time to Visit Anza-Borrego State Park
Since Anza-Borrego is a desert park, you will want to visit in the cooler months of the year to explore in comfortable weather. Any time from fall through spring is a great time to visit Anza-Borrego.
It can get cold in the desert in late fall, winter, and early spring, especially early and late, so bring layers. Spring is a particularly wonderful time to visit Anza-Borrego Desert State Park because temperatures are pleasant and it is wildflower bloom season.
In a good wildflower bloom year, the park can get thousands of visitors during peak bloom, so advance planning is highly recommended if you plan to stay overnight.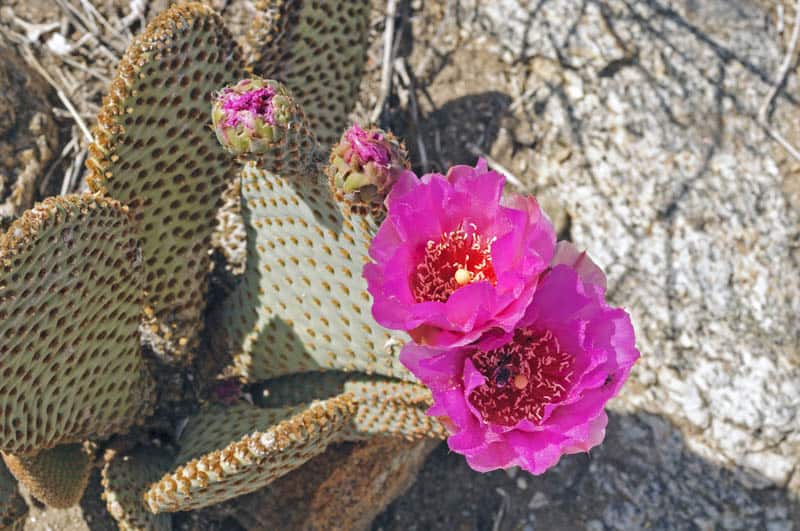 Between June and September, daytime temperatures routinely get into the triple digits.
If you visit Anza-Borrego in the summer months, explore very early or late in the day, and plan to remain inside an air-conditioned vehicle if you are in the park during the day.
Tips for Visiting Anza-Borrego State Park
Read and Follow Safety Guidelines
The California State Parks System page on Anza-Borrego Desert State Park has safety tips. It is also wise to speak with rangers at the park for up-to-date information relating to trail closures, potential weather issues, desert driving, and other information to be aware of as you explore the park.
Weather can change quickly in the park, and washes and canyons can be dangerous during rains or a thunderstorm. Consult with park rangers before you head out on hikes, and keep an eye on the sky regardless.
Do Not Expect Consistent Cell Reception
Cell reception in the park can be spotty to non-existent in places. Download or print maps and brochures ahead of your visit. If you plan to explore the backcountry, you may need additional resources.
Get a GPS smartwatch, if you do not have one already: it will be useful not just at Anza-Borrego Desert State Park but in other parks and wilderness areas as well. Check out this premium Garmin Fenix 6 (you can buy it on Amazon or you can buy it on REI), or the more affordable Garmin Instinct (buy on REI or Amazon).
Also consider the InReach Mini as a backup resource for navigation. With a satellite subscription, it enables you to send and receive texts when there is no cell phone reception. It weighs only 3.5oz, and has tracking and SOS capabilities as well.
Buy it on REI | Buy it on Amazon
If you want a good hard copy guide to Anza-Borrego Desert State Park, we found this book very useful. It has a detailed map, and good descriptions of driving tours and hikes.
Dress for the Weather
If you visit the park during the cooler months, dress in layers to account for temperature differences during the course of the day, and at different elevations in the park.
Wear loose, light colored clothing for sun protection. We generally wear clothing with SPF protection if we are going to be in the sun for several hours. Check this women's shirt on Amazon or this men's shirt.
Wear Appropriate Footwear
Sturdy, closed-toed footwear is a must. Sneakers or sturdy walking shoes with good grip are fine for short nature trails, but lightweight hiking shoes or boots are best for longer trails.
We wear the La Sportiva brand cuffed hiking boots: they are not heavy, they are waterproof, and they are super comfy. Here are the links to the men's shoes and the women's shoes on Amazon.
Use Sun Protection
No matter the time of year, sun protection is a must when you are exploring.
Use a wide-brimmed hat with SPF protection, sunscreen, lip balm with SPF, and sunglasses, when hiking in the desert. Many trails in the park are exposed.
Carry Adequate Drinking Water
Even if you aren't hiking, you need to drink lots of water when visiting a desert park like Anza-Borrego. You need even more water if you hike.
There is no food or water available for purchase inside the park. Carry lots of drinking water in a cooler in your vehicle, and carry a filled hydration pack or filled water bottles with you on your hikes.
Bring Snacks and Food
Pack your cooler with plenty of food and carry non-perishable snacks on your hikes. Bring a picnic lunch to enjoy. Food and other supplies can be bought in the town of Borrego Springs. Invest in a light and easy-to-carry daypack to stow food and other supplies.
Bring the Appropriate Vehicle
Some of the roads in the park are rough, with deep sand, boulders, or ruts. Make sure you have the appropriate vehicle for the activities you plan to do in the park.
Always check road conditions before venturing on to dirt roads in the park. The park recommends a second vehicle if you plan to drive dirt roads.
Don't Forget Your Camera and Binoculars
We bring our little Panasonic Lumix DC-ZS70 with us on hikes. The camera fits into a jacket pocket, but it has a great lens and produces good quality photos. It also has a super powerful zoom, great for photographing birds and animals.
We also always bring our Celestron Trailseeker compact binoculars if we expect to see birds or wildlife. They perform well in low light and they are waterproof as well.
Carry Other Essentials
Pack these essentials in your daypack: a first-aid kit (add a pair of tweezers to pull out cholla cactus needles if you happen to be unlucky!), disinfecting wipes or hand sanitizer, headlamp or flashlight, and a pocket knife. Bring your trekking poles if you anticipate needing them.
*****
Planning to explore more of California's spectacular natural wonders? Check out some of our other articles!
Did you find this article informative? Pin it for later reference!