Beringer Vineyards should be at the top of your itinerary for Napa Valley. Not just for their wines and tasting experiences, which are superb. But also for the art and architecture, the gorgeous gardens and grounds, and the rich history of the vineyard.
One of the most beautiful wineries in Napa Valley, Beringer Vineyards is located in Saint Helena, in the heart of the valley. The estate as a whole is designated a Historic District in the National Register of Historic Places.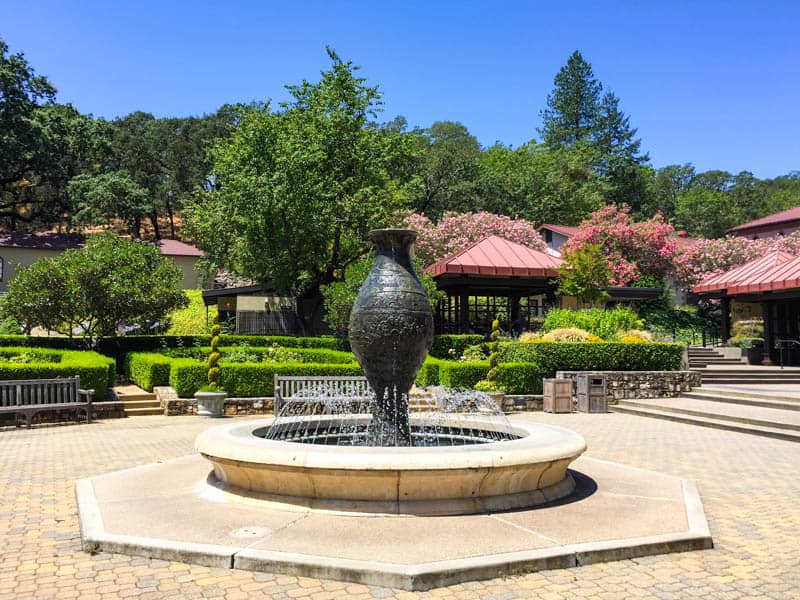 Some links on this page may be affiliate links. If you click an affiliate link and make a purchase, we may receive a small commission, at no extra cost to you. For more details, refer to our disclosure.
We've visited Napa Valley numerous times, and we've never been able to resist at least a quick stop to walk through Beringer Vineyards, even when we haven't booked a tasting. The winery looks beautiful in every season, and it is a joy to stroll.
Considering a visit to Beringer Vineyards? Read on to learn about our experience and to view some of the many photos we've taken on our visits!
Discover The History of Beringer Vineyards
One of the most historic wineries in Napa Valley, Beringer Vineyards got its start in 1875, when Jacob and Frederick Beringer bought 215 acres of land in Saint Helena.
Jacob Beringer had emigrated to the USA from Mainz, Germany, in 1868. He worked for Charles Krug for a few years before he and his brother decided to set up their operation.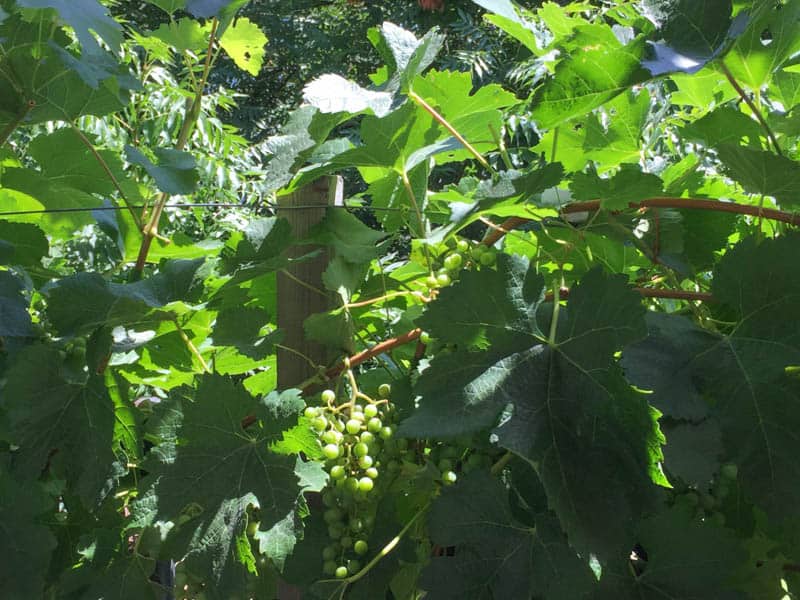 Beringer's first harvest, in 1876, resulted in 40,000 gallons of wine. Beringer Vineyards is the oldest continuously operating winery in Napa Valley.
They pioneered gravity flow wine making, a process where different floor levels for different phases of production mean that the wine flows gently, with the aid of gravity, from one phase to another.
Beringer was also the first winery to use manually-dug wine caves and cellars for aging their wine: their first cellar was dug by Chinese workers in 1876.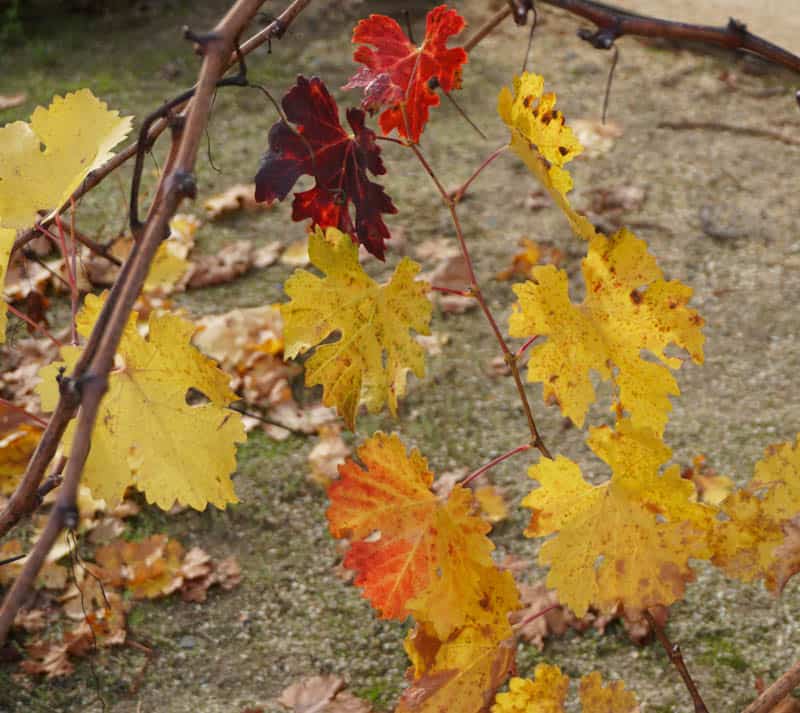 Admire the Architecture
Rhine House, the crown jewel of the Beringer estate, is our favorite winery building in Napa Valley. There are many beautiful winery buildings in the valley, but this one just epitomizes grace and a gentle grandeur that charms you.
Completed in 1884, Rhine House is the former home of Frederick Beringer, the wealthier of the two brothers. At the request of his client, architect Albert Schroepfer designed the home to look like the family home in Mainz, on the Rhine River in Germany.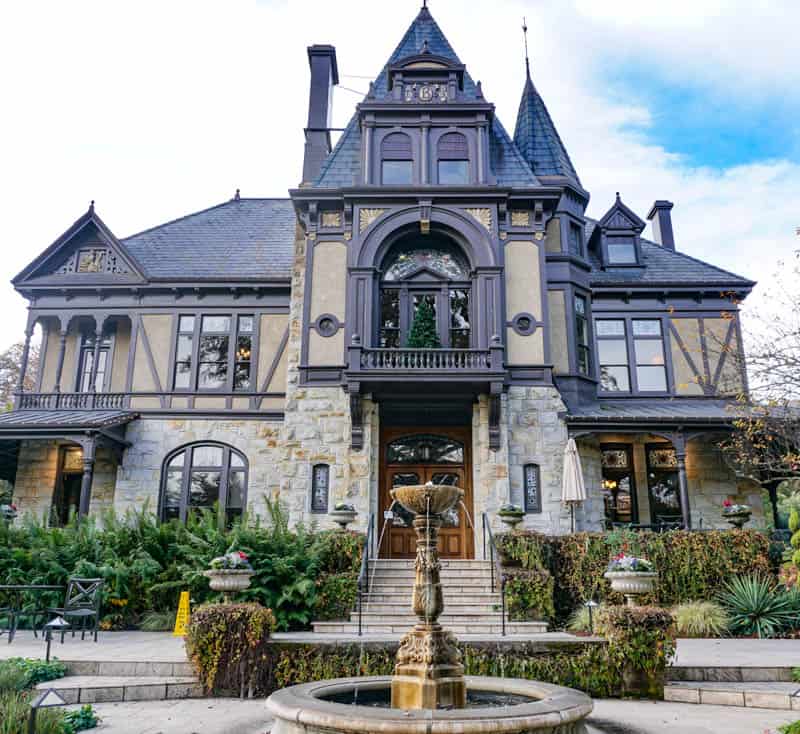 The Victorian mansion is ornamented with many turrets and gables, and contains 17 rooms.
While the entire building features exquisite detailing, you must not miss the many beautiful stained glass windows, which accounted for almost 20 per cent of the cost of the entire structure!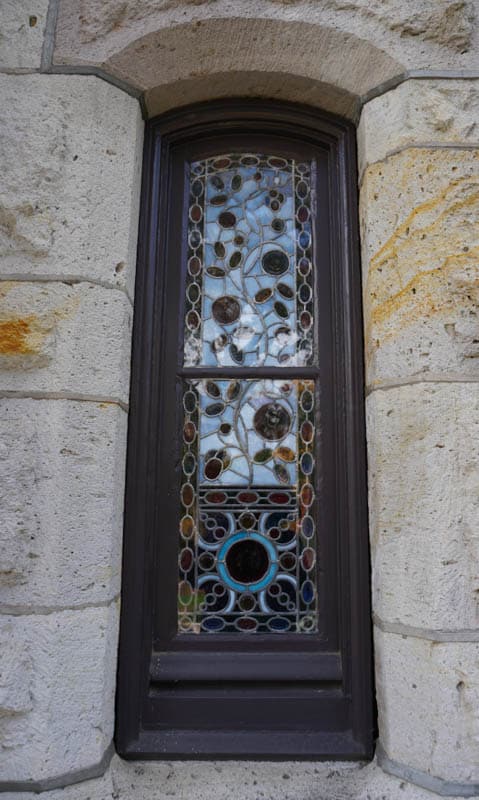 The warm stone contrasts beautifully with the dark roof, and its setting, in the midst of lush gardens with a traditional central fountain, will wow you. It is a picture postcard sight!
Built at a total cost of just twenty-eight thousand dollars, the home is designated a California Historic Landmark.
Other than the Rhine House, also view the Old Winery building, which is located against a hillside, so that the brothers could implement gravity flow wine making.
It has three levels, with the grapes coming in and being crushed on the third floor, fermented on the second, and stored in the bottom level.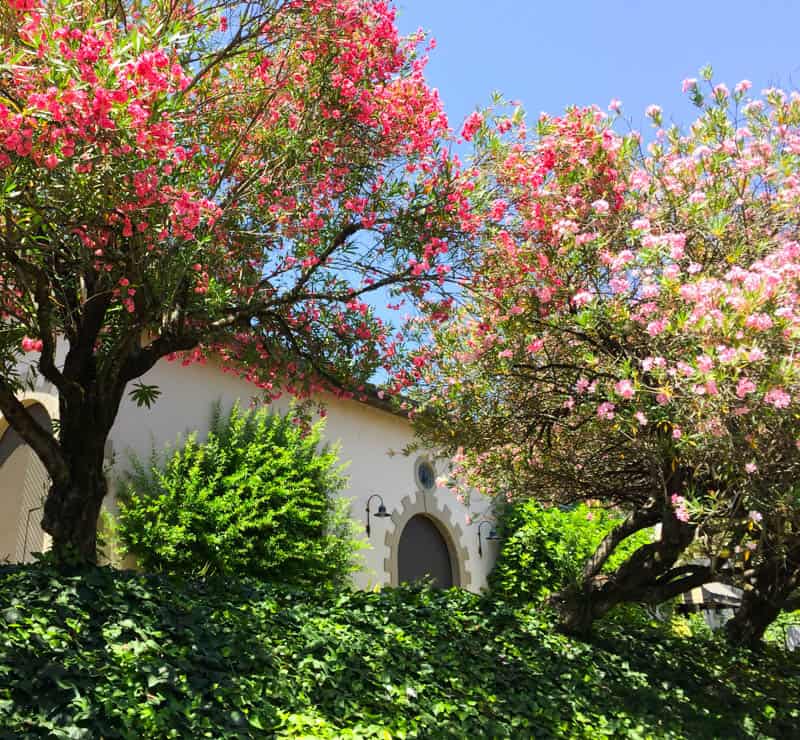 Also part of the estate is Hudson House, the former home of Jacob Beringer.
Reportedly, Frederick Beringer had his brother's house moved from its original location so he could have his own home, Rhine House, built at the spot.
Hudson House was already on the property when the Beringer brothers bought it.
The wine caves and tunnels dug into the mountain are also part of the estate, but we haven't been inside yet.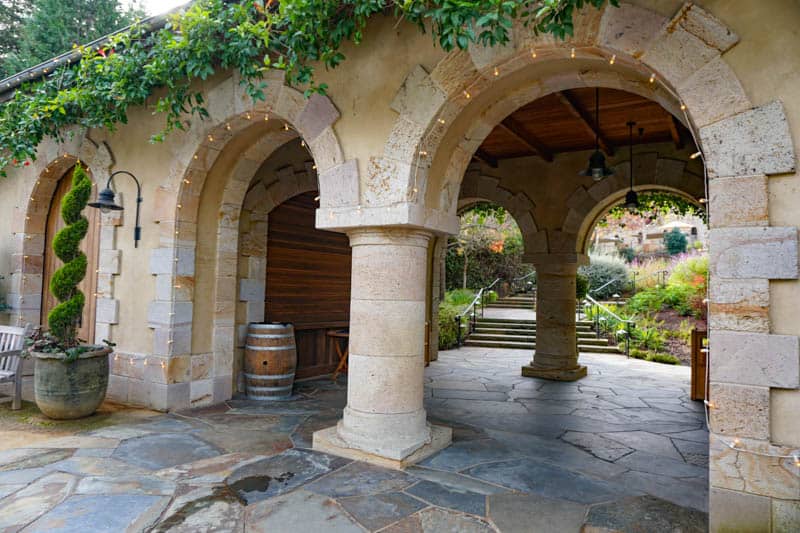 Looking for places to stay on your Napa Valley getaway? Check out our detailed article on where to stay in Napa Valley, including descriptions of towns and regions in the valley, and the best hotels, resorts, and vacation rentals.
Tour the Gardens and Grounds
The beautiful grounds and gardens of Beringer Vineyards are perfect for wandering, in any season. There are many walkways, lined with flowering trees, that connect the various parts of the estate.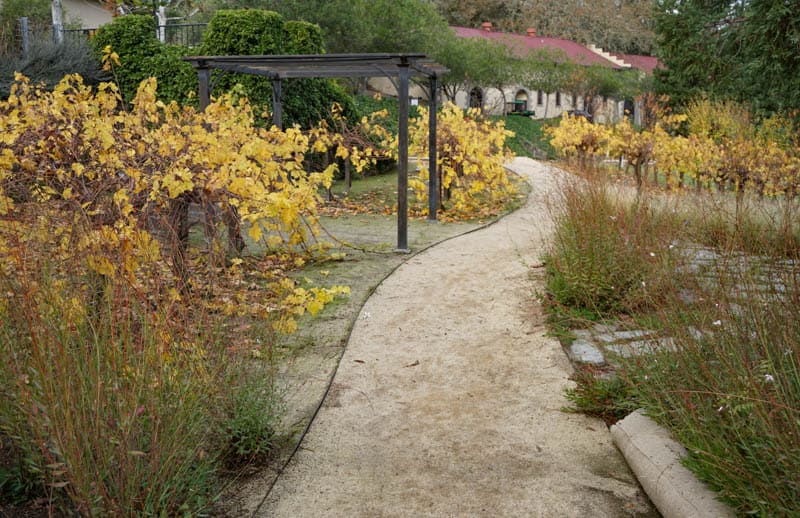 In the spring and summer, oleander trees burst forth in white and pink. There are numerous flowering plants and shrubs everywhere, with butterflies and hummingbirds enjoying the nectar from the many blooms. Box hedges and topiary contribute to a manicured look.
The graceful pot fountain in the central courtyard is a thing of beauty. It is the focal point in the gardens, with warm stone hardscaping around it, and a wide driveway leading up to it.
You will see fruit trees as well: we photographed nectarines in the summer, and a lovely persimmon tree, with orange leaves and orange-skinned fruit, when we visited one fall.
There is a vineyard that is part of the property, as well as some vines on the grounds.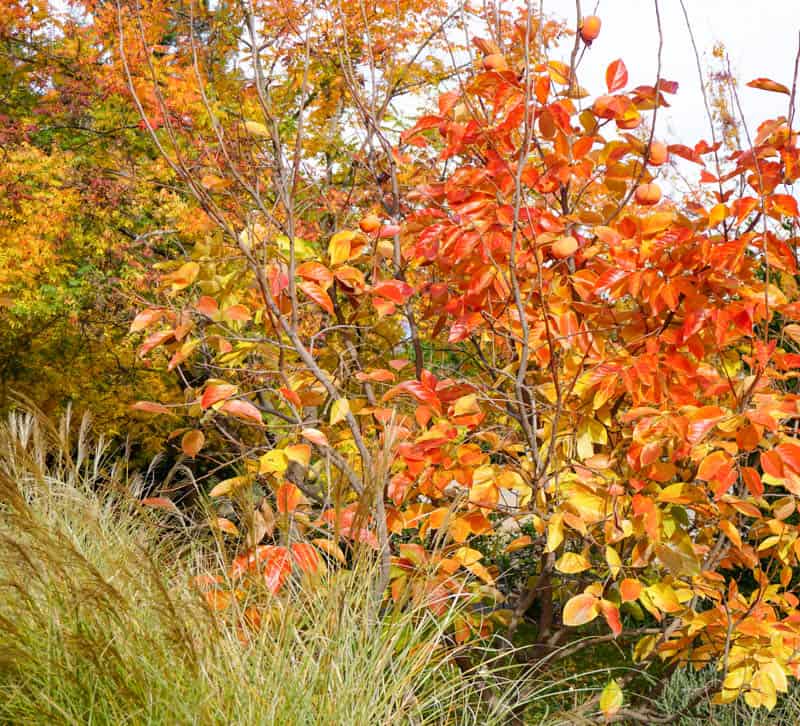 Enjoy Tasting Experiences
Beringer Vineyards offers tours of the property and wine tastings.
They were actually the first winery in the valley to offer tours, starting way back in 1934, after Prohibition ended at the end of 1933.
Currently, several tasting experiences are available Monday through Sunday, both indoors and outdoors. Reservations are highly recommended; walk-ins will be accommodated based on availability.
Beringer is known for the breadth and quality of their offerings, especially their Cabernets and Chardonnays.
You can enjoy tastings inside Rhine House, on the veranda of the historic Rhine House, inside the Old Winery, or in the tunnels of the winery. A family-friendly walking tour is also offered, as well as the Taste of Beringer Tour, which combines wine with food pairings.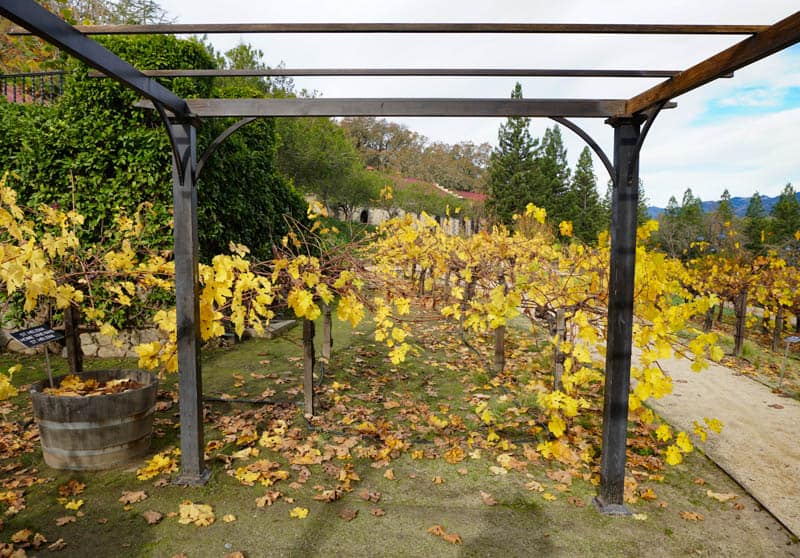 How to Get to Beringer Vineyards
Beringer Vineyards is located on Main Street in Saint Helena.
The main highway that runs through Napa Valley, California State Route 29, becomes Main Street as it passes through the town of St. Helena.
From San Francisco, you are looking at a drive of about 66 miles.

When to Visit Beringer Vineyards
For their wine, any time! To see the vineyard and gardens at their best, visit in the late spring, summer, or fall. We have visited in each of these seasons, and the gardens have been beautiful each time!
Dress in layers if you visit in the spring or fall: it can get cool outside, especially later in the day. Many wineries have patio heaters for comfort, so if you plan a seated tasting, you will likely be comfortable.
Our photos are mainly from our fall visit (Napa Valley in November is spectacular!), but we loved visiting Beringer Vineyards in the spring and summer as well. We haven't yet visited in the winter, but it is on our list!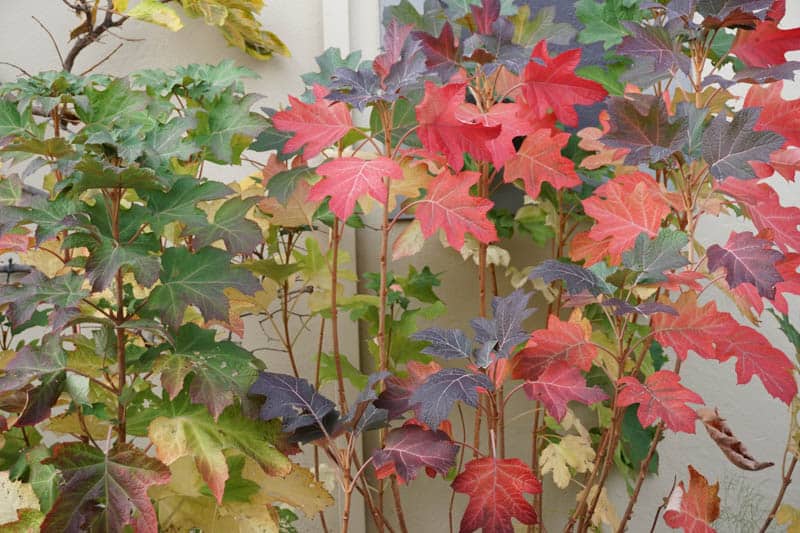 *****
Napa Valley is one of our favorite getaways from the SF Bay Area.
There are many fun things to do in Napa Valley other than wine, and many activities are family friendly as well.
If you are planning a visit and looking for accommodations, be sure to check out our article on the best places to stay in Napa Valley!
Did you find this article informative? Pin it for later reference!