Carmel-by-the-Sea, along the Central California Coast, is known for its picturesque setting and topnotch restaurants. Carmel Village is small, but it boasts a plethora of eateries across cuisines, from fine dining to casual cafes.
And brunch is definitely a big deal in Carmel, if you are planning to visit over the weekend!
Carmel is located close to the Salinas Valley, known as the "salad bowl of the world." Plus, it's on the coast, with access to a variety of just-caught seafood. And the Monterey peninsula is one of California's larger wine-growing regions. Put all of this together, and you can expect menu offerings that focus on local, seasonal, and fresh.
Some links on this page may be affiliate links. If you click an affiliate link and make a purchase, we may receive a small commission, at no extra cost to you. For more details, refer to our disclosure.
We've visited Carmel many times, and we've tried several restaurants in and around the village (some more than once!), but we have many more Carmel-by-the-Sea restaurants still on our must-try list.
Here we've described some of our favorite places to eat in Carmel, and we'll continue to add to the round-up as we come across other restaurants in Carmel we love.
La Bicyclette
A European-style bistro with simple seating, La Bicyclette offers delicious French-Italian dishes that will make you want to return time and again. Ingredients are locally-sourced, seasonal, fresh, and flavorful, resulting in rich flavor in every bite. The menu changes often.
In our opinion, the best items on La Bicyclette's menu are the veggie-forward pizzas! The mushroom pizza and margherita pizza are perennially on the menu, while other pizzas capture the flavors of different seasons. The mushroom pizza features more than one type of mushroom and the umami flavor really shines through. The crust is thin and crispy.
Not a fan of pizza? We've had seafood specials here and the fish was cooked perfectly. Whatever you eat, leave room for dessert. As chocolate enthusiasts, we love the pot of chocolate mousse! Or end on one of the sweet dessert wines!
The breakfast menu, offered all day but only Friday-Sunday at the time of writing, is another reason to visit. You'll find Parisian French toast and salmon tartine, but you'll also find an American style option and huevos rancheros.
La Bicyclette is open daily for lunch and dinner. Reservations are accepted for both lunch and dinner: call to book. Breakfast is walk-in.
La Bicyclette, Dolores & 7th, Carmel, CA 93921
Little Napoli
Chef Pepe has more than one restaurant in Carmel, but Little Napoli is one of our favorite spots for lunch in the village. There is a little courtyard for outdoor dining, and inside, we love to sit by the fire on cool afternoons.
Try the truffled gnocchi or the saffron-risotto arancini to start. The gnocchi is rich and scrumptious, while the arancini have a perfect crisp outside and a soft gooey inside. We've also sometimes shared the white truffle pie as a starter. With lots of mushrooms, it has an earthy flavor that's delicious.
We've enjoyed all the pastas we've tried at Little Napoli, and we've tried several, including a vegetarian option with basil pesto sauce. The cannelloni tricolore was featured on the Food Network show "Diners, Drive-Ins, and Dives," and the dish is topped with three sauces in colors representative of the Italian flag: red, white, and green.
Little Napoli is open for lunch Thursday through Monday at the time of writing, and dinner Wednesday through Sunday. Reservations are accepted over the phone.
Little Napoli, Corner of Dolores St. & 7th St., Carmel-by-the-Sea, CA 93921
Cultura Comida y Bebida
Cultura Comida y Bebida focuses on the cuisine of Oaxaca, Mexico, while capitalizing on the bounty of ingredients available on California's Central Coast. Both indoor and outdoor dining are offered.
We suggest starting with the street tacos, for their burst of flavors. We've tried the plantain tacos and the carnitas, and both were delicious. We also got the housemade chips with the roasted tomato salsa, green tomatillo salsa, and the guacamole: the salsas were excellent.
For my main course, I had the black bean and cilantro rice bowl: flavors were bright and fresh and it was light enough that I could eat it after all the chips and the tacos. Hubby loved his Cultura Mole: smoked pork cheeks with sesame and orange.
At the time of writing, Cultura Comida y Bebida is open for dinner Tuesday through Sunday. Reservations can be made online.
Cultura Comida y Bebida, Dolores Street, between 5th Ave. & 6th Ave Su Vecino Courtyard, Carmel-by-the-Sea, CA 93921
Anton & Michel
Anton & Michel has a beautiful location in downtown Carmel-by-the-Sea with outdoor seating in a courtyard with a fountain, and an equally lovely interior with the option to sit by a floor-to-ceiling window looking out onto the courtyard.
The menu includes a variety of small salads and main course salads. We love the roasted beets salad, which features both red and golden beets, and the endive and radicchio salad enriched with almonds and goat cheese.
They don't have many vegetarian options, so I always get the vegetarian sandwich, which is superb. It has halloumi cheese and grilled portobello for heartiness and umaminess, with avocado and cashew pesto. Yum! Hubby alternates between the grilled lamb sliders and the ahi tuna sandwich, which has avocado and wasabi cream for heat.
We have not had dinner at Anton & Michel yet, but dinner options include duck breast, New York steak and filet mignon. Their wine list includes many California wines, some from the nearby Santa Lucia Highlands and Carmel Valley.
At the time of writing, Anton & Michel is open for lunch and dinner Thursday through Tuesday. Reservations are accepted online or by phone, or you can book on OpenTable.
Anton & Michel, Mission Street &, 7th Ave, Carmel-By-The-Sea, CA 93921
Planning a visit to Carmel-by-the-Sea?
Check out our article on all the exciting things to do in Carmel-by-the-Sea, plus things to do in Monterey, Pacific Grove, Carmel Valley, and Carmel Highlands.
All of these scenic and fun communities are nestled close together on the Monterey peninsula, making it easy to go from one to another even on a short visit.
We also have articles on beautiful Point Lobos State Natural Reserve and Garrapata State Park, located just south of Carmel along Highway 1 in Big Sur.
Enjoy scenic hiking trails with fabulous ocean views, wildlife and birds, and wildflowers in season.
Rio Grill
Located at the corner of Rio Road and Highway 1, Rio Grill routinely makes lists of top Carmel restaurants. Their menu features southwestern-inspired offerings crafted from seasonal local ingredients for fresh and fulsome flavor you can't beat!
The quesadilla of the day, accompanied by smashed avocado and smoked chili sour cream, is our favorite starter. We also like the corn truffle and wild mushroom tamales, with the flavor of chili coming through and tomatillo salsa for a bright and tangy note. The roasted beet salad is another favorite!
I normally have the vegetable risotto for my main course: it includes lots of veggies and a flavorful poblano-basil pesto. Hubby normally goes with one of the seafood items: the southwest seafood stew is his favorite item on the entire menu.
If you drink, try a cocktail or a margarita for the perfect pairing with your meal. If not, the Prickly Porcupine is a great non-alcoholic accompaniment, with pineapple, lemon zest, and serrano chili.
Rio Grill is open for lunch and dinner everyday and you can make reservations online.
Rio Grill, 101 Crossroads Blvd, Carmel-By-The-Sea, CA
Patisserie Boissiere
Patisserie Boissiere serves French country dishes in a chateau ambiance complete with candles, fine table linens, and flowers. There's a fireplace too, for cool Carmel nights.
But the top reason to visit is quite definitely the array of delectable pastries, baked fresh on site, that you can buy to take home or order at the table. We've never been able to resist the tempting display.
I love their vegetarian pasta, chock full of julienned veggies, and hubby enjoys the quintessential comfort food: shepherd's pie or chicken pot pie. The harvest salad makes a fresh and light starter: it has jicama, apples, and raisins for the perfect combination of tastes.
We've tried numerous desserts at Patisserie Boissiere, and have yet to be disappointed in our choices. Best of all, none of the pastries is cloyingly sweet, so you can actually taste ingredients other than just sugar.
Try the pot au chocolat if you love chocolate. The zucchini bread, apple cake, crème brûlée, and chocolate bundt cake are must-tries too.
They sell desserts to go as well, if you want to pop in and get an assortment!
At the time of writing, Patisserie Boissiere is open for lunch daily (brunch on weekends) and dinner Wednesday through Sunday. Reservations for dinner can be made online.
Patisserie Boissiere, Mission Street between Ocean & 7th Ave, Carmel-by-the-Sea, CA 93921
Note: On our last visit, I got take-out and put the food on plates to take photos. If you have desserts at the restaurant, you'll get them elegantly plated, with sauces and a dusting of powdered sugar.
Aubergine
Aubergine is a Michelin-starred restaurant, located in L'Auberge Carmel, a Relais & Châteaux hotel in downtown Carmel-by-the-Sea. The restaurant showcases the best local ingredients in offerings that are meticulously created and beautifully presented. You can sit outdoors in the courtyard, or indoors.
The restaurant offers an eight-course tasting menu that changes daily. Aubergine also boasts an extensive wine cellar, with special emphasis on wines from Monterey and France. Course-by-course wine pairings are offered for a supplement.
Although a menu isn't offered, staff explains each course when it is presented. Dishes tend to be Japanese-inspired, and generally includes seafood and ribeye, with wagyu offered for a supplement. Dietary restrictions may be accommodated with advance notice.
At the time of writing, Aubergine is open for dinner Wednesday through Sunday. Call to reserve, or book online.
Aubergine, Monte Verde at Seventh, Carmel-by-the-Sea, CA 93921
Grasing's Restaurant
Featuring a menu that showcases the best local ingredients, Grasing's is a relaxed Central Coast dining experience. The restaurant offers both outdoor and indoor seating.
Our lunch favorites at Grasing's are the burgers. The western black bean burger is hands down the best vegetarian burger I've had anywhere: it is so good that hubby sometimes opts for it over the charbroiled Angus.
The fries that come with the burgers are perfect too: crunchy-crisp and golden. (They are so good I ate half of mine before I placed the meal on a plate to take the photo above.) It's a simple meal, but one of our favorite lunches in Carmel.
The salads here are fresh and flavorful. In season, the heirloom tomato salad with mozzarella and basil is bursting with flavor. We haven't tried Grasing's for dinner yet, because their vegetarian mains are sparse, but they have several steak options, as well as chicken and seafood.
Grasing's is open Monday through Friday for lunch, weekend brunch, and dinner everyday. Their patio is pet-friendly. Call the restaurant to book a table, or book online.
Grasing's, NW Corner of Mission and 6th Ave, Carmel-by-the-Sea, CA 93921
Stationæry
The Stationæry is a fabulous place to go for breakfast, brunch, or lunch. They offer a variety of plates and bowls on both their brunch and their afternoon menus, and if you are craving comfort food, this is the place to go!
I can't get enough of their avocado toast. I have eaten avocado toast in many places in California, and the Stationæry's is one of the best. It features seaweed and meyer lemon, among other things. Hubby enjoys the chilaquiles here. If you want to splurge, they serve caviar with crème fraîche.
In the afternoon, you can get many of the items on the brunch menu, but hubby loves the chicken and rice bowl, topped with a fried egg. And their olive oil and meyer lemon cake is a great way to end a meal here.
The Stationæry is open Thursday through Monday for brunch until 2 p.m. and afternoon between 2 p.m. and 4 p.m. They accept some reservations but keep tables open for walk-ins.
The Stationæry, San Carlos Street, 3 NE of 6th Avenue, Carmel-by-the-Sea, CA 93921
Basil Restaurant
Basil Restaurant has a lovely location in one of Carmel-by-the-Sea's little passageways. They offer both indoor and outdoor seating. The interior is cozy, with bright and colorful decor.
Basil's menu is Italian, presented with California coastal flair. You can taste the quality of the ingredients, whether it's the San Marzano tomatoes in the sauce that comes with the meatballs, or the veggies in the salads. The menu changes several times a year to showcase ingredients in season.
Hubby always gets the lamb meatballs with San Marzano tomato sauce as his starter! I like the bruschetta, or the gnocchi with vegetables when it's offered, and their bread is amazing.
We've tried several dishes here, from burgers to pizzas and pastas, and everything has been on point. They have numerous vegetarian options, so Basil is one of our go-to Carmel restaurants.
Basil offers a plethora of wine options, including local labels (from the Santa Lucia Highlands and Carmel Valley). And do not forget dessert!
Basil is open for lunch and dinner Tuesday through Sunday, and for weekend brunch. Their patio is dog-friendly. You can make reservations online.
Basil Restaurant, San Carlos Between Ocean & 7th Ave, Carmel-by-the-Sea, CA 93921
Enjoy food and wine tours? Consider this highly-rated 3-hour small group tour through the village of Carmel-by-the-Sea to sample delicious bites, sip local wines, and learn about locavore concepts and Carmel-by-the-Sea history and culture. Book this tour now!
Akaoni
Carmel-by-the-Sea isn't a place where you would expect to find authentic Japanese cuisine, but visitors that love sushi must definitely try Akaoni. The restaurant is tiny and no-frills, but the food is extraordinarily good and many locals are regulars.
The seafood here is extremely fresh. For the best experience, we suggest opting for the specials listed on the chalkboard. The nigiri is meticulously prepared and you will taste the results in every bite. The tempura is light and flavorful.
The menu features prepared dishes as well. As a vegetarian, I've enjoyed a couple of the tofu dishes on the menu. Their house made tofu with "special sauce" is delightful.
At the time of writing, Akaoni is open Tuesday through Saturday for dinner only. Call the restaurant to make a reservation. At the time of writing, reservations are mandatory. Omakase is served only with advance arrangements.
Akaoni, Mission & 6th Ave, Carmel, CA 93921
The Forge Restaurant
The Forge has a lovely location, with mature gardens, and the building has a rich history: it was originally a forge where some of the hardware used in buildings and homes around Carmel-by-the-Sea was produced by hand.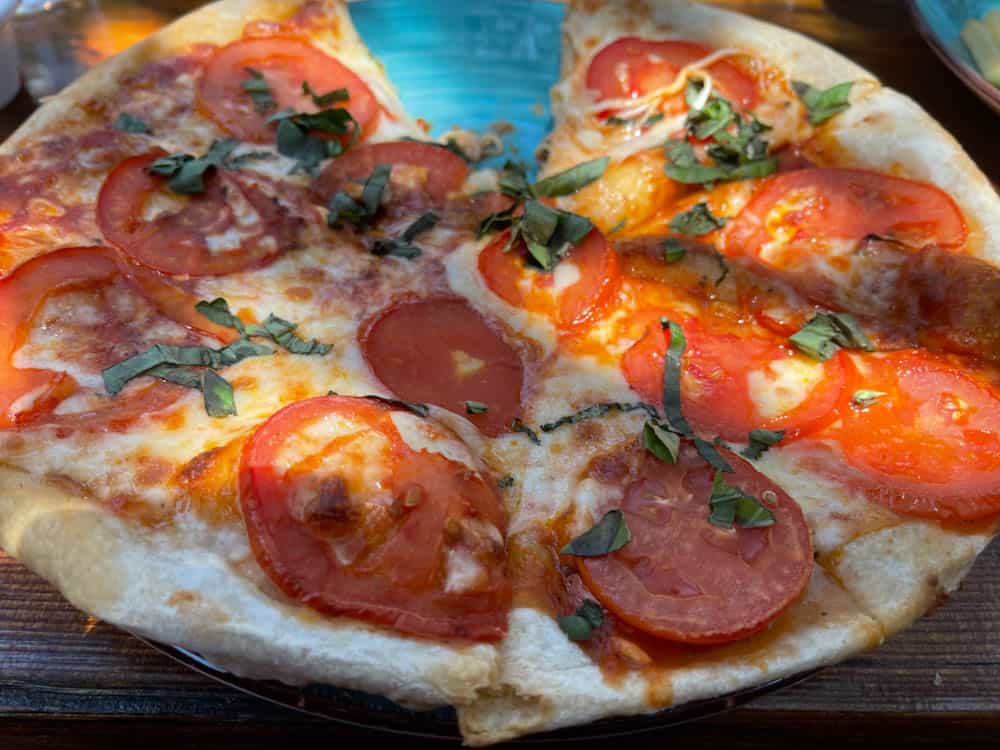 The restaurant offers both indoor and outdoor seating. Get an outdoor spot if you can: the gardens and brick outdoor fireplaces are gorgeous. If you enjoy wine, you must try local vintages from the extensive collection at The Forge.
Hubby enjoys the burger here, and we've sometimes split a pizza for a light lunch. The vegetarian sandwich, featuring portobello mushroom and other grilled and raw veggies, makes for a hearty lunch.
At the time of writing, The Forge is open for lunch and dinner from Thursday through Sunday. They have a dog-friendly patio. Call ahead to reserve a table.
The Forge, Junipero Street & SW Corner of 5th Ave, Carmel-by-the-Sea, CA 93921
Sur at the Barnyard
Sur, located in the Barnyard Shopping Village, offers both indoor and outdoor seating. Sur serves California cuisine, and their menu is more extensive and more eclectic than you'll find at many other places in Carmel-by-the-Sea.
Sur is one of our favorite places for happy hour, because we like many of the appetizers at the restaurant, from cheese bread and french fries to calamari and sand dabs.
Their signature beet salad is one of the items I order almost every time we visit. The combination of red beets, Fuji apples, pecans, and Point Reyes blue cheese is simply amazing. The veggie ratatouille with polenta is also excellent.
Hubby has tried a variety of main courses at Sur and he has enjoyed most of them. The seafood linguine and the burger are two of his favorites.
Sur is open for happy hour and dinner Tuesday through Sunday, and for lunch on the weekend. Their patio is pooch friendly. Call the restaurant to reserve a table.
Sur, 3601 The Barnyard Ste A-21, Carmel-by-the-Sea, CA 93923
Did you find this article informative? Pin it for later reference!