The short and scenic Bird Island Trail in Point Lobos State Reserve features beautiful views, access to a sandy beach, and lots of birds in season.
Point Lobos State Natural Reserve is located along Highway One, just three miles south of Carmel-by-the-Sea.
We walk the Bird Island Trail every time we visit the park. It is one of the most popular Point Lobos hiking trails, so you will run into other hikers during the day, from families with kids to birding and wildlife enthusiasts.
Planning to walk Bird Island Trail? Here's what to expect, plus a few things to know before you go!
Some links on this page may be affiliate links. If you click an affiliate link and make a purchase, we may receive a small commission, at no extra cost to you. For more details, refer to our disclosure.
What can you expect on Bird Island Trail in Point Lobos State Park?
You'll walk to Bird Island, of course!
Bird Island is a rocky outcrop just offshore. Outcrops like Bird Island (you will see others in the park) are formed by the action of the waves over years and years. Erosion causes holes and arches in the shoreline, which eventually collapse completely, creating the little islands you see.
Home to hundreds of sea birds in the spring and summer, Bird Island is one of the most viewed sights in Point Lobos State Park.
The birds you are most likely to see here are Brandt's cormorants and Western gulls. You can see the little chicks if you visit during hatching season!
Other birds you may see, if you are lucky, are black-crowned night herons, egrets, or great blue herons.
If you visit during nesting or hatching season, you may see park docents in the viewing area with powerful bird scopes, which they will let you use, even pointing out where to look.
Through the scope, you can get a closer look at the nests or the cute little chicks. It's very cool!
Although Bird Island is the star attraction on this Point Lobos nature trail, you will see a lot more en route. Shortly after you climb the steps (or the ramp) and get onto the trail, you will come to picturesque China Cove.
China Cove
China Cove features stunning jade green waters and a strip of pristine sandy beach.
It is probably the most photographed spot in a park full of Instagrammable locations.
You can't go down to the beach at China Cove, but you can view it from the trail.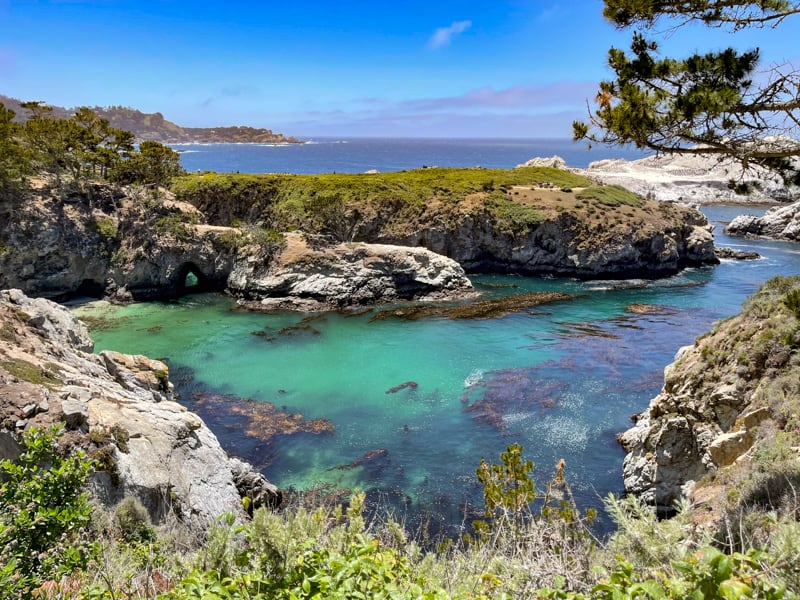 In the spring, China Cove is home to harbor seals, who feed their newborns here. if you visit in April or May, you may see the little pups playing in the shallow waters at the beach while the moms sun themselves on the sand.
The trail winds through coastal flora and pine trees, and you may spot land birds as you walk, including acorn woodpeckers, nuthatches, dark-eyed juncos, or California scrub jays.
Gibson Beach
Next on the trail you will come to the overlook for Gibson Beach. There is staircase access to Gibson Beach and it's a little longer than the beach at China Cove so you can walk here, or even swim, if the water is warm enough. The stairs are steep.
Check with docents before you venture down to the beach though: occasionally waves wash over the whole beach, and your only escape is via the stairs! There are no lifeguards on duty. The water is cold pretty much most of the year.
Pelican Point and Bird Island
Continue on the trail to Pelican Point, where you will see a riot of wildflowers in the spring and summer, and gulls flying overhead or landing on rocks. Here you will find the Bird Island viewing area.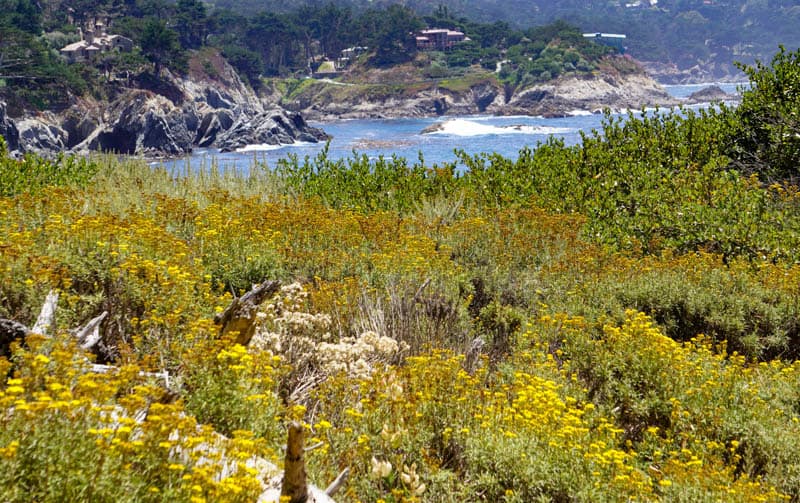 The trail loops back to Pelican Point, from where you will retrace your steps to the starting point. As you walk, look down into the water: you may see harbor seals on the rocks below, or sea otters playing in the water.
Essential facts about Bird Island Trail at Point Lobos
Bird Island Trail is a loop, 0.8 mile long. It is a relatively flat and easy trail, mainly packed dirt. It is suitable for most visitors to Point Lobos State Reserve.
Other than Gibson Beach, the trail is fully accessible. You can to climb a few steps from the parking lot to the trail, but there is also an inclined ramp suitable for strollers, walkers, and wheelchairs.
The trail can be hiked year round. Bikes and pets are not allowed on the trail.
How to get to the trailhead for Bird Island Trail in Point Lobos
The trailhead for Bird Island Trail is located by the Bird Island parking lot, the southernmost parking lot in the park. From the parking lot, take either the steps or the accessible ramp up to start the walk. Here is a map.
Parking lots at Point Lobos State Reserve tend to fill up quickly, especially on weekends, so arrive early to snag a spot in the Bird Island parking lot. You will also find restrooms and picnic tables here. If the Bird Island parking lot is full, you can park at one of the other lots and walk here via South Shore Trail.
You can park on the shoulder of Highway One, if you see signs saying parking lots in the park are full. Walk into the park and follow South Plateau Trail (an inland trail through pine forest and coastal flora) to Bird Island Trail.
Be aware that Highway One is narrow and one lane in each direction. We err on the side of caution and park inside the park, waiting, if necessary, for a spot to open up.
There is a fee to park your vehicle inside the park. The general fee is USD10.00 per vehicle at the time of writing. If you walk in, there is no fee.
How long does it take to hike Bird Island Trail?
You can walk the trail in about 30 minutes, but we suggest allowing at least one hour, so you can stop to observe marine life and birds, enjoy the views, and take lots of photos. Bird Island Trail is one of Big Sur's prettiest hikes!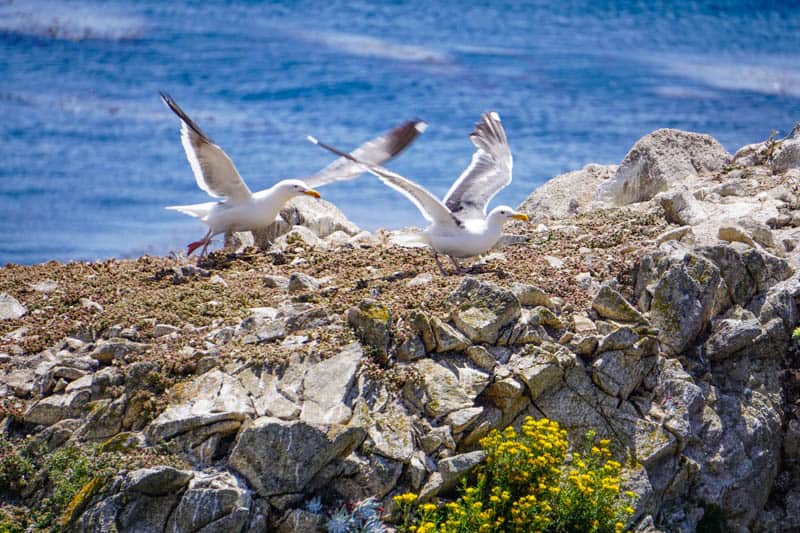 If you visit in the spring, you may want to allow even more time, to see the harbor seal pups playing in the water and to look for bird chicks on Bird Island. It is a beautiful trail, and you will want to linger, guaranteed!
What to bring on the Bird Island hike
Water
You will find water fountains by the Bird Island parking lot, so bring your refillable water bottle. You cannot purchase bottled water inside the park.
Food and Snacks
The Bird Island Trail is not very long, so you don't really need food, but if you plan to spend the day in Point Lobos State Reserve, bring a picnic lunch and snacks.
There is no food available for purchase in the park.
Digital camera with Zoom Lens
If you enjoy photographing birds and wildlife, bring a camera with a good zoom lens.
We bring our Panasonic Lumix DC-ZS70 with us on hikes. It is a pocket-sized camera, but sports a 30X zoom, and we generally get good photos of birds and wildlife with it.
Binoculars
Definitely bring your binoculars along on the Bird Island hike. We use the Celestron Trailseeker compact binoculars, and love that they do well early and late in the day, in low light.
You can borrow binoculars from the visitor center at the park if you didn't bring yours.
Swimsuit
If you visit in the summer and plan to swim at Gibson Beach, bring your swimsuit!
Sun Protection and Bug Spray
The trail is exposed for the greater part, so remember your sunscreen and sunglasses. Also bring bug spray if you are sensitive to bites.
Tips for Hiking Bird Island Nature Trail in Point Lobos State Reserve
Visit in the spring or summer
You can hike Bird Island Trail any time of year, but if you visit in the spring or summer, you will likely see lots of wildflowers along the trail.
Spring is also the best time to see harbor seals and pups at China Cove, and nesting birds and chicks on Bird Island.
In the summer, the water may just be warm enough to swim at Gibson Beach!
Arrive Early or late for a parking spot
Point Lobos State Reserve is a super popular getaway destination, especially on holidays and weekends. Arrive early in the day or late in the afternoon if you want to secure a parking spot close to the trail.
At those times of day, you will run into fewer other visitors on the trail.
Arrive later in the day for sun in Summer
The marine layer for which the northern and central California coast is known tends to hang around in the mornings in summer. It generally dissipates by noon, so if you want great photos of the water, arrive later in the day.
Allow more time than you think you will need
You will end up spending a lot longer on the trail than you think you will, if you visit in the spring or summer, when birds and wildlife are around.
In the winter, you won't see any birds on Bird Island, and you will likely complete the trail in about 30-40 minutes.
Bring layers
It can be cool and breezy by the water all year long, especially early or late in the day. Bring a light cover-up or windcheater to stay snug as you walk.
Comfortable closed-toed walking shoes are fine for Bird Island Trail, and other trails in the park. Dress in long-sleeved shirts and long pants to help protect from poison oak, which is rampant along California trails. And stay on the trail!
*****
Enjoy hiking scenic trails? Check out these other articles on California hiking trails!
Did you find this article informative? Pin it for later reference!