California in July offers abundant sunshine and a choice of vacation destinations, from the beautiful coast to redwood forests, mountains, and alpine lakes.
Enjoy water sports at Lake Tahoe or Big Bear Lake. Go hiking in the mist at Redwood National and State Parks, or admire the steam vents and bubbling hot pools in Lassen Volcanic National Park. Get quality beach time at some of the Golden State's beautiful beaches.
And of course, savor flavorful summer produce at local restaurants, along with some of the world's finest wines. With lots of sunshine and no rain, California in July is perfect for al fresco dining in the evenings.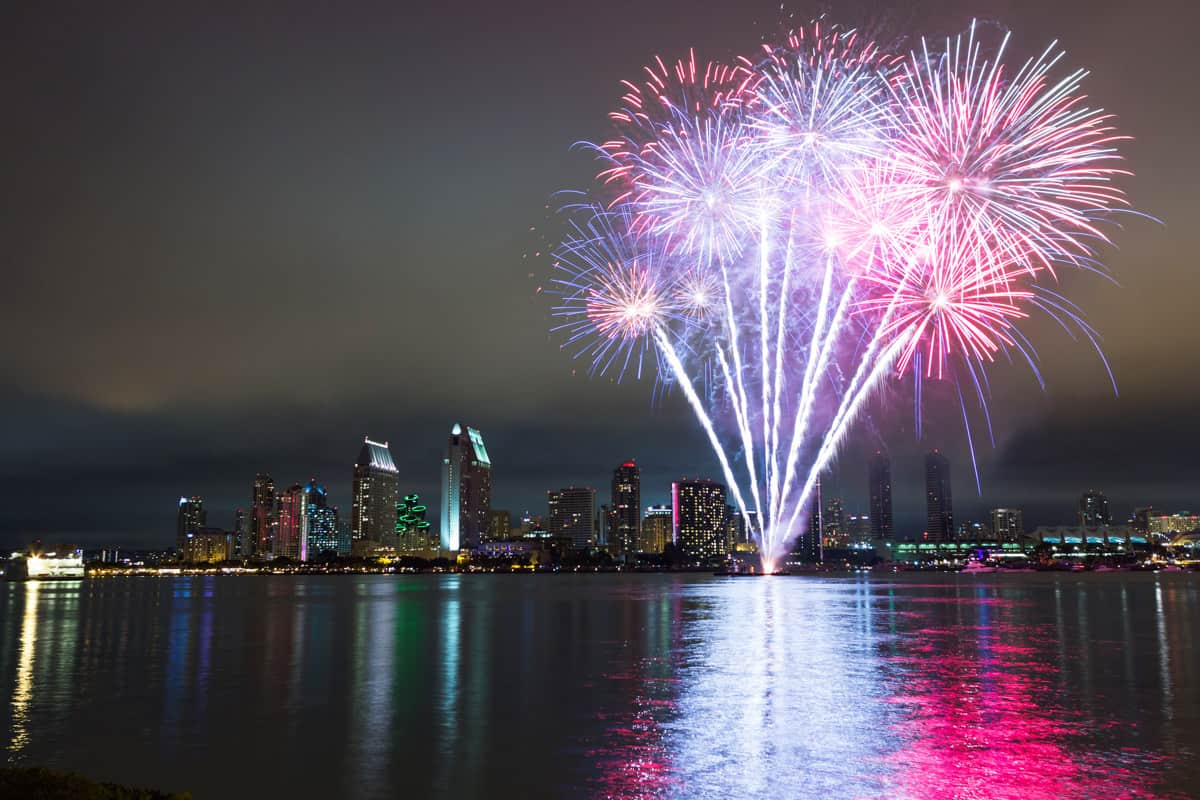 Some links on this page may be affiliate links. If you click an affiliate link and make a purchase, we may receive a small commission, at no extra cost to you. For more details, refer to our disclosure.
If you love celebrations and festivals on vacation, most cities and towns offer Fourth of July events, from parades to firework displays.
You will also likely find summer music or art festivals, plus food and drink events, in many places in California in July.
Considering a Golden State summer vacation? Check out our round-up of the best places to visit in California in July!
1. San Diego in July
With daytime temperatures usually in the mid 60s to mid 70s and loads of sunshine, July is the perfect month to visit San Diego!
Whether you plan to spend a weekend in San Diego or you opt for a longer stay, you'll find plenty to keep you engaged in America's Finest City.
San Diego's miles and miles of coastline mean that there is a beach for everyone. Whether you are looking for a lively party scene, a family-friendly environment, or a quiet escape, you'll find a beach to suit. Many beaches have lifeguards in the summer.
Some of our favorite beaches in San Diego include Ocean Beach, Pacific Beach, and Coronado Beach, as well as La Jolla Cove and La Jolla Shores in the north.
Visit Cabrillo National Monument for views of the San Diego skyline and the Pacific Ocean. Walk the two easy trails, look for birds, or go tidepooling. The monument offers stunning views of the city skyline!
Stroll Balboa Park to admire the architecture and the many gardens, many of which will be in bloom in July. The Botanical Building is a great photo spot!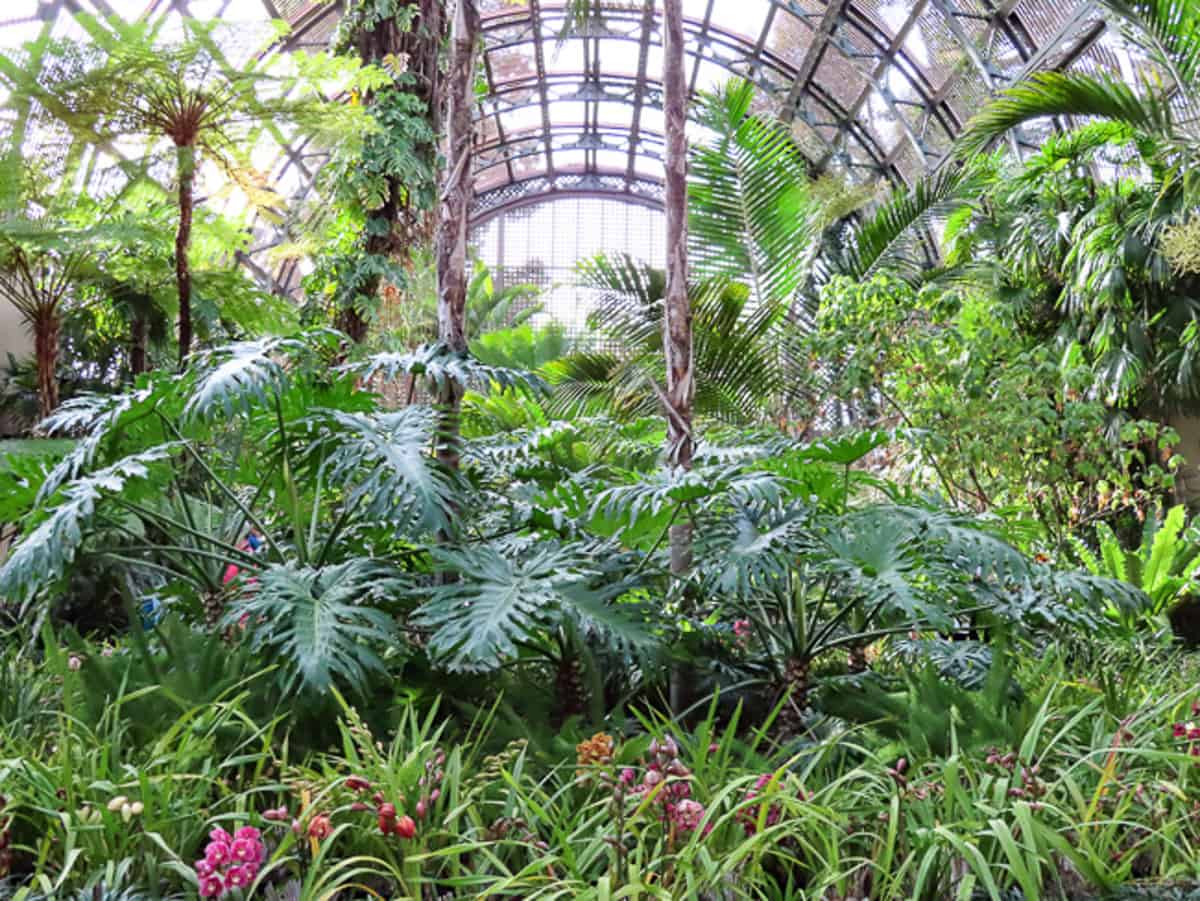 Catch a baseball game in Petco Park, take a harbor cruise, and enjoy the eateries in the Gaslamp Quarter or Little Italy, where you will also find a Saturday farmers' market.
If you visit in the first part of July, be sure to catch the fireworks on the Fourth of July. The Port of San Diego hosts the Big Bay Boom, a stunning display of fireworks over the San Diego Bay.
July is the month when the famous Comic-Con International is held every year in San Diego. It is the largest comics and pop culture convention in the country, and attracts thousands of aficionados. If you plan to visit during the event, book your accommodations far in advance!
2. Lake Tahoe in July
With 72 miles of shoreline, Lake Tahoe is absolutely stunning to behold, with mountains in the background and turquoise waters that will make you think of the Caribbean.
Straddling the borders of California and Nevada, Lake Tahoe is one of the most popular summer vacation destinations in California.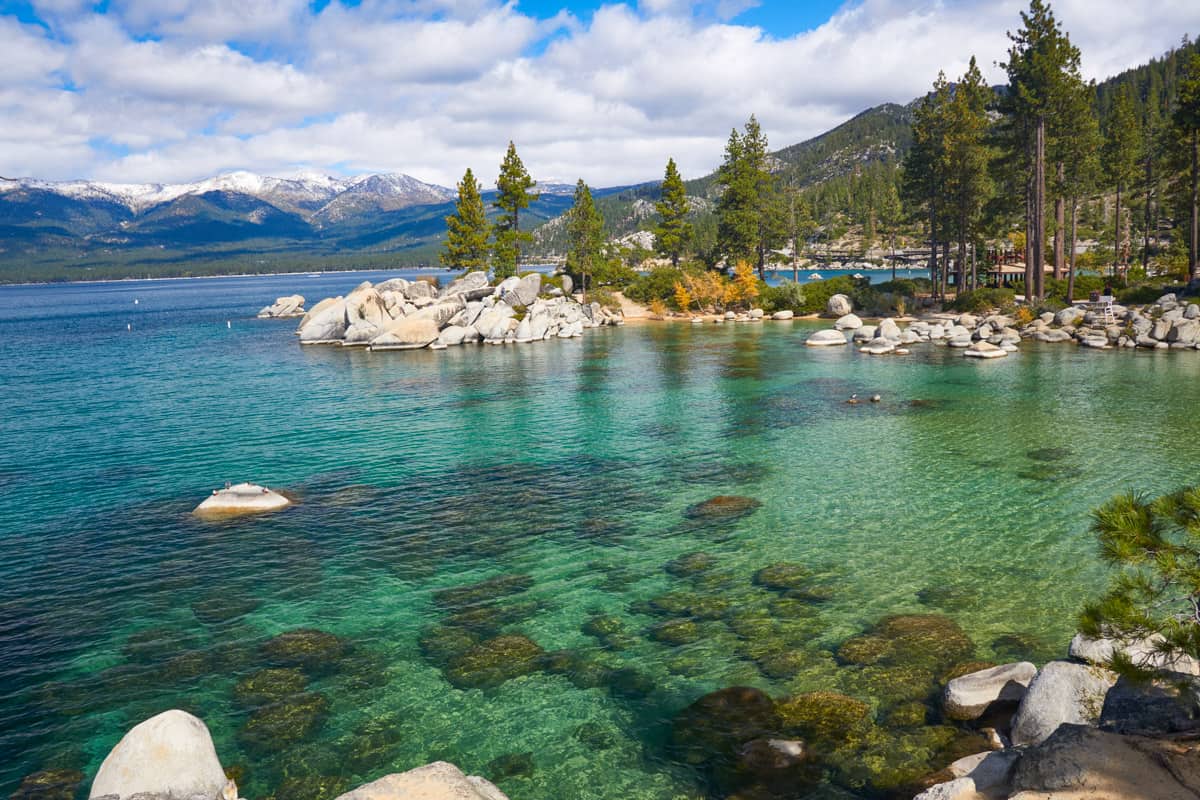 It can get hot in Lake Tahoe in July, so it's a good thing that there is no shortage of water activities at the freshwater lake, from stand-up paddle boarding to kayaking tours of the lake or simply taking a dip in the pristine waters!
Sand Harbor Beach (on the Nevada side) is a particularly great place to hang out, thanks to the golden sand, BBQ facilities, and perfect swimming conditions.
For a different perspective of the lake, you can hop aboard a paddlewheel boat for a daytime excursion, or an evening dinner cruise for a romantic experience. Sailing tours are also offered.
Surrounding the lake, you'll also find endless hiking opportunities, ranging from longer treks like the Mount Tallac hike or shorter walks, including the Glacier Meadow Loop, a good pick for families with small kids.
You also won't want to miss the incredible waterfalls such as the famous Horsetail Falls in the Desolation Wilderness, which plummet a stunning 800 feet! Closer to the lake, Eagle Falls is a popular hiking destination.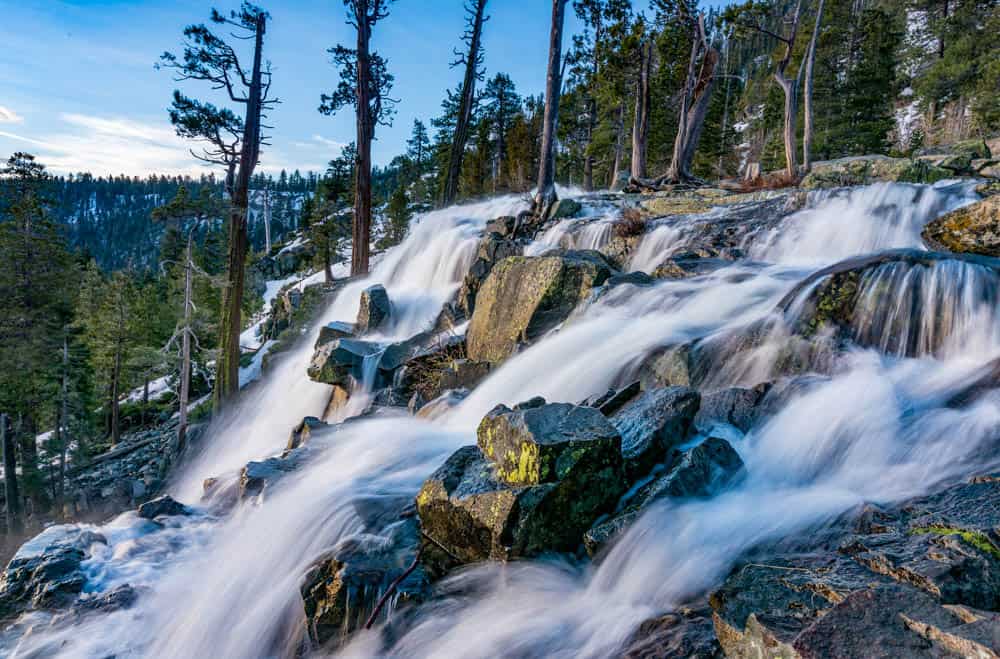 Rounding off the summer experience are evening activities like free live concerts on the beach, which make Lake Tahoe one of the best places to visit in California in the summer.
3. Mammoth Lakes in July
Up in the Sierra Nevada mountains, you can enjoy cooler daytime temperatures while visiting California in the summer.
Mammoth Lakes, located along the scenic Highway 395 corridor in the Eastern Sierra, is an outdoor adventurer's paradise, combining wild mountain biking trails, off-the-beaten path campsites, and pristine lakes.
Hiking is one of the most popular activities in Mammoth Lakes in July, with lush summer foliage, mountain streams perfect for cooling off, and stunning vistas over the mountains.
Devil's Postpile National Monument is considered one of the unmissable attractions of Mammoth Lakes. This incredible geologic formation of basalt columns is just over 100 feet high and was formed by ancient volcanic activity in the region.
Also in the monument, be sure to hike to Rainbow Falls. The gorgeous waterfall was still flowing powerfully during our late July visit.
July in California is also an ideal time of year to spot wildlife, and Mammoth Lakes is a natural haven. While you're out on a boat on one of the lakes in the Lower Mammoth Lakes Basin or hiking, keep your eyes peeled for eagles, herons, and other birds.
You may even get lucky and see a black bear foraging for summer berries: on one of our summer visits to Mammoth Lakes, we were taking photos when we saw a full-grown bear emerge dripping wet from Lake Mamie and cross the road to go into the trees.
Just north of Mammoth Lakes, allow for time to do the very scenic June Lake Loop drive. Among the best things to do in June Lake are boat trips. Rentals are available! And several June Lake hikes allow you to get up into the surrounding mountains.
Enjoy Independence Day celebrations at the Village at Mammoth Lakes if you visit over the Fourth of July weekend, and music and food and drink festivals through the summer.
4. Big Bear Lake in July
The small Southern California town of Big Bear Lake may be known for its ski slopes in the winter, but during the summer it turns into an adventure-filled destination for boating, fishing, and hiking.
Thanks to the mountains, summer daytime temperatures in Big Bear Lake are usually about 80 degrees
Fahrenheit, dropping to about 50 degrees Fahrenheit at night, making it cooler than other destinations in Southern California in the summer.
The namesake lake is perfect for pontoon boating, kayaking, and swimming. If you're an adrenaline seeker, you might want to try out jet-skiing or wakeboarding as well!
Big Bear Lake is also famous for its mountain biking trails, especially for the downhill tracks at Summit Bike Park. July in California is excellent for biking, and the stunning mountain and forest scenery of Big Bear Lake is the perfect setting for this thrilling activity.
Other adventure activities around Big Bear Lake in July include hiking, ziplining, Segway tours, and huge water slides at the Alpine Slide Park at Magic Mountain.
Although outdoor activities are usually why people visit Big Bear Lake in July, the town also has some cool boutique shops if you are looking to pick up a unique souvenir, as well as great eateries.
Enjoy Fourth of July fireworks at Big Bear Lake, visit the Bear Valley Farmers' Market every Tuesday morning, join a guided bird walk on the first Saturday of the month, or guided wildflower walks on Saturday mornings through mid-July.
Music in the Mountains concerts take place at the Big Bear Discovery Center on select dates in July.
5. Big Sur in July
The Big Sur coast is a hot spot for road trips during the summer in California.
With jaw-dropping views of the Pacific, stunning coastal cliffs, and pretty waterfalls, it's no wonder why this area is so popular among photographers and artists!
There's a lot to see and do in the 90 miles of coastline that make up Big Sur. Make sure you stop at iconic sights like Bixby Bridge, McWay Falls, and Pfeiffer Beach, famous for its postcard-worthy Keyhole Rock sea stack.
Keep in mind though that accommodation can fill up quickly in Big Sur in the summer, so you'll want to plan well in advance, especially if you are looking to camp in Big Sur.
In the north of Big Sur, you'll want to walk the hiking trails at Point Lobos State Natural Reserve for the spectacular ocean views. The short
On the eastern side of California 1, you can explore the miles of Big Sur hiking trails in Pfeiffer Big Sur State Park with its dramatic redwood trees and endless opportunities for wildlife viewing. Look for wild turkeys, deer, and maybe even a bear or bobcat!
Toward the southern end of Big Sur, we recommend visiting Ragged Point. Perched on top of this 300-foot cliff, you'll get an appreciation for the wild beauty of the California coast like nowhere else!
6. Redwood National and State Parks in July
Summer in the redwoods means camping, hiking, swimming, and wildlife spotting.
The Golden State's coastal redwoods are the tallest trees in the world (some over 360 feet!), and the Redwood National and State Parks are some of the top places to visit in California in July.
The forests have an other-worldly or prehistoric quality to them, especially in places like Fern Canyon, which is lined with lush greenery during the summer months. Did you know this incredible canyon actually featured in Jurassic Park films?
Some of the best towns for a base camp for exploring the redwoods are Crescent City (in the north) and Eureka (in the south). From here, it's an easy drive to park entrances.
Outdoor adventurers might want to check out camping options to be even more immersed in nature.
Jedediah Smith Redwoods State Park is very close to Crescent City, and is famous for places like Stout Grove, which is one of the oldest portions of the redwoods. After a day of hiking, you can also check out the swimming hole located in this portion of the park, a great way to cool down during a hot afternoon in July in California.
Although hiking is the best way to see the redwoods up close, you can also view the redwoods from your car on the scenic drives in the parks.
Redwood National Park is free to visit, but the three state parks do have day use fees but they offer discounted pricing for holders of the America the Beautiful National Parks Pass.
If you're traveling north by road to Redwood National and State Parks, try to also do the 30-mile Avenue of the Giants drive through the Humboldt Redwoods State Park en route: it's one of the most scenic drives in California!
7. Lassen Volcanic National Park in July
The diverse landscape of Lassen Volcanic National Park is unlike anything else you'll see in California. Alpine lakes and forests are interrupted by lava formations, creating a surreal terrain that has captivated photographers and nature enthusiasts.
One of the best national parks to visit in California in July, Lassen Volcanic National Park's Park Highway is likely to be open to vehicular traffic all through the month, and lakes thawed.
Visit the iconic Lassen Peak for which the park gets its name. Not only is this peak picturesque, but it's also one of the world's tallest plug dome volcanoes.
You also won't want to miss Bumpass Hell, which gets its name from the mud pots and steam vents created from geothermal activity beneath the surface of the earth.
Did you know the area got its name from explorer Kendall Vanhook Bumpass, who accidentally stumbled into a steam geyser? Thankfully today the boardwalks and designated pathways make this stunning area safer to visit!
On hot afternoons in July in California, Lassen Volcanic National Park also has great options to cool off, thanks to the over 200 lakes! The mountain lake water remains chilly even during the hottest months, and it's the perfect way to refresh yourself after a day of hiking.
8. Mendocino in July
Enjoy the best of the California coast in Mendocino, known for its bluffs and miles of shoreline trails crossing through the state parks.
In the charming town of Mendocino Village, you'll find great bed & breakfasts, local artisan shops, and elegant Victorian homes.
When visiting Mendocino in July, you'll definitely want to check out the Friday afternoon farmers' market to find seasonal fruit, local cheese, and other craft products. Nearby Fort Bragg hosts a farmers' market on Wednesdays.
Just north of Mendocino Village is Caspar Headlands State Beach, a perfect spot for picnics overlooking the undeveloped coastland.
Van Damme State Park is another great spot to visit. The park is known for its hiking trails and pygmy cypress forests.
It's no secret that the beaches are the top attraction of Mendocino in the summer. Many of the beaches are a bit too rocky and the waves are too big for swimming, but the scenery and fresh ocean breezes at places like Jug Handle State Natural Reserve are well worth your time!
If you want to cool off in the water, then Big River is the place to go, with options for kayaking, canoeing, or guided cruises.
You'll also have a chance to see a lot of wildlife like harbor seals, otters, and many species of birds along the Mendocino coast.
9. San Francisco in July
In July, temperatures tend to remain fairly mild in San Francisco thanks to the fog which often rolls in at night. The days tend to remain pleasant, great for outdoor exploration.
Many travelers come to San Francisco to experience the vibrant culture of the city.
There are plenty of museums from which to pick, including the Exploratorium which has over 600 exhibits with interactive components for children. Or tour the famous San Francisco Museum of Modern Art.
Spend the afternoon walking around Fisherman's Wharf, with its local seafood markets and eclectic shops.
If you want to escape from the city streets, then the Golden Gate Park is the place to go. Covering over 1,000 acres, the park is a great place for picnics or walking the trails.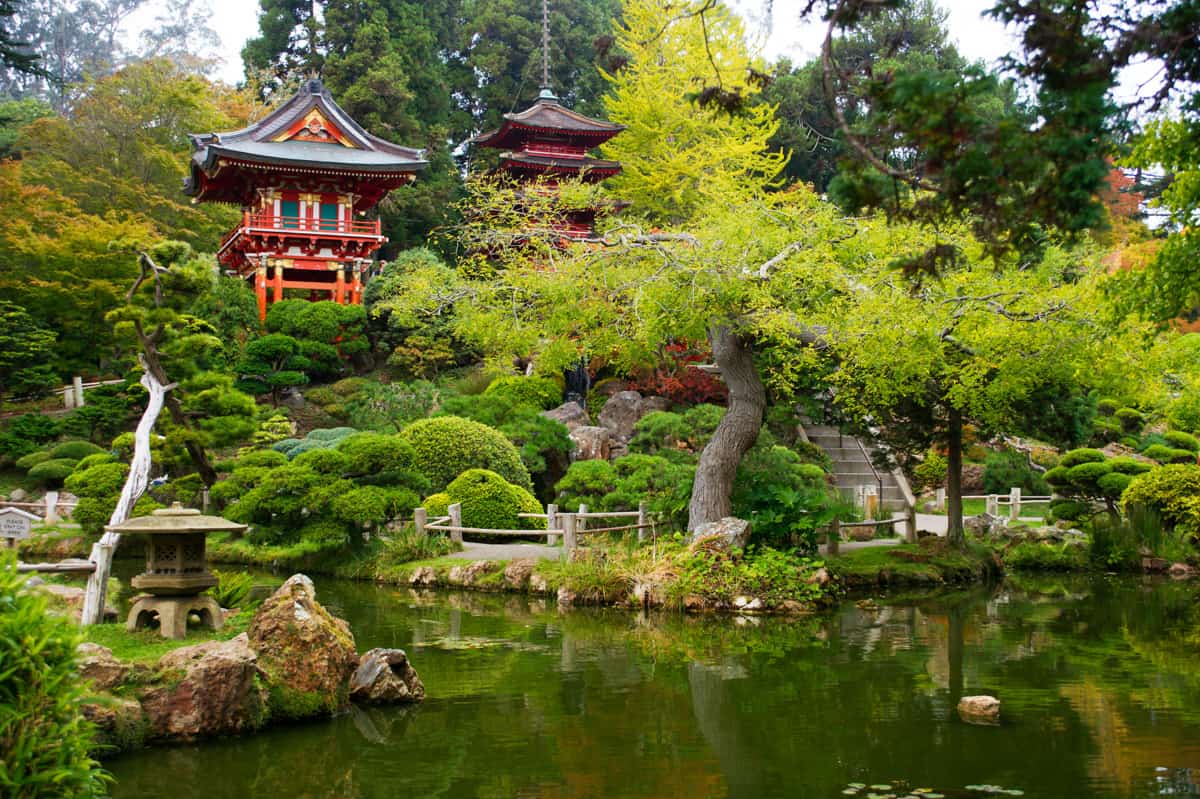 Summer in San Francisco also offers plenty of outdoor festivals, which you won't want to miss! The annual Fourth of July waterfront festival features a firework show, and on weekends you'll likely find an art or music festival full of food, fun and
entertainment.
Just north of the city, you'll find old-growth redwoods at the Muir Woods National Monument and miles of windswept trails and stunning scenery at Point Reyes National Seashore.
10. Monterey in July
Monterey brings together the best of summer in California: beaches, culture, and hiking trails all await you on the peninsula!
Take a boat ride out in Monterey Bay for a new perspective and possibly to catch sight of whales which sometimes swim off the shore.
Back on land, you can walk around the historic Monterey Old Fisherman's Wharf. where you will find awesome waterfront dining options as well as local artisan shops and galleries.
Take a step back in time as you continue your tour in the Monterey Old Town Historic District, featuring architecture dating back to the Spanish colonial era.
July in Monterey is the perfect time of year to hit the golf courses like the famous course near Pebble Beach. After completing all 18 holes, you can catch the sunset at one of the oceanfront restaurants overlooking the bay.
Monterey has plenty of great beaches to spend summer afternoons in California. Carmel Beach, in nearby Carmel-by-the-Sea, is known for its white sand and Lovers Point Beach in Pacific Grove is famous for its romantic coastal scenery.
You also won't want to miss the festivals in July in Monterey, including Carmel Plaza's Summer Live Music Series, which takes place every Friday. Other festivals include car shows, local food events, and art fairs.
11. Santa Barbara in July
Santa Barbara is known for its idyllic weather year-round, but the slightly warmer summers make it the most popular time of year for visiting the beaches.
While a weekend in Santa Barbara will allow you to enjoy its popular sights and savor farm-to-fork cuisine at downtown eateries, the city is also great for a longer vacation.
From the picturesque palm-tree-lined West Beach to Arroyo Burro Beach Park, there are plenty of opportunities to sunbathe and splash in the surf in Santa Barbara in July.
Kayaking is one of the most popular pastimes for locals and visitors alike. The tranquil waters near the harbor are perfect for gentle paddles, or head over to Channel Islands National Park to experience some of the most stunning coastal scenery in California.
Santa Barbara also offers plenty of culture and food. There are several wine regions surrounding Santa Barbara, and summer is a great time to go on wine-tasting tours and enjoy farm-to-table cuisine.
There are plenty of places to soak up the city life and culture in Santa Barbara. Funk Zone is brimming with creativity, trendy boutiques, and street art. The city also has a beautiful botanic garden that you can stroll.
If you are planning an extended stay, be sure to explore some day trips from Santa Barbara, including to nearby Solvang, with its Danish-themed architecture, or Santa Ynez, with its great wine tasting and eateries.
12. Morro Bay in July
The small California Central Coast towns are wonderful summer vacation spots, and Morro Bay, with its fishing village feel and tons of outdoor activities, is a great base from which to explore.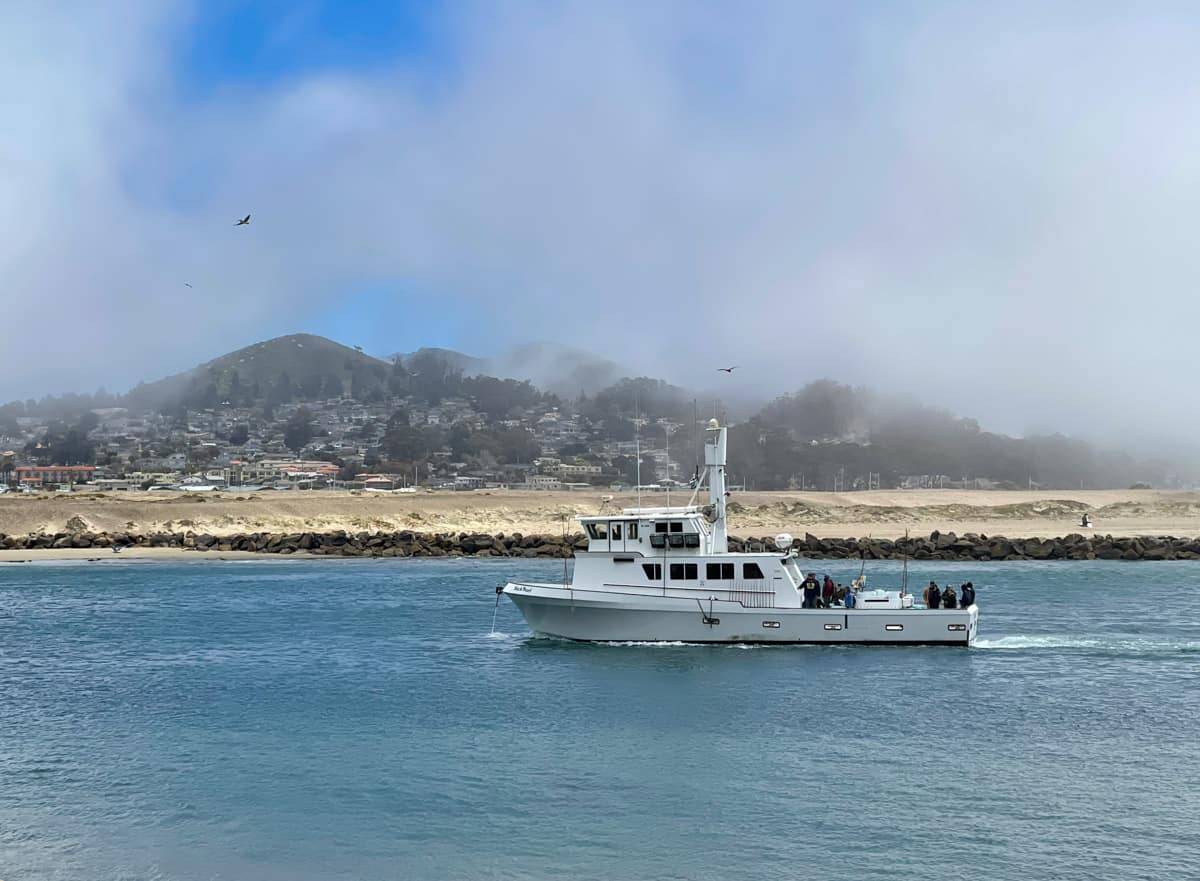 In Morro Bay, stroll the Embarcadero to Morro Rock, where you can try to spot peregrine falcons that nest in the rock. Morro Bay is also home to several sandy beaches, and you can enjoy the freshest of seafood at waterfront eateries.
Los Osos to the south of Morro Bay is home to the magnificent Montana de Oro State Park, where walking the Bluff Trail is a must, as is strolling the Elfin Forest.
A little further south, the beach towns of Avila Beach and Pismo Beach have sandy beaches and long piers for enjoying sunset.
To the north of Morro Bay, check out the seaside village of Cambria, where you can walk the bluff trail at the Fiscalini Ranch or the Moonstone Beach Boardwalk Trail.
The even smaller village of Cayucos offers a fabulous sandy beach and hiking at the Estero Bluffs State Park. Be sure to stop in at Harmony, the tiniest hamlet along the coast.
A little inland is San Luis Obispo, known for its lively downtown and its Thursday evening farmers' market, where you can enjoy lots of prepared foods in addition to fresh fruit, flowers, and produce, as well as many wonderful restaurants.
And Paso Robles, the heart of Central California wine country, offers numerous tasting rooms right in downtown so you do not have to drive after your wine tastings. But there are also many lovely wineries to explore around the town.
*****
Planning a California getaway at another time of year?
Check out our in-depth guide to visiting California in December for the best California winter destinations, our round-up of the best places to visit in California in April for spring wildflower bloom hotspots and more, and our article on California in October for fabulous fall getaways!
MORE CALIFORNIA TRAVEL INSPIRATION!
Did you find this article informative? Pin it for later reference!