California in October is a vacationer's dream. Whether you are looking for leaf-peeping spots or you want to enjoy fall festivals and Halloween events, you'll be spoiled for choice in the Golden State!
The Eastern Sierra of California is the best destination for fall colors in the western USA, and October is when colors usually peak. You'll also find colors in the vineyards of California, as well as in gardens in cities.
But the best part of planning a vacation in California is that you'll find varied environments at their best, from coast to desert and forests to mountains.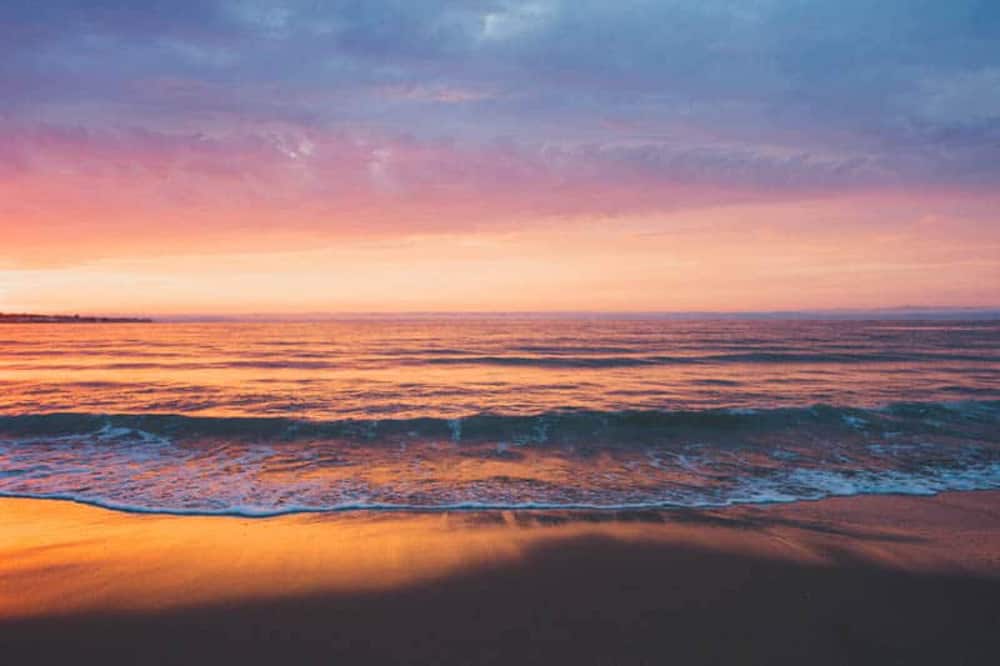 Some links on this page may be affiliate links. If you click an affiliate link and make a purchase, we may receive a small commission, at no extra cost to you. For more details, refer to our disclosure.
So if you want to spend your October vacation on the beach rather than chasing fall colors, you absolutely can! Or take a California road trip in October to see the best of the state!
From national and state parks to the mountains and lakes of the Eastern Sierra, and from vibrant cities like San Diego and Palm Springs to charming towns like Carmel-by-the-Sea, here's where to go in California in October!
Lake Tahoe in October
If you are looking for a spectacular nature getaway in California in October, then Lake Tahoe, one of California's most beautiful lakes, should definitely be on your radar.
Between the high seasons of summer and winter, Lake Tahoe in the fall offers that much-coveted calm, with fewer people on the trails and beaches, but still pleasant weather.
Daytime highs tend to hover around 60 degrees Fahrenheit, but it's much cooler early and late in the day, so dress in layers for outdoor adventures.
Deciduous trees, bushes, and grasses in forests and meadows around Lake Tahoe change color in the fall, and October is when you'll likely see fall colors at their peak.
Hope Valley, south of the lake, Fallen Leaf Lake, also south of Lake Tahoe, Spooner Lake and Marlette Lake on the eastern shore, and the area around Truckee are all excellent places to go leaf peeping.
If you visit when the kokanee salmon are running, generally in early October, head to the Taylor Creek Visitor Center to walk the easy boardwalk trail.
From the bridges over the creek, you can see the multitude of bright red salmon in the water: they come here to spawn and end the cycle of life. Early or late in the day, you may see bear trying to fish in the creek!
Fall is the ideal time to tackle popular Lake Tahoe hikes such as the hike to Eagle Falls and Eagle Lake: the trail is so much less crowded than in the summer!
Try mountain biking or horse riding, and go for a relaxing cruise on the lake to take in the scenery from the water.
For a spectacular aerial view, adventurous visitors may want to try a helicopter ride over the lake!
Where to Stay
Hotel Azure is located across the street from Lake Tahoe. It offers a seasonal outdoor pool and onsite cafe. Many rooms come with a private patio or balcony with a view of the lake. Rooms are spacious and comfortably furnished.
Book a stay here!
San Diego in October
With its beautiful weather, wide variety of things to see and do, and great eats, San Diego makes for a fabulous California vacation spot any time of the year, and October is no different!
Daytime highs tend to be in the mid 70s Fahrenheit, perfect for outdoor adventures. Water temperature is generally in the mid 60s. While swimming is certainly possible, you may find the water cool, especially as the month progresses.
But you can still sunbathe or stroll on the sand, so make sure to allow for beach time on your October San Diego itinerary. Coronado Beach is delightful, or head a little north to the long stretch of sandy beach at La Jolla Shores.
Visit Balboa Park to stroll the gardens and admire the beautiful architecture. Museum lovers will be spoiled for choice on which museums to visit at the complex.
Each Friday through Sunday in October, the San Diego Zoo celebrates Halgloween, with music and special performances. Kids 11 and under enter free and can visit in costume. Get a one-day pass online!
The end of the month features authentic Mexican Dia de los Muertos (Day of the Dead) celebrations through the city. Old Town San Diego usually has an arts and craft market. If you enjoy local history, visit the San Diego Mission, the first mission built by the Spanish in California.
October is a great time to visit Cabrillo National Monument, where you can take in spectacular views of the San Diego skyline, go tidepooling, enjoy an easy hike, and explore Old Point Loma Lighthouse.
Enjoy a cruise of San Diego harbor or go whale watching on a replica of a historic schooner, and take in the lively ambience at neighborhoods like Little Italy and the Gaslamp Quarter.
Where to stay
The Omni San Diego Hotel in downtown San Diego offers an outdoor pool and a spa, and is highly rated for its comfortable beds. Some rooms offer views of San Diego Harbor, downtown San Diego, or PETCO Park. Rooms feature contemporary decor.
Book a stay here!
Napa Valley in October
October is part of Napa Valley's "crush" season, and an exciting time to vacation in the famed wine country destination. And there are tons of things to do in Napa Valley even if you aren't a big fan of wine.
Many Napa Valley wineries host harvest parties or grape stomps. You can participate in picking grapes for production, go behind the scenes to observe the production process, or join an old-fashioned grape stomp.
Crush events are hugely popular, so get your tickets in advance for the events you plan to attend. Book accommodation and make dinner reservations well ahead of your visit as well.
Other than harvest events, plan on visiting some of Napa Valley's most beautiful wineries, just to ogle. From Castello di Amorosa and Beringer Vineyards to Darioush and Far Niente, the wineries here are simply gorgeous.
In the later half of the month, vines and trees start changing colors, so drive through the valley along the Silverado Trail and Highway 29 to catch fall colors. Or go ballooning over the valley for stunning fall views!
The Napa Valley is one of the best places to go for California fall color.
The towns of Napa Valley: Napa in the south, Calistoga in the north, and Yountville and St. Helena in between, are made for strolling, sipping, and shopping. And spa days!
In Yountville, be sure to stop by Bouchon Bakery for a pumpkin spice latte, Franken-bouchons, and other fall treats.
Since Napa Valley is known for its farm-to-table cuisine, you'll want to bring your appetite! In October, you can expect menus to feature fall favorites, like butternut squash soup and apples in salads.
Where to Stay
In downtown Napa, Archer Hotel features a rooftop bar and well-appointed rooms with elegant decor. Some rooms offer balconies with fireplaces. Step outside to shopping and dining!
Book a stay here!
Planning a California getaway at another time of year?
Check out our in-depth guide to visiting California in December for the best California winter destinations, our article on California in July for summer vacation spots, and our round-up of the best places to visit in California in April for spring wildflower bloom hotspots and more!
Mammoth Lakes in October
October is a great time to look for fall colors in the Eastern Sierra. You'll find some of the best fall colors in the Golden State along the Highway 395 corridor, and Mammoth Lakes makes for a great base from which to explore the region.
Daytime highs in October in Mammoth Lakes are usually around 60 degrees Fahrenheit. Bring layers, because the weather can change abruptly, and it's cooler early and late in the day.
North of Mammoth Lakes, the June Lake Loop, a 16-mile detour off Highway 395, makes for a beautiful drive, with leaf colors and a string of sparkling lakes. Renting a boat and get out on the water is one of the best things to do in June Lake!
Just a little further north, the Mono Lake tufa towers make for a fascinating sight. Walk the South Lake Tufa Trail or the boardwalk trail at the County Park to get close to the limestone towers.
In Mammoth Lakes, walk or bike the Lakes Basin Path, or drive Lake Mary Road, to enjoy the lakes of the lower basin. Hike the trail to Crystal Lake for spectacular views.
Just south of Mammoth Lakes, Convict Lake is another stunning alpine lake worth visiting. Hike the trail around the lake and take in the fall colors and the views of the blue-green water.
Hot Creek Geological Site is another fun spot. Walk the short steep path to the bottom to look at the hot pools and creek up close. The photo ops here are spectacular!
There are walks in town as well, especially by Mammoth Creek, where you can see fall color from willows and aspen. And although the trees are mostly evergreen, Earthquake Fault and the Inyo Craters are worth visiting as well.
Where to Stay
The Westin Monache Resort is located near Mammoth Lakes Village, close to shopping and dining. Rooms are comfortably furnished, with fireplaces, and some rooms have mountain views. Whitebark Restaurant, on site, is well reviewed.
Book a stay here!
Santa Barbara October Getaway
The elegant city of Santa Barbara makes for a wonderful getaway any time of the year, and October is no exception. Daytime highs in the mid 70s are perfect for exploring outdoors.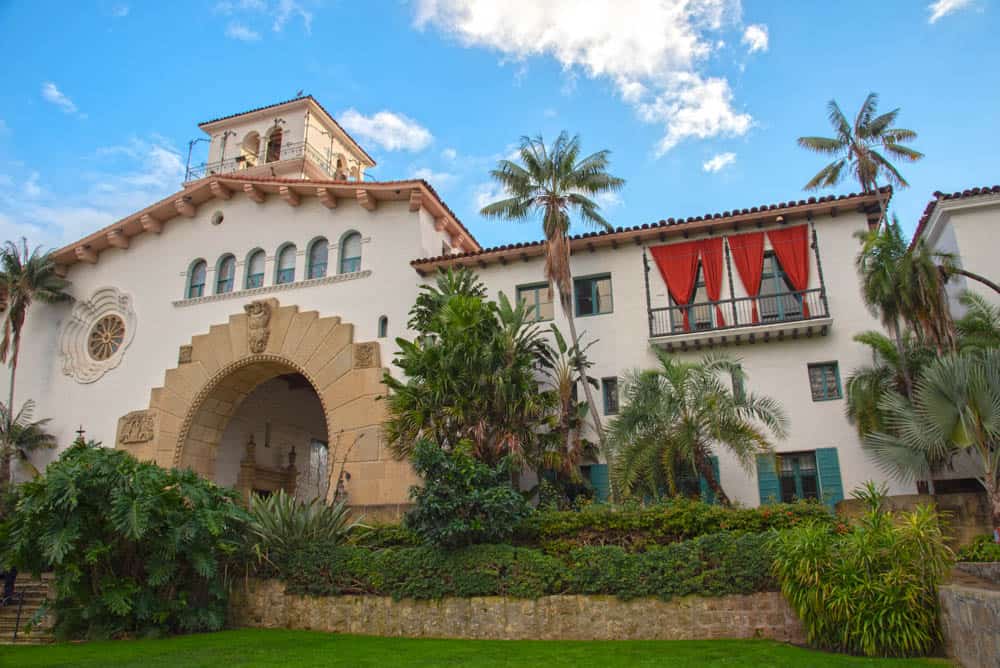 Although the water temperature is too cold for most people to go swimming without a wetsuit, you can still enjoy the many beaches: stroll, sunbathe, and enjoy sand play, or launch a kayak from select spots.
From the large East Beach to the dog-friendly Hendry's Beach and the small but beautiful Butterfly Beach in Montecito, you have no shortage of choices when it come to beaches in Santa Barbara.
A visit to the Santa Barbara County Courthouse is a must, to take in the stunning views from the Clock Tower. Also be sure to admire the beautiful Mural Room and the tile work throughout the interior.
Santa Barbara's downtown is a joy to explore, with historic landmarks, shopping, dining, and entertainment. A food tour is a great way to enjoy exploring on foot.
In the Funk Zone, admire the street art, taste wine, and enjoy great food. And if you are a wine lover, be sure to book a wine tour to the picturesque Santa Ynez Valley: the vines change color in the fall.
For food and fun, stop by the California Avocado Festival in nearby Carpinteria: it's a large event, with arts and crafts, entertainment, and lots of avocado-forward food.
Seafood lover? At the Santa Barbara Harbor & Seafood Festival, which occurs in October each year, you can taste fresh-caught seafood cooked right in front of you at the waterfront.
Where to Stay
Santa Barbara Inn is located across the road from the beach. The hotel offers an outdoor pool and hot tub, as well as fire pits by which to relax in the evenings. Some rooms have full or partial ocean views. Rooms are furnished beautifully.
Book a stay here!
If you are planning a quick getaway, we have a Santa Barbara weekend itinerary you can use as a guide. Of course, there's a lot to see and do, so a longer stay is also an option, in which case you can add in some day trips from Santa Barbara!
Carmel-by-the-Sea
One of our most favorite weekend getaways in California, Carmel-by-the-Sea (and nearby Monterey) have daytime highs just around 70 degrees Fahrenheit in October, and mostly fog-free days.
Carmel's gorgeous crescent-shaped sandy beach is made for walking, and it's dog friendly too. Carmel River State Beach and Del Monte Beach in Monterey are other nice sandy beaches in the area for strolling or watching the sunset.
Carmel-by-the-Sea celebrates its birthday at the end of the month with a fun parade, following which you can browse the many shops in the village, dressed up for Halloween, and enjoy wine tasting and dining.
In nearby Carmel Valley, you'll find a fun pumpkin patch at the Earthbound Farms farm stand. There are classes and other fun fall events all through the month. Carmel Valley Village offers wine tasting and dining.
In Monterey, take a whale-watching trip in Monterey Bay. It's one of the best places in the world to go whale-watching. Look for humpback whales, blue whales, dolphins, and a variety of sea birds.
In October, Monterey celebrates History Fest: you can join a guided tour of Monterey's many historic sites, watch films about Monterey, and watch enactments of historical events, all for free.
Spend a day in nature: walk the many scenic hiking trails in Point Lobos State Natural Reserve, or drive the famous Big Sur coast with stops at iconic sights like Bixby Bridge, Pfeiffer Beach, and McWay Falls.
The 17-Mile Drive is another must-do. Start at the gate in Pacific Grove and enjoy the sights along the way to the gate in Carmel. The ocean views along the drive are spectacular. You can also do an e-bike tour!
If you are planning a longer stay, also consider driving up the coast to Santa Cruz to visit the Boardwalk and spend time at one of the many beaches in the area. Santa Cruz offers many redwood hikes as well.
Where to Stay
Carriage House Inn is located in downtown Carmel, walking distance to shopping, sipping, and dining. Rooms are elegantly furnished. Each room features a fireplace. The inn offers a Continental breakfast and afternoon wine and hors d'oeuvres.
Book a stay here!
Palm Springs in October
October is a wonderful time to vacation in Palm Springs, a vibrant desert city in Southern California and long a getaway for Hollywood stars.
Daytime highs in Palm Springs in October tend to be in the mid to high 80s, with very pleasant mornings and evenings. For the perfect October Palm Springs itinerary, hike and enjoy outdoor activities early or late, and lounge by the pool or opt for indoor activities in the afternoons.
Take the Palm Springs Aerial Tramway to the upper station on Mount San Jacinto for one of the most thrilling things to do in Palm Springs. At the top, take in the panoramic views, enjoy a meal, or hike a trail!
If you enjoy hiking, there are several lush canyons in and around Palm Springs that you can explore, from the Indian Canyons and Tahquitz Canyon to the Thousand Palms Oasis at the Coachella Valley Preserve. Plan your hikes for early in the day and carry lots of drinking water.
Garden lovers should not miss Sunnylands Center and Gardens in Rancho Mirage. Stroll the desert gardens to admire the mass plantings of numerous varieties of succulents.
The Palm Springs Art Museum is a must-visit for modern art lovers. You'll find a meticulously displayed collection, and it's a great place to be in the middle of the day, when it's warm outside!
Want to explore the San Andreas Fault and the desert on an exciting open-air jeep tour? Book this highly-rated 3-hour tour that departs from nearby Palm Desert. The scenery is stunning and you'll learn about the Cahuilla Indians that lived here long ago.
Where to Stay
The Kimpton Rowan Hotel is a trendy hotel right in downtown Palm Springs. The year-round outdoor pool on the rooftop is fabulous for lounging and staying cool. Watch the sunset from the terrace! Rooms are elegant, with luxe bathrooms.
Book a stay here!
Bishop in October
One of the best places to experience fall colors in California, Bishop is located along Highway 395, about a 45-minute drive south of Mammoth Lakes.
Bishop is a paradise for outdoor enthusiasts, with several epic bouldering locations. The town has a spectacular setting, nestled between the towering peaks of the Sierra Nevada on the west and the White Mountains on the east.
Daytime highs in October in Bishop generally tend to be in the mid 70s, perfect for outdoor activities. Bring layers, though, because it cools down quite a bit early and late in the day.
Take a drive along Highway 168 West, which runs through the scenic Bishop Creek Canyon. You'll find lots of fall color all along the route, along the canyon walls and by the sides of the creek.
Each of the three main forks of the Bishop Creek ends at a beautiful lake: North Lake, South Lake, and Lake Sabrina. Hiking trails start at each lake and head into the wilderness, and boat rentals are available in season at the marina at Lake Sabrina.
There are short scenic drives all around Bishop that offer not just brilliant fall colors at peak, but also spectacular scenery, with the looming Sierra peaks, beautiful lakes, and bubbling creeks.
In the town of Bishop, do a walking tour of the many murals, enjoy fall color, and sample sweet treats at Erick Schat's Bakkery. History buffs will want to visit the Laws Railroad Museum nearby, as well as the Paiute-Shoshone Cultural Center.
Highway 168 East just south of Bishop heads into the White Mountains, where you will find the Ancient Bristlecone Forest. Fall is a great time to do one of the hikes in the Schulman Grove, to see the ancient trees up close.
If you are planning a longer stay in Bishop in October, be sure to head down to Lone Pine, to make the stunning drive up to Whitney Portal, and to enjoy the beauty of the Alabama Hills.
And if you are a western movie buff, Lone Pine hosts the annual Western Film Festival in October.
Where to Stay
The Cielo Hotel is located in downtown Bishop, and offers comfortable rooms with modern decor. Some rooms feature views of the mountains. Dining options are close by.
Book a stay here!
Sonoma County in October
If you are looking for a California getaway destination that offers coast, redwood forests, wine country, and fun little towns all within short drives of one another, consider Sonoma County!
Daytime highs are generally in the upper 70s in the valley, and a few degrees cooler along the coast. You may run into morning fog along the coast, but it generally dissipates by noon.
In October you'll find plenty of fall color: vineyards change from green to gold and orange, and deciduous trees in parks and along roads offer lots of color as well. Meadows look lovely in shades of orange, red, and rust.
If you are a wine lover, there are many beautiful wineries to visit in Sonoma Valley, all the way from Sonoma in the south to Healdsburg in the north. In the spring and summer, many winery gardens showcase blooms.
For a close encounter with towering coastal redwoods, hike the nature trails in Armstrong Redwoods State Natural Reserve. The Pioneer Nature Trail is 1.5 miles round trip and flat for the most part.
For a stunning coastal drive, head west to the coast at Bodega Bay and work your way north to Jenner and beyond. Sonoma Coast State Park offers many beautiful beaches and you'll see the mouth of the Russian River as it meets the sea in Jenner.
The towns of Sonoma County are a joy to explore. Take in the historical sites at Sonoma Plaza, shop in the Healdsburg Plaza, splurge on ice cream at the Petaluma Creamery, and enjoy Safari West, a safari park in Santa Rosa.
There are smaller towns to visit as well: in Freestone, stop for a delicious scone at Wild Flour Bread. In Bodega, visit the filming locations of Hitchcock's The Birds. In Sebastopol, the quirky junk art along Florence Avenue is a must-visit.
The Russian River offers lots of recreational opportunities as well. Laze at one of many beaches, or join a kayak or canoe trip along the river. Tubing is another popular activity.
Where to Stay
The Astro Hotel in Santa Rosa makes an excellent base for your Sonoma County vacation. Rooms are beautifully furnished, with super comfy beds and well-appointed bathrooms. The property has a lovely garden.
Book a stay here!
Yosemite National Park in October
The top reason to visit Yosemite National Park in October is the blissful absence of crowds! With roads less congested, you'll find it way easier to drive around the park. It's much easier to find parking spots as well.
Although Yosemite National Park is not known for fall foliage, you'll still find color in Yosemite Valley on black oaks, big-leaf maples, willows, and alders, and in the higher elevations you'll find stands of aspen glowing gold as well.
Unless you run into a sudden snowstorm, you'll find most roads in the park open in October. Tioga Road, a beautiful drive through the high country in Yosemite, generally stays open until early November, but check before you go.
If you are lucky, rain just before your visit may cause the famous Yosemite waterfalls to flow well, but generally, in the fall you'll only find Nevada and Vernal Falls running (with a lighter flow), and Bridalveil Fall as a delicate cascade. Other falls are dry or just a trickle.
On an October visit, explore Yosemite Valley, and enjoy the Mist Trail past Vernal and Nevada Falls. In Wawona, stroll through the Mariposa Grove of Giant Sequoias. Along Tioga Road, enjoy the short hike to Soda Springs, or the longer hike to May Lake.
In October, you can enjoy the views from Yosemite's various viewpoints without the big crowds of late spring and summer. Visit Tunnel View, Glacier Point, Taft Point, and Olmsted Point and snap photos of the spectacular panoramas.
The weather in Yosemite in October can vary wildly, from sunny and warm to cold and snowy. Keep abreast of weather conditions and take snow chains if roads are expected to be snowy or icy. And of course, bring layers!
Where to Stay
The Hummingbird Raven House is located in Yosemite West, about a 30-minute drive to Yosemite Valley. The 1,100-square-foot home offers 3 bedrooms and 1.5 bathrooms. The deck, high in the trees, is a great place to eat and watch the sunset.
Book a stay here!
Sacramento in October
Sacramento is a fun California getaway in the fall. The capital of the Golden State not only offers several historic state parks and landmarks to visit, it is also known for its on-point dining scene.
Daytime highs in Sacramento in October tend to be in the high 70s, with lows in the low 50s. It's perfect weather for all the fun things to do in Sacramento! Bring a light wrap for early and late in the day.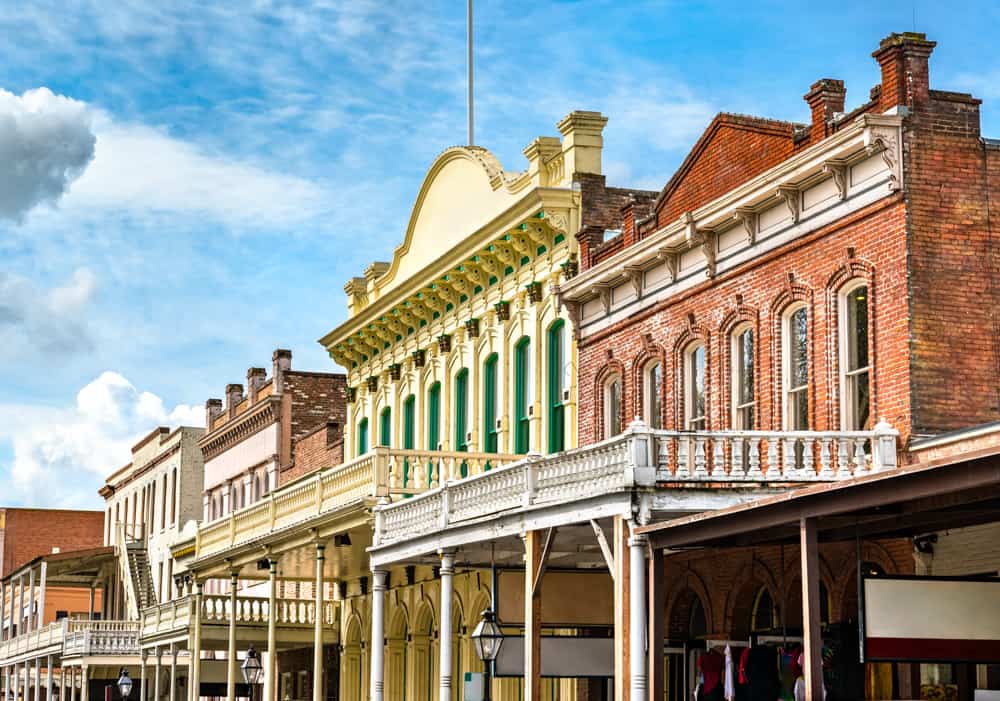 Known as "the City of Trees," Sacramento is home to thousands of planted trees, from maples and elms to liquidambars and Chinese pistache, all of which offer brilliant color in the fall. There are native cottonwoods and black oaks that turn to gold as well.
As you walk downtown and midtown Sacramento, you'll find lots of leaf color in the second half of October, but the Fabulous 40s, a neighborhood in East Sacramento is especially known for its fall foliage.
October is a great time to explore California's history in the state capital. Visit Old Town Sacramento State Historic Park, with its Old West architecture and many museums. Or tour Sutter's Fort State Historic Park, the site of the original trade colony.
Take a cruise along the Sacramento River or go whitewater rafting on the American River. You'll find lots of hiking and biking trails in the countryside around Sacramento: we love the Cronan Ranch Regional Trails Park near Coloma.
Sacramento boasts numerous topnotch restaurants, no matter the cuisine you seek. From Kru for Japanese to Masullo for pizza and Localis for prix fixe menus created around locally sourced ingredients, you'll be spoiled for choice!
If you enjoy gold rush era history, add in some day trips from Sacramento to your itinerary. From Nevada City and Grass Valley to Sutter Creek to Placerville, there are many gold rush towns in California to discover!
Where to Stay
Stay at the Tapestry by Hilton The Fort Sutter Hotel in Midtown Sacramento. Rooms are spacious and furnished comfortably, and the location is convenient for exploring. Pick a room on a higher floor with a city view!
Book a stay here!
Joshua Tree National Park in October
One of California's two desert national parks, Joshua Tree National Park makes for a great October getaway, with daytime highs in the low 80s and nighttime lows in the high 50s.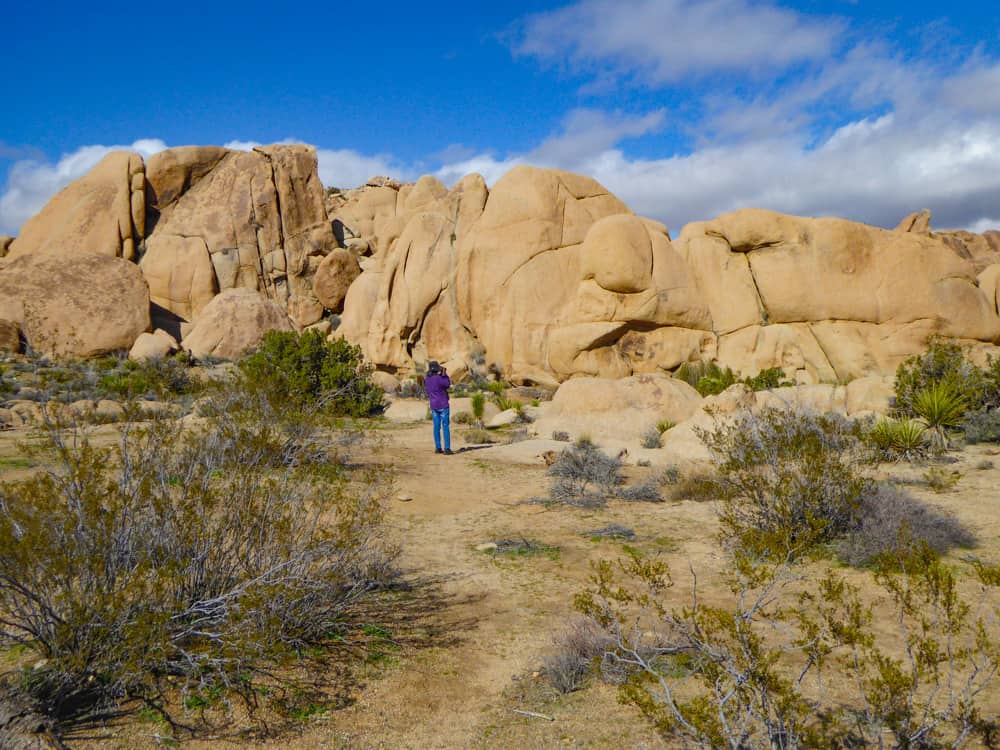 Joshua Tree National Park offers hikes of varying lengths and difficulty levels. Hiking a trail or two is a wonderful way to get up close to the flora (and fauna, if you are lucky) in the park.
The park is known for its Joshua trees, cholla cactus garden, and California fan palm oases, as well as its massive boulder formations, which offer excellent rock scrambling and climbing.
Walk the scenic Cholla Cactus Boardwalk Trail, or hike the Barker Dam or Hidden Valley nature trails. For a challenging hike, ascend to the top of Ryan Mountain for panoramas over the park.
Park Boulevard is a scenic drive through the northern portion of the park, which lies in the Mojave Desert. Even if you do not want to hike, there are several places along the drive to park and get close to the boulders.
You will also find the remnants of old mines and ranches in Joshua Tree National Park. You can take a guided tour of historic Keys Ranch: Bill and Frances Keys spent several decades working and raising their children here.
At sunset, head to Keys View, which offers panoramic vistas over the Coachella Valley. On a clear day, the views are jaw-dropping.
Linger after sunset to stargaze: Joshua Tree National Park is known for its dark skies! Park at a roadside pullout along Pinto Basin Road, south of the Cholla Cactus Garden, and admire the millions of stars on a cloudless, moonless night.
Where to Stay
Zen House is a spacious 3-bedroom, 3-bath home with fabulous views of the basin leading into the national park. The home is surrounded by five acres of land, and features an outdoor hot tub and a shady courtyard with barbecuing facilities.
Book a stay here!
Los Angeles in October
The City of Angels offers tons to do, no matter when you choose to visit, and October is no exception. Although you won't find too much fall foliage, you will find lots of fun Halloween events!
With daytime highs in the high 70s, the weather is great for exploring outdoors, but LA also has a number of world-class museums and entertainment options to enjoy.
Water temperatures in the 60s may be a tad too cool for swimming, but you can still enjoy sunbathing, strolling, and sand play, and sunsets on the beaches of Santa Monica and Malibu.
October offers perfect hiking weather, especially early in the day. Hiking up to the Hollywood Sign is one the bucket list of many first-time visitors to LA, but also try Corral Canyon in Malibu for fabulous ocean and coastline views.
Museum lovers will want to definitely visit the Getty Center and the Getty Villa, LA County Museum of Art, and the Broad. The outdoor installations at LACMA are must-sees, even if you aren't hugely into art.
And garden lovers will want to visit The Huntington, a large complex of themed gardens, the Descanso Gardens, or the LA County Arboretum & Botanical Garden to look for fall color and autumn blooms.
Towards the end of the month, you'll find a variety of Halloween events from which to choose. Tour haunted houses, attend Halloween Horror Nights at Universal Studios, catch an alfresco movie screening, or participate in a Dia de los Muertos celebration.
And if you are traveling with kids, you'll definitely want to check out the Halloween Party at Disneyland in Anaheim!
Where to Stay
The Sunset Marquis Hotel in West Hollywood boasts two outdoor pools and a lovely setting on a tree-lined cul-de-sac. The hotel offers rooms, suites, and standalone villas. The location is central for sightseeing.
Book a stay here!
San Luis Obispo in October
San Luis Obispo is not only a vibrant destination in its own right, it also makes a great base from which to discover all of the charming Central Coast towns!
Daytime highs in San Luis Obispo in October hover in the mid to high 70s, ideal for outdoor activities from hiking to beaches to strolling the towns. Coastal areas tend to have less fog than during the summer.
In SLO, enjoy Oktoberfest, with real German beer and food, Tastes of the Vine, a wine tasting at small local wineries, and Halloween festivities in downtown SLO at the end of the month.
Downtown SLO is one of our favorite places to just wander, with many small unique stores and galleries, and lots of cafes and restaurants. You can also stroll the peaceful grounds of the SLO Mission or walk along the San Luis Creek.
Wine lovers will want to visit Paso Robles, the heart of Central Coast wine country. The town hosts food, wine, and beer festivals through the month, and you'll enjoy tastings at the small wineries, many of them family-owned.
Head to the coast to Morro Bay, where you can enjoy watching the cute otters in the bay, and admire Morro Rock. Walk the bluff trail at the scenic Montana de Oro State Park, just south of Morro Bay in Los Osos.
You'll find many more fun festivals in the region in October. Pismo Beach hosts its very popular Clam Festival during this month, with a cookoff, live music, and more. In late October, monarch butterflies come to overwinter in the eucalytus grove at Pismo State Beach.
Cambria's month-long Scarecrow Festival is also popular. Cambria has a charming downtown you'll love to stroll, and a pair of stunning coastal walks: the Moonstone Beach Boardwalk and the bluff trail at Fiscalini Ranch Preserve.
Where to Stay
For a unique stay, consider the historic Madonna Inn in San Luis Obispo! The hotel has a pink facade and rooms individually decorated in pink inside. There's also an infinity pool with a waterfall.
Book a stay here!
San Francisco in October
October is one of the nicest times of year to visit San Francisco. The City by the Bay has lovely weather, with less fog, and lots of events to enjoy in October.
Daytime highs in San Francisco in October tend to be in the low 70s, with nighttime lows in the mid 50s. We'd still recommend packing a light jacket, for the evenings and for those unpredictable cooler days.
Fleet Week is one of the biggest events in October in San Francisco. With a parade of ships, ship tours, bands, and the air show, which is the pièce de résistance, the weekend-long event is a must-attend!
San Francisco also offers lots of Halloween festivities in October, from ghost tours and themed events at museums for kids to concerts and performances, so you have lots of options from which to pick!
October weather in San Francisco is perfect for outdoor activities, so plan on cruising the bay, especially if it's your first time in the city, and walking or biking the famous Golden Gate Bridge. You'll also want to tour Alcatraz!
Spend a day enjoying the many attractions in Golden Gate Park. Visit the botanical garden or the Japanese Garden, take in the exhibits at the Conservatory of Flowers, enjoy the art at the de Young Museum, or geek out at the California Academy of Sciences.
The Hardly Strictly Bluegrass Festival is held each October in Golden Gate Park, and is free to attend! The festival features lots of wonderful bluegrass artists.
If you are planning a longer visit, you'll want to schedule a visit to the Muir Woods National Monument to walk among the redwoods. Also plan a trip to the magnificent Point Reyes National Seashore: the scenery is epic!
Where to Stay
The citizenM San Francisco is a cool hotel located in Union Square, at the heart of all the action. The hotel offers a rooftop terrace and a 24/7 cafe. Rooms feature huge king-sized beds, colored mood lights, and blackout blinds.
Book a stay here!
Catalina Island: A Wonderful October Getaway!
Without the crowds of summer, Catalina Island makes for a delightfully relaxing vacation. With daytime highs in the upper 60s, and mostly clear mornings, the weather is ideal for exploring outdoors.
One of the most romantic places in California, Catalina Island offers a full range of activities in the fall, so you can do pretty much anything you would in the summer, with the bonus of being able to enjoy the slower pace. Bliss!
Most visitors stay in Avalon, the more developed of the two towns on Catalina Island. Here you can walk the waterfront, tour the beautiful Catalina Casino, or enjoy a spa day at Island Spa Catalina.
Catalina Island offers a large network of hiking trails for visitors that want to explore the rugged terrain. There are hikes for every skill level, and it's a wonderful way to get close to the local flora and fauna.
For a unique experience, take a Hummer tour to look for the bison that inhabit Catalina Island. Bison were left behind by a movie crew in the early 1900s. Enjoy beautiful views along the way.
There are plenty of water activities you can enjoy on Catalina Island in the fall. Kayaking is a perennial favorite: beginners can try the leeward side, which is sheltered and calm.
The water is fairly warm in the fall, making it perfect for snorkeling the waters around the island, rich with marine life. Scuba diving is another fun option.
Jazztrax is a popular California music festival that has been occurring annually at Catalina Island since 1987! Book your tickets well in advance to hear both top names in jazz and promising new artists.
Towards the end of the month, there are Halloween activities that are fun for both kids and adults, from screenings of scary movies to spooky shows at the Catalina Casino. The annual Halloween parade features decorated golf carts!
Where to Stay
Hotel Atwater is a historic 1920s hotel located right by the beach. Rooms are well-appointed and the decor elegant. Beds are rated super comfy! The location is convenient for waterfront strolling and other activities.
Book a stay here!
Big Bear Lake in October
One of the best places to go leaf-peeping in Southern California, Big Bear Lake is fun to visit in October as the resort town unwinds between the super busy seasons of summer and winter.
Along with the colorful fall foliage, you'll find lots of fun fall-themed activities to enjoy at Bg Bear, from a pumpkin smash zipline to a vibrant Oktoberfest!
Daytime highs in October in Big Bear tend to be in the mid-60s, with nights getting considerably cooler. Bring layers, and bundle up to enjoy activities early or late in the day.
At Big Bear Lake, you'll see brilliant fall color from aspen, maples and oaks, and October is a great time to catch the show. While you can stroll around town or go hiking or biking to see the colors, you can also see them from above on a helicopter tour!
To see the scenery, and the colors, from the water, book a boat tour of the lake. Tours are narrated, and you'll learn about the history of Big Bear and other interesting tidbits as you explore the scenic shoreline.
The Big Bear Lake Oktoberfest usually runs through the month of October, and is considered one of SoCal's top festivals. You'll find popular German foods to enjoy, a variety of German beers, live German music, and fun activities for kids.
The pumpkin smash zipline is a fun and unique fall activity in Big Bear. As you zipline through the trees, throw a pumpkin to the ground to hit a target and win a prize! It's offered every Saturday in October.
Where to Stay
This stunning two-bedroom cabin is located conveniently for sightseeing and activities. It has a balcony with mountain views, a garden, a hot tub, and barbecue facilities. The 2-bed, 1-bath home comes with a full kitchen.
Book a stay here!
*****
More California Travel Inspiration!
Did you find this article informative? Pin it for later reference!