The towns of the Central California Coast are picturesque, laid-back, and full of charm. They also pack a punch when it comes to things to see and do. And you will find great food and drink to enjoy as well.
The California Central Coast stretches from Santa Cruz County in the north to Ventura County in the south.
Along this length of coastline, a string of beautiful towns and small cities make for idyllic vacation destinations.
In this article, we've rounded up some of the most charming California Central Coast towns for you. Some of them are technically cities, but they exude that essential small town vibe that qualifies them for inclusion!
Central California Coast Towns: Santa Ynez Valley
California Central Coast Towns: San Luis Obispo County
Central Coast Towns: Monterey Peninsula

Central California Coast Towns: Santa Ynez Valley
The Santa Ynez Valley, on the southern part of the Central Coast of California, is set a little back back from the water, but the scenery in the valley is definitely high on the "wow" factor, with rolling hills, lush vineyards, and majestic oaks making up a beautiful landscape.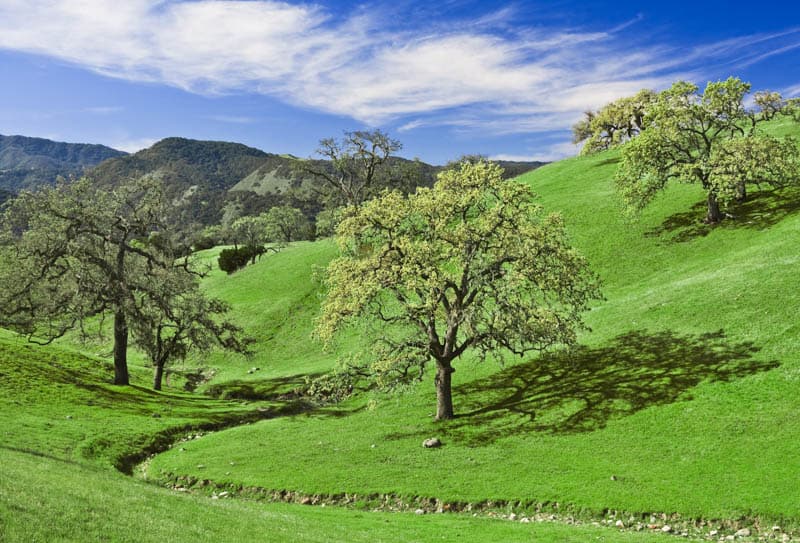 Some links on this page may be affiliate links. If you click an affiliate link and make a purchase, we may receive a small commission, at no extra cost to you. For more details, refer to our disclosure.
The six little communities in the Santa Ynez Valley are set close together, making it easy to explore them all or take it easy by just choosing one or two for a relaxed time in the region.
Solvang: A Little Bit of Europe
Known for its Danish roots and its charming downtown, Solvang makes for a wonderful Central Coast getaway in the picturesque Santa Ynez Valley.
Admire the beautiful Danish facades of the buildings, and the many giant windmills. Sample local wines at the many tasting rooms, and shop!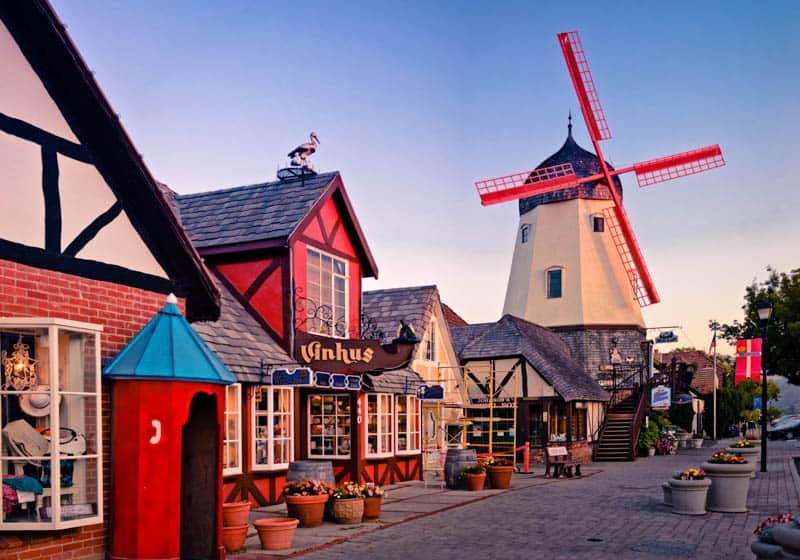 Visit Old Mission Santa Ines: it has gorgeous views, and a museum where you can learn about the first European settlement in the Santa Ynez Valley.
Also do not miss the Elverhøj Museum of History & Art, housed in a beautiful building reminiscent of an 18th century Danish farmhouse. Here you can learn about Solvang's Danish heritage.
Downtown Solvang is home to five authentic Danish bakeries, where you can try aebleskivers and other delicious pastries. You will find some restaurants that serve Scandinavian dishes, but you can also enjoy other cuisines in Solvang.
Where to Stay
Hotel: King Frederik Inn is located in the heart of downtown Solvang, walking distance to restaurants, tasting rooms, and shopping. Rooms are spacious and feature contemporary furnishings. Parking is free, and wifi is good. Enjoy pastries from local bakeries, delivered every morning. Book a stay here!
Vacation Rental: This 3-bed, 2-bath house is located inside the Danish Village. The house has a fenced-in yard, garage, and full kitchen, and is walking distance to shops, restaurants, and tasting rooms in downtown Solvang. Great for a family, with room to spread out. Book a stay here!
Get the full scoop: The Best Things to Do in Solvang, California!
Los Alamos: The Wild West Vibe
For a wild west feel and an amazing gastronomy scene, head to the little town of Los Alamos.
Bell Street, the main thoroughfare, is small (only seven blocks long!) and walkable, with historic facades and quirky signs.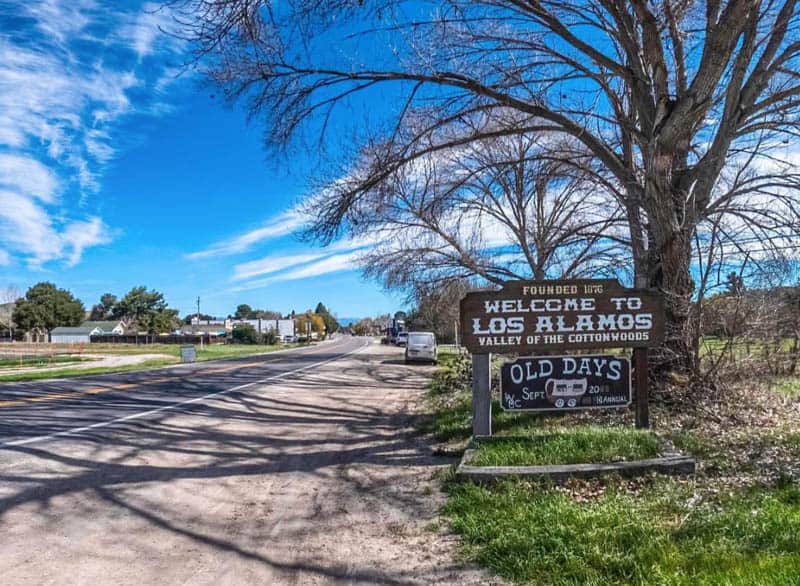 As you stroll, you will find numerous art galleries, antique shops, and boutiques to browse.
Los Alamos is known as "Little LA," because many famous Angelenos have moved here in recent years to help transform the tiny town into a superb wine and dining destination.
A must-stop spot in Los Alamos is Bob's Well Bread, one of the best bakeries in SoCal. Enjoy their sandwiches and pastries, but don't forget to get a loaf to go.
Pico is housed in a photogenic vintage structure, and their menu, featuring local ingredients, is flavorful. For drinks with a Wild West ambience, head to 1880 Union.
Where to Stay
Hotel: Skyview Los Alamos is a contemporary boutique hotel set on a hilltop and housed in a 1950s motel building looking out onto wine country. Some rooms and suites feature fireplaces and balconies with vineyard views. Rooms are well-appointed and feature luxury touches. Book a stay here!
Vacation Rental: Magnolia Cottage is a cozy 1950s style duplex in a quiet neighborhood, with 2 bedrooms and one bath. There's a private yard with covered outdoor dining, a fire pit, and a gas BBQ. It's walking distance to shops, tasting rooms, and restaurants in downtown Los Alamos. Book a stay here!
Los Olivos: Wining and Dining
Los Olivos, with gorgeous views over surrounding vineyards, has lots of wine tasting rooms and craft breweries (over 30!), making it the place to go for a dedicated day of eating and drinking well.
The town is known for its many artisanal eateries.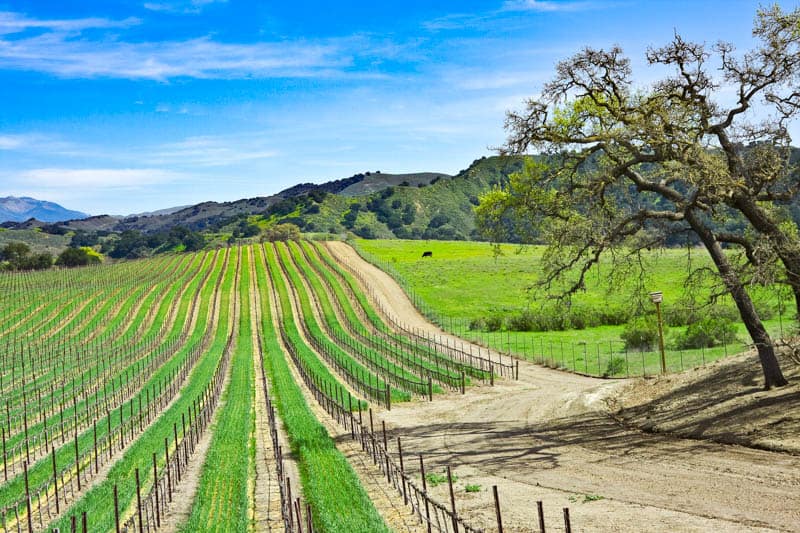 You can find both still and sparkling wine tastings in Los Olivos.
Try the Foxy Bubbles sparkling rosé at Blair Fox: the low-sugar wine is both light and fresh.
The Foxen Canyon Wine Trail is home to a number of local wineries where you can reserve tastings in advance.
Wandering the historic town center is fun. The quaint and charming downtown features many art galleries, antique stores, and boutiques.
Step into Global Gardens for organic olive oils, balsamic vinegars, and other artisanal products.
Where to Stay
Vacation Rental: This lovely 3-bedroom, 2-bath home with a cozy fireplace can accommodate 4-6 adults comfortably, perfect if you want room to spread out or for a group wine tasting trip! You can walk to many tasting rooms and restaurants. Enjoy the large redwood deck and the fenced backyard, fringed by old grape vines. Book a stay here!
Vacation Rental: This charming cottage is located in downtown Los Olivos. Restaurants, wine tasting, craft breweries, and boutique shopping are all literally steps away. The two bedrooms feature king beds and there are two full baths. The fenced cottage offers both privacy and convenience. Book a stay here!
Santa Ynez: Enjoy the Outdoors
The picturesque town of Santa Ynez is nestled in the midst of rolling hills and vineyards. Santa Ynez is fun for outdoor enthusiasts, history buffs, and foodies alike.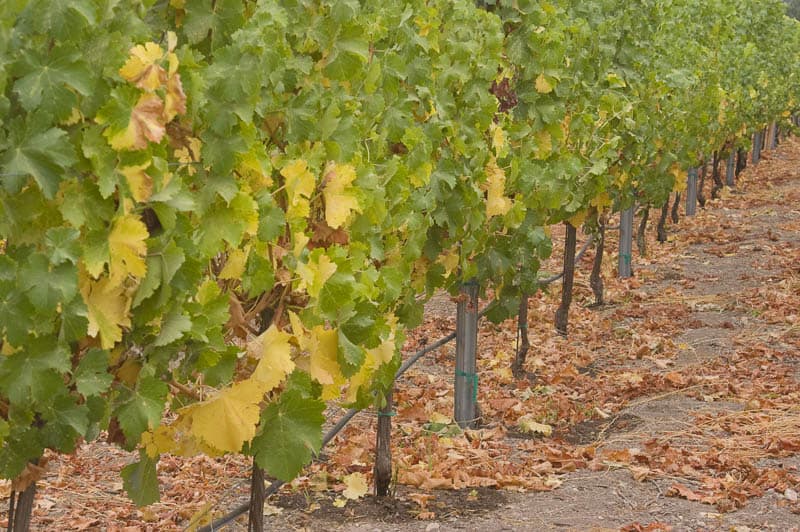 Outdoor lovers can go horseback riding through the beautiful countryside. The adventurous can enjoy a hot air balloon ride if they are up for an early morning wake-up call.
Hikers can try the scenic Lover's Loop via Grass Mountain Trail, which offers fabulous views of Santa Ynez.
History buffs will enjoy touring the Santa Ynez Valley Historical Museum & Parks-Janeway Carriage House. The carriage house has the largest collection of horse-drawn vehicles west of the Mississippi. Other exhibits showcase the histories of the valley.
Wine aficionados can opt for a vineyard tour: do not miss photogenic Bridlewood Estate Winery, with its tree-lined drive and beautiful gardens. Ranchos Olivos offers olive oil tastings.
Foodies will want to visit S.Y. Kitchen for the yum Italian offerings. Brothers Restaurant offers American fare.
Where to Stay
Hotel: ForFriends Inn Wine Country Bed & Breakfast is located in downtown Santa Ynez. The luxurious inn offers just eight rooms, well appointed, with comfortable beds. A full breakfast is included, as is an evening happy hour. Book a stay here!
Vacation Rental: This charming 2 bedroom, 1 bath casita is set on a 10-acre property, convenient to area sights, restaurants, and tasting rooms. The Spanish-style home has vaulted ceilings and terracotta tile. There is a patio with seating and outdoor grill. Dog friendly. Book a stay here!
Buellton: Pea Soup and Sideways Locations
Buellton is home to award-winning craft breweries and craft distilleries. Figueroa Mountain Brewing Co. is a great place to try beers made with local ingredients. DorWood Distillery offers unique spirits crafted in small batches.
To try Buellton's famous split pea soup, head to Pea Soup Andersen's.
Stop by Ostrichland to view, or feed, the ostriches and emus. Stroll the Santa Ynez Valley Botanic Garden, which showcases plants that are native to the watershed of the Santa Ynez River.
Tour the quirky Mendenhall's Museum of Gasoline Pumps & Petroliana. Stroll the streets of downtown to browse the shops and tasting rooms.
Buellton is home to filming locations for the movie Sideways. The Days Inn where Miles and Jack stay in Buellton is now called Sideways Inn. Hitching Post II Restaurant offers Santa Maria style barbecue (no ostrich steaks!) and other tasty bites made with locally-sourced ingredients.
Where to Stay
Hotel: Hampton Inn and Suites offers spacious, comfortable guestrooms. Each room comes with a mini-fridge and a microwave. There is a heated outdoor pool and outdoor seating with fire pits. The hotel has a good location, among the rolling hills and oak trees of the valley. Book a stay here!
Vacation Rental: This charming cottage has a lovely rural setting but it is just a 5-minute drive from downtown Buellton. The one bed, one bath cottage is ideal for a wine country couples getaway. There is a covered porch with fire pit. Book a stay here!
Ballard: Charm in a Small Package
Ballard is tiny, but very scenic and very relaxing. And it boasts a beautiful inn, where you can base yourself on your Santa Ynez Valley vacation. We would be happy just kicking back and spending a lazy weekend at the inn!
If you do stay here, reserve your spots in advance to dine at The Gathering Table, the onsite restaurant. And Bob's Well Bread is a great place for breakfast!
In Ballard, wander the streets on foot to admire the beautiful historic homes. Old Country Chapel makes a great photo stop. The one sight you just cannot miss is the lovely Little Red Schoolhouse, which has been open since 1883!
Ballard's setting, in the midst of vineyards, makes it a very picturesque town to visit when wildflowers are in bloom in the spring, or when the vines change color in the fall. Touring area vineyards should definitely be on your itinerary for Ballard!
Where to Stay
Hotel: Ballard Inn is a four diamond property with fifteen individually styled rooms. All accommodations are furnished in a laid-back sophisticated style, and some rooms feature wood-burning fireplaces. The inn offers free wifi and parking, cooked-to-order breakfast, wine and cheese reception in the evening, and cookies at turndown time. Book a stay here!
Vacation Rental: This Mission-style house is set on 10 acres and is just 0.5 mile from Ballard. The home is spacious and has 2 bedrooms and 2.5 baths. There are 12 wineries within 3 miles of the property. The home features fabulous views of surrounding vineyards and countryside. Book a stay here!
California Central Coast Towns: San Luis Obispo County
Another charming cluster of Central California Coast towns in San Luis Obispo County offers endless opportunities for recreation and great food and drink. Some towns here are right on the water, others set a little bit inland but still close to beaches and the ocean.
Vineyards and scenic drives abound in the region, and eateries serve up flavorful dishes with locally-sourced ingredients. It is the perfect part of the state for a chill vacation, whether you go alone, as a couple, or as a family.
Pismo Beach: Lots of outdoor Fun!
Pismo Beach is a beach town, but it offers so much more to do outdoors, plus great food and wine. Active visitors can choose from a wide variety of water- and land-based activities, but the town is also great for just relaxing in beautiful surroundings.
The Pismo Preserve offers miles of trails and roads perfect for hiking, mountain biking, and horseback riding. Coastal ridge trails offer stunning water views. The pier, and Pier Plaza, are great for strolling at sunset.
The adventurous can pick from biplane rides and Hummer ATV tours, or OHV driving at Oceano Dunes, a few miles south of town.
Go kayaking in Pismo Beach or Shell Beach. Take a surfing lesson. In the winter, look for monarch butterflies overwintering in the eucalyptus grove at Pismo Beach. Dine at a waterfront restaurant and sip locally-grown wine.
Where to Stay
Hotel: Inn at the Cove offers rooms with full views of the Pacific Ocean. The hotel has an outdoor heated pool and hot tub. Rooms are spacious and comfortably furnished. Free parking and wifi are available. The hotel is located right across from the Pismo Preserve. Book a stay here!
San Luis Obispo: Superb Food + Drink
One of our favorite Central Coast destinations, San Luis Obispo is not on the water, but just a short drive away from several beaches. It has a lively downtown with a large number of quality restaurants, plus lots of wine tasting rooms and craft breweries, distilleries, and cideries.
In downtown SLO, visit the beautiful Mission San Luis Obispo de Tolosa, stroll the pathway by the creek, and walk the streets to browse the many unique shops and galleries. The much-Instagrammed Bubblegum Alley is also in downtown SLO.
The Edna Valley Wine District, just outside the city, is a beautiful area to tour if you enjoy vineyard tastings or just want a scenic drive. For an active pursuit, hike to the top of Bishop Peak for panoramic views.
Where to Stay
Hotel: Hotel San Luis Obispo is located in the heart of downtown SLO, offering easy access to major sights, restaurants, and shopping. The hotel has a pool and hot tub. Rooms are spacious and feature contemporary furnishings. Book a stay here!
Get the full scoop: The Best Things to Do in San Luis Obispo!
Morro Bay: A Big Rock and Cute Otters
The small coastal community of Morro Bay is known for its idyllic setting and many natural areas. Morro Bay is a great place to watch otters frolicking in the water, and it is one of the most famous birdwatching locations along the California coast.
Enjoy a cruise of Morro Bay, or go kayaking or stand-up paddleboarding. Along with the stunning scenery, you may see marine life and birds. Stroll the Embarcadero, the waterfront walkway lined with shops, restaurants, and tasting rooms.
Spend a little time walking Morro Strand State Beach, which offers great views of Moro Rock, or explore other natural areas nearby, such as the El Moro Elfin Forest or Sweet Springs Nature Preserve. Morro Bay State Park is a must-explore as well. If you enjoy birding, do not miss the Heron Rookery.
Where to Stay
Hotel: 456 Embarcadero Inn and Suites offers spacious and well-appointed rooms, with microwaves and refrigerators. Some rooms have views of the water. There is a hot tub onsite, and free wifi and parking are offered. The hotel is located walking distance from shopping and dining. Book a stay here!
Get the full scoop: The Best Things to Do in Morro Bay, California!
Paso Robles: Laid-Back Wine Country
Paso Robles is located inland, about a 40-minute drive from the coast, but it is a must-visit destination on the Central California Coast. California Highway 46, which runs east and west of Paso Robles, is lined with picturesque wineries you can tour.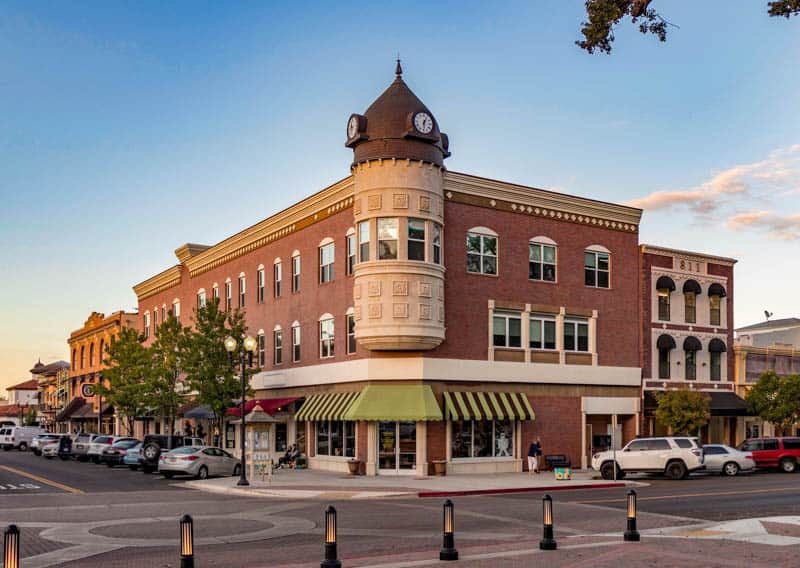 Downtown Paso Robles offers beautiful architecture to admire and fun shops to browse. You will find many antique shops and art galleries here. There are numerous tasting rooms in the walkable downtown as well as many quality restaurants that serve farm to table cuisine.
Visit Mission San Miguel, built by Spanish missionaries at the end of the 18th century. Go biking or horseback riding, or enjoy a relaxing soak in the hot springs at the River Oaks Spa. Pop into the Paso Robles Pioneer Museum if you enjoy delving into local history.
Where to Stay
Hotel: The Allegreto Vineyard Resort is gorgeous. We had lunch here when we were on our way back from a trip to Southern California, and we want to go back to stay…the rooms are elegant and the grounds beautiful. The hotel offers a pool and hot tub. It is located a short drive from the town center. Book a stay here!
Get the full scoop: The Best Things to Do in Paso Robles
Cambria: Charming Seaside Village
Cambria is a tiny seaside village, the ultimate charming Central California Coast experience. It's rare you will go for a morning walk in Cambria and not see deer or wild turkeys or other wildlife. The village is small and the perfect size for strolling.
Walk the Moonstone Beach boardwalk trail, which also offers access to the black sand Moonstone Beach, where you can go tidepooling or beachcombing. Another beautiful ocean view walk is the bluff trail at the Fiscalini Ranch Preserve. The preserve has other trails you can explore.
Stroll the village to browse the many gift shops and art galleries. Stop for a slice of olalliberry pie at Linn's. Cambria may be small, but it has several great restaurants and wine tasting rooms.
Where to Stay
Hotel: Moonstone Landing is an oceanfront property, and all rooms offer either a partial or a full ocean view. Rooms are spacious and comfortably furnished. There is an outdoor patio and hot tub. Parking and wifi are free. Book a stay here!
Get the full scoop: The Best Things to Do in Cambria, California!
California Central Coast Towns: Monterey Peninsula
The towns of the Monterey Peninsula are yet another cluster of picturesque Central California Coast towns to explore. Located towards the northern end of the Central Coast, the area also encompasses beautiful Big Sur, and includes the scenic 17-Mile Drive.
There is enough to see and do in each of these towns to warrant spending two or three days just in one town, but you can also pick and choose highlights from each town for a marvelous weekend getaway.
Carmel-by-the-Sea: Artsy Village and Pristine Beach
The little village of Carmel-by-the-Sea is just one square mile in area. In this small space, the upscale village has lots of unique stores and galleries, a plethora of great dining spots, beautiful architecture, and scenic little courtyards and passageways to explore.
Carmel is also famous for its gorgeous crescent beach, edged with ancient Monterey cypresses. Stroll the beach or walk the scenic pathway above the beach. Adjoining Carmel River State Beach features a lagoon teeming with sea birds, so remember to pack your binoculars.
Carmel's Spanish mission is one of the most beautiful in the Golden State. The gardens are lovely, and the museum houses many impressive artifacts. If you enjoy history and architecture, you will also want to tour the storybook cottages of Carmel!
Where to Stay
Hotel: The Getaway has a great location, close to shopping and dining in Carmel Village. Rooms are spacious and elegantly furnished, and beds rated very comfortable. There is outdoor seating and an outdoor fireplace. Free parking and wifi are included. Book a stay here!
Get the full scoop: The Best Things to Do in Carmel-by-the-Sea, California!
Monterey: Fabulous Whale Watching
Monterey is known for its aquarium, and for Cannery Row, the street by the water lined with shops and art galleries, where a sardine canning industry once flourished. While they are top tourist attractions in Monterey, you can find plenty more to do away from the tourist core.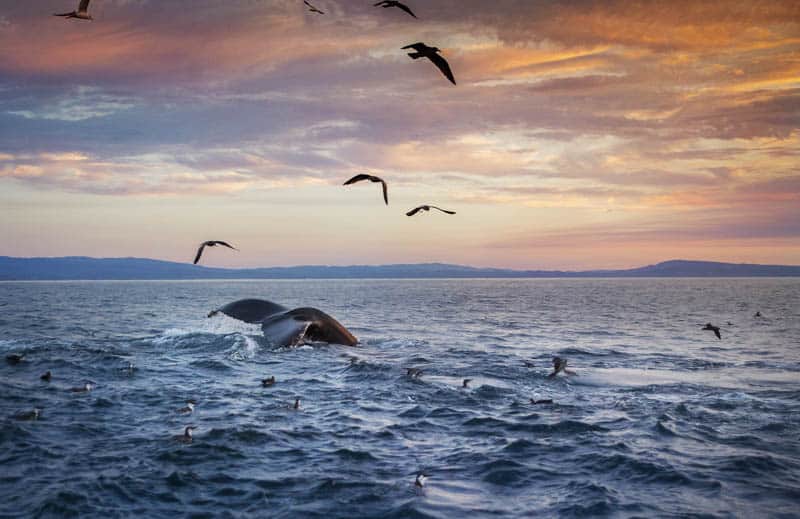 The whale watching in Monterey is considered among the best in the world. We've gone once so far, and it was a fabulous tour, because we saw dozens of whales, some even breaching: jumping out of the water!
Tour the sites of Monterey State Historic Park to learn about Monterey's rich past. There are about a dozen sites you can tour today, some with lovely gardens. Walk the Coastal Recreation Trail to enjoy beautiful views, or book a relaxing spa treatment.
Where to Stay
Hotel: Monterey Plaza Hotel & Spa is located on Cannery Row, close to lots of dining and shopping options. The hotel offers magnificent views of Monterey Bay. It has a full-service spa and private beach. Rooms come with a separate sitting area and are well-appointed. Book a stay here!
Get the full scoop: The Best Things to Do in Monterey, California!
Pacific Grove: History + Outdoor Fun
Pacific Grove is possibly our favorite Monterey Peninsula town. Downtown Pacific Grove is peaceful and quaint, and boasts numerous historic homes and colorful murals. There are also lots of great places to eat and drink.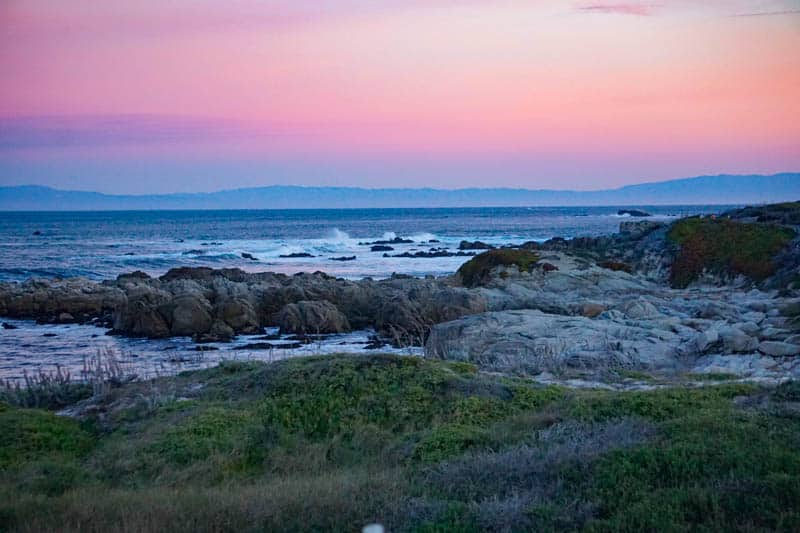 But Pacific Grove also has a stunning waterfront, one you can drive and walk. The Asilomar Coastal Trail is a must-do when you visit: it has lovely water views and wildflowers in season. You can also walk the sand dunes boardwalk trail across the street.
Snap a photo of the charming Point Pinos Lighthouse. Stroll of fly a kite at the sandy Asilomar Beach. Enjoy a picnic at Lovers Point Park, where you can also launch a kayak at the beach.
Where to Stay
Hotel: Green Gables Inn is located in a historic building along Ocean View Boulevard, convenient to the beach and trails as well as downtown Pacific Grove. Rooms are well-appointed, and a full breakfast andevening reception are offered. Rooms feature fireplaces and the beds are rated super comfy. Book a stay here!
Get the full scoop: The Best Things to Do in Pacific Grove, California!
Carmel Valley: Charm in a Rural Setting
Carmel Valley is set a little bit inland, but it is home to many vineyards and offers a peaceful pastoral setting for a relaxed getaway. Carmel Valley is flush with wildflowers in the spring, and you may even see a little lamb or two as you drive Carmel Valley Road!
Touring area vineyards is definitely one of the top things to do in Carmel Valley. Go hiking in Garland Ranch Regional Park or drive scenic Carmel Valley Road and Laureles Grade Road. The latter offers panoramic views over the valley.
Tour the demonstration garden at the Earthbound Farms Farmstand. They have several small gardens and orchards you can stroll, and end with a simple but delicious lunch of soup and sald or a sandwich, all made with organic, farm-fresh ingredients.
Where to Stay
Hotel: Bernardus Lodge & Spa is an absolutely stunning property with a beautiful courtyard, lots of lush landscaping, and views over the vineyards. There is an outdoor heated pool, and the onsite restaurant is superb: we've had lunch here a couple of times. Rooms feature fireplaces and 2-person soaking tubs. Book a stay here!
Get the full scoop: The Best Things to Do in Carmel Valley!
*****
Planning to explore more of Central California? Check out some of our other articles!
Did you find this article informative? Pin it for later reference!