Sacramento is a worthy travel destination in itself, but its strategic location also makes it a great day trip hub.
So if you are planning a trip, definitely consider some adding in some day trips from Sacramento!
Ideas for day trips from Sacramento include a diverse range of Northern California destinations.
Explore historic California Gold Rush towns, epic natural areas like Lake Tahoe and cities like San Francisco, plus the California coast and wine country.
In this article, we've rounded up the destinations that make for the best day trips from Sacramento.
We've noted the driving distance and time for each destination (per Google Maps, with favorable traffic conditions) and provided a map at the end for easy look-up.
Most of the destinations we've described are two hours or less from Sacramento, for maximum time at the destination.
The very few exceptions that make our list are, in our opinion, well worth the longer drive there and back (and the early wake-up call on vacation!).
Ready to get started? Let's discover the best day trips from Sacramento!
Bucket-List Day Trips from Sacramento
South Lake Tahoe
Nestled in the High Sierra, beautiful Lake Tahoe is a bucket-list destination for many visitors to the Golden State.
It's one of the most romantic places to visit in California, but also a great family vacation destination.
Lake Tahoe is a very large lake, with a shoreline of 89 miles, and many shore communities.
On a day trip, it's best to pick one part of the lake to explore!
South Lake Tahoe offers a variety of recreational opportunities, plus lots of dining options, and, in the event you decide to spend a night, there are lots of places to stay as well.
Enjoy hiking, soak up the sun at one of many beaches, or go kayaking or paddleboarding. South Lake Tahoe has several easy-to-access beaches.
Emerald Bay State Park and D. L. Bliss State Park, on the west shore, are two great spots to spend the day.
Historic Vikingsholm Castle, in Emerald Bay State Park, is not too long a drive up the west shore of the lake. It's a steep hike down, but you'll enjoy fabulous views, plus you can tour the home in the summer.
Take a scenic cruise on Lake Tahoe! You can join a paddlewheeler cruise, or choose a relaxed sailing cruise on the lake.
The Tahoe Queen is a paddlewheeler with a glass bottom, and departs from Ski Run Marina. The M. S. Dixie II, also a paddlewheeler with a glass bottom, departs from Zephyr Cove, a little ways up the east shore of the lake.
Adventurous visitors can opt for a helicopter tour and take in the views of the lake from above!
Planning a day trip in the winter (or early spring)? Enjoy downhill skiing and snowboarding at Heavenly Mountain or Kirkwood Mountain.
Go cross-country skiing at Camp Richardson, snowshoeing at Fallen Leaf Lake or along the lakeshore, or snowmobiling in the backcountry. Kids will love sledding and ice-skating here in the winter.
Lake Tahoe in the fall offers great leaf-peeping in addition to the many activities at the lake. It's one of our favorite seasons to visit Lake Tahoe!
Driving Distance from Sacramento to South Lake Tahoe
103 miles, 1 hour and 45 minutes
San Francisco
San Francisco is one of the best city day trips from Sacramento you can do, especially you're looking for a respite from the heat of summer in Sacramento.
With great brunch spots, iconic landmarks, and vibrant neighborhoods, San Francisco is always a great idea!
The City by the Bay offers so much to see and do that you'll face the delicious dilemma of deciding exactly what to put on your itinerary.
To fully enjoy your day trip experience, we suggest limiting your activities to a few that you can really enjoy.
Start your day with views of the Golden Gate Bridge. If the weather is good, you can even walk out onto the bridge a little ways for views over the water before heading to Golden Gate Park.
There are lots of things to do in Golden Gate Park, but on a day trip, you may want to visit just the Conservatory of Flowers or the Japanese Tea Garden. The San Francisco Botanical Garden makes for a great stroll as well.
If you want to spend more time in Golden Gate Park, check out the windmills, wander by Stow Lake, or look for the bison.
Union Square always makes for a great stroll, but especially so during the holidays, when there is a big tree and holiday decorations all around the square, and ice skating!
Walk up or down Lombard Street, the famous zigzagging street, or take a ride in a San Francisco cable car, or explore one of the city neighborhoods: we love colorful Chinatown and North Beach (San Francisco's Little Italy!).
Ghirardelli Square and Fisherman's Wharf are very touristy, but if it's your first visit to San Francisco, you'll definitely want to stroll the area.
Spend some time watching the sea lions at Pier 39, and pop into the Ferry Building for artisanal eats!
This quirky three-hour tour in a 70s-era VW bus is a great way to get an overview of the city in a short time.
Driving Distance from Sacramento to SaN Francisco
87.6 miles, 1 hour and 40 minutes
Yosemite National Park
Ideally, you don't want to visit Yosemite National Park for the day from Sacramento, because the drive is so long and the few hours you'll have in the park will just leave you longing for more.
But we've included the day trip to Yosemite from Sacramento here because if that's all the time you have, then you should go for it! Visiting Yosemite for a few hours is better than not visiting at all.
Start your day with a walking tour of the valley floor. Do the short hike to the overlook for Lower Yosemite Falls, and hike Cook's Meadow for great views of the valley and Half Dome.
Along Northside Drive, stop to spot the climbers going up El Capitan before driving to Tunnel View, one of the park's most stunning viewpoints. From here you can see Half Dome, El Capitan, and Bridalveil Fall.
If you have the time, make the drive to Glacier Point, Yosemite's other unmissable viewpoint. It offers a magnificent view of Half Dome, the park's high country, and Yosemite Falls when it's flowing well.
Glacier Point Road is generally open between some time in May and some time in November.
End your time in Yosemite National Park with the hike to Taft Point, which is one of the best sunset spots in the park. The 2.2-mile round trip hike from Glacier Point Road is the perfect finale to your Yosemite day trip from Sacramento!
Driving Distance from Sacramento to Yosemite Valley
165 miles, 3 hours and 30 minutes
Wine Country Day Trips from Sacramento
Napa Valley
Napa Valley is the premier wine country destination in Northern California, with an overwhelming number of wineries from which to choose for your tastings.
And even if you don't much enjoy wine, there are tons of other things to do in Napa Valley.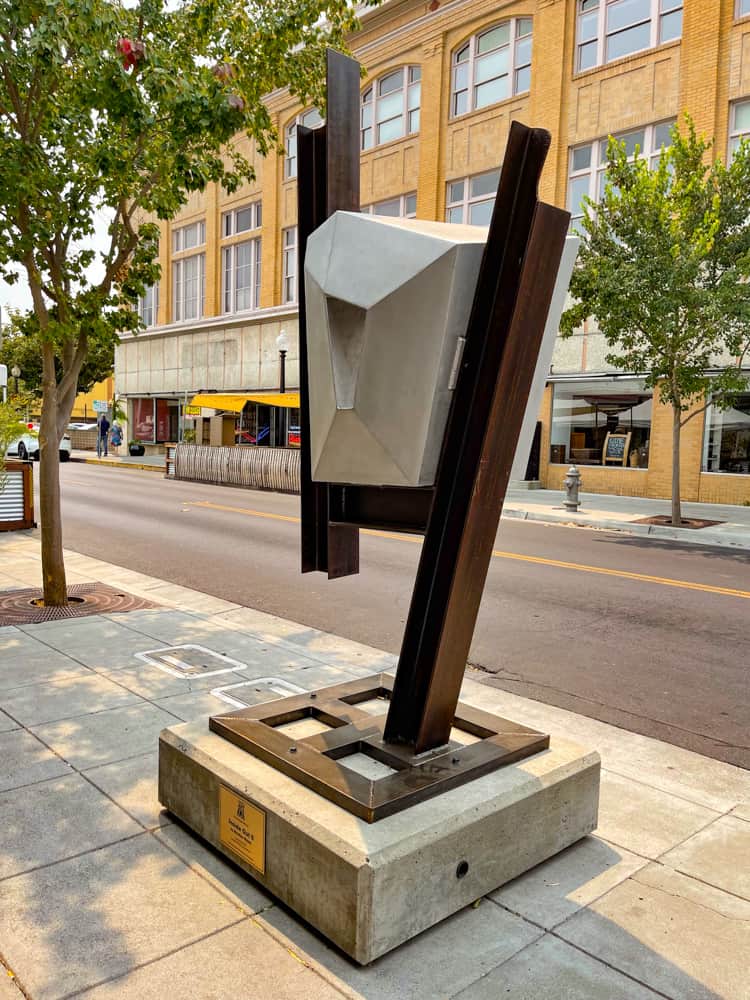 Napa Valley contains several little towns, and on a day trip, it's wise to choose one or two to explore.
The city of Napa, at the south end of the valley, is a perfect choice, with perhaps a drive up to Yountville if you wish.
Downtown Napa is home to a wealth of eclectic shopping, wine tasting rooms, and restaurants. Public art installations and murals provide interest as you stroll. The CIA at Coppia offers cooking classes and chef demos.
In Yountville, you will find world-class restaurants, plus shopping and wine tasting. The main street features art installations and a little rose garden. A stop at Bouchon Bakery is a must if you enjoy sweet treats!
There are many beautiful Napa Valley wineries you can tour near the city of Napa. Far Niente, in Oakville, has gorgeous gardens and a stunning tree-lined driveway. Artesa Winery offers spectacular views and water features.
Driving Distance from Sacramento to Napa
61.2 miles, 1 hour and 4 minutes
Sonoma
Sonoma County is considered the birthplace of California's commercial wine production, and boasts several dozen wineries. The city of Sonoma, at the southern end of the valley, makes for a delightful day trip destination from Sacramento.
Like Napa, Sonoma offers a variety of things to do, not just wine tasting. And within a few miles of town you will find many beautiful wineries to visit, for world-class wine, plus food, architecture, gardens, and history.
Strolling Sonoma Plaza is a must, to take in the beautiful buildings around the plaza, and to enjoy the shopping and dining on offer. For some local history, visit the Sonoma Mission and other Sonoma State Historic Park sites around the plaza.
If you enjoy history, you will want to do the short drive to tour General Vallejo's home and gardens. The estate is part of the Sonoma State Historic Park. There is a small museum on site as well.
Love gardens? Visit Cornerstone, a complex of small gardens in Sonoma, or drive a few miles north to tour the Sonoma Botanical Garden. Nearby, you will find a trio of stunning Sonoma wineries: Chateau St. Jean, Saint Francis Winery, and Ledson Winery.
Driving Distance from Sacramento to Sonoma
68 miles, 1 hour and 10 minutes
Lodi
Not too far from Sacramento is the wine country destination of Lodi, which styles itself the "Zinfandel Capital of the World." Lodi offers wine connoisseurs the opportunity to sample several dozen varietals: Spanish, Italian, Portuguese, German, and more.
Downtown Lodi offers tasting rooms, fine dining, shops, and galleries. As you explore, admire Lodi's colorful murals, which showcase the city's heritage. Snap a photo of the famous Lodi Mission Arch. The World of Wonders Science Museum is fun for both kids and adults.
Just like Napa and Sonoma, Lodi is a must-visit for foodies seeking culinary excellence. Towne House Restaurant at Wine & Roses is an excellent idea for lunch. Seasonal menus change pretty much daily but whatever you eat is likely to be topnotch.
Pick a few wineries to tour. We love Michael David Winery, with its beautiful grounds and great onsite cafe and bakery: if you enjoy sweet treats, bring home one of their pies! Berghold Vineyards is another stunning Lodi winery to visit.
Take a boat tour of Lodi Lake, or go kayaking or paddleboarding on the lake or the Mokelumne River. Look for birds and wildlife! There are hiking trails to try around the lake as well.
Driving Distance from Sacramento to Lodi
35.6 miles, 38 minutes
Day Trips from Sacramento to Gold Rush Towns
Empire Mine State Historic Park + Grass Valley
A day trip from Sacramento to Grass Valley should definitely be on your list if you are looking to explore California's Gold Rush past. Located in the western foothills of the Sierra Nevada, Grass Valley boasts two of California's richest mines.
Empire Mine State Historic Park protects one of the deepest and richest mines in the history of California: the Empire Mine. Today the mine is on the National Register of Historic Places. During the time it was operational, Empire Mine produced 5.8 million ounces of gold!
At the park visitor center, be sure to watch the film titled "Tears from the Sun," to learn about the Gold Rush days, mining in California, and the Empire Mine. Docents offer guided tours of the mine yard, gardens, and estate. The tours are worth joining for the wealth of information they impart. Special experiences are also offered.
The park is quite large, and features several miles of trails. You'll find easy trails for hiking, mountain biking, and horseback riding. Look for birds and wildlife, and enjoy wildflowers in season.
Downtown Grass Valley makes for a fun stroll, with shops and art galleries lining the main streets. Snap a photo of historic Del Oro Theatre, taste wine at the Lucchesi Vineyards tasting room, or enjoy a cold one at the Grass Valley Brewing Co. Don't miss the historic Gold Rush era artifacts around town!
Driving Distance from Sacramento to Grass Valley
57 miles, 1 hour and 7 minutes
Placerville
Among the best Gold Country destinations, Placerville not only has Gold Rush era attractions and a picturesque downtown, but it also offers wine tasting, and outdoor recreation in the nearby Eldorado National Forest.
Hangtown's Gold Bug Park is a must-visit in Placerville, with two Gold Rush era mines to explore. You can walk around Gold Bug Mine on your own or join a guided tour of the Priest Mine. You will also find a Stamp Mill and a small museum at the park.
Stroll downtown Placerville. Admire the historic Bell Tower in the plaza on Main Street, and the facades of the nineteenth century buildings. Browse the boutique stores, art galleries, and antique shops.
Visit El Dorado County Historical Museum to explore the town's history and browse the Gold Rush era exhibits and displays about the native peoples of the region.
There are several wineries around Placerville if you wish to go on a tasting tour. Boeger Winery has beautiful grounds, and a picnic area. Other beautiful wineries in the area include David Girard Vineyards and Miraflores Winery.
Outdoor enthusiasts will want to head to Eldorado National Forest, where you can hike, bike, fish, climb, or picnic. The Bassi Falls hike leads to a cascade that plunges more than 100 feet when it's flowing well. The hike is just 1.2 miles round trip, short enough to fit into a day trip itinerary!
Driving Distance from Sacramento to Placerville
43.7 miles, 43 minutes
Sutter Creek
Sutter Creek, which styles itself the "Jewel of the Mother Lode," is one of our favorite day trips from Sacramento, and one of the most popular gold rush towns in California.
The town is Cinderella-sized, with just enough to do for a laid-back day in the Gold Country, plus great places for lunch.
Lined with 19th century buildings with balconies, Sutter Creek's Main Street is a joy to stroll. And the town is compact, so you can walk the side streets quite easily as well. Don't miss the beautiful Victorian homes on Spanish Street and Church Street, with their gorgeous gardens.
Enjoy local history? Tour the Monteverde General Store Museum! Exhibits document life in the 19th century and early 20th century. Miners' Bend Historic Gold Mining Park houses Gold Rush era exhibits in an outdoor setting.
History buffs will also enjoy touring Knight Foundry, which produced heavy machinery for mining operations until WWII. It is open every second Saturday. Snap a photo of Sutter Creek Schoolhouse, built in 1871, and tour the historic cemeteries.
Shopping aficionados will love the antique stores, plus the more modern home and garden stores and art galleries. Main Street boasts several wine tasting rooms, where you can try local Amador County offerings.
Driving Distance from Sacramento to Sutter Creek
44.7 miles, 50 minutes
Nevada City
One of the top day trips from Sacramento is to Nevada City, a historic Gold Rush town that's also close to outdoor recreational areas like the South Yuba River.
Located on the forested western slopes of the Sierra Nevada, Nevada City has a charming (and art-filled) downtown. Stroll Broad Street to admire the beautiful facades and browse the many shops and art galleries. You'll also find rotating art exhibits in restaurants downtown.
For some fresh air, get out onto one (or more!) local hiking trails, close to downtown Nevada City! Deer Creek Tribute Trail features a lovely suspension bridge. Hirschman Trail leads to a lovely pond. Cascade Canal Trail is another popular forested trail that runs along the canal.
Go boating on Scotts Flat Lake, a lovely body of water surrounded by mountains. Visit the South Yuba River State Park to hike: the scenery is gorgeous, and you may see birds or wildlife. Enjoy the beaches in mid to late summer (the river can be dangerous in the spring due to snow melt).
Empire Mine State Historic Park is a short drive if you want to explore Gold Rush era history. Malakoff Diggins State Historic Park, which houses the Golden State's largest hydraulic gold mine, is about 26 miles away.
Driving Distance from Sacramento to Nevada City
60.8 miles, 1 hour and 10 minutes
Auburn, CA
Listed a California Historical Landmark, the Gold Rush town of Auburn makes for a pleasant day trip from Sacramento. As with other towns in the region, it also offers wine tasting and a wealth of outdoor recreation.
Walk historic Old Town Auburn, where gold was first discovered in Placer County, California. You'll find shops, restaurants, and galleries to browse, as well as history to discover. Auburn has some of the oldest businesses in California and the oldest operating US post office.
The Placer County Museum, housed in the beautiful County Courthouse, features Native American and gold mining artifacts. The Gold Rush Museum offers indoor and outdoor gold mining exhibits, and features an indoor panning stream.
Auburn State Recreation Area and Hidden Falls Regional Park contain many hiking trails. You will find mountain biking and equestrian trails as well. Auburn State Recreation Area is located on two forks of the American River, with river access, boating, and whitewater rafting.
Wine lovers will find tasting rooms in downtown Auburn, but you can also tour area wineries. Mt. Vernon Winery is Auburn's largest winery, and you can taste on the patio, with vineyard views. Viña Castellano Estate Vineyards and Winery has a scenic pond, and food is offered with advance notice.
Driving Distance from Sacramento to Auburn, CA
33.2 miles, 34 minutes
Columbia
Located in the heart of the Mother Lode in California, Columbia is a Gold Rush town that was known as the "Gem of the Southern Mines." The historic district is part of Columbia State Historic Park and is on the National Register of Historic Places. It's a gold country town well worth a day trip from Sacramento!
The town's main street, closed to motorized traffic, is a fascinating place to stroll. You can also join a free guided tour led by a park docent, to learn as you walk.
In the historic buildings downtown, you'll find businesses such as gold panning, iron works, and candle dipping. Sometimes you will find craft stalls along the main street as well.
With wooden sidewalks, a stagecoach, and park docents and other locals dressed up in period costumes, Columbia is a fun step back in time. After you explore, have afternoon tea at Columbia Kate's Teahouse, or try sarsaparilla soda in a western saloon!
If you enjoy longer walks, don't miss the walk to the schoolhouse and cemetery, or walk the nature trail, about one mile. Enjoy wildflowers in the spring and look for deer and birds as you walk.
Railtown 1897 State Historic Park is just a short drive from Columbia. Here you can take a 45-minute excursion train ride through Gold Country on the historic Sierra Railway. Cars are pulled by a steam or diesel locomotive.
Driving Distance from Sacramento to Columbia CA
89.7 miles, 1 hour and 57 minutes
Folsom
While Folsom has a Gold Rush past and several museums to discover, it is also an outstanding destination to explore the outdoors, making it one of the best day trips from Sacramento for many types of visitors.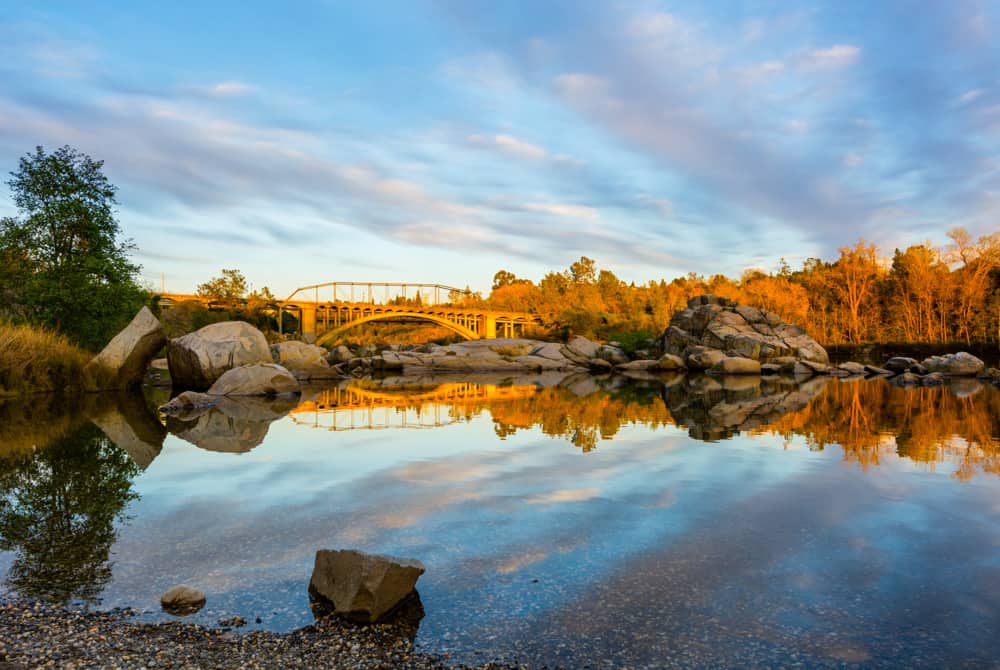 History buffs will want to visit the Folsom History Museum, which showcases the city's past and features seasonal exhibits such as historic quilts. At Folsom Pioneer Village, you can try your hand at panning gold or blacksmithing.
Folsom Prison gained notoriety following the release of "Folsom Prison Blues" by country singer Johnny Cash and his live performances at the prison. At the Folsom Prison Museum, you can see a range of exhibits about life inside the second-oldest prison in the state.
With two lakes (Folsom Lake and Lake Natoma), and the American River, Folsom offers lots of opportunities for outdoor recreation. Go boating, stand-up paddleboarding, or kayaking, hike the many trails around the lakes and along the river, bike, or enjoy whitewater rafting on the South Fork of the American River.
Driving Distance from Sacramento to Folsom
23 miles, 29 minutes
Day Trips from Sacramento to Natural Areas
Calaveras Big Trees State Park
One of the best places in California to see giant sequoias is Calaveras Big Trees State park, which protects two groves of the massive-trunked trees. The park offers other opportunities for outdoor recreation as well.
The best thing to do in Calaveras Big Trees State Park is to hit the trails to get up close to the giant sequoias in the North and South Groves. The South Grove Natural Preserve houses the largest redwoods in the park.
The North Grove Trail is an easy loop that takes you past some of the many spectacular trees in the park, including the Three Graces, the Abraham Lincoln Tree, and the Pioneer Cabin Tree.
The Lava Bluffs Trail offers beautiful views of the North Fork of the Stanislaus River. Meadow Walk is a boardwalk trail through a meadow that's covered with wildflowers in season. It's excellent for birdwatching as well.
Bring a picnic to enjoy: there are picnic tables along the Stanislaus River and in the North Grove. Keep your eyes peeled for wildlife (bring binoculars or a zoom lens!). You may see the blue Steller's jays, pileated woodpeckers, or northern flickers, as well as a fox or coyote or even a black bear.
It's best to visit Calaveras Big Trees State Park between late spring and fall, to avoid the snow. Also, note that dogs are not permitted on trails and in wooded areas.
Driving Distance from Sacramento to Calaveras Big Trees State Park
99.8 miles, 1 hour and 57 minutes
Muir Woods National Monument
One of the most popular destinations for walking among redwoods near San Francisco, Muir Woods National Monument makes for a wonderful day trip from Sacramento into nature. The park is not very large, so it's perfect for a day trip.
Walk the main trail in the monument, which will take you through gorgeous old-growth coastal redwoods. The trail hugs the two sides of Rainbow Creek, with bridges that allow you to turn back at various points along the trail.
If you do the longest loop on the main trail through the monument, you will pass Cathedral Grove, one of the most famous spots in the park. The grove is home to some of the oldest and tallest redwoods in the park. It's a silent preserve, ideal for reflective strolling.
Several trails in Muir Woods National Monument run up the canyon, if you want to explore more. The monument is surrounded by Mount Tamalpais State Park, and you can hike into the state park as well.
If you visit in the winter, you may see endangered coho or steelhead salmon in Redwood Creek. Deer, rabbits, or squirrels are also often sighted, and if you visit after a wet spell, you may see bright yellow banana slugs!
Note that an advance reservation for parking is required at Muir Woods National Monument. You can reserve online or over the phone. Pets are not allowed inside the monument.
Driving Distance from Sacramento to Muir Woods National Monument
93.5 miles, 1 hour and 40 minutes
Lassen Volcanic National Park
An underrated California national park, Lassen Volcanic National Park is home to many hydrothermal features and beautiful lakes. Especially if you are in Sacramento in the summer, a day trip to Lassen is worth considering, despite the long drive.
When the road through Lassen Volcanic National Park is fully open to vehicular traffic, you can drive through the park and have convenient access to many of its major sights, plus time for at least one hike, if you start early.
The 1.7 mile loop around Lake Manzanita offers stunning views of Lassen Peak, reflected in the lake. You may see birds and wildlife, and there is a picnic area to sit down and enjoy the views for a bit. You can also go boating on the lake.
Lassen Volcanic National Park Highway, one of the most scenic drives in California, is about 30 miles long. Along its length, you can enjoy the active hydrothermal activity at Sulphur Works. The sidewalk trail features views of the mud pots and steaming vents.
Lake Helen is a great spot for lunch. Nestled at the foot of Lassen Peak, the lake sometimes has snow and ice even in the middle of summer! Also do not miss the Devastated Area Interpretive Trail, a short walk that offers insights into the destruction caused by Lassen's last eruptions.
Driving Distance from Sacramento to Muir Woods National Monument
191.8 miles, 3 hours
Point Reyes National Seashore
Along the northern coast of California, Point Reyes National Seashore is a windswept peninsula with stunning views of the ocean, a picturesque lighthouse, beaches, and the opportunity to see tule elk.
Point Reyes National Seashore is large, so you'll have to pick and choose activities, but you can still enjoy the park on a day trip from Sacramento. Start as early as you can, to maximize your time in the park.
Drive Sir Francis Drake Boulevard through the park to Point Reyes Lighthouse, located at the very end of the road. From the parking lot, a short but usually very windy walk will take you to the viewing area. If you like, you can walk the steps down for an up close look.
The parking lot for the lighthouse offers fantastic views of the long Point Reyes Beach, so be sure tp stop for photos. From the viewpoint, you can try to spot whales in the ocean as well, especially if you visit in the winter or spring.
On your way back, stop in the Chimney Rock area to do some hiking. This area is a prime spot for wildlife viewing, birdwatching, and wildflowers in season. Chimney Rock Trail is 1.75 miles round trip.
Spend some time at beautiful Drakes Beach, or drive Pierce Point Road to Pierce Point Ranch, where you can walk a part of the Tomales Point Trail, one of the best hikes in the park. Just one mile in and out offers fantastic ocean views, plus the chance to see tule elk.
Driving Distance from Sacramento to Point Reyes National Seashore
96.6 miles, 2 hours
Whiskeytown National Recreation Area
Whiskeytown National Recreation Area is a wonderful day trip destination for outdoor enthusiasts, with hikes, waterfalls, and the clear Whiskeytown Lake, a popular paddling destination in northeast California.
Kayaking or paddleboarding on Whiskeytown Lake is a must-do on your day trip. You can join a ranger-led tour to learn about the area as you paddle. Guided tours are offered between Memorial Day and Labor Day. Of course, you can also paddle on your own: rentals are available.
Spend some time at Brandy Creek Beach, a long sandy swim beach at Whiskeytown Lake. Lounge in the shade of a beach umbrella or take a floatie out onto the water.
Walk the short distance to Crystal Creek Falls. If you visit in the summer, you can wade or swim in the plunge pool. The trail is flat and paved, suitable for most visitors to the area. Oak Bottom Water Ditch Trail is a longer hike, but mostly flat, and offers views of Whiskeytown Lake. Look for birds as you walk.
Visit the Kennedy Memorial, funded by locals following President Kennedy's assassination just a few weeks after he visited the area to dedicate Whiskeytown Dam.
Driving Distance from Sacramento to Whiskeytown National Recreation Area
170 miles, 2 hours and 35 minutes
North Table Mountain Ecological Reserve, Oroville
Although outdoor lovers will enjoy North Table Mountain Ecological Reserve at any time, the park is one of the must-do day trips from Sacramento if you visit in the spring of a good wildflower bloom year.
The mesa puts on a spectacular display of wildflowers in the spring if conditions leading up to bloom season have been optimal. Even in years when the bloom isn't a showstopper, you'll find plenty of wildflowers here, from goldfields and poppies to sky lupine and owl clover.
Other than wildflowers, the park is home to waterfalls and temporary vernal pools that make for stunning photos. Phantom Falls, gorgeous but ephemeral, is one of the most famous waterfalls in the preserve. Look for birds and wildlife.
Located just a few miles north of Oroville, the 3,300-acre preserve features a landscape fashioned by ancient lava flows. The park is open year round, from dawn to dusk.
There are no services at the site. Bring your own water, snacks, and a picnic meal, and pack out any trash you generate. Leashed dogs are permitted.
Driving Distance from Sacramento to North Table Mountain Ecological Reserve
78.3 miles, 1 hour and 34 minutes
Day Trips from Sacramento to Cute Coastal Towns
Sausalito
Just across the bay from San Francisco, the small but charming town of Sausalito makes for a fun day trip from Sacramento. The town is known for the historic Richardson Bay houseboat enclaves, built by artists post WWII, and its fabulous views of downtown San Francisco.
Sausalito's waterfront makes for a scenic stroll. Look out at the boats on the bay, and across to the city skyline as you stroll. Browse the many stores and galleries, and admire the pastel-toned facades of the Victorian buildings. Walk the wooden boardwalks of the town for more views.
Stroll Waldo Harbor to view Sausalito's floating homes. Some of the houseboats feature beautiful architecture and gardens! Not all the piers are open to the public, but the few that you can walk will allow you to see many of the beautiful floating houses.
Stop in at Lappert's Ice Cream for a delicious cold treat. The Hawaii-inspired flavors are delightful. Sausalito also has an on-point food scene, with numerous options for lunch. We like Bar Bocce and the Spinnaker!
Just five miles south of Sausalito is Battery Spencer. Drive up Conzelman Road for stunning views of the Golden Gate Bridge and the San Francisco Bay. The drive is popular and parking can be tight, so do this drive earlier in the day.
Driving Distance from Sacramento to Sausalito
92.2 miles, 1 hour and 30 minutes
Bodega Bay + Sonoma Coast State Park
Bodega Bay is a tiny community along the Northern California Coast, but it makes a great starting point for exploring beautiful Sonoma Coast State Park, which goes all the way up to just north of Jenner, another small community along the coast.
Just a few miles inland from Bodega Bay is the tiny town of Bodega, which served as the location for Alfred Hitchcock's The Birds. You can snap photos of the Potter Schoolhouse (now a private residence), and the St. Teresa of Avila Church.
Drive north from Bodega Bay along California Highway 1 for spectacular views of the Pacific Ocean. Along the route, there are numerous overlooks where you can stop to take photos, and many beaches to explore. The drive is especially beautiful in the spring, with clear weather on most days and lots of wildflowers.
Goat Rock is one of the popular spots to stop along this stretch of coast. Goat Rock Beach is easily accessed, and it is a beautiful sandy beach. There are picnic tables if you brought a meal to enjoy. You may see harbor seals here, and lots of birds.
Portuguese Beach and Schoolhouse Beach are two other sandy beaches where you can sunbathe, picnic, and enjoy sand play. None of the beaches along the Sonoma Coast is a swimming beach, so stay well back from the water line.
If you enjoy hiking, the short but spectacularly scenic Bodega Head Trail in the south, and the Vista Point Trail in the north can be included in a day trip itinerary.
Driving Distance from Sacramento to Bodega Bay
110 miles, 2 hours
Half Moon Bay
South of San Francisco, Half Moon Bay is another fantastic coastal area to experience on a day out from Sacramento. Half Moon Bay Coastside has numerous beaches and parks from which to pick.
We enjoy visiting the Half Moon Bay State Beaches. The four miles of wide sandy coastline is made up of four beaches: Francis Beach, Venice Beach, Dunes Beach, and Roosevelt Beach. Three of the four beaches have parking lots, and short trails lead to the beaches.
The four state beaches offer sunbathing, walking on the sand, and picnicking. While we've seen people wading at Francis Beach, we recommend staying clear of the water, due to rip currents. Plus, the water is usually ice cold.
A coastal trail runs along the bluffs above the beaches and offers stunning views of the water and shoreline, as well as birdwatching and wildflowers in season. There are picnic tables and grilling stations along the route.
Downtown Half Moon Bay is charming! Admire the many historical buildings along Main Street, browse the eclectic shops and art galleries, and enjoy dining at one of the many eateries. Half Moon Bay hosts a popular Pumpkin Festival each fall.
Driving Distance from Sacramento to Half Moon Bay
115 miles, 2 hours
Other Day Trips from Sacramento
Truckee
Truckee is a charming mountain town located along the Truckee River a few miles from North Lake Tahoe. The tiny town offers lots of fun things to do, from hiking to water activities and history.
Walk a part of the scenic Truckee River Legacy Trail, which runs along the river The full trail is 9 miles one way, and it's mostly flat, and you can walk as little or as much of it as you want. You can also bike it.
Drive to nearby Donner Lake where you can savor the beauty of your surroundings from the shore or go boating, kayaking, canoeing, or paddleboarding. Rentals are available at the Donner Lake Marina.
Explore the history of the town and the region at one of the many museums. The Donner Memorial State Museum offers artifacts related to the emigrant experience. The Truckee Railroad Museum has models and is fun for both kids and adults. You can also tour the old jailhouse.
Downtown Truckee makes for a fun stroll, with many shops, art galleries, wine tasting rooms, craft brews, and eateries. Have lunch here, and enjoy the ambience of the little town for a bit in the middle of your day before heading back out to explore!
Driving Distance from Sacramento to Truckee
100 miles, 1 hour and 20 minutes
Davis (15 miles, 18 minutes)
Davis is one of the easiest day trips from Sacramento you can do. With museums, gardens, parks, and trails, Davis is an attractive day trip destination for all types of travelers.
The UC Davis Arboretum and Public Garden is a must-visit! Garden lovers can spend hours walking the paths and admiring the many handsome specimens on display. There is something of interest year round!
The Putah Creek Riparian Reserve is part of the Arboretum and a great place to go birdwatching. You can go boating in the creek as well. The Arboretum and Public Garden are open year round and free to enter.
Enjoy museums? Visit the U.S. Bicycling Hall of Fame, or enjoy art at the Jan Shrem and Maria Manetti Shrem Museum of Art, where you will find an impressive fine arts collection and weekend art labs. If you love the performing arts, you can take in a show at the Mondavi Center
Downtown Davis is a fun place to stroll, with unique shops, and lots of cafes and eateries with outdoor seating. On Saturdays, the farmers market, held in Central Park, is a big draw, with food trucks, baked treats, crafts, and more.
Apple Hill
Located along Highway 50 near Placerville, Apple Hill is a fun getaway for the day from Sacramento. The area contains a number of farms and orchards, with a range of activities and events held through the year.
In the fall, a number of apple farms are open for u-pick days and for harvest festivities. Many farms, and area bakeries, offer everything apple, from fresh-baked pies to turnovers and cookies. You can buy apple cider too. Boa Vista Orchards is open year round.
Activities such as mini train rides, wagon hayrides, crafts, and pumpkins make visits fun for both kids and adults. At some farms, you are allowed to picnic, and walk among the trees.
The Apple Hill area includes several wineries. Boeger Winery offers outdoor tastings, and their gardens are beautiful. You can also opt for a picnic in their orchard. Lava Cap Winery offers an indoor tasting experience. You can also enjoy a picnic with vineyard views here.
Jenkinson Lake at Sly Park Recreation Area offers boating, paddleboarding, canoeing or kayaking, as well as hiking and biking trails. Dogs on leash are allowed on the trails but not in the lake.
Driving Distance from Sacramento to Apple Hill
48.9 miles, 52 minutes
Woodland and Winters
If you visit in early spring (mid-February to mid-March), you must definitely drive around in the Woodland-Winters area in Yolo County to enjoy the breathtaking (but ephemeral) beauty of almond blossom bloom. The two towns are located just 20 miles apart.
Clouds of fluffy white blossoms on neat rows of almond trees make for a mesmerizing sight in the Central Valley in early spring. You will find orchards along Interstate 505 and California Highway 16, but also along smaller roads in the area, where parking may be easier and safer. Visit respectfully and stay on public land!
If you visit in the summer, look for gorgeous sunflower fields in Woodland and Winters. Mid-June to mid-July is when you are likely to find fields in bloom.
Downtown Woodland has dozens of historic buildings representing many architectural styles. Stroll the area to admire the buildings and stop to browse the many stores and galleries. You'll also find great eateries here.
In downtown Winters, pop into Winters Cheese Company to purchase some fine artisanal cheese. The historic district features beautiful buildings, with lots of shops, wine tasting, and eateries. Try Ficelle for tapas or Putah Creek Cafe for pizza!
Looking for some outdoor fun? Cache Creek Conservancy in Woodland and Stebbins Cold Canyon Reserve near Winters offer excellent hiking, wildlife viewing, and birdwatching.
Driving Distance from Sacramento to Woodland
19.8 miles, 23 minutes
Map of Day Trip Destinations from Sacramento
Did you find this article informative? Pin it for later reference!