Considering some day trips from San Diego? From charming little mountain towns to dramatic desert parks and beautiful beaches to wine country, San Diego is within day trip distance of many exciting places.
America's Finest City has plenty to offer visitors, from the San Diego Zoo and the beautiful museums and gardens at Balboa Park to the stunning Cabrillo National Monument.
But it is also a great base from which to explore up or down the SoCal coast or venture into the mountains or the desert to the east.
So add a few days to your itinerary and take some of these super short road trips from San Diego when you visit!
We've listed the driving distance for each of these San Diego day trips based on Google maps, but depending on when you go and your exact point of departure, times may vary.
It's always good to head out as early as you can, both to avoid traffic and to maximize your time at your day trip destination!
If you have a weekend (or more) to spare, check out our round-up of the best weekend trips from San Diego or longer California road trip ideas.
And now let's get started on our round-up of the very best day trips from San Diego!
La Jolla
The beaches of La Jolla are beautiful, but you will find plenty more to enjoy here on a day out from San Diego.
At La Jolla Shores, take a guided kayak tour to explore the stunning La Jolla Sea Caves and look for stingrays and the bright orange garibaldi fish.
In the summer, you can also opt to snorkel with leopard sharks!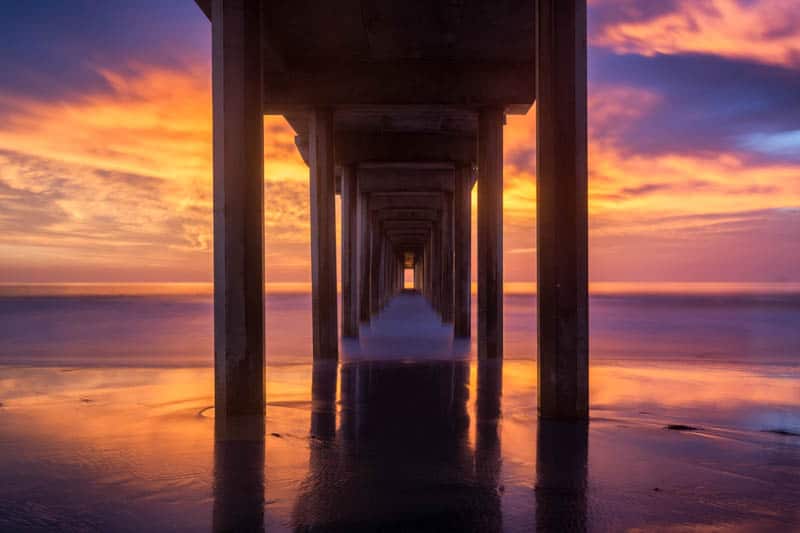 Walk the beautiful La Jolla Coast Trail along the bluff, and admire the seals and sea lions.
Enjoy beach time at La Jolla Cove, where you may even share the sand with seals and sea lions!
Families will enjoy a visit to the Birch Aquarium.
Stroll the streets of downtown La Jolla and browse the many boutiques: Prospect Street, Girard Avenue, Ivanhoe Avenue, and Herschel Street are all lined with excellent shopping and dining.
Snap photos of Scripps Pier at sunset before enjoying drinks and dinner!
Driving distance and time
San Diego to La Jolla: 13.6 miles, about 20 minutes
Cuyamaca Rancho State Park
If you are looking to spend a day enjoying the outdoors, pack a picnic lunch and head to Cuyamaca Rancho State Park!
The park features beautiful scenery, with woodlands, creeks, and meadows, and the opportunity to see birds and wildlife.
From spring through fall, you'll come across a variety of wildflowers, and in the fall, you can enjoy the leaf colors.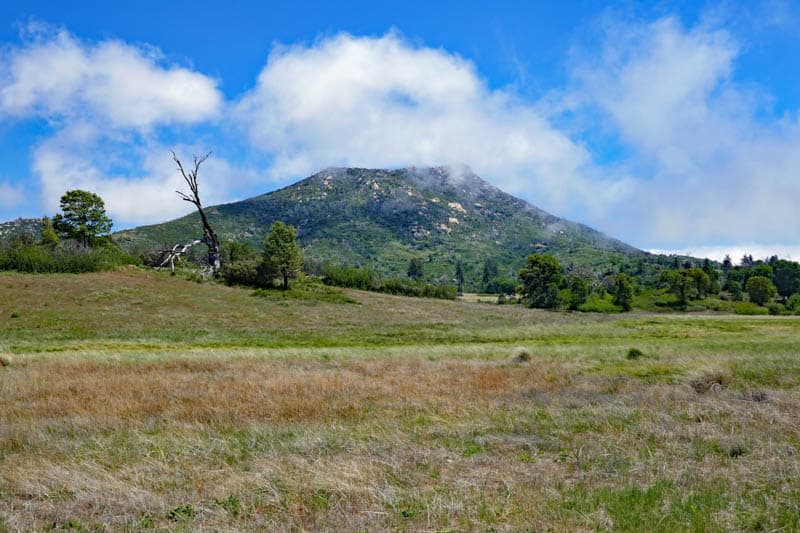 With over 100 miles of trails, Cuyamaca Rancho State Park offers great hiking, horseback riding, and biking.
Bring your binoculars, because over 200 species of birds have been spotted here! If you are visiting with young kids, the one-mile Indian Trail is flat and follows a stream.
Try the Stonewall Peak Trail for fabulous views. Or the moderately difficult Juaquapin Trail for beautiful scenery, plus the chance to see wildlife.
Cuyamaca Peak Trail climbs 1,700 feet to the highest point in the park for panoramic views of the deserts, the coast, and Lake Cuyamaca, which is just down the road if you want to take a kayak out.
Driving distance and time
San Diego to Cuyamaca Rancho State Park: 43.2 miles, about 45 minutes
Rosarito
Bring your passport for this day trip from San Diego!
The Mexican resort town of Rosarito is located on the coast of Baja California, between Tijuana and Ensenada, and is home to a number of beautiful beaches.
But there are other fun things to do here!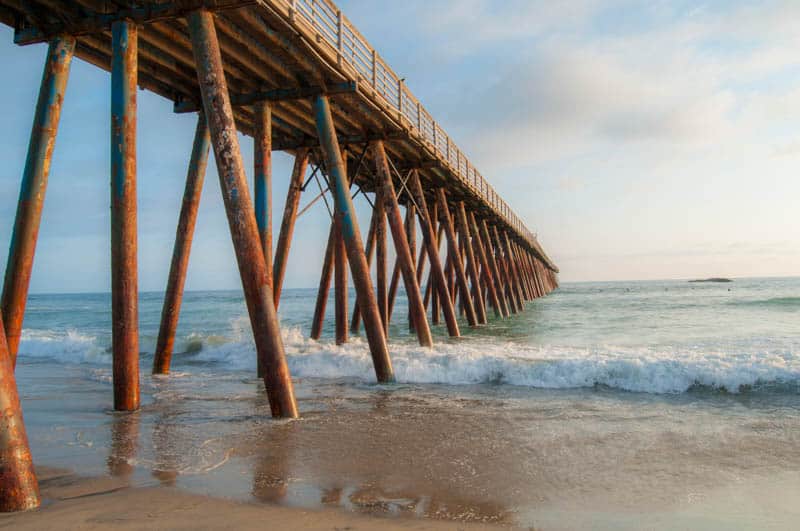 Browse the art galleries in town: you will see quality art pieces here, including works by local artists.
There are lots of unique stores to browse as well, apart from the regular souvenir shops. Some stores feature beautiful handmade furniture, woodwork, and metal work.
Of course, touring the colorful markets offering trinkets and locally-made crafts is fun too!
Adventure enthusiasts will enjoy surfing, scuba diving, jet skiing, ATV rides, and ziplining.
Sample Baja cuisine and local wines at area waterfront restaurants.
Nearby Puerto Nuevo has several dozen lobster houses, where you can enjoy a lobster meal at very reasonable prices!
Driving distance and time
San Diego to Rosarito, Mexico: 31.9 miles, about 45 minutes
Torrey Pines
With its beautiful hiking trails, Torrey Pines State Natural Reserve makes for one of the best day trips from San Diego if you enjoy the outdoors.
You can spend the day hiking, followed by beach time and a spectacular sunset at nearby Torrey Pines State Beach.
Bring a picnic meal to enjoy in the park!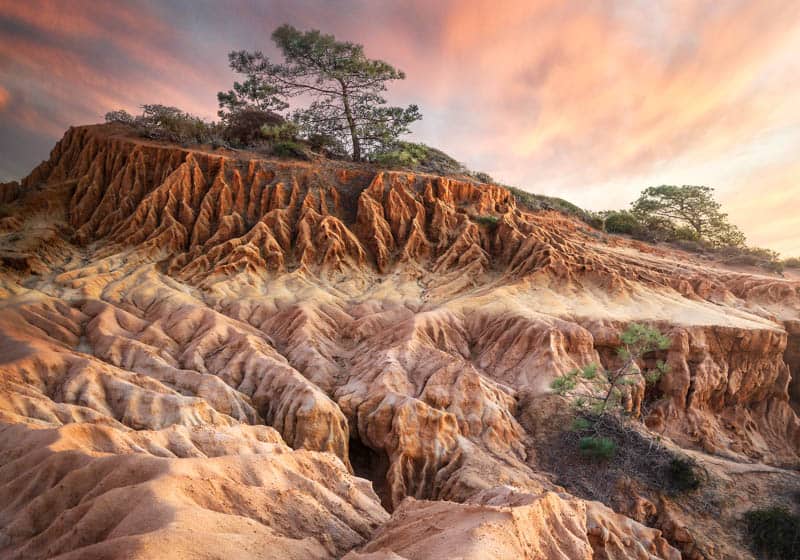 The reserve protects the rare Torrey pine, which is only found here and on the Channel Islands.
The beautiful scenery includes eroded sandstone rock formations that look otherworldly, especially at sunset.
The hiking trails offer spectacular water views or strolls through the local flora, and some trails lead down to the beach. Look for dolphins and whales from ocean-view trails!
Torrey Pines State Beach is a gorgeous sandy beach where you can stroll, picnic, sunbathe, surf, or watch the hang gliders.
Stay for sunset: you may get wildly colorful skies, perfect for photos!
Driving distance and time
San Diego to Torrey Pines State Natural Reserve: 15.8 miles, about 20 minutes
Julian
The little mountain town of Julian is one of the most beloved getaway destinations from San Diego.
Located in the Cuyamaca Mountains, Julian is particularly popular in the fall, when you can pick your own apples at an area orchard and learn how to make cider.
But fall definitely is not the only time of year to enjoy this charming town!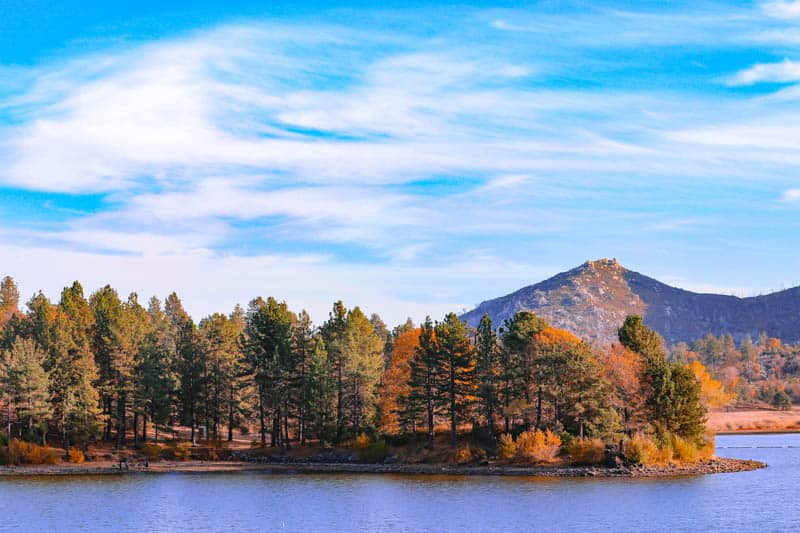 Gold was discovered in Julian in 1870, but mining lasted only about 30 years. Today you can take guided tours of local gold mines, and even pan for gold.
Nearby Lake Cuyamaca offers boat rentals ranging from kayaks to pontoon boats.
Hiking trails abound for exploring on foot or on horseback or bike.
In town, stroll the main street and browse the many art galleries and boutique stores, where you will find locally-made arts and crafts, antiques, and even old-fashioned candy.
You may even catch live music performances by local musicians.
Sample local wines and hard ciders, enjoy the offerings at local eateries, and savor a slice of Julian apple pie!
Driving distance and time
San Diego to Julian: 60.6 miles, about 1 hour and 15 minutes
Encinitas
With a pair of beautiful gardens, pristine beaches, a serene nature preserve that is home to dozens of species of birds, and a walkable downtown, Encinitas makes for a leisurely and pleasant day trip from San Diego.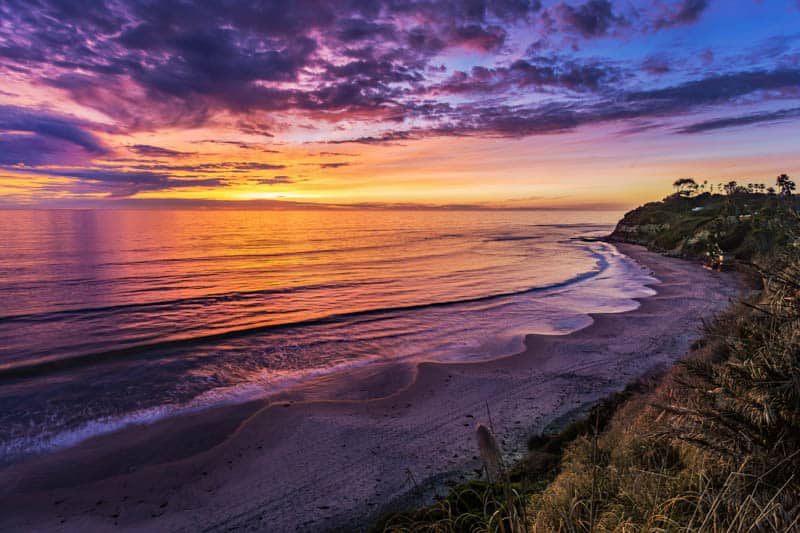 Visit the San Diego Botanic Garden, one of California's most beautiful botanical gardens.
Four miles of walking trails lead to themed plant displays. The garden has a magnificent collection of palms from all over the world and the country's largest bamboo collection.
The Self Realization Fellowship Hermitage & Meditation Gardens also make for a lovely stroll, with stunning water views.
Birders and nature lovers will enjoy the nearby San Elijo Lagoon Ecological Reserve, where more than 300 species of birds have been spotted.
Swami's Beach is a fun walk when the tide is out, or you can watch the surfers from above.
Downtown Encinitas features lots of cafes, shops, and restaurants, and is a great place to walk.
Driving distance and time
San Diego to Encinitas: 26.2 miles, about 28 minutes
Palomar Mountain
Palomar Mountain State Park is located on the western side of Mount Palomar.
The park features beautiful pine forests and mountain meadows reminiscent of the Sierra Nevada, and is a fabulous place to go on a day trip from San Diego if you enjoy the outdoors, particularly in the summer.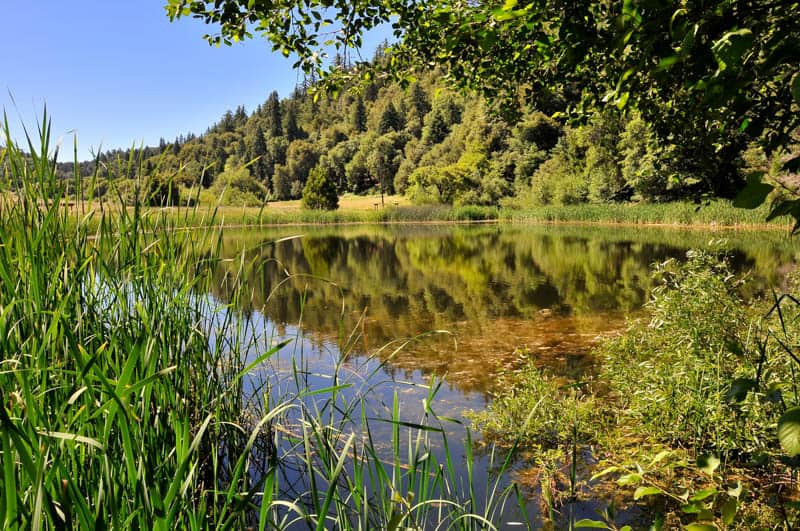 The park features several miles of hiking trails, and Doane Pond is popular spot for trout fishing, and is great for photography as well.
Drive to Boucher Lookout, or hike Boucher Trail to the top, for fabulous views from the observation deck. Also be sure to climb to the top of the historic Boucher Hill Fire Tower!
Bring a picnic lunch to enjoy in the park.
Also drive to the nearby Palomar Observatory and take a self-guided tour of the 200-inch Hale Telescope (or a guided tour, if one is being offered when you visit!).
It used to be the largest telescope in the world for many years. You can't look through it, but just seeing it is awesome!
The observatory dome is an amazing sight as well, and the drive up is beautiful.
Driving distance and time
San Diego to Mount Palomar State Park: 62 miles, about 1 hour and 15 minutes
Anza-Borrego Desert State Park
A veritable treasure trove of beautiful desert landscapes, lush oases, birds and wildlife, wildflowers in the spring, and even enormous outdoor sculptures, Anza-Borrego Desert State Park (in our opinion one of California's best state parks) is one of the coolest day trips from San Diego you can do.
Bring a picnic lunch to enjoy in the park.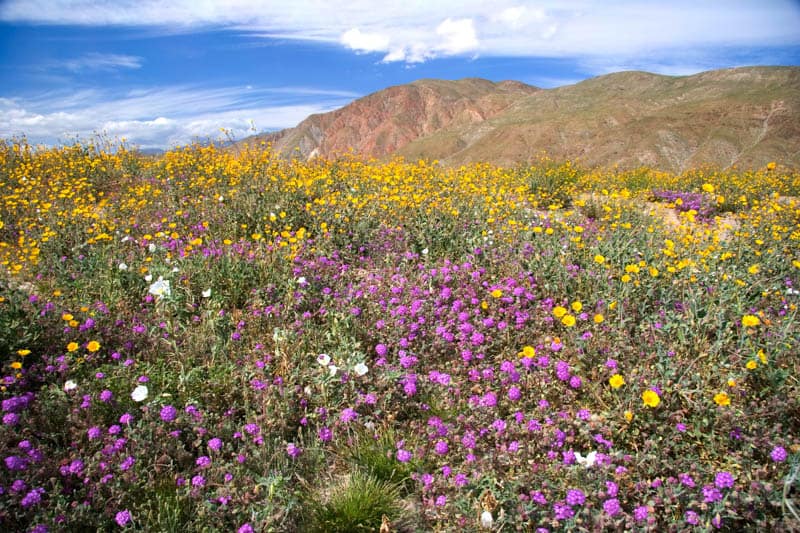 Start your visit at the beautiful Visitor Center, where you can get information on activities, and stroll the small trails around the property to get a brief introduction to local flora.
Cool hikes at the park include the Slot and the Wind Caves, but you can also do the easy-to-access Borrego Palm Canyon Trail, which features an oasis and possible sightings of bighorn sheep.
You can explore the many roads in the park as well: arrive in a high-clearance 4WD to explore dirt roads in the park.
At more than 600,000 acres, Anza-Borrego is California's largest state park, so there is a lot to see and do.
The gigantic sculptures of prehistoric creatures by Ricardo Breceda make for fabulous photo ops, and spring wildflower bloom at Anza-Borrego can be spectacular.
Driving distance and time
San Diego to Anza-Borrego State Park: 84.6 miles, about 1 hour and 50 minutes
Carlsbad
As the home of Legoland, Carlsbad is a popular Southern California destination for families with kids.
The theme park features several dozen rides, including roller coasters, plus a water park and loads of interactive play areas. Buy tickets online!
Carlsbad is also a fun day out for adults that want to relax on its beautiful beaches and enjoy the many parks and museums.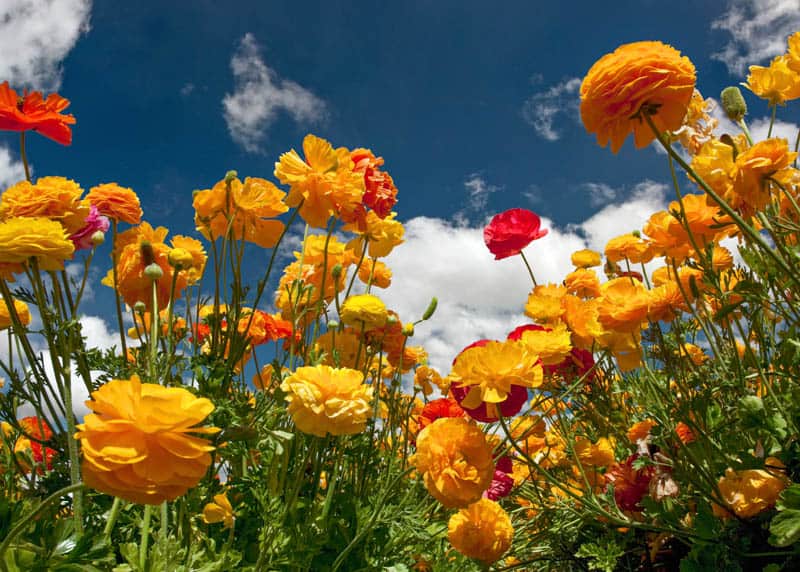 In the spring, the flower fields at Carlsbad Ranch become riotously colorful, with ranunculus blooming in carpets of red, pink, white, and yellow. Bring your camera and take in the stunning show!
Bloom begins some time in March and generally peaks in early April.
Beach lovers should head to South Carlsbad State Beach: the nearly five-mile expanse of pristine sand is great for family fun and for water sports.
Leo Carrillo Ranch Historic Park is a must for history buffs. Bring your camera to snap photos of the peacocks at the adobe ranch!
Museum lovers can choose from the GIA Museum (with gems and jewelry) and the Museum of Making Music, which exhibits historical musical instruments and the music of different ages.
Driving Distance and Time
San Diego to Carlsbad: 34.9 miles, about 36 minutes
Fallbrook
Fallbrook is a small community out in the country, perfect for a pastoral day trip from San Diego.
Known as the "avocado capital of the world," Fallbrook boasts many avocado (and citrus) orchards, and the community hosts an Avocado Festival each spring.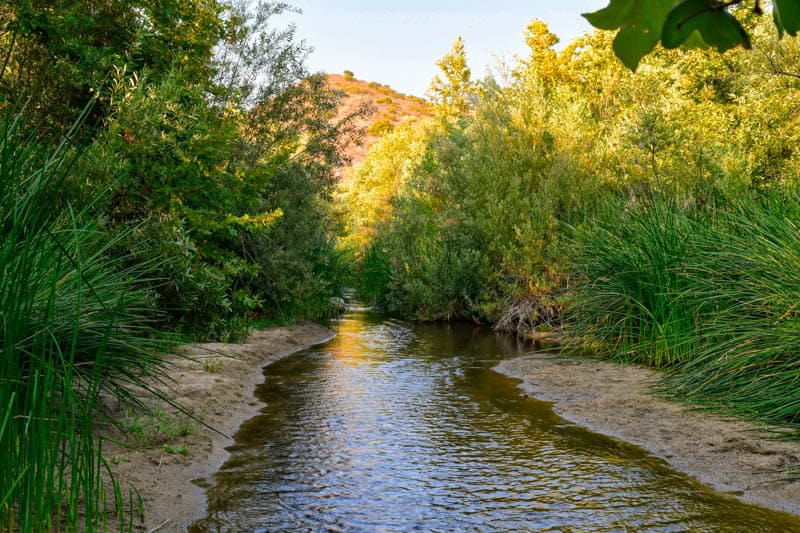 In downtown Fallbrook, browse the one-of-a-kind shops and art galleries and admire the architecture. Enjoy the murals and sculptures at Village Square.
Myrtle Creek Botanical Gardens and Nursery showcases gardens and an old barn and water wheel. With rides and activities, Myrtle Creek is fun for families.
Santa Margarita River Preserve features miles of trail that you can explore on foot, on horseback, or by bike. Look for wildlife and birds by the river!
Los Jilgueros Preserve features ponds and meadows, and wildflowers in season.
And Live Oak Park, with mature trees, is great for walking. Bring a picnic lunch to enjoy!
Driving Distance and Time
San Diego to Fallbrook: 56 miles, about 1 hour
Idyllwild
The idyllic mountain town of Idyllwild features stunning scenery and makes for a relaxed day trip into nature.
As the gateway to Mount San Jacinto State Park, the town can be visited in combination with the park if you get an early start.
A variety of hiking and mountain biking trails allow you to explore the forests around the town.
Idyllwild Nature Center has a few easy trails you can stroll, along with a picnic area where you can enjoy lunch. Summit Trail allows for a bit of a workout. Admire the local flora and look for birds and wildlife.
Trails in Mount San Jacinto State Park vary from easy to strenuous, and many trails offer spectacular views of surrounding mountains and over the desert floor.
Downtown Idyllwild has a few charming stores and art galleries that you can browse, and there are several good eateries in town.
Driving Distance and Time
San Diego to Idyllwild: 113 miles, about 1 hour and 45 minutes
Laguna Beach
Laguna Beach is a beautiful SoCal beach town, and one of California's best couples getaways.
There are a plethora of water activities available here for the choosing, but the town is also charming, with art, shopping, entertainment, and great places to eat, making for a day of eclectic enjoyment.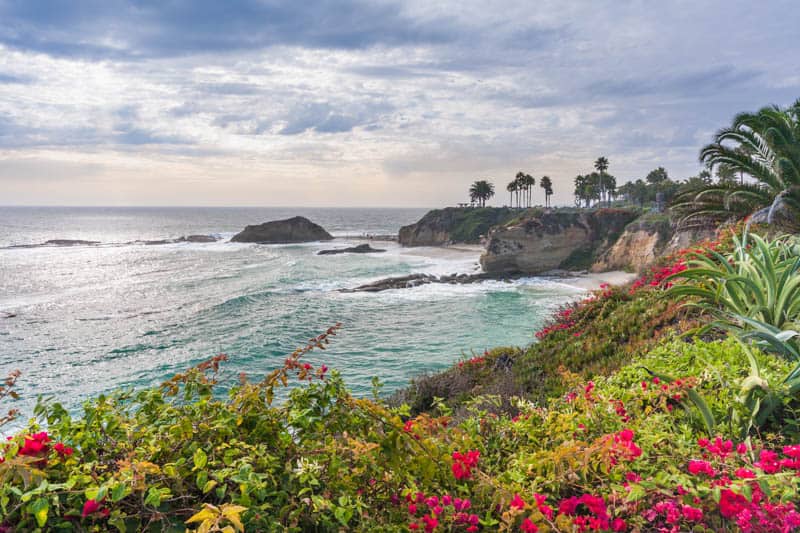 Stroll Heisler Park for beautiful water views and some public art pieces. Continue your stroll through town to discover more of the more than 100 pieces of public art on display.
You will see sculptures, murals, signs, and even benches. They make for great photo ops!
Browse the many shops and galleries in town and enjoy wine tastings.
Hike at Laguna Coast Wilderness Park, where several miles of trails meander through woodlands to high ridges for spectacular views. It is also a great place for birding.
Go on a whale watching cruise, or an ocean kayaking tour that offers sea lion sightings.
Look for tiny marine creatures in the impressive tidepools at Laguna Beach.
Enjoy beach time, of course! Take in the sunset from Crescent Bay Park.
Driving Distance and Time
San Diego to Laguna Beach: 79.4 miles, about 1 hour and 15 minutes
San Juan Capistrano
Anchored by its historic Spanish mission, the city of San Juan Capistrano is a must for travelers that enjoy history and culture.
But the city also has excellent shopping and dining, and makes for a relaxed day out from San Diego.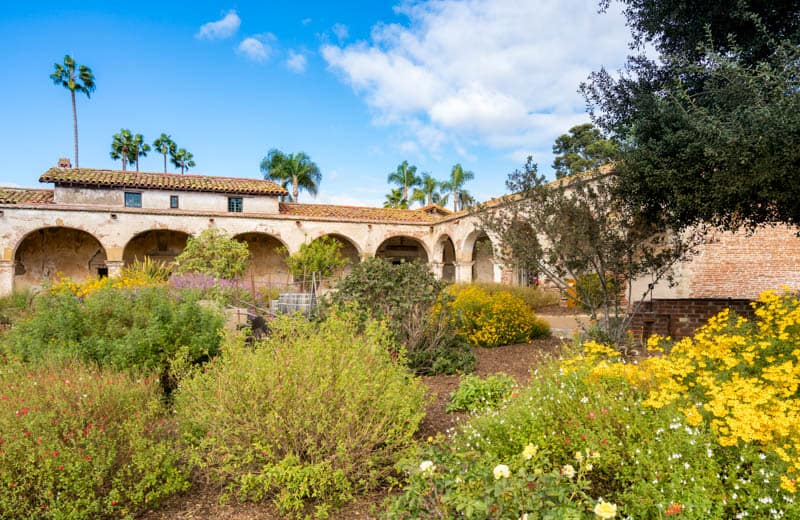 Founded in 1776, Mission San Juan Capistrano is known as "the Jewel of the Missions" and boasts beautiful grounds that are perfect for strolling.
You can do a self-guided audio tour of the museum rooms with their historic exhibits and visit Serra Chapel, named for Father Junipero Serra.
Also visit the church, Mission Basilica San Juan Capistrano, with its Grand Retablo, designed in Spain.
Walk the Los Rio Historic District, where you can see some of the original adobe homes from colonial times.
Visit the O'Neill Museum, the home of famous resident Jose Dolores Garcia: the Victorian was built in the late 19th century.
As you explore the historical sights, make time to browse the shops selling gorgeous local arts and crafts!
Driving Distance and Time
San Diego to San Juan Capistrano: 66.6 miles, about 1 hour
Temecula
The Temecula Valley is known for its beautiful wineries, but you will find plenty of things to do in Temecula besides wine tasting.
From hot air balloon rides and horseback rides to great shopping and dining, you will be spoiled for choice on things to do on a day trip to the Temecula Valley!
Old Town Temecula, with its Old West look-and-feel, is a great place to wander. Admire the historic architecture as you stroll the wooden boardwalks.
Browse the many boutiques selling handcrafted items and tour art galleries featuring area artists. Old Town also has fabulous places to eat, and you can enjoy dancing to live music in the evenings.
Tour area vineyards on your own, or take a wine tasting tour.
Check out the many trails around Temecula on foot, by bike, or on horseback.
Book a spa treatment and enjoy some deep relaxation.
And bring your appetite when you visit, because you will many great eateries to try in Temecula!
Driving distance and time
San Diego to Temecula: 58.5 miles, about 58 minutes
Laguna Mountains
For one of the most relaxing day trips from San Diego, straight into the arms of Nature, escape to the beautiful Laguna Mountains.
Starting with the drive to get to the tiny village of Mt. Laguna, your day will be full of breathtaking scenery and outdoor adventures. Bring a picnic lunch and revel in the tranquility!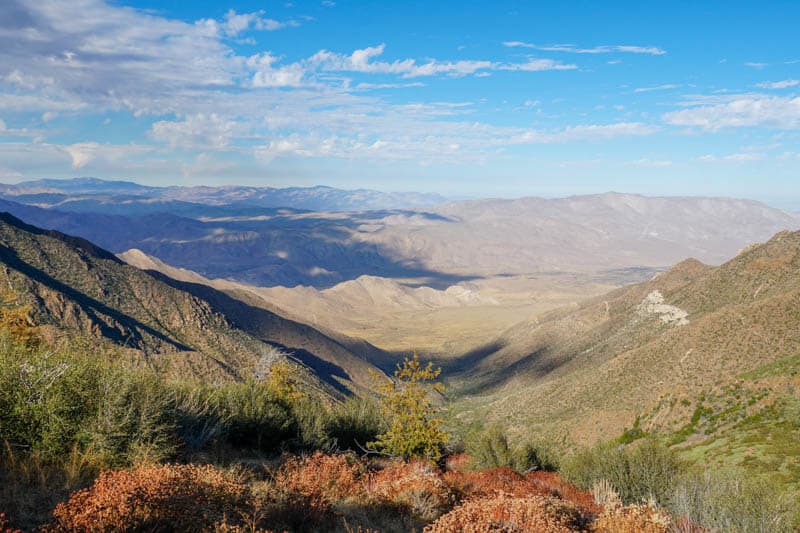 For an epic day hike, try the 10-mile Big Laguna Trail, a moderately difficult scenic loop that offers spectacular mountain views and meanders through woodlands and meadows.
At certain times of the year, you can enjoy a seasonal lake and a variety of wildflowers.
There are shorter trails in the area, and the challenging Pacific Crest Trail runs through here as well.
The drive along Sunrise Highway is super scenic with many lookout points where you can park and enjoy the views at leisure, or take photos.
Kwaaymaii Point looks out over the Anza-Borrego Desert, and Foster Point offers great mountain views.
Besides hiking and auto touring, mountain biking and horseback riding are popular here as well.
Driving distance and time
San Diego to Laguna Mountains: 51.8 miles, about 54 minutes
Oceanside
A lovely coastal escape with beautiful sandy beaches and a small-town vibe, Oceanside makes for a great day trip from San Diego any time of the year.
O'side, as locals refer to it, offers historic sights and a lively harbor, in addition to fabulous photo ops and loads of fun experiences.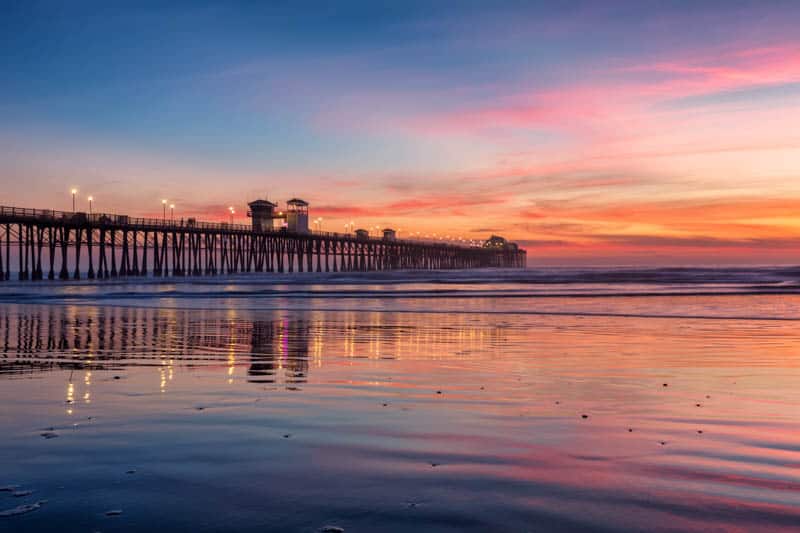 Visit the business district at South Oceanside, home to one-of-a-kind local shops, where you can browse for souvenirs. The area features lots of great eateries as well.
Oceanside Harbor has a cute New England style village you can stroll. Here you can embark on a whale watching cruise or go stand-up paddleboarding. It's a great place to watch the sun set!
Harbor Beach is another great place to walk. From the jetties, you can snap fabulous photos of the Oceanside Pier, which juts out almost 2,000 feet into the water.
History buffs will want to explore the museum and grounds at Mission San Luis Rey, one of the last of the Spanish missions built in California, and art lovers will want to enjoy the Oceanside Museum of Art.
Driving distance and time
San Diego to Oceanside: 38.1 miles, about 38 minutes
Palm Springs
With desert canyons for hiking and a vibrant downtown, Palm Springs makes for one of the coolest day trips from San Diego to another city.
Visit in the cooler months of the year for pleasant wanderings outdoors, or plan a day of indoor fun if you visit in the summer.
You can even arrive via Highway 74, part of the scenic Palms to Pines Scenic Byway!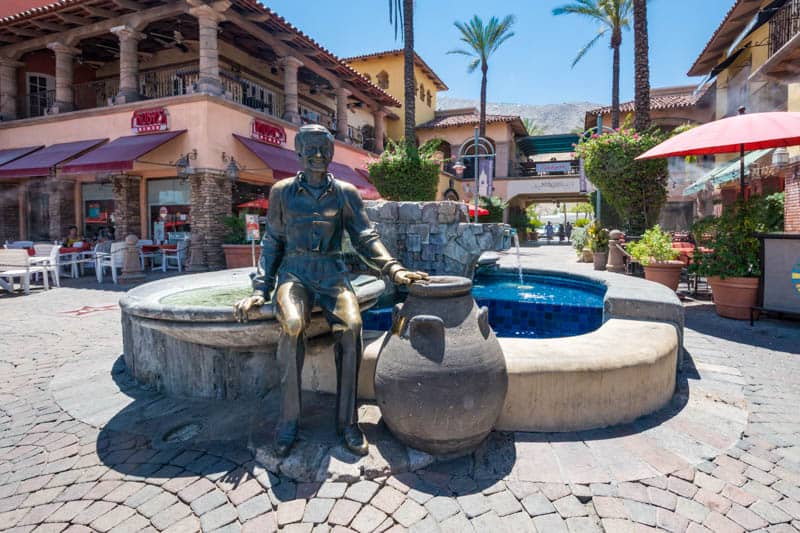 Indian Canyons and Tahquitz Canyon feature beautiful palm oases, and Tahquitz canyon has a lovely seasonal waterfall.
Coachella Valley Preserve has many hiking trails with palm oases and lots of wildflowers in season.
Get an early start if you plan on hiking, for pleasant temperatures.
Enjoy a spa treatment at one of the many day spas in Palm Springs.
Do a self-guided tour of the city's famous mid-century modern architecture, tour Moorten's Botanical Garden, or visit the Palm Springs Art Museum or Air Museum.
Stroll Palm Canyon Boulevard, with its many shops and galleries. Enjoy leisurely dining at the many quality eateries.
Driving distance and time
San Diego to Palm Springs: 139.3 miles, about 2 hours and 15 minutes
Ensenada
The place to go to gorge on fish tacos and margaritas, Ensenada is lively and entertaining even if you do nothing but wander around.
But for those wanting an active day out, the city offers a plethora of outdoor adventures or cultural experiences.
Remember to pack your pass port for this day trip south of the border!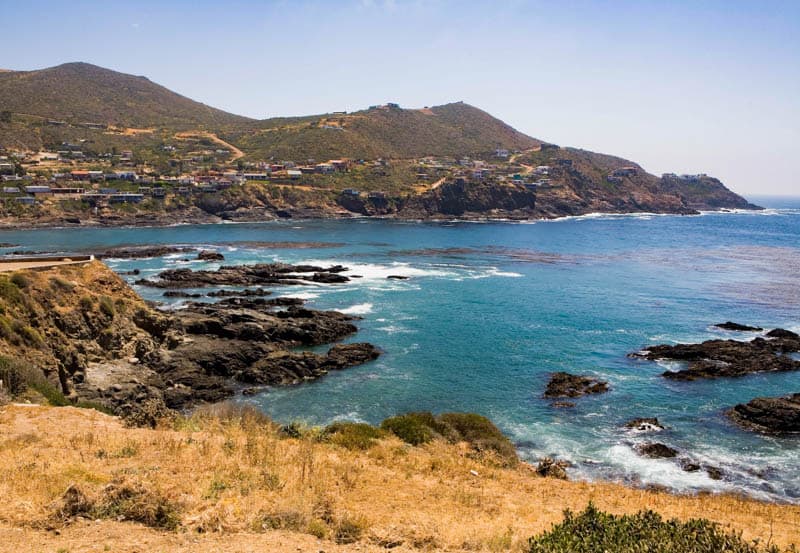 If you visit in the winter, book a whale watching tour. California grey whales migrate to the waters of Baja California for the winter, and you can see them on excursions at the Bay of Todos Los Santos.
A visit to La Bufadora, the world's largest underwater blowhole, is a must. Even if you do not catch the blowhole in action, the views make for a great photo op.
Walk Avenida Lopez Mateos, where you will find colorful dresses and ponchos, and hats and jewelry.
Also stroll the Malecon, the boardwalk by the water, where you can see the enormous Mexican flag fluttering in the breeze. It is particularly beautiful here at sunset!
Dine at a waterfront eatery and enjoy music by mariachis.
Driving distance and time
San Diego to Ensenada: 89.1 miles, about 2 hours
Crystal Cove State Park
With more than three miles of beach, excellent tidepooling, and epic hiking, Crystal Cove State Park in Orange County makes for a fabulous day trip from San Diego.
Bring a picnic lunch and enjoy a day outdoors in nature!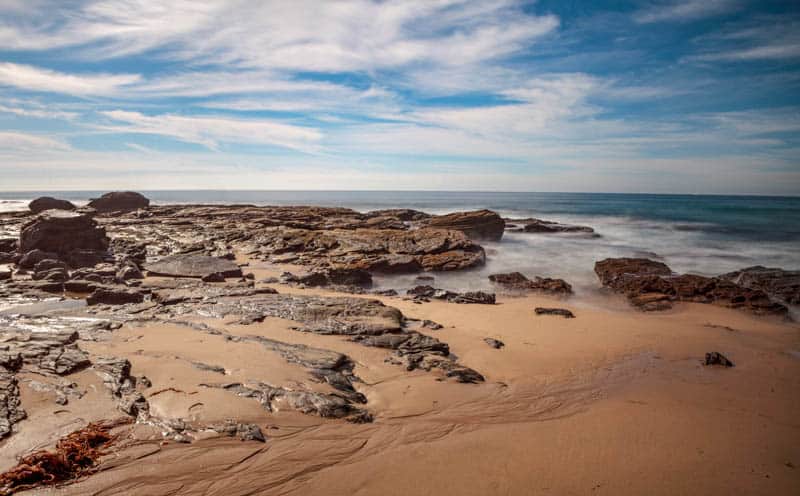 Moro Beach is a great place to hang out, swim, and picnic. You can also swim at adjacent Muddy Creek or at 3.5 Cove.
The best tidepool areas are at Reef and Pelican Point, or at the north end of Treasure Cove. Look for abalone, sea stars, sea urchins, anemones, limpets, and other small creatures in the pools.
Crystal Cove also offers a great network of hiking trails on the land side of the road, with trails for all levels.
You will see tons of wildflowers in the spring, and higher-elevation trails offer gorgeous views of the surrounding countryside and the Pacific Ocean.
Dine at the Beachcomber Café, housed in a restored cottage in the Historic District.
Driving distance and time
San Diego to Crystal Cove State Park: 86.1 miles, about 1 hour and 15 minutes
Disneyland
One day in Disneyland is not enough to experience all the rides and attractions, but if you are up for a long and exciting day, you can cram in quite a bit on a day trip to the theme park.
While families with kids will consider Disneyland to be one of the top day trip ideas from San Diego, adults will find lots to do here as well.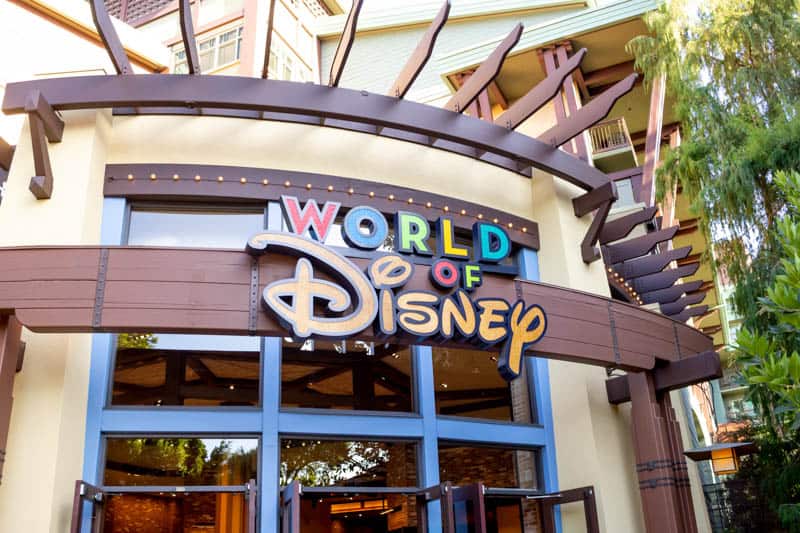 Plan to arrive a little before opening time, if you want to experience several of the popular rides in the course of the day.
Explore Fantasyland, home to such favorites as Mr. Toad's Wild Ride, Mad Tea Party, and It's A Small World.
Enjoy Space Mountain at Tomorrowland, and the very popular Star Wars: Rise of the Resistance.
Check out Pirates of the Caribbean and have lunch in New Orleans Square.
Snap photos of the Sleeping Beauty Castle!
Ride the Disneyland Railroad or the Mark Twain Riverboat.
In the evening, pick from Splash Mountain, Jungle Cruise, Big Thunder Mountain Railroad, or the Matterhorn.
End your day with Fantasmic (live performances!) and the fireworks show.
Driving distance and time
San Diego to Disneyland: 96.9 miles, about 1 hour and 35 minutes
San Clemente
A coastal city with a charming small town feel, San Clemente can make for a refreshing break if you are looking for a relaxed day in the sun.
You will love San Clemente's beautiful beaches, framed by sandstone bluffs, and its Spanish architecture.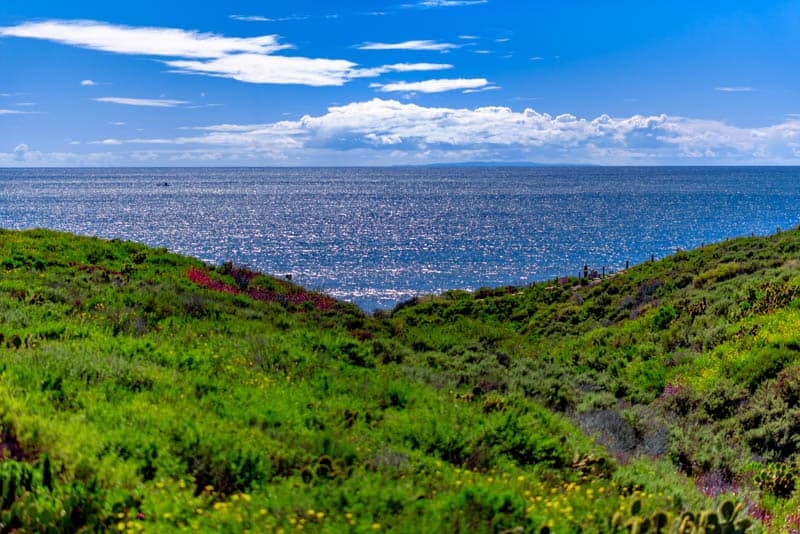 Walk the San Clemente Beach Trail for spectacular water views, easy access to the beach at several points, and views of the long San Clemente Pier.
The pier is another popular place for strolling and waterfront dining, and for sunset watching.
T Street and San Clemente State Beach are top-notch beaches if you want to laze in the sun.
Go on a whale watching cruise, or enjoy water sports.
Casa Romantica Cultural Center & Gardens, the former estate of Ole Hanson (founder of San Clemente), is a must-visit for the impressive architecture and stunning grounds. It is located on the bluffs, with views out to the pier.
Enjoy shopping on Avenida Del Mar. Savor wine or craft beer tastings, and great eats at area restaurants.
Driving distance and time
San Diego to San Clemente: 59.1 miles, about 1 hour
Los Angeles
Los Angeles has an unending list of attractions and activities!
For a day trip, we suggest limiting yourself to one geographic area so that you can spend more of your day sightseeing or savoring experiences and less sitting in the notorious LA traffic.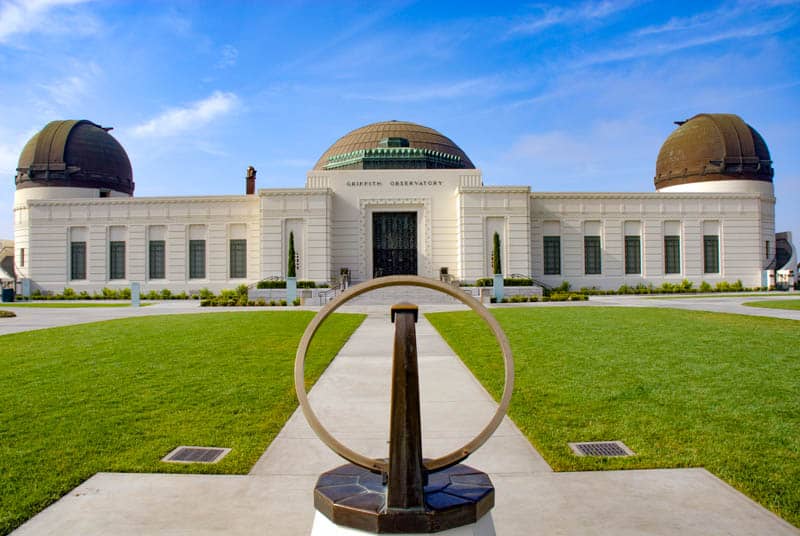 Movie buffs should plan on a day in Hollywood.
Visit the TCL Chinese Theatre, stroll the Hollywood Walk of Fame, and hike or ride on horseback on view the famous Hollywood sign.
If you hike Griffith Park, you can visit Griffith Observatory as well, and enjoy fabulous views over LA.
Or you can spend a part or all of your day at Universal Studios.
If you love the beach experience, spend your day in Santa Monica and Venice Beach, where you can walk the boardwalk or bluff apart from time on the sand or in the water.
Sunset at Santa Monica Pier is a great way to end your day!
If you love museums or gardens in LA, you have lots of options in LA: pick a couple of places for a leisurely visit in conjunction with some shopping and dining.
Driving distance and time
San Diego to LA: 120 miles, about 2 hours
Valle de Guadalupe
Baja California's wine country is a fabulous day trip option for foodies and wine lovers.
An up-and-coming wine destination south of the border, the Valle de Guadalupe offers both a drive through scenic vineyards and the opportunity to enjoy tastings of superb local wines and innovative Baja cuisine.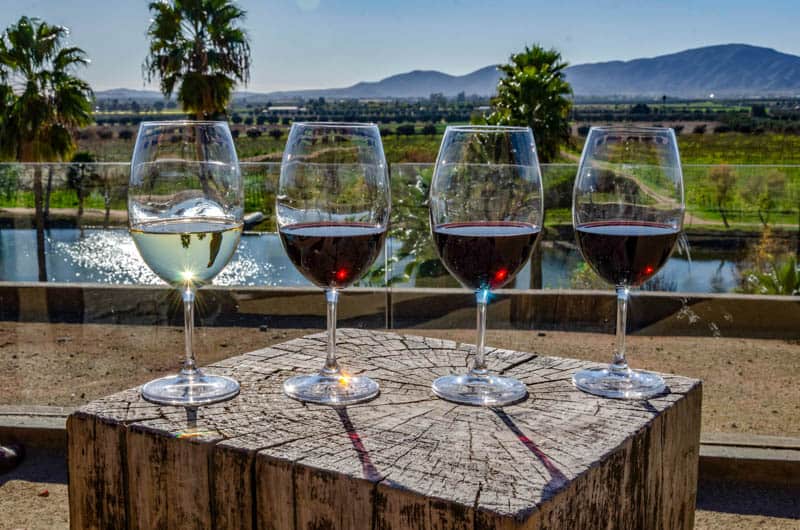 Monte Xanic, at the eastern end of the valley, has a tasting deck with a panoramic view of the rolling hills, covered with rows of vines.
Vena Cava Winery is made from recycled materials and the outside tasting patio is covered with a net. Both its wine and its food are amazing!
La Lomita is another well-known winery, and its terrace has a great view as well.
Dining experiences at the Valle de Guadalupe are diverse and top-notch.
Donna Esthela is a must-visit if you enjoy the flavors of Mexican home cooking.
Animalon is a seasonal pop-up restaurant under an ancient oak tree, illuminated with hundreds of lanterns. The tasting menus, internationally inspired, rotate.
TrasLomita has a gorgeous outdoor setting in the gardens of La Lomita Winery.
Map of Day Trips from San Diego

Did you find this article informative? Pin it for later reference!