Planning an LA to Vegas drive? A Los Angeles to Las Vegas road trip can be done via one of multiple routes, and we've picked four epic itineraries to share in this article, with descriptions of the best stops on each drive.
Anchored by two of the most vibrant cities in the western United States, the road trip between Los Angeles and Las Vegas is on the bucket list of most visitors to the region.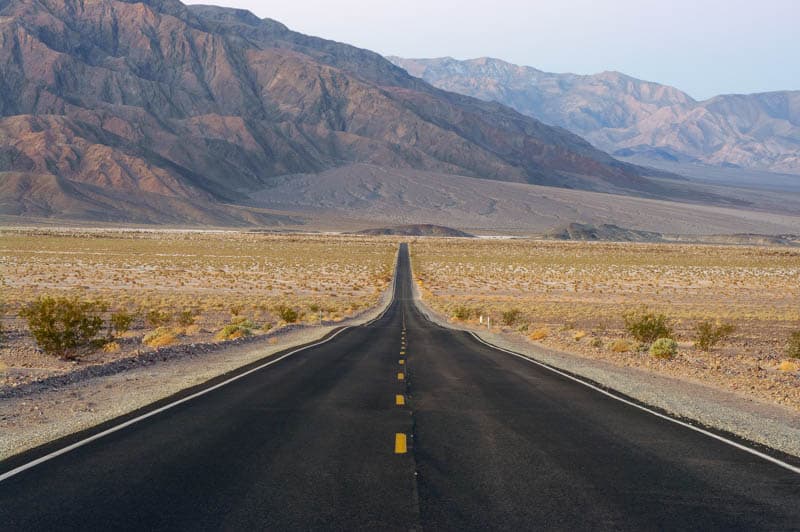 Depending on the time you have, and what you want to see en route, the LA to Vegas drive offers spectacular desert vistas, historical sights, and the opportunity for some fun outdoor adventures along the way.
And of course, you can do the drive in the reverse direction as well.
So if you are planning to travel between LA and Vegas by road, make it about the journey as well as the destination! Allow enough time to enjoy the sights along the route, from the quirky and outlandish to the naturally scenic and magnificent.
LA to Las Vegas via Baker, the Shortest Route
Road Trip Length: 270 miles (Map)
Driving Time: About 4 hours without traffic
I-15 N whizzes you from LA to Vegas in short order, so it's the route to take if you are time-constrained. But that does not mean there aren't any adventures to be had along the way.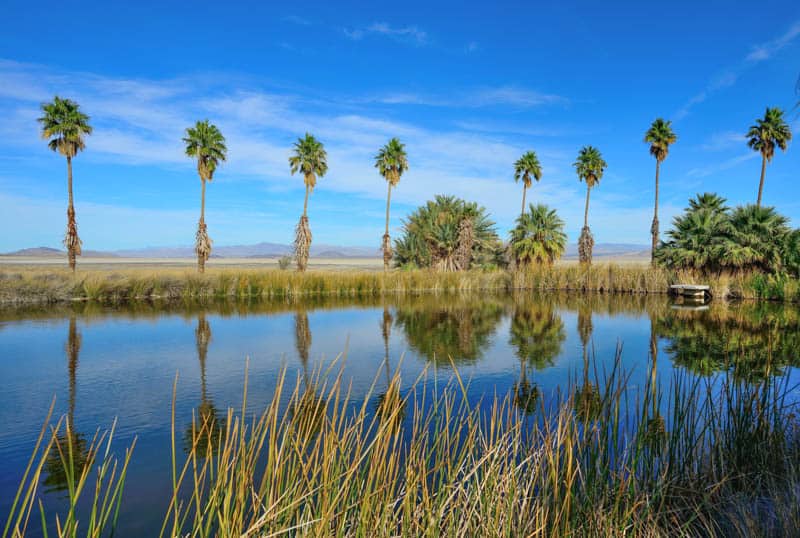 While this LA-Vegas route does not include any of California's three magnificent desert parks, you can certainly detour south to explore some of the Mojave National Preserve or north to visit Death Valley National Park.
Here are the highlights and must-stop spots on this drive from Los Angeles to Las Vegas!
Mormon Rocks, Phelan, CA: Beautiful sandstone formations that got their name because they were discovered by Mormons traveling from Utah to California, Mormon Rocks are worth exploring if you enjoy the outdoors.
The Mormon Rocks Interpretive Trail is a one-mile loop that includes a fabulous viewpoint.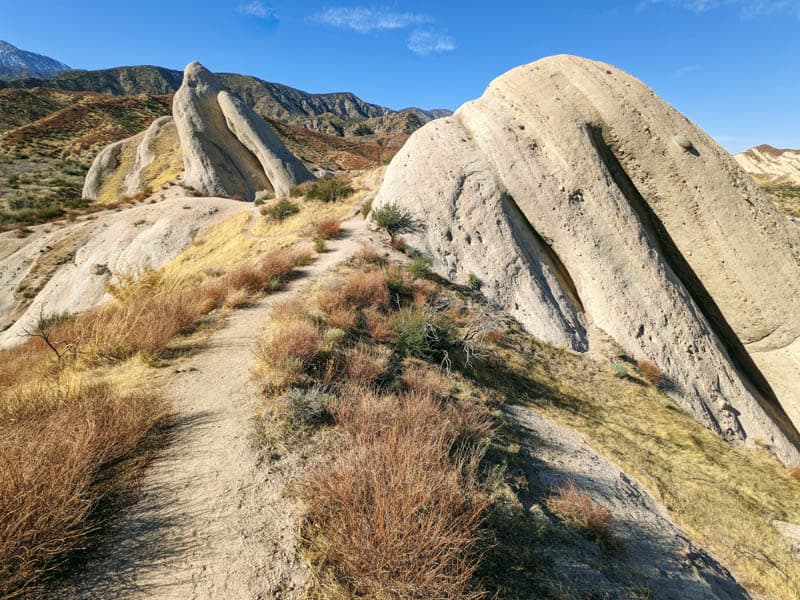 Victorville, CA: Home to the California Route 66 Museum, Victorville is a popular stop along the historic Mother Road.
The museum houses lots of fun and interesting memorabilia, including a 50s diner and a Volkswagen Love Bus with wings. Emma Jean's Holland Burger Cafe is just outside town.
Elmer's Bottle Tree Ranch, Oro Grande, CA: Elmer Long's Bottle Tree Ranch is one of the most popular Route 66 attractions in California.
The huge collection of glass bottles is displayed on tree-like metal structures, making for great photo ops. The collection was created by Elmer Long, who is no more, but the collection is still open for viewing.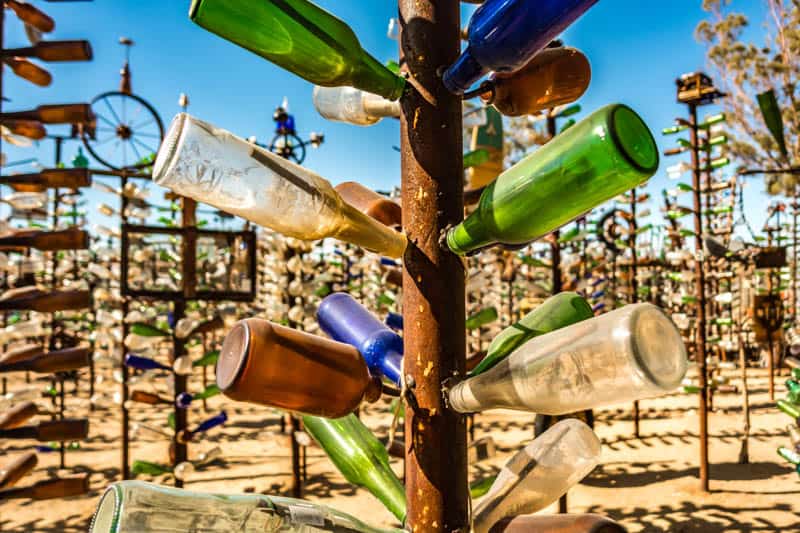 Barstow, CA: Barstow is an important Route 66 stop in California, with a couple of museums and several quirky attractions.
Here you can visit the Route 66 Museum, which showcases the history of the Mother Road, and view the Old Woman Meteorite, the largest found in California (and the second largest in the USA!).
You will also find the oldest surviving Del Taco in Barstow, and a train car McDonald's.
Yermo, CA: EddieWorld is the largest gas station in California, and the "sweetest," with ice cream, candy, and chocolates, along with pizza, burgers, popcorn, and more. Snap a photo of the gigantic ice cream sundae!
Also stop by the Jenny Rose Restaurant sign for a photo! The restaurant is no longer there, but the sign made famous by the Sheryl Crow album cover survives.
Calico Ghost Town, CA: Founded in 1881 during the silver boom in California, Calico was abandoned once silver lost its value, in the mid 1890s.
In the 1950s, most of the buildings were restored, and Calico was designated a California State Historic Landmark. Today it is a county regional park you can visit, to tour a silver mine or ride a historic railroad.
Zzyzx Road, CA: Pronounced Zye-Zix, Zzyzx Road leads to as oasis that is currently home to the California State University Desert Studies Center but was once a health resort run by Curtis Springer.
You can take a self-guided tour of the complex. Bring your binoculars, because you will likely see lots of birds here!
Baker, CA: Baker contains the "world's tallest thermometer." It is 134 feet tall, erected to commemorate the highest ever temperature recorded at Death Valley National Park: 134 degrees Fahrenheit in 1913.
Don't forget to stop at The Mad Greek Cafe for a milkshake, and try the famous jerky at Alien Fresh Jerky!
Primm, NV: Primm lies on the California-Nevada border. It is famous for its Lotto Shop, where Nevada residents line up to buy tickets when the jackpot is large. Lines can get pretty long at these times!
Also stop by Whiskey Pete's, where you can view Bonny & Clyde's Death Car, riddled with bullets.
Seven Magic Mountains, Jean, NV: if you plan to do this route in 2021, stop to view Ugo Rondinone's Seven Magic Mountains, near Jean Dry Lake, about 10 miles south of Vegas.
The Neon Rocks installation consists of seven towers of stacked boulders, painted in different colors. The installation is currently scheduled to stay at its current spot until the end of 2021.
2023 Update: The installation is still at its location near Vegas, and the producers are reportedly working on a multi-year lease extension.
Where to Stay in Vegas
If you want to stay on Las Vegas Boulevard, in the heart of all the action, consider a fountain view suite at the smoke-free, casino-free Vdara Hotel & Spa in the City Center! Suites are spacious and well-appointed. There is a full service spa and pool. Book a stay here!

The Bellagio is one of the most upscale resorts on the Strip. Rooms are luxuriously furnished and come with marble bathrooms. There are multiple dining options at the resort, plus five courtyard pools set amidst lush landscaping. Book a stay here!

Marriott's Grand Chateau is about a 15-minute walk or short ride to the Strip. The non-gaming, non-smoking property offers spacious, well-decorated rooms and an outdoor pool. Some rooms feature views of the Strip. Book a stay here!

LA to Vegas via Joshua Tree and the Mojave National Preserve
Road Trip Length: 344 miles (Map)
Driving Time: About 5 hours and 50 minutes without traffic
This LA to Las Vegas drive offers the chance to visit not one, but two, of California's great desert parks: Joshua Tree National Park and the Mojave National Preserve, along with some quirky desert towns en route.
If time allows, you may wish to add in a detour to Palm Springs. The desert community offers resorts and golf courses, hikes into the surrounding desert, great food and drink, and the opportunity to take the aerial tram to the mountain station on Mount San Jacinto.
Here are the highlights and must-stop spots on this LA to Vegas drive:
Pasadena, CA: Pasadena is a gracious Southern California city, with lots of great architecture to admire, and a lively Old Town, with numerous eateries and museums.
Nearby is The Huntington, a complex of themed gardens that makes for a delightful exploration. The complex also houses an impressive art collection and a library of rare manuscripts.
Route 66 Towns, CA: Between Pasadena and San Bernadino are a number of Route 66 towns that you can tour with short detours.
Azusa has the Foothills Drive-In Theatre, Upland has a historic McDonald's Golden Arches building from the 1950s, and Rancho Cucamonga has a beautiful yellow gas station.
San Bernadino, CA: San Bernadino has a number of sights that will delight the Route 66 enthusiast. Here you will find the very first McDonald's, opened by the McDonald brothers in 1940. It is a museum today.
You will also find the Wigwam Motel here (one of three that remain of the original seven): you can even spend the night at the motel!
Cabazon, CA: Cabazon is home to the Cabazon Dinosaurs, iconic roadside attractions that have been featured in movies. While you can view the two enormous dinosaurs (Dinny and Mr. Rex) for free, for a fee you can go inside Mr. Rex.
There is also a small museum little kids will enjoy, and a sand pit and gold panning site. Kitschy? Yes. But fun, especially for kids.
Pioneertown, CA: Pioneertown was founded by Dick Curtis and other Hollywood actors as a real-life movie set. When you walk Mane Street, you will feel like you are in a Western!
Many movies and shows have been filmed in Pioneertown. It's a great spot for photography, and the road from Yucca Valley to Pioneertown is very scenic.
Joshua Tree Town, CA: The quirky town of Joshua Tree makes the perfect base from which to explore the national park, if you aren't camping.
Experience a sound bath, and visit the Integratron: its creator states he received instructions for its design from visitors from Venus! Or browse the Noah Purifoy Museum of Assemblage Sculpture.
Joshua Tree National Park, CA: Known for its giant boulder formations and weird-looking Joshua trees, Joshua Tree National Park offers epic hiking and bouldering.
There are short Joshua Tree hikes you can do on even a brief visit to the Park!
But you can also tour historical sites (old ranches and mine remnants), look for wildlife and birds, enjoy wildflower and succulent bloom in the spring, and observe the night skies.
Mojave National Preserve, CA: The Mojave National Preserve is huge: about 1.6 million acres. Much of it is wilderness, but the road through Kelso and Cima to Vegas is deemed passable for sedans.
Along the way, you will see one of the densest stands of Joshua trees anywhere on the planet, along with tall sand dunes, historic Kelso Depot, and cinder cones.
Pro Tip: If you have the time, and you are doing this drive in the cooler months, the Teutonia Peak Trail in the Mojave National Preserve takes you past the densest stand of Joshua trees on the planet, en route to magnificent desert vistas from the top.
LA to Vegas via Route 66 and Mojave National Preserve
Road Trip Length: 348 miles (Map)
Driving Time: About 6 hours with no traffic issues
If you love the classic Americana and roadside attractions that make Route 66 famous, here's your chance to experience some of them as you travel between LA and Las Vegas.
We've described a route that combines some of the best attractions along the California stretch of the Mother Road with a drive through the untamed desert in the Mojave National Preserve, which is less visited than Joshua Tree National Park and offers the opportunity to experience the vastness of the California desert in relative solitude.
Here are the highlights and must-stop spots on this Los Angeles to Las Vegas drive:
Pasadena, CA: While Pasadena has many sights to keep you engaged, from museums to gardens, it is also home to some iconic Route 66 attractions.
Beautiful Colorado Street Bridge is listed in the National Register of Historic Places, and you can drive over it. The Howard Motor Company Building is another building you must not miss: it is built in an ornate Spanish style of architecture.
Route 66 Towns, CA: Between Pasadena and San Bernadino, you can tour some of the small towns that were built along Route 66.
Some involve a little bit of a detour from I-210 E, but you will get to see a lot of classic Route 66 sights, from old-style theatres and gas stations to motels with vintage signs and even a giant orange.
San Bernadino, CA: San Bernadino is home to many historic Route 66 attractions, worth the small detour. The Santa Fe Railway Station and Depot is built in the Mission Revival style and is still an active railway station.
The Wigwam Motel makes for a great photo stop, as does the very first McDonald's. And you will find lots of motels with vintage Route 66 signs!
Barstow, CA: One of the must-stop spots along California's stretch of Route 66, Barstow has the Harvey House Railroad Depot, which features beautiful architecture and is listed in the National Register of Historic Places.
In the depot are the Route 66 Mother Road Museum and the Western America Railroad Museum, both sure to interest travelers interested in the history of the region.
Route 66 Ghost Towns, CA: Between Barstow and Amboy, you will find several little ghost towns, with interesting ruins to photograph.
The towns sprang up with the building of the road, and withered away after the new US 40 was built. Daggett, Newberry Springs, Ludlow, and Bagdad all have photo stops.
Amboy, CA: Amboy is home to the iconic Roy's Cafe, a favorite stop for Route 66 photographers and history buffs. But here you can also take a detour to visit Amboy Crater, which reportedly erupted only 10,000 years ago.
The symmetric cinder cone is a thing of beauty. You can hike to the top and around the rim, and you will see lots of wildflowers here in the spring.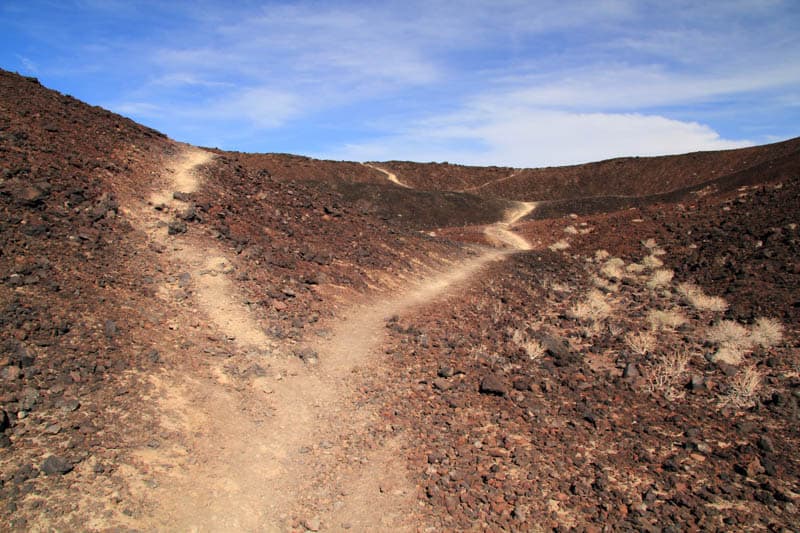 Mojave National Preserve, CA: Turn into the Mojave National Preserve at the Kelbaker Road South Entrance, and cut across the desert to reach I-15 to Vegas.
Along the way, you can stop to admire the cinder cones, and hike to the top of the highest dune at Kelso Dunes, where you may hear the sands sing. The road between Kelso and Cima is scenic and offers the Teutonia Peak hike.
Pro Tip: If you have more time and are up for a longer drive, you can start in Santa Monica and follow Route 66 in California all the way to Needles on the border with Arizona, before heading north to Vegas.
Los Angeles to Las Vegas Via Lone Pine and Death Valley
Road Trip Length: 443 miles (Map)
Driving Time: About 7 hours and 30 minutes without traffic
This road trip route between LA and Las Vegas is the longest of our four itineraries, and actually involves a little bit of a detour to Lone Pine, but it is our favorite itinerary, because it includes sensational Sierra Nevada sights as well as the best of Death Valley National Park.
Since you will enter Death Valley National Park from the west, you have the option to explore the less-visited western parts of Death Valley National Park on this itinerary, depending on your interests and how much time you have for your trip.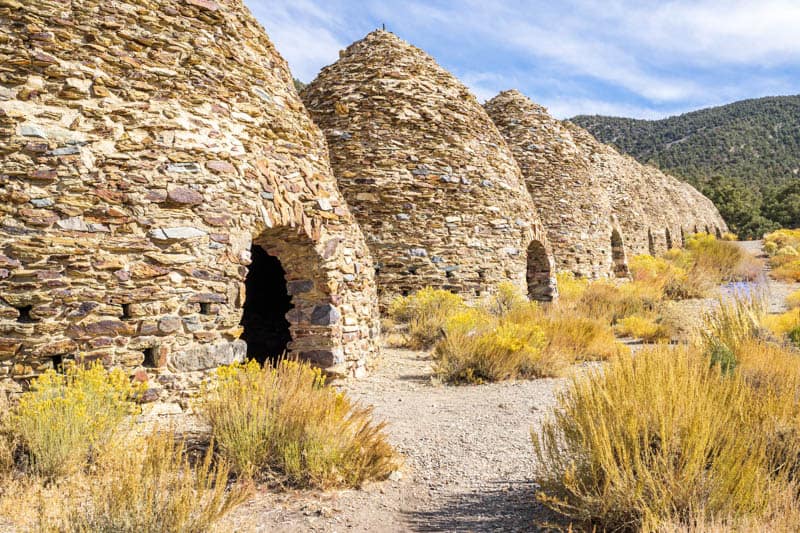 Once you leave Death Valley National Park, you can hightail it to Las Vegas: either US 95 S or NV 160 E will get you from Death Valley Junction to Vegas in about one hour and 45 minutes.
Here are the highlights and must-stop spots on this LA to Las Vegas drive:
Red Rock Canyon State Park, CA: Red Rock Canyon is one of the most beautiful state parks in California.
It features dramatic rock formations, cliffs, and buttes, and will delight landscape photographers. The colors, streaks of red, orange, and pale pink, are vivid.
If you plan to make a short pit stop, you can walk a little bit to view the rock formations and take photos. With more time, you can hike, picnic, look for wildlife, and admire wildflowers in season.
Alabama Hills National Scenic Area, CA: The landscape featured in hundreds of western movies, the Alabama Hills feature beautiful rounded rock formations, set against the backdrop of the jagged peaks of the Sierra Nevada, including Mount Whitney, the tallest peak in the lower 48.
The Alabama Hills also contain numerous natural arches.
Drive Movie Road, a picture-perfect dirt road through the Alabama Hills. Hike the trail to the Mobius Arch, another fabulous photo spot. Look for the many other arches in the area. Enjoy dirt-road driving, and wildflowers in season.
Lone Pine, CA: The gateway to Mount Whitney and the Alabama Hills, Lone Pine is a charming little town with a Wild West vibe.
Drive Whitney Portal Road to the higher reaches of Mount Whitney for spectacular views if you visit when the road is open.
In town, visit the Museum of Western Film History.
Death Valley National Park (Panamint Springs), CA: If you have already visited the main sights in Death Valley National Park, or you have the extra time for the add-ons, the western part of Death Valley National Park is worth exploring.
Father Crowley Vista Point comes up right along California Highway 190, and offers panoramic views of the valley and distant mountains.
Darwin Falls is a picturesque little waterfall on the edge of the desert and is accessible via a 2-mile round trip hike.
Panamint Valley Playa is a dry lake bed, great for photos and taking in the expansive views. Trona-Wildrose Road and Emigrant Canyon Road offer a scenic drive.
Visit the Wildrose Charcoal Kilns and take in the views at Aguereberry Point. You will pass by the ruins of Harrisburg, an old mining town.
Death Valley National Park (Furnace Creek and Surrounds), CA: The main sights in Death Valley National Park are clustered about Furnace Creek along, and off, California Highway 190.
Our one day Death Valley National Park itinerary will help you plan your day in the park.
Furnace Creek also has the Visitor Center, and lodging if you plan to stay in Death Valley National Park.
Enjoy the golden beauty of the Mesquite Flat Sand Dunes. Hike Mosaic Canyon, with its marble walls and natural mosaics.
Do the scenic Artist's Drive loop to see colorful Artist's Palette.
Walk the salt flat at Badwater Basin.
Take in the views from Zabriskie Point, the top viewpoint in the park, and drive up to Dante's View, from where you can see the entire valley spread out below you.
Pro Tip: If you make this drive in the spring of a good wildflower bloom year, consider stopping to see the showstopper golden poppies at the Antelope Valley California Poppy State Natural Reserve in Lancaster.
Tips for the Drive Between LA and Las Vegas
Do the LA to Vegas Drive in the Cooler Months
Much of the road trip route between LA and Las Vegas is desert. If you want to get out and explore at the various stops (and we think you should!), plan to do the LA to Vegas drive between late fall and early spring for the best weather.
Summers can get brutally hot, and if you do plan to do the LA-Vegas road trip in the warmer months, plan on remaining inside your air-conditioned vehicle for the bulk of the drive, only getting down for quick photo stops if you must. It can be hot even early and late in the day in peak summer.
Drive the Route in Either Direction
We've described the routes above starting at the LA end and wrapping up in Vegas, but of course you can do any of these routes as a Vegas to LA drive as well.
For folks doing a cross-country road trip, the LA-Vegas route makes a great first or final leg.
Since both LA and Vegas are can't-go-wrong city destinations in the USA, international travelers that arrive at either airport can conveniently pick up a rental car and drive the iconic route between LA and Vegas.
Carry Water (and Food!)
Since the bulk of the route is through desert, you will want to make sure to stay hydrated, no matter what the time of year. Remember to pack a cooler so you can load up on water at the start of the trip and along the route.
If you have special dietary needs or restrictions, note that food options along the desert sections of the route can be limited.
Diners and fast food places are common, but if you need special food items, bring them with you, or pick them up right before you enter the desert.
Allow More Time Than You Think You'll Need
Unless you are laser focused on getting from A to B, you will find plenty of distractions along the way, no matter which of these routes you pick, and you will find yourself pulling over often for photos.
With a little additional time, you can explore sights or attractions en route that speak to you, or stay for the perfect light at a fabulous photo stop. Many desert attractions look spectacular at sunrise and sunset, or at night.
Other than the first and most direct route, we recommend allowing for overnight stops to take in the major sights at the national parks.
Rent the Right Vehicle for Your Needs
All the main routes we have described are along paved roads, and you should have no problem with a passenger sedan. Rent an air-conditioned vehicle for comfort, no matter when you do the drive.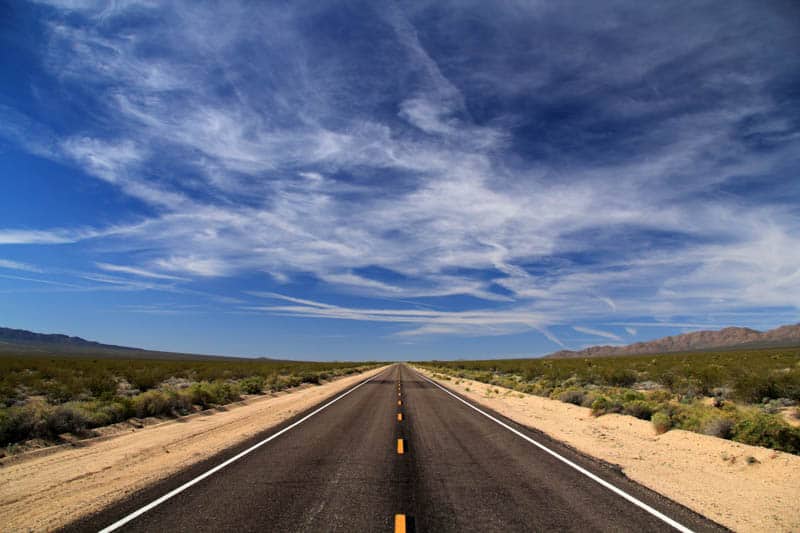 Many attractions in Death Valley National Park and the Mojave National Preserve require some driving on gravel roads, the condition of which may vary.
Check the park websites for conditions on roads to specific attractions that are musts for you, so you can arrive prepared.
If you plan to drive dirt roads in Death Valley National Park, or the Mojave National Preserve, consider renting a 4WD high-clearance vehicle. Breakdowns in the desert can be expensive and time-consuming to fix.
Consider Discover Cars for your car rental. They scour multiple providers, both budget and brand, to get the best price and find one with the lowest one-way rental surcharge if there is one.

Check availability and book your rental car now!
Remember to Fill Up
On the desert section of the routes, gas stations may be few and far between. There are no gas stations within the Mojave National Preserve or Joshua Tree National Park, and just three inside Death Valley National Park.
Always fill up your gas tank at the start of the trip, and before you enter the desert, and be aware of where the next gas station is located along your chosen route.
Buy a National Parks Pass
If you have a valid National Parks Pass, remember to bring it if you plan to enter Joshua Tree National Park or Death Valley National Park.
If you do not have an annual pass (or senior lifetime pass), consider buying one online prior to your trip. The pass will save you money if you plan to visit three or four parks within twelve months of buying it. Buy your pass online at REI!
*****
Did you find this article informative? Pin it for later reference!