Looking for the most romantic places in California to visit on a couples getaway? Whether you are planning a quick romantic weekend escape or a honeymoon, and whether you crave the seclusion of a retreat into nature or you want to savor the charm of a California coastal town, the Golden State offers lots of choices for couples vacations.
From the breathtaking bluffs of Big Sur to the tranquil waters of Lake Tahoe and from the charming countryside of Napa and Sonoma to the starry skies of the SoCal desert, the most romantic getaways in California will captivate you, no matter where you choose to go for your couples escape.
In this article, we've rounded up the most romantic destinations in California, with suggestions for fun things to do as a couple. So grab a glass of wine and your significant other, and choose where to go on your next romantic getaway in California!
Lake Tahoe for Scenic Cruises and Sunset Walks
One of the most beautiful lakes in California, Lake Tahoe is a romantic getaway destination in any season.
The lake is located in the midst of mountains, with beaches and state parks that provide a variety of ways to spend quality time together. Lake Tahoe is one of the best day trips from Sacramento you can do!
For a relaxed time out on the water, book a cruise! A cruise allows you to soak up the scenery as you glide along the surface of the lake to Emerald Bay. A sunset cruise is even more romantic.
Or rent a powerboat and explore Emerald Bay on your own.
What could be more romantic than a sunset stroll along the lake? Our favorite spot for an evening walk at Lake Tahoe is the boardwalk trail at Sand Harbor Beach State Park, on the Nevada side of the lake.
The views of the boulders by the lake and the setting sun are stunning.
Drive around the lake, or rent an electric bike and cruise the lakefront for a few hours.
Lake Tahoe in the fall is especially scenic, with many drives for brilliant fall color around the lake.
If you visit in winter, but don't want to ski, try an exhilarating snowshoe hike or ride up to the top of Heavenly Mountain in the gondola just to enjoy the views (and a hot drink!).
Where to Stay
Edgewood Tahoe Resort in Stateline Nevada is a romantic upscale resort with an onsite restaurant and bar, and access to a private beach area. The resort offers an outdoor swimming pool, hot tub, and terrace. Accommodations are elegant and spacious. Some rooms have lake views. Book a stay here!
If you are looking for different stay options, we have an in-depth guide on the best places to stay in Lake Tahoe!
Napa Valley for a Dreamy Wine Country Experience
Napa Valley's beautiful wineries and pretty countryside make it one of California's most romantic getaways any time of year.
Other than wine, Napa Valley's world-class restaurants, gorgeous resorts and spas, and variety of activities make it one of the most fun places in California for a couples escape.
Plan on a pair of rejuvenating treatments at a Calistoga spa: a mud bath, followed by a soak in a mineral springs pool. The Spa at Solage even offers you the chance to reserve its famous bathhouse for a unique and romantic starlight spa experience!
Make reservations ahead of time for a romantic dinner at one of the many upscale restaurants in the valley.
But also enjoy Napa Valley's casual eateries, like C Casa at Oxbow Public Market in Napa or Gott's Roadside in Napa or Saint Helena.
And don't miss dessert at Bouchon Bakery!
Go ballooning over the valley. Ride the Napa Valley Wine Train at lunch or dinner. Plan a lovely picnic on the grounds of your favorite Napa Valley vineyard.
Wander downtown Napa, with its many wine tasting rooms, boutiques, and art galleries. Stroll downtown Yountville. You have lots of choices for things to do in Napa Valley!
And if you are wine lovers and want to do a tour, check out this highly-rated small group tasting tour through the valley. The 6.5-hour tour takes you to three wineries, and includes a picnic lunch. Book this tour now!
Where to Stay
For a splurge stay in the heart of Napa Valley, consider Auberge du Soleil in Rutherford, or the Bardessono Hotel and Spa in Yountville. Both properties will dent your wallet, but the accommodations are superb and the service exemplary.
Napa, in the south of the valley, has the stylish, and more affordable Archer Hotel Napa. It is walking distance to tasting rooms in downtown Napa, as well as to lots of shopping and dining.
Big Sur for a Romantic Getaway into Nature
The storied scenery of Big Sur makes a superb setting for a relaxed romantic getaway.
Splurge on a stay at one of the upscale resorts in Big Sur for an experience you won't soon forget, and spend a few days soaking in the charms of the best Big Sur attractions.
Drive California Highway 1 with windows down and feel ocean breezes ruffle your hair as you soak in the spectacular views.
Hike scenic coastal trails in Point Lobos State Reserve or Garrapata State Park, or stroll in the shade of the redwoods in Pfeiffer Big Sur State Park.
Enjoy sunset at beautiful Pfeiffer Beach: walking on the silky-soft purple-hued sand here is heaven.
Chase waterfalls if you feel like a more active walk: from McWay Falls to Salmon Falls, you will find some of California's most beautiful waterfalls in Big Sur.
Book a spa treatment at Esalen: and soak in the natural hot springs before and after your treatment.
Enjoy a meal at Sierra del Mar, the renowned restaurant at Post Ranch Inn, with its spectacular water views and acclaimed seasonally-inspired offerings.
Where to Stay
Big Sur is home to two world-class splurge stays: Post Ranch Inn and Ventana Big Sur. Ventana Big Sur is an adult-only resort with fabulous accommodations. They have a popular glamping option as well.
Check out this charming ocean view cottage in Carmel Highlands, at the northern end of the Big Sur Coast. The rustic cottage, with a French Country vibe, is light and bright, with a wraparound deck. The bedroom upstairs has a king bed and ocean views. Book a stay here!
Santa Barbara for the Ultimate California Coastal City Experience
Santa Barbara is a gracious and beautiful coastal city: the perfect urban playground and one of the most romantic cities in California.
With many lovely beaches, a lively downtown, world-class eateries and wine tasting rooms, museums, gardens, and historical sites, Santa Barbara makes for a wonderful couples getaway.
Stroll downtown Santa Barbara: the boutique stores and art galleries are fun to browse, and the Paseo Nuevo shopping complex features beautiful Spanish architecture and a fun outdoor vibe.
Join a Funk Zone food and wine tour to sample some of the best local bites!
Have fun with the interactive exhibits at MOXI, one of the coolest museums we've visited.
Tour the beautiful Santa Barbara botanic garden (it has a wildflower meadow that is alive with color in the spring!) or the romantic gardens at Lotusland in Montecito. Lotusland is one of the most beautiful gardens in California.
Of course, set aside time to enjoy the many beautiful beaches in Santa Barbara. If you enjoy strolling the beach at sunset, head to Butterfly Beach.
Whether you choose to spend just a weekend in Santa Barbara or you are here on a longer break, you won't run out of fun things to do as a couple!
Where to Stay
Simpson House Inn is set amidst gorgeous gardens. Rooms are beautifully furnished, and the location is convenient for sightseeing. Visitors rate this hotel an exceptional stay for its ambience and topnotch service. Book a stay here!
The Santa Barbara Inn features Spanish architecture and an enviable location right across from East Beach. It's a short drive to downtown Santa Barbara. Rooms are elegantly appointed and the bathrooms are large and modern. Book a stay here!
Treat yourself to a splurge stay at El Encanto, a Belmond hotel, which offers expansive ocean views and a secluded location minutes away from downtown Santa Barbara. Rooms are spacious and luxuriously furnished. There is an outdoor pool, spa, and onsite restaurant and bar. Book a stay here!
Yosemite National Park for a serene Escape into Nature
If you enjoy being out in nature, one of the best places to escape for a romantic getaway is Yosemite National Park. The spectacular scenery in the park provides a serene setting in which to enjoy together time, plus lots of photo ops!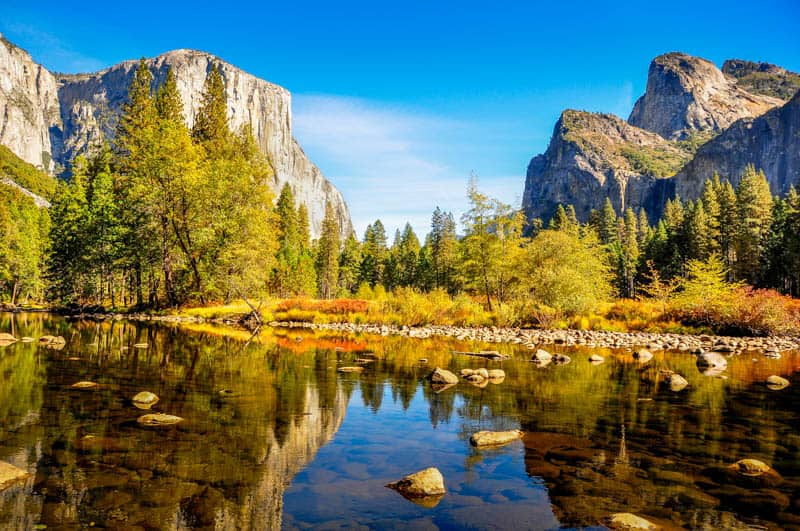 Yosemite National Park is of course a hugely popular destination in California, so the key to enjoying a serene break at Yosemite is to visit at non-peak time or to venture beyond Yosemite Valley to less visited (but no less beautiful) areas of the park. Just being in the park at a quiet time is an amazing experience.
Drive Tioga Road (it's generally open between late May and early November) and experience the beauty of Tuolumne Meadows and gorgeous alpine lakes like Tenaya Lake and Tioga Lake. If you are looking for a heart-pumping activity, Lembert Dome is there for the climbing!
Or head to the park in the winter, which is as low a season as you can expect at Yosemite.
Book a room in Yosemite Valley Lodge within the park and enjoy the awesome silence and maybe a snow-covered wonderland! Snowshoe hikes and wildlife viewing are great activities if you want to be out and about.
Carmel-by-the-Sea for European Village Vibes
Charming Carmel-by-the-Sea oozes romance, with its fairytale cottages, walkable village streets lined with cute shops and tasting rooms, and great brunch and dinner places.
The village is tiny: just one square mile, but it has everything you need for a romantic getaway.
Strolling Carmel village arm-in-arm can be endless fun. Browse the many beautiful art galleries, stop for wine or cheese tastings, and snap photos of the pretty buildings. There are secret passageways to explore, and pretty flowers everywhere.
Carmel has a pristine west-facing beach that is perfect for sunset viewing. Grab a blanket and some wine, and enjoy some quality beach time! Or take in the sunset from the patio of Mission Ranch Restaurant while staying warm near a patio heater.
Nature-loving couples should not miss walking the scenic trails at Point Lobos State Natural Reserve, just south of the village.
Or pop over to Monterey and go on a whale watching tour, or to Pacific Grove for more waterfront walking. The Monterey Peninsula is a great place to watch seals, sea lions, sea birds, dolphins, and whales!
Also make time to do the super scenic 17-Mile Drive, one of the most scenic drives in California!
Where to Stay
The Getaway is an elegant boutique hotel located steps from shopping and dining in Carmel Village, and not too far from Carmel Beach. Rooms are well-appointed and guests rave about the beds and linens. Relax by the fire pit outside or by the fireplace in your room. Book a stay here!
Carriage House Inn offers super romantic rooms and suites and is located on a quiet street in the village, yet close to shopping, dining, and wine tasting. Rooms feature feather beds, upscale linens, and fireplaces. Some rooms have 2-person jetted tubs! Book a stay here!
Santa Catalina Island for Island Bliss
Catalina Island is called "the Island of Romance," and you will find plenty of fun things to do on the island as a couple.
Located just a few miles off the SoCal coast, Catalina Island is easy to access by ferry, and helicopters fly there as well. The island is one of the most sought-after romantic getaways in Southern California!
Look for a hotel room with a private balcony looking out over the ocean: just hanging out on the balcony with coffee in the morning or wine in the evening is bliss. Go for moonlight strolls along the shore for more magic.
Santa Catalina's botanic garden is high up on a hill, with great views over the water. Walk up, or ride up in a golf cart, and enjoy a picnic lunch with a view. Rent a tandem bike and explore along the shore. Go hiking or kayaking, or go on a whale watching cruise.
Avalon has many day spas, where you can enjoy a relaxing couples massage. Browse the waterfront shops and tour the Casino, Catalina Island's beautiful theater. Explore the interior of the island. Have a romantic dinner at a waterfront restaurant.
Where to Stay
The Avalon Hotel is a boutique property with well-appointed rooms featuring premium bedding and unique artwork. Most rooms in the hotel have fabulous views of Avalon Harbor and the ocean. The Rooftop Getaway is a highlight! Book a stay here!
Hotel Atwater opened in 1920. The historic hotel has since been renovated with an updated design and ocean-inspired decor. Rooms are well-appointed, cozy, and comfortable, and the water pressure in the shower is excellent. Book a stay here!
Bodega Bay for Coastal Charm
The Sonoma Coast is a place of wild beauty, perfect for a romantic getaway into nature.
We picked Bodega Bay for this round-up, but really, you can't go wrong with any of the little towns and villages along this scenic stretch of California coast. If you love adventure, you will love the Sonoma Coast!
Bundle up and walk along the cliffs at Bodega Head: enjoy the stunning views and look for migrating whales. Go on a guided kayak tour of the bay, and discover hidden beaches and coves. Enjoy fresh seafood at Tides Wharf Restaurant, where the view is as good as the food.
If you love visiting movie locations, drive to the little town of Bodega, which served as the setting for The Birds by Alfred Hitchcock. Snap a photo of Saint Theresa's Church and The Schoolhouse, and browse the little shops in town. Enjoy a meal at the Casino, where local chefs cook in rotation.
Drive up to Sonoma Coast State Park, where you have tons of hiking trails from which to pick and beautiful beaches to explore.
Just the drive is beautiful, somewhat like Big Sur, with numerous viewpoints from where you can enjoy the view, and sunset over the ocean at the end of the day.
Malibu for Beach Fun and Fabulous Food
With many miles of spectacular coastline, Malibu is a quintessential SoCal getaway, with all the sun, sea, and sand you could want. Plus, it boasts numerous world-class eateries and options for staying right on the water.
Head out early to explore Point Dume, so you can snag a parking spot and savor the breathtaking vistas in relative peace.
Next, head out for some beach time: El Matador Beach has some stunning photo spots, and Zume Beach has a wide stretch of sand and gorgeous surf.
Also take the time to explore inland: hike Solstice Canyon Trail or get your heart pumping with the Rising Sun Trail, for spectacular water views and more solitude.
Check out the shops at Malibu Country Mart, and don't miss all the public art. It's a great place for lunch as well.
Definitely plan on some romantic dinners in Malibu! From Nobu, where you can dine on fabulous sushi right by the water, to Malibu Farm Restaurant, where the tacos and paella are to-die-for good, you'll be spoiled for choice when it comes to dining out in Malibu.
Where to Stay
The Surfrider Malibu is a former motel that's now a stylish escape by the beach. The rooftop terrace is supreme, and the rooms elegant. Check out one of the hybrid Minis to explore around town. Book a stay here!
For a rustic romantic retreat, book a stay at the Calamigos Guest Ranch and Beach Club. With a serene location in the Santa Monica hills, the property offers private cottages as well as estate rooms.
Russian River for Serenity in the Redwoods
The towns along the Russian River in Sonoma County are set close together, so you can stay in one and explore the entire beautiful region, including the redwood forests and the river itself.
It's a serene environment, with lots of good food and wine, and plenty of fun things to do!
Along the Upper Russian River, Healdsburg oozes old world charm, with a lovely plaza made for strolling in the evenings.
Enjoy sweet treats at the bakeries in town, sample the offerings at the wine tasting rooms, and share small plates at Chalkboard or splurge on a Michelin star meal at Single Thread.
Floating down the river is of course a must, or you can go stand-up paddleboarding, canoeing or kayaking.
Walk some of the many trails through the redwoods. There is so much green in this region that you will love walking the trails.
Swim, and laze on the beach, soaking in the sun. Enjoy a picnic lunch by the water.
Where to Stay
Healdsburg Inn on the Plaza is a Four Sisters Inn located in the heart of the charming town, but it is still quiet. Enjoy the highly-rated breakfasts and the individually decorated rooms. Book a stay here!
Rockhouse Suites is walking distance to Healdsburg Plaza. The apartment is well-appointed. The bathroom has a heated floor and a soaking tub, and the bed is rated super comfy. Book a stay here!
Joshua Tree for Stargazing and Epic Desert Views
We're actually not talking about Joshua Tree National Park here, although you could have a great time camping in the park and exploring away from the main road through the park, which gets a bit crowded in season.
We are talking about a getaway to one of the unique vacation rentals near the park.
In the north of the park, around the towns of Joshua Tree and Twentynine Palms, and to the northeast near Yucca Valley and Pioneertown, you will find some amazing places where you can unplug and enjoy each other and the beauty of the desert around you.
Sleep on a bed in the open, right under the stars, or in a glass bubble where you can be inside but enjoy the night sky from your bed.
Many Airbnbs in Joshua Tree offer hot tubs for stargazing, options for outdoor cooking and dining, and gorgeous views of the desert landscape.
The towns make for fun wandering during the day: Pioneertown is a movie set you can stroll, complete with Old West facades. Joshua Tree is known for its quirky museums.
Or take a Jeep or Hummer tour through the desert for a wild ride among the rocks and Joshua trees!
Santa Ynez Valley for Small Town Wanderings
With several charming small towns to explore, beautiful wine country to tour, and great food and wine, the Santa Ynez Valley makes for the perfect couples getaway.
Located just off California Highway 1, the valley is an easy drive from both up and down the coast.
In Solvang, stroll the village to admire the Danish architecture, including four giant windmills. Sample aebleskivers or other Danish treats at the bakeries in town, and sample local wines at tasting rooms right in the village or at nearby vineyards.
Los Alamos, Santa Ynez, and Los Olivos all have charming main streets, with fun shops, art galleries, and tasting rooms. In Buellton, you can feed ostriches and sample moonshine or craft beers. Rent bikes are tour the valley, enjoying the offerings of each little town.
For a mini nature break, hike to Nojoqui Falls, close to Solvang, or take a boat out on scenic Cachuma Lake. There are lots of hiking trails in the valley, plus you can go horseback riding as well.
In the spring, you will see lots of wildflowers. This valley is so pretty!
Mendocino for a Romantic Small Town Vacation
One of the most picturesque towns along the North Coast, Mendocino makes for a cozy romantic getaway, with lots of seclusion and a laid back vibe.
It's just the spot to get a place with a fireplace, so you can snuggle in the evening in front of the fire with glasses of wine. It is one of our favorite romantic getaways in Northern California!
Visiting the Mendocino Coast Botanical Gardens should definitely feature on your romantic getaway itinerary.
The gardens are located right by the ocean, and the floral displays are breathtakingly beautiful. Plus, there are coastal trails to hike, with views over the water.
Mendocino's coastline is gorgeous, with many beautiful and blissfully uncrowded beaches for strolling. Walk along the coastal bluffs as well, for ocean views, and wildflowers in season.
Glass Beach in nearby Fort Bragg is a must-visit, with its multi-colored rounded pieces of glass sparkling in the sun.
Want to walk among the redwoods? Montgomery Woods State Park, located between Mendocino and Ukiah, is home of many old-growth redwoods. Or drive through Navarro River Redwoods State Park, known as the "Redwood tunnel to the sea."
Paso Robles for a Laid-Back Wine Country Vacation
Paso Robles is the heart of Central California wine country, with a charming (and lively) downtown and beautiful vineyards lined up on either side of scenic California Highway 46 just outside the town.
Stroll downtown Paso Robles and enjoy wine tastings, craft beer, and olive oil tastings. Stop by the Brown Butter Cookie Company and pick up some delicious buttery cookies to munch as you walk. Enjoy the architecture and the chill ambience.
Tour some of the vineyards outside the town for tastings with a view. California Highway 46 looks particularly beautiful in the spring, with colorful wildflowers lining the road and vines beginning to bud. Harvest in the fall is another fun time to visit.
While you're here, you can also explore other nearby towns if you are spending a few days, from San Luis Obispo and Morro Bay to Cambria and Pismo Beach.
Each of these Central Coast towns is charming, with lots of good eateries and strollworthy streets or waterfronts.
Half Moon Bay for Beautiful Beaches
Half Moon Bay has some of the most beautiful beaches in the San Francisco Bay Area, so if you are looking for a romantic getaway by the ocean in the Bay Area, it should be high on your list. Plus, you will find beautiful places to stay here.
Enjoy the beaches of Half Moon Bay, from Montara to Pescadero. Bring a picnic lunch to enjoy, stroll on the pristine soft sand, laze on a blanket, or cozy up to watch the sun setting over the water as the day draws to a close. Enjoy water activities, from kayaking in the moonlight to paddleboarding to whale watching.
Away from the beaches, walk the beautiful parks: Purissima Creek Redwoods Preserve offers walks among redwoods, while Butano State Park features oaks, redwoods, and other evergreens for a beautiful mix of trails.
Have a cocktail at the Ocean Terrace at the majestic Ritz-Carlton or dine at Navio, the seafood restaurant at the hotel. The views from the hotel are spectacular!
Laguna Beach for a More-than-Just-Beaches Getaway
Laguna Beach is home to some gorgeous beaches, but you will find a lot more to enjoy in this lovely Southern California beach town, making it a well-rounded getaway for couples with varied interests.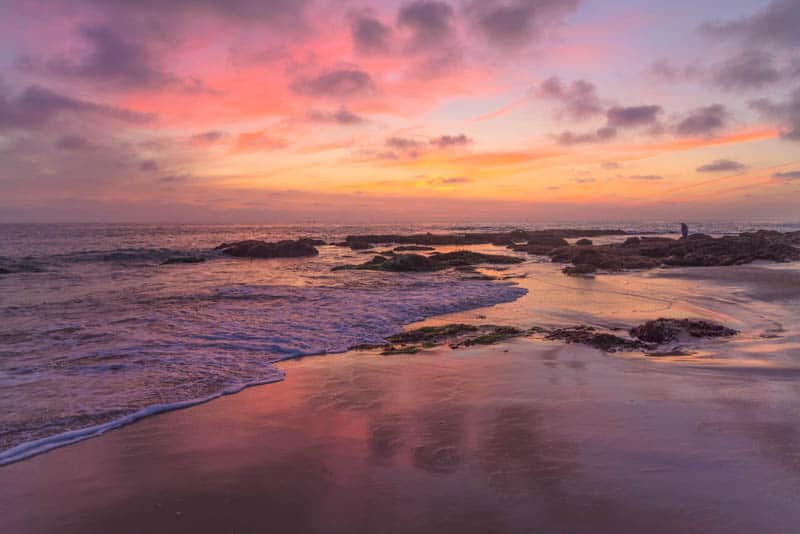 Take a walking tour of the town to view the public art: there are over 100 pieces of art scattered about town, from murals to sculptures.
Laguna Beach also boasts a number of art galleries, so if you enjoy art, you are in for a treat! If you enjoy the performing arts, take in an evening performance at the Laguna Playhouse.
There are so many beaches along the 9-mile coastline of Laguna Beach that you will be spoiled for choice on which ones to visit. Hike the bluff trails at Crystal Cove State Park in the northern end of town.
In the evenings, pack some wine or a picnic meal and catch sunset at one of the sandy beaches, where you can stroll on the sand before you settle down to watch the sun set.
*****
Looking for more California travel inspiration? Check out some of our other articles!
Did you find this article informative? Pin it for later reference!