There are so many cool and exciting things to do in California that you could spend a lifetime exploring and still not cover everything the state has to offer. But our California bucket list will help you pick from the most iconic Golden State experiences and attractions for a vacation to remember.
With one of the most spectacular coastlines on the planet, and landscapes that span the gamut from dramatic dry deserts to the snow-clad Sierra Nevada mountains, you'll find lots to love in California if you enjoy nature.
If you prefer urban pursuits, California's cities offer loads of fun things to do, from museums and shopping to gardens and vibrant neighborhoods.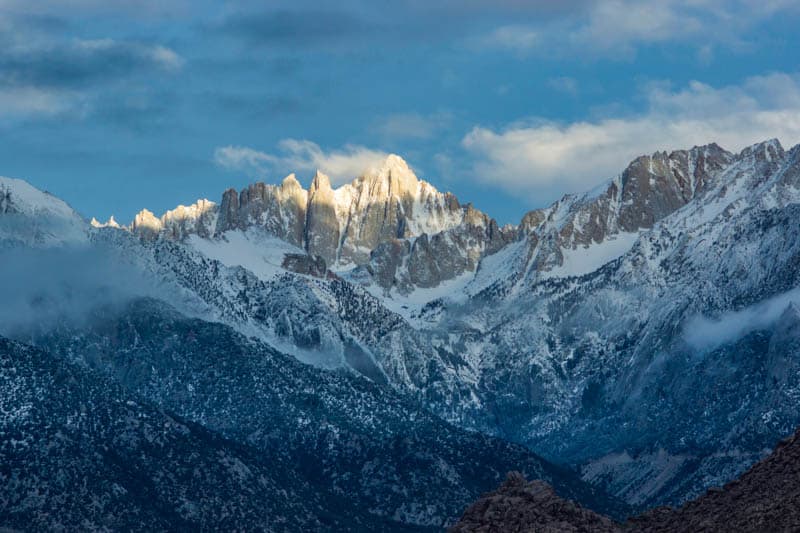 Some links on this page may be affiliate links. If you click an affiliate link and make a purchase, we may receive a small commission, at no extra cost to you. For more details, refer to our disclosure.
California's famous farm-to-fork cuisine and world-renowned wineries welcome food and wine travelers, and theme park lovers have lots of exciting options from which to pick, including Disneyland.
And of course, California's gorgeous weather makes it a year-round destination!
Ready to build your California bucket list? Let's get started discovering the best things to do in California!
The Best Things to Do in California
#1 Drive Big Sur
The many things to do in Big Sur make exploring this region one of the top things to do in California.
The approximately 90 miles of coastline between Carmel-by-the-Sea and San Simeon features some of the most spectacular views you will see anywhere.
Just the drive, with the scenic overlooks, makes Big Sur a must-visit California destination.
#2 Walk (or bike) the Golden Gate Bridge in san Francisco
Goldie, as locals call San Francisco's Golden Gate Bridge, is an icon you have to check off your Golden State bucket list.
It is 1.7 miles long, and you can walk or bike the bridge for fabulous views: of the city, the San Francisco Bay, and Alcatraz Island.
Go in the late afternoon on evening for the best light for photos.
And wear a jacket or a windcheater: it can get breezy and cool on the bridge.
#3 Do the Pacific Coast Highway Road Trip
The iconic Pacific Coast Highway road trip is a must for any visitor to California.
Whether you drive California Highway 1 between the official endpoints of Leggett in the north and Dana Point in the south, or you do the more popular route between San Francisco in the north and Santa Monica in the south, you will be blown away by the beauty of the drive and the plethora of experiences along the way.
The PCH is one of the most epic California road trips, worthy of any bucket list.
#4 Summit Mount Whitney in the Eastern Sierra
Head to the Eastern Sierra to summit Mount Whitney, the tallest peak in the contiguous 48 states.
At 14,505 feet tall, Mount Whitney is a magnificent sight.
Experienced hikers may seek to climb Mount Whitney as a day hike, but most climbers do it as an overnight trip.
If you don't want to hike Mt. Whitney, driving Whitney Portal Road from Lone Pine to the trailhead is a fun Sierra adventure.
#5 Gaze in awe at the granite cliffs of Yosemite national Park
Yosemite National Park is the most visited of California's national parks, and with good reason: the landscapes are jaw-dropping.
Half Dome is Yosemite's most recognized granite cliff, but Yosemite has other giant rock formations you can admire, from the many viewpoints scattered about the park.
Tunnel View and Glacier Point are the most popular viewpoints.
Yosemite is also famous for its many waterfalls, including Yosemite Falls, which falls 2,425 feet down a cliff.
#6 Thrill to the magic of Disneyland
Love all things Disney?
You'll want to visit the first Disney park in Anaheim, the only one completed under the direct oversight of Walt Disney.
At Disneyland, enjoy beloved rides like It's a Small World, watch the Main Street parade, admire the Sleeping Beauty Castle, and take in the fireworks after dark.
Also visit the newer Disney California Adventure Park for more fun experiences!
#7 Visit Badwater Basin, the lowest point in North America
In Death Valley National Park, the otherworldly saltwater flats at Badwater Basin are home to the lowest point in North America at 282 feet below sea level.
Visiting the salt flats of Badwater Basin is one of the coolest things to do in California.
Take a photo by the sign, and then walk out onto the flats to feel like a tiny speck in the midst of the giant expanse of salt polygons!
#8 Gawk at the World's Largest Tree in Sequoia National Park
At 275 feet tall and with a girth measuring an incredible 36 feet in diameter, General Sherman is the largest tree in the world!
Giant sequoia trees are the planet's largest trees by girth, and can live for thousands of years.
Today, you can see giant sequoias like General Sherman only in California, in just over six dozen scattered groves. You can find General Sherman in Sequoia National Park.
#9 Pose for a Photo by General Grant in Kings Canyon National Park
In neighboring Kings Canyon National Park, you can see General Grant, affectionately dubbed the "Nation's Christmas Tree."
The second-largest tree in the world is 267 feet tall, with a girth of 29 feet at the base.
Stand next to it and feel its enormous presence up close!
The park has many other mature sequoias to view as well.
#10 Look deep into the clear waters of Lake Tahoe
The largest alpine lake in North America, Lake Tahoe is gorgeous and one of the most romantic getaways in California.
Lake Tahoe's waters are so crystal clear that you can see down to a depth of 60 feet!
The year-round playground is fun for all types of visitors.
You can drive around the shore, enjoy water activities, or hike. Lake Tahoe in the fall is especially scenic and crowds are low as well.
In the winter, visit for all kinds of winter sports from skiing and snowboarding to snow tubing and sledding.
#11 Sink your teeth into a juicy In-N-Out burger
For the quintessential California fast food experience, try the delicious Double-Double In-N-Out burger, with a side of their famous animal fries!
Known for their fresh flavorful ingredients and their commitment to doing things the old-fashioned way, In-N-Out is the closest thing you'll find to gourmet fast food.
There are several hundred locations, so you'll find one no matter which part of California you're planning to visit.
#12 Admire the world's oldest trees at the Ancient Bristlecone Pine Forest
Bristlecone pines are the planet's oldest known living trees. You'll find bristlecone pines at arid high altitude locations in the western USA.
In California, you can see them in the protected Ancient Bristlecone Pine Forest in the White Mountains near Bishop, CA.
Methuselah, in this forest, is 4,851 years old! Visiting this forest should definitely be on your California bucket list.
#13 Go on a whale watching cruise in Monterey
Monterey Bay, on the Central California coast, is considered one of the best places in the world to go whale watching.
The Monterey Submarine Canyon provides an optimal habitat for whales, which can be seen here year round.
Seasonally, you can see humpbacks, blue whales, and gray whales, and you may also see the occasional fin, minke, beaked, or sperm whale!
#14 See the Tallest trees in the world at Redwood National and State Parks
At over 380 feet, Hyperion is the world's tallest known living tree.
Its location in the Redwood National and State Parks is kept secret to protect it, but you'll find lots of towering trees to admire here.
The parks also house the world's second- and third-tallest trees.
Walking among these giants is an experience you should place high on your list of things to do in California: there are many parks along the Northern California coast where you can find redwood groves.
#15 Sip Your Way through Napa Valley
Napa Valley is one of the world's premier wine country destinations.
With several hundred wineries from which to pick, you will not want for choice when it comes to wine tastings in Napa Valley.
And wine isn't the only reason to visit: from hot air balloon rides and gourmet dining to mud baths and biking trails, there are many fun things to do in Napa Valley.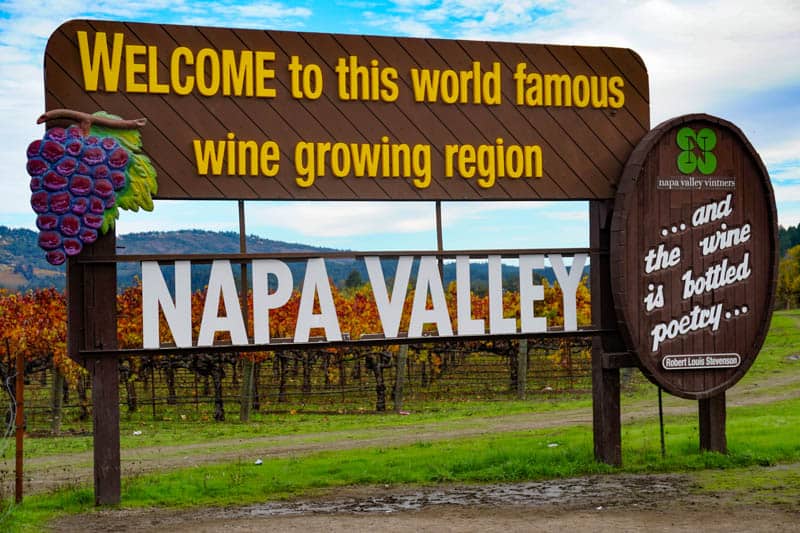 #16 Experience Wildflower Superbloom at Carrizo Plain National Monument
In really good bloom years, when California's wildflower bloom is at its peak, it can even be seen from space!
Entire hillsides and meadows are draped in color at Carrizo Plain National Monument, one of the prime wildflower viewing spots in California.
You can literally see a sea of yellow or purple wildflowers at peak.
If you visit California in April, be sure to check wildflower reports!
#17 Hike to the Hollywood Sign in LA
Nothing says LA like the huge Hollywood Sign.
While you can view it from many places (our favorites are Lake Hollywood Park and Lake Hollywood Reservoir), hike up to the sign to get up close to it! From behind the sign, you get magnificent views over the city.
There's a fence protecting the sign, but you can still get great photos.
Hiking to the Hollywood sign is one of the most iconic things to do in California!
#18 Road trip the Eastern Sierra
California's "other" scenic highway, US Route 395 runs along the eastern portion of the state, parallel to Highway 1.
The scenery along the route is totally different from the PCH, but equally spectacular.
Definitely put the Eastern Sierra road trip on your California bucket list!
For extra oomph, plan to drive the route in the fall, when aspens, cottonwoods, and willows put on a show of blazing color.
#19 enjoy the beauty of Channel Islands National Park
The Channel Islands lie just off the shore of Southern California, and five of the eight islands form the Channel Islands National Park.
Visiting is an adventure, because a flight or the ferry are the only options.
With no services, the islands feel much more remote than they are, and exploring them is exciting.
Look for flora and fauna that are endemic to the islands! Many species are rare or endangered.
#20 Visit the world-famous San Diego Zoo
The 100-acre San Diego Zoo houses more than 3,500 animals, many of them rare and endangered.
It also has a fabulous collection of exotic and rare plants from all over the world, .
And the nearby 1,800-acre Safari Park houses many rare species of animals and plants as well.
Visit one, or both, of these parks, for an opportunity to observe them up close!
#21 Drive the California stretch of historic Route 66
For a fun adventure, drive the California stretch of historic US Route 66 from Needles, at the Arizona border, to the Santa Monica Pier on the West Coast!
The iconic route will take you past quirky attractions and roadside diners in the Mojave Desert and deposit you at the End of the Trail sign at Santa Monica Pier, where you can take the obligatory photo.
#22 Pose for a photo at the Urban Light Sculpture in LA!
Assembled from restored vintage street lamps, the striking Urban Light sculpture by Chris Borden is a thing of beauty.
Powered by LED lights, the 202 lamps that make up the landmark sculpture light up at dusk and turn off at dawn.
Whether you pose for a photo by the sculpture or not, make sure you stop by after dark to see it at its best!
#23 Peek into the past at a Gold Rush ghost town
California's Gold Rush brought hundreds of thousands to people to the state in the 1800s, and towns sprang up overnight, boomed and then went bust.
Bodie, a particularly colorful Gold Rush town, has been preserved in a "state of arrested decay."
Visit the Bodie State Historic Park off US Route 395 to see it as it was left by its erstwhile residents!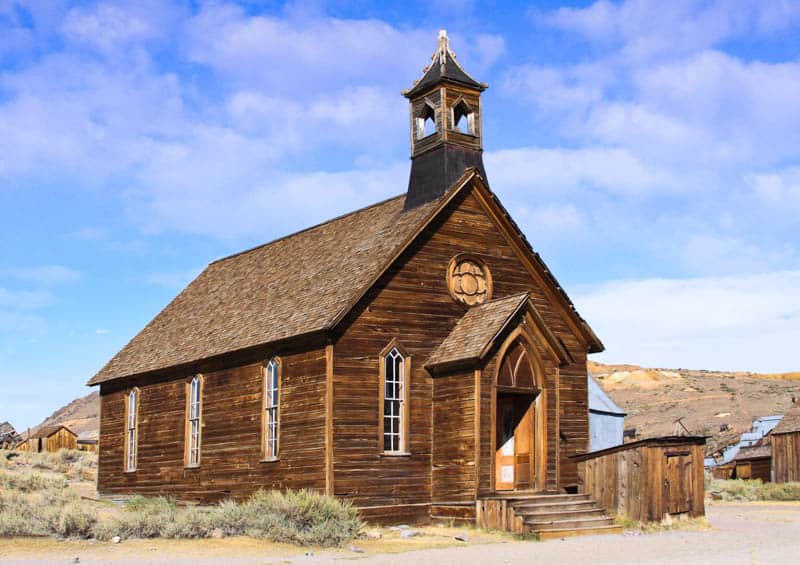 #24 Walk through a Seussian Landscape at Joshua Tree National Park
The landscape at Joshua Tree National Park is famous for two fantastical features: giant masses of monzogranite boulders and fields of the strange-looking Joshua trees.
Hike some of the many trails in the park to get up close to the Joshua tree fields, and have fun scrambling up some of the gigantic rock formations.
#25 Stroll the storybook Village of Carmel-by-the-Sea
If you think the name is quaint and charming, wait until you actually visit Carmel-by-the-Sea!
With secret courtyards and passageways to explore, and little cottages that look like they stepped out of a fairy tale, Carmel is captivating.
The village has no street lights, and homes and buildings have no numbers.
If you arrive in high heeled shoes, stop by the Visitor Center and get a permit!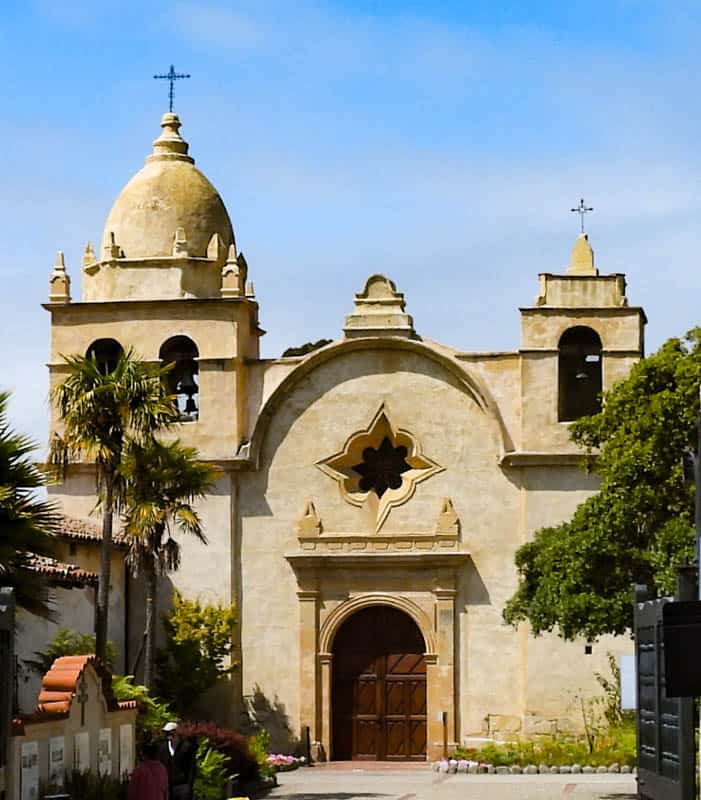 #26 Tour Alcatraz in the San Francisco Bay
Alcatraz Island has a storied past, but it is most known for the Federal Prison housed here from 1934 until 1963.
From Al Capone to Mickey Cohen, the Rock has held some infamous inmates!
Although many inmates tried to escape the island prison, none succeeded.
Take a ferry to the island and learn more on the fascinating self-guided Alcatraz Cellhouse Audio Tour.
#27 Soak in a Natural Hot Spring
There are hot springs all over California, so no matter which part of the Golden State you plan to visit, you'll likely be able to find a hot spring nearby for that deep relaxing soak.
Our personal favorites are Wild Willy's Hot Springs in the Eastern Sierra, for its picture perfect setting, and the hot springs at Esalen, which are directly above the Pacific Ocean (you have to book a treatment to access, or visit between 1-3 a.m.!)
#28 Hike up a Dome in Yosemite National Park
While hiking to the top of Half Dome or scaling the vertical face of El Capitan gives you better bragging rights, these epic adventures are only for the most experienced hikers and climbers.
For a less strenuous, short hike with a big payoff, hike to the top of Lembert Dome.
From the top, you get fabulous views of Tuolumne Meadows and the Cathedral Range.
#29 Escape to Catalina Island
Looking for a romantic escape near LA?
Head to Santa Catalina Island, easily accessed by ferry from the Southern California mainland.
The resort town of Avalon offers ocean view lodging and dining, and there are numerous fun activities on land and water to keep you engaged.
Don't miss the flying fish and the golden-orange garibaldi in the waters of the underwater dive park!
#30 Get Your Culture On at the Getty Museum and Getty Villa
If you enjoy museums, plan on being wowed by this pair of world-class museums, located just a few miles apart from each other in Los Angeles.
The Getty Museum houses an impressive collection of European paintings and sculptures.
The Getty Villa is a painstaking re-creation of a villa from Herculaneum, and houses a large collection of Greek and Roman antiquities. The gardens are gorgeous!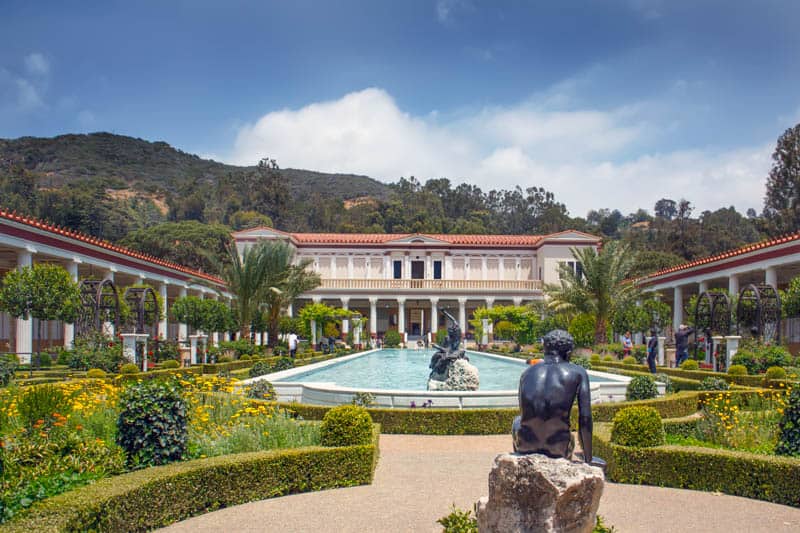 #31 Enjoy Avocado Toast
California's Hass avocados taste rich and nutty, and no presentation celebrates the taste better than avocado toast, which you will find in restaurants all over the Golden State.
While the basic recipe of seasoned mushed or sliced avocado on toast is iconic, you can enjoy it with numerous other embellishments.
#32 Attend a Ball Game at Dodger Stadium in LA
The third oldest major league baseball park in the USA, and the oldest in the western US, historic Dodger Stadium is a must-visit when you are in Los Angeles.
Baseball fans can plan on attending a game, and music lovers can check to see if a concert is happening during the time of their visit to LA!
#33 Look for the Majestic California Condor
The endangered California condor is an enormous bird, and seeing one in person will leave you awe-struck.
The largest land bird in North America, the California condor has a wing span of close to 10 feet!
You have a shot at seeing one or more condors in the wild at Pinnacles National Park, Big Sur, or the Bitter Creek National Wildlife Refuge.
#34 Marvel at the Super Tall Yosemite Falls
At 2,425 feet, Yosemite Falls is the tallest waterfall in California and one of the many beautiful waterfalls in Yosemite National Park.
An easy trail offers views of the falls in their entirety, and takes you to the bottom of the falls.
For experienced hikers, a much more challenging trail leads to the top of Yosemite Falls.
#35 Eat Apple Pie in Julian
The small mountain town of Julian in Southern California is a famous for its apple pie.
While there are many other things to do in Julian, with its Gold Rush past and scenic setting, eating apple pie is definitely at the top of the list.
Pick from Julian's Pie Company, Mom's Pie House, and Apple Alley Bakery, all located along Main Street.
#36 Stay in a Historic California Lighthouse
The coast of California features more than three dozen lighthouses, many of which can be visited.
They are super cool photo ops. But even better, you can actually stay overnight at some of these historic lighthouses!
Point Arena Lighthouse and Point Cabrillo Light Station on the North Coast, and Pigeon Point Lighthouse, about an hour south of San Francisco, are some beautiful lighthouses where you can stay.
#37 Walk the Cypress Tree Tunnel in Point Reyes
A popular Instagram photo location near San Francisco, the Cypress Tree Tunnel is a must-stop spot when you visit Point Reyes National Seashore.
The Monterey cypress trees that line the street and create the beautiful tunnel were planted in 1930.
For the best light, visit at sunset, or, if you like a little bit of mystery in your photos, visit on a foggy morning.
#38 Ride in a San Francisco Cable Car
San Francisco's cable cars have been in operation for over 150 years and are a National Historic Landmark.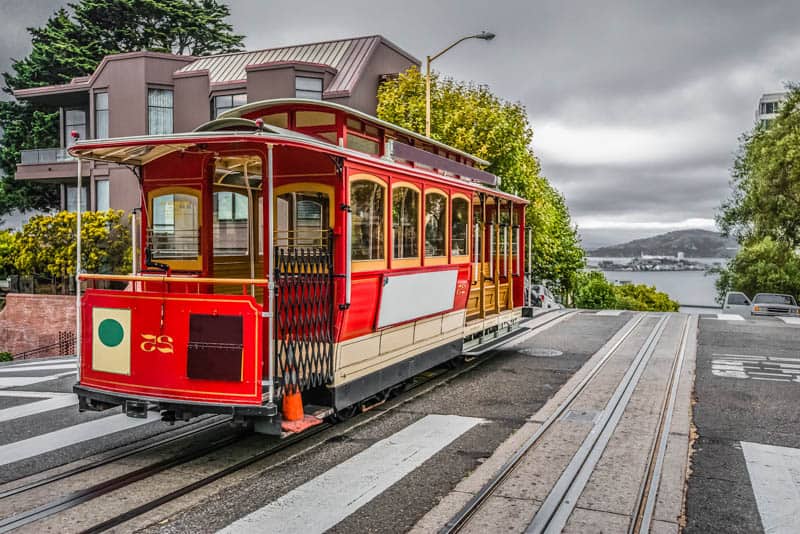 There are three cable car lines from which to pick, and you can choose either a single ride, or ride them more than once with an SFMTA Visitor Passport.
There's also a Cable Car Museum you can visit, to see antique cable cars from the 1870s. In the museum store, you can even pick up a cable car bell as a souvenir!
#39 Stop in Harmony, the Smallest Town in California!
Located between Cambria and Cayucos on the Central California Coast is the tiny town of Harmony.
Formerly home to a creamery association that served the owner and guests of nearby Hearst Castle, today the tiny town is a pleasant wander for visitors driving California Highway 1.
Stop to taste some wine or browse the glassworks.
#40 Nosh on Fish Tacos
If you love fish tacos, you'll be spoiled for choice, because they are ubiquitous on California coast menus.
A street food creation originally from Baja, Mexico, the fish taco is now available in a variety of avatars.
Have them Baja style, with fried fish, shredded cabbage, a sauce, and lime juice, all wrapped up in warm tortillas.
Or try variations with grilled fish, ahi tuna poke, shrimp, or other seafood.
#41Snap a Photo of Beautiful Burney Falls
Burney Falls is one of the most beautiful waterfalls in California.
And, unlike many other California waterfalls, Burney Falls flows year-round.
Even better, you can see Burney Falls up close with by walking the easy Burney Falls Loop Trail.
The 129-foot waterfall is part of McArthur-Burney Falls Memorial State Park, near Redding in northeastern California. Visit in the spring or fall for fewer crowds.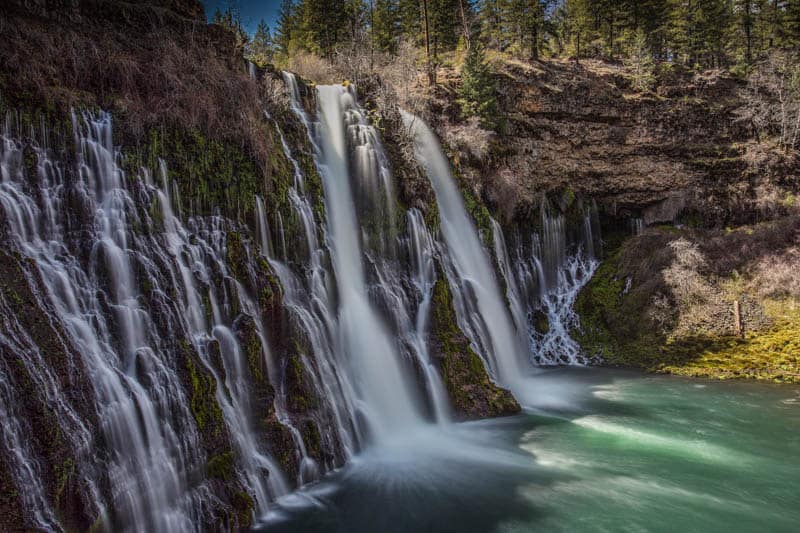 #42 Hike Lands End in San Francisco
You will find some of the best hiking in San Francisco at the Lands End Trails, in the northwest corner of the city.
The trails feature fabulous views of the water and the Golden Gate Bridge, as well as the opportunity to see the ruins of the Sutro Baths, the large public bathhouse that was built in 1894.
Lands End is part of the Golden Gate National Recreation Area.
#43 Admire the Queen of the California Missions in Santa Barbara
With a stunning dusky-pink facade, graceful twin towers, and a beautiful setting on a hill overlooking the Pacific Ocean, Old Mission Santa Barbara is known as the Queen of the California Missions.
A visit to the historic mission should be at the top of any Santa Barbara itinerary. For the best experience, join a docent-led tour.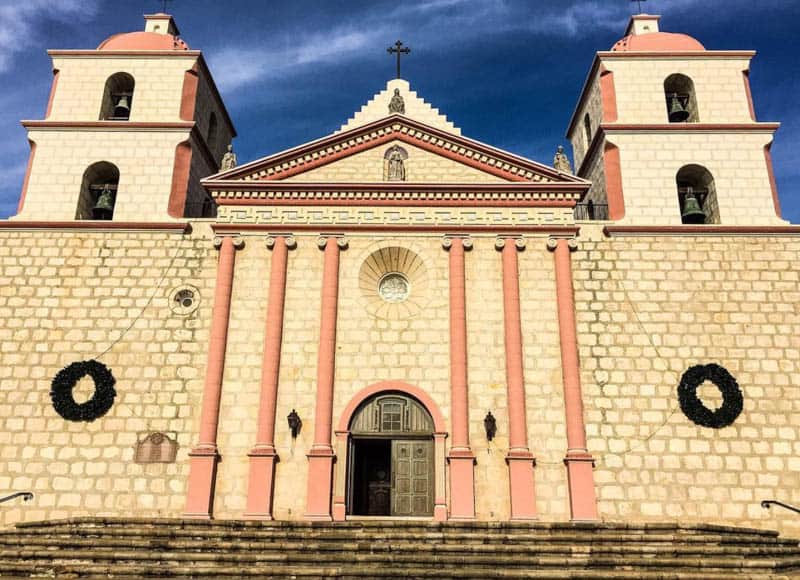 #44 Hike to A Desert Fan Palm Oasis
Native to the low deserts of California, the desert fan palm can grow up to 75 feet tall, and its dead leaves remain attached to its trunk, creating a petticoat.
Seeing an oasis of mature California desert fan palms should be on every nature lover's Golden State bucket list.
Joshua Tree National Park boasts five desert palm oases, and the Fortynine Palms Oasis, accessed via a 3-mile round trip hike, is the most beautiful.
#45 Try Garlic Ice Cream in Gilroy
Gilroy, which calls itself the "Garlic Capital of the World," is home to all things garlic, including ice cream!
Located conveniently along US 101 going south from San Francisco, Gilroy features many shops and stands that offer garlic ice cream, usually in combination with vanilla, but sometimes paired with chocolate or pistachio.
Or visit during Gilroy Garlic Festival in July!
#46 View the Beautiful Mono Lake Tufa Towers
Mono Lake, in the Eastern Sierra, is known for its tufa towers.
The limestone tufas, formed underground, were exposed when water levels in the lake fell as a result of water diversion. One of the best ways to get up close to the Mono Lake tufa towers is to walk the Mono Lake South Tufa trail, or join a guided canoe tour to the base of the tufas.
#47 Look for Glass at Glass Beach in Fort Bragg
In a case of nature returning treasure for human trash, Glass Beach in Fort Bragg is full of rounded bits of colored glass, created by the ocean from glass bottles trashed on the beach some decades ago.
Sadly, a lot of the glass has been taken by visitors, but you can still see bits of brown, clear, and green glass.
#48 Discover Harry Potter rides at Universal Studios Hollywood
Harry Potter fans will want to visit Universal Studios in Hollywood, where they can enjoy the popular themed attraction.
The Wizarding World of Harry Potter features a visit to Hogwarts Castle, with thrilling rides, eats, and shopping.
Harry Potter and the Forbidden Journey is a magical motion simulation ride that takes you high above the castle grounds on an unforgettable adventure.
#49 Drive the Palms to Pines Scenic Byway
The exciting Palms to Pines Scenic Byway takes you from the floor of the Sonoran Desert to the pine forests surrounding Mount San Jacinto in less than an hour!
With several stunning overlooks for panoramic views and little mountain towns like Idyllwild to explore along the route, the scenic drive is a must for your Palm Springs itinerary!
#50 Explore the California Missions Trail
The Spanish missionaries built 21 missions in California.
Today many of these missions are active churches, with museums you can tour to learn about California's past.
Architecture and garden buffs will find them interesting as well.
All the California missions are conveniently located along US 101, so it's easy to put a road trip together to explore them.
#51 Try a Sweet Treat at Bouchon Bakery
Chef Thomas Keller's bakery in Yountville is a must-stop when you visit Napa Valley.
From the Better Nutter cookies to the French macarons in rainbow colors, and from the airy almond croissants to the buttery chocolat au pain, everything is so delicious that it's always a dilemma as to what to order.
There's almost always a line out the door, but it generally moves fast.
#52 Enjoy the Outdoors at Mount Shasta
Picturesque Mount Shasta, nestled at the base of the eponymous mountain, makes the perfect base for an outdoors-focused vacation.
Enjoy hiking and biking, mountain climbing and fishing, camping and caving, in a region filled with stunning mountain vistas and pristine alpine lakes.
The ultimate adventure here of course is climbing to the summit of Mount Shasta.
#53 View an Almond Orchard in Bloom!
Did you know that over 80 percent of the world's almonds are grown in California?
While eating them is definitely enjoyable, you may want to drive out to the Central Valley to see almond orchards in bloom, if you plan to visit in early spring.
Easily doable on a day trip from San Francisco or LA, drive some side roads to view the airy masses of white blooms.
#54 Do a Hummer Tour to the San Andreas Fault
The infamous San Andreas Fault runs for 750 miles through California.
It was a slip of this fault that caused the 1906 San Francisco earthquake.
If you plan to visit the Palm Springs area, do a cool Hummer tour to the San Andreas fault!
The tour takes you through rugged desert terrain, and you can walk on a bridge over the fault.
#55 See the Moving Rocks at Racetrack Playa
Located in a remote part of Death Valley National Park, Racetrack Playa is known for its mysterious moving rocks, which slide across the dry lake bed on their own, leaving tracks in their wake.
It's a bucket list photo spot for landscape photographers!
The road leading up to it is very rough, and the cost of a tow astronomical, so it's definitely not for everyone.
#56 Drive the June Lake Loop in the Fall
The June Lake Loop Drive, a few miles north of Mammoth Lakes in the Eastern Sierra, is scenic any time of the year, but it is especially breathtaking is you catch fall colors at peak.
Aspens, cottonwoods, and willows, turn yellow, orange, and red, creating beautiful vistas along the drive.
The four lakes along the loop offer lots of recreational opportunities if you want to explore.
#57 Get Your Carb Boost with San Francisco Sourdough Bread
San Francisco's version of sourdough bread was born during the California Gold Rush in the mid 1800s.
It's still wildly popular, and you can't visit the City by the Bay without buying a fresh loaf to tuck into its chewy goodness.
Get it at The Mill, an independent bakery located next to the Painted Ladies, or at Boudin Bakery at Fisherman's wharf, where you can order hot clam chowder in a sourdough bread bowl.
#58 Witness Hydrothermal Activity in Lassen Volcanic National Park
Lassen Volcanic National Park offers lots of hydrothermal areas to explore.
Walk the boardwalk trail at Bumpass Hell, or stroll the sidewalk trail at Sulphur Works, to discover fumaroles, boiling pools, mud pots, and hissing steam.
Plan a visit for summer, when roads and trails in the park are open. If you visit in winter, you can snowshoe to Sulphur Works!
#59 Explore the Arches of the Alabama Hills
The Alabama Hills are one of the most scenic areas in California.
The rounded shapes of the rocks and hills against the craggy peaks of the Sierra Nevada mountains create picture postcard scenery. The area is known for its hundreds of natural arches.
Hike to Mobius Arch, which perfectly frames the mountains, and to other named arches, or set off to discover unnamed arches to photograph.
#60 See Nature's Architectural Prowess at Devils Postpile National Monument
Devils Postpile is a magnificent formation of basalt columns, some of which are over 60 feet tall.
Created by lava centuries ago, the columns have become exposed due to erosion.
An easy hike leads to the base of the columns for an up close view, and you can also climb to the top of the columns to appreciate their hexagonal shape.
#61 Backpack the John Muir Trail
Winding through the Sierra Nevada mountains, the 210-mile John Muir Trail goes from Happy Isles in Yosemite Valley to the peak of Mount Whitney, traversing three of California's famous national parks along its length: Yosemite, Sequoia, and Kings Canyon.
Backpacking the John Muir Trail is a California bucket list item for many outdoor enthusiasts, but you can also do a portion of the famous trail as a day hike.
#62 Eat Farm-to-Table Where It is Literally Practiced
The farm-to-fork movement has its roots in California.
If you visit Berkeley, you can dine at Chez Panisse, Alice Waters' famous restaurant, which opened in 1971 and is one of the earliest farm-to-table eateries in the state.
But no matter where you go in California, you will find farm-to-table restaurants. Some restaurants literally have kitchen gardens and fruit trees growing right outside the kitchen!
#63 Drive Through a Redwood Tree
At the time of writing, there are three drive-through redwood trees in California: the Chandelier Tree in Leggett, the Shrine Drive-Thru Tree in Myers Flat, and the Klamath Tour-Thru Tree along the Klamath River.
The Shrine Drive-Thru Tree is the only one of the three where the opening was created mainly by nature.
Bring a small car, and be careful as you steer through the opening!
#64 Visit a Farmers' Market
You will find farmers' markets all over California, and you will definitely want to visit one during your trip to the Golden State, even if you aren't looking to buy produce to cook up.
Fruit at a farmers' market is generally much sweeter and more flavorful by far than you can get in a grocery store, and you can also shop for cheeses, artisanal olive oils and preserves, nuts, and more.
#65 Experience a Little Bit of Denmark in Solvang
Solvang, which styles itself the "Danish Capital of America," boasts a walkable downtown with beautiful Danish architecture, several bakeries offering authentic Danish treats, and numerous wine tasting rooms.
Plus, it's an easy drive to other charming little towns in the Santa Ynez Valley and one of the easiest day trips from Santa Barbara you can do.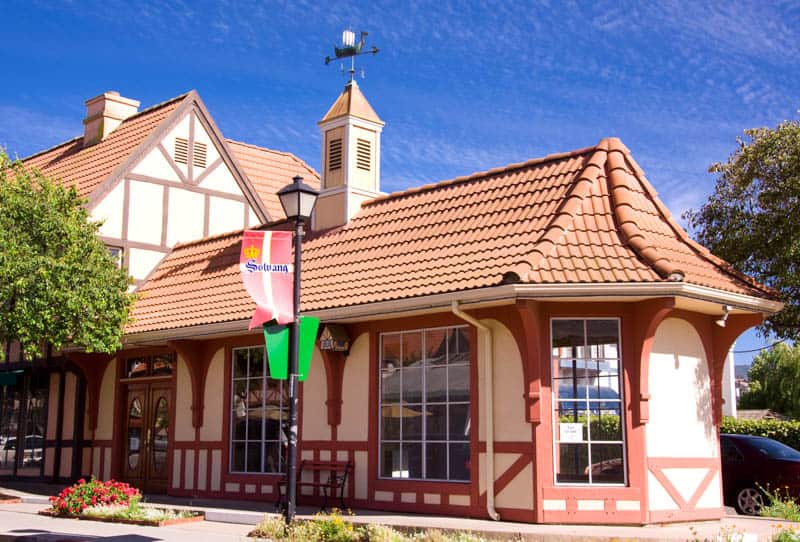 #66 Dine at a California Michelin Star Restaurant
California boasts several dozen Michelin star restaurants, so book a table for a special dining experience during your visit!
From The French Laundry in Napa Valley and Single Thread in Healdsburg, to Atelier Crenn and Benu in San Francisco, and Manresa in Los Gatos, you have several three Michelin stars restaurants from which to pick.
#67 Tour Hearst Castle
Set high up on a hill overlooking the Pacific Ocean, Hearst Castle is located in San Simeon, just south of Big Sur.
The extravagant interiors, with paintings, sculptures, and tapestries, will leave you awe-struck. The gardens make for a gorgeous wander, and the two pools are stunning.
The former estate of publishing mogul William Randolph Hearst, the castle is a must-stop on a Pacific Coast Highway trip.
#68 Admire the Mid-Century Modern Homes in Palm Springs
The desert city of Palm Springs is known for its mid-century modern architecture.
The clean sleek homes with their seamless transitions from indoors to outdoors, statement roof styles, and striking colored doors are fun to tour.
Get a map at the Visitor Center (also housed in a mid-century modern!) and do a self-guided tour of the exteriors.
#69 Peer into the Depths of the Ubehebe Crater
Ubehebe Crater is 600 feet deep and half a mile in diameter.
Located in the northern part of Death Valley National Park, Ubehebe Crater is easy to access: you can view it right from the parking lot at the rim.
But if you're up for a hike, you can walk the trail around the rim of Ubehebe Crater to see it from different angles, and to view Little Hebe and other small craters long the way.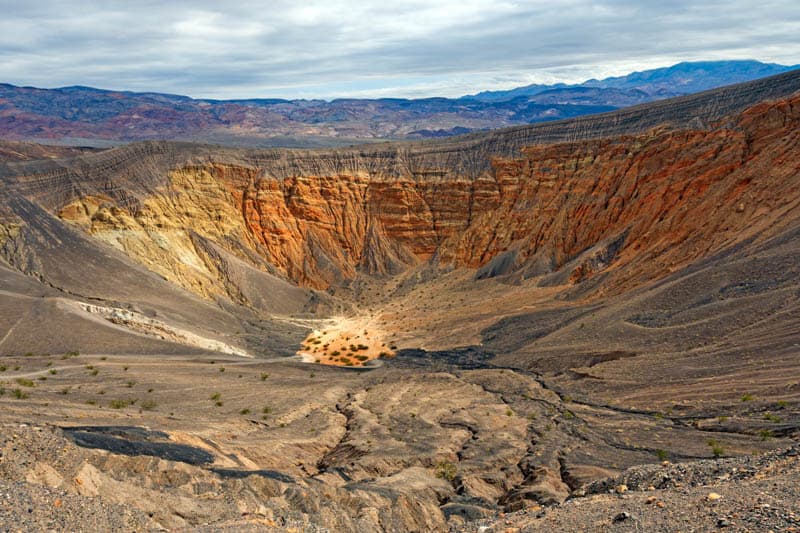 #70 Gawk at the Sculptures in Anza-Borrego Desert State Park
Anza-Borrego Desert State Park is one of the coolest state parks in California, with epic desert vistas, a slot canyon, and diverse flora and fauna.
But one of the coolest features right near the park are the many gigantic metal sculptures by Ricardo Breceda scattered about the landscape.
Don't miss the sea serpent, 350 feet long, with its head and body popping out of the sand at intervals!
#71 Drive Scenic Tioga Road
Tioga Road, officially California Highway 120, between Crane Flat and Lee Vining is one of the most scenic drives in California.
You will drive past beautiful meadows, craggy granite cliffs, and pristine alpine lakes, and over Tioga Pass, the highest pass in California you can drive.
The road is open seasonally, generally between May or June and October or November.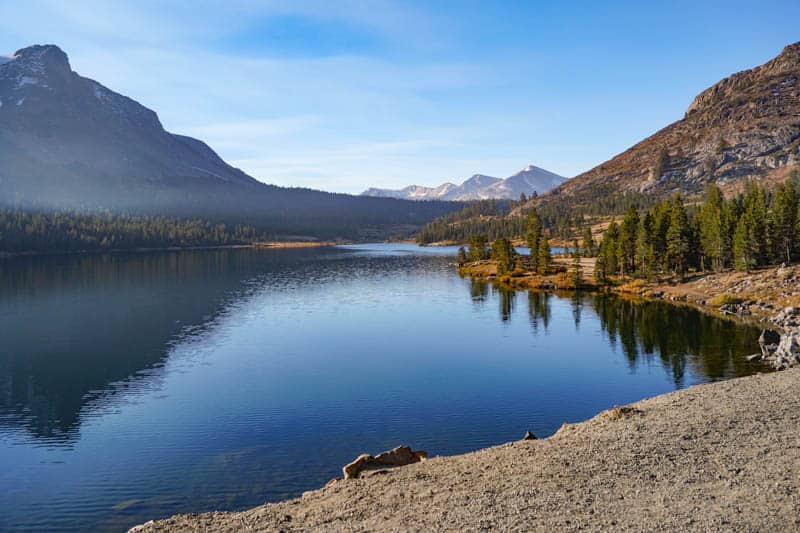 #72 Try a Sushirrito
A sushirrito is exactly what it sounds like! It combines sushi with a burrito, to make it portable.
Try one at Sushirrito, a chain with several SF Bay Area locations, where you'll generally find a line out the door.
The large handheld rolls are a mix of Japanese and Latin flavors, and you can pick from several varieties.
Watching your sushirrito being put together is fun!
#73 Stargaze in the Desert
California's deserts offer some of the darkest skies in the state and the opportunity to gaze upon millions of twinkling stars.
If you want to see the Milky Way in all its glory, plan a trip to Joshua Tree National Park, Death Valley National Park, or the Mojave National Preserve.
The Alabama Hills, a high desert, also offer excellent stargazing.
#74 Visit the Tallest Sand Dunes in California…And Hear Them Sing!
Eureka Dunes, located in the remote Eureka Valley, are part of Death Valley National Park.
At 680 feet tall, Eureka Dunes are the tallest dunes in California, and possibly in all of the US.
The hike to the top is made strenuous by loose sand, but if you make it, and the sand is bone dry, you may be lucky enough to hear the sand sing! The deep drone sounds like an airplane in the distance.
#75 Be Captivated by Mendocino
The entire town of Mendocino is designated a National Historic Preservation District.
Mendocino's downtown historic core makes for a delightful wander, with charming Victorian-era saltboxes that will remind you of New England.
Visit the Kelley House Museum to learn about Mendocino's architectural history, or just walk around and admire the pretty houses!
#76 Ski California's Highest Ski Slope at Mammoth Lakes
At 11,053 feet tall, Mammoth Mountain features the highest lift-served ski landscape in California.
The resort has one of the longest seasons in the country, and slopes for all levels.
Even if you don't ski, it's worth taking the Mammoth Mountain Panorama Gondola to the top to enjoy a drink (or a meal) with a view at Eleven53 Café!
#77 Or Ski the Slopes at A Winter Olympics Site
Squaw Valley, located west of Lake Tahoe in the Sierra Nevada mountains, hosted the 1960 Winter Olympics.
Squaw Valley Ski Resort is an exciting (and beautiful) place to go skiing, with over 3,600 acres across six peaks.
But it's also a fun place to visit in the summer, with biking, hiking, climbing, zip lining, and other outdoor adventures aplenty.
#78 Enjoy california Craft Brews
While California is known for its wines, it is also home to some excellent craft brews.
In fact, you will find more craft breweries in California than in any other US state.
Try the Ballast Point Sculpin IPA in San Diego, or the Double Jack IPA from Firestone Walker Brewing Company in Paso Robles, or the Anchor Steam Beer from Anchor Brewing, America's first craft beer brewery.
#79 Go Surfing in Huntington Beach
Although you can surf at numerous spots up and down the California coast, Huntington Beach is called Surf City USA because the waves here are so consistent.
With five beaches catering to varying degrees of expertise, Huntington Beach can accommodate all levels of surfers. And if you are a total newbie, you can take lessons here too.
#80 Snap a Photo of McWay Falls
While there are an infinite number of photo spots along the Big Sur Coast, McWay Falls is arguably the most photographed sight in Big Sur.
Visit on a fog-free day to get Instagram-worthy shots of the picture postcard waterfall.
Golden hour, or sunset, are wonderful times to photograph the ribbon of water as it tumbles over the cliff onto the pristine cove below.
#81 Say Cheese: california Cheese!
Whether you enjoy cow's milk cheeses, or sheep, or goat, you'll find a California cheese to love.
Cypress Grove is one of California's best known cheese makers, and their Humboldt Fog chevre is renowned.
Red Hawk, by Cowgirl Creamery, and Point Reyes Blue, by Point Reyes Farmstead Cheese Company, are other must-try gems.
#82 Backpack the Rugged Lost Coast in Northern California
The Lost Coast of California is such a rugged stretch of coast that no roads could be built through it.
The Lost Coast Trail is one of the most beautiful beach backpacking trips in the US.
The northern section, from Mattole Beach to Black Sands Beach near Shelter Cove, is the better known portion of the trail, and is just under 25 miles long.
#83 Drive Down the ZigZag Lombard Street in San Francisco
Lombard Street in San Francisco has one very famous stretch: it features eight steep hairpin turns, making it the "most crooked street in the world."
Driving down Lombard Street is a must when you visit San Francisco! You can also walk down, of course. T
ake photos of Lombard Street from Leavenworth Street at the bottom.
#84 Admire the State Capitol in Sacramento
The State Capitol in Sacramento is both a museum and the seat of the California government.
At the Capitol, you can learn about California's history and join a guided tour of the museum to view the interpretive exhibits in the Historic Rooms and the displays in the Rotunda.
You will also see lots of art, including two gorgeous murals.
#85 See Purple Sand at Pfeiffer Beach in Big Sur
Pfeiffer Beach in Big Sur is accessed via a narrow winding road, and parking can sometimes be difficult to find, but the beautiful beach is worth the effort.
Look for purple streaks in the sand, created by particles of manganese garnet washed down by the creek from the hills. The purple streaks are especially visible just after it has rained.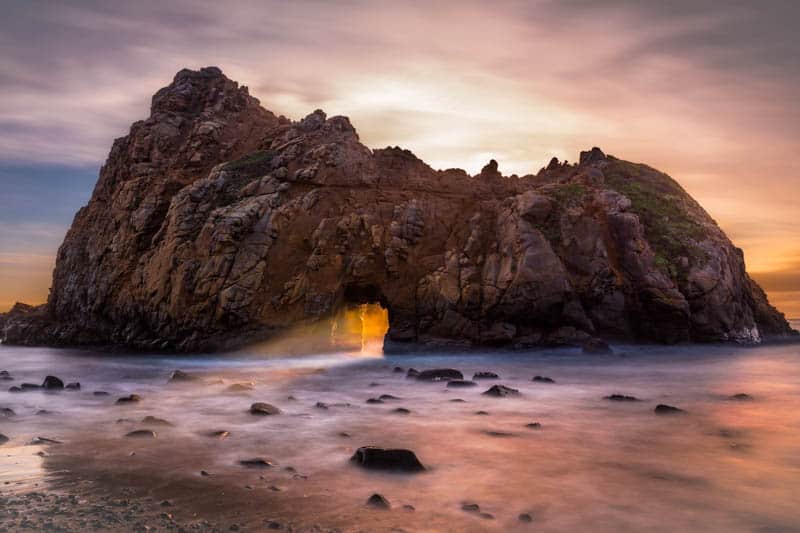 #86 Tour the Gardens at The Huntington
There are many superb botanical gardens in California, and you can't go wrong visiting any of them.
The Huntington, located near Pasadena, features over a dozen themed gardens on 120 acres.
The desert garden collection here is one of the largest anywhere, and the flower gardens are stunning when in bloom.
The complex also has a library with rare manuscripts and an art collection.
#87 Visit the Monterey Bay Aquarium
Located right by the ocean, the Monterey Bay Aquarium is renowned for the diversity of its exhibits.
View a living kelp forest, with the fish and other marine life that inhabit it.
From sea turtles to sea otters and sharks to the Giant Pacific Octopus, you can observe a variety of sea creatures at the aquarium. Fun for kids and adults alike!
#88 Enjoy The Best Dim Sum Outside of Asia
San Gabriel Valley, in the LA area, is known as the place to get the best dim sum outside of Asia.
From pleated har gao to circular siu mai, you can choose from a plethora of steamed or fried (or sometimes baked) offerings at area dim sum houses.
Dumplings are filled with chicken, beef, pork, seafood, or veggies, and traditionally offered as snacks with tea.
#89 Explore Talus Caves at Pinnacles National Park
Talus caves are formed when boulder walls cave into themselves.
Pinnacles National Park in Central California has two talus caves you can explore: Bear Gulch Cave and Balconies Cave. Bring a headlamp (it's pitch dark inside) and have fun crawling and scrambling your way through the caves. C
heck before you visit though, because breeding bats can cause cave closures.
#90 Admire the Pinnipeds at Año Nuevo State Park
You can see elephant seals year round at Ano Nuevo State Park, located on the coast about 55 miles south of San Francisco.
The Natural Preserve at the park is one of the largest pinniped breeding grounds on the planet.
Breeding season is from December through March, and during this time, guided walks are offered. You'll see the little seal pups if you visit during this time!
#91 Walk the Boardwalk at Venice Beach
Stretching for about two miles along the coast, the famous Venice Beach Boardwalk offers great entertainment and people watching.
The boardwalk is hugely popular: it is the second most visited attraction in Southern California!
With street performers to watch, vendors to browse, restaurants, and shops, it makes for a lively stroll.
Plus, there's skating, biking, and handball, and bodybuilding events!
#92 Explore the Sea Caves in La Jolla
La Jolla is known for its seven sea caves.
The caves are millions of years old, and the waters are home to numerous sea creatures.
You can access Sunny Jim Cave by land (be prepared to climb down 145 steps!), and you can join a guided kayak tour to paddle to all seven for up close views, and to explore Clam Cave, the largest of the caves.
#93 See the Santa Monica Ferris Wheel at Night
Riding the Santa Monica Ferris Wheel is a must-do: the solar-powered wheel takes you 130 feet above Santa Monica Pier for fabulous views of the coast.
But if you ride it during the day, make sure you return to the pier after dark, to see the iconic wheel lit up!
The wheel features close to 175,000 LED lights that create a spectacular light show, with dynamic motion and animation.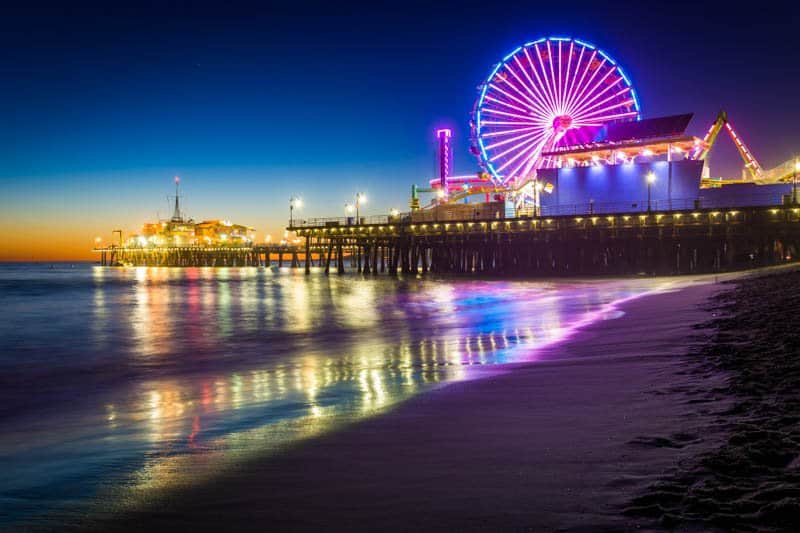 #94 Go Caving at Lava Beds National Monument
Located in northeastern California, Lava Beds National Monument features more than 800 caves!
Twenty of them can be explored, although some may be temporarily closed to protect bats.
Created by lava flows thousands of years ago, some of the lava tube caves here are quite large. You can also see Native American rock art, visit old battle sites, and hike in the monument.
#95 Catch Gold Rush Fever in Columbia State Historic Park
Want to experience a living Gold Rush town? Head to Columbia State Historic Park, where you can make believe you are in a 19th century mining town!
With authentic structures, a stagecoach you can ride, and a working blacksmith's shop, Columbia makes for a fun trip back in time.
Pan for gold and join a guided tour to learn about the Golden State's Gold Rush past!
#96 Admire Overwintering Monarch Butterflies
At several places along the California coast, you can see colorful western monarch butterflies overwintering in eucalyptus groves.
You can generally see them between October and early March.
Look for them at the butterfly groves in places such as Goleta, Pismo Beach, Pacific Grove, and Santa Cruz.
#97 Hike Fern Canyon in Prairie Creek Redwoods State Park
Fern Canyon served as a location for Jurassic Park 2: The Lost World.
The flat, one mile trail is a must-do when you visit Prairie Creek Redwoods State Park in Northern California.
The narrow canyon features walls draped in lush green ferns ad bright green mosses, with moisture dripping down the walls.
You have to see it in person to appreciate its beauty!
#98 Museum Binge in Balboa Park
From art and science to natural history and model railroads, there's a museum for everyone in Balboa Park.
The downtown cultural complex in San Diego is home to 17 museums, plus a number of gardens, so allow plenty of time to explore.
Art lovers must not miss Timken Museum of Art, known as San Diego's jewel box of fine art.
#99 Enjoy California poppy bloom at Antelope Valley
California's state flower is the cheery California poppy.
To see the California poppy in showstopping bloom, visit the Antelope Valley California Poppy Reserve in the spring.
Bloom season is generally March through May, and there are eight miles of trails in the reserve you can stroll to enjoy the bloom.
You'll see other wildflowers here as well, along with possible sightings of wildlife and birds.
#100 Get Your Art On at The Broad
A renowned contemporary art museum in Downtown Los Angeles, the Broad is worth visiting as much for its architecture as for the art.
The striking building looks like a honeycomb. Inside you can view 2,000 works of art, including colorful sculptures by Jeff Koons and works by Roy Lichtenstein.
You can even peer into "The Vault," the museum's storage area that contains works not on display.
#101 Shop Rodeo Drive
One of the most famous shopping streets on the planet, Rodeo Drive is a must-stroll, whether you want to shop or not.
Located in ritzy Beverly Hills, Rodeo Drive features more than 100 iconic stores, from Chanel and Hermes to Louis Vuitton and Cartier.
Plus, here you will find the Beverly Wilshire Hotel, which you may remember from Pretty Woman!
Did you find this article informative? Pin it for later reference!