Carmel Valley is, simply put, charming. Not in a cute way, but it is pleasantly rustic and scenic: the perfect place for a relaxed weekend getaway.
From baby lambs and foals and pretty wildflowers in the spring to vibrant leaf colors in the vineyards and woods in the fall, Carmel Valley offers plenty of natural beauty and a laid-back outdoorsy vibe.
If you are planning a trip to the Monterey Peninsula, be sure to add picturesque Carmel Valley to your itinerary.
Some links on this page may be affiliate links. If you click an affiliate link and make a purchase, we may receive a small commission, at no extra cost to you. For more details, refer to our disclosure.
Known for its wineries, Carmel Valley is one of the sunniest places on the Monterey Peninsula. Even when it's foggy and cool in Carmel-by-the-Sea or Monterey, chances are you'll find blue skies and sunshine in Carmel Valley.
As one of the least touristy parts of the peninsula, Carmel Valley offers discerning visitors the chance to savor the beautiful setting, sample delicious wine and farm-fresh cuisine, and enjoy a few chosen activities to round out a wonderful stay.
Planning a visit to this bucolic getaway destination? Read on to discover the best things to do in Carmel Valley!
Things to Do in Carmel Valley
Enjoy Carmel Valley Wine Tasting Rooms
Grapes were first planted in Carmel Valley in the 1960s.
Today there are several wineries and tasting rooms in the valley, many of them clustered close enough together that you can do a walking tour.
The valley produces varietals like cabernet sauvignon, chardonnay, and pinot noir.
Parsonage Winery offers tastings at their tasting room in the Village, with outdoor seating. They grow syrah, cabernet sauvignon, merlot, and petit verdot in their Carmel Valley vineyard.
Mary Parsons is an accomplished textile artist, and you can see some of her pretty whimsical work on the tasting room walls.
Boekenoogen Winery Tasting is also located in the Village. Boekenoogen's vineyards are located in the nearby Santa Lucia Highlands, and they bottle their wine onsite.
The charming tasting room also features a lovely outdoor garden patio. They are known for their pinot noir and chardonnay wines but their syrah is outstanding as well.
Joullian Vineyards has a tasting room in Carmel Valley Village, with a gorgeous stone facade.
But you can also opt for a package that includes a tour of their vineyard and winery, which offers a fascinating peek into their history and wine making process along with a barrel tasting.
Bernardus Winery was the first local winery to open a tasting room in Carmel Valley Village. The tasting room includes a beautiful outdoor patio.
The winery owns two vineyards in the area, and grows pinot noir and chardonnay, along with several other varietals. Bernardus offers tastings and vineyard tours by appointment.
Georis Winery is a must-visit for its lush gardens, but the adobe style tasting room is photoworthy as well. Enjoy a tasting of their estate wines whilst savoring the beauty of your surroundings.
Cowgirl Winery is a comfortable and enjoyable tasting experience. Play bocce ball or corn hole with your companions, or enjoy watching the chickens and the cat in between sips.
Pair the wines with delicious food offerings from Corkscrew Cafe, right across the street.
Tour Historic Holman Ranch
Holman Ranch is one of the most beautiful properties in Carmel Valley open for public visits. The historic property includes a Spanish-style hacienda that was built in the early 1900s.
Hollywood celebrities such as Charlie Chaplin have stayed at the hacienda.
The Holmans bought the property in the 1940s, and turned it into a guest ranch with a rodeo arena. Guest bungalows and stables were added, along with a pool.
Hollywood celebrities like Clark Gable, Joan Crawford, and Marlon Brando stayed at the ranch.
The Lowder family, who currently own Holman Ranch, continue the tradition. They have added an olive grove, several acres of vineyard, and a winery.
They have a tasting room in Carmel Valley Village, in the historic Will's Fargo building, with two outdoor patios.
You can also opt for a tour and tasting, to tour the vineyard and take in the gorgeous views along with wine tasting. You can also tour the lovely olive grove, and enjoy olive oil tastings.
Visit Folktale Winery
There are only a few Carmel Valley vineyards that are open for public tours and onsite tastings. Folktale Winery & Vineyards is located along Carmel Valley Road, easy to access.
The winery is built in French Chateau style.
Folktale offers onsite tours, and tastings of a variety of wines, along with food and live music, in the wine garden. Their Sunday brunches feature a wonderful menu crafted from locally sourced ingredients, served outside. Enjoy the wine-focused cocktails!
The grounds and gardens at Folktale Winery are beautiful, especially in the spring and summer, when lots of flowers and trees are in bloom. Take the time to stroll a little bit!
Stroll (and Shop!) Carmel Valley Village
Carmel Valley Village makes for a pleasant stroll. You will find a few one-of-a-kind shops and art galleries to browse, but the laid-back ambience is the star. It's almost like stepping back in time to a slower, gentler era.
Carmel Valley Trading Post offers apparel branded with the Carmel Valley name. Olivia & Daisy is a charming book and gifts boutique.
The Quail & Olive, our favorite store, has several different kinds of olive oil, some infused with herbs or fruit, and balsamic vinegars. Tastings are offered. Their oils and vinegars are excellent and we always pick up some to bring home.
The Village is the cultural and social hub of the community. On summer evenings, you may find live music here. Hidden Valley Music Seminars puts on performances of classical and jazz.
Art and other events also happen through the year. Carmel Valley Art Association has an art gallery in the Village, and you may even meet a member-artist when you visit.
Hike in Garland Ranch Regional Park
Garland Ranch Regional Park is a wonderful place to hike. With varying elevations, the park features a variety of landscapes, and diverse flora and fauna. You will also find historical sites, from Rumsen Indian sites to remnants from the logging and homesteading days.
From woodlands, chaparral, and canyons, to the banks of the Carmel River and the heights of the Santa Lucia Mountains, the park is a delight to explore. In the spring, you will see a variety of wildflowers. Hiking, birdwatching, photography, and horse riding are popular.
Volunteer naturalists lead hikes through the park: if one is being offered when you visit, join to learn a great deal as you walk. Self-guided trails range from easy to challenging, and some feature interpretive signage.
Snively's Ridge is the highest point in the park, and offers magnificent views over the peninsula. There are two hiking routes to the viewpoint, with an elevation gain close to 2,000 feet. If you enjoy birding, the eucalyptus grove along the Rancho Loop is a popular destination.
Entrance to the park is free. There is a small visitor center, staffed by volunteers, if you have questions.
Walk the Earthbound Farms Demo Gardens
Earthbound Farms started as a small family enterprise in Carmel Valley many years ago. Although it is now a large entity, you can visit the Earthbound Farms Farm Stand along Carmel Valley Road, not too far from where the original farm was located.
The Farm Stand has a beautiful pastoral setting, and features several demo gardens that you can stroll on your own or as part of a tour. Walk through the herb garden with a basket and pick some to buy and take home.
Admire the healthy produce in the vegetable patch, and the rows of berry plants and fruit trees. Kids will enjoy the kids' garden, and the pumpkin patch and huge sunflowers in the fall. Kid-friendly events occur in every season.
There is something blooming here nearly year round, from salvia and sweetpeas to jasmine and old roses. You are very likely to see several hummingbirds gorging on nectar, and other birds flying about as well.
The organic cafe on site is the perfect place to get lunch. You can order a simple but flavorful meal of organic soups, sandwiches, or salads. Grab a seat at the outdoor patio, and enjoy your meal while savoring the beauty of your surroundings!
There is also a store where you can pick up organic fruit and veggies, fresh cut flowers, and all kinds of organic foods and yummy treats.
Step into the Moto Talbott Motorcycle Museum
If you are a motorcycle enthusiast, you will definitely want to browse the collection at the Moto Talbott Museum. But even if you are not, you might find it fun to walk around and see the shiny colorful bike collection, one of the best on the US west coast.
In the collection, you will find about 170 motorcycles from seventeen different countries, including Belgium, China, Germany Japan, and the USA.
The museum is open Thursday through Sunday, and there is an admission fee.
Drive Scenic Carmel Valley Road
Carmel Valley Road ( County Route G16) is a beautiful drive in every season. Start at Highway 1 near Carmel-by-the-Sea, and drive it as far as you want: the road runs for 53 miles, terminating at Highway 101 at the town of Greenfield in the Salinas Valley.
G16 goes by a few different names, like Arroyo Seco Road and Elm Avenue, along its eastern stretch, so navigate by the official road number rather than by name.
The road is very pastoral, with views of fields and meadows, verdant valleys and stands of trees, cattle ranches, and the Santa Lucia mountains. You will see horses feeding in pastures, little lambs frolicking in pens, lots of wildflowers and blooming trees and shrubs in the spring, and leaf colors in the fall.
If you drive it all the way to the eastern end, you will be rewarded with panoramic views of the Salinas Valley from the top of the road.
Note that Carmel Valley Road is windy and narrow, and east of Carmel Valley Village it also has some blind curves and some elevation changes. It is popular with recreational bicyclists, and wildlife may be on the road, so drive with care.
Enjoy the Views Along Laureles Grade Road
Another scenic road in the region, Laureles Grade Road connects West Carmel Valley Road, just east of Garland Ranch Regional Park, with California Highway 68, the Monterey-Salinas corridor on the other side of the mountains.
The road was originally built as a cattle route. In 1969, Laureles Grade was designated California's first county scenic road. It is a narrow winding road, one lane on each side, with a lot of elevation gain, and sharp curves, so drive with care.
Laureles Grade offers spectacular views of Carmel Valley: vineyards draped on hillsides, hills and valleys, and wildflowers in season. Look for birds and wildlife. There is just one pullout where you can park and take photos.
California Highway 68 is also designated a scenic route, if you wish to loop around back to Carmel Valley. Or you can turn around and retrace your way along Laureles Grade in the opposite direction.
Have Drinks at a Historic Saloon
Los Laureles Lodge is one of the historical buildings in town. Deeded to Jose Boronda by the Mexican Government in the early 1830s, Rancho Los Laureles is the place where Monterey Jack cheese was developed.
In the 1930s, Muriel Vanderbilt bought the property. She added stables and raised thoroughbreds at the ranch, and entertained extensively. Her home on the property is now the restaurant at the Los Laureles Lodge.
Enjoy drinks (and fun conversations with fellow guests) in the lovely mahogany-paneled saloon, a favorite hangout for local artists and ranchers. Or dine in the well-reviewed restaurant. There is outdoor seating in the patio during the warmer months of the year.
Luxuriate in a Spa Treatment
Whether you stay at Bernardus Lodge or not, be sure to book a spa treatment at the Spa at Bernardus. It's just the ticket for even deeper relaxation on your escape to Carmel Valley!
The destination spa has a superb setting. Bring your swimsuit, because spa guests have complimentary access to the eucalyptus steam room, dry sauna and warming pool.
Signature spa treatments feature ingredients harvested from the gorgeous gardens at the property. You can also participate in wellness classes and programs.
Spa Aiyana at the Carmel Valley Ranch Resort offers a variety of immersive treatments, from massage and body work to skin care. Many treatment rooms have private outdoor terraces.
With a scheduled spa service at Spa Aiyana, you'll enjoy full access to the saltwater pool, infinity hot tub, men and women's locker rooms with eucalyptus steam, and co-ed warming room.
Things to Do Near Carmel Valley, CA
The Monterey Peninsula is made up of several small towns set close together, and it is easy to explore the entire peninsula from your base in Carmel Valley.
From museums and parks to fun activities on the water and fabulous food and drink, the peninsula is a great vacation destination.
Visit the cute and charming coastal village of Carmel-by-the-Sea to walk the village and browse the many shops and art galleries. Carmel also has a stunning white sand beach.
Go on an exciting whale-watching tour from Monterey, and tour the famous Monterey Bay Aquarium. The picture postcard 17-Mile Drive in Pebble Beach is a must.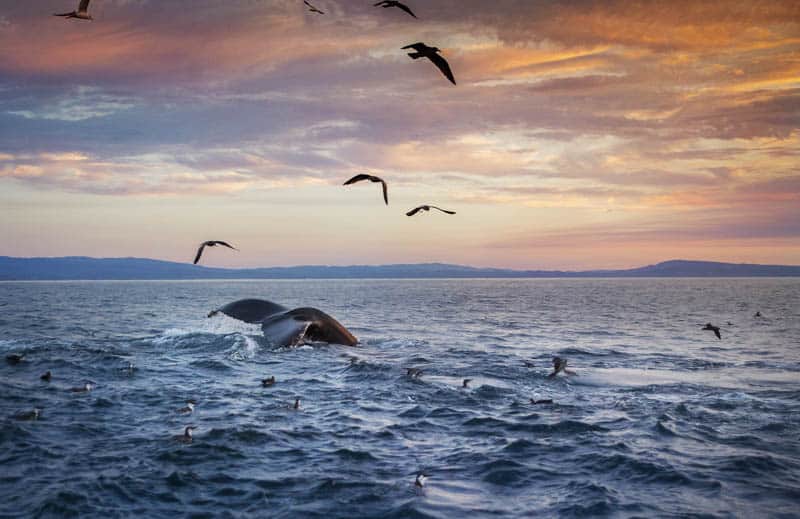 Go wine tasting along pretty River Road in Salinas, and visit the National Steinbeck Center in downtown Salinas.
Enjoy the beautiful waterfront in Pacific Grove, and tour the many heritage homes in the town. Enjoy the ocean views from Carmel Highlands.
Love being out in nature? Be sure to spend at least one day in Pinnacles National Park, where you can enjoy wilderness hikes amidst the stunning volcanic pinnacles, explore talus caves, and look for California condors.
Getting to Carmel Valley, CA
Monterey Regional Airport is located about 18 miles from Carmel Valley, with flights from several major US cities, but most visitors to the city arrive by road.
Carmel Valley is a wonderful escape, for the day, or the weekend, or even longer. At a little over two hours by the highway, Carmel Valley is one of the many fun weekend getaways from San Francisco (or the SF Bay Area) you can do.
From LA to Carmel Valley is just about a 5.5 hour drive, doable for a weekend escape, especially if you plan a visit on a long weekend. Or plan a longer vacation and explore more of the Monterey Peninsula from your base in peaceful Carmel Valley!
Looking for a car rental for your Carmel Valley getaway? Check out Discover Cars! They scour multiple providers, both brand and budget to get the best price for you.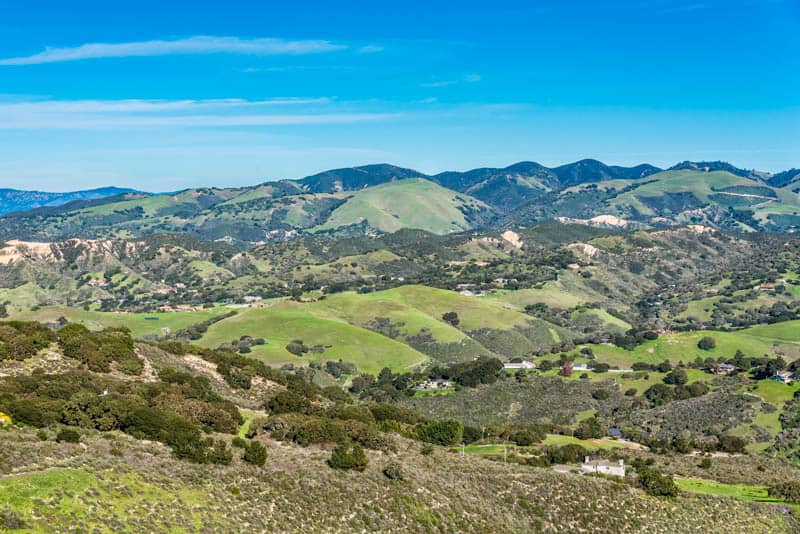 Where to Stay in Carmel Valley, CA
Hotels in Carmel Valley
Bernardus Lodge & Spa makes for a relaxing upscale Carmel Valley getaway. Each guest room comes with a fireplace, 2-person soaking tub, and down feather bedding. The onsite restaurant is highly rated, and there is a heated outdoor pool and full-service spa. The gardens are delightful. Book a stay here!
Carmel Valley Ranch is a lovely all-suite resort with a golf course. Every suite comes with a fireplace and a refrigerator. Each suite has a soaking tub and a private deck. Enjoy a full-service spa, two outdoor pools, hot tubs, and scenic hiking trails. The onsite dining options are highly rated. Book a stay here!
Carmel Valley Lodge features lovely gardens and offers great views of the Santa Lucia Mountains. There is a seasonal outdoor pool. Rooms feature tall ceilings and fireplaces. The lodge is located just a short distance from Carmel Valley Village. Book a stay here!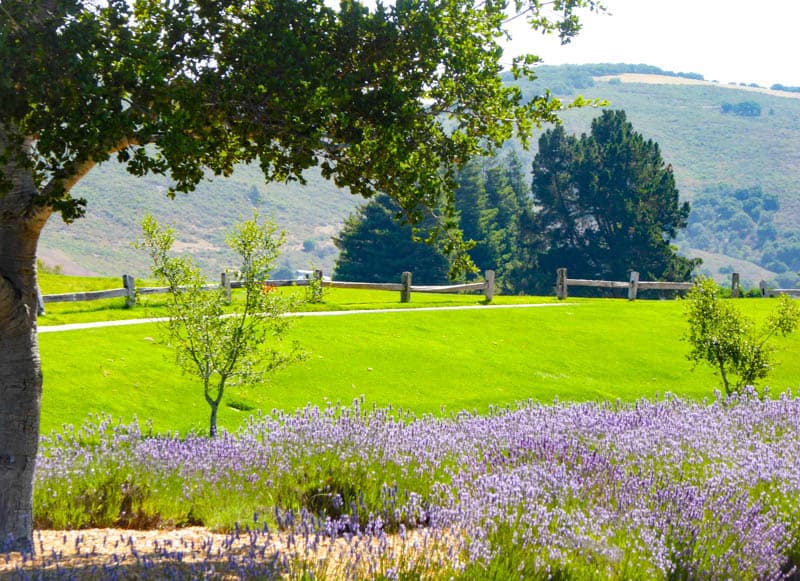 Vacation Rentals in Carmel Valley
This charming cottage offers the best of indoor and outdoor living. Perfect for a couples' vacation, the one-bed, one-bath cottage is situated within gorgeous gardens, fruit trees, and fabulous views of the Santa Lucia Mountains. Highly rated by recent guests. Book a stay here!
This quiet house with gorgeous valley views makes a fabulous couples' retreat. Enjoy the views from the spacious deck, or relax inside, where you will find comfortably furnished living spaces. There is a full kitchen, and cable TV for entertainment. The property is close to Carmel Valley Village. Book a stay here!
Visiting as a family or small group? This beautiful home can sleep up to 10 guests. The 5-bed, 3-bath home has a full kitchen and a bonus loft with a king bed. The home has lovely views, and is located close to Carmel Valley Village. Book a stay here!
Where to Eat in Carmel Valley, CA
Lucia Restaurant and Bar at the Bernardus Lodge offers farm-to-table California cuisine. Their pizzas are delicious, as are their salads. At dinner, try the luscious scallops or the popular burger!
Cafe Rustica is super popular, because their food is excellent and their menu offers lots of choices. Try the Rustic Vegetable sandwich or the grilled cheese on brioche: yum!
Corkscrew Cafe serves dishes made with locally sourced ingredients. Their salads are delightful, with flavorful seasonal veggies and fruit, and they serve delicious pizza and fish tacos as well.
Plaza Linda is a great choice if you enjoy Mexican. They feature live music too! With a variety of dishes on offer, from enchiladas and tamales to tacos, burritos, chile rellenos, pupusas, and seafood dishes, you will be spoiled for choice.
Folktale Winery has excellent food as well. We love their salads and their flatbreads. If you visit on a Sunday, be sure to sign up for brunch!
The Best Time to Visit Carmel Valley
Carmel Valley is a year-round destination, and we enjoy visiting in every season. In the spring, the valley is full of blooms everywhere.
Early in the spring, wild mustard and spring-blooming trees offer color. Later, roses, lavender, and poppies are everywhere.
Summer brings gorgeous warm days, and bright sun, in contrast to the coast, which tends to stay cool and foggy all summer long. Fall offers leaf and vine colors, and warm temperatures.
Winter, while cool, is still pleasant to hike and enjoy the outdoors. Pack rain gear if you are planning a winter visit, because that's the season when you can expect showers or a little rain here and there.
*****
Did you find this article informative? Pin it for later reference!