Planning a visit to Cayucos, CA? There are plenty of fun things to do in Cayucos, from strolling the sandy beach to admiring the many murals in town.
A tiny town along the scenic California Central Coast, Cayucos features a beautiful beach, iconic pier, on-point dining options, and hiking trails that make it well worth visiting.
As a fishing and surfing beach town that evokes memories of times past, Cayucos makes for a truly relaxing getaway.
The area was first populated by the Chumash, who fished in plank canoes known as tomolor cayucos. Cayucos was part of Rancho Moro y Cayucos, the Mexican land grant given in 1842 by Governor Juan B. Alvarado to Martin Olivera and Vicente Feliz.
Some links on this page may be affiliate links. If you click an affiliate link and make a purchase, we may receive a small commission, at no extra cost to you. For more details, refer to our disclosure.
Cayucos is located close to other charming Central Coast towns like Morro Bay and San Luis Obispo, so if you choose it as a laid-back base for a longer vacation, there's plenty to explore nearby.
Read on to discover the best things to do in Cayucos, plus our suggestions for where to stay and eat!
Things to Do in Cayucos
Stroll the Cayucos Pier
Strolling the pier is one of the best things to do in Cayucos, whether you do it early in the day, when it's very quiet, or later, when you'll share it with more people.
Set on a gorgeous beach, the Cayucos Pier juts out into the Pacific Ocean 953 feet. It makes for a picture-perfect photo op, especially at sunset.
You can also snap photos from beneath the pier at low tide!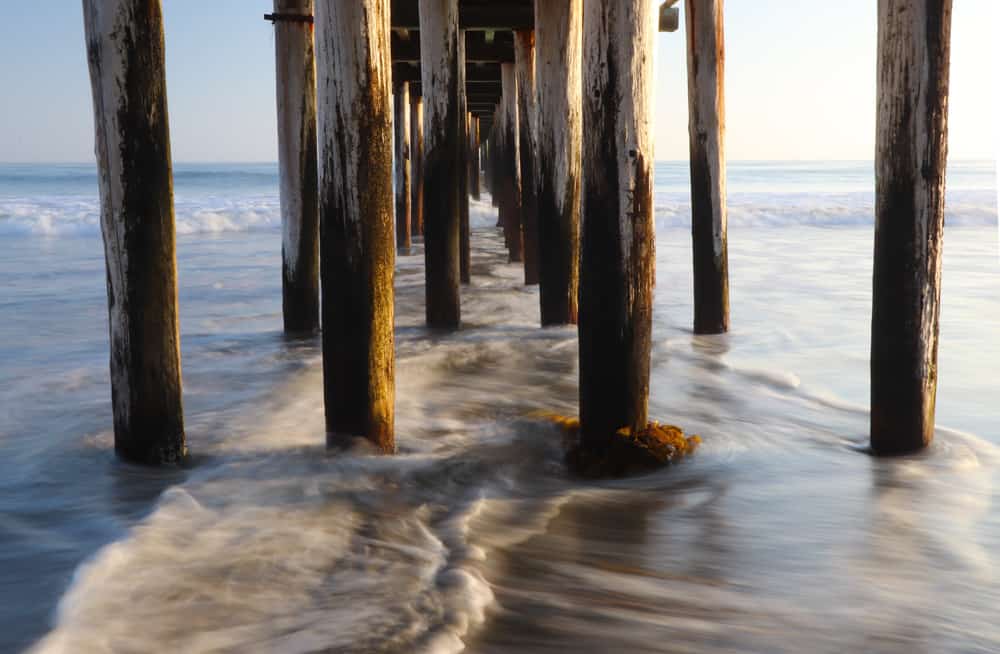 The pier was originally built all the way back in the early 1870s, but it's been recently restored, after a winter storm caused significant damage in 2013. Along the pier, you'll see plaques commemorating people that helped pay for the rebuild.
Snap a photo of the jumping dolphins statue at the base of the pier before you begin your stroll.
Other than just walking the pier to enjoy the beautiful views on nice weather days, you can also fish from the pier, look for birds and marine life, and observe the surfers in the water.
The pier is lit, to allow for night fishing, and a license isn't required to fish from the pier.
There are eateries and restrooms nearby. Street parking is available close by, and there's a free parking lot nearby as well. Dogs are not permitted on the pier.
Enjoy the expansive sandy beach
Cayucos State Beach is, in our opinion, one of the most beautiful beaches along the Central Coast, and we can never drive by without stopping for at least a brief stroll on the sand.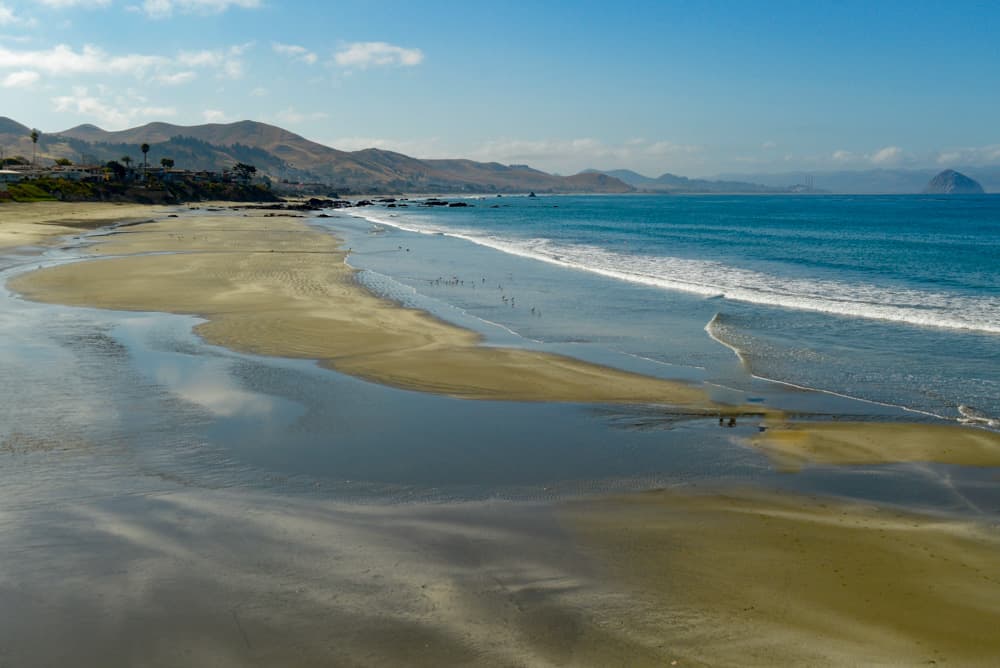 Popular activities at Cayucos State Beach include swimming, with lifeguards on duty during peak summer months. The water can be cold though, so bring a wetsuit if you plan on being in the water for an extended period of time.
If you just wish to enjoy short periods of swimming, wading, or playing at the water line, a swimsuit should generally be fine for much of the year.
Cayucos State Beach is made for long walks, especially in the early morning or at sunset. At low tide, you can walk all the way from Cayucos to Morro Bay along the beach!
Sunbathing, building sandcastles, and beachcombing are other fun things to do at Cayucos State Beach.
There are tidepools to explore at low tide in rocky sections of the beach. If you enjoy flying kites on the beach, Cayucos State Beach is a great option. Bring a windcheater.
Restrooms, outside showers, and picnic tables are provided. Parking is available nearby, both on street parking and a free lot. Leashed dogs are permitted on the beach.
Go surfing or stand-up paddleboarding
Cayucos is known for its surfing. Cayucos State Beach is six miles long and the entire length of this coastline is known for its swell.
The Cayucos Pier is a popular surfing spot, especially for beginners. Studios, named after its location at 24th and Studio Drive is a local favorite.
While you can surf year round in Cayucos, winter offers waves that are oftentimes as tall as you. Fall is possibly the most fantastic time of year to surf here, with the water still fairly warm, swells coming in, and no summer crowds to worry about.
Water temperatures in Cayucos tend to be in the 50s, so a wetsuit and other protective gear like gloves and booties are crucial, as well as a warm coverup for when you get out of the water.
You'll find several outfitters in town that will rent out gear and even offer surfing lessons. Check out Good Clean Fun Surf & Sport, or Cayucos Surf Co. Book a surfing lesson here!
You can also go stand-up paddleboarding in Cayucos. The coastline is stunning, and you can glide in hidden coves and bays, keeping an eye out for marine life as you paddle.
If it's your first time paddling here, make sure to get information on the best SUP spots from the local outfitters, or join a guided paddle.
Kayaking, boogie boarding, and kiteboarding are also popular in Cayucos. If you enjoy water activities, you have plenty of options!
Walk Downtown Cayucos
Cayucos is the quintessential vintage California surfing town. Downtown Cayucos is quaint and charming, made for wandering.
Although the town is tiny, you'll find plenty to browse, from first-class restaurants and cafes to small shops selling surf gear, antique stores, and outdoor apparel or gifts and souvenirs.
Stop by Cass House, at the north end of town. The historic two-story wood home was built in the second half of the 19th century for Captain James Cass, who moved here from New England. He built the Cayucos Pier. The home is now an inn.
The vintage look saloon is no longer the wild drinking and partying place it was years ago, but the mural on its side wall and its sign harken back to those days.
The Cayucos Farmers' Market is held every Fridays between Memorial Day and Labor Day, from 10 a.m. until 12.30 p.m. With live music and lots of fresh produce, fruit, flowers, and some prepared foods, the market is a must-stroll!
Admire the Cayucos murals
One of our favorite things to do in any town is enjoy street art, and in Cayucos, (and neighboring Morro Bay), the many murals add to the charm and ambience of the town.
Cayucos has nine beautiful murals you can admire. You are sure to come across some of them as you stroll the town, but if you enjoy public art, download a map and do a dedicated self-guided tour!
We loved the mosaic sculpture on B Street with its multitude of colors, the Wild West scene outside Old Cayucos Tavern (our favorite!), and the Cayucos scene mural at the elementary school.
Shop for antiques
If you enjoy antiquing, you'll love visiting Cayucos! There are several well-stocked stores where you can browse and shop year round. Plus, Cayucos hosts a semi-annual antique fair.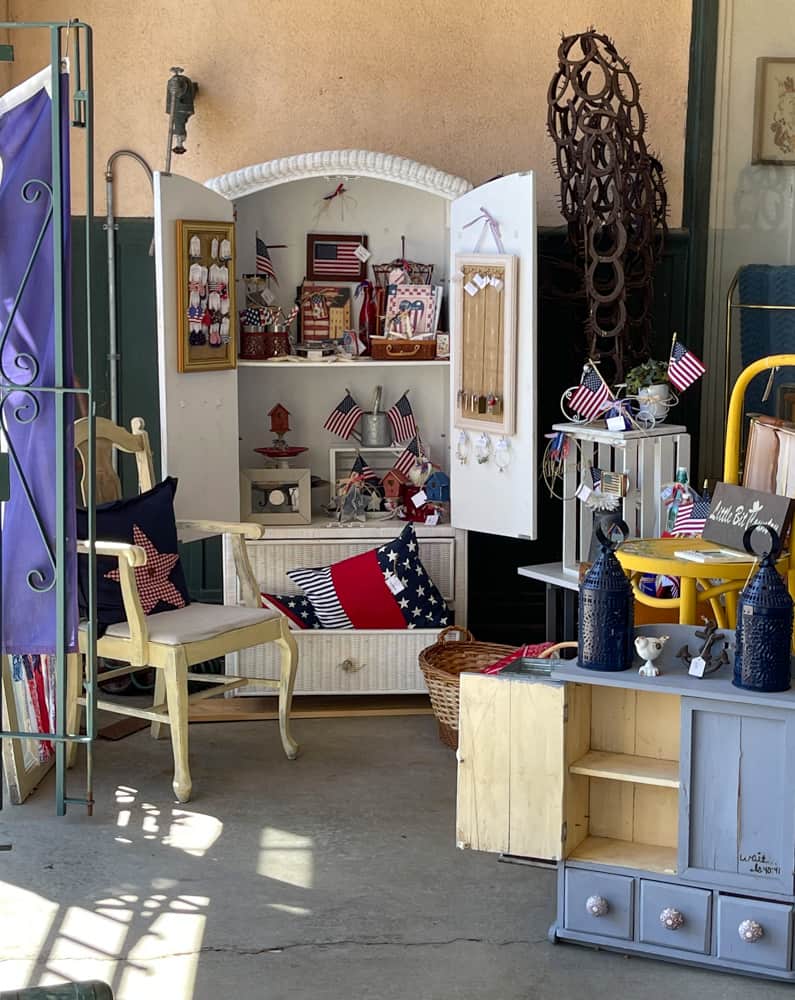 Main Street Antiques is located on North Ocean Avenue between D Street and Cayucos Drive. It's a well-stocked store that you'll enjoy browsing for anything from vintage furniture to collectibles. We found a lovely painted table here!
You'll find Remember When and Remember When Too (cute names for antique malls, right?) on North Ocean Avenue, quite close to each other.
With offerings from several dozen vendors, the malls are very well-stocked, and antique enthusiasts will want to allow plenty of time to browse the offerings, from furniture to kitchenware, vintage apparel, jewelry, home furnishings and decor, and collectibles.
Go hiking in Estero Bluffs State Park
One of the best things to do in Cayucos is to go hiking in gorgeous Estero Bluffs State Park. The views of the ocean, and Morro Rock, are sensational on a nice weather day.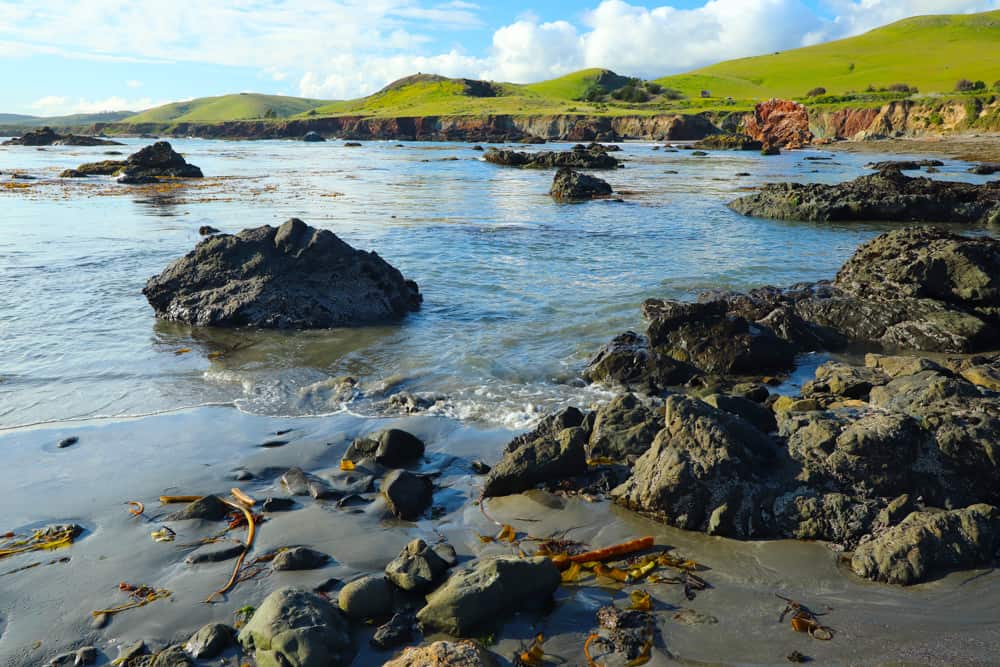 The park features a variety of habitats, opportunities to spot wildlife, and a small cove and beach at Villa Creek.
The main trail through the park is the Estero Bluffs Trail, which runs parallel to the water for a length of about 4 miles. It's a flat out-and-back trail, doable for most visitors to the park.
There are many trails that run from Highway 1 to the main trail, so you can do a portion of the main trail if you wish, rather than the full length. Parking is along the side of Highway 1: be sure to park well off the road and do not leave any belongings visible in the car.
The park is open from 6 a.m. until sunset. Dogs on leash are permitted south of San Geronimo Road (from the south boundary of the park until San Geronimo Creek).
Look for marine life in tidepools
Enjoy tidepooling? The Cayucos coast offers opportunities to observe tiny marine life up close when the tide is out.
The easiest-to-access tidepooling areas in Cayucos can be found in Estero Bluffs State Park, just north of town. Look for mussels, sea urchins, sea anemones, sea stars, snails, crabs, barnacles and more.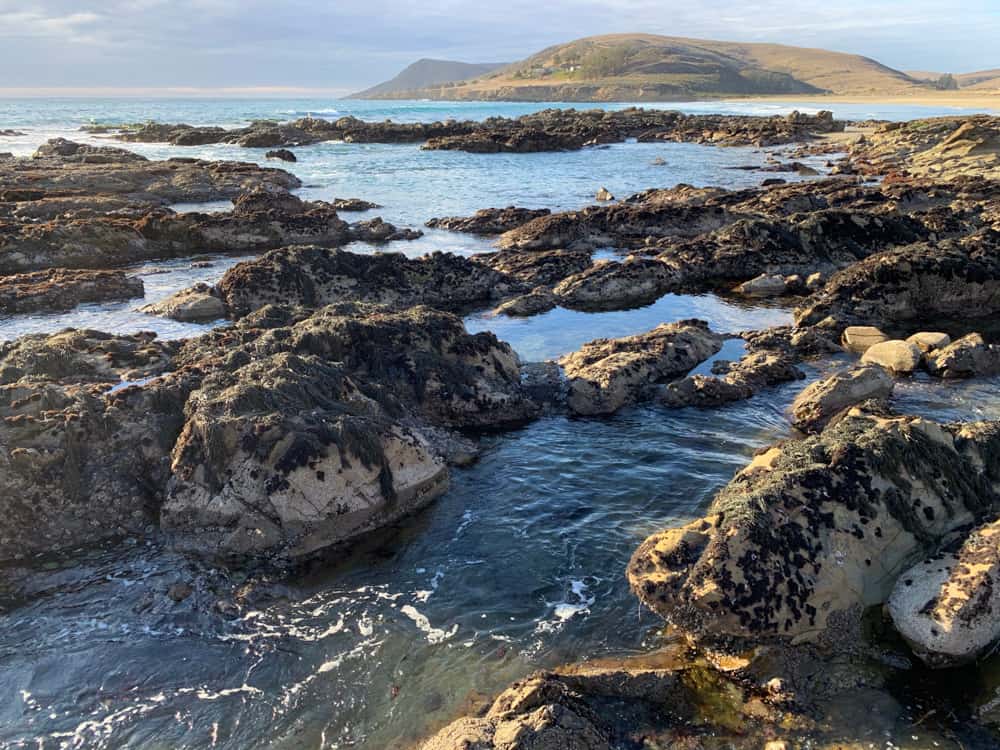 Follow safe practices when exploring tidepools. Only explore at low tide, wear closed-toed footwear with good grip, and remember to only observe, and not touch, the tiny creatures.
Snap photos of the old shipwreck
If you like photographing old shipwrecks, there's one at Cayucos! It's not as iconic a photo spot as the Point Reyes shipwreck, but fun all the same.
The Point Estero was a commercial fishing craft that was on its return trip to the harbor in Morro Bay on July 28, 2017, when it ran aground along the coast at Estero Bluffs State Park.
The owner discovered that recouping the boat would be horrendously expensive, so it is still on the coast, stripped of everything of value.
You can walk out to the wreck at low tide, but the wreck now reportedly has holes in it, so we advise caution if you choose to step onto the wreck. There are lots of tidepools around the wreck to explore!
To get to the wreck, take the North Ocean Avenue exit off California Highway 1. Turn right onto the dirt road to the dirt parking lot. Walk toward the ocean and you'll come to a small cliff that you will have to go down, to access the cove where you will find the shipwreck.
You can see the ship, and photograph it, from the top of the cliff if you are leery about scrambling down the cliff.
Look for wildlife and birds
The Cayucos coastline offers abundant opportunities to spot wildlife on land and in the water, as well as a variety of birds.
The Cayucos Pier is a Whale Trail viewpoint, so bring your binoculars and look for spouting, fluking, or even, if you are very lucky, a breaching whale offshore.
Gray whales migrate from the Arctic Seas to the waters of Baja California in November-December to breed, and make the return trek with their young calves in March-April. They are generally reported to swim closer to shore on their way south.
Other than gray whales, you may also see humpbacks and dolphins. Look for sea lions on rocks offshore (or listen for their barking), otters, and harbor seals, all of which can be found along the Cayucos coastline.
If you enjoy birding, be sure to bring your zoom lens or binoculars. Look for seagulls, cormorants, pelicans, loons, grebes, egrets, herons, geese, ducks, and more. The endangered western snowy plover can also be seen here.
Land birds you may see include a variety of raptors, California quail, hummingbirds, woodpeckers, tits, swallows, and many more. We've spent many enjoyable hours birding along the Cayucos coast.
Do Other Cayucos Hikes
Whale Rock Reservoir is located under a 3-mile drive from the town of Cayucos. Created by the damming of Old Creek, the reservoir is a scenic spot for hiking.
The trail is wide, easy, and uncrowded, and offers great views of the reservoir (and the ocean from the top point of the trail). You can hike or mountain bike the route. We hiked up the upper trail and came back down the lower trail for a loop.
Dogs on leash are allowed, but watch for ticks. And bring sun protection: the trail is exposed.
Cass Hill is another nice hike in Cayucos. It's about 3 miles in length, out and back, and is classed as moderate.
This hike offers gorgeous views of the town and the coast, and Morro Rock. And you do not need to hike all the way to the end for views! You'll see get views of pretty Whale Rock Reservoir.
Bring sun protection, because this trail is exposed, and if you can, plan on doing the hike early or in the late afternoon.
Enjoy scrumptious cookies at Brown Butter Company
We'd come across Brown Butter Company in Paso Robles, and loved their rich buttery concoctions, so we were thrilled to find Brown Butter Company in downtown Cayucos!
In fact, Cayucos is the original shop and the flagship location.
If you have a sweet tooth, you will absolutely want to pop in and taste their original brown butter sea salt cookie. Made by hand, right in Cayucos, the cookie is melt-in-your-mouth delicious.
They have other flavors as well, that change based on when you visit. We bought little bags of cinnamon and almond on our most recent visit to Cayucos.
Brown Butter Cookie Company is located on North Ocean Avenue, just steps from the beach in Cayucos.
Visit during a Cayucos festival!
For a tiny town, Cayucos has several fun events through the year!
Kick off the year with the exhilarating Cayucos Polar Bear Dip, which happens every New Year's Day at Cayucos Beach. Thousands of folks, locals and visitors, plunge into the ice-cold waters for a dip at noon, many in costumes.
Fourth of July is celebrated with verve in tiny Cayucos, with a sand sculpture competition, a fun parade, and fireworks at Cayucos Pier. It's a festive time to visit!
The Cayucos Sea Glass festival happens annually in March. Created by the pounding action of waves on glass objects trashed in the sea, the rounded pieces of colored glass are a valued collector's item.
Enjoy music and food as you shop for jewelry and other items created from sea glass.
Twice a year, once each in the spring and the fall, the town hosts the Cayucos Antique Street Faire along Ocean Avenue. Shop for collectibles and look for antique treasures. There's a food station if you get hungry.
Things to Do Near Cayucos, CA
Enjoy birds and marine life in Morro Bay
Just a few miles south of Cayucos is Morro Bay, known for its marine life. It's also a well-known birding destination in California. From adorable otters to mighty whales, you have spectacular wildlife viewing opportunities in Morro Bay.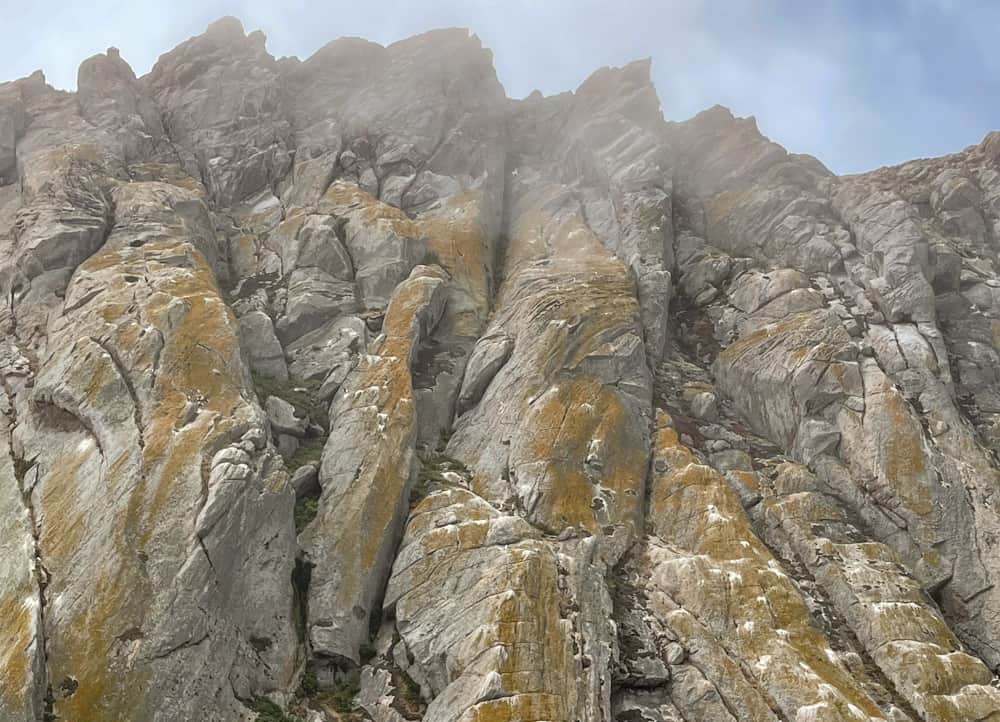 Walk to the imposing Morro Rock, which lies just offshore. Stroll the charming Embarcadero, lined with little shops and seafood restaurants. Take a cruise in the placid bay.
Morro Bay, and Los Osos, along with the Montana de Oro State Park, are a must-visit for nature lovers and outdoor enthusiasts.
Go wine tasting along the pacific Coast Wine Trail
Wine lovers will definitely want to check out the boutique wineries that make up the Pacific Coast Wine Trail, some of which feature onsite tasting rooms.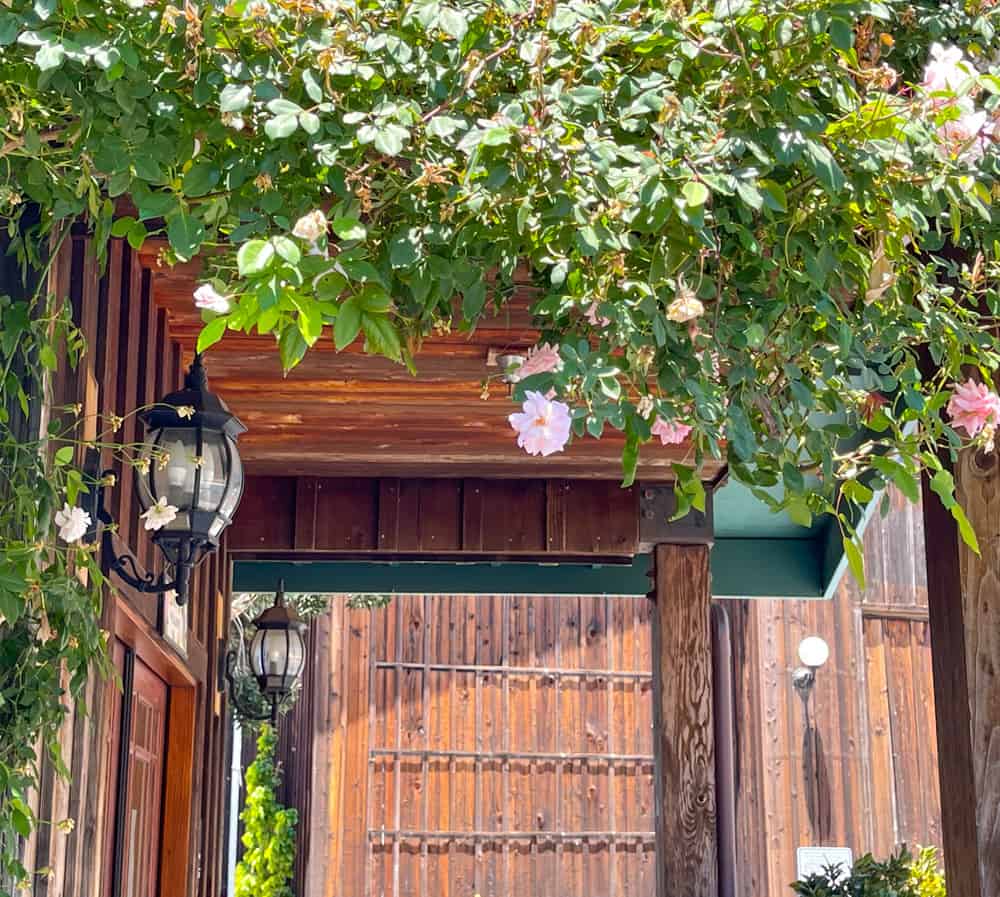 These wineries are located along the coast, making them super convenient to visit from Cayucos. Reservations may be required for onsite tastings, so call ahead.
Cayucos Cellars, one of the wineries that makes up the trail, is actually based in the hills of Cayucos, in an old dairy, but their tasting room is in Cambria.
Of course, you can also go wine tasting along California Highway 46, all the way to Paso Robles, the heart of Central California wine country, and beyond. The drive is beautiful, and many wineries offer food pairings.
Pop into the hamlet of Harmony
Harmony is a tiny hamlet just up the road from Cayucos. Enjoy wine tasting at Harmony Cellars, or ice cream at the harmony Valley Creamery truck.
Browse artisan pottery and blown glass, and snap photos of the quirky cow sculptures!
Enjoy the charm of Cambria
Just north of Cayucos is the charming village of Cambria, which offers ocean-view hiking trails, and a beautiful black sand beach.
Downtown Cambria is made for strolling, with its many unique stores, antique shops, and art galleries. You'll also find excellent eateries and wine tasting here.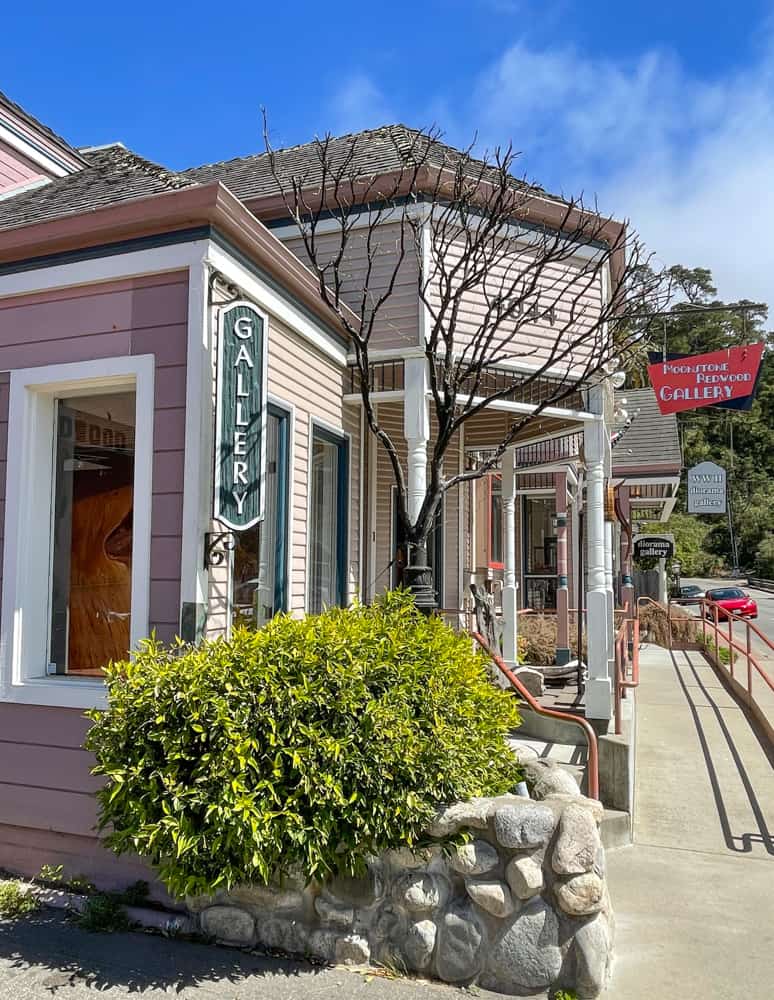 Visit the Piedras Blancas elephant seal rookery in San Simeon
Wildlife enthusiasts will want to schedule a visit to the elephant seal rookery, located along Highway 1 just north of the town of San Simeon. The rookery is open year round.
You'll see lots of elephant seals hauled out on the beaches. At certain times of the year, it's not uncommon to see thousands of them. If you visit in December or January, you may even witness males duking it out for mating rights.
If you visit in late January or February, you may see young pups. They're still big creatures, weighing 50 to 60 pounds at birth.
Tour Hearst Castle
The former estate of publishing mogul William Randolph Hearst, Hearst Castle is now a California state park. The estate was designed by architect Julia Morgan, in consultation with Hearst.
A variety of tours are offered. A tour of the main house is a must, to see the lavish interiors and the stunning pools. The gardens are gorgeous, especially when they are in bloom.
Getting to Cayucos, California
The town of Cayucos, CA, lies along California Highway 1, about 14.5 miles south of Cambria if you are driving down the coast, or 5.9 miles north of Morro Bay, if you are driving up the coast (see map).
It's about mid-way between San Francisco and LA, about a 4-hour drive from either city. Perfect for that relaxing weekend getaway!
Cayucos makes for a delightful stop on a Central California Coast road trip, on a Pacific Coast Highway road trip, or even a longer California road trip.
It's also a great day trip from any of the larger Central Coast towns, so plan on visiting if you are vacationing in San Luis Obispo, Morro Bay, Paso Robles, Pismo Beach, or Cambria!
Looking for a car rental for your Cayucos, CA, getaway? Consider Discover Cars! They scour multiple providers to get the best price for you, including brands like Hertz, Enterprise, Alamo, Budget, and Sixt.
Check availability and book your rental car now!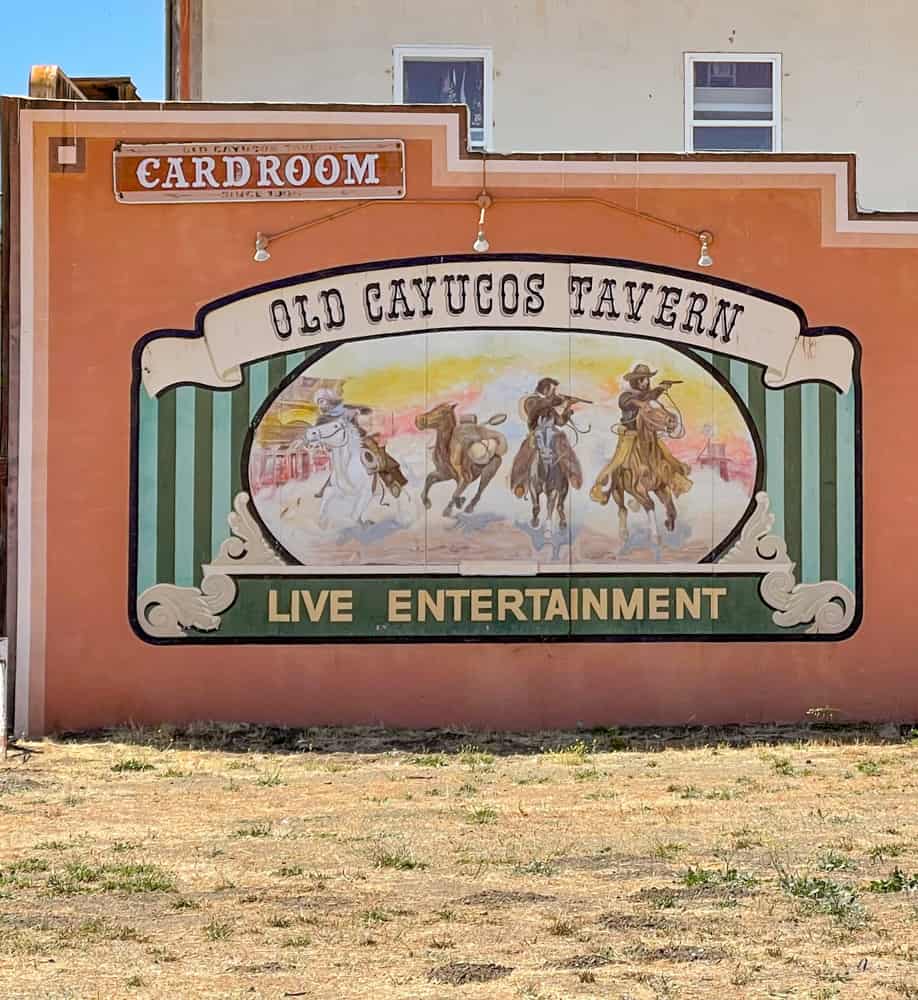 Where to Stay in Cayucos, CA
Hotels in Cayucos
Cayucos Beach Inn is located just a 5-minute walk from the beach. The property features a picnic area and barbecue facilities. Rooms are spacious and furnished comfortably, and come with a microwave and refrigerator. Parking and wifi are free.
Book a stay here!
Shoreline Inn is located on the beach. Most rooms offer expansive ocean views, and have either a private balcony or a a private patio to enjoy the view. Picnic and barbecue areas are offered, as well as outside showers. Parking and wifi are free.
Book a stay here!
On the Beach Bed and Breakfast is steps from the beach in Cayucos. All rooms come with spa baths and fireplaces, free parking, and free wifi. Rooms feature either ocean or city views. The property has a garden and a sun terrace. Breakfast is rated excellent and wine and beer are offered for happy hour.
Book a stay here!
Vacation Rentals in Cayucos, CA
This family friendly beach house offers four bedrooms and 3 bathrooms, and makes the perfect getaway for a family or small group. The home has a full kitchen and a spa bath. The living spaces are generous and well-appointed, and it's located less than 0.5 mile from the beach.
Book a stay here!
Cayucos Cottage is located steps from the beach. The spacious 1,200-square-foot home features two bedrooms and two full baths. The home is located on a quiet residential street but is walking distance to shopping and dining.
Book a stay here!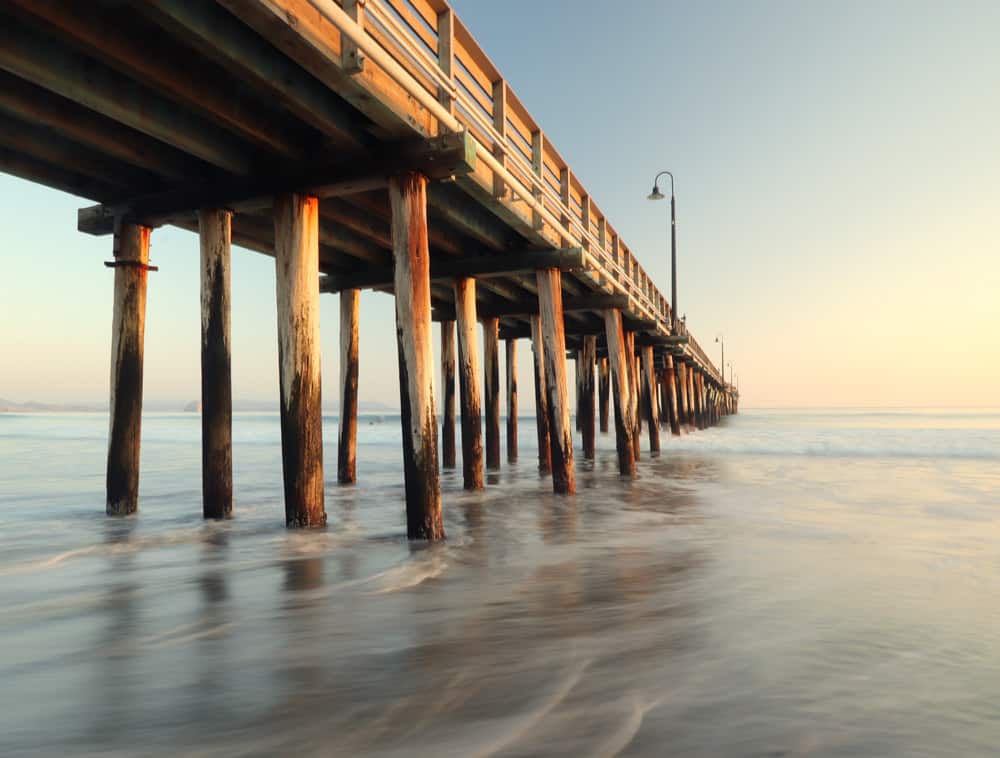 Where to Eat in Cayucos
Cafe Della Via is located on North Ocean Avenue and offers Italian cuisine, with several vegetarian choices. We've had pasta dishes here several times and enjoyed them each time. Menus change from time to time, but try the garlic shrimp with risotto, or the vegetable lasagna.
Schooners offers ocean views as you dine! The menu includes a lot of seafood, but they offer steak and burgers as well. Try the calamari, it's been good every time we've eaten here.
Martin's Restaurant offers Mexican dishes and Italian dishes, and they do both cuisines quite well! Italian is only offered after 4 p.m. We love their nachos for lunch. They have a few vegetarian pasta options, and lots of Mexican choices for dinner.
Sea Shanty is a favorite with locals. It serves breakfast, lunch, and dinner, but we visited for dessert! The dessert menu is one of the most extensive we've seen anywhere. We had the chocolate fudge cake but if you're a family or group that loves dessert, check out The Kitchen Sink!
The Best Time to Visit Cayucos, California
Spring is our preferred time of year to explore the Central California Coast, but you can visit Cayucos any time of year.
In the spring, the days are generally fog free, allowing for wonderful ocean views, the hills are bright green, and there are wildflowers everywhere. The landscapes here are just made for photos in the spring.
Summers are dry and offer long daylight hours, which is always a plus on a beach town vacation! The notorious Central Coast fog can hamper views of the water, but it usually burns off by noon. When the sun is out, it's one of the best time of year for the beach.
Fall offers warm, dry weather, still beautiful enough to enjoy outdoor wine tasting and dining. Fall is our favorite time of year to enjoy the beach in Cayucos. The water is warm and the days are usually not foggy.
Winter sometimes brings rain in California, but if the weather is dry, all you need is a light jacket to enjoy Cayucos and the Central California Coast. In fact, you should bring a jacket or windcheater no matter when you visit!
Did you find this article informative? Pin it for later reference!