Wondering what to do in Harmony, California? The tiny town along the Central California Coast is worth visiting for wine tasting, artsy shopping, and nearby hiking with ocean views.
Harmony is just a little over two acres in size. It is located between Cambria and Morro Bay along scenic California Highway 1. Look for the sign that says: "Harmony Pop 18 Elevation 175."
Harmony makes for a great day trip from Morro Bay, Cayucos, Cambria, Pismo Beach, or San Luis Obispo, or a short stop on a California coast road trip.
Some links on this page may be affiliate links. If you click an affiliate link and make a purchase, we may receive a small commission, at no extra cost to you. For more details, refer to our disclosure.
Considering a getaway to this one-block coastal gem? Read on for the scoop on all the best things to do in Harmony, CA!
History of Harmony, CA
Harmony was founded all the way back in 1869. As the home of the Harmony Valley Creamery Association, Harmony was the center of the California Central Coast dairy industry for many decades.
Started by Swiss immigrants, the town boasted several dairy ranches, with ownership changing frequently based on intense rivalries.
Eventually, in 1907, the various owners called a truce and came together under the town's new name: Harmony. Harmony Valley Creamery was renowned for the quality of its dairy products, from milk to buttermilk, butter, and cheese.
The creamery served refreshments to travelers visiting the Central Coast, and even publishing magnate William Randolph Hearst stopped at Harmony on his way to his estate at San Simeon, as did his celebrity friends when they came to visit him.
Sadly, developments in the industry led to the shuttering of the Harmony Valley Creamery in 1955. People started leaving the town and its population was drastically reduced.
In the 1970s, Harmony developed into an artsy town, populated by persons wanting to practice various arts and crafts in a non-urban setting. Some of the original buildings were restored, and shops and restaurants opened.
In 2014, the town was bought by Alan Vander Horst, with plans to restore and revive the town, with its rich history and beautiful location.
And although the sign says "Harmony Pop 18," that's reportedly the population of the larger Harmony Valley, not the town itself.
Things to Do in Harmony, CA
1. Enjoy Wine tasting at Harmony Cellars
Harmony Cellars is located on a small hill just outside the little town, and makes for a relaxing stop before or after your visit to the town.
The family-owned operation produces both reds and whites, and the tasting room offers great views and a pleasing rustic ambience. We enjoyed the chardonnay and the cabernet from our flight!
The tasting areas outside offer spectacular views of the surrounding hills and valleys, with grazing cows and an occasional farmhouse. On clear days, you may even be able to see Morro Bay out in the distance.
The views are especially beautiful in the spring, when the hills are bright green and you may see patches of color where wildflowers carpet parts of the hillsides.
The winery has a gift shop you can browse, and they sometimes have special events, like sunset dinners, barrel tasting, or art workshops. You can also bring picnic fixings to enjoy outside with your wine.
Harmony Cellars is open year-round for tastings, other than on Easter, Thanksgiving, and Christmas. They recommend reservations for weekend tastings or for larger groups.
2. Take a Stroll through Harmony
Start your visit with a leisurely stroll through the tiny town. There are just a few buildings, but the ambience is charming. Snap photos of the historic post office and the beautiful Harmony Chapel.
Small and quaint, Harmony Chapel serves as a wedding venue. The gorgeous doors are hand carved, and, if there isn't an event going on, step inside to experience the simple and serene interior. The chapel is surrounded by beautiful gardens.
Harmony's historic post office dates back to 1914. It still functions as a part-time post office. Stop to read the history of harmony, written on the outside wall: It even talks about the tycoon Hearst stopping here to buy fresh milk!
3. Watch a Glass Blowing Demo
Harmony Glassworks has beautiful glass objects you can buy or browse. From unique jewelry to items for the home and garden, the gallery carries many lovely pieces in jewel colors.
Look for gorgeous suncatchers, ornaments, vases, and wind chimes. You'll also find glass sculptures by local artists, and a variety of striking earrings and bracelets.
Many, but not all, of the items are handcrafted locally. If you are looking for a piece created by the store, ask: we've found the folks at the gallery very helpful whenever we've stopped by.
It's especially fun if a glass blower is working in the studio when you visit, so you can watch an object being created. You can also take a lesson in glass blowing and leave with your own handiwork!
Harmony Glassworks is open everyday from 10 a.m. until 5 p.m.
4. Stop by the Harmony Pottery Works
Harmony Pottery Works is another must-browse in Harmony, with unique pottery pieces at a range of prices. We've picked up many mugs and other little gift items on our visits here.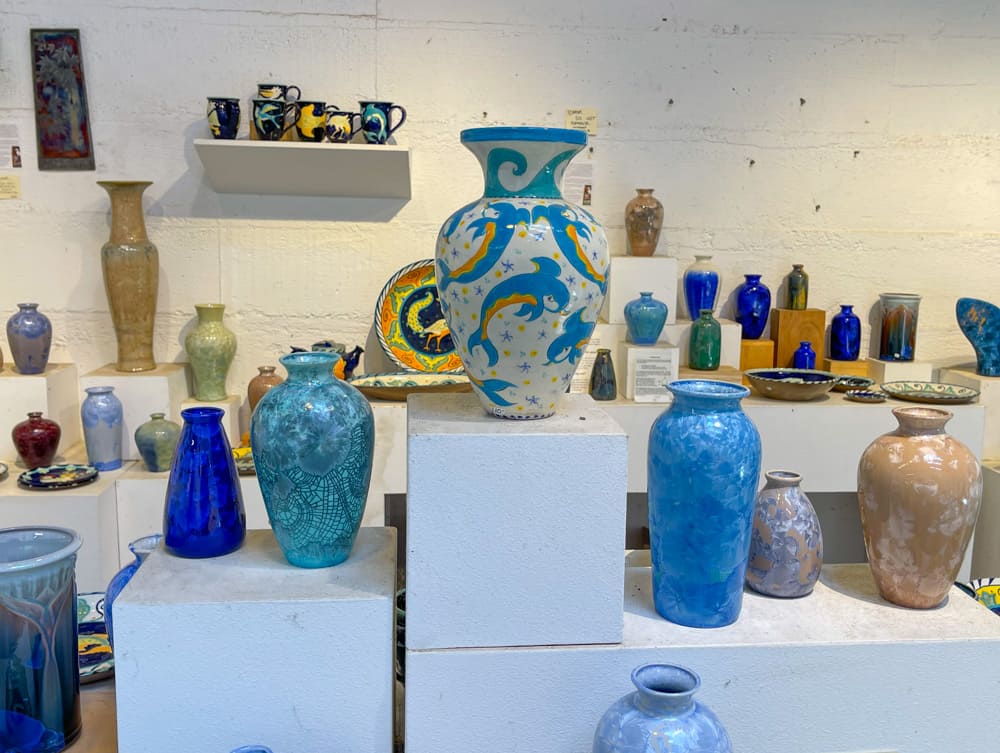 The gallery showcases the work of over 150 artists, many of them local to the Central Coast. You'll find both functional items and display items. Pieces are good quality, with rich glazes that show off the bright colors.
Look for ceramic plates and bowls, vases, candle holders, tiles, sculptures, and large platters. There's jewelry to browse as well.
Harmony Pottery Works is open everyday from 10 a.m. until 5 p.m.
5. Snap Photos of Cows
One of the most fun reasons to visit Harmony is to snap photos of the quirky cow sculptures. Not exactly roadside attractions, the Harmony cows are still worth the stop and small detour!
At the entrance to the town, you'll find "Gladys the Town Cow," painted by SLO County artist Carol Paulsen. It features the landscape of the little town and is the perfect "welcome." It was created as part of Cow Parade SLO County.
You'll find a cow with a frisbee and a cow in a monk's gown in other parts of the town, as well as a cow atop the creamery building. There is also a cow sculpture at Harmony Cellars.
6. Enjoy Delicious Ice Cream
You can't visit a historic dairy town and not have ice cream! Harmony Valley Creamery has a "scoop truck" in the town, where you can stop for some "udderly awesome" ice cream.
Handcrafted in small batches, using fresh local ingredients, the ice cream is available in several different flavors.
We've tried the chocolate, the coffee bean, and the strawberry, and all the flavors are yum. It's a rich, creamy, and decadent treat!
At the time of writing, the Scoop Truck in Harmony is open weekends, from 11.30 a.m. until 4.30 p.m.
7. Eat at the Cheese Truck
The Harmooonious Moment Cheese Truck, also owned by the Harmony Valley Creamery, offers "udderly awesome" melts and raclette. The trucks are located right next to each other, if you want to have lunch followed by dessert!
The plain grilled cheese was delicious, if almost a little too rich. You can also get the grilled cheese with other ingredients like roasted turkey.
If you haven't tried raclette, it's a dish where cheese is heated to melting and generally tops cooked potatoes, but other foods as well. If you like cheese, you will want to try raclette!
The food trailer is open Thursday through Sunday from 11 a.m. until 4 p.m.
8. Hike Harmony Head State Park
Whether you want to work off some of the calories from the cheese and ice cream or you just want to enjoy the spectacular ocean views from the bluffs, head next to Harmony Head State Park, just a little under 3 miles south of Harmony, CA.
The Harmony Headlands Trail is an out and back trail that goes from California Highway 1 all the way to bluffs overlooking the ocean. The wide dirt trail is easy, with gentle ups and downs.
Along the way, the trail winds through grasses and other local flora. In season, you'll find wildflowers to enjoy, from red Indian paintbrush and purple lupine to yellow mustard and bright orange California poppy.
Look for raptors flying overhead and small land birds in the vegetation, and watch for deer, rabbits, snakes and lizards.
This trail is beautiful in the spring, when the hills are green and there are lots of wildflowers along the route. At other times of the year, you may find the grasses brown and not too interesting unless you spot wildlife.
The payoff at the end of the walk is a view of this pristine part of the California coastline, with expansive views of the Pacific Ocean and the rocks below. Look for otters in the water close to shore and whales out in the ocean!
Parking is limited (about 10 cars), but it's not a hugely visited trail. Dogs are not allowed on the trail.
Good to know: If you enjoy scenic coastal hiking, also consider the Moonstone Beach Boardwalk Trail in Cambria, or the Bluff Trail in Montana de Oro State Park, a few miles south of Morro Bay.
Getting to Harmony, CA
The town of Harmony, CA, lies along California Highway 1, about 5.6 miles south of Cambria if you are driving down the coast, or 9.2 miles north of Cayucos, if you are driving up the coast.
Harmony is a fun stop on a Central California Coast road trip, or on a Pacific Coast Highway road trip. It's also a great day out from any of the larger Central Coast towns, so plan on visiting if you are vacationing in San Luis Obispo, Morro Bay, Cayucos, or Cambria!
Looking for a car rental for your Harmony, CA, getaway? Check out Discover Cars! They scour multiple providers to get the best price for you, including brands like Hertz, Enterprise, Alamo, Budget, and Sixt.
The Best Time to Visit Harmony, California
Spring is our favorite time to explore the Central California Coast, but there is really no bad time to visit Harmony. In the spring, the days are generally fog free, allowing for unobstructed ocean views, the hills are green, and there are wildflowers everywhere.
Summer offers dry weather and long daylight hours. Although the marine layer can hamper views of the water, it usually (though not always!) burns off by mid-day. It's a great time to enjoy blooms in the garden areas in Harmony.
Fall offers warm, dry weather, still beautiful enough to enjoy outdoor wine tasting and views of the tawny hills. Winter sometimes brings rain, but if the weather is dry, all you need is a light jacket to enjoy Harmony and the Central California Coast.
Did you find this article informative? Pin it for future reference!