If you love nature and adventure, you will find some amazing things to do in Lone Pine, CA.
Sandwiched between the Sierra Nevada Mountains to the west and the Inyo Mountains to the east, the tiny town of Lone Pine sits nestled in the Owens Valley in eastern California.
Lone Pine is known for its spectacular setting at the base of the Sierra Nevada peaks.
Here you will find the beautiful rock formations of the Alabama Hills, the exciting drive up to Whitney Portal, and the Museum of Western Film History in town. Lone Pine's western vibe is undeniably appealing!
A great base for adventures in the spectacular natural areas that surround it on all sides, the town of Lone Pine is a mecca for hikers, climbers, campers, anglers, and landscape photographers.
But it is also a must-visit destination for history buffs, Western movie enthusiasts, and just about anyone that wants to escape to a place where you can relax and soak in the boundless beauty of nature.
It's also a must-stop on a Highway 395 road trip!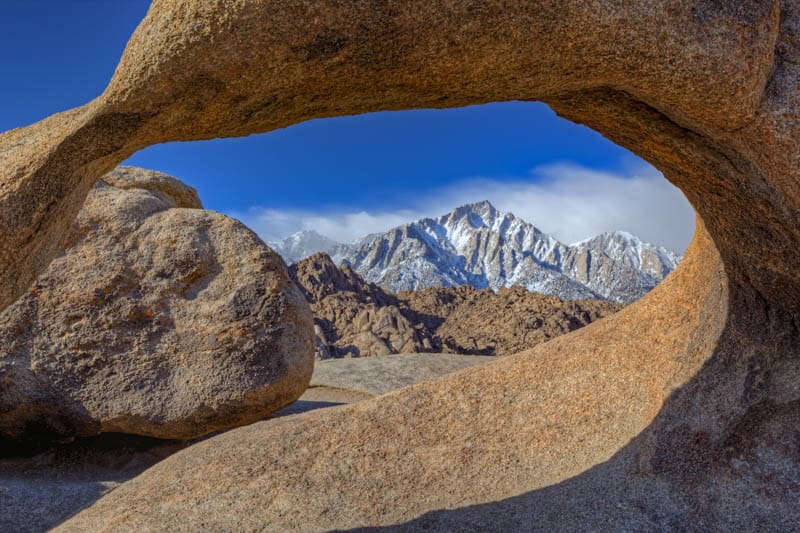 Most recently, we stopped in Lone Pine on a Highway 395 road trip through the Eastern Sierra, and spent a couple of days exploring the town, along with the Alabama Hills and Whitney Portal.
We find this little town, with its Old West feel, charming! Locals are both friendly and helpful, and the vibe is relaxed and low-key.
Considering a visit to Lone Pine, CA? Read on to discover all the amazing things to do in this Eastern Sierra town!
Things to Do in Lone Pine, CA
1. Tour the Alabama Hills
The rounded shapes of the Alabama Hills are a gorgeous contrast to the sharp jagged faces of the Eastern Sierra right behind them. The Alabama Hills National Scenic Area is a great place to go hiking and climbing.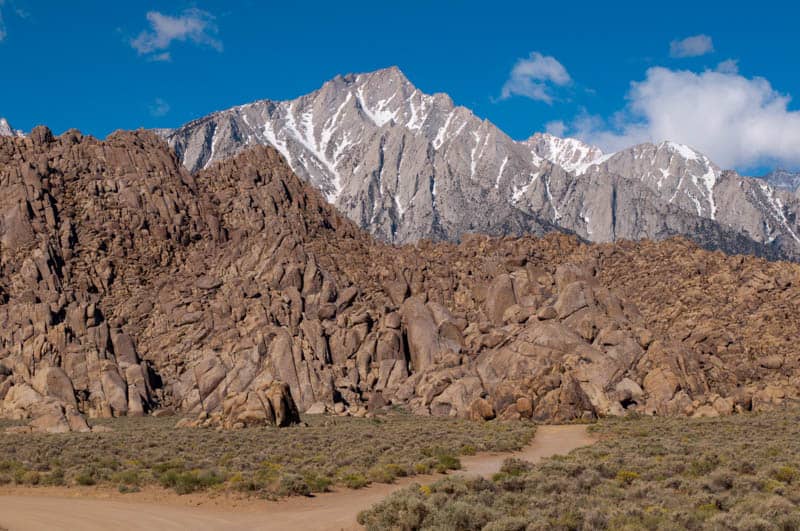 The Alabama Hills are also the location where countless Western movies, TV shows, and commercials have been filmed.
Drive the super scenic Movie Road, and tour filming locations. Look for the many natural arches in the area: they make for fabulous photo spots.
We've written a detailed guide on all the best things to do in the Alabama Hills: it's an area you must explore when you visit Lone Pine.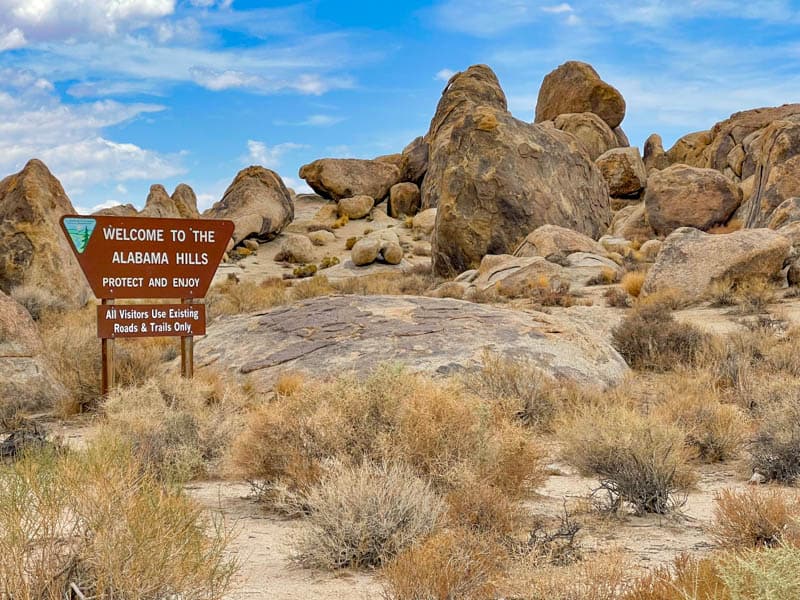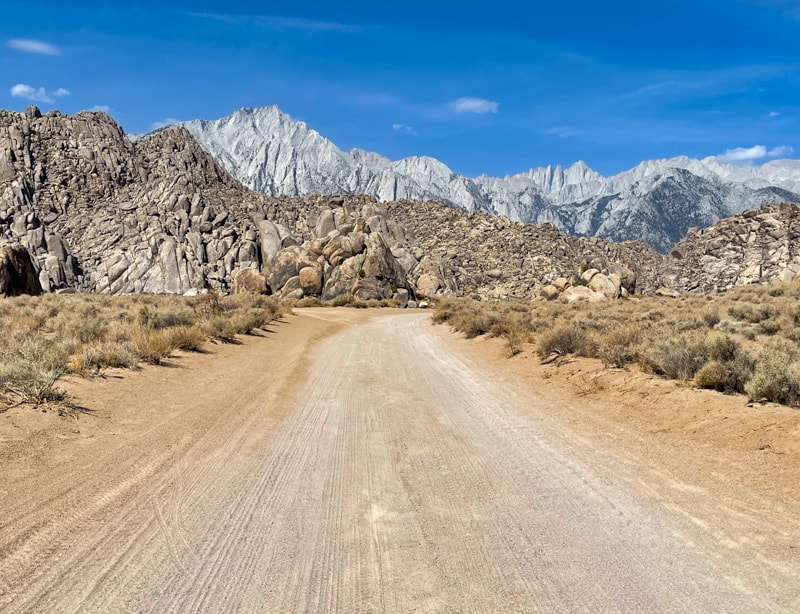 The Mobius Arch Loop Trail is a super scenic trail that lets you get up close to some of the rock formations in the area.
While dispersed camping is permitted in the Alabama Hills, there are many campgrounds with amenities as well. If you camp here, make sure to do some stargazing!
2. Visit the Museum of Western Film History in Lone Pine
Hollywood came calling in 1920, and changed the destiny of Lone Pine forever. Over 400 movies have been shot in the Alabama Hills and the Owens Valley since then, and the area still serves as a location for movies and commercials.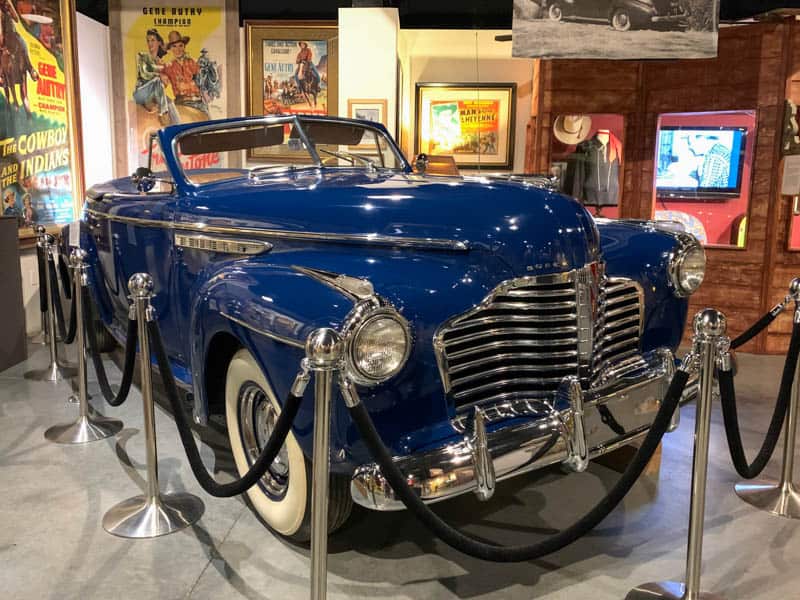 Established in 2006, the Museum of Western Film History holds an impressive collection of American western movie memorabilia, old cameras, sci-fi figures, and other movie props, and is a must-visit for movie buffs in general and fans of Westerns in particular.
Plus, the town (and the museum) hold the Lone Pine Film Festival in October each year, with three days of film screenings, talks by authors of westerns and Hollywood professionals, sunrise photo tours, cowboy poetry, and tours of movie locations. It is a great time to visit!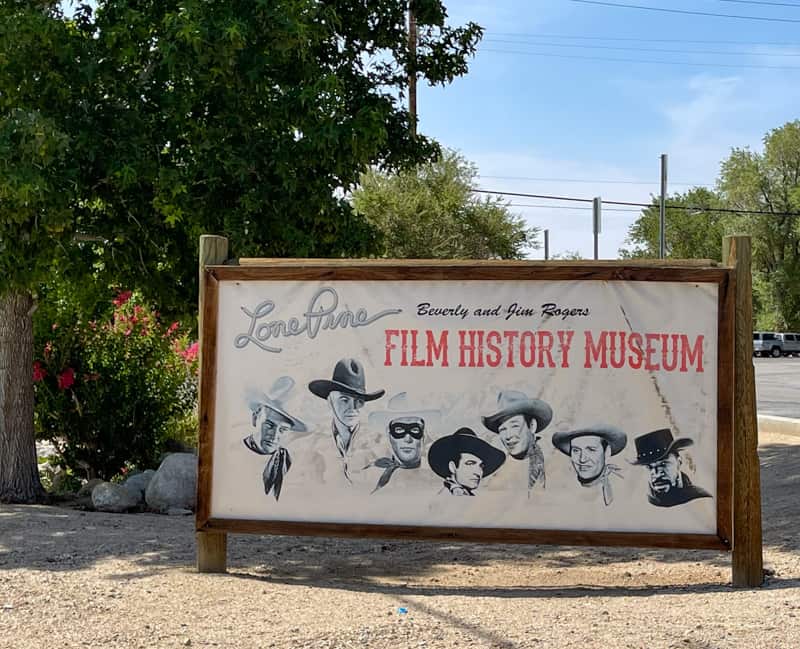 3. Browse the Movie Room at the Lone Pine Chamber of Commerce
Before you visit the Alabama Hills or Whitney Portal, it's a good idea to stop by the Lone Pine Chamber of Commerce in town, housed in the historic Lone Pine Hotel.
Here you will find lots of information to browse, and staff can answer questions and offer suggestions.
The Movie Room, located in the courtyard, has lots of photos you can browse, and information on the filming locations of some of the famous movies shot in the area, such as Gunga Din and The Lone Ranger.
4. Stop by the Eastern Sierra Interagency Visitor Center
Located on US Highway 395 just south of the town of Lone Pine, the Eastern Sierra Interagency Visitor Center is a must-stop.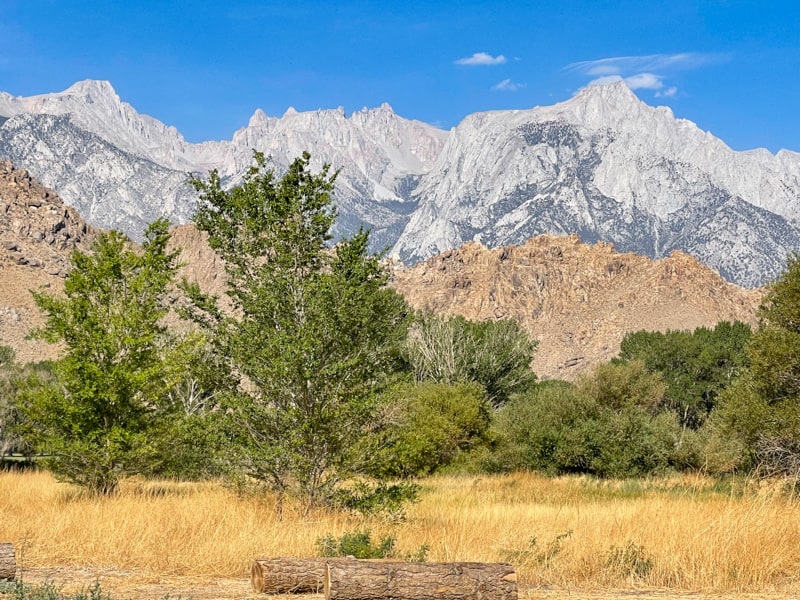 Here you can get all your questions answered, obtain any permits that are needed for activities you have planned, and browse the many interpretive displays.
Take in the amazing view of Mount Whitney, tour the native plant garden, and visit the bookstore for educational materials, maps, and souvenirs.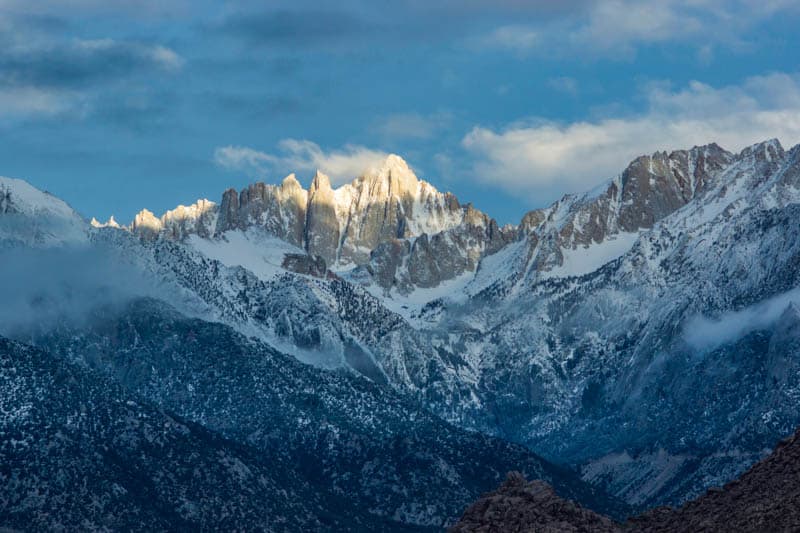 5. Drive Whitney Portal Road
Whitney Portal Road, that goes from Lone Pine to about half-way up Mount Whitney, is one of the most spectacular drives in the Eastern Sierra.
The fully paved road is about 13 miles long , and passes through the scenic Alabama Hills for lots of photo ops along the way.
The road has featured in a couple of movies: Humphrey Bogart's High Sierra and Lucille Ball's The Long, Long Trailer.
The narrow, windy road has lots of switchbacks and gets progressively steeper as you climb. Not for the faint of heart, but it offers spectacular views.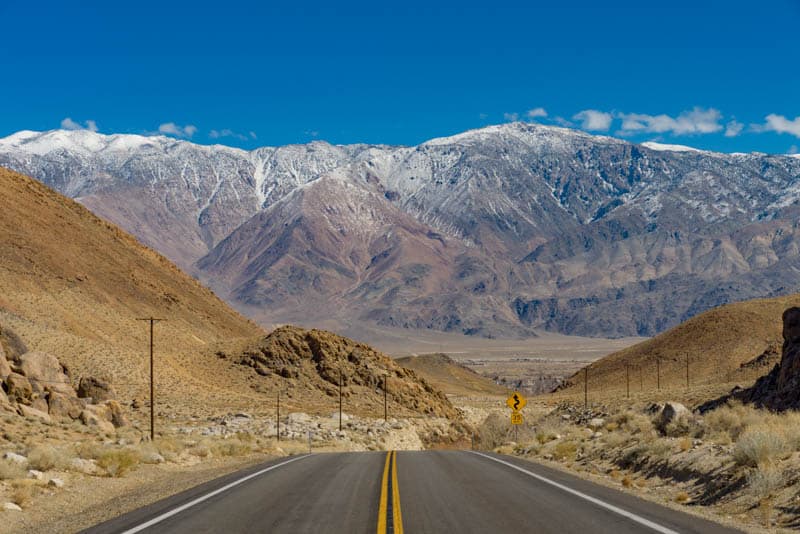 The road ends at the parking lot for the trailhead for the Mount Whitney Trail.
The Whitney Portal Store serves food, and has souvenirs! You can also get up close views of Mount Whitney. There is a picnic area, a picturesque waterfall, and pond.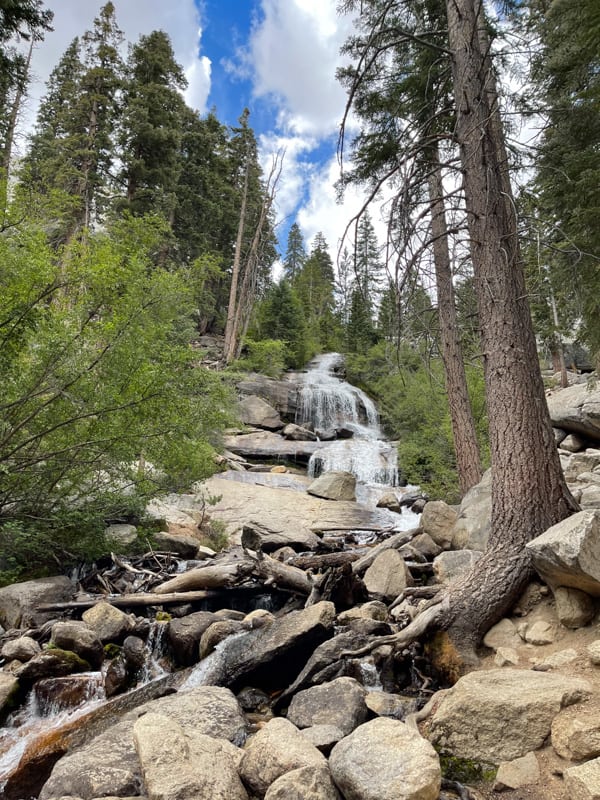 Whitney Portal Road can generally be driven between late May and November. Although the road is not gated, snow on the upper portions of the road is not cleared.
6. Summit Mount Whitney
Mount Whitney, in whose shadow the town of Lone Pine lies, is a coveted destination for backpackers and experienced day hikers. At 14,505 feet tall, Mount Whitney is the highest peak in the contiguous United States.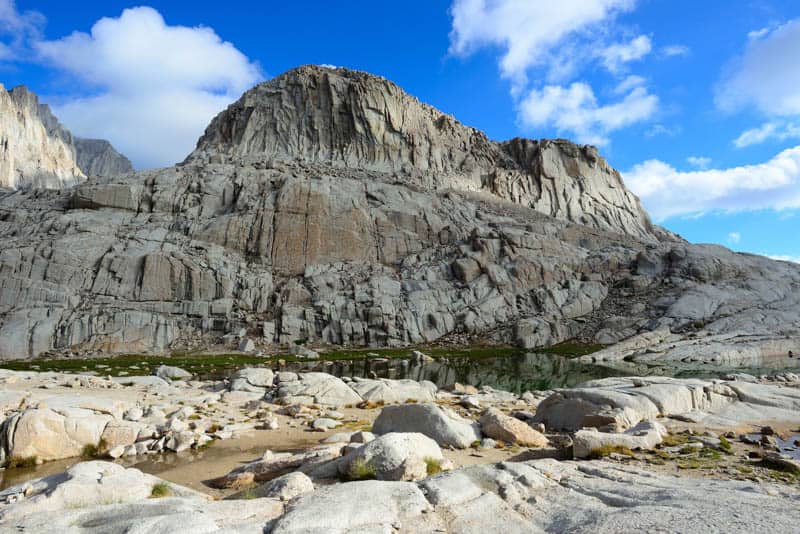 The Mount Whitney Trail that starts at Whitney Portal is a little over 22 miles round trip, with an elevation gain of over 6,000 feet. It is classed as a strenuous non-technical route, and most hikers do it as an overnight trip.
The trail is generally free of snow from late June until early October, but it is best to attempt it in peak summer, when the lakes are fully thawed and you can see lots of wildflowers. Wilderness permits are required and should be obtained well in advance.
Good to know: Some trailhead parking may require a fee.
The America the Beautiful National Parks Pass is accepted at many sites, so if you have one, bring it along! If you do not have one yet, you can buy one online at REI.

The pass costs $80.00, and is valid for one year. It is accepted at over 2,000 sites countrywide, and may save you money if you plan to visit 3 or more of them within a year.
7. Or Hike to Lone Pine Lake
The shorter and moderately strenuous day hike to Lone Pine Lake is a great hiking option from the Whitney Portal trailhead for hikers that cannot or do not want to climb to the summit.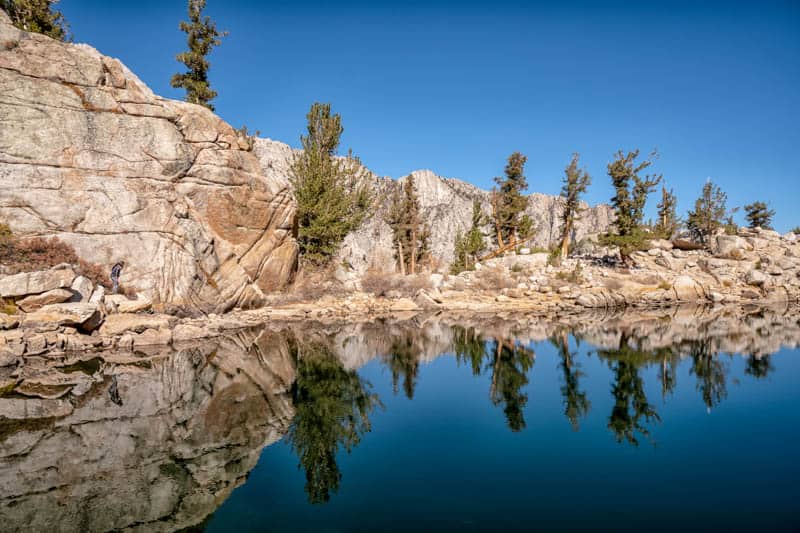 Lone Pine Lake is located about 2.5 miles from the trailhead at Whitney Portal. The lake has a beautiful setting in the midst of the Sierra Nevada mountains, and a picnic area to have a meal or a snack as you enjoy the view.
The hike involves some fun stream crossings and walking on logs! And of course, the scenery is spectacular along the way and at the lake.
Note that permits may be required for day trips in the Mt. Whitney zone: check at the Visitor Center or Chamber of Commerce.
8. Explore the Town of Lone Pine
Walk around the little town to take in some of the sights, along with the western facades.
In the lane behind La Florista on Main Street, you will find the remnant of an adobe wall: it's all that's left of Lone Pine as it was before an earthquake almost completely destroyed it in 1872.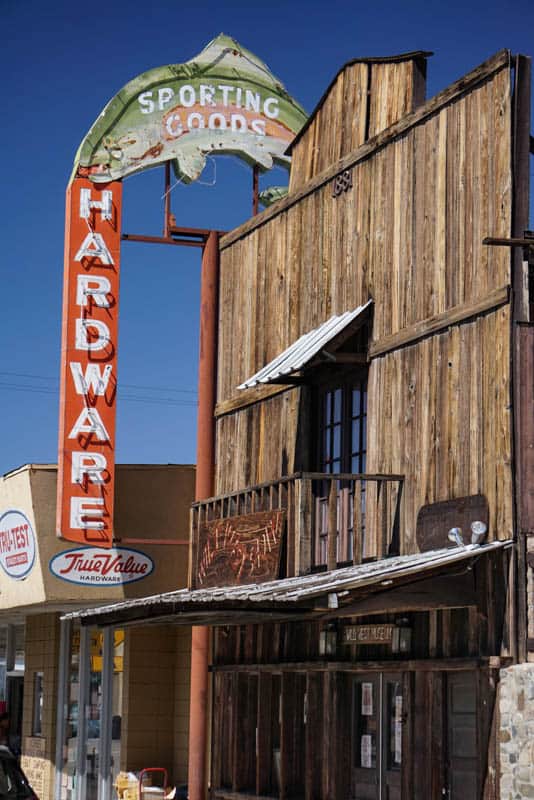 At the Indian Trading Post on Main Street, admire the Movie Star Signature wall: many stars carved their names in the frame of the front door when they were in Lone Pine for filming.
If you enjoy local history, there are several old cemeteries from the days of the pioneer settlers that you can tour. As you walk around town, enjoy the quirky neon signs at hardware and other stores around town: they make for great photos if you are out at night!
9. Tour Manzanar National Historic Site
Just a 10-minute drive to the north of Lone Pine along US Highway 395 is the Manzanar National Historic Site.
In 1942, in a dark chapter in US history, more than 110,000 Japanese Americans or resident aliens were ordered held in camps in remote areas for the course of WWII. Manzanar was one of ten such camps.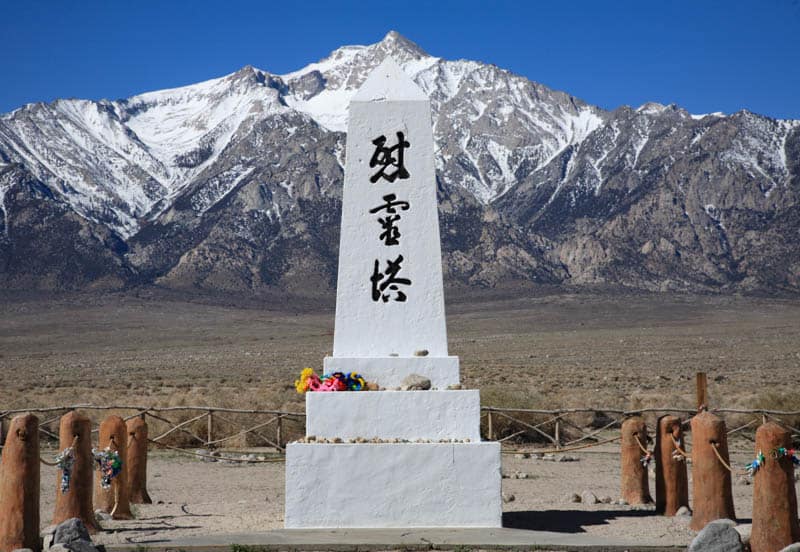 Today you can see a short film called Remembering Manzanar, and take a self-guided tour of the exhibits.
They include photos, artifacts, a scale model of the camp created by the persons incarcerated there, and a huge graphic with the names of individuals that were held at Manzanar.
You can also tour some of the buildings, and visit the bookstore. There is no fee to visit Manzanar National Historic Site.
10. Drive Horseshoe Meadow Road
Horseshoe Meadow Road is a scenic drive for visitors that enjoy mountain driving.
The sub-alpine Horseshoe Meadow is huge. It is located 10,000 feet above sea level, so the road to get to the meadow climbs about 6,000 feet via a series of steep switchbacks, with beautiful views along the way.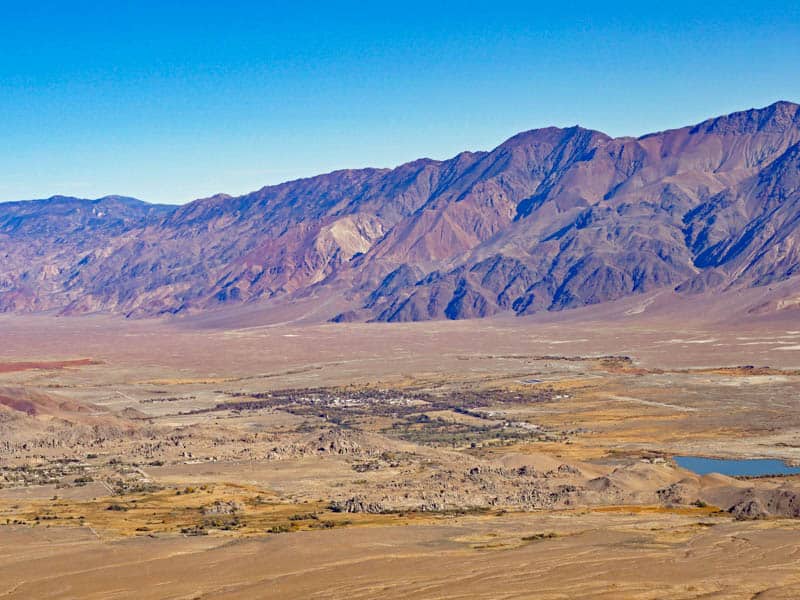 Horseshoe Meadows Road is just under 20 miles in length and access is from Whitney Portal Road. It is fully paved and there are pullouts to stop and take photos.
The steepness of this road, and the potential for rock falls, make it scary for many drivers. Speak with local rangers before you start, if you decide to attempt it.
Surrounded by a pine forest and the mountains, the meadow contains access trails to the Golden Trout Wilderness and Sequoia and Kings Canyon National Parks. In the spring, you will see lots of wildflowers in the meadow.
Horseshoe Meadow Road is generally closed between November and some time in late May due to snow accumulation.
11. Hike Cottonwood Lakes Trail
One of the hikes that starts at Horseshoe Meadow is the spectacular Cottonwood Lakes Trail. Rated as moderate, the hike is about 13 miles round trip, with an elevation gain of about 1,400 feet.
The high-altitude hike is super popular with both day hikers and backpackers, and with anglers that come for the golden trout.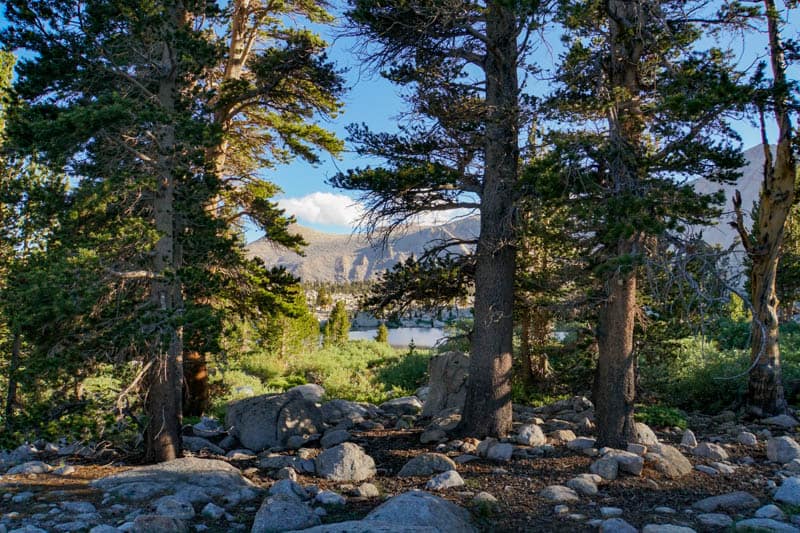 The Cottonwood Lakes Trail features superb views of the mountains, and leads you through the Golden Trout Wilderness and the John Muir Wilderness into the Cottonwood Lakes Basin, which contains a number of gorgeous alpine lakes and pretty creeks.
You can walk along the shores of the lakes, take photos, and have a picnic before retracing your steps to the trailhead.
12. Go Fishing
Lone Pine's trout season begins about two months earlier than other places along the Eastern Sierra of California. It is a hugely popular destination for anglers, and you will see lots of shops in town selling bait, tackle, and other supplies.
High elevation lakes in the Eastern Sierra feature the sought-after California golden trout, with its beautiful orange-gold color and distinctive markings. You can hike into the Golden Trout Wilderness area or take a pack trip if you want to fish for golden trout.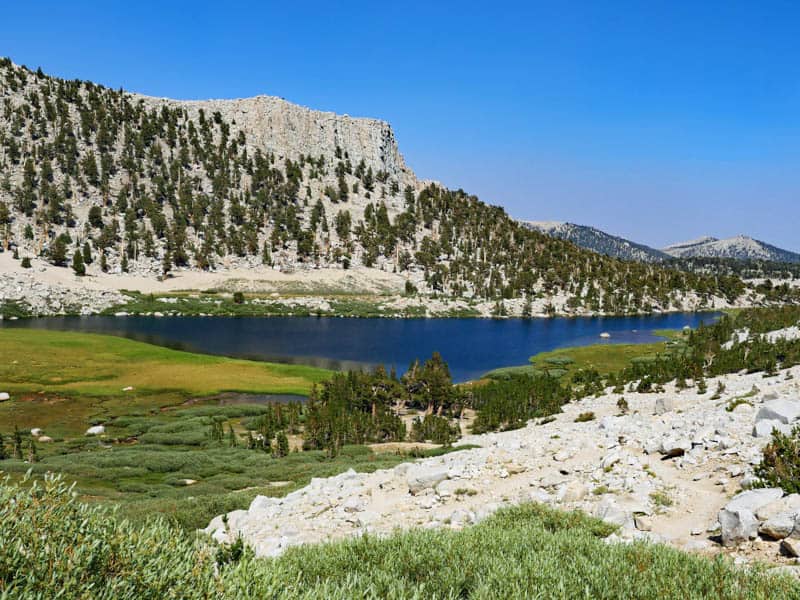 There are many creeks, lakes, streams, and ponds around Lone Pine where you can fish for rainbow trout, brown trout, bass, and catfish. You need a California fishing license to fish in the Eastern Sierra.
13. Birdwatch at Owens Lake in Spring and Fall
Owens Lake, located just a few minutes south of Lone Pine, is a fabulous place to go birding if you visit in the spring or the fall. The lake had run dry because of water diversion, but in the last several years, the lake bed has been shallow flooded to control dust, bringing back bird populations.
In the spring and fall, brine flies in the Owens Lake Ponds provide food for thousands of migrating birds, from sandpipers and ducks to American avocets, snowy plovers, snow geese, and many other species. Bring your binoculars and enjoy birding at this serene habitat!
Things to Do Near Lone Pine, CA
Drive Onion Valley Road
Another scenic mountain drive in the Eastern Sierra, Onion Valley Road is a fully paved road that starts at Independence, a few miles north of Lone Pine along Highway 395. The 13-mile road ends at Onion Valley Campground, and offers beautiful views along the route.
The road is one of the highest roads in California and a challenging biking route. The road winds its way up through a series of switchbacks and there are turnouts where you can park if you want to take photos of the panoramas over Owens Valley.
Hike Kearsarge Pass Trail
One of the most beautiful trails in the Eastern Sierra starts at Onion Valley Campground. The hike to Kearsarge Pass through the John Muir Wilderness is extremely scenic, passing by a number of sparkling alpine lakes and featuring spectacular views of the mountains.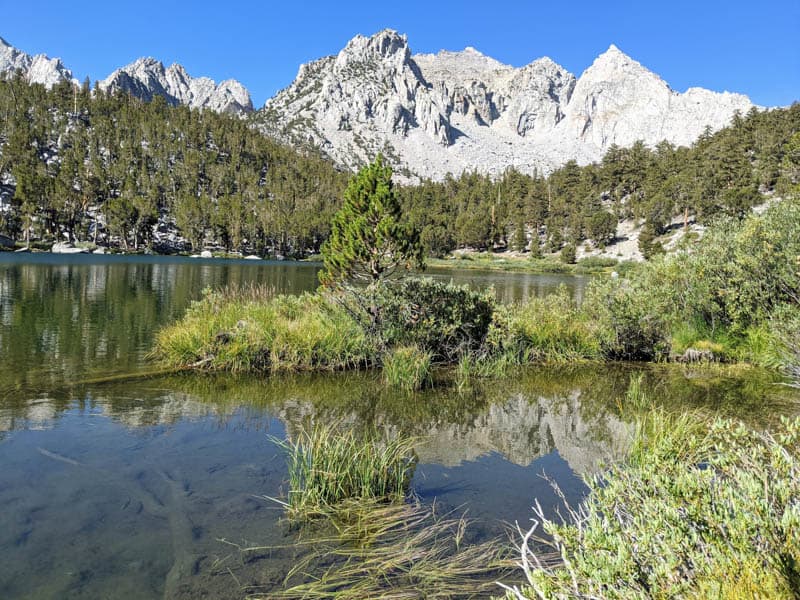 The hike from the trailhead to the pass is about 4.7 miles one way, with an elevation gain of about 2,500 feet. Beyond the pass, the trail enters Kings Canyon National Park. The out-and-back route from Onion Valley is popular with day hikers.
From the pass, you get magnificent views of the Kearsarge Pinnacles and the Kearsarge Lakes, and many other majestic peaks in the Sierra Nevada. Along the route, photo ops include Little Pothole Lake, Gilbert Lake, and Heart Lake.
Visit the Eastern California Museum in Independence
In Independence, visit the Eastern California Museum if you enjoy local history. The small museum preserves and exhibits objects related to the history of Inyo County and the southern portion of the Eastern Sierra, from Death Valley to Mono Lake.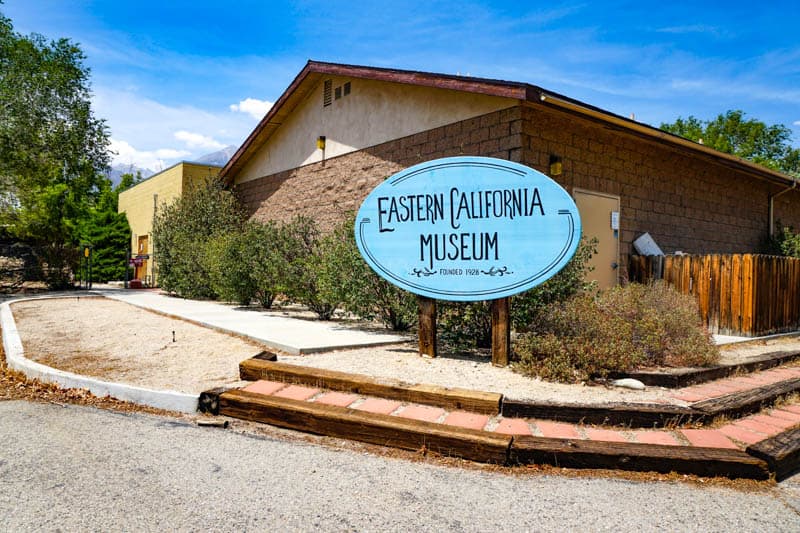 You will see machinery and guns from the mining era, gems, lots of old photos and news clippings, and beautiful Native American baskets, among the many exhibits in the museum.
Behind the building is a small garden featuring native species and great mountain views, with benches if you want to sit and enjoy the views.
Do a Day Trip to Death Valley National Park
It is under a 2-hour drive from Lone Pine to Furnace Creek, the heart of Death Valley National Park.
Lone Pine is therefore one of the best places from where you can do a day trip into the park and enjoy the best sights in Death Valley, from Mesquite Flat Sand Dunes to Badwater Basin and Zabriskie Point.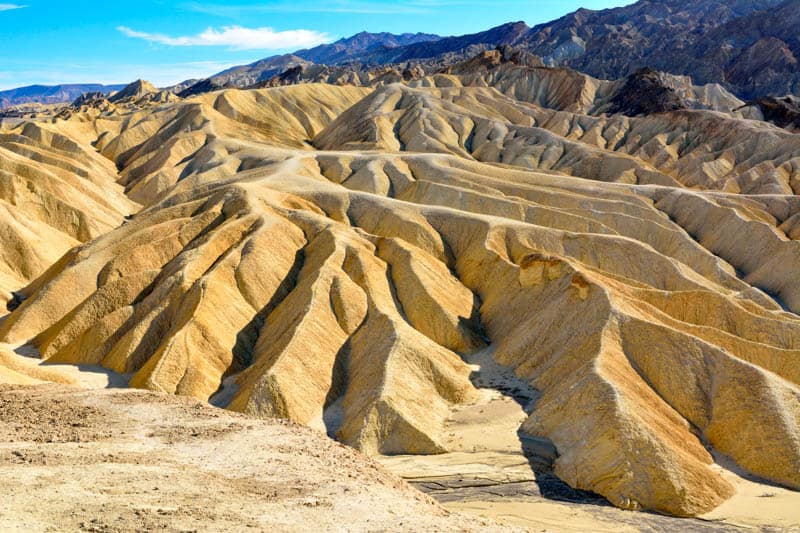 If you have already seen the sights around Furnace Creek, why not focus on lesser-visited sights in Death Valley National Park that are closer to the west entrance?
You can do the short hike to Darwin Falls (surely one of the most uniquely located waterfalls in California, at the edge of the most arid spot in the state!), or trek to the summit of Telescope Peak, one of Death Valley's best hikes.
We have an article describing a one day itinerary for Death Valley, focused on the top sights in the park.
Explore North in and around Bishop
Further north along Highway 395 (a little under one hour away), you will find the town of Bishop, another must-visit destination for Eastern Sierra adventurers.
You will find many things to do in Bishop and its surrounds, from hiking to climbing and fishing.
Visit the Ancient Bristlecone Pine Forest in the White Mountains to see the oldest living organisms on earth. Or go climbing at the world-famous Buttermilk Boulders.
Explore Bishop Creek Canyon, with its many beautiful lakes rife with photo ops. And indulge in carb-forward treats at not one but two famous bakeries!
Further north, there are many fun things to do in Mammoth Lakes. Just south of town, Convict Lake is a must-stop spot.
If you enjoy photography, Hot Creek Geological Site is a scenic spot just a few miles east of town, as is Earthquake Fault in town.
Or visit the smaller resort town of June Lake, CA, where you can drive the beautiful June Lake Loop road and enjoy numerous water activities at the four lakes.
Getting to Lone Pine, California
The airport closest to Lone Pine is Mammoth Yosemite Airport, about 83 miles away. Flights to this airport tend to be limited, and some of them seasonal, occurring only in the winter. The next closest airport is Fresno, about 93 miles away.
Most visitors to Lone Pine arrive by road. Lone Pine is located along US Route 395, a scenic route whether you come from the south or the north.
LA to Lone Pine is about 3 hours and 30 minutes or 4 hours and 30 minutes by road, depending on the route you take. From Lake Tahoe to Lone Pine is about a 4-hour drive.
Getting Around
If you plan to explore the region, you will require your own wheels. Rent a 4WD SUV for your trip to Lone Pine if you plan to drive mountain roads and dirt roads in the backcountry, otherwise a sedan is fine.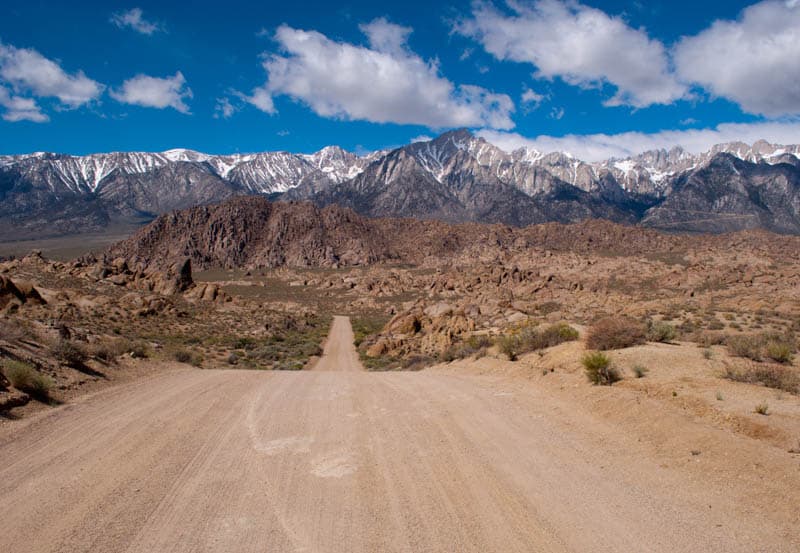 Many roads in Death Valley National Park, for example, require (or are far more comfortable) in a 4WD, and the dirt roads of the Alabama Hills are better explored in a 4WD. If you visit in the fall, you will want to drive dirt roads in search of the best fall color!
Of course you can drive many roads in and around Lone Pine in a regular sedan just fine. Bring the vehicle most appropriate for the adventures you've planned for your trip!
Looking to rent a vehicle for your Lone Pine CA trip? Discover Cars offers you the ability to compare availability and prices across many major car-hire companies. Pick the car that best meets your needs!

Book your car with Discover Cars now!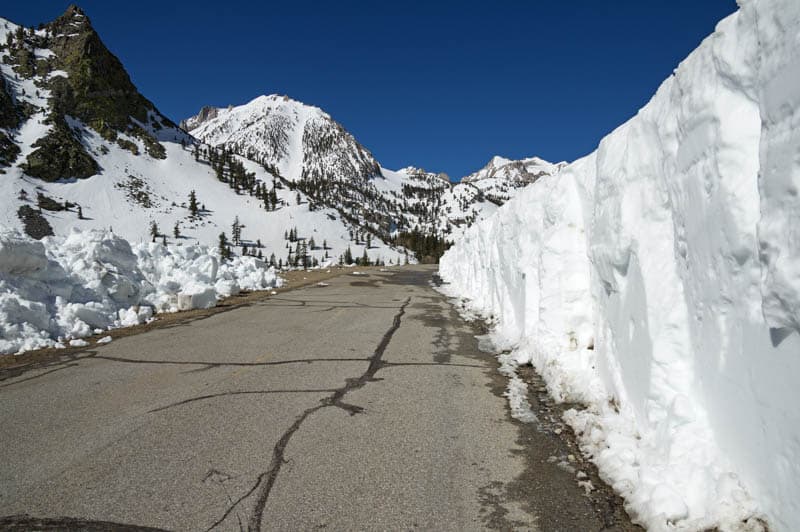 Where to Stay in Lone Pine, CA
Vacation rentals in Lone Pine, CA
This Spanish bungalow is just 0.5 mile from downtown Lone Pine. The spacious 2 bed, 1 bath home has views of Mount Whitney and the Inyo Mountains. The vintage home has been modernized while retaining its antique charm. Hang out in the backyard in the summer, and help yourself to veggies from the garden. Book a stay here!
This spacious 2-bedroom home offers spectacular views of Mount Whitney and other Sierra Nevada peaks. Just a 10-minute drive into town, the home has a well-equipped kitchen and well-appointed interiors. Outside, you will find a one-acre garden with mature trees and places from which to enjoy the views. Book a stay here!
This beautiful home has a spectacular setting, with unobstructed views of the Sierra Nevada, the Alabama Hills, and the Inyo Mountains. The open living room has a fireplace and Sierra views. There is a full kitchen and laundry. The master bedroom has views of the Alabama Hills. Lots of books about the region, and DVDs of movies filmed in the area! Book a stay here!
Hotels in Lone Pine CA
The Dow Villa Motel offers spacious rooms that are rated by visitors as clean and comfortable. The motel offers free parking and high speed wifi, and has an outdoor pool and hot tub. It is located close to restaurants and shops in town. Some rooms feature mountain views. Book a stay here!
Quality Inn is located about two miles from the center of town and features views of the Sierra Nevada mountains and a heated outdoor seasonal pool. Rooms are spacious and comfortably furnished. Book a stay here!
Campgrounds in Lone Pine, CA
Lone Pine also has lots of campgrounds and RV parks. Some campgrounds are run by Inyo County, while others are privately owned. Dispersed camping is also allowed in places like the Alabama Hills and Cottonwood Lakes.
Lone Pine Campground is located along Whitney Portal Road, and offers both RV and tent camping. Tuttle Creek Campground has well-spaced sites offering fabulous views. Both campgrounds are located just a few miles from town.
The Lone Pine area is a fabulous place to camp, with many campgrounds and dispersed camping areas located in extremely scenic spots. An RV trip to the area is on our bucket list!
If you do not have an RV, but want to rent one, check out Outdoorsy: they do short term rentals of many types of RVs.
Where to Eat in Lone Pine, California
Alabama Hills Cafe & Bakery is a great place for breakfast and lunch. Located just off the main street in town, the cafe opens early, perfect for an early breakfast before heading out on adventures.
You'll get hearty scrambles and pancakes, as well as burritos and sandwiches. Their lunch offerings of sandwiches, wraps, and burgers are awesome, and their pies and simply delicious!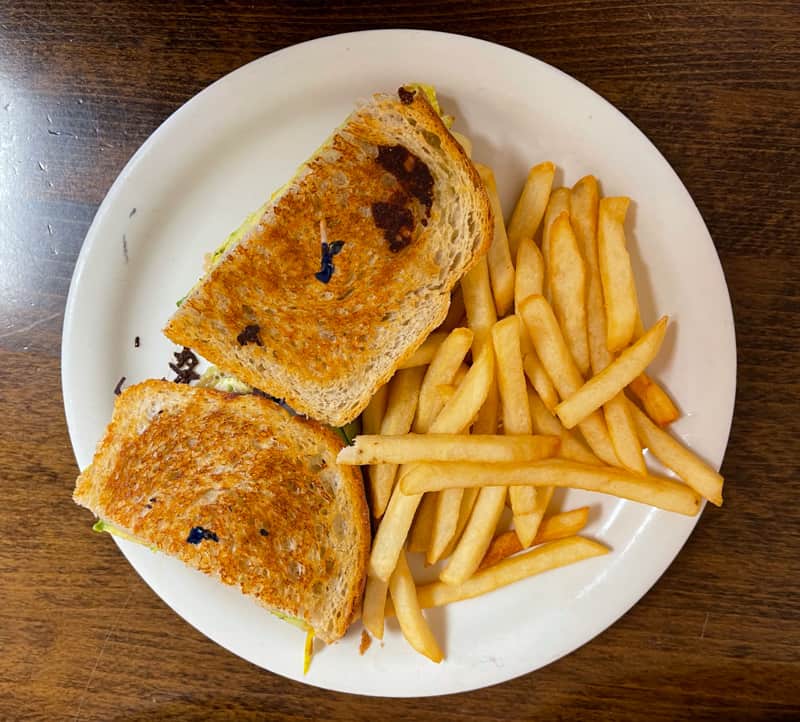 Seasons Restaurant is also located in the heart of town, and offers upscale American fare: pasra, seafood, and steak. You will get a variety of salads and sandwiches here as well. We found some good vegetarian fare here as well.
Castro's Taco Stand is a great option if you enjoy Mexican cuisine. nachos, tacos, and burritos, well-made and flavorful. This food truck is one of the most popular places to eat in Lone Pine!
Merry Go Around offers Chinese and American cuisine. We've only had the Chinese here. Their Orange Peel Tofu and Hot & Spicy Chicken are very good!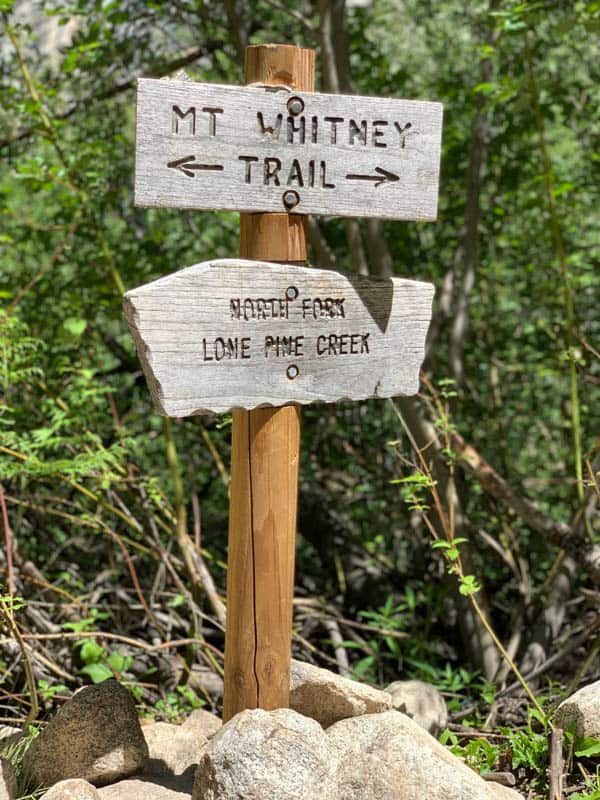 The Best Time to Visit Lone Pine
Lone Pine is a year-round destination. In the winter, daytime temperatures in Lone Pine are in the mid 50s to low 60s, but nights are cold, so bring layers.
Winter is a great time to explore the Alabama Hills and Death Valley, as well as sights around Lone Pine. Mountain roads are generally snow-bound in winter, and closed to traffic.
Once the snow has gone from the mountains, you can go climbing, hiking, and fishing in the Sierra Nevada high elevation wildernesses.
You can also drive scenic mountain roads and enjoy thawed lakes from late spring to early fall. Wildflowers create bright color in late spring and summer and some blooms continue into the fall.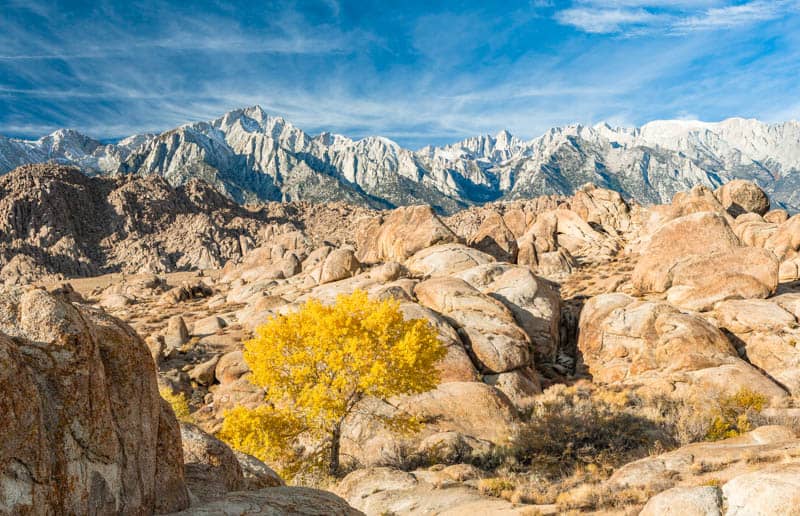 Fall brings beautiful leaf colors and is one of the best times to visit Lone Pine, Inyo County, and the Eastern Sierra in general. Fall drives in the region are spectacular, so give yourself plenty of time to explore the back roads and around the lakes.
Aspens, cottonwoods, and willows in the Eastern Sierra turn shades of yellow, orange, red, and burgundy, creating a kaleidoscope of color that is rivaled in the US only by New England.
*****
Did you find this article informative? Pin it for later reference!