Considering a visit to Mendocino, on the wild and rugged north coast of California? The little village has a spectacular setting on a bluff overlooking the Pacific, and you can choose from a variety of fun things to do in Mendocino and in the beautiful state parks that surround it.
Mendocino is known for its quaint saltbox houses, charming bed and breakfast inns, eateries that serve up fresh seafood-forward fare, and wineries. The stunning surrounds make Mendocino the perfect place to slow down and enjoy the beauty.
The picturesque little village will remind you of the New England coast! Surrounding Mendocino are scenic coastal bluffs to hike, redwood forests to explore, and numerous photo spots to capture.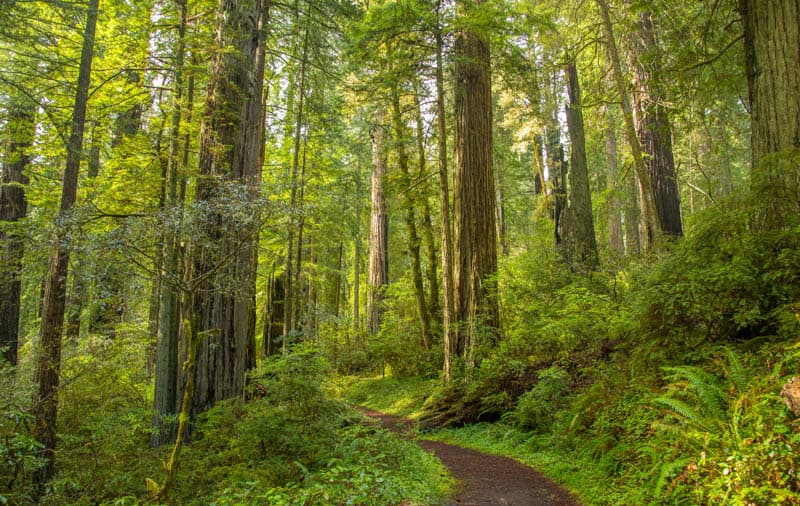 Some links on this page may be affiliate links. If you click an affiliate link and make a purchase, we may receive a small commission, at no extra cost to you. For more details, refer to our disclosure.
And while there is a lot to see and do in and around Mendocino, if you want to visit just to relax, that's an option too.
While its ambience invites you to slow down and enjoy the beauty of your surroundings, Mendocino also makes for one of the most marvelous weekend getaways from San Francisco or the SF Bay Area.
In this article, we describe all the best things to do in Mendocino, and its surrounds. We also offer suggestions for where to stay and where to eat in Mendocino.

Things to Do in Mendocino
Hike Russian Gulch State Park
Sometimes compared to beautiful Point Lobos State Park on the Big Sur Coast because of its long coastline, Russian Gulch State Park is located just north of Mendocino.
Exploring this beautiful park should be at the top of your itinerary for Mendocino if you love the outdoors.
Here you will find the photogenic (and historic!) Russian Gulch Bridge, similar in design to the Bixby Bridge in Big Sur.
The moderately strenuous Fern Canyon and Falls Loop Trail combines a view of a magnificent 36-foot waterfall with a variety of habitats, including redwoods, and rhododendrons in the spring. If you have the time, this is the trail to hike in Russian Gulch State Park.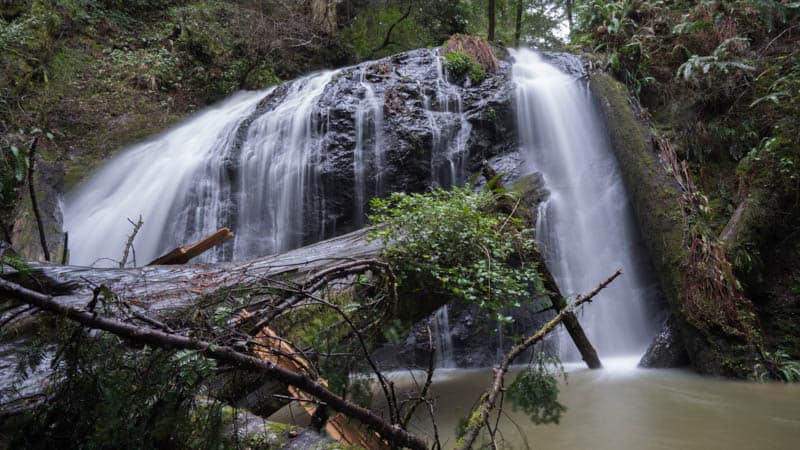 Good to know: If Fern Canyon Trail is closed, the North Trail is the alternative route to the waterfall. It is a longer and more difficult route, so allow more time.
The shorter, easier Headlands Trail features gorgeous views of the Pacific Ocean and leads to the Devil's Punchbowl Overlook. During high tide, the sea cave is a churning basin of frothy water.
At water level, you will find beaches and coves to explore, and tidepools where you can look for a myriad of tiny sea creatures. Other than hiking, you can fish, go biking or horseback riding, dive, or kayak.
Enjoy a variety of wildflowers in the spring. The displays on the headlands can be spectacular in a good bloom year.
Stroll downtown Mendocino
One of the most picturesque towns in California, the Victorian Village of Mendocino is perched on a bluff on the ocean side of California Highway 1.
In the front, it is surrounded on three sides by Mendocino Headlands State Park. In the back are Big River and redwoods.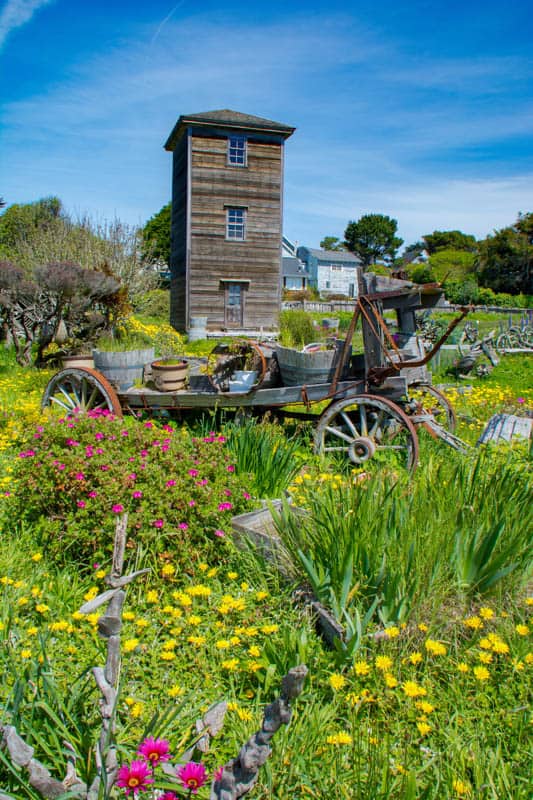 We can't imagine a more picture-perfect location, can you?
The little town is very strollworthy, with beautiful Victorian architecture to admire. Streets are lined with one-of-a-kind boutique shops and art galleries that you will find irresistible.
Some of our favorite stores:
Gallery Bookshop, housed in the historic Jarvis-Nichols Building, for reads relevant to local history and life, and gift items and souvenirs made by local artists.
Highlights Gallery, located in a restored building overlooking the ocean. The light and bright space contains beautiful works of art, from handmade furniture to wall art, sculptures, jewelry, and gifts. Many works are by Northern California artists.
Village Toy Store, with old-fashioned toys like wooden blocks, trains, puzzles, and puppets. We spent a good couple of hours here, without kids! Kids will have a blast exploring this quaint shop.
Mendocino Jams & Preserves, simply yum. We went home with several types of preserves, their special Mendocino mustard, and their Praline-Pecan Sauce. The storefront is very charming too!
Prentice Gallery features works by local artists. From paintings and sculptures to ceramics and photographs, you will find a good collection of art to browse here.
Explore Mendocino Headlands State Park
Spread out in front of Mendocino Village, Mendocino Headlands State Park is a must-stroll for its gorgeous water views.
There are miles of easy trails along the bluffs, allowing for magnificent photo ops of the ocean and the sea caves and arches along the coastline.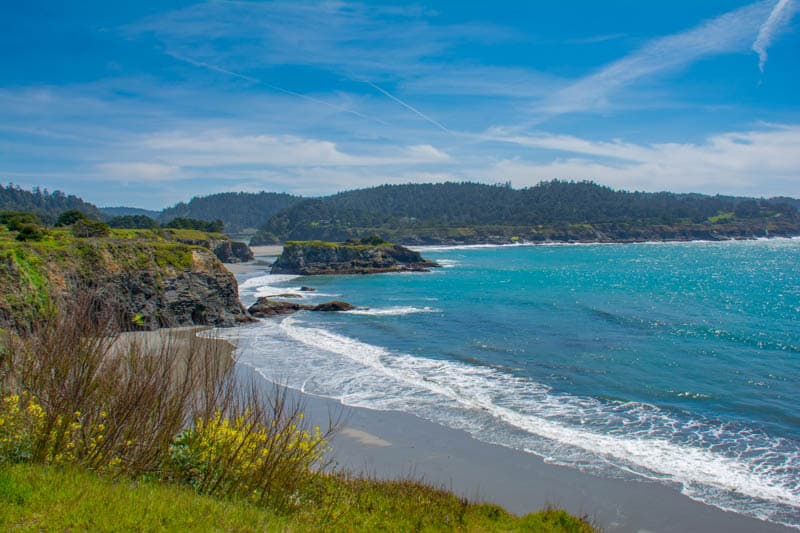 Big River Beach can be accessed from a cliff trail and steps that go down to the sand, or you can just drive up to it.
It is the most popular beach along this stretch of coast, but still blissfully uncrowded for the most part. The beach is ever changing, reshaped by the river and the ocean.
The wide sandy Big River Beach is great for sunbathing or walking. Bring a blanket and a picnic meal and spend some time watching the waves and the sea birds! Explore the many sea caves at low tide.
Some visitors enjoy splashing in the shallow waves at Big River Beach, but always stay alert for large sneaker waves if you decide to enter the water.
Good to know: Bluffs along the Mendocino Coast can be fragile due to erosion and may give way under your weight. Stay well away from bluff or cliff edges at all parks in the area or at overlooks along the coast, and remain on designated trails.
Step into the Ford House Museum
Ford House Museum is a museum that also serves as the visitor center. The historic house was built in 1854 by Jerome Ford, the superintendent of the first sawmill in Mendocino, for himself and his bride Martha.
Inside you will find a scale model of Mendocino as it was in 1890, built by a local craftsman, Len Peterson. You can view videos on a number of topics, and browse the exhibits, which include historical photos and other artifacts that document the town's past.
If a docent-led tour or talk is being offered when you visit, join to learn a great deal about local history, the natural features of the region, and flora and fauna. Contact staff in advance if you are interested in a tour.
Stop by the Mendocino Bay Viewpoint
Want that picture-perfect photo of the village of Mendocino? Stop at the Mendocino Bay Viewpoint, accessed via a short trail that leads to the bluffs just south of the mouth of the Big River, for a great view of the village from across the bay.
There's a bench here to sit and relax for a bit. Bring a picnic meal to enjoy while you appreciate the view. Look for whales in the water and birds. If you enjoy plein-air painting, this is the view in Mendocino to capture!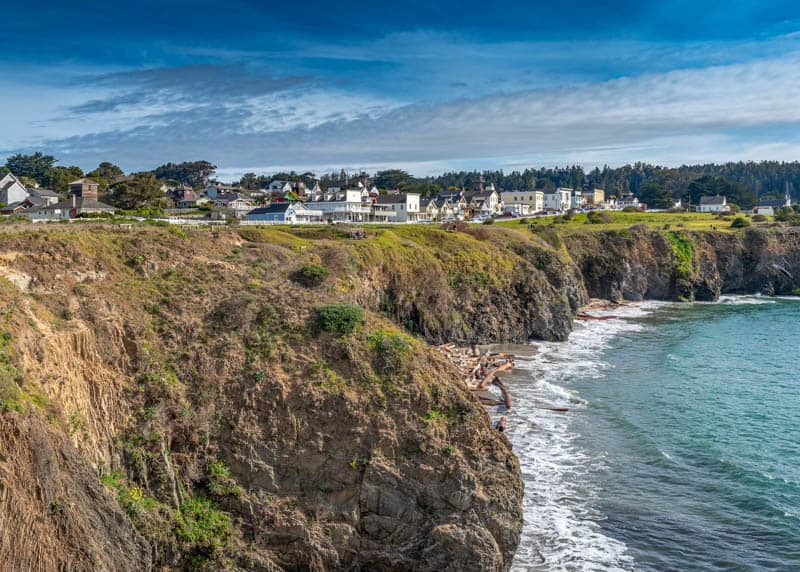 Hike or bike Big River Haul Road
Big River Haul Road runs for ten miles from Big River Beach to Mendocino Woodlands State Park. Hike or bike the unpaved road, and enjoy picking blackberries along the route in summer! You can also go horseback riding on this beautiful trail.
The scenery along the haul road is beautiful, with lots of wildflowers in season and many birds to observe, from kingfishers to cormorants and blue herons. You will likely see otters playing in the water, and harbor seals at the mouth of the river.
With towering redwoods and Douglas firs, historic structures from the old railroad, and interpretive plaques to read, walking Big River Trail is one of the best things to do in Mendocino.
The first seven miles from the beach are easy, with the remainder moderate.
Visit Jug Handle State Natural Reserve
Our favorite state park near Mendocino, Jug Handle State Natural Reserve is home to many unusual flora, including a pygmy forest!
The park is located about 5 miles north of the village. If you enjoy plants, you must not miss this park when you visit Mendocino.
Hike the 5-mile out and back Ecological Staircase Trail, which takes you up from the bluffs and through redwoods along a series of three terraces into the pygmy forest, where the stunted trees are actually very old.
You will see Bolander pine, dwarf manzanita, and pygmy cypress, among other species of plants.
If you have limited time, you can just walk part of the trail along the headlands, for spectacular ocean views. There is a staircase that leads down to the beach, where you can walk at low tide.
Swimming is not recommended since the waves are rough here. If you bring a picnic lunch, there are tables by the parking area.
Kayak Big River
Scenic Big River makes for delightful exploration by kayak, canoe, or paddleboard. The estuary is about 8 miles long, and a calm class one waterway.
Catch a Canoe and Bicycles Too in Mendocino offers a variety of water craft rentals.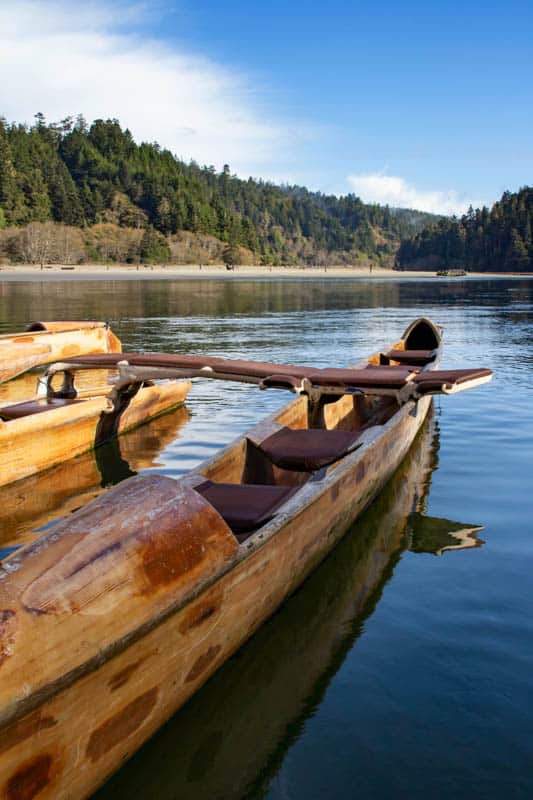 Try a redwood outrigger canoe, which is noted for its stability. They are available in different sizes, and handcrafted from wood repurposed from old redwood barns. A uniquely Mendocino way to enjoy the river!
You can also opt for a guided cruise during the summer: we loved the cruise because we could focus on the scenery and on taking photos of the birds and wildlife along the way! You will likely see harbor seals, otters, and lots of birds.
Visit the Cute Point Cabrillo Light Station
The lighthouses along the California coast are beautiful photo ops, with usually spectacular setting, and very interesting to tour. We've visited many of them, and Point Cabrillo Light Station is one of the most beautiful we've seen so far.
The Point Cabrillo Light Station State Historic Park is located just three miles north of Mendocino Village, and includes the lighthouse and three lightkeepers' houses and outbuildings.
You can do a self-guided tour of the bottom floor of the lighthouse and the First Assistant Lightkeeper's Cottage, now a museum. The tower can only be visited on a few days a year on a guided tour.
The grounds of the light station are worth exploring as well. Look for whales in season, dolphins, porpoises, seals, sea lions, and a variety of birds as you walk the ocean-view trails.
View Frolic Cove, the site of the wreck of the clipper brig Frolic in the mid 19th century, which caused the light station to be built.
Good to know: You can stay in the Head Lightkeeper's House or the Assistant Lightkeeper's House when you visit Mendocino! There are also two cute cottages available for rent.
Enjoy Van Damme State Park
There are a wealth of gorgeous state parks around Mendocino to explore, and Van Damme State Park is yet another such park.
Van Damme State Park has an easy-to-access pygmy forest! The trail is only 0.25-mile, a fully accessible boardwalk with interpretive plaques. Keep an eye out for birds!
The longer hike to Fern Canyon allows you to see many of the park's habitats, from the stunted trees in the pygmy forest to the taller trees and lush green understory along Little River at the bottom of the canyon.
There are other hiking trails in the park, and some biking trails as well.
Van Damme Beach is a popular kayaking spot. At the southern end of the beach, you will find good tidepooling at low tide.
Kayak Mendocino offers guided kayak tours of the sea caves and tide pools at Van Damme State Park. Tours are offered year round.
Go Wine Tasting
While you can taste local wines at village restaurants, you may also want to plan a wine tasting tour of nearby wineries in Anderson Valley while you are in Mendocino, or on your way in from San Francisco or on the trip back.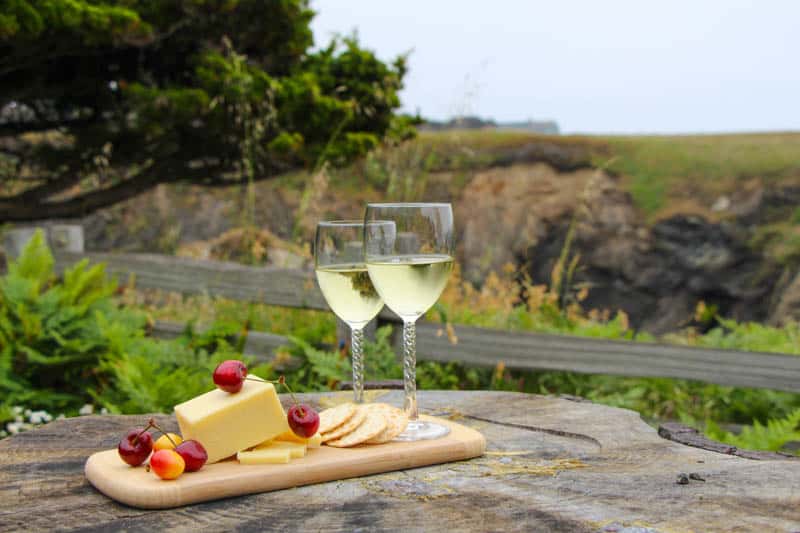 Mendocino is known for its organic wine grapes, and especially known for its chardonnay and pinot noir.
At Roederer Estate, you can sample sparkling wines on the outside patio or in the tasting room, by appointment. You can even sample the magnum!
Lula Cellars is located not too far from town, and they offer tastings of their many wine varietals, all made from Mendocino-grown grapes, with advance reservations.
Handley Cellars is also located close to town, and they offer both walk-in tastings and experiences by appointment.
Stroll Caspar Headlands State Beach
Caspar Headlands State Beach is located just four miles north of Mendocino Village. The undeveloped coastline is wildly beautiful. Visit to walk and enjoy the gorgeous views. In season, bring your binoculars and look for migrating gray whales in the water.
The sandy beach is edged by a creek on either side: Doyle Creek and Caspar Creek. We would not advise swimming here: the water is cold and you may encounter rip tides. Bring a picnic to enjoy.
North of the beach, there are trails through the coastal headlands you can explore. South of the beach, Caspar Headlands State Natural Reserve is tiny but very scenic. In season, you will see lots of wildflowers, and the views are outstanding.
Tour the Kelley House Museum
The Kelley House Museum is a fascinating place to browse if you enjoy learning about the history of the places you visit. Dedicated to preserving the history of the Mendocino Coast, the museum has several interesting artifacts and photos on display.
You will love the charming photos that show scenes from yesteryear Mendocino, newspaper clippings about logging operations in the area, and documentation of efforts by locals to stop the killing of whales off the Mendocino Coast.
The museum also organizes walking tours of the historic part of town, and they are super fun and informative. If one is being offered when you visit, join! The town of Mendocino is a National Historic Landmark and the tour is a great way to learn more about it.
Visit the Mendocino Art Center
If you enjoy art, then definitely set aside some time to visit the Mendocino Art Center. Located on a bluff overlooking the ocean, the Mendocino Art Center exhibits the work of local artists and also offers a multitude of classes.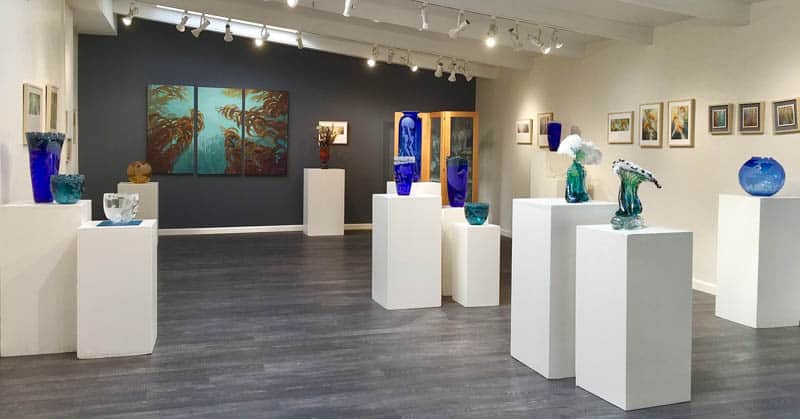 There are several galleries at the campus that you can tour. Admire paintings, ceramics, photographs, sketches, and sculptures by many Northern California artists, and browse the store for a superb souvenir to take home. You may even want to sign up for a class!
Visit the Temple of Kwan Tai
The Temple of Kwan Tai is dedicated to the Chinese god of war. The Mendocino Coast was home to a significant Chinese community in the 19th century, and there was even a Chinatown in Mendocino.
The temple, originally built in the late 19th century, was restored in 2001.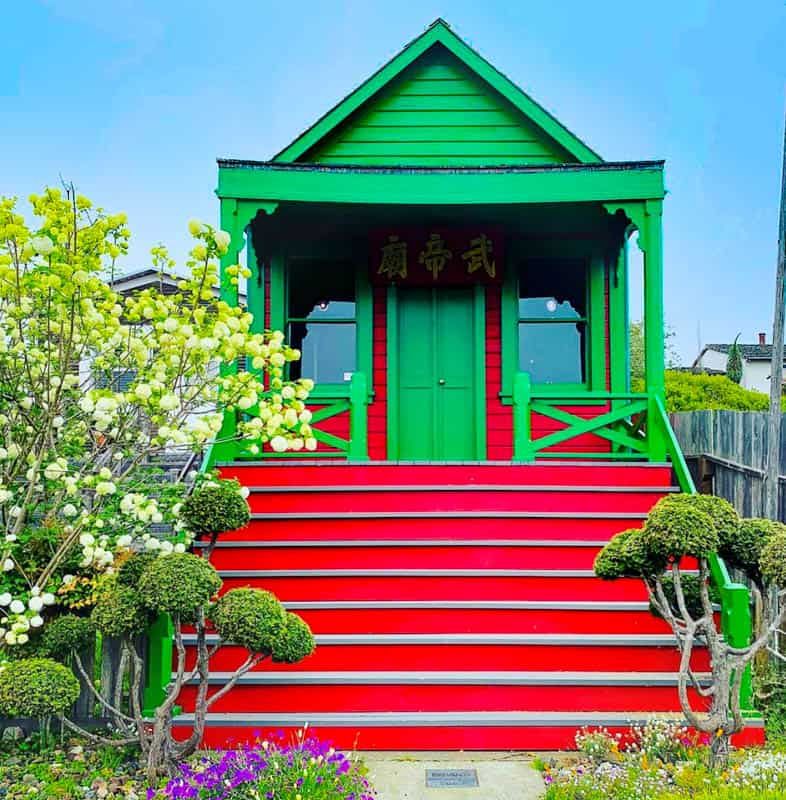 A California Historic Landmark, the temple is thought to be the first Chinese Joss House in rural California. The original fabric with the image of Kwan Tai was recently damaged, but you can still see an image of the deity, along with other ceremonial objects.
The temple is open for visits, and tours are offered by appointment.
Go Whale Watching (in Season)
If you visit Mendocino between the months of November and April, consider a whale-watching tour.
Each year, California gray whales migrate south in the winter to the warm waters of Baja California to breed. In the spring, they make the journey north to their feeding grounds in the Arctic Seas.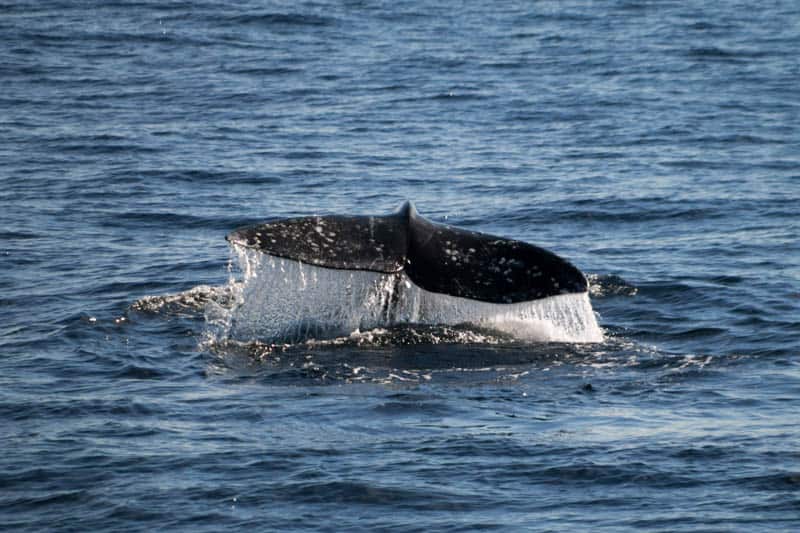 As they pass the Mendocino Coast on their way south or north, you have a great opportunity to see these giant mammals spout, fluke, or even breach!
While you can try to spot them from shore, a whale-watching tour is an enjoyable way to look for them. Mendocino even has a whale festival in March!
Humpback whales can be seen off the Mendocino coast from April through November. They tend to be farther out in the water but you can occasionally spot one from the shore.
Visit Mendocino Farmers Market (on Friday afternoons)
Mendocino hosts a weekly farmers market on Friday afternoons from May to November. If you are visiting from out of state, you will love browsing a California farmers' market. We live here, but we never pass up on the chance to browse a farmers' market!
Along with lots of fresh produce, you may find seasonal fruit, nuts, oils, cheeses, and other prepared foods. If you haven't tasted fruit from a farmers' market, pick up some: you will be amazed by the burst of flavor and taste that explodes in your mouth.
Things to Do Near Mendocino
Although Mendocino Village and its immediate surroundings have a lot to keep you engaged, there is more to discover around Mendocino as well. If you plan to visit for a few days, you won't want for choices on things to do!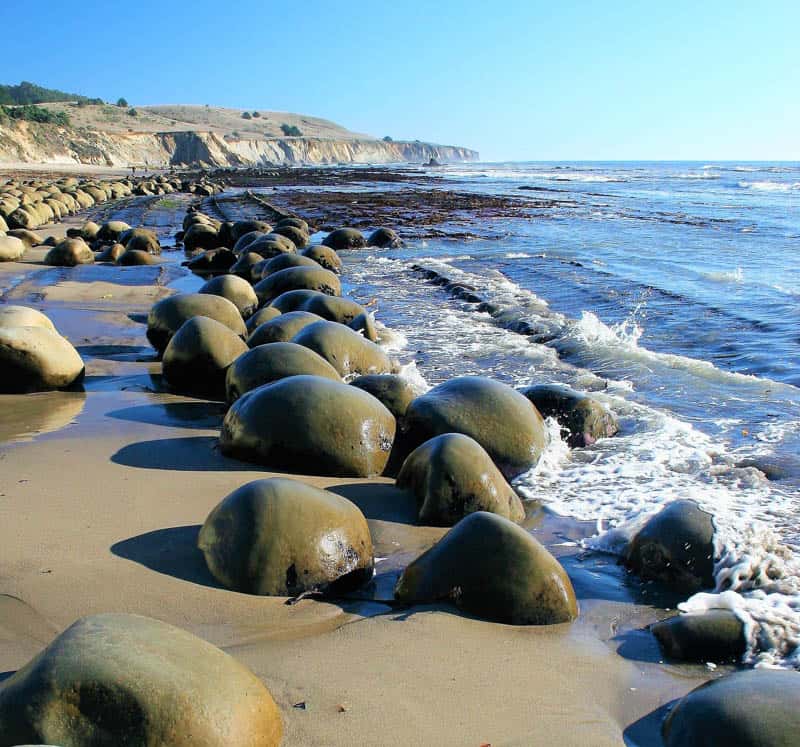 North of Mendocino is the little town of Fort Bragg, famous for its glass beaches.
In Leggett, in the northern part of Mendocino County, the Chandelier Tree is a giant drive-through sequoia that will wow you.
And just south of Fort Bragg, the Mendocino Coast Botanical Gardens are a must-visit for the masses of flowers in season and the beautiful ocean-view trails. They are one of the best botanical gardens in California.
In the spring, you will be treated to a magnificent rhododendron bloom, and in the fall, a dazzling display of dahlias will wow you.
Still further north is the Sinkyone Wilderness State Park, the southern edge of the wild Lost Coast. You can also drive up to Leggett, the official northern endpoint of California Highway 1.
South of Mendocino, Point Arena Lighthouse is gorgeous, and a must-visit.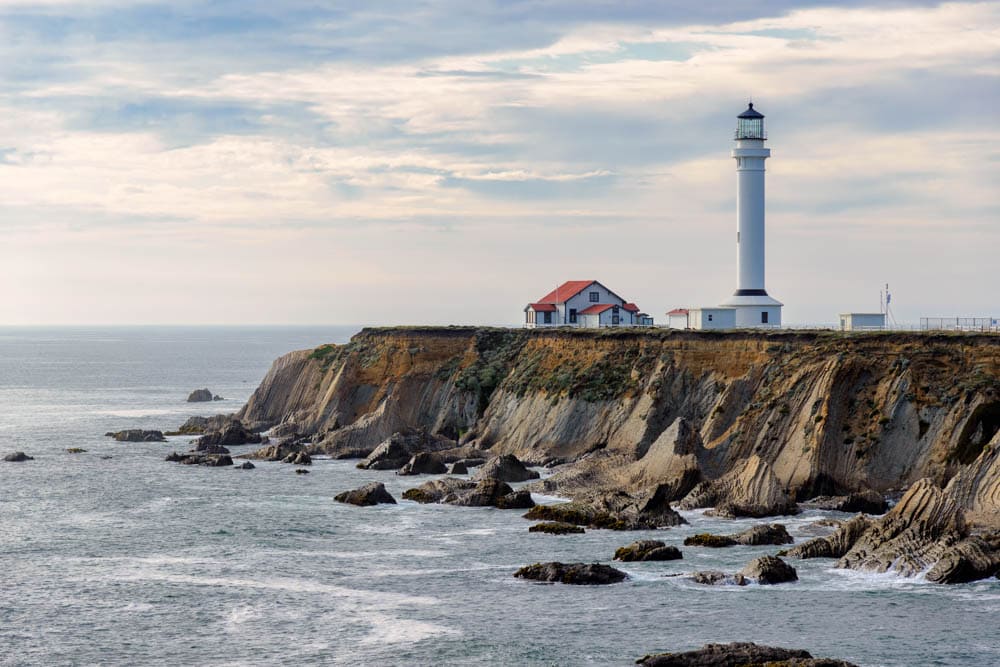 Also be sure to stop at Bowling Ball Beach, just south of the lighthouse. The row upon row of spherical boulders, called "concretions," make for a great photo!
Even further south, the Sonoma Coast makes for a great drive.
To the southeast is Anderson Valley, the charming wine country of Mendocino County. Drive Highway 128 and explore the wineries along the scenic route! Some of them are small and family-owned, and you may even be able to chat with the vintner as you sip.
Hendy Woods State Park and Navarro River Redwoods State Park both have beautiful redwood groves for walks.
Getting to Mendocino, CA
Most visitors arrive in Mendocino by road. Mendocino is located on California Highway 1, and the drive up the coast from San Francisco, or down the coast from Oregon, is beautiful.
The drive along the coast takes about five hours from San Francisco, but the scenery is stunning all along the route.
The faster route from San Francisco via US 101 N and CA 128 takes about 3 hours and 15 minutes, and passes through Anderson Valley, Mendocino County's beautiful wine country.
It is worthwhile going up via the coast and returning via wine country, or the other way around, so you experience both beautiful routes!
Where to Stay in Mendocino, CA
Hotels in Mendocino
Little River Inn is located just a 5-minute drive from Mendocino. The highly-rated property is located by the water, so opt for a room with an ocean view! Some rooms are luxurious, with fireplaces, steam showers, and Jacuzzis, but there are more budget-friendly options as well. Book a stay here!
The Headlands Inn Bed and Breakfast is located in the heart of Mendocino Village. The charming Victorian saltbox offers individually-styled guest rooms with feather beds, down duvets, and Victorian-style furniture. Some rooms feature fireplaces and ocean views. Book a stay here!
Brewery Gulch Inn is located about a mile from Mendocino Village. Some rooms have ocean views. All rooms include fireplaces. The breakfast is highly rated and the property offers a complimentary wine and appetizer tasting in the early evening.
Book a stay here!
Vacation Rentals in Mendocino, CA
This cozy cottage is located in the heart of Mendocino, close to shopping and dining. It makes for the perfect couples getaway. The studio cottage features a king-sized bed, private porch, and lovely garden.
Book a stay here!
This oceanfront apartment is located upstairs, along Main Street in Mendocino. The contemporary 2-bedroom, one bath unit can sleep up to 6 guests. It has a full kitchen and a private deck overlooking the bay and the ocean.
Book a stay here!
Planning a longer visit? Try this unique Mendocino Village water tower house with ocean and garden views! The house has 800 square feet of space, with 2 bedrooms and one bathroom, and sleeps up to 5 guests. The house is walking distance to shops and restaurants.
Book a stay here!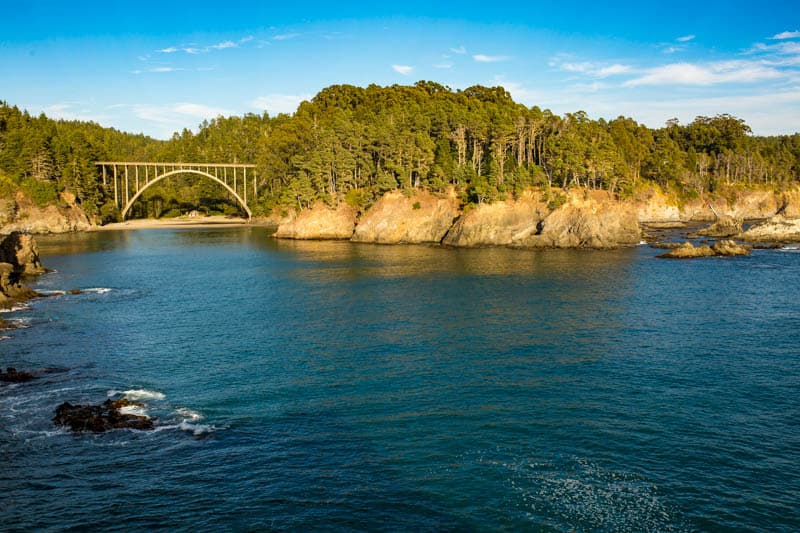 Where to Eat in Mendocino
Cafe Beaujolais is housed in a charming little restored Victorian farmhouse, and serves decadent French and international fare. Try the chicken marsala: the mushroom sauce is delicious! Or the smash burger, or the duck. Their desserts are also yum. They have outside seating: the garden is beautiful.
Trillium Cafe is also housed in a restored old house. The outside tables are scattered about in a gorgeous garden. The menu is varied, with steak, seafood, and several vegetarian options. We loved their onion and goat cheese tart starter!
Wild Fish is located along California Highway 1 in Little River, a few miles south of Mendocino Village. It's a small space, so reserve ahead, especially for dinner. The views, and the food, are both to-die-for good. Seafood is all they offer, but the ingredients are fresh and the preparations sublime.
Patterson's Pub offers pub eats, with sandwiches, burgers, and the like. We just had the Killer Nachos here, because we had read they were good: and they were indeed awesome. They have a variety of beers on tap, including some from local breweries. There is outside seating on the garden terrace.
MacCallum House Restaurant is a fine dining destination, where you will find both indoor and outdoor seating. Reserve in advance for dinner. Featuring seasonal and local ingredients, the restaurant offers a varied menu with steak, duck, seafood, and lamb, plus vegetarian options. They have a tasting menu as well, with a vegetarian option.
If you enjoy Italian food, you'll want to book a table at Luna Trattoria. Not only is the ambience beautiful (get an outside table!), the food is to-die-for good. The calamari is fresh and the pastas delightful.
The Best Time to Visit Mendocino, CA
You can visit Mendocino any time of the year! Since Mendocino Village is located on the coast, temperatures stay pleasant but somewhat cool through the year. Daytime highs tend to be in the 60s in the summer, and in the 50s in the winter.
Spring brings beautiful wildflowers and green hills and headlands. Winters can see some rain in wet years, but lots of sun and fog-free bright days as well.
Summers can be foggy, but the fog generally burns off by midday. Fall may bring the warmest temperatures of the year during the California Indian summer.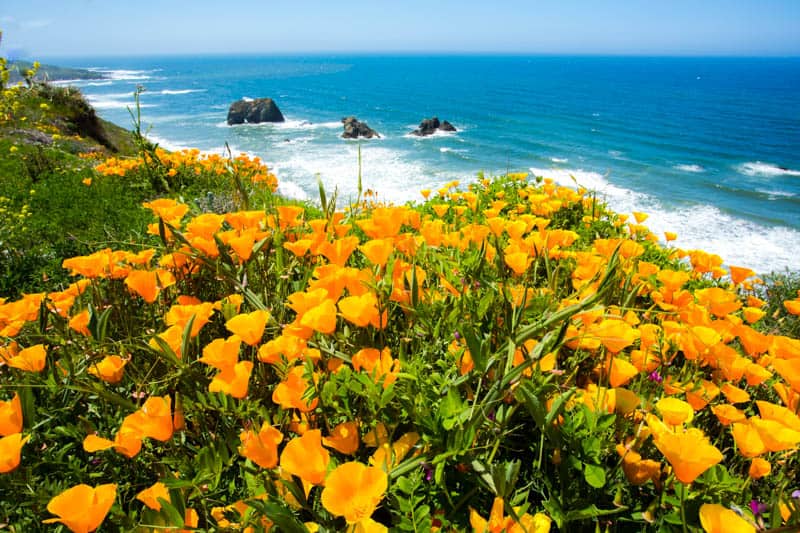 Mendocino Village hosts a whale fin the first weekend in March, a film festival in May, a music festival in July, and a wine and mushroom festival in November.
In addition, there are other festivals in Mendocino County through the year, so check to see what's happening when you visit!
Bring layers, no matter when you visit, and throw in some rain gear if you plan to visit in the winter.
*****
Did you find this article informative? Pin it for later reference!