Considering a trip to Monterey, CA? Whether it's just the city you plan to visit, or the Monterey Peninsula as a whole, you will find a wealth of recreational opportunities to enjoy.
The many things to do in Monterey, California, are diverse enough that there's something here for every type of traveler.
With one of the richest marine environments on the planet, Monterey is well worth visiting for its whale watching, which you can do year round, and for the Monterey Bay Aquarium, which is fun for kids and adults alike. Monterey also has an impressive historic park and scenic walking trails.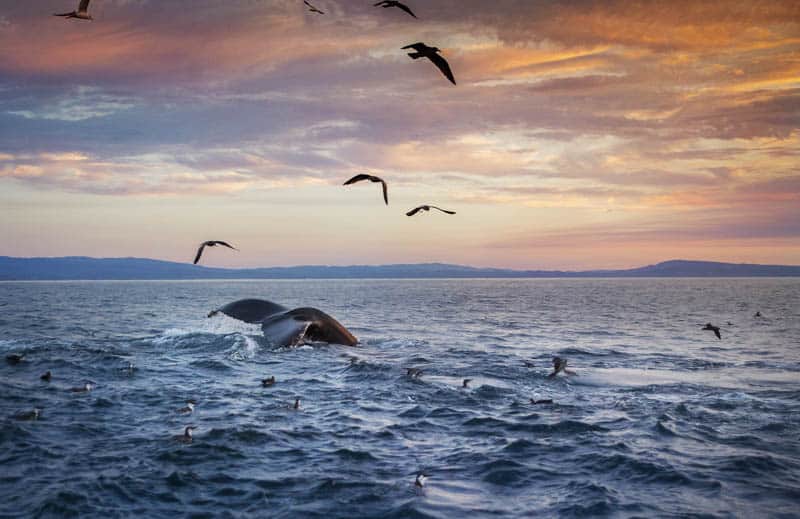 Located along the southern edge of super scenic Monterey Bay, Monterey is one of the top vacation spots on the California Central Coast.
There are so many fun things to do in Monterey, and around Monterey, that you can plan a long vacation in the area: a week or more will fly by as you explore Monterey and the charming neighboring towns.
But Monterey Bay, with its relaxed vibe, is also the ideal California weekend getaway, or even a fun day trip from San Francisco or the SF Bay Area.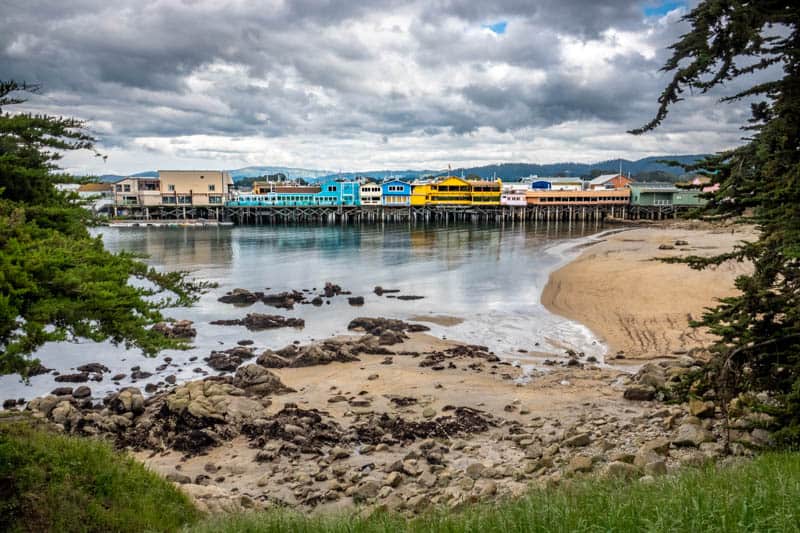 Things to Do in Monterey
Go on a Whale Watching Tour in Monterey Bay
Monterey is without a doubt one of the best places in the world to go whale watching.
The Monterey Submarine Canyon allows for whales and dolphins to be seen close to shore, even with the naked eye. Monterey Bay is sometimes called "the Serengeti of marine life."
Gray whales pass by Monterey Bay as they make their way south from the Arctic seas to the warm waters of Baja California in November-December, to breed.
In March-April, they make the return trek north with their young calves.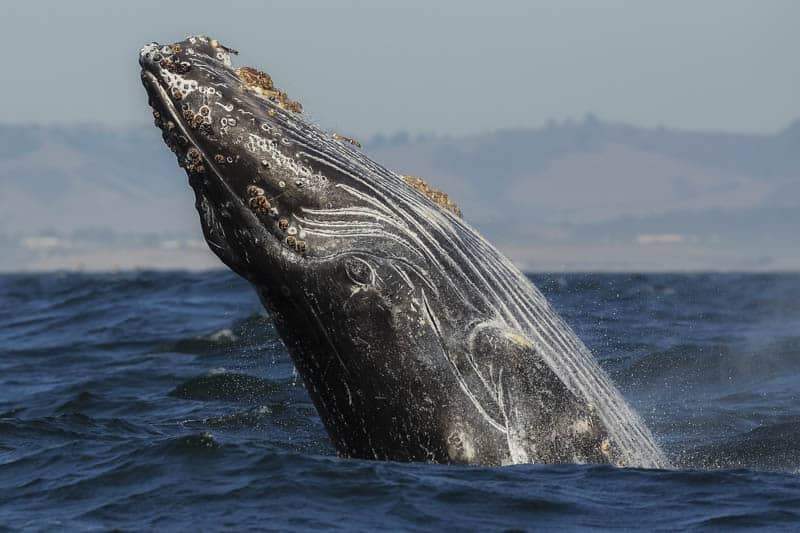 They reportedly pass by closer to shore on their way south, so that's when you are more likely to spot them from shore. Spouts are more visible on bright calm days.
But for the absolute best experience, book a whale watching tour. On one tour a couple of years ago, we saw almost 50 whales, fluking, spouting, and breaching. It was the most marvelous sight.
While sightings aren't guaranteed, you are more likely than not to see whales and other marine life.
Whale watching trips of the bay from Monterey are offered year round.
Depending on the time of year, you may see gray whales, humpback whales, blue whales, or killer whales. Fin whales and minke whales are less common.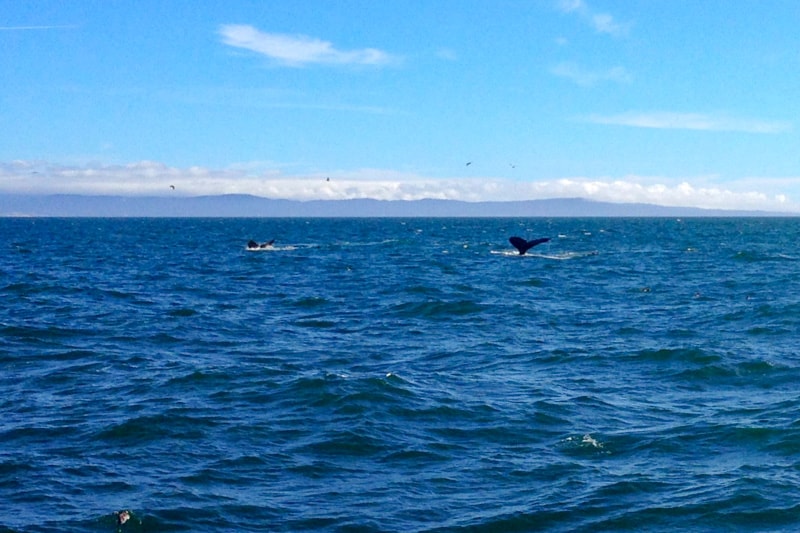 You may also see dolphins, porpoises, and a variety of sea birds on your tour. On a good weather day, the scenery is stunning as well.
A tour to look for marine life is definitely one of the most fun things to do in Monterey, for kids and adults alike!
This highly-rated half-day whale watching tour departs from Fisherman's Wharf and offers 3.5 hours of cruising in Monterey Bay to look for whales, dolphins, sea lions, and birds. On board, a naturalist or marine biologist offers commentary. Book this tour now!
You can also opt for this sunset whale watch tour, if you prefer an evening excursion.
While you are as likely to see whales in Monterey Bay in the afternoon as in the morning, the waters are likely to be calmer in the morning. So if you want a smoother ride, opt for a morning tour!
Good to know: It can be very cool and breezy on the water, so remember to being a light warm jacket or a windcheater, no matter the time of year.
Visit the Monterey Bay Aquarium in Monterey, CA
The world-famous Monterey Bay Aquarium is housed in a structure on Cannery Row, by the ocean. Visiting the aquarium is one of the most popular things to do in Monterey, for both kids and adults.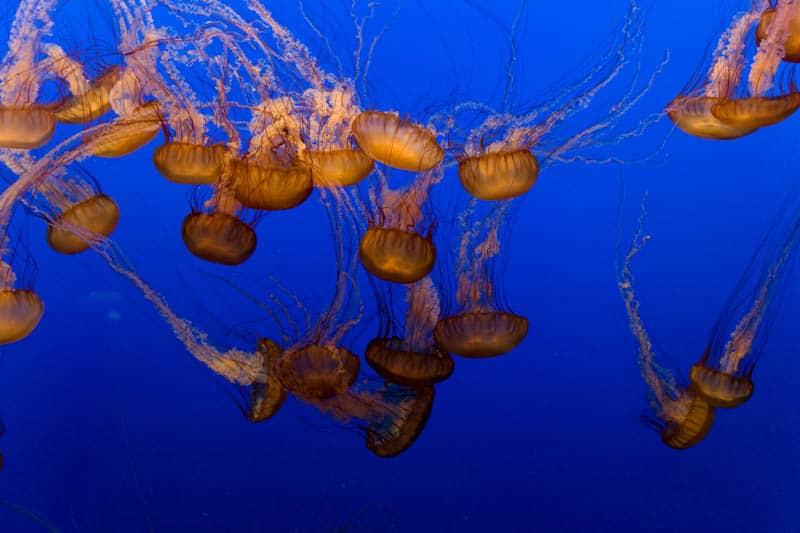 At the aquarium, you can observe a variety of marine habitats, from kelp forests to the open sea and the rocky shores. There are some areas especially designed for kids.
From sharks and sea bass to the giant Pacific octopus and the colorful inhabitants of tide pools, you can view lots of interesting creatures. The jellyfish exhibit is especially striking!
We enjoy the aviary, which features many local birds, including the endangered western snowy plover. Oystercatchers, phalaropes, stilts, and curlews are some other birds you can see here. And of course, there is a penguin exhibit.
The outdoor deck is popular when it's warm outside. The viewing station is a great spot from which to look for otters in the water nearby, or whales out in the ocean.
There's an auditorium showing video presentations if you want to learn more.
In season, the aquarium does get crowded during the day, especially on weekends. The line does move fairly quickly though. But for a more relaxed experience, plan on visiting during the week if possible, and arrive early, at opening time.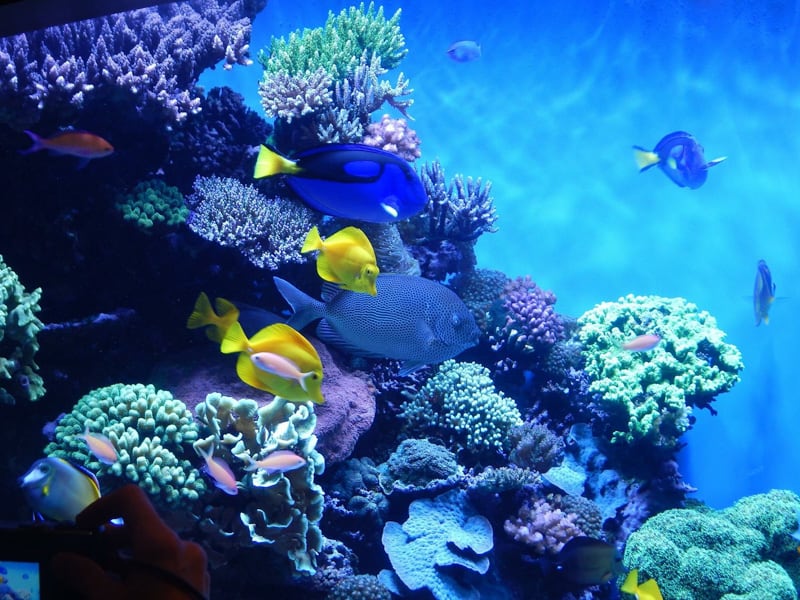 And allow plenty of time, because there's a lot to see and learn and admission isn't inexpensive. We suggest at least a couple of hours but preferably a morning or afternoon.
There's a cafe (no outside food or drinks are allowed), and three gift shops, well worth browsing.
The aquarium is, without question, one of the best places to visit in Monterey. Plan ahead and allow for enough time to enjoy the experience!
Kayak or SUP in Monterey Bay
If you are looking for an active way to explore the beautiful waters of Monterey Bay, consider kayaking or stand-up paddleboarding. The waters of Monterey Bay are sheltered and placid, making it a fun spot to paddle.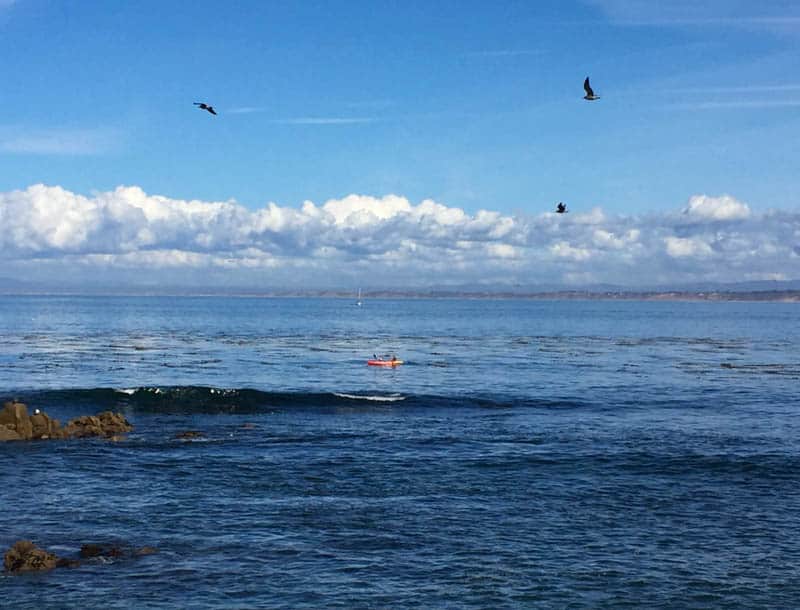 Rentals are available at several places in town. Monterey Bay Kayaks offers rentals both in the city of Monterey and at Elkhorn Slough in Moss Landing. They also offer guided tours.
Popular places to launch include Cannery Row in Monterey, Lovers Point Park in Pacific Grove, and Stillwater Cove in Carmel. You can join guided tours as well.
As you paddle through the Monterey Bay National Marine Sanctuary, look for otters frolicking in the kelp, harbor seals swimming in the water or lazing on rocks, and a variety of birds flying overhead or perched on rocks.
Don't forget to look into the water for fish, and admire the views of Cannery Row in Monterey from the water!
Kayaking the bay is one of the top Monterey activities visitors (and locals!) enjoy. With the abundant marine life and beautiful views, it's no surprise why!
Keep a safe distance from marine life as you paddle (about 100 feet away), and come in quick-drying clothing as you may get a little wet.
If you want to enjoy the water but in a more laid-back way, consider a sailing cruise!
Sail Monterey offers catamaran sailing cruises that take you on a tour of the harbor to look for otters and sea lions before getting out into the bay to enjoy fabulous views and to look for whales and dolphins.
Stroll Cannery Row, One of the Best Things to Do in Downtown Monterey
Today's Cannery Row is full of restaurants, shops, and hotels, but once it was the center of a large-scale sardine canning industry.
The setting for John Steinbeck's novel of the same name, Cannery Row used to be called Ocean View Avenue.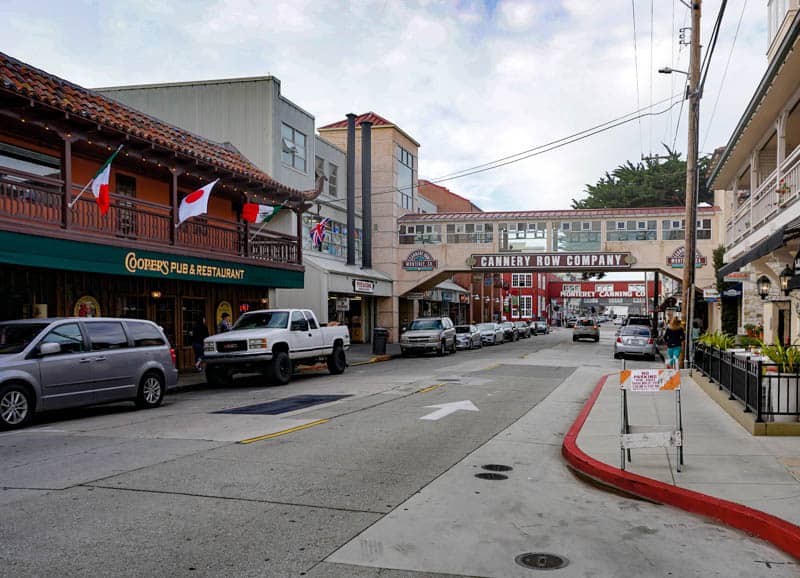 From 1908 until the end of World War II, except around the time of the Great Depression, canneries flourished along the waterfront here.
But after WWII, sardines mysteriously disappeared from Monterey Bay, causing canneries to close and the area to fall into ruin.
In the late 1960s, developers revived the area and made it a tourist draw, with a plethora of shopping, lodging, and dining.
Today the street is thriving once more, and a stroll along Cannery Row is a must for most visitors to Monterey.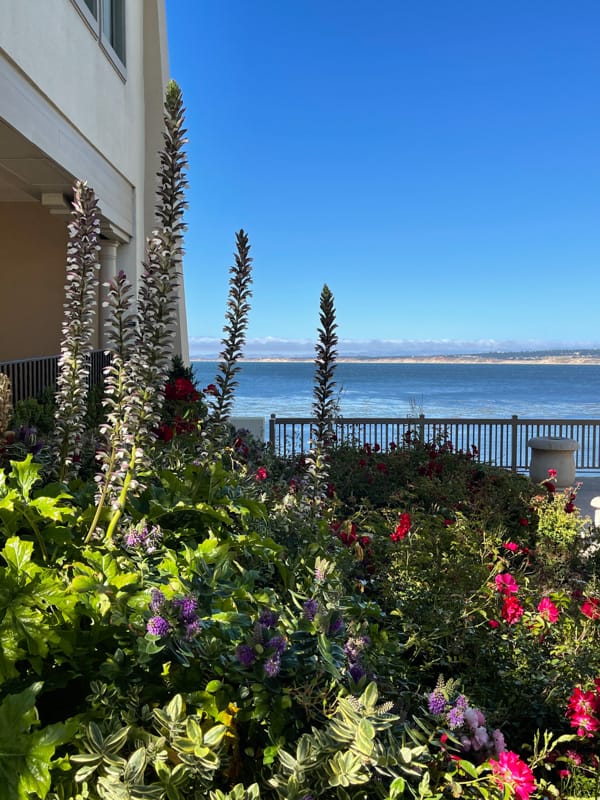 Look for wine tasting rooms, boutiques, small gardens, sculptures, fountains, and art galleries, as well as views of the bay in between buildings.
Yes, it's touristy, but strolling Cannery Row is a Monterey experience you won't want to miss.
Along the historic street, there are informative plaques that talk about the early history of Cannery Row and Monterey. There are places where you can access the water, at small beaches and coves.
Cannery Row is a fun walk, especially in the evenings.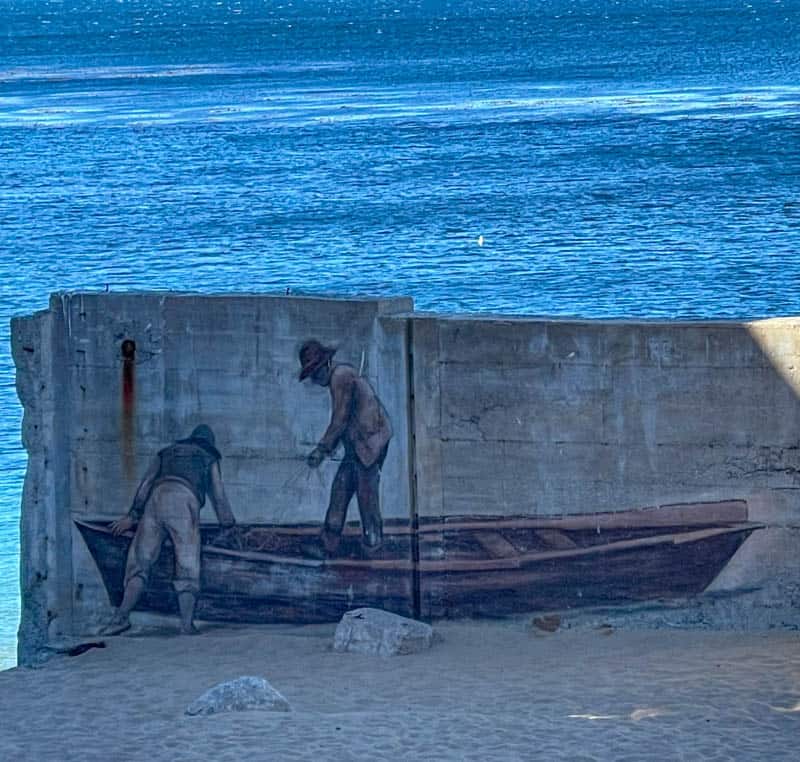 If you enjoy guided tours, there's a lot to learn about this historic part of the city.
Walk the Monterey Bay Coastal Recreation Trail
If all the delicious food, chocolate, wine, and ice cream you'll enjoy in Monterey has you ready to burn off some calories, walk the beautiful Monterey Bay Coastal Recreation Trail.
The trail actually runs for 18 miles, from Castroville in the north to Pacific Grove in the south.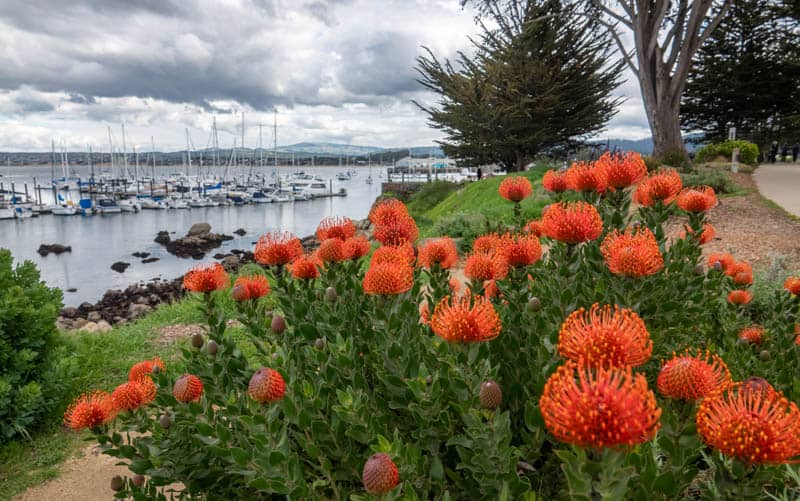 Located along the old tracks of the Southern Pacific Railway, the Coastal Recreation Trail is paved, with two lanes, one in each direction. It features beautiful views and the chance to see wildlife and birds.
You can pick up the trail at Cannery Row, and walk it to its southern end in Pacific Grove and back, for a total of about 3 miles.
Along the way, stop to snap photos of Monterey harbor!
Or you can enjoy a surrey ride or regular bike ride in either direction. If you are visiting with kids, they will love the surrey bike experience! Note that some parts of the trail have specific bike and pedestrian lanes.
Rent bikes at Adventures by the Sea on Cannery Row.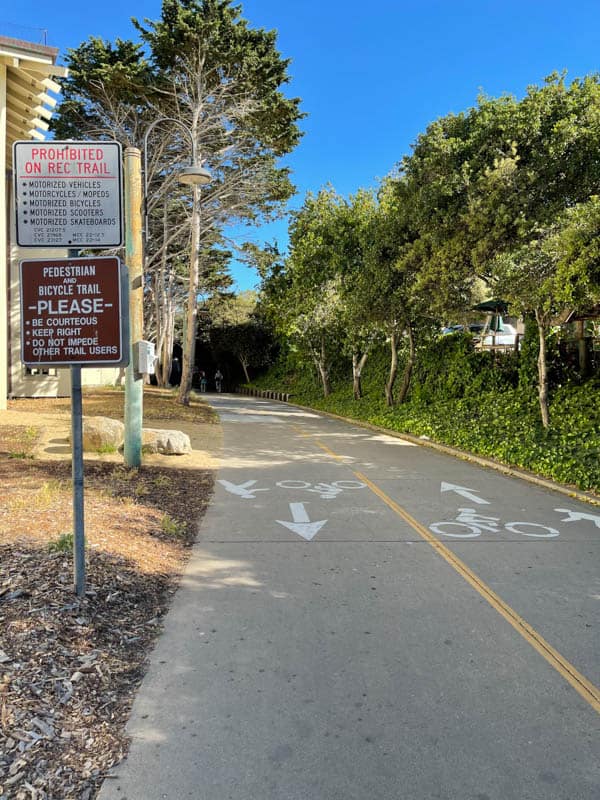 Enjoy Old Fisherman's Wharf in Monterey
Old Fisherman's Wharf has a rich history, and it's one of the top places to visit in Monterey.
It was built in the mid 1800s to receive passengers and freight. In 1919, the first restaurant opened at the wharf, serving breaded fried abalone steaks.
Other businesses and restaurants followed, and, after a mishap in 1923, Old Fisherman's Wharf was rebuilt stronger and longer. The wharf assisted in the growth of the sardine canning business in Monterey.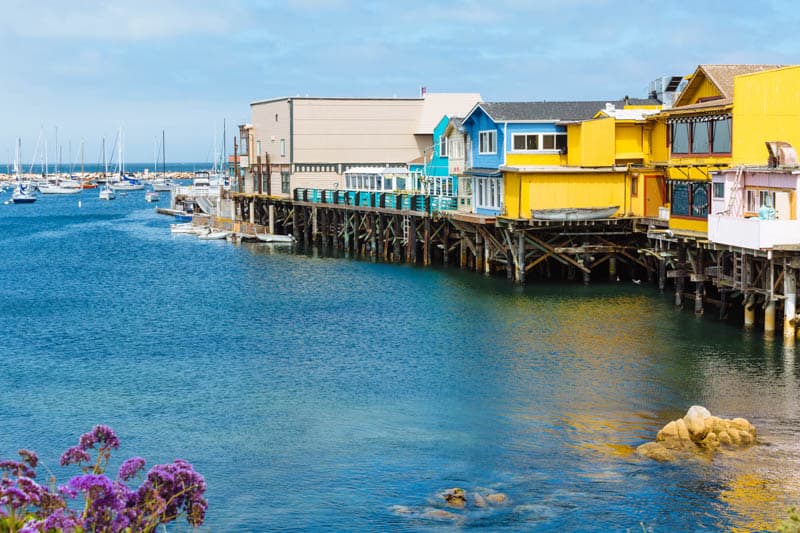 After sardines disappeared from the waters of Monterey Bay, the wharf shifted from being a business center to a tourist-oriented destination. The wharf became home to restaurants, fish markets, tour operators, and souvenir shops.
Walk the wharf to enjoy the beautiful views of the ocean and the harbor, browse the shops (the saltwater taffy is great!), and dine on fresh seafood by the water.
Fisherman's Wharf is the departure point for Monterey whale watching cruises. You can also enjoy sailing trips, fishing charters, and glass-bottomed boat tours from the wharf.
The colorful facades are a favorite photo subject for photography enthusiasts.
Tour Monterey State Historic Park
An aggregation of a number of historic buildings, Monterey State Historic Park is a must-tour if you enjoy local history.
Guided walks of "The Monterey Walking Path of History" may be offered when you visit: join one if you can, for a fascinating peek into the city's past.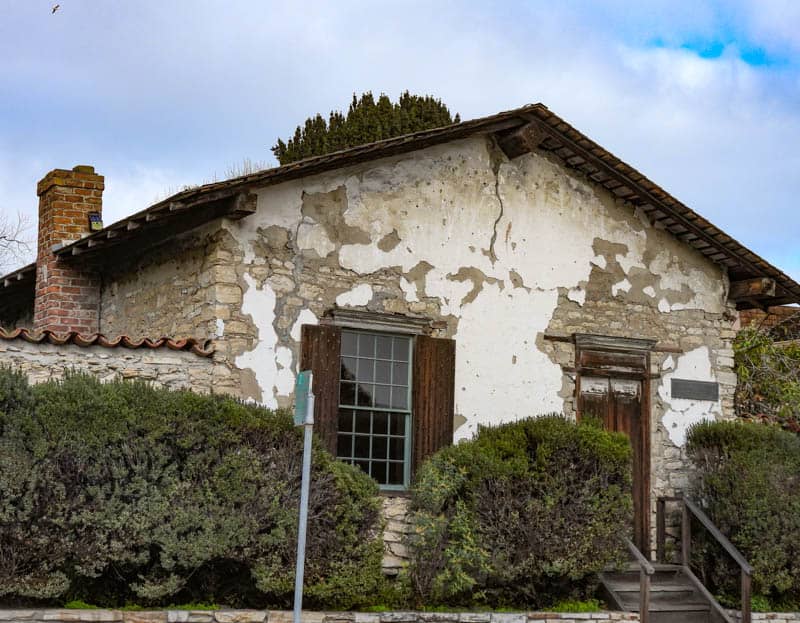 Monterey is one of the most historic spots along the California coast.
It served as California's capital under three different regimes: first Spain, then Mexico, and finally the United States.
Monterey began to be colonized by the Spanish in the later half of the 18th century. The Spanish built the Presidio, and the Mission de San Carlos Borromeo de Monterey. The mission was later moved to Carmel.
On the walk, you will see as many as a dozen historic buildings and adobe homes, beautiful heritage gardens, and even a whalebone walkway. View exhibits at the Pacific House Museum prior to your walk.
The Mexicans built the Custom House, California's first State Historic Landmark. Today the Custom House has been set up to replicate the way it would have looked during the Mexican period, from 1821 until 1846.
The Custom House is where you will find the gift shop of the Monterey State Historic Park.
Also be sure to admire the small cactus garden in the Custom House Plaza. It houses a collection of succulents and cacti collected from various parts of the American Southwest in the 1920s.
The Larkin House, on Calle Principal, is both a National and California Historic Landmark. Built in 1835, it is reported to be the first two-story house in California. The garden here is worth walking!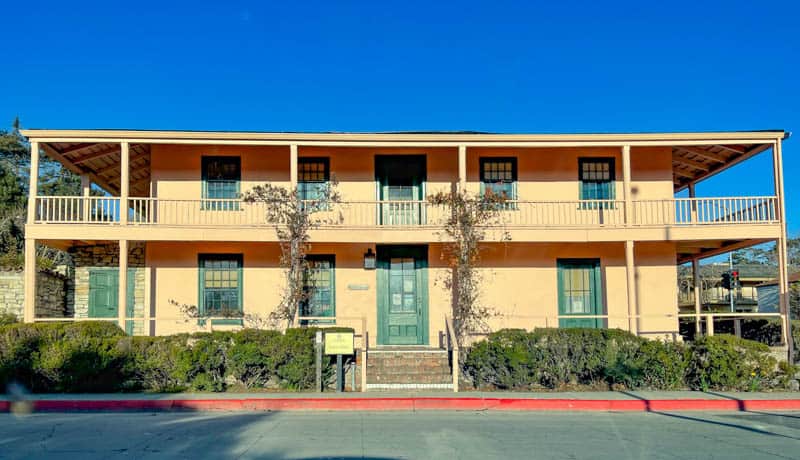 Colton Hall is the place where, in 1849, the California constitution was drafted in both English and Spanish.
In the Colton Hall Museum, you can view a re-creation of the meeting room where this historic event took place.
Enjoy the Monterey Museum of Art
The Monterey Museum of Art has a permanent collection of American and California paintings, contemporary art, and photography, with rotating displays. It also offers other temporary exhibitions.
Don't miss the early California art works from before 1945 that showcase the area's history of being an art colony. The collection includes works by artists such as Jules Tavernier and Raymond Dabb Yelland.
The museum's contemporary art collection includes works by internationally renowned artists such as Picasso, Matisse, and Dali.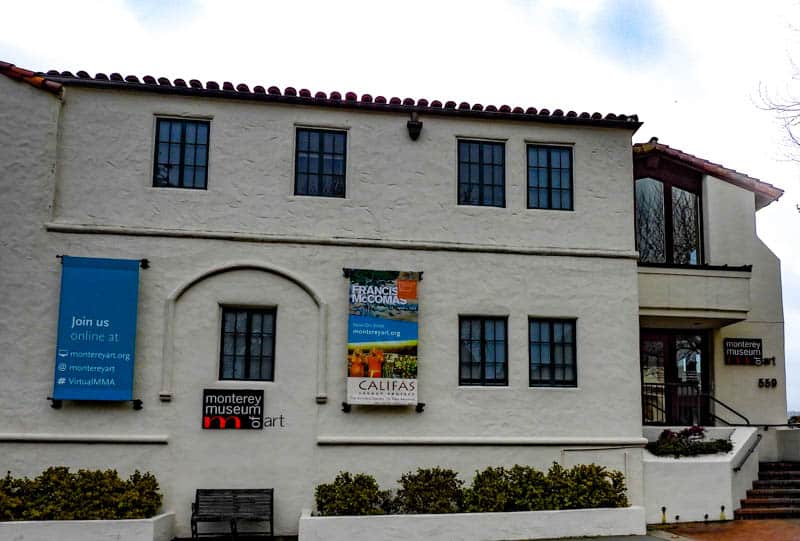 The museum is located on Pacific Street, across from historic Colton Hall in Old Monterey, and is open Thursday through Sunday, 11 a.m. to 5 p.m. Two-hour free street parking is available near the museum.
At the time of writing, general adult admission is $15.00.
The museum also has a location at La Mirada, where special events and programs are hosted. If one is being offered when you visit, don't miss the opportunity to go!
La Mirada was an adobe during Mexican rule, and later rebuilt as an elegant home. The historic estate features spectacular rose gardens.
Browse the Salvador Dali Museum
Art lovers will also want to visit the Salvador Dali Exhibition at the Monterey History & Art Association, located in the Custom House Plaza.
The permanent exhibition features an impressive collection of sculptures, lithographs, tapestries, and etchings by the Spanish surrealist artist Salvador Dali. It is the largest private Dali collection on the US West Coast.
The exhibition is offered day between 11 a.m. and 8 p.m. General adult admission is $18.48.
Visit the San Carlos Cathedral
When Father Junipero Serra and Don Gaspar de Portola established Monterey in 1770, they built the Presidio of Monterey and the Mission de San Carlos Borromeo de Monterey.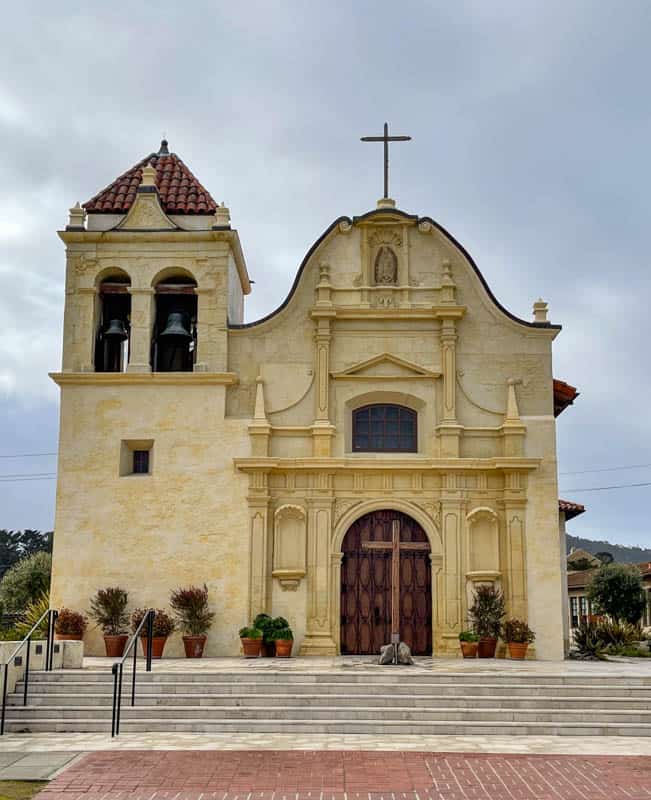 The mission was moved to Carmel the following year, and the original church in Monterey served as a chapel for the soldiers at the Presidio.
The current structure dates from the late 18th century, and is the oldest stone building in the state.
San Carlos was designated a cathedral in 1849. The church was extensively repaired and restored in the early 21st century.
Built in the Spanish Colonial style, San Carlos is the oldest continuously functioning church in California and is still active.
The San Carlos Royal Chapel, a National Historic Landmark, is located within walking distance of Fisherman's Wharf in downtown Monterey and is worth a visit if you enjoy history, culture, art, and architecture.
Have Ice Cream with a View at Ghirardelli!
Ghirardelli Ice Cream and Chocolate Shop is one of our favorite stops on Cannery Row. While San Francisco is where the company was founded, the Monterey shop is a fun stop if you enjoy sweet treats.
Sit in the balcony outdoors to enjoy your ice cream. The balcony features outstanding views of the ocean, and gulls occasionally perch on the railing. Their sundaes are deliciously decadent and creamy.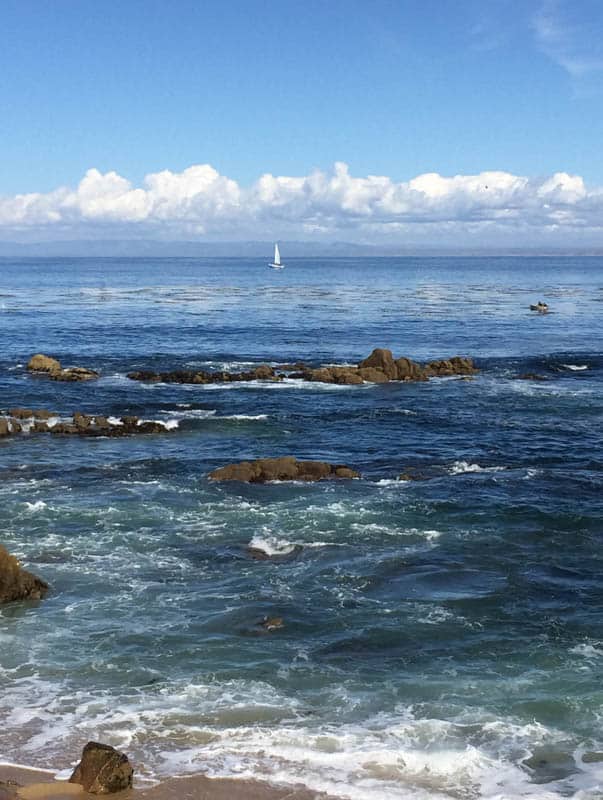 The shop also carries a wide variety of Ghirardelli chocolate squares in various flavors (you may even get one to taste as you enter!), and various souvenir packs.
Sample Local Wines
You will find several tasting rooms in downtown Monterey, where you can sample California wines.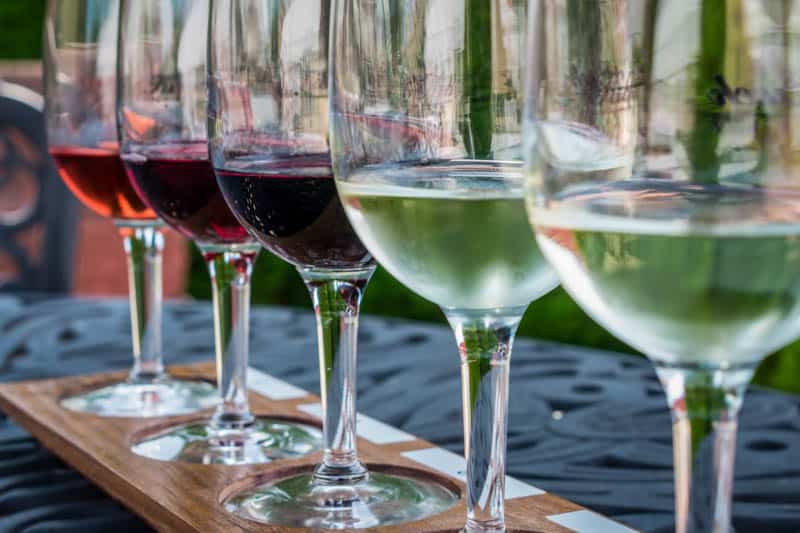 Some of our favorites:
A Taste of Monterey, which also offers food, and has a gorgeous oceanfront setting on Cannery Row. Ask for a table by the water and enjoy local wines or local craft beers with an ocean view!
Pierce Ranch Vineyards has their tasting room on Wave Street in downtown Monterey. The tasting room features the limited production estate wines from their San Antonio Valley vineyards. Their wines are excellent.
Bargetto Winery from the Santa Cruz Mountains has a tasting room on Cannery Row, along with one in Santa Cruz. We love their dessert wine!
The Wine Experience offers wine tasting, wine classes, and custom blending, enjoyable for novices and seasoned wine drinkers alike. The flights have 4, 6, or 8 pours, and you can pick what you want to taste. You may want to visit more than once so try it early in your stay!
If you enjoy wine, you will also find tasting rooms in Carmel-by-the-Sea Village and Carmel Valley Village.
Look for Wildlife, Marine Life, and Birds
The Monterey Coast Guard Pier is a prime location from which to look for marine life and sea birds. It is a great place from which to see and hear sea lions, and you may see otters playing in the water, harbor seals, and a variety of birds.
Visit at low tide for the best view of the sea lions sunning themselves on the rocks. You'll hear their raucous barking as well!
Playful sea otters can be seen at several locations in Monterey, including Cannery Row and Fisherman's Wharf. Also look for them at overlooks along the 17 Mile Drive, and at Point Lobos.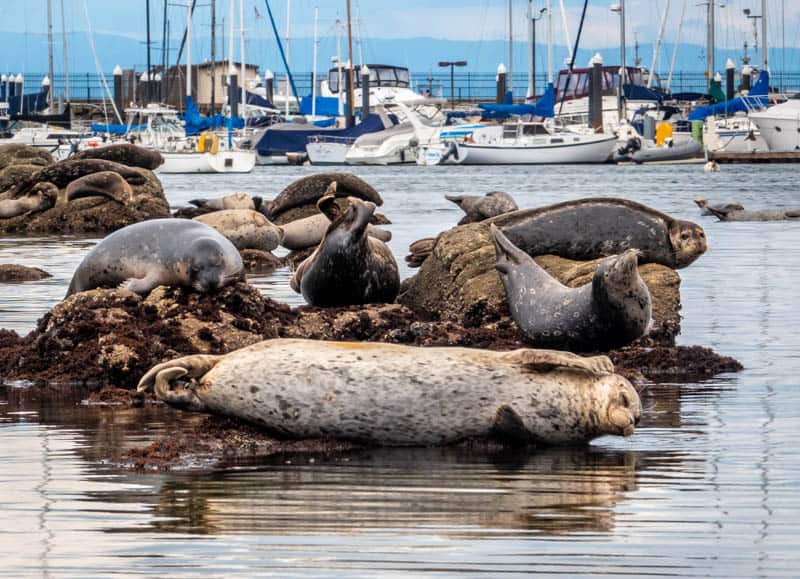 Along trails and inland, away from the more commercial parts of town, you will likely see deer, wild turkeys, a variety of land birds, and, if you walk early in the day, perhaps even a bobcat or a coyote.
We stayed in a vacation rental along the Highway 68 corridor on one of our visits, and even saw a mountain lion when we were out on an early morning walk. Not sure who was more surprised, the lion or us!
Look for Wildflowers in Season
In the spring, the hills around Monterey are flush with wildflowers. You will likely see wildflowers along the roadsides and by trails, no matter where in Monterey you stroll. Patches of poppies and wild mustard are everywhere.
The hills along Highway 68, and in Toro Park in particular, are great places to look for wildflowers. At peak bloom, you will see entire hillsides clothed in purple as sky lupines put on a show.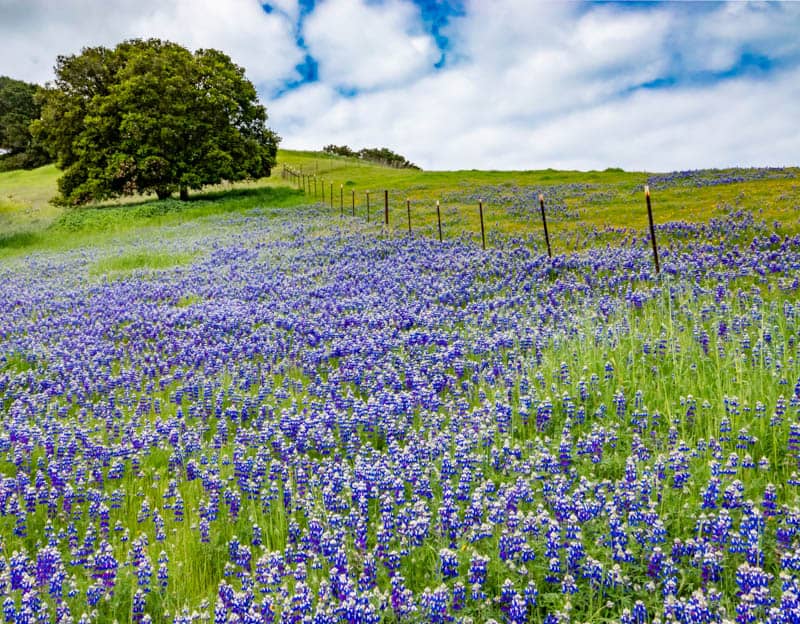 Shop
Shop for souvenirs, antiques, and art along Cannery Row. If you enjoy shopping, also visit the one-of-a-kind stores along Alvarado Street in downtown Monterey.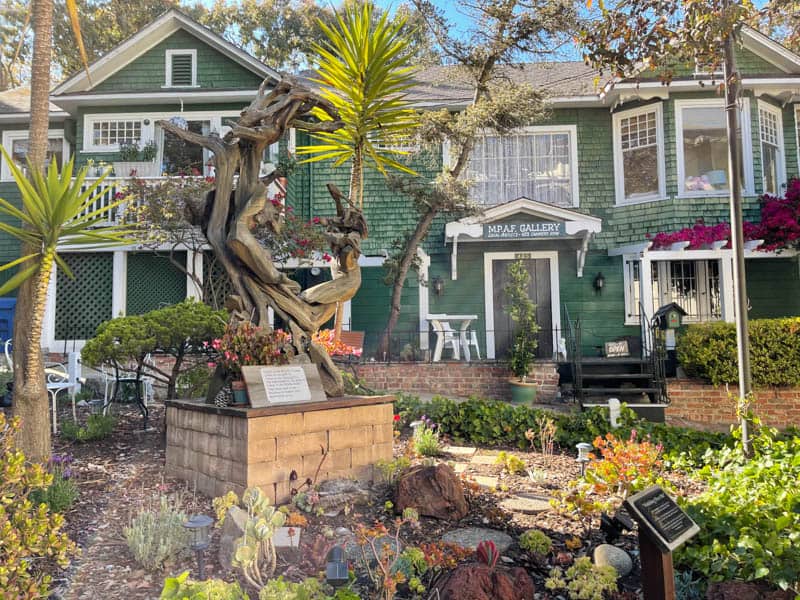 You will find art and photography galleries, and stores selling jewelry, apparel, gifts, home decor, and wine and foods along Cannery Row. Alvarado Street is home to some nice apparel boutiques.
The Cannery Row Antique Mall on Wave Street is worth a visit if you enjoy browsing old treasures. It's the largest antiques mall on the Central Coast, with over 100 dealers housed in the historic building that was once a canning center.
Here are some of our favorite browses on Cannery Row:
Monterey's Tasty Olive Bar offers several dozen varieties of olive oils and balsamics from which to choose! The balsamics are aged based on a traditional method from Modena in Italy, and the olive oils are sourced from Tunisia and Australia.
At Carmel Honey Company, look for high-quality local honey, a variety of bath and body products, and one-of-a-kind gifts.
ZFolio Gallery offers a stunning collection of contemporary jewelry. The designs are so striking that you'll want to splurge! The shop also carries glass sculptures, vases, and other decorative objects, and photographic fine art.
Enjoy Beach Time!
There are many beautiful beaches around Monterey, including two beaches right along Cannery Row, if you don't want to drive elsewhere.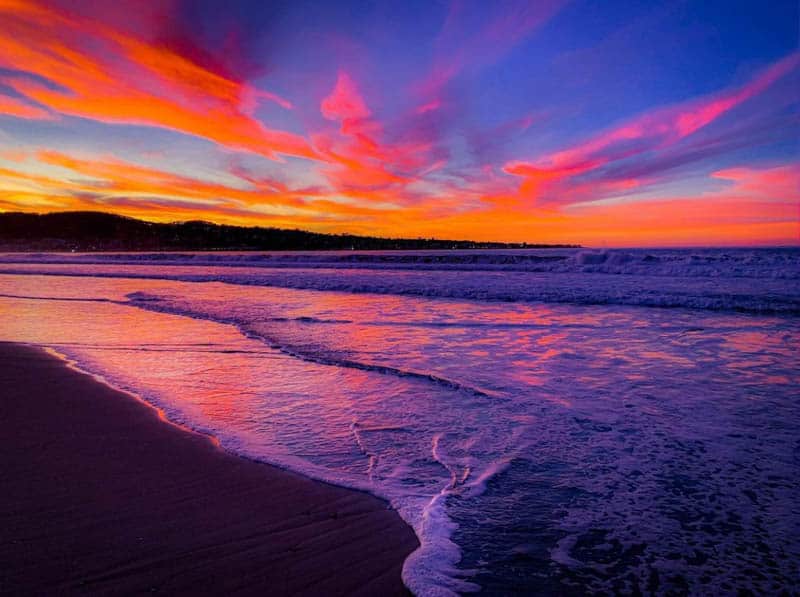 McAbee Beach is a small beach in the heart of Cannery Row, with some rocks where you can sit and enjoy views of the bay. San Carlos Beach is located by the Coastguard Pier, and you can walk along the water or relax on the grassy areas.
Monterey Municipal Beach, located by the Municipal Wharf 2, is a nice stretch of sand, although it can be busy on weekends.
Our favorite beach in Monterey is Del Monte Beach. It has fine white sand, and is great for walking, enjoying sunsets, and for viewing birds. There is a boardwalk trail through the dunes.
Things to Do Near Monterey
Do the Scenic 17-Mile Drive through Pebble Beach
The 17-Mile Drive through Pacific Grove and Pebble Beach features beautiful coastal scenery.
Starting at the Sunset Drive gate in Pacific Grove, the drive takes you past Spanish Bay to provide stunning vistas of beaches, the ocean, and golf courses, before finishing up in Carmel.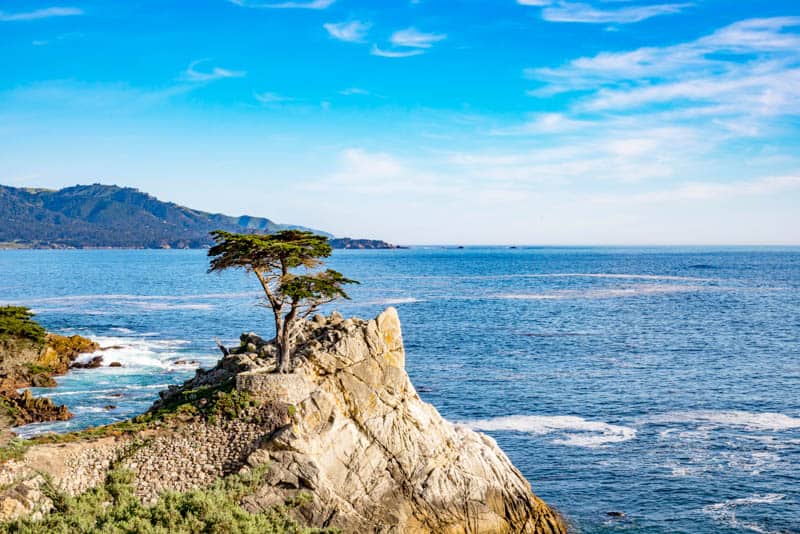 Must-stop points along the route include the famous Lone Cypress, a photogenic Monterey Cypress tree that stands at the water's edge, Bird Rock, Fan Shell Beach, and the Cypresses of Crocker Grove.
There are pullouts where you can stop to admire the views and take photos.
There is an entrance fee per vehicle, $10.50 at the time of writing. It is reimbursed if you spend up to $35.00 at a Pebble Beach restaurant. Motorcycles are not allowed.
For a more active way to experience this scenic drive, check out this popular 3-hour electric bike tour from Pacific Grove. Ride tandem with young kids. Your guide will offer commentary along the way and have you stop at the best viewpoints on the route. Book this tour now!
Explore Fort Ord National Monument
If you enjoy the outdoors, you will want to explore Fort Ord National Monument, which has over 86 miles of trails. You can hike, bike, or go horseback riding in the monument, which features many different environments, from hills to grasslands.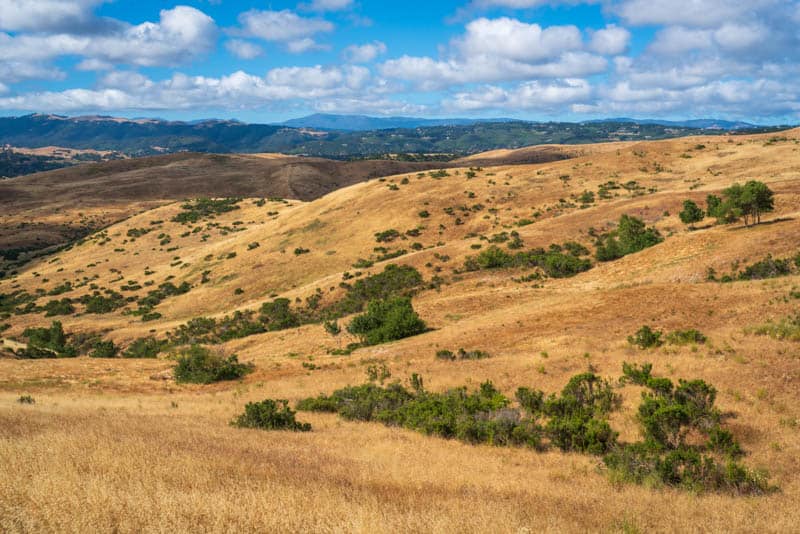 Trails at Fort Ord are open from dawn to dusk, and are great for viewing wildlife, birds, and wildflowers in season. The monument is home to numerous wildlife species, many of which are endangered and can't be found elsewhere.
At Fort Ord, you may see black-tailed deer, wild turkeys, bobcats, coyotes, California quail, and even mountain lions. In spring, the meadows and hillsides, draped with wildflowers, are stunning. The monument is a fabulous place to get out into nature.
Fort Ord has two main entrances: off Highway 68 in Salinas, and off Reservation Road in Salinas. We normally visit via the Highway 68 entrance, which leads to the Badger Hills Trailhead.
Visit the National Steinbeck Center in Salinas
If you enjoyed John Steinbeck's many novels set in the region, you will want to stop by the National Steinbeck Center in Salinas. Discovering "Steinbeck Country" is one of the most unique things to do in Monterey.
Steinbeck grew up in Salinas, and you can also visit John Steinbeck House, the childhood home of the author, located near the museum.
The museum has an impressive collection of Steinbeck memorabilia, including manuscripts, family documents, photographs, letters, films, and artifacts.
The multi-sensory permanent exhibition is a fun and interesting way to learn more about Steinbeck and his works, as well as the Salinas Valley.
The museum is open Wednesdays through Sundays, from 10 a.m. until 5 p.m. Docents are available to offer an orientation and answer questions.
Tour the Vineyards on River Road in Salinas
The River Road Wine Trail stretches along the Santa Lucia Highlands, offering spectacular views of the fertile Salinas Valley below. The drive is especially scenic in the spring, when the hills turn an emerald green.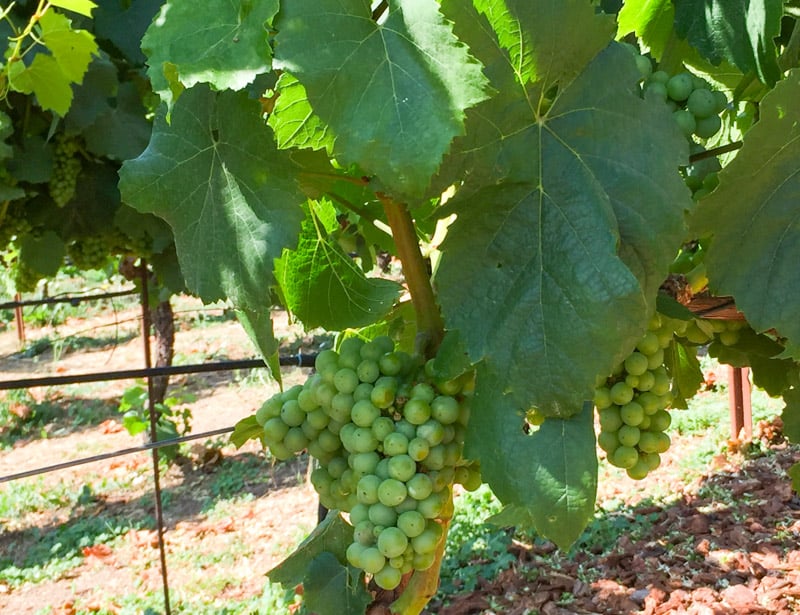 Enjoy wine tasting in a relaxed setting at the River Road wineries, many of which are small family-owned operations. The person pouring your wine may even be the vintner, making for fun discussions as you sip.
Discover the Historic Town of Pacific Grove
The town of Pacific Grove is quaint and historic, with many beautiful heritage buildings and homes to admire, and a spectacular oceanfront to explore. Among the many things to do in Pacific Grove, here are a few you must not miss:
Walk the Asilomar Coastal Trail: the trail runs along the ocean, and, if you choose, you can explore the rocks and tidepools along the way.
Spend time on the sandy Asilomar Beach.
Do a walking tour of the historic homes in downtown Pacific Grove.
Watch the sun rise at Lovers Point Park, and enjoy Lovers Point Beach, one of Monterey's best beaches.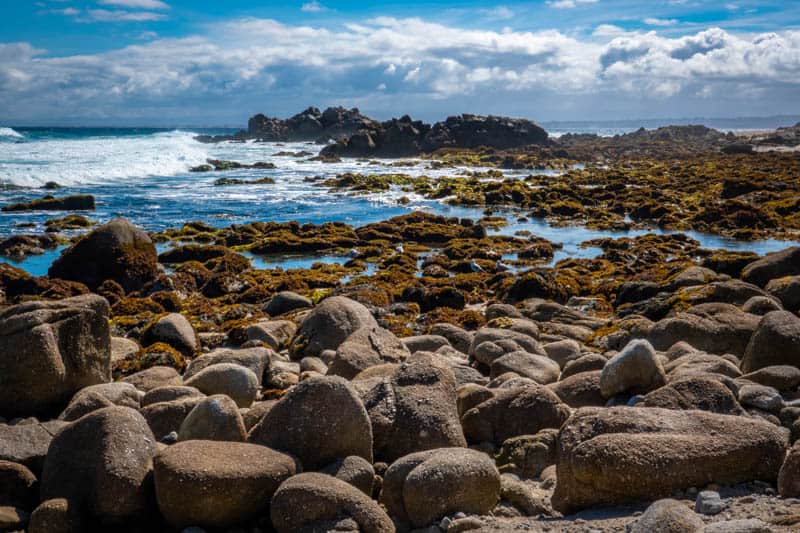 Visit the Charming Village of Carmel-by-the-Sea
Carmel-by-the-Sea is super picturesque, with charming storybook cottages, a village square with secret passageways and flower-filled courtyards, and a pristine sandy beach.
Here are some Carmel highlights to consider including in your itinerary for the Monterey peninsula:
Visit the Carmel Mission. The Basilica is beautiful, and the gardens are lovely.
Stroll Carmel Village to admire the architecture and browse the stores and art galleries
Enjoy wine tastings and sample California farm fresh cuisine at the many quality eateries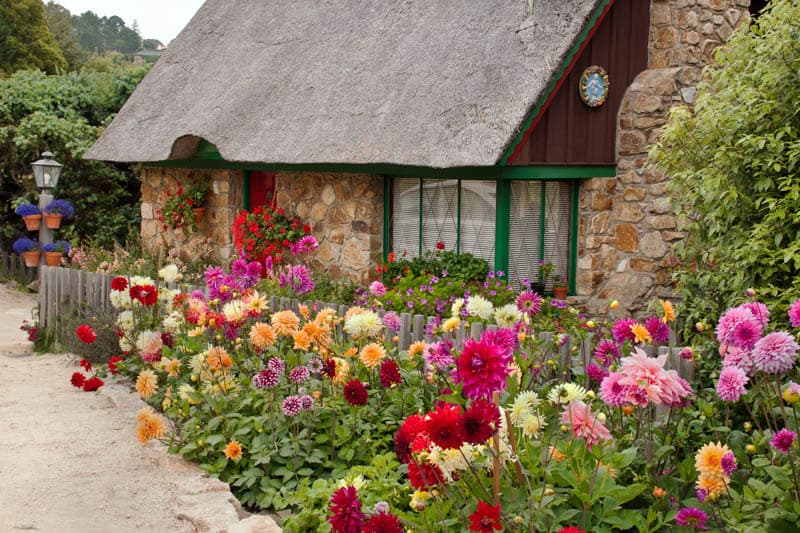 Do the Elkhorn Slough Birding Safari in Moss Landing
Moss Landing is a mecca for nature lovers and outdoor enthusiasts. Located on Monterey Bay, about 20 miles north of Monterey, Moss Landing is a great place for viewing whales and other marine mammals, even from shore.
If you enjoy birdwatching and wildlife viewing, you will love this highly rated boat tour of Elkhorn Slough, a vibrant wetland teeming with birds, otters, sea lions, and more.
The one-hour tour is a wonderful relaxed outing with great opportunities for wildlife photography.
You can also go kayaking in Elkhorn Slough: the waters are calm and sheltered, making it the perfect place to paddle. And if you enjoy seafood, Phil's Fish Market is the place to go for the freshest, finest seafood.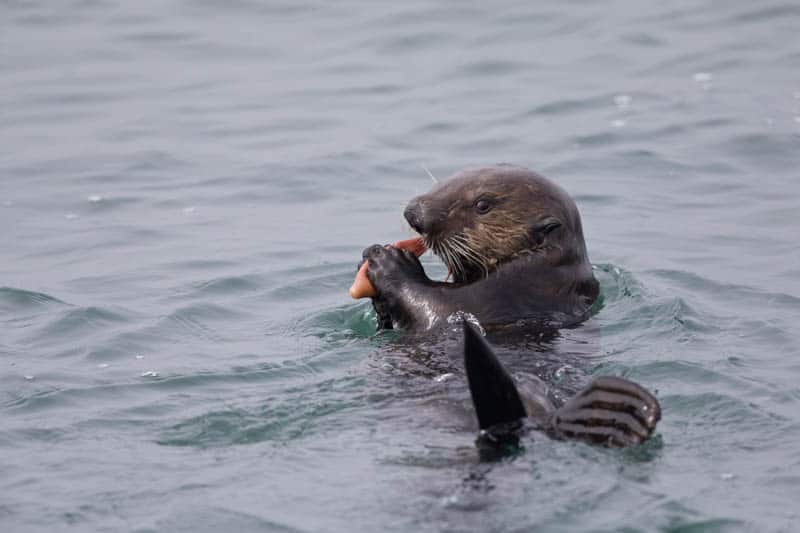 Hike Point Lobos State Natural Reserve and Garrapata State park
Point Lobos State Natural Reserve is one of California's most beautiful state parks.
Walk the Point Lobos hiking trails, many of which offer ocean views and the chance to view sea birds and marine life. Snap photos of stunning China Cove and gorgeous Gibson Beach.
The park is located a short drive south of Monterey, along scenic California Highway 1. Parking inside the park is limited, so plan to arrive early if you want to snag a spot.
If you don't mind driving a bit further along the Big Sur coast, you can also hike Garrapata State Park, especially if you visit when the park's famous Calla Lily Valley is at its showy best.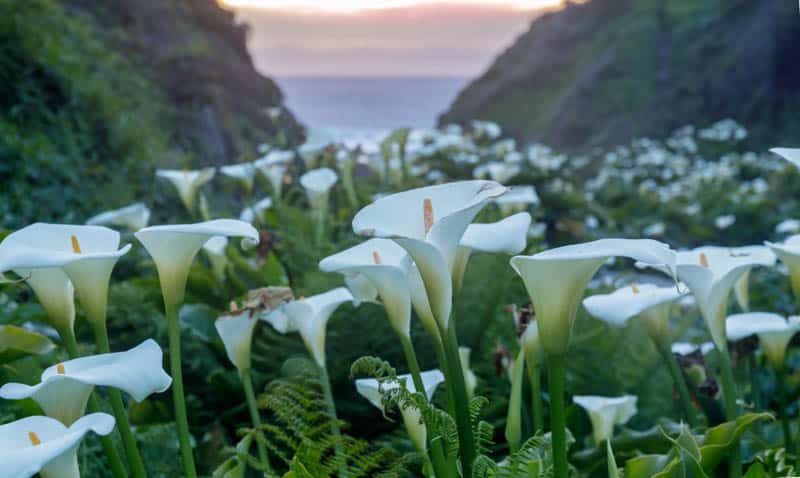 Tour Vineyards in Carmel Valley
Just driving through Carmel Valley is relaxing. The countryside is bucolic, with horses grazing in pastures, lambs frolicking in backyards in the spring, and fields of wildflowers in season.
Carmel Valley is known for its wineries, so if you enjoy wine tasting, plan a tasting tour! The valley is especially famous for its cabernet sauvignon and merlot wines.
Stop at the Earthbound Farms stand, to tour the demo gardens and have a simple but delicious lunch or soup and salad, made with fresh ingredients from the farm.
Look for Street Art in the Monterey Peninsula
From Pacific Grove to Seaside and Sand City, you will find lots of street art to admire on the Monterey Peninsula. Most of the murals have been created by local artists, and showcase some aspect of life on the peninsula.
In Pacific Grove, look for the historic California History mural on the wall of the Central Avenue Pharmacy, created way back in 1968, by Irish artist Bernard McDonagh. Carmel has a shell mural at the corner of 6th Avenue and Mission Street.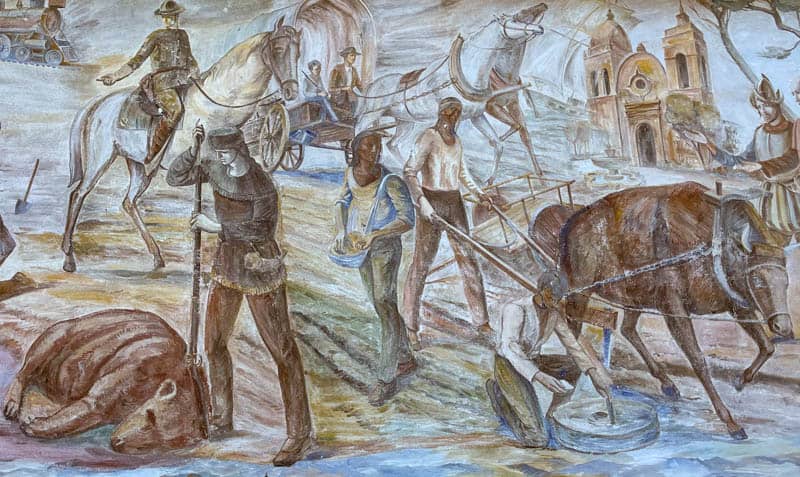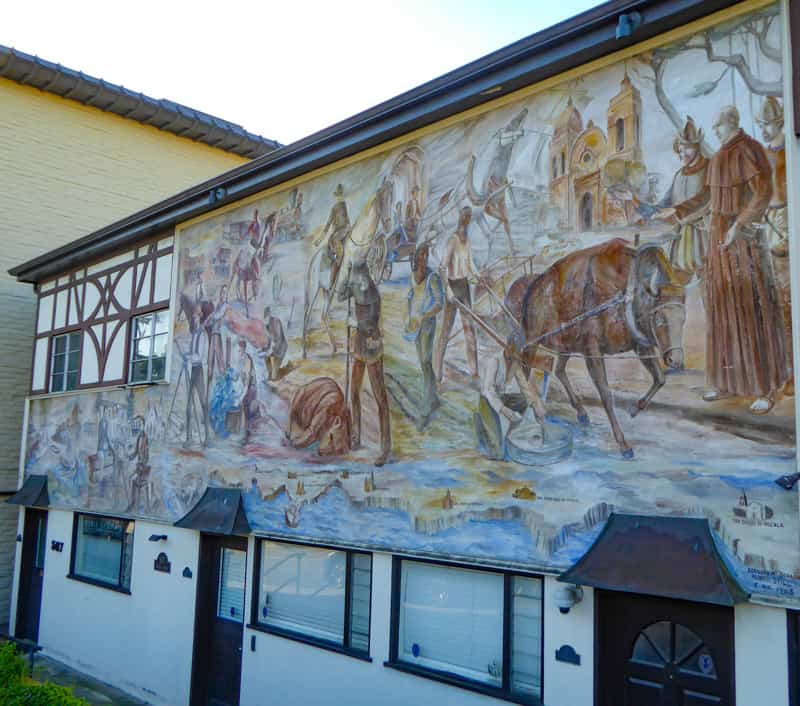 Getting to Monterey, CA
Monterey Regional Airport has flight services from several major US cities, so it's easy to fly in if you choose. Many visitors to Monterey arrive by road as well.
Monterey is a must stop on a California road trip itinerary!
Monterey makes for one of the many fun weekend getaways from San Francisco (or the SF Bay Area) you can do. The drive is just about two hours via the freeway, in normal traffic. If you start early, you could even do a day trip from San Francisco (or Silicon Valley) to Monterey.
If you want to visit Monterey from San Francisco, but you'd rather not rent a car, a tour is a great option. This highly-rated full day tour takes you down scenic Highway 1 to Monterey and Carmel-by-the-Sea, along with the famous 17-Mile Drive through Pebble Beach. Book this tour now!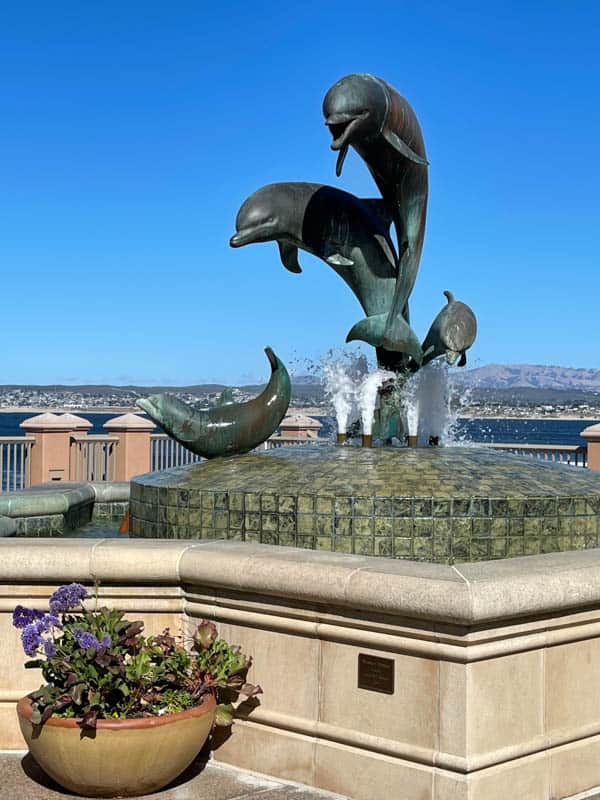 From LA, the drive to Monterey is about 5 hours by the highway, so plan on a relaxing weekend getaway to the Monterey Peninsula from the LA area.
If you are looking for weekend road trip getaways from San Diego. Monterey, at about 6.5 hours, is doable, especially if you choose a long weekend or tack on a vacation day to a regular weekend. Or, plan a longer vacation and explore all of the beautiful Monterey Peninsula!
Looking for a car rental for your Monterey getaway? Check out Discover Cars! They scour multiple providers to get the best price for you.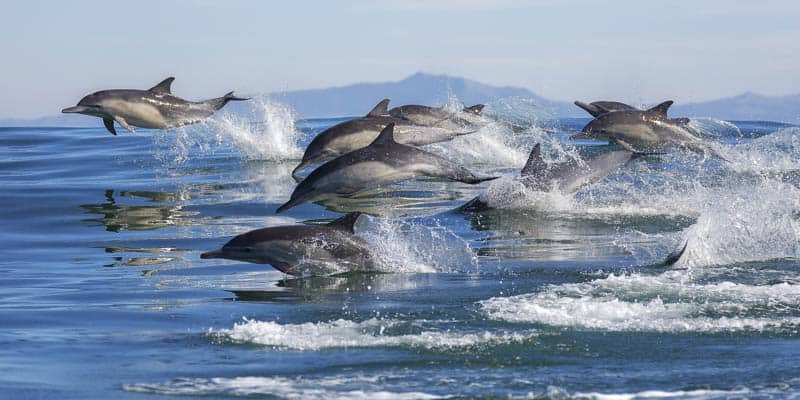 Where to Stay in Monterey, CA
Hotels in Monterey, CA
Monterey Plaza Hotel & Spa features beautiful bay views, a full service spa, a hot tub with fabulous views, and a private beach. Located close to Cannery Row and the Monterey Bay Aquarium, the hotel offers spacious, well-appointed rooms, with dedicated sitting areas. Book a stay here!
Intercontinental the Clement Monterey is located on Cannery Row, walking distance to shopping, wine tasting, and dining. The hotel features an onsite spa, a pool, and a children's club. Rooms are spacious and elegantly furnished. Some rooms have partial or full ocean views. Book a stay here!
Portola Hotel & Spa is located in downtown Monterey, only about a mile from Cannery Row. Walk to shopping and dining. Rooms are bright and cheerful, with contemporary furnishings. Beds are described as super comfy. The onsite spa is highly rated. Book a stay here!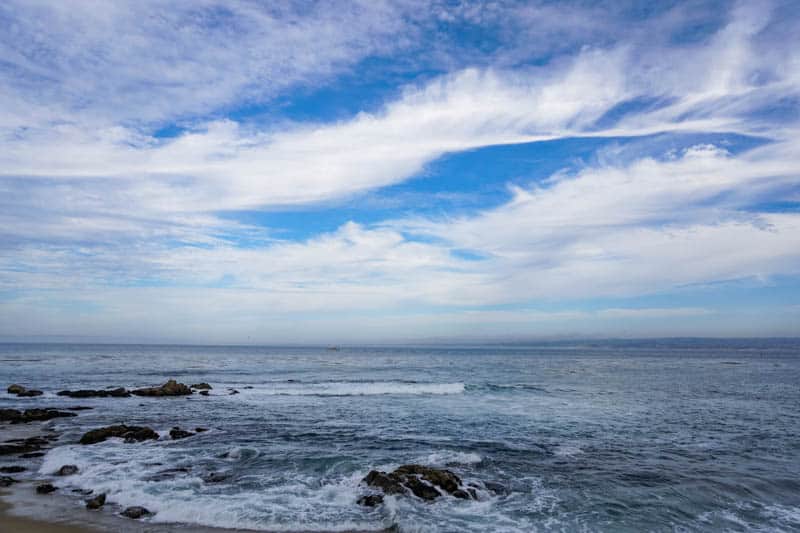 Vacation Rentals in Monterey
This sunny VRBO home is located in Del Rey Oaks, about a 10-minute drive from Monterey and Carmel. The 2-bedroom, 2-bath home is located on a rise and has a terraced garden in the front. Interiors are bright and well-appointed, and there is a full kitchen. An enclosed patio offers seating. Book a stay here!
This Monterey Bay bungalow has two bedrooms and 1.5 baths, and is located in Seaside, a short drive from Monterey and Carmel. The home has an enclosed private courtyard for barbecues and a full kitchen. Two guest passes to the Monterey Bay Aquarium are provided for use during your stay. Book a stay here!
This charming cottage has two bedrooms and one bathroom, and a location with easy access to California Highway 1. The large fenced backyard has landscaping and seating and a barbecue grill. Interior spaces are well appointed. Book a stay here!
Where to Eat in Monterey
Esteban is a Spanish-Mediterranean restaurant in downtown Monterey. They have a beautiful patio for outdoor dining. The eclectic menu features the best seasonal, locally-grown produce and locally-sourced meats and fish. We loved the vegetable tagine and the saffron arancini. For lighter options, visit for happy hour.
Old Fisherman's Grotto is good for anything seafood. The fish and chips are crunchy and delicious. Their clam chowder is famous. Ask for a table with views of the Monterey Harbor!
Loulou's Griddle in the Middle, located on the pier, is a tiny place, but the food will have you waiting to return. The pancakes are huge, but their fish and chips and award-winning clam chowder are must-tries too.
Bistro Moulin in located on Cannery Row. The bistro serves classic French cuisine, meticulously prepared. The sauces are rich and the flavors superb. Try the Crepes Normandes, stuffed with chicken and mushrooms.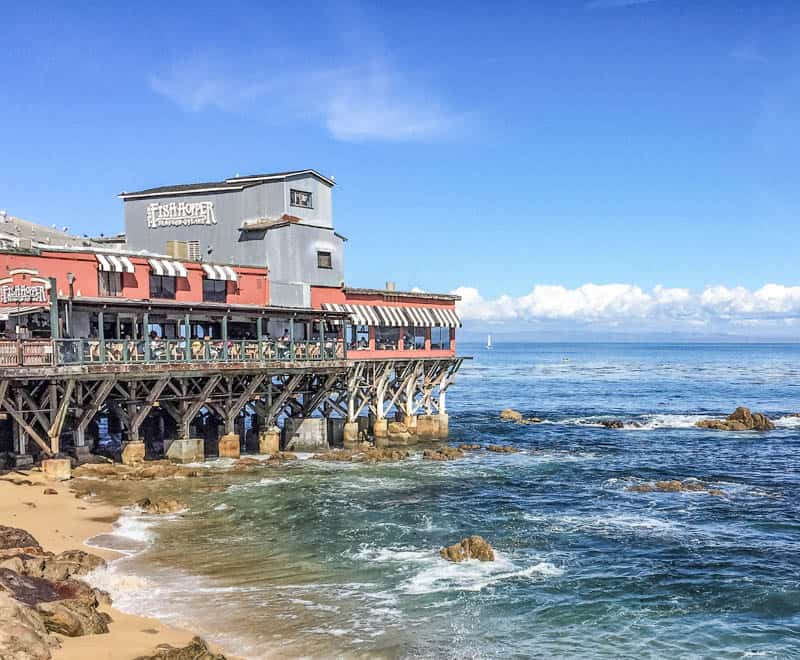 The Fish Hopper Restaurant has a spectacular location, in an old cannery building. Every table offers stunning views of the ocean and the outdoor patio is heated. The menu includes lots of fresh seafood, but steaks and pasta as well.
Monterey has two delightful bakery-cafes. If you enjoy sweet treats, stop in for a pastry (or three!). Paris Bakery and Parker Lusseau both have locations in downtown Monterey.
Good to know: Nearby Carmel-by-the-Sea is known for its dining scene as well. Check out our round-up of the best restaurants in Carmel.
The Best Time to Visit Monterey, California
Monterey is a year round destination. The Monterey Peninsula offers fun activities and great weather any time of the year.
Spring is beautiful on the Monterey Peninsula. The hills are clothed in bright fresh green, there are wildflowers everywhere, and the weather is ideal for outdoor activities like hiking and biking.
Fall brings warm temperatures during the Indian summer. It's a great time for outdoor pursuits!
In the summer, the marine layer does come in most days, but it generally burns off by mid day. Summer and fall are best for spending time at the beach.
Winter does bring occasional rain in drought-free years, so bring rain gear, or pick a dry patch of time to visit. Winter sunrises and sunsets are beautiful here.
Bring layers, so you can stay warm if it gets cool and breezy, especially on or near the ocean. Also pack closed-toed shoes for trail walking.
Frequently Asked Questions
1. What should you do in just one day in Monterey, CA?

With just one day in Monterey, focus on the highlights of the area. Start your day with some scenic hiking at the Point Lobos State Reserve, or go on a whale watching cruise of Monterey Bay, or visit the Monterey Bay Aquarium. In the afternoon, do the famous 17-Mile Drive and enjoy beach time at Spanish Bay Beach. In the evening, stroll Cannery Row, then enjoy wine tasting and a fabulous farm-to-fork dining experience in Carmel-by-the-Sea!
2. Is Monterey, California worth visiting?

Without a doubt, YES! With lots of marine life in the scenic and calm Monterey Bay, many historic sites, beautiful beaches, and charming downtown areas in Monterey, Carmel-by-the-Sea, and Pacific Grove, and excellent wine tasting and dining, the Monterey Peninsula is well worth visiting.
3. Is it better to stay in Monterey or Carmel?

Both Monterey and Carmel-by-the-Sea are centrally located for activities in the Monterey peninsula, and both places offer a wide variety of hotels and inns, so either would be a great option for a base. If you want to be walking distance from wine tasting rooms and restaurants, we suggest staying at a hotel in or near the village of Carmel-by-the-Sea.
*****
Looking to explore more of Central California? Check out some of our other articles on fun Central California destinations!
Did you find this article informative? Pin it for later reference!