Morro Bay is a small town, but don't let its size fool you! There are plenty of things to do in Morro Bay, especially if you enjoy exploring the outdoors, love looking for wildlife and birds, and want to savor great food and wine.
With its quaint fishing village feel, Morro Bay is one of the cutest and most charming places you can visit on California's beautiful Central Coast.
Boats lined up along the harbor, eateries dotting the waterfront, sea otters frolicking in the bay, and miles of sandy beach…Morro Bay is the perfect place for a seaside escape!
While Morro Bay offers a lot to do on its own, its location, close to many other visit-worthy destinations on the California Central Coast, means that you have even more to explore if you choose to spend a few days here.
Considering a trip to Morro Bay and California's Central Coast? Read on for the scoop on all the best things to do in Morro Bay, plus our suggestions for where to stay and eat.
Things to Do in Morro Bay
Admire Morro Rock, a Morro Bay Landmark
Lying just offshore, 576-foot-tall Morro Rock is one of Morro Bay's dominating features: the other is the three 450-foot smoke stacks of the erstwhile electricity producing plant that you can see from all over town.
Together, they give the town its cute name of "Three Stacks and a Rock."
Morro Rock is a California State Historic Landmark. It is one of the nine Morros, a chain of volcanic plugs that stretches along the Central California Coast from San Luis Obispo to Morro Bay.
Without a doubt, this hunk of rock is one of the top attractions in Morro Bay!
Given its name of El Morro in 1542 by explorer Juan Rodriguez Cabrillo, the enormous rock is now a sanctuary for peregrine falcons and many other species of birds.
Snap a photo (or three!) of beautiful Morro Rock. You can drive right up to its base for a closer look, and take photos from Morro Rock Beach.
Or you can do the beautiful walk along the Embarcadero to the Rock, enjoying the water views along the way. Stop to see otters frolicking in the bay, and maybe a heron looking for a meal.
You can walk along the south side of the Rock if you keep going, with the chance to see the beautiful colors and shapes and textures in the rock up close.
Explore Morro Bay State Park
Morro Bay State Park is beautiful, and a mecca for birders and wildlife lovers.
It includes diverse environments such as lagoon, saltwater marsh, and bay, and Morro Rock is part of the state park. The park also includes a marina and golf course.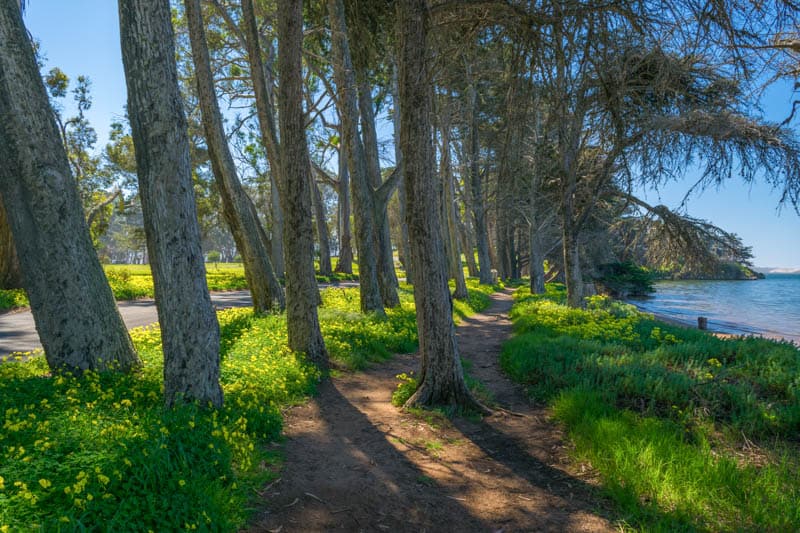 Hiking, biking, birdwatching, fishing, kayaking, and sailing are some of the activities you can enjoy in the park.
If you enjoy camping, Morro Bay State Park has a great campground, with tent, trailer, and RV camping.
The Marina Peninsula Loop Trail is a great walk through the diverse habitats in the park, such as the estuary, the sand dunes, the salt marsh, and the mud flats.
Visit the Morro Bay Museum of Natural History
While in Morro Bay State Park, don't forget to step inside the Museum of Natural History: it's fun for kids and adults alike. The museum showcases the natural and cultural history of the region.
The museum offers activities through the year, including nature walks, docent-led tours, lectures, and special exhibits, so check to see what's happening during your visit.
Along the side of the museum, view the plants in the Chumash garden. The Chumash inhabited the coast of Central and Southern California centuries ago, and it is fascinating to see how they used local flora in their day-to-day lives.
At the entrance to the museum, stop to admire Seasons Come and Seasons Go, a bronze sculpture that showcases life in the Morro Bay estuary. It is a statue of a Native American releasing a peregrine falcon, the perfect piece for the setting.
Enjoy a Morro Bay cruise
View Morro Rock, and the town, from the water!
Take a guided harbor cruise of beautiful Morro Bay during the day, or at sunset, and enjoy the scenery. Look for marine life and birds while you cruise! It's a relaxing activity, and we love it so much we cruise every time we visit.
You may see dolphins, otters, sea lions, harbor seals, and even whales, as well as herons, cormorants, and other birds. Your captain will answer questions and tell you about Morro Rock, the bay, and the wildlife you see.
There are a number of local companies that offer boat tours of Morro Bay, and whale watching cruises. Check out Subsea Tours for a fun experience for kids and adults alike!
We generally pick a smaller boat, and we've sometimes been lucky to be the only passengers on the cruise. Pick the larger boats if you want to be able to buy food and beverages on board.
Canoe, kayak, or SUP Morro Bay!
Looking for a more active way to enjoy the protected waters of Morro Bay? Go canoeing or kayaking, or stand-up paddleboarding.
On a guided kayaking tour, you will likely see harbor seals, sea lions, and sea otters, as well as dozens of species of birds, including rare and endangered species.
The waters of Morro Bay are separated from the open ocean by a long sand bar, and all skill levels, from beginner to advanced, can enjoy the guided trips in the clam sheltered waters of the bay.
Longer trips can include exploration of the Sandspit, the sand bar that protects the bay: it is only accessible by water.
Several local outfitters offer guided kayak and canoe trips, and rent out stand-up paddleboards. We loved our morning kayaking trip (saw lots of marine life and birds!), but you can choose afternoon or sunset trips as well.
Stroll the Embarcadero
Morro Bay's lively Embarcadero is a great place to stroll, whether you are looking to stretch your legs or enjoy a spot of people or wildlife watching.
Begin at the boat launch near Tidelands Park, and walk to the boardwalk that goes out to Morro Rock.
Along the route, you will come across some of Morro Bay's inns and hotels, restaurants, shops and art galleries, outfitters for cruises and boat tours, and spots to enjoy the views out over the water.
At the overlooks, look for sea otters and seals playing in the water, or sea birds.
If you are looking for souvenirs to take home, you will find many shops on your stroll. Some of our favorite browses:
The Shell Shop. The family-owned store has a fabulous collection of marine shells, reportedly the largest on the Central California Coast. We love the colors and shapes and textures!
Smoobage for charming jewelry and other one-of-a-kind gift items made by local artisans.
Gallery at Marina Square is a fine art and crafts gallery run by a group of professional artists. You will find paintings, sculptures, photographs, jewelry, and glass, wood, and fabric art pieces. We got a beautiful bird illustration at our last visit.
Seven Sisters Gallery for eclectic art, gift items, and jewelry. Many items have been handcrafted by local artisans.
By the Bay Gallery for American-made art and jewelry. From glass to wood, enamel, and ceramics, you will find a great selection here from which to pick.
Carousel Taffy: we have to go into any candy or chocolate store we see anywhere, and Carousel Taffy has several dozen delicious flavors of salt water taffy! You can literally buy the taffy by the bucketful.
Enjoy Morro Rock Beach
Just north of Morro Rock in Morro Rock Beach, you can enjoy sunbathing, sand play, kite-flying, and paddling. We've seen surfers here in the water as well.
Bring a blanket and a picnic and spend a few hours by the water if you visit on a bright sunny day.
Lifeguards are on duty here during the day in the summer. We recommend only entering the water to swim if a lifeguard is present: speak with them to make sure it's safe to swim when you go.
There is also a thin strip of beach to the south of Morro Rock, where you can sunbathe, enjoy sand play, or picnic.
Both these beach areas tend to be crowded, especially on nice weather days, so arrive early for a quieter time.
Fun fact: You can walk along the sand all the way from Morro Rock Beach to Cayucos State Beach! It's about five miles one way.
Walk Morro Strand State Beach
Featuring beautiful views of Morro Rock and Estero Bay, three-mile long Morro Strand State Beach makes for a wonderful stroll, since the sand is hardpacked.
The sandy beach is also a popular place for sunbathing, sand play, picnicking, kite flying, surfing, kitesurfing, and windsurfing.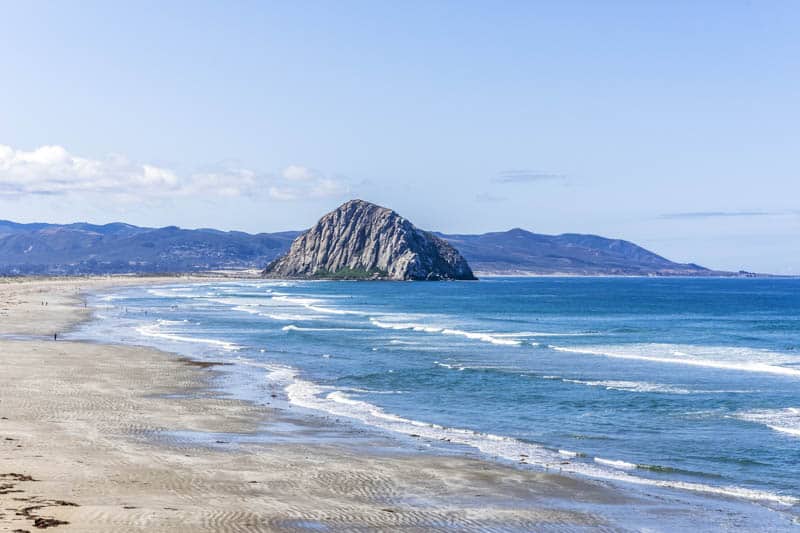 Look for birds running in the surf, or hunt for sand dollars! Sunsets here can be beautiful if you visit on a nice weather day.
Bring a windcheater, because it can be quite windy here at times.
Morro Strand State Beach is located off California Highway 1, with day-use parking lots and entrances to the beach at both the north and the south ends.
According to the state park site, dogs are not allowed on this beach, but we saw folks with dogs here when we visited.
The beach also contains Morro Strand State Park Campground, a scenic setting if you plan to camp in Morro Bay. There are RV hookups and picnic facilities.
Dogs on leash are allowed in the campground.
Explore the Tidepools at North Point Beach
There are several places in Morro Bay where you can go tidepooling, but our favorite is North Point Beach, located off California Highway 1 at the north end of Morro Bay.
Rock formations extend out into the water in this area, creating the tide pools.
Look for barnacles, mussels, anemones, limpets, and more.
The rocks here are coated with slippery green algae and it is very easy to lose your footing, so wear appropriate footwear and be careful around the wet slippery rocks.
Visit at low tide, because the tide pools are only exposed then.
Take the staircase at the end of Toro Lane to access the tidepools, or go down to North Point Beach and then walk over to the tidepool area.
North Point also offers stunning views of Morro Rock and Morro Strand State Beach!
Windy Cove, by the Museum of Natural History in Morro Bay, is another good spot to go tidepooling.
Browse the Shops in the Town of Morro Bay
You will find much of the bustle and most of the tourist-oriented shops at the waterfront Embarcadero, but streets such as Main Street and Morro Bay Boulevard, in the heart of the town, have some shops and galleries you can browse.
Art Center Morro Bay, on Main Street, has exhibits you can view, but it also conducts classes and fun creative workshops, and you can book a spot online if you want to participate during your visit.
Arteffects Gallery, on Morro Bay Boulevard, has beautiful handmade lampshades and other art-forward home decor. Some of the shades we saw were gorgeous!
Judy's Sewing and Craft Museum, on Quintana Road, has a variety of antique sewing machines and toy sewing machines you can view. Plus lots of Victorian crafts, quilts, and more.
Morro Bay Antiques, on Main Street, features garden houses, collectibles, and architectural bits and pieces. A fun browse!
Treasures Antique Mall, on Morro Bay Boulevard, has a wide selection of vintage jewelry, clothing, and collectibles.
Main Street Antiques, on Main Street, offers vintage and mid-century items, furniture, decor, and collectibles.
Enjoy a Surrey Bike Ride
One of the most fun ways to enjoy the Embarcadero is on a surrey bike. You can rent 2- or 4-person surrey bikes and ride them to Morro Rock, or along the Embarcadero.
The streets leading from the waterfront into the town are uphill, so they are harder to navigate in a surrey, but the Embarcadero is a nice flat stretch.
The surrey rental stores also carry beach kites, if you want to pick up one before you head to Morro Strand State Beach. And they have regular bikes and electric bikes as well.
E-bikes are a fun way to explore not only the hilly town, but also the surrounding parks.
Stop by the Maritime Museum
Located on the Embarcadero, the Morro Bay Maritime Museum has many interesting exhibits if you enjoy maritime history and technology.
Among the exhibits is the tug boat Alma, which transported to safety two lifeboats carrying personnel from a sunk tanker in December 1941.
Another prized exhibit at the museum is Avalon, a Deep Submergence Rescue Vehicle, one of only two vehicles built to rescue crews of downed submarines. It is 49 feet long!
You can also view a US Coast Guard rescue vessel, and many other interesting bits of maritime technology.
Snap Photos of the Murals in Town
Love street art? You can see over 20 murals on a walking tour of downtown Morro Bay!
The vibrant art showcases the history and culture of Morro Bay, as well as its natural beauty and abundant wildlife.
The colorful murals have been created between 1985 and now.
Get a map at the Morro Bay Visitors Center on Harbor Street and do a self-guided tour of the art. The walking tour is about 2.25 miles, and takes about one hour (or more, if you make stops for numerous photos, like we do!)
Look for marine life in Morro Bay
Morro Bay is a wildlife enthusiast's and birder's paradise. From the endangered California sea otter to harbor seals, sea lions, and whales, you may be lucky enough to see a lot of marine life in Morro Bay!
You are almost guaranteed to see California sea otters in the bay: stroll to T Pier, located behind the Great American Fish Company, and you will see the little creatures playing in the water, floating on their backs, or fishing.
You can find otters here year round, and even see moms floating babies on their tummies.
In Morro Bay, you may also see otters in the kelp beds by Morro Rock. Taking a boat tour, or a kayak tour, is another way of spotting otters in the bay.
Otters do not enjoy bad weather, so you are more likely to see them when the sun is out.
You are more likely to see harbor seals and sea lions on a boat or kayak tour, but you may occasionally spot them from the Embarcadero as well.
You may see (and hear!) sea lions enjoying the sun on the floating dock in the harbor.
You can see whales year round in Morro Bay: California gray whales, humpback whales, blue whales, orcas, and finback whales. Take a whale-watching cruise for the best chance of seeing whales.
Although you may be lucky and spot one (or more) from shore during the annual migration, it is much more common to see them from the water.
Go Birding in Morro Bay
Morro Bay is classified as an Audobon Important Bird Area.
While many species of birds can be seen here year round, avid birders should plan on a winter visit to see the large populations of migratory birds that use the estuary and other coastal habitats here as resting and feeding grounds.
Morro Bay has a Winter Bird Festival in January each year.
You will see wading birds such as egrets and herons, shore birds such as godwits, curlews, sandpipers, and plovers (the endangered Western snowy plover nests on the Sandspit), numerous water birds such as ducks, grebes, geese, loons, gulls, pelicans and cormorants.
Peregrine falcons nest at Morro Rock, and osprey hunt for fish in the water.
Some of the best birdwatching spots from the shore along Morro Bay are the Heron Rookery, Morro Rock, the Audobon Overlook in Los Osos, Elfin Forest, and Sweet Springs Nature Preserve.
We've described some of these spots in greater depth below, because they are great places to go even if you don't love birding.
Another great way to see birds is from the water. If you go on a kayak or canoe trip, you will likely see tons of birds, and if your tour is a guided one, your guide will provide information on the birds you see.
A birdwatching trip on the water is one of our favorite things to do in Morro Bay.
Visit the Heron Rookery
The Heron Rookery is a must-visit while you are in Morro Bay, not only to look for the giant birds and their giant nests high up in the trees, but also to see how the droppings from the birds has, over years, killed the trees in which they nest.
The grove of eucalyptus trees is one of the largest rookeries between San Francisco and Mexico, and you will see not only great blue herons but also double-crested cormorants, and maybe egrets as well.
If you are lucky, you may see young birds being fed by their parents, or adult blue herons in flight: they look magnificent, with their huge wingspan.
Make sure you pack your binoculars when you visit Morro Bay! Our go-to binoculars are the Celestron Trailseeker compact binoculars: they are not too heavy, and they perform well in low light.
You can walk to the heron rookery from the Museum of Natural Historyin Morro Bay State Park. The rookery is adjacent to The Inn at Morro Bay.
Stroll El Moro Elfin Forest
El Moro Elfin Forest is located in Los Osos, just south of Morro Bay. The park gets its name from the fact that California Live Oaks, which grow tall elsewhere, are stunted here: they make for beautiful photos.
The 90-acre forest is home to a variety of habitats, with several dozen species of plants, animals, birds, and insects.
Walk the 0.8-mile boardwalk trail through the forest to explore the diverse environments. The trail is accessible, and there are views of Morro Rock and the bay. You can visit between sunrise and sunset, year round.
Look for birds, animals, and butterflies as you walk, and enjoy the diverse flora.
Read the information plaques that describe the plants and talk about the native peoples that lived here. There are benches if you want to sit for a bit and enjoy the quiet beauty.
Guided tours or nature walks are sometimes offered, so check the schedule before your visit if you want to join a guided walk through the beautiful preserve.
Visit Sweet Springs Nature Preserve
Yet another beautiful natural spot in Los Osos, Sweet Springs Nature Preserve has nature trails you can walk, and a couple of viewing platforms.
Some trails are accessible, and there are interpretive plaques offering information on the flora and fauna. There are views of the bay, and benches to relax for a bit.
Sweet Springs Nature Preserve is owned by the Morro Coast Audobon Society, and is a prime birding location, with both resident and migrant birds to spot.
You may see waterfowl, wading birds, raptors, and land birds. Several hundred species have been observed in the preserve!
Look for turtles in the pond, deer, and wildflowers in season. Don't forget to look up into the eucalyptus trees: you may see owls or raptors roosting high up. Bring your binoculars!
If you want to take good pictures of birds and small wildlife without lugging around heavy gear, consider the Panasonic Lumix ZS70. It has a mighty zoom but fits in a jacket pocket! We took many of the bird photos in this article with that little camera. Buy it on Amazon!
Enjoy Craft Beer or Wine
Love craft beer? Morro Bay has some amazing spots where you can sample craft brews! If wine is more your scene, you can enjoy wine tasting in Morro Bay as well.
Our go-to places:
Three Stacks and a Rock is the only nano brewery in Morro Bay, and hugely popular. Order a flight to sample a variety of their beers. The pub eats make for great accompaniments: we love their house made chips! They also offer wine and cider.
Libertine Brewing Company has several Central Coast locations, including on the Embarcadero in Morro Bay. This is actually their original location! They have several dozen beers on tap, with food and live music. Plus views of the bay and Morro Rock!
Chateau Margene, on the Embarcadero, offers wine tasting with advance reservations. Chateau Margene offers cabernet sauvignon and cabernet franc from their estate vineyard, as well as pinot noir and chardonnay.
Absolution Cellars, also located on the Embarcadero, offers tastings from several different Central Coast vineyards. You will enjoy the beautiful art here as well!
Things to Do Near Morro Bay
Morro Bay is located close to so many other charming Central Coast towns that if you are considering spending a few days here, you will be spoiled for choices on places to go and things to do.
In fact, if you have a few days, plan a Central Coast road trip: it's one of the best California road trips you can do!
North of Morro Bay is the tiny coastal village of Cayucos, with sandy beaches and a long pier. You can even sign up for a private surfing lesson at the southern end of Cayucos, just north of Morro Bay.
Further north is Harmony, a tiny town with wine tasting, excellent ice cream, and hiking at nearby Harmony Headlands State Park.
And even further north is the charming village of Cambria, known for its beautiful black sand Moonstone Beach. Walk the Moonstone Beach boardwalk, stroll the main street, and enjoy wine and great food.
North of Cambria is the historic Hearst Castle, with its gorgeous gardens, and an elephant seal rookery.
South of Morro Bay, explore the spectacular Montana de Oro State Park. Walk the scenic bluff trail at Montana de Oro, photograph the unique rock formations, and look for marine life.
A little inland is lively San Luis Obispo, with its historic Spanish mission and tons of exceptional eateries. You'll find several small museums to visit in SLO as well.
Still further south, the Central Coast beach towns of Avila Beach and Pismo Beach offer lots of water activities, and a fun laid back vibe.
East of Cambria lies Paso Robles, the heart of the Central Coast wine country. Along California Highway 46 between the coast and Paso Robles, you will find numerous wineries where you can enjoy outdoor wine tasting with a view. Many wineries offer food and wine tastings as well.
If you are a wine lover, consider a wine tasting tour from Morro Bay: on this highly-rated tour, you get shuttle service to the wineries you pick in Paso Robles wine country. An upgraded option includes lunch and wine tastings.
If you are planning a spring visit in a good wildflower bloom year, add a day to your trip so you can take in the spectacular bloom at Carrizo Plain National Monument, located in southeastern San Luis Obispo County.
Getting to Morro Bay, CA
Morro Bay is located along California Highway 1, on California's Central Coast, almost exactly half way between San Francisco and Los Angeles.
While the SLO County Regional Airport located near San Luis Obispo has flights from several major US cities, most visitors to Morro Bay arrive by road.
Morro Bay is a great stop on a California road trip itinerary or a Pacific Coast Highway road trip!
At 3 hours and 40 minutes by the highway, Morro Bay is one of the many fun weekend getaways from San Francisco (or the SF Bay Area) or LA you can do.
At 5 hours and 15 minutes, it's a longer drive, but still very doable if you are looking for weekend road trip getaways from San Diego.
From San Francisco, take US 101 S to Morro Bay, and from LA take US 101 N. From San Diego, take US 5 N to US 101 N.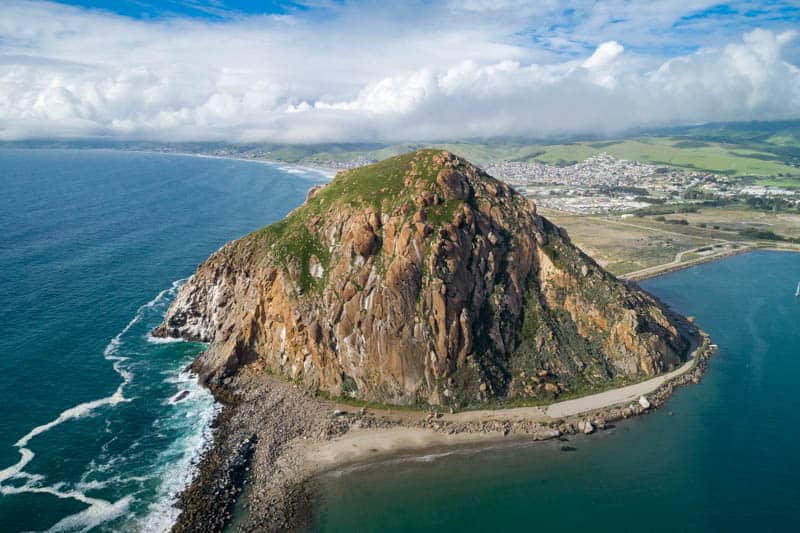 If time isn't a constraint, consider driving scenic California Highway 1.
If you plan to drive south from San Francisco or the SF Bay Area, you can make a stop at lively Monterey or charming Carmel-by-the-Sea and take in some of the must-visit sights in Big Sur along the way.
Coming north from LA or points south, stop in beautiful Santa Barbara or enjoy charming Solvang en route.
Looking for a car rental for your Morro Bay getaway? Check out Discover Cars! They scour multiple providers, from brand to budget, to get the best price for you.
Where to Stay in Morro Bay
Hotels in Morro Bay, CA
Estero Inn is a highly-rated boutique waterfront hotel in Morro Bay, located right on the Embarcadero. Suites are elegantly furnished and offer stunning water views from private balconies. Walk to shopping and dining.
Book a stay here: Booking.com | Hotels.com
456 Embarcadero Inn & Suites is another boutique hotel that offers rooms with views of Morro Bay. Rooms are spacious and feature comfortable furnishings. The hotel is walking distance to restaurants and shopping along the Embarcadero.
Book a stay here: Booking.com | Hotels.com
Inn at Morro Bay is surrounded by woodlands and features views of Morro Bay and the Pacific Ocean. Rooms are spacious and feature comfortable contemporary furnishings. Rooms offer water views.
Book a stay here: Booking.com | Hotels.com
Vacation Rentals in Morro Bay, CA
This gorgeous home, perched on a hill overlooking Morro Bay, offers spectacular views from Cayucos all the way down to Montana de Oro State Park. The open living area is designed to capture the views. Bedrooms are on the floor below. There is a full kitchen. Book a stay here!
This welcoming cottage is located in a quiet neighborhood near the beach in Morro Bay. The home offers two tastefully appointed bedrooms and a full kitchen, plus a garage for parking. Hosts also offer boogie boards and beach cruiser bikes for the length of your stay. Book a stay here!
Where to Eat in Morro Bay
Tognazzini's Dockside Too, on Morro Bay's Embarcadero, offers the freshest seafood and outside seating. It's casual dining: you place your order at the counter and wait for your name to be called.
Their fish and chips are crisp and delicious, their calamari sweet and tender, and their grilled halibut tacos fresh and flavorful. They have live music too!
Windows on the Water offers fine dining with a view. Although their seafood items are superb, the season-inspired menu has other things on offer, from steak to pizza. Their wine list is extensive, and the views sublime.
The Galley Seafood Grill & Bar is located on the Embarcadero, and their menu, while heavy on seafood, features other items as well. Seasonal ingredients, locally sourced, are presented in well-made preparations.
Try the Dungeness Crab Cakes, the Ahi Tuna Poke Bowl, the Fried Prawns, or the Main Lobster Tails.
Frankie and Lola's is a popular cafe, open for breakfast and lunch. Their breakfasts are super hearty, from omelettes to burritos and scrambles: we skipped lunch the day we had breakfast here on a previous visit to Morro Bay.
On a recent visit, we had their cheese sandwiches: delicious!
La Parisienne is a bakery just a couple of doors down from Frankie & Lola's. They offer breakfast as well as a ton of pastries and cakes.
We loved the chocolate cakes and almond croissant we got: the almond croissant had sliced almonds on top and a marzipan filling. There is usually a long line, but it moves fast.
The Best Time to Visit Morro Bay, California
Morro Bay has a temperate climate, with highs in the 60s and lows in the 50s for the most part, so it is a year-round destination. We have visited Morro Bay in every season and we've loved every visit so far.
Visit in the spring for wildflowers and pretty green hills, and in the winter to see tons of migratory birds and migrating whales. In the winter, Monarch butterflies can be found in swarms in eucalyptus groves along the California coast.
Near Morro Bay, you can see them in the Sweet Springs Nature Preserve in Los Osos.
Summer mornings can be foggy, but usually the fog burns off by mid day. Summer is a popular time to visit for activities in or on the water.
In September each year, visit during the Avocado Margarita Food & Drink Festival for three days of fun! The festival offers live music, dancing, and, of course, lots of food (many avocado-inspired dishes), and drink (including unique margaritas).
Visit in the fall for fog-free, slightly warmer days (we usually have an Indian summer in California in September or October, when it gets really warm!).
In early October each year, Morro Bay hosts the three-day Harbor Festival, showcasing local food and wine, and local arts and crafts. It's a great time to visit!
No matter what time of year you plan to visit, bring layers! A windcheater with a hood, or a light warm fleece jacket with a hood, is a must-have, so you can walk by the water or early or late in the day without feeling uncomfortable.
And this goes for summer, too, because summer days on the Central California coast can be cool and moist!
*****
Planning to explore more of the California coast? Check out some of our other travel guides!
Did you find this article informative? Pin it for later reference!