Charming Pacific Grove, located in Monterey Bay, makes for a wonderful getaway, for a day, a weekend, or more. It has a spectacular setting along the Pacific Ocean, a quaint downtown, and plenty of fun things to do.
Pacific Grove is known for its monarch butterfly grove, its many historic homes, some of which date back to the 19th century, and its long stretch of beautiful rocky coastline featuring several scenic overlooks. The small town also offers many charming inns, for a relaxing Central Coast vacation.
Somewhat overshadowed by neighboring Monterey and nearby Carmel-by-the-Sea, Pacific Grove is a must-visit California Central Coast destination in its own right.
Its beautiful coastline is our go-to when we want a quiet (and scenic!) walk by the ocean, and the town has plenty of great eateries for lunch after a morning spent outdoors.
While you could spend your entire vacation enjoying the offerings in Pacific Grove, the town also makes for a convenient base from which to explore the rest of Monterey Bay.
It is the perfect destination, whether you are planning a romantic couples getaway, a fun family vacation, or a solo trip.
Considering a visit to Pacific Grove, CA? Read on to discover all the fun things to do in Pacific Grove, plus our suggestions for where to stay and where to eat.
Things to Do in Pacific Grove
Drive Oceanview Boulevard and Sunset Drive
Oceanview Boulevard and Sunset Drive run pretty much the entire length of Pacific Grove, offering numerous recreational opportunities.
The simplest way to enjoy the long stretch of coast is just to drive it end to end, parking by the side of the road or in designated parking areas where you wish to stop to enjoy the views at leisure.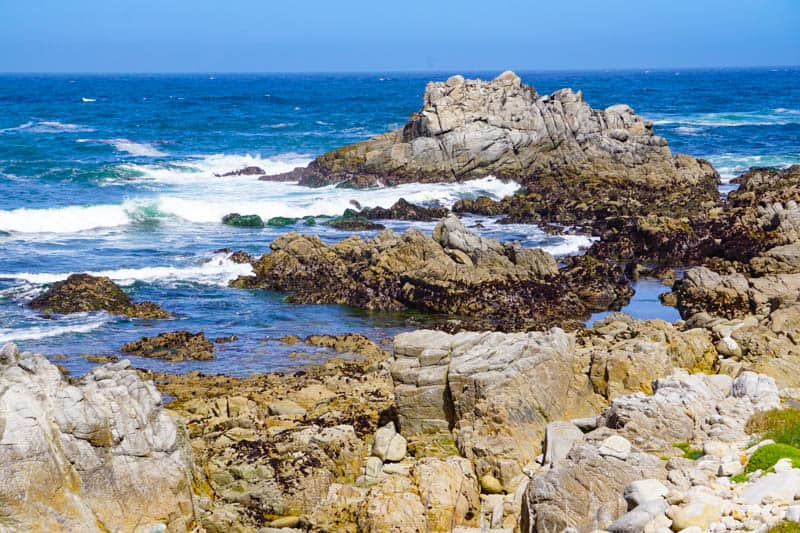 Starting at the Monterey Bay Aquarium, drive Oceanview Boulevard past Lovers Point Park and on to Sunset Drive, all the way to Asilomar Beach, for fabulous views of the Pacific Ocean and the rocky shoreline all along the way.
Along the way, snap photos of the Kissing Rock and the heart-shaped Love Rock, and view the simple John Denver Memorial plaque.
For the best experience, do the drive early in the day. Later in the morning and into sunset, the area does get busy, especially on good weather days.
The water views are quite spectacular, and you may see (and hear!) sea gulls as they swoop around and perch on the rocks.
The drive along the Pacific Grove shoreline is free. If you like, you can continue on Sunset Drive to catch the famous 17-Mile Drive into Pebble Beach, which does have a fee, unless you eat at a Pebble Beach restaurant (spending more than $35.00).
Walk the Coastal Bluff Trail at Asilomar State Beach
The Asilomar Coastal Trail is one of our favorite walks on the California Central Coast.
It's a nice length, about one mile each way, if you walk it from the Sunset Drive end (at Asilomar Beach) to the Ocean View Boulevard end (or vice versa). There are just two homes along this entire length. Otherwise it's all natural coastline.
You will find numerous entry points on to the trail all along Sunset Drive, so you can choose to walk just a part of the trail.
And along the route, there are many places to access the rocky coastline and small coves. The trail is flat and easy, more a walk than a hike, and just beautiful.
Observe the coastal flora along the route, and admire wildflowers in season: the yellow bush lupine looks lovely when in bloom.
Look for marine life and birds, and enjoy the ocean breezes. The walk is spectacular any time of day, but we especially love it early in the morning and at sunset.
For a fun experience, consider this 2-hour GPS-guided Sea Car tour! The two-seater vehicle tour departs from Alvarado Street in neighboring Monterey and covers Cannery Row and the oceanfront at Pacific Grove before returning to the start point. Helmets and fuel are included.
Stroll the Asilomar Dunes Boardwalk Trail
Across the street from the coastal trail, you can also walk the boardwalk trail through the coastal dunes. The Asilomar Dunes Natural Preserve is part of the Asilomar State Beach and Conference Grounds State Park.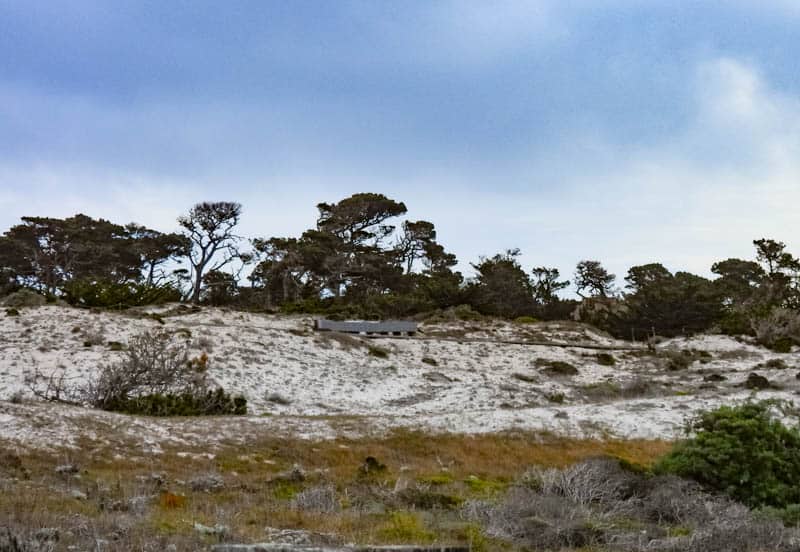 The boardwalk trail is just 0.25 mile long, but it meanders through several acres of a restored sand dune ecosystem.
The walk is the perfect way to observe the many species of native plants that have been planted here, to preserve the beauty of the dunes and bluffs.
Along the gentle walk, you will want to stop often to take in the stunning views of the beach and the ocean. Bring your binoculars, to look for birds in the vegetation. You will likely see deer as well!
The state park sometimes offers docent-led walks through the dunes. If one is offered during your visit, join!
You will learn a great deal as you walk, and get a chance to tour the greenhouse, where seeds of native plants are germinated for propagation.
Admire the Point Pinos Lighthouse
Check out a little bit of California maritime history in Pacific Grove: its charming Point Pinos Lighthouse is the oldest continuously operating lighthouse on the US West Coast.
The lighthouse is still active, and it still has its original lens!
Point Pinos Lighthouse is on the National Register of Historic Places.
The lighthouse not only guided ships, it was also a gathering place for locals in the early days of the community, with at least one keeper, Emily Fish, famous for the parties and dinners she hosted in the lighthouse.
You can tour the interior when it is open and admire the native plants on the grounds, from yellow yarrow to white dune asters and beach daisies.
The little lighthouse is a wonderful photo subject, especially just before sunrise and just after sunset, when the skies are colorful.
At the time of writing, Point Pinos Lighthouse is open Saturday from 11 a.m. until 3 p.m., Sunday from 1 p.m. until 3 p.m.
Take in the Sunrise at Lovers Point Park
One of the most scenic spots along this length of coast, Lovers Point features spectacular water views and beautiful old cypresses. It is known as a prime sunrise viewing spot, because it faces east.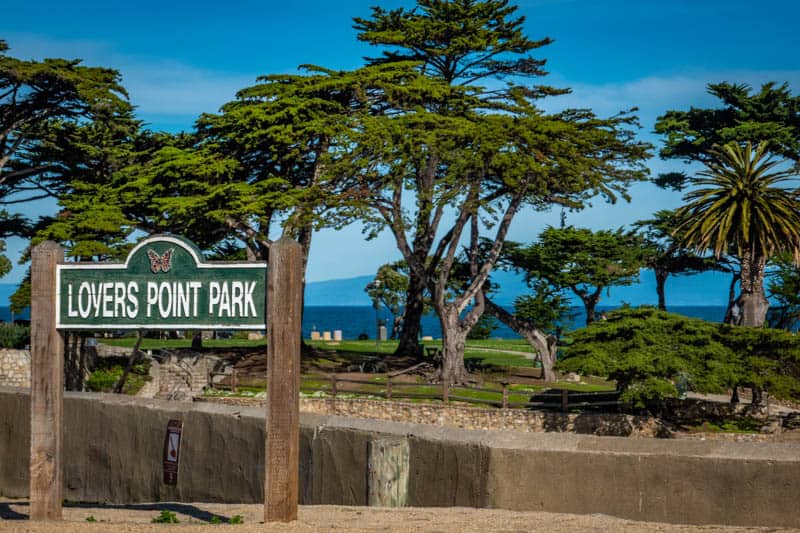 Lovers Point Park is a landscaped park with a large green lawn area, beach volleyball court, kids swimming pool, restaurant, and snack bar.
It is a popular picnic venue, and you can swim, surf, go scuba diving, launch a kayak, climb the many rocks, or just enjoy the beach.
If you want a tranquil experience, visit Lovers Point early in the day. It gets lively and somewhat crowded on good weather days, later in the morning and through the day, all the way until sunset.
If you plan to visit over the July 4th weekend, be sure to visit Lovers Point Park for the annual Feast of Lanterns and fireworks show.
Stroll Sandy Asilomar Beach
Asilomar State Beach is a sandy one-mile strip of beach along Sunset Drive.
The widest stretch of beach is located at the south end, and is perfect for strolling, especially early in the day, when it is tranquil.
Look for Brandt's cormorants, and sanderlings running back and forth at the water line.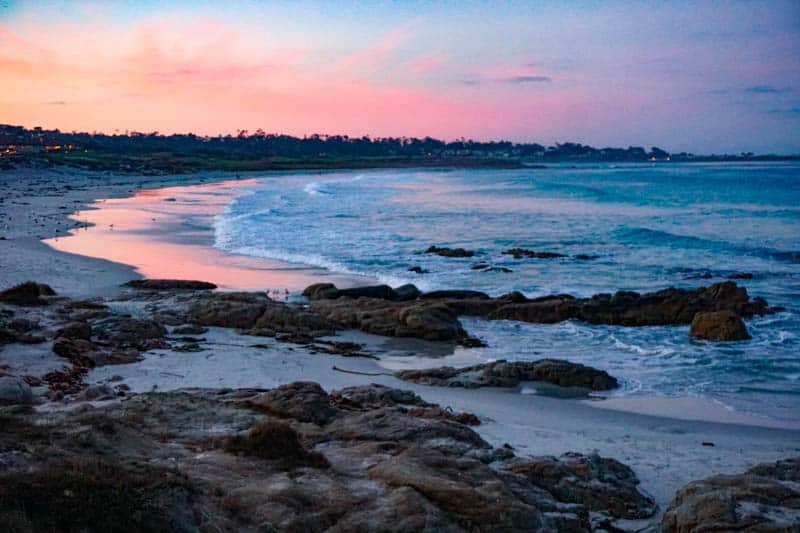 Surfing, kayaking, and kite flying are popular activities at Asilomar State Beach. You can also look for marine life and birds, and go tidepooling in the rocks nearby at low tide.
The beach is accessible, with beach wheelchairs, and dogs are allowed on leash. There are no public restrooms.
Go Tidepooling
You'll find tidepooling spots along the entire length of rocky coastline in Pacific Grove.
Two particularly famous spots to explore tidepools are in the Asilomar State Beach area and The Great Tidepool at Point Pinos, across from the Point Pinos Lighthouse.
The tidepooling in Pacific Grove is some of the best anywhere on the planet: the coast is teeming with little creatures and considered one of the most densely populated marine habitats in the world.
At the Great Tidepool, some pools remain exposed even at high tide. Look for anemones, star fish, mussels, abalone, sea urchins, and other tiny tide pool inhabitants.
If you decide to go tidepooling, wear shoes with good grip, visit at low tide, and always keep an eye on the ocean.
And of course, don't touch, only look, and be careful not to disturb the little creatures or their habitat.
Photograph the Rocky Coastline
Pacific Grove is a photographer's dream, and its rocky coastline offers stunning opportunities for landscape photography.
The rocks look their best at golden hour, or at sunset, on a bright fog-free day.
The coast also looks stunning during blue hour, especially if there is a full moon!
The coastline at Pacific Grove also looks photogenic in the spring, when flowers bloom along its length.
Purple Pride of Madeira, when at peak bloom, looks gorgeous against the blue of the water. Cypress trees and ice plant carpets also make for beautiful photos here.
Go Birdwatching
The Monterey Peninsula ranks as one of the top birding spots in the USA, and the Asilomar area is a great place to go birding.
Point Pinos, the tip of the peninsula, is known as a sea-watching site, but there are other seawatch points along Sunset Drive. California gulls are common, but you may also see other birds, such as Pacific loons and red phalaropes.
The Asilomar State Beach and Conference Grounds State Park rangers offer occasional birdwatching tours within the grounds.
You will learn about the five dozen or so species that are found at Asilomar, and their habitats. Fun and very informative, especially if you are a beginner birder.
Crespi Pond, and the cypress trees nearby, are home to several types of vagrant birds. Much of the area is a golf course, however, and off limits to birders.
You can also walk around the El Carmelo Cemetery nearby, where you may see land birds, and deer as well. It is a serene area to stroll.
Explore Asilomar Conference Grounds
The Asilomar Conference Grounds were originally designed by famous San Francisco architect Julia Morgan, of Hearst Castle fame, and several buildings she designed are still standing. The retreat was created by women for women.
The Conference Center is a National Historic Landmark. The center and grounds are now part of the California State Parks system.
You can do a self-guided tour of the grounds, but consider joining the Asilomar Ramble, a ranger-guided tour offered by the state park, to learn about the history of the center as you explore.
Visit the Pacific Grove Museum of Natural History
The Pacific Grove Museum of Natural History was established in 1883, to "house collections of nature's wonders and to make them available for study."
Exhibits primarily showcase the flora and fauna of the Central California Coast, and are fun for kids and adults alike.
The museum's bird collection includes a mounted California condor, and its Monarch Gallery features a wealth of information on western monarch butterflies.
There is a native plants garden you can tour, and the annual wildflower show, held in April, is delightful.
Be sure to stop by the store for one-of-a-kind souvenirs. The museum is located in downtown Pacific Grove, close to the Monterey Bay Aquarium. There is plenty of parking nearby.
At the time of writing, the museum is open Wednesday through Sunday, from 10 a.m. until 4 p.m.
Wander the Monarch Butterfly Grove (in Season)
Pacific Grove is nicknamed Butterfly Town, USA.
The town is home to the Monarch Grove Sanctuary, one of several sites along the California coast where monarch butterflies overwinter. The grove is the best spot to see overwintering monarch butterflies in Monterey County.
The Monarch Sanctuary is a grove of eucalyptus trees in downtown Pacific Grove.
Visit between November and February to see the beautiful orange monarchs.
Docents are available on good weather days during the viewing season to answer questions. They set up scopes and point out butterfly clusters you can see through the scope.
Monarchs fly when it is warm: at least above 55 degrees. When it's cold, they cling quietly to the trees and are more difficult to spot.
Visit in the early afternoon on sunny days for the best chance of seeing butterflies in flight. Stay on designated paths, and do not touch the butterflies, only look.
The grove is free to enter.
Enjoy the Magenta flower Carpet (in Season)
One of the most famous sights in Pacific Grove is a seasonal phenomenon.
During a few weeks each spring, the magenta ice plant blooms along the coastline at Oceanview Boulevard, creating a spectacular purple-pink carpet as far as the eye can see.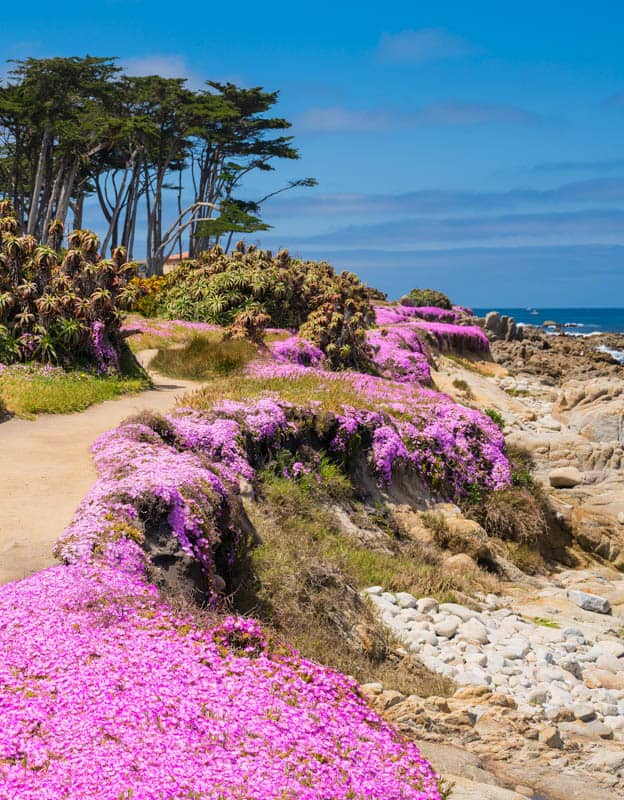 Photographers and visitors arrive in droves to see the bloom.
To get your own photos, arrive early in the morning. Not only will there be fewer people along the paths, the light is also better for photography. In bright sunlight, photos of the hot pink flowers don't turn out as well.
If you walk the path close to the water, you will see the magenta carpet spilling over the sides of the rocky cliffs, all the way down to the water in places. It is a truly dramatic sight.
Admire the Victorian Architecture in Town
Downtown Pacific Grove is known for its many historic homes and beautiful architecture.
There are well over 1,000 historic buildings in the town, most of them private residences, in different architectural styles, from Romanesque to Gothic to Victorian and more.
You can do a self-guided walking tour of some of the historic homes in Pacific Grove.
As you walk the town, note the little green plaques on some of the houses: they are gifted by the Heritage Society of Pacific Grove to homes built before 1926.
Chautauqua Hall, on 16th and Central Avenue, was built in 1881 to host concerts, and is designated a State Historic Landmark.
You can see Steinbeck's Cottage on 11th Street, and stay in it as well! Seven Gables Inn and Pryor House, both on Oceanview Boulevard, are worth seeing as well.
Shop Antique Stores and Galleries
If you enjoy antiquing and browsing cute small stores, check out downtown Pacific Grove and Forest Avenue.
You will find several small boutiques, a few art galleries, and some antique, artisanal foods, and gift shops that make for a fun browse.
Some of our favorite shops in Pacific Grove:
Pickings Antiques, on Forest Avenue, for an eclectic collection of antiques, from old postcards to furniture and collectibles
The Treasure Grove, on Lighthouse Avenue, for a lovely selection of home decor, gifts, and collectibles
Artisana Gallery, on Lighthouse Avenue, for candles, glass, wind chimes, jewelry, and gifts
Hauk Fine Arts, on Fountain Avenue, for California art, with the Monterey Peninsula as a focus
Happy Girl Kitchen, on Central Avenue, for delicious preserves, marmalades, pickled vegetables, and more
Play Golf
The Monterey Peninsula is known for its many golf courses, including the famous Pebble Beach Golf Links, where the seventh hole is perched on a cliff right above the Pacific Ocean.
Many of these golf courses, while open to the public, are super expensive.
The Pacific Grove Golf Links has a lovely setting, almost by the ocean, and is very affordable, charging just over 50 dollars for 18 holes at the time of writing. You can rent carts for an additional fee.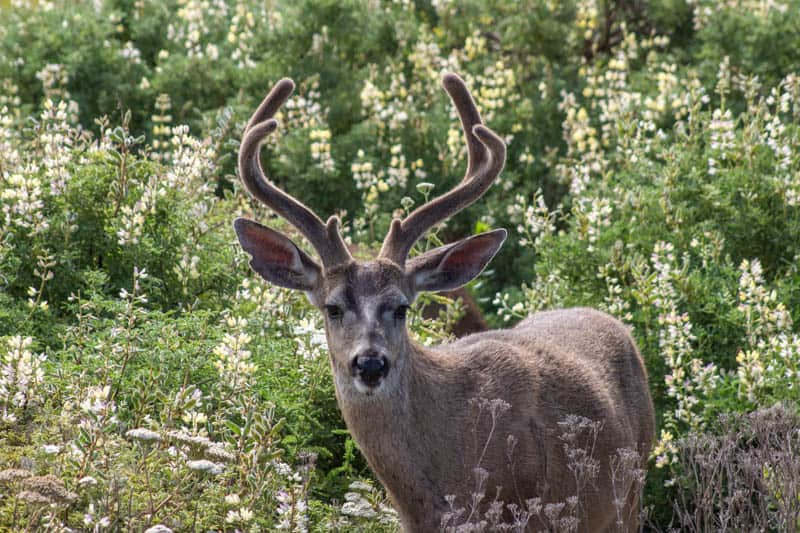 The front nine holes offer glimpses of the ocean through cypress trees, and the back nine traverse sandy coastal dunes. You'll likely see deer and birds between holes, and enjoy the ocean breeze on warm days.
The Pacific Grove Golf Links are popular, so reserve ahead of time if you want to play during your visit.
Enjoy the Murals
If you enjoy public art, Pacific Grove has several pretty murals you can view.
Possibly the most well known mural in Pacific Grove is Paseo de los Padres, which decorates the wall of the Central Avenue Pharmacy. It was created in 1968.
The Irene Masteller Mural is along Ocean Boulevard, and features various panels highlighting the history of the area.
You will find other murals at the post office, Happy Girl Kitchen, Grove Market, and more, so look for them as you walk downtown Pacific Grove.
Things to Do Near Pacific Grove
The towns of the Monterey Peninsula are bunched close together, and you will find it easy to explore the entire peninsula from your base in Pacific Grove.
From state and regional parks to charming small town main streets and great food and drink, the peninsula is fun to explore.
Visit the quaint seaside village of Carmel-by-the-Sea to stroll the cobblestone streets. Carmel also has a lovely sandy beach.
Go whale watching from Monterey, or visit the world-famous Monterey Bay Aquarium. Do the iconic 17-mile drive in Pebble Beach.
Enjoy wine tasting in Carmel Valley, or along River Road in Salinas. Also in Salinas, the National Steinbeck Center is worth visiting if you love the works of the author.
If you prefer being out in nature, plan one day in Pinnacles National Park, about an hour and 20 minutes south. Or go for a drive in nearby Carmel Highlands, to enjoy ocean views from above.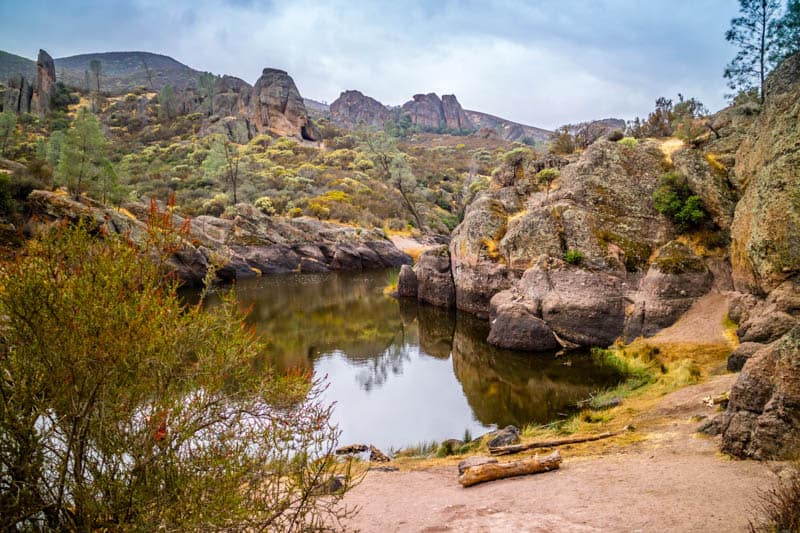 You can also explore more of the coast, where the magnificent vistas of Big Sur await: do the entire drive, or pick one or two parks to explore in depth. Point Lobos State Park and Garrapata State Park are both quite close to Pacific Grove.
At Moss Landing, just 30 minutes up the coast to the north, you can do a boat trip to see lots of birds at Elkhorn Slough, or hike in the reserve.
Book the Elkhorn Slough wildlife boat safari now!
Moss Landing is also an excellent spot from which to look for marine mammals or to do a whale-watching trip.
Getting to Pacific Grove, CA
Monterey Regional Airport is located near Pacific Grove, with flights from several major US cities, but most visitors to the town arrive by road. Pacific Grove makes for a great stop on a California road trip itinerary!
At just under two hours by the highway, Pacific Grove makes for one of the many fun weekend getaways from San Francisco (or the SF Bay Area) you can do. If you start early, you could even do a day trip to Pacific Grove from San Francisco or Silicon Valley.
From LA, the drive to Pacific Grove is about 5 hours by the highway, so Pacific Grove makes for a relaxing weekend getaway from the LA area.
It's a longer drive of about 6.5 hours, but still doable if you are looking for weekend road trip getaways from San Diego: pick a long weekend so you have more time to enjoy the beauty of Pacific Grove. Or opt for a longer vacation and explore the rest of Monterey Bay as well!
Looking for a car rental for your Pacific Grove getaway? Check out Discover Cars! They scour multiple providers to get the best price for you.
Where to Stay in Pacific Grove, CA
Hotels in Pacific Grove, CA
Andril Fireplace Cottages are located near Asilomar Beach. The grounds are beautiful, and different sizes of accommodations are available. Outdoor seating and barbecue facilities are available, and firewood is delivered to your cottage each day. Each cottage has a kitchen and an enclosed patio. Book on booking.com | Book on hotels.com
Seven Gables Inn is a historic oceanfront property with every room featuring ocean views. The gardens surrounding the inn are beautiful. Rooms are spacious and romantic, perfect if you are planning a couples getaway. Book on booking.com
Green Gables Inn is a Four Sisters bed and breakfast located on Oceanview Boulevard. Each room features a gas fireplace. Some rooms have bathtubs with jets, or partial ocean views. Rooms are spacious and furnished beautifully. Book on booking.com | Book on hotels.com
Gosby House Inn is also a Four Sisters property, located near Lovers Point Beach. The historic Victorian property offers breakfast and afternoon wine and appetizers. Rooms are spacious and cozily furnished. Book on booking.com | Book on hotels.com
Vacation Rentals in Pacific Grove, CA
This charming and romantic cottage is the perfect couples' retreat in Pacific Grove. It is located steps from the ocean and features one bedroom, one full bath, and a kitchen. Lighthouse Avenue, with shopping and dining, is just three blocks away.
Book a stay here!
This 1920s bungalow is located steps from Lovers Point and has an ocean view. The home has been carefully restored and features traditional furnishings and a fireplace. There is a full kitchen, a clawfoot tub in the bath, and a deck and garden in the back.
Book a stay here!
Cottage at the Cove is a recently restored 1884 vintage Victorian located at Lovers Point. It's just a 3-block walk into town as well. The cottage offers one bedroom and one bath, perfect for that couples' getaway. Enjoy the porch in front and the lovely garden in the back.
Book a stay here!
Where to Eat in Pacific Grove
Red House Cafe is our favorite place to go for weekday lunch or weekend brunch, but they serve breakfast and dinner as well. They serve American fare with a European twist, and use seasonal and local ingredients. The grilled cheese sandwich is delicious, as is the Nutella panini. Outside seating is available.
If you love seafood, you have to dine at Passionfish. Everything we've tried here has been amazing, but try the scallops: sweet, perfectly cooked, and very flavorful. The spicy fish stew, in a tomato-cilantro broth, is very good as well! And the buttermilk biscuits are a must.
Il Vecchio is a wonderful Italian restaurant, with several vegetarian options for pastas and an eggplant parmesan panino that we love. Their tiramisu is quite authentic. They have outdoor seating.
Peppers Mexicali Cafe offers flavorful Mexican favorites, and they have a great outdoor dining set up. The grilled cheese-stuffed peppers are delightful, and we love the smoked gouda quesadilla.
First Awakenings is a super popular breakfast spot. If you do not reserve, you will almost certainly have to wait in line. They serve eggs done numerous ways, and pancakes made from scratch. All the berry pancakes are awesome.
Best Time to Visit Pacific Grove, California
Pacific Grove, and the Monterey Peninsula, are year-round destinations, with temperate weather and lots of activities to enjoy no matter which season you choose to visit. Winter brings some rain, so pack some rain gear, or pick a sunny patch of days to visit.
Spring is just gorgeous in Pacific Grove, with wildflowers and other blooms, great weather, and lots of birds to spot. You may see migrating whales in spring as well.
Fall brings warm temperatures during the Indian summer, and monarch butterflies arrive in the grove. Summer days may start out foggy, but most days the fog vanishes by noon.
Winter sunsets are spectacular, and clear days are just wonderful for being outdoors. Plus, winter is a great time to look for migrating whales.
Always pack layers, so you can wear a jacket if it gets cool and breezy, especially for activities near the water. Bring closed-toed shoes for trail walking.
*****
Looking to explore more of the California Central Coast? Check out some of our other articles on fun Central California coastal towns and cities!
Did you find this article informative? Pin it for later reference!