Palm Springs, located in the California Sonoran Desert, is the quintessential desert getaway. If you are considering a vacation here, know that you'll be spoiled for choice when it comes to things to do in Palm Springs, and nearby.
Long prized by Hollywood celebrities as a place to relax and recharge, Palm Springs is worth visiting for its cool mid-century modern architecture, museums and public art, shopping, dining, and myriad recreation opportunities, from golf to hiking. Of course, you can also visit to just chill by the pool!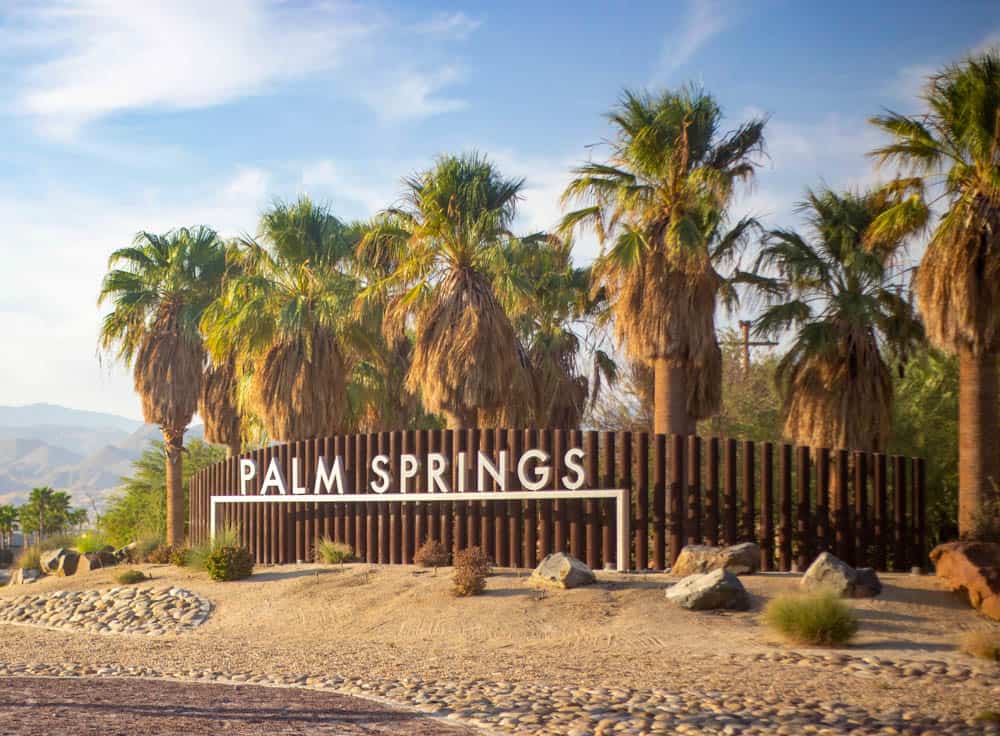 While you can easily spend a weekend (or even enjoy a longer vacation) just in downtown Palm Springs, you can also zip over to explore one or more of the other cities that make up the Greater Palm Springs area: check out our ultimate long weekend itinerary for Palm Springs!
You can also do day trips from Palm Springs to the desert and beyond.
Considering a visit to this desert playground? Read on to discover the best things to do in Palm Springs, plus nearby, and our suggestions for where to stay and eat.
Things to Do in Palm Springs
Ride the Palm Springs Aerial Tramway
The world's largest rotating tram car, the Palm Springs Aerial Tramway takes you on a magical ride from Valley Station, at 2,643 feet above sea level, to Mountain Station on Mount San Jacinto, 8,516 feet above sea level.
Riding the aerial tramway is one of the top things to do in Palm Springs.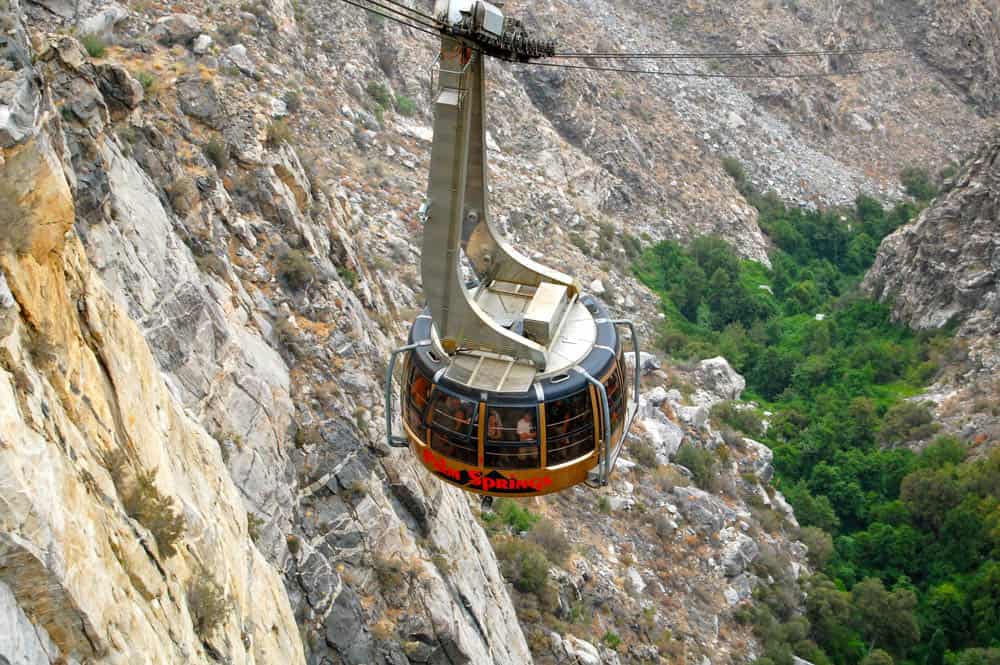 The ride, which is about 2.5 miles in length and takes about 10 minutes each way, takes you along the cliffs of Chino Canyon, with jaw-dropping views over Palm Springs and the Coachella Valley.
When the windows are open, you can get glass-free photos on the ride!
At the top, you can hike over 50 miles of trails in Mount San Jacinto State Park, take in the views from the observation decks, and browse the gift shop and small natural history museum.
Dining options include Peaks, a fine dining restaurant with fabulous views, and the casual Pines Café.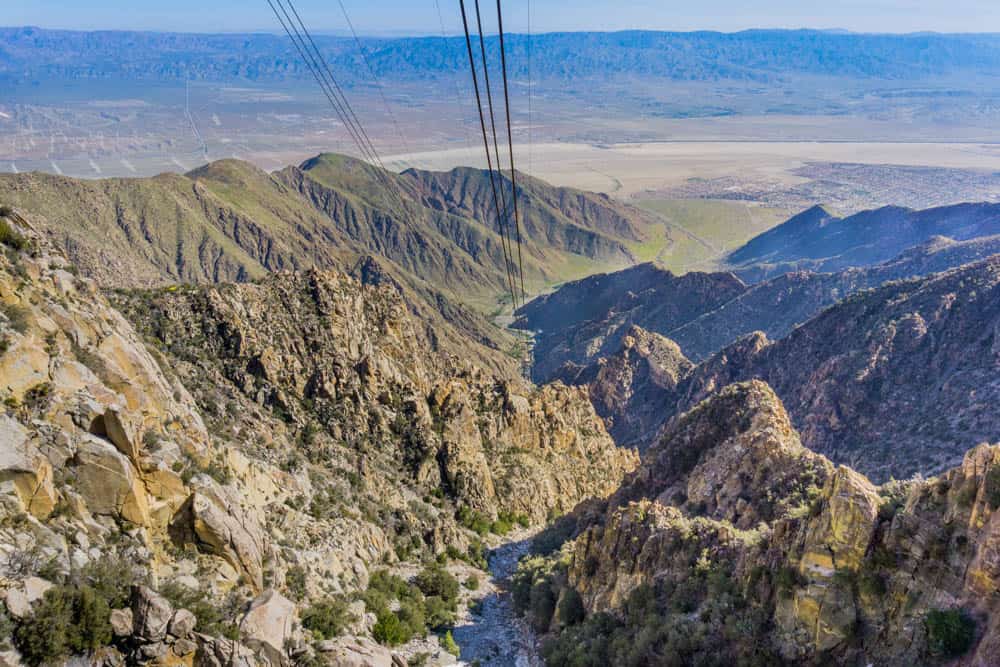 The temperature at the top is usually 30-40 degrees cooler than on the desert floor, so layers are a must! The timing and extent of snowfall at the upper station varies by year.
Trams usually run everyday, year round. Pets are not allowed on the tram or in Mount San Jacinto State Park. There is a parking fee at the Valley Station, or you can take a taxi or a rideshare.
Visit the Palm Springs Art Museum
The Palm Springs Art Museum is a must-visit if you enjoy contemporary art. With over two dozen galleries, two sculpture gardens, a performing arts theater, and more, the museum offers a lot to see and do.
The art museum has a collection of over 12,000 works of modern and contemporary art, including sculptures, paintings, prints, and photographs. There are multiple exhibitions you can usually enjoy on any given day.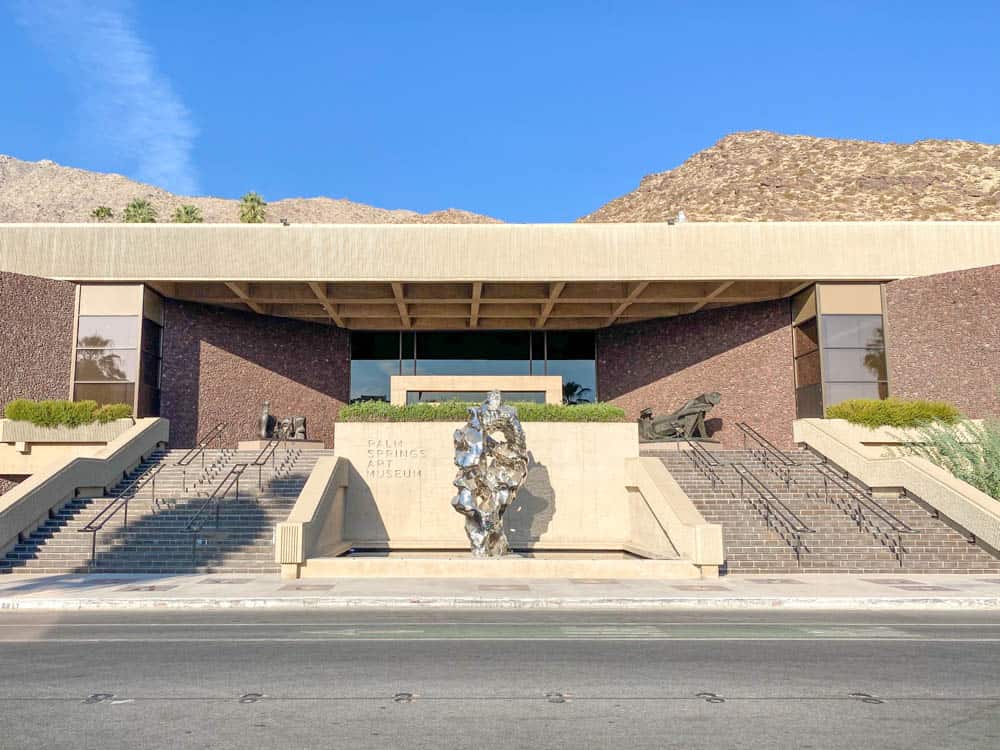 The complex also houses the Annenberg Theater, where you can attend performing arts events. The Coachella Valley Symphony performs here.
The Food Drinks Garden in the Elrod Sculpture Garden offers bites and drinks from a curated sampling of local vendors.
Also part of the complex is Aluminaire House, considered a masterpiece of modernist design. The three-story, all-metal structure was designed by A. Lawrence Kocher and noted Palm Springs architect Albert Frey in 1931, and assembled in just 10 days.
Frey's residence, Frey House II, located on the hillside above the museum, also belongs to the museum.
Architecture and design students and enthusiasts will also want to visit the Palm Springs Art Museum Architecture and Design Center, housed in a mid-century modern that was once the home of Santa Fe Federal Savings & Loan.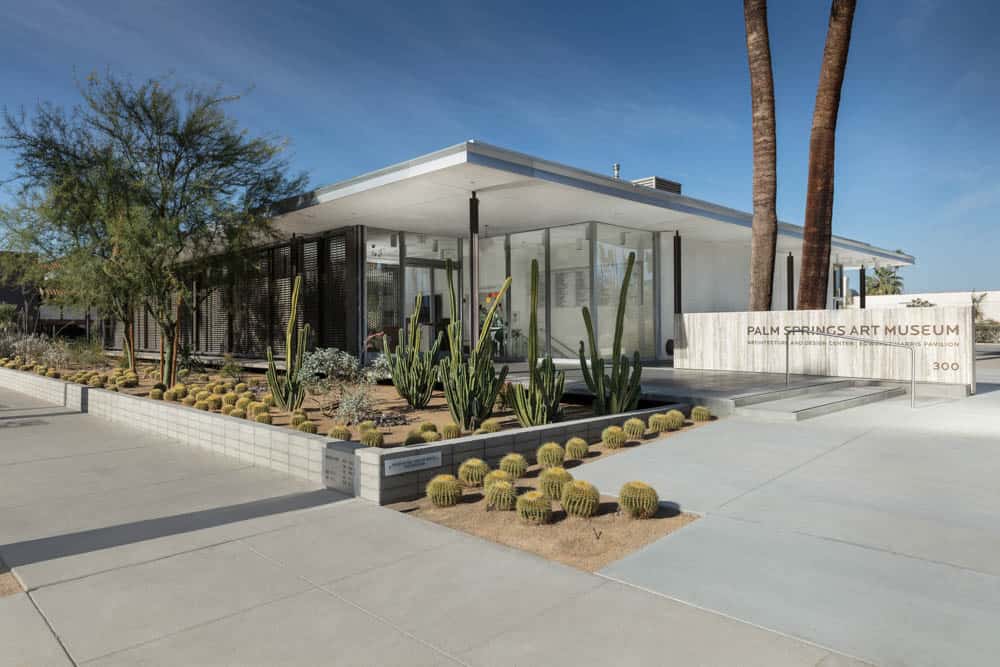 And if you visit Palm Desert, make sure to tour the Faye Sarkowsky Sculpture Garden, also owned by the Palm Springs Art Museum.
The outdoor collection contains 14 sculptures and a number of desert plants, and is free to enter.
Considering Palm Springs for a couples' getaway? Check out our round-up of the most romantic hotels in Palm Springs!
Stroll Palm Canyon Drive in Downtown Palm Springs
The main shopping street in downtown Palm Springs, Palm Canyon Drive is lined with numerous shops, galleries, cafes, pubs, and restaurants.
With beautiful palm trees on either side (bedecked with lights at night!), and colorful building facades, Palm Canyon Drive makes for a lively stroll.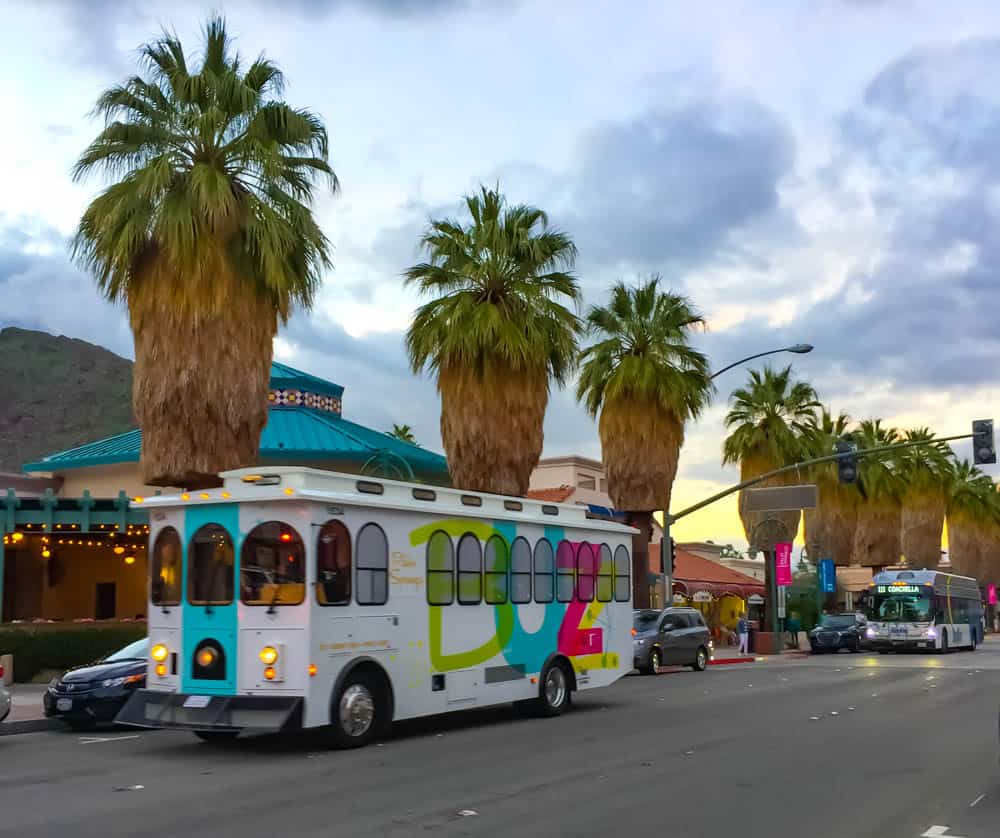 Go antiquing. Shop for gifts and collectibles. Browse art galleries. Grab a drink at an outdoor table and people watch. Savor meals from different cuisines. Admire the many historical buildings and public art works. Snap a photo of the Palm Springs Welcome Sign. There's a lot to do on Palm Canyon Drive!
Along Palm Canyon Drive, Tahquitz Canyon Way, and Museum Drive, you will find the Palm Springs Walk of Stars. From Elvis Presley and Elizabeth Taylor to Presidents Reagan and Ford, several hundred celebrities have been honored with stars here.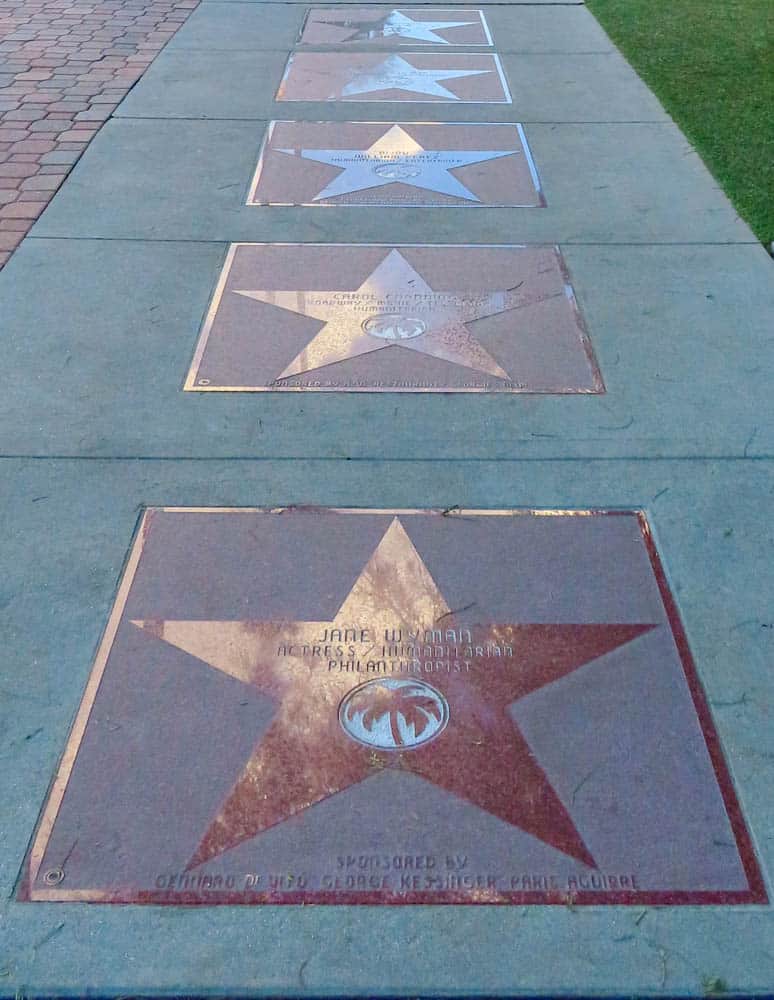 Stop by the Palm Springs Visitor Center
The Palm Springs Visitor Center is located on North Palm Canyon Drive. It's housed in a building listed on the National Register of Historic Places.
With majestic Mount San Jacinto as its backdrop, the building's triangular roof makes a dramatic statement as you approach.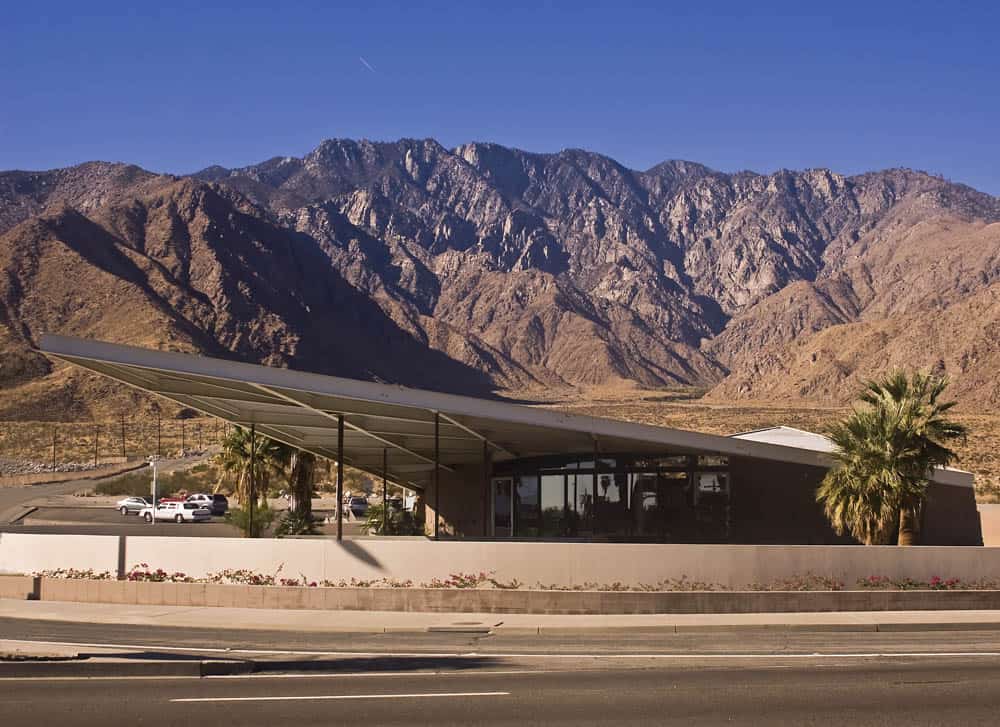 Originally the home of Enco Tramway Gas Station, the 1965 structure is one of the most striking examples of mid-century modern design you can see in the city.
Inside, you will find lots of books, tour pamphlets, and souvenirs. There are restrooms here as well.
Get your questions answered by the Visitor Center staff, and obtain current information about things to do, events happening during your visit, and special closures.
Pick up maps and brochures: one of the most useful things we got here was a map of mid-century modern structures in and around town.
Enjoy the Palm Springs VillageFest (Thursday Nights)
Thursday evenings are especially fun in downtown Palm Springs, when Palm Canyon Drive closes to vehicular traffic for the weekly Palm Springs Street Fair, known as VillageFest.
If you happen to be in town on a Thursday evening, it's a great place to spend an hour or two!
Arts and crafts, gifts, produce, prepared foods, and fresh flowers are offered at vendor booths lining both sides of the street. Enjoy live entertainment as you browse and shop.
Shops, galleries, and restaurants along Palm Canyon Drive stay open late, adding to the fun and lively ambience.
During the summer, VillageFest runs from 7 p.m. to 10 p.m., and at other times of the year, it runs from 6 p.m. until 10 p.m.
Go Shopping in Palm Springs!
If you enjoy shopping, or window shopping, Palm Canyon Drive and nearby Indian Canyon Drive offer a multitude of one-of-a-kind shops, art galleries, and antique stores.
From mid-century modern memorabilia to gifts and clothing, you will find a lot to browse here!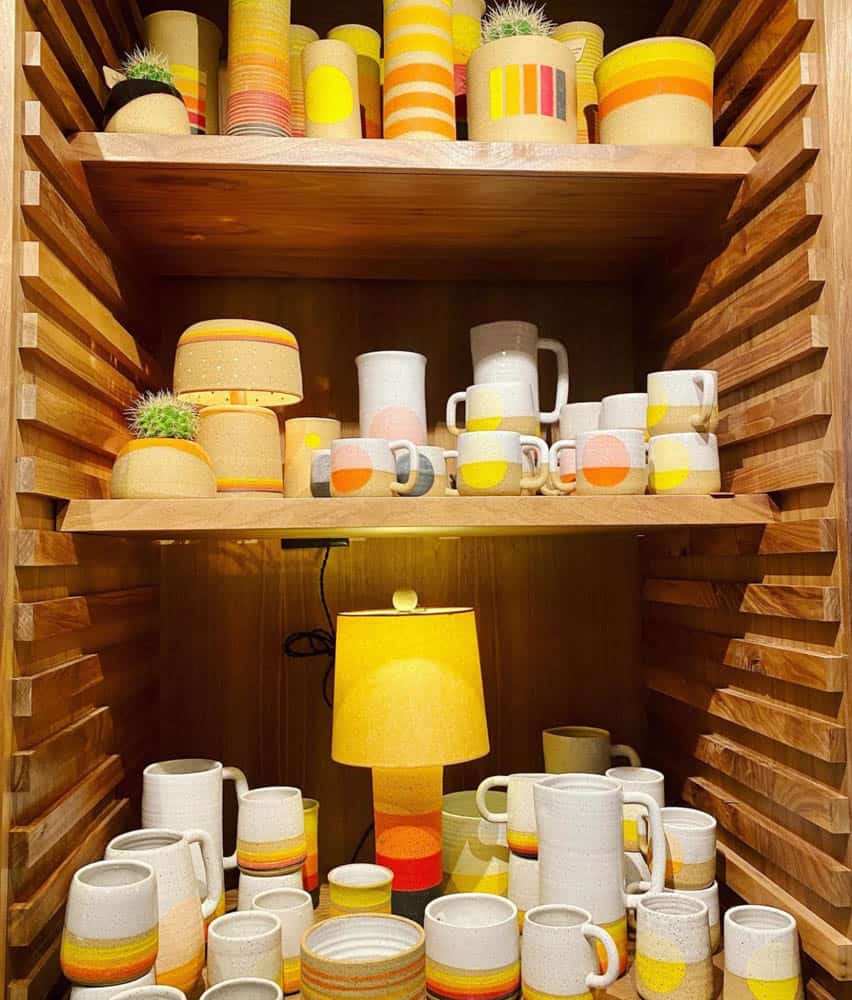 Some of our favorite stops:
The Shops at 1345 is a collective of thirteen wonderful stores, housed in a historic mid-century modern structure designed by E. Stewart Williams.
Check out Mary McDonald's handcrafted mugs, pots, and tumblers at Double M Pottery, linens using Italian fabrics from Talini, California-inspired decor at The Garage Collective, and more.
Thick as Thieves is a charming browse for home and kitchen items, gifts, Palm Springs tees and other apparel, and jewelry.
Their home wares are especially lovely, from stoneware bowls and plates to marble coasters. They also carry the small-batch hand-roasted coffee from Joshua Tree Coffee Co.
Antique Galleries of Palm Springs is a short distance off the main drag, but it's a large store with lots of unique antique jewelry, watches, collectibles, vintage clothing, home and kitchen items, and other odds and ends.
The Frippery offers vintage clothing: caftans, jumpsuits, and dresses in loose flowing 70s and 80s styles, perfect for lounging by the pool.
The colors are bright and cheerful, from amethyst and orange to hot pink and cool blue, and you won't want to get just one!
Elena Bulatova Fine Art is a stunning browse. The gallery offers colorful modern art, including paintings, sculptures, photos, and collages.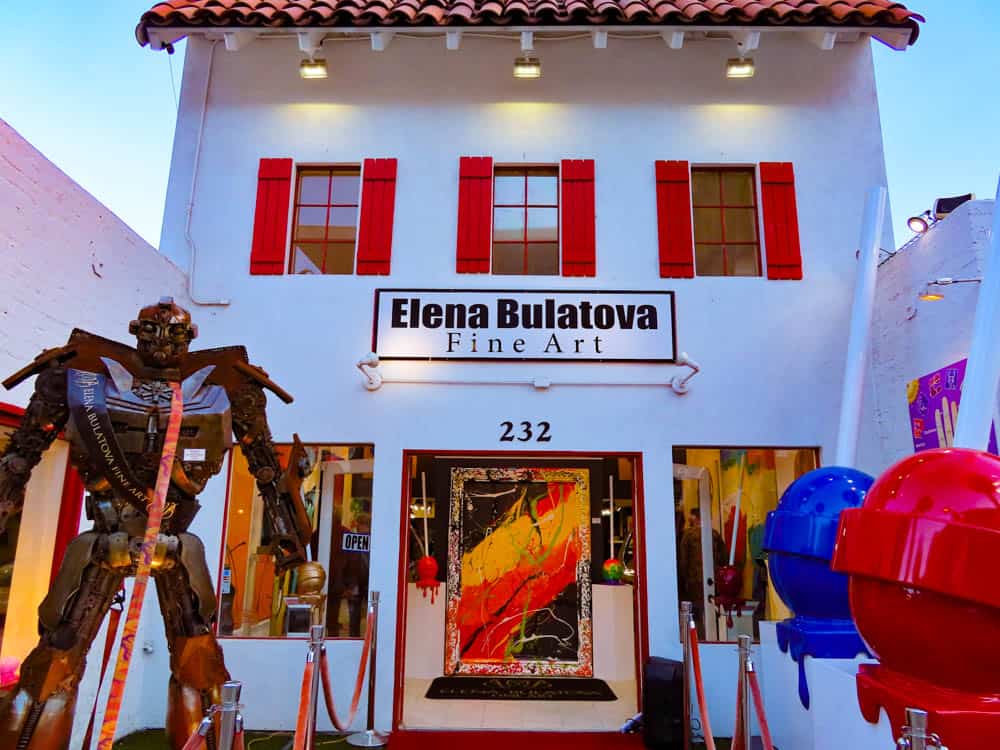 Tour the Palm Springs Air Museum
One of the coolest things to do in Palm Springs is tour the Palm Springs Air Museum, where you can see aircraft from World War II, the Korean War, and the Vietnam War, most in flyable condition!
There are other artifacts and exhibits documenting US history to view as well.
There are about five dozen aircraft you can view at the museum, and occasionally you may see traveling exhibits and visiting aircraft.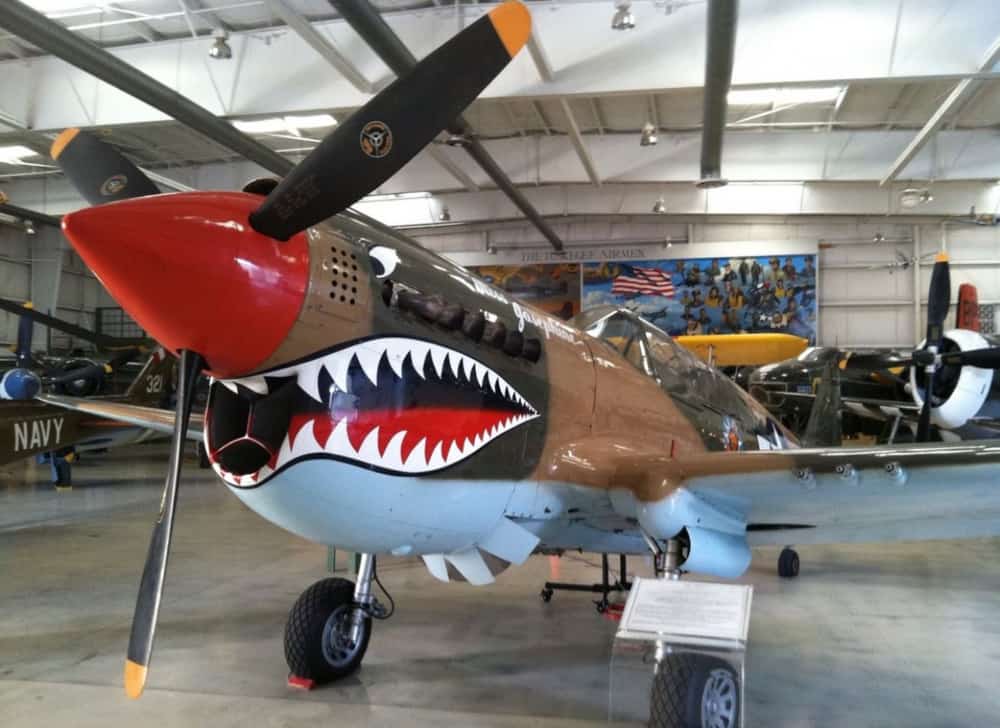 Browse the many exhibits, learn more about our country's historical military aircraft, and visit the gift shop, where you can shop for unique collectibles.
Many of the docents at the museum are war veterans and former pilots, with lots of stories to tell and information to impart. If you have the opportunity to join a guided tour, we highly recommend grabbing it.
Aviation buff? You can take a ride in one of six vintage warbirds for a once-in-a-lifetime experience! Some of the rides are super pricey, but a short flight in a C-47 Skytrain is $99.00 at the time of writing.
Visit Moorten Botanical Garden
Hiking out into the desert around Palm Springs is a wonderful way to get up close to the region's flora and fauna, but if you want to see succulents from all over the world right in town, visit the Moorten Botanical Garden and Cactarium.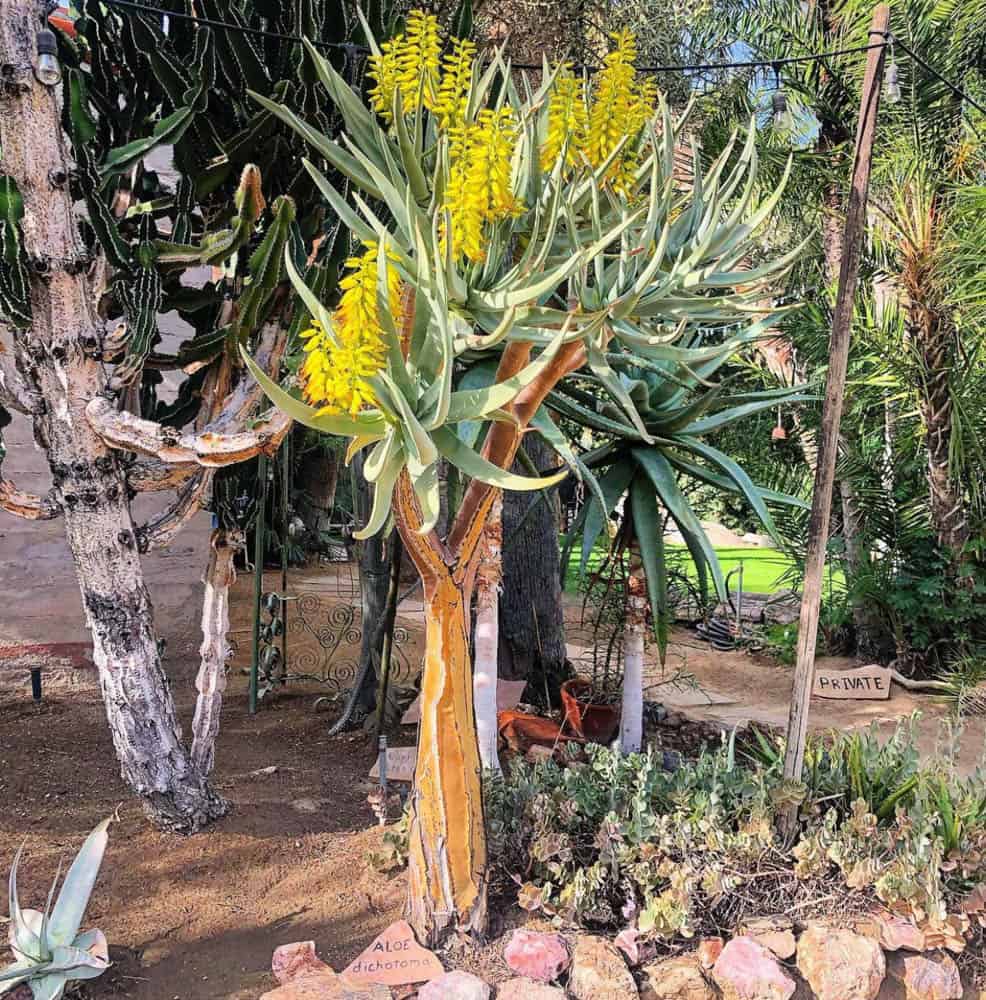 Located on South Palm Canyon Drive, Moorten Botanical Garden is family-owned and just one acre in size, but it contains several thousand plants from deserts in the USA, Mexico, South Africa, and South America.
The outdoor collections include a very tall pachypodium, and many striking aloes and agaves. A nature trail winds through the collections. The cactarium houses numerous species of cacti and succulents, including some rare specimens.
You can also buy cacti and succulents at the onsite nursery to take home! The garden is open Thursdays through Tuesdays, from 10 a.m, to 4 p.m., and closed Wednesdays and on major holidays. There is an admission fee.
Hike Tahquitz Canyon (There's a Seasonal Waterfall!)
Located in a scenic part of the Agua Caliente Band of Cahuilla Indians Reservation, and home to a stunning seasonal 60-feet waterfall, Tahquitz Canyon is one of the best hikes you can do in Palm Springs. Ranger-led hikes are also offered.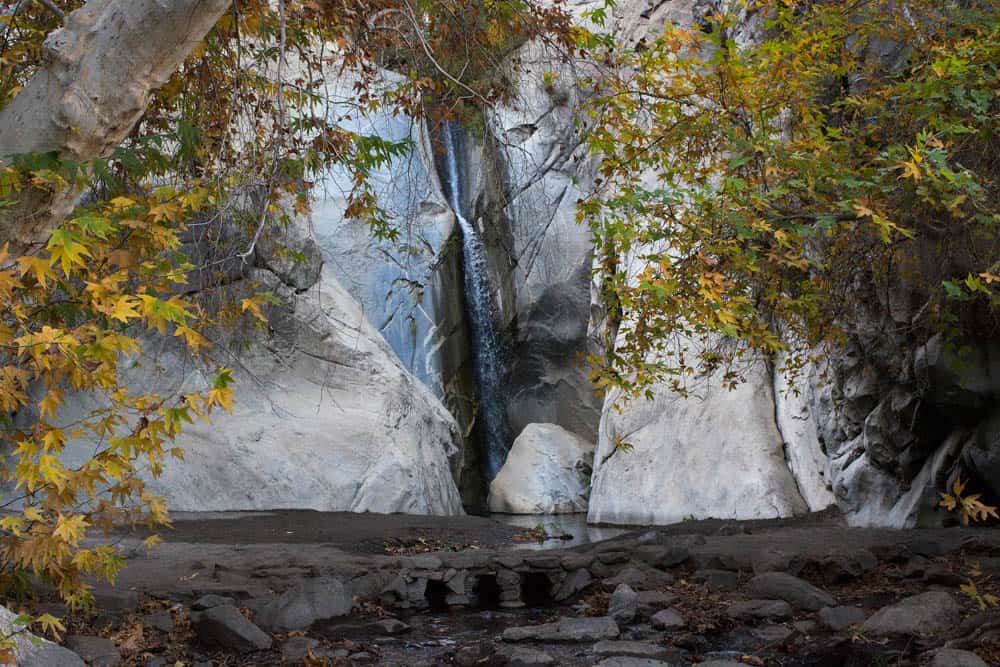 Tahquitz Canyon is not an easy hike, but if you are up for climbing lots of steep rock steps, the hike is worth doing, especially when the waterfall is flowing well or when wildflowers are in season.
About 1.8 miles out and back, the hike has an elevation change of about 350 feet.
Other than the popular hike, Tahquitz Canyon features rock art, the remains of old irrigation systems, and opportunities for viewing local flora and fauna.
At the visitor center, you can view a film called The Legend of Tahquitz Canyon, and browse exhibits.
Tahquitz Canyon is open daily from 7.30 a.m. until 5 p.m. between October and the beginning of July, and from Fridays to Sundays the rest of the year. There is an admission fee.
Admire the California Fan Palm at Palm Canyon (indian Canyons)
If you love exploring the desert, you will also want to visit the Indian Canyons, located close to downtown Palm Springs.
Also part of the Agua Caliente Band of Cahuilla Indians Reservation, the Indian Canyons are included in the National Register of Historic Places.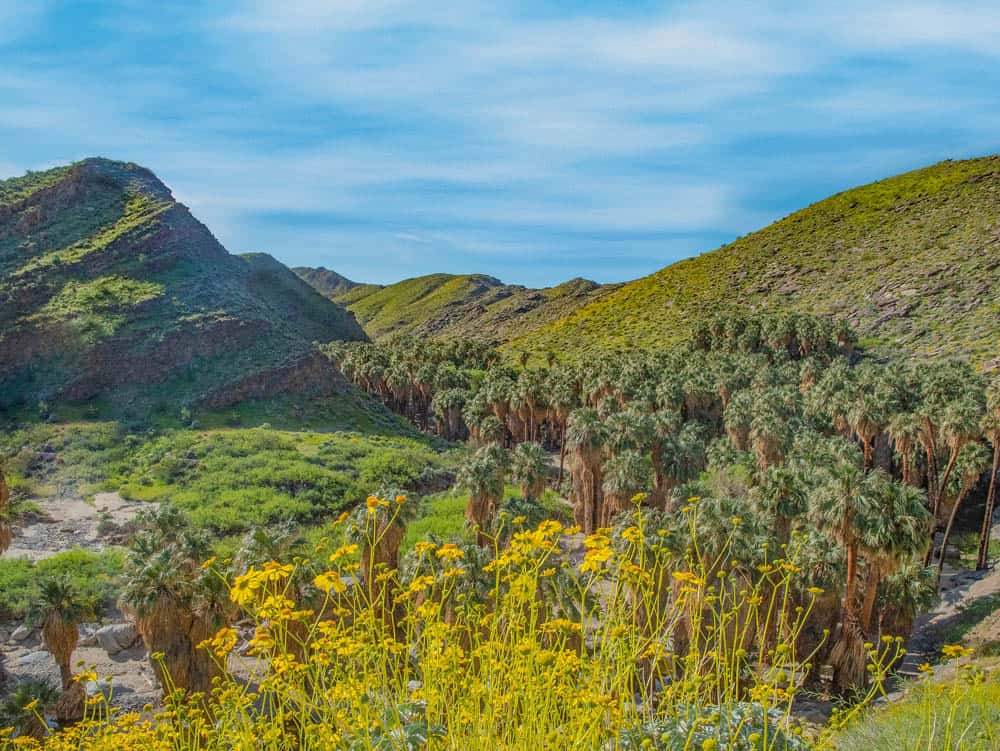 Palm Canyon is one of the Indian Canyons. The canyon is 15 miles long, and home to the largest oasis of California fan palms (Washingtonia filifera) in the world. The desert landscapes in the canyon are stunning, with rocky gorges and sandy expanses.
Walk down Palm Canyon Trail into the canyon (wear shoes with good grip!), where you can enjoy the stream, admire the lush stands of palms and other local flora, and look for birds and wildlife.
You may see lizards, desert bighorn sheep, foxes, snakes, or mule deer. In season, enjoy wildflowers. Rock formations along the way are beautiful.
You can walk back the way you came, or, for a longer loop, walk back via the Victor Trail, which is exposed and a bit more of a challenge, but features stunning views down into the canyon from the ridge above, as well as vistas of distant mountains.
Keep an eye out for bighorn sheep!
There is an admission fee to enter the Indian Canyons. One fee covers all the canyons here.
Go Birdwatching at Andreas Canyon
Andreas Canyon is our favorite canyon in Palm Springs.
The easy but scenic hiking loop is just over one mile long, and winds through the lush canyon, offering up-close views of mature fan palms and a large variety of other flora, beautiful rock formations, and Andreas Creek, which has water all through the year.
Along the way, look for remnants of bedrock mortars used by the ancients for food preparation. The trail is also popular for birdwatching, so be sure to bring your binoculars. You'll hear lots of birdsong along the trail!
Also look for bighorn sheep, lizards, and other creatures as you walk. And watch for snakes!
Ranger-led interpretive hikes may be available from October through June, and is included with paid admission into the Indian Canyons. If one is offered when you visit, join! You will learn a lot as you hike through the beautiful canyon.
Spring is a wonderful time to hike Indian Canyons (or, indeed, any trails around Palm Springs!) In good bloom years, you will see lots of colorful wildflowers, and cacti and succulents along the trail will be blooming in spring as well.
Want a more active experience? This well-reviewed hike and bike tour of Palm Springs takes you on a bike ride through some of Palm Springs' iconic neighborhoods on your way to the canyons, where you will do a one-mile oasis hike before heading back for a sweet treat to conclude the tour. Book this tour now!
Hike (or Go Horseback Riding) at Murray Canyon
Murray Canyon is another of the Indian Canyons that you can hike. It is open to both foot hikers and horseback riders (so expect to see horse poop!).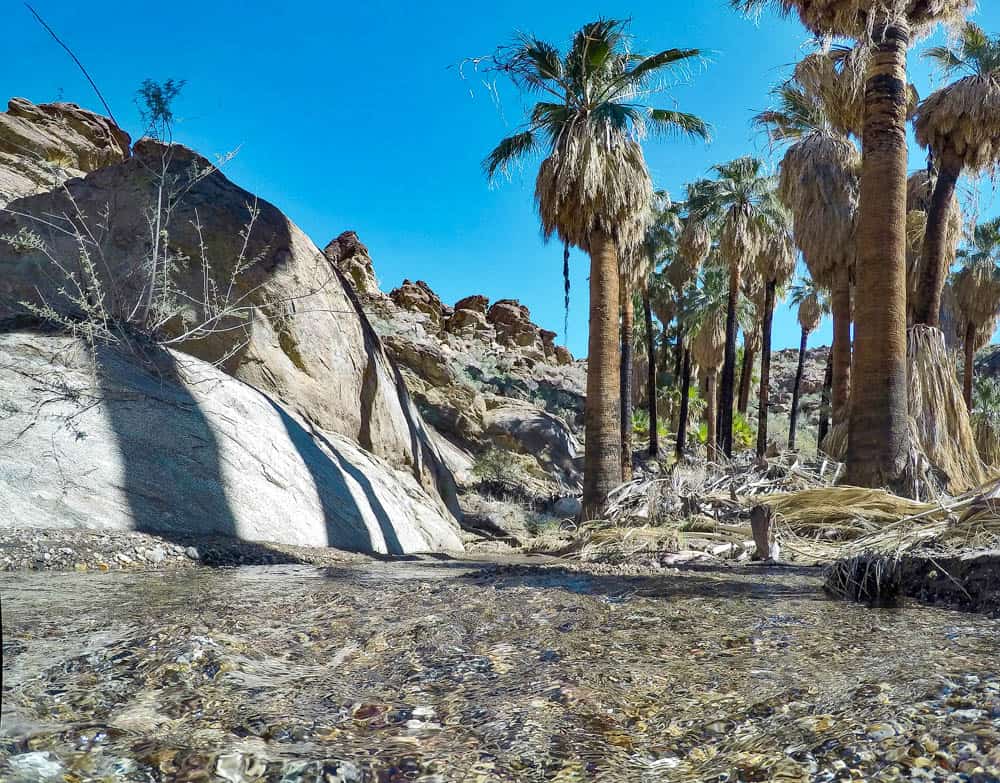 If you do the full trail to Seven Sisters Falls, it is about 3.7 miles out and back, with some scrambling at the end to see the falls. But you can hike as far in as you wish: the shaded canyon comes up after about 0.6 mile, with palms and other vegetation.
Look for the endangered peninsular desert bighorn sheep, mule deer, rabbits, foxes, and other creatures, and watch out for rattlesnakes. There are also lots of birds to be sighted, so bring your binoculars or zoom lens.
As with other desert trails, hike in the cooler months of the year, hike early or late in the day, use sun protection, and bring lots of drinking water to stay hydrated.
Take a Tour of a Palm Springs Wind Farm
As you approach Palm Springs via Interstate 10, you'll see row upon row of huge windmills on both sides of the freeway.
San Gorgonio Pass is a natural wind tunnel, and the wind farm here was the first such farm established in Southern California, all the way back in 1982.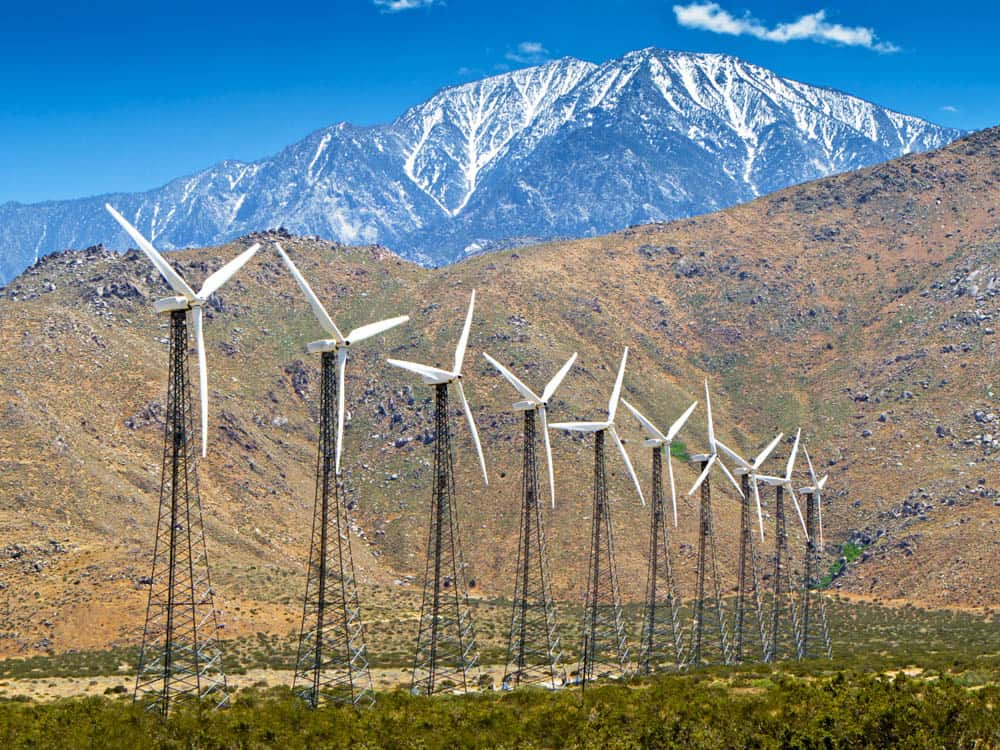 One of the most unique things to do in Palm Springs is a tour of the windmills.
On this highly-rated self-guided auto tour, you will learn a lot about renewable energy, and get the opportunity to get out of your car to snap photos of the historic windmills. They look even more gigantic up close than they do from the road!
The audio tour offers directions and commentary, and lasts about one hour. After many visits to Palm Springs just driving by the wind farms, we finally took this tour on our last visit and found it remarkably informative.
At the last stop on the tour, you can enjoy a delicious date milkshake. Remember to wear closed-toed shoes, and bring a windcheater: the pass is one of the windiest places in the US.
Admire Mid-Century Modern Architecture
Palm Springs is famous for its mid-century modern architecture.
Between 1945 and 1975, many high-profile architects like Albert Frey and E. Stewart Williams built numerous sleek mid-century modern homes and buildings here, especially adapted to the desert environment.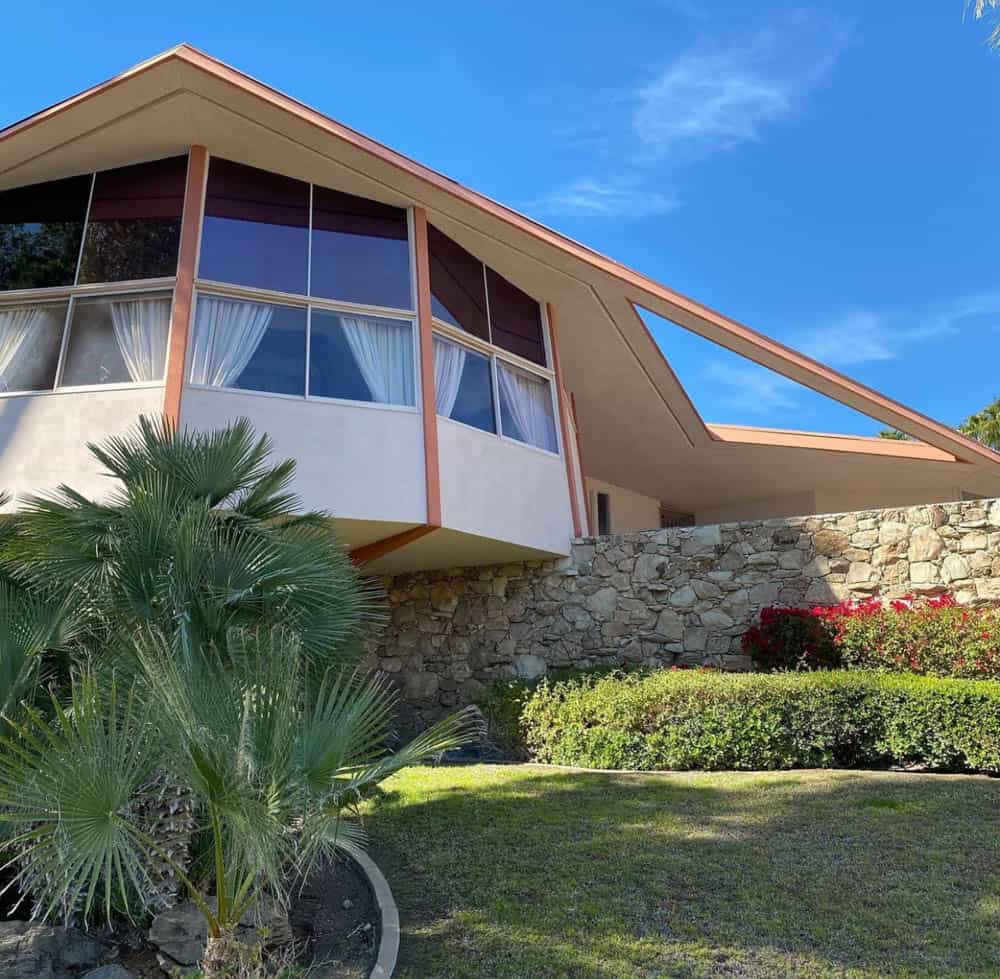 You'll see many mid-century moderns as you do things in Palm Springs.
The Valley Station of the Palm Springs Aerial Tramway and the Palm Springs Visitor Center are both housed in historic mid-century modern structures.
If you visit Sunnylands (more on it later in this article!), you will see another striking mid-century modern building.
If you enjoy architecture, you may want to allow time for a dedicated self-driving tour, to view more of Palm Springs' architectural gems. You can buy a map from the Visitor Center that lists many such buildings in and around town.
If you do not want to do a full-fledged tour, City Hall is definitely worth a stop for its dramatic entrance, where three tall palms grow through a hole in the top of the portico.
Parker Palm Springs and the Bank of America building on South Palm Canyon Drive are other quick but photo-worthy stops.
This well-reviewed guided bike tour is another fun and informative way to take in mid-century modern architecture in Palm Springs. The tour lasts about 2 to 2.5 hours and the terrain is flat. It includes Indian Canyons, our favorite neighborhood for ogling architecture. Note that bike rentals are extra. Book this tour now!
Eat!
Undoubtedly one of the best things to do in Greater Palm Springs is eat (and drink!). With numerous eateries that span cuisines from across the world, and new ones coming up often, you won't run out of choices when it comes to dining in Palm Springs.
Workshop Kitchen + Bar in downtown Palm Springs is known for bringing California farm-to-table to the desert. While the mouthwatering menu features duck fat frites and truffle burgers, you'll also enjoy many vegetable-centric offerings, from salads and scarlet runner beans to a main course celebrating farmers' market veggies.
Tac/Quila, also in downtown Palm Springs, is a must-visit for its modern Mexican food menu, but also for creative cocktails. Try Mezcalita, featuring mezcal and fresh-squeezed orange juice, or Prickly Pear, with prickly pear puree and hibiscus agave. We love their jicama-papaya salad and their street tacos (we've tried the veggie and the verde).
Go to Birba for their pizza! We can't have a vacation without a pizza meal, and Birba is the best we've found in Greater Palm Springs. The margharita is perfect, and we love the braised greens pizza as well. Other offering on the menu, like the pastas and the meatballs, also look good. You will find Birba on Palm Canyon Drive in Palm Springs.
Ristorante Mamma Gina in downtown Palm Desert is another one of our favorite eateries in Greater Palm Springs. It's great both for happy hour and dinner. The zucchini fries and the calamari are our go-to appetizers here, and we usually go with pastas for our main courses.
Enjoy Pool Time
There are few things more relaxing than floating in a pool under the desert skies, or soaking up the sun poolside with an iced drink within reach.
And many Greater Palm Springs resorts take pools to a new level, making the experience exponentially more enjoyable!
At La Quinta Resort & Club, there are 41 pools from which to pick! Aside from the main pool, and the adult-only pool, there are small casita pools scattered throughout the property, a lap pool for exercise, and suites with private pools and hot spas.
Miramonte Indian Wells Resort & Spa is located at the foot of the Santa Rosa mountains, and you can enjoy spectacular views as you chill in the main pool. Reserve a poolside cabana! There's also a hideaway pool with a sun deck and heated whirlpool.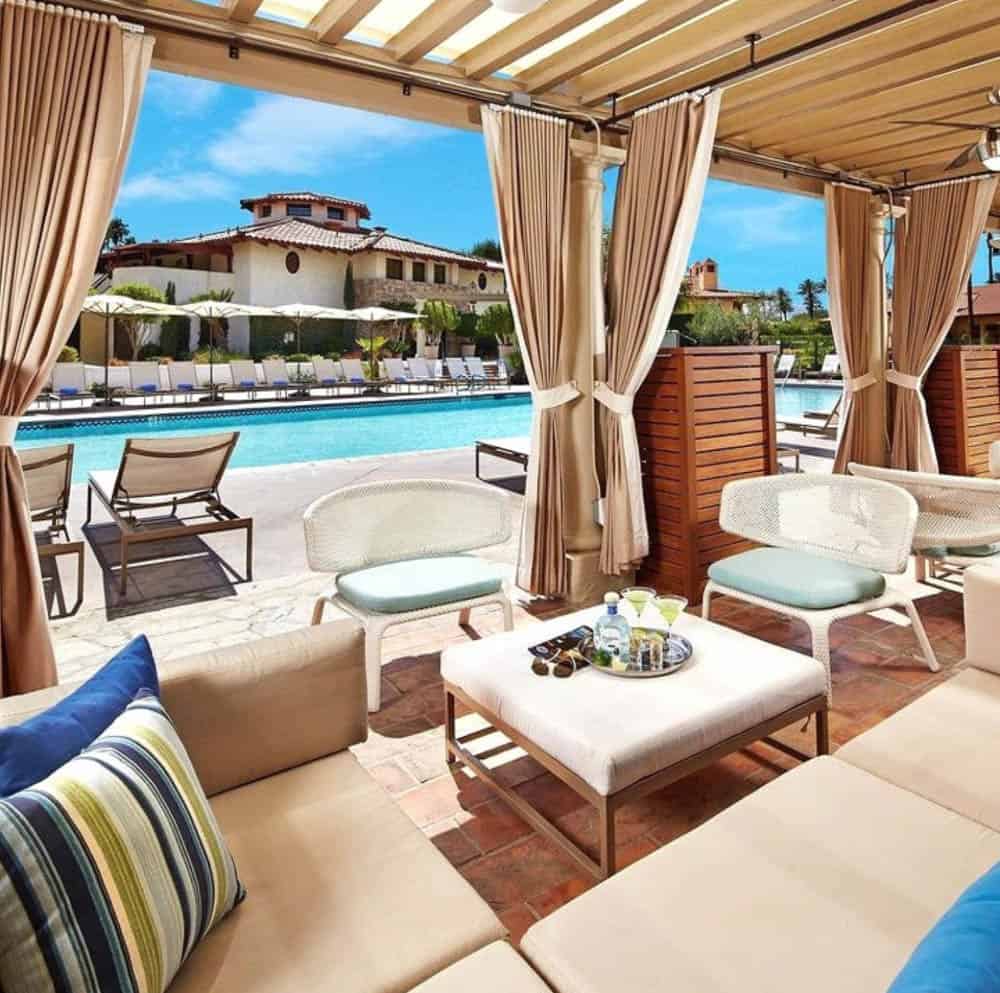 One of the most popular pools in Palm Springs is at the Saguaro Hotel & Spa, where the pool is fringed by the signature brightly-colored facades of the hotel, and poolside chairs and cabanas add more bright spots of color.
Hyatt Regency Indian Wells Resort and Spa boasts the HyTides water park, with water slides, a lazy river, and splash pad. It's fun for the whole family! You also have seven regular pools to enjoy.
Omni Rancho Las Palmas Resort & Spa in Rancho Mirage is another great family option, with a water park featuring giant slides, a lazy river, and a cliffside hot tub. There are pools at the property as well, including an adult-only pool and a spa pool with underwater music.
Pamper Yourself at a Palm Springs Spa
One of our favorite things to do in Palm Springs is a visit to a spa. Some visits we splurge on a half day or full day of pampering bliss, other times we just enjoy massages after a day spent hiking in the desert.
Just like pools, Palm Springs does spas so well that treatments are worth the money and the time, even on a brief visit!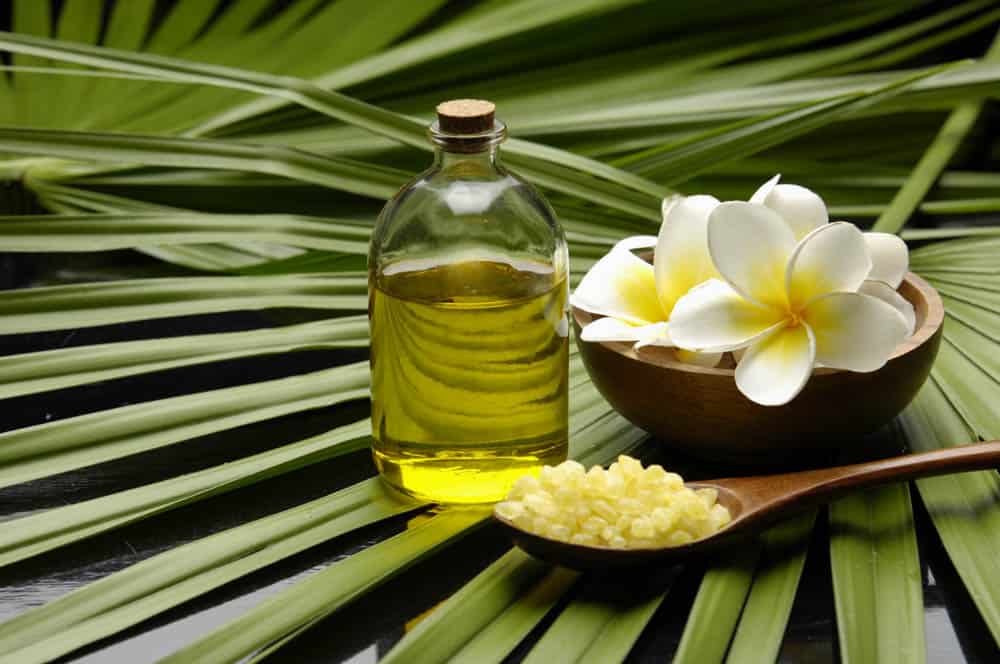 Estrella Spa at the Avalon Hotel in Palm Springs offers a range of pampering treatments, from massages to facials, scrubs, and wraps. The Turquoise Sage Mud Wrap is wonderfully relaxing.
Feel Good Spa at the Ace Hotel in Palm Springs offers treatments that use organic botanicals. Their add-on scalp massage with almond oil and rosemary essential oil is both relaxing and invigorating!
The Well Spa at Miramonte in Indian Wells is one of the places we love to spend a few hours, when they have special offers for all-day access to the steam rooms and resort pools. The couples massage here is a great experience!
Parker Palm Springs' Palm Springs Yacht Club Spa is a luxurious spa experience in downtown Palm Springs. With a relaxing decor palette of blue and white and a range of deeply pampering treatments, a half day here is heaven
Things to Do Near Palm Springs
Visit Thousand Palms Oasis Preserve
The Coachella Valley Preserve system is made up of more than one preserve. Within the system, the Thousand Palms Oasis Preserve contains some of our favorite trails in the area. It's just a few miles from downtown Palm Springs or Palm Desert.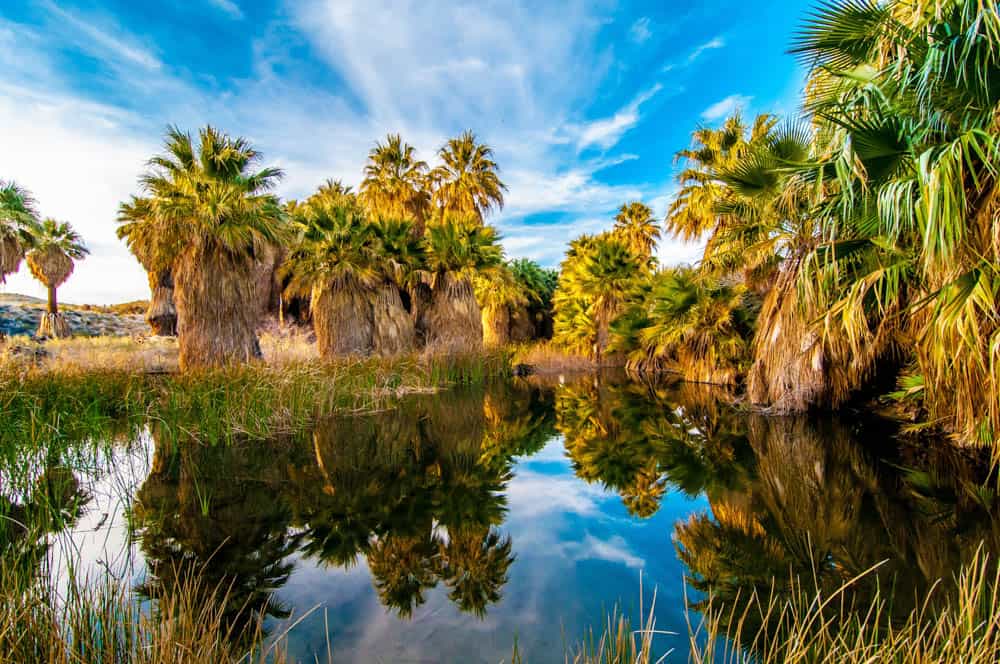 Located at the foot of the Indio hills, Thousand Palms Oasis Preserve offers wonderful views of the Little San Bernadino Mountains.
There is a rustic visitor center, and a boardwalk trail through the palms that's short and scenic.
The easy McCallum Trail at Thousand Palms Preserve is hugely popular.
At about 2 miles round trip, the walk from the visitor center goes over the boardwalk and across the open sandy desert to the McCallum Oasis, which features a pool fringed with palms.
Look for birds and wildlife: many different species have been spotted here.
There are other trails you can hike at Thousand Palms Preserve, and in the rest of the Coachella Valley Preserve as well. The preserve is free to enter, but donations are appreciated and help with the upkeep of the preserve.
Do a Jeep Tour of the San Andreas Fault
The infamous San Andreas fault, known for causing the 1906 San Francisco earthquake, can be explored in many parts of California, including the Greater Palm Springs area.
A jeep tour from Palm Desert is a popular way to get close to the fault.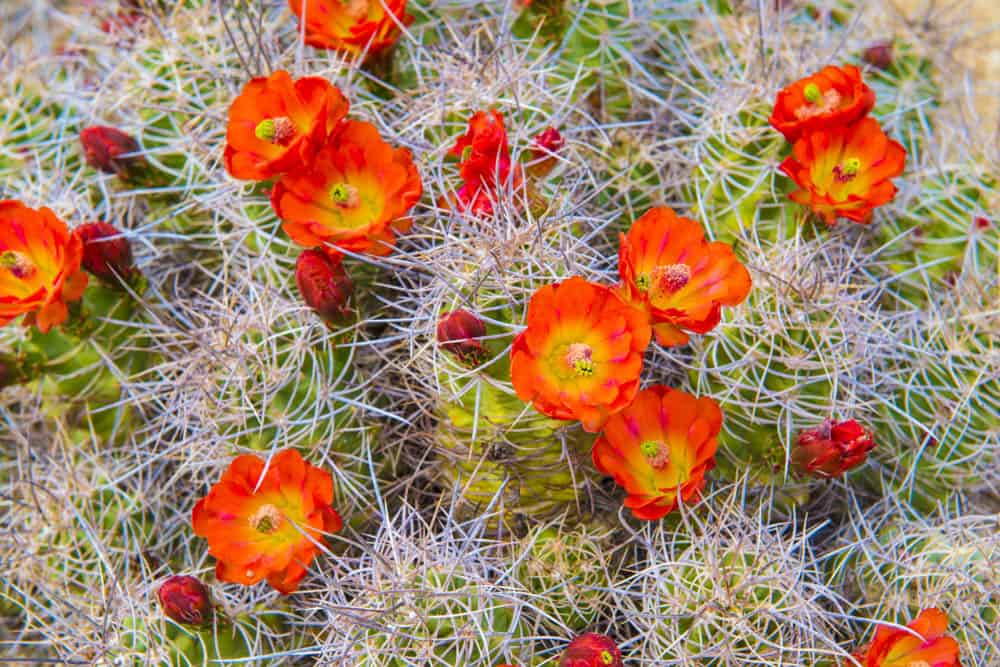 This highly rated tour is led by a naturalist, so you will learn a lot on the trip, from the geology of the region to the ways the Cahuilla people that lived here adapted to the harsh environment. There are stops, so you can get out to explore on foot.
If you enjoy desert landscapes, the scenery along the ride is beautiful, with canyons, ridges, and rock formations. Wildflowers bloom in the spring, as well as cacti and other succulents.
You may see wildlife and birds, and your guide will tell you about the plants in the region.
Explore Joshua Tree National Park
Possibly the most popular day trip from Palm Springs is to nearby Joshua Tree National Park, one of two California national parks that allow you to explore the Southern California desert up close.
Joshua Tree National Park straddles two deserts: the Mojave Desert, and the Colorado Desert.
It is famous for its massive rock formations, and for the Seussian Joshua trees that you can see in the Mojave Desert part of the park. There is also an expanse of cholla cactus that you can explore on a short boardwalk trail.
The drive through the park is very scenic, and there are a variety of hikes in Joshua Tree National Park to appeal to hikers of different abilities.
Hiking and rock scrambling are two of the most popular things to do in Joshua Tree.
You can also tour historic sites in the park, such as Keys Ranch, and visit the remnants of old mines.
The drive up to Keys View is popular at sunset: from the viewpoint, you can look out over the expanse of the Coachella Valley and the surrounding mountains, all the way to the Salton Sea on clear days.
For a hike that combines fun with education, consider this half-day guided hike in Joshua Tree. Your route will be customized to your needs and interests and you will learn a lot about the terrain and the park's flora and fauna. Book this tour now!
Tour Sunnylands Center and Gardens
Located in Rancho Mirage, Sunnylands Center & Gardens form part of the former estate of Walter and Leonore Annenberg. They are open to the public.
The Historic House, former winter home of the Annenbergs, also part of the estate, can be viewed on a paid guided tour from October through the first part of June.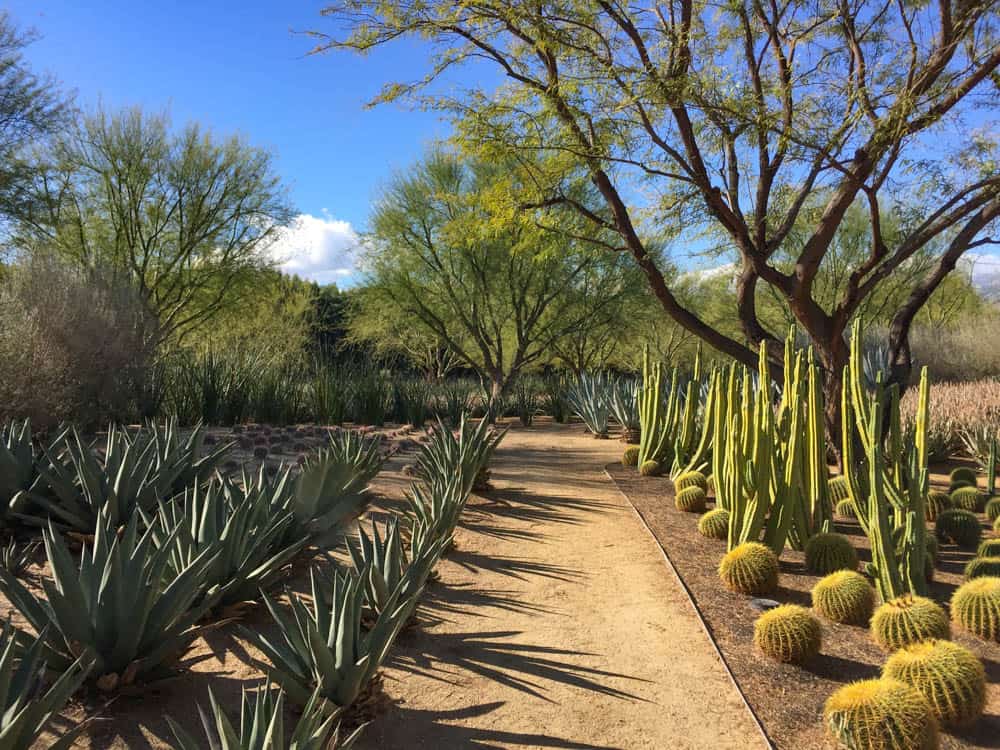 The desert gardens, which cover about nine acres, make for a delightful, and easy, stroll. There are over 53,000 plants in the collection, laid out in a visually stunning design. There is a wildflower meadow that looks spectacular when in bloom.
Audio guides are offered to help you learn as you walk.
The Sunnylands Visitor Center, a beautiful mid-century modern, has a glass facade with beautiful views. The Center offers a rotating art exhibition and exhibits that showcase the history of the Annenbergs and the estate.
There is a cafe for lunch, and a gift shop.
If you enjoy birdwatching, bring your binoculars! Many species have been spotted on the property and you may see some in the gardens and grounds when you visit.
You can also join a paid guided birdwatching walk of the estate between November and April.
Pro Tip: Tickets for the Historic House tour sell out quickly, so if it's high on your list of things to do in Palm Springs, book your tickets as soon as they go on sale!
Check Out the Cabazon Dinosaurs
Love roadside attractions? You'll want to pay a visit to the iconic Cabazon Dinosaurs, located in Cabazon, about a 20-minute drive from downtown Palm Springs.
Since they are located along Interstate 10, you will see them if you are traveling from Los Angeles to Palm Springs via the freeway.
Featured in classic movies such as The Wizard and Pee Wee Herman's Big Adventure, the concrete and steel dinosaurs, are reportedly the largest in the world.
Pose for photos with Mr. Rex and Dinny the Dinosaur, and enjoy dinosaur-themed ice cream from the Wafflesaurus Truck.
You can go inside T-Rex, and shop for dinosaur-themed gifts in the gift shop inside the gigantic brontosaurus, Mr. Dinny. On major holidays, the dinos are decked out in appropriate costumes.
The quirky attraction is a fun stop for everyone, and kids will enjoy the park, which has an admission fee.
Visit the Living Desert Zoo & Gardens
The Living Desert Zoo and Gardens in Palm Desert is one of the top attractions in Palm Springs.
The entity is an accredited member of the Association of Zoos and Aquariums, and active in desert conservation and habitat protection.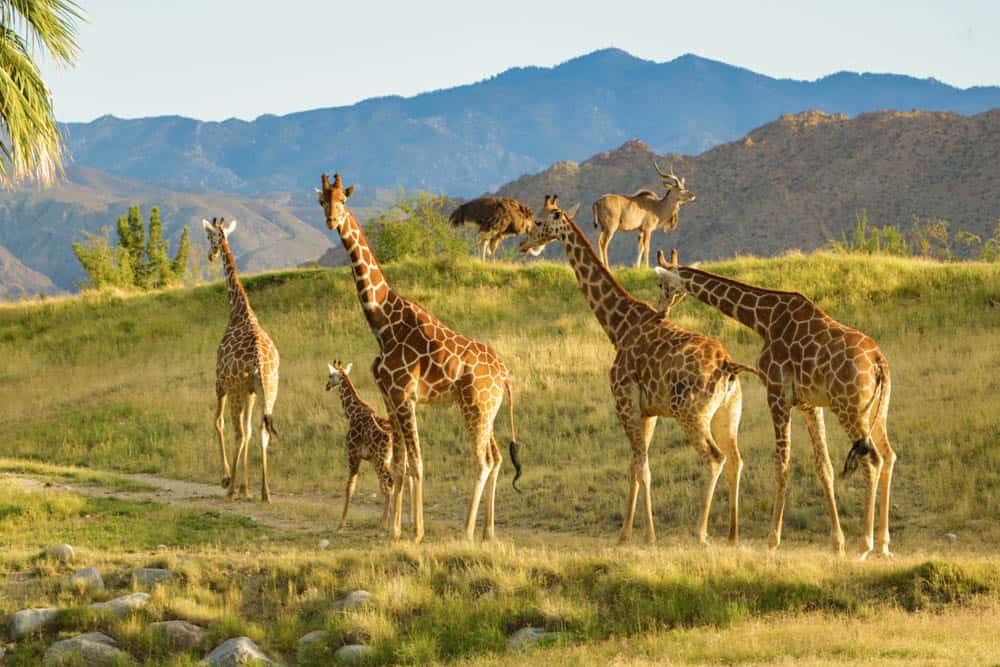 You can view a large number of species from around the world at the zoo, from big cats to hyenas and zebras.
The four-acre Rhino Savanna is home to a dozen African species. At the Australian Adventures exhibit, you can see many Australian desert creatures, from wallabies to kookaburras.
Gardens at Living Desert feature a wide variety of native plants and desert species from elsewhere.
If you visit in the summer, be sure to snap a photo of the striking Red Bird of Paradise in bloom.
In the spring, you will find many cacti and succulents in the garden in bloom: it's a particularly nice time of year to visit.
Browse the El Paseo Shopping District
Visitors seeking retail therapy will want to visit the upscale El Paseo shopping district in downtown Palm Desert, where you can shop at the many brand names and boutiques at the Shops on El Paseo and the Gardens on El Paseo.
You'll also find dining here, and a pleasant ambience, with art, water features, and native plants.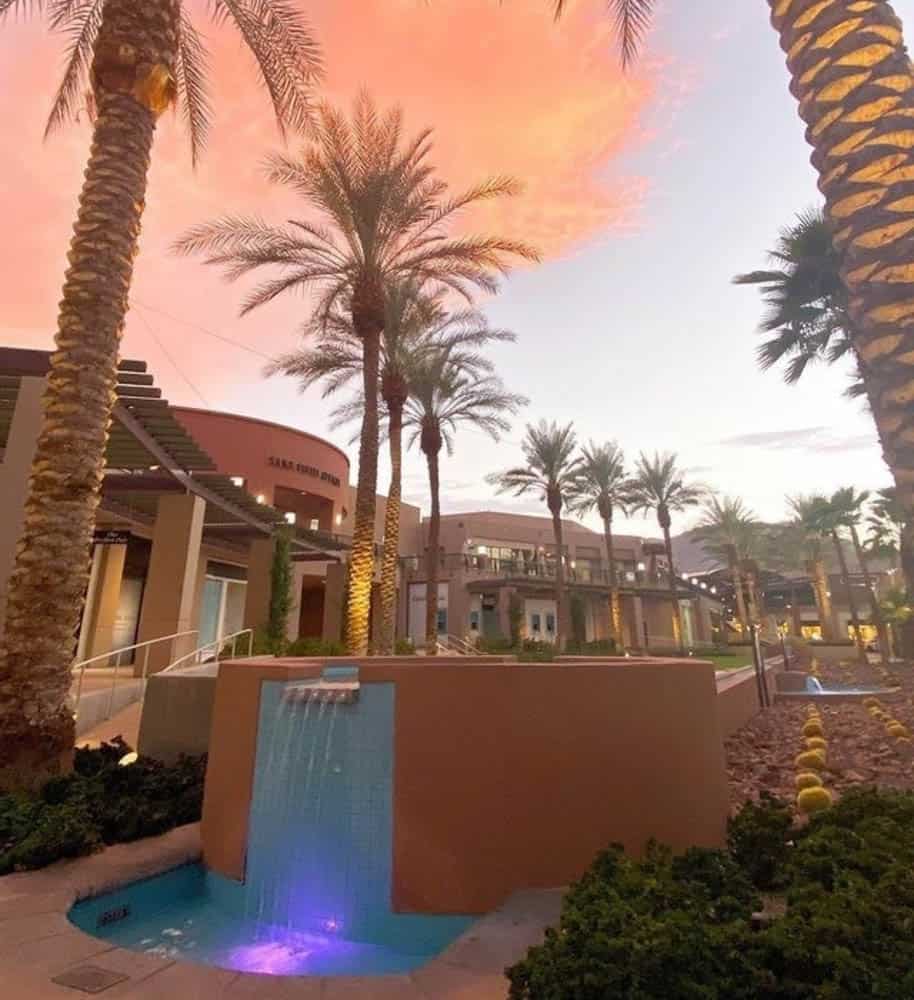 Shop for unique artisan-crafted gold or diamond jewelry pieces at The Fine Jewelry Bar.
Desert Wolff offers elegant paintings, sculptures, and artifacts, as well as one-of-a-kind furniture pieces.
Trina Turk has fun apparel for both men and women.
Savory Spice Shop carries tons of spices, including the most exotic blends.
Café Des Beaux-Arts, with its France-inspired bistro menu, or Wilma and Frieda, focused on comfort food, are great choices for a leisurely brunch to break up your shopping!
Stroll Other Desert City Main Streets
There are nine beautiful desert cities that make up the Greater Palm Springs area: Palm Springs, Desert Hot Springs, Cathedral City, Rancho Mirage, Palm Desert, Indian Wells, La Quinta, Indio, and Coachella.
If you have the time, explore some of the other cities near Palm Springs!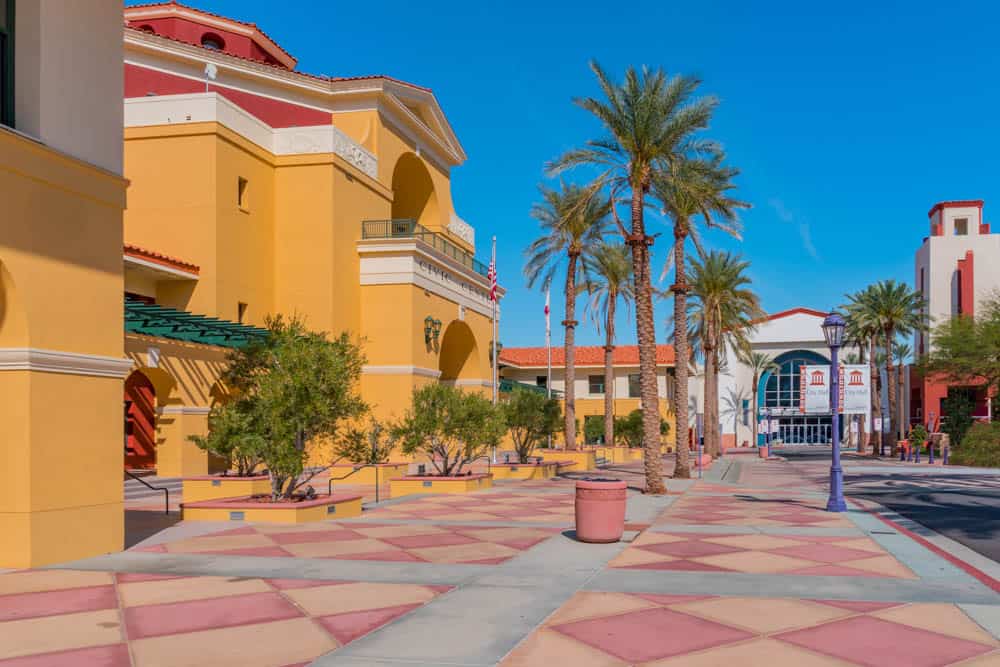 Cathedral City Town Square has colorful facades and downtown Cathedral City is home to a thriving arts and entertainment district.
You will see public art installations as you stroll, and you can attend performing arts events here, from theater to films and outdoor concerts.
Old Town La Quinta has a Main Street lined with boutique stores, cafes, artisan studios, and restaurants, in a lovely desert architecture setting. You can attend art celebrations, farmers' markets, and other events here.
Take in the View from the Coachella Valley Vista Point
At Palm Desert, take Highway 74 up into the mountains for about five miles to arrive at the Coachella Valley Vista Point.
On a clear day, the expansive viewing gallery offers spectacular views of the desert floor and the surrounding mountains.
You'll see Palm Desert spread out below you, along with the cities of Indian Wells and La Quinta, and the San Jacinto and San Gorgonio mountains. On a crystal clear day, you may even be able to see the shimmering tip of the Salton Sea!
Sunsets from the point can be beautiful, as also views after dark, when the lights of the cities below come on. The road is curvy and narrow though, so we've only gone up during the daytime.
Drive the Palms to Pines Scenic Byway
If you have the time, the short day trip from Palm Desert via Highway 74 to Idyllwild is gorgeous.
In just one hour, you leave the palms of the desert behind for the pines of the mountains. Idyllwild is a charming little town, with a few shops and eateries, and some hiking trails.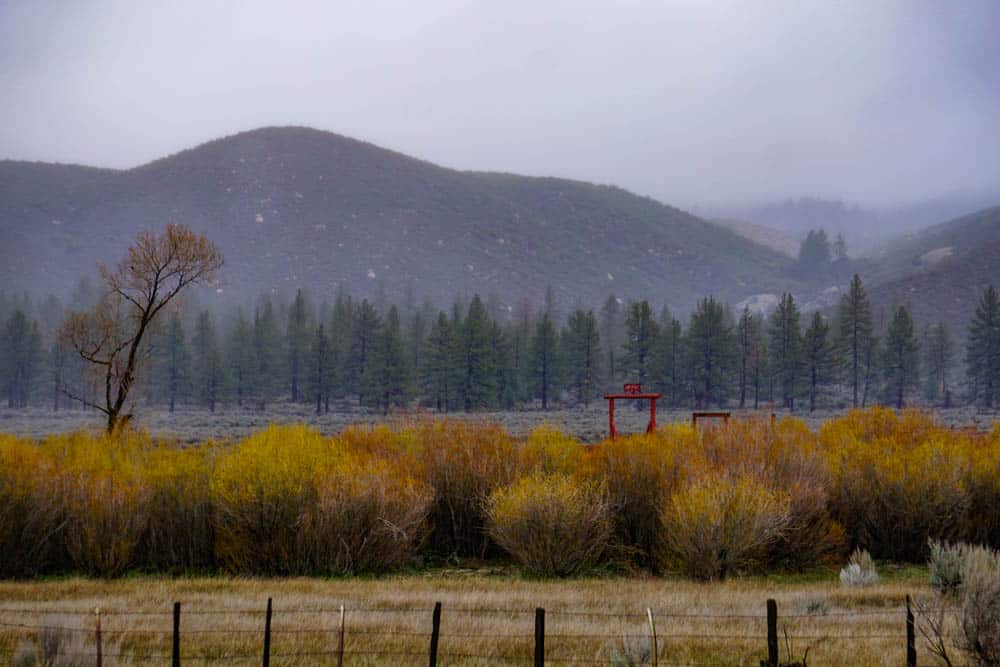 You can either return to Palm Desert the way you came, or do the full Palms to Pines Scenic Byway loop by continuing on Highway 243, which ends at Interstate 10 near Banning.
The Palms to Pines Scenic Byway, with its variety of ecosystems, beautiful views, wildflowers in spring, and opportunities to see birds and wildlife, is one of our favorite day trips from Palm Springs.
So far, we've driven it each time we've visited Palm Springs!
Explore the Santa Rosa and San Jacinto Mountains National Monument
Encompassing over 280,000 acres, the Santa Rosa and San Jacinto Mountains National Monument start at the desert floor and go all the way up in elevation to over 10,000 feet.
Featuring lush palm oases, snow-capped mountains, and lots of birds and wildlife, the monument is a must-visit for nature lovers and outdoor enthusiasts.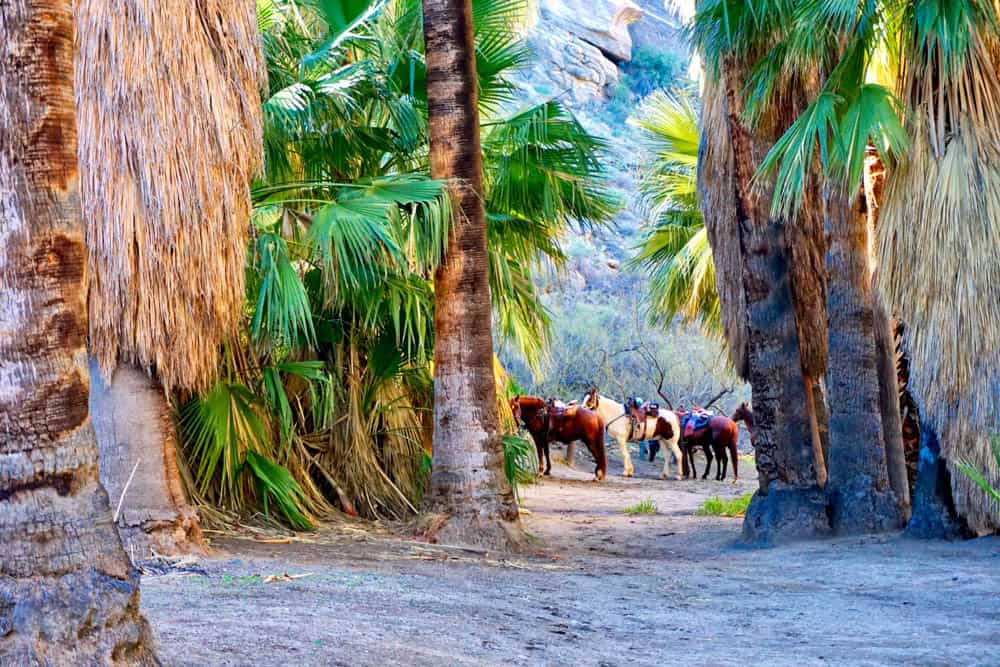 The Visitor Center, located on Highway 74, is a great place to start your visit. You can view interpretive exhibits and watch films, purchase books and maps, and chat with staff about recreational opportunities suited to you (and your travel companions).
There are a couple of short trails that start at the Visitor Center.
The 0.2-mile Ed Hastey Garden Trail provides a peek into the flora and fauna that can be found at lower elevations in the monument.
The 2.5-mile Randall Henderson Loop Trail is a great introductory desert hike for novices. It is especially beautiful when the cholla cactus and other succulents along the trail are in bloom.
The monument contains numerous other trails of varying lengths and difficulty levels with trailheads located at different places in the valley and at Idyllwild.
You can explore on a mountain bike or horseback as well as on foot. You can also camp in the monument.
Dogs are not permitted on most trails.
Hike Painted Canyon and Ladder canyon
If you love hiking in the desert, you may want to visit the Mecca Hills Wilderness, home to the Ladder Canyon and Painted Canyon hike. Mecca Hills is about 40 miles southeast of Palm Springs.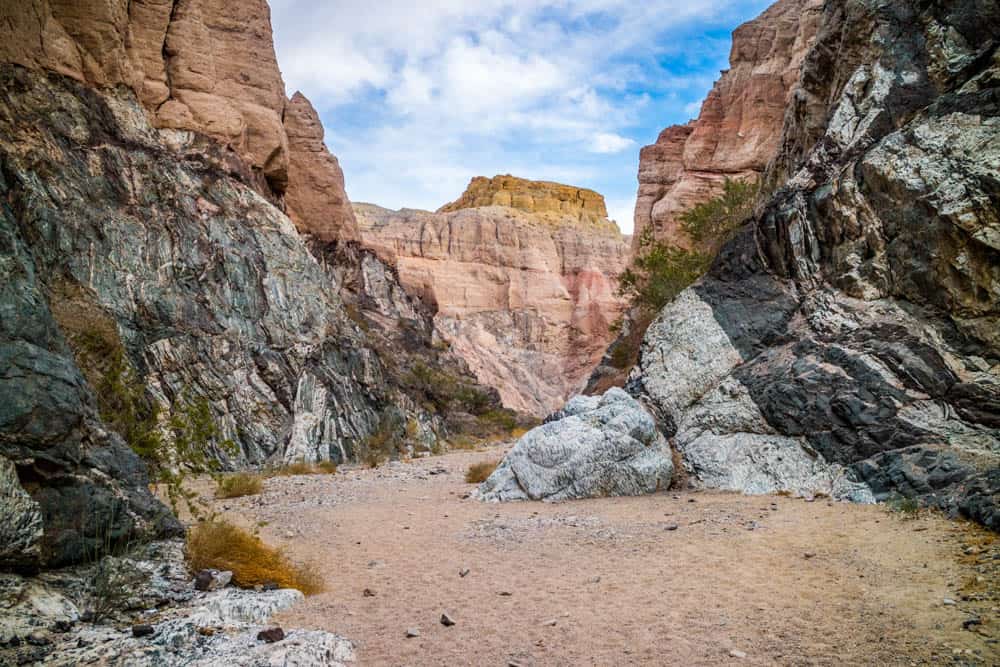 The loop trail is about 4.4 miles long, and features several ladders, slots, and sandy terrain. Be sure to wear hiking shoes or boots to keep sand out, and for good grip. If you do the loop clockwise, you can climb up the more challenging ladders.
We saw kids doing the hike, but we would consider it moderately challenging, because of the terrain, and the rock scrambling and ladders.
Verify the condition of the access road and the trail (the ladders are not always in good shape) before making the drive out to Mecca.
The hike offers close looks at the colorful walls in the canyons and striking rock formations. Enjoy wildflowers in the spring, and views into the canyon from the top of the ridge.
The walk through the slot is beautiful, reminiscent of the slot hike in Anza Borrego Desert State Park.
An all-wheel drive is recommended for Painted Canyon Road, the dirt road that leads to the trailhead. This hike, as with other desert hikes, is best done on a good weather day in cooler months.
Visit the Shields Date Garden
There are many places in Coachella Valley where you can sample date shakes, but it's a special treat to visit the Shields Date Garden in Indio.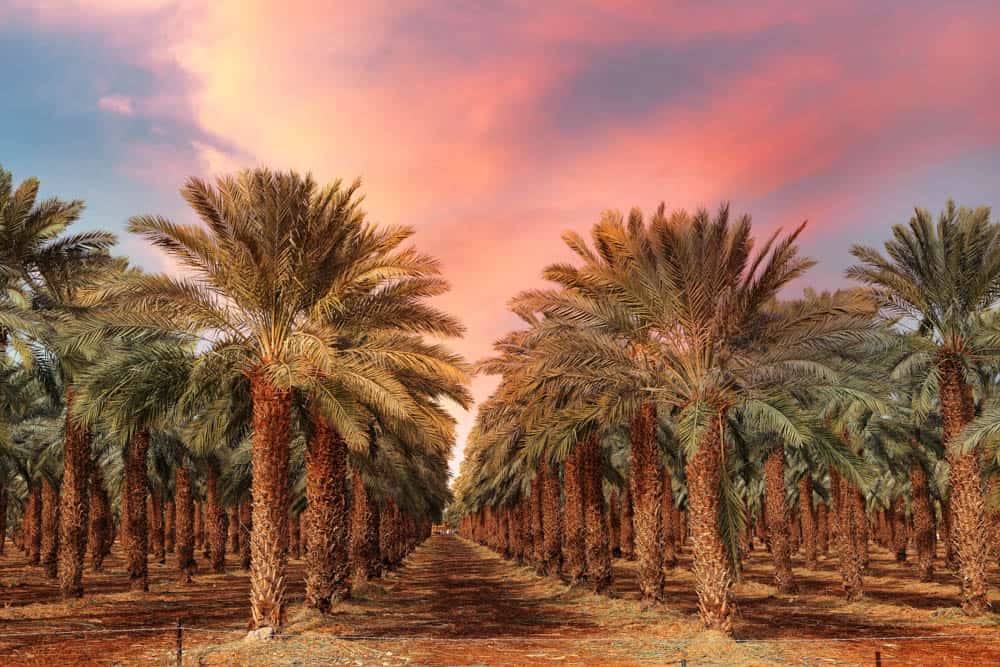 At the Shields Date Garden, you can walk the garden path that winds through the date trees, and view the sculptures that depict scenes from Christ's life. Watch a movie about date cultivation in the theater onsite.
Then stop by the cafe, where you can enjoy a date milkshake, but also have breakfast or lunch. The date shake is made with a blonde date paste made in house and low-fat vanilla ice cream for a sweet and creamy treat.
There are lots of date products to buy as well.
Other great places for a date milk shake? Try Great Shakes in downtown Palm Springs, where you can have a date shake or a date and walnut shake, topped with whipped cream if you like.
Nature's Health Food & Cafe in Palm Springs offers a vegan date shake with banana.
Soak in a Hot Spring
Fancy a soak in mineral waters? Head to Desert Hot Springs, where you will find a multitude of pools, jacuzzis, and spas built around the hot and cold spring aquifers that lie beneath the city.
The hot water aquifer lies to the east of the San Andreas Fault, while the cold water aquifer is located on its west side.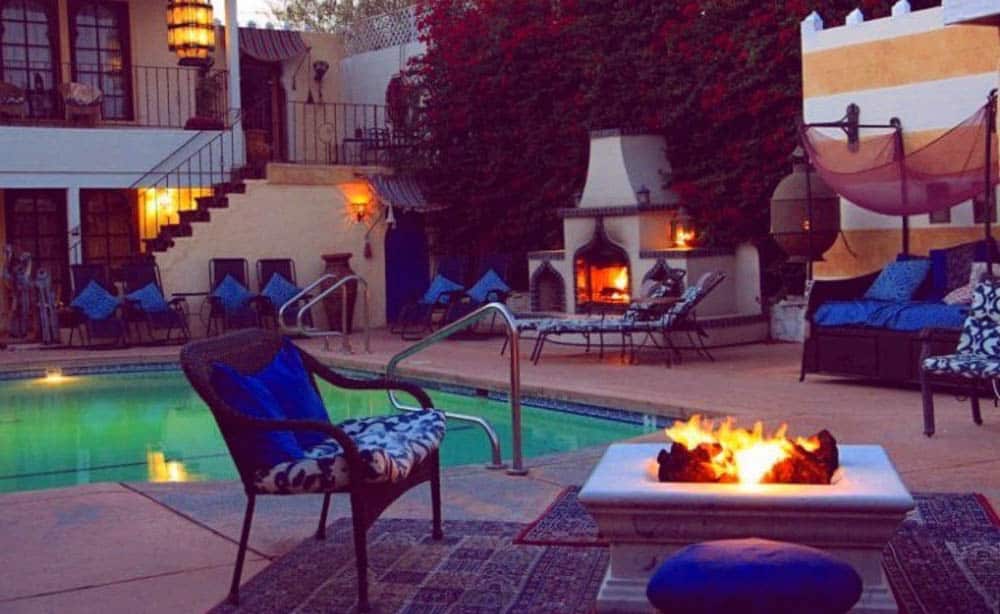 Pools at area properties are filled with the waters from these two springs. While the waters are considered to have healing properties, we do know that a soak in one of the pools is deeply relaxing!
The award-winning Spring Resort & Spa is an adults-only resort, with just 13 rooms. They offer an outdoor swimming pool, an indoor pool, and a jacuzzi, all featuring warm mineral spring water.
For a special stay with added privacy, book the Desert View Villa, with its fabulous views of Mount San Gorgonio. Book a stay here!
Tuscan Springs Hotel & Spa offers a volcanically heated mineral water hot tub and a large mineral-water outdoor pool. The property feels tranquil and intimate, perfect for a couples' getaway. Book a stay here!
El Morocco Inn & Spa features fabulous furnishings from Morocco in bright colors that make for great photos! The resort has just 13 rooms, arranged around the mineral pool and jacuzzi, with both hot and cold water. Book a stay here!
Do a Self-Guided Public Art Tour
Public art is everywhere in the Greater Palm Springs area, from sculptures and mosaics to water features and murals.
While you can't help but see art as you drive or walk around the area, art lovers may want to take the time to do a dedicated public art tour.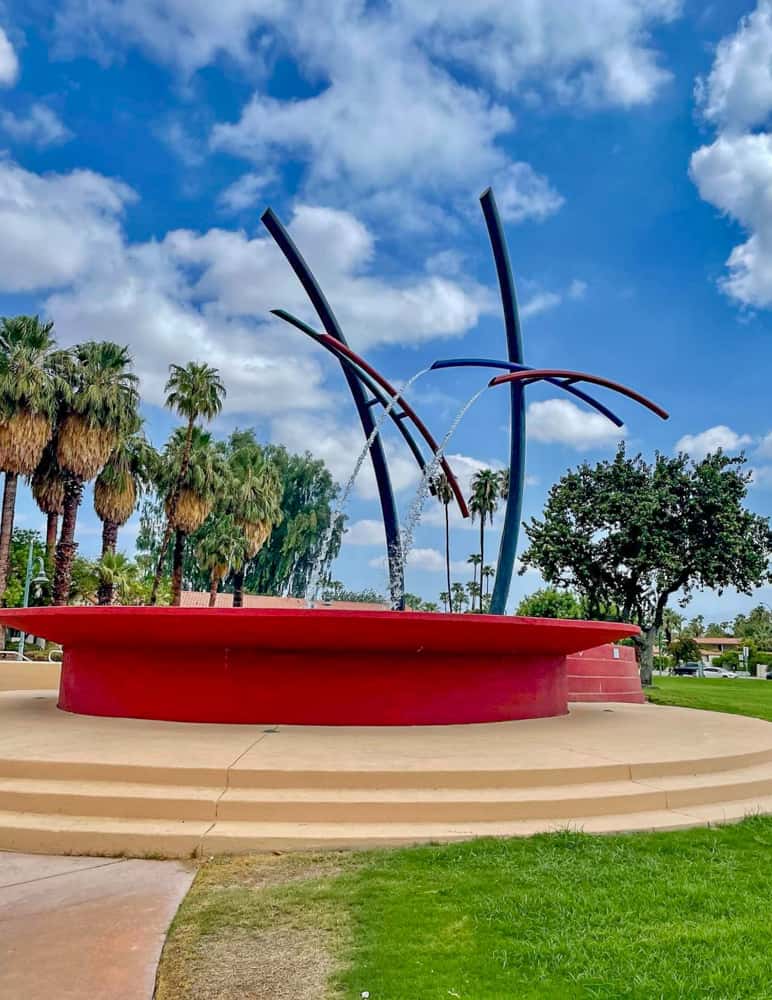 You will find art to admire in each of the nine cities that make up the Greater Palm Springs area. Ask for a map at the Greater Palm Springs Visitor Bureau in Rancho Mirage, so you can decide which installations appeal to you.
In Palm Springs, you can see statues of Lucille Ball and Sonny Bono. The gigantic Forever Marilyn sculpture has returned to the city as well. The Rainmaker fountain is another must-not-miss piece of public art in Palm Springs.
Fountain of Life is a beautiful public art work in Cathedral City. Sculpted in stone and decorated with mosaics and glass, the fountain features native fauna. In Palm Desert, Messenger of the Puul honors the Cahuilla people.
In Coachella, don't miss the Anonymous Farm Worker mural by El Mac. Also in Coachella, the transparent Etherea is a must-see. Indio has several colorful murals: Rebirth, featuring brightly colored flowers and hummingbirds, is gorgeous.
Where to Stay in Palm Springs
Hotels in Palm Springs
We've highlighted several resorts and hotels above, but here are some more hotels in Palm Springs to consider!
Sparrows Lodge is an adults-only resort located on East Palm Canyon Drive. The property offers an outdoor pool and hot tub, tennis courts, and complimentary bicycles for the duration of your stay. Rooms feature modern furnishings and the beds are rated super comfy. Book a stay here!
Kimpton Rowan Palm Springs Hotel is located in the heart of all the action in downtown Palm Springs. It has a stunning rooftop pool, bar, and sun terrace with views of the mountains. Rooms are spacious and well-appointed. Complimentary bicycles are offered. Book a stay here!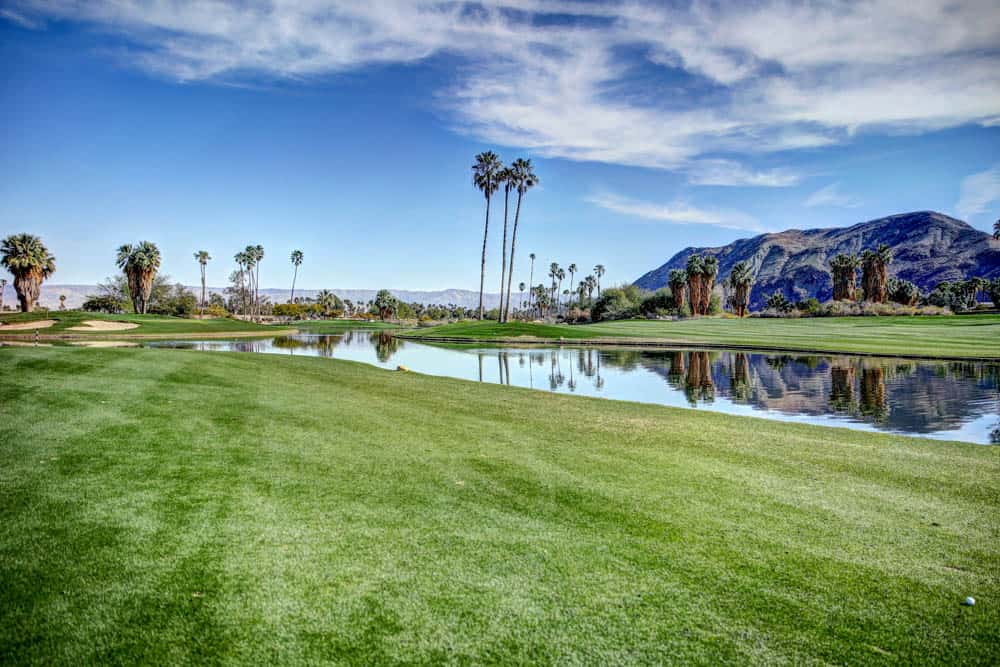 Vacation Rentals in Palm Springs
This mid-century modern ranch home with two bedrooms and three bathrooms offers a pool, fire pit, and shaded outdoor dining area and barbecue grill. Inside, you will find tastefully decorated living and sleeping spaces, a full kitchen, and washer and dryer. The property is walled and gated for complete privacy. Book a stay here!
This one-bedroom bungalow in the Club Condominium complex has a private patio and sparkling private pool, and features stunning views of the mountains. Inside, you will find a bright and airy great room with floor to ceiling windows and a state-of-the-art kitchen. This is a stunning couples' getaway! Book a stay here!
The Best Time to Visit Palm Springs
Although you could visit Palm Springs in the summer to chill by a pool and enjoy indoor activities, we recommend visiting between late fall and spring to be able to explore the desert and enjoy the outdoors.
Early fall is still too hot, but in late October and in November, daytime highs get down into the low 80s and high 70s, making it great weather to visit.
Palm Springs makes for a fabulous winter California getaway, with daytime temperatures in the 70s and nighttime lows in the 40s. It's a wonderful time to hike in the desert, or relax by the pool.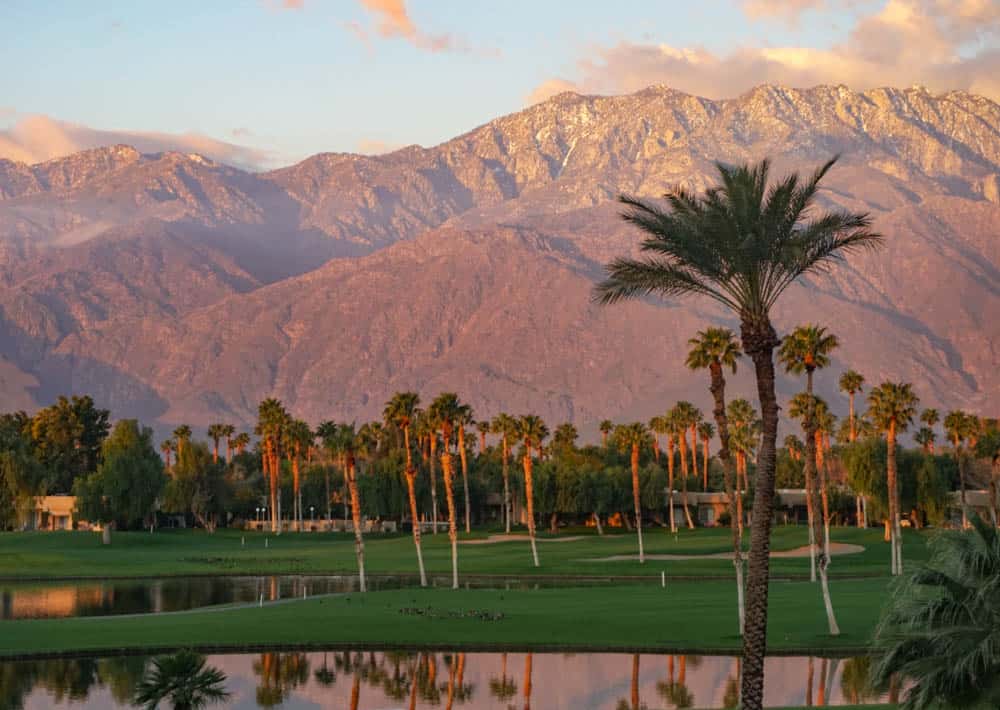 March and April see daytime highs in the 80s and nighttime lows in the 50s, still pleasant for outdoor pursuits during the day, although we suggest timing hikes for early in the day.
Spring brings colorful wildflowers, and many cacti and succulents bloom at this time of the year as well.
The Greater Palm Springs area hosts a great number of events and festivals throughout the year.
Architecture buffs will want to visit during Modernism Week, which generally occurs in February each year. The multi-day event includes tours of homes, bus and walking/biking tours, and many informative talks.
Music fans will want to attend the Coachella Valley Music & Arts Festival or the Stagecoach Country Music Festival, which generally occur in April each year.
Great weather and fun events in April mean that Palm Springs is one of the best places in California to visit in April.
*****
Planning to explore more of California? Check out some of our other detailed guides!
Did you find this article informative? Pin it for later reference!