Point Reyes National Seashore is a bucket-list California destination for outdoor lovers. The wild and windswept pick-axe shaped peninsula features beautiful scenery and a wealth of ways to enjoy it.
Located in Marin County, just a few miles north of San Francisco, Point Reyes National Seashore is famous for the impossibly picturesque Point Reyes Lighthouse, epic hiking trails, numerous species of birds and wildlife, and the iconic expanse of Ten Mile Beach.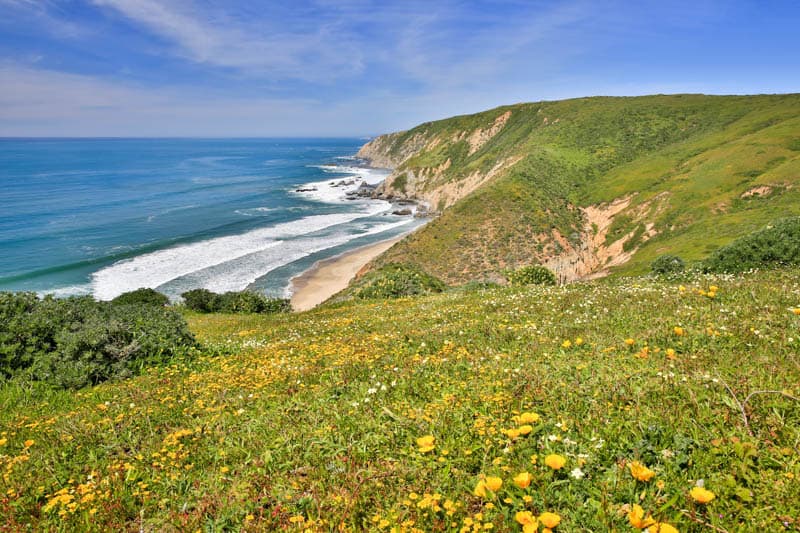 While you can certainly visit Point Reyes for the day (we've done numerous day trips to the area), know that there is a lot to see and do in the region.
Aside from outdoor pursuits at Point Reyes National Seashore and Tomales Bay State Park, there are several cute little communities to explore and fabulous food to enjoy.
So the more time you can allow, the better!
Considering a visit to this incredibly beautiful seashore? Read on to discover the best things to do in Point Reyes!
Things to Do in Point Reyes
Stop by the Point Reyes National Seashore Visitor Center
Bear Valley Visitor Center is the main visitor center at Point Reyes National Seashore. Located along Bear Valley Road just a little west of Olema, Bear Valley Visitor Center is a great first stop at the park, especially if it is your first visit.
Here you can get current information on the status of trails and roads in the park, including weather-related closures, which can occur at short notice. Park staff can offer suggestions on activities and places within the park tailored to your interests.
View the exhibits in the visitor center to learn about the many ecosystems in the park, local flora and fauna, and the park's natural and human history. The area was populated by the Coast Miwok before the arrival of the Europeans. You can also watch an audio-visual program.
There are restrooms at the center, as well as a bookstore. You can also enjoy a picnic meal at the picnic tables. Bear Valley Visitor Center is open everyday from 9.30 a.m. to 5.00 p.m.
Hike the Tomales Point Trail in Point Reyes
There are many trails you can hike at Point Reyes National Seashore, but the Tomales Point Trail deserves a top spot on your Point Reyes hiking itinerary. It features jaw-dropping views every step of the way.
While the full out-and-back trail is 9.4 miles round trip and goes to pretty much the tip of Tomales Point, note that the final stretch is not maintained and may be overgrown with bush lupine and other vegetation.
Even walking the first couple of miles offers gorgeous views out to the Pacific Ocean, glimpses of pristine sandy beaches below, and vistas out to the tip of the point. Enjoy wildflowers in spring and summer.
Tomales Point Trail is a prime wildlife viewing trail in Point Reyes. We saw numerous tule elk when we hiked it in mid August, and were treated to a lot of bugling as well. Look for birds, and whales out in the water, especially in winter and spring.
Tour Pierce Point Ranch, a Historic Point Reyes Landmark
Point Reyes National Seashore is dotted with historic ranches. As far back as the time of the Franciscan missionaries in California, cattle were introduced to the region, and today you will see dairy cows grazing as you drive through the park.
Pierce Point Ranch, located at the northern end of the park, offers a look back into the early days of ranching at Point Reyes National Seashore. It was established in 1858 and was in operation until 1973. The ranch is one of the most interesting historical Point Reyes attractions.
One of the largest of the early ranches in the region, Pierce Point Ranch was known for its butter.
The buildings in the complex are relatively unaltered, and interpretive signs make for an educational wander. The ranch is listed on the National Register of Historic Places.
View Point Reyes Lighthouse
Point Reyes Lighthouse is one of the most beautiful lighthouses on the California coast, and it has a stunning location. Visiting the lighthouse is one of the top things to do in Point Reyes!
The lighthouse was built in 1870, to warn ships of the headlands of Point Reyes jutting out into the ocean. It was active until 1975, when a more modern light was installed just below.
Point Reyes Lighthouse is listed in the National Register of Historic Places.
Access to the lighthouse is at the very end of Sir Francis Drake Boulevard in Point Reyes National Seashore. The area is extremely windy, so hang on to hats and bring a windcheater.
From the parking lot, a 0.45-mile paved road leads to the Visitor Center. Just beyond is the observation deck, from where you can look down at the gorgeous lighthouse and snap lots of photos.
If the lighthouse and the stairs are open and you are up for the challenge, climb down the 313 steps to the bottom, to view the lighthouse up close and look for birds or marine life. Be warned, the climb back up is not easy!
Parking spaces at the lighthouse may fill up during the day on nice weather weekends and during whale-watching season so arrive early.
Enjoy the Beauty of Drakes Beach
Point Reyes National Seashore is home to many beautiful beaches, and Drakes Beach makes for a fun visit. Access the beach via Drakes Beach Road, off Sir Francis Drake Boulevard, the main road through the park.
The wide swathe of sandy beach has a dramatic backdrop of striated sandstone cliffs, making Drakes Beach a great place to stroll and snap photos.
The waves at Drakes Beach are generally not as rambunctious as those at other west-facing beaches at Point Reyes, but you still want to be very careful near the water due to rogue waves and rip currents.
Walk the beach, sunbathe, picnic, and enjoy sand play.
You will find a book store at Drakes Beach and there are picnic tables by the parking lot. Dogs are not allowed.
Drakes Beach is popular, so arrive early for a parking spot and quiet enjoyment of its beauty.
Admire the Tule Elk
Large herds of tule elk once roamed the grasslands in the Point Reyes peninsula and adjoining regions, but they were hunted to near extinction in the 1800s.
In the late 1970s, two bull elk and eight females were introduced into a fenced part of Tomales Point near Pierce Point Ranch. Known as the Tule Elk Reserve, the area is now home to several hundred elk.
If you enjoy wildlife viewing, bring binoculars or a zoom lens when you visit Tomales Point! Fall is an especially exciting time for elk viewing: it's the rut season. We visited in mid August and heard a lot of bugling as we hiked Tomales Point Trail.
Tomales Point Trail is a great place from which to look for elk. We saw whole herds grazing the hillsides. If you do not wish to hike, you may still see elk as you drive Pierce Point Road up to the ranch. Both on our way in and out, we saw magnificent male elk quite near the fence.
Follow safe wildlife viewing principles when viewing tule elk. If you spot them while driving, make sure you park safely off the road to continue viewing or to take photos.
Look for Other Wildlife and Birds
Point Reyes National Seashore is an exciting destination for wildlife and birding enthusiasts. Other than tule elk, there are dozens of mammals that call the area home, and several hundred species of birds have been spotted here.
Look for migrating California gray whales in the ocean in the winter and spring. Gray whales travel south to Baja during the winter and back to the Arctic seas in the spring.
The headlands of Point Reyes at Chimney Rock and Point Reyes Lighthouse offer the best whale watching locations in the park.
On the beaches, you may see large northern elephant seals and harbor seals. The Elephant Seal Overlook at Chimney Rock is worth visiting between December and March, when you will see a large seal population on the beach below.
Deer are common: we almost always see several deer along the path to the Point Reyes Lighthouse observation deck.
If you enjoy birding, allow time for some of the birding hotspots in the park, such as Abbotts Lagoon and Limantour. We've seen several species during our time in the park, from California quail and raptors to warblers and sparrows.
Swim at Heart's Desire Beach
Heart's Desire Beach is part of Tomales Bay State Park. The beautiful beach is just a short walk from the parking lot. The waters are calm, and warm when compared to the beaches on the Pacific Ocean side, so Heart's Desire Beach is extremely popular on nice weather days.
Aside from the beauty of the cove and the fact that the beach is safe for swimming, there are grassy areas where you can spread blankets and lounge, and picnic tables for meals. You will find restrooms here as well. Dogs are not allowed.
While you can just arrive early, stake out a spot, and spend the day relaxing at Heart's Desire Beach, you can also walk the trails to other Tomales Bay beaches.
Short trails lead to Pebble Beach and Indian Beach, and a longer walk takes you to pretty Shell Beach, another prime swimming spot.
If you enjoy hiking, do not miss the trail to Jepson Grove, one of the best surviving groves of bishop pine in California. You will find the sign for the trail at the parking area at Heart's Desire Beach. The trail is one mile each way.
There is a parking fee (currently $8.00 per vehicle) at Heart's Desire Beach. You will need a credit or debit card to pay the fee. The gate is closed once the parking lot fills up, so plan on arriving early.
Admire Point Reyes Beach
If there is one beach that characterizes the wild and windswept beauty of Point Reyes National Seashore, it would be the magnificent Point Reyes Beach.
Over eleven miles long, the stunning sandy beach appears to stretch endlessly into the distance.
For a great aerial overview of the beach, the best spot is the parking area at Point Reyes Lighthouse. On a nice day, you can snap beautiful photos of the iconic beach, with the surf spending itself in a white fringe along the sandy shore.
Drive-up access to Point Reyes Beach is via the parking areas at North Beach or South Beach.
Dogs on 6-foot leashes are allowed, except in certain areas that are nesting grounds for the western snowy plover. In the winter, some parts of the beach are out of bounds due to the presence of elephant seals.
Point Reyes Beach is not a swimming beach, and rogue waves here have been known to sweep visitors into the ocean, so stay well back from the water line and do not turn your back on the ocean.
It's a great beach for strolling, admiring the surf and the scenery, and looking for birds and wildlife.
Hike to Alamere Falls
One of only two waterfalls along the California coast that are also tidefalls, Alamere Falls is located in the Phillip Burton Wilderness and requires a round-trip hike of 13 miles or more. (McWay Falls in Julia Pfeiffer Burns State Park in Big Sur is the other.)
At low tide, Alamere Falls tumbles 40 feet onto Wildcat Beach. At moderate to high tide, when the waves kiss the bottom of the coastal bluffs, it falls right into the Pacific Ocean.
Either way, Alamere Falls makes for a dramatic, and beautiful, sight!
Despite the length of the hike, visiting Alamere Falls is one of the best (and most popular) things to do in Point Reyes. If you wish to do the hike, arrive prepared: it's a commitment of several hours. Dogs are not allowed on the trails to Alamere Falls.
You will find trailheads for Alamere Falls at Bear Valley, Palomarin, and Five Brooks. The Palomarin Trailhead offers the shortest route, but parking is limited and the final stretch of the access road to the trailhead is extremely rough.
You can also hike to Wildcat Campground and walk south along Wildcat Beach to the falls at low tide. Check surf and beach conditions before you visit, especially in the winter and the spring.
Kayak Tomales Bay
The calm and scenic waters of Tomales Bay are ideal for kayaking. Tomales Bay is 15 miles long, with multiple launch locations for kayaks and stand-up paddleboards.
Fun fact: The eastern shore of Tomales Bay is on the North American tectonic plate, while the western shore is on the Pacific tectonic plate.
There are several small communities along the shores of Tomales Bay, and you will find kayak and SUP rentals at Point Reyes Station, at the head of the bay.
Exploring the region from the water on a nice weather day is very relaxing. Look for birds and wildlife, or bring a picnic meal to enjoy at a cove you can access only from the water.
The waters are generally calmer in the mornings, so you may wish to schedule your kayaking for early in the day. Note that some parts of the bay are closed to the public to protect birds or wildlife.
Walk the Cypress Tree Tunnel
For Bay Area landscape photographers, the cypress tree tunnel at Point Reyes is a beloved photo location. Don't miss a stop here, to snap your own photos and to enjoy a little bit of history.
The Monterey cypress trees that create the famous tunnel were planted in 1930. Walking the long driveway under the canopy of the trees is a beautiful experience, especially if you have it to yourself.
At the end of the long driveway is the historic KPH Maritime Radio Receiving Station: you may be able to tour the facility if you visit on a Saturday afternoon and experience Morse code being sent or received.
For beautiful light for photos, arrive in the morning during golden hour on a clear day, when the sun's rays stream through the trees. Foggy days, with fingers of mist swirling about the branches, also make for unique photo ops.
To arrive at the cypress tree tunnel from Point Reyes Station, drive along Sir Francis Drake Boulevard toward Point Reyes Lighthouse for about 9.5 miles and you will see the trees just after a sign that says "North District Operations Center."
Explore Other Hiking Trails at Point Reyes
Hiking is one of the best things to do in Point Reyes, and you will find lots of trails at Point Reyes from which to pick. Trails vary widely in terms of length and difficulty, and many trails offer excellent wildlife viewing and birdwatching in addition to spectacular scenery.
We always hike at least a part of Tomales Point Trail whenever we visit Point Reyes: the views are so beautiful we just can't resist at least a short walk here! But we've also enjoyed hikes in the Bear Valley region and at Chimney Rock.
Here are some great trails to explore at Point Reyes National Seashore:
Abbotts Lagoon is a beautiful trail and great for birding, particularly in the winter and fall. Enjoy wildflowers in the spring and early summer.
The trail is two miles round trip, but you can walk an extra 0.5 mile each way to get to Point Reyes Beach if you like, before heading back. The trailhead is located along Pierce Point Road: you will see a sign for Abbotts Lagoon.
Estero Trail is an easy walk through coastal grasslands and past an old Christmas tree farm. We generally walk to the bridge at Home Bay and back, about two miles round trip. Look for birds, and see if you can spot leopard sharks and bat rays in Home Bay.
Elephant Seal Overlook in the Chimney Rock area is a must-do trail if you visit Point Reyes between December and March, when you will see dozens of northern elephant seals hauled out on the beach below. This is the mating and breeding season, so you may see pups as well.
Be sure to bring binoculars or a zoom lens. The trail is just 0.5 mile round trip.
Chimney Rock Trail is about 1.6 miles round trip, and features spectacular water views every step of the way. Enjoy wildflowers in the spring, and look for migrating whales in the winter and spring.
Stay on the official trail: cliffs are subject to erosion and fissures near the trail have been reported.
McClures Beach Trail is less than a mile round trip, but it is steep and challenging. From the trailhead along Pierce Point Road, the trail descends to a lovely cove.
The surf here is dangerous, so stay back from the water line and do not take your eyes off the ocean.
Good to know: Trails in Point Reyes may be closed for various reasons, so if you have your heart set on specific hikes, check the park website just before your visit for current information on trail and road closures.
Photograph the Point Reyes Shipwreck
Another photo spot loved by Bay Area photographers, the Point Reyes shipwreck is located in the little community of Inverness, on the west shore of Tomales Bay, right behind the Inverness Store.
The stern of the vessel was burned in 2016, but it still makes a great photo subject. Park in the store parking lot and you will see a path leading to the boat, lying on its side in the waters of the bay.
The fishing boat, named Point Reyes, was not really shipwrecked. It was brought to Inverness by a local, who planned to restore it, but never got started on the project.
A storm caused the boat to wash up on the sand bar where you currently see it. It's been a fixture here for close to two dozen years!
Depending on the water levels, you can get quite near the boat, to photograph it from different angles. The spot also offers beautiful views of Tomales Bay, and you may see birds in the water or along the shore.
Snap a Photo of the Bent Cypress
Point Reyes National Seashore is famous for its several stunning photo ops, and the bent cypresses in the park are yet another feature to admire and photograph when you visit. Their sculptural trunks, artistically draped with moss, look beautiful.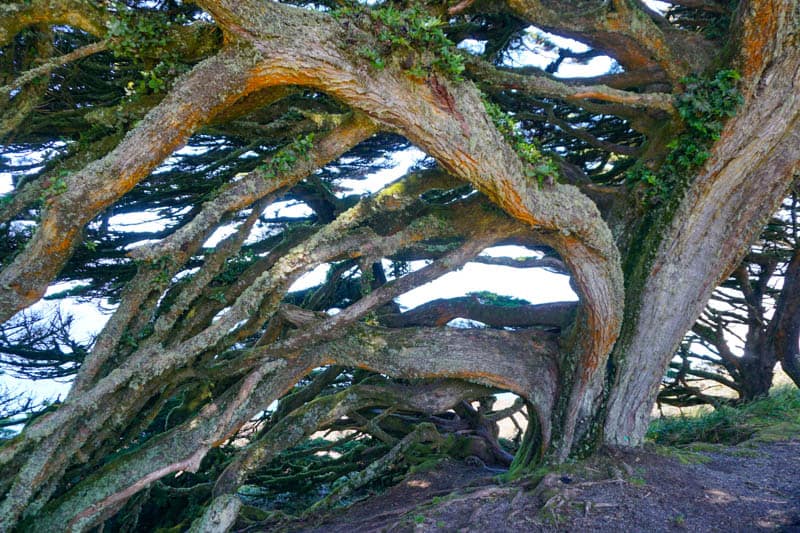 We saw several bent Monterey cypresses on the road leading to Point Reyes Lighthouse. The spot is super windy, so it's no wonder the cypress trees here are bent over!
The single tree closest to the Visitor Center that leans perfectly over the road at an impossible acute angle makes for the best photos. We visited on a bright and sunny day and the tree looked beautiful, but it's supposed to look even more magical when it's foggy.
Stroll Point Reyes Station
Point Reyes Station, located at the southern end of Tomales Bay, is the gateway to Point Reyes National Seashore and Tomales Bay. The little community offers several quality eateries and makes for a fun stroll.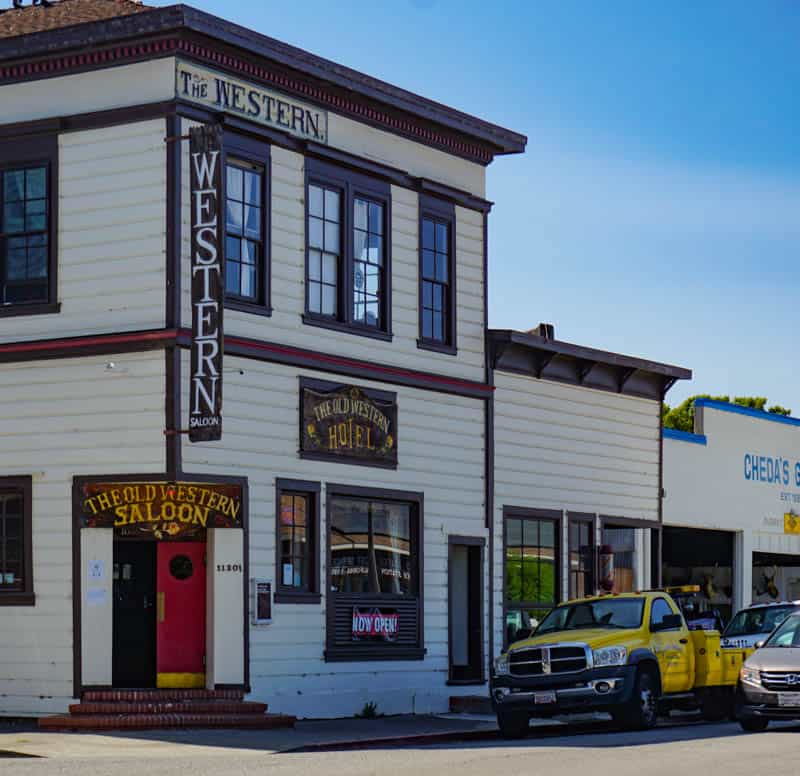 At Point Reyes Station, you will find outfitters if you want to rent boats or paddleboards. It's a convenient place to fill up your gas tank, and stock up on drinking water, snacks, and supplies, before driving out along Sir Francis Drake Boulevard.
There are just a few streets in town, so a wander doesn't take much time. Admire the street art, the old buildings, and gardens in season.
Be sure to stop for the soft serve at Palace Market: it's made with water buffalo milk from the famous Double 8 Dairy and tastes decadently scrumptious (get the vanilla). They also offer soups, sandwiches, and other specialty foods if you want to pick up picnic fixings.
Watch Red Hawk Cheese Being Made at Cowgirl Creamery
Marin County is known for its dairies, and Cowgirl Creamery is one of the most well-known local cheese producers. Their cheeses are available at many retail outlets all over the Golden State, but they have a barn shop and cantina in Point Reyes Station that's a must-visit if you enjoy cheese.
The store is located in the Tomales Bay Foods building, the site of Cowgirl Creamery's original creamery. Here you can buy a variety of Cowgirl Creamery cheeses, but you can also watch their famous Red Hawk cheese being made.
The cafe has a very limited menu, but you won't want anything beyond their grilled cheese sandwich. Toasted a perfect golden brown from edge to edge, rich with butter and cheese, the sandwich is to-die-for good. You have to get it to go, though, there isn't any place to sit and eat at the store.
Visit Point Reyes Farmstead Cheese Company
Point Reyes Farmstead Cheese Company is located a few miles out of town, but definitely worth the short drive if you like cheese! If farm tours are offered when you visit, join to learn more about how the cheeses are made: the original creamery is on the property.
The Fork, their kitchen, offers a menu based on their famous cheeses and other fresh local ingredients, which you can enjoy in the beautiful garden. Their in-house ice cream sandwiches are very popular.
Point Reyes Farmstead Cheese Company also offers a cheeseboard at your table, if you prefer to focus on the cheese.
Their Toma cheese is delicious on its own, but you can also try spins on the original: TomaProvence (with rosemary, basil, and wild thyme), TomaRashi (with sesame, chili flakes, and ginger), and TomaTruffle (with truffles from Umbria in Italy).
Where to Stay in Point Reyes, CA
Olema House offers 24 comfortable rooms and 2 standalone cottages. The property has the feel of a private country getaway! Rooms are well-appointed, and feature private bathrooms, down comforters and warmed floors. Some rooms offer views of the lovely Olema Creek.
Book on Expedia | Book on booking.com
HI Point Reyes Hostel is an eco-friendly property, with a garden, a terrace, and a library for guests to enjoy. Beds are rated very comfortable. The hostel is located within the national park, so you'll enjoy an unplugged vacation while you are here.
Book a stay here!
If you are planning to spend a few nights, consider this beautiful getaway for two! Located just a mile from the eateries of Point Reyes Station, this super private cabin is sunny and bright, with fantastic view of the park. The property features one bedroom and one full bath.
Book a stay here!
This cozy guest cottage on a 5-acre property boasts a private hot tub. The Craftsman-style cottage has 2 bedrooms and one bath. Large windows offer views of the trees outside, and a sunny south- and east-facing deck for outdoor dining or relaxing.
Book a stay here!
Where to Eat in Point Reyes (and Tomales Bay)
We've had lunch more than once at Side Street Kitchen. If the weather is good, opt for an outside table! They are famous for their rotisserie chicken and other meats, but I've enjoy their veggie sandwich, falafel, and Mt. Tam baguette on different occasions. And leave room for some apple fritters. Yum!
Of course, if you enjoy oysters, Tomales Bay will make you think you're in oyster heaven. There are a string of popular places along the east shore of the bay: pick from Hog Island Oyster Company, Tomales Bay Oyster Company, or The Marshall Store.
And if you aren't planning a dedicated visit to Route One Bakery and Kitchen, for their delectable baked goods in the morning, all of the three oyster places we've mentioned serve their bread. After 11 a.m., Route One turns into a pizzeria.
Bovine Bakery is another great place to stop on your way into the park, to get coffee and baked treats.
Due West Tavern in Olema is housed in a historic building. The tavern serves fresh and flavorful fare (their clam chowder is delicious!), and the market has lots of to-go items if you want to load up a cooler before you hit the park.
Explore more in and around San Francisco!
Larger in area than Central Park, Golden Gate Park boasts numerous gardens and museums. Check out our article on the top things to do in Golden Gate Park, from the Japanese Garden to the California Science Academy.
About 30 minutes north of San Francisco, walk among old-growth redwood forests in Muir Woods National Monument. Our in-depth guide offers advice on the best hikes, parking reservations, shuttle, and more.
San Francisco, and the SF Bay Area, are home to numerous beautiful gardens. We've rounded up the best Bay Area gardens to include in your itinerary, including the San Francisco Botanical Garden.
If you enjoy spending time in the outdoors, you'll find many state parks near San Francisco to enjoy. Go hiking, biking, take in views, and peek into the past.
Wine lover? North of San Francisco are the renowned wine regions of Napa and Sonoma. Check out the best things to do in Napa Valley (there's lots more to do here besides wine tastings!), and the top things to do in Sonoma County, which offers coast, river, forest, and valley to enjoy.
If you are planning a California road trip starting in San Francisco and going down the coast, you'll want to plan a stop in Santa Cruz, with its fun boardwalk and many beautiful beaches.
*****
Planning to explore more of California's natural beauty? Check out our articles on other national parks in California!
Did you find this article informative? Pin it for later reference!