San Luis Obispo is one of the most fun Central California destinations you can visit. There are many things you can do in San Luis Obispo, but it is also close to other must-visit attractions on the Central Coast.
Known for its lively downtown, historic Spanish mission, hiking trails, museums and art galleries, great eateries, and wine and craft beer tasting rooms, San Luis Obispo has something for every type of traveler.
Dubbed "the happiest place in America," San Luis Obispo should definitely be on your Golden State itinerary!
Whether you plan to visit solo, or you are seeking a fabulous couples getaway, or looking to have a great family vacation, SLO will wow you.
San Luis Obispo's location, close to other charming California Central Coast towns and villages, makes it easy to do short excursions to the beach or to wine country.
Some links on this page may be affiliate links. If you click an affiliate link and make a purchase, we may receive a small commission, at no extra cost to you. For more details, refer to our disclosure.
San Luis Obispo is one of the most popular weekend getaway destinations in California, for its weather, its laid-back charm, and the many activities the area offers.
Considering a visit to SLO? Read on to discover all the best things to do in San Luis Obispo, plus our suggestions for where to stay and where to eat.

Things to Do in San Luis Obispo
Visit the Mission San Luis Obispo de Tolosa
The San Luis Obispo Mission was the fifth Spanish mission built in California. Named for Saint Louis of Anjou, the bishop of Toulouse, the mission was founded in 1772 by Father Junipero Serra.
Located in downtown SLO in Mission Plaza, Mission San Luis Obispo de Tolosa is today an active church.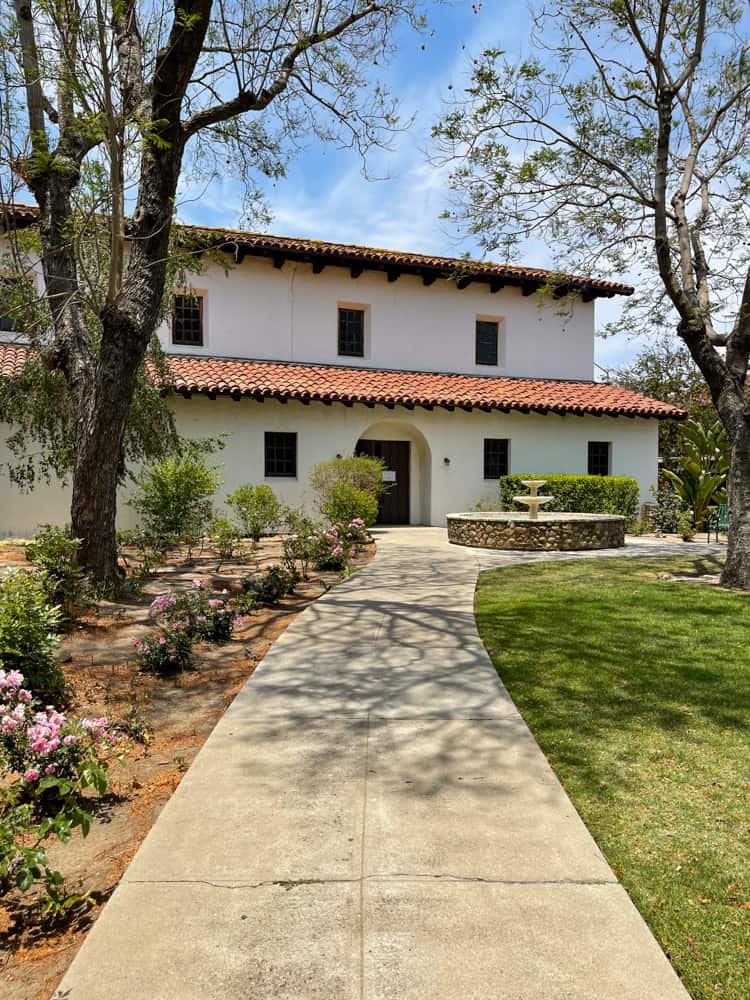 You can tour it on your own, but if a docent-led tour is being offered when you visit, join: you will learn a lot as you tour, about the building of the mission and the art (some of it centuries old) that hangs on the walls.
The Mission Museum houses artifacts from the various historical periods and offers a great peek into the region's past. There is also a gift shop you can browse.
The gardens of the mission are beautiful and make for a great stroll on a nice weather day.
Citrus, succulents, roses, and other plants create a colorful display when in bloom, and the grape arbor is testament to the importance of viticulture in the area.
The mission is a serene oasis and a great place to take a breather from sightseeing or other active pursuits.
Mission San Luis Obispo de Tolosa is open everyday and is free to enter, although donations are suggested. The gift shop and museum are open Wednesday through Sunday, 11:00 a.m. to 4:30 p.m.
Stroll the streets of downtown SLO
We've visited San Luis Obispo countless times, and our favorite activity is to just walk the charming tree-lined streets of downtown SLO.
Downtown San Luis Obispo is eminently walkable and almost always lively, with lots of shoppers and diners walking around.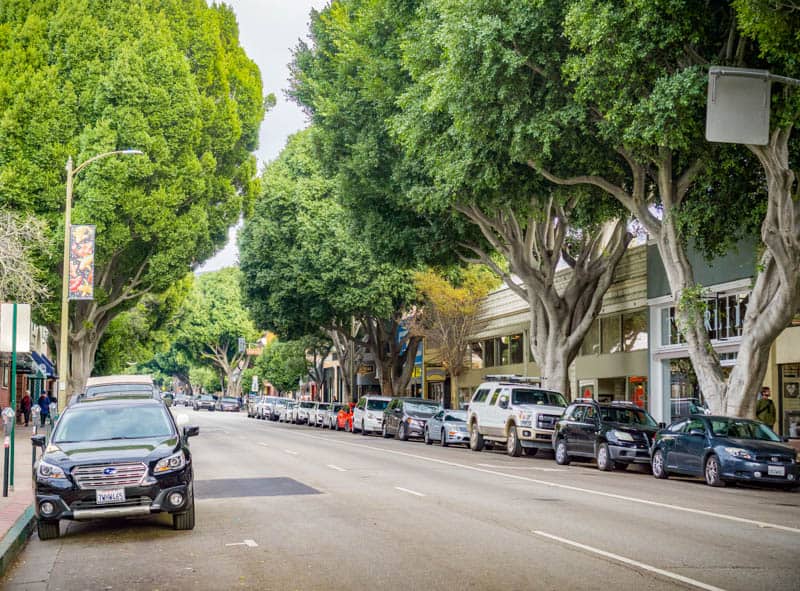 You will find lots of boutique stores and well-known chains, art galleries, and antique shops.
Also look for stores with artisanal foods such as olive oils, cheeses, and wine, along with restaurants, cafes, and tasting rooms.
And if you are looking to stroll with a scoop of ice cream, stop by McConnell's on Monterey Street for a luscious sweet treat! Or try the Thai Tea soft serve at Milk in It.
Higuera Street in particular is a must-stroll.
Our favorite browses in SLO include the Apple Farm Gift Shop. We love their candles, soaps and toiletries…and their apple butter! They also have estate-grown olive oil.
Bambu Batu offers sheets made from bamboo that are oh-so-soft. They have apparel made from bamboo as well. It's a great alternative to cotton, if you haven't tried it yet!
Phoenix Books is a must on every visit for us, because we can't walk by a book store without stepping in! They have a great collection of used books, stacked high on shelves on two levels.
Habitat Home & Garden is a must-stop for beautiful furniture and accessories. We love their stunning planters and beautiful bowls.
Snap a photo of Bubblegum Alley
SLO's weird and wacky attraction is this alley in downtown SLO, where the walls are plastered with used bubble gum.
The tradition of sticking bubble gum onto the walls of this alley started way back, possibly in the 1950s!
Although the city has tried to clean up the alley a number of times, the bubble gum graffiti has returned every time: it's now cleaned periodically but remains a bubble gum attraction.
The alley has been featured in books and music and TV shows, and while it disgusts some visitors, it fascinates others.
If you want to take a look, and perhaps snap a photo, it's located along the 700 block of Higuera Street.
Take a walk by the SLO creek
The San Luis Obispo Creek runs right through downtown SLO!
Restaurants line the creek, and dining by the water is an experience you must definitely include in your SLO itinerary. One of our favorite creekside restaurants is Novo.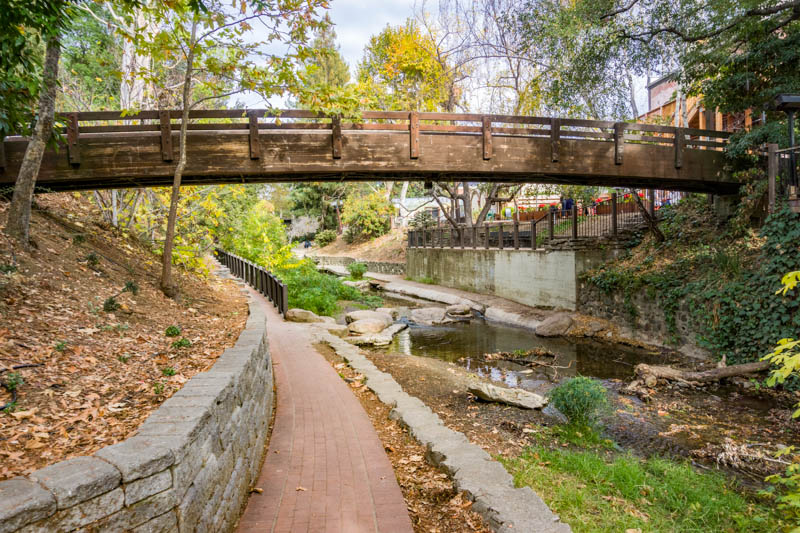 But you can also stroll the walkway by the creek. Start at Mission Plaza and follow the creek up to the Children's Museum for a pleasant walk with lots of green.
Gape at the interiors of the Madonna Inn
The pink exterior of the Madonna Inn is only the beginning.
Inside you will find ornate public spaces with lots of candy pink and dazzling chandeliers, and over one hundred individually-styled guest rooms.
Not all the guest rooms are pink, but most of them sport bright colors and eclectic furnishings.
The inn's design uses lots of locally-sourced rock and boulders for rock-themed rooms, waterfalls, and fireplaces.
You will find etched brass and copper, carved wood, and etched glass windows.
The Madonna Inn is both a hotel and an SLO landmark.
It's been a fixture since 1958, its wildly unique architecture and decor a draw for curious visitors.
Even if you do not stay at the inn, plan to visit for a drink or a meal so you can check out the inside!
Go wine tasting in Edna Valley
Less than a 15-minute drive from downtown San Luis Obispo is beautiful Edna Valley, where you will find one of the top viticultural areas on the California Central Coast and one of the most scenic wine regions in California.
The area is so scenic that just driving around is a joy, but of course you will want to stop and sip!
Edna Valley's climate is perfect for growing cool-climate grapes, and the AVA is known for its chardonnay and pinot noir.
There are over two dozen tasting rooms in the valley, many of them with outdoor seating, with views of the Tuscany-like rolling hills covered with vineyards.
Edna Valley is a fabulous location for a picnic lunch.
We've visited only a few wineries in Edna Valley so far, but we've thoroughly enjoyed each one.
Chamisal Vineyards is the oldest vineyard in Edna Valley, with a picturesque location at the base of the hills.
The patio tasting room experience offers views of the vineyards and a sampling of five wines, including the estate chardonnay and pinot noir.
Wolff Vineyards has a lovely tasting patio and a flower garden that looks gorgeous when in bloom. This is where we enjoyed our picnic lunch! They grow several types of grapes, including a popular petit sirah.
Edna Valley Vineyard has a beautiful tasting room, with large glass windows that bring in light and the views of the valley.
Their signature private patio tasting experience features four wines, served with fabulous views over the vineyards.
Visit the SLO Museum of Art
There is so much to do outdoors in and around SLO that it's easy to miss the fact that there are many museums in downtown San Luis Obispo!
Whether you are looking for a dose of art or you want to delve into local history, you will find a museum in SLO that suits.
Founded in the 1950s, the San Luis Obispo Museum of Art is located by Mission Plaza in downtown SLO artists and is free to enter.
The museum has a permanent collection but also holds temporary exhibitions.
Its permanent collection focuses on artists from the region, and you can enjoy landscapes to still life to portraits, etchings, and sculpture.
The SLO Museum of Art is open Thursday through Monday from 11 a.m. to 5 p.m.
If you visit on a Saturday morning, you can join a docent-led tour at 11 a.m. for a deeper understanding of exhibits.
Enjoy the SLO Railroad Museum
The San Luis Obispo Railroad Museum aims to preserve the railroad history of California, with a special focus on the Central Coast.
The museum has exhibits and artifacts relating to California Central Coast railroad history, including railroad cars, a caboose, trailers, a diesel switch, and baggage carts. There are currently no engines at the museum.
The best part of the museum is a 1,200-square-foot scale model of the Southern Pacific coastal route between Paso Robles and Surf in the mid 1950s, sure to appeal to kids and adults alike.
If you are a railroad enthusiast, you will definitely want to include the museum on your list of things to do in San Luis Obispo.
The museum currently has limited operating hours: it is open Saturdays from 10 a.m. until 4 p.m.
Visit the History Center of San Luis Obispo County
The History Center of San Luis Obispo County is a small free-to-enter museum in downtown SLO.
The museum is located in the former Carnegie Library, and documents local history with lots of photos and an informative video presentation.
Docents on duty provide information and answer questions. We learned a lot just by chatting with the docent on duty!
The museum is open 11.00 a.m. to 5 p.m. Wednesday through Monday.
Tour the Dallidet Adobe and Gardens
The Dallidet Adobe and Gardens are charming, and a must-visit if you are in SLO when the gardens are in bloom.
The flower gardens are gorgeous, but you'll also find an herb garden and a vegetable garden.
The home was built in the 1830s by Pierre Dallidet, one of the pioneer French settlers in the area. It was the family home for over a century before it was deeded to the History Center of SLO County.
Much of the furniture and items in the home are original.
The home and gardens are free to tour, but donations are suggested. The gardens are open on Saturday and Sunday between April and October.
Go hiking at Bishop Peak
At 1,546 feet high, Bishop Peak is the tallest of the Morros (or Nine Sisters), a group of volcanic plugs that stretch along the Central California Coast. Morro Rock, in Morro Bay, is one of the well-known Morros.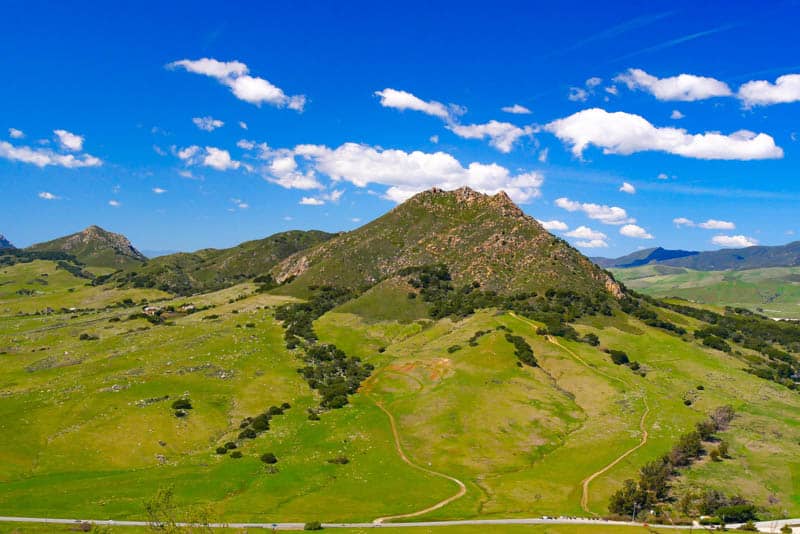 Bishop Peak is so called because its peak looks like a bishop's miter, with its three points. Hiking Bishop Peak Natural Reserve is one of the most popular outdoor activities in San Luis Obispo.
The two popular trails to the top both have exceptional panoramas of the Central Coast as the reward, so pick based on your skill level.
One route starts from the trailhead on Patricia Drive and takes you gradually up, through a series of switchbacks, to the peak. This hike is about 4 miles round trip, and is classed as moderate.
The other hike starts at the trailhead on Highland Drive and is a shorter, steeper climb to the top, with boulders to navigate.
Catch a movie at the Sunset Drive-In Theater
The Sunset Drive-In Theater is one of just a few remaining drive-in theaters in California that still screens movies.
So if you want to evoke the nostalgia of times past, grab some popcorn and a drink, and catch a movie here when you visit San Luis Obispo!
The Sunset Drive-In Theater is located near Madonna Inn, off Highway 101 (you'll see the back of the gigantic screen from the highway, and the bright neon sign if you drive by at night).
There are two shows nightly, and the theater is open every night. Bring cash for your tickets.
Sample treats at the Thursday Downtown SLO Farmers' Market
When we moved to the Central Coast, we heard so much about the Thursday evening Downtown SLO Farmers' Market that our first visit to the city was entirely so we could experience this market.
And it did not disappoint!
If you can swing it, we suggest crafting an SLO itinerary that includes a Thursday evening so you can visit this lively market.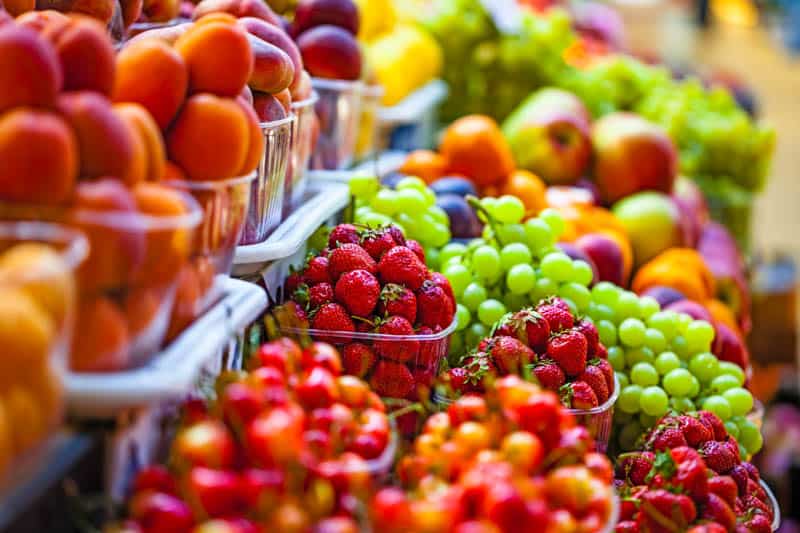 With several dozen vendors lining Higuera Street, which is closed to traffic, the market offers fresh fruit and produce, fresh flowers and plants, and lots of delicious prepared foods, from fire-roasted meats to pizza and artisan ice cream.
As you stroll up and down, sampling the food and browsing the arts and crafts from local artists on display, you will be entertained by live music acts and street performers.
It's an exciting, colorful event, with great food and great people watching!
The Downtown SLO Farmers' Market runs from 6 pm. until 9 p.m. along Higuera Street.
Stop by the San Luis Obispo Children's Museum
Visiting San Luis Obispo as a family?
The San Luis Obispo Children's Museum has many engaging interactive exhibits and programs spread over three floors, and there is an outdoor play area as well. The top floor is for toddler-age kids.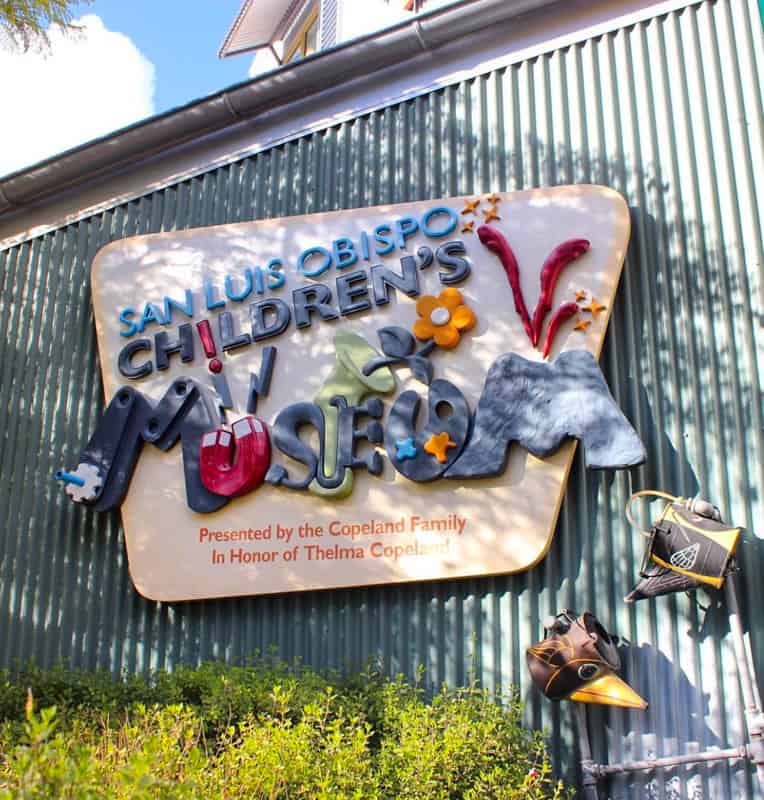 Young children can learn more about such topics as science, history, nature, health, arts and safety.
If you plan to visit SLO with kids aged 1-10, be sure to check out this fun learning space! And allow at least a couple of hours.
The museum is currently open Thursday through Monday, from 10.00 a.m. until 12.30 p.m., and from 1.30 p.m. until 4.00 p.m.
Enjoy a Walking Food Tour
San Luis Obispo is a mecca for foodies, wine lovers, and craft beer and spirits enthusiasts.
Downtown SLO is chock full of quality eateries and tasting rooms, and sampling the best bites and sips on a food tour is a great introduction to the local food and drink scene.
This well-reviewed tour takes you to five local eateries in downtown SLO, for a sampling of the finest food and drink from popular restaurants as well as hidden gems. During the fun 3-hour tour, your guide will provide insights about SLO as you walk. A vegetarian option is available.
Or, try this equally highly-rated Uptown Mojo Walking Food Tour, which takes you to four unique restaurants in the "Mojo" area of SLO. The 3-hour tour requires walking about 1.5 miles, and you will get to taste items such as French style rotisserie meats, locally grown produce, elote off the cob, local beer, chocolate shakes, and specialty cocktails. Yum!
Head to the beach
San Luis Obispo is not on the coast, but it's only a short 10- or 15-minute drive to one of many beautiful beaches nearby. You can go north to the beaches of Morro Bay or Cayucos, or you can go south to the beaches at Avila Beach and Pismo Beach.
Go paddleboarding or kayaking at Avila Beach, or sunbathe or have a picnic on the sandy beach. Hike one of the bluff trails, or bike the easy 5-mile Bob Jones Trail to Avila Beach and back.
At Pismo Beach, ride ATVs over the sand dunes, go kayaking, or hike bluff trails. In season, don't miss the monarch butterflies at the Pismo Beach Monarch Butterfly Grove.
Morro Bay is a marine life viewing paradise and birding hotspot. You will see otters frolicking in the bay, seals and sea lions, and maybe dolphins and whales out in the ocean. Take a cruise around Morro Rock, stroll the Embarcadero, and enjoy fresh seafood at a waterfront restaurant.
Cayucos is a tiny town with fabulous beaches and a plethora of water activities to enjoy, from surfing to tidepooling. Stroll the historic pier and watch the surfers, or walk the waterfront boardwalk, with its boutiques and restaurants.
Visit Montana de Oro State Park
Just a 15-minute drive from SLO is one of California's most beautiful state parks. Montaña de Oro State Park, located on Pecho Valley Road, gets its name from the yellow-orange-gold wildflowers that cover its hillsides in spring.
Walking the easy and scenic bluff trail at Montana de Oro State Park is a must! The trail offers spectacular water views, close looks at the gorgeous rock formations along the shore, as well as a pristine beach.
Hikers up for a challenge can attempt the Valencia Peak Trail for panoramic views over the coast from the top. Valencia Peak is the tallest point in the park, at just under 1,350 feet.
If you have more time, the Los Osos area offers other scenic trails and excellent birdwatching. The Elfin Forest Boardwalk Trail is a must-do!
Enjoy Doc Burnstein's ice cream
Doc Burnstein's original ice cream lab is located in the nearby Village of Arroyo Grande.
If you have the time, it's worth driving out to enjoy the sinfully decadent ice cream at the original store.
It is a California Central Coast institution, with flavors like Merlot Raspberry Truffle and Motor Oil (a concoction of dark chocolate and Kahlua).
But if you are short on time, Doc Burnstein's ice cream is available all over the Central Coast, including in SLO.
In downtown San Luis Obispo, you can enjoy the ice cream and fine chocolates at their parlor on Higuera Street.
Stop by Avila Valley Barn
A charming family-owned farm in Avila Valley, Avila Valley Barn is a farmstand that offers fresh fruit and vegetables.
You will also find a barbecue stand here, plus a bakery, and a sweet shop with ice cream, candy, and fudge. The fruit pies are made with real fruit filling and taste yum!
The picturesque farmstand is a great photo spot. If you are traveling with kids, they will love the hay rides and pony rides (offered from may through November). Plus, they (and you!) can enjoy feeding the farm animals.
Sip Craft Brews, Spirits, and Ciders
If you enjoy craft beers, spirits, or ciders, you will enjoy tasting your way through the many tasting rooms in SLO.
From lagers to sours and mead, you can have your pick of brews in the region. Throw in some live music and tasty food truck bites, and you have the recipe for an exciting evening out.
Try SLO Brew on Higuera Street, where you can order Happy Hour bites to go with the local brews, or Libertine Brewing Company on Broad Street, famous for its wild ales showcasing local ingredients.
Area distilleries offer a variety of sips, from whiskey to gins and liqueurs, and hard cideries offer options from sweet to dry.
Getting to San Luis Obispo
The SLO County Regional Airport is located near San Luis Obispo, with flights from several major US cities, but most visitors to the city arrive by road. SLO is a great stop on a California road trip itinerary!
San Luis Obispo is also a great option for getaways. It is one of the easiest day trips from Santa Barbara you can do: just a 90-minute drive each way.
The city is within reasonably easy driving distance of San Francisco, LA, and San Diego as well. From LA to SLO is just about a 3-hour drive.
At 3 hours and 30 minutes by the highway, SLO makes for one of the many fun weekend getaways from San Francisco (or the SF Bay Area).
It's a slightly longer drive of 5 hours and 15 minutes, but still very doable if you are looking for weekend road trip getaways from San Diego.
Looking for a car rental for your San Luis Obispo getaway? Check out Discover Cars! They scour multiple providers to get the best price for you.
Where to Stay in San Luis Obispo, CA
Vacation Rentals in San Luis Obispo, CA
This cute 2-bedroom, one-bath home is located right in the heart of the action in downtown SLO, perfect for exploring the town and trying all the great restaurants, coffee shops, and tasting rooms! The home boasts a modern kitchen and air-conditioning but retains a lot of its early 1900s charm. Book a stay here!
This lovely wine country cottage is located a few short miles from downtown SLO, on the grounds on a winery. Beautifully restored, the cottage features new flooring, furnishings, and appliances. There are queen beds in each of the two bedrooms. From the living room and front porch, enjoy fabulous views of vineyards and rolling hills. Book a stay here!
Visiting as a family or a small group? This exceptionally lovely 3-bed, 3-bath vineyard home makes for the perfect group getaway or family stay. With vineyard views from every rooms and upscale furnishings, the property is just a short drive from downtown SLO. Book a stay here!
Hotels in San Luis Obispo, CA
Hotel Cerro is a 5-minute walk from Mission San Luis Obispo de Tolosa. It features a rooftop pool and a well-reviewed onsite restaurant, and has a garden and a terrace. Rooms are well-appointed, with contemporary decor. Book a stay here!
Hotel San Luis Obispo is also located very close to the SLO Mission and all the shopping and dining options in downtown SLO. Rooms feature modern furnishings with touches of bright color. The hotel offers bikes for checkout during your stay, and a terrace and hot tub. Book a stay here!
Where to Eat in San Luis Obispo
Big Sky Cafe is our absolute favorite breakfast / brunch place in SLO. A farm-to-table restaurant located in downtown San Luis Obispo, Big Sky Cafe has a huge menu of offerings featuring local producers, with many vegetarian options. We love their cheese sandwich, crispy polenta fries, and black bean chili.
We've never visited SLO so far without dining at Novo at least once. Get a table on the patio by the creek, and make reservations ahead of time. Their globally inspired menu has many good choices: we love the spicy Thai red curry, and their salmon bisque is rich and creamy.
If you enjoy barbecue and don't make it to the Thursday evening Farmers' Market, try Old San Luis BBQ Company, which features authentic Santa Maria style barbecue: tri-tips grilled over red oak. Firestone Grill is another great BBQ place, but arrive early, because it gets crowded.
High St. Deli is our go-to sandwich shop in San Luis Obispo. The chunky, well-crafted sandwiches are worth the 10-minute walk from downtown. We love their California Turkey, with green chili and melted cheddar jack. They've been in business since 1927, and once you eat one of their sandwiches, you will know why!
Stop by the House of Bread on Marshall Street for awesome handcrafted bread. They have a rotational menu, with both sweet and savory offerings. We love their lemon bread and raspberry bread so much, we carry a couple of loaves home with us!
Scout Coffee is our favorite coffee place in SLO. Locally roasted beans, and their pastries are awesome as well!
Best Time to Visit San Luis Obispo
Any time of year is a great time to visit San Luis Obispo. We've visited in every season, and had a fun visit every time.
That said, late spring to early fall is the best time to head to SLO if beach time is important to you. If you plan to visit in the winter, throw some rain gear into your suitcase, and always pack layers for California!
The hills look their greenest best in the spring, and you will see tons of wildflowers everywhere if you visit between March and May.
And if it is a good bloom year, add an extra day to your SLO trip and do a day trip to Carrizo Plain National Monument for wildflower displays like you've never seen before.
It's about a 90-minute drive each way, and you will see entire hillsides painted yellow, orange, or purple.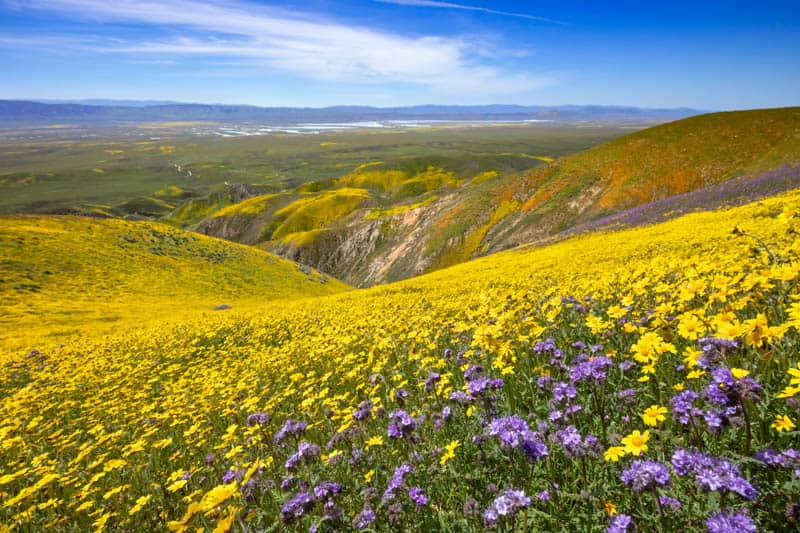 *****
Looking to explore more of Central California? Check out some of our other articles on fun Central California coastal towns and cities!
Did you find this article informative? Pin it for later reference!