Looking for the best things to do in Santa Barbara?
Santa Barbara is the quintessential California beach city, with tall skinny palm trees, endless ocean views, and beautiful sandy beaches. But Santa Barbara isn't just a beach destination.
Home to stunning architecture, fascinating historic landmarks, a vibrant arts and culture scene, hikes and outdoor activities aplenty, and delicious food and wine options, Santa Barbara has something to offer every type of traveler.
Some links on this page may be affiliate links. If you click an affiliate link and make a purchase, we may receive a small commission, at no extra cost to you. For more details, refer to our disclosure.
Juxtaposed between the picturesque Santa Ynez Mountains and the Pacific Ocean, Santa Barbara is located in the southern part of California's Central Coast and is often described as the American Riviera.
Not so big that it's frenetic and not so small that there isn't enough to do, Santa Barbara is the Goldilocks California city, perfect for family vacations, couples escapes, solo jaunts, or group getaways.
In this article, we've rounded up the best things to do in Santa Barbara, from iconic attractions and landmarks to bucket-list experiences and delicious dining.
And if you are looking for places to stay in Santa Barbara, we have suggestions for accommodations too.
Things to Do in Santa Barbara
Admire Old Mission Santa Barbara
One of the most photogenic of the California missions, Old Mission Santa Barbara was founded in 1786. It was the tenth mission built in Alta California by Franciscan friars.
Old Mission Santa Barbara is one of the top Santa Barbara attractions, and deserves top billing on your itinerary for the city.
There were three adobe churches at the site before the current building was constructed, in 1820.
The mission still serves as home for a community of Franciscan friars, and also functions as a parish church.
You can take self-guided tours of the museum, church, gardens, and cemetery. The mission is open everyday but parts of the complex may be closed at certain times.
There is also a gift shop to browse: you can buy mission wine here, as well as artisanal jewelry, unique handmade gifts, and candles.
Snap photos of the beautiful facade with its dusty pink accents, admire the beautiful Moorish fountain in front, and stroll the rose gardens if you visit during bloom time.
Get hours and admission information for the Santa Barbara Mission here.
Want a quick overview of the city? This highly-rated small group e-bike tour is a fantastic way to get oriented, if it's your first visit to Santa Barbara. Your local guide will fill you in on the history of the city and other fun facts about Santa Barbara as you cruise!
Book this tour now!
Explore El Presidio de Santa Barbara State Historic Park
The Spanish Crown sent both soldiers and missionaries to expand their empire in Alta California.
El Presidio de Santa Barbara is the last of four military outposts built by the Spanish, and one of the must-visit places to visit in Santa Barbara. The other three presidios are located in San Diego, San Francisco, and Monterey.
Founded in 1782, the Santa Barbara Presidio acted as the military headquarters and governing center for the region.
The complex was constructed by the Chumash, the native people of the area, under the supervision of Spanish soldiers. The walls were made of adobe bricks and whitewashed, while the roofs were made of red clay tile.
Today the complex is a state historic park, and you can explore it on a self-guided tour. Two buildings are restorations of the original structures, while others have been reconstructed.
El Cuartel, which used to be the home of the soldier assigned to guard the western gate into the central plaza, is the oldest surviving building in Santa Barbara and the second oldest in California.
The chapel, with its beautiful bell tower, served as the first church for the settlement of Santa Barbara.
Get information on hours and admission for the Santa Barbara Presidio here.
History and architecture buff? This highly-rated private walking tour of El Pueblo Viejo, the district around the Presidio, is a fascinating way to delve deeper into Santa Barbara's past. The guide is lauded for his extensive knowledge and passion!
Book this tour now!
Tour the Santa Barbara County Courthouse
One of the many beautiful historic landmarks in Santa Barbara, the Santa Barbara County Courthouse is an elegant Spanish Colonial building that was finished in 1929. It is a working courthouse.
The beautiful white building is topped by a red-tiled roof, and surrounded by gorgeous grounds, with palm trees and other plantings. It has a sunken garden and a decorative main entrance, and a clock tower with an arched viewing gallery.
Inside, you will find beautiful tile work, old chandeliers, and a gorgeous mural room, with painted walls and ceiling.
If the inside of the Clock Tower is open when you visit, do not miss the chance to see the mechanism and to view the mural depicting the history of timekeeping.
Take in the Views from the Clock Tower
You can climb up the steps (or take the elevator) to the viewing gallery of the Clock Tower at the Santa Barbara County Courthouse for spectacular views in every direction.
From the Clock Tower viewing gallery, you can get a full appreciation of the red tiled roofs of the city. Taking in the 360-degree views on a nice weather day is one of the best things to do in Santa Barbara.
While the side looking towards the Pacific Ocean is spectacular, make sure you walk around and take in the views from the other three sides as well. The red tiled roofs and white facades make for awesome photos.
Do the Santa Barbara Red Tile Walking Tour
The self-guided Red Tile Walking Tour in downtown Santa Barbara is a loop walk that takes you past many of the beautiful buildings in the city.
If you do it early in the day, you can view the buildings in relative solitude, and get great photos.
The tour starts (and ends) at the Santa Barbara County Courthouse, and takes you past such icons as the beautiful Public Library, the Hill-Carrillo Adobe, the Plaza de la Guerra, where the first city council meeting was held, and the Rochin Adobe, made with salvaged bricks from the walls of the Presidio.
The walking tour covers about twelve city blocks, and there are lots of restaurants along the way, should you feel the need to fuel up. Many of the buildings along the route can be toured, if you want to delve deeper into Santa Barbara's past.
If you don't feel like walking, this popular 90-minute Santa Barbara trolley tour is a great way to get an overview, with a commentary that will tell you a lot about the city's history and sights.
Book this trolley tour now!
Catch Some Rays at East Beach
East Beach is one of Santa Barbara's many sandy beaches. It is a broad swathe of sand that stretches east of Stearns Wharf, and the Cabrillo Boulevard biking and walking path runs alongside, fringed by super tall palms.
Water sports, beach volleyball, and sunbathing are popular East Beach activities.
It is a great beach for walking as well: you will see birds at the waterline and beautiful sunrises if you are up early. At low tide, you can walk south all the way to Butterfly Beach in Montecito!
People watching on East Beach and along the adjacent Cabrillo Boulevard biking and walking path is one of the most fun things to do in Santa Barbara.
There's plenty of street parking, and a paid parking lot as well. East Beach is very large, so it rarely feels crowded. There are restrooms and picnic tables.
Stroll Stearns Wharf
Stearns Wharf is one of Santa Barbara's most popular attractions, with shopping, dining, and fun activities for kids and adults alike.
The historic wharf dates back to 1872, and is 2,300 feet long.
For a fun narrated water taxi ride (kids will love this!), take Lil' Toot from Stearns Wharf to Santa Barbara Harbor and back: rides are offered every afternoon and run every half hour.
Whale watching and other ocean cruises also depart from Stearns Wharf.
Stroll the wharf to browse the gift shops, and, if you enjoy seafood, stop for clam chowder or fresh seafood dishes at the Santa Barbara Shellfish Company.
Don't forget to snap photos of the city from the wharf: you get beautiful views of the palms and the buildings nestled up against the mountains.
Go on a Guided Kayaking Excursion
Getting out onto the water is one of the most enjoyable things to do in Santa Barbara!
Guided kayaking excursions typically explore Santa Barbara harbor, where you can enjoy views of the beautiful boats and look for marine life, including seals and sea lions, dolphins in the ocean, and sea birds.
As you paddle the waters, you will have spectacular views of the city, with its tall palms and beautiful buildings, and the Santa Ynez mountains in the back.
You can opt for a private tour or a small group tour, and tours are suitable for beginners as well as expert kayakers.
You can also do a sunset guided kayak tour.
Visit the Santa Barbara Botanic Garden
The Santa Barbara Botanic Garden is one of the most visit-worthy botanical gardens in California, with its focus on native plants.
In the spring, the wildflower meadow is full of bright orange California poppies and many other varieties of wildflowers.
The garden offers views out to the Channel Islands on one side and the Santa Ynez Mountains on the other.
Trails wind through the 78 acres of the garden, which is divided into sections such as the Redwood Grove and the Arroyo Section.
Santa Barbara Botanic Garden is home to the historic Mission Dam and Aqueduct, which dates back to the early 1800s. The dam and aqueduct were built by the Chumash to supply water to the Santa Barbara mission.
The garden contains several other historical landmarks as well.
Enjoy Funk Zone
To enjoy the hip side of Santa Barbara, head to the Funk Zone, the area between Highway 101 and the Pacific Ocean next to the Amtrak Station. The colorful district is known for its lively ambience.
You will find a plethora of wine tasting rooms, eateries, boutique shops, and art galleries in the walkable Funk Zone.
Enjoy craft brews at Figueroa Mountain Brewing Company, or hand-crafted spirits at Cutler's Artisan Spirits, Santa Barbara's first post-Prohibition distillery.
The Santa Barbara Urban Wine Trail covers close to two dozen downtown Santa Barbara tasting rooms, many of them in the Funk Zone, within walking distance of one another. You can download a map here.
While eating and drinking are a must in the Funk Zone, allow for time to walk around and admire the many murals that add color and a unique vibe to the district. Many local artists have contributed.
This 3-hour Funk Zone tour offers a great introduction to the district, if you want to experience it in an efficient way and sample its best in a few hours. The small group tour offers tastings of snacks and drinks, plus tips on the best photo spots, and lots of information on Santa Barbara from your guide. Book this tour now!
Stroll State Street in downtown Santa Barbara
State Street is one of the main streets in downtown Santa Barbara. The gracious palm-lined street makes for a delightful stroll any time of the day.
With lots of one-of-a-kind boutiques, art galleries, eateries, and tasting rooms, State Street offers excellent people watching.
You will also find lots of beautiful architecture on and just off State Street. Look for historic theaters like the Granada Theatre, the tallest building in Santa Barbara, and the Mission Revival style Arlington Theatre, originally built in 1930.
Don't miss La Arcada Courtyard, with its old world ambience, beautiful fountains, and tile work. La Arcada is home to many top-notch art galleries, shops, and restaurants.
Join a Downtown Santa Barbara Food Tour
Santa Barbara is a fun destination for food and drink, and a tour is a great way to sample some of the city's offerings if it's your first visit to Santa Barbara and you want some local guidance.
This downtown Santa Barbara food tour is popular and well-reviewed.
You will visit five or six tasting locations to sample local favorites, and one wine tasting room. Your guide will offer recommendations on other places to try during your visit.
Vegetarian and gluten-free options are offered.
Check price and availability on this Santa Barbara food tour now!
Snap a Photo of the Moreton Bay Fig Tree
Santa Barbara's Moreton Bay fig tree (Ficus macrophylla) is located right next to the Amtrak train station. Listed in the California Register of Big Trees, the tree is one of the largest fig trees in the country.
Way back in 1876, a sailor from Australia presented a fig tree sapling to a local girl, who planted it at 201 State Street. After she moved away, her friend Adeline Crabb moved it to its present location.
The Australian native thrived in the spot and was last measured as having a girth of over 40 feet and a canopy of over 175 feet. It's the most famous of Santa Barbara's dozen or so historic and specimen trees.
The enormous Moreton Bay fig tree is definitely one of the unique things to see in Santa Barbara, especially if you are a plant and garden lover.
Enjoy Seafood with a View at Brophy Bros.
Located at the Santa Barbara Harbor, Brophy Bros. offers stunning views of the mountains and the harbor. Definitely opt for a table on the outdoor patio for the best ambience, especially if you visit on a beautiful bright day.
Brophy Bros. are known for their comforting clam chowder, but you will find other toothsome offerings on the menu as well, from hearty cioppino to the fried buttermilk calamari.
Get Interactive at MOXI
MOXI, the Wolf Museum of Exploration + Innovation, is a must-visit in Santa Barbara.
Located in the Funk Zone, MOXI offers super fun interactive experiences for all ages, and exploring it is one of the best things to do in Santa Barbara with kids.
The three-floor museum features several themes, all related to science, technology, engineering, arts or math. In the Innovation Workshop, you can design and test your creations. In the Sound Studios, create sound effects for popular film clips.
Build a race car and race it on the Speed Track. Enjoy fabulous views over the city at the Sky Garden, where you can walk on the glass Sky Deck and view the city through different scopes.
Get information on hours and admission here.
Visit Another Santa Barbara Museum
If you enjoy museums, Santa Barbara has many wonderful museums to discover. Here are some of our favorites:
Santa Barbara Museum of Art has several exhibition galleries and an impressive library. Collections are eclectic, ranging from 19th century European paintings to Asian art, antiquities, and contemporary and modern art.
Docent-led tours are offered, or you can tour the galleries in your own. Find hours and admission information here.
Santa Barbara Museum of Natural History is located along Mission Creek and offers indoor and outdoor exhibits focused on regional invertebrate and vertebrate creatures, as well as collections related to Native American peoples, especially the Chumash.
The Sea Center, located on Stearns Wharf, focuses on marine animals from the Santa Barbara Channel. Find more information here.
Santa Barbara Maritime Museum is located in the Santa Barbara Harbor.
It is dedicated to preserving and showcasing the history of the Santa Barbara Channel and the sea in general, with visual exhibits (paintings and models), events, and lectures. Plan your visit.
The Carriage and Western Art Museum, located in Pershing Park, is a unique museum to discover in Santa Barbara.
The museum has a beautiful collection of saddles, bridles, and carriages. You can see Edward Borein's stunning friezes of life in the American West here.
Admission is free. Check hours of operation.
Pose for a Photo at the Chromatic Gate
If you want to walk through a rainbow and take some colorful photos for Instagram when you visit Santa Barbara, look no further than the Chromatic Gate, located at Arco Circle along Cabrillo Boulevard!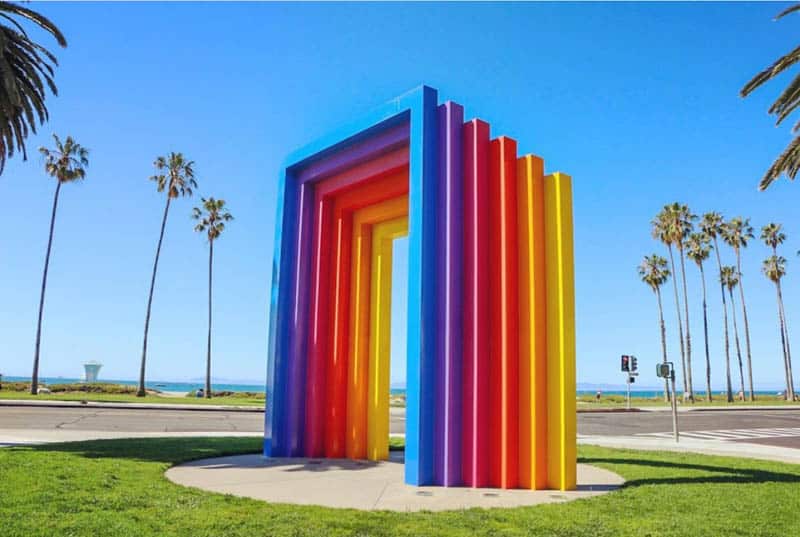 The rainbow-hued art installation is the work of Herbert Bayer, an Austrian and American artist and architect, who spent the final decade of his life at Montecito.
The gate is 21 feet tall and looks stunning on a clear bright day against a blue sky.
Go Birding at the Andree Clark Bird Refuge
The Andrée Clark Bird Refuge is a must-visit if you enjoy birding.
The 42-acre park has a large lake, a modified estuary with brackish wetlands and marshes. There are three islands in the lake.
There are pathways along the north shore of the lake, with three viewing platforms from which to look for birds and wildlife. Bring binoculars or a zoom lens, to be able to see birds up close and get good photos.
Several dozen bird species have been spotted at the Refuge, including ducks and mallards, California gulls, black-crowned night herons, American coots, grebes, sparrows, teals, doves, woodpeckers, and hummingbirds.
You can also see turtles and other wildlife.
View Wildlife at the Santa Barbara Zoo
The Santa Barbara Zoo is small, but contains close to 150 species, including animals, birds, reptiles, and insects.
Animals from all over the world can be viewed in open, natural habitats.
"Meet the Animals" encounters are 30-minute educational experiences where you can ask questions and feed Masai giraffes, view condors being fed, or toss fish to penguins.
You can also ride C.P. Huntington trains around the perimeter of the zoo, or take a guided walking tour. Visit the zoo website for hours of operation and to buy tickets.
Hike a Santa Barbara Trail
Outdoor enthusiasts have plenty of hiking trails in and around Santa Barbara from which to pick, from easy strolls to rigorous workouts. Here are some Santa Barbara hikes to consider. Note that some trails are also mountain biking trails.
Inspiration Point offers magnificent views and can be reached via two trails. The shorter hike starts at Tunnel Trail along a paved access road and then climbs uphill through chaparral to the summit, which offers panoramic views of the city and the ocean, and the Channel Islands. The hike is 3.5 miles round trip, with 800 feet of elevation gain.
Lizard's Mouth is just 0.25 mile one way, and leads to a viewpoint with spectacular views over the city. The namesake rock that looks like a lizard with its mouth open is towards the back of the outcropping. The viewpoint is a great place to watch the sun set.
La Cumbre Peak is a long day hike that leads to the highest point in Santa Barbara, at 3,995 feet above sea level. The peak can be accessed via Tunnel Trail, with views over the city en route and 360-degree views from the top. The total round trip is about ten miles.
Seven Falls is also accessed from Tunnel Trail and it is a short, moderately difficult hike with a great photo op at the end. Some rock hopping and sloshing are required to get to the falls. The total length is about 2.5 miles round trip.
Get Lunch at the Santa Barbara Public Market
When in downtown Santa Barbara, head to the Santa Barbara Public Market for lunch. The city's food hall is located just off State Street and offers a variety of quick and delicious options.
With a noodle bar, pizzeria, sushi, falafel bar, and Mexican all under one roof, the Public Market is the perfect choice if you are in a group and can't agree on a single cuisine.
Finish with yum ice cream at Rori's Artisanal Creamery, one of two fabulous local ice cream places in Santa Barbara.
Enjoy Santa Barbara Harbor
Santa Barbara Harbor is beautiful, with rows and rows of colorful boats reflecting in the still water, and a variety of birds, from gulls to pelicans, circling overhead.
One of the best things to do at Santa Barbara Harbor is the walk to Point Castillo and back.
The one-mile walk offers spectacular views of the ocean. It is especially scenic at sunrise, with fishing boats out in the water on one side, and the mountains and harbor on the other.
During the day, there are shops to browse, excellent eateries, and a variety of outfitters that offer equipment if you want to go kayaking or stand-up paddleboarding, as well as guided excursions on the water.
Try McConnell's Ice Cream!
McConnell's is a Santa Barbara institution.
Established in 1949, McConnell's serves scrumptious ice cream made from natural ingredients.
It's a sweet treat you must not miss when you visit Santa Barbara, although they now have locations in several cities in California.
Owned by three generations of three different families, McConnell's offers numerous flavors, some that incorporate local flavors like Eureka lemon.
We love the decadent chocolate, rich coffee, and simple sweet cream, but you really can't go wrong with any flavor!
If you love to indulge your sweet tooth, sampling McConnell's ice cream is undoubtedly one of the most fun activities in Santa Barbara you can do! Find Santa Barbara locations here.
Catch a Show at a Historic Theater
"Dinner and a show" is delightful in Santa Barbara, where a number of theaters offer music shows, dance performances, films, plays, lectures, and more.
What's more, the theaters are beautiful in their own right, with art, architecture, and design that will captivate you.
Lobero Theatre, which opened in 1873, is located in the heart of downtown Santa Barbara's Theatre District.
Although its old-world charm stays intact, technological improvements allow for outstanding performing arts experiences, from music to ballet.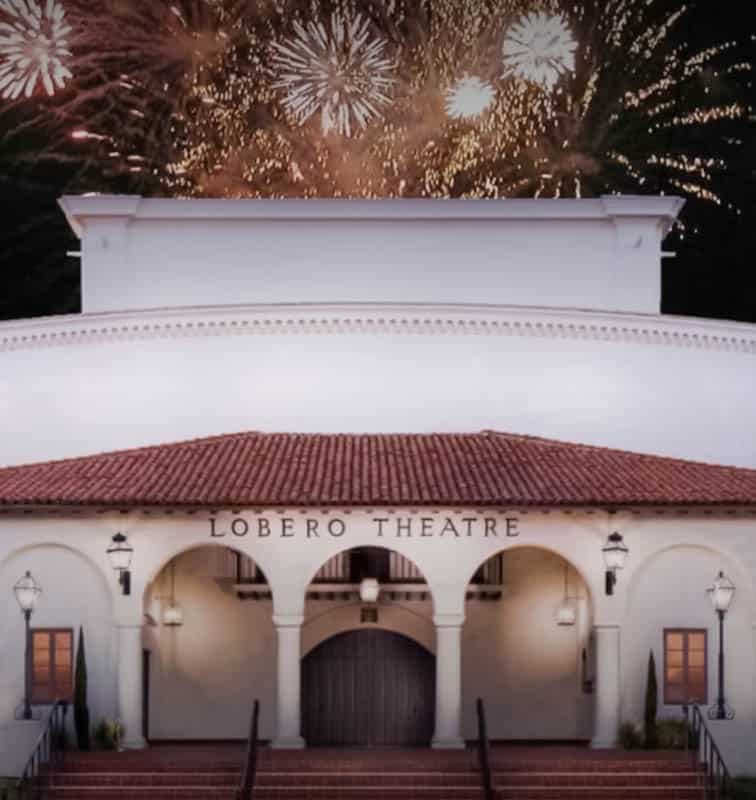 The Granada Theatre dates back to 1924 and is also located in downtown Santa Barbara.
The theatre hosts resident performing arts companies, including the Santa Barbara Symphony, but also hosts touring productions. Its stunning and opulent interior will leave you gawking.
The Arlington Theatre features beautiful architecture and a ceiling that replicates a starry night sky.
The theatre opened in 1931 as a movie palace, but today it hosts a variety of shows, from films to plays, music, and comedy.
The Arlington Theatre has been a venue for the annual Santa Barbara International Film Festival.
Enjoy Retail Therapy at Paseo Nuevo
An outdoor shopping complex just off State Street, Paseo Nuevo makes for a fun and lively wander, with its Spanish architecture and beautiful white facades.
Paseo Nuevo has many familiar stores, plus local boutiques and restaurants. The complex has beautiful terraces, public art installations, courtyards and fountains, making it a great place to even just walk in the evening.
Don't forget to pose for photos on the colorful Spanish tiled steps at Paseo Nuevo! If you visit on a Saturday, you may catch the weekly Makers Market, where local artisans showcase their wares.
Visit Butterfly Beach
Butterfly Beach, in Montecito Village, is one of the most beautiful beaches in the region and a must for your Santa Barbara itinerary. It is just a 10-minute drive from downtown Santa Barbara.
You can even bike to Butterfly Beach!
The sandy beach is perfect for sunbathing or strolling. Swimming, surfing, kayaking, and stand-up paddleboarding are other popular activities at Butterfly Beach. Look for whales and dolphins in the water, and birds at the waterline.
If you enjoy watching the sun set over the water, head to Butterfly Beach in the evening. Sunrises at the beach are also beautiful, if you are an early riser.
Explore Ganna Walska Lotusland
Garden lovers rejoice! Other than the Santa Barbara Botanic Garden, you can also visit Lotusland in Montecito.
Lotusland is the creation of Madama Ganna Walska, a Polish opera singer who bought the estate in the early 1940s.
Several themed gardens are laid out artistically over the 37-acre estate. The water garden boasts lotus blooms in the summer, along with water lilies and taro. You will find plants from many parts of the world in the garden.
Visitors can take self-guided tours through the gardens, and browse the garden gift shop. The garden allows picnics on its beautiful main lawn on special days. Get information on hours and admission on the garden website.
Tour Casa del Herrero
Also in Montecito, Casa del Herrero (House of the Blacksmith) is a must-visit if you enjoy local history. The home is considered one of the best examples of the Spanish Revival style in the country.
Casa del Herrera is designated a National Historic Landmark. A visit to the property is one of the most unique things to do in Santa Barbara!
Built in the 1920s for George Fox Steedman and his family, the home was designed by George Washington Smith. The estate features gorgeous Moorish-inspired gardens.
Inside, you will also art from 15th and 16th century Spain collected by the Steedman family.
Tours of the property are offered with advance reservation. Find hours of operation and admission information here.
Bike the Cabrillo Boulevard Biking Trail
Biking is an extremely popular activity in Santa Barbara.
Locals and visitors enjoy biking the flat and easy Cabrillo Boulevard Bike Path, one of the most beloved biking routes in the city.
About 4.5 miles long, the biking route connects Leadbetter Beach in Santa Barbara to Butterfly Beach in Montecito. It passes by Stearns Wharf and East Beach, the Andree Clark Bird Refuge, and the Santa Barbara Cemetery.
Of course, you can ride just a part of the route if time is a constraint.
For extra fun, rent a surrey bike if you are visiting as a family! We saw lots of folks pedaling the route in quadricycles and e-bikes.
You will find bike rental places in the Funk Zone, close to the beach: Cal Coast Adventures is a highly-rated bike rental place.
Go Whale Watching
The Santa Barbara Channel is home to myriad marine life, including several species of whales, dolphins, and sea birds. You can go whale watching in Santa Barbara year round.
In the winter and early spring, you can see Pacific gray whales pass by on their migration. Come winter, they migrate from the Arctic Seas to the warm waters of Baja California. In the spring, they make the long journey back to their feeding grounds in the Arctic.
From late spring until early fall, you will likely see humpback whales or blue whales, and the occasional minke whale or fin whale. A variety of dolphins can also be spotted.
Enjoy a Special Dinner!
If you are a foodie, you will be spoiled for choice when it comes to fine eateries to try in Santa Barbara. We've visited several times now, and we still feel overwhelmed by the number of great restaurants in this city.
Here are some of our favorite places to eat in Santa Barbara:
Located in the Funk Zone, The Lark features a menu inspired by seasonal local ingredients, with lots of vegetable-forward choices. The menu changes often, but we think you will like whatever you choose. Try some of the craft cocktails too!
Loquita offers flavorful small plates, including classics like pan con tomate and patatas bravas, as well as paella (with a vegetarian option) and delicious desserts you will not be able to resist. Their cocktails are superb.
For wonderful vegan and vegetarian choices, consider Mesa Verde. The Mediterranean-inspired menu features an array of colorful salads, sandwiches, and bowls. We love their Mediterranean bowl.
Toma Restaurant & Bar is a waterfront Italian restaurant with a menu inspired by local ingredients. We've had excellent pastas here, as well as flavorful seafood dishes. They also offer meat dishes and flatbreads.
Bouchon Santa Barbara offers French-inspired wine country cuisine, with ingredients sourced locally. The menu features a variety of meat and seafood mains. Their wine pairings are impressive.
Photograph Beautiful Churches
Santa Barbara is a photographer's paradise, with its many pristine beaches, spectacular west coast sunrises and sunsets, and amazing architecture.
While we've covered some of these photo spots already, we wanted to highlight some of the beautiful churches we've come across as we've driven around the city.
The Santa Barbara Greek Orthodox Church is located high in the hills above the city. It reminded us so much of Greece, with its white facade and blue domes!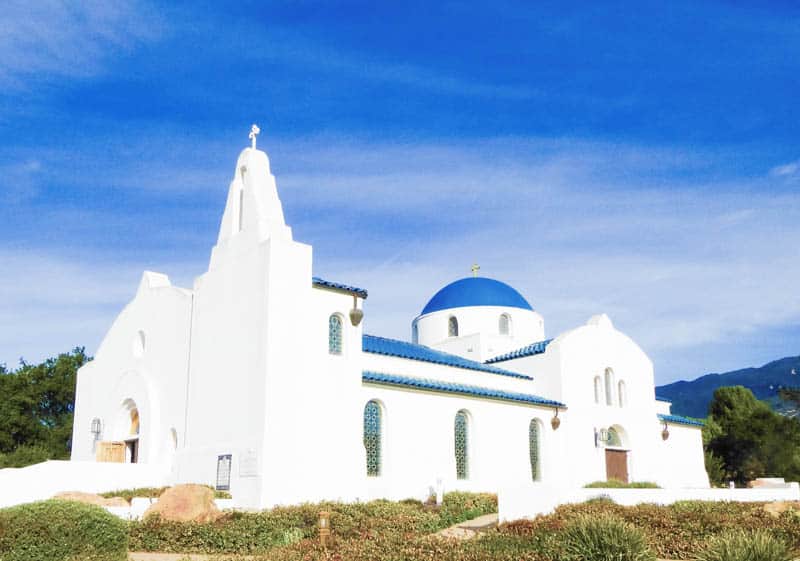 Our Lady of Mount Carmel Church in Montecito is a historic church dating back to the mission era in California's history. The original adobe chapel, dedicated in 1877, stood a little to the east of the present church.
The current church, with its Southwest design that combines Pueblo Indian and Spanish Colonial, was consecrated in 1938. It has a lovely little garden.
Take a Day Trip!
Not only is Santa Barbara a fabulous destination in its own right, it is also close to some beautiful wine country towns and other natural areas.
We have a full article with all the best day trips from Santa Barbara, but here are some quick snapshots of a few of our favorites!
Solvang, in the Santa Ynez Valley, offers a little bit of Denmark in America. While its giant windmills and Danish architecture will keep you snapping photos, Solvang is also a quality food and wine destination, with numerous tasting rooms in the walkable downtown.
The Santa Ynez Valley is a picturesque valley with six charming little towns to explore. Solvang is the largest, but you will love the Wild West feel of Los Alamos, the artisanal eateries in Los Olivos, the wine tasting in Santa Ynez and the other towns, and the cute little museums in the region.
This highly-rated tour (by hybrid bike), or this small group vehicle tour is a great way to experience the best of Santa Ynez Valley in a day.
And if you are looking for a fabulous wine tour, consider this highly-rated tour of Santa Ynez that takes you to private vineyards for a relaxed tasting experience and a chance to talk to the vintner. An organic lunch and cheese platter are also included.
Book this tour now!
Channel Islands National Park is the definitive day trip destination from Santa Barbara for nature lovers. A trip offers spectacular views, the opportunity to see plenty of wildlife, marine life, and birds, and a chance to really get away from it all. Ferries leave from Ventura or Oxnard.
Where to Stay in Santa Barbara, CA
Hotels in Santa Barbara, CA
Harbor House Inn features studio units in a highly-rated property located one block from West Beach, between Stearn's Wharf and the Santa Barbara Harbor. Rooms are spacious and well-appointed, and wifi and parking are free. Beach gear and bikes are complimentary during your stay. Book a stay here!
Santa Barbara Inn offers upscale, beautifully-furnished guest rooms in a property just across the street from East Beach. Bathrooms are large and well-appointed and outdoor spaces are super relaxing, with fire pits and views of the water. Some rooms have full ocean views, others have partial views. Book a stay here!
Special occasion splurge? Check out the Belmond El Encanto, which offers suites and bungalows dotted about seven beautifully-landscaped acres with stunning views over Santa Barbara and the Pacific Ocean. The hotel features a large zero-edge outdoor pool and an onsite spa. Book a stay here!
Vacation Rentals in Santa Barbara, CA
This gorgeous West Beach property is close to the beach, harbor, wharf, and Funk Zone. The two-bedroom, two-bathroom home sleeps up to six persons. The home is well-appointed and has patios and a large backyard with fruit and avocado trees. Beach gear and supplies are offered for your stay. Book a stay here!
This beautiful cabana in Montecito is the perfect romantic retreat. The one bedroom, one bathroom unit has a pool just out the front door, and lush landscaping surrounding it. The unit is beautifully furnished, and the outdoor spaces for relaxing are exquisite. Book a stay here!
This beautiful home in West Beach is conveniently located to Stearns Wharf, the Funk Zone, State Street, the harbor, and the beach. The 2-bedroom, one bathroom cottage is comfortably furnished, with a modern kitchen and bath, and outdoor spaces for relaxation. Book a stay here!
*****
Now that you have discovered all the best things to do in Santa Barbara, find out how to put many of these exciting landmarks and experiences together with our action-packed itinerary for the perfect Santa Barbara weekend!
Did you find this article informative? Pin it for later reference!