Santa Cruz is known as a surfers' paradise, but there are so many other exciting things to do in Santa Cruz (and nearby!) that you'll definitely want to include it on your California itinerary, whether or not you love to surf!
With an enviable location on California's scenic Central Coast, Santa Cruz boasts many beautiful beaches, state parks with redwood groves and waterfalls, picturesque lighthouses, and mountains studded with wineries.
The town has a laid-back vibe that invites you to breathe deep and relax.
Santa Cruz is worth visiting for its fun beach boardwalk, spectacular oceanfront walks, and expansive beaches, but also take the time to explore hiking and biking trails in the many state parks to discover local flora and fauna, and enjoy the topnotch dining options and wine tasting.
Planning a visit to this fun coastal vacation spot? Read on to discover the best things to do in Santa Cruz, plus our suggestions for where to stay and eat!
Things to Do in Santa Cruz, CA
Have Fun at the Santa Cruz Beach Boardwalk
The historic Santa Cruz Beach Boardwalk is a must-visit, especially if it's your first time in Santa Cruz.
The amusement park on the beach has been operating since 1907, and two of the rides here are National Historic Landmarks.
The Giant Dipper is a wooden roller coaster from 1924, and it continues to thrill visitors! And kids will love the beautiful Looff Carousel, a hand-carved merry-go-around from 1911.
You can enjoy a variety of rides in the park, which range from kid-friendly to seriously thrilling.
The arcade features a variety of games, including the latest, and you can bowl or go mini-golfing as well.
And bring your appetite: from corn dogs and nacho cheese fries to churros, ice cream, funnel cakes, and cotton candy, you'll find all the amusement park favorites for snacking!
There are lots of restaurants if you want to have a regular meal, and the beach setting means that you may see otters or dolphins (or even whales!) in the water.
The Santa Cruz Beach Boardwalk is free to enter. Rides are priced individually, with a boardwalk card you can charge up to pay as you go.
Enjoy the Santa Cruz Main Beach
Extending from the Municipal Wharf to the mouth of the San Lorenzo River, Main Beach is a hugely popular Santa Cruz beach, right in front of the Boardwalk.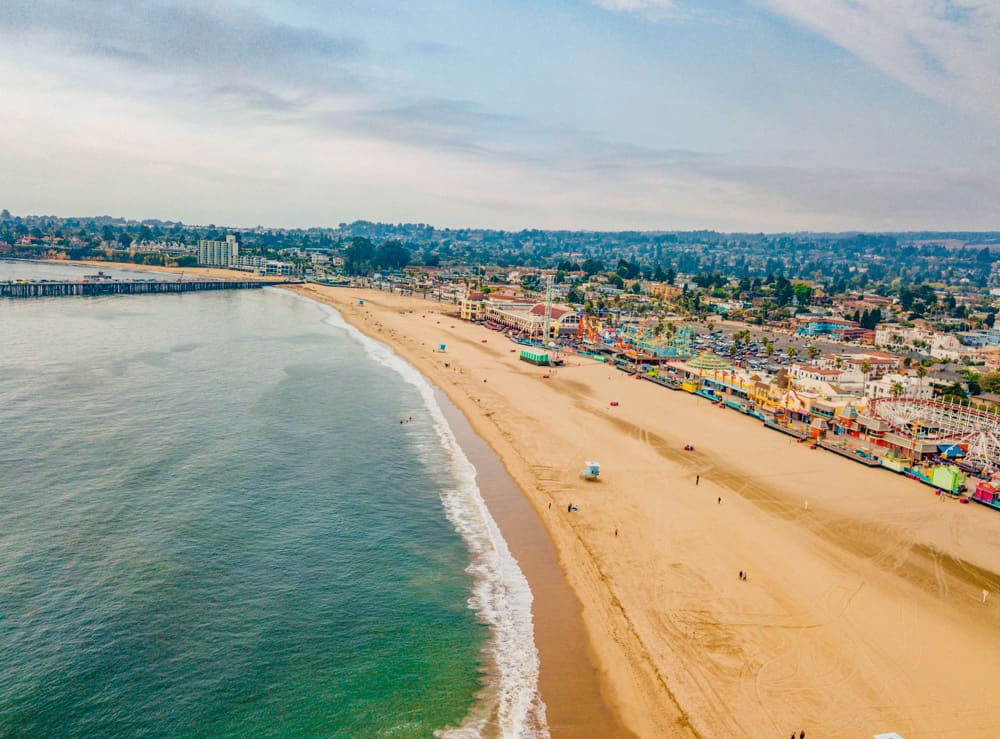 The family-friendly beach sports a variety of amenities, including designated swim areas and lifeguards, and is popular with surfers as well.
Main Beach is a large swathe of sand, but even so, expect to find it crowded on nice weather weekend days.
Bring a blanket and picnic and stake out a spot early, to relax for a few hours. Take a stroll on the sand. Play beach volleyball. If you plan to swim, check water quality ratings just ahead of your visit.
There are lots of restaurants long Beach Street if you want to get something to eat.
If you walk toward the San Lorenzo River, you will eventually see the coastline curving into the water, with the lighthouse at the tip. It's a great photo op!
Look for sea lions and otters in the water, and a variety of birds in the air and on the shore. If you visit when the river has pooled on the beach, you will likely see lots of birds in the area.
Take in the Views from West Cliff Drive
For spectacular views of the Monterey Bay, walk or bike West Cliff Drive, which hugs the Pacific Ocean for its length. The accessible path is 2.7 miles long one way, and one of the most scenic hikes in Santa Cruz.
West Cliff Drive extends from the Santa Cruz Municipal Wharf at one end to Natural Bridges State Beach at the other.
There are many parking lots along its length, so you can do a part of the path if you so choose, but if you visit on a nice weather day, you will definitely want to linger, so allow plenty of time.
Enjoy the expansive ocean views as you walk or bike, look for surfers riding the waves, and keep your eyes peeled for dolphins and whales in the ocean.
There are benches along the route if you want to rest or stop to take in the views at leisure.
West Cliff Drive is free to access, and can be hiked or biked year round. Dogs are permitted on the path, but must be leashed at all times.
We suggest visiting on a weekday for a quieter, more relaxing stroll. West Cliff Drive is extremely popular, both with visitors and with locals, so on weekends parking can be an issue.
Stroll East Cliff Drive
A beautiful waterfront walkway in Pleasure Point, East Cliff Drive is part of the Monterey Bay Sanctuary Scenic Trail, and stretches from Pleasure Point to The Hook.
The trail winds its way along the bluffs overlooking picturesque Monterey Bay, and the views are unbeatable on a nice clear day. Enjoy views of scenic coves and exciting surf breaks as you stroll.
The park on the bluff overlooking the Hook is a fantastic place to watch surfers. Pleasure Point Park is also a great place to see the surfers riding the waves.
Walk the Santa Cruz Wharf
Built in 1914, the current Santa Cruz Wharf is the sixth wharf at the site. It extends a whopping 2,745 feet into the Monterey Bay, making it the longest wooden pier in the country.
Walking to the end of the wharf and back is one of the best things to do in Santa Cruz. You'll get fabulous views of the ocean as you walk out, and you can look out at the beach and city on your way back.
Along the way, look for a variety of sea birds, as well as seals, and sea lions. Enjoy the raucous cries of the gulls and the barking of the sea lions.
You may also see dolphins or otters in the water, or even whales spouting or fluking.
The Santa Cruz Wharf is lined with boutiques and gift shops, and restaurants. It's a great place to get a bowl of steaming clam chowder or a fresh seafood meal.
The Wharf also hosts events, so check to see if anything is scheduled for the time of your visit.
Visit the Santa Cruz Museum of Natural History
Located along East Cliff Drive above Seabright Beach, the Santa Cruz Museum of Natural History showcases the region's diverse flora and fauna, as well as its cultural history.
Housed in a historic Carnegie Library building from the early 20th century, the museum is small such that only a small portion of its collections is on display at any given time.
From fossils, shells, and minerals, to animals, insects, historical artifacts, and fine arts, the museum's collections are impressive. From time to time, the museum also hosts events that highlight its collections.
The grounds of the museum make for a pleasant stroll, with demonstration gardens featuring the habitats and flora of the Central California Coast.
The Santa Cruz Museum of Natural History is open from 11 a.m. until 4 p.m. Tuesdays through Fridays, and from 10 a.m. until 5 p.m. on Saturdays and Sundays. It is closed Mondays and on major holidays.
General adult admission at the time of writing is $4.00, with discounts for seniors, students, and young persons under 18.
Look for Marine Life at the Santa Cruz Harbor
If you enjoy observing marine life and birds, head to the Santa Cruz Harbor! The Harbor is part of the Monterey Bay National Marine Life Sanctuary.
You'll likely see sea lions enjoying the sun, and harbor seals and otters in the water. If you are lucky, you may see schools of dolphins swimming close to shore!
You can also look for a variety of birds that like to hang out here: cormorants, seagulls, great blue herons, and black-crowned night herons. Look for the night herons in the Woods Lagoon area.
Take a Whale-Watching Cruise
The Santa Cruz Harbor is the departure point for whale-watching cruises in Santa Cruz. Cruises are offered year round.
While humpback whales and gray whales are commonly sighted, depending on time of year, you may be lucky and see an orca or blue whale. Dolphins an porpoises may be sighted as well.
Other than whale-watching cruises, you can also book a fishing charter, or a scenic cruise of Monterey Bay. The scenery is beautiful, and west coast sunsets on the water can be spectacular!
Go Kayaking or Stand-Up Paddleboarding
Looking for a more active way to get out onto the water? Rent a kayak or stand-up paddleboard, or join a guided tour!
The harbor is a great place to paddle, with calm waters for beginners. More experienced paddlers can venture out of the harbor and head for the wharf or the open bay.
On paddling tours, you can admire the kelp beds offshore, and you may get up-close views of otters, harbor seals, and sea lions as you paddle! The views are beautiful on nice weather days.
You can paddle year-round in Santa Cruz. Winters offer stunning sunsets. Winter and spring are prime whale-spotting seasons.
Visit the Seymour Marine Discovery Center
Operated by the University of California, Santa Cruz, the Seymour Marine Discovery Center is a fascinating place for kids and adults alike. Take a docent-led tour if they are offered when you go!
It's a very small museum, and mainly geared toward kids, but even as adults visiting without kids, we enjoyed popping into this little marine science museum.
As you enter, stop to view the gigantic blue whale skeleton on display outside. The grounds feature great views of the ocean, and there are naturalized gardens at the back.
Inside, you'll find a variety of exhibits, some of them interactive and great for learning about the diverse marine life in the region. Kids will love the ability to touch the marine life.
Seymour Marine Discovery Center is located at 100 McAllister Way, and is open Wednesday through Sunday from 10 a.m. until 4 p.m.
General adult admission at the time of writing is $11.00, and there are small discounts for seniors and kids.
Snap Photos at the Natural Bridges State Beach
One of the best things to do in Santa Cruz is a visit to Natural Bridges State Beach. The beach is beautiful and not too large, with excellent photo opportunities.
Once there were three natural bridges here, hence the name. Today only one bridge is left, and it is one of the most photographed landmarks in Santa Cruz. Sunrise, if you can wake up early, is the ideal time for that perfect shot here.
The beach is a wonderful location for birding. Look for a variety of shore birds, plus seals and otters playing in the water, or dolphins and migrating whales further out.
If the tide is out, walk to the tidepools at the west end of the beach to view a variety of tiny colorful marine life, from sea stars and shore crabs to sea anemones. You can get a map to the tidepools at the park visitor center, and view tide times here.
There are a few trails you can walk in the park, for splendid views of the subtly-colored coastal scrub and grasslands in the park. In the spring, enjoy a variety of colorful wildflowers as you stroll.
Beach hours are from 8.00 a.m. until sunset. There is a $10.00 day use fee per vehicle. Pets are not allowed on the beach or on the trails, but leashed dogs are allowed in the parking lots and in the picnic area.
Walk the Natural Bridges Monarch Trail
In the Natural Bridges State Park, you will find the Monarch Butterfly Grove, an overwintering sanctuary for monarch butterflies.
The orange and black butterflies overwinter at several locations along the California coast, and this grove is a great place to view them, usually between mid-October and mid-February. Late October to the end of November is the ideal time.
The eucalyptus trees in the grove are located along a gently sloping canyon, to provide protection from the wind. In season, docents may be stationed in the grove, with tablets for viewing.
When the temperature is below 60 degrees, the monarchs cling to the branches of the trees in clusters. When it's warmer, you'll see the butterflies flying around.
Walk the accessible boardwalk/dirt trail to the viewing deck in the grove, to see the monarchs. The number of monarchs in the grove varies by year.
Bring your binoculars to view the butterflies closely and a zoom lens for photography! Also look for wild turkeys, deer, squirrels, and other wildlife.
Traveling down the California coast? You can also view monarch butterflies at the groves in Pacific Grove (a.k.a Butterfly Town USA) and in Pismo Beach.
Walk or Go Birding at Moore Creek Preserve
Near Natural Bridges State Beach you will find Moore Creek Preserve. In fact, Moore Creek flows through the park and creates wetlands before it reaches the ocean.
The preserve is only open to hikers, with trails winding through coastal grasslands and scrub, oak woodlands, and mixed pine forest. It offers beautiful wildflower displays in the spring.
Moore Creek Preserve is an excellent birding location, so bring your binoculars or zoom lens when you visit! Raptors may be seen year-round, but also look for woodpeckers, western meadowlark, sparrows, warblers, finches, and more.
The park offers spectacular views of the coast and the Monterey Bay. Spring and fall offer generally fog-free days and seasonal birds.
Looking for a good pair of binoculars? The Zeiss Terra 8X42 ED binoculars are lightweight enough that you can hold them comfortably yet they focus fast and provide excellent crisp images. They are waterproof and excellent for birding and wildlife viewing and they won't break the bank.
Go Surfing!
Santa Cruz is called "Surf City" for a reason: there are numerous excellent surfing locations along this stretch of coast, and whether you are a beginner or an expert, you'll find the perfect location to ride the waves.
Cowell's Beach is the classic beginners' surfing location, with gentle waves perfect for longboarding. It's generally crowded, but considered a polite surfing location.
New to surfing but want to try? Santa Cruz is a great place to take a surfing lesson. This 3-hour beginning lesson includes equipment and you'll learn the basics from an experienced instructor.
Pleasure Point is a popular surfing location for beginners and experts and all levels in between.
Steamer Lane is an internationally renowned surfing destination for expert-level surfers. The Hook is another hotspot for experts.
Tour Mission Santa Cruz and Mission Santa Cruz State historic Park
Mission Santa Cruz was founded in 1791. A one-third replica of the 1795 church is located at the corner of Mission and High Streets.
Look for a 1797 oil painting of the Virgen de Guadalupe hanging on a side wall of the church. A small garden behind the mission houses the original handcrafted baptismal font.
Located on Mission Hill, Mission Santa Cruz State Historic Park preserves the only building left of the Misión la Exaltacion de la Santa Cruz, the twelfth of the California missions established by Spanish Franciscan friars.
The building that survives used to house the Native American residents of the mission. The simple structure has been restored to its original look, and is the only such structure that survives in California.
The museum exhibits showcase the Ohlone and Yokuts Indian experience at the Santa Cruz Mission, and their lives before the coming of the Europeans.
Other than the museum, the park features a patio and gardens, and beautiful views of the city from its hilltop location.
The park is open usually from 10 a.m. until 4 p.m. Thursdays through Mondays, but call to confirm. Dogs are not allowed inside the building.
Stroll the Streets of Downtown Santa Cruz
Downtown Santa Cruz makes for a fun wander, with eclectic shops and dining. Shoppers will find a variety of stores to browse, from apparel and body care to jewelry and gifts.
For skate and surf lifestyle clothing and accessories, head to Berdels: many products are made locally. Curated by the Sea is a lovely art gallery featuring local and regional artists.
Bookshop Santa Cruz is a large independent bookstore with a wonderful collection. The bookstore hosts periodic events as well.
One of our favorite stops is the Central Coast Creamery shop, where you can find all of the company's artisanal cheeses, plus other fine cheeses. You can also have a perfectly grilled cheese sandwich here!
Love ice cream? Make sure you stop by Penny Ice Creamery, where you can enjoy a variety of frozen treats, all made in-house. Flavors change with the season, and showcase local organic ingredients.
Downtown Santa Cruz hosts a monthly antique fair, and a wine walk twice a year, in May and November. The wine walk features winemakers from the Santa Cruz Mountains and other parts of Northern California and is an excellent tasting event.
Visit Wilder Ranch State Park
If you love the outdoors, visiting Wilder Ranch State Park is undoubtedly one of the best things to do in Santa Cruz. The 7,000-acre park includes an early dairy ranch and many miles of scenic trail.
The historic ranch complex includes a Victorian home from 1897, a Gothic Revival farmhouse from 1859, and a machine shop and other historic buildings. Guided tours may be offered on weekends at 1 p.m.
The Old Cove Landing Trail to the Ohlone Bluff Trail is an easy and mostly flat trail combination that offers spectacular views. Take in the views from the overlook above Wilder Beach, and look for pelicans, harbor seals, sea otters, dolphins, and whales.
With more time, you can tackle some of the moderate or strenuous hikes in the park. You can view coastal redwoods along the Old Cabin, Enchanted Loop, and Twin Oaks trails.
You can also bike the trails in Wilder Ranch State Park, or go horse riding. Bring a picnic lunch to enjoy at the beach. The park offers guided nature walks and birding walks from time to time: call ahead to confirm if you wish to join a tour.
There is a $10 vehicle day-use fee. Dogs are not allowed in Wilder Ranch State Park.
Visit the Surfing Museum at Lighthouse Field State Beach
Lighthouse Field State Beach is the northern boundary of Monterey Bay. It's also called Point Santa Cruz, and is one of the most beautiful places to visit in Santa Cruz.
The small park overlooks Steamer Lane, the surfing hotspot, and the stands of eucalyptus are an overwintering spot for monarch butterflies. Look for a variety of birds, and sea lions on the offshore rocks.
Snap photos of the Mark Abbott Memorial Lighthouse, and visit the Santa Cruz Surfing Museum, located in the lighthouse. The museum features surfboards and other exhibits showcasing over a century of local surfing history.
Look for the Surfing Monument, a bronze of a male surfer with his board. A plaque dedicates the park and statue to all surfers.
If you visit over Christmas, be sure to attend "Caroling Under the Stars," a popular annual event hosted at the beach.
The park is open from 7 a.m until sunset. Dogs are allowed on leash. Parking is free.
Walk Seabright State Beach…
Seabright State Beach is located on the other side of the mouth of the San Lorenzo River from Main Beach, and stretches to the Santa Cruz Harbor.
The sandy beach is wonderful for a stroll, and great for photography at sunrise or sunset, when the skies are colorful. Dogs on leash are allowed, so you can bring your pooch for a walk here as well!
Look for birds at the water line, and dolphins or whales out in the water. Bring a blanket or beach chairs if you want to sunbathe. You can swim here as well, but know that there are lifeguards on duty only in the summer.
At the west end of the beach, a natural arch opens up onto the river. At low tide, you can walk through the cave to see the river, the Boardwalk, and beyond!
Stop by Marianne's Ice Cream on Ocean Street on your way to or from Seabright Beach! Marianne's is a revered Santa Cruz institution, and the handcrafted ice cream is delicious!
… And Snap a Photo of Walton Lighthouse
Walton Lighthouse, also called Breakwater Lighthouse, sits at the end of a rock jetty that juts out into Monterey Bay at the east end of Seabright Beach.
The lighthouse is reminiscent of East Coast lighthouses, and makes for a great photo, especially at sunrise or sunset. Built in 2002, the lighthouse stands a little over 40 feet tall.
Watch the boats coming in and out of the harbor, look for birds and marine life, and take in the views.
Enjoy Twin Lakes Beach
Santa Cruz has numerous options when it comes to beaches! If you are a beach lover, Twin Lakes Beach is yet another beach to visit near downtown Santa Cruz.
Twin Lakes State Beach is a wide sandy beach located to the east and west of the Santa Cruz Harbor: Seabright Beach is actually part of Twin Lakes, but the part east of the harbor is nice as well.
You can swim, sunbathe, walk, fly kites, or picnic at Twin Lakes Beach. There are lifeguards on duty in the summer. You can also launch a kayak here, or go boogie boarding or stand-up paddleboarding.
Schwan Lagoon, adjacent to the beach, is a popular birding location. There are also cafes and restaurants nearby if you want to grab a bite to eat.
Dogs on leash are allowed at Twin Lakes Beach. Parking may be a little difficult to find on weekends and in the summer.
Go Wine Tasting in the Santa Cruz Mountains
The Santa Cruz Mountains AVA is actually quite spread out, and extends from San Mateo County in the north to Santa Cruz County in the south.
If you have the time and you love wine, you can easily spend two or three days exploring the AVA (and sipping!) from north to south.
If you don't want to drive too far, however, you will find some excellent options for wine tasting within the city of Santa Cruz, as well as close to the city.
Swift Street Courtyard houses seven wine tasting rooms. The Bonny Doon Vineyard tasting room is open all week long, and the others are open weekends. If you are looking to dine, head to nearby Bantam for delicious wood-fired pizza and other farm-to-fork dishes!
Beauregard Vineyards in the Bonny Doon area (lots of coastal redwoods!) is a family-owned and operated winery that offers pinot noir, chardonnay, cab, and zinfandel. The grounds are beautiful and they are open daily for tastings.
Alfaro Family Vineyards and Winery is a little further out in Corralitos. They offer chardonnay, pinot noir, merlot, and syrah, grown and bottled on the estate. Their onsite tasting room has indoor and outdoor seating options, and picnic areas.
Tour the UC Santa Cruz Arboretum and Botanic Garden
The UC Santa Cruz campus is gorgeous, with mixed evergreen and redwood forests and grasslands. And it features spectacular views of the ocean and city from its upper portions.
Garden enthusiasts will want to visit the UC Santa Cruz Arboretum and Botanic Garden. It is one of the top gardens in the SF Bay Area, and features many rare and endangered plants.
There are several gardens to visit within the complex. The California Natives garden features many showy native plants, from bush anemone and wild lilacs to several Channel Island plants like the bush poppy and bush mallow.
The Australian Garden, New Zealand Garden, and South African Garden feature many unique plants. The giant proteas in the South African Garden put on a gorgeous show in mid-winter.
The Aroma Garden attracts bees and butterflies, and is a joy to visit when the salvias are in bloom. The Succulent Garden features arid-adapted plants from California and Mexico.
The garden is open from 9 a.m. until 5 p.m. everyday. General adult admission is $10.00, with discounts for seniors and young persons.
Check Out The Mystery Spot
One of the quirkiest places to visit in Santa Cruz is The Mystery Spot, located in the redwoods just outside the city.
Described as a "gravitational anomaly," the Mystery Spot is a circular cabin area, about 150 feet in diameter. Within this area, some of the normal laws of physics and gravity don't apply as they should!
The closer you get to the center of the cabin, the more you tilt, until at the center you are at a 17-degree lean. There's furniture you can stand on, which accentuates the feeling of disorientation.
Other than the cabin, there is a short and scenic hiking trail you can walk through redwoods. The trail is open year-round, and dogs on leash are permitted.
The Mystery Spot is open from 10 a.m. until 4 p.m. Mondays through Fridays, and from 10.00 a.m. until 5 p.m. on Saturdays and Sundays. Advance ticket purchases are recommended for weekend visits.
Tickets are $8.00 per person, and there is a $5.00 parking fee. You have to bring cash or a check if you plan to buy tickets at the door.
Things to Do Near Santa Cruz, California
Visit Henry Cowell Redwoods State Park
Located in the Santa Cruz Mountains, Henry Cowell Redwoods State Park is most famous for its grove of old-growth coastal redwoods. The tallest tree in the park is 277 feet high, and about 1,500 years old!
Of course, the best thing to do at the park is to stroll the trail through the redwood grove. The loop is 0.8 mile long, and flat, so it's a trail that most visitors to the park can enjoy. Don't miss the Fremont Tree: if you bring a flashlight, you can step inside it.
There are many other trails you can hike in the Park, including in the Fall Creek Unit, which features a second-growth redwood forest, and a fern-fringed river canyon. You can also bike or ride a horse on designated routes.
Henry Cowell Redwoods State Park is open from sunrise to sunset. Dogs are allowed in picnic areas and on select trails. There is a $10.00 vehicle use fee per day.
Ride the Historic Roaring Camp Railroad
A narrow gauge tourist railroad in Felton, Roaring Camp Railroad offers two exciting excursion rides. It's a fun place to include on your itinerary for Santa Cruz, whether or not you are traveling with kids.
The steam engines date back to 1890, and they were used in the early days to transport redwood logs out of the mountains. Occasionally the company may use a diesel locomotive instead.
The Redwood Forest Steam Train departs from the Felton railroad depot, and travels through redwood groves to the summit of Bear Mountain before returning you to Roaring Camp. The narrated excursion lasts about 75 minutes.
The Santa Cruz Beach Train travels through Henry Cowell Redwoods State Park and down the San Lorenzo River Gorge on its way to the Santa Cruz Beach Boardwalk. This is a 3-hour excursion, and can be started at either end of the route.
You can buy tickets online in advance.
Be Captivated by Capitola
A small town just southeast of Santa Cruz, Capitola sits on the northern shore of scenic Monterey Bay. With many beautiful beaches, Capitola is a popular destination on the Central Coast.
Snap photos of Capitola Village, with its colorful facades. Go shopping in the village, where you will find many boutiques and art galleries. Capitola Village has wine tasting rooms as well as eateries with water views.
Spend some time at Capitola City Beach or New Brighton State Beach. Be warned that Capitola Beach is hugely popular in the summer and on nice weather weekends, and finding parking may be difficult: get there early!
Visit More Beaches South of Santa Cruz!
Just south of Capitola, you'll find more beautiful Santa Cruz County beaches to visit.
Seacliff State Beach in Aptos has a pier, and a shipwreck you can photograph!
The SS Palo Alto, also known as the Cement Ship, lies off Seacliff Beach. You can see pelicans and other seabirds sitting on the wreck, and sea lions sometimes visit to feed on fish here.
At the time of writing, the pier is only partially open: the part closest to the shipwreck is closed. The wreck is closed to the public, but you can see it clearly from the beach.
The beach itself makes for a wonderful stroll. There are covered picnic tables, and restrooms. Leashed dogs are allowed.
Rio del Mar Beach lies just to the south of Seacliff State Beach. It does not get quite as crowded as other beaches in the area. Walk along the long stretch of sand, sunbathe, picnic, and watch the birds.
Enjoy the Loch Lomond Recreation Area
Loch Lomond, located in the Santa Cruz Mountains near Lompico, is a reservoir that stores water for the residents of Santa Cruz County.
The Loch Lomond Recreation Area offers numerous recreation opportunities, from boating and fishing to picnicking, and hiking. Swimming is not permitted.
The park offers boat rentals. Electric boats, row boats, paddle boats, and Nucanoes are available.
The park also offers interpretive tours of the lake with a park ranger. At the time of writing, the free tours, on the Newell Jewel pontoon boat, are offered from 11 a.m. until noon on the second Saturday and second Sunday of the month.
Loch Lomond Recreation Area is open from March 1 until the second weekend in October. Hours of operation vary, and the park is closed Wednesdays during its operating season.
At the time of writing, the park charges a vehicle entrance fee of $8.00. Dogs on leash are allowed on trails and in picnic areas.
Hike in The Forest of Nisene Marks State Park
The Forest of Nisene Marks is a serene getaway from the busy beaches and towns along the Santa Cruz coast: it feels like a vacation from a vacation!
The state park contains second- and third-growth redwood forests that have regenerated after decades of logging had swept the area clean. Aptos Creek flows through the park.
Marcel's Forest is an old-growth redwood forest and was recently added to the park. The Advocate, the largest tree in the park, is 250 feet tall, and 45 feet in circumference.
There are 30 miles of trails in the park, offering excellent hiking. You can also bike or ride horses on designated routes. Bring a picnic to enjoy by the creek.
Trails in the park vary in length and difficulty. Some lead to old logging sites, others wind through the redwoods or climb up ridges and offer ocean views.
There is a $8 vehicle day-use fee. Dogs on leash are allowed on Aptos Creek Fire Road and the four single-track trails below the steel bridge.
Snap a Photo of Shark Fin Cove
One of the most photo-worthy spots along the Santa Cruz Coast is Shark Fin Cove, just south of the town of Davenport. The rock does look exactly like a giant fin!
The turnoff for the beach comes up about 0.7 mile south of Davenport, along Highway 1. There is no sign. If you catch sight of the shark fin from the road, you know you've missed the turn, so head back and look for the turnoff again.
Cross the train tracks to access the bluffs. The trail down to the beach is pretty steep, but you can get great views of the fin from the road at the top of the bluff, either north or south of the cove.
There is a sea cave in the cove, but the rock is fragile, and if you aren't careful about the tide times, you may get caught without a way out. We recommend photographing the fin from the bluffs: the views of the rock are better from the bluffs anyway.
Stroll Davenport Beach
Davenport Beach is a top spot for landscape photography, as well as walking and sunbathing. Also called the San Vicente Beach, the beach features beautiful cliffs and rock formations.
At the south end of the beach, the Davenport Crack is a much-coveted photo spot. This cleft in the coastal cliffs goes from the beach to the ocean, and looks fabulous at sunset.
To get to the beach, walk across the railroad tracks and look for the trail going down. Leashed dogs are allowed.
See the Elephant Seals at Año Nuevo State Park
Año Nuevo State Park is just over 20 miles north of Santa Cruz, and the drive along California Highway 1 is gorgeous. The park is one of the best places along the coast to see northern elephant seals.
Walk along the ocean bluffs to Año Nuevo Point, a superb birdwatching location. You will see Año Nuevo Island, and the ruins of an old lighthouse that hosts cormorants. Look for otters, harbor seals, and sea lions.
Every year, thousands of elephant seals come here to breed, give birth, and molt. You have to hike about 3 miles to see the seals. The hike is classed as moderate.
While you can see seals at the park year round, visit between December and March to possibly witness a birthing and watch the young seal pups. Note that you can only visit by guided tour during this time.
The park is open from 8.30 a.m. until sunset. Dogs are not permitted. There is a $10.00 vehicle fee.
Stop by the Swanton Berry Farm
Swanton Berry Farm is located in Davenport. The first strawberry farm in California to get the certified organic designation, Swanton is known for their fruit, jams, and baked goods.
In season, Swanton Berry Farm offers u-picks: strawberries generally between May and October, olallieberries in June and July, and kiwis between November and January.
The farmstand is open daily between 8 a.m. and 7 p.m. Here you can get baked items, jams, fruit, and produce. The baked items and jams are made from fruit grown on the farm or carefully sourced organic ingredients.
The pies, cobblers, cakes, and truffles are super flavorful and not cloyingly sweet. The jams are low-sugar.
Swanton Berry Farm is definitely worth a stop when you visit Santa Cruz. Once you taste the organic farm-fresh strawberries, plump and juicy, you'll not want to buy them at the store!
Getting to Santa Cruz, California
San Jose International Airport is located about 32 miles northeast of Santa Cruz, and is the most convenient airport if you plan to fly into the region.
Many visitors to the city arrive by road. Santa Cruz is a great stop on a California road trip itinerary!
Santa Cruz is also a wonderful option for getaways. It is one of the easiest day trips from San Francisco (or the SF Bay Area) you can do: just 75 miles from SF each way by the freeway.
Santa Cruz also makes for one of the many fun weekend getaways from San Francisco (or the SF Bay Area) you can do.
The city is within reasonably easy driving distance of LA as well, if you plan to visit over a weekend. From LA to Santa Cruz is just about a 6-hour drive.
Looking for a car rental for your Santa Cruz getaway? Check out Discover Cars! They scour multiple providers to get the best price for you.
Where to Stay In Santa Cruz, CA
Hotels in Santa Cruz, CA
Dream Inn Santa Cruz is a beachfront property, located next to the Boardwalk and close to the city center. Guest rooms and suites include private patios or balconies with stunning bay views. Furnishings are inspired by the ocean. You will find a pool and a hot tub on the deck.
Book a stay here!
Beach Street Inn and Suites is centrally located in Santa Cruz and a 2-minute walk from Main Beach. The property features a courtyard with picnic tables, and an outdoor pool. Beach Street Inn offers breathtaking views of Monterey Bay. Rooms are well-appointed.
Book a stay here!
West Cliff Inn is a Four Sisters property located on West Cliff Drive, across from Cowell's Beach. The 3-story bed and breakfast offers well-appointed guest rooms with fireplaces and marble-tiled bathrooms. Afternoon wine and hors d'oeuvres are offered.
Book a stay here!
Vacation Rentals in Santa Cruz, CA
This spacious house is 2,200 square feet and contains 3 bedrooms and 3 bathrooms. A large back yard allows for barbecuing and there is a fully-equipped kitchen. The house is located just a short drive from downtown, and is pet-friendly.
Book a stay here!
This beautiful home offers 3 bedrooms and 2.5 baths. Located walking distance from Seabright Beach and the Boardwalk and harbor, the home is close to excellent eateries as well. There is a deck and a hot/cold outdoor shower.
Book a stay here!
This lovely carriage house apartment is perfect for a couple or a small family. The light and bright unit features 2 bedrooms and one bathroom. Major sights are within walking distance. The apartment is well-appointed and has a full kitchen.
Book a stay here!
Where to Eat in Santa Cruz, CA
The Crow's Nest is located right on the beach, and it is a very popular Santa Cruz eatery. It's a great place to dine if you are looking for views to accompany your food!
The food is delicious too, whether you eat in the dining room or in the more casual Breakwater Bar & Grill. Menu choices range from fresh seafood to grill specialties, with a few vegetarian items.
Lillian's Italian Kitchen features Sicily-inspired Italian dishes. It's one of our favorite eateries in Santa Cruz, and we love the many vegetarian dishes. Try the wild mushroom and kale ravioli, or the pesto primavera. The desserts are fabulous as well.
If you enjoy Italian, Tramonti is another place you must try, with tasty pizza and authentic pastas.
Linda's Seabreeze Cafe is a must-visit for breakfast or lunch. Breakfast is served all day, and the Greek scramble and pancakes taste delicious no matter when you eat them!
At lunch you can choose from a variety of sandwiches. salads, soups, and burgers. We love the Stuft sandwich, a grilled cheese with tomato and avocado.
If you are looking for a great seafood dinner experience in Santa Cruz, consider Johnny's Harborside. The grilled fish tacos are excellent, as is the cioppino.
The Best Time to Visit Santa Cruz, California
Any time of year is a great time to visit Santa Cruz, California. We've visited in every season, and had a fun visit every time.
That said, late spring to early fall is the best time to head to Santa Cruz if beach time is important to you.
The hills look their greenest best in the spring, and you will see tons of wildflowers everywhere if you visit between mid-March and May. Spring is our favorite time to be on the California coast.
In summer, you may encounter the marine layer, but it generally (but not always) burns off by mid-day. Also, be prepared for popular hotspots to be crowded in the summer.
But summer also offers the full gamut of water activities, and lots of events and festivals, including concerts at the Boardwalk.
Fall on the Central Coast generally sees warm days, mostly fog free. Beaches are less crowded and there are numerous events, from an air show to a county fair. It's a great time to visit.
If you plan to visit in the winter, throw some rain gear into your suitcase, just in case. Winter sunsets are spectacular, and it is also great whale-watching time. Monarch butterflies are in the area in winter, and it's elephant seal breeding time as well.
*****
Looking to explore more of Central California? Check out some of our other articles on fun Central California coastal towns and cities!
Did you find this article informative? Pin it for future reference!