Planning a visit to Sequoia National Park and looking for the best things to do in the park?
Sequoia National Park offers spectacular scenery, a variety of outdoor recreational opportunities, and the chance to walk among giant sequoias, the largest known trees on the planet.
Located in the Sierra Nevada of California, close to Kings Canyon National Park and Yosemite National Park, Sequoia National Park should definitely feature on your Golden State itinerary if you love nature and the outdoors.
Less crowded than Yosemite, Sequoia National Park can make for a serene getaway if you visit in late spring or early fall, especially during the week. Summer is a great time to visit from the weather perspective, but expect more visitors then.
Some links on this page may be affiliate links. If you click an affiliate link and make a purchase, we may receive a small commission, at no extra cost to you. For more details, refer to our disclosure.
Established in 1890, Sequoia National Park is home to Mount Whitney, the highest peak in the contiguous United States.
It is administered in conjunction with adjoining Kings Canyon National Park, and many visitors make a combined visit to both parks.
The Generals Highway, which connects the two parks, is one of the most scenic drives in California.
Sequoia National Park is a four season park. This guide is primarily tailored for visits in the spring, summer, and fall, when you can enjoy a much larger variety of activities in the park.
Considering a visit to this beautiful park? Read on to discover the best things to do in Sequoia National Park, plus our tips for visiting the park.
Things to Do in Sequoia National Park
Gaze in Awe at the General Sherman Tree
General Sherman, the largest known living tree in the world, is arguably the most popular sight in Sequoia National Park. For many visitors, viewing the majestic giant sequoia tree is near the top of their California bucket list.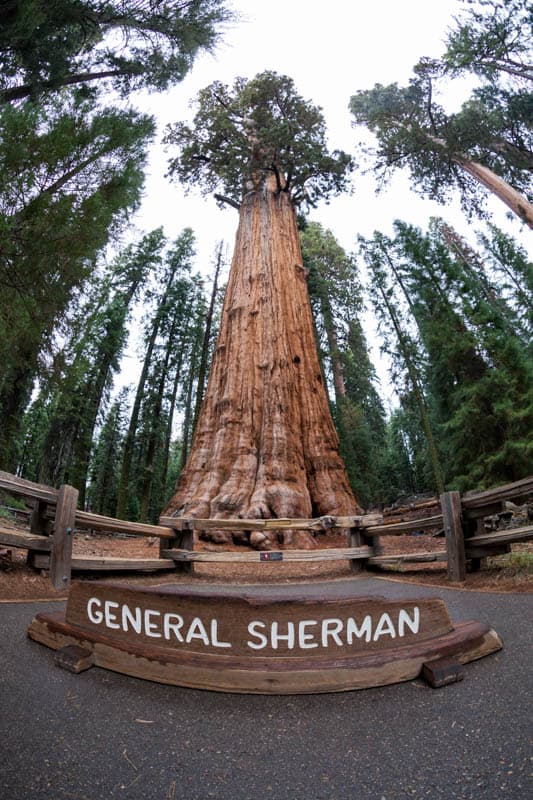 You can walk into the viewing area in Giant Forest and take in its enormous presence from up close. A fence protects its roots from damage.
General Sherman's statistics are impressive: it is 275 feet tall, and its trunk is more than 36 feet in diameter at the bottom! It is estimated to be about 2,200 years old.
A paved 0.5-mile trail leads from the parking area down to the tree. There are a few steps on the trail.
During the summer, when park shuttles are in operation, the free shuttle can take you down to the accessible parking area, from where the tree is a very short walk.
Hike the Giant Forest
While General Sherman is definitely the star attraction, you will find many other mature sequoias to admire in Giant Forest, which is the world's second largest sequoia grove.
Walking among the giants is definitely an experience to be treasured, and one of the best things to do in Sequoia National Park. You can choose from a number of trails in the forest.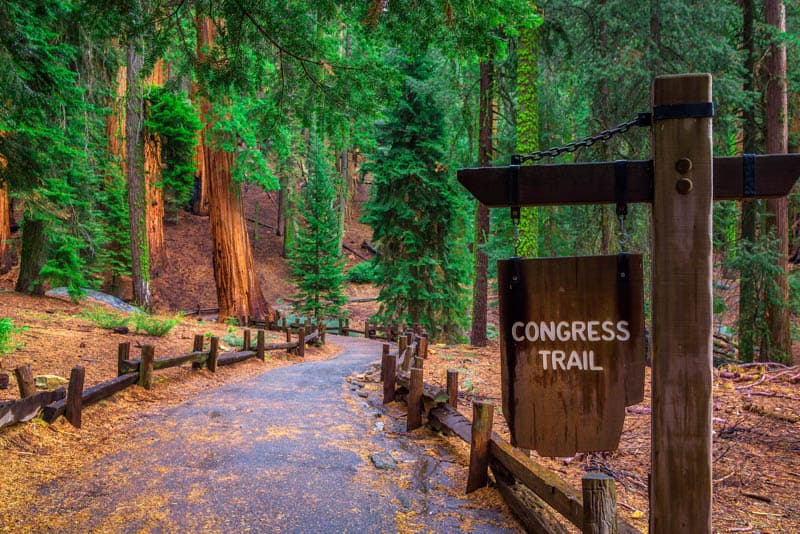 The Big Trees Trail is a level, paved trail that traverses mature sequoias along the periphery of Round Meadow. This Giant Forest loop trail is about 0.75 mile long. Pick up the trail at the Giant Forest Museum. Interpretive plaques offer information along the route.
Another paved loop in Giant Forest is the popular Congress Trail, about 3 miles long, that starts at the General Sherman Tree and offers views of dense clusters of mature sequoias that seem almost as big as the General Sherman Tree.
The Congress Trail is one of the must-dos at Sequoia National Park.
At the south end of the trail, you will find more enormous trees: the McKinley Tree, the President Tree, and the General Lee Tree. There are also two groups of sequoias, the House and the Senate.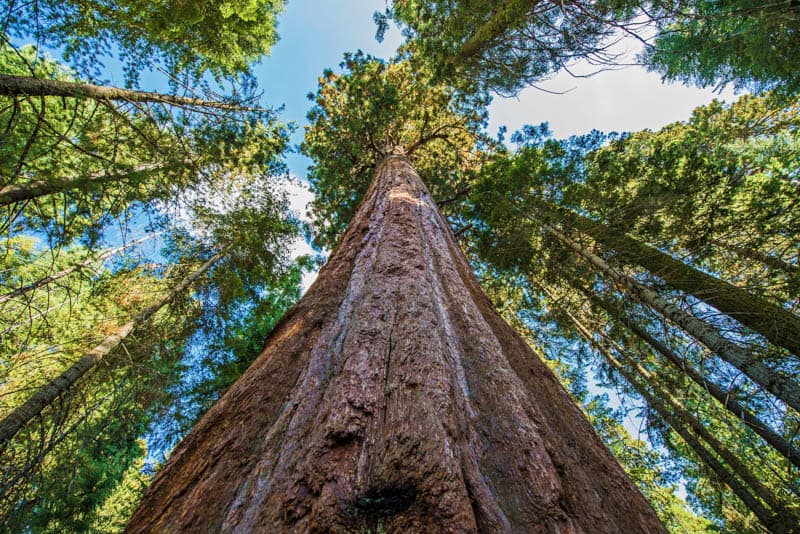 Visit the Giant Forest Museum
The Giant Forest Museum is housed in the historic Giant Forest Market building, originally built in 1928 and listed on the National Register of Historic Places.
The museum is a good place to begin your exploration of the Giant Forest.
At the museum, you can learn how to tell the difference between giant sequoias, and coastal redwoods, the other species in the family for which the Golden State is famous. Other exhibits document the history and ecosystems in the park.
The museum is fun and educational for kids and adults alike. You may also catch a ranger talk when you visit!
Hike Moro Rock
Moro Rock is a stunning granite dome that dominates the landscape at the entrance to Sequoia National Park.
If steps don't bother you, climb to the top of Moro Rock for spectacular 360-degree views of the surrounding wilderness and the peaks of the Sierra Nevada.
The climb to the top of Moro Rock is one of the most popular hikes in Sequoia National Park, and is likely to be crowded on summer weekends.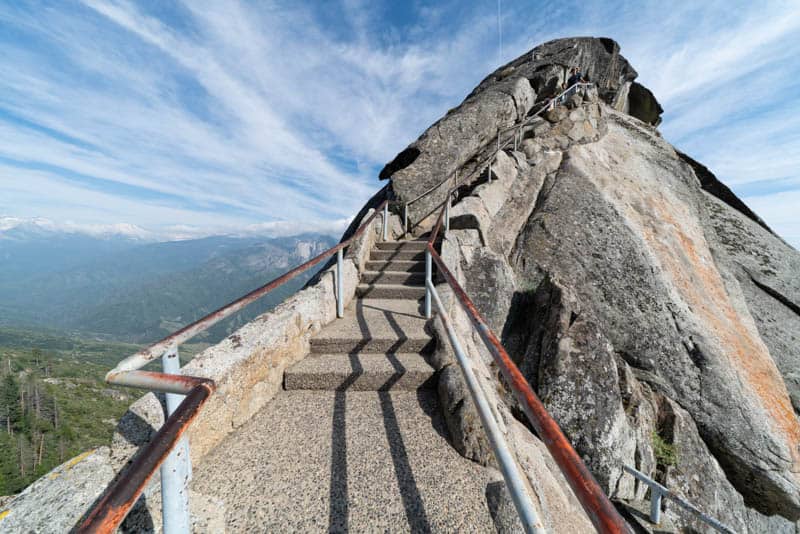 There are 350 steps to the top of Moro Rock, and the climb is rated strenuous. Protective railings on either side provide handholds.
Views start unfolding as soon as you clear the tree line, so you may choose to go up part way as well.
And if you do not wish to climb at all, Moro Rock looks spectacular from below as well, so it's worth visiting to view it and photograph it from below.
In the summer, free shuttles run from the Giant Forest Museum to Moro Rock. The parking area by Moro Rock is small, and may be closed on weekends in the summer.
Admire Tokopah Falls
One of the most popular trails in the park is the Tokopah Falls Trail, which culminates at the Tokopah Falls.
Tokopah Falls is a 1,200-foot tall, picturesque cascade, with the best flow in the spring and early summer.
The Tokopah Falls Trail starts at the Lodgepole Campground, and is about 4 miles round trip. Although you do climb on the route, the ascent is gradual and should be comfortable for most visitors.
The trail follows the Marble Fork of the Kaweah River, with beautiful tall pines, alpine meadows, and a few fun stream crossings along the way.
The falls are lovely, and you also get a great view of the Watchtower, a peak that rises up behind the falls.
Drive through Tunnel Log
Tunnel Log is located on Crescent Meadow Road in Giant Forest.
In 1937, a giant sequoia toppled onto Crescent Meadow Road, and instead of moving it, a tunnel was cut through the trunk of the tree to create a tourist attraction.
The tunnel in the trunk is 8 feet tall and 17 feet wide, and you can still drive through it when you visit Sequoia National Park.
A bypass accommodates larger vehicles that will not fit in the opening.
Driving through Tunnel Log is one of the fun little things to do in Sequoia National Park!
Pose by Tunnel Rock!
There is also a tunnel rock in Sequoia National Park! The gigantic flat boulder sits above an older road, balanced neatly to create a tunnel. We saw folks standing on top of the boulder or standing underneath it for photos.
The Generals Highway passes by Tunnel Rock, so look for it after you leave the Foothills Visitor Center.
Across the road from Tunnel Rock is a pullout where you can park. A paved path leads up to the rock.
Hike Crescent Meadow
The Crescent Meadow and Log Meadow trails are extremely popular trails in Sequoia National Park.
The Crescent Meadow loop is about 1.5 miles, and you can hike additional little spurs here and there, including the spur to Tharp's Log, a room created out of a fallen tree.
Crescent Meadow is fringed by sequoias, and flush with wildflowers in season, making for a beautiful stroll. It is also a good place to look for wildlife: marmots, squirrels, deer, and even bear.
Stroll Peaceful Muir Grove
The 4-mile round-trip trail to Muir Grove offers the opportunity to savor old-growth sequoias in relative solitude. The grove is quite secluded, and you might even have it all to yourself if you visit early in the day.
Although the trail itself doesn't feature sequoias, it is still very beautiful, with woodlands and creeks and wildflowers in season.
You can only walk a short way into Muir Grove, but the part you do see from the trail features beautiful large sequoias and carpets of lupines in early summer.
Hike to Hanging Rock
The hike to Hanging Rock offers fabulous views of Moro Rock, plus the payoff of the photogenic Hanging Rock.
The hike is super short, at 0.35 mile round trip, with an elevation change of about 100 feet.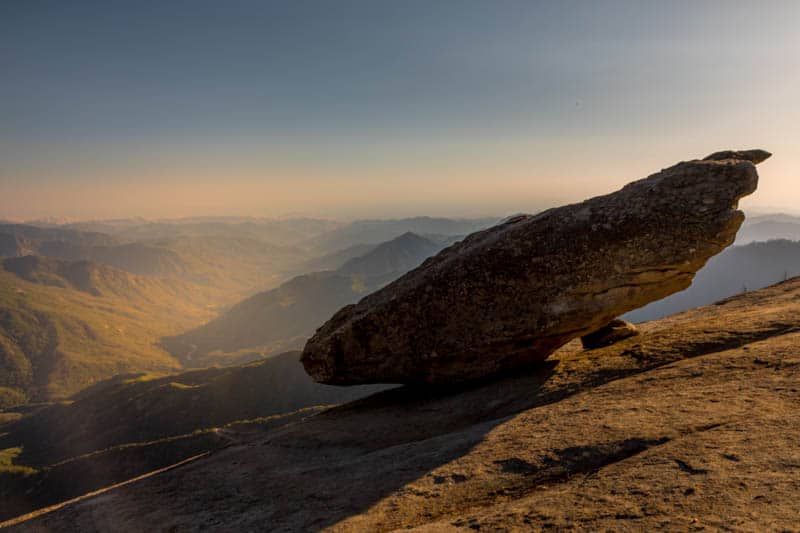 The trailhead for this hike is on Moro Rock Road. At the start of the trail, you may come across a burned and hollow sequoia tree. We saw hikers crawling into the hole to get a view of the sky through the tree.
There are a few paths by Balanced Rock you can explore, or you can snap a few photos of the precariously balanced rock and head back.
Picnic at Beetle Rock
Beetle Rock and Sunset Rock are two granite domes that offer views across the park.
From Beetle Rock, you get beautiful views over the foothills of the Sierra Nevada mountains. It is a great spot to spread a blanket and have a picnic.
Beetle Rock can be accessed from Beetle Rock Center, an educational facility in the park.
To get to Beetle Rock Center, take the paved road at the south of the Giant Forest Museum parking lot. If the road leading up to the center is closed, just walk up to the dome: it's a short walk.
Sunset Rock also offers views out to the west over Sequoia National Park.
The trail to Sunset Rock starts at the north end of the Giant Forest Museum parking lot, and is about a mile each way. If you go for sunset, bring a headlamp or flashlight for the walk back.
Climb Little Baldy
The 3.5-mile round-trip hike to the top of Little Baldy does have a decent elevation change, about 700 feet, but it is a rewarding hike for visitors that want more views like those from the top of Moro Rock (arguably even better!).
The trail itself is scenic, offering views once you get above the tree line. It winds its way to the top via a series of switchbacks. Observe the different flora along the way, and keep your eyes peeled for wildlife. You will see wildflowers in season.
At the top of the dome, admire the panoramic views in all directions. The summit area is quite large, so you can walk around to take photos from different places at the top.
You will find the trailhead for the Little Baldy hike along the Generals Highway: look for the large sign that reads "Little Baldy Saddle."
Enjoy the Drive through the Park
If you arrive at Sequoia National Park via Three Rivers, you will start at the Foothills Visitor Center.
From here, you can drive the Generals Highway through Sequoia National Park to the Big Stump entrance to Kings Canyon National Park. Of course, you can also do the drive in reverse.
The park's most visited attractions lie along the Generals Highway. If you only have a short time in the park, this scenic drive, with a few stops for short walks, is a good way to experience some of its beauty. You may even see wildlife!
At Hospital Rock, there are picnic facilities available, and you can view pictographs created by Native American artists long ago, and mortars made of rock.
Amphitheater Point is a great spot from which to photograph a side view of Moro Rock.
Eleven Range Overlook is yet another photo spot.
Do the Crystal Cave Tour
The Crystal Cave tour requires the investment of about half a day, but if you can spare the time, the tour makes for a change of pace from hiking and viewing giant sequoias.
Crystal Cave is a marble cavern with honed walls and beautiful stalactites and stalagmites.
It is a "developed" cave, in that there are regular paths, and lights. It is one of several hundred caves in the park, but the only one open for public tours.
Tours are offered between late May and September. Different experiences are offered, from a 50-minute basic tour to an adventurous crawl through non-standard passageways.
Tour tickets can only be purchased at the visitor centers, not at the cave, so plan ahead.
The cave is accessed via the 7-mile narrow and curvy Crystal Cave Road, off the Generals Highway. From the parking area, a steep 0.5-mile walk takes you to the cave entrance. Bring jackets!
Hike the Marble Falls Trail
The Marble Falls Trail is a half-day wilderness hike in Sequoia National Park that ends at a beautiful cascade framed by polished marble rocks. The hike is about 7.4 miles round trip, with an elevation gain of about 1,500 feet.
For the best experience, this hike should be done in the spring, when daytime temperatures are pleasant, the water flow is likely to be good, and a variety of colorful wildflowers bloom along the route, especially between mid to late March and mid to late May.
The Marble Falls Trail is oppressively hot in the summer. Winter and fall are pleasant from a weather perspective, but the falls may not have as much water.
The trailhead is located at the Potwisha Campground. There are several stream crossings en route, and the trail is scenic, with a variety of trees and chaparral, and possibly wildlife sightings.
Hike to Alta Peak
At about 14 miles round trip, with 4,500 feet of elevation change, Alta Peak is a full-day, strenuous hike, but it is considered one of the best day hikes in Sequoia National Park for the scenery, which gets more and more stunning with elevation gain.
The summit of Alta Peak offers spectacular views of the Great Western Divide and the peaks of the Sierra Nevada, including Mount Whitney, on a clear day. And the vegetation along the trail is beautiful, both at lower and at higher elevations.
Alta Peak is 11,204 feet above sea level. Because of the elevation, the trail can be covered with snow and ice well into the summer. This trail can be done as an overnight as well.
Go Backpacking
We've described several day hike trails at Sequoia National Park, but you can go backpacking in the park as well. Much of Sequoia National Park — over 800,000 acres! — is wilderness, with several hundred miles of maintained trails.
The High Sierra Trail, from Crescent Meadow to Mount Whitney, is about 72 miles in length point to point. This epic multi-day backpacking trip is very popular. It features sensational views of the mountains, with alpine lakes along the way.
There are shorter options as well, for weekend adventurers. Permits are required for camping outside of designated campgrounds. During high season, a quota system is in place.
Explore Sequoia National Park on Horseback
The Big Meadows Horse Corral offers guided horseback riding trips in Sequoia National Park. You can choose from guided half or full day rides through the park, or overnight or multi-day pack trips.
The pack trips are offered on wilderness trails, to allow you to experience the serenity and beauty of the Sequoia backcountry. The scenery is stunning!
Go Rock Climbing
Rock climbers will find several routes at Sequoia National Park from which to pick.
Moro Rock is the most popular climbing destination in the park: it's the most easily accessed, and offers 1,000 feet of climbing along its west face. Moro Rock may be closed to climbers during nesting season for peregrine falcons.
Little Baldy and Big Baldy are other climbing destinations off the Generals Highway. Angel Wings, more remote, is accessed via the High Sierra Trail.
Look for Wildlife
Sequoia National Park is home to a variety of wildlife in the different habitats and elevations in the park. Wildlife is generally more apt to be seen at dawn and dusk.
View wildlife from your car or from a safe distance, using binoculars or a zoom lens.
Mule deer can be seen in many areas in the park. In the summer, you may come across males with impressive antlers. Black bear, sometimes with cubs, can also be seen at Sequoia, crossing a road or feeding in the meadows.
Other animals you may see include pikas, marmots, and squirrels, and even mountain lions, although mountain lion sightings are rare.
Go Birdwatching
Several dozen species of birds can be found in Sequoia National Park, and you are more likely to see birds during the day.
While some of these bird species are residents, others are migrant.
Definitely bring your binoculars so you can look for birds as you explore!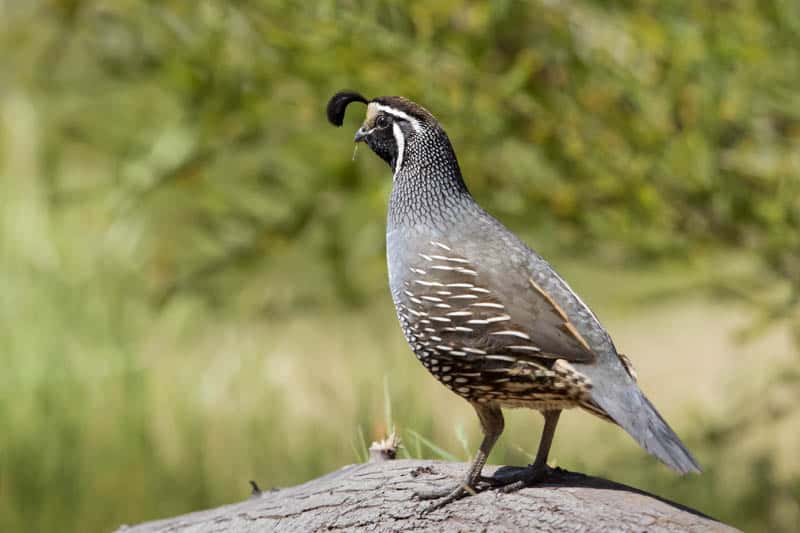 California quail, acorn woodpeckers, Clark's nutcrackers, warblers, wrens, tanagers, pigeons, owls, and finches are some species you may see in Sequoia National Park, depending on when you visit and where in the park you explore.
Look for Wildflowers in Season
One of our biggest joys of exploring in California is the opportunity to see, and photograph, wildflowers in season.
And when we can do go hunting for wildflowers on trails that are not crowded, the joy is exponential. Many of Sequoia's trails are not crowded, unlike at nearby Yosemite, making wildflower chasing more serene and more fun.
In good bloom years, you can see meadows full of flowers in season at Sequoia National Park, but if you look closely, you will also find shyer varieties in smaller quantities from the trails.
Bushes like ceanothus and manzanita are gorgeous in bloom as well.
Lupine, western wallflower, pennyroyal, columbine, and shooting stars are some of the wildflowers you can expect to see in the park, along with many other varieties.
Observe the Night Sky
Sequoia National Park offers prime stargazing and night sky observation opportunities. Due to minimal light pollution, you can see the Milky Way on clear moonless nights. If you visit in the middle of August, you may see the Perseid meteor showers.
Check for astronomy programs at Wuksachi Lodge during the time of your visit. The park also hosts a Dark Sky Festival and other night sky events and programs, so check the schedule for the dates of your visit.
Sequoia National Park Hours and Fees
Sequoia National Park is generally open all day, 365 days a year. Before you visit, check the park website for information on potential special closures.
Note that park visitor centers, park stores, and campgrounds may have varying hours and seasons of operation.
Some roads in the park, such as Moro Rock/Crescent Meadow Road, Mineral King Road, and Crystal Cave Road, are only open a part of the year, generally from late May until late October or early November.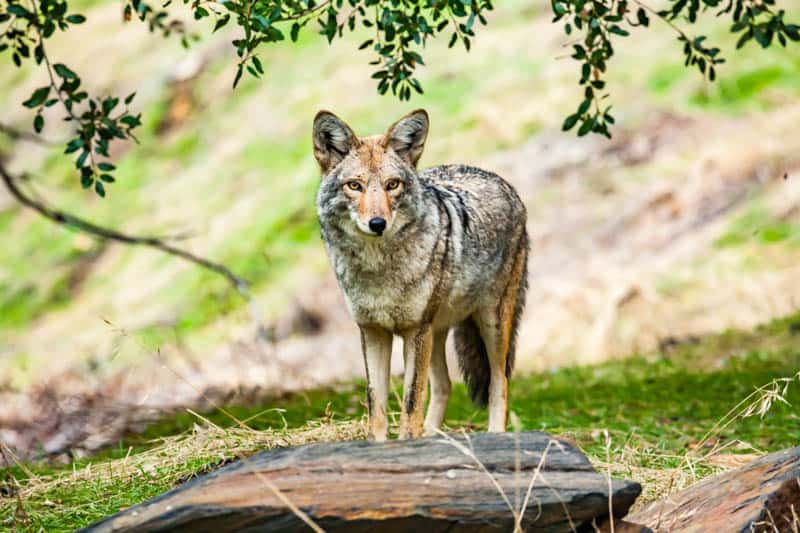 The entrance fee for Sequoia National Park, at the time of writing, is $35.00 per vehicle, and includes Kings Canyon and Hume Lake. The fee for a motorcycle is $30.00, and the fee for an individual, on foot or on a bicycle, is $20.00.
The entrance pass is valid for 7 consecutive days from the date of purchase. Online advance purchases are recommended.
The America the Beautiful National Parks passes are accepted at Sequoia National Park. Display the pass in your vehicle such that it is visible.
Do you have your National Parks Pass yet? Valid for one full year from the month of purchase, the America the Beautiful National Parks Pass costs USD 80.00 and offers admission (one vehicle or 4 persons) to over 2,000 Federal recreation sites, including national parks, national forests, and more! Get yours online at REI now!
Visitor Centers at Sequoia National Park
There are three visitor centers at Sequoia National Park: the Foothills Visitor Center at the Ash Mountain Entrance near Three Rivers, the Lodgepole Visitor Center, a few miles in from the entrance into Sequoia from Kings Canyon, and the Giant Forest Museum.
We suggest you stop in at the nearest visitor center upon arrival, to view park exhibits and watch the park film for an introduction to the ecosystems, history, geology, and flora and fauna in the park.
Rangers can answer questions and help with trip planning and activity suggestions.
Foothills Visitor Center and Giant Forest Museum are open year round, with varying hours of operation.
Lodgepole Visitor Center is open seasonally, generally from mid May until mid October.
A Ranger Station in Mineral King is open seasonally, generally between late May and late September.
Park stores at the visitor centers offer books, maps, and other informational materials.
Where to Stay When Visiting Sequoia National Park
Lodging inside Sequoia National Park
Wuksachi Lodge is located in Giant Forest and generally open year round. The high-elevation lodge has a stunning location among sequoia trees. Rooms are comfortable and there is an onsite restaurant, cocktail lounge, and gift shop. Read reviews on Tripadvisor!
Hotels near Sequoia National Park
Buckeye Tree Lodge in Three Rivers is located 17 miles from Sequoia National Park. Units include air conditioning, free wifi, and free parking. The hotel features an outdoor pool, gardens, and barbecue facilities. Book a stay here!
The Darling is a boutique hotel in Visalia that is housed in a 1930s Art Deco building. The hotel is located about 45 minutes from Sequoia National Park. The hotel features an outdoor pool, and a rooftop restaurant and lounge. Rooms have high ceilings, and are tastefully furnished. Book a stay here!
Vacation Rentals near Sequoia National Park
The Quail's Nest is a 3-bedroom vacation home located just 3.4 miles from Sequoia National Park. The well-reviewed home features a fully stocked kitchen, air conditioning, extra pillows and blankets, cable TV, wifi, and free parking. Book a stay here!
Shady Knoll is a well-reviewed vacation home in Three Rivers, just 3.1 miles from the park entrance. The 2-bedroom, 2-bath home comes with a full kitchen, air conditioning, wifi, and free parking. The patio has a beautiful view of the mountains. There is a barbecue grill for outdoor cooking. Book a stay here!
This beautiful VRBO cottage is located 3 miles from the park entrance. The one-bed, one-bath cottage is open plan, with a wood ceiling. The screened-in porch opens out on to two wood decks that overlook a series of cascading ponds and Salt Creek farther below. There is a full kitchen. Book a stay here!
Camping in Sequoia National Park
Campgrounds in Sequoia National Park are located in Lodgepole/Giant Forest, Foothills, and Mineral King. Campsites can be booked at Recreation.gov. There are no RV hookups in the park.
Lodgepole Campground and Dorst Creek Campground are located in the Lodgepole/Giant Forest Area, and are open seasonally. Tents, RVs, and trailers are all permitted. Reservations are strongly recommended.
In the Foothills area, Potwisha Campground is open for tent, RV, and trailer camping year round. Buckeye Flat Campground is open for tent camping from early spring through late fall. South Fork Campground is in a more secluded part of the Foothills, and is open all year to primitive tent camping only.
Mineral King campgrounds are only open from late spring until fall. It is a more remote part of the park, accessed by a narrow winding mountain road. RVs and trailers are not permitted in Mineral King campgrounds. Atwell Mill Campground and Cold Springs Campground are open to tent camping.
How Much Time Should You Allow for Sequoia National Park?
You can craft an itinerary for Sequoia National Park that goes from a few hours to several days.
It all depends on how much you want to explore, and whether you are looking to just want to take in the highlights or spend some time in nature.
In one day, you can drive through the park, view the General Sherman Tree, do a Giant Forest hiking trail to take in more views of sequoias, pop into the Giant Forest Museum, climb to the top of Moro Rock, and perhaps do the Crescent Meadow loop trail.
If you want to do longer day hikes, venture to Mineral Spring, or do the Crystal Cave tour, plan on at least two days in Sequoia National Park.
Of course, you can enjoy the park at leisure on an even more extended stay, adding in multi-day pack trips or backpacking trips or just enjoying the beautiful scenery and special ambience in the park.
Getting to Sequoia National Park
Sequoia National Park is located in the Sierra Nevada in eastern California. The nearest international airport is Fresno Yosemite, about one hour and 45 minutes from the park entrance on California Highway 198.
You can also drive to Sequoia National Park. The park can be accessed from the south via California Highway 198, which leads to the Ash Mountain entrance, or from Kings Canyon National Park, via California Highway 198, into the northwest part of Sequoia National Park.
From LA, the drive to Sequoia National Park is 203 miles, a drive of about 3 hours and 45 minutes. From San Francisco, the drive to Sequoia National Park is 277 miles, a drive of about 4 hours and 30 minutes.
Looking to rent a car for your Sequoia National Park trip? Discover Cars offers you the ability to compare availability and prices across many major car-hire companies. Pick the car that best meets your needs! Book your car with Discover Cars now!
Getting Around in Sequoia National Park
You'll need a vehicle to explore the park, whether it's an automobile or a motorcycle. Note that some park roads are closed during the winter. Hiking is the best way to get up close to many amazing sights in the park.
Roads through the park can be narrow and winding. There are also restrictions and advisories on vehicle lengths, so check the park website if you are considering visiting in an RV or with a trailer. Snow chains may be required in snowy conditions.
Also note that marmots have been known to destroy cars in the Mineral King area of the park. If you plan to visit this area, research how you can protect your vehicle ahead of your trip and go prepared!
The Best Time to Visit Sequoia National Park
Sequoia National Park is a four-season park, and there are things to do no matter when you choose to visit.
If it is your first visit to the park, we suggest arriving between spring and fall, when hiking trails are open, lakes are thawed, and you may see wildflowers in bloom. Days are long, and you will be able to enjoy a greater variety of activities.
Many visitors do visit Sequoia in the winter, to enjoy winter activities such as cross-country skiing and ranger-guided snowshoe hikes. The park is breathtaking in the winter, with a profound silence you won't find in other seasons.
Tips for Visiting Sequoia National Park
Download a park map and Brochure
If you enjoy the safety of knowing you have navigation tools at all times, download or print a park map and the brochure in advance of your visit. Per the park, GPS may be inaccurate in the area. They advise downloading or printing their maps.
If you plan to hike, here are a couple of resources that may come in handy:
This illustrated trail map, by National Geographic, includes trails in Sequoia National Park, plus Kings Canyon National Park. There are hundreds of miles of trails in the parks, so you have a lot from which to choose. Buy it on Amazon!
This guide to hiking in Yosemite, Sequoia, and Kings Canyon is a very useful companion when you visit these parks! It has information not only on hiking, but other activities, plus useful information on area eateries. Buy it on Amazon!
Read Up on Park Safety Guidelines
Much of Sequoia is designated wilderness. The Sequoia National Park website has a page on safety. Read up and follow the guidelines for a safe and enjoyable visit.
Do Not Expect Cell Reception
Most areas of Sequoia National Park do not have cell reception. Based on your carrier, you can get reception in some parts of the park, but don't count on it.
Carry Plenty of Drinking Water
Bring adequate supplies of drinking water so you have enough for all members of your traveling party to stay hydrated, especially when hiking. You will find potable water at the visitor centers and at Wuksachi Lodge.
If you plan to visit by road, bring a cooler! It is very helpful, not only to store drinking water, but also for perishable foods.
Bring Snacks and Food
Generally, food is available at the restaurant at Wuksachi Lodge year round, and at the Lodgepole Deli, market, and Snack Bar seasonally, but check prior to your visit to make sure one or both will be open during your stay.
Picnic tables are available at spots throughout the park, so you'll be able to stop for a picnic lunch during the day if you've packed food.
You will find restaurants in communities outside the parks, such as Three Rivers and Visalia south of the park.
Fill Your Tank Before You Enter the Park
There is no gas available within Sequoia National Park, so make sure you fill up at a gateway town before you enter the park.
Find Grocery Stores
The town of Three Rivers has a few small markets, if you need the basics. Village Market is a good option. Larger stores are located in Visalia, and it is a good idea to do your shopping here if you have an extensive list.
Dress in layers
You can encounter variable weather any time of the year in Sequoia National Park, so definitely plan on bringing layers.
If you plan to visit during the colder months, warm clothing is essential, of course, but you may want to pack warm waterproof jackets, beanies, and gloves, no matter when you visit.
Long-sleeved tops and long pants are always prudent when hiking. Also bring a sun hat, sunglasses, and sunscreen for exposed trails.
Wear Sturdy Hiking Shoes
Hiking shoes or boots with good grip are recommended if you plan to hike in the park. Trails can be wet or slippery, sometimes with lingering patches of ice well into the summer.
Closed-toed sturdy footwear is recommended even if you don't plan to hike.
Carry Bug Spray and a First-Aid Kit
You may encounter mosquitoes and other biting insects, especially along meadows, wooded areas, or forests. Bring, and use, bug spray.
Also bring your own travel-sized first-aid kit, including clean tweezers, along with sanitizing wipes and lotion.
Bring Your Camera and Binoculars
Remember to pack your camera and binoculars! You will find lots of awesome photo spots in the park, and binoculars are handy for wildlife viewing and birdwatching.
We always bring our little Panasonic Lumix DC-ZS70 on hikes: it is very light and fits into a pocket, but has a 30X zoom and Leica lens and takes excellent photos of birds and wildlife.
We also always bring our Celestron Trailseeker compact binoculars. They are waterproof and work well in the lower light of dawn or dusk, when you are more likely to see birds and wildlife.
*****
Planning to explore more of California's natural beauty? Check out our articles on other national parks in California!
Did you find this article informative? Pin it for later!