If you are looking for things to do in Solvang, the "Danish Capital of America," you will be spoiled for choice! The charming Village of Solvang is worth visiting for its striking Danish architecture, numerous wine tasting rooms, and bakeries offering authentic Danish treats.
Planning a weekend in Santa Barbara? Consider adding a day trip to Solvang!
Located in the Santa Ynez Valley, one of Central California's most renowned wine regions, Solvang is easily one of the most popular day trips from Santa Barbara. It is also an easy visit from other major cities on the California coast.
Solvang has a charming downtown perfect for wandering, several little museums to tour, and a small-town ambience that's difficult to resist. From looking for Danish-inspired landmarks to shopping for unique souvenirs, there's a lot to see and do in Solvang.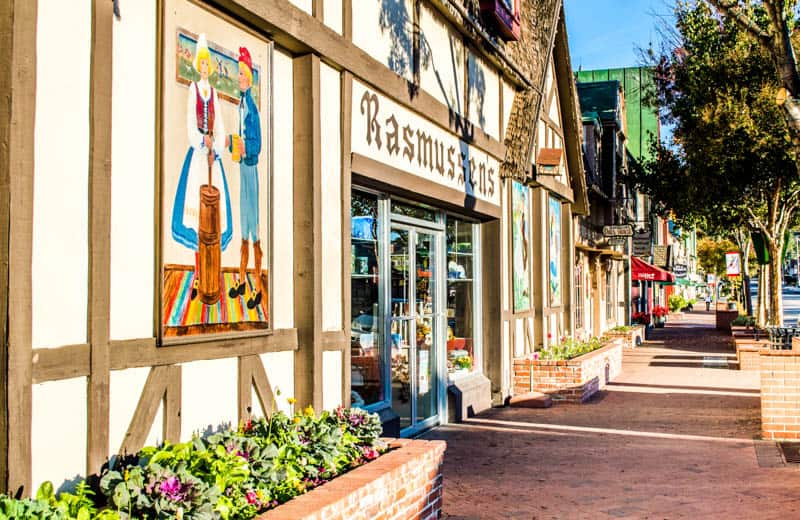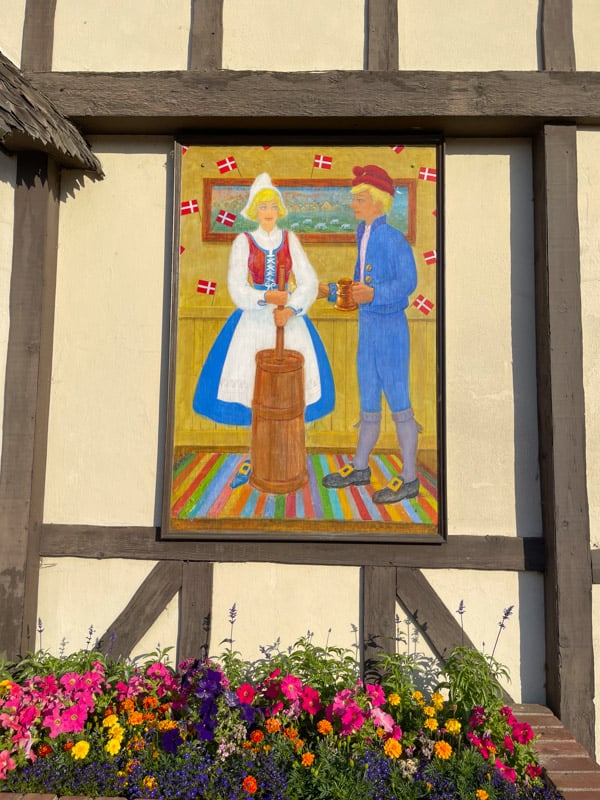 While Solvang offers lots to do on its own, its location, near several other cute Santa Ynez Valley towns, means that you have much to explore around Solvang as well, if you choose to spend a few days here.
Solvang was established in 1911, when a group of Danish-Americans traveled here from the Midwest to set up a colony in sunny California. It was only in the 1940s, however, that the idea of making Solvang look like a Danish village took shape.
Today its beautiful location, pretty facades, and unique ambience draw thousands of visitors.
Considering a visit to Solvang and the Santa Ynez Valley? Read on for the best things to do in Solvang, plus tips for your visit!
Things to Do in Solvang
Tour Mission Santa Ines
If you enjoy local history, a visit to Old Mission Santa Inés is one of the best things to do in Solvang!
One of 21 historic missions in California built by Franciscan missionaries, Old Mission Santa Inés was founded in 1804.
The gracious building looks out over the beautiful Santa Ynez River valley and the Santa Ynez and San Rafael mountain ranges. It is an active church today.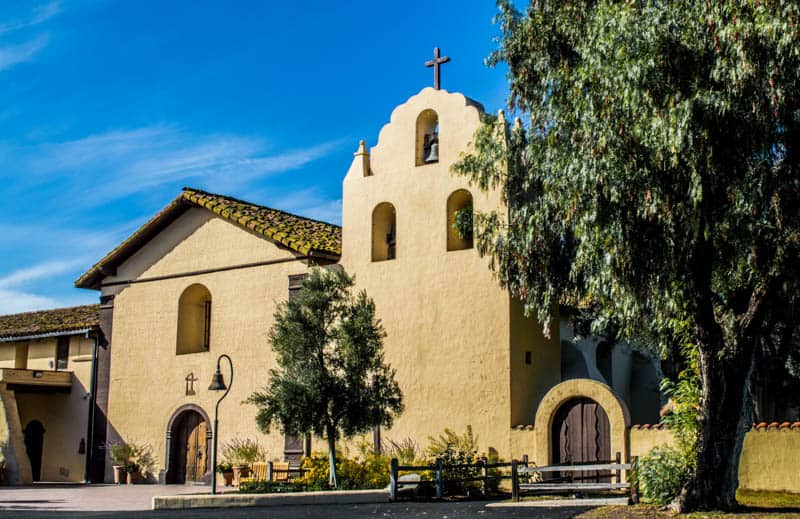 Old Mission Santa Ines houses a museum and gift shop. Self-guided tours of the church, garden, and museum are available for a fee.
If a docent-guided tour is offered when you visit, we suggest joining one for a wealth of information while you tour the beautiful old complex.
The museum is home to artifacts, artwork, manuscripts, and bells from the mission's history. The mission displays four bells, the oldest of which is from 1804!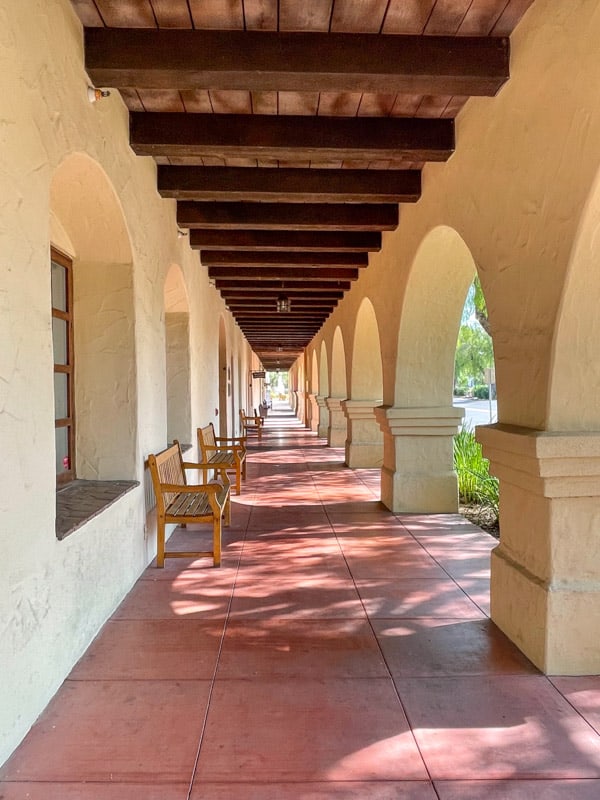 The church was restored in 2007, and you can see mission-style pews inside.
Get information on current hours and admission fees at the mission website.
Wander the Village of Solvang
Solvang Village makes for a fun wander. It is not very large, and perfect for walking, or exploring by bike. Rent a Surrey bike for a cool way to pedal around the village! You can also ride the historic horse-drawn Solvang Trolley.
Mission Drive is the main street that runs through the village, and there are lots of side streets, cross streets, walkways, and shopping nooks to explore.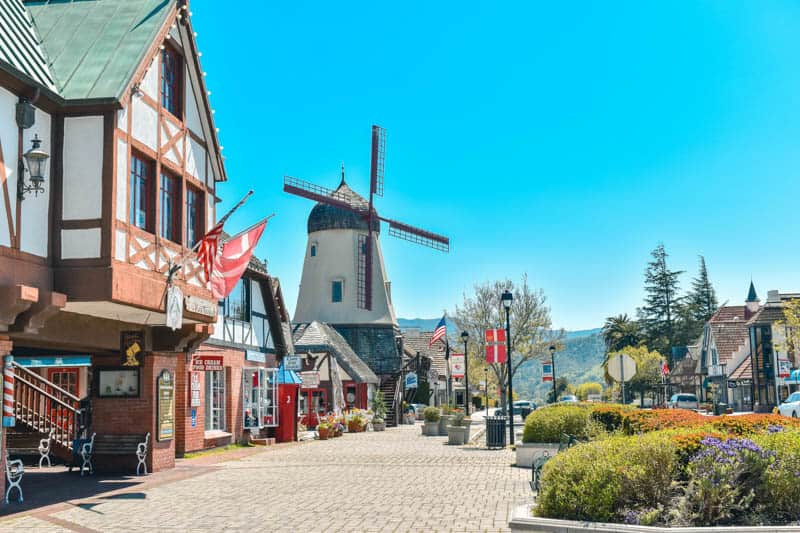 You will want to take photos of Solvang's colorful facades from every angle, gawk at the giant windmills, admire the pretty flower boxes filled with colorful blooms, and enjoy some people watching.
The village is a popular place, and on nice weather days you will find lots of people out and about.
The Solvang Visitor Center is also in the village (on Copenhagen Drive), if you have questions or you are looking for recommendations on things to do in and around Solvang.
Be sure to stop by the Copenhagen House nearby, where you can see statues of the three men that founded Solvang.
Enjoy guided tours? This private pedicab tour is a great way to get introduced to the town. Plus, you'll enjoy a wine tasting after the 40-minute tour.
Book this tour now!
Admire the Danish architecture
Known as the "Danish Capital of America," Solvang is home to lots of Danish architecture.
Although homes and other structures in the town were originally built in the local style, eventually the town transitioned to its European look.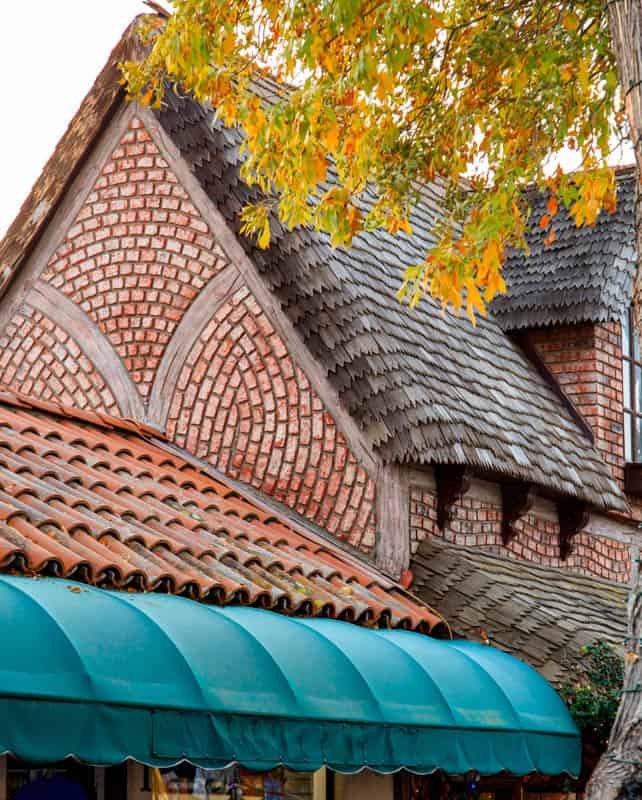 The Bethania Lutheran Church, built in 1928, was one of the first structures in Solvang to have a distinctly Danish appearance.
The first of Solvang's windmills came up in the 1940s, and residents started building (or modifying) their homes to have the half-timbered facades you see today.
Today you can see several windmills in the Village of Solvang, plus a clock tower that plays seasonal tunes, many interesting facades, and some of the oldest homes and structures, from the church to the old Danish school (now Bit O' Denmark Restaurant).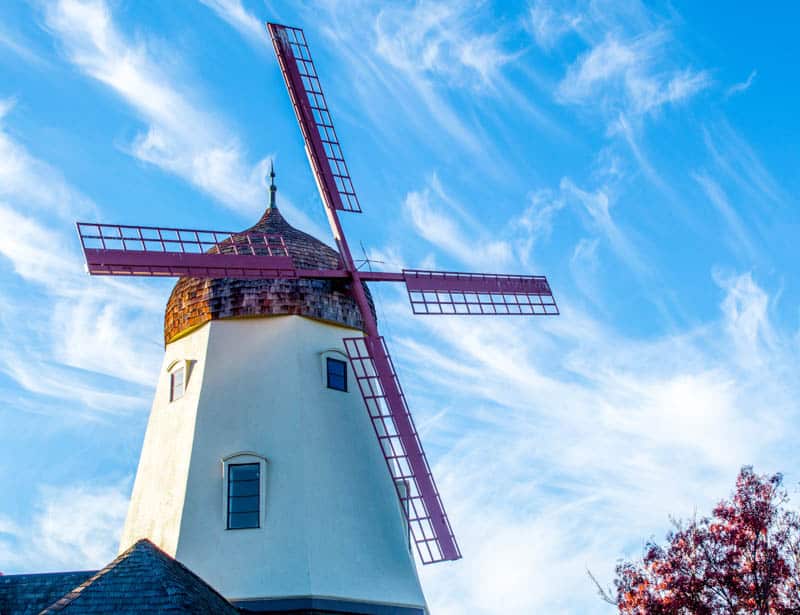 Look for Denmark Icons in Solvang
Throughout the village, there are icons showcasing Solvang's Danish heritage, and one of the most fun things to do on your first visit to Solvang is to see how many you can find!
If you are wondering what to do in Solvang with kids, this is a great activity.
The Round Tower of Solvang, modeled after the Rundetaarn in Copenhagen, is hard to miss, even though it's only one-third the size of the original.
But also look for the replica of the Little Mermaid statue, storks on rooftops, and a large red clog.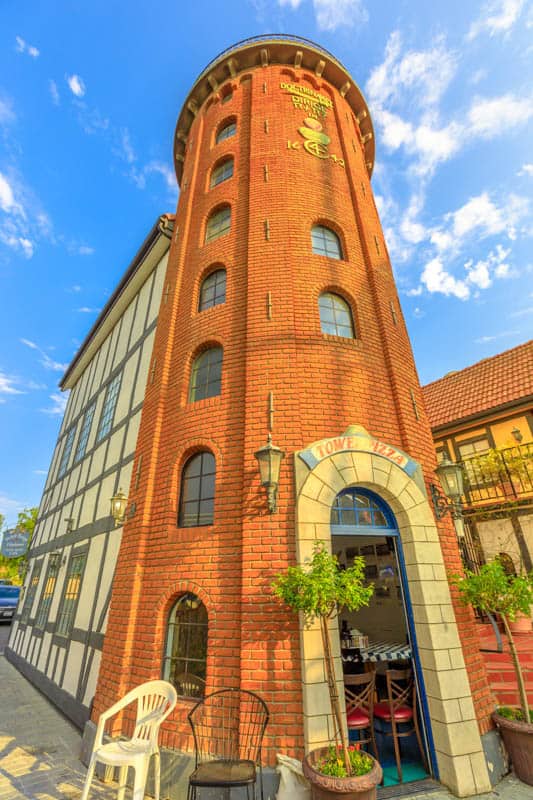 Browse Jule Hus
In downtown Solvang, the beautiful Jule Hus (Christmas House) building, with its red facade, is a treat from the outside. But don't miss going inside to experience Christmas any time of year!
With twinkling lights and a wealth of Christmas items, the store is a joy to browse.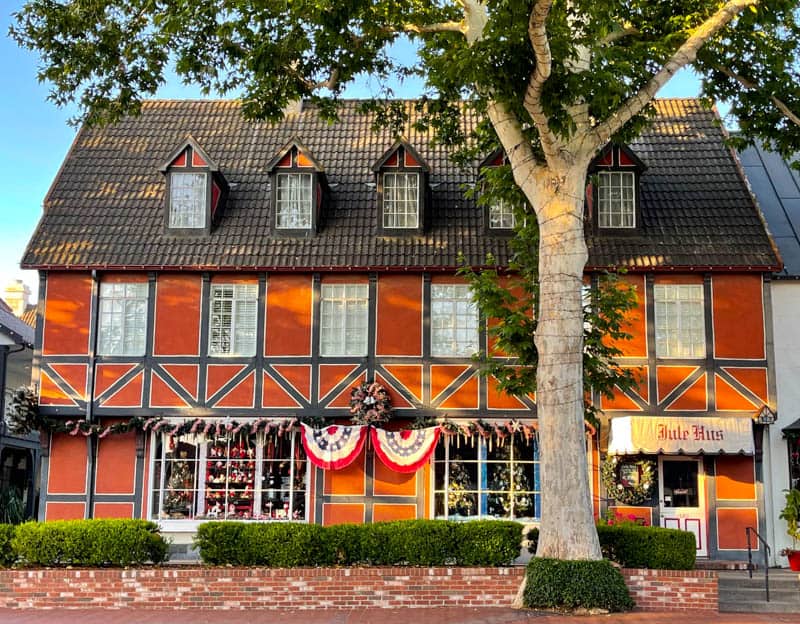 Admire beautiful Old European Christmas ornaments and Scandinavia-inspired decorations.
Nutcrackers made of wood, angels and Santas, and nativity collections from many countries will tempt you as you wander.
We've bought three Christmas from Jule Hus so far, one on each of our visits to Solvang! They are a beautiful way to remember your visit to the little town.
Shop for Souvenirs
Jule Hus is a must visit, but there are more than 150 cute shops in the village, with wares ranging from music boxes and clocks to beautiful lace and porcelain.
You can spend hours poring over all the treasures in Solvang's shops and art galleries!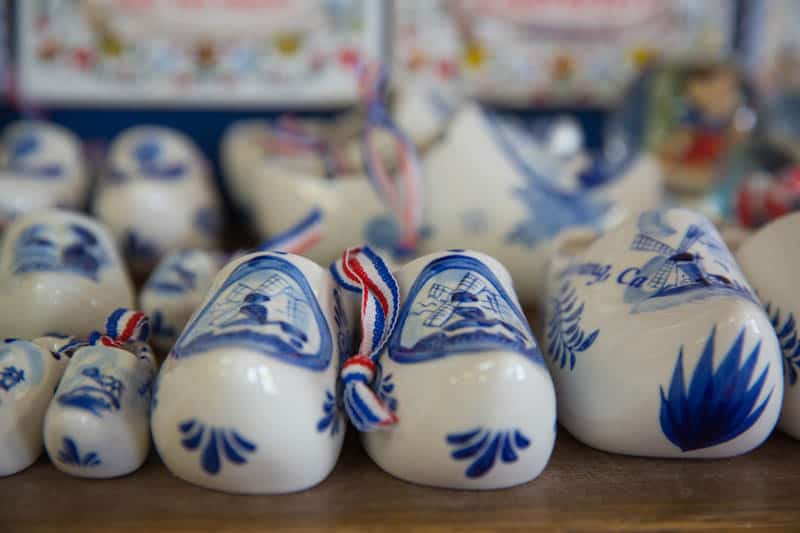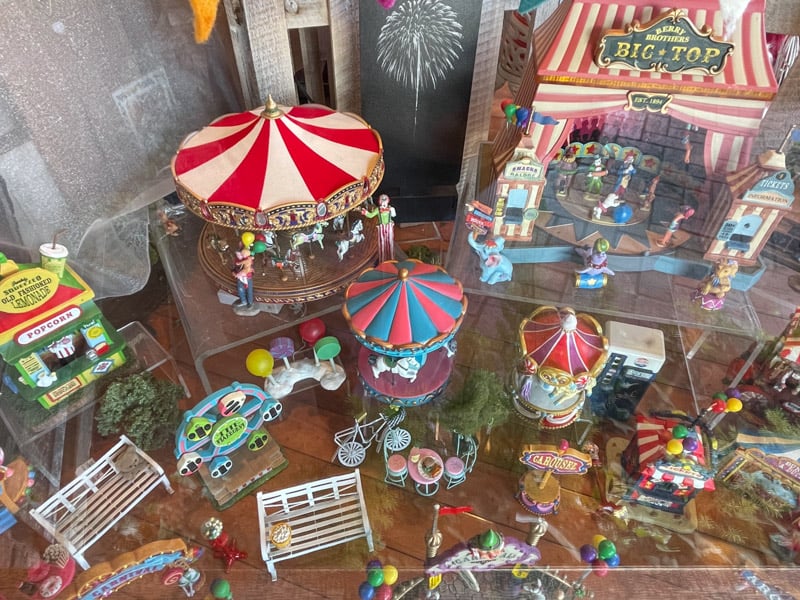 Our favorite browses in Solvang include:
The Book Loft, where you can buy titles by Hans Christian Andersen (and many other authors, of course!)
Rasmussen's, for home decor, kitchen gadgets, and gifts
Renaissance Antiques, for old watches, clocks, and other antiques
Iron Art Gift Shop, for lace, china, and gifts
Solvang Toyland is a must-visit if you are visiting with kids, and there are stores focused on clogs, socks, and hats.
Visit a Museum
If you enjoy museums, you have several excellent choices in Solvang, apart from the must-tour museum at the Old Mission Santa Ines and the historic Bethania Lutheran Church.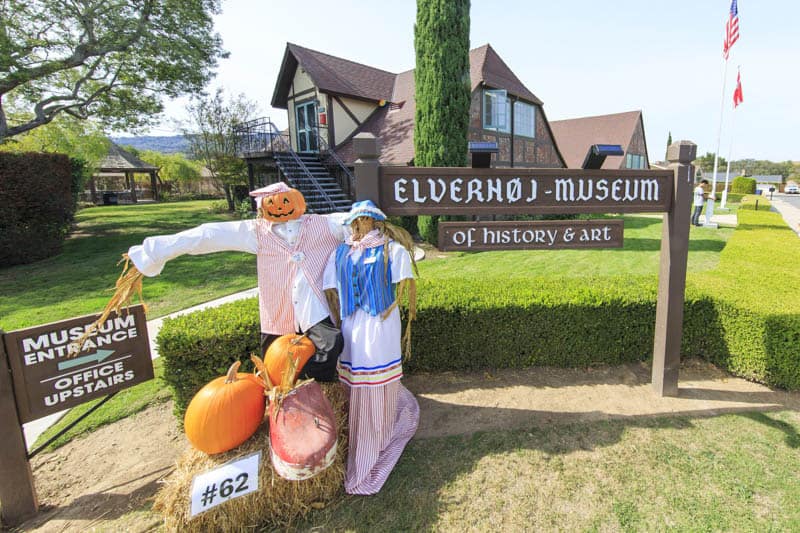 The Elverhøj Museum of History & Art is housed in a building reminiscent of farmhouses in 18th century Denmark. Here you can learn about Solvang's history and Danish heritage through photos, videos, and artifacts.
The Hans Christian Andersen Museum is located above The Book Loft and offers information on the life and works of this beloved Danish writer of fairy tales that include The Ugly Duckling and The Little Mermaid.
The Solvang Vintage Motorcycle Museum show cases rare and vintage motorcycles and European racing bikes. From the private collection of Virgil Elings, who has been collecting for many years, the exhibits will thrill bike enthusiasts.
The Wildling Museum of Art and Nature has a stunning wall mural featuring oak trees and local wildlife, and art exhibitions that celebrate nature. Kids will love the hands-on arts and crafts activities.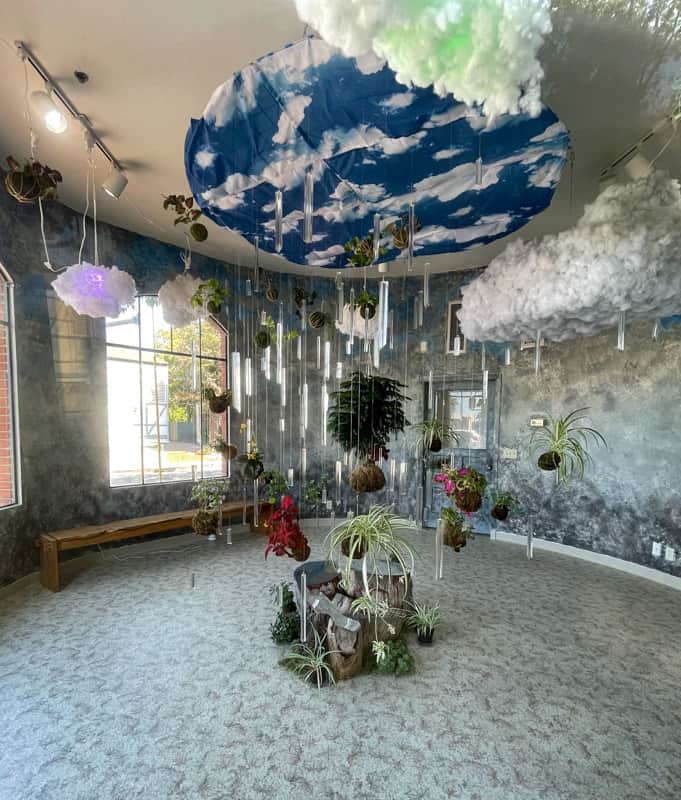 The Solvang Amber Museum is modeled after the famous Amber Museum in Copenhagen. Here you can learn about the history of amber through a collection of many pieces, some millions of years old. You will even see pieces with insects embedded in them. The museum is located in The Copenhagen House.
Enjoy Wine Tasting
Solvang is part of the Santa Ynez Valley, one of Central California's most famous wine regions. So if you are a wine lover, you have to put tastings on your itinerary for Solvang!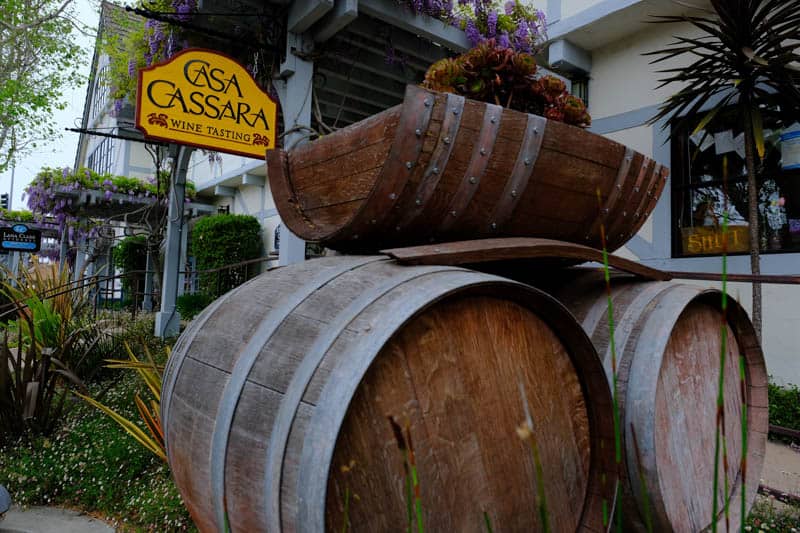 There are numerous tasting rooms in the village, and you can also tour area vineyards. Here are some of our favorite Solvang wine tasting experiences:
Sanger Wines Tasting Room, located in the village on Mission Drive, offers wine flights and olive oil and balsamic tastings! We loved the Sanger Experience flight, which included the award-winning Cielo Rubio. And their infused olive oils and vinegars are superb!
Royal Oaks Winery Tasting Room, also located on Mission Drive in the village. We love sweet dessert wines and so this tasting room was a no-brainer for us. Try their fruit wine flight: chilled fruity sweet goodness at its best!
CrossHatch Winery is located in a windmill! The wines, both whites and reds, were great, but the location wowed us. Opt for the outdoor patio if it's a nice day!
The Sevtap Winery Tasting Room is also located in a windmill on Copenhagen Drive. Sip Bordeaux style blends made with local organic grapes inside or on the patio outdoors.
Rusack Vineyards is just a 10-minute drive from downtown Solvang. It's a beautiful drive and a beautiful winery! They are known for their Syrah. Enjoy your tasting on the redwood deck that looks out onto the vineyards and the rolling hills!
Rideau Vineyard is less than a 10-minute drive from the village. Set in the midst of vineyards, with gardens, the tasting room features estate-grown Rhône varietals. You can do just a tasting, or book a guided tour plus tasting.
This well-reviewed tour has various pick-up locations, for a leisurely half-day tour of four vineyards in the picturesque Santa Ynez Valley. You will enjoy wine tastings and light snacks, and you can customize your itinerary on this private tour.
Book this tour now!
If you'd rather join a wine-tasting tour, this highly-rated Vineyard to Table Taste Tour by Bike departs from Santa Barbara and includes two wine tastings, an olive oil tasting, and a picnic lunch.
Don't want to bike? Try this tour, which includes three wine tastings at Santa Ynez Valley wineries, and a picnic lunch. This tour also departs from Santa Barbara.
Stop by a Bakery (or Three!)
With five authentic Danish bakeries in Solvang from which to choose, it's next to impossible to resist the lure of the sweet treats on display. Not only did we indulge while we were in Solvang, we bought an assortment to take home with us!
You'll find long lines at the bakeries, although the lines usually move quickly. Visit early in the day for the best selections and relatively short lines. Some serve coffee as well. Take your goodies outside to enjoy!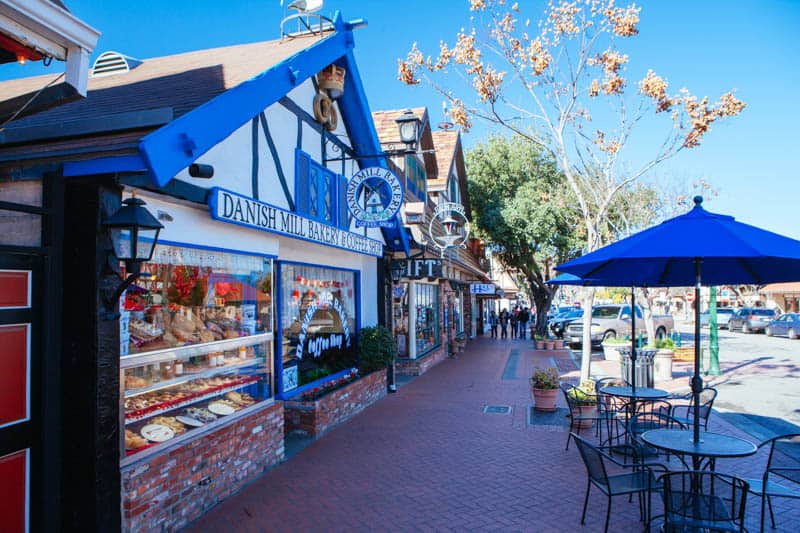 We've tried three of the five bakeries in Solvang and we like all of them:
Mortensen's Bakery is located on Mission Drive and carries gifts and souvenirs as well as a variety of pastries from Danishes to strudels. If you are watching your waistline, try their little pastry cups.
Olsen's Danish Village Bakery is also on Mission Drive and their selection of pastries is huge. We loved the Danish waffle here!
Solvang Bakery is located on Alisal Road. They have cute gingerbread people and gingerbread houses.
The two bakeries we haven't yet tried are Birkholm's Bakery & Cafe, on Alisal Road, and Danish Mill Bakery, on Copenhagen Drive. They are probably just as fabulous, and we can't wait to try their pastries!
Sample Aebleskivers
Aebleskivers are a traditional Danish dessert, generally enjoyed during Christmas season. They are puffy little balls of pan-fried dough, somewhat like doughnut holes, but much sweeter. They are served with powdered sugar or jam or syrup for a super sweet treat.
Aebleskivers actually means apple slices, but there's no apple in the recipe! Enjoy this traditional Danish treat at Aebleskiver Cafe on Alisal Road.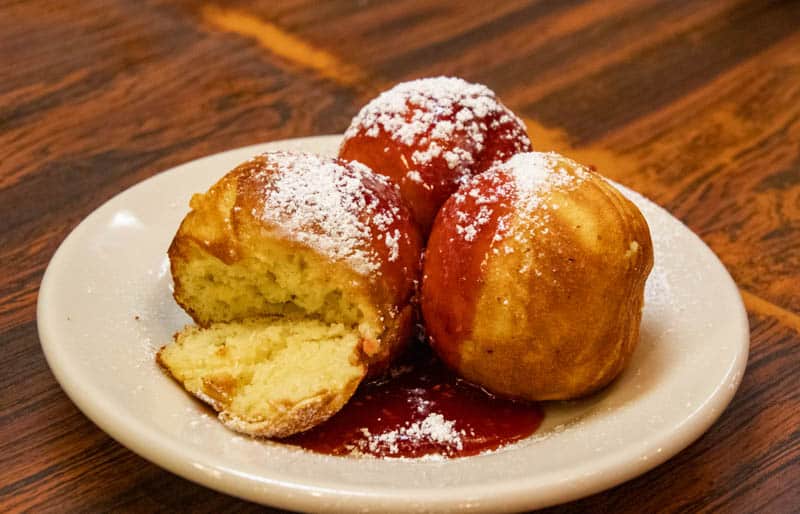 Gorge on Local Ice Cream
If you love ice cream, there are a couple of parlors in Solvang that dish up ice creams from well-known Central California companies.
You'll find these brands in many places in central California. We never pass up a chance to have some, and wandering is so much nicer with ice cream in hand!
You will find Solvang Trolley Ice Cream Parlor in Hamlet Square. They have ice cream from McConnell's, a company founded in Santa Barbara all the way back in 1949. Try their churros con leche!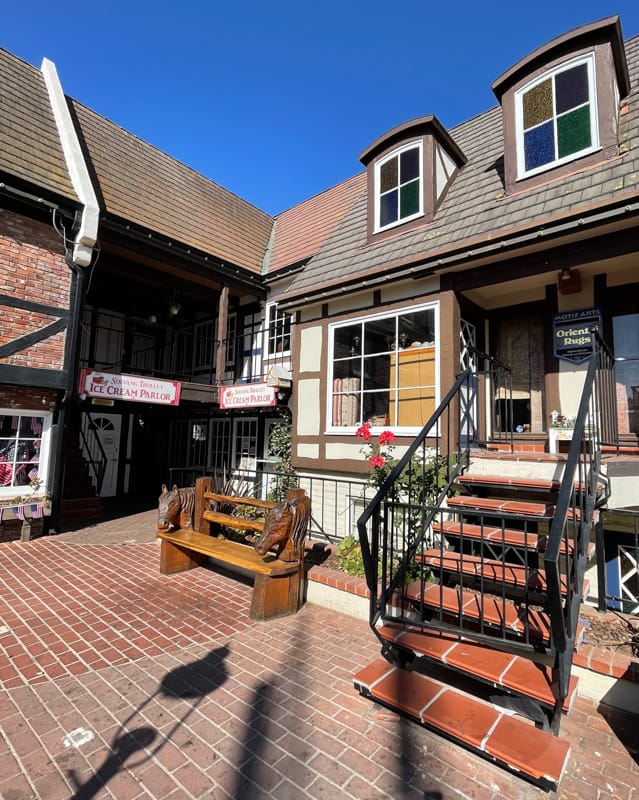 The other ice cream shop you must visit is Doc Bernstein's Ice Cream Lab, founded in Arroyo Grande (a tiny village in Central California) in 2003. Their ice cream is super decadent and they have numerous flavors from which to choose. We love their Mexican Chocolate flavor!
This food and photography tour is a fun way to sample the great eats on offer in Solvang. You'll enjoy stops for food and drink tastings, including many traditional Danish treats. Your guide will also offer tips on getting the best photos of your excursion.
Book this tour now!
Browse the Farmers' Market
Planning to visit Solvang on a Wednesday? Be sure to stop by the local farmers' market, held on Wednesday afternoons on First Street.
Visiting a California farmers' market is a treat if you love the sight of fresh produce, fruit, and flowers, and Solvang's market is no exception.
Along with fresh produce and fruit, you will find fun foods such as cheeses, nuts, and breads, other prepared foods, and fresh flowers and plants.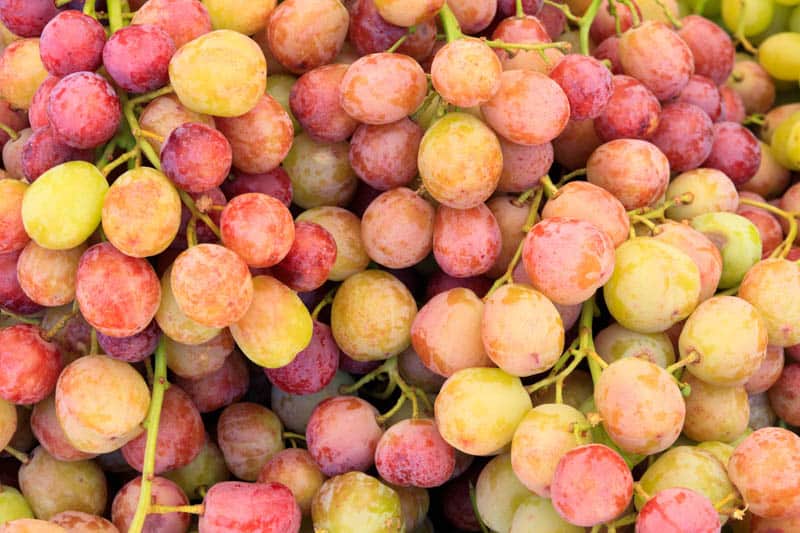 Enjoy an outdoor performance
If you plan to visit Solvang in the summer (between June and September), you can enjoy a play in the Solvang Festival Theater, an outdoor arena that seats 700 people.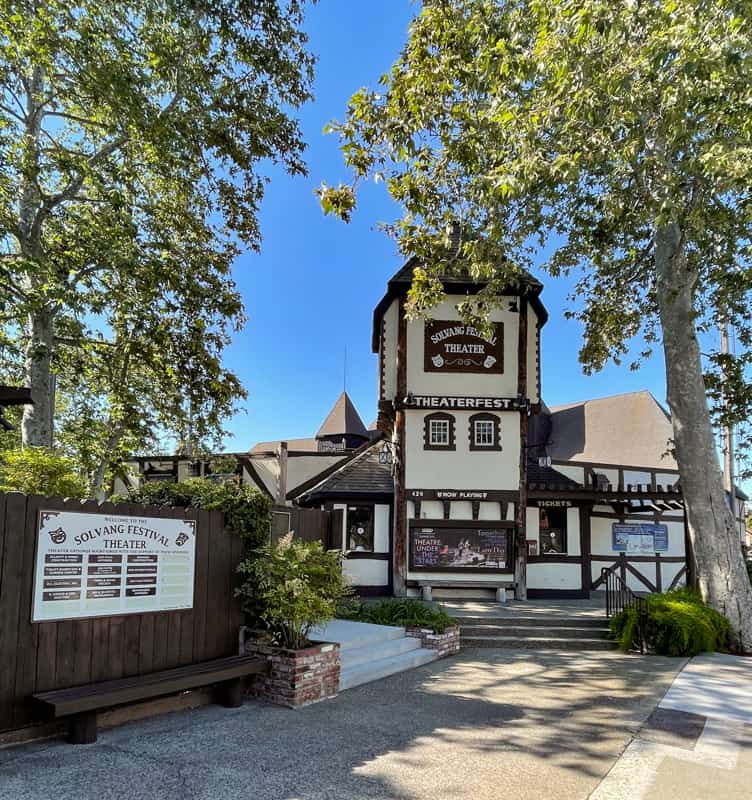 Built by the community in 1974, the theater has hosted numerous performances since then.
Other times of the year, you may be able to attend a concert or other performing arts event at the amphitheater, so check to see if there are performances scheduled for the time of your visit.
Stroll the parks
Want to take a green space break? Hans Christian Andersen Park is located on Chalk Hill Road, walking distance (or a super short drive) from Mission Drive.
With lots of mature trees, walking trails, a playground, and picnic tables, the park has a lot to offer. A bust of Hans Christian Andersen graces the park.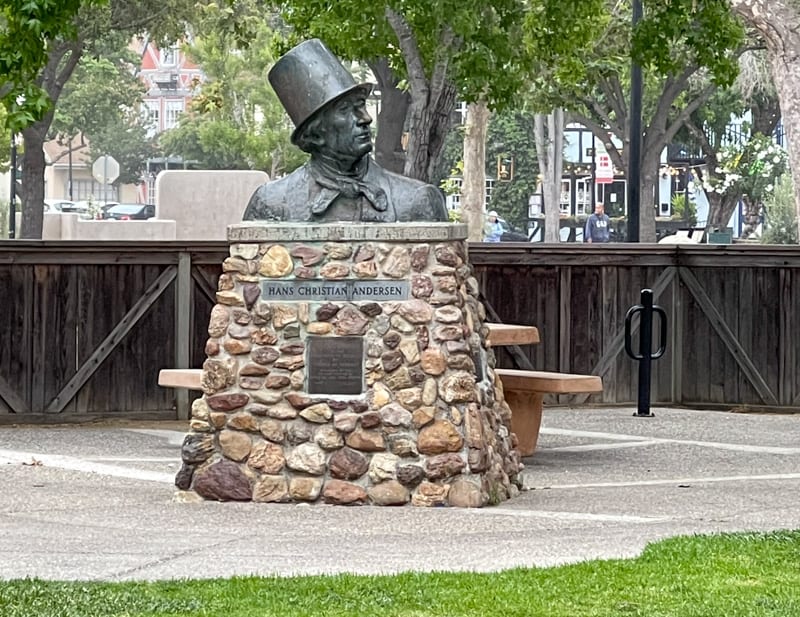 Solvang Park is a small park right in the heart of the village, off Mission Drive, with picnic tables and restrooms. It's a great place to take a breather! And kids will love the play areas at Sunny Fields Park: Solvang is Danish for sunny fields.
Visit during an annual event!
Solvang hosts several fun events during the year, from Danish Days in September to a lively Grape Stomp in October and Julefest in December. Time your Solvang visit around these events for an even more fun visit!
The Grape Stomp harvest festival features a traditional grape stomp, wine tastings from numerous region wineries, local foods, and fun contests and dancing. Danish Days, held in September, celebrates Solvang's Danish heritage, with parades, folk dances and music.
Solvang describes itself as one of the most "Christmassy towns in America," and Julefest features a light show, a tree lighting, and other Christmas events, including a scavenger hunt to look for a Danish gnome in downtown Solvang. It's a festive time to visit!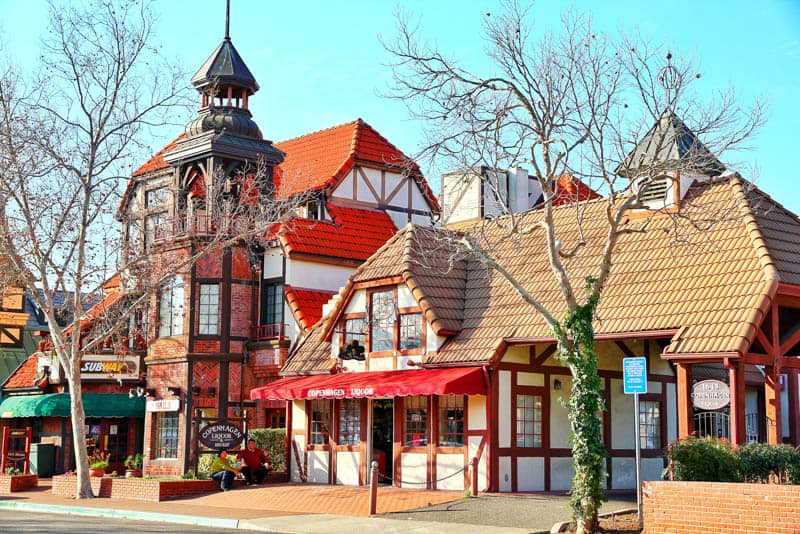 Play a round of golf
If you are visiting Solvang for the weekend or for a few days, and you enjoy golf, plan on a round at the River Course on the Alisal! The course features four lakes and breathtaking views of the Santa Ynez mountains and foothills, and the Santa Ynez valley.
Following the path of the Santa Ynez River, the course offers the chance to be outdoors in a super scenic environment. The River Course on the Alisal is considered challenging but not unduly so, making it a wonderful recreational opportunity on a weekend getaway or a vacation.
Tour Quicksilver Ranch
Quicksilver Ranch is located very close to downtown Solvang. You can do a self-guided tour to see the cute little miniature horses (and their babies!) grazing in the fields.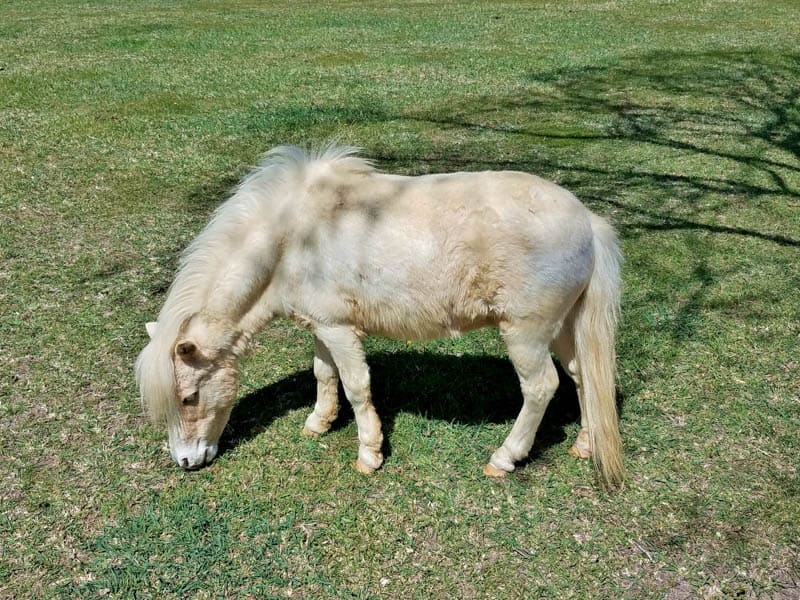 The ranch is generally open to the public between 10 a.m, and 3 p.m. and is free to tour. If you are visiting Solvang with kids, or you love animals, you must definitely stop by!
Things to Do near Solvang
There are lots of great things to do around Solvang, which sits in the Santa Ynez Valley, home to spectacular scenery and some of the most charming towns on the Central California Coast.
So if you plan to visit Solvang for the weekend, or for a few days, check out some of the fun places to visit near Solvang!
Hike to Nojoqui Falls
Nojoqui Falls County Park is located off Highway 101, just a short drive from Solvang.
There are picnic tables and green spaces to enjoy in the park, but visit to do the short hike to Nojoqui Falls.
The out and back trail is just 0.65 mile round trip, with about 175 feet in elevation gain.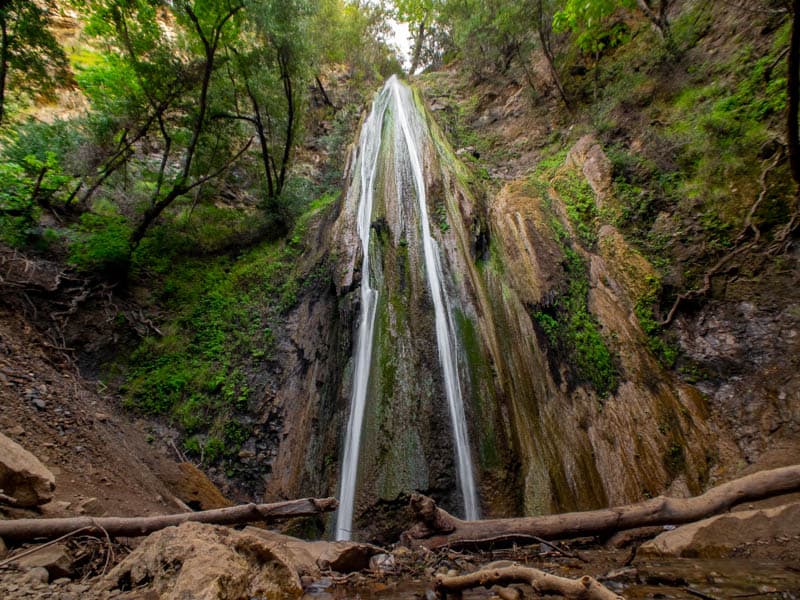 The trail ends at a viewing platform, from where you can admire the 80-foot Nojoqui Falls, which cascades down a wall of mossy stone.
The falls are full and powerful after winter rains, but remain photogenic even when reduced to a thin ribbon in late summer and fall.
The park is free to enter, and this is a fun hike with a nice payoff to add to your itinerary for Solvang.
Visit Buellton
The first time we drove through Buellton, we couldn't believe our eyes when we saw ostriches by the side of the road.
We came to a screeching halt when we saw them, and discovered that we were passing by Ostrichland USA.
You can feed the birds and see them up close here.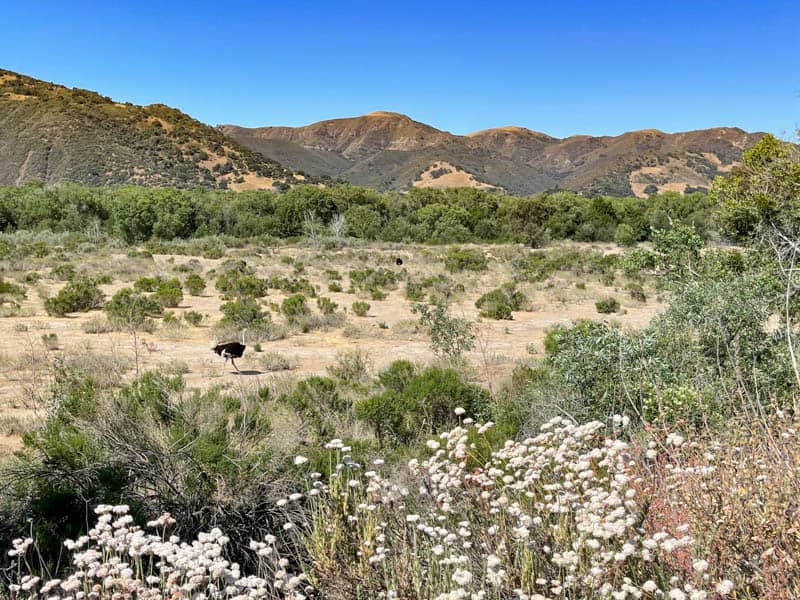 Visit the Mendelhall Museum, dedicated to petroliana: gas pumps, road signs, and other oil and gas items, along with race cars and racing memorabilia. The museum is housed in the Mendelhall residence, and only open by appointment.
Buellton is home to some amazing craft breweries. Figueroa Mountain Brewing Co. and Firestone Barrelworks offer opportunities to taste the beer and sour ale and view the aging process.
Buellton is also home to craft distilleries if you enjoy spirits tastings.
Enjoy Los Olivos
Los Olivos is small and charming and packs a powerful punch when it comes to eating, sipping, and shopping.
With several dozen tasting rooms, many housed in beautiful Victorian era buildings, you will not want for choice when it comes to wine tastings in Los Olivos.
Stop by the Los Olivos General Store to sample and stock up on artisanal foods. Browse the many trendy boutiques and at galleries, enjoy olive oil tastings at local farms, and tour area vineyards.
Bridlewood Estate Winery, with its Mission-style building and beautiful grounds, is a must-visit.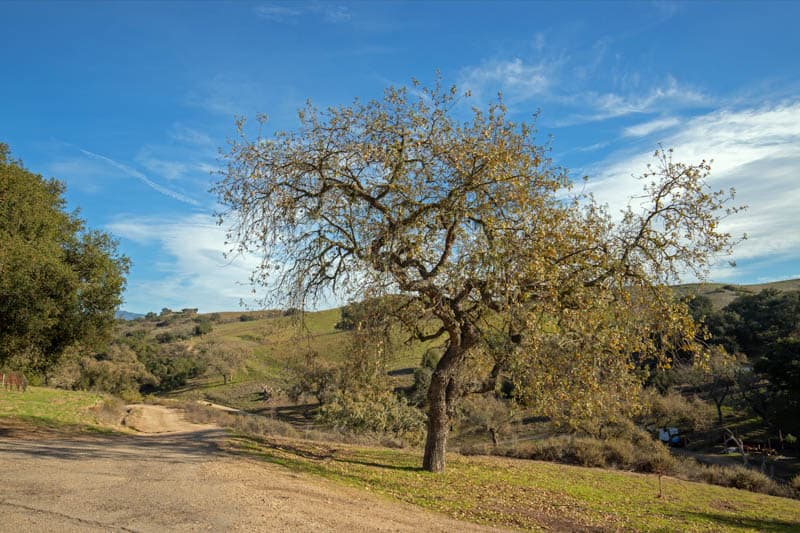 Take in the Old West Vibe in Los Alamos
Los Alamos will make you think of Western movies, with its Old West facades and saloons. Stroll Bell Street, the main drag, and browse the vintage furniture and antique stores.
Drink and dine at the gorgeous saloon at 1880 Union, where you'll be instantly transported back to the days of duels and stagecoaches.
Or enjoy a carb fest at Bob's Well Bread, known for its bread-focused menu, featuring its artisan bread, handmade in small batches.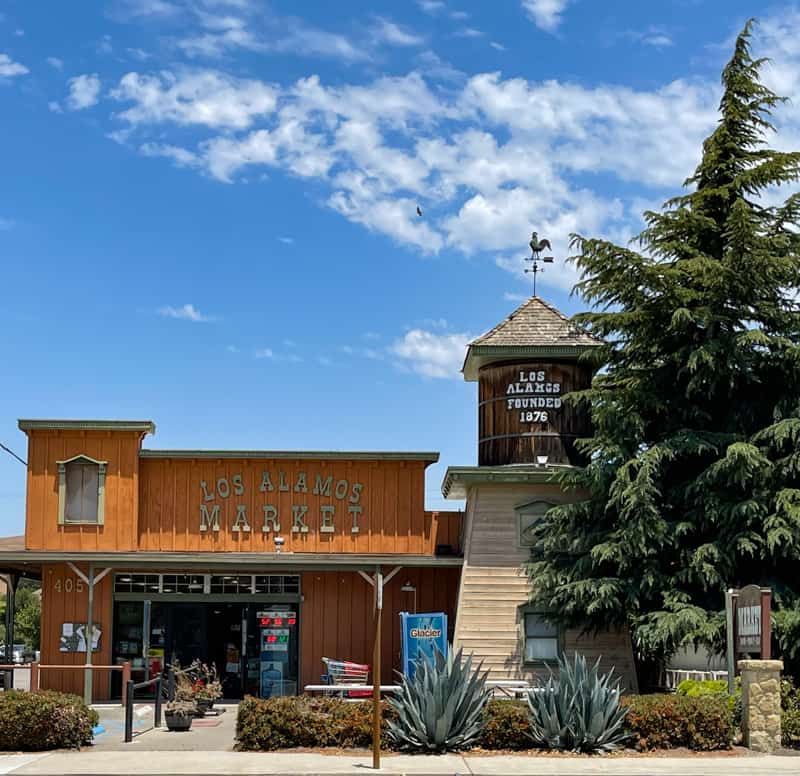 Explore Santa Ynez
You'll find many beautiful wineries and vineyards to tour around Santa Ynez. We loved our visit to Rancho Olivos, where you can tour the orchard and farm and enjoy an olive oil tasting.
Outdoor enthusiasts can go horseback riding, and the adventurous can enjoy a hot air balloon ride.
The town is also home to the Santa Ynez Valley Historical Society Museum and Parks-Janeway Carriage House, a museum that preserves the best of local history.
Here you can learn more about the pioneering days of the towns of the valley, and view the largest collection of horse drawn vehicles in the west.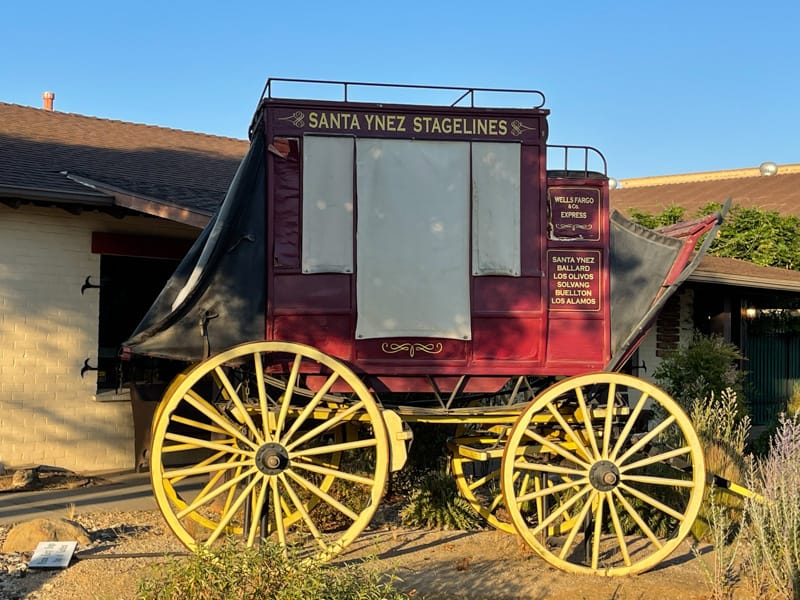 Getting to Solvang
The best way to get to Solvang is to drive. The town offers three free public parking lots right in the village, close to attractions, shopping, and dining.
Solvang is located just over 33 miles from Santa Barbara, and the drive, along California Highway 154, is very scenic. Solvang makes for one of the easiest day trips from Santa Barbara you can enjoy!
Solvang is about 125 miles from Los Angeles, and one of the comfortable day trips from LA you can do.
You can also visit Solvang for a relaxed weekend getaway, or longer vacation, from LA. Solvang and the Santa Ynez Valley are great weekend road trip destinations from San Diego as well, at just under a 4-hour drive.
Solvang is about 300 miles south of San Francisco, a drive of about 4 hours and 30 minutes via the freeway. Thus, Solvang and the Santa Ynez Valley make for fun weekend getaways from San Francisco.
Solvang is also a great stop on a California road trip itinerary!
Looking for a car rental for your Solvang getaway? Check out Discover Cars! They scour multiple providers to get the best price for you.
Where to Stay in Solvang
Vacation Rentals in Solvang, CA
This beautiful guesthouse is located in Ballard, about a 5-minute drive from downtown Solvang. The 3-bedroom, 2-bath property is great for a family getaway or a small group stay. Cook in the fully-equipped gourmet kitchen and relax in the beautiful surroundings. Book a stay here!
This lovely Mission style house is located on 10 acres in Ballard, a short drive from downtown Solvang. The home features panoramas of the surrounding rolling hills and vineyards and is the perfect couples getaway. The master has a king bed and the great room features a fireplace. Book a stay here!
This charming cottage is built in the 1920s Craftsman style. The cottage features a private patio, a full kitchen, and a king bed in the bedroom. Located in Solvang, the cottage is walking distance from shopping and dining in Solvang Village. Book a stay here!
Hotels in Solvang, CA
King Frederik Inn is located right in downtown Solvang. The Danish-inspired rooms are comfortably furnished, and the inn has a heated outdoor pool and hot tub.
Book a stay here!
Solvang Alisal Vacation Cottages are located in the heart of Solvang, walking distance to shopping and dining. Featuring a patio, the air-conditioned accommodations have a full kitchen. Beds are furnished with quality linens.
Book a stay here!
Worldmark Solvang offers studios and suites with a kitchen, balconies, and fireplaces. The property is walking distance from downtown. Rooms are spacious and comfortably furnished.
Book a stay here!
Where to Eat in Solvang, CA
We haven't actually had too many regular meals in Solvang since we always end up eating too many pastries. But here are some of our favorite eateries:
Paula's Pancake House serves up Danish pancakes, which are large and thin, with fruit and whipped cream. Get the pancakes with warm cinnamon apples…yum! Breakfast is served all day, but they also have a regular lunch menu featuring burgers and sandwiches.
Bit O' Denmark Restaurant features authentic Scandinavian cuisine, and eating here when in Solvang will complete your immersion into all things Danish.
Their meatballs, and sweet and sour cabbage, are delicious! They also have a traditional smorgasbord at lunch and dinner.
Mad & Vin at The Landsby features California cuisine using fresh and seasonal local ingredients and is a great place for a romantic dinner on the patio. They also serve weekend brunch.
The Best Time to Visit Solvang
Solvang is a year-round destination, and you really can't go wrong visiting any time of year. Know that since it is a bit inland, daytime highs can get into the low 90s in the peak of summer.
Winter days are mild, with daytime temperatures in the mid-60s, but it can get cold early and late, so bring layers.
From a weather perspective, spring and fall are probably our favorite times of year to visit Solvang. The Santa Ynez Valley is beautiful in the spring: lush and green, with wildflowers blooming all over the countryside.
In the fall, Solvang is lively with events such as Danish Days and the Grape Stomp, and days are pleasantly warm.
Christmas is another fabulous time to visit Solvang. The town is beautifully lit up, and the various events during the holidays make a visit to Solvang at Christmas extra special.
*****
Planning to explore more of Central California? Check out some of our other travel guides!
Did you find this article informative? Pin it for later reference!