Considering a trip to Sonoma, California and wondering about the best things to do in Sonoma County?
Whether you plan to visit just the city of Sonoma for a quick getaway, or the entire Sonoma Valley, or the Sonoma Coast, you are guaranteed to have a great vacation in Sonoma County.
The acclaimed wine country destination makes for a fabulous vacation, with lots of fun things to do, world-class wines, superb farm-to-table food, and a relaxed ambience that's quintessentially Northern California.
Rolling hills draped in grape vines. Farmers' markets brimming over with the freshest produce and fruit. Country lanes lined with charming wineries. Little towns showing off excellent eateries, gardens, art centers, and museums. A wild and windswept coast dotted with beautiful beaches. The Russian River and redwood forests.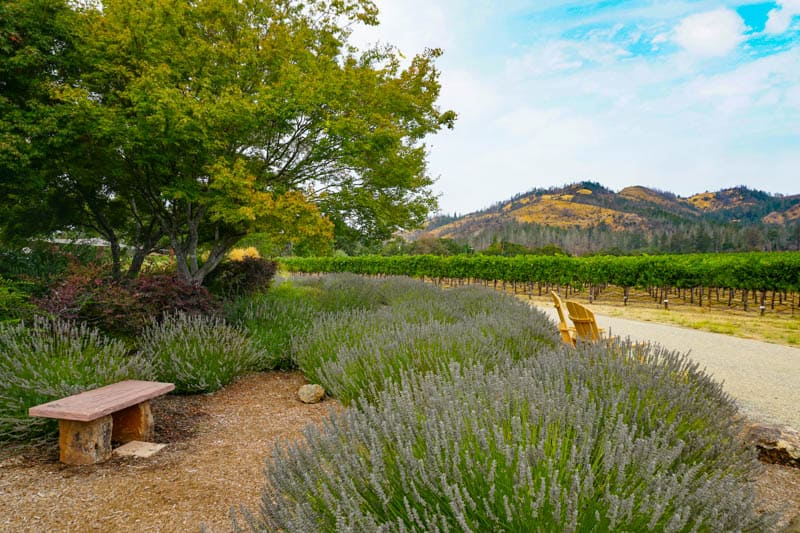 Some links on this page may be affiliate links. If you click an affiliate link and make a purchase, we may receive a small commission, at no extra cost to you. For more details, refer to our disclosure.
Sonoma County has so many visit-worthy facets that you won't be satisfied visiting just once.
While Sonoma, like neighboring Napa Valley, is among the best of California weekend getaways, you can easily spend a week or more here. We've visited many times, and we love going back, to find new places to explore and to re-visit old favorites.
Ready to start planning your Sonoma vacation? Read on to discover the best things to do in Sonoma, plus our suggestions for where to stay and eat.
Things to Do in Sonoma
Wander Sonoma Plaza
Historic Sonoma Plaza is the beating heart of the city of Sonoma.
Wandering the plaza is a wonderful way to begin your visit to the city. Fringed by shops, restaurants, cafes, galleries, and historic sights, the square is a gathering place for locals and visitors alike.
A National Historic Landmark, the plaza was built in 1835 by General Mariano Guadalupe Vallejo. General Vallejo founded the Pueblo de Sonoma, and you can see a bronze statue of him at the plaza.
Sonoma's majestic City Hall graces the middle of the square, and on the east side you will find the Sonoma Valley Visitors Center.
Sculptures dot the green space, with mature trees casting shade, attractive topiary, a rose garden, and water features. If you are visiting with young kids, they will love the children's play area in the plaza. You can also enjoy a picnic in the plaza.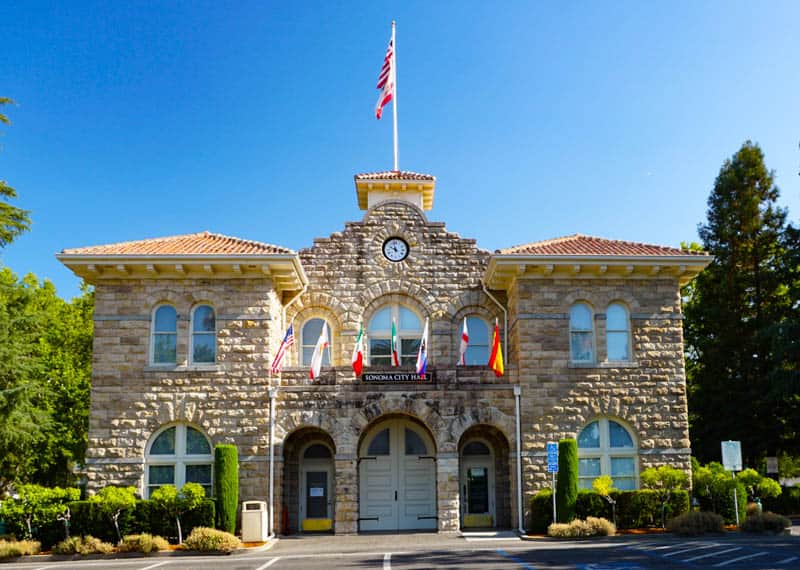 The square is especially picturesque when the rose garden is in bloom, and in the fall, when deciduous trees in the plaza change color and form a bright contrast to the dark green of the evergreen topiary.
Good to know: From May until September, the Tuesday Night Sonoma Farmers' Market occurs at Sonoma Plaza, between 5.00 p.m. and 8 p.m.
Aside from a wealth of local produce, you can sample artisanal foods (or even have a meal!) at one of the food stalls, enjoy beer or wine, and listen to live music.
Good to know: Visiting on the first Thursday of the month? If you enjoy art, visit Sonoma Plaza between 5.30 p.m. and 7.30 p.m. for the Sonoma Art Walk. It's a monthly celebration of local art, music, poetry, and dance.
Shop at Sonoma Plaza
Along the sides of Sonoma Plaza, you will find lots of shops, art galleries, wine tasting rooms, restaurants, and cafes.
You can also catch a movie or a show at the historic Sebastiani Theatre, located on the east side.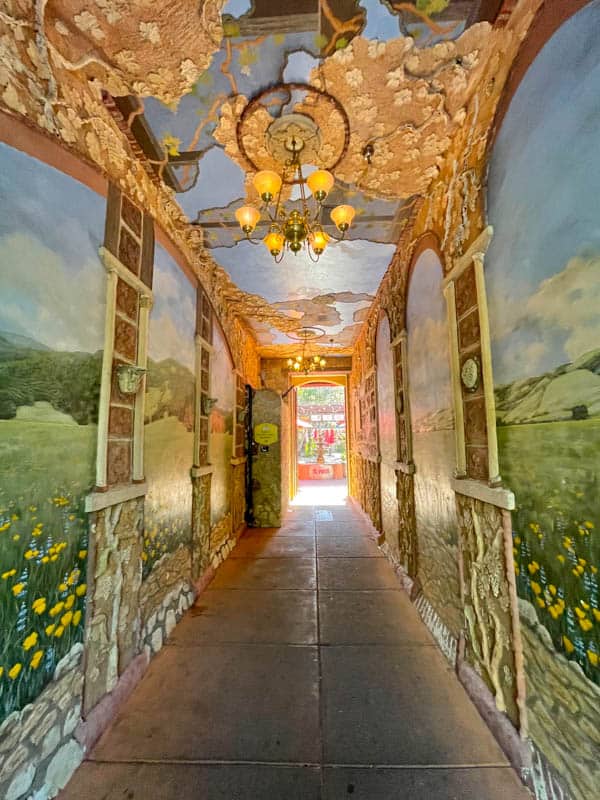 The shops and galleries extend into little alleys off the square, and along streets that fan out from the square, so if you enjoy shopping or browsing, you will want to allow lots of time.
The stores are a mix of national name brands and local boutiques. You will find clothing, books, gifts, foods and wine, and more.
Some of our favorite shops in and around Sonoma Plaza:
Figone's Olive Oil carries not only their specialty olive oils and balsamic vinegars, but also products made from olive wood and Italian ceramics. They offer tastings too! We love their Meyer lemon infused olive oil and their chili olive oil for drizzling on soups and sauteed veggies.
Wildeflower is a lovely boutique that offers boho clothing. Look for chunky sweaters, stylish bags and shoes, and fun contemporary jewelry. The gift (and home) items here are great too.
The Passdoor is an art gallery and design studio focused on modern art. Look for beautiful things for your home, and unique gifts: the jewelry is stunning.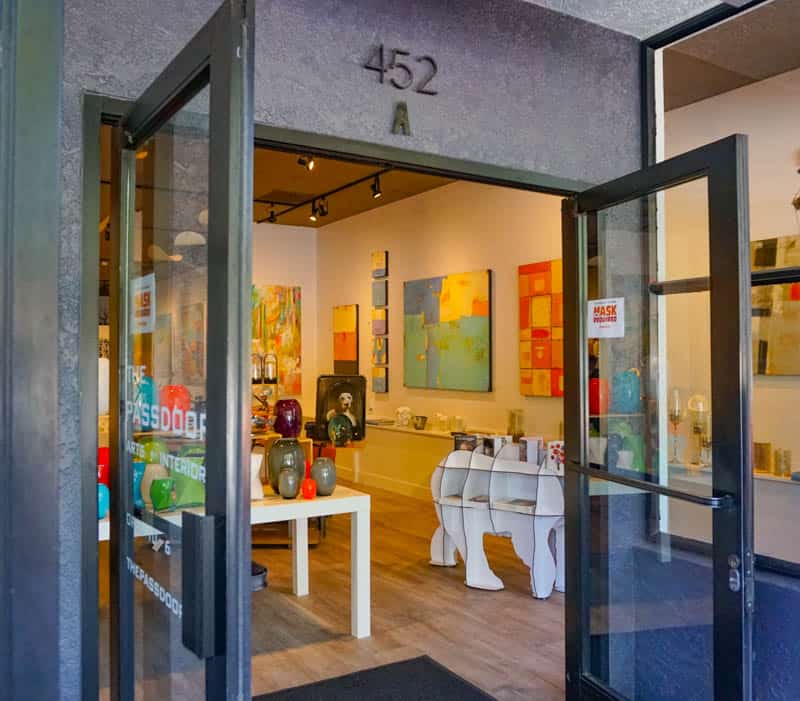 J. James Sonoma is a beautifully decorated shop, with cool art and antique accents. They carry men's and women's clothing, accessories, and jewelry. Look for soaps, moisturizers, and fragrances from Santa Maria Novella, the famous apothecary from Florence, Italy. We were so thrilled to find the full line here!
Lisa Kristine Gallery showcases the original artwork and photographs of the humanitarian artist. Her works span the globe, highlighting both its natural and its human diversity. The studio is right on the plaza.
We look for fine chocolates everywhere we go, and at the Sonoma Plaza, Wine Country Chocolates is a must-visit for us. Try the Sesame Ginger Chocolate Bar or the Candied Orange Peel Bar.
And their truffles are all equally delicious so you will be spoiled for choice!
Do a Sonoma Food Tour!
Join a knowledgable local guide on a food and history walking tour of Sonoma. You'll sample the choicest Sonoma cuisine on this highly-rated 3-hour tour.
Stop for tastings of local wine and artisanal cheeses, then sample luscious local chocolates and California olive oils. The six tastings on the tour make for a lunch-sized portion of food.
As you walk, savor, and sip, your guide will provide insight on Sonoma's history and culinary traditions.
Admire the Sonoma Mission
The last of the missions built in California by the Spanish, Mission San Francisco de Solano was actually built after Mexico gained independence from Spain: Father Jose Altimira established it in 1823, hoping for a better climate than San Francisco.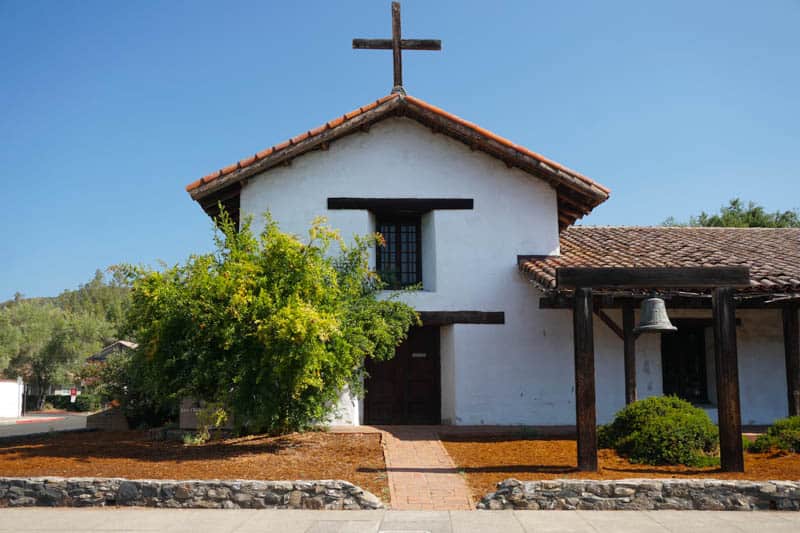 The mission was in existence for only eleven years, because the Mexican government secularized all the missions in 1833.
Today the Sonoma Mission, located on the north side of Sonoma Plaza, is part of Sonoma State Historic Park. The chapel, built in 1841 under General Vallejo, is not active.
Mission San Francisco de Solano has a simple but pleasing white facade. There is a mature pomegranate tree in front, as well as a large cactus.
In front of the building is a bell frame, where you can view the sole bell that survives. The Sonoma Mission Indian Memorial honors Native Americans that died while they lived and worked at the mission.
A nominal per person admission fee, which also covers other fee-based Sonoma State Historic Park sites, allows you to tour the interior of the mission. The exhibit containing paintings of many different California missions is especially fascinating. The chapel is simple.
Behind the mission building is the mission courtyard. The mission fountain was dry when we visited during a drought, and the plants in the courtyard were sadly suffering from a lack of water as well.
But we enjoyed the mature pomegranate trees, which were in both flower and fruit during a July visit.
Mission San Francisco de Solano is typically open for interior tours between 10 a.m. and 5 p.m. everyday, and closed on Thanksgiving, Christmas, and New Year's Day. The admission fee for the park, at the time of writing, is $3.00 per person.
Tour Other Sonoma State Historic Park Sites
Along the north side of Sonoma Plaza, you can tour four other Sonoma State Historic Park sites: the Blue Wing Inn, the Toscano Hotel & Kitchen, the Sonoma Barracks, and the Servants' Quarters.
The park sites are discrete, but collectively offer a great look back into Sonoma's history.
The Blue Wing Inn is a long adobe building that dates from the Gold Rush era. The Toscano Hotel building dates from the mid 19th century, but it became a hotel in 1886. The family-owned operation ran all the way until 1955.
The two-story Servants' Quarters adobe is part of La Casa Grande, General Vallejo's first home in Sonoma. The family moved to a new estate in the early 1850s. The main home was unfortunately destroyed in a fire in 1867.
The Sonoma Barracks houses historical exhibits in several museum rooms. Here you will also find the park bookstore and gift shop. The buildings make for a nice wander, with several interpretive plaques offering information.
Park sites are generally open from 10 a.m. until 5 p.m. everyday, other than major holidays. An admission fee of $3.00 per person covers all Sonoma State Historic Park sites for the day.
Visit General Vallejo's Home
General Mariano Vallejo's estate, located a scant 0.5 mile from Sonoma Plaza, is part of Sonoma State Historic Park.
We loved our visit to the home and its beautiful gardens. If you enjoy history and culture, a self-guided tour of the estate is one of the best things to do in Sonoma.
The main house, whose interior you can tour, is a wood-frame two-story structure built in the Victorian Carpenter Gothic style. The warehouse on the property, used to store wine and produce in General Vallejo's time, today serves as a museum.
At the back of the home, a long vine-covered walkway leads to the pool. The grounds feature many gorgeous plants and trees.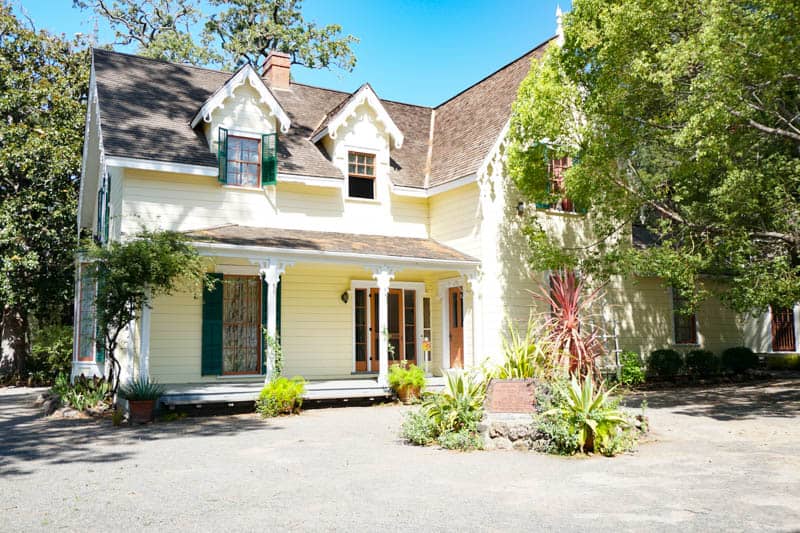 If a docent-led tour is offered when you visit, be sure to join: there is so much to learn about the home and its history!
Although tours were not offered during our visit, the docent at the ticket station gave us an abbreviated history, and answered our questions.
General Vallejo's Home is typically open between 10 a.m. and 5 p.m. everyday, other than major holidays, but call the park office at (707)-938-9559 to make sure the home is open when you plan to visit.
The Sonoma State Historic Park admission fee of $3.00 per person covers General Vallejo's Home.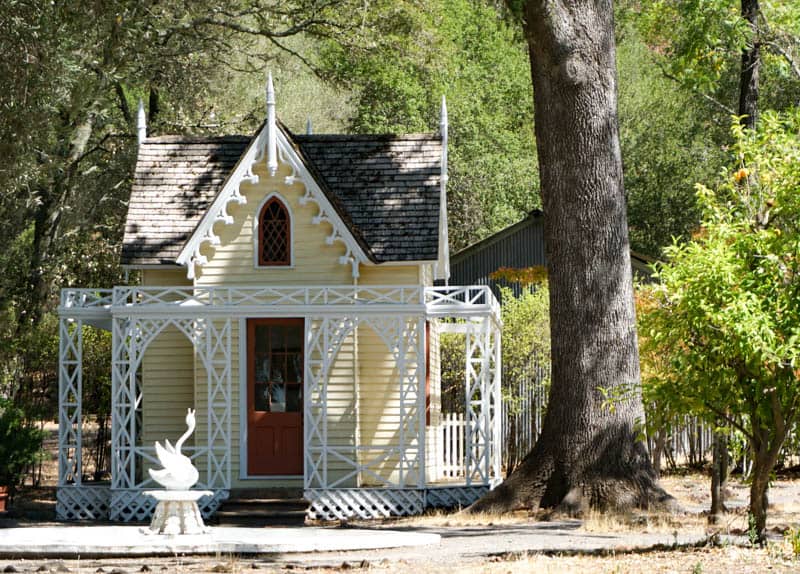 Enjoy Wine at Local Wineries
Sonoma County is the largest wine producing region in the renowned wine country of Northern California.
While you will find beautiful wineries and vineyards all over Sonoma Valley and along the Sonoma Coast, there are some gems that are very close to the town of Sonoma, super easy to visit if you plan to limit your visit to the town.
Plus, you will find tasting rooms along Sonoma Plaza and in other parts of town as well, such as at the Cornerstone Gardens complex. Many area restaurants feature local wines on their menu pairings. So if you enjoy wine, you will be spoiled for choice when you visit Sonoma!
Here are our picks for must-visit wineries around the city: we love these wineries for their ambience as well as their wines!
Scribe Winery's Mission-style hacienda, set in the midst of vineyards and surrounded by palms, is gorgeous. Scribe offers many wine varietals, including chardonnay, syrah, pinot noir, and cabernet sauvignon. Their wine lunches are hugely popular.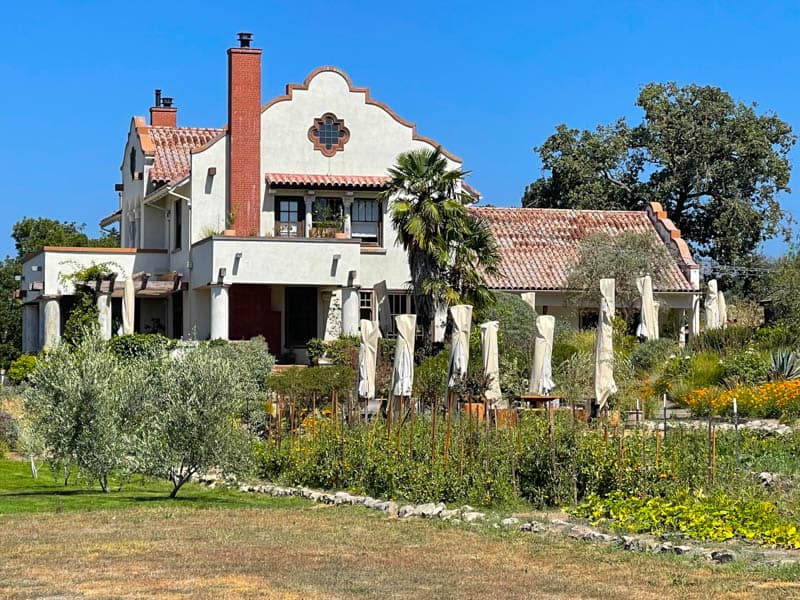 Gloria Ferrer Caves & Vineyards is located in the picturesque hills of Carneros and is known for its sparkling wines. They offer several tasting experiences by appointment. Their weekend brunch pairing on the terrace is delightful.
Buena Vista Winery is worth visiting as much for its history as for the wine. California's oldest commercial winery, Buena Vista was established in 1857 by Count Agoston Haraszthy, originally from Hungary. Allow for time to read the many informational plaques and to walk through the little maze.
Stop by Sonoma Traintown Railroad
TrainTown Sonoma is fun, and not just for kids! We love train rides, no matter how short, and Sonoma TrainTown Railroad gets a spot on the itinerary every time we visit Sonoma. It is conveniently located just about one mile from Sonoma Plaza.
The 10-acre amusement park features a 1:4 scale railroad and four miles of track. The founder, Stanley Frank, reportedly built much of the railroad himself, with painstaking attention to detail, and TrainTown is considered one of the best miniature railroads in the USA.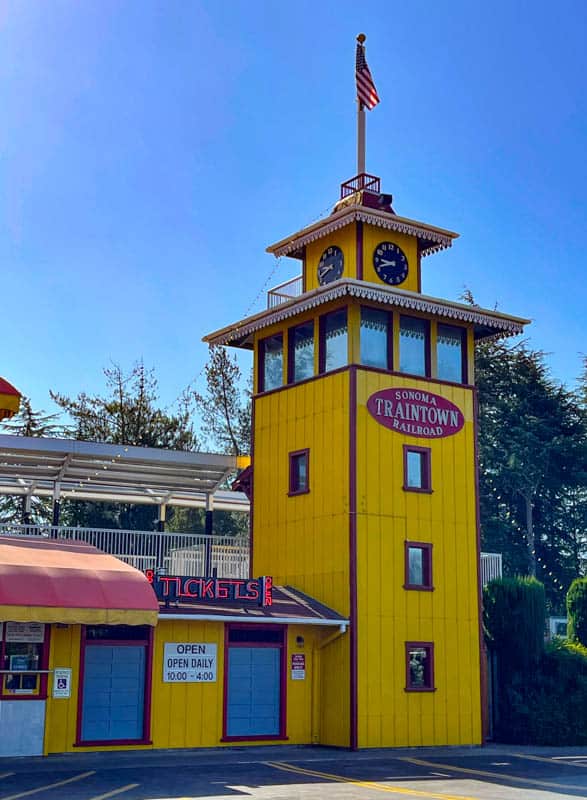 Take the 20-minute train ride winds through tunnels, past waterfalls and homes, and over bridges, and makes a stop at Lakeview, a miniature town where you will also find a petting zoo, home to many rescued animals.
The park also features a lovely carousel, a Ferris wheel, and a few other rides, mainly suitable for kids.
Sonoma TrainTown Railroad is generally open from 10 a.m. until 4 p.m. everyday in the summer and from Friday through Sunday at other times of the year. The park is closed when it's raining.
General admission to the park is free, and you pay for the train ride and other rides individually. At the time of writing, the train ride costs $8.25 per person, per ride.
Visit the Depot Park Museum
Managed by the Sonoma Valley Historical Society, the Depot Park Museum is a fascinating glimpse into Sonoma's past. The museum is located less than 0.5 mile from Sonoma Plaza, and you can even stroll to it if it's a nice weather day.
The site of the museum is the former location of the Northwestern Pacific rail depot. The depot sadly burned down in a fire in 1975, after which it was rebuilt to house a museum.
Permanent exhibits at the Depot Park Museum span the history of the valley from pre-contact Native America to the time of American statehood.
You can view a schoolroom and a kitchen from the 19th century, and learn about the contribution of Chinese immigrants to the region. Outside, there are old train cars to view.
The building is surrounded by a park with mature eucalyptus trees, and the Sonoma Bike Path, popular with both locals and visitors, runs along it. There are picnic tables, if you want to bring a meal to enjoy.
Depot Park Museum is open on Saturdays and Sundays, between 1 p.m. and 4 p.m. It is free to visit, but donations are welcome.
Step Inside the Sonoma Valley Museum of Art
Located just off Sonoma Plaza, the Sonoma Valley Museum of Art offers exhibitions by local, national, and international artists, an extensive art library, and art workshops.
If you enjoy art, check what exhibitions are offered on the dates you plan to be there.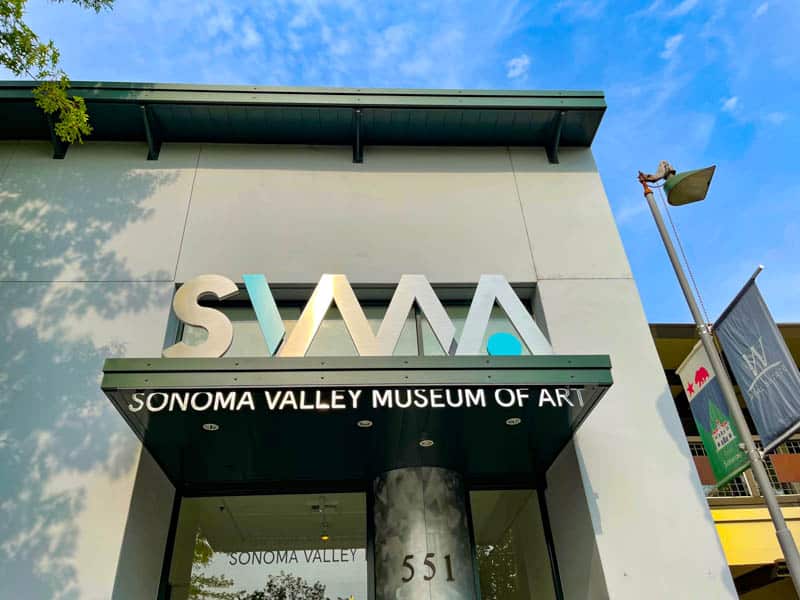 The well-chosen rotating exhibits are mainly focused on modern and contemporary art, and run the gamut from paintings to art books to photography and more. If docent tours are being offered, join for an exponentially more in-depth experience.
Don't forget to stop by the museum store, which offers a variety of gift items and reasonably priced local art. The museum is small and makes for a perfect short break between shopping or wine tasting at the plaza.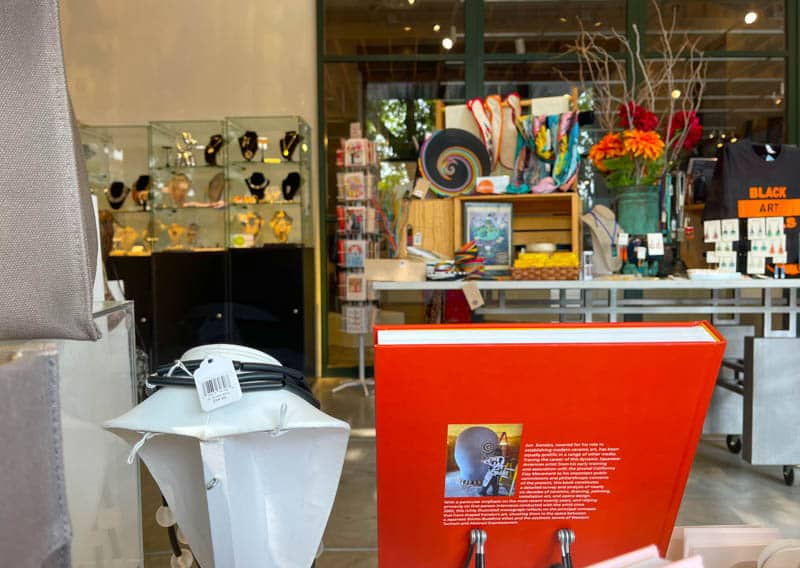 Sonoma Valley Museum of Art is typically open Wednesdays through Sundays, 11 a.m. to 5 p.m. General adult admission, at the time of writing, is $10.00 per person.
Explore Cornerstone
Walking through Cornerstone is one of our must-not-miss things to do in Sonoma. Plus, it is home to one of our most favorite eateries in Sonoma County: Folktable Restaurant.
Cornerstone is a complex that contains a number of beautifully designed gardens, plus a few boutique stores (mainly home and garden), wine tasting rooms, and eateries.
Located just 6.5 miles from Sonoma Plaza, Cornerstone makes for an easy and fun visit, whether you want to spend an hour or half a day.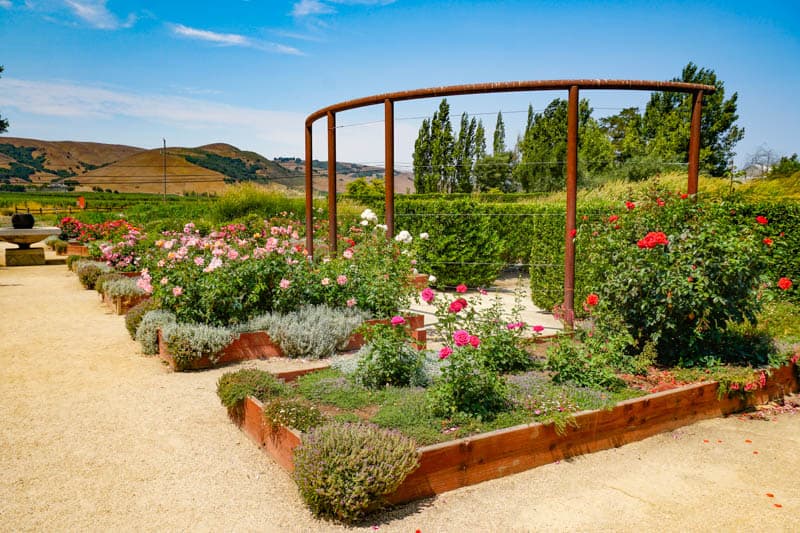 There are numerous garden "rooms" at Cornerstone, created by different landscape designers and architects. Sunset, the well-known Western US lifestyle brand, has five test gardens at Cornerstone, including cut flowers, a fruit orchard, and a vegetable garden.
Many of the gardens at Cornerstone incorporate sculptures and other hardscape elements. We loved the garden arches draped with tomato and squash plants, with fruit and flowers when we visited in August. It was also our first time seeing eggplant blossoms.
The water garden features water lilies, and there are benches on the side, so you can sit and contemplate the beauty before you. Perennial borders show off a variety of plants and flowers. Summer is a great time to see the flower gardens in full bloom.
The gardens at Cornerstone are open daily between 10 a.m. and 4 p.m. and are free to tour. They change from time to time, so there's usually something new to see if you visit more than once over a period of time.
Indulge Your Sweet Tooth at Sonoma Plaza
If you enjoy sweet treats, you will love the offerings around Sonoma Plaza, which range from gourmet donuts to homemade ice cream. Here are some of our favorite Sonoma Plaza destinations for the sweet stuff:
Basque Boulangerie Cafe is located on the eastern side of the plaza. Here you will find a mind-boggling array of croissants, scones, muffins, pies, pastries and more. We love their almond croissants and bear claws!
Sweet Scoops, also on the east side of Sonoma Plaza, offers excellent quality homemade ice cream in several different flavors, which change day to day because the ice cream is made in small batches. The chocolate is decadent!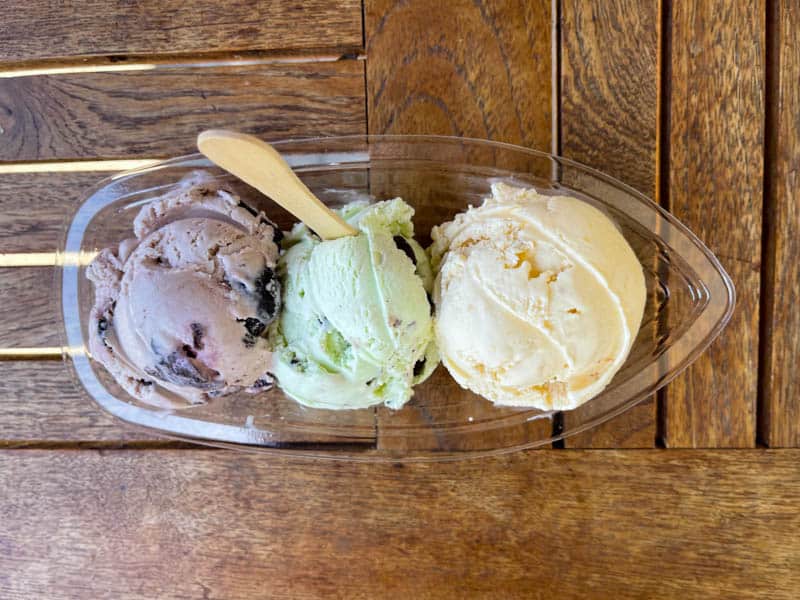 Wine Country Chocolates offers scrumptious chocolate truffles in many flavors, and other chocolate treats, including bars, bark, dipped dried fruit, and button bags.
Harvey's Gourmet Mini Donuts is located in the El Paseo de Sonoma courtyard along the east side of the plaza. When we walked into the courtyard at 9 a.m. to check out the stores, we saw there was a line for the treats!
Made in a vintage donut machine, the donuts are served hot, by the dozen. We got cinnamon and sugar, no glaze or toppings.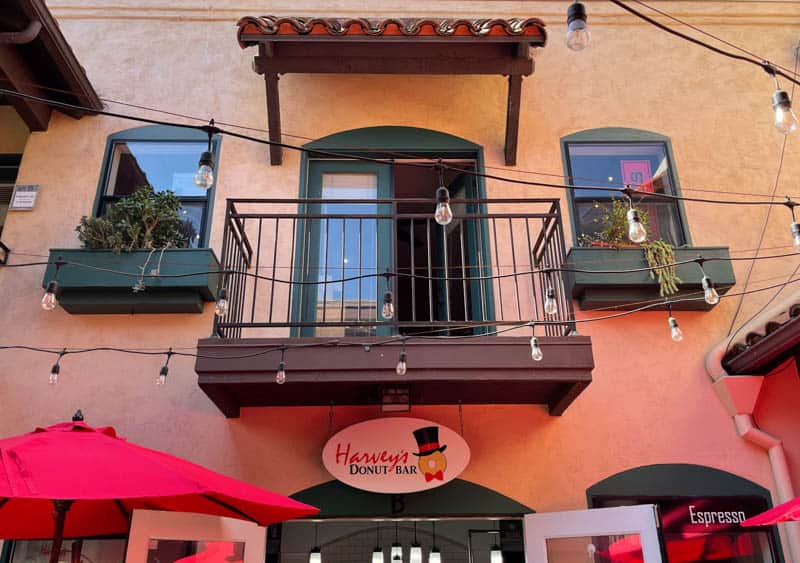 Chocolate lovers rejoice! There is more than one must-visit chocolate shop at Sonoma Plaza!
The Chocolate Cow, in the Mercado Shopping Plaza on the east side of the square, offers decadent fudge, handmade chocolates, ice cream, and gelato. Plus, you can pick up some cute cow-themed gifts!
More Things to Do in Sonoma County
Take a Sonoma Wine Country Tour
Sonoma County is one of the country's premier wine destinations, and an extremely scenic place to go on a wine-tasting tour. If you have a designated driver, you can put together a self-guided tour of wineries you want to visit: this gives you the greatest flexibility.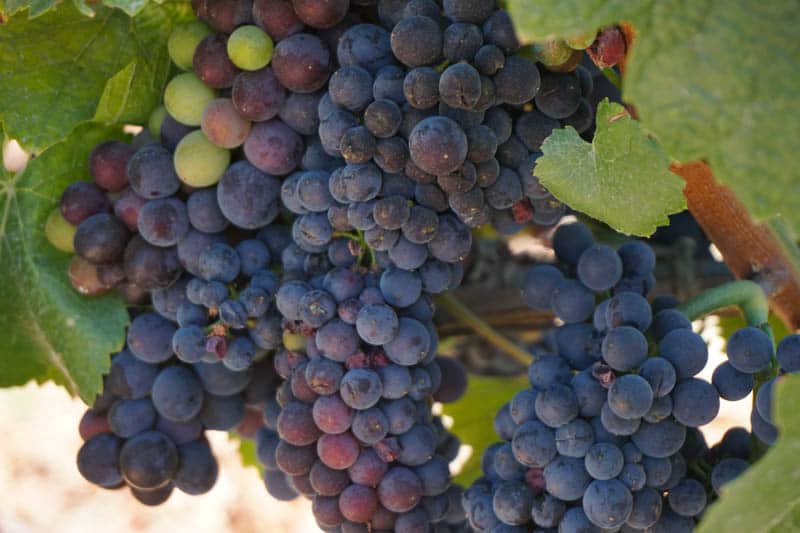 If you'd rather just sit back and enjoy the experience, you can opt for a guided tour:
The Sonoma Valley Wine Trolley Tour takes you on a narrated trip through scenic Sonoma Valley, with stops at three wineries along the way. Lunch is included. The wine trolley is modeled after San Francisco's famous cable cars. The tour departs from downtown Sonoma and takes about 5 hours. Book this tour!
The guided Sonoma Valley Electric Trike Tour is a fun way to enjoy the scenery and visit local landmarks and a couple of wineries. The three-hour tour departs from downtown Sonoma. Book this tour!
The Private Sonoma Tour with Concierge Service is our favorite way to design a wine tasting experience. It is perfect for one or two couples, and allows you to have input into your itinerary. For an extra charge, they will pick you up from San Francisco. Book this tour!
Enjoy Healdsburg
Healdsburg, located along the Russian River in Sonoma wine country, is famous for its many world-class restaurants.
While we would not hesitate to go to Healdsburg just to eat (making reservations weeks in advance!), the town's laid-back charm is a bonus.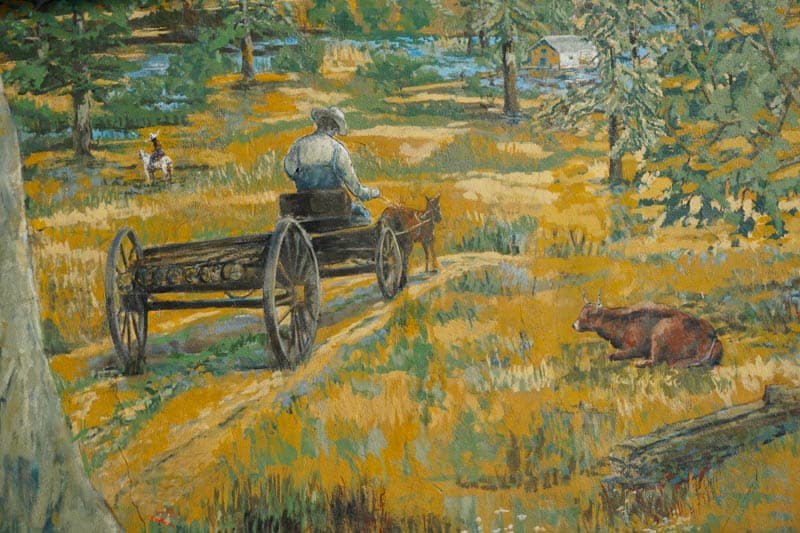 Here are some top things to do in the town of Healdsburg:
Stroll Healdsburg Plaza. The square is lined with boutique shops, award-winning restaurants, art galleries, and tasting rooms. Arrive early to snag a parking spot, and then spend a pleasant few hours browsing and buying.
Explore the outdoors. Go hiking, biking, or horseback riding. Get out on the Russian River in a canoe or kayak.
Pamper yourself with a spa treatment. Try the Meyer Lemon massage at the Spa Hotel Healdsburg!
Visit Wineries in Healdsburg
Healdsburg is located in the heart of wine country, near the meeting point of three wine valleys: Alexander, Dry Creek, and Russian River.
While you can sample local wines at tasting rooms at Healdsburg Plaza, you will want to visit some wineries too. Call ahead, as most tastings are offered only by appointment. Our Healdsburg winery picks?
Ferrari-Carano Vineyards and Winery is a must-visit even if you do not drink wine. The Dry Creek Valley winery features glorious gardens, wonderful water features, and views reminiscent of Tuscany. Just go!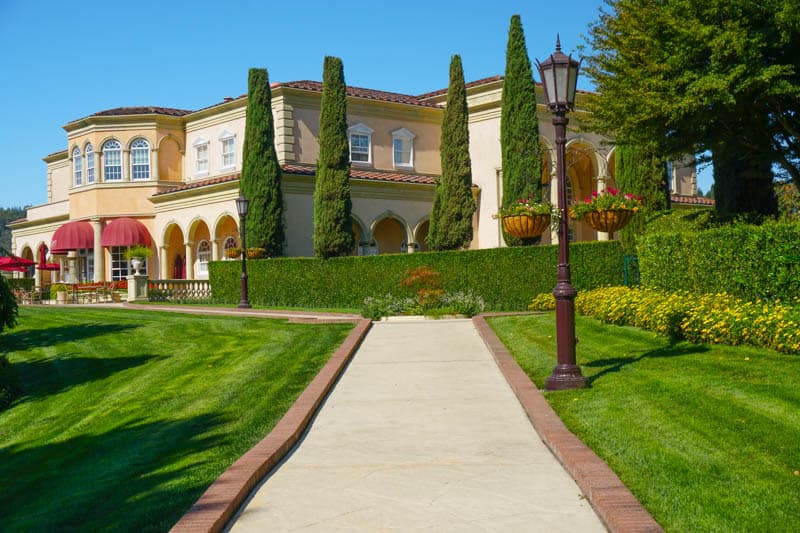 Francis Ford Coppola Winery is another iconic Healdsburg winery, offering not just world-class wines and cuisine but also a peek into movie memorabilia and a stunning pool.
Jordan Vineyard and Winery features an ivy-draped chateau and lovely plantings. The Alexander Valley vineyard is known for its cabernet sauvignon.
Explore Jack London State Historic Park in Glen Ellen
Jack London State Historic Park is worth visiting both for its rich historical assets and for its outdoor offerings. London was a brilliant writer, with books such as Call of the Wild and The Sea Wolf to his credit before he turned 30.
Historic sites in the park include Jack London's Cottage, and the ruins of Wolf House, the author's dream house that was near completion when it was gutted in a devastating fire. The author's ashes are interred in a grave site at the park.
The park is also worth visiting for its natural beauty, especially in the spring, when wildflowers offer bursts of color, and in the fall, when the leaves of deciduous trees and shrubs change color.
There are many hiking trails from which to choose. Bring a picnic meal to enjoy at the park.
Jack London State Historic Park is located in Glen Ellen, a little north of the city of Sonoma. The park is typically open between 9 a.m. and 5 p.m. everyday (other than Christmas Day), but historical sites in the park have varying hours. At the time of writing, the park charges a per vehicle fee of $10.00.
Wander Sonoma Botanical Garden in Glen Ellen
If you enjoy gardens, you will definitely want to set aside a few hours to explore the Sonoma Botanical Garden in Glen Ellen. The garden is focused on Asian and California native plants.
Young plants, nursery grown from wild collected seed, were planted on the hillsides to start the garden.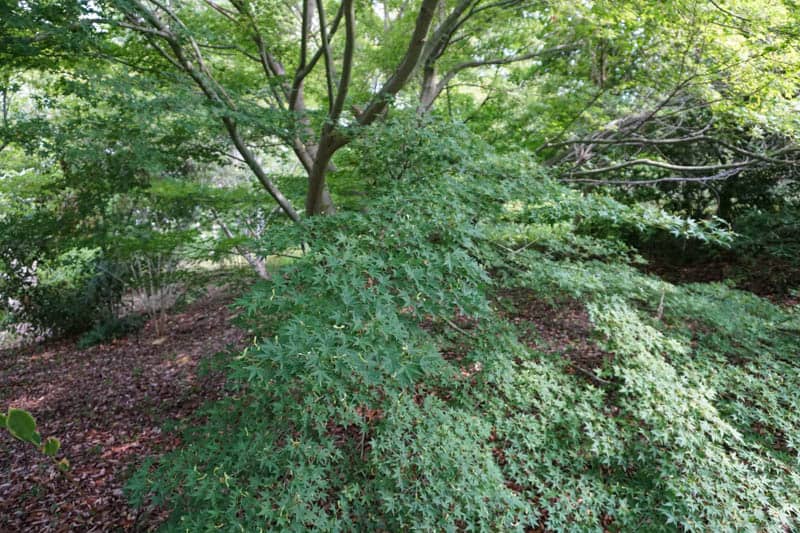 Originally named Quarryhill Botanical Garden,the garden continued to be populated with plants developed from annual collecting tours to East Asia.
Near the information center is the Chinese Heritage Rose Garden, worth a stroll if you visit during bloom.
The botanical garden features numerous mature species of Asian trees and flowering shrubs, and there are two large ponds with water lilies.
An accessible path goes around the heart of the garden, and more paths let you explore the outer parts. Spring and fall are particularly great times to visit.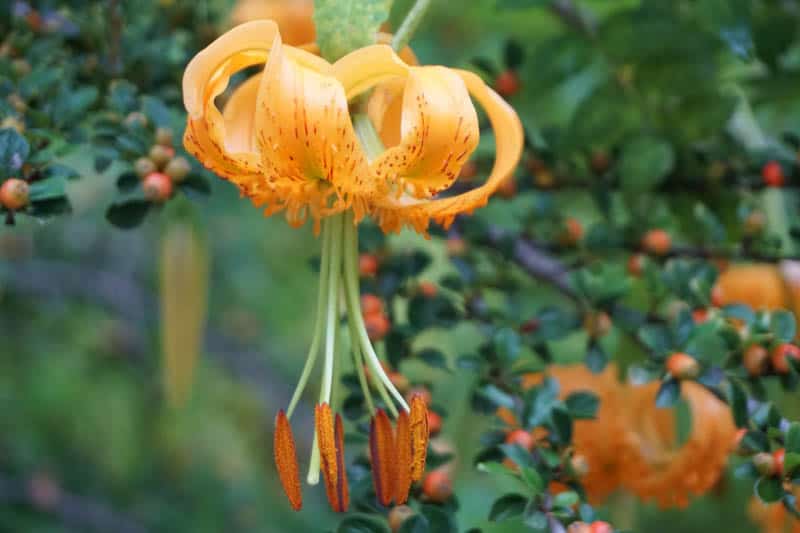 The Sonoma Botanical Garden is open Wednesdays through Mondays, 9 a.m. to 4 p.m. It is closed on Thanksgiving, Christmas, and New Year's. General adult admission, at the time of writing, is $12.00 per person per visit.
Tour a Trio of Famous Wineries in Kenwood
There are great wineries to tour up and down the Sonoma Valley, but just north of Kenwood, along CA Highway 12, you will find three of Sonoma's finest wineries:
Chateau St. Jean Winery features a romantic 1920s chateau and beautiful gardens. Play bocce ball, enjoy a picnic, and, of course, pick from one of several tasting experiences!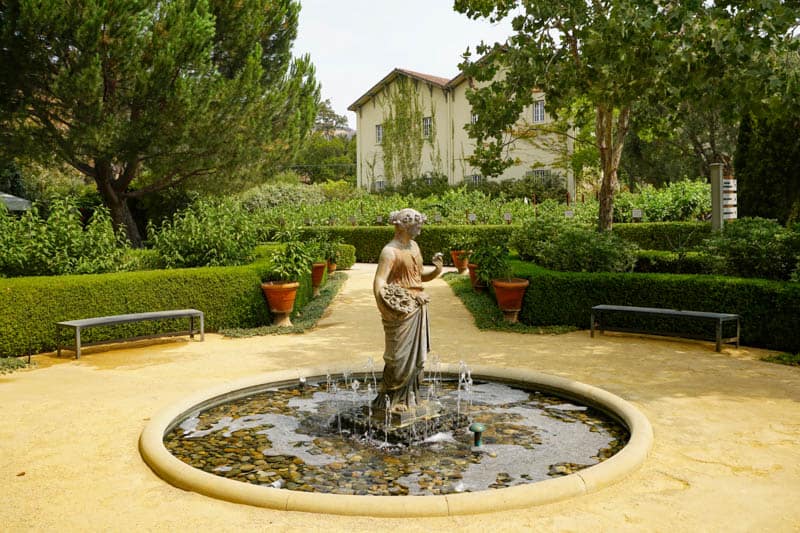 St. Francis Winery & Vineyards has a statue of the saint, and a 1,000-pound Italian-made bell in the bell tower that peals the hour sonorously. The views of the vineyards and the hills at the back are outstanding.
Ledson Winery has a gorgeous castle, with impressive formal gardens and a large fountain in front. The rose gardens look spectacular in bloom.
Visit Safari West in Santa Rosa
Located a few miles north of the city of Santa Rosa, Safari West is a 400-acre wildlife preserve. While you can go on safari here, you can also spend the night in a luxury tent with an ensuite bathroom and a private viewing deck.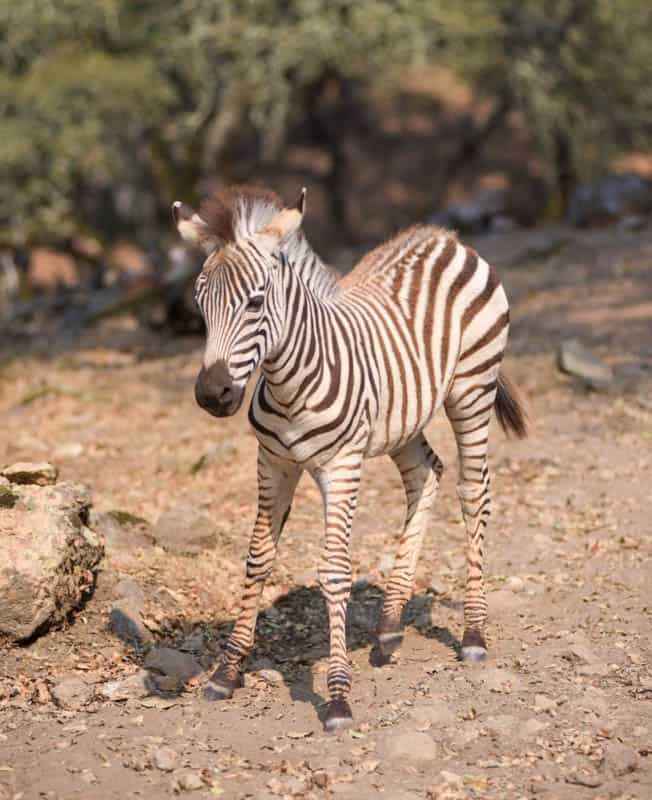 The preserve holds almost 900 animals belonging to over 90 distinct species, from giraffes to wildebeest and rhinos to lemurs.
Other experiences include private encounters and behind-the-scene walks that let you get up close to some of the animals in the preserve.
Admire the Luther Burbank Home and Gardens in Santa Rosa
If you enjoy gardens and historical homes, touring the Luther Burbank home and gardens in Santa Rosa should definitely be on your itinerary for Sonoma County!
The gardens are small but delightful, and the Carriage House Gift Shop makes for a fun browse.
The renowned horticulturist lived in Santa Rosa for several decades. He is known for creating hundreds of varieties of plants, from fruits to flowers and vegetables.
His home here contains its original furnishings, and the guided tour offers a wealth of information. The gardens contain fruit trees and vegetables, flowers, and medicinal plants.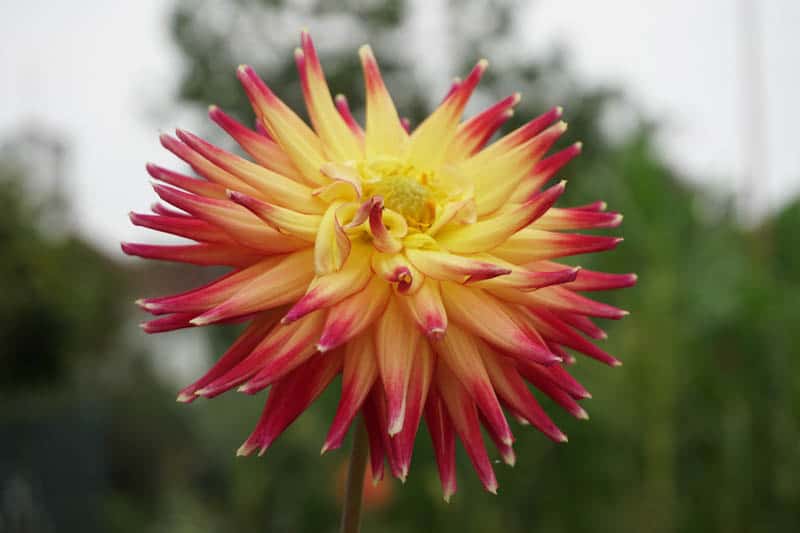 While you can wander the gardens for free, tours of the interior of the home require a fee.
The gardens are open daily, with varying hours. The museum and gift shop are open Tuesdays through Sundays from 1.00 p.m. until 4 p.m., and home tours are offered during this time as well.
Pop into the Charles Schulz Museum in Santa Rosa
If you are a Peanuts fan, the Charles M. Schulz Museum in Santa Rosa is a must-visit! Schulz himself was deeply involved in the design of the museum building until his death in 2000, and it reflects his vision for a space appropriate for his art.
The museum has a Schulz art collection with close to 1,000 drawings and sketches by the artist: both Peanuts art and other works are represented, including a few landscapes.
There are both permanent and rotating exhibits at the museum. Some of the must-experience permanent exhibits include the Snoopy Labyrinth outdoors, and a re-creation of Schulz's studio, where you can see the drawing board he used through much of his career.
The Charles M. Schulz Museum is open daily between Memorial Day and Labor Day, and from Wednesdays through Mondays between Labor Day and Memorial Day.
Weekday hours are from 11 a.m. until 5 p.m., and weekend hours from 10 a.m. until 5 p.m. At the time of writing, general adult admission is $12.00.
Stroll Downtown Petaluma
Petaluma's gorgeous old Victoria-era homes, impressive commercial buildings, and churches survived the earthquake of 1906, making it a pleasure to wander its downtown streets.
Much of the historic district is included in the National Register of Historic Places.
If you enjoy antiquing, you'll find lots of great stores in downtown Petaluma, along with art galleries, souvenir shops, boutiques, and artisanal food shops. There's vibrant street art to admire, and you can enjoy views of the Petaluma River as well.
Downtown Petaluma is lively at night, with live music and lots of wine, craft beers, and spirits. And you will be spoiled for choice on where to eat in Petaluma: there are more quality eateries here than you can count.
Tour Rancho Petaluma Adobe
In the 1830s and 1840s, Rancho Petaluma was the ranching headquarters of General Vallejo.
The adobe building is large, and many of the adobe bricks here are the original ones. From the upper level, you get great views over the surrounding countryside.
Today a National Historic Landmark, the adobe is managed as the Petaluma Adobe State Historic Park. The walk from the parking area to the adobe building is lovely, with the pathway lined by mature cactus, blackberry bushes, and other trees and shrubs.
Tour the rooms of the adobe, some of which are furnished, for a glimpse into life during the rancho era in California. Look for birds and wildlife in the grounds: we saw a huge flock of wild turkeys when we visited.
Petaluma Adobe State Historic Park is open daily between 10.00 a.m. and 5 p.m., other than on Thanksgiving, Christmas, and New Year's. At the time of writing, general adult admission is $3.00.
The adobe is included in a ticket purchase for Sonoma State Historic Park, if you visit on the same day.
Walk Among Redwoods at Armstrong Redwoods State Natural Reserve in Guerneville
Located just north of Guerneville, Armstrong Redwoods State Natural Reserve is one of the best places near San Francisco to view towering coastal redwoods.
Together with the Austin Creek State Recreation Area, the reserve is a sought-after destination for visitors to Sonoma County.
Hiking loops of various lengths and difficulty levels in Armstrong Redwoods State Natural Reserve let you get up close to coast redwood trees.
You can walk as little as one mile, or all the way up to nine miles. The longer loops come with significant elevation changes.
There is a fee to park within the reserve, but you can park in the lot at the entrance (or along Armstrong Woods Road) and walk inside for free. Typical operating hours are from 8 a.m. until one hour after official sunset.
Good to know: At the time of writing, Armstrong Redwoods State Natural Reserve and Austin Creek Recreation Area are closed to the public. The parks are being restored following significant fire damage.
Float (or Boat) the Russian River
The Russian River runs fast and furious in the winter, but from late spring until fall, the flow is gentle, making it perfect for boating and floats. Boating season in the Russian River Valley generally runs from April until October.
Kayaks, canoes, and inner tubes are popular. There are several boat and float rental companies in the region, or you can bring your own boat or equipment and launch at one of the free boat launches.
Healdsburg, Guerneville, Monte Rio, Forestville, and Jenner are all great options for launching your Russian River boat ride.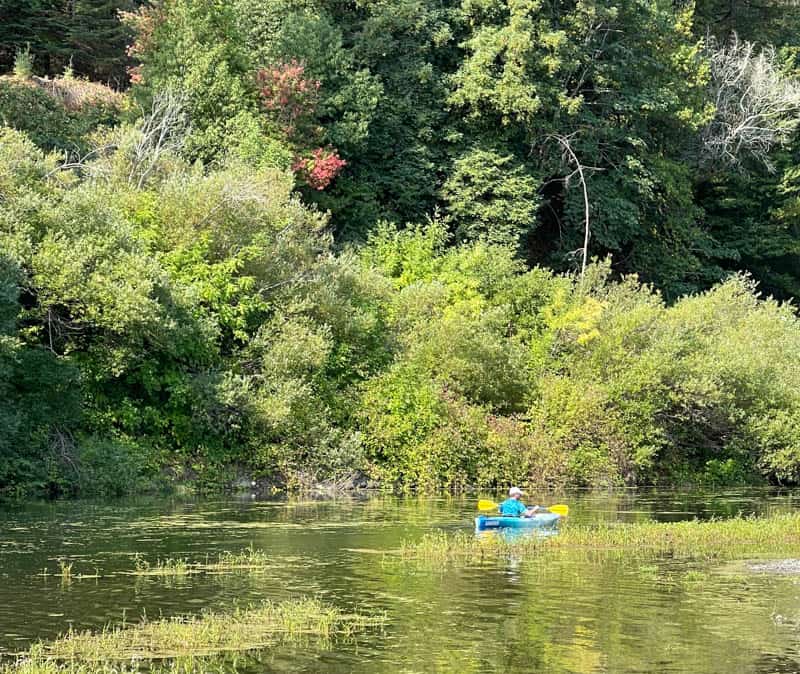 Boating is a great way to look for birds and wildlife along the Russian River. You may see egrets, herons, ducks, geese, and other water birds, raptors such as red-tailed hawks, and land birds such as kingfishers and swallows.
In the water, look for river otters and turtles. Closer to the mouth of the river, you may spot harbor seals.
Enjoy the Famous Scones at Wild Flour Bread in Freestone
Located along the scenic Bohemian Highway in tiny Freestone, Wild Flour Bread is a destination unto itself.
Famous for breads baked in a wood-fired brick oven and their delectable scones, the bakery also has a lovely flower, produce, and herb garden you can stroll.
Freestone, Sonoma County's first historic district, is also home to the Osmosis Day Spa Sanctuary. The Japanese-inspired spa features peaceful meditation gardens and a range of pampering spa treatments.
Their Japanese-style cedar enzyme bath is the only offering of its kind in the US.
Admire the Amiot/Laurent Junk Art in Sebastopol
Many of the homes along Florence Avenue in Sebastopol showcase the junk art of Patrick Amiot and Brigitte Laurent. Find a spot to safely park your vehicle along the side of the road, then walk up and down both sides to admire the many sculptures!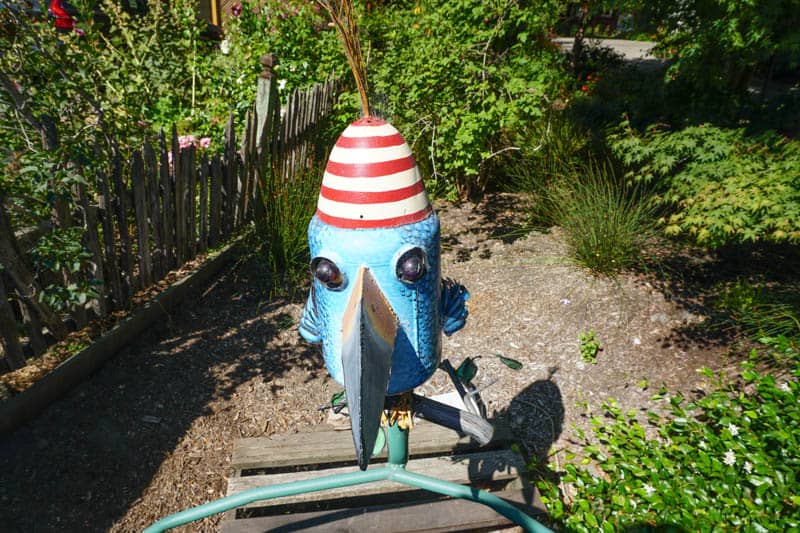 Amiot reportedly made a quirky sculpture from junk in 2001 and gave it a spot on his front lawn. Many of his neighbors wanted their own, and thus was born the fun and innovative art display. Amiot makes the sculptures and Laurent paints them.
Also in Sebastopol, allow for time to explore The Barlow, a complex of restaurants, shops, wine tasting rooms, distilleries, and craft breweries. It's a great place to have lunch!
Take in the Views at Sonoma Coast State Park
The Sonoma coast is gorgeous, with craggy cliffs, sandy beaches, and beautiful rock formations in the water. Its wild beauty is reminiscent of Big Sur in Monterey County.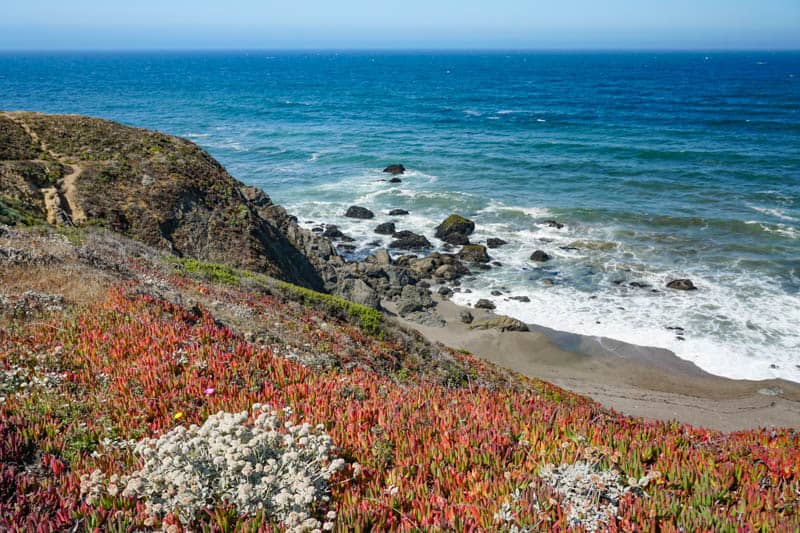 Sonoma Coast State Park encompasses a stretch of 17 miles of this beautiful coastline, from Bodega Head in the south to Vista Trail, a few miles north of Jenner, in the north. It makes for a gorgeous drive on a nice weather day.
Stop at viewpoints and overlooks to take photos and look for birds and marine life, stroll a sandy beach or two, go beachcombing or explore tide pools, and take in a west coast sunset in the evening.
Snap Photos of Locations from Hitchcock's "The Birds" in Bodega
Just a few miles inland from Bodega Bay is the tiny hamlet of Bodega, home of the schoolhouse that served as the filming location for The Birds, Alfred Hitchcock's 1963 thriller.
Originally called the Potter Schoolhouse, the house was built in 1973. Today it is a private residence, so if you visit to snap photos, be respectful. Nearby is the picturesque St. Teresa of Avila Church, which also featured in the movie.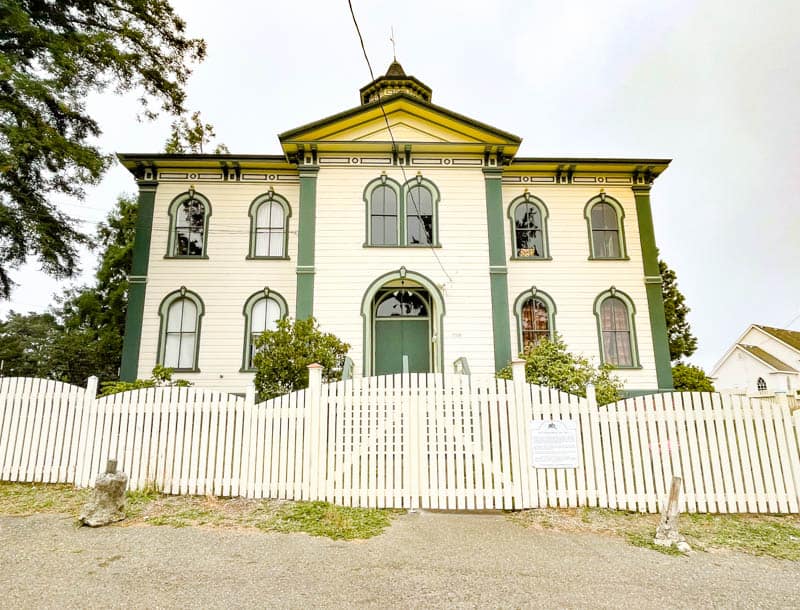 In Bodega Bay, the Tides Wharf Restaurant also served as a location for The Birds: the restaurant scenes and the boat dock scenes were filmed here.
It's a great place to dine, and birdwatching is popular at both Bodega and Bodega Bay, although you likely won't witness any avian attacks.
Go Birding at Doran Regional Park in Bodega Bay
If you enjoy birding, do the flat and easy Bird Walk Coastal Access Trail in Doran Regional Park.
The walk is about 1.2 miles along a saltwater marsh. It goes around two large freshwater ponds, and along the walk you may see waterfowl as well as land birds.
Even if you do not see many birds, the walk is scenic and relaxing. The trail also connects to Doran Regional Park, which offers recreational opportunities such as sand play, strolling on the sand, picnicking, sunbathing, and kite flying.
Doran Regional Park is open from 7 a.m. until sunset daily. Dogs are allowed on leash. At the time of writing, vehicle parking is $7.00.
Explore Goat Rock Beach in Jenner
Goat Rock Beach is one of the most beautiful beaches along the Sonoma Coast. Located near the mouth of the Russian River, the sandy beach is easy to access, and a popular destination on nice weather days for both locals and visitors.
Take a leisurely stroll on the long beach, to savor the beauty of the rock formations. Majestic Goat Rock lies just off shore. You may see birds at the water line, looking for food, or a whale spouting in the ocean. The surf here is beautiful as well.
In the summer, you will see lots of adult harbor seals and their pups at Goat Rock Beach. Be sure to observe them from a distance of 50 yards or more.
Bring a windcheater, because it can be cool and breezy by the Pacific Ocean any time of the year.
Hike in a State or Regional Park
We've mentioned some parks in this article, but if you enjoy the outdoors there are many other parks in Sonoma County that offer great hiking and other outdoor recreation. Enjoy a variety of wildflowers in the spring and leaf color on deciduous trees in the fall.
Trione-Annadel State Park in Santa Rosa is a wonderful place to hike, bike, or go trail riding. Lake Ilsanjo offers fishing. This park is known for spring wildflowers.
Kruse Rhododendron State Natural Reserve is a must-visit in April and May, when the pink flowers are in full bloom. The reserve is located in Gualala.
Salt Point State Park, in Jenner, features a spectacular rocky coastline and miles of hiking trails. You can walk through a pygmy forest, go fishing or scuba diving, and enjoy picnic facilities.
The ridge-top trails at Helen Putnam Regional Park in Petaluma offer panoramic views of the rolling hills. You can go hiking, biking, or horse riding in the park.
Getting to Sonoma, CA
The Charles M. Schulz – Sonoma County Airport in Santa Rosa is served by several national carriers, with flights from many major US cities, including LA, San Diego, Phoenix, Dallas, Portland, Seattle, and Vegas.
If you are looking to arrive by air, the county airport may be a convenient option, but you can also fly into San Francisco or Oakland, and drive up to Sonoma. Sonoma is about 45 miles from San Francisco via US 101, and about 48 miles from Oakland via I-580 W.
Many visitors to Sonoma arrive by road as well. From LA, for example, the drive to Sonoma is about six hours.
In conjunction with Napa Valley, Sonoma County makes for a wonderful wine country road trip: it is one of our most favorite California road trips, especially in November, when fall colors are at their peak and it's not as crowded.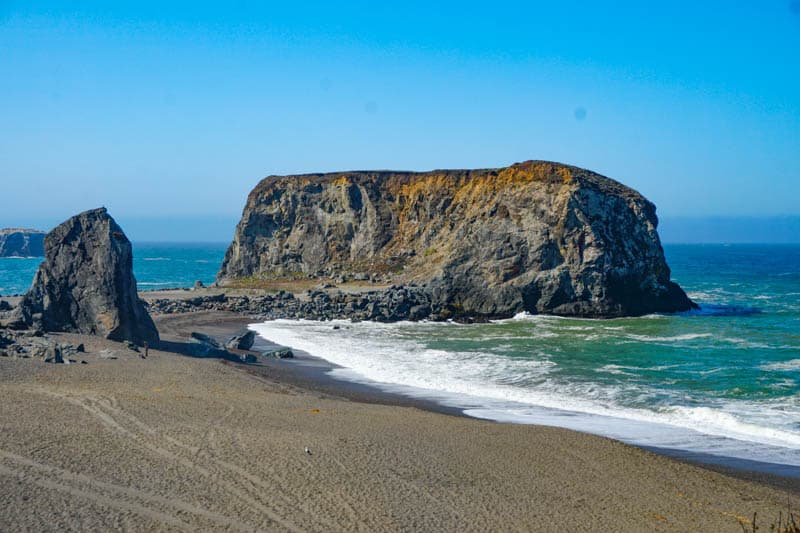 Sonoma is one of the many fun weekend getaways from San Francisco (or the SF Bay Area) you can do. If you start early, you could even do a day trip from San Francisco (or Silicon Valley) to Sonoma, especially if you have a well-planned, focused itinerary.
Looking for a car rental for your Sonoma getaway? Check out Discover Cars! They scour multiple providers, from brand to budget, to get the best price for you.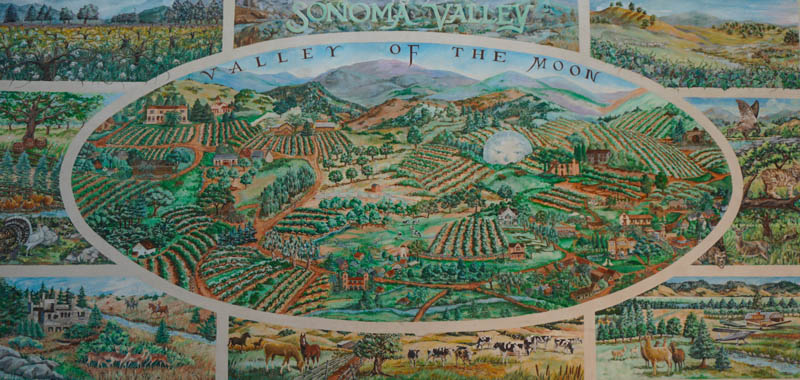 Where to Stay in Sonoma, California
Hotels in Sonoma, CA
Ledson Hotel is located on Sonoma Plaza, and offers just six rooms, each individually decorated and named after a Ledson family member. Rooms are the perfect blend of grand antique furnishings and modern conveniences. Each room has a king bed and a whirlpool tub. Parking and wifi are free. This is the ultimate Sonoma stay!
Book a stay here!
Fairmont Sonoma Mission Inn & Spa is located a short drive from Sonoma Plaza. The property features a pool and onsite restaurant. Rooms are spacious and beds rated very comfortable. Some rooms feature cathedral ceilings and balconies. Free parking and wifi are offered.
Book a stay here!
Vacation Rentals in Sonoma County
This oceanfront cabin is located a few miles north of Bodega Bay along the beautiful Sonoma Coast. With two bedrooms and 2 full baths, it's perfect for a family or two couples. The living space features floor-to-ceiling windows with fabulous water views. There's also a deck with a hot tub overlooking the ocean. Book a stay here!
This restored vintage cottage set amongst redwoods in Monte Rio overlooks the Russian River. The one bedroom, one bath cottage is the ideal couples getaway, and features a modern bath and a fully-stocked kitchen. The deck with a hit tub looks over the river, and two kayaks are offered for use during your stay. Book a stay here!
This wine country cottage has two bedrooms and one full bath. The tastefully decorated cottage is a short bike ride from Sonoma Plaza. Outdoor spaces are incredibly inviting, with furniture for relaxing, a fire pit, and a garden. Inside, the bathroom has a full soaking tub and separate shower. Book a stay here!
Where to Eat in Sonoma
The Girl and the Fig is a French restaurant located along historic Sonoma Plaza. The seasonal menu features fresh flavorful ingredients from local farms and other local producers. At our most recent visit, we had the heirloom tomato and watermelon salad, which was superb. Their grilled cheese sandwich is also excellent!
Folktable Restaurant at Cornerstone should definitely be on your Sonoma itinerary. We have lunch here at least once on each visit to Sonoma, and we've never been anything less than delighted with our meal. Their offerings feature the best produce the region has to offer. Every bite is supremely flavorful.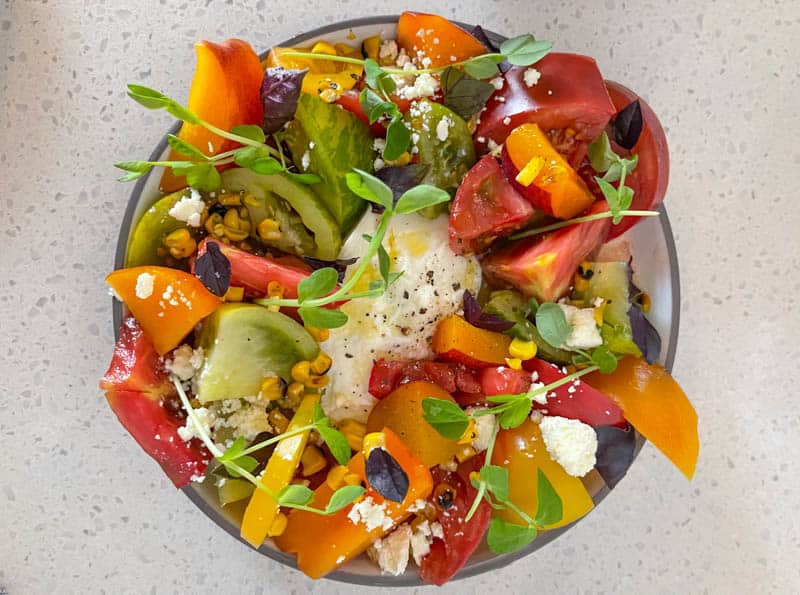 Sunflower Caffé is also located on Sonoma Plaza. Here too, the menu is built around local and seasonal ingredients. If you visit in the summer, try the watermelon frosé, an ice cold blend of Sonoma rosé, watermelon, and lime juice: heaven on a warm afternoon. Their bowls and salads are excellent.
The Best Time to Visit Sonoma, California
Sonoma is a year-round destination, and you will find lots of things to do in Sonoma no matter which season you choose for your visit.
Spring brings pleasant temperatures, green hills, and wildflowers. It is a delightful time to explore outdoors in Sonoma: a great time to hike in the state and regional parks, go biking, or tour area gardens. In May, lavender fields in the county are a big draw.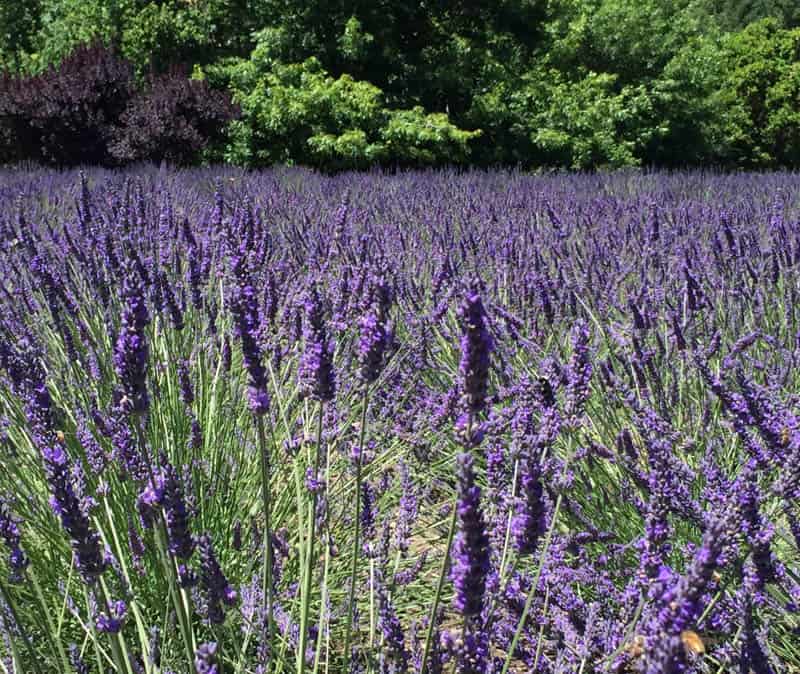 Sonoma County is a hugely popular summer destination. Even though daytime temperatures can get high, mornings and evenings are pleasant for sightseeing. The Russian River Recreation Area bustles with visitors in the summer, and the coast sees an influx of visitors as well, despite the coastal fog.
Fall is harvest season, and late fall brings brilliant color to vineyards and trees in the regionL: Sonoma Valley is one of California's top places to go for fall colors. It is a wonderful time to visit, if there are no wildfires in the area.
Winter in Sonoma comes with better prices on accommodation and fewer visitors at popular sights. You will find it easier to get restaurant reservations, and wine tastings tend to be more leisurely and relaxed. In late winter, wild mustard puts on a show, carpeting vineyards with bright yellow flowers.
Did you find this article informative? Pin it for later reference!