Planning a long weekend in Palm Springs itinerary? Expect to have a fabulous time!
With world-class resorts and spas, a lively downtown, mid-century modern architecture, and a number of museums and gardens to discover, Palm Springs is one of the best weekend getaways in California.
Once a getaway to the stars of Hollywood, Palm Springs is still a vibrant desert city well worth visiting.
Plus, it's close to eight other Greater Palm Springs desert city communities, each with its own unique attractions.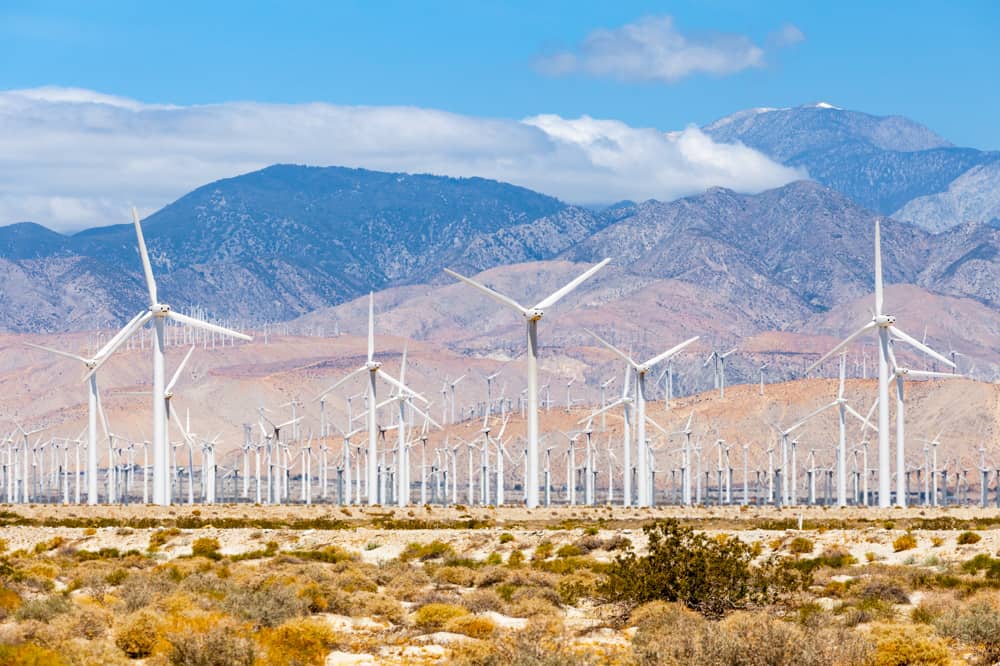 And if it's the great deserts of Southern California that beckon, Palm Springs is within day trip distance of Joshua Tree National Park and Anza-Borrego Desert State Park.
With so much to see and do, the perfect Palm Springs weekend getaway does require some planning, unless you just want pool time in the Southern California desert, which is fine too!
Here's how to make the most of 3 days in Palm Springs!
The Perfect Weekend in Palm Springs Itinerary
We've structured this 3-day Palm Springs weekend itinerary to include a variety of things to see and do, from exploring downtown Palm Springs with its landmarks and museums to hikes, unique tours, and day trips.
It's a pretty full itinerary, so if you are looking for a more chill Palm Springs weekend, pick the things you want to do from the many options we cover here.
Our Palm Springs weekend itinerary covers major attractions and things to do, like:
The Palm Springs Aerial Tramway
Hiking in the canyons and oases around Palm Springs
Exploring art and architecture in town
Visiting a beautiful desert garden
Touring a wind farm, a unique Palm Springs activity
Day trip ideas
Enjoying pool and spa time
Great eats and drinks
And more!
Day 1 of Your Palm Springs Weekend Itinerary
Start your day early with a trail in or around Palm Springs!
One of the best things to do in Palm Springs is hiking, and trails a-plenty await visitors that enjoy exploring the outdoors. Because of the hot summers here, though, you'll want to time your hikes for cooler months.
Hiking trails here range from easy and casual strolls to very challenging. We've described a few diverse trails below from which to choose.
If you enjoy hiking, you may want to get in a couple of easy hikes earlier in the day, when it's most comfortable from a weather perspective.
Bring enough water to stay hydrated, use sun protection, wear closed-toed hiking shoes, and watch for snakes! Pack breakfast to enjoy on the trail so you can head out early.
Stroll the oasis at Andreas Canyon
The Andreas Canyon Trail in the Indian Canyons is one of our favorite Palm Springs hikes.
At just one easy mile, the Andreas Canyon Loop Trail is suitable for most visitors, including young children.
The trail runs alongside Andreas Creek, and the canyon features a large oasis of California fan palms. The scenery is delightful!
Interspersed with the palms you'll see other vegetation, such as cottonwood and willow. Look for bighorn sheep, lizards, and other wildlife, and birds.
At about the half-mile mark, you'll cross the creek and return to the starting point, with the return walk providing views of the valley.
The Andreas Canyon is part of the Indian Canyons, home to the Agua Caliente Band of Cahuilla Indians. There's a fee to hike the canyons.
Try the Murray Canyon Trail at Indian Canyons
If you are up for another hike before you leave the Indian Canyons, hike part or all of the more challenging Murray Canyon Trail. You can also explore this canyon on horseback.
The complete out-and-back trail is a little over 4 miles, and is rated moderate.
On this hike, you'll hike through oases in Murray Canyon to the charming Seven Sisters waterfall.
A creek runs through the canyon, and the trail crosses the creek many times!
You'll see lots of vegetation other than beautiful mature California fan palms, and wildflowers in season.
You'll hear lots of birdsong, and see birds flitting about in the vegetation. Bring your binoculars if you enjoy birding!
Also look for peninsular desert bighorn sheep on the higher ground along the canyon rim.
Climb up the Palm Springs Museum Trail for views!
Starting behind the parking lot of the Palm Springs Art Museum (hence the name!), this trail offers a rigorous workout.
It's a rocky steep climb up the side of the San Jacinto mountains, but offers spectacular panoramic views of the city and the valley.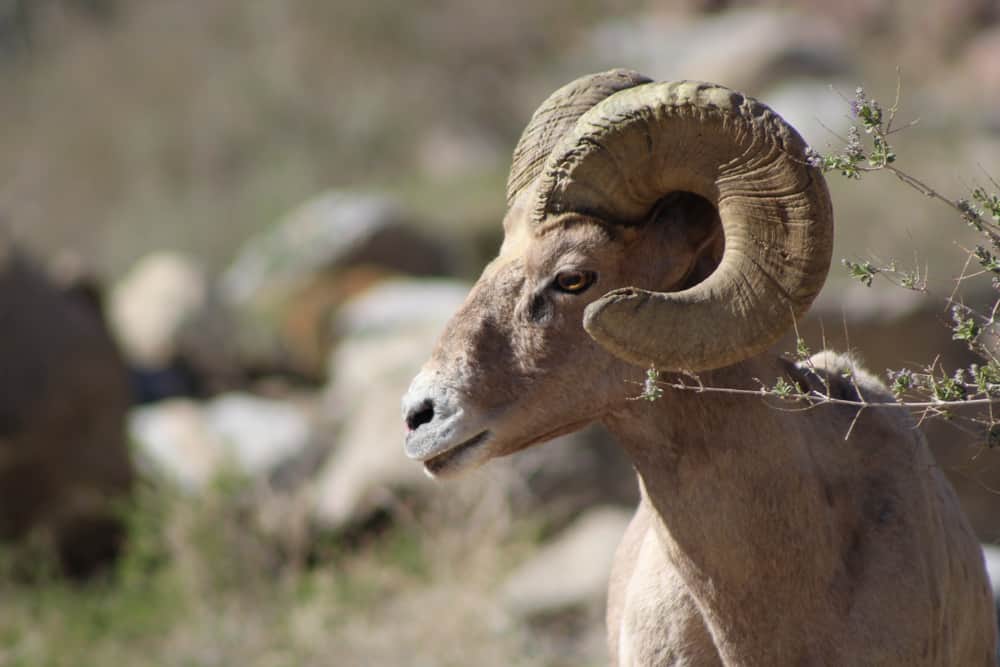 The out and back trail is about 1.7 miles round trip, with an elevation gain of 800+ feet. Look for white painted dots that mark the trail.
Look for bighorn sheep!
Hike to McCallum Pond at the Thousand Palms Oasis
Part of the Coachella Valley Preserve, the Thousand Palms Oasis offers several hiking trails, but the short and easy McCallum hike is one of our favorites.
Walk the boardwalk trail through the mature palms at the oasis next to the Visitor Center to start the hike.
You'll then hike the sandy trail through low-growth vegetation offering views of the mountains in the distance, until you come to McCallum Pond.
Enter the McCallum Grove and walk around the pond to admire the gorgeous palms before heading back the way you came.
You can also do the optional addition to the vista point (you'll see signs) for expansive views over the oases and the San Andreas Fault.
McCallum is a popular birding trail, so bring your binoculars!
Do the Tahquitz Canyon hike!
Also a part of the Agua Caliente band of Cahuilla Indians Reservation, Tahquitz Canyon features a scenic seasonal waterfall, as well as lots of different plants, wildflowers in season, and rock formations.
The Tahquitz Canyon Trail is about 1.8 miles, out and back, and classed as easy to low moderate. There are many steep rock steps to negotiate along the way.
When the waterfall is flowing well, it's a lovely 60-foot spectacle and a great payoff! The water is generally cool and refreshing.
Look for bighorn sheep, lizards, and birds along the route, and dragonflies by the water.
There's a fee to visit Tahquitz Canyon. Check the website or ask the staff at the visitor center about waterfall status if you do not want to do the hike when it's dry.
Planning a couples' escape to Palm Springs? Check out our list of the most romantic hotels in Palm Springs!
Tour the Sunnylands Center & Gardens in Rancho Mirage
Depending on how long you spend hiking, you may have time to tour the beautiful Sunnylands Center & Gardens in nearby Rancho Mirage before lunch.
Walking the gorgeous desert gardens here is one of the most relaxing things to do on your Palm Springs getaway!
The former winter estate of Walter and Leonore Annenberg, Sunnylands also includes the historic home, which you can only tour with an advance reservation.
But the desert gardens are free to wander and make for an excellent stroll. You may see (and hear) lots of birds here as you walk!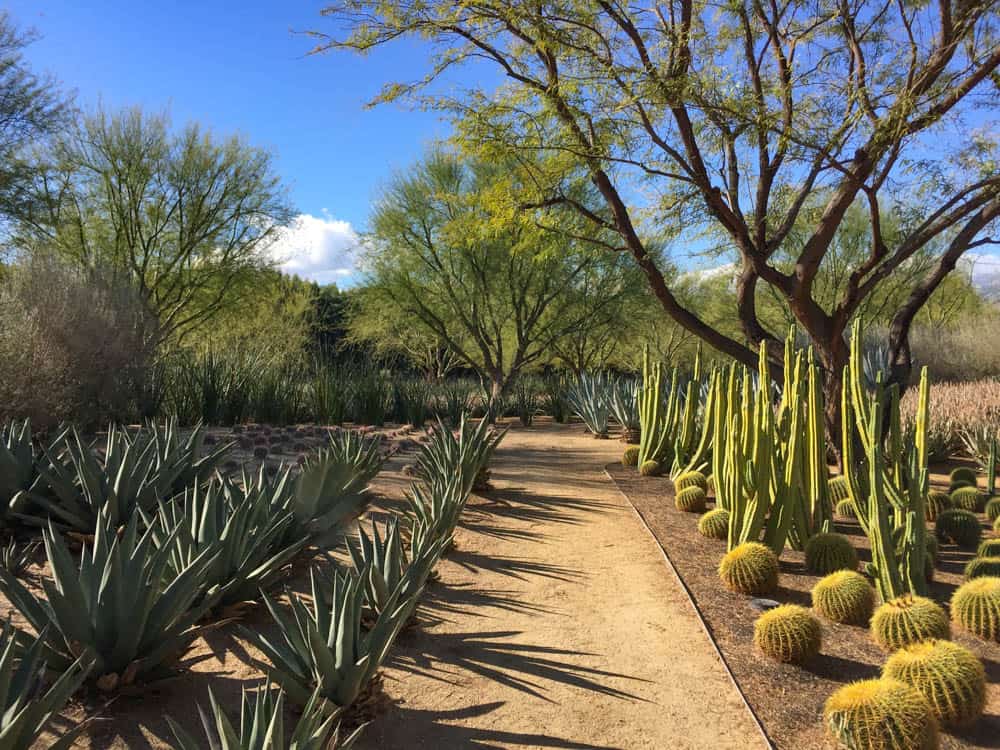 In the Sunnylands desert gardens, many varieties of desert plants are amassed in carefully designed clusters to resemble an Impressionist painting. The Annenbergs loved Impressionist paintings, and had an impressive collection that they eventually donated to the Met in New York.
The Center is a sleek mid-century modern building, and holds some of the sculptures from the Annenbergs' collection.
Out the back is a stunning view to the mountains, more trees and plants, and a beautiful water feature on the patio outside.
Sunnylands is open Thursday through Sunday from 8.30 a.m. until 4 p.m.
Have Lunch (or Weekend Brunch): Pick Your Spot
Palm Springs has so many excellent lunch and brunch spots that you will be spoiled for choice.
Eight4Nine on North Palm Canyon Drive offers brunch on the weekends, with lots of egg options, salads, and burgers. Their shakshuka and chilaquiles are both excellent. They also offer champagne or mimosas. Eat in the colorful dining room, lounge, or on the patio. They take reservations!
Tac/Quila is located on North Palm Canyon Drive. They offer a variety of Mexican dishes, ranging from light to hearty, and an extensive cocktail menu. You can't go wrong with any of their taco choices! They take reservations.
Cheeky's offers a super popular all-day breakfast. They are famous for their made-from-scratch cinnamon rolls and their bacon flight. They have a variety of sandwiches at lunch: we like the black bean burger!
French-Miso Cafe is run by a French-Japanese couple and offers meticulously prepared dishes from both cuisines. They are open for lunch Wednesday through Friday and brunch on weekends.
Melvyn's at the Ingleside Inn is a Palm Springs institution. They offer a weekend brunch, with bottomless bubbles. The menu isn't extensive but you'll find sandwiches, salads, and egg dishes. Try the chicken pot pie!
Ride the Rotating Palm Springs Aerial Tramway!
The Palm Springs Aerial Tramway deserves a top spot on your weekend in Palm Springs itinerary.
The rotating tram car takes you on a picturesque ride along the cliff faces of Chino Canyon. Keep your camera or smartphone ready to snap photos!
You'll travel from Valley Station at 2,643 feet to Mountain Station at 8,516 feet in about 10 minutes.
At the top, take in breathtaking views of the desert floor from the viewing area, and enjoy a drink at the Pines Café before hitting the trails.
The Long Valley Discovery Loop is an easy one-mile hike through woodlands. In season, enjoy the bubbling of the Long Valley Creek and lots of colorful wildflowers.
The Desert View Trail is an easy 1.5-mile wooded loop that offers spectacular views of the valley below from viewpoints along the trail.
The easy to low moderate Round Valley Loop Trail is another splendid option through meadows and woods, offering views of surrounding mountains and the chance to spot wildlife.
Expect temperatures at the top to be 20-30 degrees lower than on the desert floor, and dress accordingly.
Get your Art On at the Palm Springs Art Museum
Located right in downtown Palm Springs, the Palm Springs Art Museum is just the right size to enjoy some art amongst other weekend activities.
Gawk at the larger-than-life statue of Marilyn Munroe before you enter the museum, and do not forget to stroll the outdoor sculpture garden at the below-street level.
The exhibits are displayed in an eye-pleasing fashion over three floors, and the building itself is beautiful.
The focus is contemporary art, and you may see temporary exhibitions as well as a part of the museum's permanent collection when you visit.
The glass art display is particularly stunning.
At the time of writing, the Palm Springs Art Museum is open Thursday through Sunday, 10 a.m. until 5 p.m. (7.00 p.m. on Thursdays), but visit the museum website for up-to-date hours.
Stroll Palm Canyon Drive in downtown Palm Springs
Palm Canyon Drive makes for a fun stroll any time of the day, but it's especially lively in the evenings, with lights twinkling on the palm trees lining the street.
There are lots of boutiques, featuring apparel to home decor, and many art galleries to browse.
Be sure to check out the "golden palm" stars on the Palm Springs Walk of Stars: there are over 400 stars honoring celebrities from many fields.
If you need a drink, Koffi North Palm Springs is a great place to get iced coffee. Great Shakes offers delicious date shakes. If you love ice cream, do not miss Lapperts.
And further down the street, snap a photo of the Bank of America branch modeled after a building by Le Corbusier, the Notre Dame du Haut chapel. You can find the Bank of America building at 588 South Palm Canyon Drive.
Enjoy Dinner and Drinks
Close out your day in Palm Springs with dinner and drinks at Birba Palm Springs. The ambience is perfect: festive yet relaxed, with twinkling lights and music.
Dine on the patio: they have heat lamps to keep you warm on cool evenings. Eating under the desert sky is a special experience, especially when the food is good.
While their pizzas are absolutely delicious, they offer other well-made Italian specialties as well. They have a long list of craft cocktails, as well as wine, sparkling wine, and beer.
We always have the roasted cauliflower to start. If they have the braised greens pizza, it's a must-try!
Birba is popular, so be sure to reserve your table well ahead of time!
Day 2 of Your Palm Springs Weekend Getaway
Today, you'll explore around Palm Springs. There are many day trips from Palm Springs you can do, but in keeping with the theme of a SoCal desert weekend getaway, here are our top three day trip recommendations!
Do a Day Trip to Joshua Tree National Park and Pioneertown
Without question the top day trip from Palm Springs is to Joshua Tree National Park, one of Southern California's two desert national parks. The park straddles two deserts: the Colorado and the Mojave.
While you can spend days hiking and rock scrambling in this gorgeous desert park, you can also take in the major sights in Joshua Tree National Park in one day.
Walk the super short but scenic boardwalk trail at the Cholla Cactus Garden before driving Park Boulevard in the northern part of the park to scope out fields of the park's namesake trees and massive boulder formations.
Must-do short hiking trails in Joshua Tree include the picturesque Hidden Valley Trail and the hike to Barker Dam (it doesn't always have water in it, but when it does, look for bighorn sheep!)
Take a tour of Keys Ranch to learn about the area's ranching days, and take in the panoramas of the Coachella Valley from Keys View. Joshua Tree also has hikes to the remnants of old mines and mills.
On your way back to Palm Springs, stop in Pioneertown, built by Hollywood celebrities as a film set where people could live or vacation. Stroll the street to take in the old facades!
On Saturday afternoons, you can enjoy the Mane Street Stampede, and Pappy and Harriet's is a great place to dine, with live music on weekend evenings.
Or Spend the Day at Anza-Borrego Desert State Park
Anza-Borrego Desert State Park is California's largest state park and a must-visit if you enjoy desert landscapes!
If your Palm Springs weekend getaway falls during spring wildflower bloom in a good year, definitely plan on visiting Anza-Borrego, which is known for its carpets of color from wildflowers.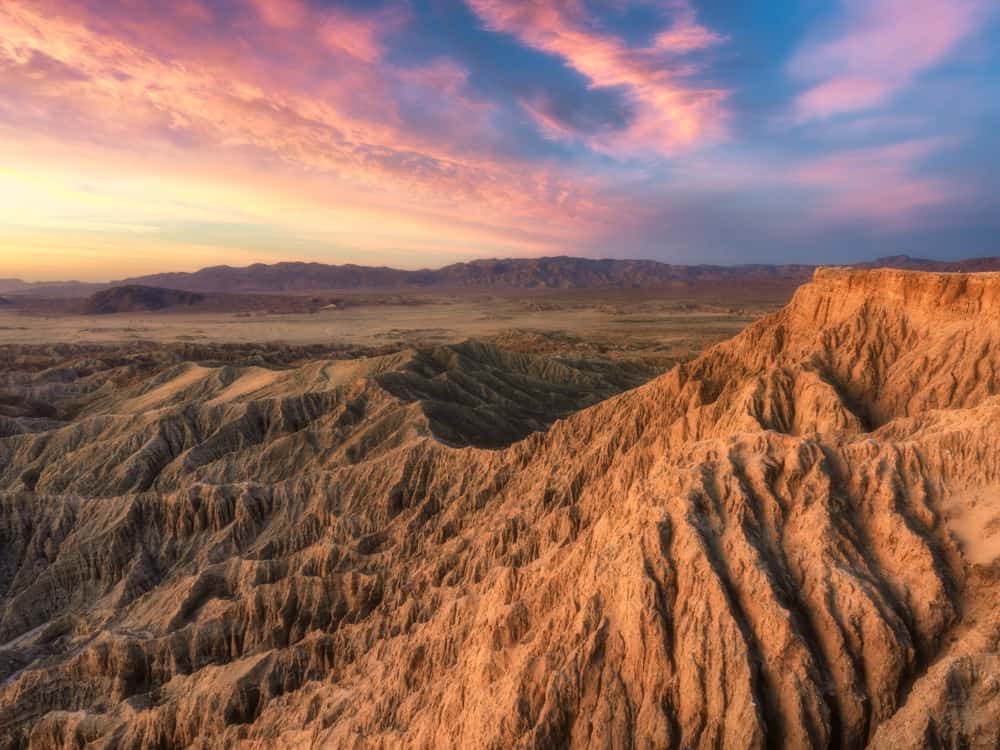 Start your day at the park visitor center in Borrego Springs, where you can view the exhibits, watch the short film, walk the little desert garden, and get information on activities from park staff.
There are hiking trails for all skill levels at Anza-Borrego Desert State Park. The Slot is a hugely popular moderate trail that features an exciting narrow slot canyon, just shoulder width in some spots.
Pick up an informational brochure at the visitor center and do the 3-mile Borrego Palm Canyon Loop Trail, which features a large palm oasis and seasonal creek. Look for birds and wildlife.
View art in the desert near Anza-Borrego State Park! There are over 130 huge metal sculptures at Galleta Meadows, created by Ricardo Breceda. They make for great photos!
Do the Erosion Road driving tour: it's a paved road through the landscapes in the park. You can get an informational pamphlet at the Visitor Center.
If you arrived in a 4WD, the Fonts Point overlook into the badlands of Anza-Borrego is a must! The views are gorgeous, somewhat like at Zabriskie Point in Death Valley National Park.
Or Do the Ladder Canyon-Painted Canyon Hike + the Palms to Pines Scenic Drive
Our third day trip recommendation is a combination of a worthwhile canyon loop hike and a super scenic drive that whizzes you from the palms of the desert floor to the pine forests in the mountains in just one hour!
Spend your morning at Mecca, about a 40-minute drive southeast of Palm Springs, where you will do the Ladder Canyon and Painted Canyon Loop Trail.
The 4.5-mile loop trail is considered moderate, and is generally held to be one of the best desert hikes in Southern California. The trail traverses the canyons in the Mecca Hills Wilderness, a nature preserve.
Painted Canyon features spectacular walls, with some narrows. The textures and subtle colors in the walls are gorgeous.
In Ladder Canyon, there are some ladders you have to navigate to reach a pretty slot canyon, following which you will emerge out into the open for expansive views on the way back.
Head back to your accommodation if you like to change, and take a break for lunch before embarking on the Palms to Pines Scenic Byway.
The loop drive begins in Palm Desert and goes up to Idyllwild, where you can choose to head back down or continue on to the Indian Vista Scenic Overlook before descending to Interstate 10 near Banning.
Be sure to stop at the Coachella Valley Scenic Overlook for stunning vistas over the desert floor. You'll see the road snaking up too!
Idyllwild is a pretty mountain town, with a cute downtown and a few easy walks if you want to stretch your legs.
Have Dinner and Drinks in Town
End your day with dinner and drinks. Here are some options: be sure to make reservations well ahead of your visit!
Bar Cecil is, simply put, a must-visit. The ambience is delightful, the decor gorgeous, and the food (and cocktails!) delicious. Try the onion tart to start! We love the pork chop and the ratatouille. And leave room for dessert.
We love Ristorante Mamma Gina in Palm Desert, just a short drive from Palm Springs. They serve traditional Italian dishes, with a wide choice of pastas, meat, and fish options. Be sure to try the zucchini fries to start!
The Village Palm Springs has several dining areas, depending on whether you just want to dine, or you are in a partying mood. The main dining area features a sports bar plus dining and dancing. The patio offers mountain views and live music on Friday and Saturday evenings. The loft features two DJs on Friday and Saturday evenings (after 9 p.m.).
The Tropicale Palm Springs has a bright pink facade and a retro tropical interior. They are a very popular happy hour destination, but their dinner menu is also great, with many international dishes, like Korean-style beef skewers, Morrocan meatballs, and ahi poke bowls.
Day 3 of Your Weekend in Palm Springs
Do a Mid-Century Modern Architecture Tour in palm springs
Palm Springs is renowned for its mid-century modern homes and buildings. Many architects came to Palm Springs to build modern homes that were suited to the desert, and today the city boasts a large collection.
Palm Springs hosts Modernism Week in February (it actually runs more than a week), and a mini Modernism Week in October that runs for four days. If you are an architecture buff, you will want to visit during one of these festivals.
But you can do a tour of mid-century modern architecture in Palm Springs year round. Pick up a map at the Palm Springs Visitor Center (itself a stunning mid-century modern building) and do a self-guided tour.
You can also pick up a map of Palm Springs star homes if you want to tour the homes of Hollywood stars.
If you would like a guided mid-century modern tour, we suggest this highly-rated two-hour bike tour of three Palm Springs neighborhoods with a knowledgable local guide that's passionate about the architecture. The biking is along flat roads, with many stops.
Book this tour now!
Or Do a Jeep Tour of The San Andreas Fault
If you are not into an architecture tour, explore the desert in an open-air Jeep!
This popular small group tour departs from nearby Palm Desert, to explore the area around the infamous San Andreas Fault, the fault that caused the great San Francisco earthquake of 1906.
Visit a desert oasis fed by an underground spring, and learn how the Cahuilla Indians used native plants for food, shelter, and healing. Learn about local flora and fauna, and admire the desert landscapes of canyons and mountains.
It's a unique trip into the desert around Palm Springs!
Take a Tour of a Windmill Farm
If you drive around just outside Palm Springs, you can't help but notice the giant wind turbines standing in stately rows, sometimes moving, sometimes still.
There are several thousand windmills in the San Gorgonio Wind Park, with many power companies owning farms here. The turbines produce clean renewable energy.
If you'd like to learn more about the wind turbines and how they work, and see them up close, book a Palm Springs windmill tour!
The self-guided tour is done in your own car. You will drive through the first commercial wind farm in the country, accompanied by an audio guide, stopping at designated stations along the route.
The highly-rated tour takes about one hour and is a unique experience to add to your Palm Springs weekend itinerary.
Enjoy a France-inspired lunch at Farm
A Provencal-style restaurant in the heart of Palm Springs, Farm features patio seating with gardens and a delightfully relaxed ambience. It's a made-for-a-delish-weekend-meal setting!
Farm crafts their offerings with locally-sourced, in-season, ingredients, and with each bite, you'll appreciate the care that's gone into the food (and drinks).
We normally eat more than we should when we visit, splitting a crepe before moving on to a sandwich or a salad. Try the savory mushroom crepe or the sweet Nutella and strawberry crepe!
Breakfast and lunch at Farm are walk-in only and you may have a wait on weekends.
If you'd rather not wait for a table, pick one of the options we listed for day one!
Chill: It's Pool Time!
It would not be a Palm Springs getaway without some time relaxing by the pool!
Opt for a vacation rental with a pool for sun-worshipping in the privacy of your backyard, or pick one of the many resorts or hotels with cool pools.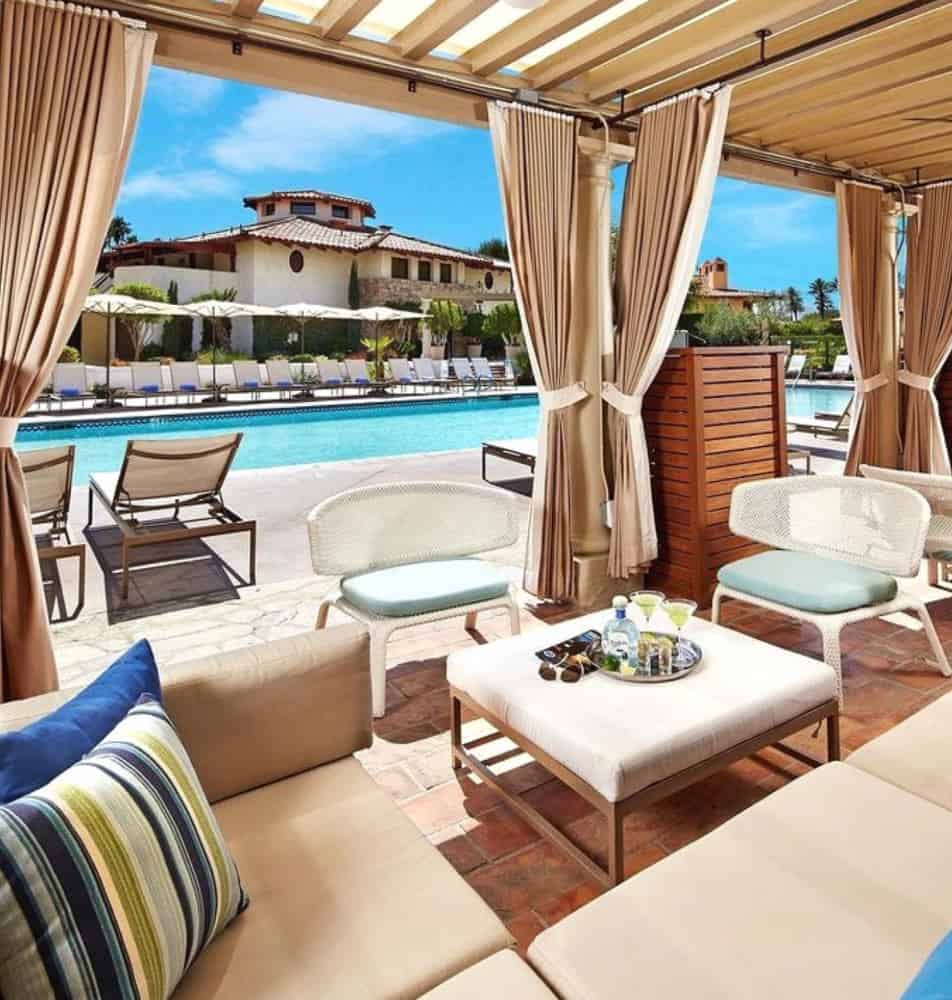 Many resort pool areas feature water slides, lazy rivers, DJ pool parties and more, fun for kids and adults alike.
When planning where to stay, look at other communities in the Greater Palm Springs as well: some of the resorts with the best pools are located outside the city of Palm Springs. Commutes aren't long so any of the cities makes a great base.
In town, Saguaro Palm Springs is famous for its Instagram-worthy colorful facades and pool parties.
Arrive Palm Springs is an adult-only resort with a stunning pool setting. They offer poolside food and drink, and DJ sets on Saturday.
Miramonte Indian Wells Resort & Spa has a two-level poolside deck for lounging, as well as private cabanas. There's a heated whirlpool on the upper deck. The setting, with views of the mountains, is gorgeous.
For all-out family fun, try the Omni Rancho Las Palmas Resort & Spa, with 100-foot-long waterslides and a lazy river. Or the Hyatt Regency Indian Wells Resort and Spa, with its nine pools and fun-for-all-ages water park.
Get Pampered at a Spa
Almost on par with pool time in Palm Springs is a visit to a spa, for a rejuvenating treatment to round off your desert getaway.
Whether you are looking for a deeply relaxing massage or a soak in a mineral pool, you'll find a spa to suit in the Greater Palm Springs area.
The Estrella Spa at the Avalon Hotel in Palm Springs has a delightful garden setting and an outdoor jacuzzi. They offer a full menu of treatments from massages and facials to scrubs and wraps.
The Well Spa at the Miramonte Resort & Spa in Indian Wells is 12,000 square feet, set among palm trees. Enjoy eucalyptus showers and steam rooms with your booked treatments. The Aqua Well Pool and Riverbench jacuzzi features individual waterfalls over the back, neck, and shoulders!
If you are looking to spend a full day at a spa, check out the day spa at the Azure Palm Hot Springs at Desert Hot Springs. They have two outdoor and two indoor pools at varying temperatures for the perfect soak, and a full suite of treatments.
Have Dinner at Workshop Kitchen
Close out your Palm Springs weekend with a wonderful fine dining experience at Workshop Kitchen + Bar.
The dining room features a stunning modernist design with neutral colors and perfect lighting. You can sit in a booth or at the communal table in the center, or you can opt for the courtyard outside.
Their menu changes from time to time but they always offer superbly-crafted farm-to-table dishes with flavorful ingredients.
Some of the produce comes from the chef's own garden and a garden at the restaurant!
Their cocktail offerings include both classics and originals, and they have a wine and beer list as well.
Where to Stay on Your Palm Springs Weekend Getaway
We've described some Palm Springs resorts above, but Palm Springs has a wide variety of stay options that also include vacation rentals and downtown hotels for convenient walking to shopping and dining.
Hotels in Palm Springs
The Kimpton Rowan Palm Springs Hotel makes for a trendy stay in the heart of town. Relax at the rooftop pool and bar. Rooms feature super comfy beds and sleek modern decor. Get a room with a mountain view!
Book a stay here!
ARRIVE Palm Springs is a small boutique hotel located just far enough away from the main streets to be a true escape. You can still walk to shopping and dining if you so choose. The pool is open until midnight!
Book a stay here!
Hotel California is an adults only desert getaway in Palm Springs, just a couple of miles from the center. The Spanish mission style building houses fourteen lovely rooms around a pool and spa. They offer both rooms and suites, and the breakfast is highly rated.
Book a stay here!
Vacation Rentals in Palm Springs
Most vacation rentals in Palm Springs ask for a 3-night minimum stay (or more), unless you snag one that's between two bookings.
If you plan to arrive in Palm Springs the evening before your 3-day weekend, they make for a great option, especially if you are a family or group!
This romantic downtown Spanish villa is the perfect couples getaway, with a private pool and spa and mountain views. There's plenty of room for outdoor lounging and dining, and the interior has a spacious living area and a king bed in the bedroom. (3 night minimum stay)
Book a stay here!
This 1,000-square-foot bungalow is less than a block from downtown Palm Springs. the 2-bedroom, 2-bath casita has a full-sized heated pool shared with 2 other casitas on the property. The mid-century cottage is comfortably furnished and has a private yard and hot tub. (2 night minimum stay)
Book a stay here!
This stunning Palm Springs bungalow has 3 bedrooms and 2 bathrooms. It can sleep up to 6 guests. The home features a sparkling saltwater pool and hot tub with jets, with plenty of outdoor seating and an outdoor dining area with grill. (Minimum stay varies but is generally 3 nights)
Book a stay here!
Palm Springs Tours and Tickets
Here are some guided tours to consider, and links to tickets for activities, if you are looking to pre-book ahead of your Palm Springs weekend!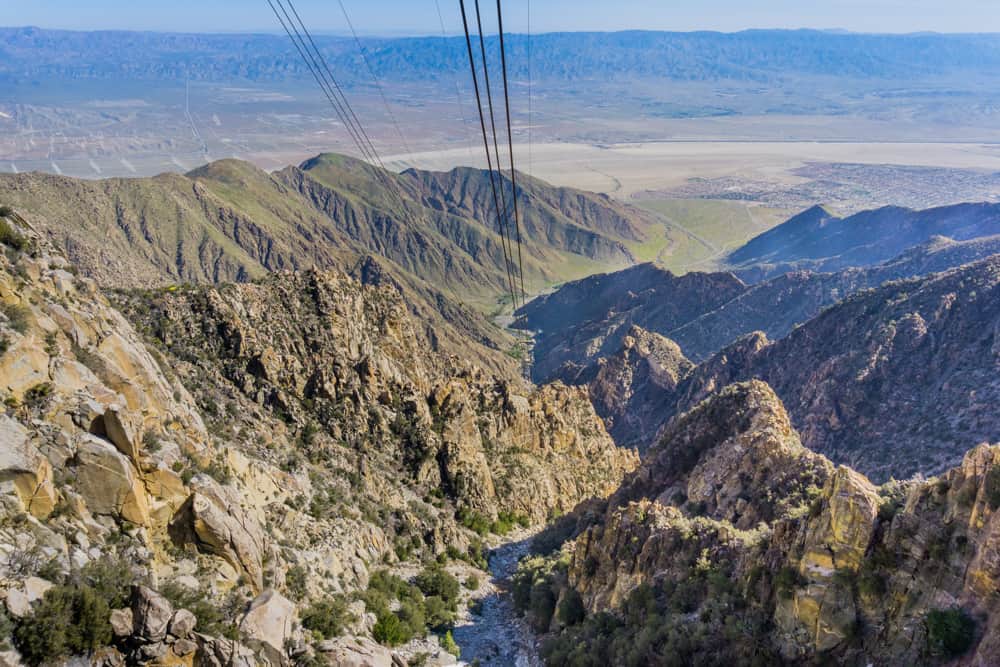 Getting Around during Your 3 Days in Palm Springs
You can definitely spend your entire weekend in the Palm Springs downtown area, staying within walking distance of shopping and dining or taking an Uber.
But if you want to maximize all the exciting opportunities to explore the desert and spend some time in the other desert cities in the Greater Palm Springs area, you'll want to rent a car.
If you are flying into Palm Springs International Airport (or nearby Ontario International Airport, which sometimes has cheaper flights), you will be able to pick up your rental at either airport.
Looking to rent a car for your Palm Springs weekend trip? Discover Cars offers you the ability to compare availability and prices across many major car-hire companies. Pick the car that best meets your needs!

Book your car with Discover Cars now!
When to Visit for Your Weekend in Palm Springs
Palm Springs Weather
While you can have a fun weekend in Palm Springs in the summer as long as you stay in the shade by the pool or focus on activities indoors, maximize your stay in the desert city by visiting during the cooler months of the year.
Palm Springs makes for one of the nicest warm weather winter getaways in the US: it makes our list of the top places to visit in California in December!
The weather is warm and sunny during the day, perfect for exploring the desert under blue skies. All you need is a sweater or light jacket for early and late in the day.
In the winter, Palm Springs may get the rare rain storm, so pack a rainproof jacket just in case.
In the spring, it gets warm during the day, but it's still pleasant during the mornings, when you can hike and wander outdoors, and in the evenings, when you can dine al fresco.
In good bloom years, the desert dazzles with colorful wildflowers.
Summer brings brutal triple degree daytime temperatures. It's the low season in Palm Springs, and many businesses take a hiatus. But you can score lower prices on accommodations if you are planning a chill-by-the-pool weekend getaway.
In the early fall, you'll still encounter high temperatures during the day, but it's cooler earlier and later in the day. Later in the fall is a great time to visit from a weather perspective.
Palm Springs Events
The Coachella Valley Music & Arts Festival is a hugely popular event that occurs on two consecutive weekends in April. If you want to spend one of these weekends in the Greater Palm Springs area, book your accommodations (and tickets) way in advance.
Modernism Week occurs in February (with a smaller event each October). It is a big draw for architecture and art enthusiasts, and accommodations can get snapped up well ahead of the event dates.
If you want a quiet weekend in Palm Springs, plan to visit outside of these major events!
We hope you enjoyed our Palm Springs weekend guide! Are you ready to head out for your desert oasis getaway?
Did you find this article informative? Pin it for future reference!