Whitney Portal Road connects the Eastern Sierra town of Lone Pine with Whitney Portal, the gateway to Mount Whitney.
In a region teeming with scenic drives, Whitney Portal Road is still worthy of a top spot on your bucket list. It is simply that beautiful.
Located at an elevation of just under 8,400 feet, Whitney Portal contains the trailhead for the epic Mount Whitney trail.
But the portal is a destination unto itself as well, and you can enjoy it even if you do not plan to summit the tallest peak in the lower 48.
Featured in the Lucille Ball movie The Long, Long Trailer and in the Humphrey Bogart film High Sierra, among other films, Whitney Portal Road is one of the most scenic drives in California and will wow you with its beauty.
Driving Whitney Portal Road is one of the top things to do in Lone Pine, CA, and it is also a must-do on a Highway 395 road trip, if you do the trip when Whitney Portal Road is open.
Planning to drive Whitney Portal Road? Read on to discover what to expect on this super scenic drive, plus our tips for doing the drive!
What Can You Expect on the Whitney Portal Drive?
Jaw-dropping vistas that will hold you spellbound.
From the otherworldly landscapes of the Alabama Hills at the start of the drive to the lush wooded canyon at Whitney Portal and the panoramas of the Owens Valley, you will see a range of breathtaking views along this drive.
Along the way, you can stop to explore, and, of course, to take numerous photos. There is a lot to see and do at the top at Whitney Portal as well.
Admire the Rock Formations of the Alabama Hills
Once you turn on to Whitney Portal Road, the rounded rock formations of the Alabama Hills come into view, with the jagged peaks of the mighty Sierra Nevada forming a backdrop for the colorful rocks and hills.
The Alabama Hills are known to be home to hundreds of natural arches, many of which are named. The rock formations are impressive, both in shape and in size, and the area is designated a National Scenic Area.
If you plan to combine the Whitney Portal drive with an exploration of this rock-filled wonderland, we have a detailed article on the many things to do in the Alabama Hills and a guide to hiking to Mobius Arch.
Snap a Photo of the Face of Alabama Hills
Even if you do not plan to stop and explore the Alabama Hills, make a quick stop on Whitney Portal Road to snap a photo of the Face of Alabama Hills.
While we are usually not fans of attempts to mark up natural landscapes, we thought the Face of Alabama Hills somehow belonged. And it's the only painted rock you will see here.
Take those Iconic Photos of the Road
Before it ascends, Whitney Portal Road stretches straight and long for the most part, making directly for the wall of formidable mountains. It is the stuff of picture postcards!
We drove Whitney Portal Road from Lone Pine early in the day, when there was barely any traffic, and we were able to snag a few beautiful photos of the empty road.
Enjoy the Winding Drive to the Top
Once Whitney Portal Road starts winding up the mountain, you will have panoramic views of the valley below and of the looming mountain faces, in turn. There are a number of switchbacks to negotiate, so drive with care.
While you will want to take lots of photos, we suggest putting away your camera or your smartphone and spending some time just enjoying the beautiful scenery as you do the drive. On a good weather day, the vistas will truly leave you awestruck.
Stop at Pullouts for Panoramas over the Valley
To safely take good photos of the panoramas spread out below you, pull off the road at a pullout and park. This gives you the chance to compose your shots and snap without motion, and opportunities for the person driving to appreciate the views as well.
We came across at least four or five pullouts at the higher elevations of the drive, so if you miss the first one, just keep going and watch for the next one.
Wander around Whitney Portal
Once at the top, get ready to stretch your legs and explore! Breathe deep of the mountain air and wander around the small area. With evergreens, picturesque boulders, and the towering granite walls around you, there is plenty to admire!
In the spring, look for wildflowers. We visited in mid July and found some pretty wildflowers by the creek and the waterfall. The pine forests are stunning year round.
Keep your eyes peeled for wildlife and birds. Squirrels and marmots are common, but black bear live here as well. Watch wildlife from a safe distance and never feed wildlife.
Numerous birds have been spotted at Mount Whitney Portal, so if you are a birding enthusiast, bring your binoculars! We saw a hairy woodpecker and a Northern flicker during our visit, as well as several Steller's jays.
Admire the Lone Pine Creek Waterfall
Lone Pine Creek Falls can be viewed right from the pavement at Whitney Portal: no hiking required! The waterfall can be found at the southwest corner of the pavement loop.
You can hear the falls way before they come into view. The tall main cascade tumbles down to the bottom in a series of falls, creating a pretty scene. When we visited in mid July, the Lone Pine Creek waterfall was still flowing quite powerfully.
If you wish, you can climb a few steps up the boulders at the side to get closer to the side of the cascade. But they can be viewed perfectly well from the bottom, without any climbing or scrambling.
Have a Picnic
If possible, allow for some time to sit and enjoy beautiful Whitney Portal after you are done walking around. There is a large picnic area, with several picnic tables.
If you've brought along a packed lunch, this is the perfect place to sit down for a bit, eat, and soak in the ambience. Remember to leave your table crumb clean.
Or Eat at the Whitney Portal Store
Whitney Portal Store (and Cafe) was super busy when we visited. Hearty breakfast options were on the menu, and lots of visitors were tucking in. The pancakes looked delicious, and we were sad we had eaten breakfast before heading out!
During the day they serve well-reviewed burgers and fries, and they also have a variety of beverages on offer.
There is seating on the patio outside the store, so you can enjoy the stunning setting while you eat. Afterwards, browse the cool souvenirs at the store and pick up a memento of your trip to Whitney Portal.
Check Out the Iconic Mount Whitney Trail Sign
There is more than one route to the summit of Mount Whitney, the tallest peak in the contiguous United States. The route from Whitney Portal is a little under 22 miles round trip, with an elevation gain of 6,134 feet.
While some hikers do this epic trail as a day hike, many do it as an overnight backpacking trip. Either way, you require a permit to hike in the "Whitney Zone."
Even if you aren't planning to hike, stopping to check out the iconic trail is a fun thing to do at Whitney Portal. Snap a photo of the trail sign and walk through the wooden portal.
Walk a Few Steps Up the Famous Trail!
The Mount Whitney Zone, which requires a permit, doesn't start right at the beginning of the trail, so if you are feeling a little adventurous, you can walk a few steps along the bucket-list trail.
Remember you are at an altitude, so walk slow, and don't venture too far, unless you are at Whitney Portal to hike and have properly prepared and acclimated. If you are prepared, you can hike up to Lone Pine Lake and back without a permit, about 6.5 miles round trip.
The trailhead area offers superb photo ops, with large picturesque boulders, mature pines, and views of the surrounding walls of granite. We took lots and lots of photos here, and watched a young hiker couple start their trek up the mountain.
Hike the Whitney Portal National Recreation Trail
The Whitney Portal National Recreation Trail connects Lone Pine Campground with Whitney Portal. At 8 miles round trip and an elevation change of over 3,000 feet, this trail offers a good high elevation challenge and is doable as a day hike.
Along the trail, you will have superb views of Mount Whitney, as well as the picturesque Alabama Hills and the valley below. It can be hot in the summer, but pleasant in the spring and fall. Hydrate and wear sun protection.
Enjoy wildflowers in the spring and the sound of Lone Pine Creek running alongside as you walk. Look for birds and wildlife in the surrounding vegetation.
No permits are required for the Whitney Portal National Recreation Trail.
Enjoy the Awesome Drive Back Down to Lone Pine!
If you thought the views going up Whitney Portal Road were amazing, you will find the views going down just as stunning, or even a little more.
It is easier to access the pullouts on the way down, so we stopped at every single one we saw. They are perfect for enjoying the views in both directions at leisure: looking back at the mountains you just left, and down into the valley below.
The panoramas photograph better on a haze-free day, of course, but they are spectacular to view even if you do not have a perfectly clear day.
Essential Facts About the Mt. Whitney Portal Road
Whitney Portal Road is about 13 miles from end to end, and fully paved. In this short length, it traverses different environments, from the desert landscape of the Alabama Hills to the alpine forests of Mount Whitney.
A single lane on each side, Whitney Portal Road is not super narrow, but can still induce anxiety if you are afraid of heights.
There are numerous switchbacks as the road makes its way up the mountainside, and the climb can be steep at times. Watch out for blind corners.
When we drove it in the summer of 2021, Whitney Portal Road looked very well maintained, and we had a smooth drive to the top and back. Pullouts for enjoying the views are generally on the right.
Beyond a certain point, Whitney Portal Road is not maintained (cleared of snow) in the winter. It can be driven generally from some time in May until some time in November, exact dates dependent on snow accumulations in any given year.
If you plan to drive it in the fringe months, research to make sure it's open, to avoid disappointment. You can call the Lone Pine Chamber of Commerce, or the USDA Forest Service (Inyo National Forest) for road status information.
Map of Whitney Portal Road

Tips for Driving Whitney Portal Road in Lone Pine, CA
Go on a Clear, Bright Day
Although weather in the mountains can change with little warning, try and schedule your drive for a day when the forecast calls for clear, dry conditions.
Bad weather can not only ruin the views, but it can also make the drive exponentially more difficult, and unsafe to boot.
Keep an eye on the weather while you are up at Whitney Portal. A couple of days before we did the drive in mid-July, a thunderstorm drenched the region, causing many climbers to abandon their trek to the summit and creating poor driving conditions.
Drive the Route During Daylight Hours
Unless you are driving up only in order to summit Mount Whitney, you will want to drive up, and down, during daylight hours, to take advantage of the magnificent views.
It is also much easier to drive the ascent and descent in daylight!
Go in Late Spring or Late Fall for Snow on the Peaks
Visit in late spring, once the snow has melted off the road, or in late fall, after a snowfall or two, if you wish to see the Sierra Nevada peaks dusted with snow (or even covered with snow).
When we visited in high summer, there was not even a speck of snow anywhere. While the scenery looks spectacular regardless, snow on the peaks does make for iconic photos.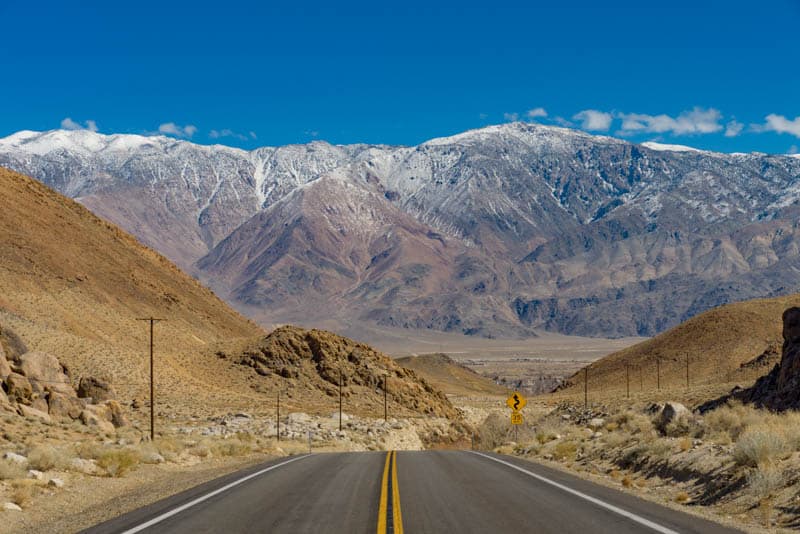 Expect Other Visitors
Hiking to the summit of Mount Whitney is on the bucket list of many visitors to the Golden State, and the trail from Whitney Portal is the most popular route.
Expect there to be lots of other visitors at Whitney Portal during summer and early fall. We started early in the day, but found that many folks had beaten us to the portal.
Be Prepared to Wait for a Parking Spot
Parking spots at Whitney Portal can be tough to find during the summer (and early fall). Apart from the main parking lot by the store and picnic area, there is an overflow parking lot as well.
You may have to circle some and be patient in order to find a spot to park. We visited on a weekday morning in the summer and had to wait about 10 minutes before a spot opened up.
Visit on a weekday rather than the weekend, arrive early (or later in the afternoon), and be prepared to wait for a spot to get vacant.
Allow Plenty of Time!
You can drive Whitney Portal Road in about 30 minutes to so one way.
But you will want to stop along the way to absorb the views and take photos, and you will definitely want to spend some time at beautiful Whitney Portal once you are there.
Allow at least a couple of hours, more if you plan to have a meal at the top.
If you plan to hike one of the trails (to Lone Pine Lake or the Whitney Portal National Recreation Trail, or a small part of the Mount Whitney Trail), you will, of course, need even more time.
Dress in Layers
Even if you do the Whitney Portal Road drive in high summer, you will want to bring layers. The weather will be cooler at Whitney Portal than at Lone Pine, plus you never know when weather in the mountains will change.
If you plan to hike, wear sturdy, closed-toed hiking shoes or boots with good traction, and carry trekking poles if you need extra support.
Don't Forget your camera and binoculars
The scenery is stunning, and you will want to take lots of photos. We took lots of smartphone photos, but also used our cameras.
If you like photographing birds or wildlife, but don't want to carry a heavy lens when you are hiking, consider a digital camera with a powerful zoom.
We use a small camera that fits into our jacket pockets: the Panasonic Lumix DC-ZS70, which comes with a 30X zoom and Leica lens, and produces great pictures.
If you enjoy bird or wildlife viewing, bring your binoculars as well. We use the Celestron Trailseeker compact binoculars.
Planning to explore more of California? Check out some of our other articles on scenic drives!
Did you find this article informative? Pin it for later reference!