Planning a visit to Napa Valley? If you are looking for hotels or vacation rentals in Napa Valley, you have lots of options for where to stay in California's most famous wine region!
Bounded on the east by the Vaca Mountains and on the west by the Mayacamas, Napa Valley is home to several little towns and regions.
From luxurious resorts to traditional hotels and wine country cottages to historic homes, there are numerous places to stay in Napa Valley.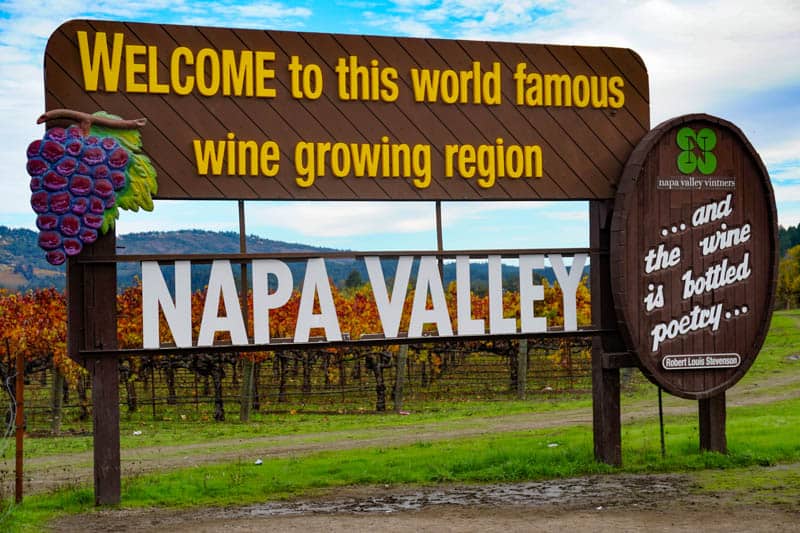 Besides wine tastings at some of the most beautiful wineries in the USA, Napa Valley offers top-notch eateries, relaxing spas, and charming downtown areas for strolling and shopping. Plus, you can explore the outdoors at area parks and trails.
The valley is a great getaway in any season, and there are many fun things to do in Napa Valley besides drink wine!
The Best Places to Stay in Napa Valley
There are five main towns in Napa Valley. From south to north, they are: American Canyon, the city of Napa, Saint Helena, Yountville, and Calistoga. The valley is also home to the regions of Rutherford and Oakville.
In the south, you can also stay in the Carneros region, which offers easy access to both Napa Valley and Sonoma Valley.
In this article, we've offered brief overviews of each of the towns and regions in Napa Valley, and rounded up the best places to stay in each area. Our suggestions include hotels, resorts, and vacation rentals.
We've visited Napa Valley numerous times, and so far, we've stayed in Saint Helena, the city of Napa, and the Carneros region to the south. We've stayed in traditional hotels, a bed and breakfast, a vacation rental condo, and a full-fledged resort.
Each one of our Napa Valley stays was fun in its own unique way, and we hope you will find your perfect Napa Valley getaway in our picks below.
Where to Stay in the City of Napa
The city of Napa is located at the south of Napa Valley. Less than 50 miles from downtown San Francisco, Napa can be reached in about an hour in normal traffic.
Napa is known for its historic architecture. Downtown Napa, which is enjoying a complete renaissance, has lots of wine tasting rooms within walking distance of one another, and excellent dining and shopping.
Napa River, which runs through the city, offers recreational opportunities, and the city has art and nightlife options as well, from Uptown Theatre to JaM Cellars Studio and Blue Note.
Traffic along Highway 29 through the valley can sometimes be an issue if you stay in Napa and want to explore north, so allow plenty of time, or visit in non-peak months, or drive up and down along the Silverado Trail rather than Highway 29.
Napa Valley as a whole is an expensive destination, and you will more likely find relatively budget-friendly options in the city of Napa than in other parts of the valley.
Best Hotels in Napa, CA
Archer Hotel Napa is located in the heart of downtown Napa, walking distance to wine tasting rooms, restaurants, and shopping. The property offers guest rooms as well as suites with balconies. Enjoy the rooftop bar and restaurant, and rooftop pool.
Book on booking.com | Book on hotels.com

Hennessey House Bed and Breakfast is a charming Napa bed and breakfast, with free parking and free wifi. Rooms are spacious and well-appointed and the breakfasts and afternoon wine socials highly rated.
Book on booking.com | Book on hotels.com
The Candlelight Inn Napa Valley is an adult-only B&B located in a residential neighborhood with easy access to downtown Napa. The gardens and pool and rated gorgeous, and rooms feature individual decor. Breakfasts are highly rated.
Book on booking.com | Book on hotels.com
Best Vacation Rentals in Napa, CA
This spacious condo in downtown Napa is located in the heart of all the action. The 2-bedroom, 2-bath property is perfect for two couples or for a family. The living space is comfortable, with bright cheerful decor, and there is a full kitchen. Book a stay here!
This cute Craftsman style home boasts beautiful light and bright interiors and a fully-equipped kitchen. You will enjoy the lovely gardens and outdoor spaces. Located in a residential part of Main Street, the property is under a mile to restaurants and shopping. Book a stay here!
Planning a get-together in Napa? Whether a family gathering or a girls or guys getaway, this beautiful home is the perfect base for your Napa Valley adventure. With 5 bedrooms and 3 baths, the home also features a great room and patio for relaxing. Enjoy the hot tub, Sonos music system, bocce court, and gazebo. Kids and pets welcome. Book a stay here!
Where to Stay in Yountville, Napa Valley, California
Yountville, located mid valley, is home to Chef Thomas Keller's famous restaurant, The French Laundry, and his delightful Bouchon Bakery, plus a host of other top-notch eateries. It is also home to some of the most luxurious hotels in Napa Valley, if you are looking to splurge for that ultimate wine country stay.
Strolling downtown Yountville is a joy, and you will find art installations along the main street, as well as a little rose garden. Shop at V Marketplace, check out wineries nearby, go for a thrilling balloon ride over the valley, and pop into the Napa Valley Museum.
Yountville makes a convenient base from which to enjoy the rest of Napa Valley, since Napa to the south and St. Helena and Calistoga to the north are just short drives away.
Best Hotels in Yountville, CA
Bardessono Hotel and Spa is a luxury resort located in the heart of Yountville. Each guest room features a private outdoor patio with a tub and outdoor shower. Spa treatments are tailored to the season. The onsite restaurant is highly rated for its farm-to-fork cuisine.
Book on booking.com | Book on hotels.com
North Block Hotel is located along Washington Street, the main street in downtown Yountville. The contemporary boutique hotel features beautiful gardens, lanterns, and tile work. Rooms are elegantly appointed and the pool an d courtyard are quiet zones for recharging.
Book on booking.com | Book on hotels.com
Lavender, a Four Sisters Inn, is a Provence-themed bed and breakfast. The property features a wraparound porch in the heritage home that forms the centerpiece of the complex. Breakfast is served on the porch. Rooms blend warm colors with modern decorative touches.
Book on booking.com | Book on hotels.com
Where to Stay in Saint Helena, Napa Valley, CA
The charming town of Saint Helena is also located mid valley, making it a convenient base from which to explore north or south. Often included in listings of the most charming small towns in California, Saint Helena has a warm, relaxed vibe.
There are numerous vineyards around Saint Helena to tour. Here you will also find the campus of the Culinary Institute of America at Greystone, where you can watch cooking demos and take cooking classes.
Bothe Napa Valley State Park offers hiking trails where can you can walk beside the creek or among redwoods and Douglas firs. Main Street offers shopping and dining: do not miss breakfast at The Model Bakery.
Best Hotels in St. Helena, CA
Meadowood Napa Valley is an elegant resort just a short drive from downtown Saint Helena. It is one of Napa Valley's top resorts. Accommodations include rooms, suites, and cottages. The property offers croquet, tennis, golf, and swimming, along with top-notch dining.
Book on booking.com | Book on hotels.com
Wine Country Inn & Cottages is located right next to a vineyard. Accommodations include guest rooms, suites, and cottages. There is a large outdoor pool, and the grounds offer views of vineyards. A highly-rated breakfast is offered, as well as wine tasting on the weekends.
Book on hotels.com
Spanish Villa Inn is a Saint Helena bed and breakfast. Air-conditioned guest rooms come with king beds and marble and tile bathrooms. The property offers free parking, bocce ball courts, and a rose garden for strolling. It is located in a quiet neighborhood close to downtown Saint Helena.
Book on booking.com
Best Vacation Rentals in Saint Helena, CA
This romantic Tuscan Villa, located less than two miles from the town center, is the perfect couples getaway. The master bedroom features large windows with amazing views. Enjoy the patio and the beautiful gardens. Inside, the living spaces are spacious, and there is a full kitchen. Book a stay here!
This two-bedroom, two-bath cottage is perfect for one or two couples. Located within walking distance of downtown Saint Helena, the cottage is well-appointed, with high-quality linens, hardwood floors, and art. The gourmet kitchen is fully stocked. The backyard has a fire pit, charcoal barbecue, and eating area. Book a stay here!
This stunning farmhouse, with vineyard views, is walking distance from downtown St. Helena. The 3-bedroom, 2-bath home can comfortably sleep 6-8 guests. The wraparound porch is a great place to dine on warm evenings. There is also a wisteria-covered deck for relaxing with coffee or wine. Book a stay here!
Where to Stay in Calistoga, Napa Valley, California
Calistoga is located in the north of Napa Valley. It has a charming rustic ambience, and a relaxed feel. Famous for its mud baths and mineral waters, Calistoga offers you the chance to relax and recharge while you enjoy your wine tasting in Napa Valley.
You will find some of the most beautiful wineries in Napa Valley around Calistoga. From Castello di Amorosa to Chateau Montelena, wineries in the area offer art, architecture, and gorgeous grounds in addition to superlative wines.
Downtown Calistoga is a fun stroll, with boutique shops to browse and tasting rooms to visit. If you are an outdoors enthusiast, Calistoga offers trails to explore, and the adventurous can go hot air ballooning.
You will have a longer commute back to San Francisco or the Bay Area, and traffic might be an issue if you want to drive up and down the valley during your stay, but otherwise, Calistoga makes for a delightful Napa Valley getaway destination.
Best Hotels in Calistoga, CA
Solage, part of the Auberge Resorts Collection, is a luxurious splurge stay in Calistoga. The spa, with adult pool and hot tub, is exceptional, and Solbar, the onsite restaurant, has a Michelin star. Guest rooms and suites are spacious and elegantly appointed.
Book on booking.com | Book on hotels.com
The Francis House is a unique high-end stay in the north of Napa Valley. The building is on the National Register of Historic Places. The luxury hotel offers just five unique guest rooms, a relaxing pool, and a European vibe. Perfect for a special romantic escape!
Book on booking.com
Aurora Park Cottages are located close to downtown Calistoga. Beds are rated highly comfortable, as are the daily breakfasts, delivered to your cottage. Interiors are well appointed. Each cottage features a private porch. Picnic tables and loungers are spread throughout the property.
Book on booking.com | Book on hotels.com
Best Vacation Rentals in Calistoga, CA
This lovely guesthouse offers vineyard views and is the perfect couples getaway, with one bedroom and one bathroom. It is located conveniently close to shopping and restaurants, even though the setting is secluded. The bedding is luxurious, and there is a full kitchen and a private deck. Book a stay here!
This hilltop home offers a secluded space to get away from it all. The one bedroom, 1.5 bath home is perfect for a couple looking for an escape. The views are expansive and you can dine on the wraparound deck. The deck also holds a private hot tub. Inside, spaces are elegantly appointed. Book a stay here!
This stunning contemporary home is perfect for a group getaway. Offering five full en suites, each with a king bed, the property features fabulous views and a secluded setting just 7 minutes from downtown Calistoga. Enjoy the gorgeous pool and deck outside, and the well-appointed spaces and full kitchen inside. Book a stay here!
Where to Stay in Rutherford, Napa Valley
Rutherford features a number of well-known wineries and one of the most luxurious resorts in Napa Valley. It is just four miles from St. Helena and 5.5 miles from Yountville.
Best Hotels in Rutherford, CA
Auberge du Soleil is the quintessential Napa Valley adult getaway destination. Located in an olive grove, the property offers rooms and suites. Views over the valley are gorgeous. Enjoy the spa, adult pool, and sculpture garden, and dine at the Michelin-starred restaurant.
Book on booking.com | Book on hotels.com
Rancho Caymus Inn is located on the valley floor. The historic hotel offers spacious, well-appointed rooms. The grounds are gorgeous, and the pool relaxing. Breakfasts here are highly rated and you can enjoy complimentary wine tasting courtesy of local wineries.
Book on booking.com | Book on hotels.com
Where to Stay in Los Carneros, Napa Valley
Just south of Napa is the Los Carneros region. A short commute to and from the city of San Francisco and the SF Bay Area makes this region an attractive place to stay in Napa Valley.
Of course, you will need to drive if you want to explore mid valley or up valley, but we didn't find the drive too onerous when we stayed in Los Carneros. Visit in off peak months for fewer traffic issues along Highway 29, or take the Silverado Trail, and drive at non peak times during the day.
One of the pluses of staying in Los Carneros is that the delightful Village of Sonoma is just a short drive, if you have the time and want to explore. There are some beautiful wineries in the area as well, including Domaine Carneros, where you can taste sparkling wine.
Best Hotels in Los Carneros, CA
Carneros Resort and Spa is an expansive property located in the midst of vineyards. Featuring cottage-style accommodations, the resort has a full-service spa, pools (one that is family-friendly), bicycle rentals, and three onsite restaurants.
Book on booking.com | Book on hotels.com
The Meritage Resort and Spa offers guest rooms, suites, and luxury retreats in the south of the valley. The full-service spa is located in an underground cave! The adjacent vineyard makes for a lovely stroll at sunrise or sunset. The resort offers a pool and hot tub, and onsite dining.
Book on booking.com | Book on hotels.com
Where to Stay in American Canyon, napa valley, CA
The town of American Canyon is located less than 10 miles south of downtown Napa. If you do not mind the few minutes extra each day on the road, the town offers affordable stays at popular chains.
Best Hotels in American Canyon, CA
Doubletree by Hilton Hotel & Spa offers an onsite restaurant and spa. The hotel is located about 9 miles from downtown Napa. It features a lagoon, with lagoon-view suites offered. There is also an outdoor pool and a lounge/bar area. Rooms are spacious and comfortably furnished.
Book on booking.com | Book on hotels.com
Fairfield Inn & Suites offers 80 suites at a location just four miles from Napa Valley Airport. Accommodations are modern and spacious and feature kitchenettes with sink, mini-refrigerator, microwave, and coffeemaker. There is a pool.
Book on booking.com | Book on hotels.com
Holiday Inn Express & Suites Napa Valley is located just 8 miles from downtown Napa. The hotel offers spacious rooms with comfortable beds, and a pool.
Book on booking.com | Book on hotels.com
*****
Did you find this article informative? Pin it for later reference!