There are so many fun things to do in Napa Valley besides wine, from scenic drives to shopping and hiking to historical landmarks!
So if you are wondering if a visit to Napa Valley is worthwhile if you don't have wine on the itinerary, then hear us: absolutely, yes!
If you enjoy the outdoors, you will love exploring all the natural areas in Napa Valley, from the state parks to Lake Berryessa.
History buff? There's a lot to learn about the history of the region, from winemaking to historic homes, the Native Americans that called the region home, and much more.
And if you are a foodie, you will be truly spoiled for choice on what and where to eat!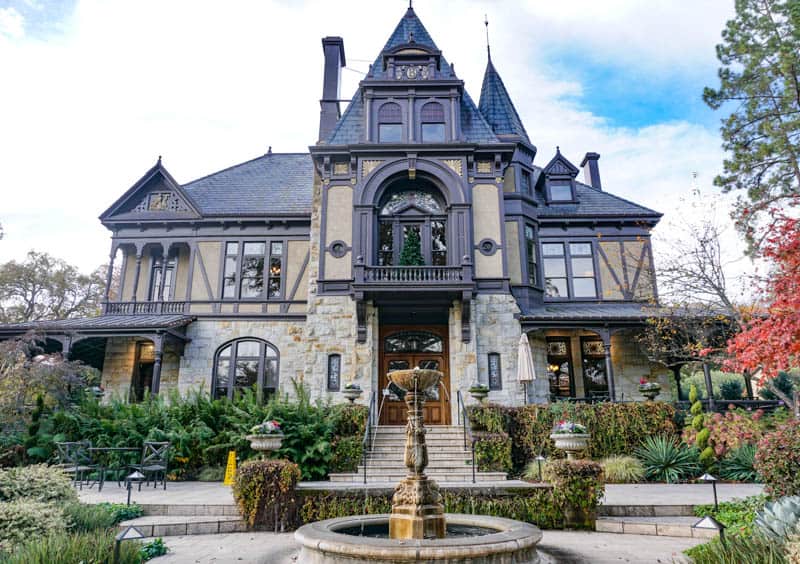 We've visited Napa Valley numerous times: it is one of the easiest and most exciting getaways from the San Francisco Bay Area.
Other than on our first visit, when we scheduled some wine tastings, we've not focused on wine exclusively at all.
There's just so much more to see, do, and experience in Napa Valley beyond drinking wine.
Things to Do in Napa Valley (Besides Wine Tasting)
Unsurprisingly, many of the best non-wine-related things to do in Napa Valley are centered on food.
But you also have a wealth of outdoor activities to help burn off some of the calories, as well as a thriving arts and culture scene and a rich regional history to discover.
Napa Valley is also one of the most romantic places in California, with lots of activities you can do as a couple.
As one of California's best wine regions, Napa Valley is definitely a compelling destination if you are an oenophile, but you'll find plenty to do if you are not a wine enthusiast.
But if you are visiting to enjoy tastings of the quality wine offerings, consider this popular small-group tour that takes you to three area wineries for tastings (at your expense). A fresh flavorful lunch is included.
Book this tour now!
And now, let's dive right into all the exciting non-alcoholic things to do in Napa Valley!
Balloon over Napa Valley
One of the most thrilling experiences we've had in Napa Valley, a hot air balloon ride takes you high up for fabulous aerial views of the vineyards, the rolling hills, and Mount Saint Helena and the Mayacamas in the distance.
Of course the super early wake-up isn't fun: the tour starts just after sunrise. But they offer coffee, and you'll forget about the lost shuteye once you are floating high up in the air, breathing in the early morning air and marveling at the vistas below you.
And of course, the aerial vantage point, 2,000 feet above the vines, makes for breathtaking photos of the wine country landscapes spread out beneath you.
Each balloon basket generally holds a small number of people, so reserve your spot ahead of time if you have limited time in the valley.
Relax in a mud bath in Calistoga
Need a rejuvenating soak? Way up in the north of Napa Valley, you can enjoy the blissful mud baths of Calistoga.
Plus, Calistoga is a cute town to visit, with its rustic ambiance and rich history.
Mineral-rich water from hot springs and volcanic ash from the age-old eruption of Mount Helena combine to create the famous Calistoga mud that's reported to rejuvenate and recharge your skin.
Splurge on the mud bar at the upscale Solage Spa, or enjoy a romantic couples' experience at the Baths at Roman Spa.
If a mud bath doesn't appeal, choose a relaxing soak in a mineral pool!
Planning a Napa Valley getaway and wondering where to stay? Napa Valley is made up of several towns and regions. Check out our detailed overview of each town, plus our curated suggestions for the best hotels and vacation rentals in Napa Valley!
Ride the Napa Valley Wine Train
Although it's called the Napa Valley Wine Train, you can take a ride with a gourmet lunch or dinner that doesn't involve alcohol.
It's a fun experience rolling through the Napa Valley countryside in the vintage train, and you can explore the train as you travel, including visiting the kitchen cars.
In our opinion, the dinner experience is really romantic, and worth considering if you are on a couples' getaway to the valley. You may even get to see a spectacular Napa Valley sunset!
The train, one of the most popular Napa Valley attractions, runs between the town of Napa in the south to the town of Saint Helena about half-way up the valley. The round trip journey is 36 miles, and takes three hours.
Discover Downtown Napa
We normally stay in Saint Helena or Yountville when we visit Napa Valley, because they are midway up the valley.
But on a recent visit, we booked a stay at the cozy Blackbird Inn in the town of Napa and found lots to do in this charming town.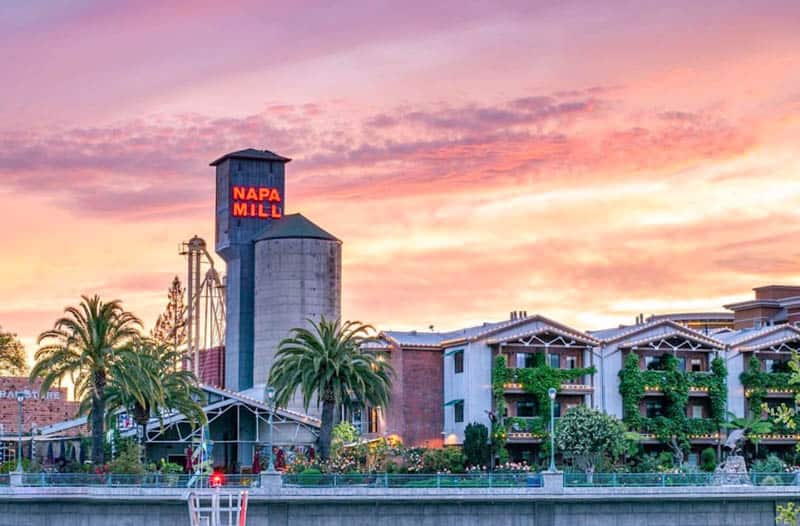 Downtown Napa is very walkable, and there are a multitude of small boutiques and art galleries to browse.
If you need a rest, there are plenty of cafes from which to choose!
The Napa Art Walk takes you through a series of rotating public art installations in town.
You can also stroll along the Napa River and admire the historic architecture. In fact, if you are an architecture buff, rejoice, because you will see Victorian-era homes and buildings all over Napa.
The Napa County Historical Society offers guided tours of the historic landmarks in downtown Napa.
Want to add a little bit of excitement to your downtown Napa tour? Consider this scavenger hunt: a modestly-priced app-based activity that takes you past the must-see landmarks, plus a few hidden gems!
Take in the Views from the China Point Overlook
When in downtown Napa, don't forget to stop by the China Point Overlook, at Soscol Avenue.
The area is where the Chinatown of Napa stood until a fire destroyed it in the early 1900s.
The overlook offers beautiful views of the Napa River and the historic architecture along the bank. It's a particularly nice spot to catch sunset!
Walk through the pretty moon gate after you snap a photo or two of the gate and the gardens.
Explore Bothe-Napa Valley State Park
Featuring shaded redwood groves and stands of other mature trees, Bothe-Napa Valley State Park is located in the heart of Napa Valley and easily accessed if you want to spend some time enjoying the outdoors.
Hike creekside trails that meander through forests of redwood, Douglas fir, and madrone. The sound of the running water is a pleasing accompaniment year round.
Along the Redwood Trail in Ritchey Canyon, you can admire the beautiful understory of ferns. Have a picnic, or enjoy a swim in the park pool.
Look for birds and wildlife as you walk: there are six types of woodpeckers that call the park home, along with many other bird species like wild turkeys, great horned owls, chickadees, nuthatches, and thrushes.
You can also stop by the historic Pioneer Cemetery, the final resting place of some of the original settlers of Napa Valley.
The park is a great place to explore if you plan to visit Napa Valley with kids.
Bring bug spray and watch out for poison oak.

Stroll downtown Yountville
Yountville is the most upscale town in Napa Valley. It has a lively downtown, and a beautiful main street!
Called Washington Street, Yountville's main street is lined on both sides with mature trees and even a vineyard or two.
Strolling Yountville's mile-long main street is fun any time of year, but especially so in fall, when the leaves on the trees along the street change to bright yellow or orange.
For photography, walk the street early in the day, because it tends to get busy later.
Take in all the fun colorful sculptures as you walk: the Yountville Art Walk features several dozen sculptures that are scattered about town, many along the main thoroughfare.
Dine at The French Laundry
For the ultimate in Napa Valley dining experiences, reserve a table at The French Laundry, Chef Thomas Keller's iconic restaurant. The French Laundry boasts three Michelin stars and serves classic French cuisine.
The restaurant is housed in a charming building that dates from 1900 and is on the National Register of Historic Places. In the summer, you can dine in the courtyard, weather permitting.
Two multi-course tasting menus are offered each day, one a tasting of vegetables.
A meal at The French Laundry will set you back quite a bit, but it's definitely worth experiencing at least once!
Make sure you reserve your table as soon as bookings open for the day you plan to visit.
Dine at other acclaimed restaurants
Napa Valley is as much about food as it is about wine, with four Michelin-starred restaurants at the time of writing (+ two in nearby Healdsburg) and an emphasis on locally grown, fresh seasonal produce.
There are so many top-notch eateries in the valley that you won't run out of new places to try even if you visit dozens of times.
Try Morimoto for world-class Japanese cuisine, Bistro Jeanty for their French menu offered in a chic setting (we love their tomato soup, which comes in a bread bowl), or Lucy Restaurant and Bar at Bardessono for quintessential farm to fork offerings.
We love Farmstead at Long Meadow Ranch in Saint Helena. The large barn-style dining room, open kitchen, casual vibe, and a menu that focuses on farm-fresh seasonal offerings: what's not to like?
Oenotri in downtown Napa is a fabulous Italian restaurant: every pasta dish we've tried at Oenotri has been superb.
And Mustards Grill is another of our favorites. It's a longstanding Napa Valley restaurant with a kitchen garden onsite, serving comfort food crafted from topnotch ingredients and paired with impeccable wines.
Treat yourself to a luxurious stay
Napa Valley accommodations span a wide range and you can find lovely places to stay without paying through your nose.
But if you are celebrating a special occasion, or just because, there are plenty of splurge stays where you will feel super pampered every minute of your stay.
In Napa, Carneros Resort and Spa offers both suites and cottages. The property features two fabulous outdoor pools overlooking vineyards, gorgeous grounds, and contemporary furnishings.
Auberge du Soleil in Rutherford features elegantly furnished rooms and suites and outdoor dining overlooking the vineyards. The spa is world class too!
Meadowood in Saint Helena offers spacious suites with fireplaces and luxury furnishings, and gorgeous grounds.
In Yountville, the sleek and contemporary Bardessono offers luxurious suites with decadent bathrooms. It's a joy to walk through the public spaces.
In Calistoga, Solage offers suites that come with a private patio outdoor tub, and studios that open out onto serene gardens.
Get lunch at the Oxbow Public Market
A smaller, more intimate version of San Francisco's Ferry Building, the Oxbow Public Market is our go-to place for lunch if we are anywhere near downtown Napa.
Try C Casa for delicious tacos, served open faced and piled high with super delicious, fresh and flavorful ingredients.
Or get wood fired pizza (and Lappert's ice cream!) at Live Fire Pizza, sushi at Eiko's, and oysters at Hog Island Oyster Bar.
There are shops in the market as well, and you can buy olive oil, meats, cheeses, spices, and produce here. We love the artisanal chocolate treats at Anette's Chocolates!
Get a sweet treat at Bouchon Bakery
You'll almost always have to wait in line to get into Chef Thomas Keller's Bouchon Bakery in Yountville. But it's totally worth the wait, if you love sweet baked treats!
The delectable menu at Bouchon features different kinds of croissants, pastries, cookies, and macarons. Our favorites? The yuzu croissants and the fruit tarts in summer and pumpkin pie and pecan tarts during the holidays!
Seating is almost non-existent, so grab a sweet treat and coffee to go, or snag a seat on the bench outside to sit down and enjoy your spoils.
Bouchon Bakery's bread is delicious too, so you might want to pick up a loaf to enjoy later, with local artisanal cheese (and wine, if you choose!).
Visit wineries for art and architecture…
Some Napa Valley wineries boast amazing art and architecture and others have gorgeous grounds and gardens.
While a few require a tour or wine tasting even to enter, others are free to stroll outside.
Touring some of the best Napa Valley wineries is a must when you visit!
The gorgeous Rhine House at Beringer Vineyards is a Victorian mansion built in 1884. Darioush makes you feel like you are visiting Persia. Castello di Amorosa takes you to Tuscany. Hall St. Helena showcases sculptures on its grounds.
The grounds of Chateau Montelena in Calistoga are made for strolling, with a Chinese garden complete with lake and red bridges.
…Or for beautiful views
We never visit Napa Valley without stopping by Artesa Winery. Located high on a hill in the south of the valley, the winery offers beautiful panoramas from its grounds, which also feature beautiful fountains and pools.
Domaine Carneros, also in the south of the valley, also offers beautiful views from its terraces. And the chateau is simply lovely, with formal gardens and vines you can reach out and touch.
Napa Valley has beautiful views in every season. The vineyards turn to gold in the spring when the wild mustard blooms. Late spring is lush and green.
And if you visit Napa Valley in November you will find brilliant yellows, reds, and oranges everywhere as vines and trees change color.
If you have a few days in the region, there are many beautiful wineries to visit in Sonoma as well, from castles and chateaus to rustic wineries with great views and farms onsite.
Hike to the top of Mt. Saint Helena
There are lots of trails you can hike in Napa Valley, but if you are up for a challenge, try the epic hike to the top of Mount Saint Helena, the highest peak in the region. The views from the top are phenomenal.
The trailhead is beyond Calistoga, in the north of the valley, just after you pass Robert Louis Stevenson State Park. Parking is limited, so arrive early if you want to be sure of a spot. Hiking earlier in the day is also more pleasant.
Along the way, you will pass the site of a cabin, where Stevenson reportedly spent a few weeks in the summer of 1880, when he wrote The Silverado Squatters. The cabin isn't there any longer, sadly.
The first part of the trail is wooded but eventually you have to take the open road up to the top.
At the top, make for the north peak for views across the valley and all the way to Mount Diablo in the south and Mount Tamalpais in the west.
Drive the Silverado Trail
For a short scenic drive through Napa Valley, drive the 30-mile Silverado Trail, the road that parallels the busier Highway 29 and connects the towns of Napa and Calistoga.
The Silverado Trail, in our opinion, is one of the most scenic drives in California!
Built in the middle of the 19th century, the Silverado Trail is home to many outstanding wineries. So along the route, there are beautiful views of vineyards, red barns, and hills.
The tree-lined Silverado Trail is a much more pleasant alternative to Highway 29, and you can pull off the road in places to take photos. With connecting roads at each town in the valley, you can hop over to Highway 29 whenever you want.
Looking to rent a car for your Napa Valley trip? Discover Cars offers you the ability to compare availability and prices across many major car-hire companies. Pick the car that best meets your needs!
Check availability and book your rental car now!
Visit the historic Bale Grist Mill
If you enjoy history, a visit to the Bale Grist Mill State Historic Park is a must. The water powered grist mill was built in the mid 19th century and was in operation until the early 20th century.
You may also want to stroll the Pioneer Cemetery nearby: it dates back to the late 19th century.
The Bale Grist Mill is located a few miles north of Saint Helena, near Bothe-Napa Valley State Park. You can walk the trail between the two parks if you so choose; the round trip is about 2 miles.
During its operation, the mill was a center of social activity as people in the community brought their grain and corn here to be ground into flour. The mill and water wheel can still be seen: they have been partially restored.
Take the guided tour (there's a fee) to learn about the history: a tour lasts about 45 to 60 minutes.
Walk the restaurant kitchen gardens
Many area restaurants have kitchen gardens on property, perfect for strolling before or after your meal if you enjoy vegetable and herb gardens.
Menus often feature produce grown right in the gardens, so it can't get more farm-to-table!
We love walking the kitchen gardens of The French Laundry, right across the street from the restaurant. In late summer or fall, you will see beautiful sunflowers here, along with vegetables and herbs.
The gardens of the Farmstead at Long Meadow Ranch in St. Helena contain dwarf apple and peach trees, with blossoms or fruit at eye level, along with lots of veggies and herbs.
Another of our favorite kitchen gardens to walk, the gardens at Mustards Grill are quite extensive and feature fresh flowers, veggies, herbs, and fruit.
If you are visiting with kids, they will love walking the gardens and identifying familiar vegetables.
And if you enjoy vegetable gardening, you'll want to consider this private farm workshop, where you can learn how much can be grown alongside the ecosystem and wildlife.
Have breakfast at The Model Bakery
Breakfast at The Model Bakery is a super-delicious way to start a day in Napa Valley.
We've always eaten at their original location in St. Helena, but they are now in the Oxbow Public Market in Napa and in Yountville as well.
The Model Bakery is best known for its light buttery English muffins, featured on Food Network's Best Thing I Ever Ate.
Get a muffin sandwich (we love egg, avocado, and spinach!) or have muffins with preserves: yum!
Snap a photo of the Grape Crusher statue
In the south of the valley, the Grape Crusher statue is a cool Napa Valley landmark to visit. The statue is located high on a hill, with a surrounding viewing area considered one of the best spots in Napa Valley to view sunrise or sunset.
The largest sculpture ever cast in the western United States, the Grape Crusher stands 15 feet tall (not counting the base) and weighs a whopping 6,000 pounds.
Designed by Gino Miles, a sculptor from Santa Fe, the statue was trucked to Napa Valley and unveiled in 1988.
We visited both at sunrise and at sunset, since we were staying nearby in the Meritage Resort & Spa on one of our Napa Valley visits.
If you enjoy astrophotography, this is a great place to photograph the night sky!
Stop by Gott's for a fun lunch!
Yes, fine dining in Napa Valley can make a big dent in your pocketbook. But not all the tastiest food options here are expensive.
Case in point: Gott's!
Gott's has now expanded to many places, but it's still fun to stop by the original location in Saint Helena.
The quintessential Napa Valley roadside food stand, Gott's serves the classics, but with locally sourced ingredients.
You'll get burgers here, of course, but Gott's also serves a variety of sandwiches, tacos, and hearty salads, all perfect for a fun lunch.
But plan to arrive early if you don't want to find yourself at the end of a long line.
While Gott's burgers are the most famous menu items, we love their falafel salad and avocado tacos. For a sweet and decadent finish, we always choose the chocolate milk shake. Truly yum!
Visit a museum
If you like learning about the history of destinations you visit, you will want to allow time to visit Napa Valley's excellent museums.
If you have time for just one museum, make it the Napa Valley Museum in Yountville. Created to showcase Napa Valley's history, environment, and cultures, the Napa Valley Museum features exhibitions by area artists.
In Saint Helena, the Robert Louis Stevenson museum contains the largest collection of Stevenson memorabilia in the world. Stevenson and his bride honeymooned in Napa Valley in 1880.
In Calistoga, the Sharpsteen Museum is an interesting peek into the town's rich history.
Enjoy some retail therapy
Love shopping? Each of the Napa Valley towns has tempting offerings, so allow some time for browsing. Shops and galleries feature everything from fine art and jewelry to gifts and local food items. And wine, of course!
In Napa, head to First Street for the best shopping. You'll find gifts and souvenirs, art, apparel, and food items. Try olive oil and balsamic vinegar tastings!
In Saint Helena, stroll the charming Main Street, where you will find lots of gift stores and artisanal foods.
In Yountville, V Marketplace offers upscale shopping and a lively vibe. The art galleries here are outstanding. If you want to see artisanal chocolates being crafted, stop by Kollar Chocolates.
In Calistoga, Lincoln Avenue, the main street, is lined with charming boutiques and art galleries.
Visit Lake Berryessa
If you are planning a Napa Valley trip any time from late spring to early fall, consider adding in some time to enjoy beautiful Lake Berryessa!
Known for its "glory hole," the lake offers 165 miles of shoreline to explore.
Even as a standalone destination, Lake Berryessa makes for a great day trip from the SF Bay Area.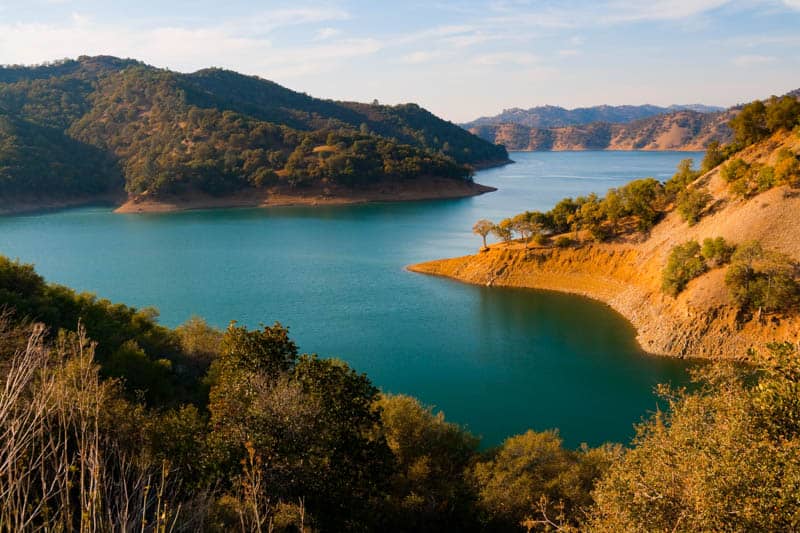 About a 26-mile drive from Saint Helena, Lake Berryessa is a large freshwater reservoir formed by the damming of Putah Creek. It is the largest lake in Napa County and offers lots of recreational activities.
Head out in a kayak or canoe to explore the idyllic coves. Go stand-up paddleboarding across the water and take in the views. Jet ski. Fish. Hike or bike one of the many trails. Look for birds.
Bring a picnic lunch to enjoy on the shore: you won't find many eateries by the lake.
Photograph seasonal beauty in Napa Valley
If you enjoy photography, you'll find beautiful photo spots in Napa Valley, no matter when you visit.
From winery buildings and picturesque barns to charming streets and verdant parks, there's a lot of beauty everywhere you look.
But take your enjoyment to a whole new level by visiting in different seasons.
In late winter, bright yellow mustard carpets the vineyards, making for striking scenes against the bare vines. Add in a spectacular winter sunrise or sunset, and you will get photos that will light up your Instagram account!
In fall, which comes late to Napa Valley, the vineyards glow in warm shades of yellow, orange, red, and rust, and trees in the region show off fall colors as well.
Summer, when plump bunches of purple grapes hang against the bright green leaves, is a great time to practice your macro photography.
Take a cooking class
With two campuses of the Culinary Institute of America located in Napa Valley (in Saint Helena and Napa), taking a hands-on cooking class is a no-brainer if you enjoy the culinary arts.
With courses covering topics from international cuisines and plant-based meals to baking artisanal breads, hands-on classes are fun for adults and kids alike.
CIA also offers cooking demos, where chefs teach and demo techniques in classroom settings, and multi-day boot camps. On our bucket list: the Farm-to-Table boot camp!
Savor a meal Made by CIA student chefs
On one of our visits to Napa Valley, we had lunch at the Gatehouse Restaurant, at the Culinary Institute of America campus in Saint Helena. Meals here are a unique experience!
The centerpiece of the dining area, which has a rustic, farmhouse feel, is the large open kitchen, where you will see multiple student chefs at work. If you want to watch them as you eat, ask for a table with a view of the kitchen.
The menu is focused on locally sourced ingredients, and changes by season. Allow some time before or after your meal to walk the beautiful grounds and gardens.
Enjoy the Napa River
The Napa River flows through the town of Napa on its way from Mount Saint Helena to San Pablo Bay. Strolling the riverfront, or walking one of the trails in the area, should definitely be on your Napa Valley itinerary.
If you enjoy birding, try the Wetlands Edge Trail in American Canyon, where dozens of species have been spotted, including egrets, herons, and swans, as well as land birds of many kinds.
You can also have fun on the water! Go stand-up paddleboarding or kayaking, try fly-fishing, or join a boat tour.
Luxuriate in a spa treatment
While the mud baths of Calistoga are quintessential Napa Valley pampering, you can enjoy a fabulous spa session in any of the Napa Valley towns.
So if you are planning a romantic couples weekend or a girls' weekend trip, schedule some spa time!
The spa at the Meritage Resort and Spa in the south of the valley is in an underground cave: very cool!
In Yountville, the spa at Bardessono is worth the splurge. The B Spa, as it's called, offers a variety of treatments, some of which feature ingredients picked from the organic garden onsite.
And in Saint Helena, indulge in a luxurious experience at The Meadowood Spa. Designed to be in harmony with nature, the luxury spa offers a tranquil retreat.
Visit the di Rosa Center for Contemporary Art
Located in the Carneros region in the south of Napa Valley, the di Rosa Center for Contemporary Art is a gorgeous complex that includes several galleries, a sculpture park, and a lovely lake.
Inside the galleries, you can view rotating exhibitions featuring artists from the region, and tour the permanent collection, focusing on artists living or working in the San Francisco Bay Area from the middle of the 20th century onward.
Book a docent-led tour in advance to tour the courtyard and the sculpture meadow in addition to the galleries.
You can also join birding or nature walks, if one is being offered on the day you plan to visit! They are a lot of fun, and we saw many birds on our walk.
Hike to Linda Falls
You will find Linda Falls near Angwin, about 8 miles from Saint Helena. Maintained by the Land Trust of Napa County, the hike to Linda Falls is very popular, as it is relatively short and moderately easy.
The 1.3-mile loop trail highlights the Linda Falls, where Conn Creek tumbles beautifully over a series of granite steps. Linda means "beautiful" or "pretty" in Spanish, and the falls are indeed pretty.
Visit early in the day to avoid crowds, and in late winter or spring for the fullest flow.
The trail is partly shaded and meanders past many species of native flora. If you visit in spring, you will see the manzanita in bloom.
Bike the Napa Valley Vine Trail
The Napa Valley Vine Trail currently runs 12.5 miles from the John F. Kennedy Memorial Park in Napa to Yountville, but is eventually slated to run 47 miles, starting at the Vallejo Ferry in the south and ending in Calistoga at the Oat Hill Mine Trail.
Bike (or hike) the iconic trail through the valley, to experience it at a slower pace than just driving through it. Trees on both sides will offer shade when mature, and interpretive plaques help you learn about the area as you go.
Bike rentals are available in both Yountville and Napa if you want to ride the trail, or go biking elsewhere in Napa Valley.
Catch a performance
If you are wondering what to do in Napa at night, there's a flourishing live entertainment scene in Napa.
Napa's Uptown Theatre is housed in a beautiful Art Deco building that originally opened to the public in 1937.
An intimate entertainment venue that seats less than 1,000 people, the theater was restored in the early 2000s and hosts live music performances.
Reserve tickets well in advance if you plan to attend a show at the Uptown Theatre during your Napa Valley visit. Inside, don't forget to look up and admire the gorgeous Greco-Roman mural on the ceiling!
If you are a jazz afficionado, you will want to head to Blue Note Napa, a live music jazz club and restaurant located on the first floor of the Napa Valley Opera House. Reserve ahead of your visit!
Watch Old Faithful in action!
If you've witnessed Old Faithful at Yellowstone National Park, you may not be as impressed by the performance of the Old Faithful geyser in Calistoga, but we thought it was very cool.
If you like to watch geysers in action, even if they aren't super tall, or you are traveling with kids, plan a visit to see Calistoga's Old Faithful. The geyser erupts every 15 to 30 minutes, about 60-90 feet into the air.
Admission is a little pricey, but you can also wander the grounds, visit the little Geyser Museum, and stop by the petting zoo.
Where to Stay in Napa Valley
Hotels in Napa Valley, CA
Carneros Resort & Spa is located south of Napa. The property features commanding views of vineyards and the countryside. Each suite or cottage comes with its own outdoor dining area and outdoor shower. The pool is gorgeous! Perfect for a romantic escape. Book a stay here!
Archer Hotel in downtown Napa has a rooftop bar and elegantly appointed rooms, and suites with private balconies. The location is convenient for shopping, wine tasting, and dining in downtown Napa. Book a stay here!
Bardessono in Yountville is probably our favorite hotel in Napa Valley. The grounds are delightful to stroll, and the rooms luxurious, with organic linens and spa baths. The Spa at Bardessono is one of the best in the entire region. Lucy, the onsite restaurant , is highly rated. Book a stay here!
Indian Springs in Calistoga is modern luxury wrapped in a historic package. Featuring the famed Calistoga mineral pools, lush gardens, and beautiful rooms, Indian Springs makes for a quiet retreat in the north of the valley. Book a stay here!
Vacation Rentals in Napa Valley
This lovely Spanish inspired home is located in Napa's charming Old Town. The 2-bedroom, 1-bath home has well-appointed interiors, a full kitchen, and a hot tub. Walking distance to shopping, dining, tasting rooms, and a bakery. There is a private terrace and garden, a garage for parking, and several entertainment options. Book a stay here!
This gorgeous home in Saint Helena is walking distance from the town center. The spacious 3-bed, 2-bath home is perfect for a family or group. The farmhouse overlooks a vineyard, with a wraparound porch and a well-equipped kitchen. Book a stay here!
This stunning home is located between Napa and Yountville, and is perfect for a group or a family gathering. The 3-bed, 3-bath home has a secluded setting, with a pool and spa. There is a terrace for relaxing, and a full kitchen and well-appointed spaces inside. Book a stay here!
This charming home in downtown Napa is walking distance to shopping, dining, and tasting rooms. The 2-bed, 1-bath home works equally well for a couple or a small family. Outside, you will find a lovely garden, and inside, the living and sleeping spaces are well-appointed, with a full kitchen. Book a stay here!
Enjoy wine country getaways? Also check out our guide for things to do in neighboring Sonoma County!
Plan your Napa Valley getaway now!
Did you find this post informative? Pin it for later reference!