The best lakes in California are incredibly beautiful and captivating. From iconic Lake Tahoe to charming June Lake, there are so many lovely lakes in California to visit that you could explore a new one every weekend for a long time!
Not only are California's lakes gorgeous, most of them offer recreational opportunities as well, from swimming and boating to fishing and windsurfing. Plus many of them have walking trails to explore the shore.
Some links on this page may be affiliate links. If you click an affiliate link and make a purchase, we may receive a small commission, at no extra cost to you. For more details, refer to our disclosure.
California's beautiful lakes make for excellent getaways into nature, whether you are traveling solo, as a couple, or as a family.
Over the years, we have visited many of California's beautiful lakes (some more than once!), but of course we have many more on our must-visit list!
The Best Lakes in California
There are thousands of lakes and reservoirs in California, so no matter which part of the Golden State you are visiting, odds are there are a few beautiful lakes nearby you can explore.
Some California lakes, like Big Bear Lake and Lake Tahoe, are resort areas, with recreation front and center. Others, like Tenaya Lake, are protected inside a national park. Still others, like Crystal Lake in the Upper Mammoth Lakes Basin, are in the backcountry, and relatively untouched.
But no matter the location, every single lake in California we have visited so far has been an experience to treasure. Whether you are looking for a great lake for boating, or fishing, or swimming, you'll find one you like among these best California lakes.
Here are our picks for the best lakes in California!
Lake Tahoe
Lake Tahoe has to be number one on any list of lakes in California. In volume, only the five Great Lakes surpass Lake Tahoe, and in depth, it is second only to Crater Lake in Oregon.
The largest alpine lake in North America, Lake Tahoe lies on the border of California and Nevada. The freshwater lake has a gorgeous setting in the Sierra Nevada mountains, and looks beautiful in every season. No wonder it is one of the most famous lakes in California, and one of the most popular!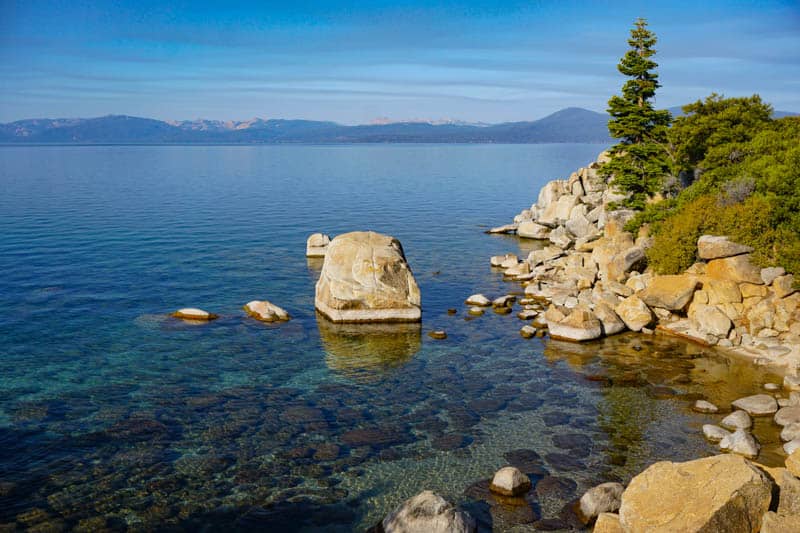 You can cruise Lake Tahoe, go kayaking or stand-up paddleboarding, take a boat out, go parasailing, jet ski, scuba dive, or fish.
You can also hike, bike, or drive around the periphery of the lake. Sand Harbor Beach is great for swimming, as is Pope Beach in South Lake Tahoe.
A truly iconic experience is a helicopter tour to take in the views of Lake Tahoe from above. Check out this tour of Emerald Bay!
Lake Tahoe is so stunning that it is a must-stop spot on any California road trip itinerary that includes the eastern portion of the Golden State.
Lake Shasta
Located in the Shasta Cascade region of northeastern California, Shasta Lake is a reservoir, created by the damming of the Sacramento River. In fact, it is the largest reservoir in California.
You can rent a houseboat on Lake Shasta! Enjoy the beautiful scenery, with snowcapped Mount Shasta dominating the skyline. Marvel at the Shasta Dam, visit the Lake Shasta Caverns, and look for wildlife and birds, including bald eagles.
And of course, enjoy water activities: fish, go wakeboarding or waterskiing, or take a boat out on the water. There are many hiking trails in the area as well. Lake Shasta also has plenty of campgrounds, if you'd like to spend the night eating s'mores and gazing at the stars!
Lake Berryessa
Lake Berryessa is an easy and fun day trip from anywhere in the San Francisco Bay Area. This large reservoir was created by the damming of Putah Creek, and is a popular water recreation area in Northern California.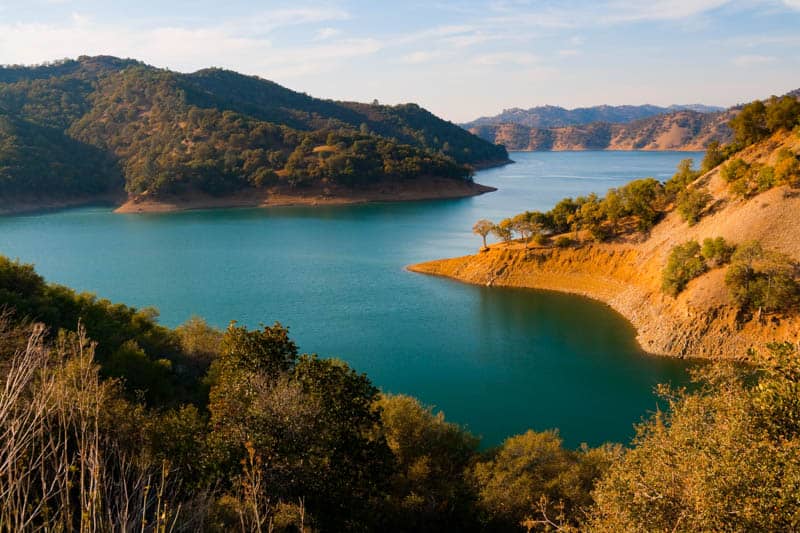 With more than 150 miles of shoreline, and many marinas, Lake Berryessa offers tons of fun activities. Oak Shore Parks is a popular day use area, and there are several marinas where you can rent water craft.
Houseboat rentals are offered if you want to stay overnight or a few days. There are a number of hiking trails, with opportunities to spot wildlife and birds. And if the water level is high enough, you may see the "Glory Hole" in action!
You will find campgrounds at or near most of the lakes we have listed here. Why not rent an RV and spend a few days at one of these beautiful lakes? Check out RV rentals on Outdoorsy and find the perfect vehicle for your trip.
Mono Lake
One of the more unique lakes in California, Mono Lake is a saltwater lake located near Lee Vining and the eastern entrance to Yosemite National Park. It's an ancient lake, formed nearly a million years ago. It's also one of the largest lakes in California, offering wonderful water views.
Mono Lake is famous for its tufa formations: towers of calcium carbonate that stand in the water and on shore. It is also a nesting habitat for millions of birds. You can do a tufa walk or a bird walk with a naturalist to learn more.
You can swim and boat in Mono Lake. There are several hiking trails near the shore, and a boardwalk trail to a viewpoint from where you can see the lake. Mono Lake is a magnet for photographers.
Big Bear Lake
Located in the San Bernadino mountains, Big Bear Lake is a popular Southern California mountain lake escape, with its beautiful scenery and many recreation opportunities.
It is a popular day trip from Palm Springs in the summer, or from the LA area or San Diego. It also makes for a fun weekend getaway from San Diego or LA, since there is plenty to do.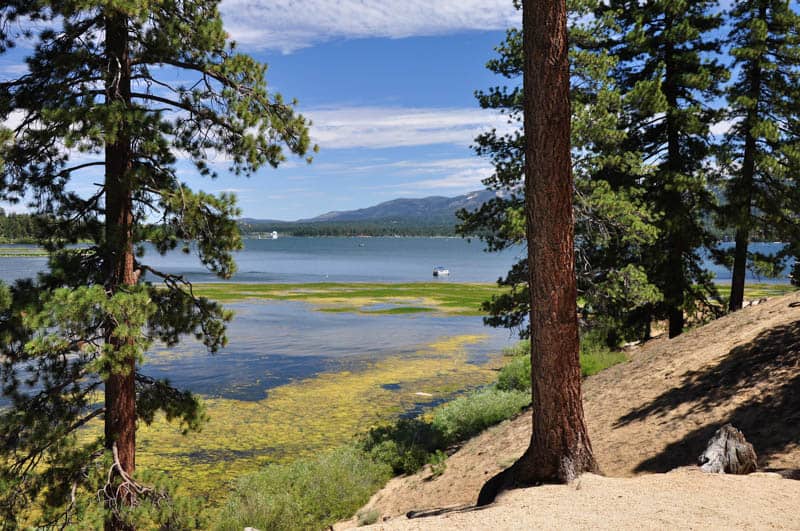 From late spring to early fall, the cooler temperatures at Big Bear Lake make it a lovely getaway. Rent a cabin and enjoy cruising on the lake in a pontoon boat, or go kayaking or canoeing. Big Bear Lake is also an excellent fishing lake – rainbow trout are plentiful here.
Want more thrills? Jet ski, or go wakeboarding or waterskiing! You can also hike or mountain bike in the areas around the lake.
Tenaya Lake
A beautiful alpine lake in Yosemite National Park, Tenaya Lake is a less crowded attraction in the park, mainly because it's located on Tioga Road, a ways from Yosemite Valley. Be aware that the road is only open to vehicles from early June until sometime in November.
With a long lovely shore, and a setting in the midst of granite cliffs, Tenaya Lake offers a serene getaway. The water is crystal clear.
Tenaya Lake has a beach on its east side, made for lazing. You can also walk along the lake shore, swim (but the water may be cold!), or go kayaking or boating.
June lake
Located in the Eastern Sierra a few miles north of Mammoth Lakes, June Lake is spectacular in the fall, and beautiful in other seasons as well.
Driving the June Lake Loop is a must when you are in the area: you'll be charmed by the beauty of all four lakes that you will see on the loop.
June Lake is a popular fishing spot. You can also go boating, and there is a beach at one end from where you can go swimming. Walking along the lake shore is pleasant as well, and you can hike or bike the trails around the lake.
Gull Lake
Also part of the June Lake Loop, Gull Lake is a small lake, but very charming. In the fall, the trees fringing the lake are reflected in the water, making for beautiful photos.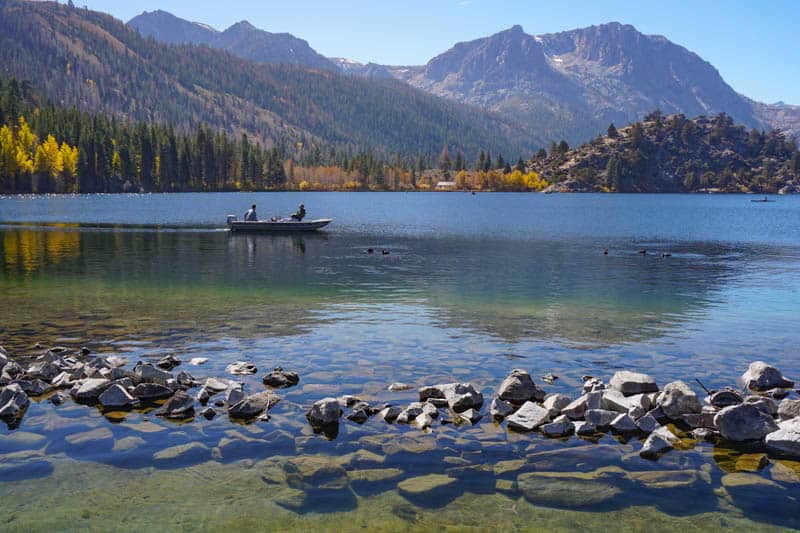 Walk the Gull Lake Trail around the lake, take a boat out onto the water to enjoy the scenery from a different perspective, or fish. Fishing is a popular activity at Gull Lake, with trout, crayfish, and perch in the lake.
Silver Lake
Another beautiful Eastern Sierra lake and part of the scenic June Lake Loop, Silver Lake has a stunning setting at the base of Carson Mountain.
Swim in Silver Lake, go boating or kayaking, or fish. You can see anglers on the shore with their lines in the water, but you can also rent a boat to fish deeper into the lake. Hike the trails in the area, camp, or explore the wilderness on horseback.
Lake Cachuma
Located off the scenic California SR 154, about a 30-minute drive from Santa Barbara, Cachuma Lake is a reservoir created by the damming of the Santa Ynez River. It makes for one of the easiest day trips from Santa Barbara you can do!
Cachuma Lake has a beautiful setting against the backdrop of the Santa Ynez and San Rafael mountains. You can go boating or kayaking, or fish. The lake is well-stocked with trout, and you can fish from a boat or the shore.
You can also hike in the areas around the lake, or do a nature walk or nature cruise. In season, you may see bald eagles here! Cachuma Lake is a no-body-contact reservoir, so activities like swimming, waterskiing and windsurfing are not allowed.
Convict Lake
You'll find Convict Lake just a few miles south of the resort town of Mammoth Lakes in the Eastern Sierra. In our opinion, Convict Lake is one of the most beautiful lakes in California!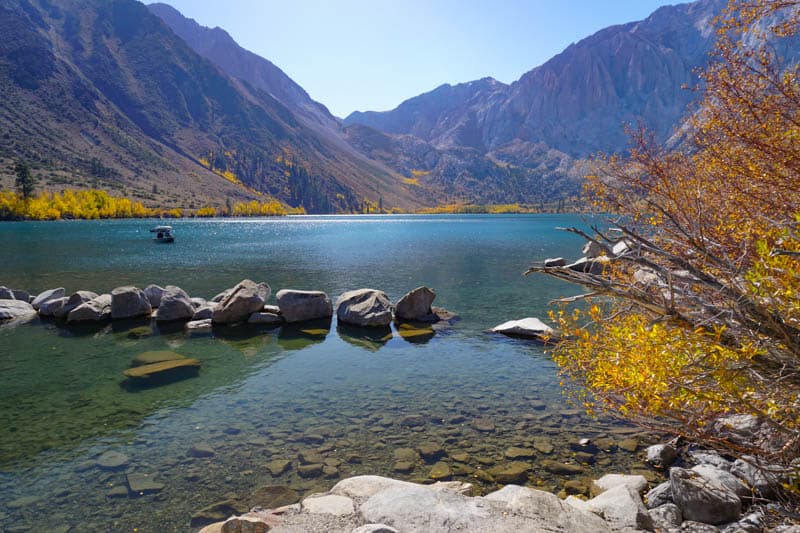 With a picture postcard location at the base of tall peaks, Convict Lake is a darling of sunrise photographers. On a still morning, the reflection of the mountains in the lake creates a dramatic scene.
You can swim in the lake, go boating or fish for trout. You can also walk the trail around the lake. It is an especially beautiful walk in the fall.
Manzanita Lake
Located in Lassen Volcanic National Park, Manzanita Lake is another picture postcard lake, especially on a still day when Lassen Peak is perfectly reflected in it.
Lassen Volcanic is one of the lesser-visited California natural parks, so you can enjoy the spectacular scenery in relative solitude, even in peak summer. If you enjoy photography, you'll get the best photos of Lassen Peak's reflection on a still bright morning.
Walking the scenic hiking trail that encircles the lake is a must: it's an easy flat walk. You can take a kayak out on the water or go stand-up paddleboarding. You can also swim in the lake, or fish. Look for wildlife and birds!
Lake Casitas
Just under an hour's drive from Santa Barbara or Ventura, Lake Casitas is a popular recreation area in the Los Padres National Forest. Lake Casitas is a drinking water reservoir, so no body contact is permitted.
Bass fishing is a popular activity at Lake Casitas, and the lake holds other types of fish as well. Boat rentals are available at the marina. A water park by the shore makes Lake Casitas a fun destination if you are traveling with kids.
If you enjoy birding, bring your binoculars: many birds of prey nest around the lake. Look for wildlife, and enjoy wildflowers in the spring.
Twin Lakes
Located in the Eastern Sierra near the town of Bridgeport, Twin Lakes are two large beautiful lakes set amidst the mountains and easily accessed via a side drive from California SR 395.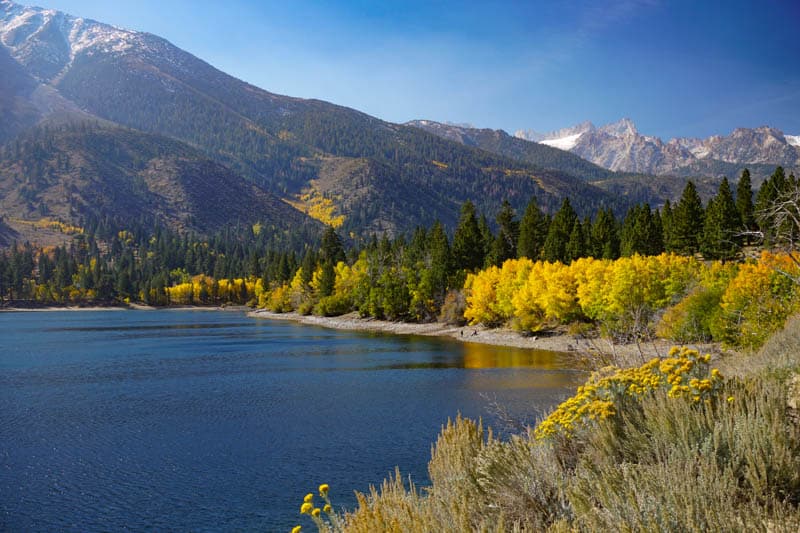 Anglers love Twin Lakes: the two lakes offer some of the best trout fishing in California. You can fish from the shore or from a boat. You can also just go boating.
The Twin Lakes area is beautiful year round, but simply spectacular in the fall. We visited close to peak fall color, and the views were breathtaking. There are hiking trails to explore and birding and wildlife viewing opportunities as well.
San Luis Reservoir
We visited San Luis Reservoir by chance. We were on our way to see the almond bloom near Los Baños when we came upon this beautiful body of water and had to stop!
Located off California SR 152, San Luis Reservoir is a State Recreation Area. There is a swim area at North Beach, and you can take a boat out on the water.
Fishing is a popular activity at San Luis Reservoir, and you can also windsurf. There is a picnic area at South Beach.
The reservoir has a beautiful setting and if you visit in the spring, you will see lots of wildflowers. Numerous species of birds and wildlife call the area home, so bring your binoculars!
Lake Sabrina
There are so many beautiful lakes in the Eastern Sierra! Near the town of Bishop, you will find Lake Sabrina, created by the damming of Bishop Creek.
With a picture postcard setting, Lake Sabrina offers boating and fishing. Motorboats, kayaks, pontoon boats, and canoes are available for rent at the marina.
There are many beautiful hiking trails around Lake Sabrina, some of them leading to beautiful alpine lakes! You can choose to do day hikes or a multi-day backpacking trip. The day hike to Blue Lake is very popular.
South Lake
Also near Bishop is South Lake, situated at an altitude of close to 10,000 feet above sea level. Surrounded by majestic mountains, the lake offers great photo ops.
Boating and fishing are the two most popular activities at South Lake. Boat rentals are available at Parchers Resort, which you will pass on your way to the lake.
From South Lake, you can hike to many beautiful alpine lakes in the region. If you drive the approach road to South Lake in the fall, as we did, you will want to stop every few feet to take photos. It is just that spectacular in the fall.
Lake Hemet
We visited Lake Hemet when driving the scenic Palms to Pines Scenic Byway, officially California SR 74. Lake Hemet is easily accessed from Palm Springs, Los Angeles, or San Diego.
Surrounded by the San Jacinto mountains, Lake Hemet is a popular Southern California recreation area. Enjoy the scenic setting, and go boating or fish. You can cast your line from the shore or from a boat.
There is a water park kids will enjoy, and a swim beach. Bring your camera and binoculars to capture any wildlife or birds you spot.
Lake Sonoma
Located in the coastal foothills of Sonoma County, about a 90-minute drive from San Francisco, is Lake Sonoma. If you enjoy wine, there are many vineyards in the vicinity of the lake.
With 50 miles of shoreline, Lake Sonoma offers a wealth of recreation opportunities, including boating, waterskiing, swimming, and fishing.
There are many trails in the area, and you can hike or go mountain biking or horseback riding. Many of the trails offer panoramic views, including aerial views of Lake Sonoma.
mammoth lakes Basin
The resort town of Mammoth Lakes in the Eastern Sierra is blessed with a number of beautiful lakes, all within easy driving range of the town.
Lake Mary, Lake Mamie, Twin Lakes, Horseshoe Lake, and Lake George are the main lakes in the basin. With beautiful settings surrounded by mountains, the lakes of Mammoth Lakes Basin offer swimming, boating, and fishing. Look for wildlife and birds.
Horseshoe Lake offers a beach for swimming and for launching paddleboards or kayaks. Motorized boating is not allowed on Horseshoe Lake, so if you are visiting with kids, it's a great destination.
Castaic Lake
Located on the fringes of Angeles National Forest and under a one-hour drive from Los Angeles, Castaic Lake is one of the largest water reservoirs in the state.
The State Recreation Area includes the Upper Lake and the Lower Lake and is a hugely popular Southern California escape, with a wealth of recreational opportunities.
You can go boating or jet ski on Upper Lake, and go kayaking on Lower Lake. Only non-motorized watercraft are allowed on Lower Lake, which also boasts a swim beach. Hike the many trails in the area, or go horseback riding. Birding and fishing are also popular at Castaic Lake.
Pyramid Lake
About a one-hour drive from Los Angeles in the Angeles and Los Padres National Forests, you will find beautiful Pyramid Lake. You can see it from Interstate 5, and you can access the Vista del Lago Visitor Center from the freeway.
From the visitor center, take in the panoramic view of the lake: it's a wonderful photo spot. You can boat on the lake year-round, accessing beaches and picnic areas along the shoreline. Waterskiing, canoeing, rafting, and row boats are all popular.
At Vaquero Beach, you can swim, or go paddleboarding. Kayaks and pedal boats are available to rent. Fishing is another popular activity at Pyramid Lake. There are several picnic areas, so bring a meal to enjoy!
Tioga Lake
Located in Yosemite National Park about two miles north of the Tioga Pass entrance to the park, Tioga Lake is a tranquil retreat if you want to escape the more crowded Yosemite Valley.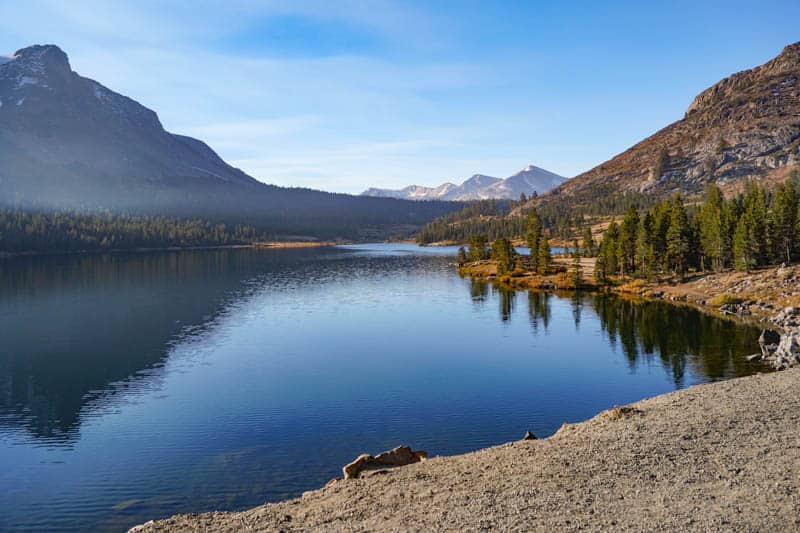 Particularly popular with anglers and photographers, Tioga Lake offers fishing and picnic spots. If you enjoy birding, bring your binoculars: many types of birds of prey frequent the area. You may also see wildlife, such as marmots or bighorn sheep, or even a bobcat.
Lake Nacimiento
Lake Nacimiento is located in the Santa Lucia mountains on the Central California Coast, half-way between Los Angeles and San Francisco.
Lake Nacimiento offers boat and waterski rentals. White bass fishing is popular. You can swim, go kayaking or canoeing, wakeboard or paddleboard.
Hiking trails allow you to explore the surrounding forests and wilderness, and there are birding and wildlife viewing opportunities.
Donner Lake
Just a few miles from Lake Tahoe in the Sierra Nevada mountains is another gorgeous lake: Donner Lake. The Donner Memorial State Park runs along the east and south shores.
View the Pioneer Monument, honoring the ill-fated Donner Party traveling to California that perished while trying to make it over Donner Pass. Drive up to Donner Pass for an aerial view of the lake.
Anglers head to Donner Lake for the trophy-sized lake trout. In the summer, you can go swimming, boating, windsurfing, and waterskiing. You can also hike or go mountain biking.
*****
Planning to explore more of California's natural beauty? Check out some of our other articles for inspiration!
Did you find this article informative? Pin it for later reference!