Planning a visit to Bishop, CA? The "small town with the big backyard" is a beloved Eastern California getaway, and there are many fun things to do in Bishop for outdoor enthusiasts and nature lovers.
With its proximity to so many iconic Eastern Sierra attractions, Bishop is a must-visit destination on the eastside!
Nestled between the Sierra Nevada to the west and the White Mountains to the east, Bishop is the largest town in the Owens Valley.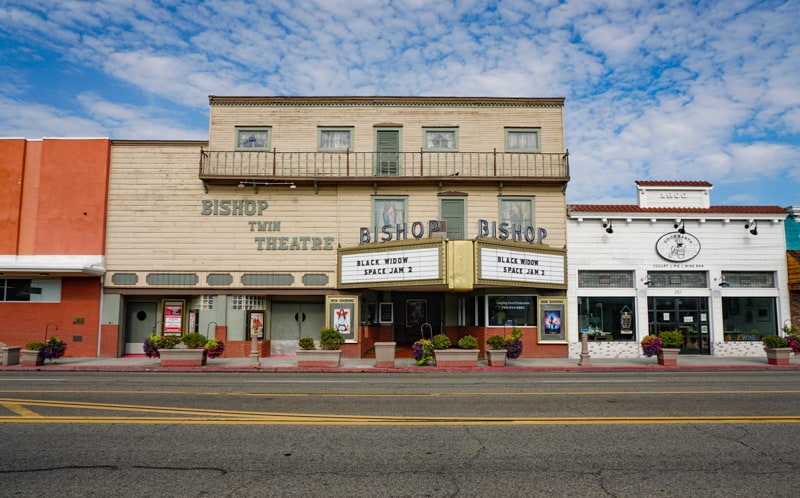 Some links on this page may be affiliate links. If you click an affiliate link and make a purchase, we may receive a small commission, at no extra cost to you. For more details, refer to our disclosure.
With Bishop as your base, you can go sightseeing, bouldering, hiking, mountain biking, off-road driving, backpacking, birding, and fishing, among other outdoor adventures. The area is also awesome for photography.
While it's true that outdoor activities are definitely the main reason why you'd want to visit Bishop, the town also has a thriving arts and culture scene and great dining options.
On our first visit to the Eastern Sierra, we spent a couple of days in Bishop as part of a Highway 395 road trip, and thoroughly enjoyed our time in the little town with its beautiful setting.
We've returned several times since, to explore more of the town and its surroundings, and to just enjoy the striking beauty of its setting.
Considering a visit to Bishop, CA? Discover all the amazing things to do in this eastside California town!
Things to Do in Bishop CA
1. Stroll Downtown Bishop
Bishop is the largest town in the Owens Valley. It has a charming downtown that invites strolling. You'll see some historic buildings and Old West facades as you walk, as well as some stunning murals.
If you want to take home some souvenirs or gifts, you'll find lots of independent stores to browse. You'll also find several stores selling sporting goods, outdoor apparel, and fishing supplies.
Spellbinder Books makes for a great browse, and is also home to the Pupfish Cafe, where you can sit down for a while and enjoy a drink or a snack.
If you enjoy coffee, you'll want to stop by Black Sheep Coffee Roasters. They have single origin coffee and espressos. Their coffee is topnotch: we enjoy their cold coffee every day when we visit Bishop in the summer.
2. Visit a Bakery (or Two!) in Downtown Bishop
If you love baked treats, you'll be thrilled to read that Bishop boasts not one, but two super popular and highly regarded bakeries! Both bakeries are located in downtown Bishop.
Either is a great choice for breakfast or lunch to go. When we visit Bishop, we pop into one or the other at least once or twice each day.
Erick Schat's Bakkery has been serving Bishop since 1938, and is known for its sheepherder bread. The bread recipe was brought to the valley by Basque shepherds during the days of the Gold Rush!
Other than this historic bread, the bakery serves up an enormous variety of other breads and pastries, and also makes sandwiches to order. They also offer gelato.
Erick Schat's Bakkery is located on Main Street and is hugely popular, so you'll likely find it crowded no matter when you go during the day.
Great Basin Bakery is much newer, but also offers quality artisanal breads and pastries, as well as a variety of sandwiches and salads.
We love their flavored breads: they had delicious cranberry orange and pumpkin walnut when we visited in the fall.
Their sandwiches are fresh, with generous fillings, and we stop by everyday to get them for picnic lunches when we are in Bishop.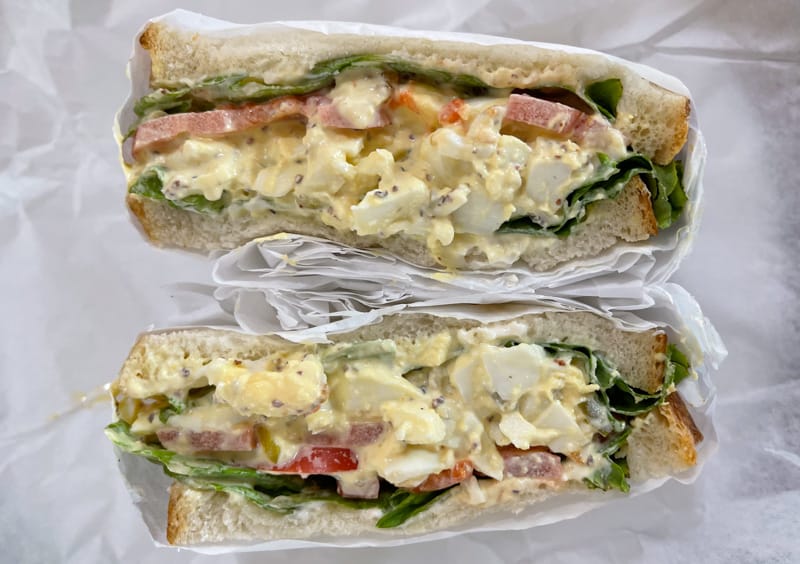 3. Go Bouldering at the Buttermilk Boulders
If you climb, you probably know about the Buttermilks already. Located at the foot of the Sierra Nevada a few miles outside the town of Bishop, the scenic climbing area is popular with all levels of climbers from all over the world.
The Buttermilk glacial erratic boulders look like giant marbles, strewn about the area by a giant hand. Even if you do not climb (we don't!) it is worthwhile driving out, to gaze in awe at the massive boulders and to watch climbers in action.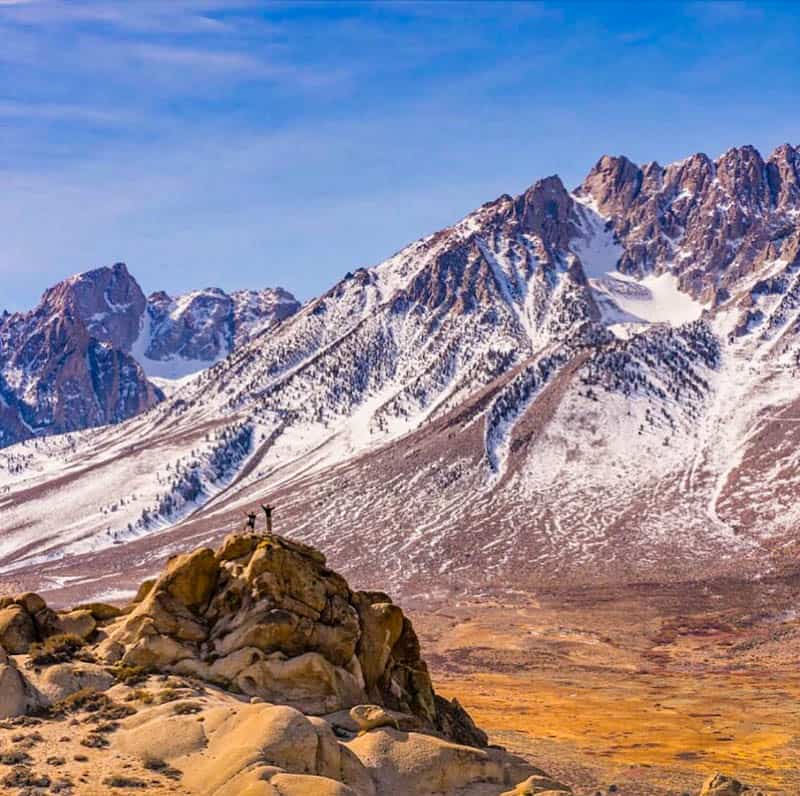 There are lots of dirt trails in Buttermilk Country for mountain biking. You can also hike in the area, and it is a great photo spot.
If you visit in the spring, you will see lots of wildflowers. Birders should also visit in the spring, when songbirds nest in the willows that line the creek flowing through the Buttermilks.
To get to the Buttermilk Boulders, take Highway 168 West from Bishop for about 7 miles. Then turn right onto Buttermilk Road, and go for about 3.4 miles.
Buttermilk Road is a dirt road and a rough drive in a regular sedan, so drive real slow, or come in a 4WD. You will find parking by the boulders.
4. Visit the Volcanic Tablelands
While the Buttermilk Boulders are definitely iconic, they are not the only climbing locations in Bishop.
The Happy and Sad Boulders, located in a canyon in the Volcanic Tableland northwest of Bishop, are also sought-after bouldering destinations, with the Sad Boulders considered more difficult.
Just like the Buttermilks, there is a lot to see and do in the Volcanic Tableland even if you do not climb. The rugged terrain is traversed by dirt roads best explored in a 4WD.
The area was formed hundreds of thousands of years ago by the Long Valley Caldera. It was populated by the Paiute Shoshone, who have left behind lots of petroglyphs.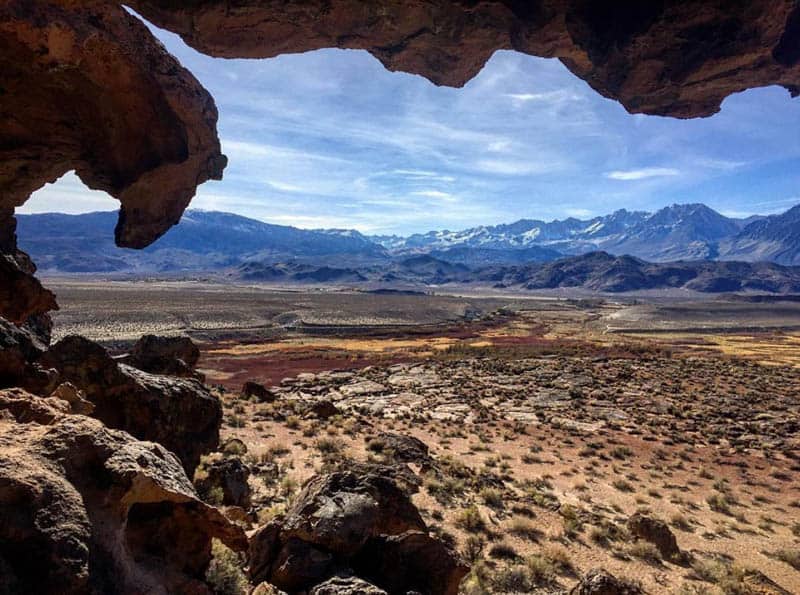 Hiking, fishing in the Owens River, and birding are popular in the Chalk Bluff and the Volcanic Tableland. They are also marvelous photo spots.
5. Explore Bishop Creek Canyon
Southwest of Bishop, Bishop Creek Canyon is a natural wonderland of mountains, lakes, streams, forests, and waterfalls, with a variety of recreational opportunities for outdoor lovers.
Accessed easily via Highway 168 W from the town of Bishop, the canyon is a must explore when you visit.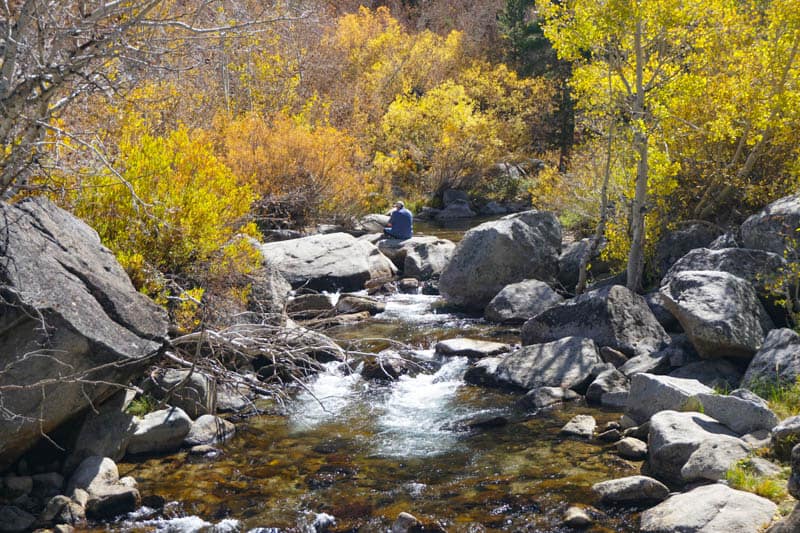 Bishop Creek Canyon is a great place to camp during your time in Bishop, and it is also home to a number of resorts.
Each of the three forks of Bishop Creek has a lake at its head, and we've described them in detail below, but just the canyon area is super scenic to drive through, especially if you visit in the fall.
Bishop Creek Canyon is a popular destination for anglers in the summer and fall. While the lakes are easily accessed, you can also fish the creek waters.
Before you hike or otherwise venture into the wilderness, visit the Inyo National Forest website to learn about safety and being "bear aware," and to obtain permits as needed.
Also, the America the Beautiful National Parks pass is accepted at many federally managed recreation areas, such as the Ancient Bristlecone Pine Forest. If you plan to visit three or four national parks or other federally managed lands in the next year, you could save money by buying a pass.
Valid for one full year from the month of purchase, the America the Beautiful National Parks Pass costs USD 80.00 and offers admission (one vehicle or 4 persons) to over 2,000 Federal recreation sites, including national parks, national forests, and more!
6. Admire the Beauty of North Lake
North Lake is located 9,350 feet above sea level. The setting is idyllic and a bit remote, and you feel like you are literally miles from anywhere.
Getting here is an adventure as well: the road is partially paved and partially dirt. The dirt road is steep, narrow, and winding, with drop-offs that made us nervous. But the views are magnificent.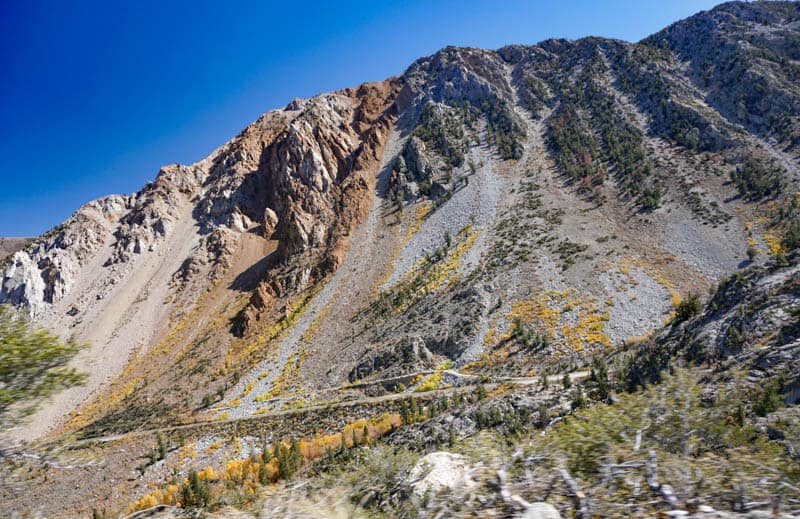 There are no services at North Lake. It is a popular angling destination, and a superb photo spot, especially in the fall. The Piute Pass Trail into the John Muir wilderness begins at North Lake Campground, a little ways beyond the lake.
The North Lake Campground has a lovely setting amidst lodgepole and Jeffrey pines, but no water.
7. Snap Some Photos at Intake II
The strangely-named Intake II is the fourth lake in the Bishop Creek Basin. Like the other three lakes, Intake II has a picturesque location, perfect for photography.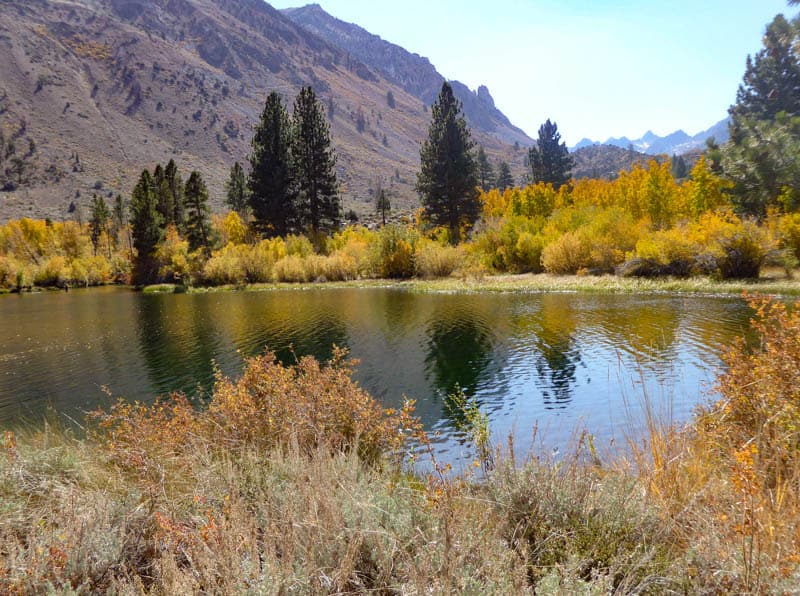 You can fish for trout in Intake II. There are no services at this lake, but it's a quick stop for photos unless you are going to fish.
8. Enjoy Beautiful Lake Sabrina
Lake Sabrina is our favorite of the four lakes in the Bishop Creek Basin. It is created by the damming of the middle fork of Bishop Creek, and you can stroll the walkway along the edge of the lake.
Lake Sabrina Boat Landing offers boat and pontoon rentals and operates a cafe and store at Lake Sabrina. The setting is gorgeous and getting out onto the water is a great way to enjoy the scenery.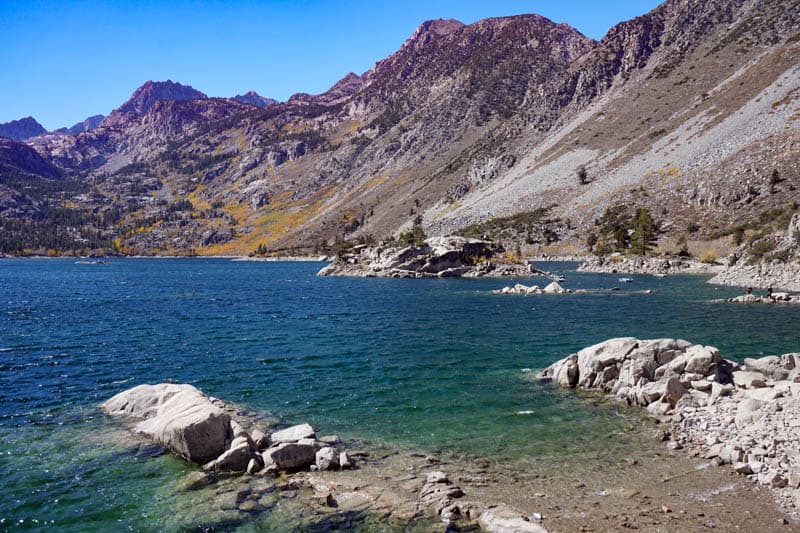 The trailhead at Lake Sabrina is a start point for multi-day backpacking adventures. You can also do day hikes here, if you are up for the challenge: the Blue lake Trail is about 6 miles round trip and rated moderate to strenuous.
In the early summer, the area is flush with wildflowers, and in the fall, the changing leaf colors make for fabulous views.
9. Visit Picturesque South Lake
Another very scenic lake, South Lake is a popular angling destination. Depending on water levels in the reservoir and the season, boat rentals, including tandem kayaks, motor boats, and pontoon boats are available at South Lake Landing.
Several hiking trails start at South Lake, and you can do day hikes or multi-day backpacking treks starting at the trailhead here.
The hike to Lower Treasure Lakes is about 5.5 miles round trip and a beautiful moderate day hike. Along the walk you will have fabulous views of the surrounding mountains, and the two lakes are very picturesque.
10. Soak in a Hot Springs Pool at Keough's
The Eastern Sierra is home to a number of hot springs and a soak in a hot mineral spring is the perfect way to relax after a day spent hiking or climbing.
Keough's Hot Springs is located off US 395, about 7.5 miles south of the town of Bishop, on Keough Hot Springs Road.
There are two hot springs pools at Keough's, with varying temperatures. The larger pool is used for exercising and splashing, while the smaller one, kept at 104 degrees year round, is for deep relaxation. The pools have been here since 1919!
Both pools have free-flowing and have a constant supply of fresh mineral springs water through the day. The water comes up from the ground at a much hotter 130 degrees and is cooled to a safe temperature for soaking. Dressing rooms and restroom facilities are available.
11. Enjoy Scenic Drives around Bishop
The Bishop area is home to numerous scenic drives. While the drives are especially spectacular in the fall, they are definitely worth doing any time of year.
Highway 168 West and East are of course must-do scenic drives in Bishop, but there are other roads you can take into the mountains or around the valley for views.
Round Valley is quiet and beautiful: we actually stayed in Rovana on one of our visits, with the mountains right behind the home. But it's also a great place to enjoy the countryside on side roads off Highway 395.
Drive Old Sherwin Grade Road from Pine Creek Road all the way to Rock Creek, where it meets up again with Highway 395. With mature trees, wildflowers in season, and views of the mountains, this is a lovely drive.
Another beautiful drive is Pine Creek Road, all the way from Highway 395 to where it ends at the trailhead for the Pine Creek Pass and other trails.
Along the way, you get stunning views down into the valley and then up close views of the Sierra Nevada as you approach the trailhead.
At the trailhead, you'll find a delightful little bubbling creek, and if you like, you can inhale the butterscotch smell of a Jeffrey pine.
12. Visit the Ancient Bristlecone Pine Forest
To see some really cool trees, visit the Ancient Bristlecone Pine Forest in the White Mountains to the east of Bishop! To get to the forest, take US 395 south to Big Pine and then CA 168 East to the Visitor Center on White Mountain Road.
Bristlecone pines are the oldest trees on the planet. Some of the trees in the forest are over 4,000 years old! They grow in twisted shapes, and their natural sculptural forms are much sought after by photographers.
There are two main groves in the forest you can walk. Schulman Grove is by the Visitor Center, and has three self-guided interpretive trails.
The longest trail is a 4.5-mile loop that includes Methuselah, a tree that is over 4,850 years old. If you are time-constrained, do the one-mile Discovery loop trail.
The Patriarch Grove is accessed via a 12-mile dirt road that is generally passable in a sedan, but check at the Visitor Center before you head out. In this grove is the Patriarch tree, the largest bristlecone pine in the world.
13. Check Out the Columns at Crowley Lake
If you have a 4WD, and water levels are low enough, the drive out to see the strange Crowley Lake Columns can be rewarding. There are several thousand columns along the shoreline to the east of the lake.
With different colors, textures, and sizes, the columns make for awesome photo ops.
Scientists have theorized that after the huge volcanic eruption that occurred in the area over 750,000 years ago, when lava flowed over the ash deposits in the area, it turned the deposits into stone.
When snow fell, the hot stone caused the snow to melt and boil, creating the even spaces you see between the columns.
The dirt road leading to the beach is very rough, with potholes and bumps along its entire stretch. Do not attempt this drive without a high clearance 4WD vehicle.
14. Hike Little Lakes Valley Trail
The beautiful Little Lakes Valley Trail is a relatively accessible day hike that does not require a strenuous amount of climbing for views and to experience the magic of being in the mountains on foot amidst the beautiful scenery.
Of course that makes it a very popular hike, so expect to share the trail with many other hikers. In season, the parking lot fills up, so get here early.
The trailhead for this trail is at over 10,000 feet above sea level, so know that you will be doing high-altitude hiking. The scenic trail leads to a number of beautiful alpine lakes, with wildflowers in season.
Long Lake is the largest of the lakes you will encounter, with beautiful views as you walk along the shore for a bit.
You can retrace your steps after you reach Long Lake or continue a little further to the next lake, Chickenfoot Lake, which involves a little more climbing.
Allow plenty of time for the hike, as you will want to stop often for photos and to take in the views.
15. Relax in the Beautiful Bishop City Park
Bishop City Park features a beautiful pond, complete with fish and ducks, and is a serene, green environment in which to relax. The park has a couple of beautiful gazebos, and walking trails if you want a gentle stroll. Bishop Creek flows through the park.
Especially in the fall, with leaves changing color, the park offers photo ops as well. If you are traveling with young kids, they will love the play area. Bring your morning coffee or a picnic and enjoy the pretty park!
16. Visit the Owens Valley Paiute Shoshone Center
Step into the Paiute Shoshone Cultural Center to experience the culture, history, and heritage of the indigenous peoples of the Owens Valley. The center houses exhibits and artifacts that describe the life of the Paiute and Shoshone.
The site includes a native garden and a walking trail. Browse the gift shop, where you can purchase arts and crafts items made by local artisans.
17. Visit Laws Railroad Museum
Laws Railroad Museum & Historic Site is a must visit if you enjoy the history of the west, or trains, or both!
The 11-acre historic site is included in the National Register of Historic Places and is located in Laws, just a little over 5 miles from downtown Bishop.
Exhibits include many historical buildings that were saved from destruction. They are arranged around the railroad depot, and each building houses relics and artifacts from the Owens Valley of the past.
You will also see several historical rail cars here, as well as an old engine and caboose.
Laws Museum is a fun place to visit, for kids and adults alike! Download a map of the grounds from the website to help you on a self-guided tour.
18. Check out the Art in Town
Bishop has a great art scene! If you enjoy street art, stroll around the downtown area and check out the close to two dozen murals that document local history, from a depiction of Bishop Bakery from 1922 to a portrait of Father Crowley against a Sierra backdrop.
The Inyo Council for the Arts gallery houses the work of Owens Valley artists year round. You can view paintings, photography, jewelry, and ceramics by local artists here.
Bishop was home to The Mountain Light Gallery, which featured the work of famous adventure photographer Galen Rowell, but it sadly closed a few years ago.
But you can still browse the historic Coons Gallery, where you will find beautiful Sierra Nevada paintings by Robert Clunie and by Richard Coons.
Things to Do Near Bishop, CA
While there is plenty to keep you engaged in and around the town of Bishop, the beauty of the Eastern Sierra extends to the north and south as well. Bishop makes a great base from which to explore further out.
South of Bishop, visit Lone Pine, where you can visit the Lone Pine Film History Museum, snap photos of the colorful neon signs in town at night, and soak in the Old West vibe.
Drive the iconic Whitney Portal Road to Whitney Portal, where you will find the trailhead for the hike to the summit of Mount Whitney, the tallest peak in the contiguous US. The drive features magnificent views.
A few miles before you reach Lone Pine, stop in Independence to snap photos of the beautiful County Courthouse and the historic Mary Austin Home. Museum lovers will want to tour the Eastern California Museum. Onion Valley is a super scenic drive.
Also in the south, tour the famous Alabama Hills, the location for numerous western movies. Drive scenic Movie Road, tour the natural arches in the area (Mobius Arch is gorgeous!), and take in the beautiful views.
North of Bishop is the Hot Creek Geological Site, where you can walk a trail by the side of the hydrothermal features and take photos. It is a scenic spot! Convict Lake is a small alpine lake in a spectacular setting where you can walk around the shore, or go boating.
Further north is Mammoth Lakes, a year-round playground with several beautiful sights and endless recreation opportunities. Devils Postpile National Monument, where you can also hike to Rainbow Falls, is a fabulous spot to visit. Earthquake Fault is a short but interesting walk.
Even further north, you can drive the scenic June Lake Loop, or spend some time in the tiny resort community of June Lake, famous for its sparkling alpine lakes.
Getting to Bishop, California
Mammoth Yosemite Airport, just under 40 miles away from the town of Bishop, is the nearest airport, with limited flight service, some of it seasonal (winter).
Bishop is located off US Highway 395, and most visitors arrive in Bishop by road. The drive on US 395 from LA (or Palm Springs) and points south via Alabama Hills is beautiful, as is the drive from the north (Yosemite National Park, or South Lake Tahoe/Reno and points north).
Getting around
You will need your own wheels to explore the region. If you plan to do a lot of driving on dirt roads, rent a 4WD SUV for your trip to Bishop.
The road to the columns at Crowley Lake, for example, definitely requires a 4WD. In the fall, if you want to check out colors on backcountry dirt roads, you will need a 4WD.
That said, we did our trip to Bishop in a regular car. We didn't go down too many dirt roads though! Our sedan managed short stretches, such as the Buttermilk Boulders Road, but it definitely was not a pleasant ride and we took it real slow.
Looking to rent a vehicle for your Bishop CA trip? Discover Cars offers you the ability to compare availability and prices across many major car-hire companies. Pick the car that best meets your needs!

Book your car with Discover Cars now!
Where to Stay in Bishop, CA
Hotels in Bishop, CA
The Creekside Inn is conveniently located close to shopping and dining. The hotel offers a creekside patio with views of the surrounding mountains. The outdoor swimming pool and hot tub are seasonal. Rooms are spacious and beds rated super comfy. Some rooms have balconies overlooking the creek. Book a stay here!
The Cielo Hotel Bishop-Mammoth offers spacious rooms, comfortably furnished. The hotel is centrally located, and has a garden and barbecue facilities, as well as a terrace from which to enjoy the views. Book a stay here!
Vacation Rentals in Bishop, CA
This cozy cottage is perfect for a couple. Located close to roads but in a tranquil setting, the cottage has one bedroom and is beautifully furnished. You'll love all the little touches and the well-stocked pantry. There is a fenced yard with a barbecue.
Book a stay here!
This spacious home is well-appointed and has two bedrooms and two bathrooms. With 1,250 square feet of space and a full kitchen, the home is perfect for a family or two couples. The home is located in downtown Bishop, with a porch swing and a pellet stove.
Book a stay here!
This wonderful 2,500-square-foot home is located on acreage and features 3 bedrooms and four bathrooms, ideal for a family or group getaway. The home has a full kitchen and a deck. The home is located in West Bishop, just a couple of miles from downtown.
Book a stay here!
This stunning highly-rated farmhouse in West Bishop is located on one acre. With three bedrooms and two full bathrooms, the home is well-appointed and features an evaporative cooler and a wood-burning stove. The backyard is beautiful and there is a hot tub.
Book a stay here!
Campgrounds in Bishop, CA
Bishop also has lots of campgrounds and RV parks. Some campgrounds are run by Inyo County, while others are privately owned.
The Bishop Region is a great place to camp: some of the campgrounds we came across on our trip had such gorgeous settings that camping here is on our bucket list!
If you do not have an RV, check out Outdoorsy to rent one for your trip.
Brown's Town Campground is located just a mile south of town. It is a privately-owned and well-reviewed resort style campground with beautiful views.
If you would like to get out into the country a bit, consider Pleasant Valley, or Horton Creek, both run by Inyo County.
Where to Eat in Bishop, CA
If you enjoy baked treats, you'll be thrilled to read that Bishop boasts not one, but two super popular and highly regarded bakeries!
Either is a great choice for breakfast or lunch to go. When we visit Bishop, we pop into one or the other at least once or twice each day.
Erick Schat's Bakkery has been serving Bishop since 1938, and is known for its sheepherder bread. The bread recipe was brought to the valley by Basque shepherds during the days of the Gold Rush!
Other than this historic bread, the bakery serves up an enormous variety of other breads and pastries, and also makes sandwiches to order.
Great Basin Bakery is much newer, but also offers quality artisanal breads and pastries, as well as a variety of sandwiches and salads. We loved their flavored breads: they had cranberry orange and pumpkin walnut when we visited in the fall.
Another little gem is Pupfish Café, where you can have breakfast (avocado toast, yum!) or a casual early lunch. The Mountain Rambler Brewery serves up artisan ales. The Owens Valley Distilling Company is highly regarded for its artisan spirits.
Mountain Rambler has delicious eats as well. Their burgers are excellent, and also enjoyed the unique squash empanadas and tempeh Reuben sandwiches. The Back Alley Bowl and Grill has great burgers as well, and their offerings are not only delicious, but affordable as well.
If you love jerky, you will want to stop by Mahogany Smoked Meats, where the jerky and smoked meats are created locally. You will find elk, buffalo, and wild boar jerky here, in addition to turkey and beef.
Established in 1922, the store's offerings are hugely popular for the mountain mahogany log smoke flavor.
The Best Time to Visit Bishop, California
Bishop is a year-round destination. While winter finds Bishop popular with skiers and other winter-sport enthusiasts, you can go mountain climbing, bouldering, hiking, fishing, and backcountry camping around Bishop when the snow is gone.
Fall is a fabulous time to visit Bishop: the area is considered one of the top places for fall colors in the Eastern Sierra. In fact, the colors in the region are some of the prettiest you will find in all of California.
If you visit at or around peak, South Lake Road is so spectacular that you will find yourself stopping every few yards for yet more photos. North Lake is another stunning fall color photo spot.
If you visit in the fall, be sure to check out the colors in Aspendell, a few miles southwest of Bishop. The aspens here are really tall and mature, and they look spectacular at peak!
Overall, Bishop is one of the best places for fall colors in California!
Summer is another popular time to visit, with wildflowers at higher elevations, and long days to hike and enjoy the outdoors. It's hot in the summer though, since Bishop is in the high desert.
Late spring brings new growth on deciduous trees, and wildflowers at lower elevation. With the mountains still covered with snow in spring, the scenery is superb.
Bishop celebrates Mule Days around the Memorial Day weekend each year, with a fun non-motorized parade, concerts, barbecues, dancing, and other events.
In December, Bishop has many holiday events, including a Main Street parade and a Christmas Tree lighting.
In short, when you choose to visit Bishop depends on your interests, because the region is beautiful any time of year!
Did you find this article informative? Pin it for later reference!