The Highway 395 road trip through the Eastern Sierra mountains is spectacularly scenic from end to end, and is one of the most exciting California road trips you can do. It should be on the itinerary of every nature lover that visits California!
This epic road trip along Highway 395 (US Route 395) takes you through diverse and beautiful landscapes.
From desert to mountains with forests, lakes, rivers, waterfalls, and canyons all thrown in for good measure, you will truly enjoy a kaleidoscope of natural scenery on this trip.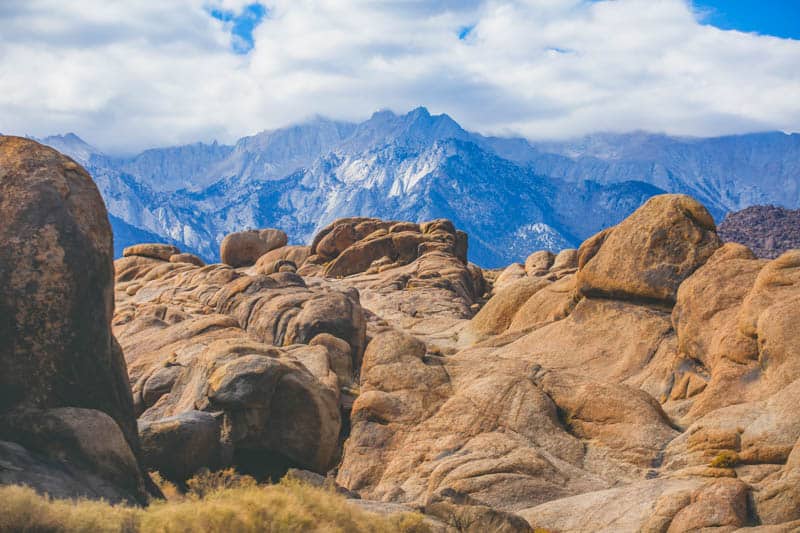 If beaches and palm trees are what come to mind when you think of the natural beauty of California, you will be enthralled by the totally different side of the Golden State you see on this iconic Highway 395 road trip.
This incredible diversity is one of the BIG reasons we love exploring California!
We have described a US Highway 395 road trip itinerary that starts in LA and ends in South Lake Tahoe.
On this road trip itinerary, you pick up Highway 395 at almost its southern end in the Mojave Desert, but in the north it actually extends way beyond California, all the way to the Canada border!
You can also do this Eastern Sierra road trip starting in Palm Springs, in which case you would pick up US Route 395 at its southern end near Hesperia, and then continue on to Lone Pine and beyond.
Highway 395 Road Trip Tips
Before we delve into the Eastern Sierra Highway 395 road trip itinerary and the many Highway 395 attractions, here are some tips for an enjoyable trip!
The best time to do the road trip through the Eastern Sierra
Fall is our top choice for when to do the Eastern Sierra road trip, with some amazing colors along Highway 395 and on side roads.
The Eastern Sierra is the top leaf-peeping destination in the Golden State, with spectacular colors that will make you want to reach for your camera again and again.
Late spring would be our second choice, after major snowfall is done and roads in the region are open. You will see lots of wildflowers along the route and snow on the mountains, making this another picturesque time of year.
Summer is our third choice: the desert section of the route will be too hot for exploring, so if you do pick summer, focus on the Sierra portion, which is gorgeous in the summer.
Winter is our least favorite time for the Highway 395 road trip, only because snowstorms may close sections of US 395 at times, and other scenic roads may be closed for the season entirely.
The scenery is still stunning, though, so if you are lucky and find a spell of good weather in the winter when the highway is clear, you can still do quite a bit of the itinerary!
Start the 395 Highway Road trip in Los Angeles
Although the desert sections of the route are dramatic, we think you will want to end with the most scenic portions of the route, which are along the Eastern Sierra.
Plus, if you travel the route in spring or fall, you will find wildflowers or fall leaf color earlier in the southern sections of the route.
But of course, if it's more convenient from an overall trip perspective, this road trip can easily be done north to south as well, starting in South Lake Tahoe and ending in LA. In this case, you can fly into Reno and a rent a car at the airport.
Download maps and brochures Prior to your Road Trip
You may not have cell reception in parts of the Eastern Sierra road trip route, so to be safe, download and print all maps, brochures, and permits ahead of time and keep them handy.
Rent the Appropriate vehicle for your US 395 road trip
We saw so many folks doing the US 395 road trip in RVs!
There are some super beautiful campgrounds along the way, and you can be up close to the beautiful wilderness, wake up to a desert or Sierra sunrise, and even do some stargazing if you are in a campground away from town.
RVing this route is on our California bucket list!
If you don't own an RV, but you are considering renting one for your Eastern Sierra road trip, check out Outdoorsy to find the perfect vehicle for your trip!
If you want to drive some backcountry roads, then consider renting a 4WD SUV. Some dirt roads in the region are super scenic in the fall, but we had a rough time navigating them in a sedan!
Otherwise, a sedan works perfectly well on this route, in good weather.
Whatever vehicle you rent, make sure to get a one-way rental! We use Discover Cars for our car rentals. They scour multiple providers to get the best price and find one with the lowest one-way rental surcharge if there is one.
Carry your National Parks Pass
Do you have your National Parks Pass yet? Valid for one full year from the month of purchase, the America the Beautiful National Parks Pass costs USD 80.00 and offers admission (one vehicle or 4 persons) to over 2,000 Federal recreation sites, including national parks, national forests, and more!
The National Parks Pass is accepted at several of the Federal recreation sites along this road trip route.
Don't Forget Your Camera and Binoculars
You will want to take your favorite photography gear on this trip. The scenery is so spectacular that you will come back with thousands of photos and lots of video footage as well.
If you love photographing birds or wildlife but don't want to carry your heavy gear on hikes, consider adding a pocket digital camera with a good zoom lens to your camera bag.
We take our little Panasonic Lumix DC-ZS70 everywhere. It has a 30X zoom and Leica lens and takes great shots.
We also always bring our compact binoculars if we expect to see birds or wildlife. We love the Celestron Trailseeker compact binoculars. They are waterproof and great for the lower light of dawn or dusk, when you can expect to see wildlife and birds.
Highway 395 Road Trip Itinerary At A Glance
Here is a quick look at the Highway 395 road trip itinerary.
Continue reading below to find a day-by-day detailed route description, with suggestions for top sights and activities along the way, best places to stay, and places to eat.
At the end of the article, we have included a map with our suggested places marked for ready reference!
| Day 1 (of 8) | To-From | |
| --- | --- | --- |
| Day 1 | Start, Los Angeles to Lone Pine | |
| Day 2 | Lone Pine to Bishop | |
| Day 3 | Bishop to Mammoth Lakes | |
| Day 4 | Explore Mammoth Lakes | |
| Day 5 | Mammoth Lakes to Lee Vining | |
| Day 6 | Lee Vining to South Lake Tahoe | |
| Day 7 | Explore South Lake Tahoe | |
| Day 8 | Depart | |

Day 1 of Highway 395 Road Trip: LA to Lone Pine
Driving distance and time: 214 miles, about 3 hours and 20 minutes
Leave Los Angeles as early in the day as you can, not only to avoid the worst of the traffic, but also to have more time for sightseeing through the day.
The highlights on this day are Red Rock Canyon State Park and Alabama Hills, two drop-dead gorgeous desert areas.
Visit Vasquez Rocks Natural Area and Nature Center
A great place to spend an hour or two in the morning is the Vasquez Rocks Natural Area and Nature Center near Agua Dulce Springs, the locale for many movies and commercials.
It is a large park with lots of trails, but you can do a short walk to the main rock features in the park. This is a great park for photos!
Enjoy Red Rock Canyon State Park
In our opinion one of the most beautiful state parks in California, Red Rock Canyon State Park gets fewer visitors than it should, which means you can enjoy the fabulous desert rock formations in relative solitude.
Red Rock Canyon State Park features dramatic rock formations and buttes in vivid colors and startling shapes.
The park has a rich history, having been inhabited by Native Americans long ago. It also served as a landmark and watering place for mule freight wagons. There are remnants of late 19th century mining operations in the park.
Walk around and take photos of the beautiful rocks and cliffs. There are several trails in the park that take you up close to the rock formations, and in the spring you will see tons of wildflowers, especially if the preceding winter was a wet one.
Visit the Eastern Sierra Interagency Visitor Center
If the visitor center is open, step in to view the exhibits and learn more about the Eastern Sierra region: its geology, flora and fauna.
The bookstore has lots of informative material and maps. The center issues overnight and day use permits for Mount Whitney.
The visitor center has a fabulous view of Mount Whitney, the tallest peak in the contiguous United States. If for nothing else, stop to check out the view and take some photos!
Explore the Alabama Hills National Scenic Area
Located between the Sierra Nevada and the Inyo Mountains, the rocks and landscape of the Alabama Hills are gorgeous. Numerous movies have been filmed here, and the famous arches here are cherished photo spots.
Tour movie locations, hike, explore the arches, and take lots of photos. In the spring, you will see lots of wildflowers here, but the landscape looks dramatic even when barren.
Driving Movie Road is a must, for its fabulous views. Follow it all the way uphill.
The most famous photo spot in the area is Mobius Arch, which frames Lone Pine Peak or Mount Whitney beautifully, depending on your angle of view. The arch is accessed via a short trail off Movie Road.
While sunrise is the best time for photos at Mobius Arch, sunset and night (for astral photography) are also popular times.
Sleep in Lone Pine
Lone Pine, CA, has an Old West feel, with its location at the edge of the desert, in between the Sierra Nevada on the west and the Inyo Mountains on the east, and Western-style buildings lining its Main Street.
You can easily imagine Western movies being filmed in these parts!
Lone Pine is also famous for its neon signs, and you will see lots of them if you drive along Main Street after dark!
There is a lot to see and explore in the area, and on this road trip, you will just experience a very small sampling.
From hiking to hang gliding and climbing to fishing, outdoor activities abound. But, with its laid-back vibe, the region is also great for just kicking back and relaxing.
Lone Pine has a number of restaurants, and grocery stores, if you plan on cooking or want to pick up picnic fixings. Alabama Hills Cafe & Bakery is a popular place for breakfast or for casual lunch: their gravy-and-biscuits are famous.
Where to Stay in Lone Pine
The Dow Villa Motel offers spacious rooms rated clean and comfortable. The motel has an outdoor pool and hot tub, and is located close to shopping and dining. Some rooms feature mountain views. Book a stay here!
The Best Western Frontier Motel offers spacious air-conditioned rooms with assigned parking close to the room, convenient for unloading and loading. Their breakfast is well reviewed and the location is convenient.
Day 2 of Eastern Sierra Road Trip: Explore Lone Pine, Lone Pine to Bishop
Driving distance and time: 57.5 miles, about 55 minutes
Start early, because there is a lot to see and do on this stretch of the Highway 395 road trip route! Spend the first part of the day exploring the sights around Lone Pine.
Afterwards, make your way towards Bishop, doing the detour to the fascinating Ancient Bristlecone Pine Forest en route.
Drive Whitney Portal Road
Whitney Portal Road is a super scenic drive that takes you about half way up Mount Whitney. The paved road is about 13 miles in length, and is generally kept cleared of snow between some time in May and some time in November each year.
The narrow road progresses up the mountain via a series of switchbacks, with beautiful vistas at every turn, and ends at the parking lot at Whitney Portal.
It is not an easy drive, and there are limited options for turning around part way, so attempt it only if you are an experienced mountain driver.
At the top, take in the beautiful views and do the short hike to Lone Pine Creek Falls. Have a drink in the Whitney Portal Cafe. For beautiful photos, visit in the morning.
Visit the Museum of Western Film History
The small museum showcases the history of Western movies, from the silent film era to the present day. You can view lots of memorabilia: there are about 40 permanent exhibits and periodic special events.
If you are a Western movie aficionado, or you enjoy film history, definitely stop by this fun museum. You will find exhibits on Roy Rogers, John Wayne, Gene Autry, and the like.
Tour Manzanar National Historic Site
Manzanar War Relocation Center was one of ten camps where Japanese American citizens and resident Japanese aliens were kept prisoner during World War II, at the behest of the US government.
Tour the facility near Independence, on your way from Lone Pine to Bishop.
Start at the Visitor Center, where you can watch a 22-minute film, Remembering Manzanar. The film runs every half hour.
Then explore the extensive exhibits, which include photos, artifacts, and a scale model of the relocation center created by people that were incarcerated there. Browse the bookstore.
Do the 3.2-mile self-guided driving tour to view different parts of Manzanar. The Block 14 exhibits show you what life was like when it functioned as a relocation center.
Over 100 Japanese gardens were created by people incarcerated at Manzanar, and you can see remnants on your tour.
Explore the Ancient Bristlecone Pine Forest
If you love fascinating things in nature, you must do the detour to the Ancient Bristlecone Pine Forest, high in the White Mountains.
The detour is about 24 miles each way, on CA 168. The Visitor Center at Schulman Grove is open in the summer, and offers information about the trees.
Bristlecone pines are the oldest living organisms on the planet, and grow in twisted sculptural shapes that make them great photo subjects.
There are two groves here to explore: Schulman Grove, and Patriarch Grove, about 13 miles away and accessed via a dirt road.
The Methuselah Trail, which starts at the Visitor Center, is a trail that includes Methuselah, a bristlecone pine that is close to 5,000 years old.
There is no sign indicating which tree you see is Methuselah, to protect it from possible vandalism.
In the Patriarch Grove, you can see Patriarch, the largest bristlecone pine in the forest.
It takes several hours to explore both groves, so you will have to pick what you want to see here if you follow this itinerary exactly.
We recommend dedicating a day to these ancient trees if you can afford the time!
Sleep in Bishop
Bishop calls itself the "small town with the big backyard."
With its stunning setting, the town is a jumping off point for a wide spectrum of outdoor activities. Outfitters guide visitors on backpacking trips, and you can hike, go mountain biking, climbing, or fishing.
But the town also prides itself on its art-centric community. The Coons Gallery and Laws Railroad Museum are just two interesting places to visit, and the town also hosts special arts and culture events through the year.
And if you enjoy street art, Bishop has lots of murals to photograph.
Bishop is a good-sized town with many restaurants and grocery stores. Erick Schat's Bakkery is a must-stop spot: the aisles and aisles of baked treats are so tempting that it's difficult to choose. Their made-to-order sandwiches are delicious too.
Where to Stay in Bishop
Holiday Inn Express Hotel & Suites is located right along Main Street and offers comfortably furnished rooms with a microwave and a small refrigerator in every room. Book a stay here!
Cielo Hotel, located on Main Street in Bishop, offers spacious comfortable rooms with terraces. Rooms are well-furnished, with Euro-style bedding. The hotel is located close to stores and restaurants. Book a stay here.
Comfort Inn Bishop is also located along Main Street, convenient to shopping and dining in town. Rooms and suites include microwaves and refrigerators. There is a seasonal outdoor pool and hot tub. Book a stay here!
Parchers Resort in Bishop Creek Canyon, about a 30-minute drive from town, offers several types of cabins in the summer and fall. It has a spectacular location amidst the mountains and makes for a scenic Eastern Sierra stay. Read reviews on Tripadvisor!
Day 3 of US 395 Road Trip: Explore Bishop, Bishop to Mammoth Lakes
Driving distance and time: 42.1 miles, about 40 minutes
Explore the stunning region around Bishop, from Bishop Creek Canyon to the boulder sites near town. Then visit some hydrothermal features on your way to Mammoth Lakes!
Visit the Milks (Buttermilk Boulders)
The Milks are a famous bouldering destination, but even if you do not climb, it is worthwhile making the drive to look at the massive boulders of granite, up to 45 feet tall, set against the backdrop of the Sierra Nevada mountains. The scenery is beautiful and made for photos.
You will find the Buttermilk Boulders on Buttermilk Road, off CA 168, about 14 miles from Bishop. The dirt road is generally not in good shape, but is considered passable in a sedan. An SUV with 4WD would be ideal.
Happy Boulders and Sad Boulders, in the Volcanic Tableland north of Bishop, are also popular bouldering spots that you can visit just to see and photograph as well.
Enjoy Lake Sabrina
The Bishop Creek Canyon is gorgeous, with towering mountains forming a backdrop for beautiful lakes and forests. The three forks of Bishop Creek have been dammed to create North Lake, South Lake, and Lake Sabrina.
The three lakes are set quite close to one another and you can drive to all of them if you like. Be warned, though, that the road to North Lake is part paved and part gravel, and is narrow and winding. The vistas are beautiful but we found the drive a tad scary.
Lake Sabrina makes for great exploration and recreation. If you want to pick one lake to spend a decent amount of time, we would choose Lake Sabrina. Not only can you walk around, and go boating (boat and pontoon rentals are offered), but you can also hike to other lakes.
Blue Lake is a 2.5-mile hike from the trailhead at Lake Sabrina and offers fabulous views. It's a great place to have a picnic lunch!
Soak in a Hot Springs Mineral Pool at Wild Willy's
There are numerous hot springs in the Eastern Sierra, especially in the valley just south of Mammoth Lakes, and enjoying a relaxing soak in one of the mineral pools should definitely be an item on your Highway 395 road trip itinerary.
Wild Willy's Hot Springs, north of Bishop en route to Mammoth Lakes, has an absolutely stunning setting between the Sierra Nevada on the west and Glass Mountain Ridge on the east.
There are two pools, both accessed via a boardwalk from the parking area. Water temperature can vary from the mid 90s to the mid 100s. The pools are both fairly small in size, and have been carefully maintained to have a natural look so when you soak, you truly feel like you are in nature.
Clothing is optional at these pools. If you prefer larger pools, clothing mandatory, check out Keough's Hot Springs, just a few miles south of Bishop off US 395.
Residents and visitors have been enjoying the hot springs here for years, but note that bathing in the hot springs is not officially recommended by the National Forest Service and is at your own risk.
Visit Hot Creek Geological Site
If you enjoy watching hydrothermal activity in action, visit Hot Creek Geologic Site. Here you will see fumaroles, geysers, and hot pools, set in a gorge.
Hot Creek is Yellowstone National Park or Lassen Volcanic National Park in a pocket version!
The area is in a constant state of activity, with geysers erupting randomly, and the water in the pools is super hot, so soaking is not permitted here.
Stay on the paved trail and admire the geologic marvels from a safe distance, and take photos of the beautiful aqua pools and steaming vents.
Admire Convict Lake
The Eastern Sierra region is home to many beautiful lakes, but, in our opinion, Convict Lake is one of California's most scenic lakes and a little gem you have to visit on your road trip. Walk around for a bit to enjoy the scenery and take photos.
While it's convenient to stop at Convict Lake en route to your accommodation in Mammoth Lakes, you can also wake up really early the next morning and drive down to catch sunrise here, which is truly spectacular.
The Restaurant at Convict Lake is a great place to have dinner, but make reservations ahead of time.
Sleep in Mammoth Lakes
A bustling ski resort in the winter and an outdoor lovers' playground all year long, Mammoth Lakes offers much to see and do. It is the premier Eastern Sierra destination, no matter what the season.
We've allocated a full day to Mammoth Lakes on this road trip itinerary, so you can get a good taste of what the region offers.
The mountains are all around town, appropriate for a ski resort, and just walking around is fun. But Mammoth Lakes is all about adventure, and you will find plenty of opportunities to play here, no matter what your interest.
The Village at Mammoth has lots of dining options and stores. We loved the pizza at Bear Creek Pizza. Whitebark Restaurant, the Westin's onsite eatery, is also very good.
Where to stay in Mammoth Lakes
The multi-level Westin Monache Resort is located very close to the Village at Mammoth. Suites are spacious and well-appointed and some come with views of the mountains. All suites feature fireplaces. Book a stay here.
The Village Lodge offers condos in different sizes, along with outdoor pools and hot tubs. The condos are spacious and well-furnished, and come with kitchenettes or full kitchens. Book a stay here.
Tamarack Lodge is located on the shores on Twin Lakes and is surrounded by mountains. You can choose between rooms in the main lodge or standalone cabins that have kitchens and fireplaces. Book a stay here!
Day 4 of Road Trip Through the Eastern Sierra: Explore Mammoth Lakes
Spend the day exploring some of the many wonderful sights around Mammoth Lakes, from a national monument to a multitude of lakes. Take a gondola ride to the top of a mountain!
Take in the views at Minaret Vista
Minaret Vista is a lovely scenic overlook in Mammoth Lakes, on the way to Devils Postpile National Monument. From the viewpoint, you get a magnificent view of the Minarets, a part of the Ritter Range. The pointed spires of the Minarets offer a great photo op.
Interpretive plaques at the lookout area offer information on the sights, which also include Mount Ritter and Banner Peak, the two tallest peaks in the Ritter Range.
Visit Devils Postpile National Monument
Devils Postpile National Monument is one of the most famous sights in the Eastern Sierra. The stunning geological marvel features thousands of hexagonal basalt columns created by the forces of nature. A short and easy hike takes you from the parking area to the columns, some of which are over 60 feet tall.
The monument is only open during the summer months, generally from mid-June to mid or end October depending on weather conditions. Check the official website before you visit.
If the seasonal shuttle is running, it is mandatory to take the shuttle to the monument. If it is not, you can drive to the monument, but arrive early, because parking is limited.
Hike to Rainbow Falls
Rainbow Falls, one of the best waterfalls in California, is part of the national monument, and a 2.5-mile walk from the Ranger Station.
The waterfall, the highest in the middle fork of the San Joaquin River, plunges 101 feet down. On sunny days, you can see rainbows in the mist of the falls, hence its name!
You also have access to the San Joaquin River at multiple points inside the monument, and the scenery is beautiful. Bring a picnic lunch so you can spend a few hours enjoying all the monument offers. The hike to Rainbow Falls in Mammoth Lakes is a must-do!
Explore Mammoth Lakes Basin
The Mammoth Lakes Basin is super scenic, with tall mountains, beautiful pine forests, and numerous alpine lakes and streams. There are over 50 miles of hiking trails in the basin, of varying length and difficulty. You can also just drive around to enjoy the views and take a short walk on a lakeside beach.
Mammoth Lakes Basin is very close to town: Main Street becomes Lake Mary Road and takes you up to all the lakes, from Twin Lakes, at 8,500 feet above sea level, to Lake Mary, Lake George, Lake Mamie, and Horseshoe Lake. Along the way, you get beautiful views, so plan on stopping often (but safely) for photos.
Ride the Mammoth Mountain Gondola
For the ultimate in panoramic views, ride the Mammoth Mountain gondola to the upper reaches of Mammoth Mountain. At the top, enjoy the stunning 360-degree views.
Then view the exhibits in the Eleven53 Interpretive Center and Cafe, and have a drink with a view before heading back down.
Day 5 of Highway 395 Road Trip: Mammoth Lakes to Lee Vining
Driving distance and time: 28.9 miles, about 30 minutes
You'll experience some of the some beautiful scenery in the Eastern Sierra along the June Lake Loop. Enjoy the beauty of a series of lakes, look for wildlife and birds, and savor the natural beauty all around you!
Enjoy the June Lake Loop
CA 158, June Lake Loop, is a very scenic 16-mile detour as you head north from Mammoth Lakes. The U-shaped road passes by four beautiful lakes: June Lake, Gull Lake, Silver Lake, and Grant Lake. While the drive by itself is worth the detour, there is a lot to see and do along the loop.
At June Lake, take the Oh Ridge Road down to access the shore of June Lake. It has a beautiful setting and you can walk the shore. Then drive back up and follow the views of the lake from the loop road. The village of June Lake, at the start of the loop, is charming, with a few stores and restaurants.
Gull Lake is a small lake that you can access via Gull Lake Road. You can rent boats at the marina to spend a little time on the water if you wish. The views from the bank are serene and lovely, and the 2-mile loop around the lake is one of the shortest and easiest hikes in June Lake.
Silver Lake is also beautiful, but it can be more crowded as there is a resort right at the bank. But boat rentals are available here as well.
Grant Lake is the largest of the four lakes, and here you can enjoy speedboats, waterskiing, wakeboarding, and jet skiing. Look for wildlife along the June Lake Loop, and admire the superb scenery all along its length.
Explore Mono Lake South Tufa Area
Mono Lake is one of the most interesting (and beautiful!) sights along US 395. The salt water lake is many hundreds of thousands of years old, and is home to brine shrimp that act as food for millions of migratory birds and birds that nest at Mono Lake.
One of the unique features of Mono Lake are its many tufas: limestone formations that look like little towers. You will find the densest concentration of tufas at the South Tufa Area, where you can take a self-guided walk through the tufas and watch the many birds.
If you are up for the challenge, you can also hike the trail nearby at Panum Crater that goes to the rim of the crater.
Walk the boardwalk trail at Mono Lake County Park
At the northern end of the lake, you can walk the scenic Mono Lake boardwalk trail in the County Park, which also has picnic tables. With a stream, and lots of mature cottonwood trees, the park is a shaded place to relax for a bit.
The boardwalk trail is beautiful, and takes you past local flora, from willows to waving grasses, and wildflowers in season. The trail is short and flat, doable for most visitors.
Along the route, you can see a few tufas up close. The trail ends at a viewing area, and if you have binoculars or a zoom lens, you can see shorebirds at the lake, along with more tufas in the water.
Eat at Whoa Nellie Deli in Lee Vining
Somewhat of a Highway 395 institution, the Tioga Gas Mart & Whoa Nellie Deli is located a little ways up CA 120 West going towards Yosemite National Park. Not only is the food great, but you can also take photos of Mono Lake from a vista point right by the deli.
Serving favorites like sandwiches, tacos with a side of beans (their fish tacos are famous), and burgers and fries, Whoa Nellie makes for a fun stop in Lee Vining. Portions are generous, and you can get your food to go.
Sleep in Lee Vining
Lee Vining is a tiny town located at the base of Tioga Pass in the Eastern Sierra. CA 120, Tioga Pass Road, leads up into Yosemite National Park, and is a beautiful drive.
There are many beautiful spots to explore around Lee Vining, including Saddlebag Lake at the top of Tioga Pass, and Lundy Lake, just north of Lee Vining. In town, visit the Mono Basin Historical Museum, where you can the cute Upside Down House in the front yard.
There were two historic cabins along US 395 in Lee Vining cherished by photographers. Sadly, the smaller of the two cabins was destroyed in a storm.
Where to Stay in Lee Vining
Lake View Lodge is located at the junction of US 395 and CA 120. The lodge offers spacious, comfortable rooms within walking distance of stores and market. The gardens are beautiful, with birds and wildlife to spot. The onsite restaurant is well reviewed. Book a stay here.
Day 6 of Highway 395 Road Trip: Lee Vining to South Lake Tahoe
Driving distance and time: 110 miles, about 2 hours
On this final stretch of the Highway 395 road trip itinerary, you will visit a Gold Rush ghost town and some more beautiful lakes before heading to Lake Tahoe, the final destination on the route. Get off US 395 at Gardnerville and take CA 206 to Lake Tahoe.
Stop at Conway Summit
Conway Summit is the highest point on US 395, at 8,143 feet above sea level. It's a great spot to stop for photos, with views of the mountains and the surrounding wilderness.
Don't forget to look for the fabulous aerial view of Mono Lake in the distance!
Detour to Bodie State Historic Park
Bodie State Historic Park is a detour of about 13 miles each way from US 395, but the historic site is well worth the detour. Be warned that the final 3 miles of the detour are dirt, and the road condition can be pretty rough. Drive very slow, and call the park if you want to check the condition of the road before you head out.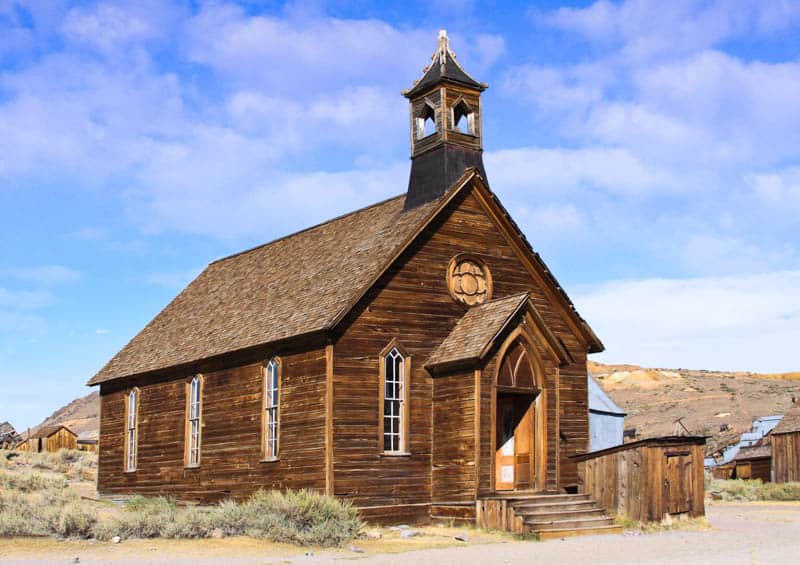 Bodie is a California Gold Rush town that had a population of about 10,000 people at the time of its boom in 1880. A fire in 1892 destroyed quite a bit of the town but it was rebuilt. Then, in 1932, a young child playing with matches started another fire, burnt much of the town to the ground.
Large-scale mining in the area ended in 1915, and the buildings that were left started to decay as residents left or died. In 1962, the State of California made Bodie a state historic park, and has since maintained the town in a state of "arrested decay."
You can walk around the site on a self-guided tour, to view the 100 or so structures and peek into the interiors, which are preserved just as they were left when the residents of Bodie fled.
Detour to Twin Lakes
Viewable with a detour of about 10 miles each way off US 395, Twin Lakes are two beautiful alpine lakes in Bridgeport. Both lakes are large and spectacularly beautiful, set at the foot of towering mountains.
If you love nature, you will want to do this detour to visit the lakes, even just to take photos and walk around for a bit. The fishing here is some of the best in the region, and you can go boating here as well.
Stop in Walker canyon
For a portion of US 395, the picturesque Walker River flows alongside the road. The Walker River Canyon is a particularly scenic stretch of Highway 395, and you will find places where you can pull off the road and park to enjoy the scenery.
Take lots of photos, and see and hear the beautiful river as it makes its way through the canyon.
Stop at Topaz Lake
Topaz Lake is in neighboring Nevada, right off US 395. It looks stunning, especially when the surrounding mountains are reflected in the still waters of the lake.
The shore adjacent to US 395 is built up, but if you want to make a brief stop, you can take the road that goes down from the highway and along the shore of the lake. Once you are at a secluded part of the shore, you can park and take photos.
Sleep in Lake Tahoe
Lake Tahoe is the name for both the community and the lake.
Lake Tahoe is California's largest freshwater lake, with a gorgeous High Sierra setting and crystal clear water. It is a year-round holiday destination and one of the most popular getaways from San Francisco.
Lake Tahoe offers all types of winter sports during the cold months. At other times, you can get out onto the water, swim in the lake (there are several beaches along the shore), and hike in the surrounding wilderness.
Lake Tahoe is enormous, and there are several areas of the lake where you can stay. South Lake Tahoe has lots of lodging, dining, and shopping, and is also home to the Heavenly Gondola. It spans both California and Nevada, with casinos on the Nevada side.
We like eating at Azul Latin Kitchen (Mexican) or at Jimmy's Restaurant at The Landing, but you will not want for choices in Lake Tahoe.
Where to stay in Lake Tahoe
The Landing Resort and Spa is located on the shore of the lake in a quiet setting in South Lake Tahoe. Yet it is just a short drive to the restaurants and stores in the village. The rooms are well-appointed, with fireplaces and super comfy beds. Some rooms have balconies or terraces. The onsite restaurant is highly rated. Book a stay here.
This cute house is located about a 7-minute walk from the lake. With 2 bedrooms and 1 bath, the house can sleep up to 4 guests. Dine on the patio in the summer and enjoy the wood-burning fireplace in the winter. Book a stay here!
This cedar cabin in walking distance to Lake Tahoe and Heavenly Village and features 2 bedrooms and one bathroom. The living room has a freestanding wood stove. There is a yard you can use, but it is not fenced. Book a stay here!
There are so many cozy vacation rentals in Lake Tahoe that you will not want for choice when it comes to finding the perfect cab. And we also have a detailed guide on Lake Tahoe accommodations, if you want to explore more options.
Day 7 of Eastern Sierra Road Trip: Explore Lake Tahoe
You will spend all of today enjoying Lake Tahoe. One day isn't really enough to do justice to the stunning region, but you can still enjoy some fun activities in your time here, or extend your stay!
Visit Emerald Bay State Park
On the west shore of Lake Tahoe, Emerald Bay State Park is one of the most beautiful parts of the lake.
Start by taking in the fabulous views of the bay from Inspiration Point along the road above. The blue-green waters of the bay, with little Fannette Island, create the perfect picture postcard.
Walk down to Vikingsholm, the 38-room Scandinavian castle built for wealthy Lora Knight in the first part of the 20th century. Tours of the interior are offered only in the summer, but you can hike down any time of year to view the exterior. The climb back up is extremely steep, and there is no way up other than to walk.
If you enjoy waterfalls, do the one-mile hike to Eagle Falls that starts across CA Highway 89 from Emerald Bay. You will also be treated to beautiful views of Emerald Bay and Lake Tahoe!
Enjoy Heavenly Village and Gondola
Heavenly Village is the largest shopping district in Lake Tahoe, with lots of boutique stores, and a number of restaurants. Take the Heavenly Mountain Gondola 2.4 miles up for breathtaking views of the lake and the surrounding mountains.
At the Observation Deck, you can take photos, and have a drink at Cafe Blue. At the top, take the Tamarack Express chairlift for spectacular views of Lake Tahoe. At the top you also have access to a number of hiking trails of varying lengths and difficulty levels.
Cruise Lake Tahoe
At Zephyr Cove, on the eastern shore of the lake, you can board the M.S. Dixie II for a relaxing cruise of Lake Tahoe. You can take daytime cruises or dinner cruises on the paddle wheeler.
Make reservations ahead of time. There is paid parking at Zephyr Cove Resort, or you can take the complimentary shuttle for the cruise.
If you want a more active time on the water, there are watercraft rentals available at many places around the lake. You can go boating, jet ski, go kayaking or paddleboarding, or parasailing.
Visit Sand Harbor State Park
On the east shore of Lake Tahoe in neighboring Nevada, Sand Harbor State Park is another stunning area of Lake Tahoe. It is a hugely popular spot, so arrive early to find a parking spot.
Laze on the beautiful beach, go kayaking or paddleboarding, or walk the pretty boardwalk trail that wanders around the lake shore to a beautiful viewpoint. The park is a great place if you love to photograph sunset.
Depart the Sierra!
At the end of the Highway 395 road trip, you can fly out from Reno, if you have a one-way car rental. Reno has an international airport, with service to most major US cities and beyond.
The drive from South Lake Tahoe to Reno is a little over one hour, and you can either choose to stay your final night in Lake Tahoe and drive to Reno the following morning, or spend the night in Reno if your flight is earlier in the day.
If you brought your own car, you can drive back to LA the same way, along US 395 and CA Highway 14. Drive time is about 8 hours. Or drive to Sacramento and take the freeways back to LA, for a drive time of about 7.5 hours.
Day-by-Day Map for Highway 395 Eastern Sierra Road Trip
*****
We hope you found some ideas here to help you plan your own road trip through the Eastern Sierra. It is a spectacular road trip and we know you will enjoy it! If you have questions, let us know in the comments!
Planning to explore more of the Golden State? Check our other day-by-day itineraries for California road trips!
Did you like this article? Pin it for later!