Considering a visit to June Lake? A paradise for outdoor enthusiasts and nature lovers, June Lake offers a variety of fun activities, spectacular photo ops, and a serene, laid back vibe that makes you want to draw deep breaths and relax.
June Lake is a resort community in the Eastern Sierra of California, a few miles north of Mammoth Lakes and a few miles south of Mono Lake and Lee Vining.
The horseshoe-shaped canyon will captivate you with its beauty. It makes for a beautiful stop on a Highway 395 road trip.
Known as the "Switzerland of California," June Lake is famous for its four sparkling lakes, nestled at the base of towering Sierra Nevada mountains. There are many other lakes in the area as well!
It is a destination for all seasons, although this guide is geared more toward visits from spring until fall.
If you are planning a visit to this super scenic part of California, read on to discover the best things to do in June Lake, plus our suggestions for where to stay and where to eat.
Things to Do in June Lake
Drive the Scenic June Lake Loop
If you do nothing else at June Lake, you must at least drive the scenic June Lake Loop.
It's about a 16-mile detour off Highway 395, the main road that traverses the Eastern Sierra, and can be done is less than an hour if you limit your photo stops.
Of course, if you have the time, a more leisurely drive, with plenty of stops, will enable you to savor your surroundings in greater depth, take a million photos, and even enjoy some activities en route.
The scenery along the June Lake Loop is some of the best in the region, no matter the season.
Four beautiful alpine lakes — June Lake, Gull Lake, Silver Lake, and Grant Lake — anchor the route, but the surrounding mountains and meadows, and Rush Creek, all add to the beauty of the loop.
The lakes here are some of California's most beautiful lakes!
Good to know: The June Lake Loop road is partially closed during snow accumulations in the winter and early spring, so if you visit during that time, check to make sure it's open on the day you plan to drive it.
Swim, Float, or Sunbathe at June Lake Beach
June Lake has a gorgeous beach at its east end, parts of it sandy, with an accessible path to the water's edge.
Picturesque boulders, some of them large, add interest to the landscape, and Carson Peak makes a majestic backdrop to the blue waters of the lake.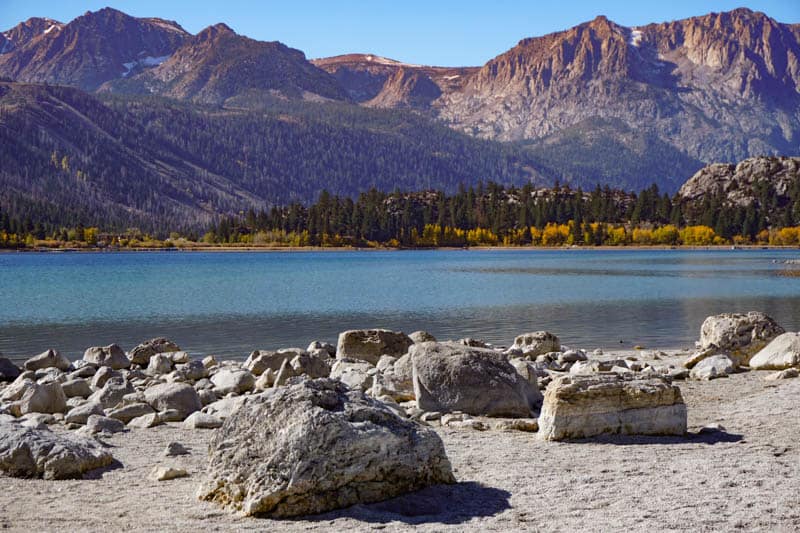 In the warmer months, you can enjoy a plethora of beach activities at June Lake Beach. Swim in the crystal clear waters, sunbathe, picnic, or bring or rent a floatie to relax on the water.
You can also launch kayaks or canoes at June Lake Beach, or go stand-up paddleboarding. Equipment rentals are available at June Lake Beach in season.
In the cooler months of spring and fall, enjoy a stroll on the beach. It's a tranquil walk by the water's edge, and you can watch water birds riding the waves or snoozing on the shore. Can you think of a more relaxing scene?
Go Boating
You can go boating on any of the four lakes that form the June Lake Loop. There are two marinas on June Lake, and one each at Gull Lake, Silver Lake, and Grant Lake.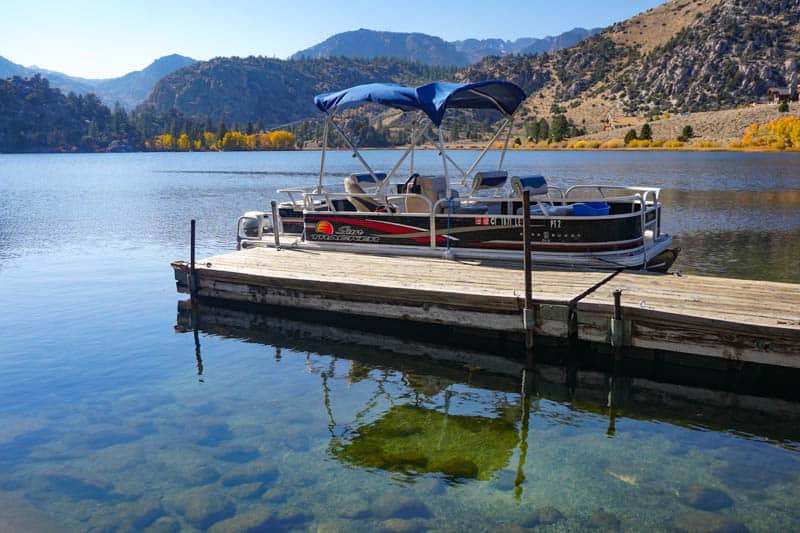 If you bring your own boat, you can launch at one of the marinas, but there's also a spectrum of boats to rent, from paddle boats to flat-bottomed motorized boats and pontoon boats. Some are even shaded!
Motorized boat rentals are generally for a half or full day, and we found the rates reasonable. Advance reservations are recommended.
Enjoy Water Sports
If you enjoy adrenaline-pumping water sports, head to Grant Lake, the largest of the four lakes on the June Lake Loop. Some water sports can also be enjoyed on June Lake.
At Grant Lake, the speed limit is lifted at 10.00 a.m. After this time, you can go wakeboarding, wakesurfing, kneeboarding, and waterskiing. Jet ski rentals and boat rentals are offered at the marina.
Before 10.00 a.m., you can still go boating on Grant Lake, but a 10 mph speed limit is enforced.
Go Fish!
The Eastern Sierra is a huge angling destination, and June Lake is no different. The four lakes are especially known for trout: rainbow trout, big brown trout, cutthroat trout, brook trout, and Alper's trout. .
You can also fish at Rush Creek, especially where it enters or leaves the lakes, at Reversed Creek, or at other small streams in the area or lakes in the hills surrounding June Lake Loop.
At the lakes, you can fish from the shore, or from a boat, or go float tube angling. We saw all three kinds of fishing in progress when we visited! Local outfitters offer equipment and guided experiences.
The shore of June Lake that is just below the road, has quiet little coves, perfect for fishing. The marinas are popular fishing spots as well, as is the shore of Silver Lake by the parking area and resort.
Good to know: Get the latest California freshwater sport fishing regulations and other relevant information here.
Enjoy Day Hiking at June Lake
There are numerous hiking trails, of varying lengths and difficulty levels, at and around June Lake. We've described some of our favorite June Lake day hikes below.
Walk around Gull Lake
If you are looking for a relatively flat and easy nature trail, then the 2-mile loop around Gull Lake is perfect. Find the trailhead on Granite Avenue, by the June Lake – Mono County Library, where you may be able to pick up a brochure.
You will have beautiful views of the lake, of course, but you will also likely see wildflowers in the meadows in the spring and beautiful leaf color on aspens in the fall. Dogs on leash are permitted on this trail.
Hike to Parker Lake
Possibly our favorite day hike at June Lake, the easy hike to Parker Lake is about 4 miles round trip, with about 650 feet of elevation gain.
The trailhead is off Parker Lake Road, at the north end of the June Lake Loop Road.
In the spring and early summer, the stretch of trail that runs by Parker Creek has lots of wildflowers. In the fall, the aspens turn to brilliant yellow.
The scenery here is quite spectacular, but Parker Lake, at the base of Parker Peak, is just as, or even a little more, breathtaking.
Hike to Lake Agnew and Gem Lake
The trailhead for Rush Creek Trail is by Silver Lake. The out-and-back trail is about 7.25 miles round trip if you walk for a bit along the edge of Gem Lake, and is rated strenuous, with over 2,000 feet of elevation gain.
Along the route, you will get great views of Horsetail Falls, which is powerful in the early summer. Agnew Lake has man-made structures that drop the scenery quotient some, but Gem Lake is beautiful and serene.
Good to know: This trail is also used as a pack trail, so you may encounter folks on horseback (or horse droppings!) along the trail.
Hike to Fern Lake
The trailhead for the Fern Lake Trail is located by the Double Eagle Resort. The trail is rated strenuous: it is a super steep climb. The length is about 3.4 miles round trip, out and back.
Fern Lake Trail offers beautiful aerial views of June Lake, Gull Lake, and Silver Lake, and also features a waterfall en route. It is scenic, with wildflowers in the spring and early summer and beautiful leaf colors in the fall.
Go on a Backpacking Trip
Rush Creek Trail, which heads up to Lake Agnew and Gem Lake from near Silver Lake, continues on to the John Muir Trail and Pacific Crest Trail in the Ansel Adams Wilderness.
So if you are planning to spend a few days in June Lake and enjoy backpacking, you have several options! You can hike to Waugh Lake and Thousand Island Lake and back, or do the Gem Lake-Waugh Lake-Clark Lake loop trail.
Good to know: Backpacking trips in the Eastern Sierra require permits, so apply for one in advance if you want to include an overnight hike in your itinerary for June Lake.
Go on a Guided Horseback Trip
Enjoy horseback riding? Frontier Pack Train offers a variety of horseback rides that start at the June Lake pack station, from hour-long rides to half day and full day excursions, as well as multi-day pack trips.
Guided trail rides are generally offered in the summer, and rides are offered for all skill levels. The short rides, which traverse beautiful meadows and scrub, are suitable for beginner riders and younger children.
On the full day rides, you will ride up Rush Creek Trail to Lake Agnew and Gem Lake, while on longer pack trips, you will explore the Ansel Adams Wilderness. Reserve spots for scheduled trips in advance.
Take the June Mountain Chair Lift to the Top
The June Mountain Ski Area is a popular winter ski resort, but you can take the chair lift to the top of the mountain in the summer as well! The views from the top are magnificent, and there are hiking trails at the top to explore.
Chair J1 takes you up to the June Meadows Chalet, where you can have breakfast or lunch with a view at the June Meadows Chalet Café or enjoy a cold one at the Antlers Bar. There is outdoor seating at both spots, with spectacular mountain views.
Enjoy Fall Colors and Spring Wildflowers at June Lake
June Lake is one of the best places in the Golden State to enjoy the wonderful shows of color that Nature puts on in the spring and the fall.
In the fall, June Lake Loop is resplendent in yellow, orange, red, and burgundy. Put the amazing fall colors together with the sparkling blue or green lake waters and the crisp air, and you have the perfect setting for a nature-focused vacation.
Fall colors in June Lake typically peak in early to mid October. If you plan to visit June Lake in the fall, and want to go close to peak, check the fall color report here for June Lake and other nearby fall color hotspots.
Spring starts late in June Lake, since it's at a high elevation (7,600 feet above sea level), but in late May, June, and into early July, you will see lots of wildflowers, especially in good bloom years.
You will likely find lupine, Indian paintbrush, mariposa lilies, scarlet gilia, and many other varieties of Eastern Sierra wildflowers here. The Parker Lake Trail, especially near Parker Creek, is a great place to go wildflower hunting.
Go Birdwatching
June Lake is home to a variety of birds, both resident and migrant. Hiking the trails is the best way to see land birds up close, while the shores of the lakes offer opportunities to see water birds, as well as land birds in the surrounding vegetation.
If you are lucky, you may see a bald eagle at June Lake. While most common in the winter, you may see one at other times of the year as well. Osprey fishing for trout, and golden eagles, are other birds of prey that you may see here.
Look for gulls, mallards, mergansers, and herons in the water, and Steller's jays, mountain chickadees, and blackbirds on land. Be sure to pack your binoculars when you head to June Lake!
Enjoy Wildlife Viewing
Mule deer and smaller creatures like marmots are the animals you are most likely to encounter during the day. But June Lake is also home to larger animals, such as black bear (which can be brown or tan as well), mountain lions, and coyote.
Practice awareness as you are walking along roads and trails, and know how to view wildlife safely. Never approach or feed wildlife, big or small.
See What the Glaciers Left Behind in June Lake!
June Lake has a fascinating geological history. The horseshoe-shaped June Lake canyon was created by glacial activity in the last ice age, and moving glaciers left behind large boulders and boulder masses in their path.
Balanced Rock, or Perched Boulder, is located by the June Lake Fire Station. The erratic boulder, 18 feet tall, stands exactly where it was left by natural forces all those years ago.
When the glacier that formed June Lake receded, it left behind lots of moraine debris in the Oh Ridge area. There is a large boulder you can photograph along the shore of June, along with masses of smaller boulders that are littered about the shore.
Enjoy a Relaxing Spa Treatment
June Lake is a tiny community, but if you are looking to be pampered after a day on the trails (or the slopes in the winter), the spa at the Double Eagle Resort in June Lake delivers.
You can enjoy deep tissue massage, hot stone treatments, aromatherapy, and relaxing deep soaks. Try the Luk Pra massage, from Thailand, for gentle, deep relaxation.
While you can book package stays to save on lodging and spa treatments, you can enjoy the spa even if you are not planning to stay at the resort.
Learn a Little Bit of Local Lore
June Lake has some colorful history and lore, and we weren't sure how large a pinch of salt to take with one or two of the stories, but apparently, the lake is haunted, and folks have seen yellow figures walking on the water, accompanied by the sound of singing.
We stayed in June Lake for three nights, and sadly, we didn't see a single apparition.
A local legend that has some teeth to it is the story of the slot machines. There is a historical marker on June Lake Loop Road, at the south end by the June Lake Overlook, that details the history. The legend is fun, and the view is superb!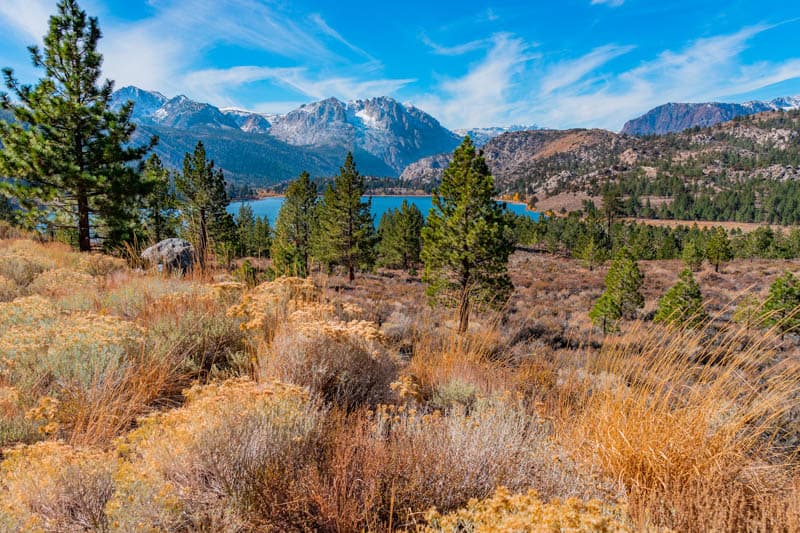 Local bars and businesses installed slot machines by the dozen at June Lake in the 1930s, which thrived while workers employed at the Mono Lake Basin Project lived in the vicinity.
Once the workers left, the slot machines weren't used as much, and most were disposed of voluntarily.
The last few that remained were reportedly thrown into the waters of June Lake on the eve of a raid by State Revenue Agents, and may hold a little fortune, since they weren't emptied before being tossed.
No slot machines have been recovered from June Lake so far!
Things to Do Near June Lake
June Lake is not only a scenic destination in its own right, it also makes a great base from which to explore north and south along the Sierras.
Explore South of June Lake
South of June Lake is the larger resort town of Mammoth Lakes, known for the lakes that make up the Mammoth Lakes Basin and for the towering mountain peaks that you can see from anywhere in town.
Here you will also find Hot Creek Geological Site, with its beautiful turquoise pools and fumaroles, a large natural fissure known as Earthquake Fault, and beautiful Convict Lake.
If you visit when it is open, exploring Devils Postpile National Monument in the Red Meadows area of Mammoth Lakes is a must. Some of the natural basalt columns are over 60 feet tall!
Here you can also hike to Rainbow Falls, one of California's most beautiful waterfalls.
About an hour south is Bishop, home to some of the most sought-after bouldering destinations on the planet.
Here you can also explore the super scenic Bishop Creek Canyon (a showstopper in the fall), and view the world's oldest trees at the Ancient Bristlecone Pine Forest.
Another hour south is the charming little town of Lone Pine. Here you can drive up Whitney Portal Road to the higher elevations of the tallest peak in the lower 48 states.
The Alabama Hills National Scenic Area features beautiful rock formations and natural arches.
Between Bishop and Lone Pine, the small community of Independence CA offers cultural and historical sights such as the Eastern California Museum and the Mt. Whitney Historic Fish Hatchery.
Onion Valley Road is a gorgeous drive leading to the trailhead for epic Eastern Sierra hikes.
Explore North of June Lake
North of June Lake, you can visit the unique Mono Lake, a saltwater lake that is home to millions of tiny brine shrimp.
The shrimp act as a food supply for the huge numbers of birds that you will find at Mono Lake, especially during migration times. The lake is also famous for the Mono Lake tufa towers, beloved by photographers.
At Lee Vining, you can take Tioga Road through Yosemite National Park in the summer and fall. The scenic drive offers vistas of granite domes, alpine lakes and meadows, and an essentially less crowded peek into the legendary national park.
A little further north, you can take in the views from Conway Summit, the highest point along US Route 395. Virginia Lakes Road leads to a plethora of hikes to alpine lakes, and the road itself is scenic.
Bodie State Historic Park is a California Gold Rush boom-and-bust town that has been preserved in "a state of arrested decay." It is one of the most interesting state parks in California, and the structures offer excellent photo ops.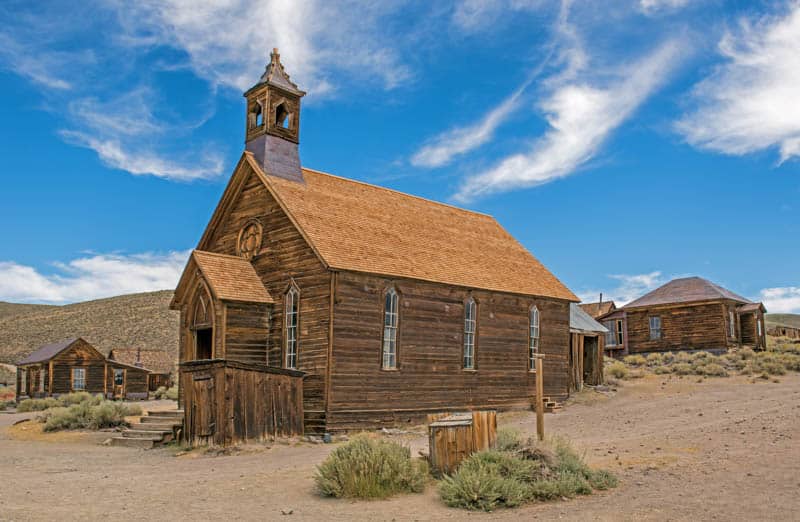 Getting to June Lake, CA
Mammoth Yosemite Regional Airport is only a few miles south of June Lake. Flights to this airport tend to be limited, and some of them seasonal, occurring only in the winter. Fresno and Reno have larger airports, with more options for flights and car rentals.
Most visitors to June Lake arrive by road. June Lake is located off US Route 395, the main artery through the Eastern Sierra. It is a very scenic route, whether you come from the south or the north.
LA to June Lake is about 323 miles by road, about a 5.5-hour drive in normal traffic. San Diego to June Lake is about 410 miles, a drive of about 7 hours.
From San Francisco to June Lake is about a 5.5-hour drive via I-80 East and US 395 South. In the summer and fall, when Tioga Pass Road is open, you can save some time by using Tioga Pass Road to get to US Route 395.
Getting Around
If you plan to explore the region, you will require your own wheels. A sedan will do just fine for June Lake, but if you plan to do backcountry driving (it's very rewarding in the fall!), consider renting a 4WD SUV for your trip.
Looking to rent a vehicle for your June Lake CA trip? Discover Cars offers you the ability to compare availability and prices across many major car-hire companies. Pick the car that best meets your needs!

Book your car with Discover Cars now!
Where to Stay in June Lake, CA
Hotels in June Lake, CA
Nestled at the base of the mountains, Double Eagle Resort and Spa offers spacious relaxing rooms, some with lake views, as well as standalone two-bedroom cabins and a guest house if you are visiting as a group. There is an onsite restaurant, and a full-service spa. Book a stay here!
Lake Front Cabins is a boutique property close to the shore of June Lake. There are 10 units, ranging in size from a studio to two-bedroom suites. The hotel is walking distance from shopping and dining in June Lake Village. Book a stay here!
Heidelberg Inn offers comfortably-furnished rooms with kitchenettes. There is a hot tub at the hotel, and you can walk to shops and restaurants in June Lake Village. Free parking and wifi are available. Book a stay here!
Vacation Rentals in June Lake, CA
This charming log cabin is the perfect couples retreat at June Lake. It has a full kitchen a king bed in the bedroom, and fabulous mountain views. Located just a short drive from June Lake Village, the cabin has a wood-burning stove and a balcony. Book a stay here!
This lovely family chalet sleeps up to 10. The home features 3 bedrooms and 3 full baths, with additional beds in the game room. The lofted master suite has an office. The views are gorgeous and the location is just a couple miles from June Lake Village. Book a stay here!
Where to Eat in June Lake, CA
Eagle's Landing Restaurant, in the Double Eagle Resort and Spa, offers dining with a view. In the summer, you can sit outside on the deck! The restaurant serves American cuisine with some international flavors. The burgers are excellent, and so are the fish tacos.
Ohanas 395 offers Hawaiian soul food. A must-try when you are in June Lake. We loved the tacos and the Kahuna chips, smothered with cheese, slaw, and barbecue sauce.
Tiger Bar & Cafe is a historic saloon plus eatery. Their Tiger Burger is famous, but they have an extensive breakfast menu, great sandwiches, and some entree options at dinner as well. We bought sandwiches here to enjoy as a picnic.
The Lift was our go-to coffee place while we stayed in June Lake. They have yum baked treats as well!
Silver Lake Cafe is a must for breakfast. The homestyle breakfasts are so hearty that you will stay fueled for several hours! They serve a variety of omelettes, pancakes, and biscuits with gravy. They serve lunch as well.
The Best Time to Visit June Lake, California
June Lake is a year-round destination, and the best time to visit depends entirely on what you plan to do in June Lake and the surrounding areas.
Fall would be our top choice of season to visit June Lake, simply because it looks so scenic when colors are at or near peak. If you enjoy landscape photography, or want to relax in nature outside of the busiest time, then fall is a no-brainer.
The lakes are abuzz with activity through the summer, when the water is warm enough to go swimming and you can enjoy a wide variety of water sports. In the late spring and early summer, you will see lots of wildflowers. Days are long, and you can go on long hikes.
If you are looking to ski or enjoy winter sports, June Mountain Resort is considered a family-friendly alternative to Mammoth Lakes and Lake Tahoe. June Lake Loop Road is partially closed in the winter and early spring, and you can enjoy snowshoe hikes on the road.
Good to know: June Lake is in the mountains, and early spring and late fall can see snowfall and cold temperatures. Always bring layers, and be prepared for abrupt weather changes!
*****
Did you find this article informative? Pin it for later reference!