Artist's Palette is one of the most photographed spots in Death Valley National Park. The viewpoint is the major attraction on Artist's Drive, arguably the most scenic drive in all of Death Valley.
Featuring beautiful desert landscapes along a winding road, Artist Drive is definitely deserving of a top spot on your Death Valley National Park itinerary, especially if you are visiting the park for the first time.
In our opinion, Artist's Drive is one of the best places to visit in Death Valley, whether you are visiting the park on its own or on an epic California desert road trip.
We have already driven it twice, and when we visit Death Valley again, we will without a doubt drive this scenic loop again.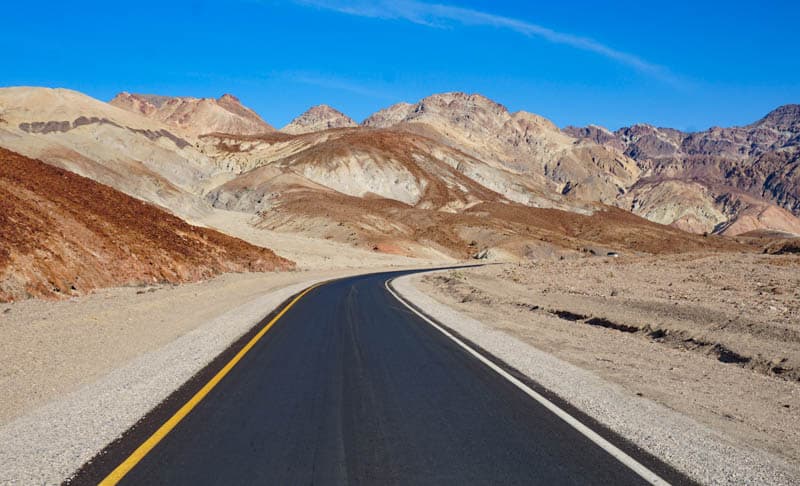 Considering the Artist's Drive to Artist's Palette at Death Valley? Read on to discover what to expect on the drive, plus our tips for the best experience!
What Can You Expect on the Artist's Drive Loop in Death Valley National Park?
Awe-inspiring scenery and colorful hills! Artist's Drive is one of the must-do scenic drives in California.
Artist's Drive rises above Badwater Basin and then winds its way through scenic canyons and hills. On one side, you get panoramic views into the valley, and on the other, views of the hills, delicately shaded in hues of rose, ochre, and gold.
We've done the drive a couple of times now, and we have found the road an impeccably maintained deep black each time, making for amazing road photos.
There are turnoffs where you can safely park off the road to take in the views at leisure. You can also stop at a few places and do short treks into the hills to explore a little bit before continuing on the drive.
Even though the Artist's Palette viewpoint is the star attraction on this drive, the rest of the drive isn't lacking in the wow factor. In places the canyon walls close in on the road, and in others you can enjoy expansive views.
There's not much vegetation along the drive: you'll see creosote bushes here and there, but for the most part, it's the beautiful rock faces of the Amargosa Range you see.
We love desert landscapes for their majesty and stark otherworldly beauty, so this drive is one of our favorites.
And if you love dips in the road, this drive delivers in spades! You'll feel like you are riding a gentle roller coaster, because the road dips and curves so much.
Artist's Palette Viewpoint
Before you arrive at the parking lot and signed turnoff for the Artist's Palette viewpoint, you'll see the colorful mineral deposits on the hillside from the road.
You can park by the side of the road (if there is a spot available completely off the road) and scramble up the hill to view the Artist's Palette from across the ravine. This is a great spot for long-view photos of the palette.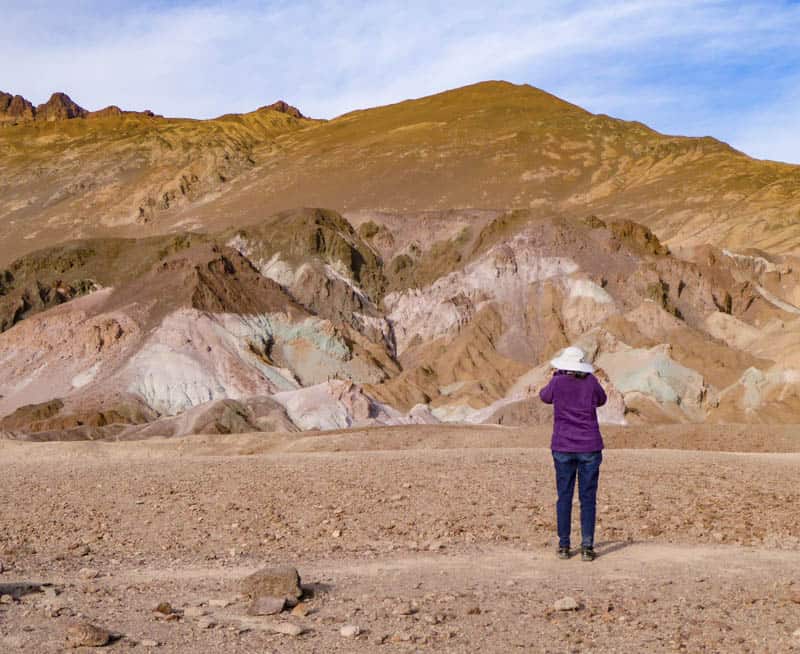 The hillsides around the actual palette are worth photographing as well: although the colors are more monochromatic, in shades of pink and russet, the textures are beautiful.
The Artist's Palette official parking lot comes up right after, so keep an eye out for it once you resume driving. Here you can park and walk right up to the colored deposits and even walk on them. It's very cool!
Exploring the narrow passages, canyons, and washes in these colorful hills is one of the best hikes in Death Valley National Park!
If you are a Star Wars fan, perhaps you will recall scenes from Star Wars: A New Hope that featured the areas around Artist's Palette.
The amazing array of colors in the rocks is the result of oxidation of different minerals in the rocks. Over time, the colors have become exposed due to weathering, creating this unique Death Valley attraction for visitors to enjoy.
Essential Facts About Artist's Drive at Death Valley National Park
Artist's Drive is a fully paved 9-mile one-way loop in Death Valley National Park. The Artist's Palette viewpoint comes up about 5 miles into the drive.
Because the road dips and curves and is pretty narrow in places, vehicles over 25 feet in length are not permitted on Artist's Drive.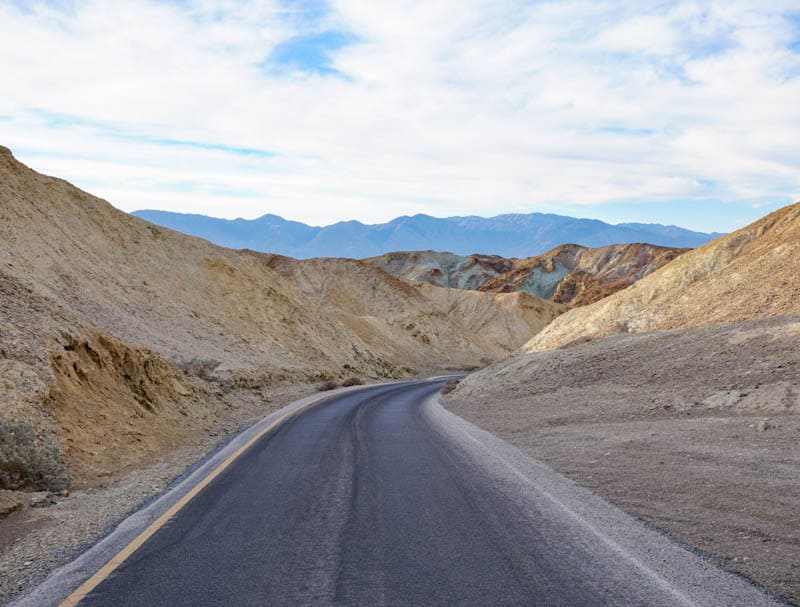 Accessibility: You can view Artist's Palette from your car, or with a very short walk across the parking lot to the viewing area.
How to Get to Artist's Drive in Death Valley NP
Artist's Drive is accessed from Badwater Road, which is just south of Furnace Creek. You will see signs for Artist's Drive on both sides of Badwater Road.
If you are coming from Furnace Creek, the turnoff comes up a little short of nine miles after you turn onto Badwater Road. If you are driving from Badwater Basin, look for the turnoff about 5 miles into Badwater Road.
Tips for Doing the Artist's Drive in Death Valley National Park
Go in the late afternoon for the brightest color
Although the scenic Artist's Drive is a must-do no matter when in your Death Valley National Park itinerary you can do it, the best time to visit Artist's Palette is late afternoon on a clear day.
During the late afternoon, the angle of the sun makes the colors of Artist's Palette really pop, and you will see the bright yellow, blue, green, lavender, and pink of the mineral deposits at their brightest best.
But go on an overcast day for great photos
For the best photos, however, you'd want to visit when there isn't harsh direct sunlight shining onto the rocks. To get the best photos, visit Artist's Palette early or late in the day, or on an overcast day.
Allow More Time Than You Think You'll Need
Artist's Drive is very scenic, and you will want to stop often to enjoy the views and take photos. It is also fun to park and make short forays into the hills at interesting points along the drive.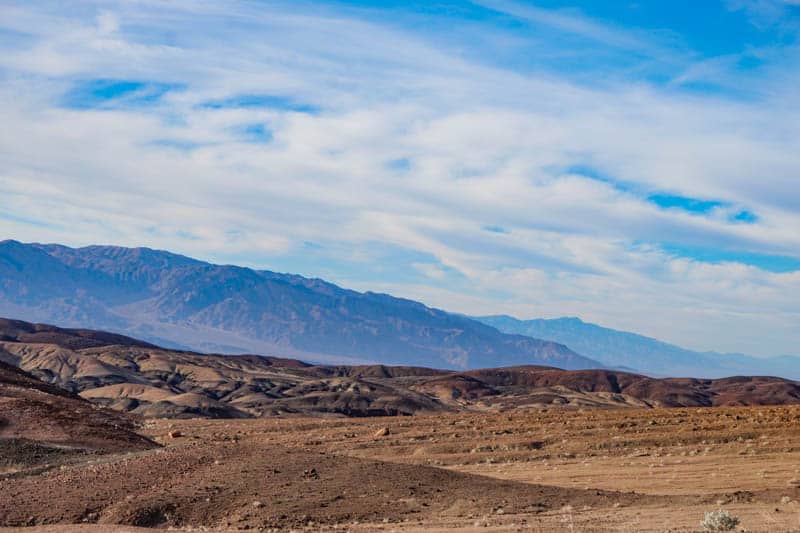 At a minimum, allow for one hour to do the drive with a 15-20 minute stop at Artist's Palette. If you plan to do short hikes or walks at other places along the route, allow about 2-3 hours.
Expect Other Visitors, Especially in Season
Artist's Drive is one of the most popular Death Valley National Park attractions, located in a widely-visited part of the park. You'll likely be in the company of many other visitors on weekends and during late fall to early spring, which is high season at Death Valley.
Be patient as you drive, and keep a watchful eye for pedestrians. Artist's Palette is huge, so you will be able to get good photos even if there are lots of other visitors at the viewpoint.
Visit from Late Fall to Early Spring for the Best Weather
Death Valley National Park is known for its insanely high summer temperatures. While you can still do the Artist's Drive loop in an air-conditioned vehicle in the summer, plan on visiting from late fall to early spring if you want to be able to get out and explore in comfort.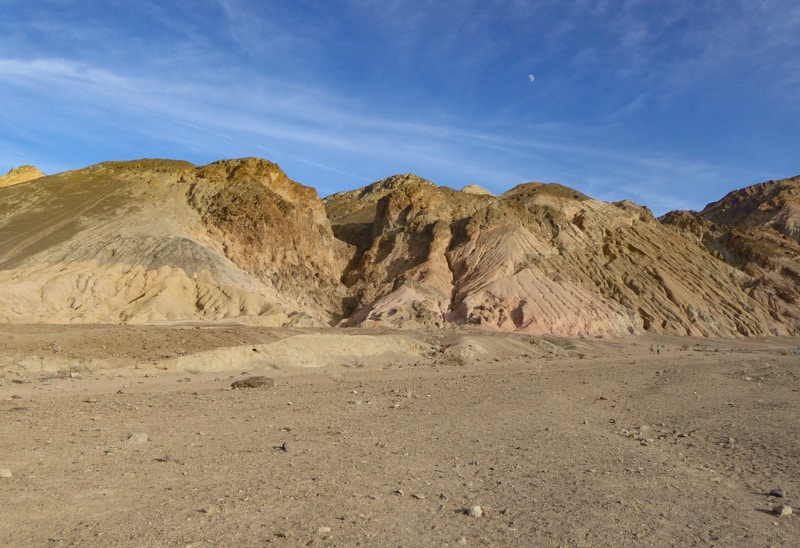 Carry plenty of water
Remember you are in the desert. Even though the drive is just 9 miles in length, it does take at least an hour and most likely longer. So carry plenty of drinking water, especially if you plan to get out and explore.
Wear sturdy shoes
If you plan to get out of your vehicle to explore, either at Artist's Palette or at other points along the drive, wear sturdy closed-toed walking or hiking shoes with good grip. Ravines can be sandy and rock surfaces slippery.
Planning to explore more of California? Check out some of our other articles on scenic drives!
Did you find this article informative? Pin it for later reference!