The smallest national park in California at 26,606 acres, Pinnacles National Park is worth visiting for its unique geological features, its excellent network of hiking trails, and the opportunities to see birds and wildlife, as well as wildflowers in season.
Located in Central California, just around 120 miles south of San Francisco, Pinnacles National Park is one of the easiest (and best!) nature-focused day trips from San Francisco you can do.
If you plan to visit from LA or San Diego, make a weekend of it by combining a day in Pinnacles National Park with a day in Monterey or Carmel-by-the-Sea, or spend the entire weekend enjoying the park at leisure.
Hiking and rock climbing are the most popular activities in Pinnacles National Park. Over 30 miles of hiking trails run through Pinnacles National Park, allowing you to discover its natural wonders, both large and small, from up close.
In this comprehensive guide to Pinnacles National Park, we describe some of the best things to do in the park, plus things to know before you go.

A Brief History of Pinnacles National Park
While the natural history of Pinnacles National Park is fascinating, its human history is no less so. Native peoples lived in the area since eons ago, and some ancient sites have been found in the park. They are not marked, to protect them.
With the arrival of the Spanish missionaries and the building of the Soledad Mission nearby, many Chalon and Amah Mutsun became mission workers. Sadly, many perished due to diseases brought by the Spaniards.
After California came under the United States in 1847, white homesteaders settled in the area, and Schuyler Hain, a homesteader who arrived at Pinnacles from Michigan in 1891, started leading tours into the pinnacles and caves.
Hain, along with other locals, created some of the earliest infrastructure at Pinnacles, and advocated for the protection of the area.
In 1908, President Roosevelt ordered the establishment of Pinnacles National Monument, but it was not until 2013 that Pinnacles was made a national park.
Pinnacles National Park: East and West Entrances
Pinnacles National Park is located in Central California, about 50 miles southeast of Monterey, California.
The important thing to keep in mind as you plan your visit to Pinnacles National Park is that there is no road that runs through the park. You can, however, hike through the park from one entrance to the other.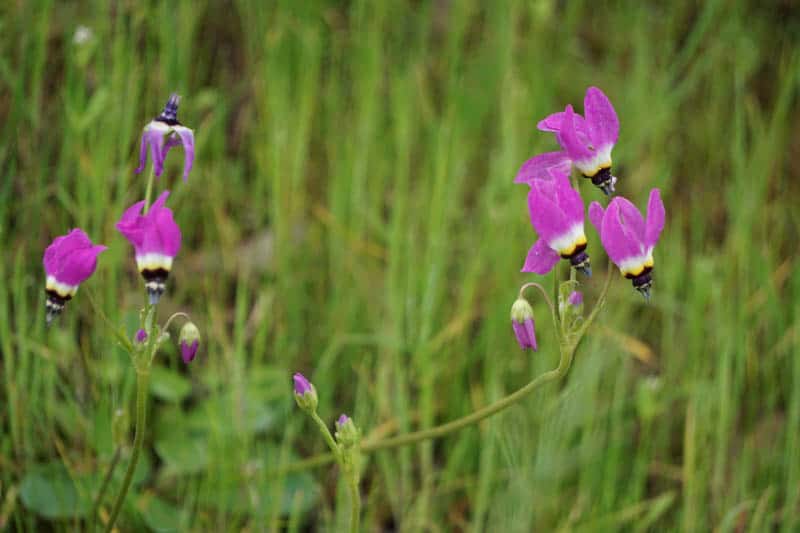 The east entrance to Pinnacles National Park is located near Hollister. The west entrance to Pinnacles National Park is near Soledad. To get from one entrance to the other is a drive of about 90 minutes, in normal traffic, via King City.
If you plan to visit just for the day, you should ideally pick one or the other entrance and explore on foot from there.
On the other hand, if you plan to spend a couple of days exploring the park, you could do it from one entrance on day one and the other on day two.
This would be an especially good plan if you want to avoid the most challenging trails but still see a good amount of the park and visit both main caves.
Which entrance to Pinnacles is best?
Both entrances to Pinnacles National Park offer parking and access to trails, and each entrance has a trail that leads to a cave.
Bear Gulch Reservoir, the stunning water feature in the park, is quicker (and easier) to access from the east entrance, so if it is on your wish list for Pinnacles, arrive at the east entrance.
Otherwise, our recommendation would be to pick the entrance closest to you. That means the east entrance for folks visiting from the north: San Francisco, the SF Bay Area, or Sacramento, and the west entrance for visitors from the Central Coast or from LA or other places in the south.
If you plan to camp at Pinnacles, know that you will have to make your way to the east entrance at the end of the day if you choose the west entrance to start your visit.
Getting to Pinnacles National Park
If you use a GPS, make sure that the directions end at the entrance you choose! Just entering "Pinnacles National Park" may take you to either entrance. To be specific, use coordinates if your GPS accepts them:

East Entrance: 36.493545, -121.146646
West Entrance: 36.477700, -121.226136
If you can't enter coordinates:

Know that the east entrance to Pinnacles National Park is accessed via California SR 25 (South or North depending on where you are coming from) to California SR 146 West into the park.

The west entrance to Pinnacles National Park is accessed via California SR 146 East, which runs from the town of Soledad (along US 101) into the park. This road becomes very narrow (and one lane) as it heads into the park, so be careful.
It is a beautiful drive, especially in the spring, when wildflowers are in bloom by the sides of the road! RVs and trailers are not recommended on this road.
Good to know: At the east entrance, ideally you would want to park at the Moses Spring Parking Area, which is close to the trailheads for trails that lead up into the pinnacles.
The next nearest parking lot is at the Bear Gulch Day Use Area, which has picnic tables and restrooms.
However, if you do not arrive early, you will likely have to park further out, at Peaks View Parking Area, Manzanita Parking Area, or Old Pinnacles Parking Area.
From these parking lots, or the Visitor Center/Campground, it takes a good amount of walking to get to the Bear Gulch Day Use Area (1-2.5 miles each way).
Camping in Pinnacles National Park
There is one campground in Pinnacles National Park, which can be accessed only via the east entrance.
The single campground is open year round. Both tent and group camping are offered, and RV sites with electric hookups are available. There's even a seasonal swimming pool!
Water is available at the Pinnacles National Park campground, as well as coin-operated showers, flush toilets, and a dump station.
There is a store that sells basic food and camping needs. Although each site comes with a fire ring, campfires are dependent on fire danger conditions. You can look up fire conditions on the park website.
The campground at Pinnacles is well-reviewed, and camping will allow you to experience the park early and late in the day, when you are likely to see birds and wildlife. It's also great if you want to stargaze in the park and enjoy the quiet of the night.
Campsites at Pinnacles National Park can be reserved online, up to six months in advance.
If you don't own an RV, but you are considering renting one for your visit to Pinnacles, check out Outdoorsy to find the perfect vehicle for your trip!
Where to Stay Near Pinnacles National Park
Hotels near Pinnacles National Park
Posada de San Juan is located in San Juan Bautista, about a 50-minute drive from the east entrance to Pinnacles National Park. The highly-rated hotel features spacious rooms with spa tubs and gas fireplaces. Located convenient to dining and shopping and close to Mission San Juan Bautista. Book a stay here!
Inn at the Pinnacles is a private vineyard estate located in the Gabilan Mountains in Soledad. It is just 1.5 miles from the west entrance to Pinnacles National Park. The inn offers six guest rooms, each with a private entrance, private patio, and private bath.
Read reviews on Tripadvisor
Bernardus Lodge & Spa is located in Carmel Valley, about an hour from the west entrance to Pinnacles National Park. With a stunning location overlooking vineyards, beautiful gardens, and a fabulous onsite restaurant, Bernardus Lodge is a great place to relax after a day spent hiking! Book a stay here!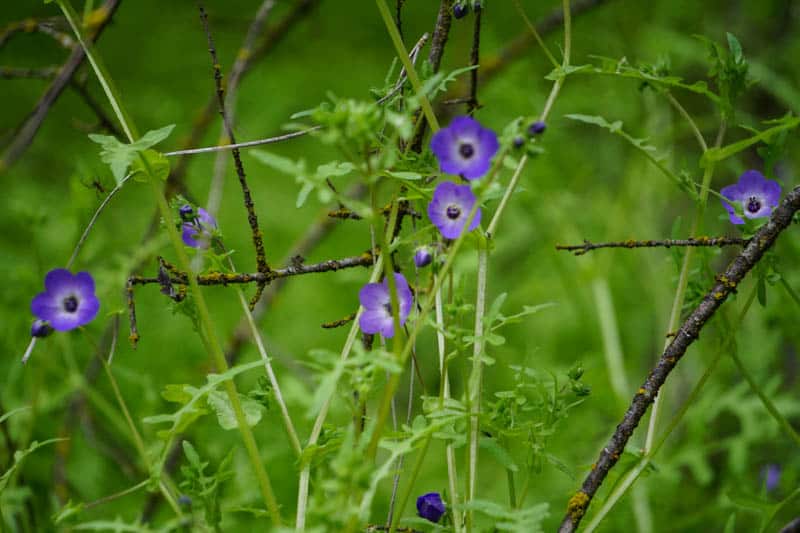 Pinnacles National Park Hours of Operation
Pinnacles National Park is open year round. The East Entrance to the park is open 24 hours. The West Entrance is open from 7.30 a.m. until 8 p.m.
Pinnacles Campground, East Pinnacles Bookstore, East Pinnacles Visitor Center, Bear Gulch Nature Center, and West Pinnacles Visitor Contact Station have varying times of operation.
Please check the park website for the most current information on operating hours and for any special closures. One or both caves may be closed to visitors for various reasons. You can check the status of the caves here.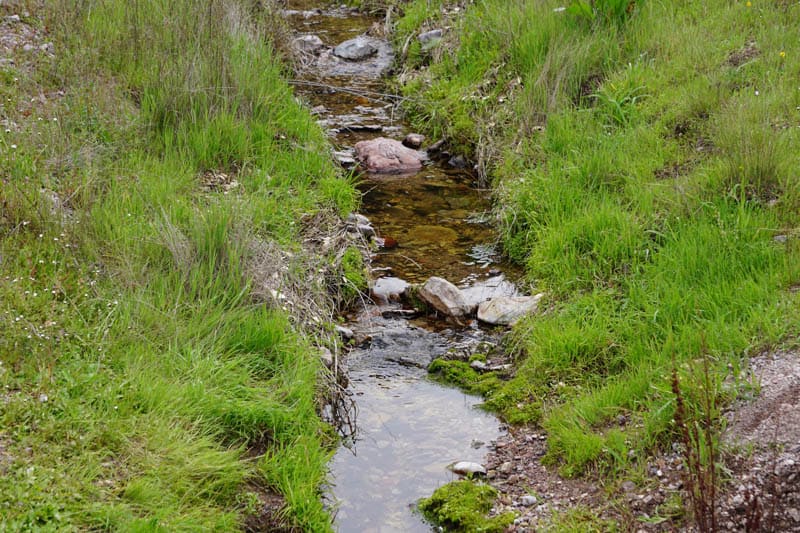 Pinnacles National Park Admission
As of the time of writing, an admission pass to Pinnacles National Park costs $30.00 per vehicle, and is valid for 7 days from the time of purchase. The fee for a motorcycle is $25.00, and walk-in or bicycle fee is $15.00.
Pinnacles National Park accepts the America the Beautiful National Parks pass. The pass is a good idea if you plan to visit 3 or more national parks (or other national recreation sites) during the course of the year.
What You Must Not Miss in Pinnacles National Park
The Pinnacles
The pinnacles, after which the park is named, are the remnants of an extinct volcano that were displaced from their original location on the San Andreas Fault. They moved nearly 200 miles from their original home!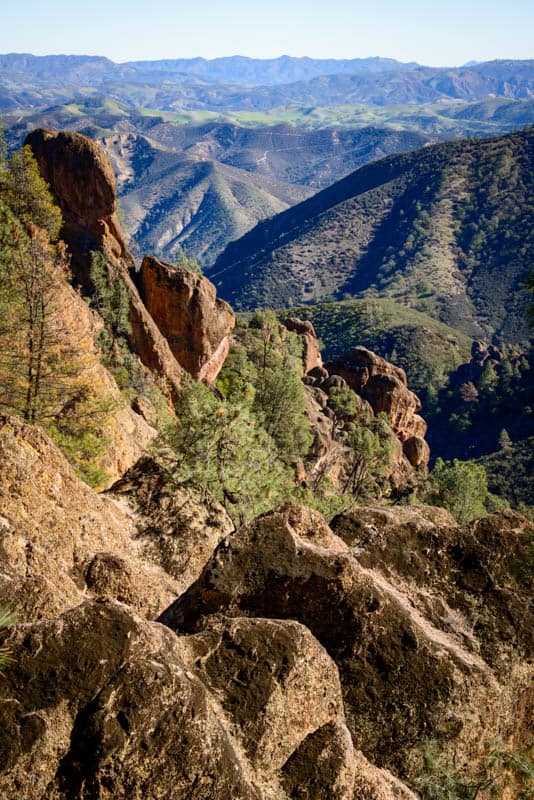 In fact, the pinnacles are still moving, albeit at an infinitesimal pace. Over the millions of years since they formed, the rock faces were eroded and weathered by wind and water, leading to the unique and picturesque spires we see in the park today.
Good to know: While you can get up close to the spires on the High Peaks Trail, you can also see some awesome pinnacle formations from near the parking lot at the West Entrance to Pinnacles National Park.
Talus Caves
Aside from the picturesque pinnacles, the park is famous for its talus caves. The talus caves at Pinnacles were formed when masses of boulders tumbled into narrow canyons, filling them up and creating makeshift caves with narrow pathways among the boulders.
Pinnacles National Park has two major talus caves: Bear Gulch Cave and Balconies Cave. Bear Gulch Cave is home to a colony of Townsend's big-eared bats. They are a protected species, and you may find the cave closed fully or partially to protect the bats from disturbance.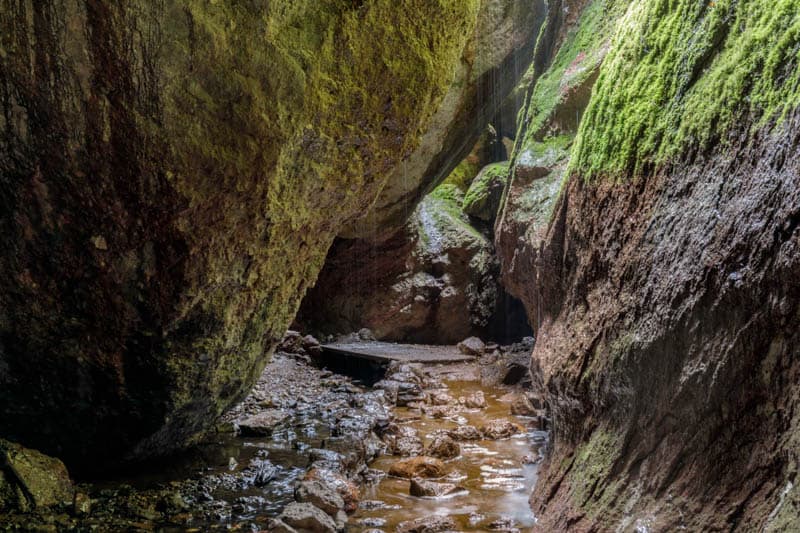 The Balconies Cave may also be closed at different times of the year for various reasons. The cave is currently home to a colony of Western mastiff bats.
Good to know: Bear Gulch Cave is located near the East Entrance to Pinnacles National Park, and accessed via a trail. Balconies Cave, also accessed via a trail, is located by the West Entrance to Pinnacles National Park.
So no matter which entrance you pick, you can still explore one of the talus caves at Pinnacles.
Condors and Other Birds and wildlife
While California condors are undoubtedly the star attraction at Pinnacles, the park is home to diverse species of wildlife and birds. Keep a sharp eye out whilst you are out on the trails!
Since 2003, Pinnacles National Park has acted as a release and monitoring site for California condors born in captivity: nearby Big Sur is another such site.
California condors are a critically endangered species, and there are only about 500 condors in the entire world, with about 300 living in the wild.
California condors can generally be found at higher elevations in the park, or soaring over the cliffs. Their wingspan is an astounding 9.5 feet! You are most likely to see condors early or late in the day.
With several dozen species of birds identified at Pinnacles, you will likely come across some of them on your hikes here. From turkey vultures, golden eagles, and prairie falcons to acorn woodpeckers, wild turkeys, Steller's jays, and California quail, there are lots of species to spot.
Many species of bats call the caves in the park home. A large maternity colony of Townsend's big-eared bats, considered a sensitive species and protected in California, lives in Bear Gulch Cave.
You may also see deer here, or a fox or bobcat, especially if you arrive early or stay late. Mountain lions also inhabit Pinnacles National Park, but sightings are super rare.
You'll likely see a lizard (or three!) and perhaps even a rattlesnake if you visit when it's warm. In September and October, you may see tarantulas out in the open.
Pinnacles is known for the many species of bees that make their home here. In fact, the park's over 400 species make it one of the most diverse bee populations on the planet. As you walk, note the different sizes, shapes, and colors of the bees of Pinnacles (from a safe distance, of course!).
Remember to observe all wildlife from a safe distance and give them plenty of space.
Wildflowers in Season
If you visit Pinnacles National Park in the spring, you will find lots of beautiful wildflowers blooming in the park, even along the trails, so you can see and photograph the blooms from up close.
The bloom is even more profuse if the preceding winter was wet. You can see white, yellow, pink, purple, and red wildflowers in the park, and they make for a pretty show as you hike.
Bloom season in Pinnacles typically runs from March to May, although you may see wildflowers in Pinnacles as early as January!
When we visited in mid March, we found lots of wildflowers and shrubs in bloom. Manzanita bushes, which look spectacular in bloom, begin flowering as early as late January or early February.
Some of the wildflowers you can expect to see at Pinnacles National Park include California poppies, lupines, shooting stars, suncups, fiesta flowers, and larkspur, and even wild roses, which typically bloom in May.
Good to know: Some Pinnacles hiking trails where you will typically find wildflowers are Juniper Canyon Trail, High Peaks Trail, Balconies Cave Trail, and Old Pinnacles Trail. We saw more than a dozen types of wildflowers along Juniper Canyon Trail when we hiked it in March.
Night Skies
Pinnacles National Park is located away from major urban areas, and therefore boasts dark skies at night, perfect for stargazing. If you enjoy photographing the moon, visit on a full moon night to capture it rising from behind the pinnacles!
Short ranger-led after-dark hikes are sometimes offered, and occasionally, stargazing events are organized in conjunction with SF Bay Area astronomical associations.
Pinnacles National Park Hiking Trails
Since you can't drive through the park, hiking is the principal way to explore Pinnacles National Park. You have a variety of trails at each entrance from which to pick.
While some of them are flat and cover the surrounding grasslands, others take you into the talus caves and up into the higher reaches of the pinnacles.
Good to know: If you plan to explore the caves at Pinnacles, you will need a flashlight. The light from your phone will likely not be enough. We use these headlamps: they are bright and leave our hands free in case we need to use them for support as we climb or scramble.
Good to know: There may be water in the caves after rain, which generally occurs in winter or early spring. Bring water shoes!
Good to know: Dogs and bikes are not permitted on Pinnacles hiking trails.
These are some of our favorite Pinnacles Trails that start at the East Entrance. The first three trails begin at (or near) the Bear Gulch Day Use Area, while the last one begins at the Pinnacles Visitor Center.
Moses Spring to Rim Trail Loop
At just 2.2 miles round trip, this hike is an all-around great choice. It is family friendly and a great option if you are short on time. The trail takes you past rock formations and over the Bear Gulch Cave to Bear Gulch Reservoir, from where you take the Rim Trail back to the starting point.
The alternate, slightly more challenging Bear Gulch Trail takes you through Bear Gulch Cave to the reservoir. After you admire the reservoir, you can take the Rim Trail to loop back to the trailhead.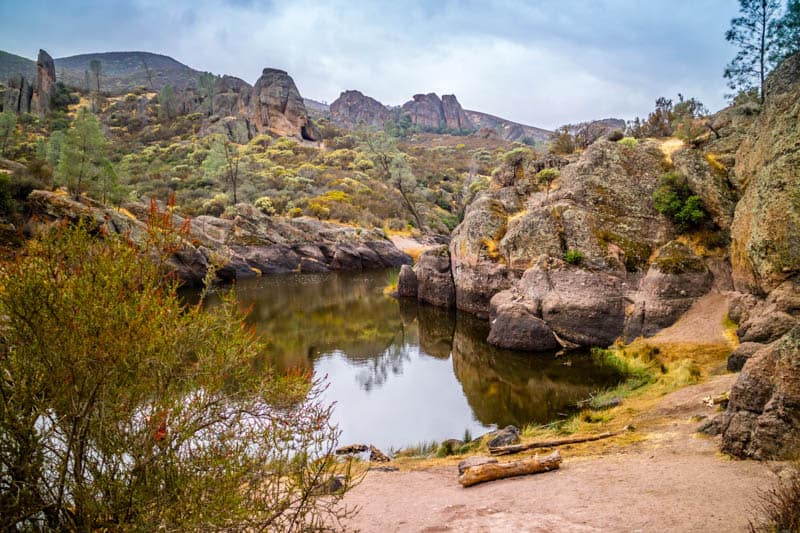 Condor Gulch Trail
This is an excellent trail for fabulous views of the pinnacles. While the full trail is 1.7 miles one way, you can choose to hike just one mile to the Condor Gulch Viewpoint, which is spectacular, and then return. The trek to the viewpoint is classed as moderate and the portion beyond as strenuous.
High Peaks Trail
The High Peaks Trail is challenging but affords up close views of the spires and gorgeous panoramas from portions of the trail. The High Peaks Trail is accessed via various feeder trails. Both the Rim Trail and the Condor Gulch Trail meet up with the High Peaks Trail.
The entire loop, including Condor Gulch, High Peaks, and the Rim and Moses Spring Trails, is 6.1 miles, and the most spectacular loop to hike if you are up for the challenge.
One section of High Peaks is particularly challenging: it is aptly called the "Steep and Narrow Section." Narrow steps have been carved into the rock face and although there are handrails, it can still be scary.
You can skip this bit if you are not comfortable, turning back when you come to the section, or using the Tunnel Trail and Juniper Canyon Trail instead.
Pinnacles Visitor Center to Balconies Cave
If you want to hike a good amount but don't want to do a High Peaks loop, you can do some or all of this trail in addition to the Moses Spring and Rim Trails.
This trail is flat, and takes you to Balconies Cave, the other main talus cave in the park. If you do the full trail, it is 9.4 miles round trip.
This trail is particularly lovely in the spring, when you will see lots of wildflowers along the way, plus birds, bees, and possibly wildlife. The trail runs along Chalone Creek, and is very pleasant when it is not hot.
From the West Entrance to Pinnacles, these are our favorite trails:
Juniper Canyon Loop
This challenging loop includes the "Steep and Narrow Section" of High Peaks Trail. The trail traverses the canyon before ascending into the higher reaches of the spires, and is really gorgeous in the spring, when lots of wildflowers provide color along the trail.
The entire loop is 4.3 miles and the trail is classed as challenging. If you go early, you will have shade for a portion of the trail. Look for condors at the top!
Balconies Cliff and Caves Loop
This easy to moderate trail is about 2.4 miles round and relatively flat. The trail goes over the Balconies Cave and then heads back down to the Old Pinnacles Trail, from where you can go into the cave. Explore the cave and then return to your start point.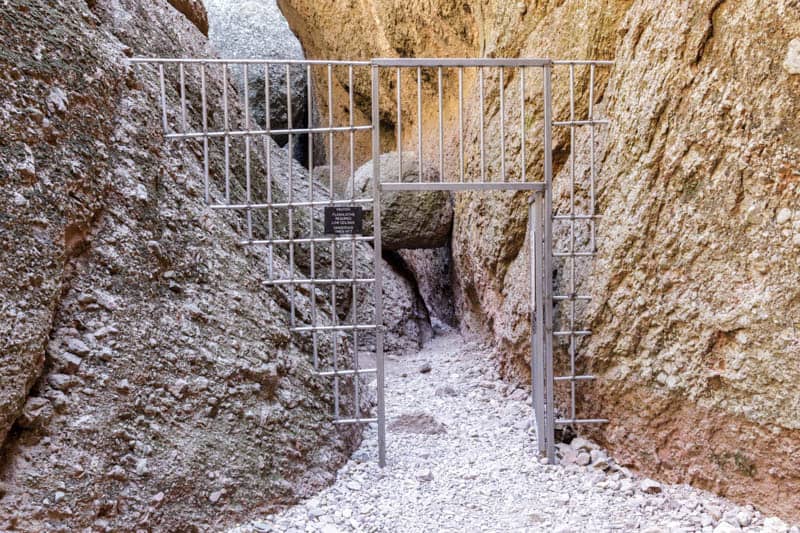 Balconies Cave can get flooded after winter rains. If you visit during or after a wet spell in the winter, check with a ranger before venturing on this trail.
The park website has a great trail map that will help you plot out your hikes.
Planning to spend just one day in Pinnacles National Park? Check out our suggested day hiking routes from the East Entrance and West Entrance!
What is the Best Time to Visit Pinnacles National Park?
Spring and late fall are the most ideal times to visit Pinnacles National Park. During these times, daytime temperatures are reasonable for hiking. In the spring, wildflowers provide an additional dimension of enjoyment.
Spring sees the greatest influx of visitors to the park, so arrive early to snag parking spots, and reserve campsites well in advance if you plan to overnight in the park. Weekdays may be less crowded than weekends in the spring.
Winter is also a great time to visit, as long as you dress in layers. Early and late in the day it can be quite cool at Pinnacles in winter, and overnight it can get chilly.
We've visited Pinnacles during the day in winter (when it's sunny) and found it very pleasant. You may (rarely) see a light dusting of snow on the highest pinnacles in winter, if you visit early in the day.
We do not recommend visiting Pinnacles National Park in the summer, or even early in the fall, when it can get into the triple digits during the day. Hiking in this kind of heat is not fun!
What's Nearby?
There are beautiful vineyards near both entrances to Pinnacles National Park. In Soledad, near the west entrance to Pinnacles, you can visit Chalone Vineyard, the oldest producing vineyard in Monterey County. Call ahead to makes reservations for outdoor tastings.
Near the east entrance to Pinnacles National Park, there are several vineyards south of Hollister, in the Cienega Valley AVA. Leal Vineyards, DeRose Vineyards, and Pietra Santa Winery are all beautiful.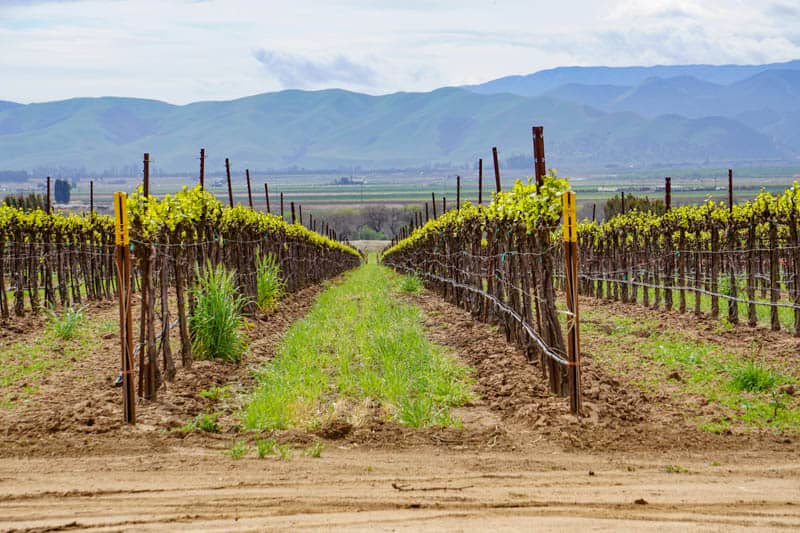 Tips for Your Visit to Pinnacles NP
Read up on park safety
Pinnacles National Park is wilderness and located in the middle of nowhere. Read up on park safety and follow the guidelines for your safety.
Rangers may be available to answer questions and offer advice and recommendations: contact them at the Visitor Center by the east entrance or the Visitor Contact Station by the west entrance.
Download maps and brochures Ahead of Time
Signage at Pinnacles National Park is excellent, but to be safe, download a trail map onto your phone and carry a printed version as well. You will generally not have cell reception on trails.
Carry lots of drinking water
You won't find drinking water along the trails at Pinnacles, and you will need to drink water while you hike, regardless of season. Bring a filled hydration pack or filled water bottles with you on your Pinnacles hikes.
Carry snacks and food
Carry non-perishable snacks on your hikes, plus lunch if you plan to do a longer mix of trails. A light and easy-to-carry daypack makes it convenient to carry food and supplies while leaving your hands free.
Use sun protection
Most of the trails at Pinnacles National Park are exposed to the sun. Wear sunscreen, a sun hat, sunglasses, and light-colored long-sleeved top and long pants, or check out clothing with SPF protection if you hike often. Check REI for women's SPF shirts here and men's SPF shirts here.
Wear sturdy hiking shoes
Trails at Pinnacles are dirt. You may encounter loose gravel, rocky patches, uneven ground, exposed tree roots and the like. There are steep and narrow sections on trails. Hike in sturdy hiking shoes or boots with excellent grip to prevent slipping.
We like our La Sportiva cuffed hiking boots, because they are light, waterproof, and very comfortable. Check women's here and men's here.
Dress in layers in Cooler Months
Winters can be cool to cold at Pinnacles. Winter is also rainy season in California, although it doesn't rain all the time. Dress in layers for warmth if you plan to visit in the winter, and throw on a light waterproof jacket or poncho to stay dry.
Don't Forget these items!
Bring a first-aid kit, disinfecting wipes or hand sanitizer, headlamp or flashlight, and a pocket knife. Trekking poles may be helpful for footing support. Don't forget your camera, and binoculars to view birds or wildlife.
We love our Celestron Trailseeker compact binoculars and our little Panasonic Lumix DC-ZS70, which fits in a pocket but has a powerful zoom and a great lens for photographing birds!
Check out the park bookstores
Both the Visitor Center on the east and the Visitor Contact Station on the west have bookstores, where you can find a variety of books, souvenirs, and basic items such as water and flashlights.
*****
Planning to explore more of California's natural beauty? Check out our guides to other national parks in California!
Did you find this article informative? Pin it for later reference!