Joshua Tree National Park is one of California's two spectacular desert national parks, and a fabulous place to visit if you enjoy the outdoors. Its unique landscapes will wow you with their stark beauty.
Located in Southern California, under an hour from Palm Springs, Joshua Tree National Park is most famous for its massive monzogranite boulder formations and straight-out-of-Seuss Joshua trees.
It is also home to several California palm oases and remnants of historic old mines and ranches.
Thinking about a visit to Joshua Tree National Park?
Read on for the best things to do in Joshua Tree, plus things to know before you go!
Covering just under 800,000 acres, Joshua Tree National Park offers a host of activities for nature and outdoor lovers.
Whether you spend just one day exploring the park, or you visit for a few days, you will find plenty here to keep you engaged.
The park features on our epic four-week California road trip itinerary and our 2-week California road trip guide.
Its stark rocky landscapes, diverse flora and fauna, and colorful history make it a worthwhile stop on any Palm Springs itinerary or Southern California itinerary.
Let's get started discovering all the awesome activities awaiting you at Joshua Tree!
1. Hike the Short Trail to Arch Rock
The hike to Arch Rock is about 1.2 miles out and back, and relatively flat.
The trail features lots of the boulder formations for which Joshua Tree National Park is known. The Arch Rock Trail is one of the most popular Joshua Tree attractions!
Arch Rock comes up at the back left of the trail, and with a little bit of scrambling up surrounding rocks, you can get a nice view of the natural arch.
Also look for Heart Rock along the trail, and keep your eyes peeled for birds and wildlife: we saw a couple of rabbits when we went. And admire the yucca plants with their spiky leaves.
Park at the Twin Tanks Day Use Area, and look for signs for the Arch Rock Trail. If you are camping at the White Tank Campground, Arch Rock is super close and you can even photograph it at night!
2. Wander the Unique Cholla Cactus Garden
Walking the boardwalk trail through the Cholla Cactus Garden is one of the best things to do in Joshua Tree National Park!
The Cholla Cactus Garden Nature Trail leads you through a large mass of teddybear cholla. The boardwalk trail is flat and just 0.25 mile long. And there are views out to the mountains in the distance as well.
The cactus plants look beautiful in the mellow light of golden hour, and sunset here is lovely as well. The cholla cactus blooms in March or April and bloom time would be a great time to visit. When we visited at the end of February, buds were on display.
You can get up close to the cactus, to check out their spines and flowers, but do not touch, and do not brush up against the spines, because they can be painful if they get lodged in your skin.
The Cholla Cactus Garden is located in the Pinto Basin, about a 12-mile drive from the north entrance to Joshua Tree NP.
Do you have your National Parks Pass yet? Valid for one full year from the month of purchase, the America the Beautiful National Parks Pass costs USD 80.00 and offers admission (one vehicle or 4 persons) to over 2,000 Federal recreation sites, including national parks, national forests, and more!

Get your National Parks Pass online at REI now!
3. Go Rock Climbing (or Scrambling!)
Joshua Tree National Park attracts climbing enthusiasts from all over the world. Rock climbing and bouldering are must-do activities in Joshua Tree National Park!
The park's gigantic boulders are made for scaling, and you can see experienced climbers tackling some of the straight-up rock surfaces in the park with ropes and other equipment.
But you don't have to be an expert to enjoy rock climbing at Joshua Tree. Many of the boulder formations offer easier pathways and flatter surfaces so you can scramble your way to the top.
Rock scrambling, or bouldering, is one of the most popular things to do in Joshua Tree National Park, and everywhere you look, you will see visitors trying to make their way to the tops of the boulder formations.
You can even take a guided rock climbing trip in Joshua Tree National Park if you wish, but reserve in advance with a professional rock climbing guide. Equipment is provided, and tours are tailored to your experience level.
Book a rock climbing trip now!

Traveling with kids? Book the family rock climbing trip!

4. Enjoy the Striking Panoramas from Keys View
Taking in an epic sunset from Keys View is one of the top things to do in Joshua Tree!
Take Keys Road up to the viewpoint at the top of the Little San Bernadino Mountains for breathtaking views over the Coachella Valley.
Enjoy the views from the overlook adjoining the parking lot, or walk the short trail to the top of the ridge.
Sunset at Keys View can be an amazing experience, but expect lots of people here at that time on nice weather days. If you are spending time at the park, sunrise is also an awesome (and quieter) time to visit.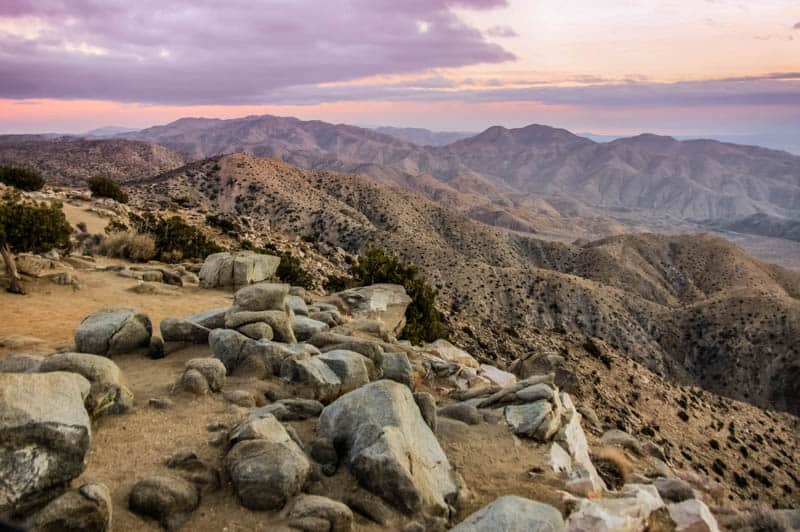 From the Keys View overlook, you can spot nearby mountain peaks, such as Mount San Jacinto near Palm Springs, and Mount Gorgonio on its right. On a clear day the views are stunning.
Far in the distance, look for the silvery sheen of Salton Sea. And down in the valley below you can see the San Andreas Fault.
5. Walk the Hidden Valley Nature Trail
In our opinion one of the best hiking trails in Joshua Tree National Park, the Hidden Valley trail is a loop about one mile long.
The nature trail is punctuated by lots of informative plaques that tell you more about the valley and its geology, flora, and fauna.
Rumored to have been the place where cattle rustlers hoarded their stash back in the days, Hidden Valley is surrounded by the signature rock formations of Joshua Tree, with lots of opportunities for rock scrambling.
The Hidden Valley Trail does have some steps and uneven parts, but on the whole, it's a relatively easy walk.
We've done this trail several times now and we love it because it encapsulates many of the park's unique features in one short walk.
Access the trailhead for the Hidden Valley Trail at the Hidden Valley Campground and Picnic Area, right off Park Boulevard. From the parking lot, climb the steps and enter the valley through the opening in the rocks.
Hiking the Hidden Valley Nature Trail is one of the most enjoyable (and family-friendly!) things to do in Joshua Tree National Park.

6. Hike to Barker Dam
Another popular short hike in Joshua Tree National Park, the Barker Dam Trail leads to a reservoir built by area cattle ranchers at the start of the 20th century. Barker Dam is listed on the National Register of Historic Places.
Featuring cool reflections when there is water (in winter and spring, generally), Barker Dam is also one of the best places in Joshua Tree to spot birds, and bighorn sheep. The trail is a loop a little over one mile in length and relatively flat.
You will see signs for Barker Dam as you drive Park Boulevard, and there is a parking lot right by the trailhead. This trail also features information plaques that tell you about the area. Look for the sign for the petroglyphs!

7. Pose for a Photo by Skull Rock
Arguably the most famous rock in Joshua Tree National Park, Skull Rock looks exactly like a skull, with the two startlingly real eye pockets created by erosive forces over time. Skull Rock is definitely a Joshua Tree must see!
You can view Skull Rock right from Park Boulevard, and scramble up to pose for a photo by the rock. But you can also park at the Jumbo Rocks Campground, and walk the 1.7-mile loop trail to Skull Rock and back.
Along the trail, you'll find other rock formations to admire or to do some bouldering. Keep your eyes peeled for birds and wildlife: we spotted a coyote from this trail!
Other than Skull Rock, you will find many other named rock formations along Park Boulevard. The gigantic Split Rock is worth an up-close look!
8. Do the Epic Ryan Mountain Hike
Love panoramic views? Head to the top of Ryan Mountain! The 3-mile out and back trail is classified as moderate to challenging, with an elevation gain of a little over 1,000 feet.
Located in the heart of Joshua Tree National Park, the Ryan Mountain summit offers the best 360-degree aerial views over the rock formations and desert landscapes of the park and across to the Little San Bernadino Mountains.
The Ryan Mountain Trail is fairly steep, with stone steps carved into rocks to help you ascend. There is no shade, so this trail is best attempted early in the day. In season, look for wildflowers.
Good hiking shoes are a must on this trail, and trekking poles can be helpful.
To get to the trailhead, take the Ryan Mountain turnoff from Park Boulevard. There is a parking area at the start of the trail. Spots fill up, which is another reason to come early in the day!

9. Take a Guided Tour of Keys Ranch
Joshua Tree National Park is mostly all about nature, but the area also has a fascinating history. And one of the best things to do in Joshua Tree if you enjoy history is to join a guided tour of Keys Ranch.
Bill Keys was one of the early settlers in the region and a colorful character. He made his living as a miner and a rancher, and he and his wife Frances made their home in the unforgiving desert environment at Joshua Tree for 60 years!
The tour of Keys Ranch involves about one-half mile of walking, and takes you around the cluster of buildings at the site, including the ranch, the schoolhouse, the store, and workshop.
Keys Ranch is listed on the National Register of Historic Places and is a fascinating glimpse into life as it existed here in the first half of the 20th century.
Tours last around 90 minutes each, and are offered on several days of the week. You might want to book your spot ahead of time, especially if you plan to visit during high season.
10. Savor the Beauty of Cottonwood Spring Oasis
Located near the south entrance to the park, Cottonwood Spring Oasis is a less visited spot in Joshua Tree National Park, but it is incredibly beautiful and worth taking the time to visit. Cottonwood Spring Oasis is one of five fan palm oases in the park.
Cottonwood Spring was created by tectonic activity, and was historically used by the Cahuilla Indians as well as by prospectors traveling to gold mines in the area. The landscape here is lush, with the tall palms and other vegetation.
We did the short hike that goes down the wash to a dry falls. When we visited, there was no water at the falls, but in wet years, you may see gushing water here.
There are several hikes that begin at Cottonwood Spring Oasis. If you have the time, try the 3-mile Mastodon Peak Loop, which features stunning scenery and the chance to see an old mine and an old mill.
A much longer 8-mile round trip hike leads to beautiful Lost Palms Oasis. If you visit in the spring following a wet winter, you will likely be treated to a spectacular show of wildflowers along this trail.
11. Check Out the Lost Horse Mine
Did you know that there were several hundred mines in the area now covered by Joshua Tree National Park? One of the richest was Lost Horse Mine, where several thousand ounces of gold and silver were mined.
The 4-mile out-and-back Lost Horse Mine Trail starts off Keys Road, and is rated moderately difficult. You can also hike the longer loop trail, which is close to 7 miles.
The trail features Joshua trees and yucca, and wildflowers in the spring. The mill is well-preserved, and you can admire it from a safe distance. Hike uphill beyond the mine to the overlook for views over the valley.
12. Or Do the Quick Hike to Desert Queen Gold Mine
You can also do the shorter hike to see what's left of the Desert Queen Gold Mine: a trail to the overlook is 0.7 mile round trip, and classed as easy. You can also walk to the mine itself, if you have more time.
To get to the trailhead for the Desert Queen Gold Mine trail, take the Desert Queen Mine Road off Park Boulevard.
13. Visit the Ruins of Ryan Ranch
For a peek into the past, do the easy hike to see the remains of Ryan Ranch. Built at the end of the 1800s by miner J. D. Ryan of Lost Horse Mine fame, the ranch stood in the shadow of Ryan Mountain.
Today you can see the adobe walls of the multi-room homestead, a covered well, a graveyard, and other artifacts. The golden adobe walls glow in the late afternoon, making it a great time to visit if you enjoy photographing old ruins.
The out-and-back trail is a little over one mile long, with negligible elevation gain. The trailhead starts off Park Boulevard, near the Ryan Ranch Campground.
14. Do the Scenic Drive through Joshua Tree National Park
If you don't want to do long (or even longish) hikes, or it's warm out when you visit, or you have a short time to spend at Joshua Tree National Park, you can still have a fun time doing the scenic drive through the park, only getting down for short stints at points of interest.
If you begin at the south entrance to the park, you can visit Cottonwood Spring Oasis, then drive long Pinto Basin Road, where you can see ocotillos, shrubs that look like someone stuck a bunch of leafy twigs into the ground.
Further up Pinto Basin Road, you can do the short walk around the Cholla Cactus Garden, and then head to Park Boulevard, which traverses the northern part of the park in an east-west direction.
Along Park Boulevard, you can see many beautiful boulder formations from the road, including the famous Skull Rock. In this part of the park, Joshua trees are plentiful as well. There are plenty of places to stop for photos.
Next, drive up Keys Road to take in the views from the top, before exiting the park via the west entrance.
15. Observe the Flora and Fauna
Joshua Tree National Park is partly in the Colorado Desert and partly in the Mojave Desert. You will find a wide variety of flora and fauna to admire here.
While the namesake Joshua trees get all the press, plant lovers can browse numerous varieties of cacti, many types of ferns and mosses, and close to four dozen rare plant species.
Spring brings a wide variety of wildflowers in yellow, white, purple, and red. Ocotillos develop sprays of bright red flowers at their tips in spring. Cactus varieties and yucca bloom in the spring as well.
Joshua Tree is also home to many species of animals, birds, and insects. While you are more likely to see squirrels, rabbits, and bighorn sheep, larger animals such as black bear, bobcats, and mountain lions also live here.
And keep a sharp eye out for desert tortoises: we had to brake for one crossing a road on our last visit to Joshua Tree.
16. Enjoy Birding
If you enjoy birdwatching, don't forget to pack your binoculars and your zoom lens when you visit Joshua Tree National Park. You'll find lots of species to keep you engaged during your visit.
While there are several dozen resident bird species at Joshua Tree, the park lies along the Pacific Flyway, and attracts many more migratory species in the winter and spring.
Look for turkey vultures and golden eagles flying overhead or roadrunners racing across the road in front of your vehicle. Listen for the call of the Gambel's quail. From tiny hummingbirds to large water birds, you'll be in bird heaven at the park!
The best birding locations within the park are areas with water: Barker Dam, Oasis of Mara, Cottonwood Spring Oasis, and Lost Palms Oasis.
17. Stargaze and Photograph the Milky Way
If you enjoy stargazing, or astrophotography, head for the dark skies of Joshua Tree National Park! On moonless nights, you can see the Milky Way in all its glory. There's even a local annual Night Sky Festival.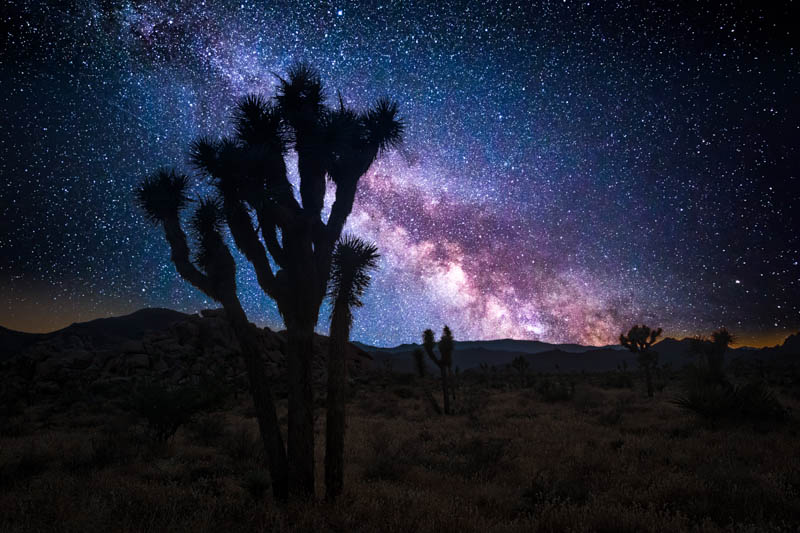 Joshua Tree campgrounds are great places to view the night skies. But if you aren't camping, you can still view the stars from pullouts along the roads. The southern section of Pinto Basin Road is less trafficked, and offers better stargazing than the northern sections.
If a ranger-led night sky program is being offered when you visit, join! You will learn a lot as you view the dark skies and the stars.
Joshua Tree is also a great place to practice your night sky photography. Bring a tripod and find a quiet spot, and you might come away with shots you will cherish for life!
18. Bike the Backcountry Roads
If you prefer to explore the desert on two wheels, Joshua Tree National Park allows bicycles on all roads open to vehicular traffic. For fewer crowds, pick from the many backcountry roads in the park.
To see some of the park's largest Joshua trees and pinyon pines, head to the dirt roads in Covington Flat. If you want views as well, bike to the top of Eureka Peak.
The dirt roads of Queen Valley are another popular biking destination within Joshua Tree National Park. Bike racks are available at trailheads if you want to add in a spot of hiking.
19. Go Horseback Riding
We haven't yet gone horseback riding at Joshua Tree National Park, but it's on our wish list. With a 250-mile network of equestrian trails, the park offers you the opportunity to explore less trafficked parts of the desert.
You can ride across the open desert, and go up mountains and down into canyons and dry washes. It's a great way to explore larger swathes of the park. The Black Canyon area in the western part of the park is a popular place to explore on horseback.
Equestrian trails are well marked, but if you are not local, join a guided equestrian tour! Knob Hill Ranch in Yucca Valley offers a variety of horseback experiences.
20. Tour Geology Road
The Geology Road Tour is a dirt road that stretches for 18 miles through scenic landscapes in Joshua Tree National Park.
The drive starts near Jumbo Rocks Campground (the turn is marked) and the full round trip takes about two hours.
Along the way, there are pullouts where you can park and enjoy the views, and a few hiking trails. The short walk to Squaw Tank is scenic.
Although it is a 4-wheel drive route, you can drive the first few miles in a passenger sedan in good weather. There is a sign marking the point beyond which a 4X4 is recommended. Speak with a park ranger regarding road status before you head out.
This road is not advised for campers, trailers, and the like.
21. Admire Wildflowers in Season
Spring is one of the absolute best times to visit the Southern California deserts, because that's when they literally explode with color. That's especially true in years when a superbloom occurs, generally when the preceding winter was wet.
The bloom season at Joshua Tree National Park generally starts at the end of February, and peaks some time in March or early April, although you could see wildflowers at higher elevations into May and even June.
We've seen the brightest areas of color near the south entrance to the park, where yellow, purple, and red wildflowers bloom riotously. But you'll find areas of color all through the park in season.
If you plan a visit to Joshua Tree National Park around wildflower bloom, check for bloom updates so you can time your visit!
Things to Do Near Joshua Tree National Park
If you plan to visit Joshua Tree National Park over a few days, you may want to check out other interesting places in the area!
Explore Greater Palm Springs
The nine desert cities of Greater Palm Springs are all about an hour or less from Joshua Tree National Park and offer lots of activities, plus great accommodation and dining options.
Check out the mid century modern architecture in Palm Springs, or ride the aerial tramway. Visit the desert garden at Sunnylands in Rancho Mirage. Enjoy public art installations at several of the desert cities. Soak in a mineral hot spring at Desert Hot Springs.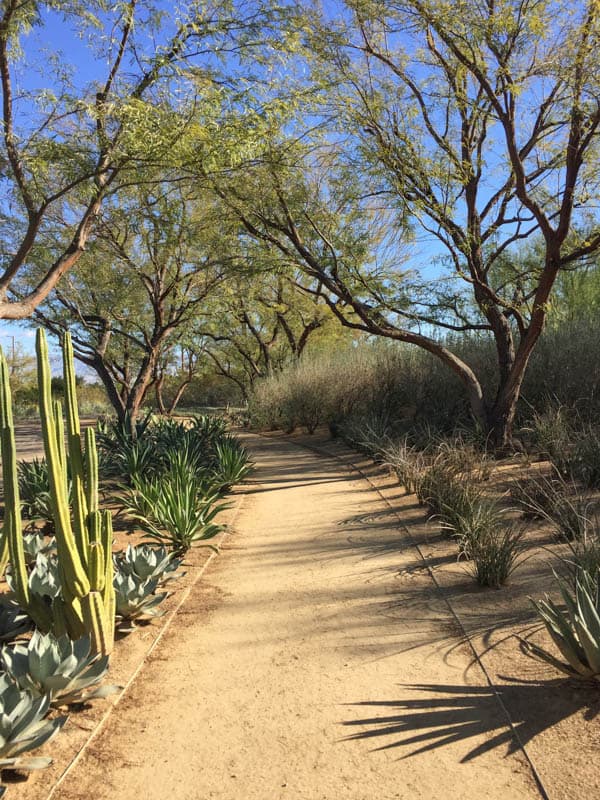 Visit Pioneertown
Built by Hollywood celebrities in the mid 1900s, Pioneertown was a popular filming location, with several dozen movies and serials filmed in the town. Today the town retains its wild west charm and is worth a stroll.
While in town, stop by Pappy and Harriet's for delicious barbecue and drinks. The super popular watering hole hosts music acts from all over the world and is especially fun in the evenings. Reserve your table for dinner in advance!
Discover the Town of Joshua Tree
A haven for artists and musicians, the town of Joshua Tree features a cute downtown, with lots of art galleries and a farmers' market on Saturday mornings.
You will find live music venues, fun stores to browse, and eateries: we had lunch at the Natural Sisters Cafe, which serves vegetarian and vegan sandwiches and salads.
Enjoy Off Road Driving and Tours
Explore the desert in an open-air Hummer. Tours from the Palm Springs area take you to view the San Andreas Fault up close. Or you can choose a tour of the back roads of Joshua Tree National Park.
Tips for Visiting Joshua Tree National Park
Get a Map and Guidebook
You'll be able to get a printed map and brochure at any of the visitor centers for a nominal fee, but you can also download (and print) the map of Joshua Tree National Park before you arrive.
If you want to arrive with an in-depth guidebook that describes the park's history, geology, flora and fauna, along with the best hikes, and places to stay and eat, check out this guidebook on Amazon.com.
Carry Plenty of Drinking Water
Don't underestimation the punishing dehydration you're likely to experience in the desert. Carry lots of drinking water…and then some.
A cooler is a great investment if you go on lots of road trips or trips to outdoor areas.
Bring Snacks and Food
There are no eateries within the park, so it's a great idea to carry food and snacks. Picnic tables are available at spots throughout the park, so you'll be able to stop for a picnic lunch during the day if you've packed food.
You'll find restaurants in the town of Twentynine Palms, just outside the north entrance to Joshua Tree National Park, and in the town of Joshua Tree, just outside the west entrance.
But if you are planning to visit just for the day, know that getting in and out for a meal takes up 2-3 hours, depending on how crowded the restaurants are when you visit.
Bring your Sun Hat and Sunscreen
You'll be outdoors a lot, unless you plan to just drive through the park. There isn't much shade on hikes. So bringing a wide-brimmed sun hat is a good idea, along with sunscreen and sunglasses.
We now wear sun protective clothing when we know we are going to be out in the sun all day.
Carry Bug Spray and a First-Aid Kit
Joshua Tree National Park contains lots and lots of cacti and other spiny shrubs. In fact, there was a little first aid kit chained to the gate at the Cholla Cactus Garden to help visitors pull out spines that latch on to clothing, skin, or footwear.
But it's best to bring your own travel-sized first-aid kit, including clean tweezers, along with bug spray and sanitizing wipes and lotion.
Wear Layers from Fall through Spring
The desert can get cold, especially early and late in the day and at higher elevations in the park. Cold snaps in late fall and early spring are not uncommon.
So if you plan to visit any time from fall through spring, bring a light warm jacket and wear layers you can shed if you get too warm.
In the summer, wear light, loose-fitting clothing to stay cool and comfortable.
Bring Comfortable Shoes
Comfortable walking shoes are a must even for shorter nature walks and hikes, and hiking boots with good grip are recommended if you plan to do rock scrambling or climbing or attempt moderate to strenuous hikes that gain a lot of elevation.
Don't Plan on Cell Reception in the Park
Other than at the visitor centers and maybe at higher elevations, you will pretty much not have any cell reception in Joshua Tree National Park.
Don't Forget Your Camera and Binoculars
If you love photographing birds or wildlife but don't want to carry your heavy gear, look for a pocket digital camera with a good zoom lens. We love our little Panasonic Lumix DC-ZS70: it has a 30X zoom and Leica lens.
We also always bring our compact binoculars if we expect to see birds or wildlife. I use the Celestron Trailseeker compact binoculars: they are waterproof and great for the lower light of dawn or dusk.
Joshua Tree National Park Hours and Fees
Joshua Tree National Park is generally open all day, every day. But before you visit, check the park website for information on special closures.
At the time of writing, a 7-day vehicle permit costs USD30. National Parks passes are accepted at Joshua Tree National Park.
Park Entrances and Visitor Centers
There are three entrances to Joshua Tree National Park.
The west entrance to Joshua Tree is located off Highway 62, at the town of Joshua Tree. The north entrance is located off Highway 62, at the town of Twentynine Palms. The south entrance is located off Highway 10, east of Indio.
There are four visitor centers: Joshua Tree Visitor Center at the west entrance, Oasis Visitor Center at the north entrance, Cottonwood Visitor Center at the south entrance, and Black Rock Nature Center in the Black Rock Campground.
Each of the visitor centers has a bookstore, and rangers are available to answer questions and help you plan your visit.
Where to Stay when Visiting Joshua Tree National Park
You can visit Joshua Tree National Park on a day trip from the Palm Springs area or the Los Angeles area. If you plan to spend one or more nights, you have a number of options for where to stay near Joshua Tree.
Staying Inside the Park
There are no hotels or lodges inside Joshua Tree National Park. But there are a number of campgrounds within the park, if you want to experience camping in the desert. Many of them allow RV and trailer hookups.
Want to rent an RV for your trip to Joshua Tree National Park? Check out Outdoorsy or Escape Campervans to rent the perfect vehicle for your desert adventure!
Campsites tend to get full in season, especially on weekends, so it's a good idea to reserve ahead of time if you want to be sure of your spot.
While some campgrounds, such as Black Rock Campground and Cottonwood Campground, have water and flush toilets, many other sites are primitive.
Staying Outside the Park
Privately operated campgrounds are available both north and south of Joshua Tree National Park, if you want to camp, but cannot find a spot inside the park for your dates.
North of Joshua Tree National Park, you can find lodging in Twentynine Palms or Joshua Tree. We've offered some suggestions below, but we also have a hand-picked list of Joshua Tree Airbnbs from which to choose!
South of the park, you'll find lots of accommodation choices at Indio, Palm Desert, or Palm Springs, but keep in mind that these communities are about an hour or so away from the park.
In Twentynine Palms, consider Campbell House, a highly-rated bed and breakfast, or the Fairfield Inn and Suites, which features an outdoor pool.
In Joshua Tree, consider Sacred Sands for a romantic getaway for two, or the Eclectic Joshua Tree holiday home for a family vacation.
Enjoy the privacy and quiet of a full home? This gorgeous home is located near the park's west entrance in Joshua Tree. The property features lovely mountain views and comes with a hot tub and lots of outdoor seating. Interiors are well-appointed.
Or, for the perfect couples' retreat, check out this secluded home just six minutes from Joshua Tree Town. An outside fire pit offers relaxation after a day hiking, and there is a grill for outdoor cooking. Interiors are well-appointed.

How Much Time To Spend at Joshua Tree NP
Short answer: that's totally up to you!
You can visit Joshua Tree National Park on a day trip from Palm Springs, Los Angeles, or San Diego, and cover quite a bit in one day, from the scenic drive through the park to a couple of short hikes and a few photo stops.
But if you enjoy being out in nature, and you have the time, definitely consider spending a few days at Joshua Tree National Park, enjoying all it has to offer at leisure.
Staying at least overnight allows you to experience the park early and late in the day, and maybe do some stargazing at night. Birds and wildlife are active early and late in the day as well, so your chances of spotting some are enhanced if you stay for a couple of nights.
Staying a few days also means that you can try some of the longer hikes, explore some of the park's history, and have the opportunity to take some iconic photos when the light is right.
Getting to Joshua Tree National Park
Having your own wheels is crucial. The nearest airport is in Palm Springs, and you can drive to Joshua Tree National Park via Interstate 10 (to the south entrance), or California Highway 62 (to the west or north entrances).
Looking to rent a car for your Joshua Tree trip? Discover Cars offers you the ability to compare availability and prices across many major car-hire companies. Pick the car that best meets your needs!
Book your car with Discover Cars now!
The park is within reasonable driving distance of a number of major cities, including Palm Springs (37.5 miles), Los Angeles (140 miles), San Diego (175 miles), Las Vegas (215 miles), and Phoenix (222 miles), and makes for a great day trip from the Greater Palm Springs or Los Angeles areas.
Joshua Tree is one of the best nature-focused weekend trips from San Diego or LA.
As one of California's incredible national parks, Joshua Tree National Park is also a must-stop spot on any California desert road trip itinerary in the southern part of the state!
You can do a guided tour from Palm Springs if you do not wish to drive. This highly rated small group tour takes you on a 4-hour Jeep tour of the park. Entrance fees are covered, and you'll get to explore parts of the park that are away from crowded hotspots.
Book this tour now!

Getting Around in Joshua Tree National Park
You'll need a vehicle to get around in Joshua Tree National Park, whether it's a regular car, an ATV, or a motorcycle. You can explore parts of the park on horseback or on a bike as well.
The Best Time to Visit Joshua Tree NP
From a weather perspective, plan your Joshua Tree National Park trip any time from fall through spring, when daytime temperatures are pleasant for hiking.
Winter temperatures can be cool or even downright cold early or late in the day, especially at higher elevations, so dress warm. During the day, winter is a pleasant time in Joshua Tree: the park is a popular destination in California in December.
Avoid the heat of summer, when temperatures can soar and you might see extreme heat advisories posted on the park website. If you must visit when it is hot out, consider just doing the drive through the park, or limit hiking and walking to early or late in the day, when temperatures are cooler.
For wildflowers and cactus blooms, visit in the spring. Bloom season begins in late February but does not peak until some time between mid March and early April. Succulents, including the Joshua trees, bloom between March and May or June.
The park also sees the largest populations of migrating birds in the winter and early spring, so if you are an avid birder, time your visit for these seasons!
Spring is the most popular visiting time for Joshua Tree National Park, so expect the major sights at the park to be somewhat crowded during the day. Campsites also fill up way in advance, so reserve early if you plan to visit in the spring.
Fall has pleasant temperatures for hiking, rock-climbing, and camping, and you will find the park less crowded than in spring.
*****
Planning to explore more of California's natural beauty? Check out our articles on other national parks in California!
Did you find this article informative? Pin it for later reference!