California in December is beautiful.
We may be biased, but quite honestly, the Golden State offers incredible travel destinations any time of year, and December is no different.
While many parts of the country are drab and gray, or digging out from snowstorms, most of California generally has abundant sunshine and mild temperatures in December.
But California is a big state, and the best places to visit in California in December are as varied as they are gorgeous.
Whether you love strolling city streets or want to hike in the wilderness, and whether you want to enjoy a winter wonderland or head to warmer climes, there's a perfect California destination for your December getaway.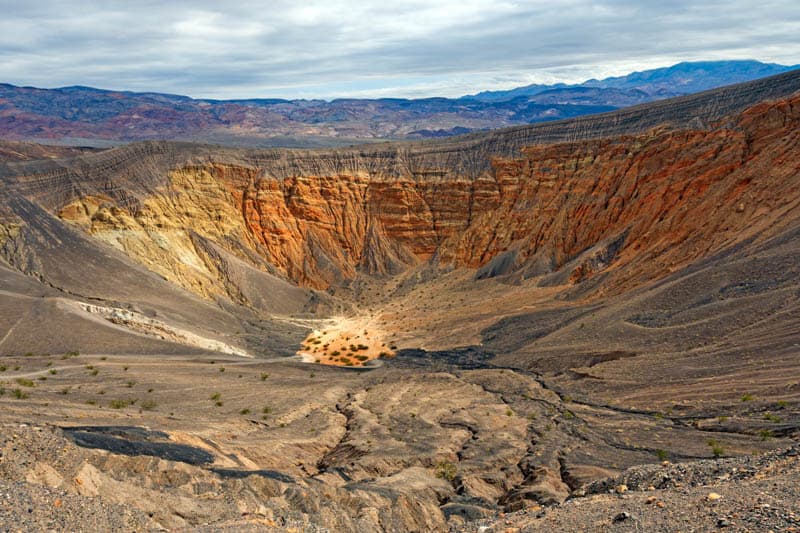 California's cities dress up in December for the holidays, and its charming towns are even more captivating, with holiday decorations and twinkling lights.
Holiday parades and floats, festive menus at restaurants, and special shows and festivals make for a lively time in California in December.
If you are actively seeking a wintry escape, cold weather national parks such as Yosemite National Park and Lassen Volcanic National Park may be blanketed with snow in December. The white wonderlands are perfect for snowshoe hikes and snow play.
On the other hand, if you are looking for warm weather parks to escape the cold, California has those as well.
Joshua Tree National Park and Death Valley National Park are the perfect December getaways into nature, and you can even do a California deserts road trip.
Considering a December trip to the Golden State? Read on to discover all the amazing places to visit in California in December!
California in December: What's the Weather Like?
California is a large state, with many different climate zones. So the weather in California in December will vary based on where you choose to go.
The California Coast has a temperate climate, but it gets just a little cooler in December.
Expect daytime highs in the high 60s and low 70s along the Southern California coast, and in the low 60s along the Northern California coast.
December is also the start of California's rainy season, so in wet years you may encounter a few days of showers and the occasional heavy rain.
The Southern California deserts have wonderfully warm weather in December, with daytime highs in the 60s, perfect for hiking and exploring outdoors.
The mountains get really cold in December, with rain and snow. Expect daytime highs in the 40s, with temperatures dropping below freezing at night.
Ski season begins in December at Lake Tahoe and other Sierra Nevada resorts!
San Francisco in December
San Francisco is one of the most beautiful places to visit in California in December.
Daytime temperatures are generally in the upper 60s, and the famous fog is not in evidence most days. Don a smart jacket and scarf and you will be ready to explore the City by the Bay in the magical month of December!
San Francisco's top attractions are fun to visit in December, with fewer crowds and bright clear days.
Walk or bike the Golden Gate Bridge in the afternoon, or drive up to the top of Mount Tamalpais for spectacular 360-degree views.
Visit the infamous Alcatraz: it is only closed on Christmas Day.
Stop by the Painted Ladies, the famous Victorian houses on Alamo Square.
Step into the Conservatory of Flowers to delight in hothouse plants: on select nights in December, you can witness "Night Bloom": special installations of light and sound. The conservatory is one of the top attractions in Golden Gate Park.
Or check out the exhibitions at MOMO, San Francisco's famous Museum of Modern Art.
Pier 39 features a lit Christmas tree each night, along with holiday decorations and live performances.
The Illuminate SF Festival of Light runs all through December with several dozen stunning light installations created by local and international artists.
Take a night tour in a Big Bus, to see all the iconic San Francisco landmarks lit up.
Shoppers will want to stroll Union Square, where you can view Macy's gigantic Christmas tree, all lit up.
And if you enjoy ice skating, head to one of the outdoor ice rinks open all through December: there's one right in Union Square.
Check out the enormous gingerbread house at the Fairmont San Francisco.
Have hot chocolate at the famous Ghirardelli Ice Cream & Chocolate Shop.
Catch a performance of The Nutcracker by the San Francisco Ballet, or enjoy a holiday-themed performance by the San Francisco Symphony.
Where to Stay
With so many fun things to do in San Francisco in December, you will want to visit for a few days.
Stay at the Fairmont San Francisco, located in posh Nob Hill. The hotel is spectacularly decorated for the holidays, and offers spacious elegantly-appointed rooms and suites. Ask for a room on a higher floor with views!
Book a stay here!
If you plan to spend a few days in the City by the Bay, consider adding a few day trips from San Francisco to your itinerary.
And for more getaway ideas, check out our guide to the best weekend getaways from San Francisco!
San Diego in December
At the southern end of the state, San Diego makes for a fabulous December destination in California.
Daytime highs are in the mid 60s to low 70s, perfect for wandering.
And except right around Christmas, you can expect lower rates on accommodations and fewer crowds at popular attractions.
Visit Balboa Park, San Diego's incredible complex of gardens and museums, which hosts December Nights, with processions, performances, and food.
The park's iconic buildings, such as the Botanical Building in the Balboa Park gardens, are dressed up in dazzling displays of light.
Take a small group guided tour of Balboa Park, to cover the highlights efficiently and to learn about the park.
Another unmissable San Diego December event is the San Diego Bay Parade of Lights, where dozens of illuminated and decorated boats cruise the bay while you watch from shore.
And kids will love visiting the San Diego Zoo, made extra magical with lights and decorations. Buy the 1-day pass!
San Diego's fun neighborhoods are always worth wandering but especially so in December.
Many neighborhoods have their own lit Christmas trees and parades, and popular hangouts like Little Italy host special events like seasonal food stalls, horse carriage rides, and live music.
You can't visit San Diego without enjoying the outdoors. Head to Cabrillo National Monument, where you can try to spot gray whales on their migratory path from Alaska to Baja California.
While you are there, view Ballast Point, the spot where the first European expedition landed in California.
Mission San Diego is the oldest of California's 21 Spanish missions. Tour the historic church and museum, and stroll the beautiful gardens.
You can stroll San Diego's beautiful beaches in December, although the water may be too cold to swim without a wetsuit. Just carry a light jacket in case you find it's too breezy.
If the beach is too cold for you, visit San Diego's most popular museum, the USS Midway Museum.
If you plan to visit for a few days and want to explore around the city, check out our round-up of the best day trips from San Diego!
Where to stay
Pendry San Diego is a fabulous place to stay, right in the heart of the action in downtown San Diego. The Gaslamp Quarter hotel features beautiful rooms and suites with a California coastal vibe, and its beds are rated as being super comfortable. Book a stay here!
Death Valley National Park: A December Delight!
If there is one US national park that is just right for December, it's Death Valley National Park in Southern California.
Nature lovers and outdoor enthusiasts will love exploring the dramatic desert landscapes at this park when daytime temperatures are ideal: mid 60s to low 70s.
Hiking is one of the best things to do in Death Valley National Park. On foot, you can get up close to the colors and textures of the rocks and badlands, and appreciate the enormous majesty of the landscape.
One of our favorite Death Valley hikes is the moderate 4-mile Mosaic Canyon hike. Or hike the badlands near Zabriskie Point via the Golden Canyon trail.
Play in the sand at Mesquite Flat Sand Dunes. Drive up to Dante's View for magnificent panoramas over the valley. Walk out onto the salt flats at Badwater Basin, where you will find the lowest point in North America.
Drive up north to explore the less visited but gorgeous Ubehebe Crater.
Artist's Drive in Death Valley National Park is a must-visit! The 9-mile loop features Artist's Palette, one of the most photographed places in the park.
Park in the official parking lot, from where you can walk right up onto the multi-colored mineral deposits in shades of red, rust, gold, pink, lavender, green, and blue.
December nights in the desert are wonderful for stargazing. Just bear in mind that nights in the desert (and early mornings) can be chilly, so bundle up before you venture out at night.
Where to stay
Stay in the heart of the park in The Inn at Death Valley. The beautiful and historic property in Furnace Creek features rooms in the main building as well as standalone casitas. Enjoy sunsets from the terraces and eat at one of three onsite options.
Book a stay here!
Carmel-By-The-Sea in December
Carmel, and the beautiful Monterey peninsula in general, make for a wonderful destination for a December vacation, whether you are planning a family trip, a couples getaway, or a solo jaunt.
The scenery is splendid and there are a ton of attractions and activities to keep you engaged.
One of the most fun things to do in Carmel by the Sea is strolling the charming little village.
In December, the shops and restaurants in the village have holiday decorations and Christmas trees, and it's fun to browse the boutique shops and art galleries.
Visit the beautiful historic Carmel Mission, one of the most beautiful of the Spanish missions in California. The garden features a stunning fountain!
During the day, tour Carmel's storybook cottages, or walk on the beautiful beach: both Carmel State Beach and Carmel River State Beach, among the best beaches in Monterey County, are stunning.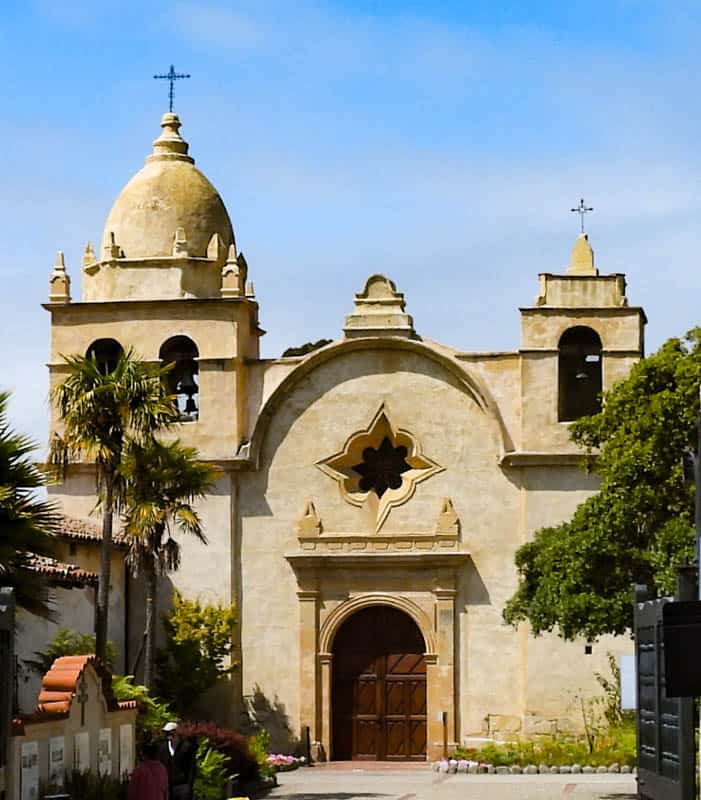 Reserve some time to explore neighboring cities on the peninsula.
Drive the gorgeous 17 Mile Drive in Pebble Beach, go whale watching in Monterey (it is one of the best places in the world to go whale watching), or walk the beautiful coastal trail in Pacific Grove.
Spend some time enjoying beautiful Point Lobos State Natural Reserve, just three miles south of Carmel. Wear a light jacket and enjoy the scenic coastal trails with spectacular views. Snap photos of the picturesque China Cove and Gibson Beach.
In a dry-ish December, you can even explore Big Sur. Highway 1 is very occasionally closed after winter storms, and Big Sur can be explored only if the road is open.
Each of the cities in Monterey Bay has a tree lighting ceremony. Monterey features Christmas on the Wharf at Old Fisherman's Wharf on select nights in December.
Holiday parades are held early in the month, with marching bands, floats, and performers.
Where to stay
Tradewinds Carmel is located centrally in Carmel-by-the-Sea, just a couple of blocks from the shops and restaurants of the village. The elegantly furnished rooms at Tradewinds Carmel have an Asian-inspired aesthetic, and the gardens and fire pit are delightful.
Book a stay here!
Yosemite National Park in December
Yosemite National Park is hugely popular in the spring and summer, when the weather is great for hiking and the park's waterfalls are in peak flow.
But Yosemite in December is something else.
Shrouded in the stillness of winter, the park's awesome landscapes become almost a religious experience, making Yosemite one of the top places to visit in California in December.
If you are lucky enough to visit just after a December snowstorm — it snows on average just 7 days in December — you will be treated to a snow-blanketed park, with amazing photo ops.
While there may not be snow in the valley in December, you will see Yosemite Falls flowing, if you visit after some snow or rain has fallen.
Yosemite National Park offers a wide variety of winter activities.
Go cross-country skiing through the wintry landscape, do a snowshoe hike, go sledding or snow tubing in a designated snow play area, or enjoy downhill skiing or snowboarding at Badger Pass. You can also ice skate at your choice of outdoor or covered venues.
Even without participating in winter sports activities, Yosemite makes for a magical December getaway.
Enjoy the silence and the solitude, bundle up and stargaze, look for wildlife, and photograph the winter landscapes. Visit the museums in the park. Explore the valley floor.
Yosemite Valley and Wawona are open year-round, but Tioga Pass Road and the road to Glacier Point typically close in November.
Check road conditions and closures before you go, and note that tire chains may be required in winter.
If you love experiencing nature in solitude, you will want to explore a December visit to one of the most iconic of California's national parks!
Where to stay
There are a number of lodges within Yosemite National Park.
The Ahwahnee Hotel is an upscale historic option. Yosemite Valley Lodge provides comfortable accommodation close to Yosemite Falls. Wawona Hotel is another historic hotel inside the park.
If you would like seclusion and room to spread out, consider this vacation rental, located inside the park gates, about 35 minutes from Yosemite Valley. The three-bedroom home has a fully stocked kitchen and is perfect for a family or a small group. Book a stay here!
Palm Springs December Vacation
Palm Springs has a fun vibe, lots of beautiful architecture and art, and great places to eat.
As the gateway to the California desert, Palm Springs makes for an ideal California getaway in December.
Daytime highs are just around 70 degrees: could you ask for more perfect weather to explore outdoors?
Stroll Palm Canyon Boulevard in downtown Palm Springs: it's the main shopping street, and all decked out with lights and holiday decorations in December.
While shoppers will find lots of boutiques and galleries to browse, don't forget to check out the Walk of Stars, which honors luminaries from different fields.
Nearby Palm Desert has the upscale El Paseo Shopping District, which is another fun walk with lights and decorations and shop windows dressed up for the holidays.
While in Palm Desert, don't miss WildLights, the annual illumination of The Living Desert Zoo and Gardens. Open on select December nights, the display features more than one million lights, luminescent animal lanterns, and animal encounters.
Many Greater Palm Springs neighborhoods up the stakes on holiday lighting and decorations, so drive around one night to admire their efforts!
Candy Cane Lane (Minerva Street) in Cathedral City has dazzling displays in almost every home, with lots of candy canes in the yards as well.
Tree lightings happen in many of the desert communities that make up the Greater Palm Springs area. You can catch lots of musical performances as well.
December is a fun time to explore the desert, so plan on some hikes or a jeep tour to the San Andreas fault.
Hike in Indian Canyons or Tahquitz Canyon, or venture out on a few day trips from Palm Springs: choose from a desert park like Joshua Tree National Park or Anza-Borrego State Park, or a charming mountain town like Idyllwild or Julian.
Where to stay
The Kimpton Rowan Palm Springs is a hip hotel in a great location. Rooms are elegantly furnished, with beds rated very comfortable. The hotel has a year-round outdoor swimming pool and a beautiful sun terrace with mountain views. You can check out bicycles for use during your stay.
Book a stay here!
Planning a getaway to the gateway to the SoCal desert? Check out our detailed 3-day itinerary for Palm Springs, with things to do, and suggestions for places to stay, eat, and drink.
If you're visiting Palm Springs for that perfect couples' getaway in the California desert, take a look at these fabulous romantic hotels in Palm Springs!
Lake Tahoe: A December Wonderland
One of the most beautiful lakes in California, Lake Tahoe looks stunning in the winter and should definitely feature on your California itinerary for December.
Lake Tahoe (the community and the lake) gets a LOT of snow in December, and daytime temperatures hover in the 30s and low 40s. Definitely plan on packing warm clothing and snow boots!
Lake Tahoe is one of the state's premier winter sports destinations.
Go downhill skiing, snowboarding, or cross-country skiing. Whizz over the snow in snowmobiles. Go sledding or snowtubing: Heavenly Mountain in South Lake Tahoe has special slopes for sleds and tubes.
Take the gondola up and marvel at the views before you head down. Build a snowman. Indulge in a snowball fight. Go ice skating.
Do snowshoe hikes to take in the serenity and beauty of the area in December: with icicles dripping from tree branches laden with snow, snow covered mountains, and the beautiful blue lake, this is a winter wonderland you have to experience.
Nearby Hope Valley has miles of beautiful trails through the trees or across meadows, but you can walk the shore of Lake Tahoe as well. (Hope Valley is also a must-visit if you go to Lake Tahoe in the fall!)
Enjoy the beautiful scenery and the season with hot chocolate or hot mulled cider. Area eateries provide a warm and welcoming atmosphere with fires and holiday decorations to help you enjoy the season.
Take a sleigh ride to further enjoy the holiday spirit: you will find sleigh and carriage rides offered at multiple places around the lake.
Even if you don't want to do a ton of skiing or snow play, you will find Lake Tahoe in December a magical escape.
It is one of the most perfect romantic (and laid back) California couples getaways you can imagine. Curl up in front of the fire in your room with a hot drink, watch the snow fall outside, go for short walks when it's sunny out, and treat yourself to a spa day!
What could be more cozy?
Where to stay
The Landing Resort & Spa is located right on the lake in South Lake Tahoe, close to dining options and the Heavenly gondola. Their onsite restaurant is also highly rated. Rooms feature fireplaces and bookcases filled with books, and the beds are super comfy. Some rooms have balconies or terraces looking out onto the lake.
Book a stay here!
If you prefer your own place, there are a variety of cabins and homes at various spots around the lake. If you are visiting as a family, or looking for a cozy couples cabin, you have lots of options from which to pick.
Read our in-depth guide to the best places to stay in Lake Tahoe for a variety of options!
Los Angeles in December
With daytime highs in the upper 60s, Los Angeles is a wonderful California destination to consider for December, especially if you are fleeing cold wintry weather elsewhere.
The city boasts numerous events and festivities if you seek holiday magic, but winter is also the time you will likely find LA's iconic attractions less crowded.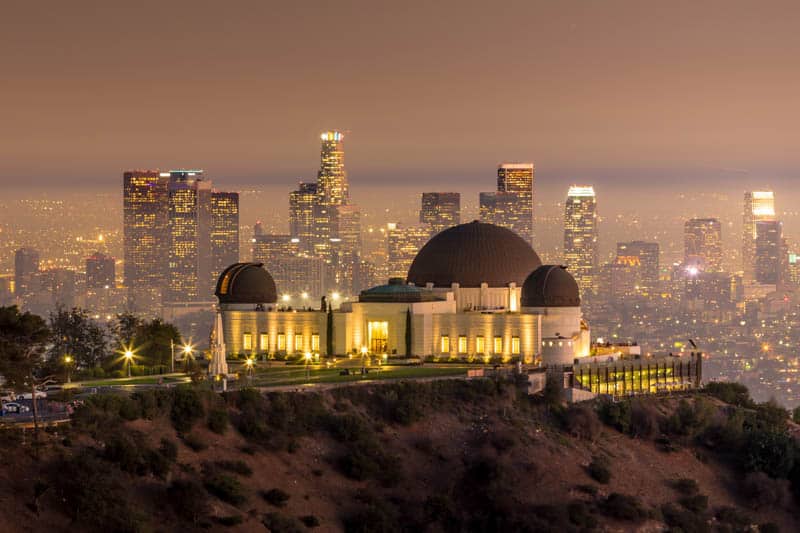 LA's holiday light displays are plentiful and dazzling but pick a few destinations near each other to minimize the time spent in traffic.
Gardens, especially, are worth considering: LA County Arboretum and Descanso Gardens have beautiful illuminations that take about an hour to 90 minutes to tour.
Boat parades are a cherished holiday tradition along the Southern California coast, and LA Harbor has one as well.
For a fun-filled holiday celebration, head to Universal Studios, where the park is dressed up in holiday decor.
Enjoy Christmas in the Wizarding World of Harry Potter. Hogwarts Castle features dazzling light and sound displays, and Hogsmeade looks festive.
Or head to Who-Ville to celebrate with the Grinch. Plus, Universal CityWalk is always fun, with tons of shopping and dining.
Santa Monica is an other popular holiday destination in the Los Angeles Area. Santa Monica Pier hosts an annual holiday market, and special events are held all through the month.
Venice Beach marks the holidays by changing the lights on the famous sign from white to green and red.
Shoppers should visit Rodeo Drive, to take in all the holiday excitement. Light displays and illuminated sculptures and a lit Christmas tree add to the sparkle.
LA's museums are worth visiting any time of year, and December is no exception. Take in the indoor and outdoor exhibits at LACMA (Los Angeles County Museum of Art): Urban Light is a must-visit.
Spend a few hours touring the stunning Getty Villa and its gorgeous gardens. Visit the Getty Center, with its superb collection of art and antiquities.
Or head to The Broad, where the Infinity Mirror Rooms are a must-see.
Where to stay
Opt for a hotel close to the areas of the city you plan to explore.
In Hollywood, consider the Kimpton Everly, with its beautiful views of the Hollywood sign and the hills.
In Westside, the Beverly Wilshire, a gorgeous Four Seasons property, is located right across from Rodeo Drive.
In Santa Monica, we love the Santa Monica Proper Hotel with its earth-toned elegant decor and luxurious bedding and linens.
Joshua Tree National Park in December
Joshua Tree National Park is another ideal place to visit in California in December.
The park is famous for its hiking and rock climbing opportunities, and both activities can comfortably be done in December, when daytime highs are in the 60s.
December is also a great time to spot migrant birds at the fan palm oases in the park, and at Barker Dam, the historic cattle reservoir inside Joshua Tree National Park.
A desert park that is located partly in the Colorado desert and partly in the Mojave, Joshua Tree National Park is one of the easy day trips from LA or Palm Springs or San Diego.
But if you want to spend a few days hiking and stargazing in the park, there are great places to stay near Joshua Tree National Park, in the towns of Twentynine Palms and Joshua Tree.
Rock climbing or rock scrambling is one of the most fun things to do in Joshua Tree National Park. The huge masses of boulders strewn about the landscape invite scrambling. Your kids will love testing their climbing skills, and so will you!
Walk some of the short nature trails with your kids: Hidden Valley Trail and the hike to Barker Dam are two popular options. The short stroll through the Cholla Cactus Garden is also fun.
Serious hikers can pick from a number of interesting Joshua Tree hiking trails.
Ryan Mountain Trail is rated as moderate, and takes you to the highest point in the park for panoramic views.
Lost Horse Mine Trail takes you to the remnants of the richest gold producing mine in the region.
The long trek to Lost Palms Oasis is 7 miles round trip, and ends at an overlook with great views of native California fan palms.
The dark skies at Joshua Tree are perfect for stargazing if you have clear moonless nights. You can also get great photos of the Milky Way.
December sunsets and sunrises can be colorful as well, making for fabulous photo ops.
At dawn and dusk, look for birds and wildlife: you may see a fox or rabbits or even a desert tortoise.
Where to stay
Sacred Sands is a beautiful property close to the west entrance of the park, with beautiful mountain and desert views. The two elegantly furnished rooms are comfortable, with private patios and outdoor bathtubs. Enjoy the seclusion and the closeness to the desert, with views of magnificent sunsets and night skies.
Book a stay here!
Mammoth Lakes in December
Mammoth Lakes is California's premier winter adventure destination, and a fun place to visit in California in December.
The resort town also makes a good base from which to explore a little north and south along Highway 395 as well, if you want to spend your time on things other than winter sports.
Hot Creek Geologic Site, a few miles south of Mammoth Lakes, looks gorgeous in the winter.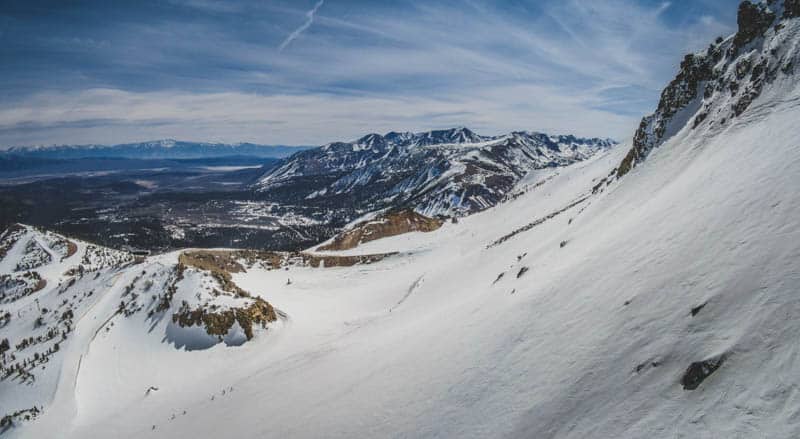 Mammoth Lakes is very cold in December, with average highs barely making it into the low 40s. Pack winter clothing, snow boots, and shoes with traction in case roads and walkways are icy.
The Mammoth Yosemite Airport is located just 6 miles from town, and flying in may be a better option in the winter if you are traveling from Northern California. Sections of Highway 395 and other roads can close in the event of storms.
Mammoth Mountain is open for skiing and snowboarding in December, and you can take ski lessons or enjoy the slopes if you are a seasoned skier.
Even if you do not ski, we recommend taking the gondola to the top to enjoy the stunning views of the surrounding mountains and the snow-covered landscape.
Mammoth Mountain is the tallest peak in California you can reach via a lift!
Other than downhill skiing and snowboarding, there are many trails in and around Mammoth Lakes for snowshoeing, cross-country skiing, and snowmobiling.
You can also go sledding or snow tubing, build a snowman, or have snowball fights. If you enjoy ice skating, visit the rink. Lakes may be frozen, but enjoy their icy beauty from the shore: Convict Lake is especially stunning.
One of the fun things to do in Mammoth is a Snowcat tour to Minaret Vista.
You can also enjoy the beauty of Mammoth Lakes simply by being here. Curl up by a window with a mug of hot cocoa and watch the snow fall or icicles drip from trees outside.
Go for walks in the sunshine when the snow on the ground is powdery and soft: the evergreen forests around Mammoth Lakes are the perfect winter picture postcard. Snap photos of the white landscape!
Where to stay
The Village Lodge is close to shops and restaurants, and has a gondola that can take you to the lifts. Units come in several sizes, from studio to 3 bedrooms. The property features a heated outdoor pool and several hot tubs. All units have a fireplace, and either a kitchenette or full kitchen.
Book a stay here!
Pasadena December Getaway
The gracious city of Pasadena is one of our favorite places to visit in California in December.
The city is just beautiful, with lots of great architecture to admire as you walk around, museums to tour if the weather is not perfect, and lots of great dining. Average daytime highs are in the high 60s or low 70s.
Definitely allocate a day to visiting the Huntington. The gorgeous complex of gardens, library, and museum is a treat to tour.
During December, the Huntington hosts special holiday events such as music performances, and the onsite eateries offer holiday treats. You can even have a holiday afternoon tea in the Rose Garden Tea Room.
But the gardens and art are fabulous even without the holiday festivities.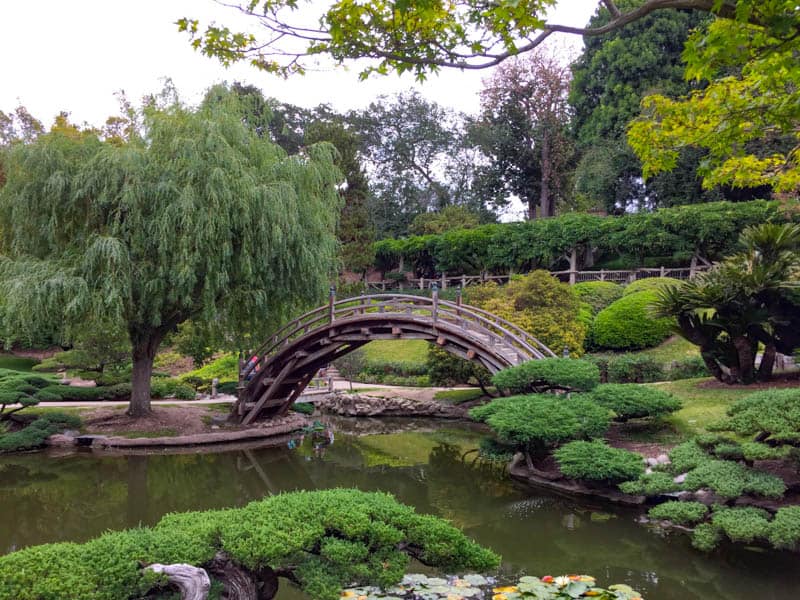 The Huntington Gardens are classed as one of the best botanical gardens in California. Wandering the beautifully designed green spaces in the December sunshine is sheer bliss.
Admire the moon bridge in the Japanese garden, observe the many species of succulents in the extensive Desert Garden, and watch the koi dart about the lake in the Chinese garden.
Old Pasadena is a delight to stroll. Boutique stores and brand names alike have beautiful holiday windows. There are lights and decorations in stores and restaurants and numerous cafes for a hot drink when you need a break. You can enjoy street music performances as you stroll in the evening.
Special events are held on select days throughout December, so check to see what's happening when you plan to visit.
Pasadena has several world-class museums to explore. The Norton Simon Museum has a world-class art collection. The USC Pacific Asia Museum is housed in a beautiful building, and features the art of Asia and the Pacific Islands.
The Pasadena Museum of History offers a peek into the city's past. Kids will enjoy the Kidspace Children's Museum, which has hands-on outdoor exhibits.
Nearby Altadena has a famous (and historic) holiday lights display called Christmas Tree Lane: deodar trees on the boulevard are strung with thousands of lights, creating a beautiful display for close to a mile.
Christmas Tree Lane is a National Historic Landmark, and the lighting ceremony is hugely popular, with marching bands, local choirs, and Santa Claus.
You will find a ton of restaurants in Pasadena, with almost every cuisine on the planet represented. So be sure to bring your appetite when you visit!
Where to stay
The Langham Huntington is the grand old dame of Pasadena. The historic hotel acres of stunning lush grounds and features elegantly furnished rooms and Italian marble bathrooms. Enjoy the heated outdoor saltwater pool and the onsite spa. Shuttle service is offered to the Huntington Gardens or downtown Pasadena.
Book a stay here!
Napa Valley in December
Napa Valley is always a good idea, and December is no exception! So if you are planning a December trip to California, add Napa Valley to your itinerary!
Since it's off season, you will be able to snag good prices on accommodations.
The countryside looks lovely even with the vines bare, with wisps of cloud draped over the hills and red barns providing color. You might even see some of the famous Napa Valley wild mustard.
Daytime highs are generally in the 50s. Early and late in the day it does get much cooler, so you will want to pack a warm jacket. Scarves in holiday colors can add a touch of glam when you go out to dine or to an evening show or event.
Downtown Yountville is a wonderful place to walk when the lights are on after dark. Browse the shops at V Marketplace, stop for a hot drink and sweet treat at Bouchon Bakery, and enjoy the art installations.
Downtown Napa and St. Helena are also fun strolls, with carolers and lights. Calistoga kicks off the season with a unique lighted tractor parade.
Many area wineries, and the towns of the Napa Valley, have holiday tree lightings.
The Napa Valley Wine Train runs a Santa Train during the holidays with games, characters in costume, and sing-alongs. If you are visiting Napa Valley as a family during December, be sure to check out the fun interactive train ride.
Restaurants feature special holiday menus and hearty fare, which pair fabulously with the Cabernets in season in the valley. Using locally sourced ingredients, chefs dish up seasonal delights such as celery chestnut apple soup and prime rib with Yorkshire pudding. Make reservations ahead of time for Christmas Eve and Christmas Day meals.
And if you are considering a November visit to Napa Valley to check out the fall colors, read our article on the best things to do in Napa Valley in November!
Where to stay
The Meritage Resort and Spa is located in the south of the valley. The property is set adjacent to vineyards, and features spacious rooms with beautiful traditional furnishings and plush linens. The highly rated onsite spa is located in an underground cave! Downtown Napa with its many restaurants is just a short drive away.
Book a stay here.
Santa Barbara in December
Santa Barbara is simply beautiful.
Known as the American Riviera because of its red rooftops, the Central California coastal city has everything going for it: a super fun downtown, many pristine beaches, beautiful historic sights and architecture, fun museums and gardens, and proximity to beautiful wine country towns.
In December, you will find daytime highs in the mid 60s in Santa Barbara, making it perfect for wandering around outdoors.
With shopping areas dressed up for the holidays and lots of events, you will love visiting Santa Barbara in December. It's sunshiny enough that you can get in beach time most December afternoons!
Paseo Nuevo is a fun place to stroll (and shop!). The Spanish architecture and colorful tiled steps make for great photo backdrops, and on weekends, you can shop for unique gifts at the weekly Makers Market, where local artisans display their wares. You'll find carolers in costume, and "snow" falls after dark each evening to kindle the holiday spirit.
Early December brings the Holiday Parade on State Street as well as the Parade of Lights, where illuminated boats cruise Santa Barbara harbor: check for the exact dates in the year you plan to visit.
You can catch holiday themed performances at local theaters all through December. Eat seasonally inspired menus at highly rated restaurants in downtown Santa Barbara, and enjoy wine tastings in the lively Funk Zone.
Whether you are just spending a weekend in Santa Barbara or you have a few days here, make time to visit Montecito, where you can tour the Lotusland Gardens and catch sunset at Butterfly Beach.
In Santa Barbara, visit the beautiful Old Mission Santa Barbara, take in the views from the Clock Tower of the County Courthouse, and tour stately El Presidio.
Nearby, Solvang in the Santa Ynez Valley styles itself one of the "most Christmassy towns in America," with lights and events. There are lots to things to do in Solvang on a day trip from Santa Barbara!
Where to stay
Santa Barbara Inn is located on the waterfront, and features spacious rooms with elegant furnishings and large bathrooms. Opt for a room with a full ocean view so you can watch sunrise from your balcony. The outdoor seating areas at the hotel are lovely, with fire pits. East Beach is minutes away, and State Street a very short drive away.
Book a stay here.
June Lake December Escape
Deep in the heart of the Eastern Sierra, the tiny mountain village of June Lake is a charming California destination for December.
June Mountain is a fun and relatively more affordable winter resort perfect for families. And it's also wonderful you want to go solo for a quiet retreat, or for a super romantic couples getaway.
Daytime highs at June Lake in December tend to be in the high 30s or low 40s. Pack winter clothing and snow boots.
Ski slopes open mid December, but the June Lake Loop is beautiful even if you don't ski, with towering mountains forming a majestic backdrop for the sparkling alpine lakes.
The June Mountain ski area is a family favorite, since kids 12 and under can ski free here. Ride the ski lift to the top, from where you get fabulous views of four lakes and the surrounding snow-blanketed mountains. You will feel like you are in the Alps!
If you are a novice skier, there are slopes to learn. And more experienced skiers can join tours to try backcountry skiing with an expert mountain guide.
You can enjoy other winter sports and fun in June Lake, beyond skiing. Go snowboarding, ice climbing, snowmobiling, sledding, cross-country skiing, and snowshoeing.
There are many trails you can explore in the area, but the easiest is Highway 158 itself, where the road is closed to traffic in winter. It is a flat and easy route if you are new to snowshoeing or cross-country skiing.
Each of the June Lake Loop lakes is beautiful in its own unique way, and part of a June Lake holiday is just enjoying your beautiful surroundings.
June Lake Village is reminiscent of a Swiss mountain hamlet. Enjoy the lit tree in the village, and the holiday decorations in the shops and restaurants.
Where to stay
The Double Eagle Resort and Spa in June Lake offers guest rooms, and 2-bedroom cottages with full kitchens. With a stunning location at the foot of the mountains, the resort is convenient to the ski lifts and shops. The onsite restaurant is well-reviewed, and you can enjoy spa services after an active day out.
Book a stay here.
Anaheim for a Disney December
Traveling with kids to California in December? The magical world of Disney is even more magical in December, making Disneyland in Anaheim an attractive destination for the young at heart, kids and adults alike.
The park goes all out with holiday lighting and celebrations, and the holiday spirit is everywhere: you can even feel it in the air in Disneyland, as gingerbread-scented snowfall happens at select spots and times!
Popular attractions at Disneyland get holiday makeovers. Sleeping Beauty Castle is adorned with icicles for the holidays. It looks stunning lit up at night.
It's A Small World, our most favorite ride in Disneyland (as adults!), becomes transformed, with thousands of lights, and the tune changing to Jingle Bells. The Haunted Mansion is also themed to the holidays, as in Nightmare Before Christmas.
Enjoy a holiday-themed parade and special fireworks, admire the breathtaking holiday decor along Main Street USA and other sections of the park, and gawk at the enormous Christmas tree in Town Square, decorated with exquisite ornaments. You may have to wait in line to have your photo taken with the tree, but the photo will make for a magical memory.
The holiday parade starts at Its A Small World and proceeds down Main Street. It's a marvelous pageant of sound and visuals, so make sure you have a good spot from which to experience it.
Holiday characters like gingerbread men and reindeer join familiar Disney characters in the parade, to a medley of holiday songs and Disney tunes.
From butternut squash soup and Thanks-Mas sandwiches to holiday churros and pumpkin spice shake, enjoy seasonal flavors at Disney dining establishments in December.
The hot chocolate beignets at Cafe Orleans, served with decadent hot chocolate sauce and whipped cream, are a must if you are a chocolate lover.
Spending a few days at Disneyland is one of the most fun things to do in California in December, but lots of families head to Disneyland to enjoy Christmas, so expect crowds.
To escape the worst of the crowds at Disneyland in December, plan your visit for the first two weeks of the month.
Where to stay
There are three on-property resorts at Disneyland: Disney's Grand Californian Hotel & Spa, the Disneyland Hotel and Disney's Paradise Pier Hotel. They are all wonderful, and located within walking distance of the parks. If you want to maximize your time in the parks, any of these resorts in a great option.
Outside the property, consider Hyatt House at Anaheim Resort, which is about a 15-minute walk from the gates of Disneyland. Suites are spacious and comfortable and come with full kitchens. The property features a heated pool. Book a stay here.
Mount Shasta in December
Mount Shasta is yet another snowy winter destination you can visit in California in December. The scenery is breathtaking, and Mount Shasta is easier to access in the winter via Interstate 5.
Nearby Lassen Volcanic National Park is open for epic snowshoe hikes (the road through the park is closed in the winter).
Average daytime highs in December in Mount Shasta and Lassen Volcanic National Park are in the 40s, so pack winter clothing and snow boots. You will love sitting by a fire in the evenings in your hotel, sipping hot cider or hot cocoa!
Mount Shasta Ski Park offers downhill skiing, snow tubing, and snowboarding, as well as backcountry skiing for advanced skiers.
Other popular winter sports here include snowmobiling, cross-country skiing, snowshoeing, and sledding. If you visit just after a snowfall, you can enjoy walking on pristine, untracked trails. How beautiful is that?
At Lassen Volcanic National Park in December, you will find breathtaking beauty, serenity, and solitude. You may be able to view the hydrothermal features at Sulphur Works, if you are up for a 2-mile round-trip hike over the snow.
Snowshoeing and cross-country skiing can be done in the vicinity of stunning Manzanita Lake. Look for birds and wildlife as you walk.
You can tour Lake Shasta Caverns in the winter: a few boat tours are offered each day. You may also be able to view beautiful Burney Falls, weather permitting.
Make sure you wear shoes with good traction if you choose to visit the falls in winter. If you are properly equipped, an epic snowshoe hike in the region is the trek to Castle Dome in Castle Crags State Park. It offers outstanding views of Mount Shasta!
Where to stay
The Sheraton Redding Hotel at Sundial Bridge features spacious rooms with comfortable beds. Redding is about an hour from Mount Shasta and 90 minutes from Lassen Volcanic National Park. The hotel is located steps from the beautiful Sundial Bridge and Turtle Bay Exploration Park. The adjoining Mosaic Restaurant is well-reviewed.
Book a stay here.
California Desert Parks on a December Road Trip
If you love road trip vacations, then plan to visit all of Southern California's famous desert parks, plus a portion of historic Route 66, on a December road trip!
Daytime highs in the California desert are in the high 60s to low 70s in December, making it a wonderful time to explore the region.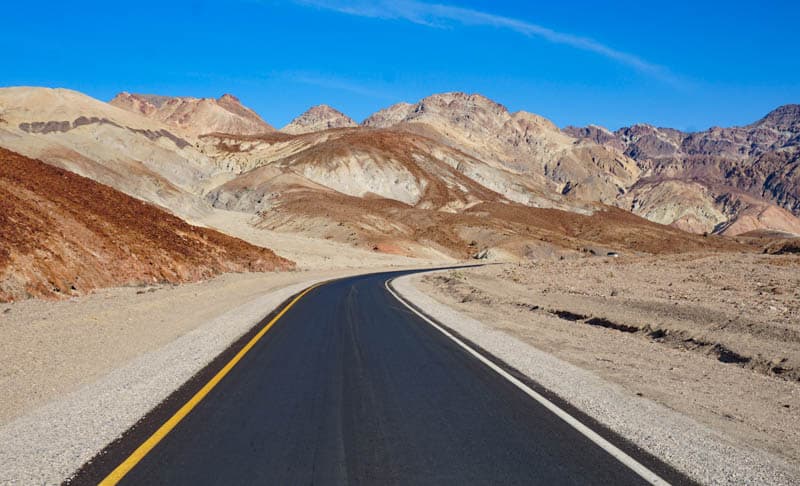 You can do the California deserts road trip starting and ending in LA or San Diego, both of which have international airports so you can fly in easily from other parts of the state or elsewhere.
We recommend at least one week for the trip, although you can certainly extend that time and enjoy a more leisurely road trip.
The major areas to explore are Death Valley National Park, Joshua Tree National Park, the Mojave National Preserve, and Anza-Borrego Desert State Park.
On a longer trip, you can also visit the Alabama Hills, and the Red Rock Canyon State Park, and drive a small stretch of Route 66 between the Amboy Crater and Barstow. The desert landscapes are breathtaking, and all the areas offer sightseeing and outdoor activities.
Both Death Valley National Park and Joshua Tree National Parks deserve at least one full day each.
By adding another day to either park, you will have time to do a couple of hikes of decent length, and do some stargazing at night, which is spectacular in the desert.
We have in-depth articles on both parks to help you flesh out your time in each one:
In the Mojave Preserve, you can access Kelso Dunes via a gravel road in a regular sedan. These dunes are super impressive, with the tallest dune about 650 feet tall.
The Kelso Depot Visitor Center is a must-visit. It has been restored to the way it looked in the early 1924!
If you have the time, drive up Cima Road to Teutonia Peak Trail, from where you can see Cima Dome, the largest and densest Joshua tree forest on earth.
No matter how you structure your itinerary, a California deserts road trip is definitely an epic way to enjoy California in December!
Planning a springtime trip to the Golden State? Check out our suggestions for the best places to visit in California in April! If you are planning a fall visit, read our guide to California in October! And if you are considering a summer vacation in California, check out our guide to California in July!
Did you find this article informative? Pin it for later reference!