Point Lobos State Reserve is an exceptionally beautiful California state park, and one of the top natural attractions near Carmel on the scenic Monterey Peninsula.
It is so beautiful that one could even say that Point Lobos is the best state park in California!
Located on the Central California Coast, just two hours south of San Francisco, Point Lobos State Natural Reserve has been labeled "the crown jewel of the California state park system" for its spectacular scenery.
The park makes for one of the best day trips from San Francisco you can do.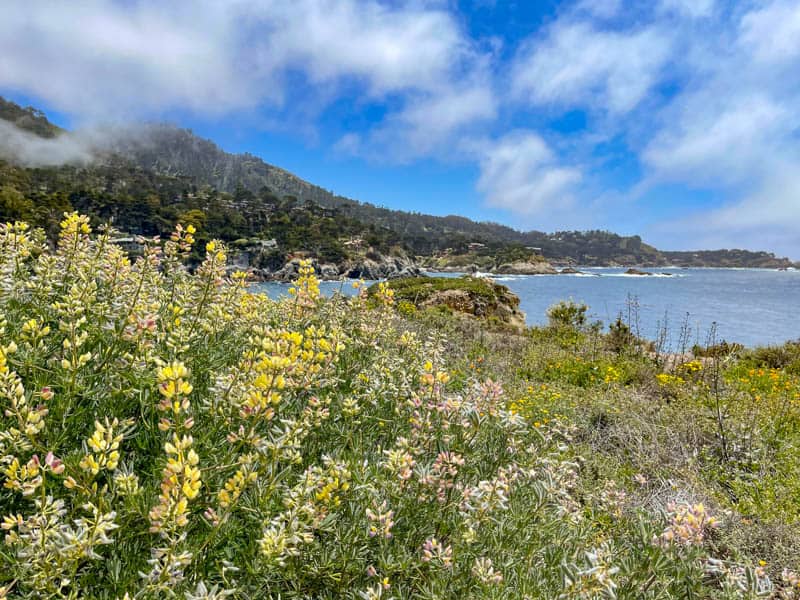 Some links on this page may be affiliate links. If you click an affiliate link and make a purchase, we may receive a small commission, at no extra cost to you. For more details, refer to our disclosure.
Crisscrossed by a network of easy hiking trails designed to show off the beautiful views out to the Pacific Ocean and the interesting local flora, Point Lobos will captivate you if you enjoy being out in nature.
Discover all the exciting things to do in Point Lobos State Reserve, plus our tips for visiting this super scenic park!

Things to Do in Point Lobos State Reserve
At Point Lobos State Reserve, you'll find the best of the California coastline, distilled into a small walkable area.
Rocky cliff fingers jut into the sea. White sand coves glimmer against the blue-green waters. Ancient coastal trees take on sculptural shapes.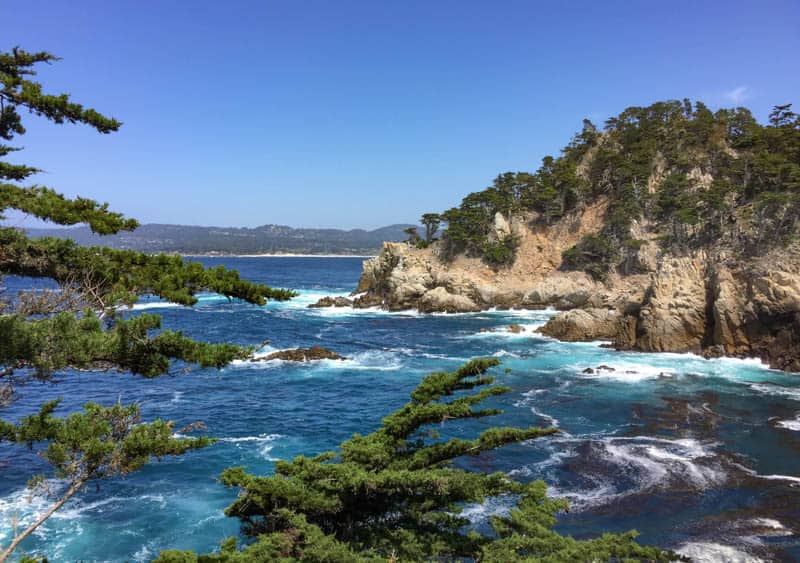 Called Punta de los Lobos Marinos, or Point of the Sea Wolves, by the Spanish explorers that came to this spot a few centuries ago, Point Lobos is named for the sea lions that love to laze on its many rocky outcrops.
No matter what time of year you visit Point Lobos, you will find it beautiful. And kids and adults alike will find plenty of activities to enjoy in the park.
Here are the best things to do in Point Lobos State Reserve:
1. Be enthralled by the beauty of China Cove
The emerald China Cove is undoubtedly one of the most mesmerizing sights in Point Lobos. The sheltered cove is surrounded by rocky walls, and beyond is the blue of the ocean. Truly the stuff of picture postcards!
To get to China Cove in Point Lobos, drive to the end of the park road, where you will find parking for the Bird Island Trail. China Cove can be viewed from this trail.
Bird Island Trail is one of the most scenic easy hiking trails in Big Sur. It's short and spectacular.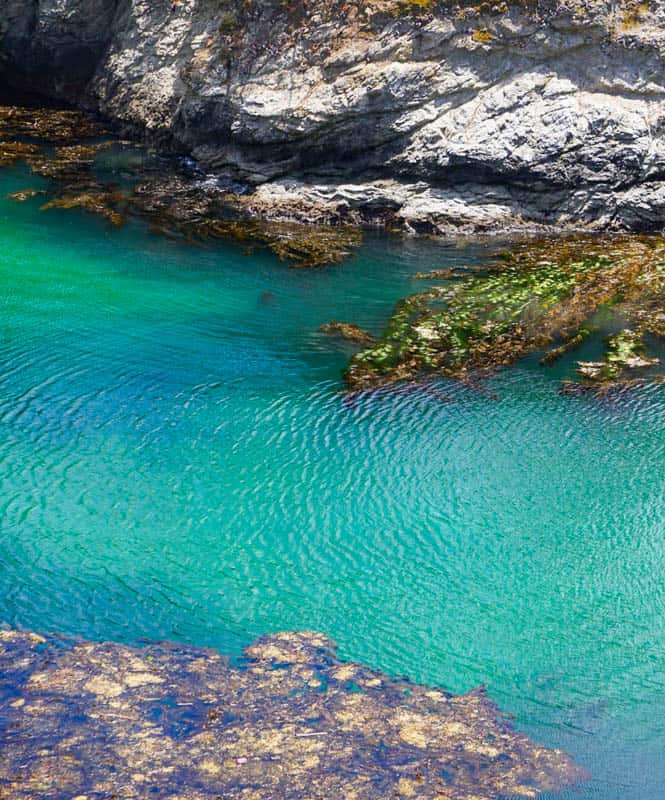 You can often see harbor seals sunning themselves on the sand at China Cove. In the spring, you may see baby seals here as well!
Access to the cove may be closed during harbor seal pupping season (or for other reasons), but it's still definitely worth viewing from the trail above!
2. Spend some time on Gibson Beach
If China Cove is a beautiful emerald green, you'll find Gibson Beach the color of ink fading to teal (if you visit when the sun is out).
The contrast of the deep blue waters with the pale beige sand makes for a dramatic vista.
Gibson Beach is also accessed from Bird Island Trail, a little ways past China Cove. You can go down the steep steps onto the sandy beach if you want to dip your feet in the water.
Sometimes, you can see Gibson Creek snake across the sand and into the ocean.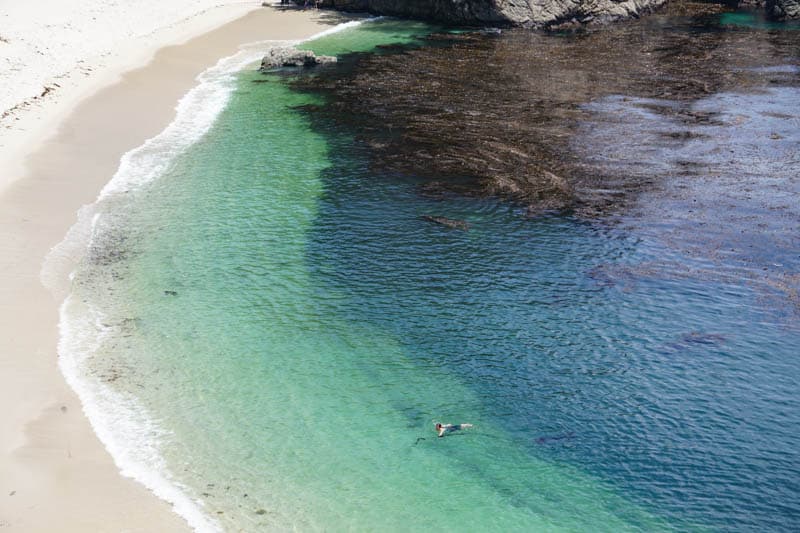 You can swim at Gibson Beach, although, fair warning: you may find the water too cold, so bring a wetsuit.
In our opinion, Gibson Beach is one of the prettiest beaches in Monterey, well worth the time you budget for it.
3. Discover the park's whaling history at the Whalers Cabin Museum
Point Lobos has a long and rich history. Native Americans lived in the area more than 25 centuries ago!
More recently, the area around Whaler's Cove became a prominent center of marine operations like whaling and abalone harvesting. A coal mine and a granite quarry also operated here.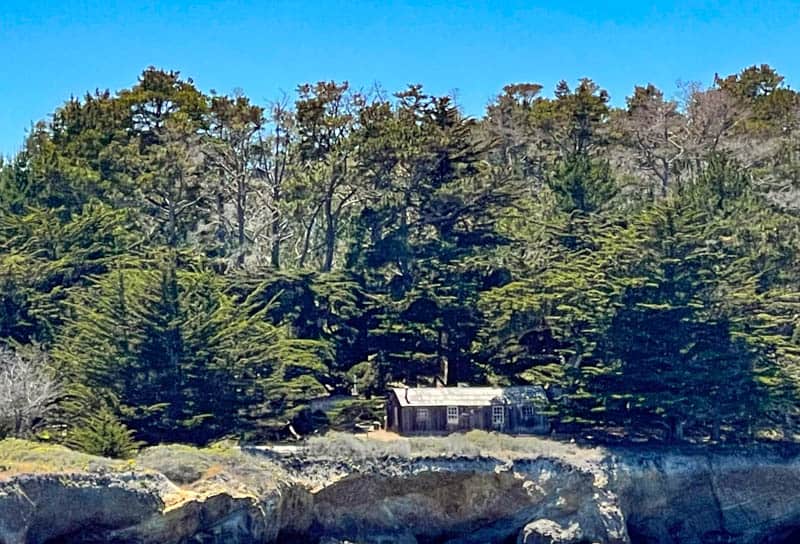 In 1933, the State of California purchased the land at Point Lobos, and the reserve was created, to preserve the beautiful coastline and to protect the Monterey cypresses growing at Point Lobos.
The Whaling Station Museum is a great place to learn about the park's whaling history. You can see the pots used to boil the blubber to create oil, and even parts of a whale skeleton more than 100 years old.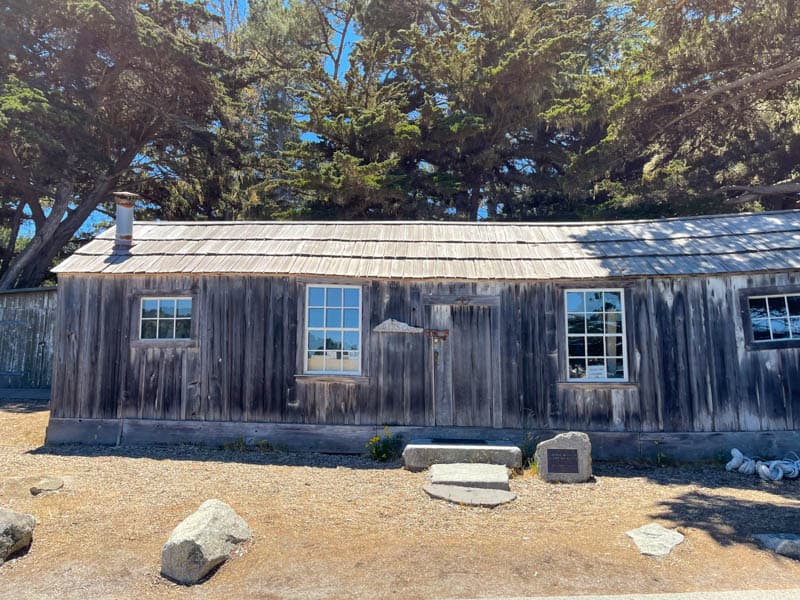 You will find the Whaling Station Museum off the park road, not too far from the main entrance to the park. There is a parking lot nearby.
Museum hours of operation may differ from those of the park in general, so call to check about timings right before you visit.
4. Hike a Point Lobos trail, any trail!
Point Lobos State Reserve is best enjoyed just by walking its many trails, taking in the beautiful views and observing local flora and fauna along the way.
The long stretch of trails along the water, from Moss Cove Trail at the northern end to the Bird Island Loop Trail at the southern end, is spectacularly scenic from end to end.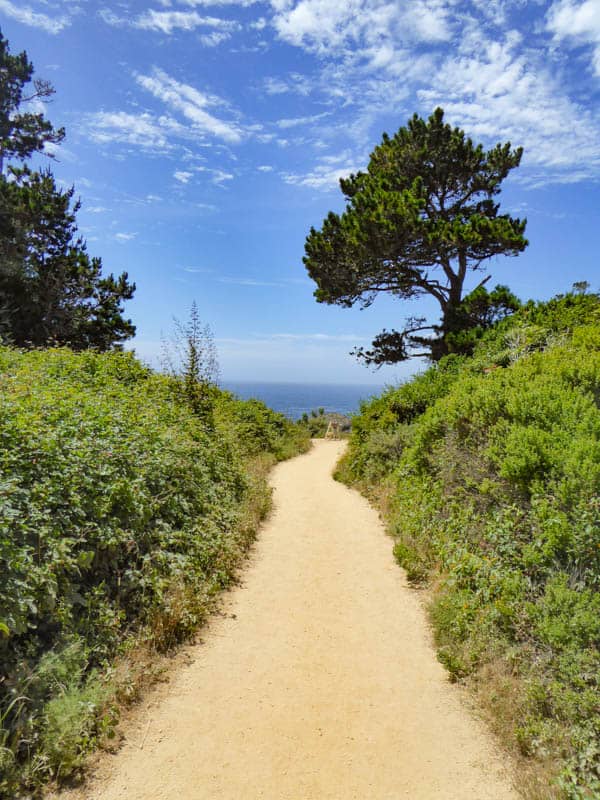 If you have several hours, you should walk the entire stretch: we've done it several times, with a break in between for lunch.
Allow plenty of time, because you'll be stopping often to take photos, and you'll want to take your time rather than march briskly along.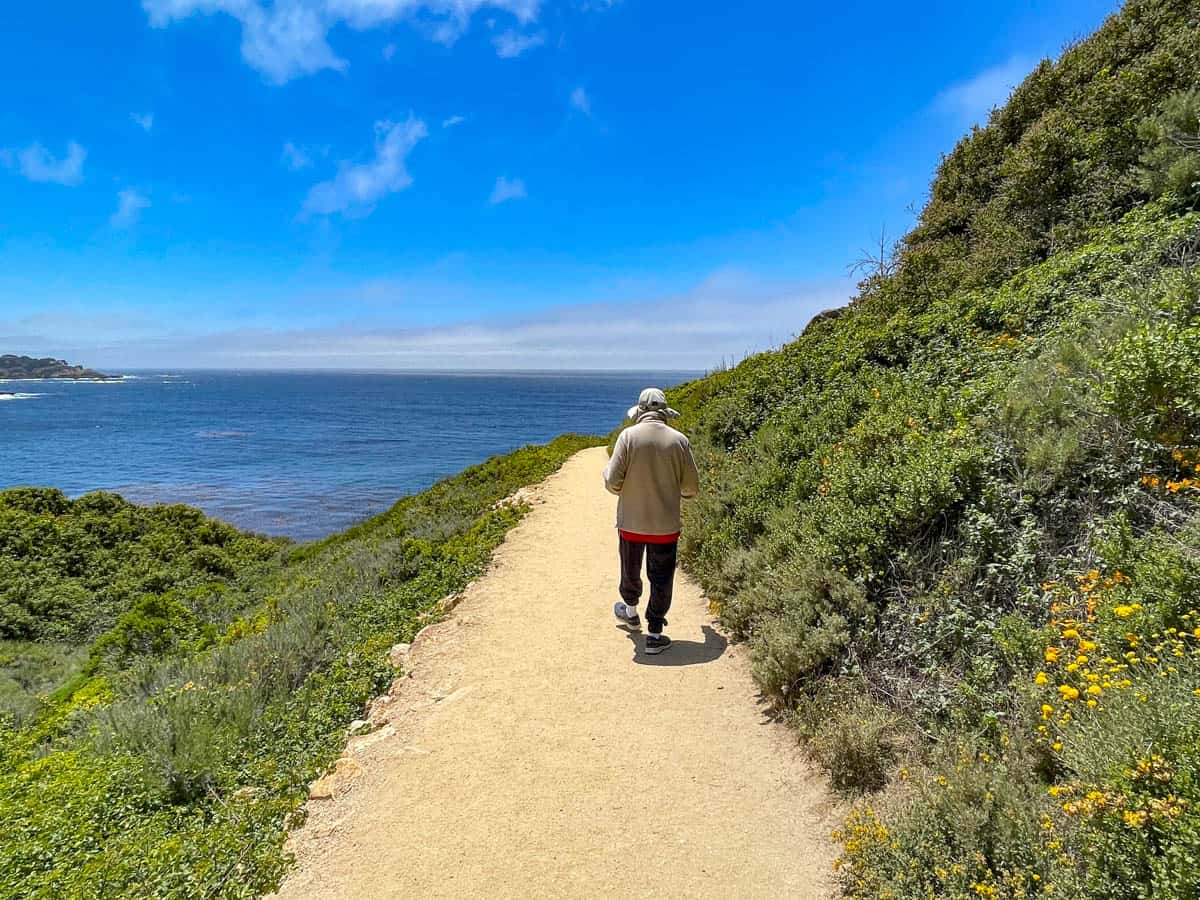 If your time is limited, opt first for the South Shore Trail, about 2 miles round trip, in conjunction with the Bird Island Loop Trail, which is another 0.8 mile long.
If you still have time, walk the Cypress Grove Loop Trail, 0.8 mile long, and the North Shore Trail, 2 miles round trip.
Sea Lion Point Trail and Sand Hill Trail make for a quick and scenic loop as well, at 0.6 mile.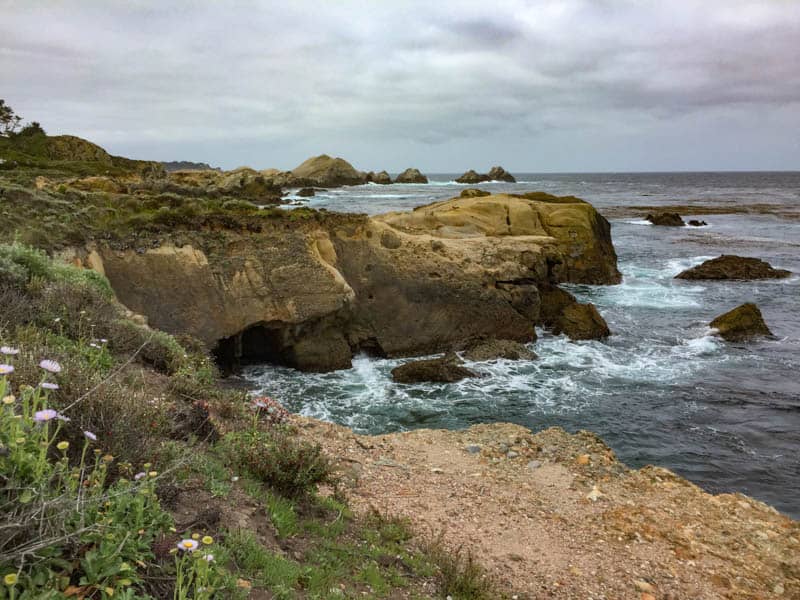 The inland trails are also lovely, especially in the spring and summer, when wildflowers offer bright spots of color. Also admire the many mature trees and the coastal scrub, and look for small animals and land birds in the brush, and look up to spot raptors roosting in the trees.
The "Point Lobos hike," a loop that captures most of the trails in the park, takes about 4 to 5 hours if you walk at a leisurely pace to enjoy the views and snap photos.
5. Join a docent-guided walk
While you should definitely do some Point Lobos trails on your own, to enjoy the beauty at your own pace, also consider joining a docent-guided walk, if one is offered on the day you plan to visit.
We've found the docents at Point Lobos State Reserve both knowledgeable and very willing to answer questions and to share their knowledge about the park and its flora and fauna. A guided walk is a wonderful way to enhance your experience.
We've often found docents with spotting scopes on the Bird Island Trail. If you are interested, they'll point out nests and baby birds on the rocks offshore so you can take a peek!
You can also do a paid guided Point Lobos nature walk. The 2-hour walk will provide information on local flora and fauna, and the history of Point Lobos as you walk and enjoy the magnificent views. The group size is limited to 14.
Book this tour now!
6. Observe the sea birds on Bird Island…
If you continue walking Bird Island Trail past Gibson Beach to Pelican Point, you'll come to the part of the loop from where you can view Bird Island across the water. Bring your binoculars!
Rocky Bird Island is a nesting area for many species of sea birds in the spring and summer. You'll see hundreds of black Brandt's cormorants on the island, along with western gulls, brown pelicans, and sometimes even great blue herons and black-crowned night herons.
Don't forget to look down into the waters for otters playing or looking for food, and for harbor seals stretched out on the rocks.
7. …And look for land birds along the trails
Point Lobos State Reserve is also a haven for land birds, and if you enjoy birding, look for them as you walk the trails. You may see raptors flying overhead or roosting at the tops of trees, and a variety of birds in the scrub and forest.
The acorn woodpecker with its bright red cap, and the California scrub jay with its showy blue wings and tail are common, but keep this list of birds at Point Lobos handy to identify others you spot!
8. Go scuba diving or snorkeling
Considered a prime scuba diving spot on the US west coast and the top diving spot on the Monterey Peninsula, Point Lobos offers divers the opportunity to explore the fascinating underwater portion of the reserve.
Admire the many species of fish and all types of other sea creatures in the clear waters around Point Lobos. Check out the forest of kelp below water, and the ridges and valleys of the marine sanctuary.
At the time of writing, diving is limited to Whalers Cove and Bluefish Cove. Advance reservations are required. If you want to go scuba diving or snorkeling, call the park ahead of time for detailed instructions and resources.
9. Sketch, paint, or photograph the views
Beautiful Point Lobos awakens the artist within every visitor! The spectacular scenery here has provided inspiration for many local artists, and you can see some of their work in the art galleries in Carmel-by-the-Sea.
We've seen painting classes in progress once or twice along the South Shore Trail when we've visited, and we love to practice our landscape photography skills at Point Lobos.
The dramatic cliffs, ocean, and sky come together to create scenes you'll want to capture at every viewpoint and from every angle.
10. Admire the ancient Monterey cypresses
The Monterey cypress, with its artistically twisted trunks, is native to the Central California Coast.
Currently, the native species can only be found in Point Lobos and at Cypress Point in Pebble Beach nearby. In fact, the reserve was formed in part to protect these trees.
Hike the Cypress Grove Trail in Point Lobos State Reserve to get an up-close look at these beautiful old trees. The relatively flat loop is 0.8 mile long, and there is a parking lot right next to the start of the trail.
11. Look for wildlife on land and in the water
On land, during the day, you may see deer, rabbits, and squirrels, although raccoons, skunks, bobcats and foxes are also found at Point Lobos State Park. You may see lizards or garter snakes as well.
The waters around Point Lobos are home to a wide variety of marine life, and you may see otters, sea lions, and harbor seals, all of which are park residents. You may also see dolphins and whales as they transit the waters at Point Lobos.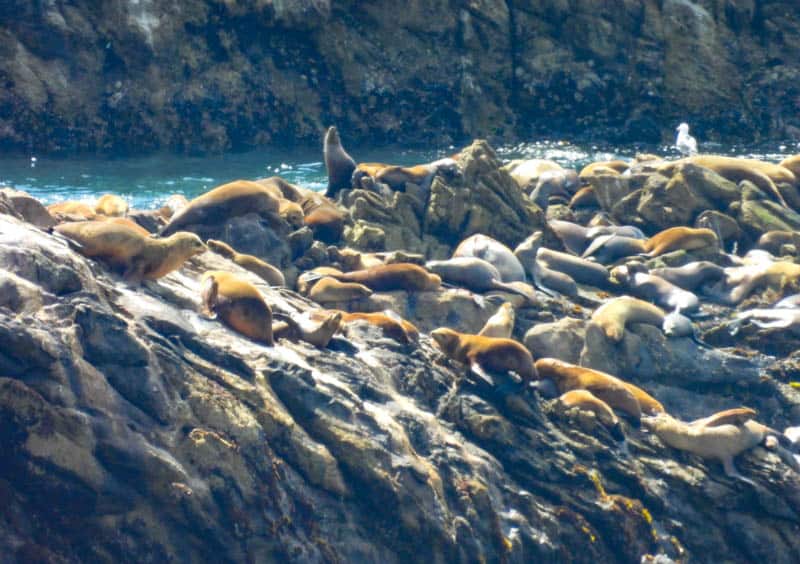 Weston Beach, along the South Shore Trail, is a popular tidepooling area at low tide. If you enjoy tidepooling, call ahead to find out the best time to visit. You'll find lots of snails, limpets, crabs, and barnacles, and perhaps some sea stars as well.
12. Enjoy the plants (and wildflowers in season)
You will find diverse plant species at Point Lobos State Reserve, from mature trees to scrub and grasses. You can walk among groves of Monterey cypresses and Monterey pines, and coastal scrub as well as grasslands, depending on which trails you walk.
And you can enjoy wildflowers at Point Lobos pretty much all year, although you should visit in the spring to catch the peak of wildflower bloom.
From the bright orange or yellow California poppy to the pink of wild rose and the purple of wild iris, you may see dozens of varieties of wildflowers in the park.
At recent visits in late May and early June, we were enchanted by the show of colors put on by bush lupine in Point Lobos: yellow, red, purple, and mixed lupines were all in rampant bloom along trails. It's a fabulous time to visit Point Lobos.
What's Near Point Lobos?
Just north of Point Lobos State Reserve are the charming and vibrant coastal communities of Monterey, Pacific Grove, Pebble Beach (home to the 17-Mile Drive), and Carmel-by-the-Sea.
Carmel Valley, with its many vineyards and wine tasting rooms, is also close by, as is scenic Carmel Highlands, famous for its sunsets.
You will find lots to keep you busy on the Monterey Peninsula: go on a whale watching tour, play golf, do a scenic drive, shop the many boutique stores in Carmel-by-the-Sea, browse the art galleries, do wine tastings, and enjoy the best of California cuisine.
Just south of Point Lobos State park is the spectacular Big Sur coast, with more scenic viewpoints than you can count, a historic light station, and several state parks.
Garrapata State Park, just about 3 miles south of Point Lobos, features stunning views and great hikes.
Point Lobos Hours and Entrance Fees
Point Lobos State Reserve is located along Highway 1, about 3 miles south of Carmel-by-the-Sea in Central California.
The Reserve opens at 8 a.m. year round, and generally closes at 7 p.m. All visitors, including those that enter on foot, must exit by the closing time noted at the main entrance to the park.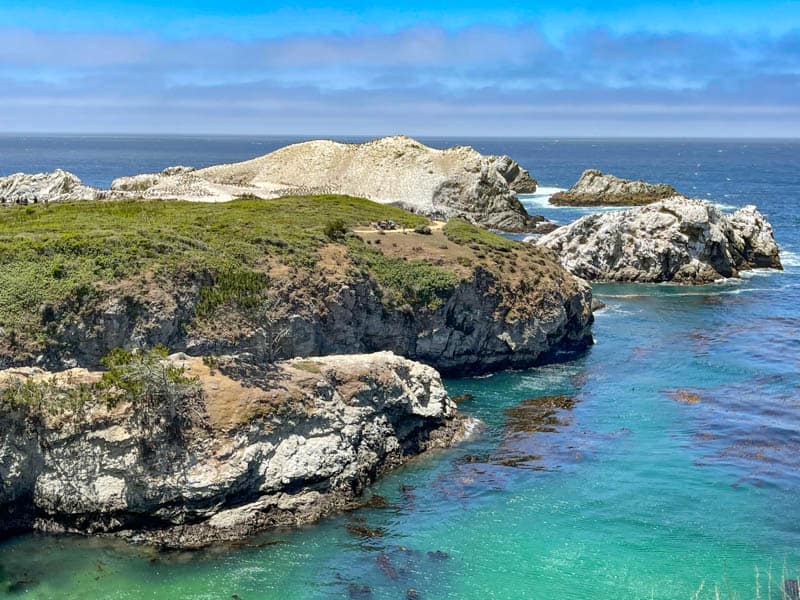 At the time of writing, entry to the reserve costs USD10.00 per passenger car. Entry on foot is free. California State Park passes are accepted at Point Lobos. A map, plus brochure, can be purchased at the entrance for USD2.00.
For information on special closures and partial closures, and the current fee schedule, visit the park website.
Because of the popularity of the reserve, the State of California was noted to be considering a reservation system for Point Lobos. Although a system is not currently in effect, check before you visit!
Bicycles are allowed only on paved roads inside the park, not on trails. Dogs are not allowed. Point Lobos State Reserve is a day use only park, so camping is not permitted.
Parking at Point Lobos State Reserve
There are several parking lots inside Point Lobos State Reserve, with a total capacity of 150 vehicles. When all parking spots are occupied, a sign so indicating is posted at the park entrance by the side of Highway 1.
Under special circumstances, vehicular entry into the park may not be permitted at all, so call the park or check the park website before you visit.
You can also park along both shoulders of Highway 1 and enter the park on foot. The road is narrow, so please exercise extra caution around the park entrance, both as a driver and as a pedestrian.
If you enter the park on foot, use the Carmelo Meadow Trail for easiest access to Whaler's Cove and the waterfront trails. Carmelo Meadow Trail comes up on your right soon after you enter through the main entrance.
Tips for Visiting Point Lobos State Reserve
Arrive Early!
Point Lobos State Reserve is super popular. So popular that the State of California was looking into a reservation system for the park.
And that's the case year round. When we've driven by during the day on our way to Big Sur, more often than not we've seen the sign saying "Parking Lots Full" by the entrance booth, and there are long rows of vehicles on either side of Highway 1 north and south of the park entrance.
So arrive as early in the day as you can, for the best experience. If you can be at the entrance by opening time, that's best. That's when we arrive when we visit Point Lobos.
You can also plan to arrive later in the day, after 3.00 p.m., if you wish to spend only a few hours.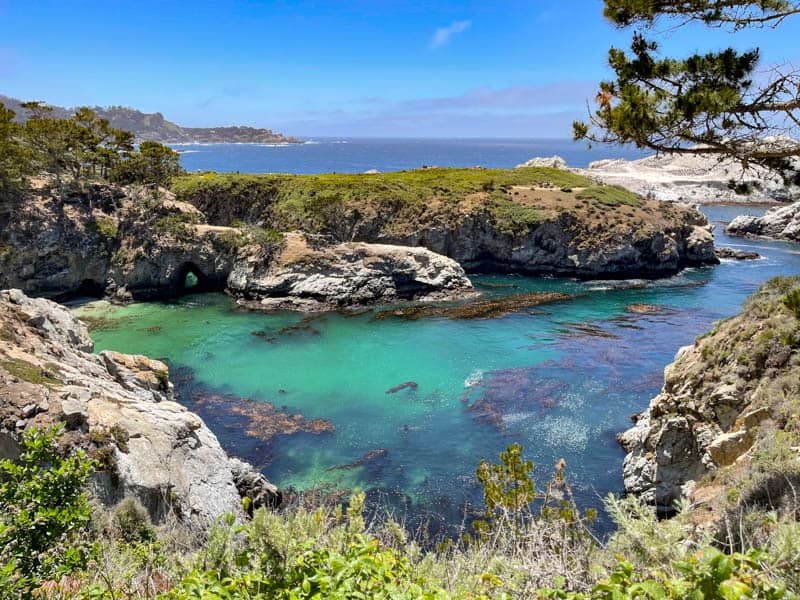 Use the Cell Phone Tour
Point Lobos State Reserve has a cool cell phone tour to take you through the park and tell you about its many interesting features. It's very handy if you are visiting for the first time.
Access the app here. You can also download the Discover Point Lobos app from the Google Play store or Apple's App store.
Dress in layers
Point Lobos has moderate weather year round, but mornings and evenings can get quite cool, especially by the water.
Dressing in layers is a good idea, especially if you plan to be in the park early or late in the day. I find I always need my windcheater at the park in the morning, even in the summer, because that's the time of year the fog rolls in pretty much every morning.
We wear full-sleeved shirts and long pants, so our skin is protected if we accidentally brush up against poison oak and the like. The trails in the reserve are well-maintained and clear, so you should generally be fine if you stay on the trail.
California experiences rains during the winter, so if you plan to visit then, check the weather forecast and bring rain gear if needed.
Wear Sturdy Walking Shoes
No Point Lobos hike is particularly difficult, but you will walk on uneven ground in places, so shoes with good grip are essential. Trails are rocky in places, packed dirt or dirt in others. Wear comfortable, closed-toed walking shoes or sneakers.
Carry Your Refillable Water Bottle
Water fountains are located at several areas inside Point Lobos State Reserve, so if you bring your refillable water bottle, you can fill up through the day as you go.
Bottled water is not available inside the park.
Bring Snacks and Food
There is no food available for purchase inside Point Lobos State Reserve. So if you plan to be at the park for several hours, bring snacks and/or a picnic meal.
You will find picnic tables in several areas within the park, for example, at Bird Island and Whaler's Cove. Barbecues, campfires, and camp stoves are not allowed in Point Lobos Reserve.
Don't Forget Your Camera and Binoculars
You'll want to take lots of photos, so don't forget your camera!
If you love photographing birds or wildlife but don't want to carry your heavy gear, look for a pocket digital camera with a good zoom lens. We love our little Panasonic Lumix DC-ZS70: it has a 30X zoom and Leica lens.
We also always bring our compact binoculars if we expect to see birds or wildlife. I love my waterproof Celestron Trailseeker compact binoculars! They function great in the low light of early or late in the day, when birds are more active.
You can ask to borrow binoculars at the Information Station in the park if you didn't bring yours.
Bring your Sun Hat and Sunscreen
Bring a wide-brimmed sun hat that can be tied under the chin, along with sunscreen and sunglasses.
We wear sun protective clothing when we know we are going to be out in the sun all day.
Wear Bug Spray
Wear bug repellent to help protect against ticks and other insects.
Where to Stay when Visiting Point Lobos State Reserve
You can visit Point Lobos State Reserve on a day trip from the San Francisco Bay Area, or from many places on the Central California Coast.
If you are visiting from further away, or you would like to spend a few days on the Monterey Peninsula, Carmel-by-the-Sea is closest to Point Lobos State Reserve. Monterey, Pacific Grove, and Carmel Valley are short drives away. Each of these towns has lots of dining choices.
In Carmel-by-the-Sea, consider a stay at The Getaway, close to the shops and restaurants in the village. Rooms are furnished in elegant casual style, and every room features a fireplace. Book on booking.com | Book on expedia.com
Tradewinds Carmel is another great option in Carmel-by-the-Sea, close to shops and restaurants. Spacious rooms feature Asian fusion decor and fireplaces. Carmel Beach is walking distance. Book on booking.com | Book on expedia.com
In Monterey, InterContinental The Clement Monterey, located on Cannery Row, is right in the heart of the action. Beautiful rooms, some with an ocean view, and an on-site spa, make for a great stay. Book on booking.com | Book on expedia.com
In Pacific Grove, check out this gorgeous ocean view vacation rental with 3 beds and 2 baths, perfect if you are visiting Monterey Bay as a family. Or, for a romantic stay, consider this charming cottage at Lovers Point!
How Much Time to Spend at Point Lobos State Park
There is enough to see and do at Point Lobos State Reserve that you can spend an entire day in the park. We've done just that many times, enjoying the beautiful surroundings at a leisurely pace.
But if you are time-crunched, you can visit for a few hours and walk a few choice trails to make the most of your time. South Shore Trail, Bird Island Trail, and Cypress Grove Trail are all excellent choices.
You can even make a brief stop at Point Lobos State Reserve on a Big Sur road trip, or on a Pacific Coast Highway road trip or extended California road trip. Even a couple of hours in this beautiful park are better than nothing!
Getting to Point Lobos State Reserve
From San Francisco and points north of Carmel, take US Highway 101 South to California State Route 156 West to Highway 1 South. Point Lobos State Reserve comes up on your right, about 3 miles south of Carmel.
From Los Angeles and points south of Carmel, take US Highway 101 North to California State Route 68 West to Highway 1 South. Point Lobos State Reserve comes up on your right, about 3 miles south of Carmel.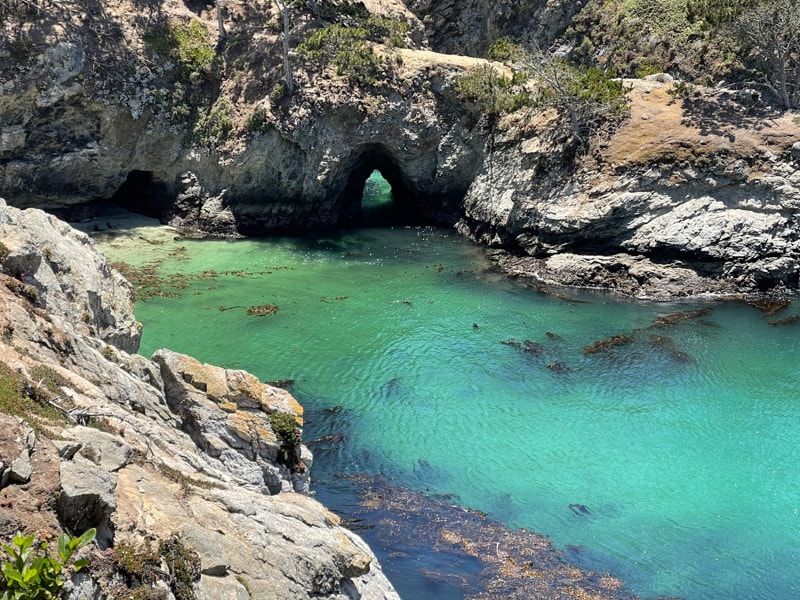 The Best Time to Visit Point Lobos State Reserve
With its moderate climate and year-round beauty, Point Lobos State Reserve is a wonderful park to visit any time of year.
In spring, expect cool days, mostly fair but possibly a rainy day here or there. Spring is the best time to visit if you enjoy wildflower blooms.
In summer, the coastal fog may blanket the park in the mornings, but it generally burns off by mid-day, and afternoons are bright and sunny.
Expect clear warm days in the fall. In winter, you may get rain here or there, and it is quite cool in the mornings and evenings. Winter sunsets on the west coast can be spectacular.
Planning a visit to the Central Coast? Check out some of our other popular guides!
Did you find this article informative? Pin it for later reference!