Thinking about doing some nature-focused day trips from San Francisco? You are in luck, because there are so many amazing parks, lakes, beaches, and other natural areas within day trip distance of the City by the Bay!
Take a walk among giant redwoods. Stroll on a pristine beach, feeling the breeze in your hair. Drive to the top of a mountain. Look for California condors. Hike or bike. When it comes to day trip options from San Francisco into nature, you are truly spoiled for choice!

Best Nature-Focused Day Trips from San Francisco
San Francisco is perfectly located for residents and visitors that enjoy doing short trips away from the city. Many of these beautiful getaway destinations are natural areas, allowing you to get out into the great big outdoors to unplug and recharge.
So if you feel that urge to escape the city, it's easy to fill a cooler with snacks, food, and drinks, and head out for the day at one of the many beautiful natural spots around San Francisco!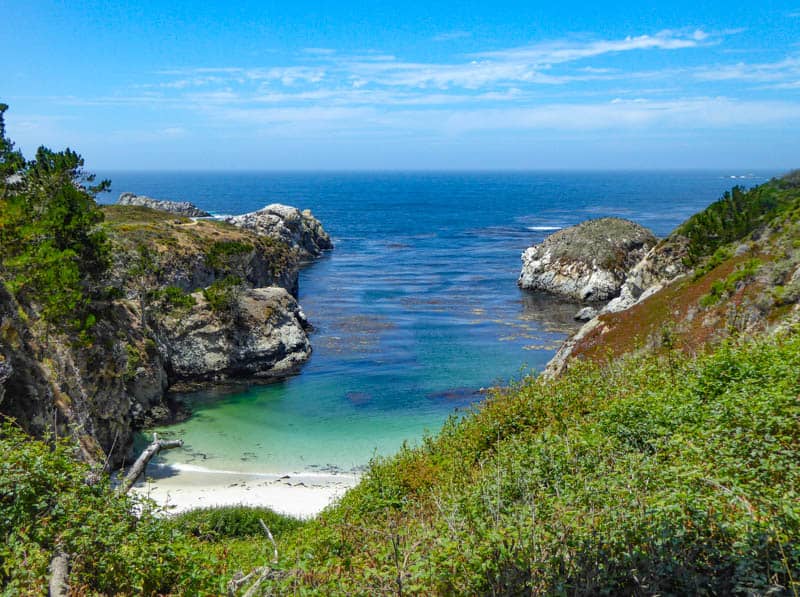 Some links on this page may be affiliate links. If you click an affiliate link and make a purchase, we may receive a small commission, at no extra cost to you. For more details, refer to our disclosure.
In our round-up of our favorite San Francisco day escapes, we've included some popular spots, which are super beautiful, but where you will more than likely share trails with other visitors.
But we've also included a few lesser-known spots and off-the-beaten-path trips if you want time alone.
And if you are looking to get away for 2 or 3 days, check out our article on the best weekend getaways from San Francisco (not all in nature, though!).
Just a note on drive times before we get started: the drive times we have listed are taken from Google maps with just "San Francisco" as the start point, and without any traffic jams.
Depending on your exact address in the city (or the SF Bay Area), and the time of day you travel, your drive time will, of course, vary.
Here, then, are some amazing San Francisco day trips, if you are looking for a getaway into nature!
Day Trips from San Francisco to the South
Point Lobos State Natural Reserve
Why go: One of the most beautiful state parks in California, Point Lobos State Natural Reserve, just south of the seaside village of Carmel-by-the-Sea, is the perfect place to spend a day in nature, whether you just love to walk amidst beauty, or you enjoy landscape photography (or sketching or painting).
The views are stunning and the park is the perfect size for a day of fun.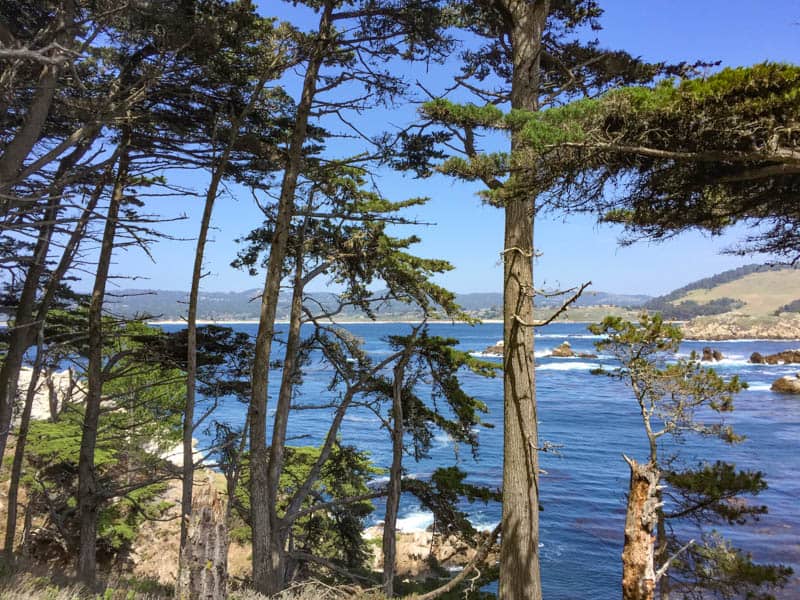 Top things to do in Point Lobos: Walking the scenic Point Lobos hiking trails is the most popular activity in the park. The water view trails link to one another, so you can walk the park from one end to the other.
Stroll the sandy Gibson Beach. Fair warning, access to the beach is via a set of steep stairs. You can dip your toes in the water and even swim in the warmest months of the year (or bring your wetsuit, because the water is generally quite cold).
Enjoy captivating China Cove, and, in spring, look for harbor seals nursing their newborn pups on the beach. You can't go down to China Cove, but you can view it from Bird Island Trail above.
Look for whales spouting in the ocean, and sea lions on the offshore rocks when you walk the Sea Lion Point Trail and admire the grove of mature naturally occurring Monterey cypresses along the Cypress Grove Trail.
Also look for sea birds, shore birds, and land birds. In spring and summer, Brandt's cormorants, Western gulls, and other sea birds nest on Bird Island.
Tip: Arrive early to secure a parking spot inside the park. Point Lobos is a popular outdoors destination and parking lots get full later in the morning. There is a fee to park inside. Folks also park along the shoulder of Highway One and walk in for free.
Driving time: About 2 hours.
Pinnacles National Park
Why go: With its rugged trademark volcanic spires and over 30 miles of trails, Pinnacles National Park is a hikers' paradise.
But the park also has cool caves to explore, a reservoir to photograph, and wildlife and birds to observe. One of the less well known of California's national parks, Pinnacles makes for an enjoyable day in nature.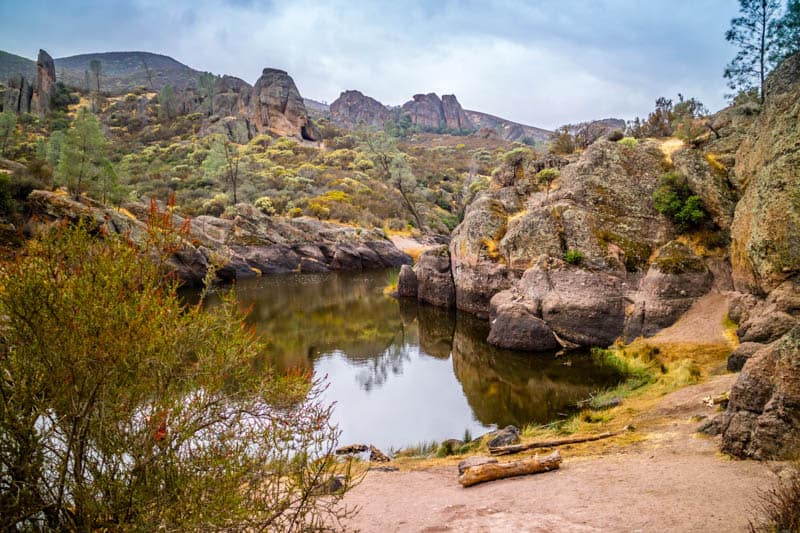 Top things to do in Pinnacles NP: Most visitors spend just one day in Pinnacles National Park, because it is small.
Explore one of the talus caves in the park. Bear Gulch Cave is accessed from the east entrance, and Balconies Cave from the west, both via fairly family friendly trails.
Talus caves are formed by the caving of boulders and these caves are super fun to explore. Bring a flashlight or, even better, wear a headlamp.
Get up into the upper reaches of the signature pinnacles in the park by tackling some of the more challenging trails.
You can even together a route that takes you up into the High Peaks from one entrance and drops you down at the other, from where you trek back to your car.
If you don't want to hike as much, there are easier trails you can attempt that still offer great views of the pinnacle formations.
Look for a California condor! Classed as critically endangered, the California condor has a gigantic wing span of 9.5 feet.
Condors bred in captivity are released at Pinnacles National Park, making it the perfect place to spot one. You may see them flying overhead, or, if you are lucky, you may find one roosting on a rocky ledge and willing to pose for you.
You'll find lots of other birds and wildlife in the park. In the spring, wildflowers bloom everywhere, even right beside the trails, especially if we have had a wet winter.
Pinnacles is best visited between fall and spring, because it gets incredibly hot here in the summer.
Tip: You can't drive through the park. From the north, the east entrance is closer, and there are several parking lots from which to pick. They fill up in season, though, so plan on arriving early.
Driving time: About 2 hours.
Half Moon Bay
Why go: The spectacular coast around Half Moon Bay has everything a nature lover could desire, from pristine beaches to redwood forests and scenic hiking trails to water activities.
Since it isn't too far from the city, you will find yourself planning day trips to this beautiful area more than once!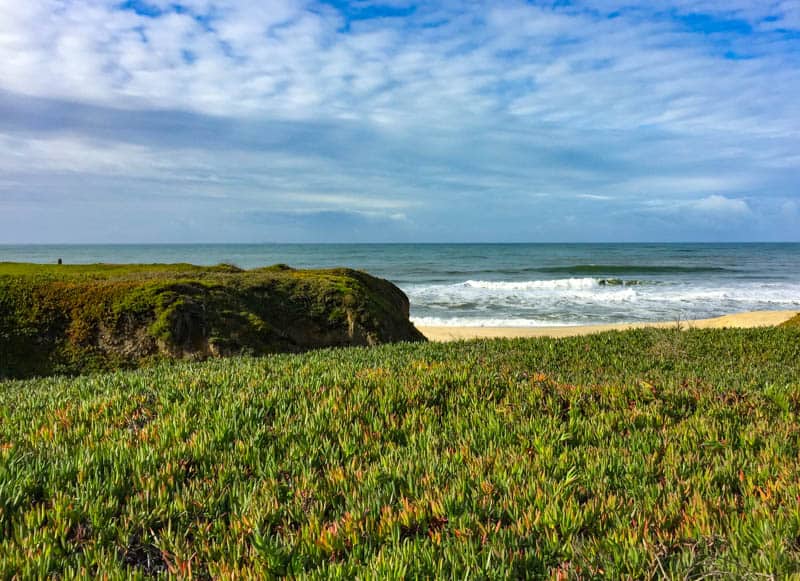 Top things to do in Half Moon Bay: Half Moon Bay's sandy beaches are its main draw. And there are so many from which to pick!
Roosevelt Beach, Dunes Beach, Venice Beach, and Francis Beach form the Half Moon Bay State Beach, a state park with picnic tables and grilling stations. But there are more beautiful beaches just to the north and south!
There are many beautiful coastal hikes in the area.
The coastal bluff trail that runs between Half Moon Bay and Miramar is a great option for ocean views and birdwatching. The trail is flat and you can access the beach at points along the trail.
Just north of Half Moon Bay, the stunning climb up Montara Mountain offers 360-degree panoramas of the San Francisco Bay Area.
Want to try water sports? Mavericks Beach, to the north of Half Moon Bay, is a super famous surfing spot. You can take a lesson here if you are a beginner, or ride the waves if you are a seasoned surfer.
At Pillar Point Harbor, you can go kayaking or stand-up paddleboarding.
Tip: The Ritz-Carlton in Half Moon Bay has an enviable location. Stop by for a drink on its Ocean Terrace before you head home! It is a fabulous spot from which to take in the sunset.
Driving time: About 40 minutes.
Garrapata State Park
Why go: Located along California Highway 1 in the northern part of scenic Big Sur, Garrapata State Park is wild and gorgeous.
The trails here used to be pretty empty, but alas, Garrapata State Park is no longer a secret, and popular trails can be crowded in season. But it's still a lovely area to explore on a day trip from the SF Bay Area.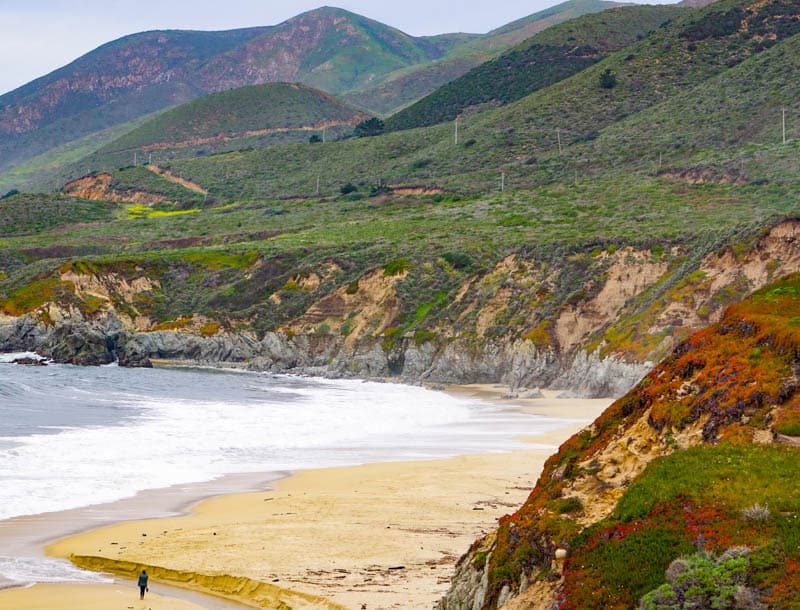 Top things to do in Garrapata State Park: Walk the sandy shore at Garrapata State Beach. You can't swim here, because the surf is too dangerous, but the beach itself is beautiful, lined with tall cliffs.
Dowd Creek plunges into the ocean at the mid way point, and Garrapata Creek at the south end.
Hike. There are several coastal trails from which to pick, some of Big Sur's best hiking trails. They meander through the coastal flora, and offer spectacular ocean views and overlooks into beaches and canyons.
In season, you will see lots of wildflowers. Keep an eye out for birds in the vegetation.
Soberanes Canyon Trail, on the east side of Highway 1, is a beautiful trail, through diverse environments: redwoods, creek with lots of crossings, and prickly pear cactus. It connects with Rocky Ridge Trail, which is a steep incline but offers fabulous views. (At the time of writing, Rocky Ridge Trail is closed for repairs).
If you enjoy landscape photography, Garrapata State Park offers a number of excellent photo spots. Soberanes Point is much sought after by serious Bay Area photographers, as is the lookout area near Garrapata State Beach.
Walk the short Garrapata State Park Bluff Trail for superb photo ops of the cliffs and the ocean.
Tip: Garrapata State Park isn't well signposted. There is just one sign, at the northern end of the park, about 7 miles south of Carmel. That is mile marker 1. Thereafter, look for mile markers 2-19 for turnouts, and park by the side of the road where safe.
Driving time: About 2 hours to mile marker 1.
Elkhorn Slough Reserve
Why go: One of the most spectacular birding locations on the California coast, Elkhorn Slough also offers a tranquil environment in which to walk and savor the beauty of nature, and view wildlife.
A lesser known gem in terms of day trips from San Francisco, Elkhorn Slough is a place you will want to return often once you've discovered it!
Top things to do in Elkhorn Slough: Hike. There are over 5 miles of trails through woodlands and marshes. A short accessible trail leads to a scenic overlook.
There are three longer loops. All are scenic and serene, and it's worth doing as many of the trails as you can. Guided walks led by naturalists may be offered on weekends.
Look for birds and wildlife. There is a good-sized population of sea otters at the Reserve, as well as harbor seals and sea lions.
On land, you may see rabbits, deer, and bobcats.
And several hundred species of birds have been observed here. So bring your binoculars and zoom lens and have fun viewing and photographing wildlife!
Take an Elkhorn Slough Safari Boat Tour. The 2-hour tour, in an open pontoon boat, offers the chance to do wildlife spotting from the water and up-close photo ops. Tours are offered all year. Advance reservations are required.
Tip: Nearby you will find several beaches and the Moss Landing State Wildlife Area, so there's a lot to see and do if you have the time. Moss Landing State Beach is a nesting area for the endangered western snowy plover: you may be lucky and spot one on the beach!
Driving time: About one hour and 35 minutes.
Big Sur Scenic Drive
Why go: Big Sur is one of the most famous and beautiful natural areas in the region.
We hesitated to include it as a day trip because there is so much to see and do here, but you could just drive the Big Sur Coast from Carmel to Cambria, with a few select stops.
Start early, and be prepared for quite a bit of driving.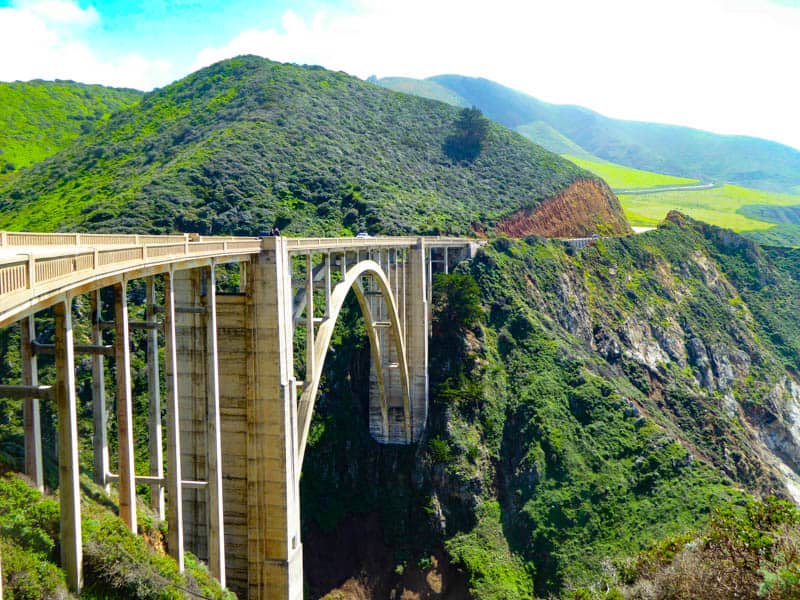 Things to do on a Big Sur drive: The drive is the main attraction on this day trip. Driving north to south, you will have unobstructed views of the Pacific Ocean. Put on your favorite play list and go!
There are numerous scenic overlooks where you can stop for a few minutes to take in the views and snap photos.
Some of our most favorite stops are Soberanes Point in Garrapata State Park, Bixby Creek Bridge, Hurricane Point, the Little Sur River Overlook, McWay Falls, Ragged Point, and the Sand Dollar Beach Overlook.
If you want a beach stop for lunch and some time to stretch your legs, consider Pfeiffer Beach. It is known for its beautiful sea arch, other rock formations, and purple sand.
If you prefer a stop where you can hike in a forest environment, consider the Limekiln Falls Trail in Limekiln State Park. It is one of our favorite Big Sur hikes.
If you are doing this drive in January or February, you may want to stop at the Elephant Seal Vista Point in San Simeon to gawk at the thousands of northern elephant seals on the beach. This is breeding time, so you'll likely see newborn and young pups too!
Tip: From Cambria, take Highway 46 inland to Paso Robles: this is also a very scenic road, especially in the spring. From Paso Robles, you can take the freeways back to the city.
Driving time: About 2 hours to Carmel-by-the-Sea.
Henry Cowell Redwoods State Park
Why go: Located in the Santa Cruz mountains, Henry Cowell Redwoods State Park features beautiful old-growth redwoods, which are its major attraction.
Although you can't drive through a redwood at this park, you can get up close to them on foot.
The park also includes other natural environments to enjoy, such as grasslands and sandhills, and is a great escape into nature.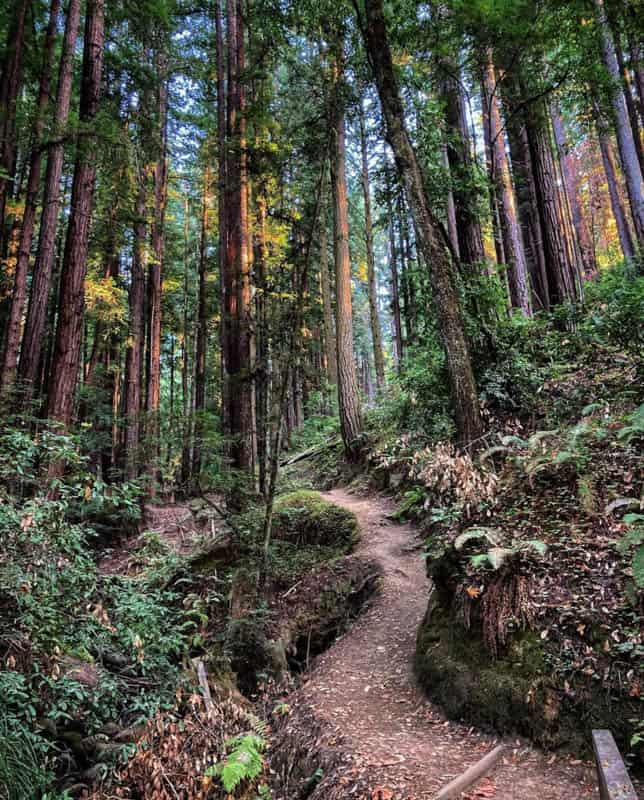 Top things to do in Henry Cowell State Park: Hike the 0.8-mile flat loop that takes you through the redwood grove.
Walking among these coastal giants is a California bucket list experience, for sure! You can step inside one of the trees (the Fremont Tree), but bring a flashlight or headlamp.
The park has over 30 miles of trails, ranging from easy to strenuous.
The Cowell Highlights Loop, at close to 6 miles and a little over 400 feet of elevation gain, is an epic adventure through the best sights in the park: from redwoods to stunning views from the highest point in the park to the river, where you can cool off with a dip.
Biking is permitted on designated roads.
If you plan to visit in warm weather, Garden Of Eden is a popular swimming spot on the San Lorenzo River. So bring your swimsuit and water shoes! There are other spots in the park where you can enjoy the water, such as Frisbee Beach and Cable Car Beach.
Look for birds and wildlife. Bright blue stellar jays are common, but you may also see different types of woodpeckers, warblers, and flycatchers, among many other species.
Animal sightings may include deer, coyotes, and bobcats. And keep yours peeled for banana slugs: they are bright yellow and look just like bananas!
Tip: If you enjoy heritage railways, nearby Roaring Camp operates two steam locomotive train journeys: one to the top of Bear Mountain and back, and the other to the Santa Cruz Beach Boardwalk and back.
Driving time: About 1 hour and 10 minutes.
San Luis Reservoir + Almond Blossom Scenic Drive
Why go: For a couple of weeks each spring, almond trees burst into bloom along California's Central Valley. The orchards can be seen all along area roads, and make for a stunning sight.
The San Luis Reservoir Recreation Area, of course, can be visited any time of year. It is one of our favorite lakes in California to visit for the day and offers lots of recreational opportunities.
Top things to do at San Luis Reservoir: There are shaded picnic sites at the reservoir, so if you do the almond blossoms drive in the morning, you have have lunch here and spend the afternoon enjoying the reservoir.
There are three lakes in the recreation area: San Luis Reservoir, O'Neill Forebay, and Los Banos Creek Reservoir. Boating is a popular activity, but keep an eye on wind advisories. You can also jet ski or go sailboarding. Rentals are offered at O'Neill Forebay.
You can also swim here. North Beach at San Luis Creek is the only designated swim area in the park, and there are picnic spots nearby. Boats are not allowed in the area.
You can also hike or bike in the park. The Lone Oak Trail is a challenging 6-mile round trip hike that climbs into the hillside to offer great views of the water. You'll see lots of wildflowers in the spring.
There is also a 5-mile accessible walking trail that follows the water at O'Neill Forebay from the campground at San Luis Creek to North Beach.
If you do the almond blossom viewing, drive east from San Francisco to get onto Highway 99 at Modesto and then drive south. You will see lots of orchards on either side, plus on side roads.
There are also some in and around Los Banos, which is very close to the San Luis Reservoir Recreational Area.
Tip: Peak almond bloom generally occurs in the last few days of February, but it varies each year, so call local chambers of commerce in the third week of February to figure out peak bloom time for the year.
Driving time: About 2 hours to the San Luis Reservoir.
San Francisco Day Trips to the North
Muir Woods National Monument
Why go: Just a short drive from San Francisco, Muir Woods National Monument allows you to walk among old-growth coastal redwoods.
The beautiful old trees, and the equally beautiful understory of ferns and rhododendrons, make for a serene environment.
The oldest tree in the monument is more than 1,200 years old, and Redwood Creek, in the park, has native salmon, a rarity these days.
Top things to do in Muir Woods: Hiking is the main activity in the park, which has about 6 miles of trails. Short loops take you through the redwoods, and some longer trails actually lead from the monument into Mount Tamalpais State Park, which surrounds the monument.
The Main Trail to Bridge 4 and return on Hillside Trail is about 2 miles overall and relatively flat. It offers up close looks at the redwoods in the monument and a chance to see the forest from the dirt Hillside Trail.
There are longer loops as well, that go through the forest but climb up into surrounding hills for great views.
If you enjoy photography, visit when the Pacific rhododendrons are in bloom, for fabulous photo ops. The delicate pink flowers look heavenly against the red tree bark and green leaves.
Muir Woods has over a dozen species of ferns, and their delicate fronds make for great photos as well. You'll also see many wildflowers in season.
If you visit between November and January, you can observe the Coho salmon running upstream in the creek. In the spring, keep an eye out for gray foxes and their babies.
At any time of year, you may see deer, wild turkeys, and banana slugs.
In the spring, look for swarms of red ladybugs clustered on leaves.
Tip: You can't picnic in the forest, but Muir Woods Cafe is a fabulous place to have lunch. Their offerings are made with locally sourced ingredients and there are outside tables where you can eat. We love their grilled cheese and tomato soup!
Also, Muir Woods requires reservations: reserve parking or shuttle ahead of time.
Driving time: About 30 minutes.
Point Reyes National Seashore
Why go: Point Reyes National Seashore is an awesome day trip destination.
Not only can you revel in its natural beauty, but there's also history to take in, and an amazing diversity of flora and fauna to observe.
You can do several day trips from San Francisco to Point Reyes, exploring a different part each time. We've visited several times already, and would not hesitate to go yet again!
Top things to do at Point Reyes National Seashore: Drive to Tule Elk Reserve, where you can see the elk roaming free. Late summer to early fall is rutting season, an especially great time to visit the reserve.
Pierce Point Ranch offers an interpretive trail where you can learn about the history of dairy ranching.
Point Reyes has many beautiful beaches from which to pick. You can drive right up to Drakes Beach, Limantour Beach, and the Great Beach (there are two parking lots, one at each end).
Drakes Beach is sandy, with a backdrop if dramatic cliffs. Point Reyes Beach (also known as Great Beach) is an 11-mile long expanse of sand with powerful surf.
If you enjoy birding, walk the 1.5-mile trail to Abbotts Lagoon Beach. In the fall and winter, you will see many species of shorebirds. Peregrine falcons occasionally swoop down for a meal, and the endangered western snowy plover nests in the sand here.
Hiking is another enjoyable activity at Point Reyes, with trails varying in length and difficulty. The Woodpecker Trail through forest and meadows is a 0.7-mile loop that offers wildlife viewing opportunities.
Tomales Point Trail goes to the northern tip of the peninsula. Other trails traverse beaches, forest and meadows, and coastal bluffs.
Tip: If you enjoy photography, Point Reyes has three iconic photo spots: the Cypress Tree Tunnel, the Point Reyes shipwreck, and the Point Reyes Lighthouse. They require driving to reach, so note that this will eat into your day in nature.
You may want to schedule a day trip just to photograph all the Instagram-worthy places in Point Reyes!
Driving time: About 1 hour and 15 minutes to Bear Valley Visitor Center.
Lake Berryessa
Why go: Lake Berryessa is the largest lake in Napa County, with 165 miles of shoreline and a string of coves and beaches. It is a freshwater reservoir, and an awesome inland place to visit for recreational opportunities in, on, and around water.
Plus, it has a wildlife area alongside, so its setting is beautiful.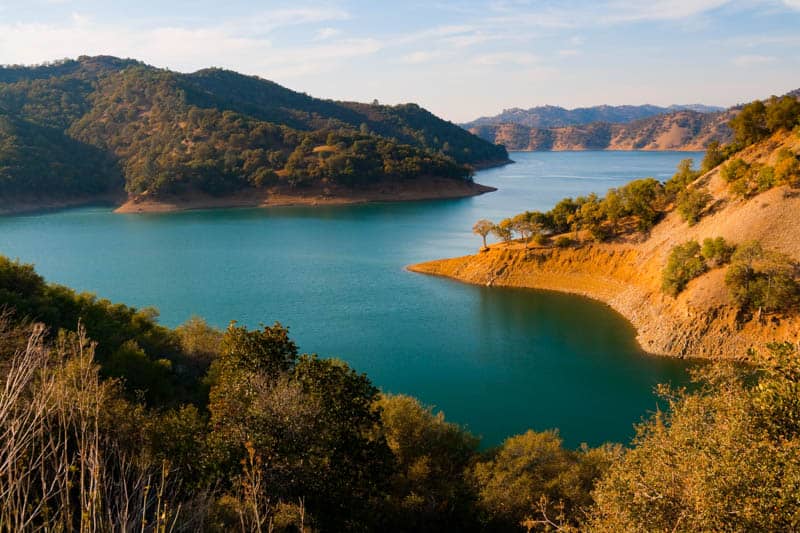 Top things to do at Lake Berryessa: Go boating or enjoy any number of water sports. There are three marinas on the lake, where you can rent boats, kayaks, canoes, paddle boards, or jet skis.
The views from the water are lovely, and you can find a quiet cove to spend some time. Fishing from a boat is popular as well.
Hike some of the trails near the shore. North End Trail offers the chance to spot birds as you walk along the scenic shoreline.
The challenging 5-mile Stebbins Cold Canyon Loop offers beautiful views of the lake from above. Cedar Roughs Trail is an out-and-back 3.7-mile moderate hike that features a creek and lots of wildflowers in season.
Biking is allowed in the day use areas, and on the roads around the lake, which offer different types of terrain and varying degrees of challenge.
You can also swim at Lake Berryessa, so bring your swimsuit if you visit in the warmer months. There are swim beaches at the various day use areas, but no lifeguards.
Tip: The Monticello Dam, which created Lake Berryessa, has a "Morning Glory Spillway" to manage excess water. You can see (and photograph) the spillway from a safe distance: it looks like a huge drainage hole. It has only been activated a handful of times, most recently in 2019.
Driving time: About 1 hour and 45 minutes.
Russian River Recreation Area
Why go: The Russian River in Sonoma County is a popular recreation area and a great day trip destination from San Francisco.
The area is beautiful, with redwood groves and other forests, beaches along the river, and several parks with facilities. From Cloverdale, all the way to the ocean you will find many spots to enjoy the river.
Top things to do along the Russian River: Cloverdale River Park offers a short and scenic hiking trail that you can walk or bike, and a launch area for kayaks and canoes.
In Healdsburg, the Healdsburg Veterans Memorial Beach is a sandy spot to relax. In high water years, you can swim in the summer, or tube, and when water levels are low, you can wade.
Johnson's Beach in Guerneville is a great spot to relax. Swim in the cool waters, float down the river in a tube, or sunbathe. You can also rent a canoe or kayak, or even a pedal boat, or rent a blue umbrella and hang out by the water with a book.
The Austin Creek Recreational Area to the north of Guerneville is stunning, with rolling hills, meadows, and woodlands. There are several trails you can hike here.
The Armstrong Redwoods State Natural Reserve is a must-visit, with many nature trails through redwoods.
Drive the Bohemian Highway between Monte Rio and Occidental and Freestone. The 10-mile stretch of road is super scenic and relaxing, with redwood forests, and bucolic pasture lands.
Monte Rio also has a sandy beach if you want to sunbathe, swim, or hang out by the water.
Tip: For a relaxing day trip, pick one spot to spend the day. But the area is also small enough that you can explore in the morning and then hang out at your favorite spot in the afternoon.
Driving time: About 1 hour and 15 minutes to Guerneville.
Sonoma Coast State Park
Why go: Encompassing a stunningly scenic stretch of Northern California coast, Sonoma Coast State Park offers a string of beautiful sandy beaches separated by rugged headlands, perfect for a day out in nature.
The park stretches for 17 miles from Bodega Head in Bodega Bay to Vista Trail near Jenner, so you can pick a spot or two to enjoy on a day trip from the SF Bay Area.
Top things to do in Sonoma Coast State Park: Goat Rock is one of the most popular spots in the park, with scenic rock formations in the water and a sandy beach.
A colony of harbor seals resides here and is great fun to watch, but keep your distance. They pup in the spring, and you can watch moms nurse the pups if you visit then.
Swimming is not recommended anywhere on this coast.
Go beachcombing and tidepooling at low tide. Shell Beach is an excellent spot for both tidepooling and beachcombing, and you can also try beachcombing at Salmon Creek Beach.
Look for colorful anemones, hermit crabs, sea urchins, and other fascinating creatures in the pools. In the spring and summer, park docents may be present to answer questions.
Hike. There are numerous trails that run through the park, varying in difficulty and length.
The easy Harbor Seal Nursery Trail at Goat Rock Beach takes you past the seals and meanders through wildflowers in season. Another easy and scenic hike is the Bodega Head Trail, with beautiful ocean views from the bluffs.
Enjoy sea and shorebirds and marine life. Other than the harbor seals, you may also be able to spot migrating whales from shore.
The endangered western snowy plover nests on the beaches here. Look for sanderlings, sandpipers, curlews, gulls, plovers, and loons, among other species.
You can also drive the coast from end to end and back, stopping at scenic overlooks, and for a picnic lunch and time on the sand at Goat Rock Beach. This coast is reminiscent of Big Sur, and ideal for a scenic drive.
Tip: If you start early, consider driving the more scenic California Highway 1 on your way in. It will take much longer, but the drive is beautiful. If you are a fan of oysters, the famous Hog Island Oyster Company is on the way at Tomales Bay.
Driving time: About 1 hour and 30 minutes to Bodega Head.
Mount Tamalpais State park
Why go: The iconic Mount Tamalpais is a beloved San Francisco landmark, and the park a super popular destination for SF Bay Area nature lovers and outdoor enthusiasts.
The park is close to the city, and offers a scenic drive, breathtaking views, leg-busting hikes (and easier walks!), and opportunities to view wildlife.
Top things to do in Mt. Tamalpais State Park: Drive up to the parking lot at East Peak. From the parking area, a short 0.2-mile uphill walk takes you to the summit.
The 360-degree views from the top are simply stunning, from San Francisco Bay and the city in the south to Mt. Diablo in the east, and fabulous ocean views to the west.
Hike! There are numerous trails, and not all of them are super challenging.
Trojan Point Trail from the Rock Springs parking area is a short hike that offers fabulous views of the golden hills, the city, and the Instagram-worthy Pan Toll Road snaking up the mountain.
The Verna Dunshee Loop Trail is an easy walk around the peak, with views of the city and ocean.
You can, of course, hike to the top of Mt. Tamalpais from the bottom, if you are up for a challenge!
Another stunning trail for seasoned hikers includes the Matt Davis, Steep Ravine, and Dipsea Loop trail combination, with spectacular scenery.
Trailrunning and mountain biking are other popular ways to enjoy the Mt. Tam trails.
Take awesome photos. Bay Area photographers love capturing the swathes of fog that sometimes hang below Mt. Tam, creating an ethereal landscape.
But Mt. Tam offers many other photo ops, from moss-covered rocks and creeks in winter to wildflowers in spring and endless golden hills in the summer and fall.
Tip: Mt. Tamalpais is super popular, especially on weekends. If you plan to drive up, arrive early to snag a parking spot.
Driving time: About 30 minutes.
Day Trips from San Francisco to the East
Mount Diablo State Park
Why go: This enormous state park in the East Bay is a must-visit for nature lovers.
While the summit of Mt. Diablo is the most popular attraction, the park boasts numerous other areas that are geologically interesting and feature diverse flora and fauna.
Top things to do in Mt. Diablo State Park: Drive to the summit to take in expansive views of the surrounding countryside. Undulating hills and valleys surrounding the Diablo mountain range make for beautiful vistas.
Although Mt. Diablo is less than 4,000 feet tall, the summit offers views out to 200 miles on good days.
Visit the Rock City area, which features interesting sandstone formations such as Elephant Rock and Sentinel Rock. There are several points of interest to explore, including small caves.
You can drive to Rock City Park from the south gate of the park, and then walk the different trails. You can go rock climbing here.
Especially if you are visiting in the spring, the Mitchell Canyon area is a great part of the park to visit, because it features beautiful wildflower displays.
Drive up via Mitchell Canyon Road and then hit the trails, which range from easy to strenuous. There is even a trail to the summit of Mt. Diablo from Mitchell Canyon: at round-trip 13.2 miles, it is a challenging hike that will take 5-7 hours.
Look for birds and wildlife. You may spot black-tailed deer, squirrels of different kinds, rabbits, coyotes, and gray foxes.
Many species of birds call the park home, and some common birds you may see are acorn woodpeckers, American robins, California towhees, California scrub jays, and red shouldered hawks.
Tip: Visit on a clear bright day just after rains have cleared the air for the most spectacular views from the summit of Mt. Diablo.
On such a day, with binoculars, you may even be able to spot Half Dome in Yosemite National Park!
Driving time: About 45 minutes to Summit Road.
Las Trampas Wilderness Regional Preserve
Why go: With close to 6,000 acres of beautiful wilderness and an extensive trail system, Las Trampas Wilderness Regional Preserve is one of the best day trips from San Francisco for nature lovers and outdoor enthusiasts.
The park is located in San Ramon, across the bay, and offers spectacular views.
Top things to do in Las Trampas Regional Park: Hiking is the number one activity in the park. Download a trail map and map out your route before you start.
Most trails are challenging to some degree, but if you want an easy flat hike, check out the Bollinger Creek Loop Trail. Elderberry Trail to Rocky Ridge View Trail is a loop that offers great views and a good workout at 4.7 miles.
Biking and horseback riding are also popular activities. Bike riding is permitted on designated trails and roads only, so download the trail map before you go. Las Trampas Stables offer trail riding and horseback riding lessons.
The preserve is a great birding spot. Several species of hawks, occasional golden eagles, owls, and wild turkeys have been seen here, as well as smaller birds like acorn woodpeckers, dark-eyed juncos, different types of sparrows, and western bluebirds.
Bring your binoculars and zoom lens! You may spot wildlife in the park as well.
Tip: Wear boots if you visit in the spring, when there are tons of wildflowers, but the trails can be sticky and muddy. Allow the trails to dry out a bit after it rains, for easier hiking.
Driving time: About 40 minutes.
Tips for Your San Francisco day Trips into Nature
Check Hours and Admission Fees
Check individual park or natural area websites for hours of operation and admission fees before you go. Hours may vary by season, and special closures may be in effect for various reasons.
The National Parks America the Beautiful Pass is a good value for national parks and other federally managed areas. The California state park system also offers various passes. Carry some cash for paying fees.
Don't Count on Cell Phone Reception
Many of these areas are wilderness, and you will not have cell phone reception. Download any maps or apps you need ahead of time, and plot hiking routes in advance if you plan to cover significant ground.
Carry Water, Food, and Snacks
You may not have a reliable supply of drinking water at some of these spots. Always pack a cooler with enough water, food, and snacks to last you through your day trip. Carry plenty of drinking water with you on hikes.
Dress in layers
Even in summer, many areas can be cool, or foggy, or windy. Dress in layers, especially if you plan to be out early or late in the day. Use sun protection!
Remember your swimsuit if you are visiting a place where you can swim, water shoes to protect your feet in the water, and good walking or hiking boots depending on the hikes you plan to do.
Take your zoom lens and binoculars
Most natural spots in California have lots of birds, wildlife, and marine life. Carry compact binoculars for close-up observation when you sight animals or birds, and a camera with a zoom lens if you enjoy wildlife photography.
Get informed on Wilderness Rules and Guidelines and Follow Them
Every park or natural area website will generally have a safety guidelines page. The California State Parks website also has safety tips.
Familiarize yourself with wilderness safety information and follow rules and guidelines so you can spend a safe day outdoors.
Map of the Best Day Trips from San Francisco into Nature
Did you find this article informative? Pin it for later reference!