Considering a visit to Paso Robles? The heart of Central California wine country, Paso Robles is a compelling destination for oenophiles, but foodies, history buffs, and outdoor enthusiasts will also find plenty to like in Paso Robles.
Paso Robles, officially El Paso de Robles, means The Pass of the Oaks.
A sleepy pastoral place not too long ago, Paso Robles is today a hip Central Coast wine and food destination, with more than 200 wineries growing several dozen grape varieties, and numerous quality eateries lining the walkable downtown.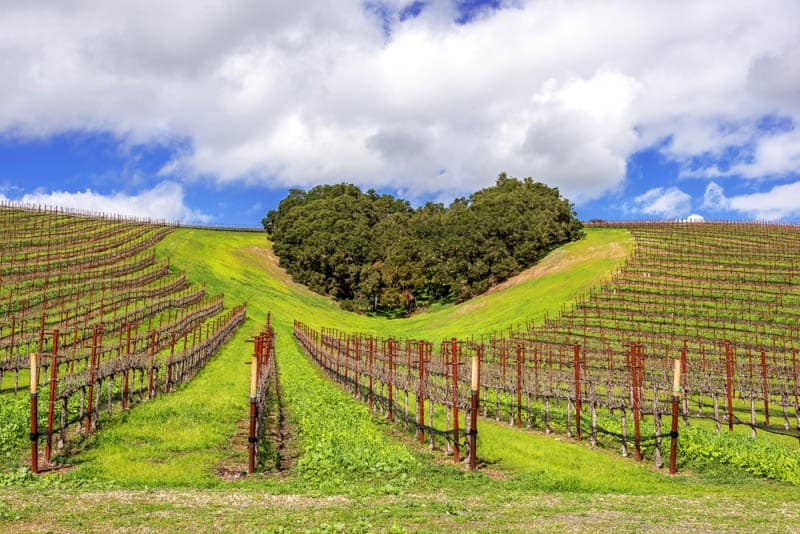 Some links on this page may be affiliate links. If you click an affiliate link and make a purchase, we may receive a small commission, at no extra cost to you. For more details, refer to our disclosure.
Paso Robles was historically famous for its hot springs, and today you can still enjoy a relaxing soak when you visit.
Long ago, it was the home of the Salinan Native American people. Spanish missionaries brought grape vines to the area in the late 18th century, and it eventually became a center of quality wine production.
While Paso Robles is a fun vacation spot in its own right, it also has the advantage of being located close to other picturesque San Luis Obispo County towns and natural wonders, making it a wonderful base from which to explore more of the surrounding areas.
Paso Robles is one of our go-to California weekend getaways when we are looking for a relaxed couple of days.
If you are thinking about a vacation in Central California wine country, read on to discover all the best things to do in Paso Robles!
Things to Do in Paso Robles
Stroll Downtown Paso Robles
Paso Robles has a lively, walkable downtown.
The streets are lined with wine tasting rooms, of course, but you will also find great eateries, plus antique shops, boutiques, and art galleries.
What's more, the architecture is worth admiring!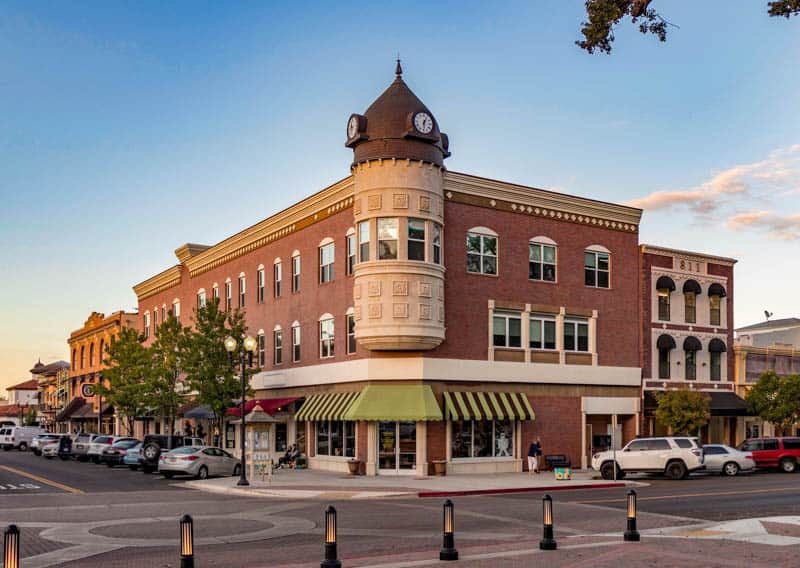 Some of our favorite browses:
General Store Paso Robles offers one-of-a-kind gifts, many of them locally sourced. They offer a little bit of everything, from books and puzzles to food items and home decor.
Spice of Life offers all kinds of spices and spice blends and teas. We've bought several spice blends from them and use them regularly! Their za'atar, taco fiesta, and pumpkin spice blends are very aromatic and very flavorful.
Brown Butter Cookie Company is a must-stop shop. The aroma will delight you as soon as you enter, and the cookies are delicious.
We always get some of their original sea salt cookies for that sweet-salt burst, but their other flavors are fun too.
Dale Evers Studio has beautiful works, many of which combine art and function: tables, clocks, entryway art and more. The colors are gorgeous. His work can be seen at Sculpterra Winery as well.
Downtown City Park is a fun place to stroll, and it's where events occur, so check to see if there's something planned for the time of your visit.
In the summer, the park hosts concerts on Thursday evenings.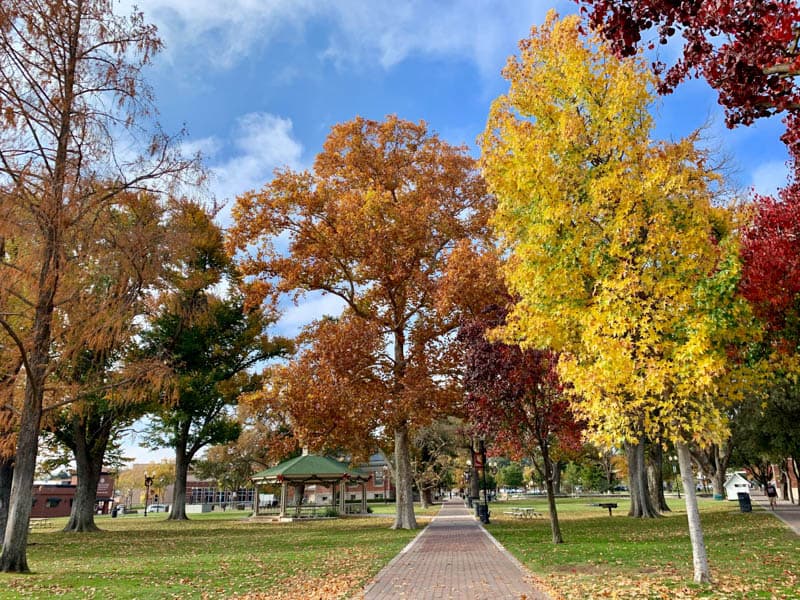 Enjoy Downtown Paso Wine Tastings
Paso Robles is not all about wine, but wine is definitely a big reason to come here.
Not only can you tour beautiful area vineyards, you can taste local wines right in downtown Paso.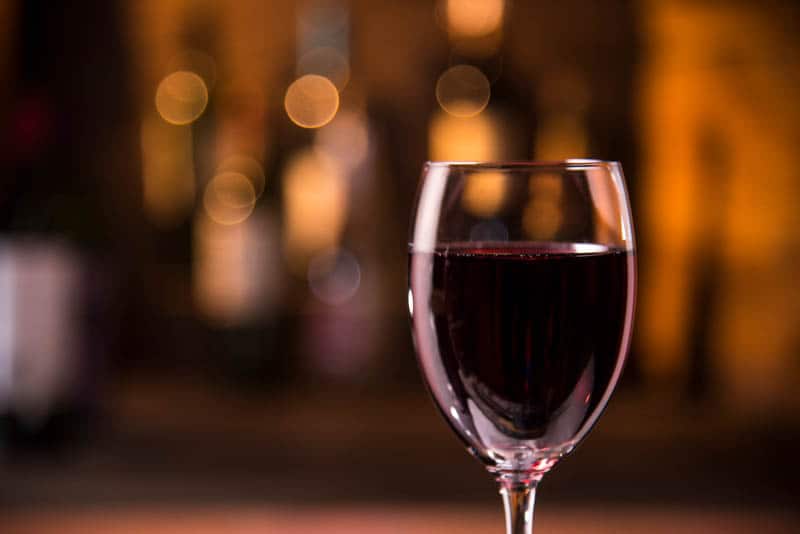 If you book accommodation in town, you can walk to tasting rooms and then to your hotel, with no need for a designated driver or a rideshare or cab.
Downtown Paso Robles has close to two dozen tasting rooms, with several hundred wines from which to pick.
These tasting rooms are some of our favorites, but we have only done tastings twice, so we will likely find more!
Herman Story Wines is a little bit outside the main Paso downtown area, but walkable. Wines are typically released twice a year, and include different varietals plus blends.
Taste in the Alley is a downtown Paso wine bar where you can try numerous varieties by the glass.
Bodegas offers varieties native to Spain and Portugal (but grown in California). Their blended reds are superb.
There are more tasting rooms in Tin City, just south of Paso Robles, which we talk about more later in this article. It's not walkable, though!
Try Olive Oil Tastings
If you've never done an olive oil tasting before, Paso Robles is the perfect place to try a tasting.
There are many working olive farms in Paso Robles, and you can visit area groves that offer tours and tastings, or you can try a tasting downtown.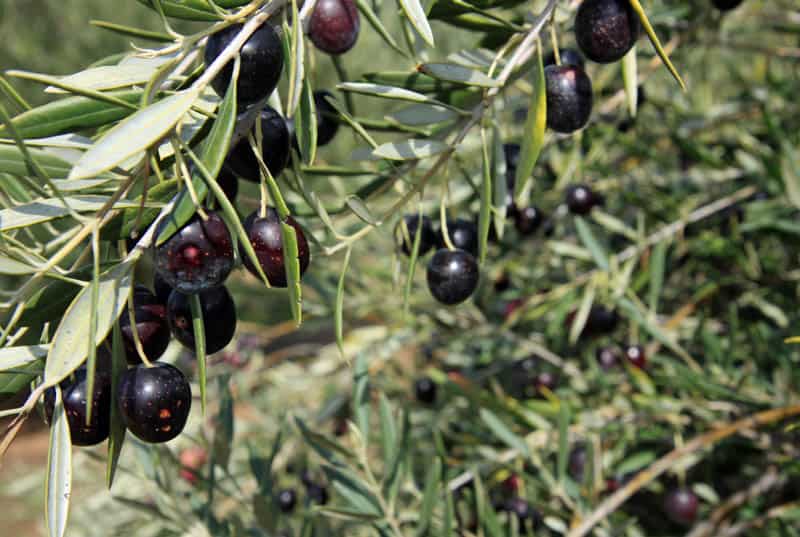 Be warned, though: once you've tried fresh-pressed olive oil at a farm, you likely won't ever want to shop for olive oil at a supermarket.
Fresh olive oil contains different flavor and aromatic notes, just like wine. Olive oils vary in their fruitiness, pungency, and bitterness levels. Extra virgin olive oils that are high in beneficial polyphenols typically taste more pungent.
You taste them straight, out of little cups.
We Olive in downtown Paso Robles offers tastings of California olive oils, including several from Paso Robles producers. They also carry a variety of balsamic vinegars, mustards, tapenades, and other fun products.
Area producers that offer tours and tastings include Pasolivo, where you can even tour the olive press, and Kiler Ridge Oilve Farm, which grows Italian cultivars. Try some infused olive oils as well as just pure extra virgin olive oil.
Tour Paso Farms and Ranches
Paso Robles is the perfect place to visit ranches and farms. While we've talked about olive farms above, you can visit other working farms and ranches as well.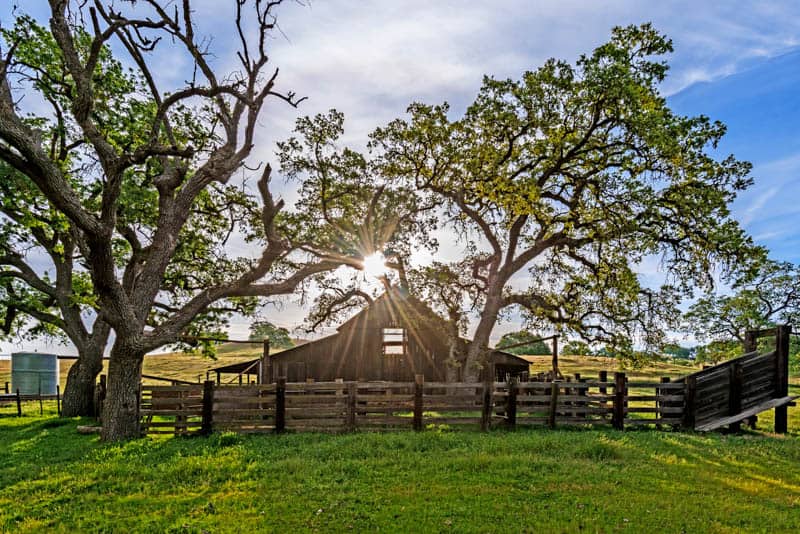 If you visit Paso Robles during lavender bloom season (generally June), and the farm is open for tours, don't miss a stroll through the lavender fields at Central Coast Lavender Farm, just outside downtown Paso Robles. You can pick up some lavender products here.
California Lavender Honey Farm in San Miguel has a unique Bee Museum. You can tour the farm and the museum by appointment. Free tastings of veggies, herbs, and honey, whatever is in season, are offered. Be sure to pick up some honey, and candles!
Jack Creek Farms, in nearby Templeton, is a fifth generation family farm where you can walk the beautiful gardens, view antique farm equipment, and even pick some fresh heirloom varieties of fruit. They have kid-friendly activities as well.
Visit Tin City
Tin City is a hip "industrial makers market," where you can browse offerings from a number of local producers passionate about their products: wine, craft beer, and craft ciders, all in one place!
You will find Tin City just a few miles south of downtown Paso Robles.
Located along the Juan Bautista de Anza National Historic Trail, Tin City also has eateries and a creamery. Tin Canteen has a gorgeous patio by a water feature, and their pizza is excellent.
And do not miss Negranti Creamery, where you can get a scoop of ice cream made from sheep's milk! They also have ice cream made with cow's milk, if that's what you prefer.
Soak in Relaxing Hot Springs
Paso Robles has been known for its hot springs for a very long time.
The ancient Salinan people that lived in the area referred to Paso Robles as "The Springs" for its relaxing waters. The Spanish missionaries built the first baths here in the early 19th century.
In the early 20th century, Polish pianist and composer Ignacy Paderewski spent a few weeks at the El Paso de Robles Hotel, using the hotel's mineral baths to soothe arthritis. He later bought property in the area and grew zinfandel grapes.
Today, you can enjoy a soak in a private outdoor spa tub if you book a Spa Room at the Paso Robles Inn, or at the River Oaks Hot Springs Spa, where you can just enjoy a soak or combine a relaxing soak with a spa treatment.
Tour Paso Robles Vineyards
One of Central California's premier wine destinations, Paso Robles is home to more than 200 wineries, and grows more than forty varieties of grapes.
The first vines were established by the missionaries at the Mission San Miguel in 1797, and commercial wine making began in 1882.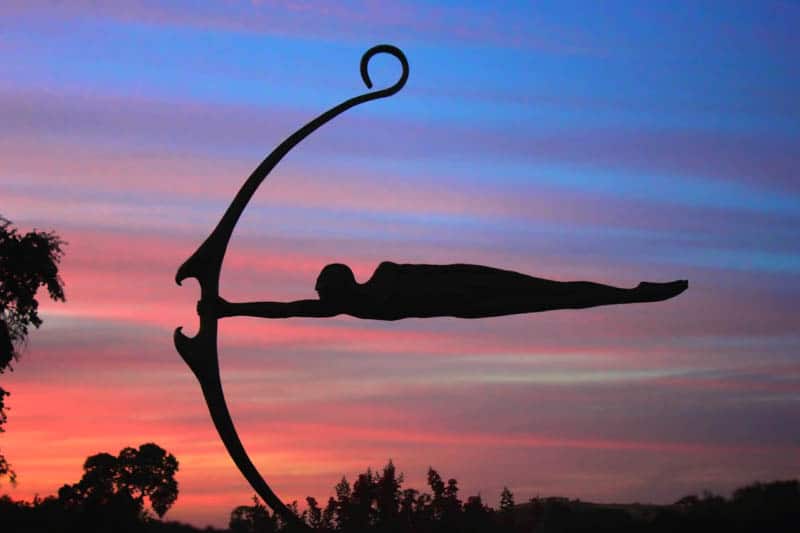 Today you can tour area vineyards, many of which have tasting rooms, and some offer food pairings as well.
California Highway 46 stretches east and west of Paso Robles, and you'll find wineries on both sides. If you have to pick one side, we would suggest heading west.
Some wineries feature amazing views, others offer art, but all the wineries we've visited offer a charming, laid-back ambience and relaxed and informal wine tasting opportunities.
Here are some amazing wineries to serve as a starting point for your Paso winery touring:
Sculpterra Winery features a beautiful sculpture garden, with works by several artists. The sculptures, in bronze, granite, steel, and glass, are positioned in the gardens of the winery, making for a delightful stroll. Tastings are offered at the winery.
Niner Wine Estates is home to the famous heart-shaped copse of trees you may have seen on Instagram. The vineyard offers gourmet picnic lunches, dinners, and tastings by reservation.
DAOU Vineyards, perched on a mountain, offers sensational views to go with your wine. Opt for the Adirondacks outside for a tasting among the landscaping, with views overlooking the surrounding vineyards. Reservations are recommended.
Tobin James Cellars has a lovely Wild West ambience. The winery is sited at a historic stagecoach stop, and the tasting room is styled like a saloon. The antique mahogany bar has a polished brass rail.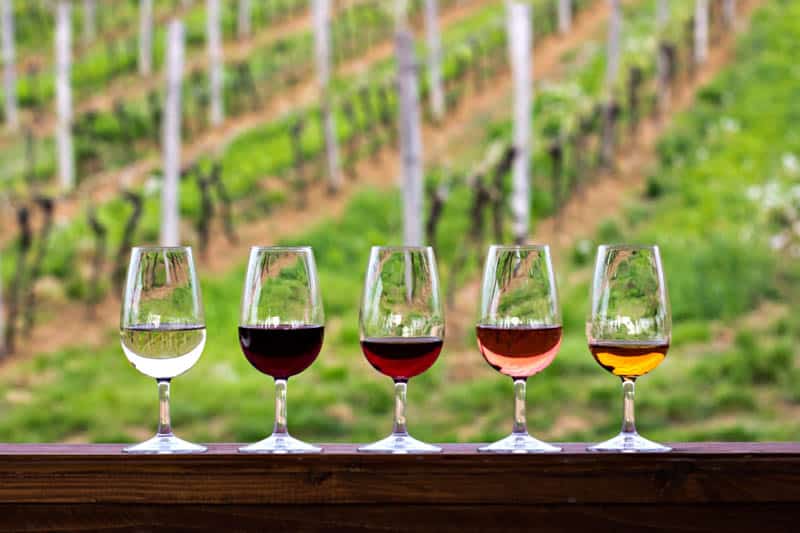 If you don't want to go the designated driver self-guided tour route, you can pick from one of the local wine tours!
This popular Paso Robles wine tour takes you to the area's most beloved wineries for tastings of the region's cabernet sauvignons, zinfandels, and bordeaux wines, along with blends. Full day tours include lunch. Book this tour now!

Or try this small group all-inclusive tour that's very highly rated. The excursion includes one behind-the-scenes tour, a delicious picnic lunch at a winery, and four full-flight tastings at different locations. Hotel pick-up across the Paso Robles area is offered as well. Book this tour now!
See the Sensorio Light Show
Created by Bruce Munro, known for his large-scale art installations featuring light, the Sensorio Field of Lights and Light Towers in Paso Robles is a must-visit! The installation is located on Highway 46 East in Paso Robles.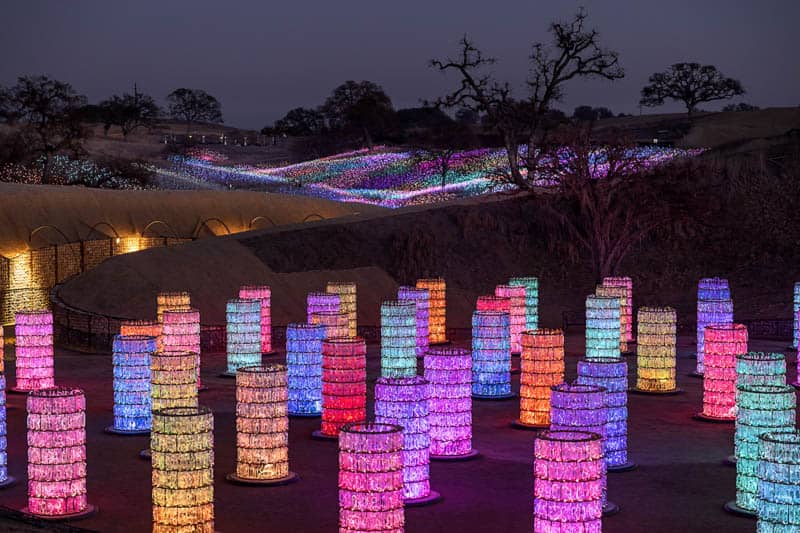 Featuring 58,000 solar-powered lights spread out over an undulating landscape, the "flower"-filled Field Of Lights glows in a splendid range of colors from red to pink and teal to orange. The flowers change color in gradual waves as you watch: it is a mesmerizing display!
Light Towers is a new exhibit, featuring 6-foot light towers. The towers are made of wine bottles, lit by optic fibers that change colors to music.
You can buy tickets online. Arrive while it's still daylight so you can find your way to the exhibit: GPS reportedly does not work correctly.
Enjoy the Outdoors
The oak-studding rolling hills of Paso Robles look scenic both dressed in bright green in the spring or tawny in the fall. There are a number of ways you can enjoy the countryside around Paso Robles:
Bike the back roads or trails. Popular routes include Paso Robles to San Miguel, or Peachy Canyon, or Hog Canyon. Bike rentals are available in downtown Paso Robles, and you can also join guided tours with a local cyclist.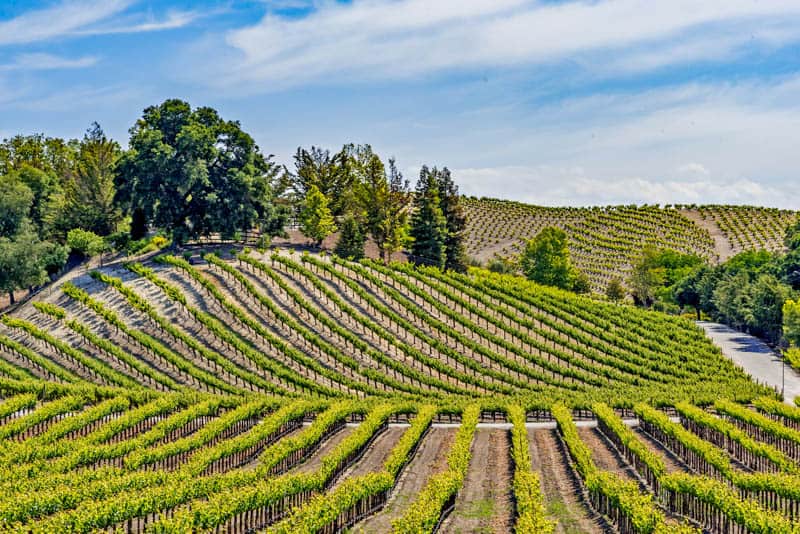 Go horseback riding. Again, you have a number of guided horseback rides and tours from which to pick, some including wine tasting. Riding trails through the hills and woodlands around Paso Robles makes for a fun and scenic adventure.
For the adventurous, a hot air balloon ride offers an aerial perspective of the vineyards and beautiful countryside.
Visit the Mission San Miguel Arcángel
Mission San Miguel, named for the Archangel, is located in San Miguel, just a 10-minute drive from downtown Paso Robles. The adobe building is a National Historic Landmark, and the mission is well worth visiting if you enjoy local history.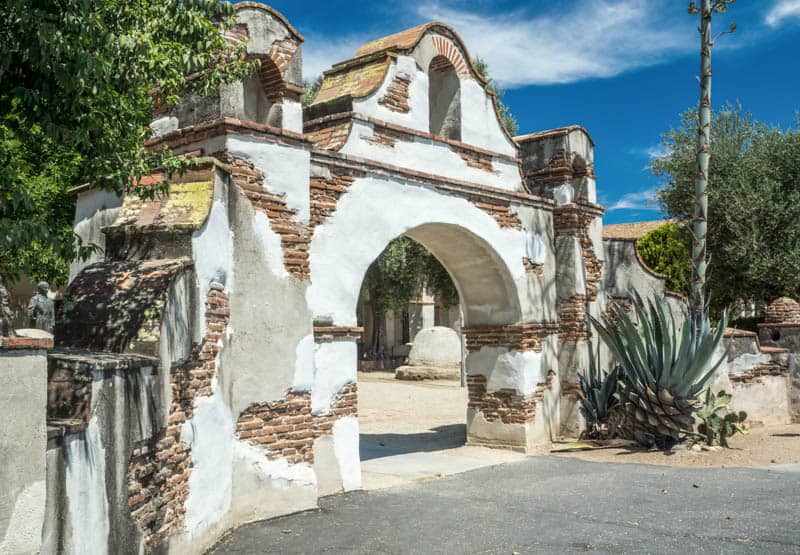 The mission was founded in 1797, but the building took shape between 1816 and 1821, after a temporary church burned down. The frescoes in the interior were designed by Esteban Munras: they are his most famous works.
Fun fact: the interior of church has never been repainted! The church still has the original frescoes. Visit the mission museum for a self-guided tour, and browse the gift shop.
Stop in at the Rios-Caledonia Adobe
Built in 1835, the Rios-Caledonia Adobe is listed on the National Register of Historic Places. The two-story adobe dwelling is located in San Miguel, and was built by Native Americans under the supervision of Petronilo Rios, part of the Mission San Miguel guard.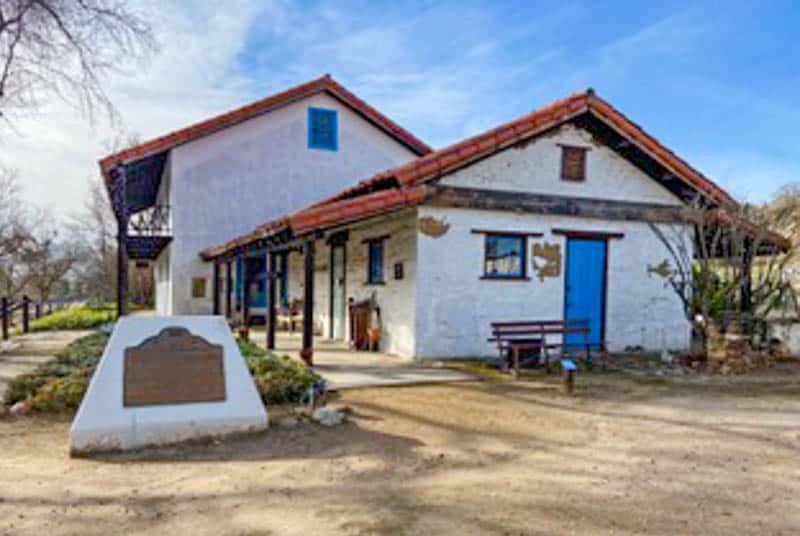 When the mission property was sold, Rios bought the home (and the mission, in partnership with another individual) and Rios and his family used the adobe dwelling as a residence. Later it became an inn along the El Camino Real, then a school, and then a place of business and a home!
In 1964, the Rios-Caledonia Adobe was purchased by San Luis Obispo County, and it was restored. Today it is a county park, open for tours. There is also a museum and gift shop to browse.
Tour the Pioneer Museum
For another perspective into local history, visit the Paso Robles Pioneer Museum, which showcases life in a small California town in the 19th and 20th centuries. Admission is free, although donations are accepted.
Here you can see a one-room schoolhouse, and a two-cell jail, which features the door from the original Paso Robles jail. You'll see farm equipment, exhibits that mark the town's western heritage, and an El Camino Real bell, which you can see at other places along Highway 101 and in other spots in California.
Visit Studios on the Park
Art lovers will want to set aside some time to visit the nonprofit Studios on the Park. They feature exhibitions and events, but they also host classes and workshops, for adults and for kids.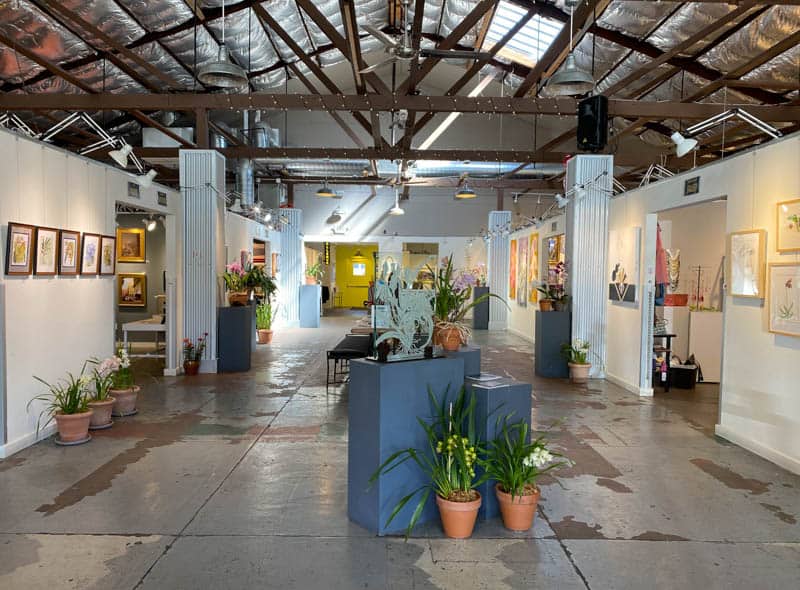 Studios on the Park also has open studios, where you can watch artists in action, and maybe even learn a new art technique! Their gift store offers unique gifts that range from paintings and sculptures to jewelry, wood and ceramics items, and baskets, all handmade.
They also host Art After Dark Paso on the first Saturday of every month, an evening that combines art with wine and live music. Visit the organization website for hours and tour information.
Tour the Paso Robles History Museum
Housed in the gorgeous Carnegie Library building at Paso Robles City Park, the Paso Robles History Museum is worth a visit if you enjoy learning about local history.
Here you will find a Salinan exhibit, with artifacts from the Salinan people that once lived here, an exhibit that documents the events around Prohibition, and other displays of photos and documents relevant to the history of the region.
The museum is generally open Thursdays through Mondays. Admission is free, but donations are accepted.
Drive California Highway 46 East or West
California Highway 46 stretches east and west of Paso Robles. If you plan to tour area vineyards, you will almost certainly drive along CA 46 East or West. But even if wine-tasting or vineyard-touring is not on your agenda, you should consider driving CA Highway 46.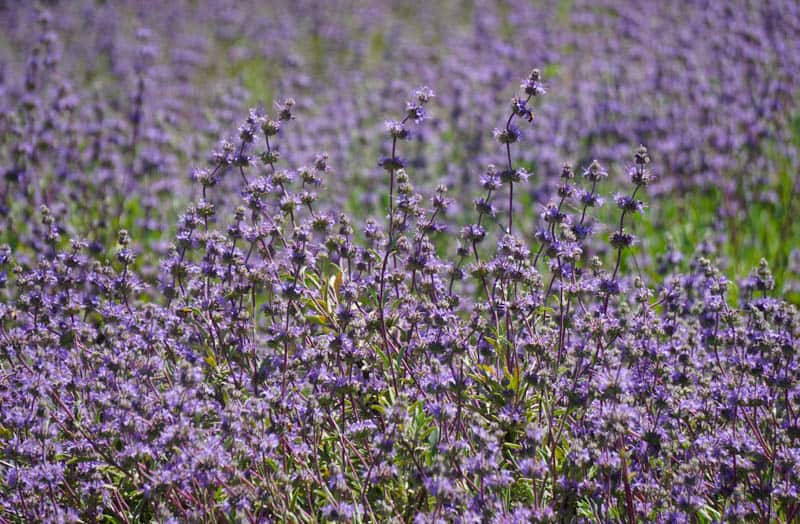 The western stretch of CA 46, from Paso Robles to California Highway 1, is extremely scenic, with rolling hills, lush vineyards, and tons of wildflowers in the spring.
There are also a couple of fabulous viewpoints along the road just before it meets up with Highway 1, so watch for the pullouts.
The eastern stretch is especially beautiful in the spring, with meadows full of wildflowers, bright green hills, and fruit orchards in flower further away from Paso Robles. We love both drives, but if you only have time for one, pick CA 46 going west from Paso Robles.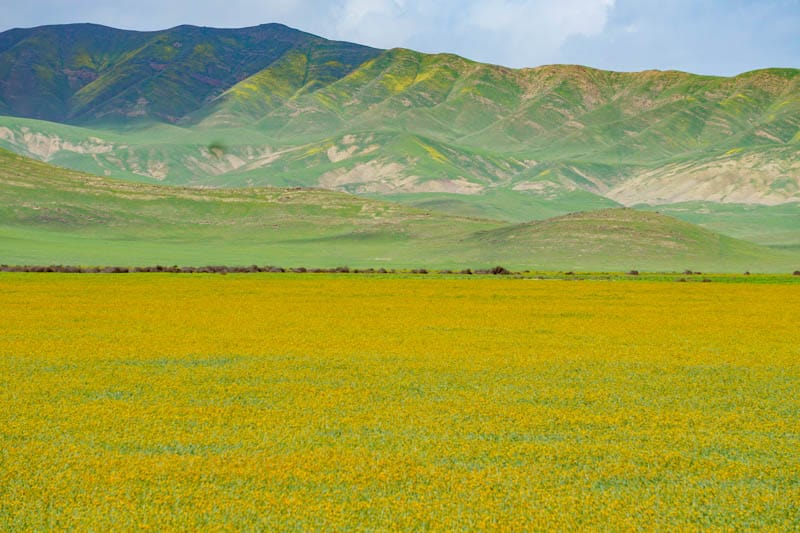 Enjoy Lake Nacimiento
Just a few miles outside the city of Paso Robles is Lake Nacimiento, where you can enjoy a variety of water sports, from fishing and swimming to boating and water play. The lake is large, with 165 miles of beautiful shoreline, and offers a full-service marina.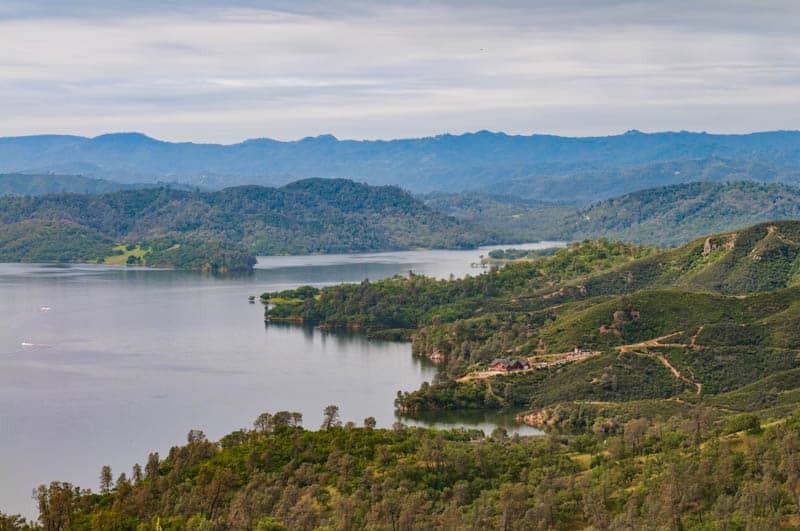 You will also find hiking trails around the lake, with opportunities for wildlife viewing and birdwatching. While lodging and camping are available at the lake, it also makes for a fun part-day outing or day trip from Paso Robles.
Lake Nacimiento is one of our favorite California lakes for recreation along the Central Coast. It is just under a 16-mile drive from Paso Robles to Lake Nacimiento.
Things to Do Near Paso Robles, CA
The towns of the Central California Coast in San Luis Obispo County are set fairly close together, so from your base in Paso Robles, you can explore more of the beautiful county, whether it's beautiful beaches you seek, or charming little towns and villages, or parks for hiking and wildlife viewing.
Take scenic California Highway 46 West past vineyards and rolling hills to California Highway 1, where you can go north or south. If you go north, you can explore the charming little seaside village of Cambria, with its beautiful black Moonstone Beach.
Further north along Highway 1, you can visit historic Hearst Castle, the former estate of publishing tycoon William Randolph Hearst. It is one of the top California state parks to put on your Golden State itinerary. The elephant seal rookery and the Piedras Blancas Light Station are also worth visiting.
If you go south along California Highway 1, you can enjoy the beaches at Cayucos, a small beach town with a fun lively vibe. Further south are the many parks of Morro Bay, which also has a fun waterfront and some of the best birding and marine life viewing along the California coast.
San Luis Obispo has a phenomenal food and drink scene, with great barbecue, craft beer and spirits, and wine tasting. The lively downtown is a must stroll. Just south of Los Osos on the coast, you have to walk the easy and sensationally scenic bluff trail at Montana de Oro State Park.
Even further south, you will find Avila Beach and Pismo Beach, two lovely beach towns. Among the many things to do in Pismo Beach, sea kayaking and surfing are very popular.
If you visit Paso Robles in the spring, add a day for a day trip to Carrizo Plain National Monument, a little over an hour's drive from the city. The plain comes alive in the spring with carpets of colorful wildflowers in good bloom years.
Getting to Paso Robles, CA
The SLO County Regional Airport is located about 27 miles from Paso Robles, with flights from several major US cities, but most visitors to the city arrive by road. Paso Robles is a fun stop on a California road trip itinerary!
Paso Robles is a wonderful getaway destination, whether for the day, the weekend, or longer. It is one of the best day trips from Santa Barbara you can do: just a 2-hour drive each way.
Paso Robles is within reasonably easy driving distance of San Francisco, LA, and San Diego as well. From LA to Paso Robles is just about a 3-hour drive, perfect for a weekend escape.
At 3 hours by the highway, Paso Robles is one of the many fun weekend getaways from San Francisco (or the SF Bay Area). It's a slightly longer drive of 5 hours and 15 minutes, but still a very doable wine country trip if you are looking for weekend getaways from San Diego.
Looking for a car rental for your Paso Robles getaway? Check out Discover Cars! They scour multiple providers to get the best price for you.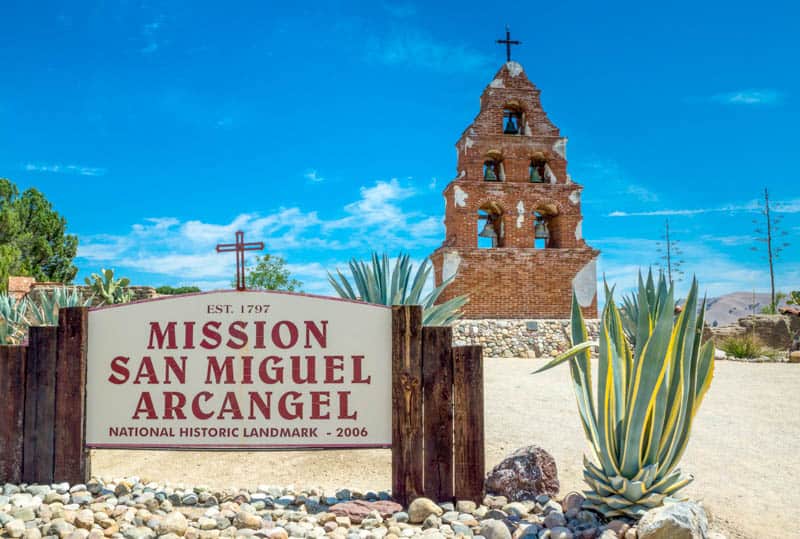 Where to Stay in Paso Robles, CA
Hotels in Paso Robles, CA
Hotel Cheval is a fabulous 16-room boutique hotel, located just a block from the historic town square. Rooms are luxuriously furnished. The hotel offers outdoor sitting areas with wood-burning fireplaces, a wine bar, and a library. Breakfast is included.
Book on hotels.com | Book on Expedia.com
Allegretto Vineyard Resort is a wonderfully relaxed Mediterranean-inspired property set just outside the city. The resort is set among vineyards, and offers an outside pool, hot tub, and onsite spa. Rooms are beautifully appointed. The restaurant is excellent.
Book on booking.com | Book on hotels.com
Manucci Winery-Wild Coyote B&B is located on a hilltop, about 5 miles from town. If you do no mind the drive, the property offers a beautiful and serene vineyard setting and rooms with adobe-style decor and an outdoor hot tub. Book on booking.com | Book on hotels.com
Vacation Rentals in Paso Robles, CA
Dunning Ranch Guest Suites offers two standalone cottages, one a queen studio and the other a 2-bedroom unit. Both units come with kitchenettes. Set in the midst of oaks alongside a vineyard, the properties are a short drive from downtown Paso Robles and offer serene stays. Book a stay here!
This beautiful VRBO home features 3 bedrooms and 2 baths, and a full kitchen. The home is located on a hillside, just 1.2 miles from downtown Paso Robles. It is well-furnished, and has a large backyard with mature trees, gas barbecue, and outdoor seating with fire pit. Perfect for a family vacation! Book a stay here!
This cute cottage is a restored 1940s bungalow with the original hardwood floors, a farmhouse sink, and antique furnishings. The two-bedroom, one-bath home has central air and heating, and walk-in tiled shower with rain head. It's located just a few blocks from downtown Paso Robles. Book a stay here!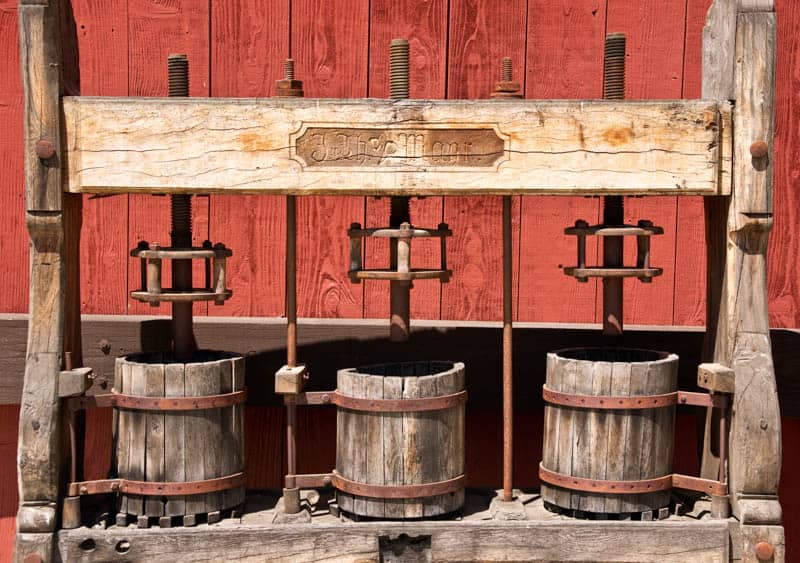 Where to Eat in Paso Robles
Our favorite restaurant in Paso Robles is Thomas Hill Organics. I do not think we've visited Paso Robles, or even passed through, without stopping to eat here. We love their black lentil tacos. The Cubano sandwich is a winner, as is the grilled aged Cheddar cheese sandwich with apple.
The Hatch Rotisserie and Bar requires reservations if you don't want a long wait, but their rotisserie chicken is (deservedly!) famous. We like their skillet cornbread as well. It has honey and browned butter!
For great Italian, head to Il Cortile. Their menu changes, but we've never had a pasta dish here we didn't enjoy. We haven't tried too many of the second courses, but their salmon is delicious as well.
We had lunch at the Cello Ristorante & Bar at the Allegretto Vineyard Resort the last time we passed through Paso Robles and thought it was excellent. The menu is short, but everything we ordered was made with fresh flavorful ingredients.
The Best Time to Visit Paso Robles, California
Paso Robles is a year-round destination, but spring and fall are especially nice times to visit. Spring brings pleasant daytime temperatures, perfect for outdoor pursuits. The hills are verdant, vines just beginning to bud, and wildflowers everywhere.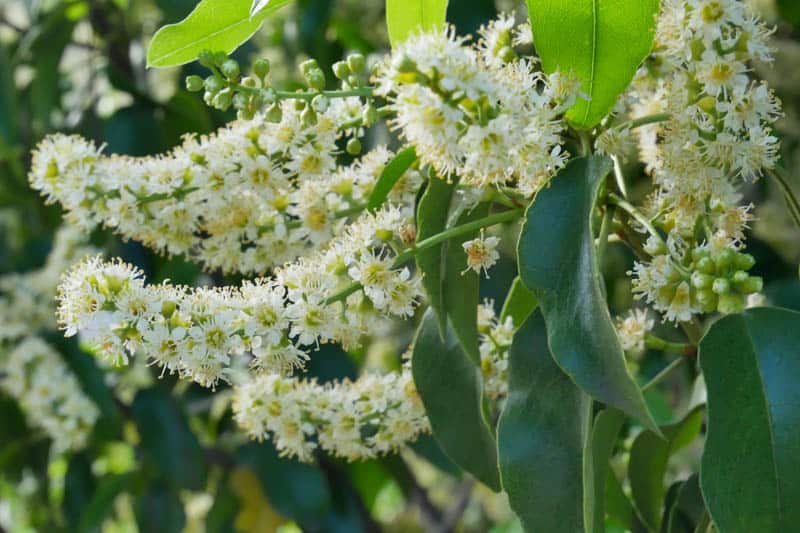 In the summer, Paso Robles can get hot, with highs getting up into the high 80s and low 90s. Days are bright and sunny, though, and vines are lush, so it's still a great time to visit. Mornings and evenings are still pleasant for wandering.
Days continue to be warm in the fall, and the hills are a lovely tawny brown. It's also harvest time, with festivals and events to celebrate fall crush. It is a fun time to visit Paso Robles!
Winter in Paso Robles is generally mild, but bring layers to stay warm early and late in the day. You might run into a spot of rain here or there, so check the weather forecast and bring rain gear if needed.
*****
Looking to explore more of Central California? Check out some of our other articles on fun Central California destinations!
Did you find this article informative? Pin it for later reference!