Los Osos, California, a tiny community on the scenic Central Coast, is a must-visit if you enjoy outdoor pursuits in a laid back environment. It boasts beautiful trails, a variety of landscapes, and excellent birding and marine life viewing.
Located along the ocean, just south of Morro Bay, Los Osos is a convenient add-on to a trip to either Morro Bay or San Luis Obispo, which is also just a short drive inland from Los Osos.
Some links on this page may be affiliate links. If you click an affiliate link and make a purchase, we may receive a small commission, at no extra cost to you. For more details, refer to our disclosure.
The Los Osos-Baywood Park area also makes for a great stop on a Central Coast road trip, a Pacific Coast Highway road trip, or even a longer California road trip. You can stretch your legs on more than one scenic ocean view trail here.
Considering a visit to Los Osos, California? Read on to discover the best things to do, plus our suggestions for where to stay and eat.
Things to Do in Los Osos
Explore Montaña de Oro State Park
One of the most beautiful state parks in California, Montana de Oro State Park offers stunning views of the Pacific Ocean, unique rock formations, and lots of things to do.
The park is called Mountain of Gold due to the golden wildflowers that carpet the area in spring. On a recent visit (in early June), we were treated to a spectacular wildflower show in the park.
Most visitors walk the scenic Bluff Trail at Montana de Oro State Park, and this trail should definitely be at the top of your itinerary for Los Osos-Baywood. The trail is superbly scenic and suitable for almost all visitors to the park.
If you are up for a challenge, take on the climb to the summit of Valencia Peak, which is the second highest spot in the park. This trail offers panoramic views of the ocean and the coastline.
Montana de Oro features beautiful beaches as well. Spooner's Cove Beach is great for strolling, picnicking, sunbathing, and rock scrambling and tide pool exploration. Sandspit Beach offers surfing as well as a sandy beach for walking.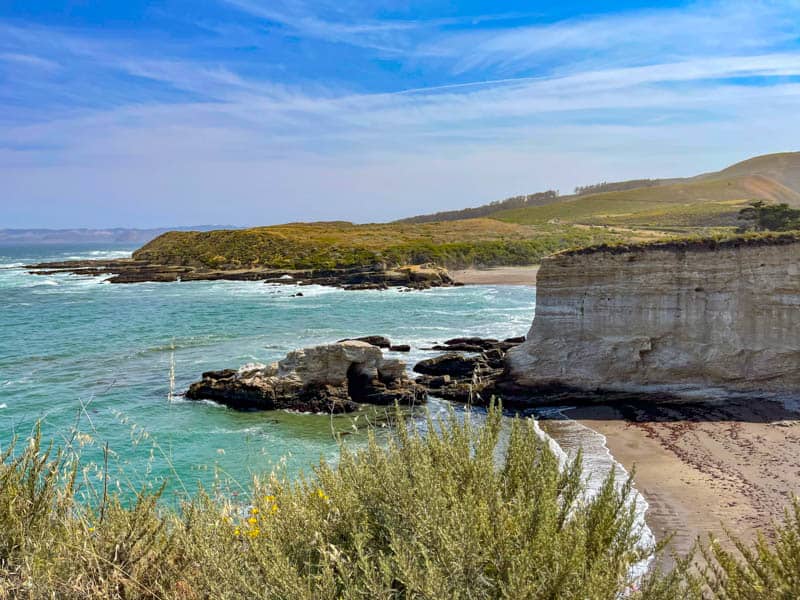 Montana de Oro State Park is free to enter. Note that dogs are not allowed on trails in the park. They are allowed on park roads, campsites, and at Spooner's Cove Beach.
Walk the El Moro Elfin Forest Trail
Located on the southern shore of Morro Bay, the 90-acre El Moro Elfin Forest in Los Osos makes for a delightful walk through the area's flora, including the pygmy live oaks for which the forest is named.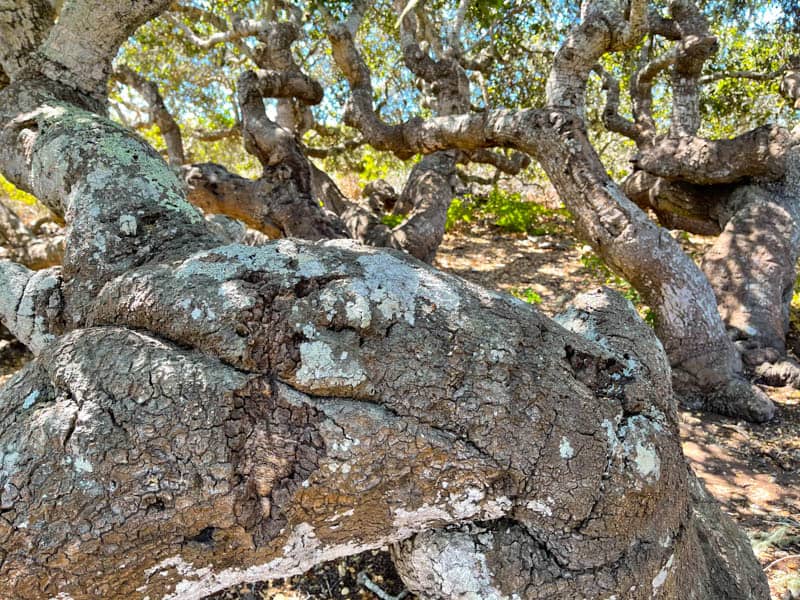 Apart from the oaks, you will see other flora along the trail, from chaparral to manzanita. The trail offers lovely views of the estuary and the coastline. Look for birds and butterflies, as well as wildflowers in season.
While the main boardwalk trail is about one mile long, there are various little spurs that lead to viewpoints. If you have the time, it's worthwhile checking out the little offshoots.
Several signature species are named with little markers along the edge of the trail, so don't forget to look down as you walk. And do not miss the beautiful oak grove, where a bench allows you to sit and enjoy a quiet moment amongst the trees.
The Elfin Forest is free to enter, and dogs on leashes are allowed on the boardwalk trail.
Visit Sweet Springs Nature Preserve
Managed by the Morro Coast Audobon Society, Sweet Springs Nature Preserve is a 32-acre preserve in Los Osos well worth visiting if you love nature or enjoy birding.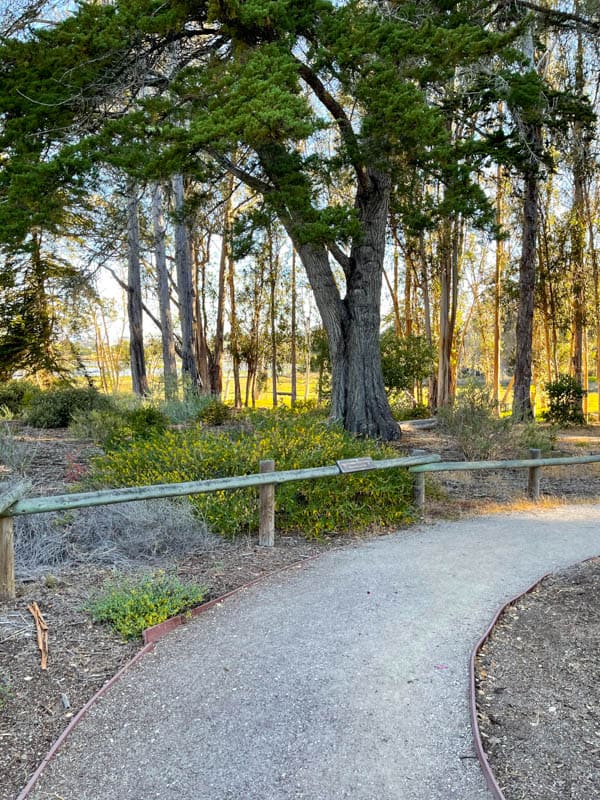 There are trails that run through the preserve, offering views of Morro Rock and Morro Bay. You will likely see water fowl at the creek that runs through the preserve. We were lucky enough to see a mamma taking her brood for a swim!
If you bring powerful binoculars or a zoom lens, you can look for birds in the marshes of the estuary. We spotted several great white egrets in the distance. More than 350 birds have been spotted at or from the preserve.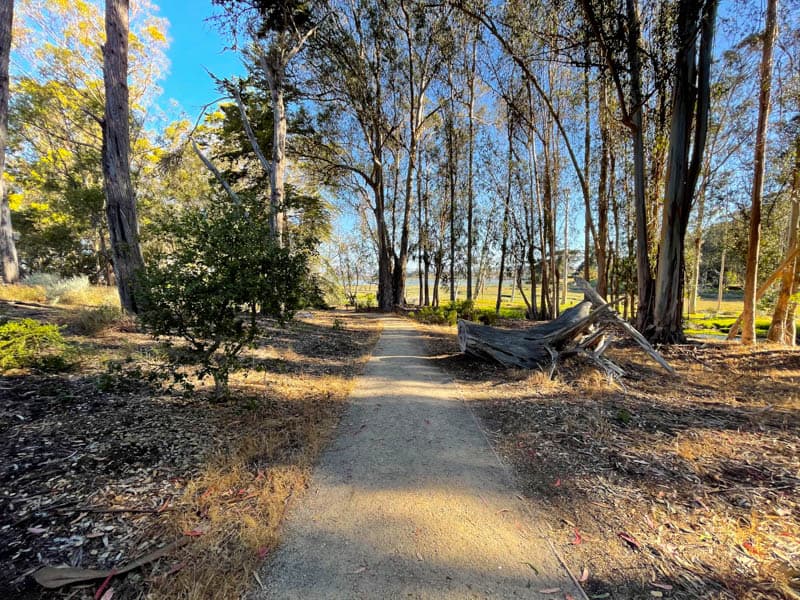 Don't forget to look up into the eucalyptus trees for roosting raptors, and for other land birds in the trees and shrubs. And in season, generally between October and February, you may see Monarch butterflies overwintering in the eucalyptus grove.
Even if you are not a birding enthusiast, the trails in the preserve are easy and make for a great stroll. Dogs are not allowed in the preserve. There is no fee to enter.
Stop by the Audobon Overlook
The Audobon Overlook is a very brief walk from the parking area to a viewing spot that offers a magnificent view of the estuary and marshlands, as well as Morro Rock.
If you enjoy birding, or photography, be sure to stop by! Bring your binoculars or zoom lens and scan the estuary for sea birds.
You may even be able to spot great white egrets in the distance with your naked eyes, and if you are lucky you may see a bird or two close by.
Also do not forget to scan the vegetation around the overlook for land birds. We spotted several black phoebes and some hummingbirds in the bushes when we visited.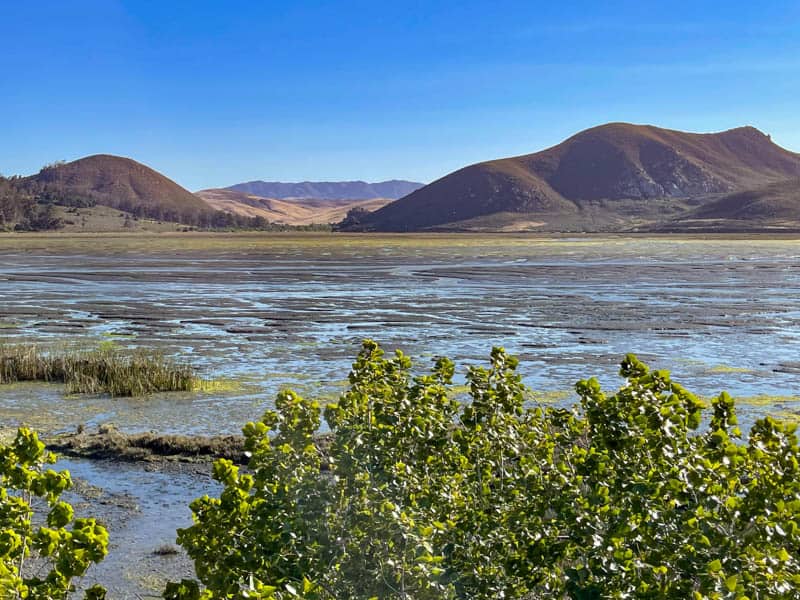 Visit the Los Osos Oaks State Natural Reserve
The Los Osos Oaks State Natural Reserve is yet another place in Los Osos where you can enjoy nature. The reserve protects a group of oak trees that are several hundred years old.
Three trails run through the 90-acre park, making it easy to explore and view the oaks up close. Los Osos Creek Trail, Chumash Trail, and Oak View Trail are all relatively easy walks, with the longest at about 1.5 miles.
The trails are mainly shaded, passing under the oak canopy, so this is a great park to visit in the afternoon. The oak branches create interesting natural sculptures, making them great photo subjects.
Dogs are not allowed in the park, which is free to enter.
Kayak Morro Bay Estuary
If you love water activities, you will want to set aside time to kayak beautiful Morro Bay National Estuary. Not only is the surrounding landscape serene and beautiful, you will also be treated to sightings of a variety of birds, especially in the winter.
Morro Bay Estuary extends from the southern part of Morro Bay to Los Osos-Baywood. You can rent kayaks at A Kayak Shack, located along State Park Road, or join kayaking tours offered by Central Coast Outdoors.
Look for sea otters, harbor seals, and sea lions, as well as numerous varieties of birds as you paddle, and be sure to bring binoculars, and a zoom lens if you enjoy bird and wildlife photography.
Enjoy the Street Art
Just like in neighboring Morro Bay, you will find murals to admire in Los Oso-Baywood. We could not find a map to do a structured self-guided tour, but if you drive around, or walk around town, you will come across some of the art!
We saw several murals along Los Osos Valley Road and in downtown Los Osos-Baywood. Many of the murals document the life and history of the area, or local flora and fauna.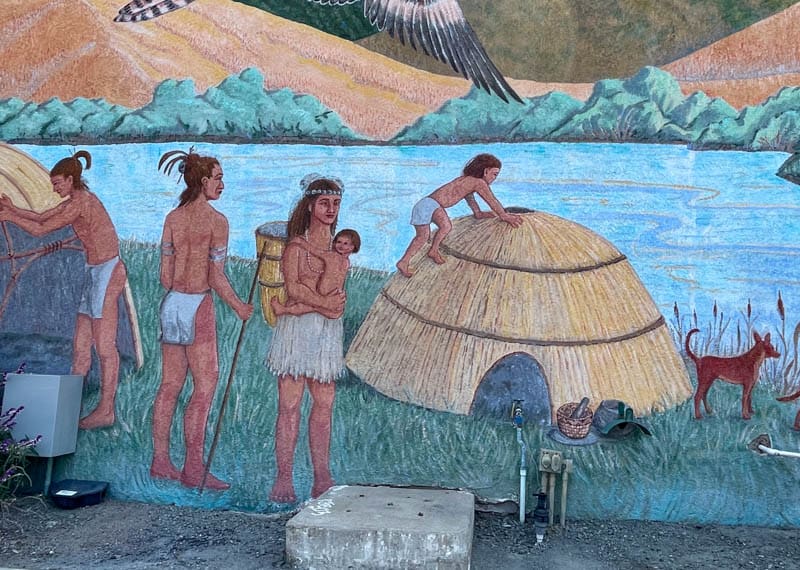 Stroll Downtown Los Osos and Baywood
Downtown Los Osos and Baywood are charming, with small boutique shops, antique stores, and a surprising number of quality art galleries given the small size of the communities. Some galleries are also working studios.
Costa Gallery showcases the work of California artists. Left Field Gallery focuses on contemporary art. Roots Gallery offers contemporary California art. Some art galleries in Los Osos are open only be appointment, so call ahead if you want to browse or buy.
Central Coast Glass Blowing and Fusing offers gorgeous glass pieces in their Baywood Park gallery. For handmade pottery items for the kitchen and home, stop by Back Bay Pottery in Los Osos: the colors will charm you.
The weekly Los Osos & Baywood Farmers' Market is held on Monday afternoons and makes for a fun browse, with local produce and fruit, fresh flowers and plants, and yum prepared foods: you will smell the kettle corn as soon as you approach. The market is held at Second and Santa Maria Avenue.
Hike the Cerro Cabrillo Trail
Cerro Cabrillo is one of the nine volcanic plugs spread out along California's Central Coast, between Morro Bay and San Luis Obispo. Morro Rock is the northernmost, then Black Hill, which also makes for a great hike, and then Cabrillo Peak.
Cerro Cabrillo is the tallest peak in Morro Bay State Park.
The trail to the summit, which starts with Quarry Trail, is unmaintained and is classed as challenging, so check with a state park docent to assess its suitability before you set out.
For a shorter hike, you can take Quarry Trail to Chorro Trail up to Turtle Rock, a peak that lies between Black Hill and Cerro Cabrillo.
Or take Live Oak Trail from Quarry Trail to Portola Point, which offers magnificent views of Morro Bay.
If you do not wish to attempt the hike, you can still stop off at the parking area for Quarry Trail along South Bay Boulevard and snap photos of the beautiful peak.
Things to Do Near Los Osos, CA
There are many charming little towns clustered relatively close together in San Luis Obispo County. So it's easy to base yourself in Los Osos and explore the rest of the region if you allow enough time.
North of Los Osos-Baywood, Morro Bay is a picturesque Central Coast town known for the stunning Morro Rock that sits just offshore.
It offers superb marine life viewing and birdwatching, and a variety of activities both on the water and on land. Many visitors combine Morro Bay and Los Osos for a fabulous outdoors-focused vacation.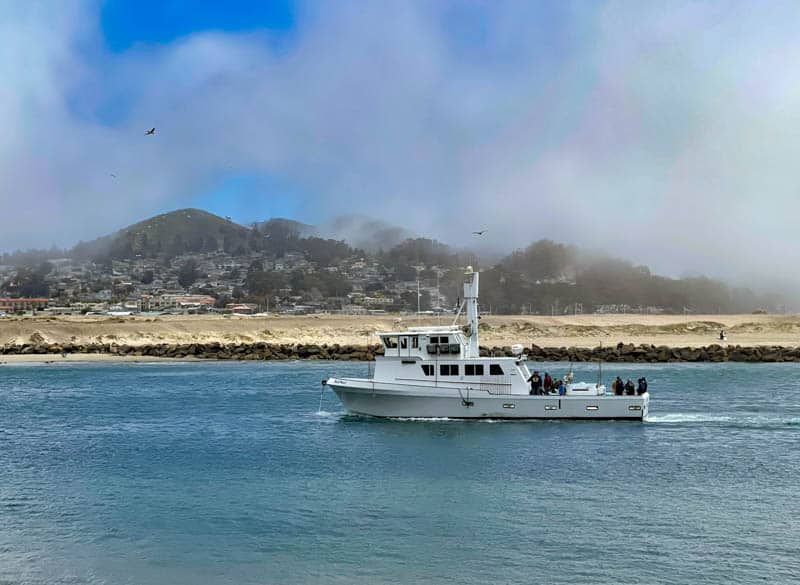 Further north, explore Cayucos with its fishing-village ambience, the tiny village of Cambria, and the miniscule town of Harmony. Take a tour of Hearst Castle and enjoy the beaches at San Simeon.
A little bit southeast of Los Osos-Baywood is San Luis Obispo, which features a historic Spanish mission and a lively downtown full of boutique shops, quality eateries, and tasting rooms, as well as a few delightful museums.
South of Los Osos-Baywood, you will find the charming beach towns of Avila Beach and Pismo Beach.
While their beaches are a huge draw, you will also find that the little towns make for delightful strolls and offer top-notch food and drink options.
Getting to Los Osos, California
The SLO County Regional Airport, located near San Luis Obispo, has flight service from several major US cities. But many visitors to Los Osos-Baywood arrive by road. Los Osos is a fun stop on a California road trip itinerary, or a Pacific Coast Highway road trip.
At just about 3 hours and 45 minutes by the highway, Los Osos makes for one of the nicest weekend getaways from San Francisco (or the SF Bay Area) or LA you can do, especially if you want to relax amidst nature.
At about 5 hours and 15 minutes, Los Osos-Baywood is a longer drive, but still very doable if you are looking for weekend getaways from San Diego.
From San Francisco, take US 101 S to Los Osos, and from LA take US 101 N. From San Diego, take US 5 N to US 101 N.
If time isn't a limitation, drive scenic California Highway 1 instead of taking the freeway. There is so much beauty to experience on the drive!
Going south from San Francisco or the SF Bay Area, you can stop at charming Carmel-by-the-Sea or exciting Monterey, do the 17-Mile Drive through Pebble Beach, or enjoy must-visit sights in Big Sur along the way.
Coming north from LA or points south, allow for time to enjoy beautiful Santa Barbara or do a slight detour inland to tour charming Solvang and the Santa Ynez Valley en route.
Looking for a car rental for your Los Osos-Baywood getaway? Check out Discover Cars! They scour multiple providers, from brand to budget to get the best price for you.
Where to Stay in Los Osos, CA
Hotels in Los Osos, CA
Back Bay Inn is a charming bed-and-breakfast, located on the south shore of Morro Bay. The property offers close to two dozen rooms and suites, some with views of the bay. Enjoy lovely landscaped gardens and daily breakfast at Back Bay Cafe.
Book on expedia.com | Book on hotels.com
Sea Pines Golf Resort offers spacious rooms and an onsite restaurant. The property features an outdoor spa and waterfall, and a nine-hole golf course and two putting greens. The location is a short drive from Montana de Oro State Park and other hiking and water activities.
Book on booking.com | Book on hotels.com
Vacation Rentals in Los Osos, CA
This lovely cottage makes a dreamy escape for a couple, but also has bunk beds to accommodate a small family. The property comes with a full kitchen and washer and dryer. It is located conveniently to hiking trails and a short drive to many restaurants in town.
Book a stay here!
This gorgeous house has expansive ocean views and is perfect either for a small family visit or for a larger family or small group get-together. You can rent the bottom floor, with 2 bedrooms and 2 baths, or the whole house, with 5 bedrooms and 5 baths. The home is located at the entrance to Montana de Oro State Park.
Book a stay here!
Where to Eat in Los Osos, CA
Celia's Garden Cafe is conveniently located along Los Osos Valley Road, and has lots of outdoor seating. The cafe offers breakfast all day, but their lunch menu is great as well, with a variety of hot and cold sandwiches, wraps, and salads.
We had sandwiches for lunch at Celia's after a morning spent hiking in Montana de Oro State Park. The tuna melt and the grilled cheese were well-made and delicious.
La Palapa is the place to go for amazing Mexican. The portions are enormous and the taste awesome. The seafood is very fresh and flavorful. They tend to get busy, so arrive early or late for dinner to avoid a wait.
Nichols Pizza & Grill offers pizza, burgers, and sandwiches, along with a variety of beers and drinks. They have outside seating and a convenient location on Los Osos Valley Road.
The Best Time to Visit Los Osos, California
Los Osos is located along the Pacific Ocean, and has a temperate climate, making it a year-round destination.
Winter is rainy season in California, so pick a dry patch to visit, or bring along rain gear. Winter does offer magnificent sunsets and fabulous birdwatching. Look for overwintering monarch butterflies at the eucalyptus grove in the Sweet Springs Nature Preserve.
Spring brings lush green and lots of wildflowers. Temperatures are great for hiking, and you will likely have clear bright days with lovely views of the water and the hills. Migratory whales can be seen in both winter and spring.
In the summer, expect the marine layer to obstruct views in the mornings. The fog generally clears by mid-day, so afternoons and evenings offer the best opportunities for ocean photos. Temperatures remain moderate and it can get cool and breezy by the water, so layers are recommended!
Fall generally features clear days with warmer temperatures during the Indian summer period. We generally plan long intense hikes for the morning and water activities in the afternoons.
*****
Planning to explore more of the California coast? Check out some of our other travel guides!
Did you find this article informative? Pin it for later reference!