Santa Ynez is a tiny town in the famed Santa Ynez Valley. Despite its small size, the town of Santa Ynez packs a mighty punch when it comes to fun things to do.
Part of one of California's most famous wine regions, the town of Santa Ynez is a must-visit for great food and drink in a gorgeous setting.
But there's a lot more to do here, from shopping to outdoor activities.
And it's a great little place to just slow down and enjoy a relaxing vacation, whether you visit for a day or a week.
Some links on this page may be affiliate links. If you click an affiliate link and make a purchase, we may receive a small commission, at no extra cost to you. For more details, refer to our disclosure.
Like other parts of the Santa Ynez Valley, the town of Santa Ynez is one of the easiest day trips from Santa Barbara (or LA) you can do, or a relaxing weekend getaway from LA.
Santa Ynez is located close to the other towns of Santa Ynez Valley, so there's plenty more to see and do in the region if you plan a longer visit.
Considering a visit to Santa Ynez, California? Read on to discover the best things to do in this charming Santa Ynez Valley community, plus our suggestions for where to stay and eat.
Things to Do in Santa Ynez
Stroll Downtown Santa Ynez
Possibly the most enjoyable thing to do in Santa Ynez is just to stroll the tiny downtown.
Many of the buildings along the main street feature 1880s-style facades, making them a joy to view and photograph.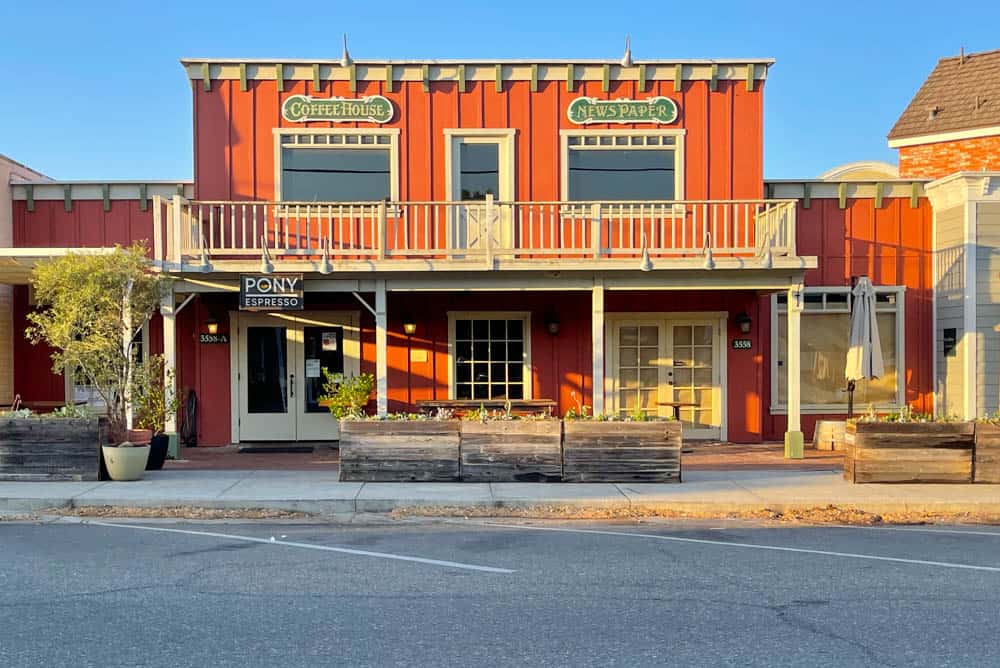 We've walked up and down Sagunto Street many times, taking in the pretty facades and storefronts. There are also cafes, where you can snag an outside table, perfect for people watching while you enjoy a drink.
Browse the many stores and art galleries, and enjoy the ambience, whether you choose a quiet time in the morning, when you'll be able to take photos in relative solitude, or you walk during the day or evening, when the picturesque streets are lively with visitors.
Visit the Santa Ynez Valley Historical Society Museum
Santa Ynez Valley Historical Society Museum and Parks-Janeway Carriage House is located right in the heart of downtown Santa Ynez, making it easy to pop in for a visit.
The museum showcases the communities of California's Central Coast, with exhibitions and events.
In the Parks-Janeway Carriage House, you can view the largest collection of horse-drawn vehicles in the western USA, plus beautiful saddles, riding gear, and period clothing.
The museum also holds varied multi-month exhibitions that feature local artwork or exhibits that shed light on the history and culture of the valley.
The museum is located at 3596 Sagunto Street, and at the time of writing, is open Saturdays and Sundays from noon until 4 p.m. There is an admission fee. For current information on hours and admission, visit the museum's website.
Do Wine Tasting in Town
Although you'll want to visit pretty vineyards to do your wine tastings in Santa Ynez if you have the time, you'll find wine tasting rooms in downtown Santa Ynez as well. Plus, many downtown restaurants offer a wide selection of local wines.
The CrossHatch wine tasting room is located on Edison Street, in a picturesque building. The tasting room is comfortable and spacious, and you can try their unique small batch co-fermented blends here.
Carr Winery has a large wine storage facility in downtown Santa Ynez. There are bars and booths in the warehouse, where you can enjoy flights, wines by the glass, or wine on tap. Varietals include pinot gris, pinot noir, syrah, grenache, and cabernet franc.
Central California Wines, located on Sagunto Street, is a boutique distributor of Central Coast wines, and a good one-stop shop for tastings of labels from the best wineries in the region.
Shop!
Downtown Santa Ynez is very small, but if you enjoy shopping, there are several boutiques and galleries to browse, interspersed with tack shops and feeding supply stores!
Charlotte's Treasures features gorgeous silver jewelry for both women and men, along with western tack and art. If you enjoy shopping for locally-made items, this is a fun store to visit.
Valerie's Vintage & Supply Co. is another fun browse. Here you can shop for furniture the owner and her husband build, as well as unique gifts and antiques. Another great place to shop local!
Finch & Fern is a home and garden boutique, with lots of rustic chic furniture, decor, and gift items. The owner offers interior design workshops as well!
There are a number of clothing stores: Ranch-N-Back offers quality ranch products and gifts, like hats and leather belts. Devine Supply offers a nice selection of men's and women's clothing and gifts. Plenty Boutique offers clothing, jewelry, and gifts.
Take a Tour of Nearby Vineyards
Driving the tranquil country roads around town to visit nearby wineries is one of the best things to do in Santa Ynez. And indeed in every other town in the Santa Ynez Valley as well.
The region is beautiful, with rolling hills and gnarled old oaks, working ranches, and of course, vineyards.
There are lots of wine estates around town from which to pick, but here are some of our favorites:
Brave & Maiden Estate is located along Refugio Road. Featuring impressive architecture and expansive vineyard views, wine tasting experiences here are some of the best in the area. Tastings are by appointment.
Sunstone Winery boasts an extremely attractive winery building reminiscent of a rustic Provencal villa, and beautiful courtyards redolent with the aromas of lavender and rosemary. The tasting area includes a kitchen with a wood-burning oven. Estate wines feature organically grown grapes.
Gainey Vineyard is a family owned and operated winemaking endeavor in Santa Ynez. The Spanish-style winery was established in 1984, and today they produce a number of limited edition wines. Tastings on the Upper Terrace offer gorgeous views of surrounding vineyards.
Roblar Winery and Vineyards is located just off CA-154. Set amongst mature oak trees, the property oozes charm and relaxation.
Tastings in the trellis-covered patio come with sweeping views of vineyards, but their tasting room, featuring an indoor-outdoor fireplace, is also fabulous.
Enjoy Olive Oil Tasting
Rancho Olivos is a family-run farm in Santa Ynez, where the owners grow olives and craft extra virgin olive oils. The olives are hand-picked and milled within a few hours from harvest, to ensure freshness and quality.
You can visit the farmstead and taste the artisanal olive oils at Rancho Olivos. Tastings occur at a stand right next to the beautiful olive groves, and oils are available for purchase.
We love their garlic olive oil and Meyer lemon olive oil, but they have a wide variety of infused oils and vinegars from which to choose.
Rancho Olivos also offers farm stays, if you are looking to enjoy a quiet stay amidst the olive groves. You can visit with the farm animals as well!
Try Your Luck at the Chumash Casino
If you are feeling lucky, visit the Chumash Casino Resort in Santa Ynez! Other than gaming, the resort offers high-rise accommodations, a pool and spa, several eateries, and shopping.
You can also enjoy a variety of entertainment at the casino, featuring both local and national musicians and performers.
Eat at S.Y. Kitchen
S.Y. Kitchen is one of our favorite restaurants, not just in the town of Santa Ynez, but in all of Santa Ynez Valley. We've eaten here a number of times and in every case we've had an exceptional dining experience.
The Cucina Rustica offers impeccably-prepared Italian fare, using seasonal locally-sourced ingredients. Their yellow beet salad is amazing, as is the vegetarian minestrone: it's our favorite lunch combination at the restaurant. The spaghetti with clams is delightful, as are the truffle sliders.
We haven't yet worked our way through the entire menu, because we gravitate to our tried-and-true favorites most times we visit, but everything we have tried has been excellent.
S.Y. Kitchen is located on Faraday Street in downtown Santa Ynez. Reservations are a must, especially on the weekends.
Enjoy the Outdoors
The countryside around Santa Ynez is beautiful, so allow for time to enjoy the scenery.
You can walk or bike the country roads, go hiking, or enjoy horseback riding (Vino Vaqueros offers horseback rides in Santa Ynez).
Spring is an especially beautiful time to be outdoors in the Santa Ynez Valley, when wildflowers add color to the landscape and the hills are bright green.
The adventurous can enjoy a hot air balloon ride in Santa Ynez. Rides are offered by Sky's the Limit Ballooning, and you can opt for a sunrise or sunset ride.
You'll float over the vineyards and over Michael Jackson's Neverland Ranch, and take in views of the San Rafael mountains.
Things to Do Near Santa Ynez
The towns of picturesque Santa Ynez Valley are clustered close together, so no matter which town you pick as your base, you will find it super easy to explore the others as well, as long as you have the time.
Experience a little bit of Europe in California by visiting Solvang, which styles itself as the Danish Capital of America. Here you can sample aebleskivers, fluffy Danish fried dough balls.
Enjoy the Danish-style architecture, shop for souvenirs, do wine tasting, and tour the Old Mission Santa Ynes and small museums in town.
In nearby Buellton, sample craft spirits and visit the Hitching Post 2 Restaurant, one of the locales for the movie Sideways. At Ostrichland, you can feed ostriches and emus. Andersen's Pea Soup is a Buellton tradition as well.
Los Olivos is known for its numerous wineries and restaurants. Downtown Los Olivos features lots of unique shops and galleries. Los Alamos also has a fun downtown, with Old West facades.
Ballard is tiny, but has many heritage homes and a miniature horse ranch. Bob's Well Bread, with locations in both Los Alamos and Ballard, is a must visit!
Getting to Santa Ynez, CA
Santa Ynez is located in the Santa Ynez Valley near Santa Barbara on the California Central Coast. If you are flying in, Santa Barbara is the nearest sizable airport.
Most visitors to Santa Ynez arrive by road. The town is a short drive of about 31 miles from Santa Barbara, along CA-154 W, a very scenic route. This makes Santa Ynez (and the valley in general) a very popular wine country getaway from Santa Barbara.
Santa Ynez is also within reasonable driving distance of the LA area. You can either drive the scenic route up Highway One, or opt for the quickest route based on traffic. The town and the valley also make for fun weekend getaways from San Diego, albeit with more driving at about 245 miles each way.
If you are visiting from San Luis Obispo, the drive south is about 72 miles, along US-101 S. Santa Ynez is about 300 miles south of San Francisco, a drive of about 4 hours and 30 minutes via the freeway.
The town, and the Santa Ynez Valley in general, make for fun weekend getaways from San Francisco.
Santa Ynez, and the Santa Ynez Valley, also make for a great stop on a California road trip!
Looking for a car rental for your Santa Ynez getaway? Check out Discover Cars! They scour multiple providers to get the best price for you, including brands like Hertz, Enterprise, Alamo, Budget, and Sixt.
Where to Stay in Santa Ynez, California
Hotels in Santa Ynez, CA
Santa Ynez Inn is a luxury boutique property that offers a full breakfast and afternoon wine hour each day of your stay. Rooms are spacious and well-appointed. Many rooms feature fireplaces and whirlpool tubs. Suites come with private balconies and steam showers. Book a stay here!
ForFriends Inn is located in downtown Santa Ynez. Offering just eight rooms, the bed and breakfast hosts three-course breakfasts and afternoon wine and hors d'oeuvres. Rooms are lovely and spacious, and bathrooms modern. The covered porch makes for a beautiful gathering spot. Book a stay here!
Vacation Rentals in Santa Ynez, CA
This beautiful VRBO cottage is set amidst lavender, vineyards, and olive trees, and sleeps up to four guests. Located about 3 miles from downtown Santa Ynez, the property offers easy access to many area wineries and is the perfect place to relax. Watch the sunset from the patio and enjoy the fireplace on cool evenings! Book a stay here!
This lovely cottage has two bedrooms and one bathroom and is about 3 miles from the town center. The grounds are beautiful and the cottage spacious, with relaxing views and a front patio for enjoying a glass of wine in the evenings. A fenced in yard is great if you are planning to visit with your dog. Book a stay here!
This charming casita is set on a property of 10 acres, with striking mountain views. It features two bedrooms and one full bathroom. You'll be just 0.5 mile from the Santa Ynez town center, while relaxing in an idyllic countryside setting. There is a patio with seating and an outdoor grill. Book a stay here!
Where to Eat in Santa Ynez
While SY Kitchen is definitely a must-visit restaurant in Santa Ynez, here are some of our other favorite places to eat in the Santa Ynez Valley town:
Brothers Restaurant at the Red Barn offers New American cuisine and a rustic ambience in keeping with the town's vibes. They have a good-sized list of Central Coast wines to pair with your food. Both lunch and dinner are offered.
Trattoria Grappolo offers Italian favorites, from wood-fired pizza and pasta to lots of seafood main courses. They are located on Sagunto Street in downtown Santa Ynez, and only open for dinner.
Dos Carlitos Restaurant and Tequila Bar offers quality Mexican fare. It's located on Sagunto Street in downtown Santa Ynez. Their grilled vegetable tostada and grilled Anaheim chiles are both excellent. They are open for both lunch and dinner, and do not accept reservations.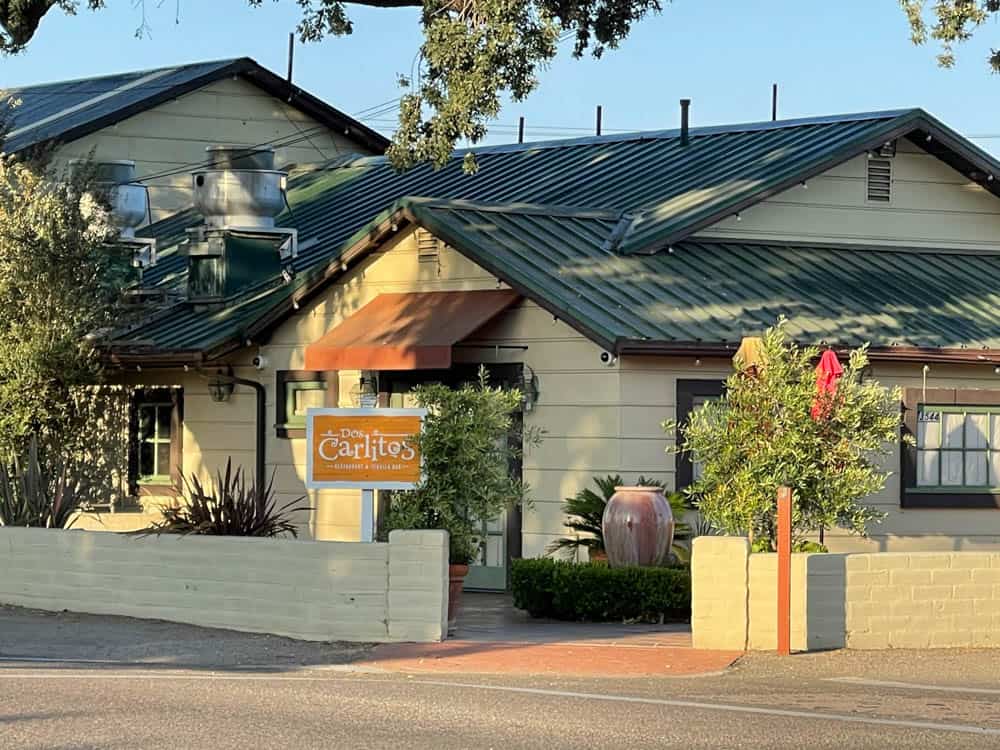 The Best Time to Visit Santa Ynez, California
Santa Ynez is a year-round destination, and you can visit any time of year and find lots to see and do. In high summer, expect daytime highs in the 90s. Winter days see temperatures in the mid-60s, but it can get cold early and late, so bring layers.
For the best weather, we like to visit Santa Ynez in the spring and fall. The valley is lush and green in the spring, and you will see wildflowers blooming all over the countryside. Fall is harvest season, so you can enjoy grape stomps and other fun events.
In June each year, the town celebrates Old Santa Ynez Day, with a parade, street fair with arts and crafts, and live music. It's a fun time to visit!
Planning to explore more of Central California? Check out some of our other travel guides!
Did you find this article informative? Pin it for later reference!