Looking to visit the best wine regions in California?
California's wine regions produce a wide variety of wines, influenced by the soil and climate in each growing area. From cool coastal regions shrouded in fog to the sunshine-soaked valleys of the interior, California boasts many microclimates suited for viticulture.
Did you know that more than half of the American Viticultural Areas in the USA are in California? Most California counties grow wine grapes, and you can sample local wines almost anywhere you go in the Golden State.
Some links on this page may be affiliate links. If you click an affiliate link and make a purchase, we may receive a small commission, at no extra cost to you. For more details, refer to our disclosure.
Wine lovers will definitely deem it a treat to travel the state, exploring the different wine regions, but even if you don't enjoy wine, you will want to experience the beauty of these regions: plus, you will find things to do in major wine growing regions besides wine tastings.
A Brief History of Wine Growing in California
Wine has been produced in the Golden State since the 18th century, when Spanish missionaries grew grapes in vineyards alongside each of the 21 California missions they built. The "Mission grape" was the major variety of grape grown in California until the 20th century.
With the population influx caused by the Gold Rush, demand for wine grew, and the first commercial winery, Buena Vista Winery, was established in Sonoma in 1857. Just two years later, Napa County got its first commercial winery.
By the dawn of the 20th century, California was producing several hundred varieties of grapes, and was home to about 800 wineries.
But in 1919, Prohibition brought the rapidly expanding production to a screeching halt and most of the existing wineries went out of business.
It took several decades after the repeal of Prohibition for California's wine production to get back on track.
Although the 1960s saw a resurgence in wine making, it was the Judgment of Paris in 1976 that put California firmly on the international wine map. California wines won both the red and the white categories against competitors from Bordeaux and Burgundy in France.
Today, there are over 1,200 wineries in California, and it is one of the largest wine producing regions in the world. You will find wine regions in California's North Coast, Central Coast, South Coast, and the Central Valley.
Best Wine Regions in California
Napa Valley
Without question the top wine region in California, Napa Valley is home to 400+ wineries.
In a setting reminiscent of Tuscany, with gently rolling hills and picturesque little towns, Napa wineries produce a variety of wines, from full-bodied cabernet sauvignons and fruity merlots to crisp chardonnays and zesty zinfandels.
Apart from world-class wine, Napa Valley's beautiful wineries showcase architecture, art, beautiful gardens and grounds, and many come with a rich history as well.
Where else can you see a Tuscan castle, a China-inspired lake, a Rhine estate, an array of Persian columns, and topnotch art within a few miles of each other?
California Highway 29 runs through the valley, providing access to area wineries and tasting rooms. For a more laid-back experience, drive the parallel Silverado Trail, and stop for tastings of petite sirah at Stag's Leap Wine Cellars and sparkling wine at Mumm.
There are many other things to do in Napa Valley besides wine tastings. Nosh on farm-fresh cuisine at some of the best eateries in the state, waft over the vineyards in a hot air balloon, shop at boutiques and galleries in Napa Valley towns, soak in a mud bath in Calistoga, and enjoy pampered stays at luxurious resorts.
Mendocino County
In the north of the state, tranquil Anderson Valley in southwestern Mendocino County produces a variety of wines, from the difficult-to-pronounce but easy-to-drink gewürztraminers, to rieslings, pinot blancs, and sparkling wines.
Anderson Valley is easy to access from the San Francisco Bay Area via US 101 N and California SR 128 W from Cloverdale, along an inland route to Mendocino.
Set in redwood country, the quiet valley offers a laid-back setting for some sublime wine tasting experiences.
You will find more than two dozen tasting rooms in the hamlets of Boonville, Philo, and Navarro.
Roederer Estate offers lively vintage and non-vintage brut rosés. Navarro Vineyards is known for a variety of wines, several of them award-winning. Sit outside to enjoy your wine along with views!
At Pennyroyal Farm, you can combine wine tasting with cheeses made on the farm, and visit with the goats as well.
Bring a picnic to enjoy while you explore the valley. End your visit with a spectacular ride through the 11-mile redwood tunnel to the sea. Navarro River Redwoods State Park also offers swimming, canoeing or kayaking, and wildlife viewing.
Sonoma County
Sonoma County stretches from the coast to the Mayacama Mountains, and its 18 viticultural areas produce more than 50 varieties of grapes, making it the largest wine producing region in Northern California.
Chardonnay, cabernet sauvignon, and pinot noir are the dominant grape varieties grown in Sonoma County.
You will find the Sonoma countryside more pastoral and less glitzy than neighboring Napa, making for a laid-back, charming wine touring experience.
But that's not to say that you won't find beautiful wineries in Sonoma. Sonoma wineries showcase French chateaus to Spanish mission-inspired architecture, quirky art, and gorgeous gardens.
Sample single-vineyard chardonnays or pinot noirs at Patz & Hall in Sonoma. Also, in Sonoma, a tasting in the Hacienda at Scribe Winery is a must. For sparkling wine, visit family-owned Iron Horse in Sebastopol. Taste estate wines and olive oils at Jordan Vineyard & Winery in Healdsburg.
Visit between May and July to enjoy the lavender fields at Matanzas Creek Winery. Try the fun Escape the Chateau experience at Chateau Saint Jean.
Go hot air ballooning in Windsor, enjoy a spa day, walk among redwoods, float the Russian River, drive the gorgeous Sonoma Coast, and sample world-class cuisine in area restaurants.
Santa Ynez Valley
One of California's prettiest wine regions, the Santa Ynez Valley has a small cluster of picturesque towns dotted about the valley, any of which makes a wonderful base from which to explore the region.
You will also find numerous tasting rooms in the towns of Solvang and Los Olivos.
Easy to access from Santa Barbara or the LA area, the Santa Ynez Valley also makes for a great stop on a Pacific Coast Highway trip or a California road trip.
While any time of year is great for a visit to the Santa Ynez Valley, we especially enjoy visiting in the spring, when the hills are a beautiful green, or in the fall.
The wine offerings here are diverse, ranging from pinot noir and chardonnay to sirah and sauvignon blanc, and the ambience is relaxed and informal, making for a charming wine-tasting experience.
Bike wine-tasting tours of the valley are very popular. Rusack Vineyards in open to the public, as is Buttonwood Farm & Winery. Star Lane Vineyard is beautiful.
While Solvang is known as the "Danish Capital of America," other towns in the Santa Ynez Valley, like Los Alamos and Santa Ynez, have a Wild West flair.
The eateries here are world class, so bring your appetite. The town centers make for relaxed strolls, with shopping and a smattering of small museums.
Paso Robles
With pretty oak-studded hills and a laid-back, pastoral feel, Paso Robles ("the Pass of the Oaks") is a must-visit California destination for wine lovers.
California Highway 46, which runs both east and west of town, is lined with picturesque vineyards, making Paso Robles one of the most scenic of California's wine regions.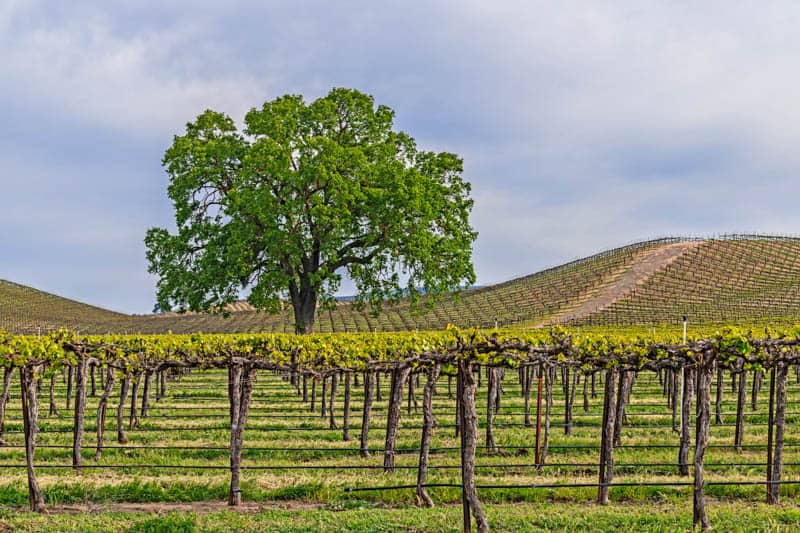 Paso Robles sits almost exactly half-way between San Francisco and LA, about a 3-hour drive from each. Paso Robles is one of our favorite California weekend getaways, with easy access to other Central California Coast towns as well.
The Paso Robles appellation is known for its cabernet sauvignon, merlot, sirah, zinfandel, and chardonnay. Pinot noir and sauvignon blanc are also planted here in smaller quantities.
There are 200 or so wineries in Paso Robles. Many of the wineries here are family-owned, and most are open for vineyard tastings.
Daou Vineyards is set high up on a mountainside, and a tasting here comes with spectacular views. At Sculpterra Winery and Sculpture Garden, you will want to allow some time to stroll the beautiful grounds, with sculptures by local artists. Halter Ranch offers a horseback tour, with a picnic and wine tasting.
Other than wine, Paso Robles offers a charming downtown, historic architecture, and great eateries.
At nearby San Miguel, you can tour Mission San Miguel Arcángel, an 18th century Spanish mission. Or drive to the coast and up California Highway 1 to tour Hearst Castle, the former estate of publishing mogul William Randolph Hearst.
Santa Cruz Mountains
Just south of San Francisco, the mountains of Santa Cruz County are home to more than 70 wineries and wine tasting rooms. You will find some of the oldest wineries in California here.
Ridge Vineyards and David Bruce Winery placed in the Judgment of Paris competition.
The Santa Cruz Mountains are a snap to reach not just from the city of San Francisco, but also from the SF Bay Area in general.
Wine tasting here is oftentimes a personal experience, with unharried vintners often pouring your wine and ready to talk wines with you while you taste.
The beauty of the region makes a wine tour of the Santa Cruz mountains a pleasure, although not many are open to the public. You can also enjoy tastings in the city of Santa Cruz.
The terrain creates a variety of microclimates in the region, allowing for a variety of grapes to be grown. Pinot noir, cabernet sauvignon, chardonnay, merlot, and zinfandel are some of the major varieties.
Ridge Vineyards' Monte Bello Estate offers outdoor tastings of single vineyard estate wines. Their wine is produced using traditional, "pre-industrial" methods.
Beauregard Winery produces pinot noir, cabernets, and chardonnay, but they also produce wine from other fruit. Bring a picnic to enjoy on the grounds with the wine!
Other than wine tastings, the region offers beautiful state parks where you can walk among the redwoods. Mountain biking and horse riding are other ways to explore. The proximity to the ocean means access to beach time, tidepooling, sailing, kayaking, and surfing.
Edna Valley
The Edna Valley wine district is just a short drive from downtown San Luis Obispo, which makes for a fun-filled weekend getaway destination in Central California. Edna Valley's climate and soils are ideal for growing cool-climate grapes.
Edna Valley is home to about thirty wineries, many of which offer tours and tastings. The area is very picturesque, with rolling hills and vineyards as far as the eye can see. Driving the country roads through the area is a joy.
Some of the grape varieties that are grown in Edna Valley include chardonnay, albarino, grenache, and merlot. Chardonnay, which enjoys the long, cool growing season in the valley is the predominant variety.
Edna Valley Vineyard's chardonnays are known for their peachy character. Tolosa Winery offers deep red pinot noirs redolent of spice and berries. At Chamisal Vineyards, you can taste chardonnays and pinot noirs with a view of the estate vineyard.
Other than wine, you will love strolling San Luis Obispo's lively downtown.
Visit the Mission San Luis Obispo de Tolosa, tour the many small museums, and enjoy creekside dining. San Luis Obispo has so many quality restaurants that you will be spoiled for choice. Downtown SLO is a great place to sample Santa Maria style barbecue.
Along the coast to the north, Morro Bay, Cayucos, and Cambria offer beaches and fishing village vibes. To the south enjoy more beaches at Avila Beach and Pismo Beach.
Carmel Valley
Just two hours south of San Francisco, Carmel Valley offers a laid-back, pastoral feel that will make you want to draw a deep breath and relax. The valley is home to a few dozen vineyards and tasting rooms, perfect for an informal, leisurely wine tour.
Cabernet sauvignon and merlot are the dominant varieties grown in Carmel Valley, with some pinot noir and chardonnay in the lower lying areas of the valley. Carmel Valley tastings offer the opportunity to chat with winery owners and winemakers in a relaxed setting.
Bernardus Winery offers tastings in its Carmel Valley tasting room with outdoor patio, plus experiences that include tours of the vineyards and information on the winemaking process. At Twisted Roots Vineyard, the Old Vine Zinfandel is made from grapes from 100-year-old-vines!
Carmel Valley Village is a joy to visit, with its fine eateries, art galleries, cute antique and boutique stores, and wine tasting rooms. You could easily spend a weekend just savoring the charm of Carmel Valley, but other towns in the beautiful Monterey Peninsula are only a short drive away.
Nearby, River Road in Salinas and the Paicines AVA feature more wine tasting opportunities. Carmel-by-the-Sea offers numerous wine tasting rooms in one walkable square mile. Monterey has a world-famous aquarium and opportunities for outdoor fun. Pacific Grove has many historic homes to tour, and a gorgeous ocean front.
Temecula Valley
In Southern California, Temecula Valley is home to more than three dozen wineries, many of which offer tours and wine tasting experiences. Misty mornings in Temecula Valley give way to warm days. Nights tend to be cool.
Temecula Valley is less than one hour's drive from America's Finest City, making it one of the most popular day trips from San Diego. It is also one of the most popular day trips from LA, at a little over an hour away by road.
Numerous varietals are grown in Temecula Valley, including cabernet sauvignon, cabernet franc, zinfandel, sauvignon blanc, riesling, and chardonnay. Italian and Spanish varietals such as sangiovese and tempranillo do well in the climate here.
At 1,400 feet above sea level, Mount Palomar Winery offers spectacular views of the valley along with a variety of quality wines.
Thornton Winery is housed in a French chateau and is known for its award-winning wines and its restaurant, Cafe Champagne.
Maurice Car'rie Vineyard & Winery is housed in a Victorian farmhouse. Enjoy live music at this winery with your tastings.
Old Town Temecula is a must-stroll, with its western style architecture. Choose from the many quality eateries, browse art galleries, antique shops, and boutiques, and enjoy live music and other entertainment options.
Lodi
Located in California's Central Valley, Lodi is becoming an exciting wine country destination. Lodi has a Mediterranean climate, with warm days and cool nights. The Lodi AVA is best known for its old vine zinfandel: the robust red wine has berry and spice notes.
Lodi also produces large quantities of other grape varietals: cabernet sauvignon, chardonnay, merlot, and sauvignon blanc. The Lodi AVA actually produces more wine than Napa plus Sonoma!
Lodi Wine Country is located just ninety minutes from San Francisco. With several dozen wineries, many of which host tours and tastings, a weekend getaway to Lodi is a must for wine lovers.
Klinker Brick Winery has been growing zinfandel grapes since the early 20th century. Enjoy tastings in the barn-turned-tasting-room, or on the patio.
Michael David Vineyards offers delicious old vine zinfandels plus a bakery and cafe on site. Oak Farm Vineyards features majestic oaks, and a beautiful tasting experience on its rose garden terrace.
Lodi has a lovely historic downtown, with great eateries, art galleries and boutiques to browse, murals to photograph, and a fun interactive science museum.
Livermore Valley
Located in the East Bay and easily accessed from San Francisco and the SF Bay Area, the Livermore Valley AVA is home to several dozen wineries.
Livermore has been growing grapes since the 1800s and is one of the oldest viticulture regions in California.
The Livermore AVA produces a wide variety of wines, from cabernet sauvignon to merlot, petite sirah, and sangiovese. Tastings at Livermore wineries tend to be informal, with opportunities to meet the winemakers and to enjoy picnics on the grounds.
Wente Vineyards is a historic Livermore winery. In the early 1900s, they planted chardonnay cuttings imported from France. Enjoy wine tastings, plus music and other events through the year.
Concannon Vineyard, known for its cabernet sauvignon, features a beautiful Victorian house and a large green lawn.
Retzlaff Vineyards makes for a delightful stroll, with its garden, and lovely winery building. Opt for a tour plus tasting experience here!
BoaVentura de Caires Winery is a must-visit for the beautiful views from the grounds. They specialize in cabernets.
Other than wine, Livermore is home to the Lawrence Livermore National Lab Discovery Center, fun for both kids and adults. Del Valle Regional Park and Brushy Peak Regional Preserve offer hiking trails. Downtown Livermore offers many great restaurants.
Malibu Coast
The Malibu Coast is famous for its stunning beaches and world-class eateries, but it is also an AVA worth putting on your visit of wine regions in California to visit. The first vineyard in the region was planted as long ago as the early 1800s!
Easily accessed from the LA area, Santa Barbara, and San Diego, the Malibu Coast AVA is home to more than fifty vineyards producing a variety of award-winning wines. Many wineries are located in the hills, offering panoramic views.
Sirah, cabernet sauvignon, and chardonnay are the dominant varieties in the Malibu AVA, but you will also find other varieties such as sauvignon blanc and merlot.
Cielo Malibu Vineyards features beautiful landscaping and spectacular views. The Tuscan-inspired estate also has old olive trees. Tastings are held in The Barn. Lobo Creek Vineyard is also perched on a hill: the driveway has vineyard views on both sides.
Rosenthal, one of the most well-known Malibu wineries, has a tasting room right off the Pacific Coast Highway, but also offers tastings at its estate on Newton Canyon Road. At Malibu Wines, you can enjoy wine tasting plus pet animals on the Malibu Wine Safari experience.
Other than enjoying the wine, you will want to allow plenty of time to enjoy Malibu's many beautiful beaches. Snap a photo of the pier, visit historic Adamson House and browse the Malibu Country Mart. There are numerous trails to explore if you enjoy hiking.
Map of the Best Wine Regions in California
Did you find this article informative? Pin it for later reference!