Planning a visit to Carmel-by-the-Sea and looking for the best things to do in Carmel?
The quaint and charming village of Carmel-by-the-Sea is a sought after Central California coast vacation destination.
Whether you are a couple looking for that romantic weekend escape, a solo traveler that loves coastal beauty, or a family seeking fun activities, you will find reasons to love Carmel!
Carmel-by-the-Sea is famous for its historic Spanish mission, its crescent-shaped white sand beach, and its storybook cottages that look like they have stepped straight out of a fairy tale. Its cobblestone streets are lined with boutique shops, tasting rooms, and art galleries.
With superbly scenic natural areas, a village that oozes European charm, great food and drink, and enough activities to keep any type of traveler engaged, Carmel is a must-visit California coastal getaway and one of the most romantic places in California you can visit.
Plus, Carmel-by-the-Sea is also close to other communities on the scenic Monterey peninsula, from the historic city of Monterey and the butterfly town of Pacific Grove to bucolic Carmel Valley and ritzy Pebble Beach.
Considering a visit to Carmel? Read on for all the best things to do in Carmel-by-the-Sea, plus our suggestions for places to stay and eat.

Things to Do in Carmel-by-the-Sea
Visit the Carmel Mission
The official name of the Carmel Mission is Mission San Carlos Borromeo del Río Carmelo.
Established in 1771, the Carmel Mission was the second of the missions built in California by the Spanish missionaries led by Father Junípero Serra, who is buried here.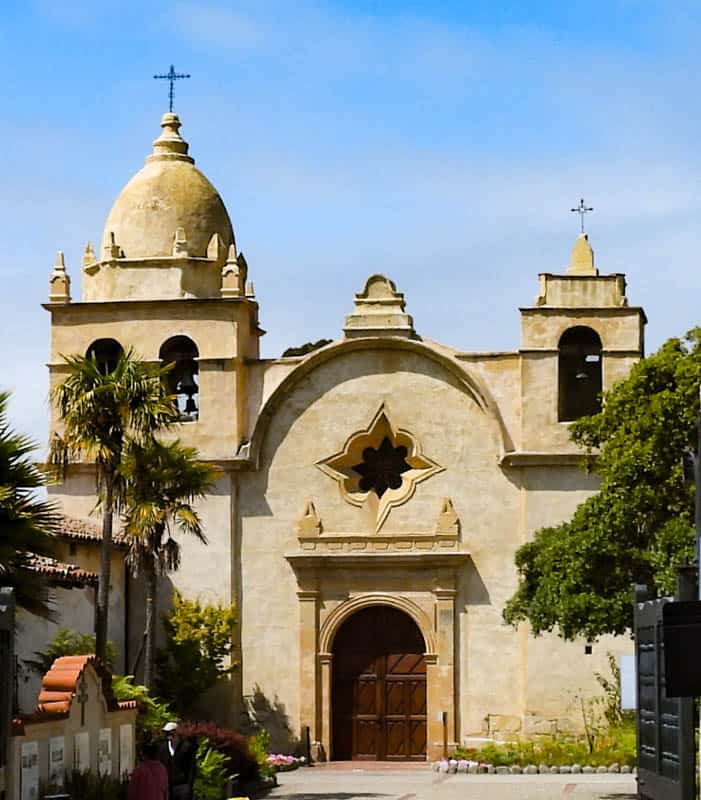 An active church, but also a museum, the beautiful Carmel Mission is a National Historic Landmark. It has been painstakingly restored, and is the only Spanish mission in California that has its original bell tower and bell.
Exploring the Carmel Mission, with its lovely chapel, museum, fountain, and gardens, is one of the top things to do in Carmel. The museum and basilica contain impressive artifacts, and the plantings on the grounds are gorgeous.
The large fountain in the courtyard makes for a great photo!
There is an admission fee, and parking is available but limited, so arrive early in the day. Visit the Carmel Mission website for current hours and fees.
Walk Carmel Beach
Carmel-by-the-Sea is home to not one but two beautiful sandy beaches.
Carmel Beach, located at the bottom of Ocean Avenue, is long and sandy, and fringed with cypresses. It's a great place to experience a west coast sunset!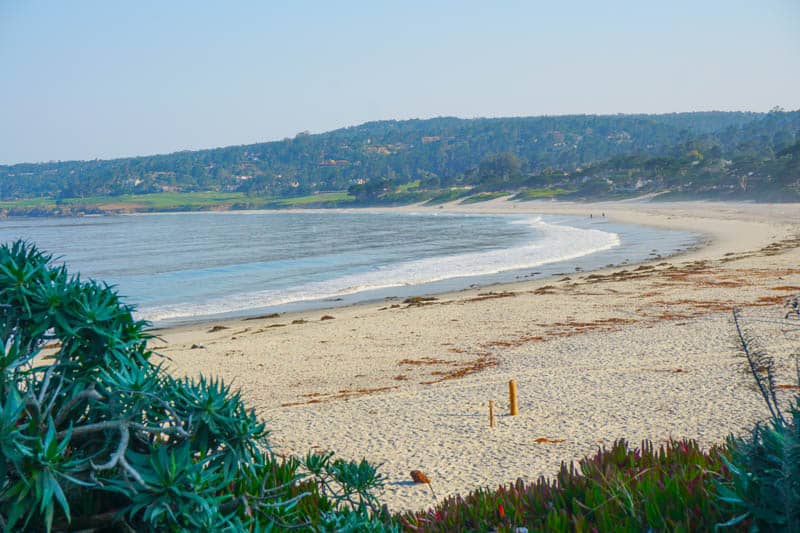 Walking along the beach is a popular activity, and the beach does get busy, especially on weekends.
Wading or playing near the water line are allowed, but know that there are no lifeguards at the beach. You can also surf. Bring a wetsuit because the water can be cold much of the year.
There is a parking area right by the beach, but it is small, and unless you arrive really early, you may want to find a parking spot in the village and walk down.
Dogs under voice control of their owners are allowed on the beach off leash. If you visit in the mornings, or on the weekends, you'll see lots of dogs romping on the beach.
Carmel Beach is considered one of the best Monterey beaches to visit, so if you visit on a clear and bright day, set aside some time to enjoy the sun, sand, and sea!
enjoy Carmel River State Beach
Right around the corner from Carmel Beach is Carmel River State Beach.
The crescent shaped mile long beach is quieter than Carmel Beach, but just as beautiful. The Carmel River flows into the ocean here.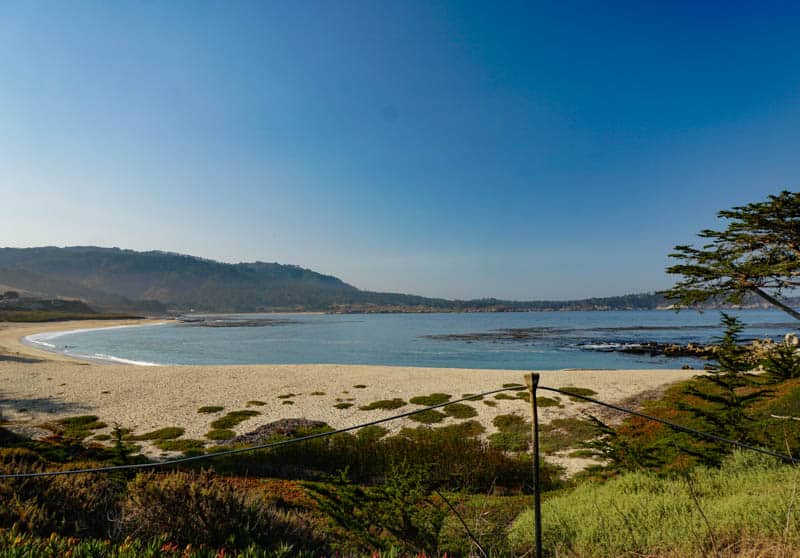 Swimming is not recommended at Carmel River State Beach, on account of dangerous rip tides.
Walk on the beach, go kayaking, or fly a kite.
Dogs are allowed, but must be leashed, because the lagoon here is a habitat for birds.
The parking area is small, and tends to fill up early in the day on nice weather days and on the weekends.
Walk or drive Scenic Road
An oceanfront one-way road that runs parallel to Carmel Beach and beyond, Scenic Road makes for a wonderful drive. On one side is the ocean, and on the other side are beautiful Carmel homes.
The road is very popular, so drive it very early or late in the day for a more peaceful experience.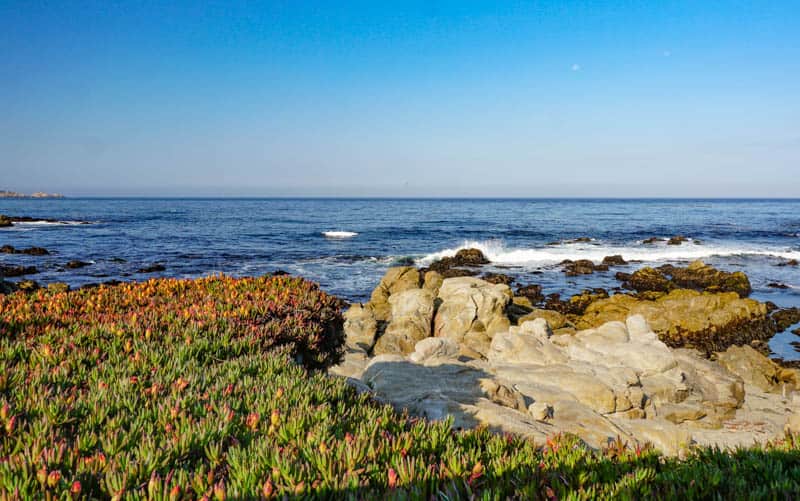 There is also a bluff path that runs along the beach, parallel to the road. It is perfect for a walk, with stunning views of the waves and the beach below.
Cypresses line the road, and in the spring, flowers add an extra touch of brightness.
Dogs are allowed on the trail, but must be leashed.
There are benches to sit and take in the view, and sets of stairs at intervals to get down to the beach or back up to the road.
Scenic Road gets congested during the day. Watch for pedestrians.
Admire Frank Lloyd Wright's Walker House at Carmel Point
At Carmel Point, you will find the Walker House, designed by famed architect Frank Lloyd Wright. The sleek low cabin home sits atop the bluff, the only ocean home designed by Wright.
Mrs. Clinton Walker House, also called the Della Walker house, has walls made from Carmel stone, a sea blue roof, and Cherokee Red painted window frames.
A cypress hedge affords privacy, but you can see the house from the beach or from the street.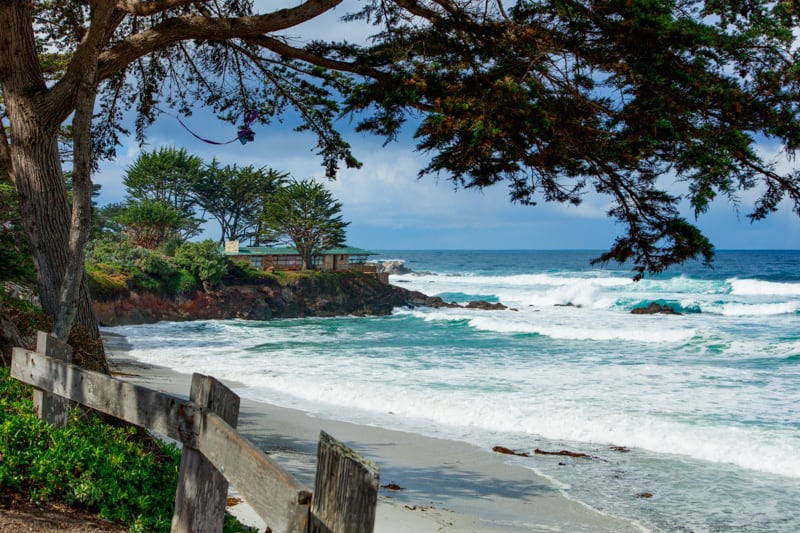 On one day a year, the Walker family opens the house to the public for the Carmel Annual House & Garden Tour.
Another architecturally significant home at Carmel Point is Butterfly House, designed by Frank Wynkoop in 1951. With its winged roof, the home sits on a rocky outcropping, offering fabulous ocean views.
The one-story home is a mid-century modern, and was built as a home for the architect and his family.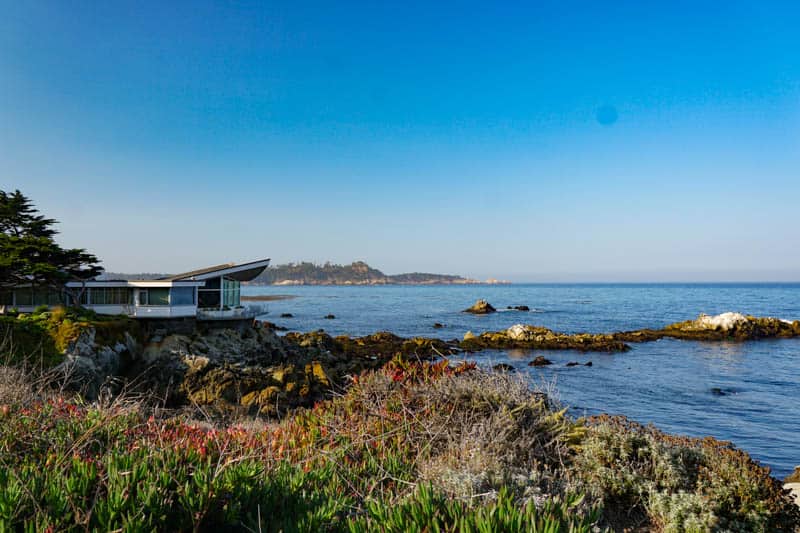 Birdwatch at the Carmel River Bird Sanctuary
Carmel River State Beach includes a lagoon. The lagoon, and the river corridor just upstream, are home to the Carmel River Bird Sanctuary. If you enjoy birding, bring your binoculars and camera with zoom lens!
You will see lots of stately pelicans in the lagoon, which is like a busy airport, with birds taking off and swooping down to land every few seconds.
While pelicans, Western gulls, and Brandt's cormorants are common in the lagoon, more than 350 species have been spotted in the area.
If you are lucky, you may even see the endangered western snowy plover on the beach here! The little bird, about the size of a sparrow, nests on the beach.
In the fresh water upstream, you will find lots of ducks. Many land birds and raptors love the riparian corridor as well.
Did You Know?
Carmel-by-the-Sea homes and buildings do not have numbers! They are identified only by the cross streets for their location. Because there are no numbered addresses, residents and businesses go to the post office to pick up their mail.

There are no street lights in Carmel, so bring a flashlight if you plan to be out at night.

And heels beyond a certain height are not permitted, because tree roots have created uneven pavements that are potential hazards. You can go to City Hall and obtain a high heel waiver if you still want to walk around in your heels. Makes for a nice souvenir too!

Carmel is super dog friendly, with many restaurants allowing pooches on patios. On Carmel State Beach, dogs can run around leash-less, as long as they obey voice commands from their owners. Area parks may have dog restrictions, though, so check the specific natural areas you plan to visit.
Visit Point Lobos State Reserve
Just a few miles south of Carmel is Point Lobos State Reserve, one of California's most scenic state parks.
With spectacular ocean views, beautiful coastal flora, and lots of birds and marine life to observe, Point Lobos is a must-visit when you are in Carmel.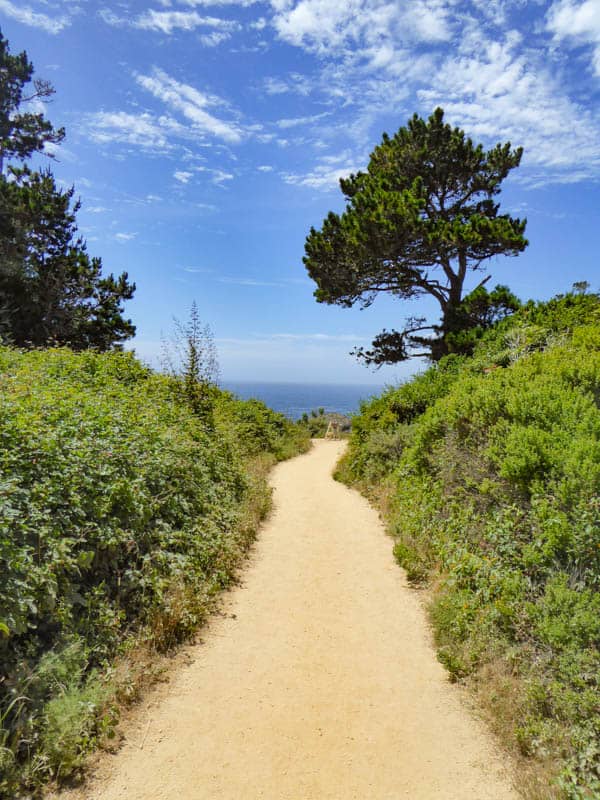 There are several ocean-view trails you can hike in Point Lobos, and if you have the time (about four hours or so), plan on hiking all of them!
If you have limited time, we suggest hiking at least Bird Island Trail and Cypress Grove Trail. They are each under a mile long and showcase the park's best sights.
Along Bird Island Trail, you'll see China Cove, with its blue-green water, Gibson Beach, and Bird Island, a nesting place for many sea birds in the spring.
Sea Lion Point Trail is another short yet super beautiful walk. You can hear the sea lions barking, and if you have binoculars or a zoom lens, you can also see them on the rocks offshore.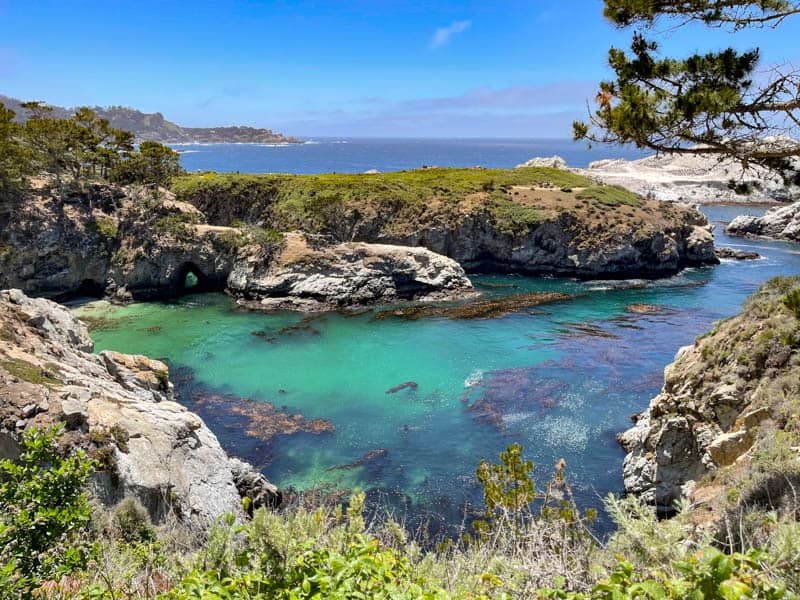 Also visit the Whaling Cabin, built by Chinese fishermen in the 1850s. It houses a small museum that showcases the area's history as a whaling and abalone canning center.
Note: Dogs are not allowed on Point Lobos trails.
Stroll Ocean Avenue
The cute little village of Carmel-by-the-Sea is just one square mile in area, and Ocean Avenue is the main street that runs through the village, from Highway One all the way down to the beach.
Lined with shops, cafes, and art galleries, Ocean Avenue is a must-stroll when you visit Carmel.
Visit Carmel Plaza, an outdoor complex of upscale stores. Pop into Carmel Bakery for a delectable sweet treat.
Snap a photo of the charming Cottage of Sweets before you step inside for British-style candies and other chocolate and candy treats, many of them imported.
The sweet little cottage was built in 1922, and originally located on Delores Street. It was moved to its present location by rolling it on logs!
The other streets in Carmel Village are just as strollworthy, so plan on spending time wandering!
Visiting Carmel-by-the-Sea for the first time? This highly-rated two-hour walking tour of Carmel-by-the-Sea provides a memorable introduction to this charming village. Your local guide will weave together riveting stories to bring Carmel's rich history alive for you. Book this tour now!
Tour the Carmel fairytale cottages
Carmel's quaint cottages are famous. A trend started by Hugh Comstock in the early 1900s, Carmel's fairytale cottages feature high pitched roofs, stone chimneys, and timbered details that make you think you are in Alsace.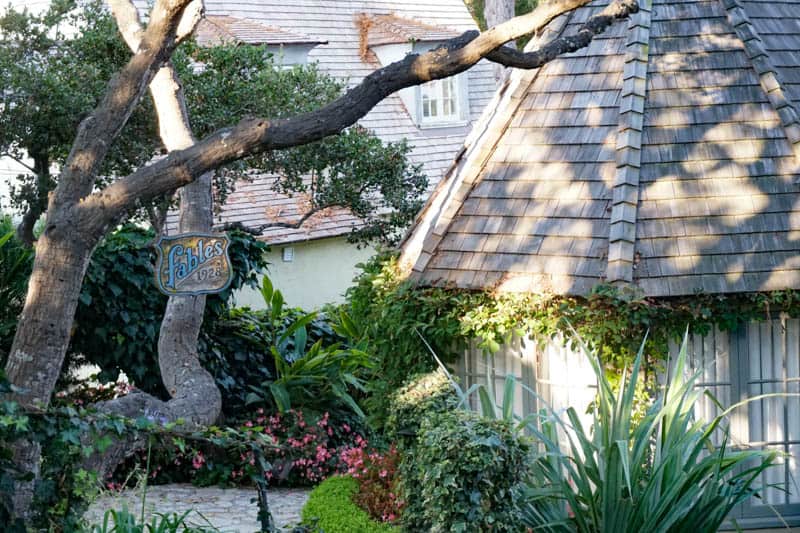 Comstock was not a trained architect or designer, but he enjoyed drawing. He designed the first whimsical cottage for his wife's business. Mayotta Comstock's "otsy-totsy dolls" were becoming a rage, and the cottage was to serve as her workspace.
Comstock's cottage inspired other local residents to ask for their own fairytale cottages, and he (and other builders) built many more of them in the village. The Tuck Box, on Dolores Street, is one of Comstock's cottages.
Use this audio app to do a self-guided tour of Carmel's fairytale cottages! With the app, you can see close to a dozen Carmel cottages, plus learn about their history and architecture. The terrain is hilly, so be prepared for a bit of a workout.
Browse Carmel's art galleries
Originally formed as an artist colony, Carmel became home to numerous artists, writers, and poets, and it still holds those roots dear. You will find lots of art galleries in Carmel, many of them artist-owned.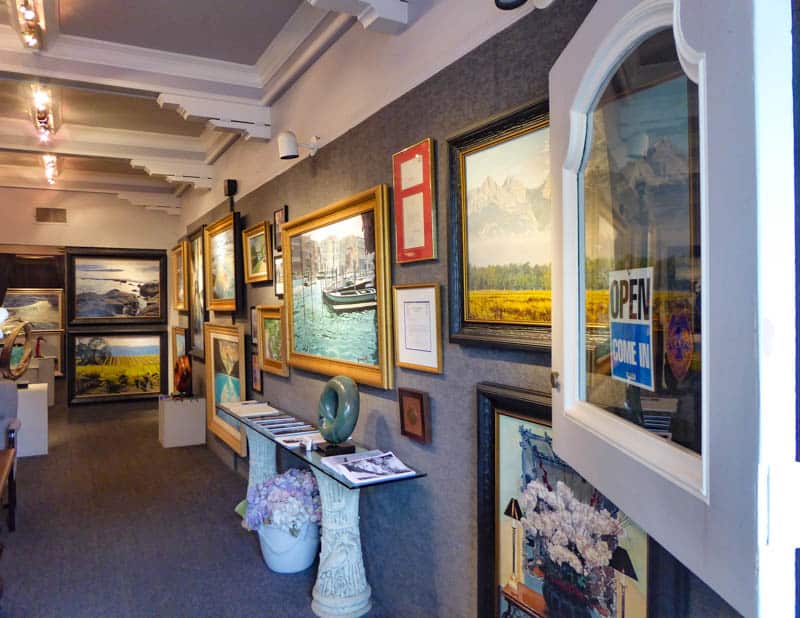 Browsing Carmel's art galleries and meeting local artists is one of the most fun things to do in the village. Some local artists have had their work featured in famous museums such as the Smithsonian. Most artist-owners enjoy chatting with you about their work.
Shop one-of-a-kind boutiques and Shops
Love shopping? Downtown Carmel has so many fun stores to browse! You'll find trendy apparel boutiques, of course, as well as jewelry, antique, and gift stores, and name brands at Carmel Plaza.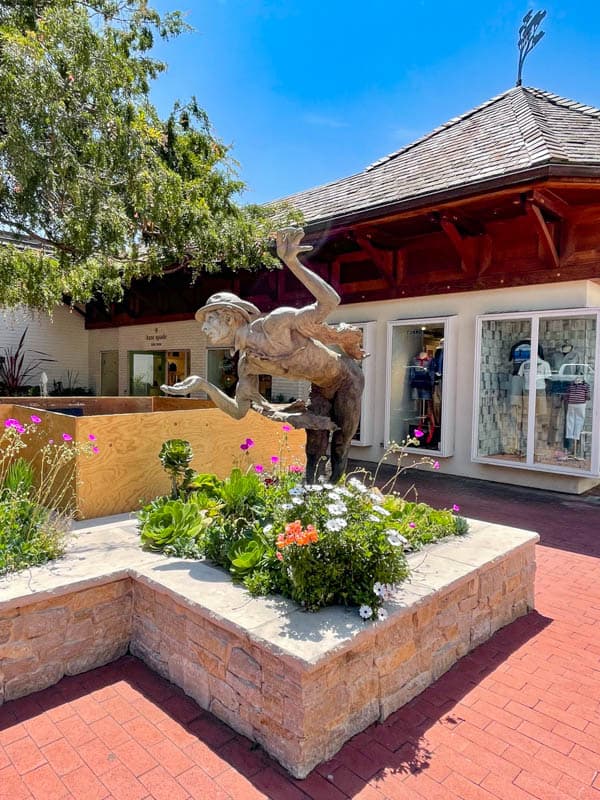 Check out Thinker Toys: we browse this delightful toy store each time we visit the village, and we have picked up some nice games and puzzles here.
Pilgrim's Way Community Bookstore & Secret Garden, with its nice book collection, plants, and gifts, makes for great browsing.
As a dog-friendly town, Carmel has a cool store for pooches: Diggidy Dog!
The Cheese Shop has numerous cheeses from around the world, as well as wine. At the Cottage of Sweets, shop for British style sweet treats. Lula's Chocolates in the Carmel Plaza is also a must-visit!
Do wine tastings
The village of Carmel has more than a dozen tasting rooms. If you are staying in the village, you can taste all the wine you want without worrying about a designated driver, because the village is eminently walkable.
Carmel's wine tasting rooms offer a wide choice of varietals, from Pinot Noir and Cabernet to Chardonnay and Zinfandel.
Set in the charming streets and passageways of the village, the tasting rooms offer a great setting to relax, as well as to buy some local wines to take home!
Enjoy olive oil and vinegar tastings
One of our favorite places to visit in Carmel-by-the-Sea is Olivier Napa Valley on Ocean Avenue, where you can taste a wide variety of olive oils and balsamic vinegars, some aged 25 to 35 years.
Their blood orange or chile infused olive oils are so delicious!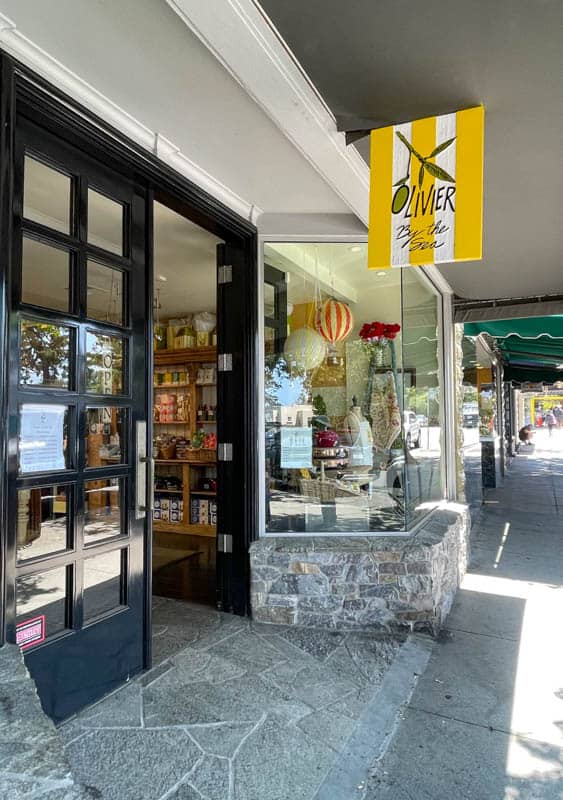 They also carry many other fine foods, including condiments, honey and preserves, and herbs and spices. You can also browse their products for the kitchen and home, and gifts.
Another great place for olive oils and vinegars is Quail and Olive, in Carmel Valley. They carry several California olive oils, and the store makes for great browsing, with fun food products, skin care, cookbooks, and kitchen knick-knacks.
Admire Carmel's Historic Buildings
Carmel Village is home to many historic homes and buildings. You will find Spanish influences in many buildings, from iron balconies to tile decoration on steps, but you will also find other styles of architecture.
The Las Tiendas Building, built in 1929, features a balcony with a wood grille and the original stairway and tile.
In the El Paseo Courtyard, you can see lots of tile from Spain. The First Murphy House is home to the Carmel Heritage Society and is tied to one of Carmel's most influential builders in the early 1900s.
The Church of the Wayfarer is one of the more recent historic buildings: the original was demolished and the current church built in 1940.
The Palomas Home Furnishings building used to be a dairy! The original lamp still hangs over the door.
Explore Carmel's secret passageways
One of the most charming features of Carmel-by-the-Sea are its numerous "secret" passageways. They starting coming up in the 1920s, and today you can find more then three dozen of them in the village.
Many of the passageways are lined with stores, galleries, tasting rooms, and restaurants.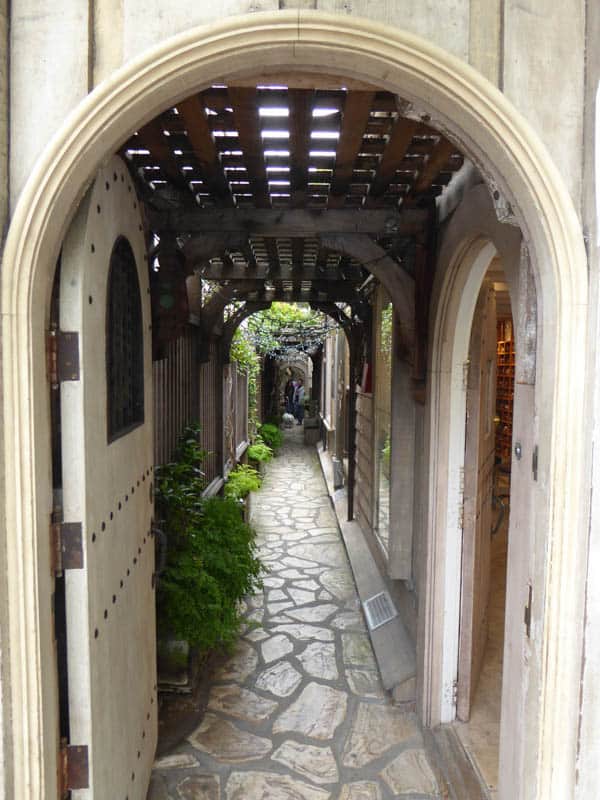 Hunting for the little courtyards and narrow passages all over the village is a fun adventure.
With plants, pots and baskets of flowers, lights,and sometimes even a little fountain, they are made for strolling.
View native plants at Piccadilly Park
If you love little green oases in urban centers, check out Piccadilly Park, on Dolores. The little courtyard park features mature shade trees and drought-resistant plants that grow well in the area.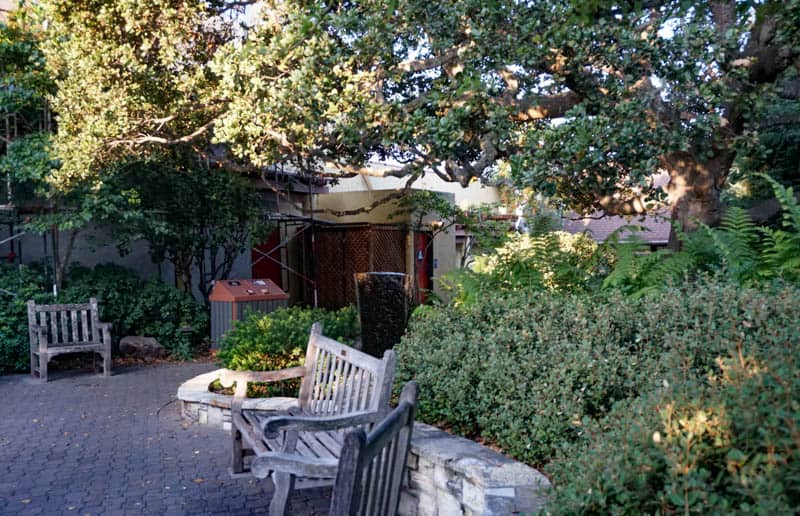 The park is maintained by volunteers from the local garden club. With a little fountain, and benches to sit and enjoy the greenery, Piccadilly Park makes for a great place to relax for a bit as you explore Carmel Village.
Snap photos of the murals in Carmel
The Carmel Shell is a new mural designed to celebrate its history and artistic heritage. You will find it on the side wall of the Paloma Furnishings building, at the corner of Mission and Sixth.
Showcasing the colors of local historic buildings, the mural includes an "Artist Inspiration Map" of local historic points of interest and is the perfect place to take a photo for Instagram!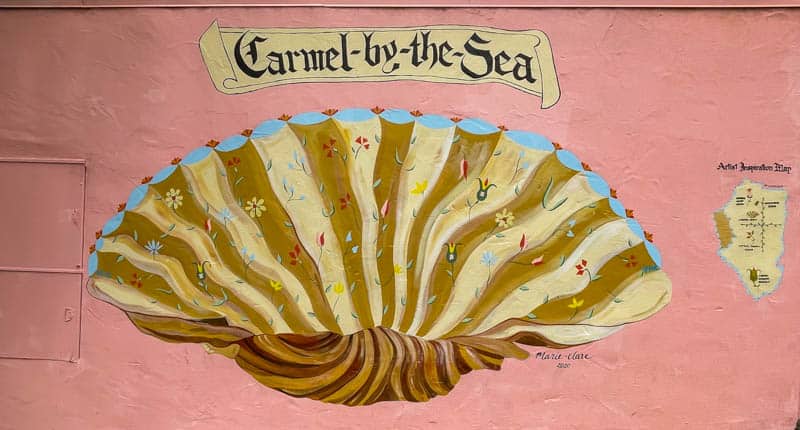 Another fun mural at Lincoln and Seventh in Carmel features Charlie Chaplin and a pink heart. The mural is attributed to Mr. Brainwash, a protege of Banksy, the British street artist and activist.
Enjoy sunset at Mission Ranch
Carmel Beach is a great place from which to enjoy sunset, without a doubt. But if you find it crowded, another fabulous place for sunset is the terrace of the restaurant at Mission Ranch, located right by the Carmel Mission.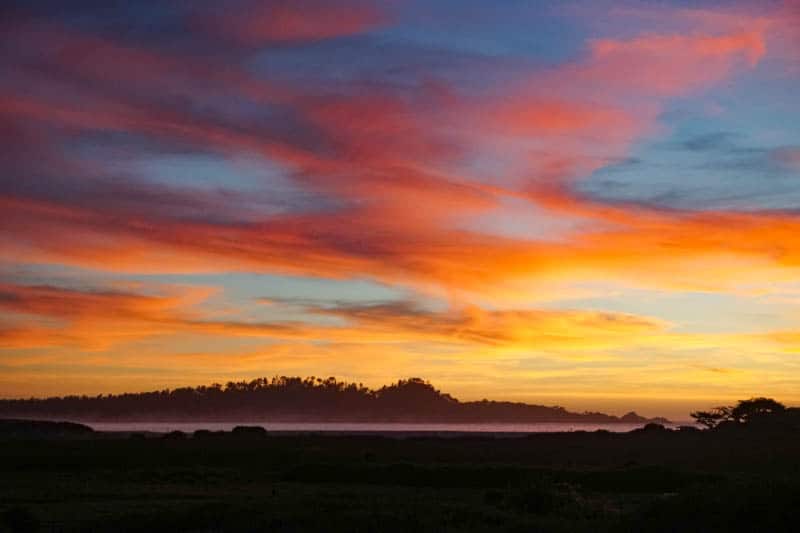 Mission Ranch (which also offers lodging), offers views over the grassy pasture, where you can see sheep grazing during the day, and the ocean in the distance.
Enjoy a romantic glass of wine on the terrace and watch the sun go down over the water, and follow it up with a great dinner. Heaters on the terrace make it comfortable even on cool Carmel evenings.
Tour Tor House
If you enjoy architecture and local history, do a guided tour of Tor House and Hawk Tower! Famous American poet Robinson Jeffers built the home for his family over several years, using local stone.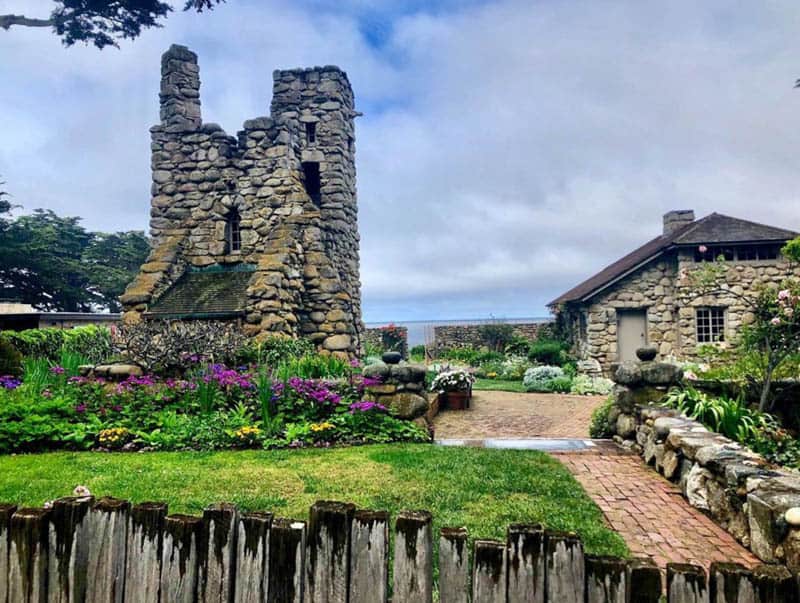 Tor House was completed in 1919, and in it Jeffers and his wife Una raised their twin sons. It was in Tor House that wrote most of his famous works.
Hawk Tower was built as a retreat for his wife. Jeffers built it entirely on his own, and it took him four years.
The home has a spectacular location on a tor, after which it was named. Enjoy the beautiful grounds and the water views!
Things to do near Carmel-by-the-Sea
Do the 17-Mile Drive Through Pebble Beach
For beautiful ocean vistas and views of gawk-worthy mansions and golf courses, drive the scenic 17-Mile Drive through Pebble Beach.
While there is a vehicle fee, you can have it reimbursed if you eat in one of the restaurants along the drive (and spend a certain amount). Check your ticket receipt for details.
The Lone Cypress is one of the most impressive points of interest along the drive, but you will also enjoy Bird Rock, which has hundreds of Brandt's cormorants sitting on it in season, and the beach at Spanish Bay.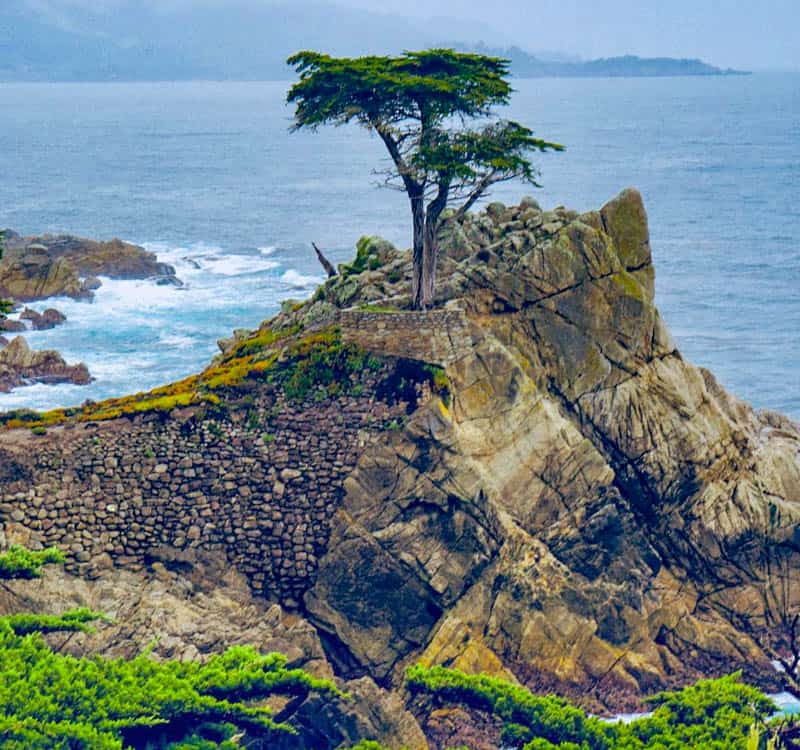 For a fun alternative way to enjoy this route, consider an e-bike tour! This highly rated 3-hour e-bike tour allows for tandem biking with young kids, and is a great way to enjoy the views and learn more about the sights along the route.
Hike Garland Ranch Regional Park
To experience the inland natural environment in the region, plan a hike in Garland Ranch Regional Park in Carmel Valley!
The park features diverse landscapes from the banks of the Carmel River up into the heights of the Santa Lucia mountains.
You'll pass through oak, chaparral, and maple on your way to the top, where you get spectacular panoramic views. Lots of wildflowers bloom in the park in spring, which is a great time to visit.
Keep your eyes peeled for birds, insects, and wildlife. Bring your binoculars and zoom lens!
You can also go horseback riding in the park, or ride a mountain bike at Cooper Ranch. Garland Ranch is popular with both residents and visitors, so expect to share the trails with other people.
Note: Dogs are allowed off-leash provided they are under their owners' voice control.
hike Palo Corona Regional Park
Another much-visited local park with spectacular ocean views is Palo Corona Regional Park. With several hundred species of plants and numerous wildlife species, Palo Corona is a must for outdoor enthusiasts and nature lovers.
The most popular trail in Palo Corona Regional Park is the hike to Inspiration Point. Classed as moderate to strenuous, the out-and-back trail is about 1.3 miles in length and sports about 850 feet of elevation gain.
You get fabulous views of the Carmel coast from the viewpoint.
Note: Dogs are not allowed inside the park.
Tour vineyards in nearby Carmel Valley
Want to experience tastings in area vineyards? There are a number of vineyards in Carmel Valley you can visit, just a few minutes' drive from Carmel-by-the-Sea.
Carmel Valley Road makes for a pleasant countryside drive even if you don't do wine.
Folktale Winery, housed in a French Chateau, is one of the most popular area vineyards. You'll be served at an outdoor table, so you can enjoy the garden while you sip.
Bernardus Winery is another popular stop on Carmel Valley Road. It is Carmel Valley's first tasting room!
Go Whale Watching in Monterey
Monterey is one of the best places in the US to go whale watching. Book a whale watching tour and be prepared to be amazed by the stunning scenery and all the marine life and birds you see!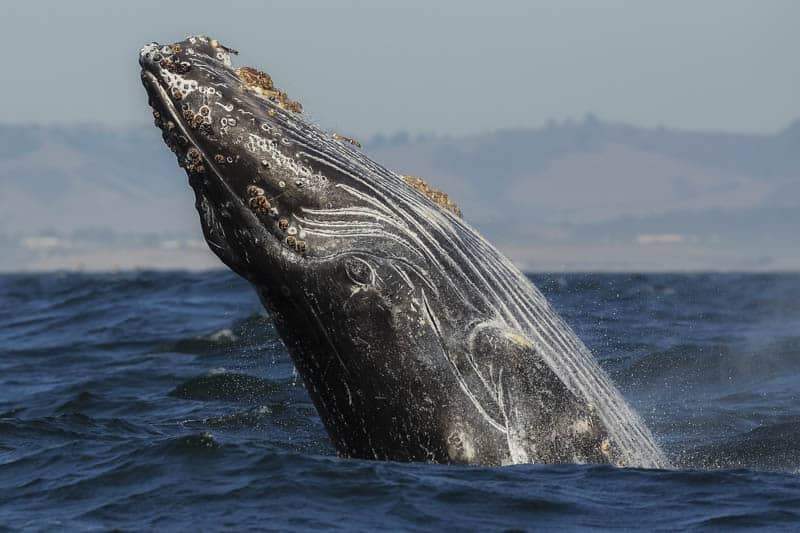 Also don't miss the famous Monterey Bay Aquarium, one of the best aquariums on the west coast.
Walk the coastal recreation trail, stroll Cannery Row, and dine on fresh seafood at one of the many quality eateries in Monterey.
Check out the Tidepools in Pacific Grove
Pacific Grove, located adjacent to Monterey, offers a spectacular oceanfront, some of the best tidepools in the country, and historic homes and colorful murals to admire.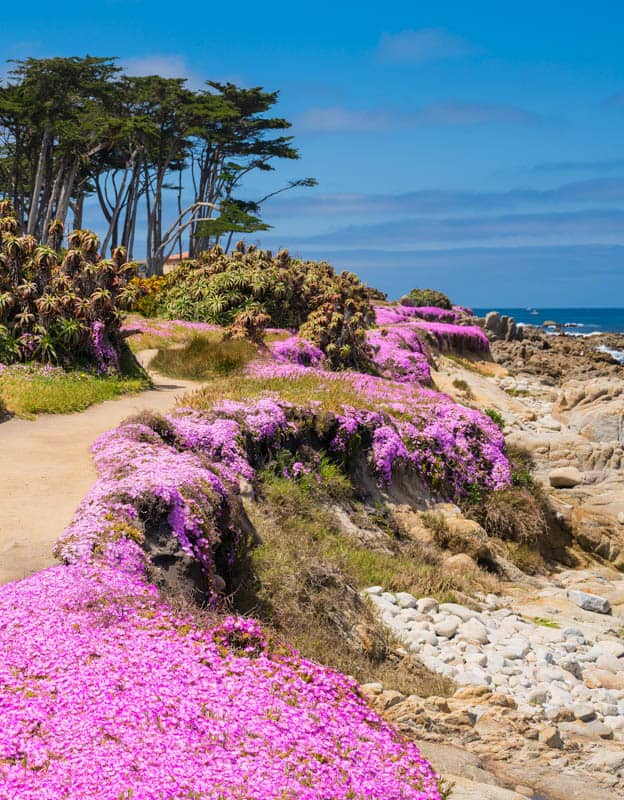 Walk the scenic Asilomar coastal trail for the beautiful water views and to see the coastal flora up close. Asilomar Beach is a great place to watch the sun set.
In the spring, a magenta flower carpet along the seaside path and cliffs draws lots of visitors to tiny Pacific Grove.
Go for a Scenic Drive in Carmel Highlands
Carmel Highlands is a small community tucked away in the hills above California Highway 1, a little south of Carmel-by-the-Sea.
Take a drive up Fern Canyon Road to enjoy the lush greenery and the magnificent views of the ocean from above.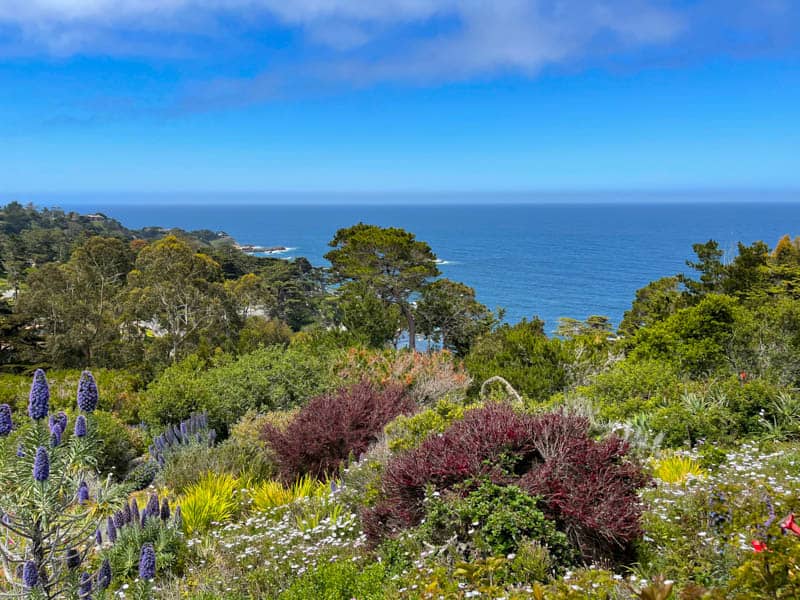 The Hyatt Highlands Inn has a lounge overlooking the ocean if you want to relax for a bit in the evening with a drink. Watch the sun go down as you sip a local wine or enjoy a cocktail.
Explore Garrapata State Park
Just south of Point Lobos State Natural Reserve is Garrapata State Park, with a wild and rugged landscape that is quintessential Big Sur.
Here you can walk several trails along the coastal bluffs. The short Garrapata Bluff Trail is one of our favorite hikes in Big Sur. There's also one challenging trail into Soberanes Canyon on the east side of Highway 1. All hikes in the park offer stunning scenery and lots of wildflowers in the spring.
In the late winter and early spring, generally from late February until mid April, you may see the Calla Lily Valley in full bloom. This is a visual treat that's not to be missed (but watch out for poison oak!)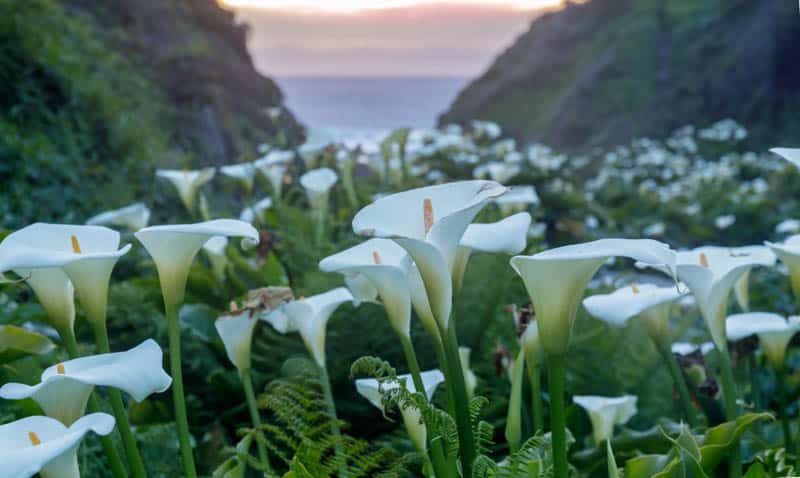 The park also features a gorgeous 2-mile stretch of sandy beach backed by rugged cliffs. While swimming isn's advised, you can walk, or picnic on the sand.
Do the Spectacular Big Sur Drive
Carmel-by-the-Sea is considered the northern gateway into Big Sur.
The 90-mile stretch of California Highway 1 between Carmel and San Simeon features extraordinarily beautiful scenery and a variety of things to do, from walking among coastal redwoods to dining at an exceptional restaurant.
Some of the best things to do in Big Sur include snapping photos of beautiful Bixby Bridge, checking out the purple sand at Pfeiffer Beach, and ogling the picture-postcard beauty of McWay Falls.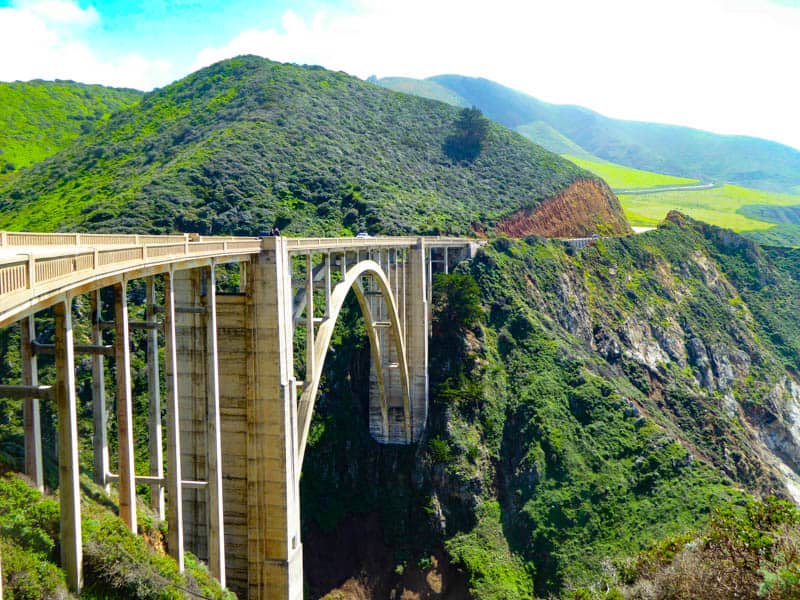 And, of course, stopping at the infinite number of scenic overlooks along the way!
For a memorable dining experience with a view, book a table for lunch at the Sierra Mar Restaurant at Post Ranch Inn!
You can take the faster freeway back to Carmel-by-the-Sea once you arrive in Cambria.
Getting to Carmel, CA
Carmel-by-the-Sea is located on the Central California coast, about a 2-hour drive south from San Francisco (by the freeway) and about a 5-hour drive north from Los Angeles (by the freeway).
Carmel is one of the most popular weekend trip destinations from San Francisco and the SF Bay Area, and a great stop if you are doing the Pacific Coast Highway road trip along the coast.
If you want to visit Carmel from San Francisco, but you'd rather not rent a car, a tour is a great option. This highly-rated full day tour takes you down scenic Highway 1 to Monterey and Carmel-by-the-Sea, along with the famous 17-Mile Drive through Pebble Beach.
Book this tour of Monterey and Carmel from San Francisco now!
If you plan to fly, San Jose is the nearest international airport, and is about a 90-minute drive from Carmel.
There is also a regional airport in Monterey, with service from San Francisco, Los Angeles, and San Diego, as well as a few other major US cities, so you can also look at airfares to Monterey when planning your trip.
Looking to rent a car for your Carmel trip? Discover Cars offers you the ability to compare availability and prices across many major car-hire companies. Pick the car that best meets your needs!

Book your car with Discover Cars now!
Where to stay in Carmel, CA
Hotels in Carmel, CA
Carriage House Inn is located in downtown Carmel. Rooms are elegantly decorated, and feature fireplaces. Enjoy a free continental breakfast, afternoon wine and hors d'oeuvres, a free snack basket, and a mini-fridge stocked with free drinks. Some suites have a two-person spa bath, if you are considering a couples getaway.
Book a stay here!
Tradewinds Carmel is a boutique hotel located in the heart of the action in Carmel Village. The garden has lovely water features and a fire pit. Serene rooms with Asian-inspired decor and lovely bathrooms make for a great stay.
Book a stay here!
The Getaway is located on the edge of downtown Carmel on Ocean Avenue, steps from shopping and dining in the Village and close to Carmel State Beach. The hotel is dog-friendly and offers onsite parking. Rooms are comfortably furnished and feature fireplaces. A wine hour is offered. Book a stay here!
The Hideaway is a boutique inn also located close to shopping ad dining in Carmel Village. Interiors are sleek yet comfortable, and all rooms face the inner courtyard, where you will find seating and a fire pit. The hotel offers an afternoon happy hour with bites and wine. Book a stay here!
In Carmel Valley, Bernardus Lodge & Spa is a gorgeous property for a relaxed weekend with plenty of pampering. The property has lovely grounds, pool, and gardens and a view of vineyards across the street. Rooms are open to the outdoors.
Book a stay here!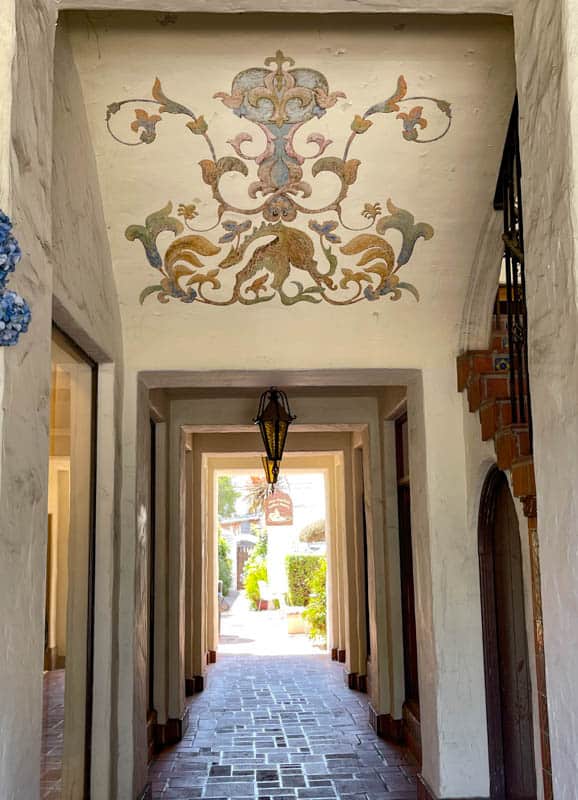 Vacation Rentals in CarMel, CA
Le Petite Papillon is a one-bed, one bath studio located very close to downtown Carmel-by-the-Sea. Located on a beautifully-landscaped lot, the cottage is furnished with meticulous care and is perfect for a couple.
Book a stay here!
This lovely one-bed, one-bath cottage is pet-friendly and features beautiful forest views. Enjoy a fully-equipped kitchen, comfortable furnishings and a fireplace in the living room, and peek-a-boo ocean views from the patio. Book a stay here!
This beautiful home in Carmel is perfectly located in a quiet neighborhood minutes from the village. The two-bedroom, one-bath home features hardwood floors and a private deck, and is perfect for two couples traveling together. Book a stay here!
Where to eat in Carmel, CA
Carmel-by-the-Sea has so many fabulous places to eat that it is difficult to narrow down two or three choices. But here are some of our favorite places.
Little Napoli is a popular Italian bistro on Dolores Street that features outside seating. The menu has many Italian classics, and everything we've had here has been delicious. The truffled mushroom pizza is one of our favorite things to eat here, as is the gnocchi starter.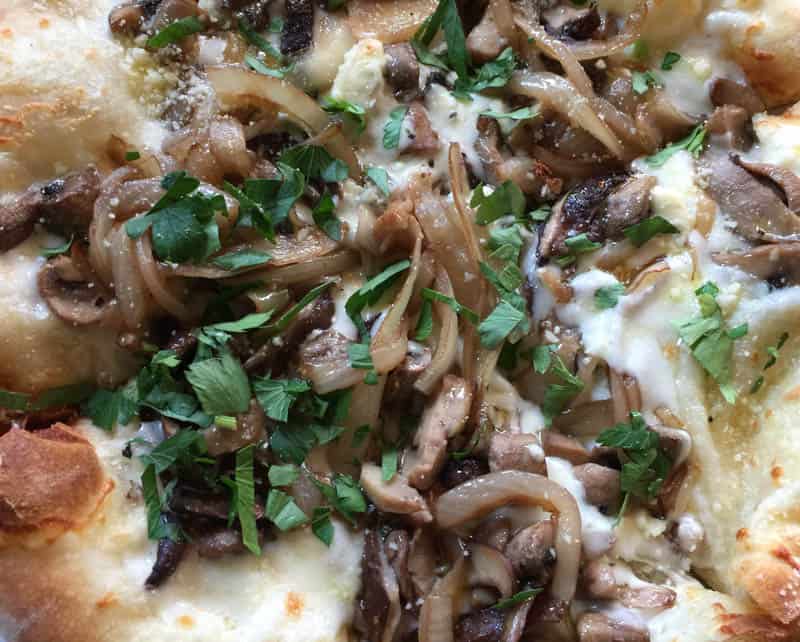 Anton & Michel also has outdoor seating in a beautiful courtyard. This is another restaurant where everything we've tried from the California cuisine inspired menu has been top-notch. Try the grilled lamb sliders, or the vegetarian sandwich with portobello mushrooms and halloumi cheese.
For desserts, head to Patisserie Boissiere. Their lunch and dinner menu is very good, but their desserts are decadently delicious. We love their chocolate pot au creme: really chocolatey and not cloyingly sweet. If you aren't a chocolate lover, you will still be spoiled for choice here.
If you enjoy macarons, this fun class teaches you how to make the perfect macarons in about 1.5 to 2 hours! Learn from an expert that has been featured on the Cooking Channel. Book this class now!
Read more: Best Carmel-by-the-Sea Restaurants
When to visit Carmel, CA
Carmel-by-the-Sea is a year-round destination, but spring and fall are fabulous times to visit, with less chances of the coastal fog obstructing water views.
In the spring, area parks showcase riotous wildflower blooms, especially if the preceding winter was wet. Daytime temperatures are pleasant (but bring layers), and it's to fun to dine outside in the evenings by a fire pit or a heater.
In the fall, you'll likely have warm temperatures and clear days, perfect for the beach. Summer crowds have departed, so wandering the village is a more serene experience.
Winter is also a great time to visit Carmel. In fact, if you are planning a visit to California in December, consider putting charming Carmel on your itinerary.
The village dresses up for the holidays, and restaurants offer seasonal menus. Pick dry spells in the winter to enjoy pleasant temperatures and wonderful sunsets.
You'll find Carmel draped in fog most mornings in the summer. It generally burns off by early afternoon. Temperatures are usually pleasantly warm and you will find lots of people enjoying the beach.
Also check for events in Carmel-by-the-Sea! On the second Saturday of each month, for example, you can enjoy a free art walk, to tour artist-owned galleries and meet the artists.
Art-related one-time events also happen from time to time. In 2021, for example, Heart of Carmel was a temporary art installation featuring 3-D hearts by several artists.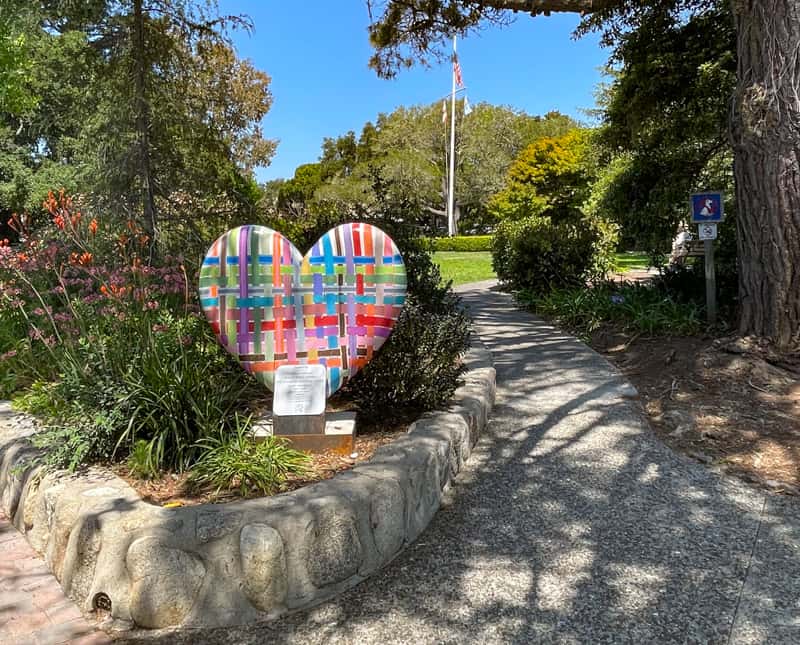 Every Friday in July, you can enjoy live music at Carmel Plaza, with wine sampling and tasty bites from local eateries.
Check to see what's on when you plan to visit!
plan your Carmel-by-the-Sea getaway now!
Look for a rental car
Book a hotel stay!
Make reservations for dinners!
Check out the best Carmel and Monterey tours: our top choice — the 2.5-hour e-bike tour of 17-Mile drive, or whale watching in Monterey!
*****
Looking to explore more of Central California? Check out some of our other articles on fun Central California coastal towns and cities!
Did you find this article informative? Pin it for later reference!