Located along scenic California Highway 1, at the base of the Santa Lucia mountains, Garrapata State Park features spectacular scenery, a variety of hiking trails, and a sandy beach.
If you enjoy the great outdoors, you will love Garrapata State Park, and all it offers.
Acquired by the State of California in 1980, Garrapata State Park is one of a string of beautiful state parks in Big Sur, and covers just under 3,000 acres.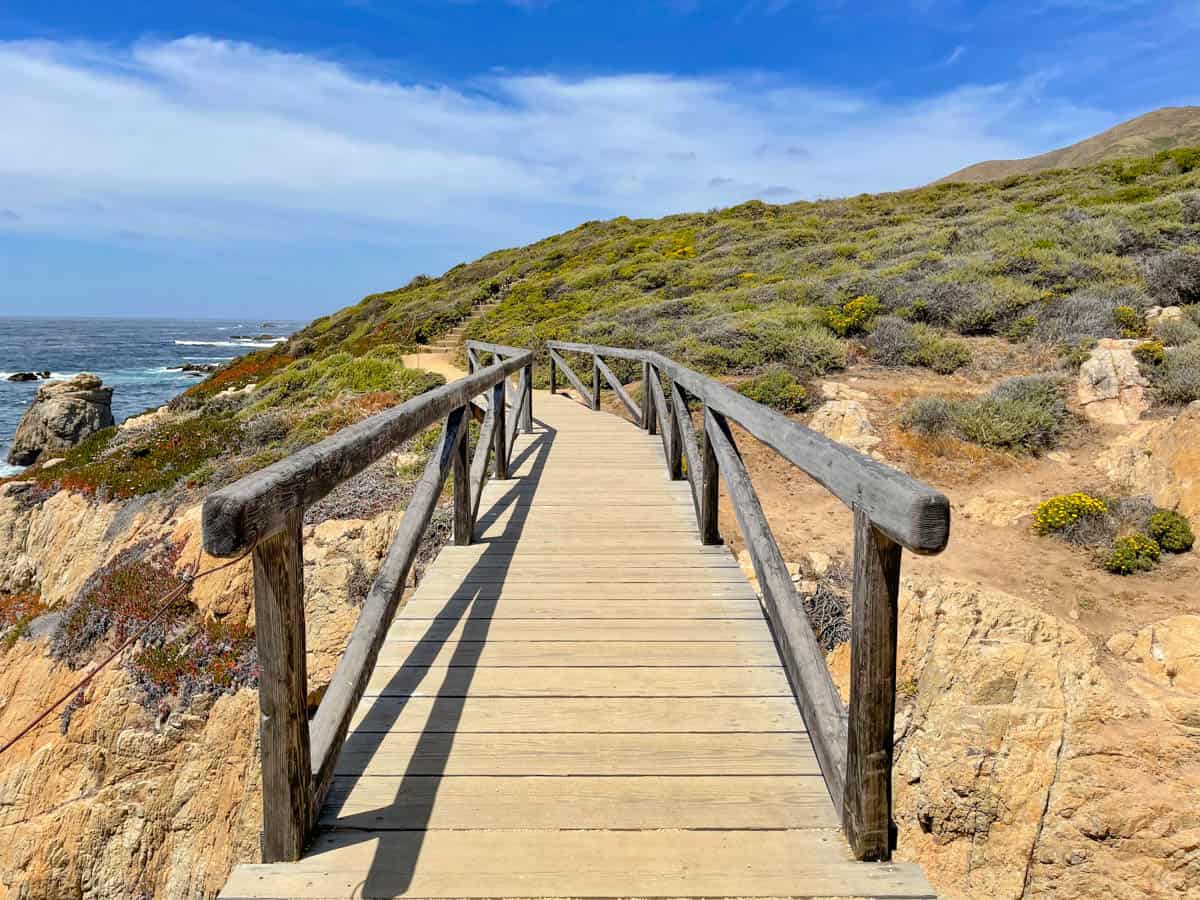 Some links on this page may be affiliate links. If you click an affiliate link and make a purchase, we may receive a small commission, at no extra cost to you. For more details, refer to our disclosure.
Here you will find that quintessential wild beauty for which the Big Sur Coast is renowned: massive rugged cliffs, endless views of the Pacific Ocean, and a variety of flora and fauna.
Garrapata State Park used to be somewhat of a hidden gem in Big Sur because there are no conventional entrances or parking lots, but no more!
While the park's stunning coastline is right by the side of California Highway 1, the park also encompasses wilderness on the east side of the highway, where you will find canyons featuring redwood groves and tall mountains to explore.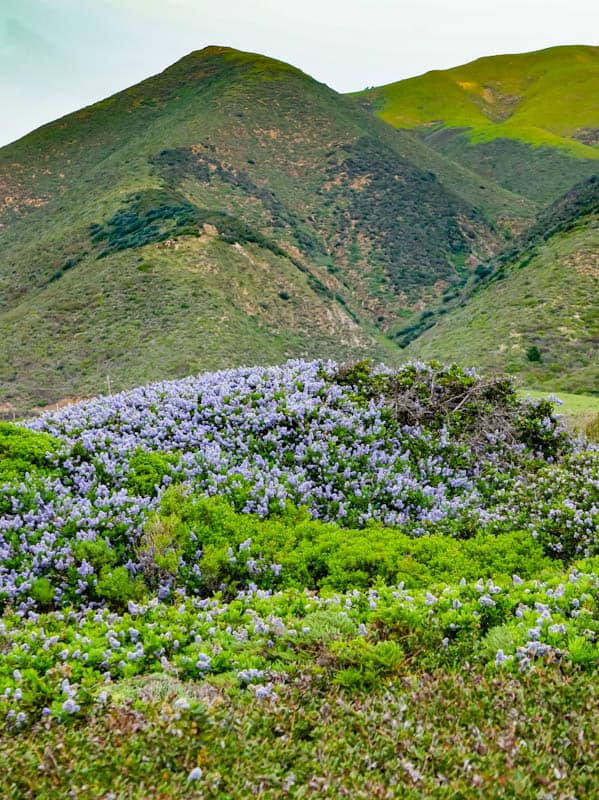 In this article, we describe all the fun things to do in Garrapata State Park, plus our tips for visiting the park.

Things to Do in Garrapata State Park
Stroll Garrapata State Beach
Big Sur's beaches are all gorgeous (do not miss nearby Pfeiffer Beach!) and Garrapata State Beach is no exception. The easiest access to the beach is via a flight of stairs at mile marker 19.
The long, slightly crescent-shaped beach is sandy and wide, with a backdrop of the famously rugged Big Sur cliffs. Sea stacks offer interest along the water line, and you will see colorful ice plant and wildflowers in season.
The beach is perfect for strolling. Admire the beauty of your surroundings as you walk, stopping to take lots of photos. The surf here is powerful, and awesome to watch from a safe distance.
While Garrapata State Beach is great for walking, photography, and sand play well above the water line, do not swim or wade here, or climb on the rocks or cliffs.
Never turn your back on the ocean here: folks have been swept out to sea by rogue waves while taking selfies near the water line.
Look for the Garrapata Creek Cove
Two creeks flow into the ocean at Garrapata State Beach. While Doud Creek cuts across the beach somewhere near the midpoint of the beach, Garrapata Creek flows into the ocean at the very south end.
At low tide, you can access the small secluded sandy cove where the creek pools on the beach.
There is a cave here as well, and you can see Garrapata Creek Bridge in the background.
It is a very picturesque spot, great for photos, especially in the late afternoon, when the mellow light bathes everything in a golden glow.
Get tide information before your visit if you plan to access the south end of the beach, so you can exit before the tide rolls in.
Have a Picnic at the Beach
At Garrapata State Park, you will find one of the most gorgeous beaches along the Monterey coast. The long sandy beach is nestled against tall cliffs.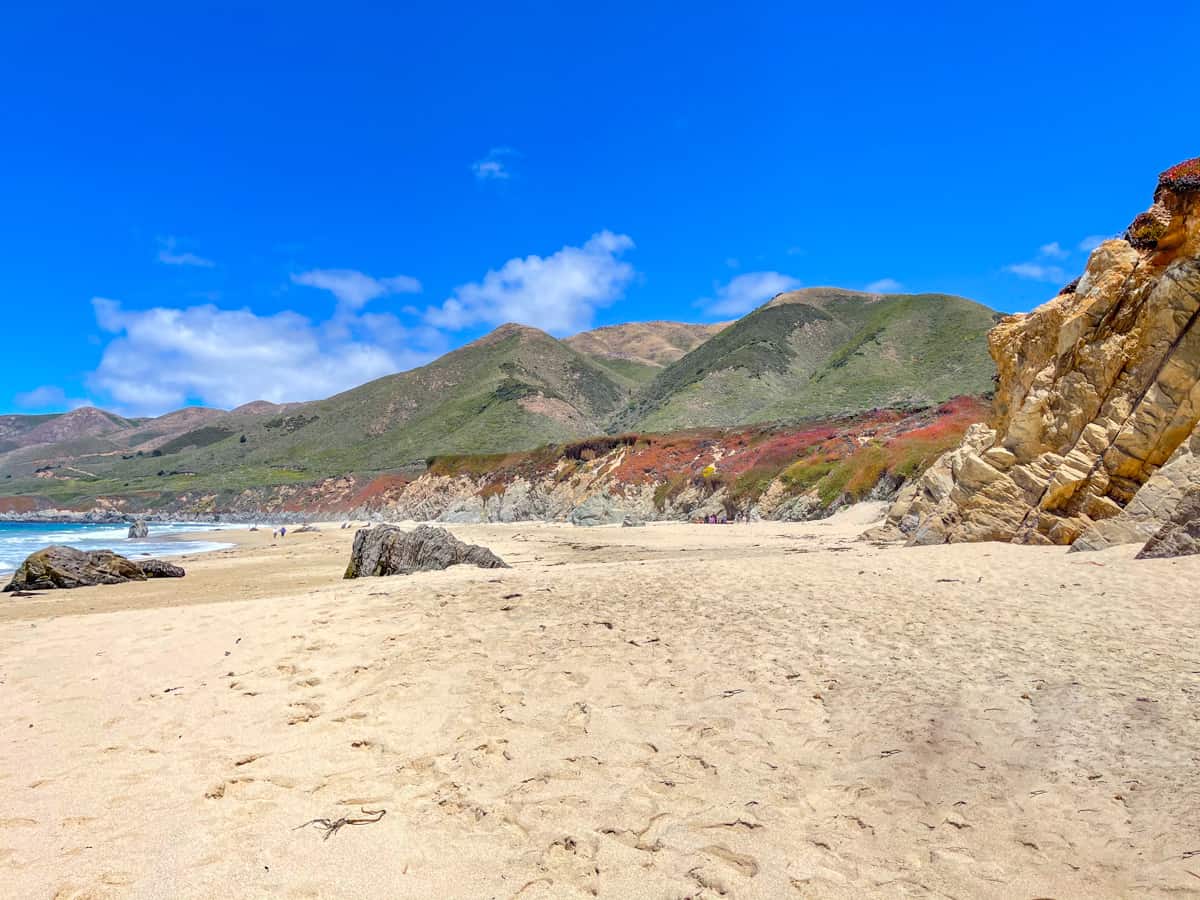 Bring a blanket and a picnic meal: Garrapata State Beach is a great place for a picnic, if the weather is bright and sunny.
The sandy beach is usually not very crowded, and there's plenty of room to settle into a high and dry area of the beach and eat as you watch the waves crash over the sea stacks.
Or bring some wine and cheese and watch the sunset from the beach. Either way, you will have a relaxing time amidst the stunning scenery.
Just make sure you always face the ocean while you are at the beach, for safety.
Hike the Bluff Trails Above Garrapata Beach
Above the beach, beautiful trails lead from gates 18 and 19 along the coastal bluffs, with up close views of the coastal flora and views out to the ocean on one side and the mountains on the other.
The trails are particularly beautiful in the spring and early summer, when the hills are green and the ceanothus is in bloom.
The paths are narrow, causing you to walk single file in some places, but stay on the trail to avoid trampling the vegetation and to avoid contact with poison oak.
Take in the Views at Soberanes Point
Soberanes Point is one of the most beautiful scenic vista points along the Big Sur Coast. Photographers love it, and it is a great place from where to look for marine life.
From Soberanes Point, you have a great shot at seeing migrating gray whales in season.
While the views of the Pacific Ocean and the coastal cliffs are undoubtedly stunning, the views of the mountains on the inland side are also beautiful, especially if you visit when they are green.
Early in the day on a fog-free morning, or in the mellow light of golden hour, or at sunset, Soberanes Point is just breathtaking.
And you can enjoy the views from the side of the road if you are unable to hike, or do not have the time to explore the trails.
Walk the Short Garrapata Coastal Bluff Trail
If you plan to just make a short stop at Soberanes Point (on a longer Big Sur road trip, for example), this short but scenic coastal bluff trail is the perfect get-out-and-stretch-your-legs option.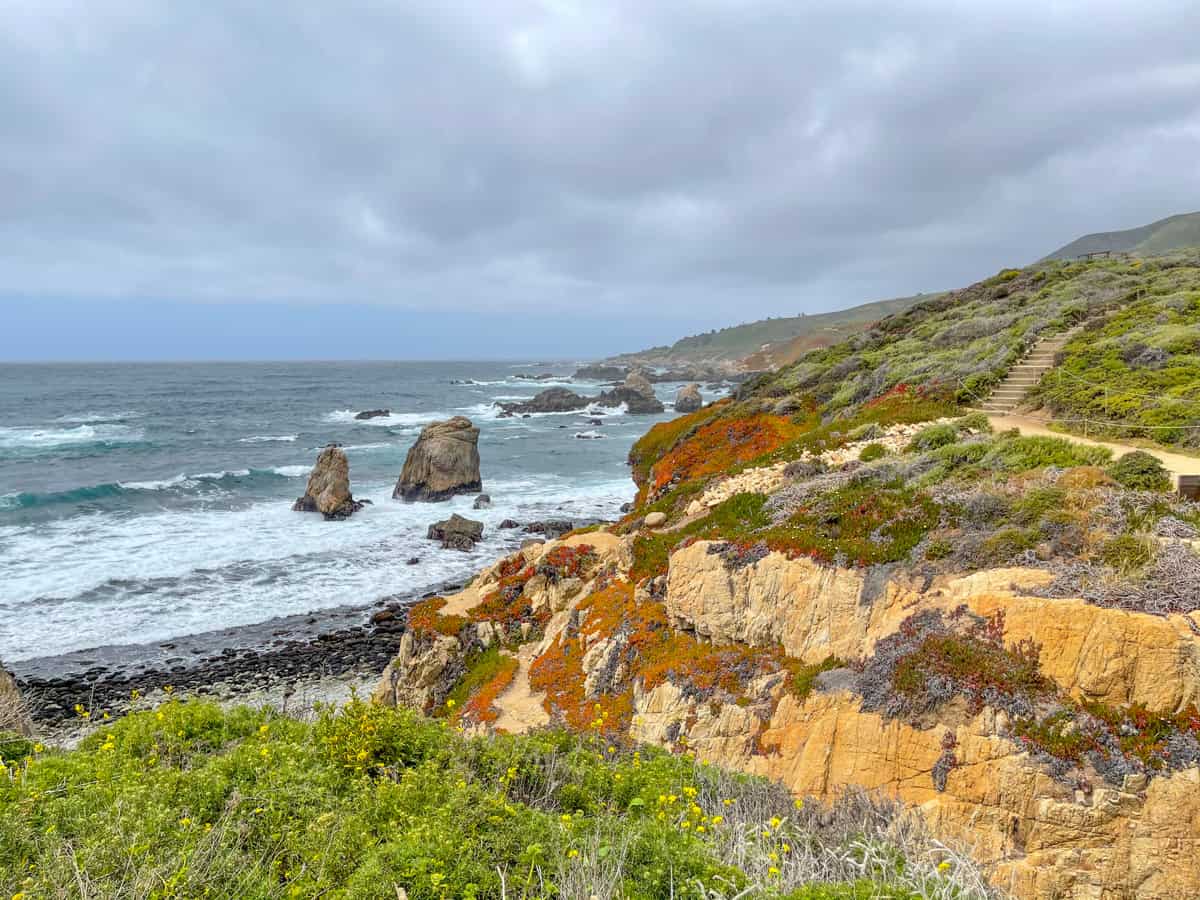 The Garrapata Coastal Bluff Trail is just 0.6 mile long, out and back, and offers beautiful views and wildflowers in season. The trailhead comes up before mile marker 8 if you are traveling south. (see map)
Hike the Whale Peak and Soberanes Point Loop
On the coastal side of Soberanes Point at mile marker 8, the Soberanes Point Loop Trail winds along the coastal bluffs and around Whale Peak, offering beautiful water views and lots of wildflowers in season. It is one of the most picturesque of Big Sur's hikes.
The Soberanes Point Loop hike is relatively easy, except for a short optional uphill trek to the top of Whale Peak. You get fabulous views of the coastline from the top, though, so if you are able and you have the time, go for it!
This trail can be very windy at times, especially at the top of the hill, so wear a windcheater and hold on to your hat if you wear one.
The trail can also be narrow in places, and close to the steep drop-off near the ocean, so watch your step!
This loop is about 2 miles total, and you can get on to the trail at gates 8, 9, or 10. If you take it at gate 8, walk left.
Hike the Soberanes Canyon Trail (or Loop with Rocky Ridge)
The Soberanes Canyon Trail is on the inland side of Garrapata State Park, and the gated trailhead is across the road from gate 8 at Soberanes Point.
This trail can be hiked as an out and back trail along the flattish portion, or you can combine it with the Rocky Ridge Trail for a strenuous loop.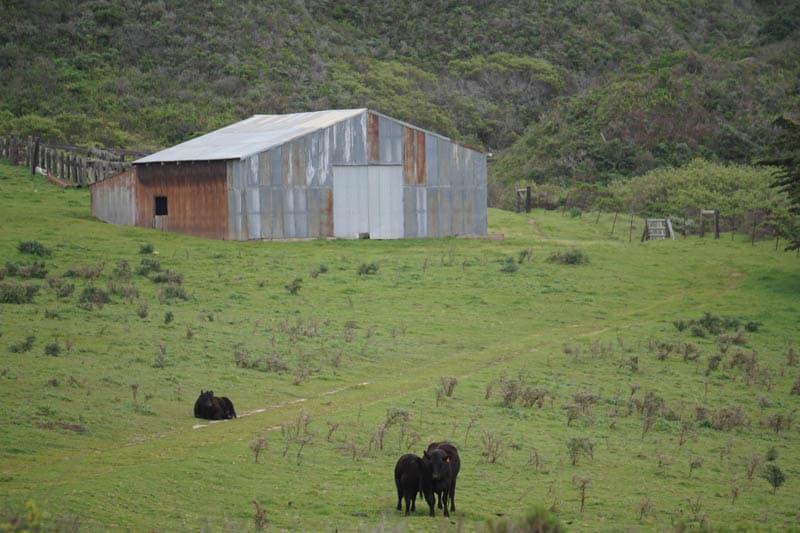 The first mile or so of the Soberanes Canyon Trail goes alongside the creek, and you will be in the shade of redwoods most of the time.
At the time of writing, you can only go in about 1.25 mile, at which point the trail is closed due to damage. You retrace your steps to return.
If the trail is fully open, after the canyon, you will climb steeply along Rocky Ridge Trail to the top of the ridge, where you can admire the panoramic water views on a fog-free day. At the top, there is an optional out-and-back spur to Doud Peak.
As you walk down along the downhill portion of Rocky Ridge Trail, you will come to a bench, where you can sit for a bit as you enjoy the views. On a clear bright day, this is a great place to enjoy a sandwich or snack!
Past the bench, the trail goes down to the start point, past meadows full of wildflowers in season, and views of the ocean as you descend.
The full loop is 4.5 miles and is considered strenuous.
Shoes with good grip are a must, and trekking poles may be useful.
Look for Marine Life and wildlife on Land
From the bluffs at Garrapata State Park, look for migrating gray whales in season, and sea lions, harbor seals, and sea otters in the coastal waters. The Pacific gray whales travel south in winter and back to the north in spring.
Sea lions hang out at Lobos Rocks, the two rocks in the water you can see from Soberanes Point. If you stay silent and listen closely, you may be able to hear them bark.
On land, you may see rabbits, chipmunks, squirrels, deer, and lizards during the day. The park is home to other animals, including mountain lions and a variety of snakes.
Enjoy watching Birds and Butterflies
Bring your binoculars, because you may see a variety of birds at Garrapata State Park, from sea birds to raptors and smaller land birds.
In the vegetation, look for common birds such as sparrows and the spotted towhee, Brewer's blackbirds in the grasses, and California quail in the underbrush.
We've even seen a lazuli bunting here, with its bright blue face!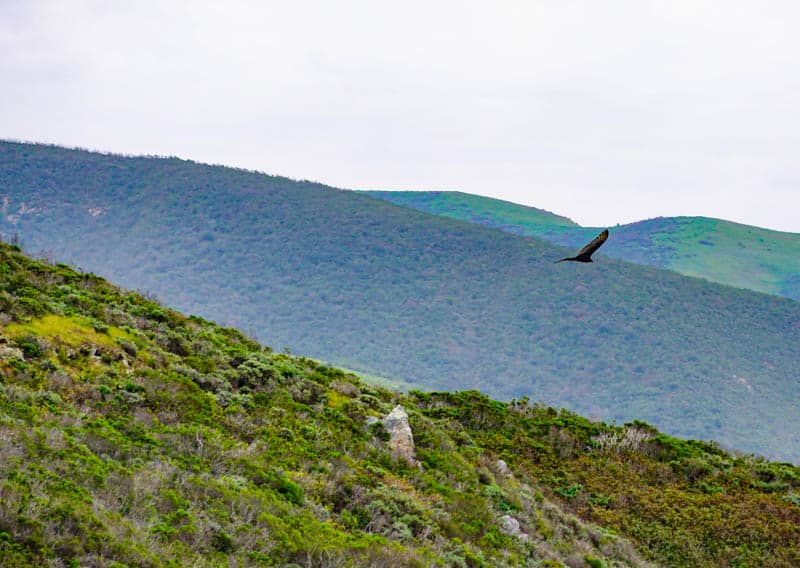 You may see turkey vultures, sparrow hawks, peregrine falcons, or red-tailed hawks soaring overhead, and brown pelicans at Lobos Rocks, the two rock formations in the water you can see from mile marker 8.
Hummingbirds are common along trails in the spring, as are butterflies of many kinds. You may even see the endangered Smith's blue butterfly!
Observe the Flora
Garrapata State Park is home to several different types of vegetation: on the water side, you will find mixed varieties of Central Coast scrub, from coyote brush to California sagebrush.
The coastal landscape looks especially beautiful in the spring!
Poison oak grows freely here, so be careful as you walk.
Chaparral is everywhere in Garrapata State Park. The manzanita and blue blossom ceanothus look lovely when in bloom in early spring. The ceanothus smells pleasant too!
You will also find wavy grasses, including some rare varieties.
On the east side of the highway, coast redwoods grow along Soberanes Creek and Malpaso Creek, along with conifers and big leaf maples (which look very attractive in the fall).
On the slopes, you'll find more redwoods, mixed with willow, tanoak, and madrone.
Walk the trails in Garrapata State Park to observe the many types of flora up close. We love walking here in the spring and early summer, when everything looks bright and green, and shrubs are in bloom.
Enjoy Wildflowers in Season
Garrapata State Park is one of the best places for wildflowers in Big Sur, both along the coastal trails and along the inland trails, which wind past meadows and creeks on the way up to the ridge.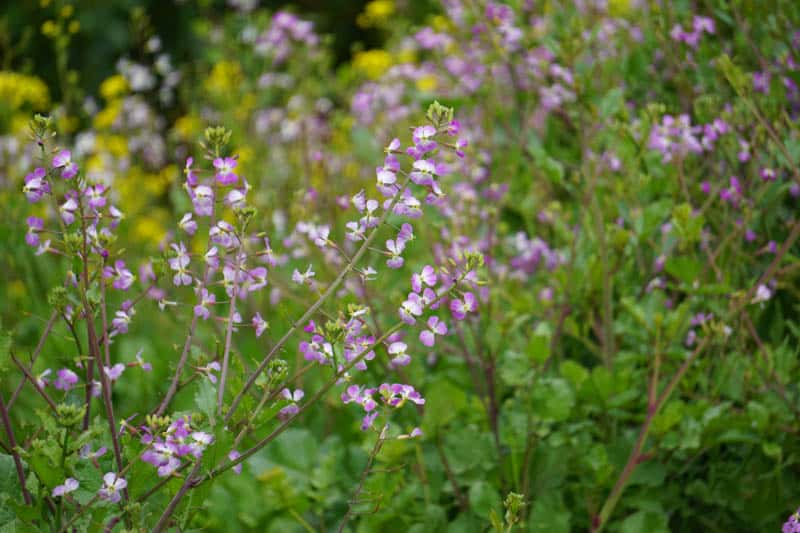 On the coastal slopes, look for stately Pride Of Madeira shrubs with their beautiful purple blooms, and swathes of California poppies, Indian paintbrush, and monkeyflower. More elusive are species such as wild irises and mallow.
On the inland trails, you may see carpets of wildflowers in good bloom years: bright orange California poppies, of course, plus bush lupine, shooting stars, trillium, tidy tips, buttercups, and numerous other varieties.
Spring and early summer are when you can expect to see the big flush of wildflowers in the park, although you may see a few flowers here and there into the summer.
Admire the Calla Lily Valley (in Season)
Doud Creek is a little stream that flows from the mountains into the Pacific Ocean at Garrapata State Beach.
Along its way to the ocean, it has created a valley that becomes lush with pristine white Calla lilies come spring. It is a spectacular sight.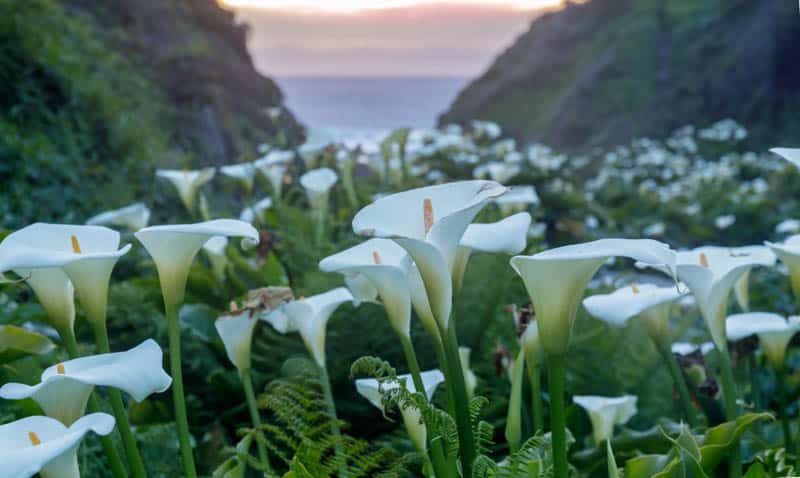 This showstopper photo location in Garrapata State Park was not that widely known a spot until the advent of Instagram.
These days, though, you will find numerous visitors hiking into the valley to see the beautiful display and to snap countless photos.
The shortest route to the valley is from mile marker 18 in the park (more on the mile markers later in this article!).
From the entrance on the ocean side, walk the trail (it will be lined with wildflowers in the spring) until you come to a set of steps that will take you down into the valley.
You can also walk to the valley from the bluff trails that start above the beach.
Although you'll start to see flowers in January, peak season for the Calla lily bloom is usually mid-February to mid-April.
Enjoy the Wave Action from the Promontory
At mile marker 19, there are steps that lead down to Garrapata State Beach, but to the left is a promontory trail with spectacular views of the ocean.
While this promontory is a great photo spot any time, it is especially so when the surf is high.
We've visited on high surf advisory days, and found a safe spot on the headland trail, or by the parking area along California Highway 1, to take in the majesty of the waves as they crash onto the beach.
Take Lots of Photos!
Garrapata State Park is one of our favorite photo spots on the California coast. There is much to photograph, from the cliffs, draped in colorful ice plant, to the hills, and from coast redwoods to other flora and fauna along the many trails.
Winter sunsets can be spectacularly colorful, and the hills and cliffs take on a golden aura in late afternoon that makes for beautiful photos. Wildflowers and flowering shrubs and plants in spring and summer offer additional color.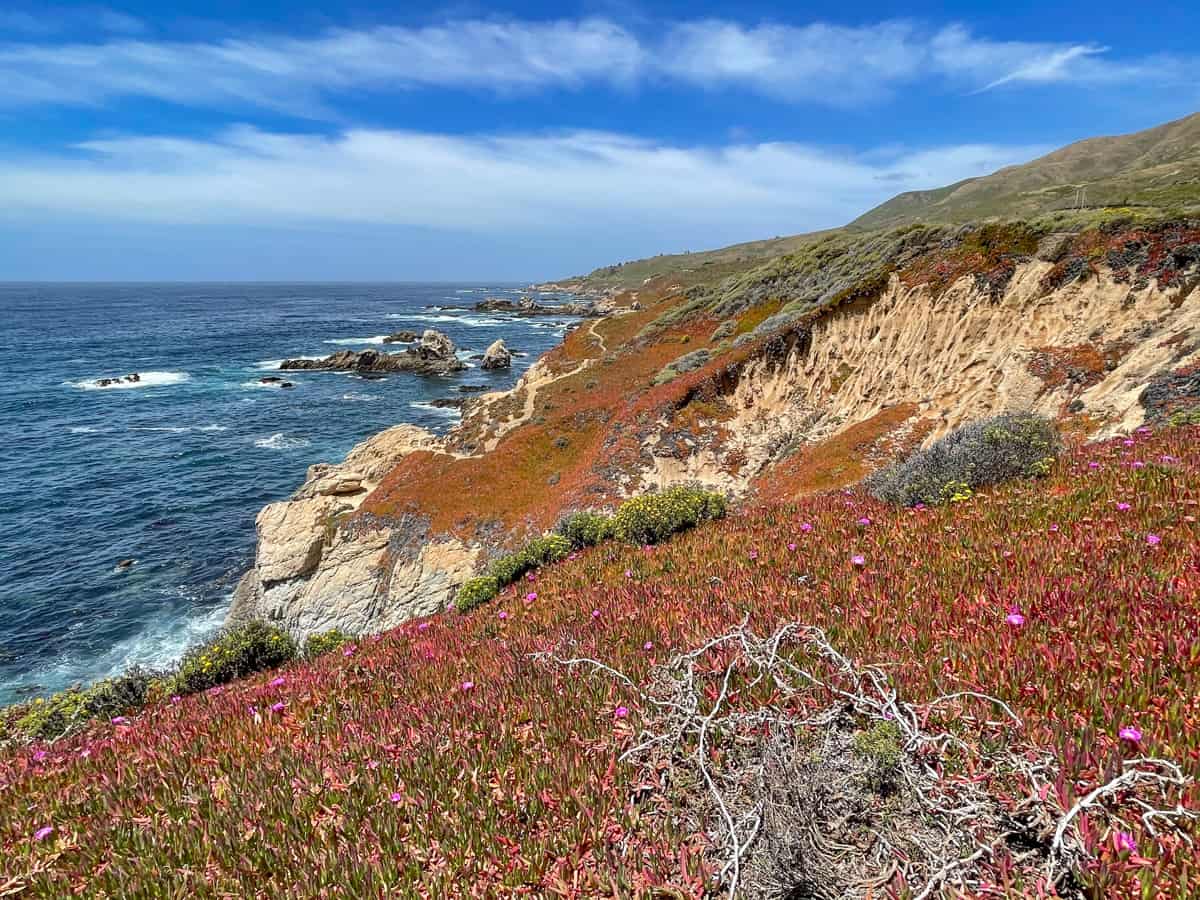 There are photo spots at almost every one of the mile markers from 1 through 19. Trails, sometimes short, lead to viewpoints, but be aware that they may be overgrown, steep, or slippery in spots.
Soberanes Point, and the cliffs, at mile marker 8, Garrapata State Beach at mile markers 18 and 19, and the views along the Soberanes Canyon and Rocky Ridge trails, relatively easier to access.
At the beach, stay well back from the water line and never turn your back on the ocean as you snap photos.
Things to Do Near Garrapata State Park
North of Garrapata State Park is beautiful Point Lobos State Natural Reserve, one of the most beautiful state parks in California.
Point Lobos features scenic walking trails, spectacular ocean views, and a plethora of birds and marine life.
Still further north is Carmel River State Beach, where the Carmel River flows into the ocean. The lagoon is a must for birders.
Also to the north you will find Monterey, the quaint seaside village of Carmel-by-the-Sea, scenic Carmel Highlands, bucolic Carmel Valley, and the picturesque towns of Monterey Bay, such as Pacific Grove, with lots of activities like whale-watching, waterfront walking, and wine tasting.
To the south of Garrapata State Park, you will find other stunning Big Sur attractions, from redwood forests and scenic overlooks to beaches, waterfalls, and a historic lighthouse.
If you have a weekend, plan a two-day Big Sur road trip to enjoy all the beautiful parks in the region at leisure, and snap lots of photos at McWay Falls and Bixby Bridge!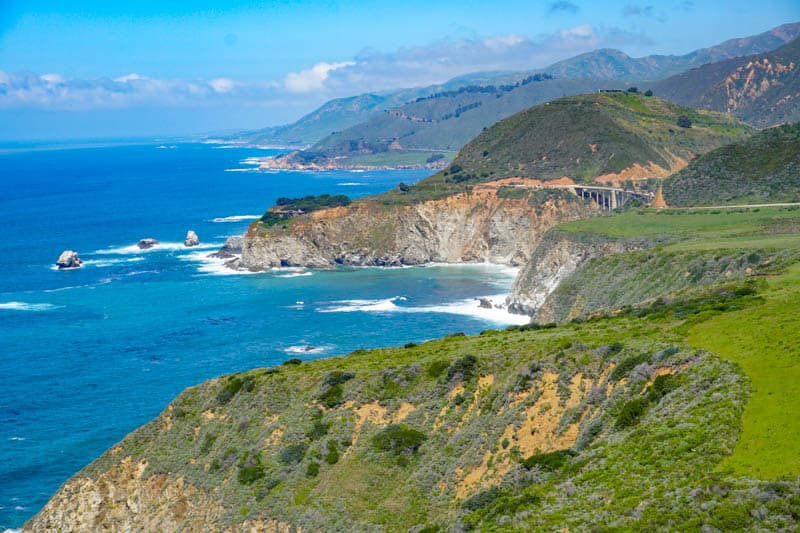 Getting to Garrapata State Park in Carmel, CA
Garrapata State Park is located right along California Highway 1, about 8 miles south of Carmel, and about 20 miles north of Big Sur Station (see map).
From San Francisco and points north of Carmel, take US Highway 101 South to California State Route 156 West to Highway 1 South. From San Francisco, the drive will take you about two hours in normal traffic.
If you take California Highway 1 all the way down (a more scenic option!), it will take you about two hours and 40 minutes in normal traffic.
From Los Angeles and points south of Carmel, take US Highway 101 North to California State Route 68 West to Highway 1 South. From LA, the drive is about 5 hours and 30 minutes.
Garrapata Mile Markers
Unlike most other state parks in California, Garrapata State Park does not have a visitor booth or a formal entrance. In all the times we've visited, we've never seen a ranger in this park.
There is just one sign for Garrapata State Park, at the northern end of the park. If you are not watching for it, you will likely drive right on by if you are new to the area! It comes up about 6.7 miles from Rio Road in Carmel.
Various parts of the park are identified by mile markers, numbered 1 through 19 from north to south. They are also called "gates."
Mile marker 1 is located just past the Garrapata State Park sign in the north of the park. Mile marker 19 is located in the south of the park, a little bit north of Rocky Point Restaurant, after a mile marker labeled "MON 63.00."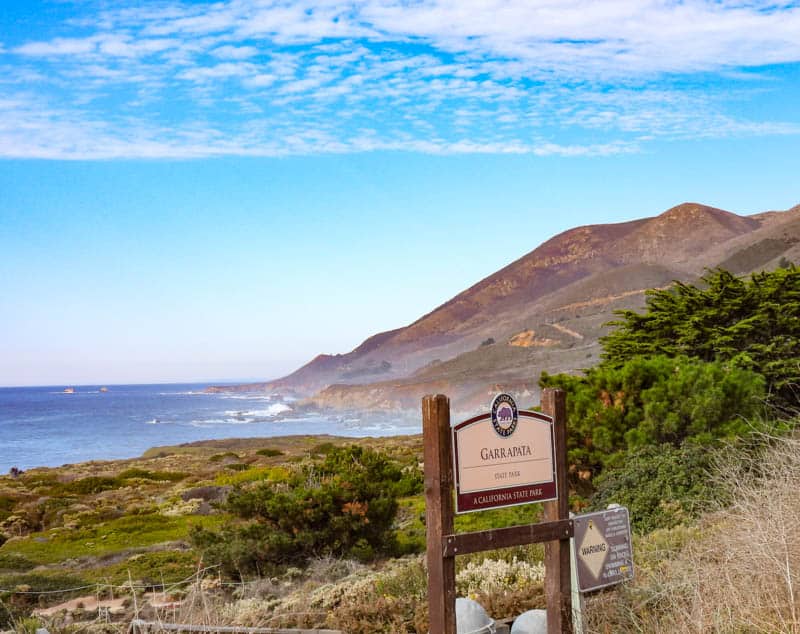 Park Hours and Entrance Fees
Garrapata State park is a day use area, and is open from dawn to dusk. There are no entrance fees.
Garrapata is the only one of Big Sur's state parks that does not have an entrance fee.
Parking at Garrapata State Park
Parking is by the side of California Highway 1. There are pullouts and wide shoulders at many places along the length of the road at Garrapata State Park, generally on the west side of Highway 1. Park safely and well off the road.
How Much Time Should You Allow for Garrapata State Park?
If you enjoy hiking and nature, you can spend an entire day exploring Garrapata State Park.
We've visited for the day numerous times, with lunch breaks in nearby Carmel, or a picnic meal to enjoy at the beach.
If you have the day, you can spend one half at the Soberanes Point gates, and the other half at the beach gates.
Of, course, you can see and do quite a bit even in just the morning or the afternoon, especially if you do not linger too long in any one place, as we often do!
And if you are short on time, you can enjoy the views along the drive, and maybe stop for a quick walk at Soberanes Point or on the bluff near the beach.
Where to Stay When Visiting Garrapata State Park
Garrapata State Park makes for a fun day trip from San Francisco or the SF Bay Area.
But if you are visiting from further out, or you want to stay overnight or for a few days in the region, there are plenty of lodging options in the Monterey Bay area, in Carmel, Monterey, or Pacific Grove.
Each of these towns has great dining choices as well.
Hotels near Garrapata State Park
The Getaway, in Carmel-by-the-Sea, is close to the shops and restaurants in the village. Rooms are furnished in contemporary casual style, and each room has a fireplace. Book a stay here!
In Monterey, InterContinental The Clement Monterey is located on Cannery Row, walking distance to shopping and dining. Rooms are beautifully appointed, and some rooms feature an ocean view. Book a stay here!
Gosby House Inn, in Pacific Grove, is a charming bed-and-breakfast housed in a 100-year-old Victorian mansion with gorgeous gardens. Rooms feature modern luxuries and are elegantly appointed. The inn is walking distance to shopping, dining, and the shoreline walking path. Book a stay here!
Vacation Rentals near Garrapata State Park
This beautiful home is located between Carmel and Big Sur, perfect for exploring both the Monterey Peninsula and Big Sur. The 2-bed, 2-bath home sleeps four. It offers beautiful water and sunset views, and has a hot tub and well-appointed interiors. Book a stay here!
This Big Sur home just south of Garrapata State Park has 360-degree views and an outdoor hot tub from which to enjoy the views by day and gaze at the stars by night. The quirky 2-bedroom, one-bath home makes for a lovely romantic retreat! Book a stay here!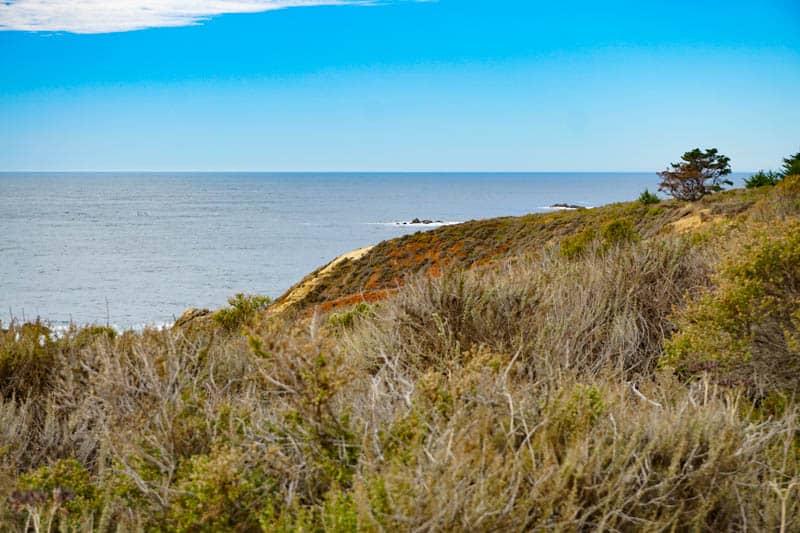 Camping near Garrapata State Park
No overnight camping is permitted in Garrapata State Park. Carmel by the River RV Park is about 13 miles away, in Carmel Valley. The campground offers RV sites with full hookups.
South of the park, Pfeiffer Big Sur Campground offers both tent and RV camping by the Big Sur River. This campground is about 20 miles away. Reserve your spot well ahead of your visit if you want to camp here.
The Best Time to Visit Garrapata State Park
With its temperate climate, Garrapata State Park makes for a great destination any time of the year.
Visit in the spring for wildflowers and to see the beautiful Calla Lily Valley in bloom. In the winter and spring, you may see migrating gray whales from the shore.
Winter and early spring are rainy season in California, but it doesn't generally rain for days on end. Pick a dry spell in the winter to visit. Winter and spring sunsets on the Big Sur coast are spectacular.
The marine layer (coastal fog) rolls in most mornings, especially in the summer, but generally dissipates by mid-day. Fall brings nice warm temperatures, but fall is wildfire season in California.
Tips for Visiting Garrapata State Park
Read and Follow Safety Guidelines
Garrapata State Park is wilderness. "Garrapata" is Spanish for tick! The California State Parks page on Garrapata State Park offers safety tips. It also has information on trail closures.
Dress in layers
Garrapata State Park has moderate weather year round, but mornings and evenings can get cool and breezy, especially by the water. Dress in layers! We always throw our light fleece jackets or windcheaters into the car when heading to Big Sur.
We also wear full-sleeved shirts and long pants, just in case we accidentally brush up against poison oak, stinging nettles, and the like. Some parts of the trails in the park are narrow and occasionally overgrown as well.
Wear shoes with Good Grip
Trails in Garrapata State Park are rocky in places, packed dirt or loose dirt in others. Good walking or hiking shoes, with excellent grip, are a must, especially if you plan to hike the Soberanes Canyon Loop.
Carry Adequate Drinking Water
Especially if you plan to hike, bring an adequate supply of drinking water with you. There are no services in Garrapata State Park.
Bring Snacks and Food
There is no food available for purchase at Garrapata State Park. Bring snacks if you plan to be at the park for a few hours, and a picnic meal if you want to have lunch at Garrapata State Beach.
South of Garrapata State Park, you can eat at Rocky Point Restaurant. Driving up to Carmel for lunch is another option.
Don't Forget Your Camera and Binoculars
We bring our little Panasonic Lumix DC-ZS70 with us on hikes. The camera fits into a jacket pocket, but it has a great lens and produces good quality photos. It also has a super powerful zoom, great for photographing birds and animals.
We also always bring our Celestron Trailseeker compact binoculars if we expect to see birds or wildlife.
Bring your Sun Hat and Sunscreen
Bring a wide-brimmed sun hat that can be tied under the chin, along with sunscreen, lip gloss with SPF, and sunglasses. Many trails are fully or partially exposed.
We wear sun protective clothing when we know we are going to be out in the sun all day.
Wear Bug Spray
Bug spray is a must at Garrapata State Park, for protection from ticks and other bugs.
Download Maps and Brochures Before You
You will likely not have cell reception in Garrapata State Park. Download or print directions to the park, and any trail maps or brochures you need, prior to your trip.
*****
Planning to explore more of California's spectacular natural wonders? Check out some of our other articles!
Did you find this article informative? Pin it for later reference!