Pfeiffer Beach in Big Sur is famous as the "purple sand beach." But that's not its only claim to fame: beautiful Keyhole Arch, which sits just offshore at Pfeiffer Beach, is one of the most photographed spots in Big Sur.
Along with Bixby Creek Bridge and McWay Falls, Pfeiffer Beach is one of the top attractions in Big Sur. It is one of the most beautiful beaches in Monterey County and indeed in all of California.
Getting to Pfeiffer Beach takes a bit of effort, but the superb scenery and serene ambience are well worth the short detour from California Highway 1. You will fall in love with this beautiful spot, guaranteed!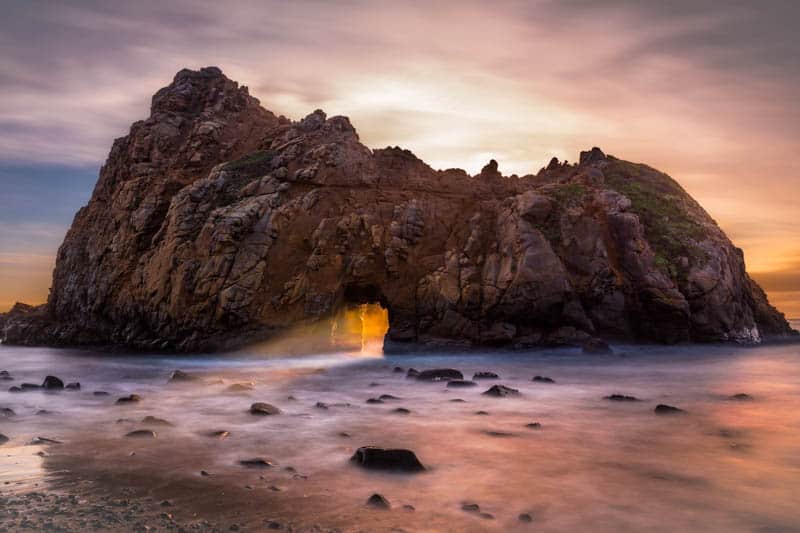 While locals know and love Pfeiffer Beach, it's a spot you may miss if you are a visitor on a Big Sur road trip, because it isn't signposted and it isn't visible from California Highway 1.
And that would be a shame, because exploring this hidden gem is one of the best things to do in Big Sur!
If you are considering a visit to Pfeiffer Beach, read on to discover what to expect, plus things to know before you go.
What can you expect at Pfeiffer Beach in Big Sur?
Pfeiffer Beach is drop dead gorgeous. Keyhole Arch is visible as soon as you have a full view of the beach, and it is a majestic sight, with its slightly curved top and handsome size.
Admiring Keyhole Arch and the other impressive sea stacks is the top thing to do at Pfeiffer Beach!
The natural arch sits just off the beach, and you can spend hours enjoying the mesmerizing view of waves gushing into the little "door" in the arch before swooshing out and spilling onto the sand.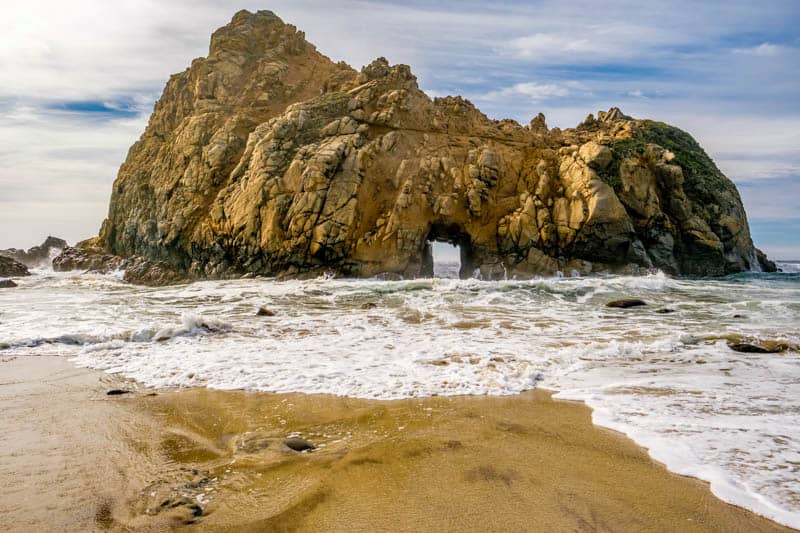 Other Things to Do at Pfeiffer Beach
Apart than Keyhole Arch, you will find other dramatic rock formations at Pfeiffer Beach to admire and photograph. In the spring and early summer, wildflowers add splashes of color on the rocks.
We've seen agile visitors scramble up some of them for views. But shoes with good grip are a must if you choose to climb, because the rocks look slippery and sharp. And it's much harder to come back down!
Swimming is not advised at Pfeiffer Beach, because the currents here can be dangerous. Plus, the water is ice cold, even when you just get your feet wet!
But sand play is allowed, and fun! Look for surfers in the water and keep your eyes peeled for marine life and birds.
Go for a stroll along the pristine sandy beach to admire the scenery from every angle and do some beachcombing.
Walking Pfeiffer Beach end to end is one of the easiest and best Big Sur hikes you can do.
At the left, as you enter the beach, you may see Sycamore Canyon Creek pool on the sand before emptying into the ocean, and the rocks are beautiful as a natural frame for the sandy beach.
At low tide, look for tide pools to explore, and, as you walk, look for the famous purple sand as well! (If you walk along the beach, go prepared with information on tides so you are not stranded.)
The purple sand at Pfeiffer Beach is the result of manganese garnet deposits washing down onto the beach from neighboring hills.
The streaks of purple are much more visible if you visit just after it has rained, which generally happens in winter and early spring in California. But you may find pockets of purple sand at other times as well.
It's generally too cool and breezy here to sunbathe for any extended period of time, but you might be lucky and visit on a warm and still day.
Bring a picnic lunch to enjoy if you want to hang out for a while. If you arrive in the late afternoon, you may want to wait to watch the sun set.
Pfeiffer Beach at Sunset
While Keyhole Arch is Instagram-worthy no matter when you visit, it is particularly beautiful at sunset.
On a good sunset evening, the sky is imbued with hues ranging from orange to pink to purple just after the sun dips below the horizon, providing a dramatic backdrop for the beautiful arch. Photography heaven!
If you plan to visit Big Sur in winter, and you enjoy landscape photography, you may want to visit during the few weeks around the Winter Solstice.
During this time, the sun sets at an angle that sends streams of brilliant light right through the keyhole to create a truly otherworldly spectacle.
The show lasts just for a few minutes, but you will find photographers lined up with tripods and waiting for hours for that dream shot.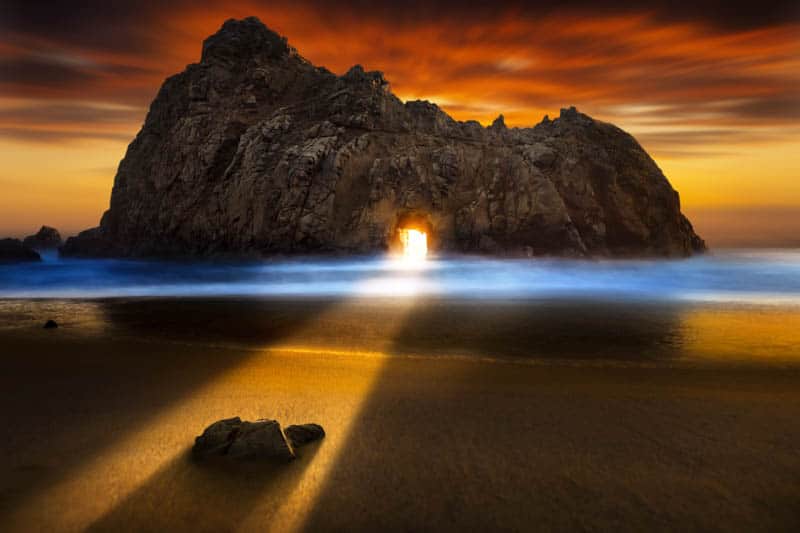 Essential Facts about Pfeiffer Beach in Big Sur
First, there are many places in Big Sur with "Pfeiffer" in the name. Super confusing if you aren't familiar with the region!
Pfeiffer Beach has nothing to do with Pfeiffer Big Sur State Park or Julia Pfeiffer Burns State Park, and you will not find the beach if you look for it in either park.
Pfeiffer Beach is managed by Los Padres National Forest, and the day use area of Pfeiffer Beach is managed by The Parks Management Company for the Forest Service.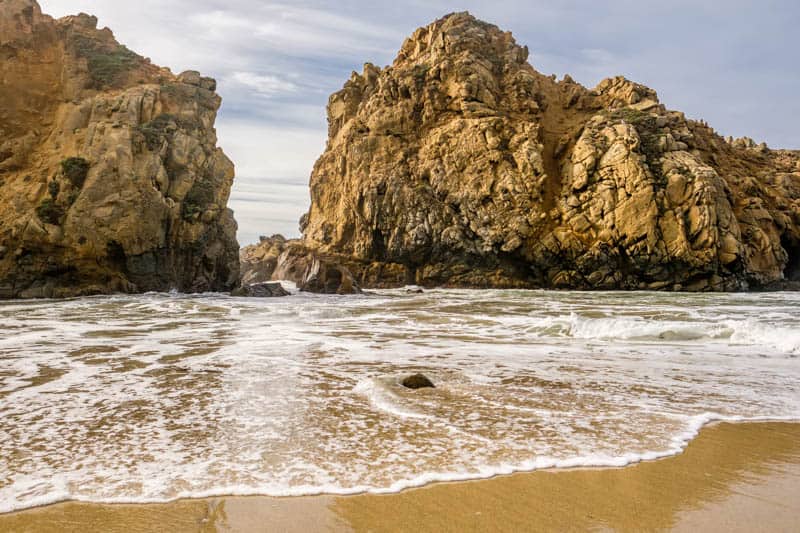 The beach is open all year, from 9.00 a.m. until 8 p.m, or sunset, whichever is earlier. There is a small parking lot near the beach, vault toilets, and some picnic tables. Dogs on leash are allowed on Pfeiffer Beach.
The parking fee for Pfeiffer Beach, at the time of writing, is $12.00. Neither the National Parks Pass nor the California State Parks passes or day receipt is accepted at Pfeiffer Beach.
Check the Los Padres National Forest website for current information on fees, special closures, and hours of operation before you visit.
How to Get to Pfeiffer Beach in Big Sur, California
Finding Pfeiffer Beach is a little tricky, and you will have to focus, to make sure you don't miss the turn off California Highway 1!
Pfeiffer Beach (map) is located at the end of Sycamore Canyon Road, between Big Sur Station in the north and the Big Sur Post Office in the south.
This road, located on the west side of California Highway 1, is not signposted. The only sign you will see is a yellow sign that says "Narrow Road."
Coming from the north, the turnoff for Sycamore Canyon comes up in 1.1 miles after you pass the entrance to Pfeiffer Big Sur State Park. It is a very sharp right turn.
From the south, look for the turnoff 1.8 miles after you pass Nepenthe Restaurant, or about 9.8 miles north of Julia Pfeiffer Burns State Park. Using your odometer to look for the turnoff is a good idea!
The GPS coordinates for the turnoff are 36° 14′ 24.77″N 121° 46′ 38.01″W. Note that there is no cell reception in most of Big Sur, so you will have to download or print maps and directions before you visit.
Once you get onto Sycamore Canyon Road, you will see a stone sign that says Pfeiffer Beach Two Miles.
Sycamore Canyon Road is paved, but you may encounter potholes, so drive slow. The road is winding and very narrow, and RVs and trailers are not allowed. You may have to use pullouts to let oncoming traffic pass. Traffic coming uphill has priority.
There's forest on both sides, and you may encounter deer.
Also, note that Sycamore Canyon Road may flood after significant rains, which generally occur in the winter and early spring. We would not drive it when flooded.
At the bottom, a very short sandy trail leads from the parking lot through Monterey cypress trees onto the beach.
What to Bring on Your Pfeiffer Beach Visit
Water
Bring adequate drinking water if you plan to spend some time at Pfeiffer Beach. There is no drinking water available at Pfeiffer Beach, and the nearest stores to buy bottled water are a few miles away.
Snacks and Food
There is no food available for purchase at Pfeiffer Beach, but there are places to eat nearby, such as Nepenthe, or Big Sur Bakery. Bring snacks to nosh on, and a picnic meal if you plan to eat here.
Beach Gear
There is no shade at Pfeiffer Beach, so you will need to bring your own. Plus all your usual beach gear: beach chairs or loungers if you plan to stay for a while, or a blanket, and beach towels.
Sun Protection
Pfeiffer Beach is fully exposed, so wear (and bring) sunscreen. Also wear sunglasses and a wide-brimmed sun hat. We like this natural waterproof sunscreen!
Water Shoes with Good Grip
If you plan to walk or scramble over the rocks at Pfeiffer Beach, you will want to bring water shoes with excellent grip so you don't slip and slide over the rocks or cut your feet on jagged edges.
Camera
Serious landscape photographers looking to capture sunset shots at beautiful Pfeiffer Beach arrive with all their gear, including tripods.
But a camera is a good idea even if you are a hobby photographer, because you will want to make the most of the photo ops at Pfeiffer Beach.
If you are looking for a small camera that takes great landscape photos, consider the Canon PowerShot G7 X Mark III. It shoots excellent high-resolution photos, and great video as well. Get it on Amazon!
Binoculars
If you enjoy birding, or want to look for marine life, bring your binoculars! We use the Celestron Trailseeker compact binoculars. They are waterproof!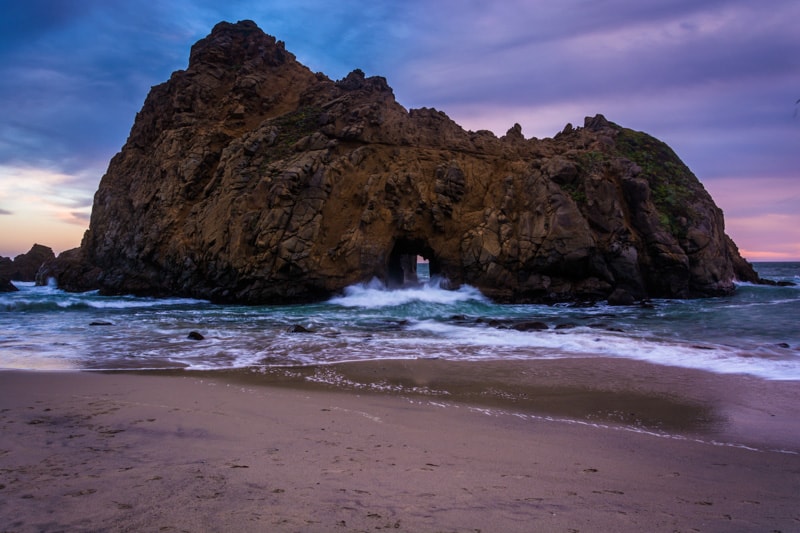 Tips for Your Visit to Pfeiffer Beach
Arrive early for a parking spot
The parking lot at the bottom of Sycamore Canyon Road is small and may get full. While limited parking ensures the beach never feels crowded, it also means that you have to arrive as early as you can to be sure of a spot.
If you arrive when the lot is full, you may be asked to wait for a spot to open up, or you may be turned away.
There is an overflow parking lot at the top of the road, but walking down (and back up) is not easy. Update: A reader informed us that there is no overflow parking any more, so plan on arriving early to secure parking.
arrive late in the day for sunset
If you want to stay for sunset but don't want to spend all day at Pfeiffer Beach, plan on arriving late-ish in the afternoon. Early afternoon on good weather days is generally the worst time to find parking.
During the winter weeks when the Keyhole Arch light phenomenon is happening, you may not find parking at Pfeiffer Beach for sunset viewing unless you arrive early and stay on through the day.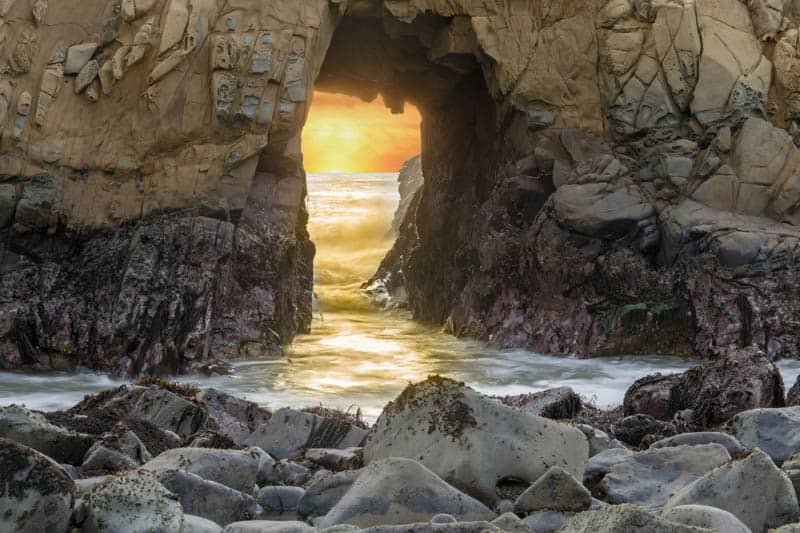 Download or print directions ahead of your visit
Do not expect to have cell phone reception in much of Big Sur. Download and/or print maps and directions before you enter Big Sur. We always have printed directions and maps when we visit Big Sur, just for safety.
Check tide schedules before you arrive
To avoid being stranded when the tide comes in, look up tide schedules for the day and time you plan to visit ahead of time. They are also helpful if you plan to go tidepooling.
Allow enough time
Pfeiffer Beach is so beautiful that you will want to linger, especially if you visit on a sunny warm day. Plus the entrance fee is not negligible, so you'll want to spend at least a couple of hours here.
Allow plenty of time to walk the beach, beachcomb, and explore, and also to take a million photos!
Dress in layers
Pfeiffer Beach, like other northern and central California beaches, tends to be cool (and usually breezy) rather than balmy. Plus, if the marine layer is around, you will feel cold for sure.
Dress in layers and definitely bring a light warm windcheater!
Bring cash for the entrance fee
When we visited, we were asked to pay the entrance fee in cash, although the National Forest website doesn't so indicate. To be safe, bring enough cash to cover the admission fee ($12.00 at the time of writing)!
*****
Planning to explore more of the California Central Coast? Check out some of our other guides!
Did you find this article informative? Pin it for later reference!