With its Mediterranean-style red-tiled roofs, tall and skinny palm trees, sandy beaches, and laid-back vibe, Santa Barbara is the ultimate California coastal getaway. Read on to discover how to spend the perfect weekend in Santa Barbara!
Whether you are planning a girls' weekend, a romantic California couples escape, or a fun family break, you will love all the options Santa Barbara offers.
From historical sights to beaches, gardens, museums, shopping, and great food and wine, you'll be well and truly spoiled on your Santa Barbara weekend getaway.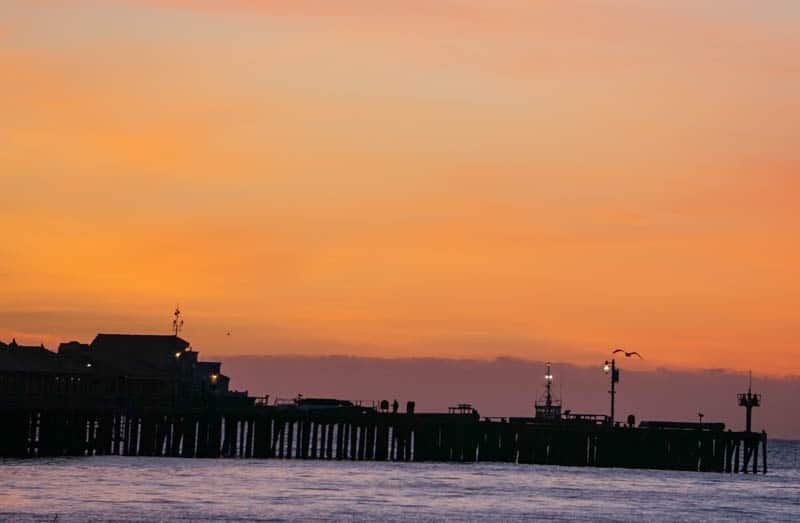 Some links on this page may be affiliate links. If you click an affiliate link and make a purchase, we may receive a small commission, at no extra cost to you. For more details, refer to our disclosure.
Known as the American Riviera because of its Mediterranean look and feel, Santa Barbara is located in the southern part of California's Central Coast.
The Santa Ynez Mountains rise up behind the city to create a dramatic backdrop, and the Pacific Ocean lies at its feet.
While the picture-postcard California coastal paradise has plenty to keep you engaged for the weekend (and beyond if you choose to stay longer), Santa Barbara is also surrounded by beautiful wine country and natural areas worth exploring.
The Perfect Weekend in Santa Barbara Itinerary
Whether you're planning 2 days in Santa Barbara or you're going to spend a long weekend in Santa Barbara with 3 days to explore, you have lots of choices on what to do.
Santa Barbara is simply gorgeous, and it will captivate you from the minute you arrive. And you won't want to leave!
About a 5-hour drive, Santa Barbara makes for a fun weekend trip from San Francisco.
And Santa Barbara is just 2 hours from Los Angeles and about 4 hours from San Diego, making it a great weekend escape from either city.
In fact, you could even do a day trip from LA to Santa Barbara. Santa Barbara is also a great stop on a California road trip itinerary.
Ready to discover more? Let's get started on the ultimate itinerary for the perfect Santa Barbara weekend trip!
Day 1 of Your Santa Barbara Weekend: History, Museums, and Shopping
Bike the Cabrillo Boulevard Bike Path!
Start your weekend in Santa Barbara with a bike ride along Cabrillo Boulevard, the popular waterfront walkway and bike path that runs parallel to East Beach.
Rent a regular bike or a 2-seater or 4-seater surrey and enjoy the waterfront trail with views out to the ocean on one side and the mountains on the other.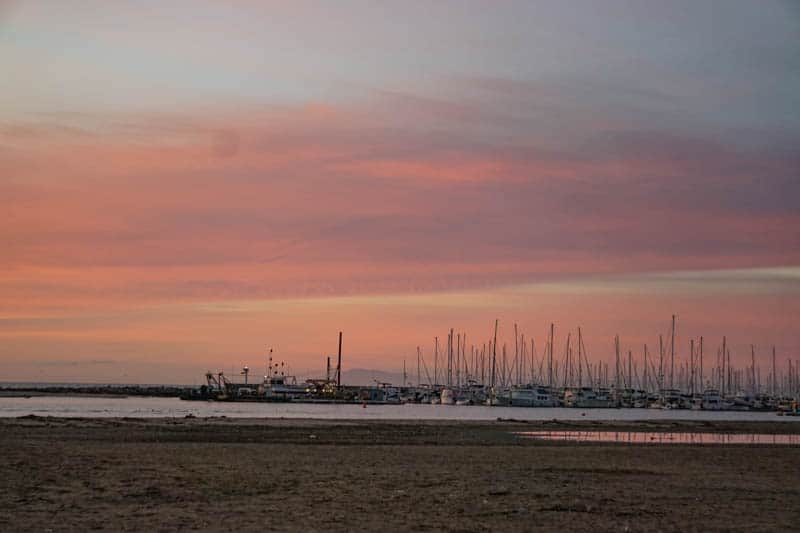 The bike path runs from Shoreline Park to Butterfly Beach, about 4.5 miles, and you can ride as much or as little of it as you want.
Along the route is the Andree Clark Bird Refuge, where the path runs along the lake. Several dozen species of birds have been spotted here. You may also see turtles.
The path is more serene in the morning, and tends to get lively during the day and evening. You can also walk the palm-lined pathway, but, as a heads-up, there are some sections where you may see homeless folks.
Pose at the Santa Barbara Chromatic Gate
As you walk or bike Cabrillo Boulevard, keep an eye out for the rainbow-hued Chromatic Gate. It is located in Arco Circle and is one of Santa Barbara's best Instagram spots.
Snap a photo of the gate, with its striking colors, or pose for a photo with it!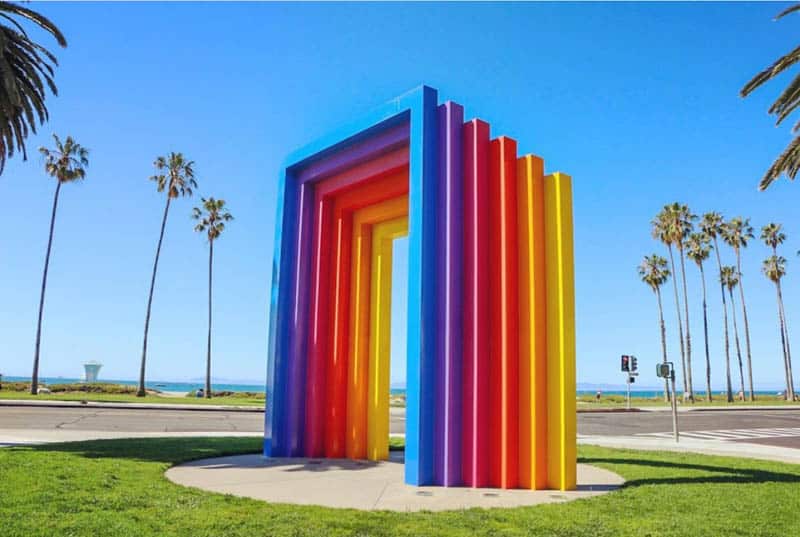 The Chromatic Gate is the creation of Herbert Bayer, an Austrian-American artist who was educated at Bauhaus and spent over a decade living and working in the Santa Barbara area.
Take in some history at Old Mission Santa Barbara
Founded by the Spanish missionaries in 1786, Old Mission Santa Barbara is called "The Queen of the Missions" because of its beauty.
With its twin bell towers, cream brick facade accented with dusky pink, and gorgeous gardens, the mission is definitely one of Santa Barbara's top attractions.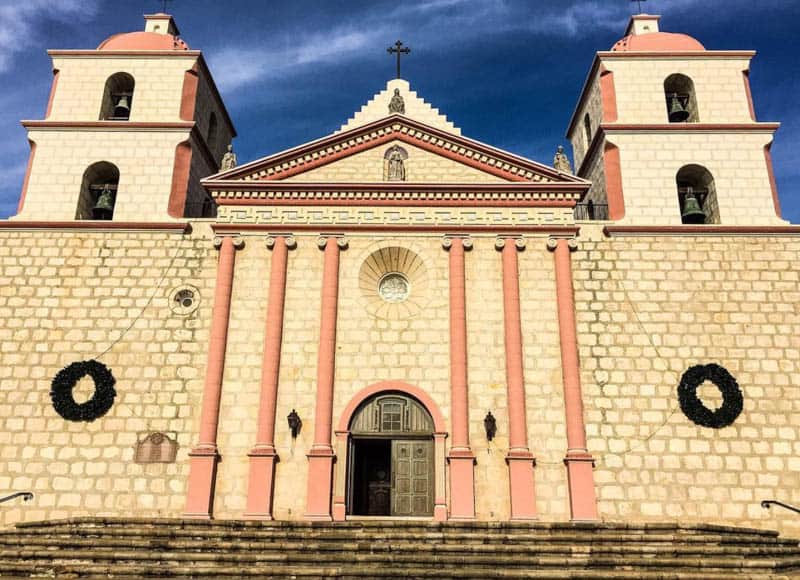 Stroll the lovely grounds. The A.C. Postel Memorial Rose Garden, right across from the mission, is delightful when in bloom. Take in the views of the city and the Pacific Ocean below. Snap photos of the picturesque facade of the mission.
You can tour the inside on your own: your paid admission includes access to the museum, church, cemetery and the Sacred Garden, with its fountain and flower beds. The church contains some lovely paintings and sculptures.
If docent-led tours are available when you visit, we highly recommend joining one. You will learn about the history and architecture of the mission as you walk, making for a more enriching visit.
The Santa Barbara Mission is one of the most beautiful of the Spanish missions in California, so do not miss it!
Tour the beautiful Santa Barbara County Courthouse
From one Santa Barbara historical icon, head to another…the Spanish Colonial Revival Santa Barbara County Courthouse was completed in 1929 and is a registered National Historic Landmark.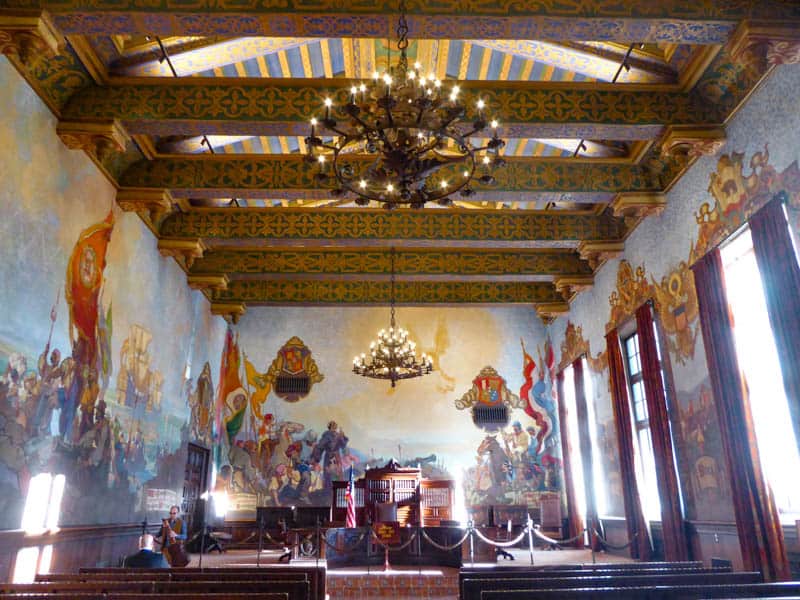 The facade of the building, and its grounds, are impressive. The grounds contains lots of palms and plants from all around the world, and the fountain in front is a great photo spot.
The interior is equally stunning. The mural room features incredibly beautiful canvases depicting events from Santa Barbara history, created by California artist Daniel Sayre Groesbeck. The ceiling, however, is the work of an Italian artist.
Other than the murals, enjoy the beautiful decorative tiles and old light fixtures.
Here too, a docent-led tour is a great way to learn about the history and architecture of the building. The tour lasts about one hour, and you can wander around on your own afterwards to take photos.
Gawk at the panoramas from the Clock Tower Viewing Gallery
When at the Santa Barbara County Courthouse, don't forget to take the elevator (or the stairs) to the viewing gallery at the top of the Clock Tower.
The 360-degree views of the city are breathtaking. You can see all the way to the Pacific Ocean on the "ocean" side and up into the mountains on the opposite side.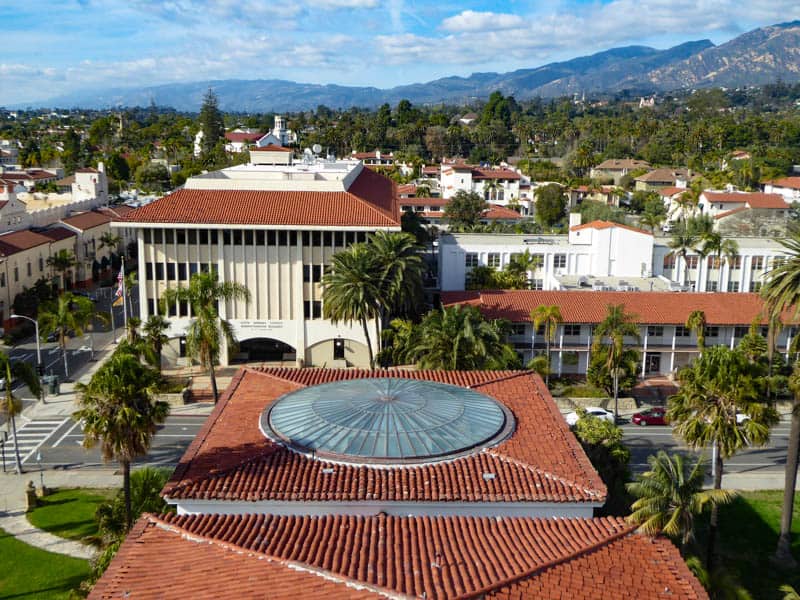 If you take the stairs, you can see the clock up close. If the Clock Gallery is open when you visit, you must definitely join a docent-led tour to go inside and see the clock mechanism up close.
The Seth Thomas model 18 tower clock was installed in 1929 and is still working. Admire the mural on the walls depicting the history of timekeeping.
Do the Santa Barbara Funk Zone Food and Photo Tour
The hip and popular Funk Zone is a must-visit on your Santa Barbara weekend trip.
Covering the area between Highway 101 and the Pacific Ocean (near the Amtrak station), Santa Barbara's Funk Zone is a colorful 10-block mix of trendy restaurants, cafes, tasting rooms, shops, and galleries, perfect for wandering.
Admire the colorful murals. Enjoy wine tasting at the many tasting rooms. Sample tasty bites at casual eateries or spring for a special meal at The Lark, one of Santa Barbara's best restaurants.
Browse the three floors of vintage and modern collections of furniture, home decor, gifts, and antiques at The Blue Door.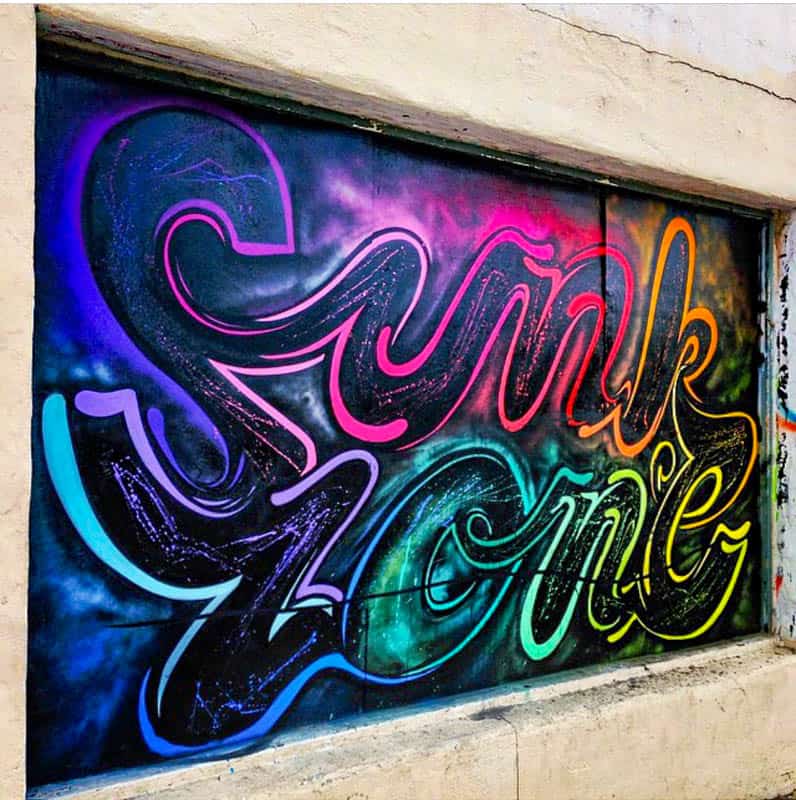 A food and photo tour is a great way to take in the magic of Funk Zone.
This highly-rated 3-hour small group tour includes stops at several Funk Zone food and drink spots. Your guide will offer tips on capturing great photos as you sip and savor your way through the hip and artsy neighborhood.
Book your spot on the Funk Zone Food and Photo Tour now!
Enjoy a super cool Interactive museum experience at MOXI
Located in Funk Zone, the super cool MOXI, The Wolf Museum of Exploration + Innovation, is your next stop on day 1 of your Santa Barbara weekend itinerary.
The immersive exhibits at MOXI are addictive for both kids and adults, so much so that you won't want to leave until closing time.
Spread over three floors and several thousand square feet, the exhibits at MOXI cover science, technology, engineering, arts and math.
So no matter what your interests, you will find something to engage you here. We found MOXI loads of fun, and we can't wait to go again!
In the Innovation Workshop, you can use different technologies and tools to build your own creations. At Foley Studios, you can create music for a movie clip.
In the Wind Column Workshop, you can try out your own test flights. At the Speed Track, build and race your own car.
Don't miss the rooftop Sky Garden, with its spectacular views. Here you can look at the city through different observation scopes, walk across a glass deck, and create your own symphony using wind and solar power.
For hours and admission, visit the museum website.
Browse the stores at Paseo Nuevo
Paseo Nuevo is an open-air shopping center in downtown Santa Barbara, famous for its Spanish architecture and colorful tiled steps.
Lit with string lights after dark, Paseo Nuevo is a fun place to stroll, even if you do not want to do any serious shopping.
Admire the graceful arches and the details in the pastel facades. Sit outside in one of the plant-filled courtyards and enjoy a drink.
Pose for a photo at the colorful butterfly mural or on one of the flights of tile-decorated stairs. Play a game of chess on the giant board.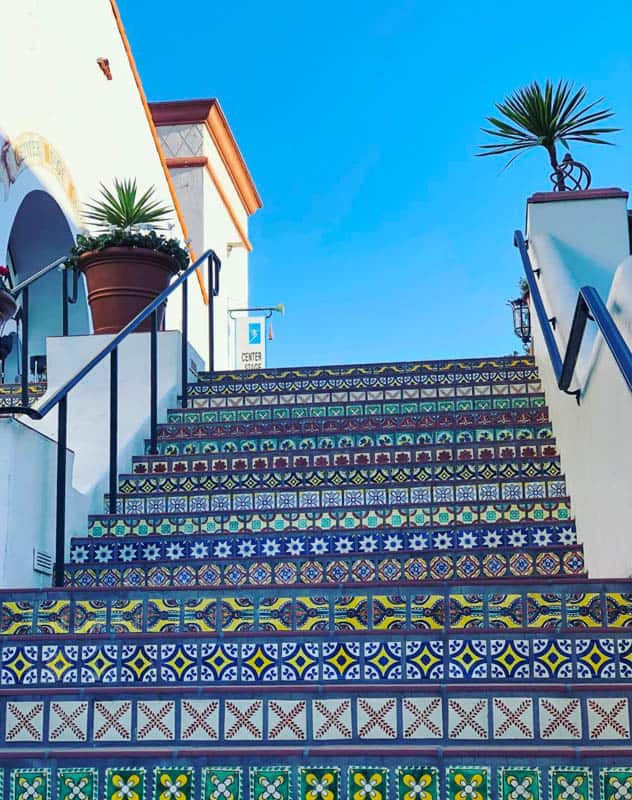 If you do want to shop, you will find a plethora of national brands here, as well as some local boutiques.
Also check to see if any special events are on when you plan to visit. They sometimes have arts and crafts stalls featuring local artisans, and special events around holidays.
Then have dinner in downtown Santa Barbara
You'll be spoiled for choice when it comes to great options for dinner in Santa Barbara. One of our favorites from the places we tried is Olio e Limone Ristorante.
We loved our a la carte selections from their classic offerings: tagliolini al pesto, fresh sea bass, and panna cotta.
Not in the mood for Italian? Try tapas and paellas at Loquita (they have a large outdoor patio), or southeast Asian fare at Sama Sama, or farm-to-table season-inspired menus at their best at The Lark.
Afterwards, head to McConnell's for a scoop (or three!) of made-from-scratch deliciously creamy ice cream.
They've been in business here since 1949, and their ingredients are natural and top-notch! There's almost always a line, but it moves pretty quickly.
Day 2 of Your Weekend in Santa Barbara: Gardens, Beach Time and More!
Stroll the Santa Barbara Harbor Walk
Head to the picturesque Santa Barbara Harbor where you can see the boats lined up in their slips and lots of birds squawking overhead.
Stroll the Harbor Walk to Point Castillo and back. Watch the fishing vessels way out in the ocean.
The harbor is particularly picturesque at sunrise. We arrived just before the sun was up, and wisps of fog were swirling over the water. The masts of the boats were reflected beautifully in the still water. At sunrise, you can get great photos here!
Tip: On your way to the harbor, stop by to see the massive Moreton Bay Fig Tree on Chapala Street, right across from the Amtrak station. It's a quick photo stop.
The tree, gifted to a local girl by a visiting sailor, was planted in 1876. It is a historic Santa Barbara landmark.
Go kayaking Around Santa Barbara Harbor
Now it's time to get a different perspective of the Santa Barbara harbor and coastline: from the water! Just around the corner from the Santa Barbara harbor is the launch point for a well-reviewed kayak tour.
The tour is 90 minutes long, and you can choose to kayak solo or as a pair.
From your eco-friendly, extra-wide vessel, enjoy the views along the shore. Look for dolphins and sea lions, and paddle under Santa Barbara's historic wharf.
The tour is led by a certified local guide, who provides insights into local history and regales you with tidbits about the city as you paddle.
The tour is offered to both adults and kids, and is a fabulous active way to enjoy the beautiful coastline!
Reserve your spots on the Santa Barbara Harbor Kayak Tour now!
If kayaking isn't your thing, drive to Celebration Cruises at Stearns Wharf where you have multiple options to get out onto the water.
Take a cruise on a 70-foot yacht, or charter an electric boat, or ride Li'l Toot, the water taxi. Rides are one to 1.5 hours long, similar to the kayaking excursion.
Then Tour the El Presidio State Historic Park
El Presidio de Santa Barbara State Historic Park is located right in downtown Santa Barbara.
The site of the last Spanish fort built in Alta California, the park offers access to two of the original adobe buildings from the late 18th century!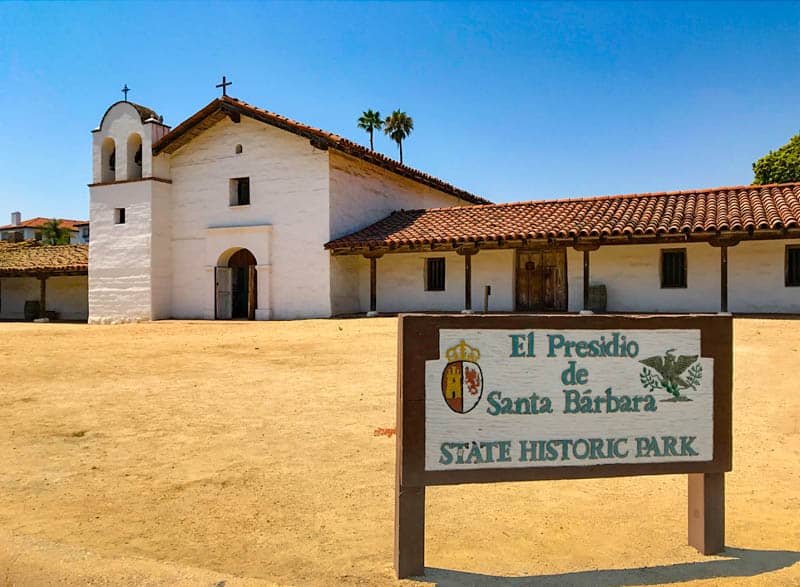 Get a map from the Visitor Center in the Cañedo Adobe, one of the buildings that formed part of the original complex. Here you can also browse exhibits that document the history of the fort, or buy a souvenir at the gift shop.
Then you can stroll the 5.5-acre park.
There is a lot to see in the park. In the northern part of the quadrangle, visit the Chapel and the Padre's Quarters, then walk through to the old orchards and view the site of the outer wall of the fort.
You can also visit the soldiers' quarters, and the lookout tower.
Our favorite part of El Presidio are the beautiful heritage gardens, where you can see many heritage trees, plants, and food crops, and the Spanish Colonial heritage grape that started the whole project.
From pomegranate to prickly pear cactus, learn about the plants and crops that supported the soldiers and their families.
For hours and admission fees, visit the park website.
Have lunch at the Santa Barbara Public Market
For lunch, head to the Santa Barbara Public Market, where you can choose from a number of great options from the city's top chefs. There's lots of outdoor seating.
We love Corazon Cocina, where the offerings range from colorful crunchy salads to tacos so tasty that you'll want to sample every flavor. And their guacamole hits your taste buds with a just-right punch of salty, sour, and spicy. Yum!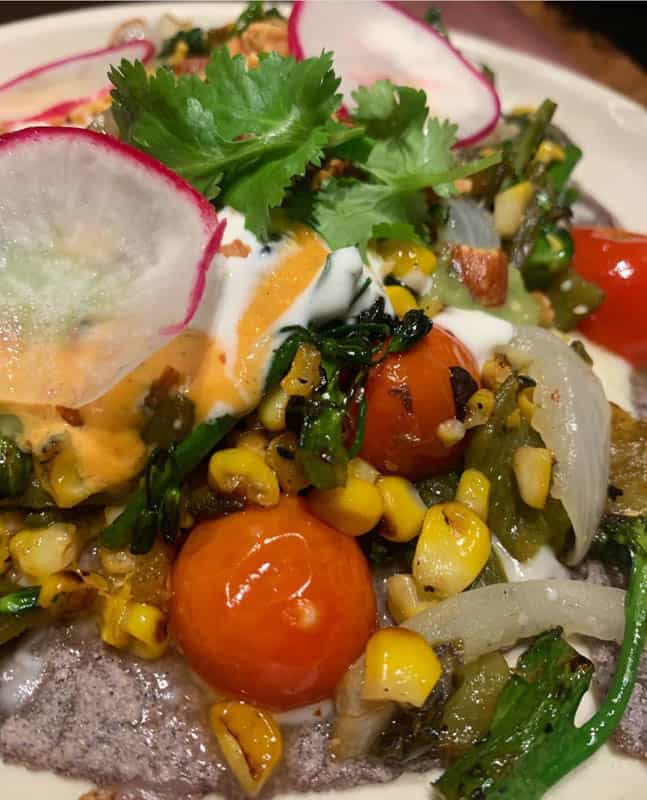 Other options at the market include a pizzeria, an all-vegetarian Mediterranean sandwich place, a sushi and sashimi restaurant, and a noodle bar. Wine and beer are available.
Rori's Artisanal Creamery is the other great local ice cream place, so head there for dessert before you leave!
Then Head to Montecito and visit Lotusland
If Santa Barbara is ritzy, then Montecito is luxuriously chic.
Home to celebrities like Oprah and Prince Harry / Meghan Markle, Montecito's homes are tucked away behind tall walls and hedges.
But it's not uncommon to run into a famous resident while you eat or shop here. Just do as the locals do and pretend it's no big deal.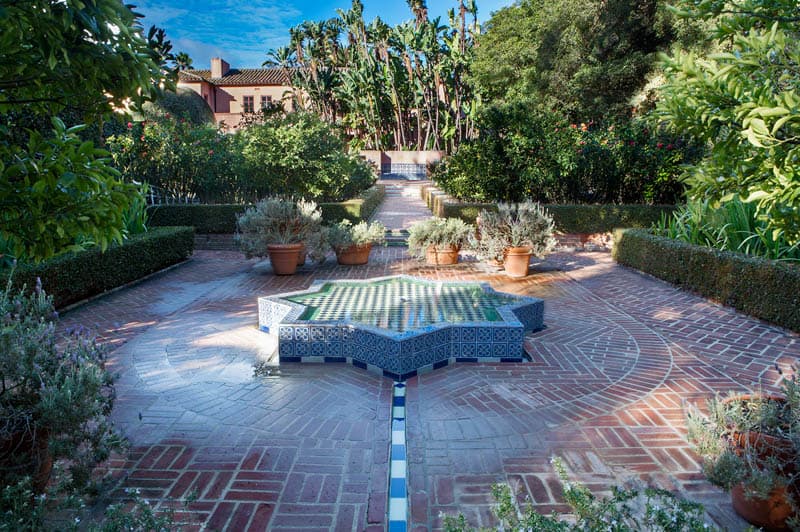 In Montecito, drive to Our Lady of Mount Carmel Church first for some quick photos of the beautiful adobe facade and gardens. The church is old, dating back to the mid 19th century, and a beautiful Montecito landmark.
Your next destination is the 37-acre Lotusland, designed and developed with loving care by Polish opera singer Madame Ganna Walska.
Lotusland is one of California's most beautiful botanic gardens and a joy to wander.
Other than the signature lotuses and water lilies in season, there are many themed gardens to enjoy, as well as architectural elements and water features.
Spend some time on Butterfly Beach
Butterfly Beach is a great spot for swimming, kayaking, stand-up paddleboarding, surfing, or just walking along the water line. You can see the Channel Islands offshore, and perhaps spot whales spouting in the ocean.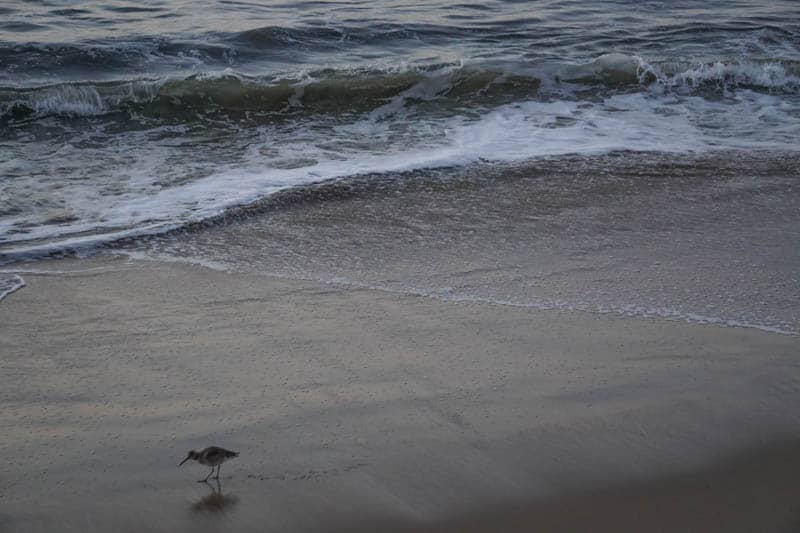 Butterfly Beach is one of the most spectacular sunset spots in Santa Barbara, so stay to watch! Hopefully you will be lucky and have colorful pinks and oranges in the sky to photograph!
There are no facilities at Butterfly Beach, but it's a short walk to Coast Village Road, where you will find restaurants and cafes. Parking for the beach is available on Channel Drive or Butterfly Lane.
Check out Stearns Wharf
Your final sightseeing destination for day 2 of your weekend in Santa Barbara is historic Stearns Wharf. Completed in 1872 by John Peck Stearns, a local lumberyard owner, Stearns Wharf is the oldest working wood wharf in California.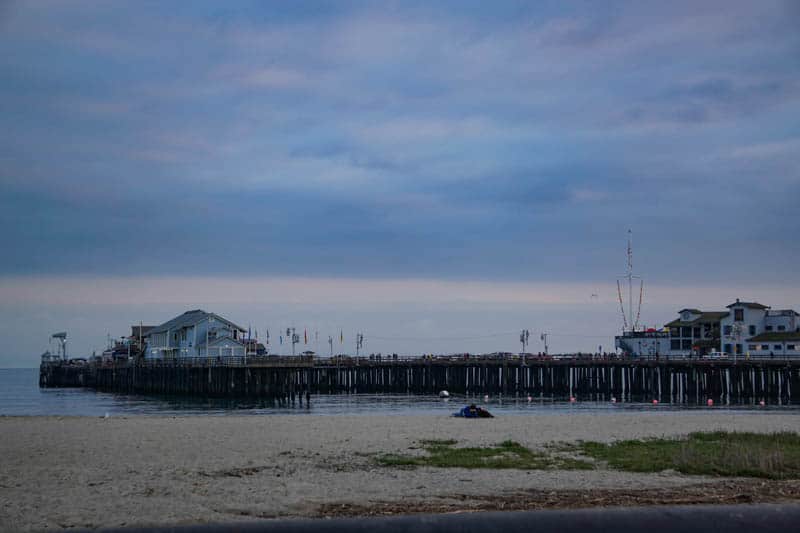 Having endured through numerous mishaps and natural disasters, the 2,300-foot wharf still stands today, and is home to several shops and restaurants.
You can drive onto the wharf and park, or park on Cabrillo Boulevard (the waterfront road), and walk on to the wharf. Wear flat-heeled walking shoes if you plan to walk.
Stearns Wharf is an excellent spot to take photos of the city against the backdrop of the mountains, and for birdwatching and people watching.
Have dinner with a view!
Santa Barbara Shellfish Company is right on Stearns Wharf. Their clam chowder bread bowl is famous, and you can sit outside for great ocean views as you eat. Their tacos and crab cakes are also delicious.
Brophy Bros. is just a short drive away, and offers great seafood options in an unpretentious setting with spectacular water views. For sushi and Asian-inspired fare, head to oceanfront restaurant Oku, where you will also find a rooftop bar.
Day 3 of your Santa Barbara Weekend Trip: Venture Outside the City
Take a stroll on Hendry's Beach
Start your day with a walk along the water line at Hendry's Beach (officially Arroyo Burro Beach Park).
Dogs are allowed off leash on a part of the beach (left as you look towards the ocean), so if you are traveling with yours, this is a great spot for a romp.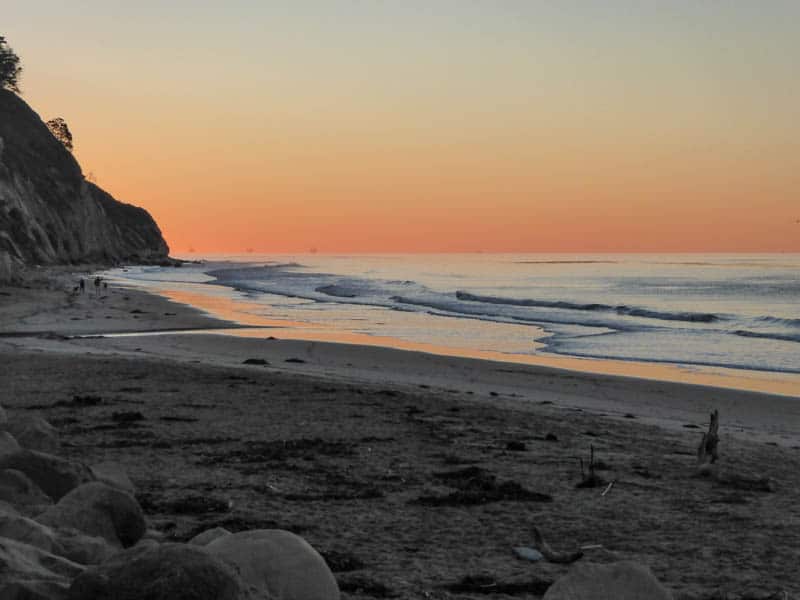 Otherwise, walk the beach to the right for a quiet stroll. We went at sunrise and it was both quiet and beautiful. The towering cliffs on the east are stunning.
The beach does fill up and get lively during the day. If you don't want to get your feet sandy, you can stay in the viewing area above the beach.
The Boathouse, on Hendry's Beach, is a popular restaurant and their breakfast selections are varied and delicious. If you are there when they open, stop and have breakfast. They do not take reservations, so wait times can be horrendous later.
Visit the Santa Barbara Botanic Garden
The Santa Barbara Botanic Garden has a beautiful location at the foot of the mountains. Its focus is one native California plants and trees.
In the spring, their wildflower meadow is breathtaking. But year round, you will find it interesting walking through the gardens.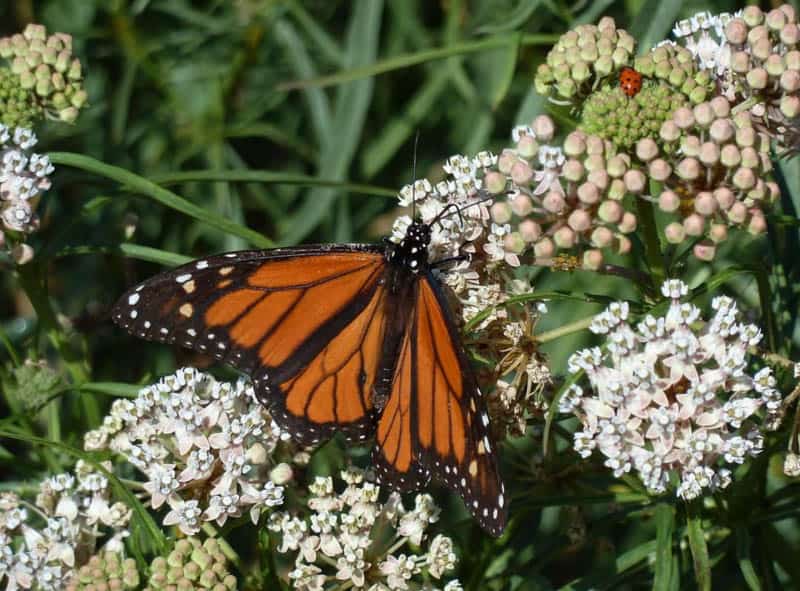 Trails you can walk in the garden meander through varied environments, from a redwood grove with some really old trees to a riparian corridor where you can enjoy the sound of running water as you walk.
Look for birds and wildlife and enjoy the native California vegetation.
A docent-led tour is worth joining if one is being offered when you visit. For hours of operation and information on tours, visit the garden website.
Or Visit the Santa Barbara Zoo
If you are visiting with kids, or you enjoy zoos, you could visit the Santa Barbara Zoo as an alternative. You will see a variety of species here from giraffes to leopards, in outdoor habitats.
The Santa Barbara Zoo is relatively small, about 30 acres, and can be toured in about two hours. For hours of operation and to buy tickets, visit the zoo website.
Or Visit the Santa Barbara Museum of Art
If you prefer a museum and you enjoy art, the Santa Barbara Museum of Art is one of the best art museums in the western US.
The museum contains over 27,000 works of art, comprising paintings, sculptures, ceramics, glass, jades, bronzes, lacquer, and textiles.
One of the most fabulous collections at the Santa Barbara Museum of Art is the antiquities collection, only eclipsed in the west by the Getty Museum.
You'll see antiquities here from many ancient civilizations, including India, China, Egypt, Greece, and Rome.
The museum also has an impressive French Impressionist collection, so if you love Monet, you will definitely want to visit. You will also find more recent art from Asia, Europe, and the Americas.
For hours of operation and admission, visit the museum website.
Explore outside Santa Barbara
Spend the rest of the day exploring the scenic surrounds of Santa Barbara.
From cute wine country towns to beautiful lakes and a plethora of hiking opportunities, you have many choices for day trips from Santa Barbara.
Here are some of our favorite options:
Santa Ynez Valley
Discover one or two of the towns of the Santa Ynez Valley.
Solvang features Danish architecture and a charming walkable downtown, along with a few small museums and an old Spanish mission.
Los Olivos has lots of intimate wine tasting rooms and beautiful galleries and shops. Santa Ynez and Los Alamos have a Wild West look and feel. You can't go wrong with any of the pretty towns!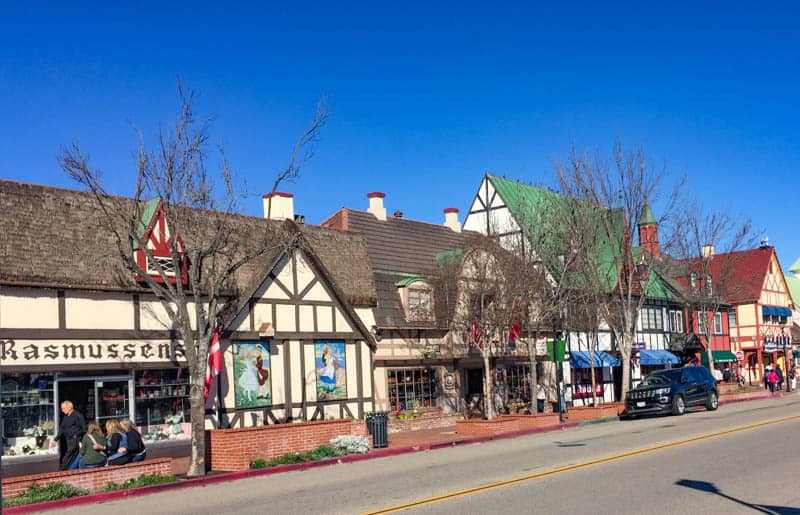 If you'd rather spend the entire day exploring the Santa Ynez Valley, that's an option as well: start early so you can visit several towns.
And check out this well-reviewed Santa Ynez Valley bike tour from Santa Barbara that includes driving through the scenic areas of the valley, tastings, and a picnic lunch at a winery!
Book the Santa Ynez Valley Bike Tour from Santa Barbara now!
Cachuma Lake Recreation Area
Cachuma Lake, in our opinion one of the prettiest lakes in California, is located on the super scenic Highway 154 that connects Santa Barbara with the Santa Ynez Valley.
The lake sits amidst the Santa Ynez and San Rafael mountain ranges, and offers an opportunity to unplug and relax.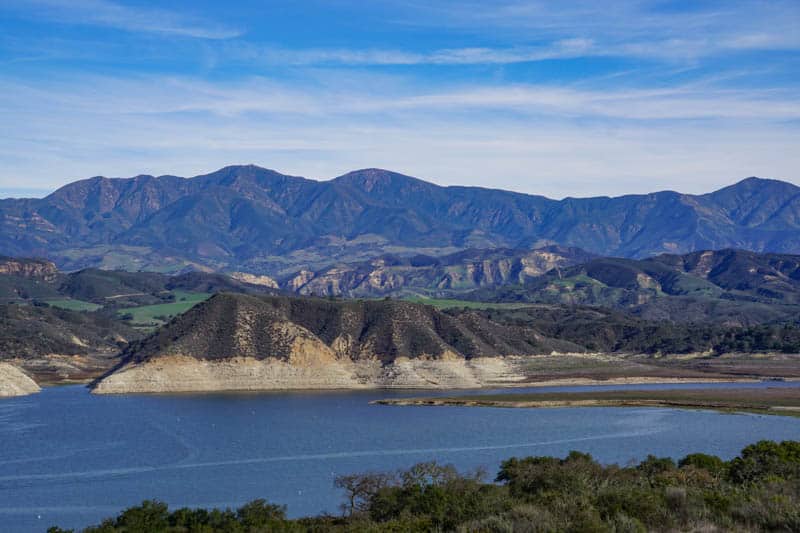 Cachuma Lake is a drinking water source, so you cannot swim in it, and no body contact with the water is allowed.
But boating is, so start at the marina, where you can rent a boat, or a kayak or canoe, and get out onto the water. The surrounding scenery is beautiful, and a boat is a great place from where to enjoy it.
There are five hiking trails around the lake, so pick one or two to enjoy.
If you enjoy birding, you'll want to do the short Mohawk Loop, just 0.25 mile long.
Or try the longer 1.5-mile Mohawk Area Trail through woods and meadows.
Sweetwater Trail, about 5.0 miles out and back, also offers birdwatching opportunities.
Ojai
Ojai has a pretty downtown, with lots of galleries and unique shops.
It is set in the midst of agricultural land, so you will see lots of citrus groves and olive orchards. Ojai's Pixie mandarin is renowned for its sweetness, and if you visit in April, you must try them!
Also try fresh-pressed olive oil at the Ojai Olive Oil Company.
Just outside town, the trails of Los Padres National Forest await if you enjoy hiking.
Lake Casitas, about 17 miles away, offers boating.
And if you are in the mood for a luxurious spa day, Spa Ojai at Ojai Valley Inn is renowned for its unique treatments.
Hiking
If you want to spend the afternoon hiking, you have a wide choice of trails in and around Santa Barbara that offer a great workout. Many of them have rewarding views as well.
Inspiration Point is a popular hike, ending in panoramic views. Depending on the route you take, the length can be about 4 miles round trip, or 8 miles round trip.
Gaviota Peak offers a challenge, at 6.5 miles round trip and 2,150 feet of elevation gain. The trailhead is in Gaviota State Park in Goleta.
Rattlesnake Trail is a family-friendly 3.5-mile round trip walk. The shaded trail winds through a canyon.
And Lizard's Mouth is super short, at 0.5 mile round trip, but leads to spectacular views and a rock that looks just like a lizard with mouth open.
Channel Islands National Park
You'll have to start in the morning for this option, but a day trip to Anacapa or Santa Cruz in the Channel Islands National Park is a unique, not-to-be-missed experience if you enjoy nature and hiking.
Island Packers offer ferries from Ventura and Oxnard. Anacapa Island is closest to the mainland. For a day trip, take the 9.30 a.m. ferry out and the 3.30 p.m. ferry back. Check the Island Packers website for current tour information and to purchase tickets.
The short trail at the higher elevations of the island offer superb water views. Anacapa is also home to the last permanent lighthouse built on the west coast. Wildlife viewing is popular, and in season, the display of wildflowers is breathtaking.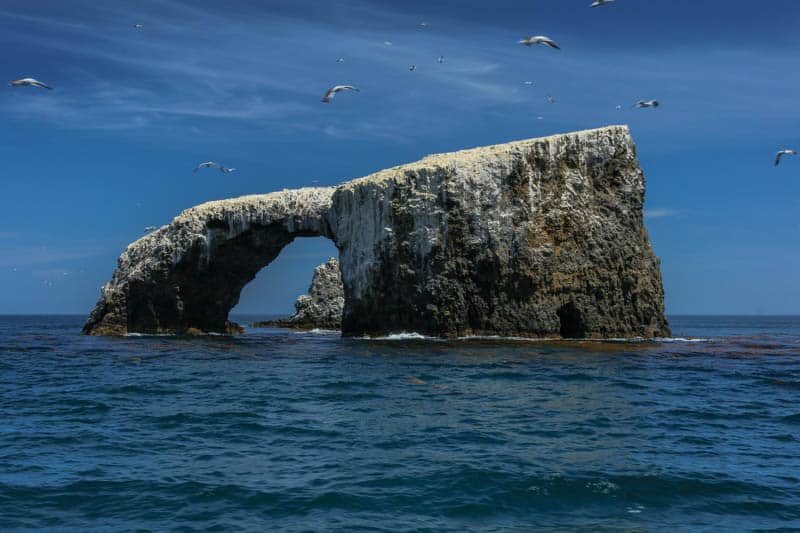 Santa Cruz Island offers many hiking trails, ranging from flat and easy to mountainous. Scorpion Beach is a fabulous venue for swimming and water sports. Whilst hiking, look for the island scrub jay, which is unique to Santa Cruz Island.
Note: There are no services on the islands. Carry food and drinking water and other supplies you need for the trip.
Wine tasting + Dinner
If you covered the Funk Zone wineries on Day 1 of your weekend in Santa Barbara, then head to the Presidio neighborhood on your last evening here, to enjoy the many tasting rooms located in this part of town.
Many of the wineries here feature wine grown in Santa Barbara vineyards. Try the sparkling wine at Cebada: it is delicious!
For dinner, enjoy contemporary Indian at Bibi Ji, or order Mexican at Julia Child's favorite restaurant, La Super-Rica. Pizza at Olio Pizzeria is a good idea no matter when: try their Umbra pizza, with mushrooms and truffles. Barbareño offers quintessential California cuisine.
Planning to explore more of the Central California Coast? Check out some of our other articles!
13 Fun Things to Do in Cambria
22 Big Sur Attractions You Must Not Miss!
23 Fun Things to Do in Carmel-by-the-Sea
Point Lobos State Reserve: Why You Should Visit!
Getting around during your Santa Barbara weekend
You will find that a car is super helpful, to get around during your weekend in Santa Barbara.
A car will give you the time and freedom to see and do more during your weekend, and allow you to explore the beautiful surrounds of the city.
If you flew into Santa Barbara, you can pick up a rental car at the airport.
Looking to rent a car for your Santa Barbara trip? Discover Cars offers you the ability to compare availability and prices across many major car-hire companies. Pick the car that best meets your needs!

Book your car with Discover Cars now!
Where to Stay on Your Santa Barbara Weekend Getaway
Santa Barbara Hotels
We stayed at the Santa Barbara Inn, a beautiful property located on Cabrillo Boulevard by East Beach. The location is super convenient to downtown, the beach, and the harbor. The hotel features Spanish architecture and a gorgeous outside sitting area and pool. Rooms are elegantly furnished. Opt for a room with full ocean view!
Book a stay here
For a luxury option, pick Belmond El Encanto! Located in the hills a short drive from downtown Santa Barbara, the hotel offers spectacular ocean views, a gorgeous outdoor pool, and spa. Rooms are spacious and beautifully furnished and the bathrooms are large and feature rain showers.
Book a stay here
Brisas Del Mar Inn at the Beach is a Mediterranean-style property with outdoor pool and a location right across from West Beach and near State Street. Rooms are spacious and comfortable. The hotel offers free bike rentals for the duration of your stay. Some units come with full kitchens.
Book a stay here
Santa Barbara Vacation Rentals
This beautiful cabana in Montecito is the ideal romantic retreat. The one bedroom, one bathroom unit has a pool, surrounded by lush landscaping. The unit is beautifully furnished, and the outdoor spaces for relaxing are tranquil. Book a stay here!
This beautiful home in West Beach is conveniently located to Stearns Wharf, the Funk Zone, State Street, the harbor, and the beach. The 2-bedroom, one bathroom cottage is comfortably furnished, with a modern kitchen and bath, and outdoor spaces to relax in the evenings. Book a stay here!
The Best Time to Escape to Santa Barbara for a Weekend!
Santa Barbara makes for a great weekend getaway any time of year, and you will likely have marvelous weather pretty much any time you decide to visit.
So when you choose to go on your Santa Barbara weekend getaway is dependent on your interests and convenience.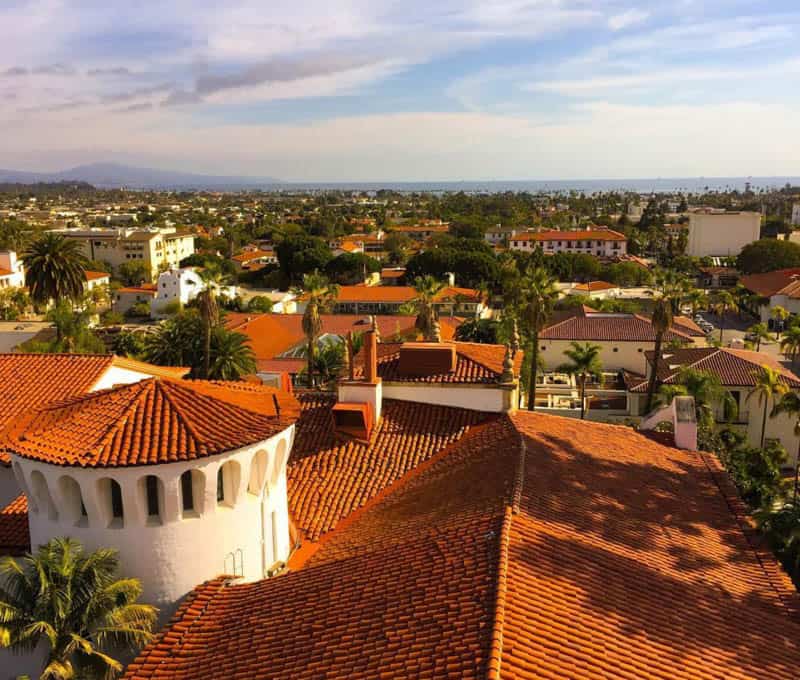 Summer is, of course, a popular time to visit, with great weather, long days, and warm water temperatures. The Santa Barbara French Festival is held each July, with performances, sword fights, and, of course, great food and drink.
Visit Santa Barbara in the spring to see wildflowers in bloom and the hillsides lush green when not covered with orange poppies or purple lupines. Hiking is a joyous experience.
If you visit over the Memorial Day Weekend, enjoy the street art at the Old Mission Santa Barbara, created for the I Madonnari Street Painting Festival.
Fall brings fog-free days and surprisingly warm temperatures, perfect for enjoying the water without the summer crowds. If you plan to visit in mid-October, check out the Lemon Festival that happens in Goleta. The Harbor & Seafood Festival also happens in October.
In the winter, the weather is still pleasant, so you can enjoy outdoor activities. Catch the gray whale migration, or look for overwintering Monarch butterflies at the Goleta Butterfly Grove.
In December, the Annual Downtown Holiday Parade is fun to watch, as is the waterfront Parade of Lights, with illuminated boats.
Map of Santa Barbara Weekend Itinerary
*****
Looking to explore more of Central California? Check out some of our other articles on fun Central California coastal towns and cities!
Did you find this article informative? Pin it for later reference!